Before I Rank The World's Best First Class Airlines & Lounges…
The World's 10 Best First Class Products
The World's 10 Best First Class Airline Lounges
How To Use Miles For The World's 10 Best First Class Products
---
Okay, here we go. In this post I'll be sharing what I consider to be the top 10 international first class inflight products. I'll have a separate follow-up post with what I consider to be the world's best international first class airline lounges.
Before reading this post, make sure you check-out my previous post sharing my overall approach to ranking these airlines. This is entirely subjective, given how airline experiences can vary from flight-to-flight. So if there's something you take away from this post, make it what I consider to be the top 10, rather than the specific order in which I've ranked them. You could just as easily argue that I got the order wrong.
For those who find this post through Google and aren't regular readers, let me emphasize that I've actually flown every single first class product I rank (and paid for the ticket, either in cash or miles), and have flown almost every first class product in the world. So I'm not going off any marketing bullets with these rankings, but rather my firsthand experiences. If you'd like to see more of my trip reports, check out the trip report index.
With that out of the way, here are what I consider to be the 10 best first class products, starting with the best:
There are great first class products, and then there's the perfection which is Air France first class. Air France's 777-300ER first class cabin consists of a single row of seats, in a 1-2-1 configuration. The cabin is so elegant, and rather than offering enclosed suites with doors, they instead have curtains you can pull around your suite.
But what really sets apart Air France is the first class soft product. The food is the best I've had on any airline, the service is impeccable and oh-so-French, and every part of the experience is thought out.
When it's time to sleep, Air France has some of the most comfortable bedding in the sky, and I love being able to draw a curtain around my seat for full privacy, which is more privacy than any other "enclosed" suite provides.
The way I see it, Air France first class is the world's most well rounded first class product. While I'm not reviewing ground experiences here, the degree to which they tailor the experience from the moment you arrive at the airport until you leave is unrivaled. A flight in Air France first class feels like a perfectly executed performance.
The only area where Air France first class could improve is with the addition of wifi, but that's coming soon.
Garuda Indonesia is another airline that's both consistent and tailors the experience from the time you arrive at the airport to when you leave. Garuda Indonesia first class has eight suites with doors. The hard product is good, though not remarkable compared to some of the other products out there.
But everything about the soft product is perfection. I find Garuda Indonesia to have the best flight attendants of any airline, and they even have an onboard chef in first class. The food is divine, they have great wine pairings, the presentation is exceptional, they offer first class passengers free wifi, etc. If you have any special requests for your flight, you can even make those before departure.
But really it's the crews that make the experience. Many surveys rank Garuda Indonesia as having the best cabin crew, and I have to agree. The warmth of the Garuda Indonesia flight attendants I had on both of my flights with them was unrivaled.
The only area where Garuda Indonesia can improve is with their bedding. While it's good, it's not nearly as plush as what some other airlines offer.
While SkyTeam is generally thought of as the alliance of "leftover" airlines, it's interesting that they have the world's two best first class products.
There's no product in which I have more fun than Emirates A380 first class. Funny enough the biggest downside to Emirates first class is the actual suites. While they're comfortable, they're not all that spacious, and there are 14 of them, which is among the largest first class cabins offered by any airline.
Everything else about the Emirates first class experience is so well done, from their free flowing Dom Perignon, to their dine on demand menu with all kinds of great options (including caviar), to their excellent bedding.
But what really makes the Emirates A380 so fun is the onboard shower suite. Being able to shower in a huge private suite with heated floors and more toiletries than a Bed, Bath & Beyond, never gets old. On top of that, Emirates has on onboard bar at the back of business class.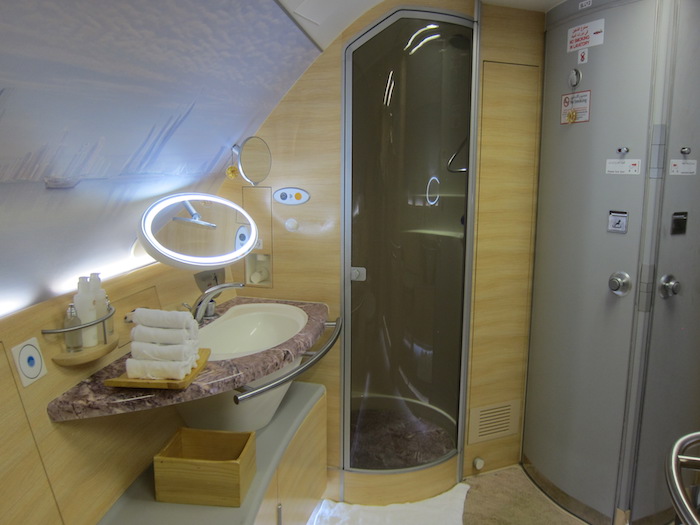 So what's not to love about starting your flight at the bar for a few drinks, having an amazing meal with caviar and Dom, taking a nap, waking up and taking a shower, heading back to the bar, and then having another meal?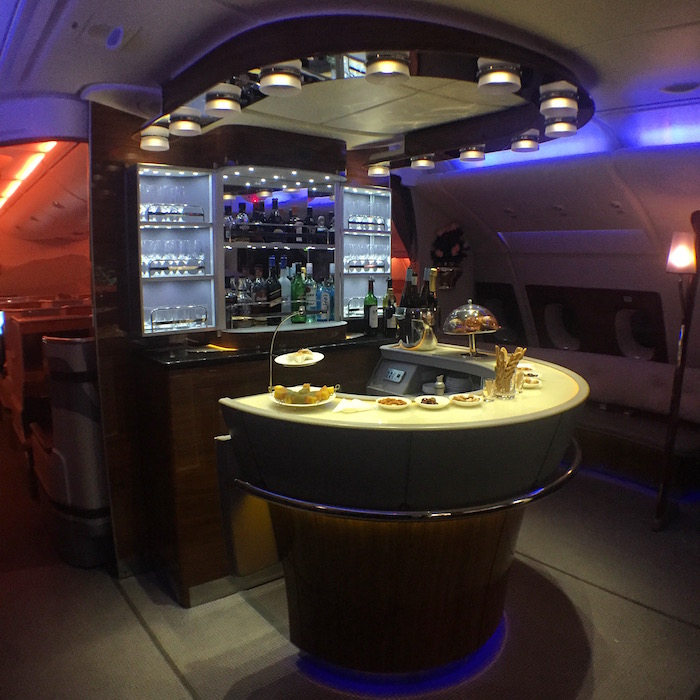 Etihad is the only airline to have a single-aisle configuration in first class on their A380s.
Their First Class "Apartments," as they're called, will take your breath away. I remember being speechless the first time I walked on an Etihad A380.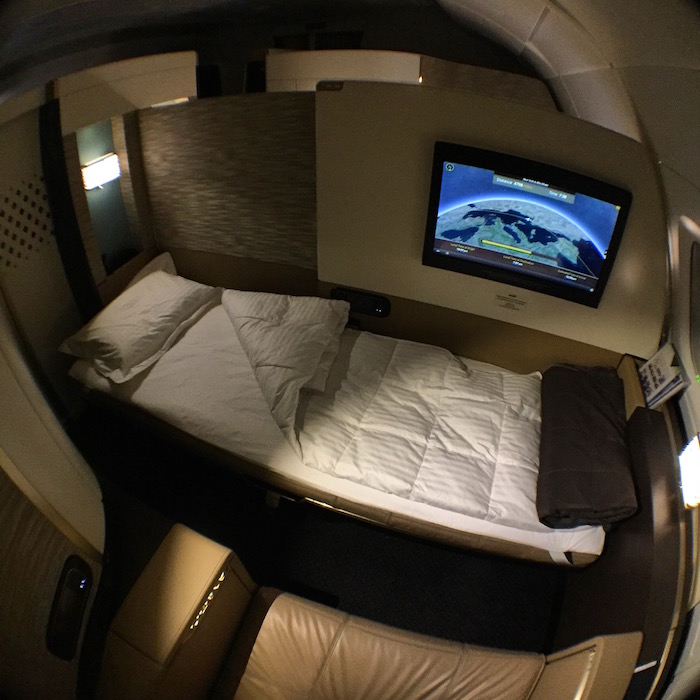 Etihad has a dine on demand menu with an onboard chef who can help you customize your meal, an onboard shower, and has the most square footage dedicated to each first class passenger of any airline.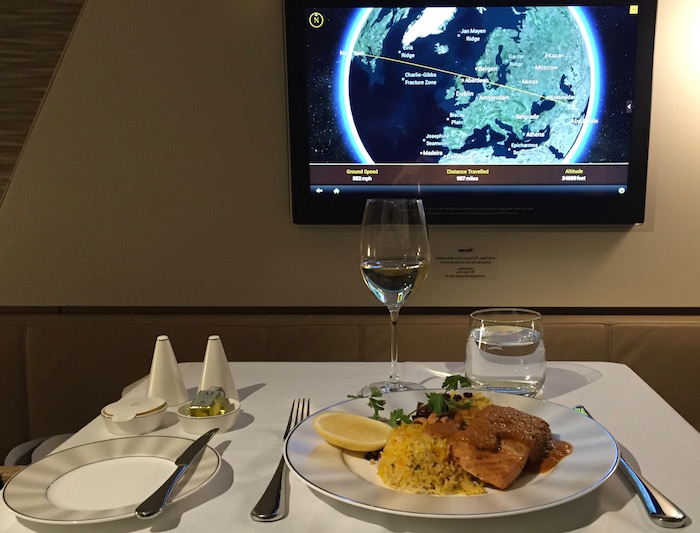 However, there are some areas where Etihad is style over substance, in my opinion. While the suite is huge, it isn't actually that practically designed, as the seat doesn't recline that far back, and the bed isn't that large. The food selection also isn't quite as high end as Emirates', and I've had some issues with them running out of food in first class. I also find that service can be a bit hit or miss.
These are all minor things, but explains why I rank Emirates' A380 first class ahead of Etihad's A380 first class, despite the gorgeous cabins on Etihad.
I should note that Singapore Airlines will be revealing their new Suites Class in just under a week, and it has the potential to be the world's best first class product. However, over the past few years I think Singapore's product has slipped a bit as a relative matter.
Singapore's A380 Suites Class has an impressive layout. You can choose a single Suite by the window…
…or if you're traveling with someone you can snag two seats in the center section, and have a double bed (if you're traveling with someone and like this feature, it might just make it the world's best first class).
On a good day, Singapore's Suites Class might be the best first class product in the world. On a lunch or dinner flight departing Singapore their catering is typically excellent, and they sometimes have caviar, satay, etc. You can even "book the cook" in advance, and order from a huge menu that's not available onboard.
Singapore is also the only airline to offer both Dom Perignon and Krug onboard. Tough decision. 😉
Service on Singapore Airlines is typically impeccable, thanks to the famous "Singapore Girls" (and boys, I suppose).
There are a few reasons I'm not ranking this product higher, though. I find the actual bed to be a bit too hard, and not nearly as comfortable as some of the products out there. Wifi is slow and outrageously expensive. Lastly, the product isn't terribly consistent — while the food is typically great on a lunch or dinner flight, late night departures typically get a "supper" service, which is a much lighter (and less extravagant) meal.
Cathay Pacific's product has more or less remained unchanged for the past decade, and it's still one of my favorites out there. Cathay Pacific first class has just six seats, in a 1-1-1 configuration. While the seats aren't fully enclosed, they're angled away from the aisle and sufficiently spacious so that there's no need for them to be. It makes the product feel less claustrophobic, which I appreciate.
Cathay Pacific has one of the three most comfortable beds in the sky. The bed is wide, and the bedding plush.
I also love the ability to dine face-to-face with a companion. Caviar and Krug at 37,000 feet is a heck of a date night. I also appreciate that Cathay Pacific offers a full meal service even on departures in the middle of the night.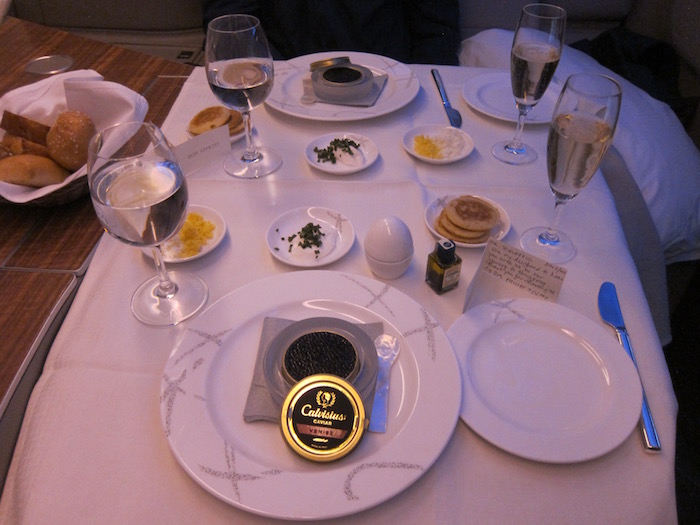 Cathay Pacific crews are also consistent and attentive. They're always there during the meals, and when you need something during the flight, they appear in just a couple of seconds after pushing the call button.
So, why isn't Cathay Pacific ranked higher? They don't have wifi (though that's changing soon), but mainly because other than the caviar, I don't find their meal services to be that great. The food has been identical for about a decade, and their main courses are typically pretty bland. I wish they'd switch things up a bit more.
There's no country where there's more pride in the service industry than Japan, and that's incredibly evident when flying Japan Airlines first class. It's like getting a taste of Japan before you even get there. Japan Airlines has fully flat beds in first class with direct aisle access, though the seats as such don't stand out that much.
What does stand out is the excellent food (caviar, sushi, wagyu beef, etc.), Salon champagne (the most expensive champagne served in the sky), the free and fast wifi, the ability to choose the firmness of your mattress pad, and the perfect service.
Maybe I'm biased due to my German background, but I love Lufthansa first class for how consistent and elegant it is. No, they don't have the most private first class seats out there, but the cabins are elegant (in a German way), the service is among the best of any western airline, and they're remarkably consistent in terms of their offerings.
There's just something about the pre-flight champagne, nuts, and roses that makes me feel like I'm at home in Lufthansa first class.
Lufthansa has great bedding in first class, and also has fast and cheap inflight internet, and they offer it more consistently than just about any airline.
It's a toss-up between Lufthansa first class and Swiss first class, so I could have just as easily ranked Swiss ahead of Lufthansa. Swiss' 777-300ER first class cabins have eight seats, in a 1-2-1 configuration.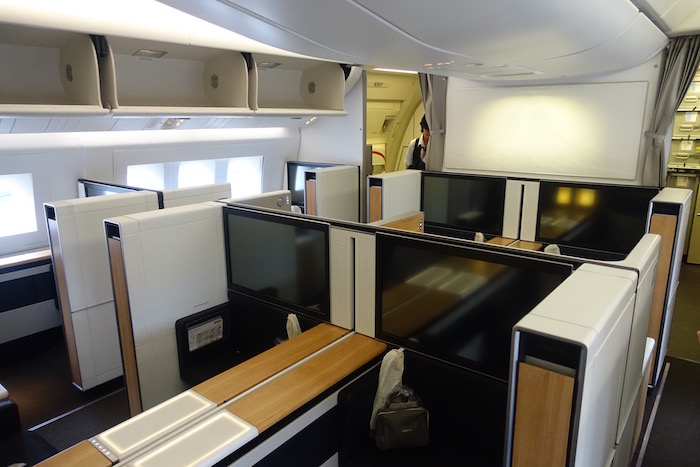 The food presentation and quality are definitely higher-end feeling than on Lufthansa, even though they don't have caviar.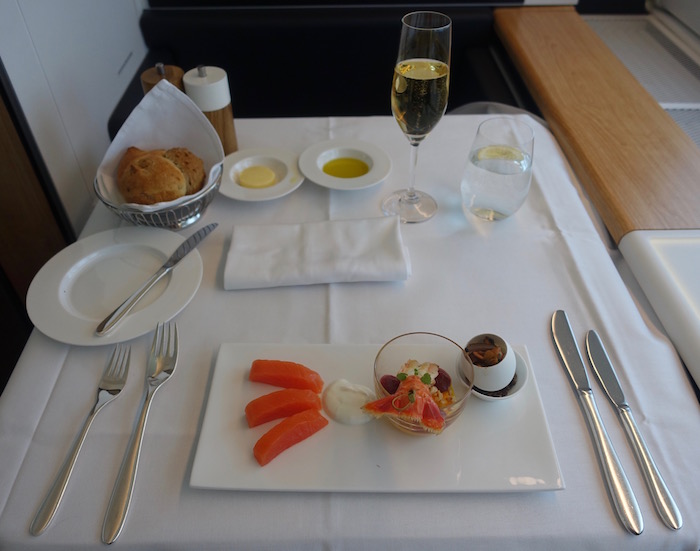 I've had great service in Swiss first class, though I've also had pretty bad service, so I find that part of the product to be a bit inconsistent.
Swiss' first class bedding is plush and comfortable, so a great night of sleep on Swiss is a given.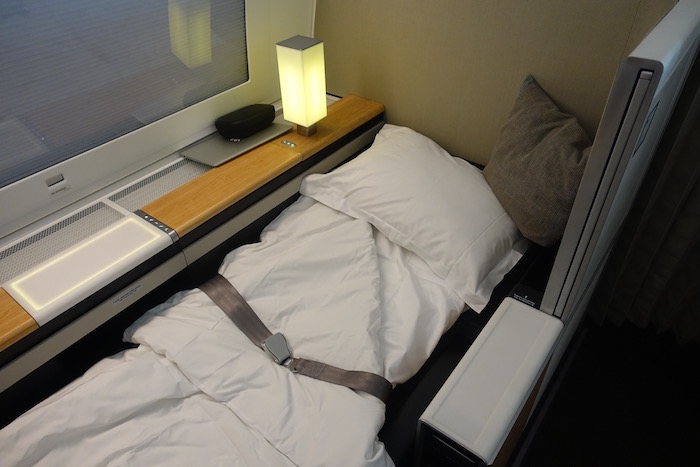 Some might be surprised to see me ranking ANA first class a few places below JAL first class. Like I said, there's no science to my rankings, but there are two reasons I don't like ANA first class quite as much as JAL:
I find ANA's seats to be poorly designed; they're like cubicles, and have wood panels by your side so that you can't easily look outside when you're in a window seat, and can't comfortably talk with your seatmate if you're traveling with someone in the center seats; this is such a silly design
Much more minor, but ANA's wifi is significantly more expensive
Other than that, ANA first class is great. Caviar, Krug, fantastic Japanese food, etc.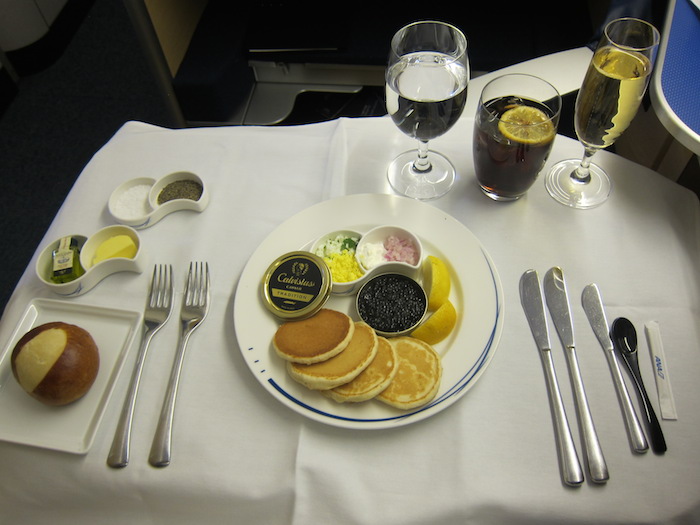 This can't be included on the list since it's not technically a first class product, but rather is the most incredible experience you can have in commercial aviation. Unfortunately it's also priced accordingly. Having your own three room suite, including a private bedroom and shower, with butler service, is a once-in-a-lifetime experience, and then some.
Man, how fondly I think back on my flight in the Residence…
Bottom line
There you have it. I've put a lot of thought into this, and these are what I consider to be the world's 10 best first class products. I'd like to once again emphasize that I think anyone would be reasonable to think that the above products should be in a different order, but hopefully this is at least a useful list in terms of the 10 all around best first class products.
For anyone curious, in the 11-15 spots I'd put Asiana, Korean, Qantas, Qatar, and Thai (not necessarily in that order).
I'm curious to hear what you guys make of my rankings!