I've written about what I consider to be the best airport lounges in the United States, though now I think it's time for a post about what I might just consider to be the worst. I'd like to think I have reasonable lounge expectations, but this just ticked none of the boxes…
The awful Swissport Lounge at Chicago O'Hare Terminal 5
Somehow I didn't have the pleasure of visiting the Swissport Lounge Chicago until this week. In fairness, I had been warned. I remembered a friend complaining about this lounge a few months back, so I texted him prior to my visit, just to make sure my memory was correct.
It was indeed — he said "it's quite possibly the worst lounge I've ever experienced," and also said "I really can't think of a worse lounge." As you'd expect, I came in with exceptionally low expectations, and they were… met?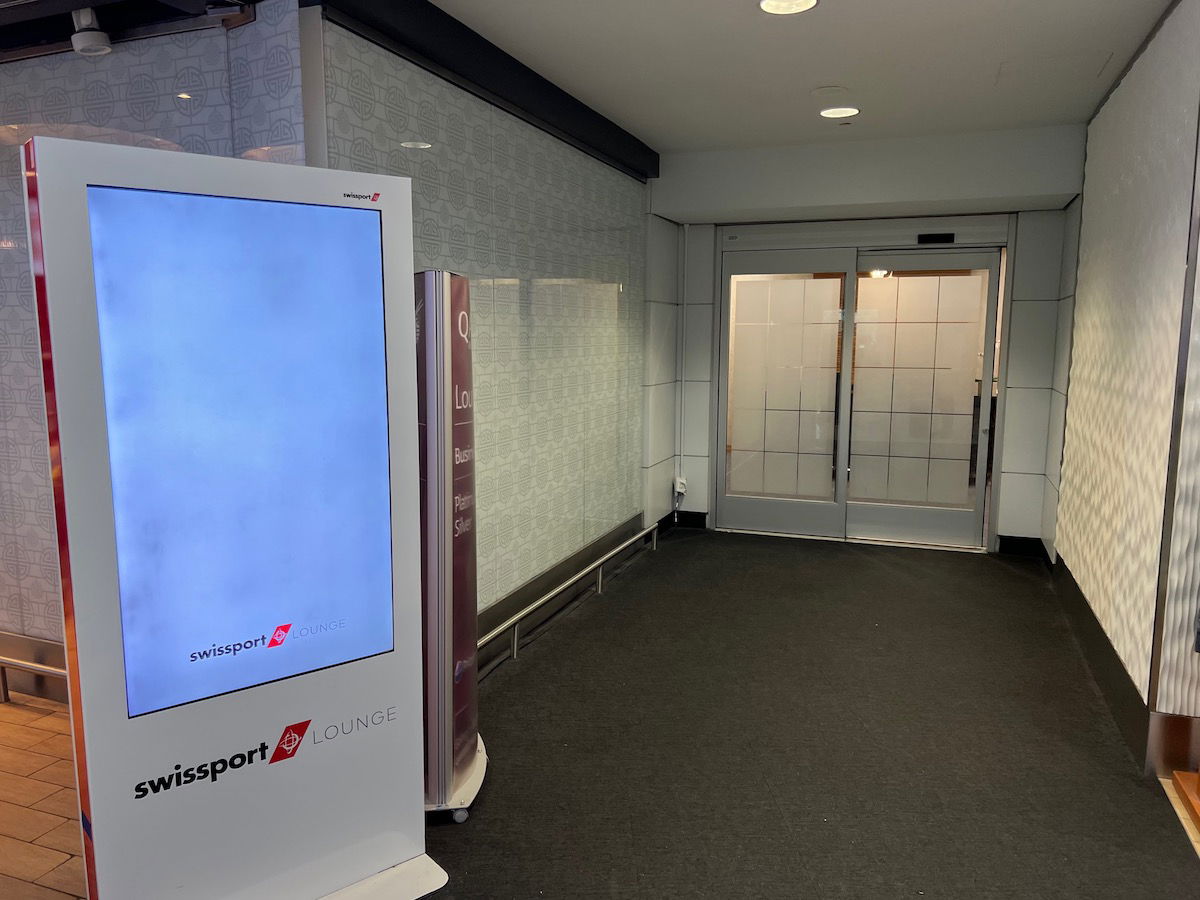 He wasn't exaggerating. The Swissport Lounge Chicago makes waiting in a queue to get into a Delta Sky Club feel luxurious by comparison. I'm not convinced the whole lounge isn't just a practical joke by the operator to see how low they can go while getting money from airlines and Priority Pass.
Somehow this is the lounge that all kinds of premium airlines send their passengers to (including Etihad Airways and Qatar Airways). Admittedly that's probably not because they want to, but rather because the terminal has a severe shortage of lounge space.
I popped into the lounge midday, which is an off-peak time. The lounge generally accepts Priority Pass around this time, but doesn't in the evenings, given all the airlines that use this as a contract lounge for premium passengers.
What's so bad about the Swissport Lounge Chicago?
The Swissport Lounge Chicago is a small windowless room. It has incredibly outdated furniture, lacks decor, and doesn't even have bathrooms (by the way, the lack of bathrooms is made worse by the fact that there are no dividers between urinals in all T5 bathrooms — bleh). This is a case where I think pictures do the lounge justice. What you see below is just about the entire room.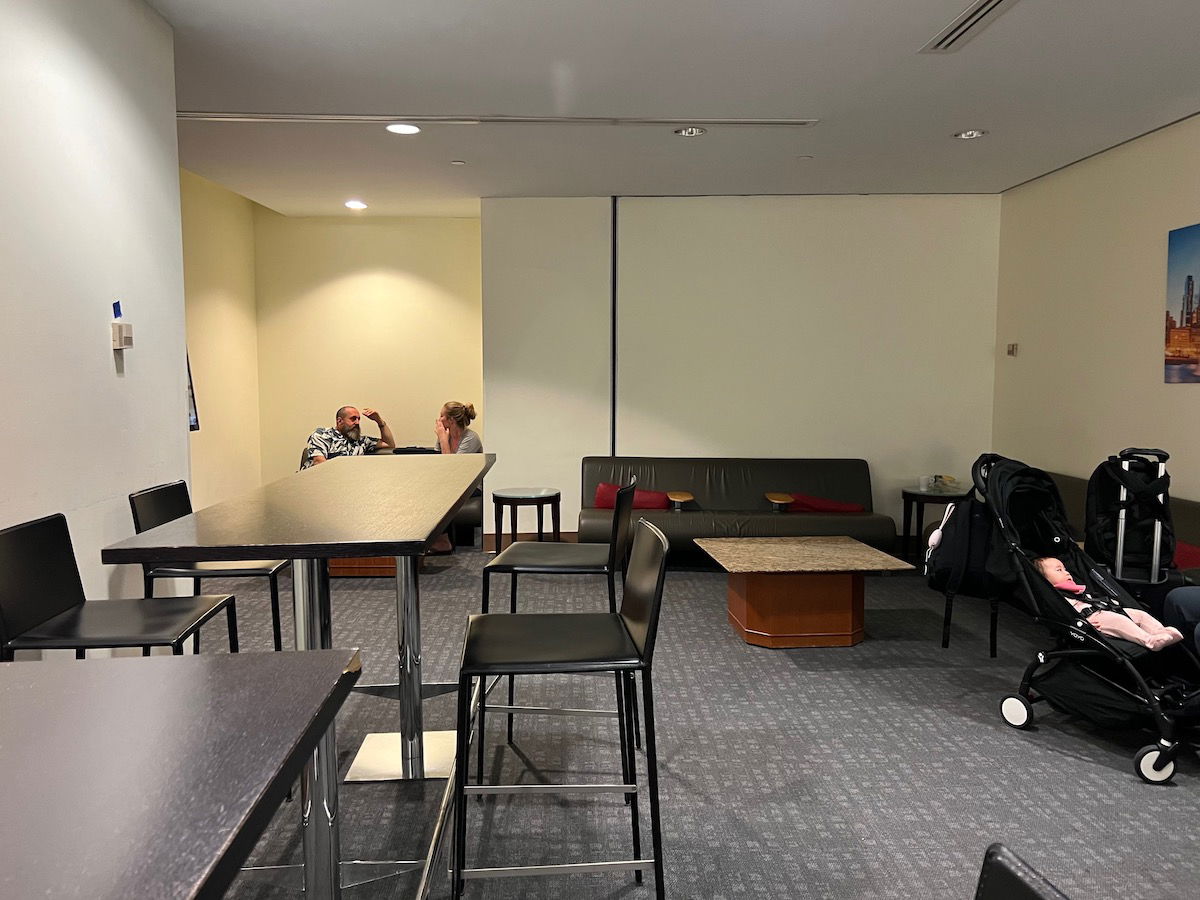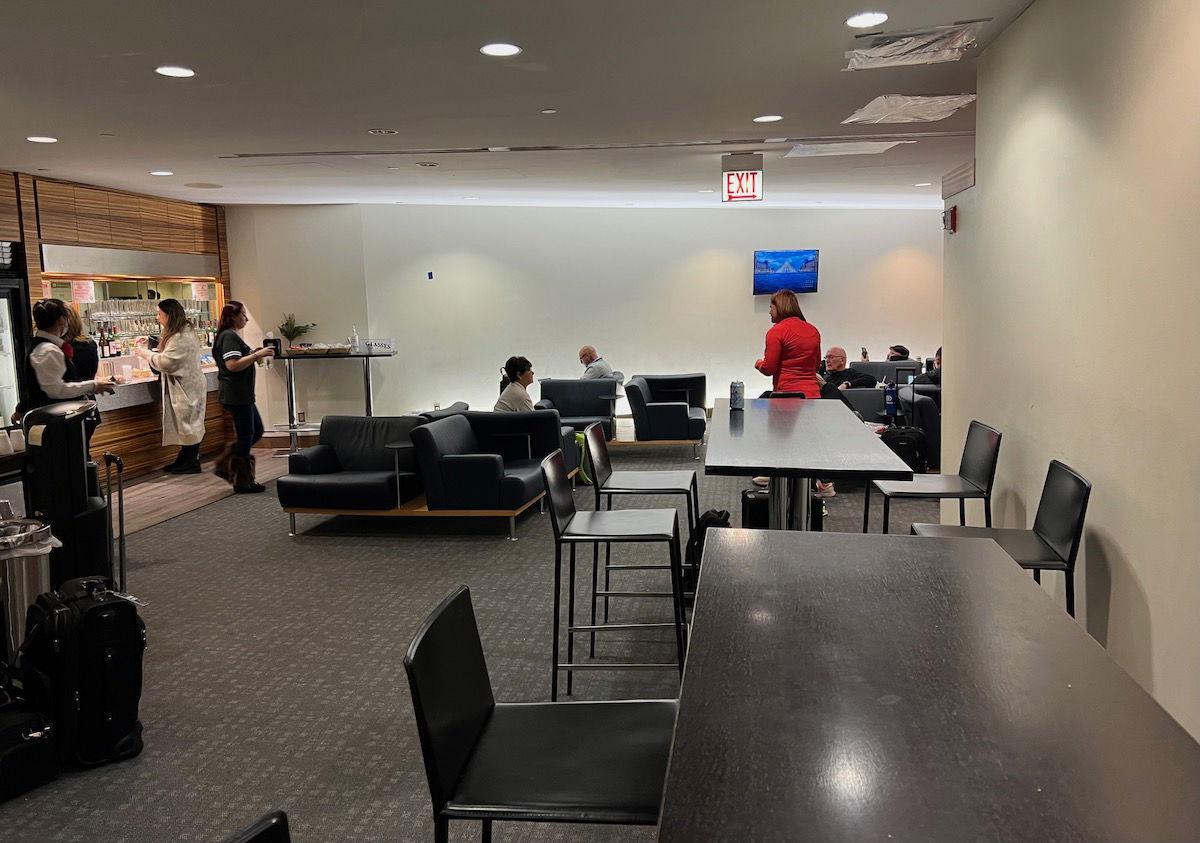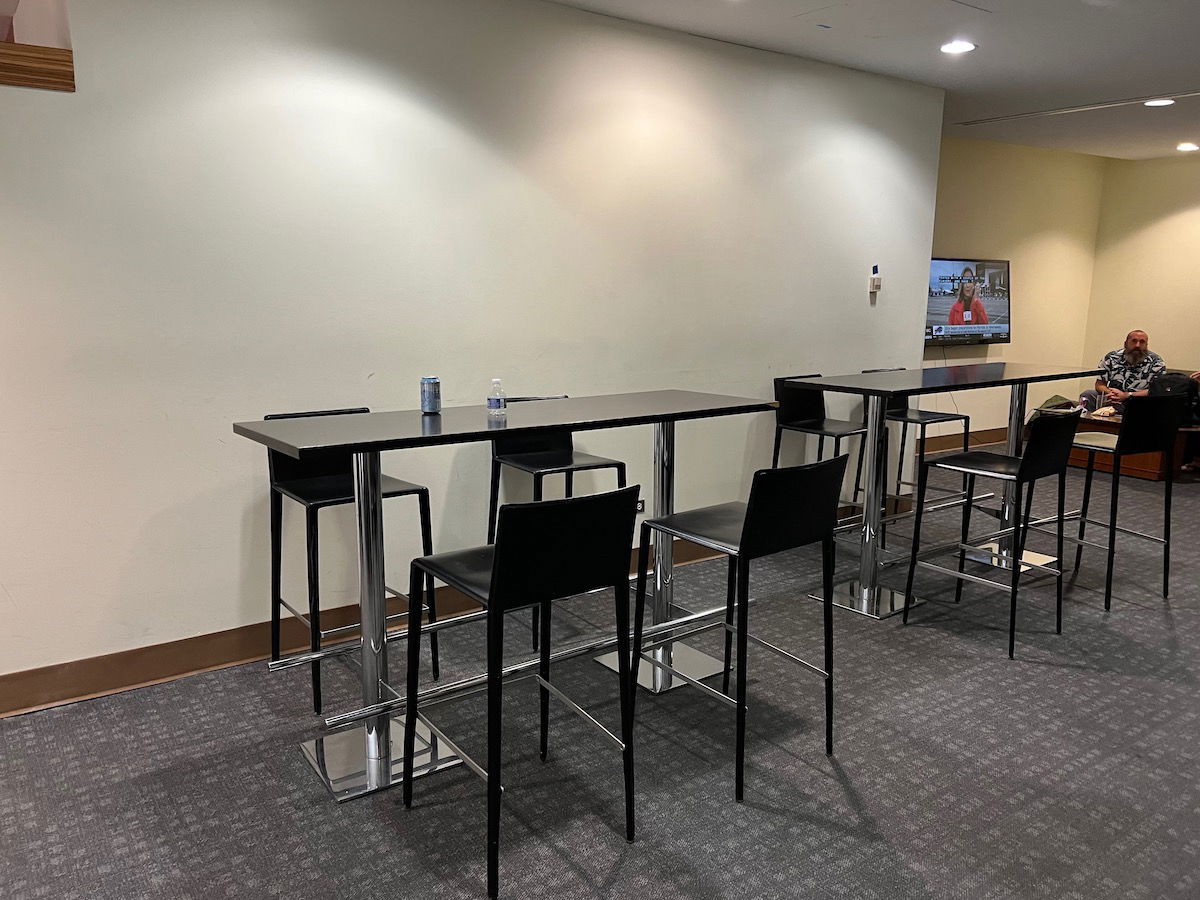 It's not just the size of the lounge, but the furniture feels so worn, and there aren't even any conveniently placed power outlets.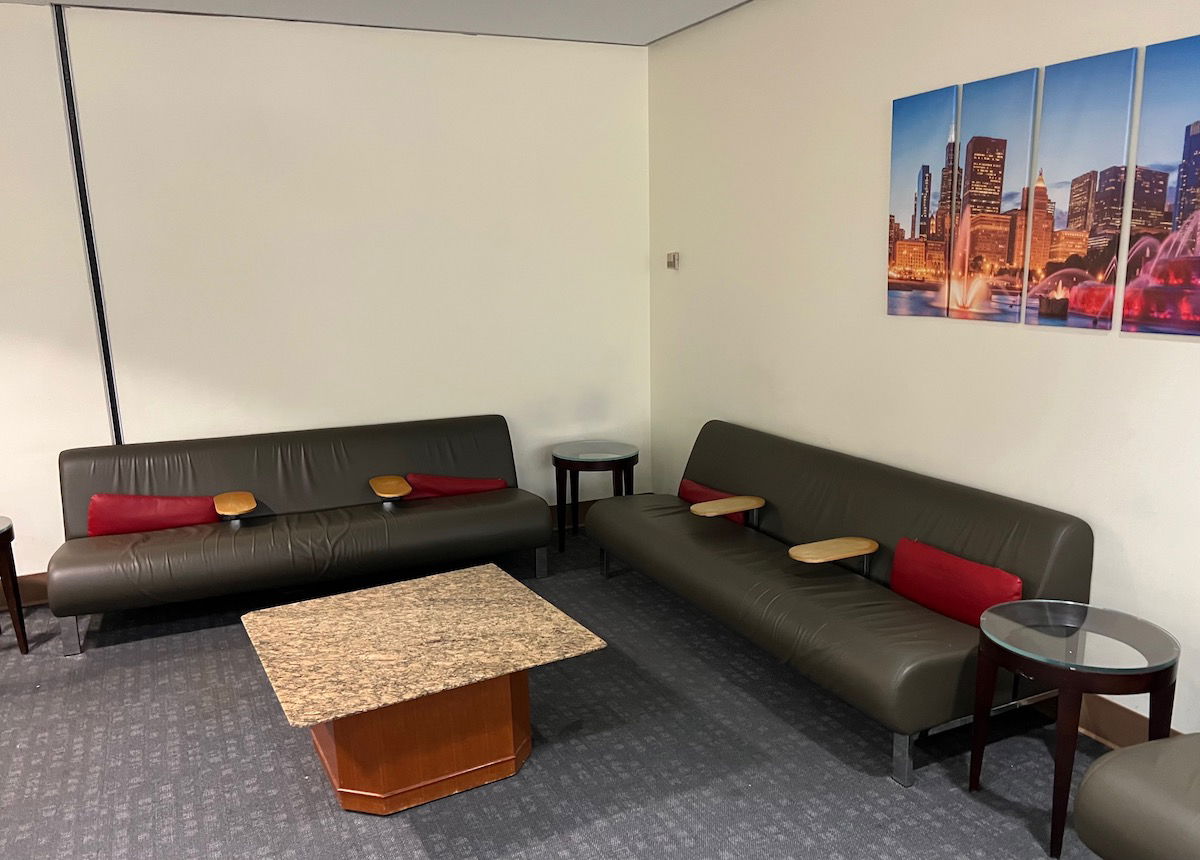 For example, I had a seat at one of the high-top tables, and found it wasn't in any way secured to the ground, even though it had "bars" to put your feet onto. The table nearly flipped over when I slightly stepped down onto it to stand up.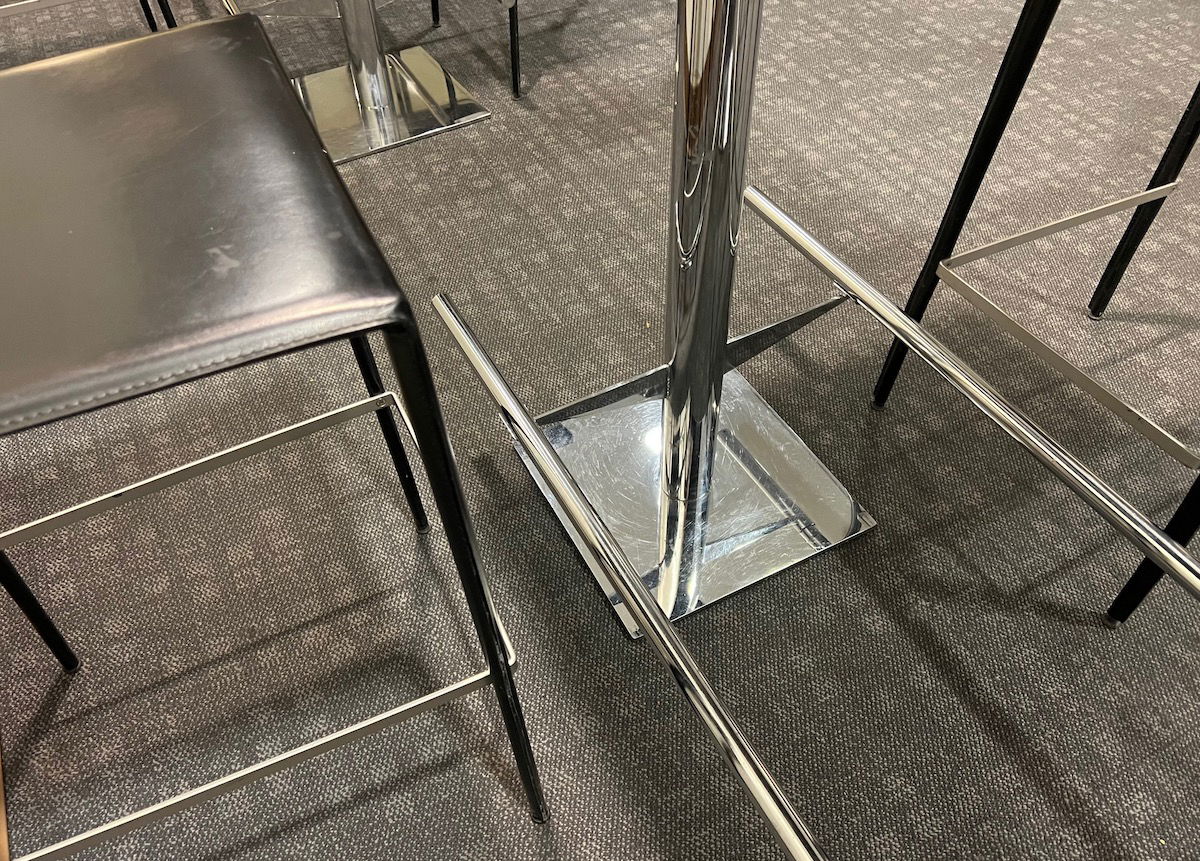 As far as the food & beverage selection goes, I suppose it could be worse. There are about half a dozen packaged snack options, including Chex Mix, Nature Valley granola bars, cheesy crackers, instant noodles, and muffins. They do have a couple of "fresh"(ish) options in the fridge, including a rather bland salad, and one type of sandwich.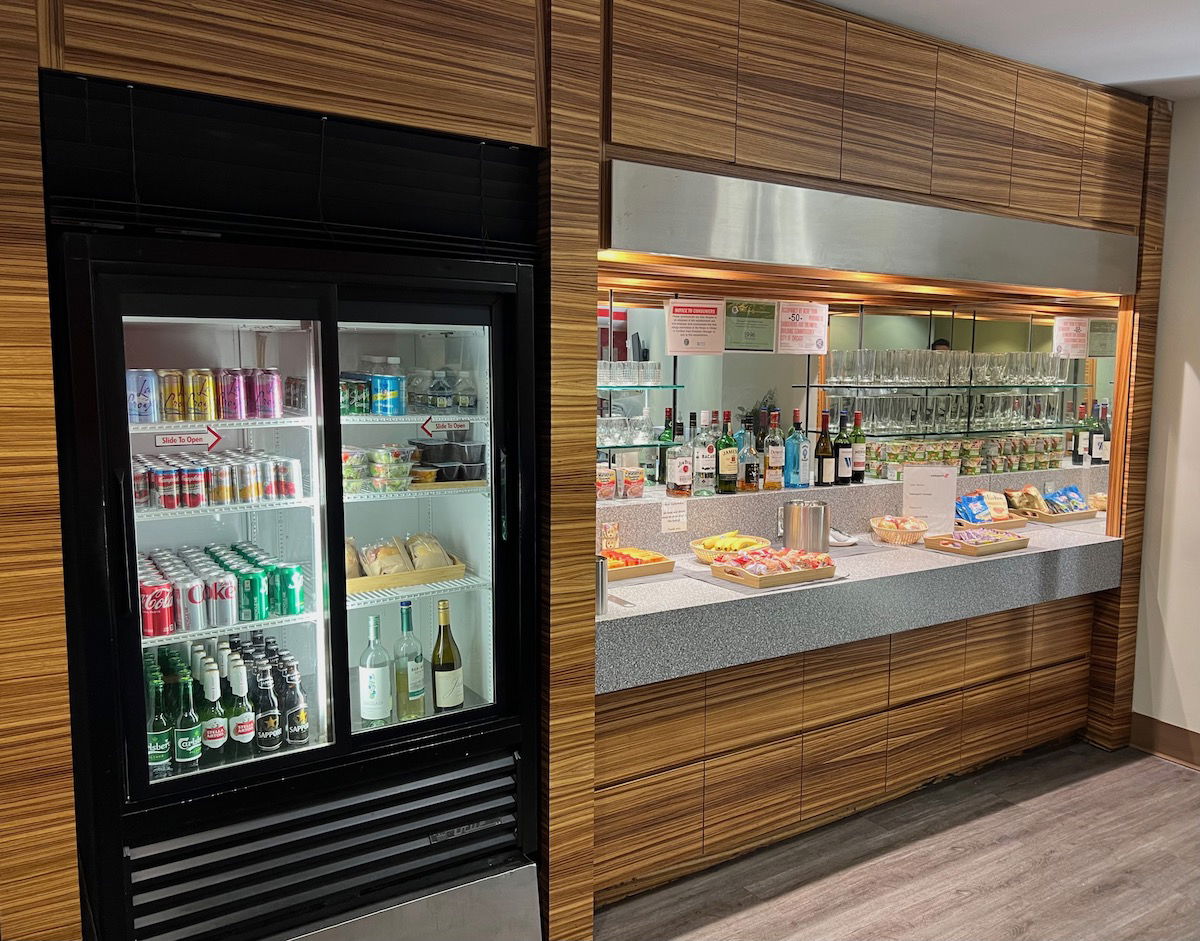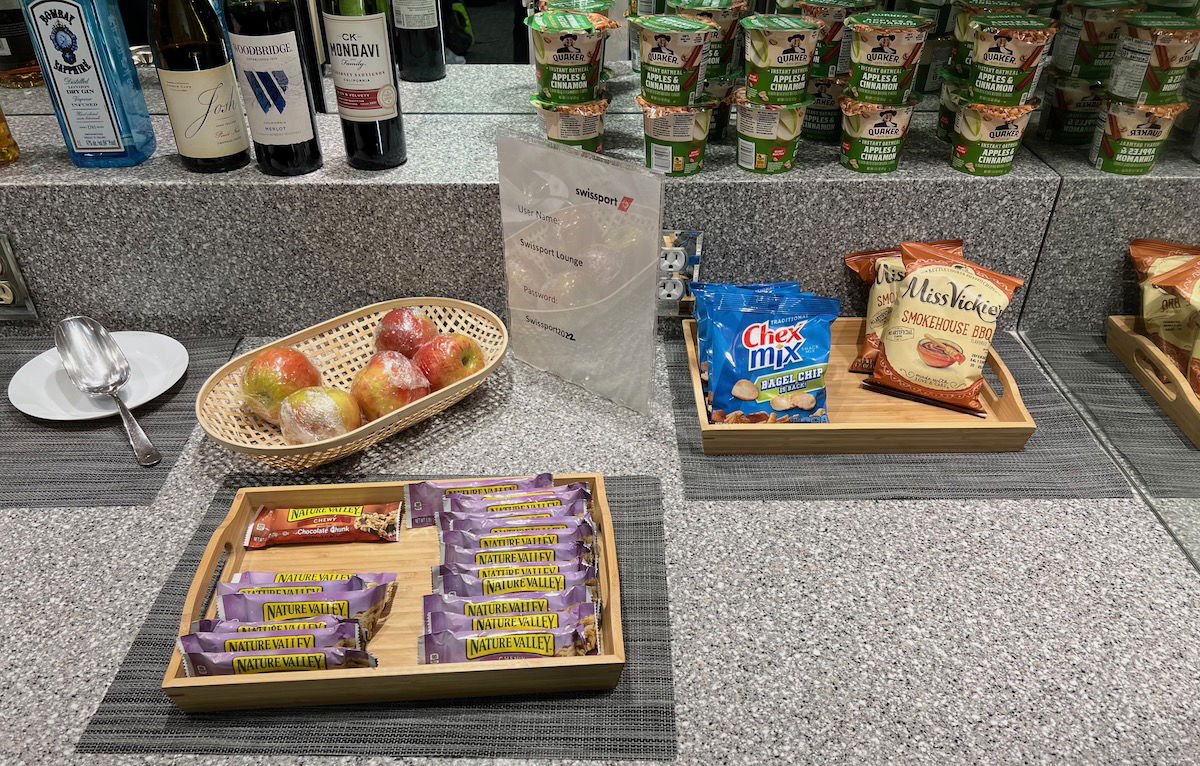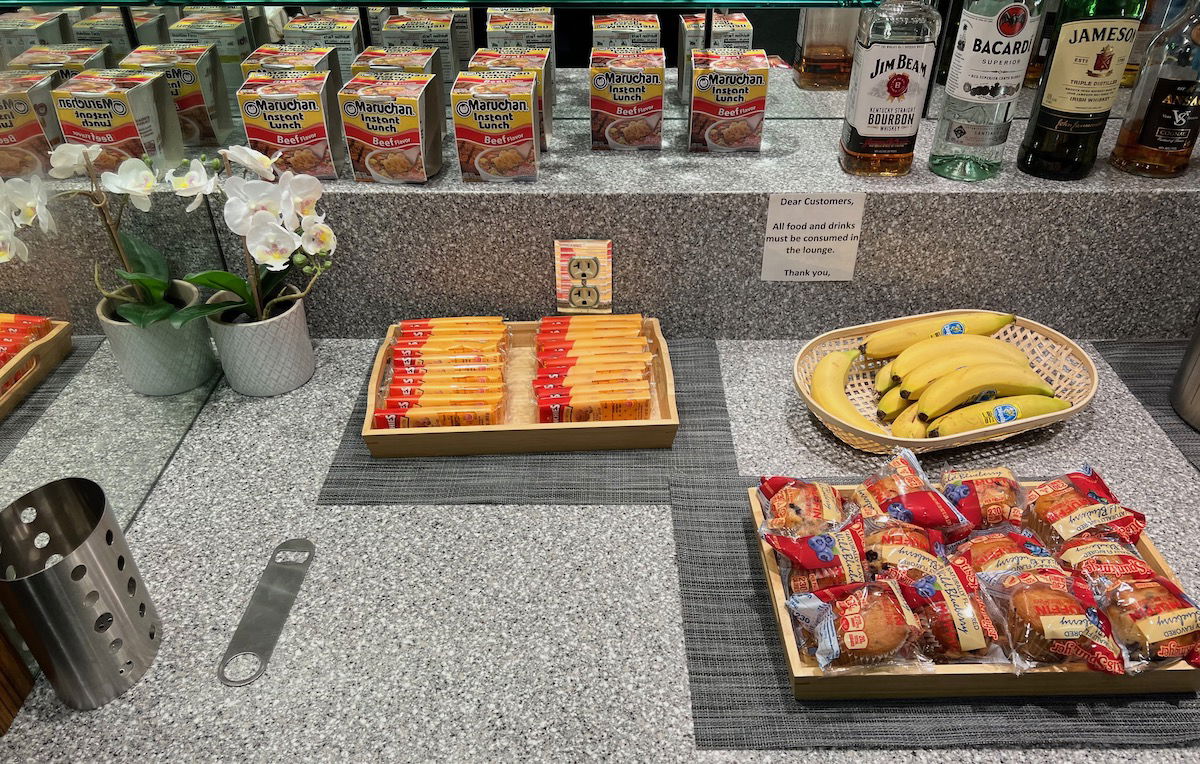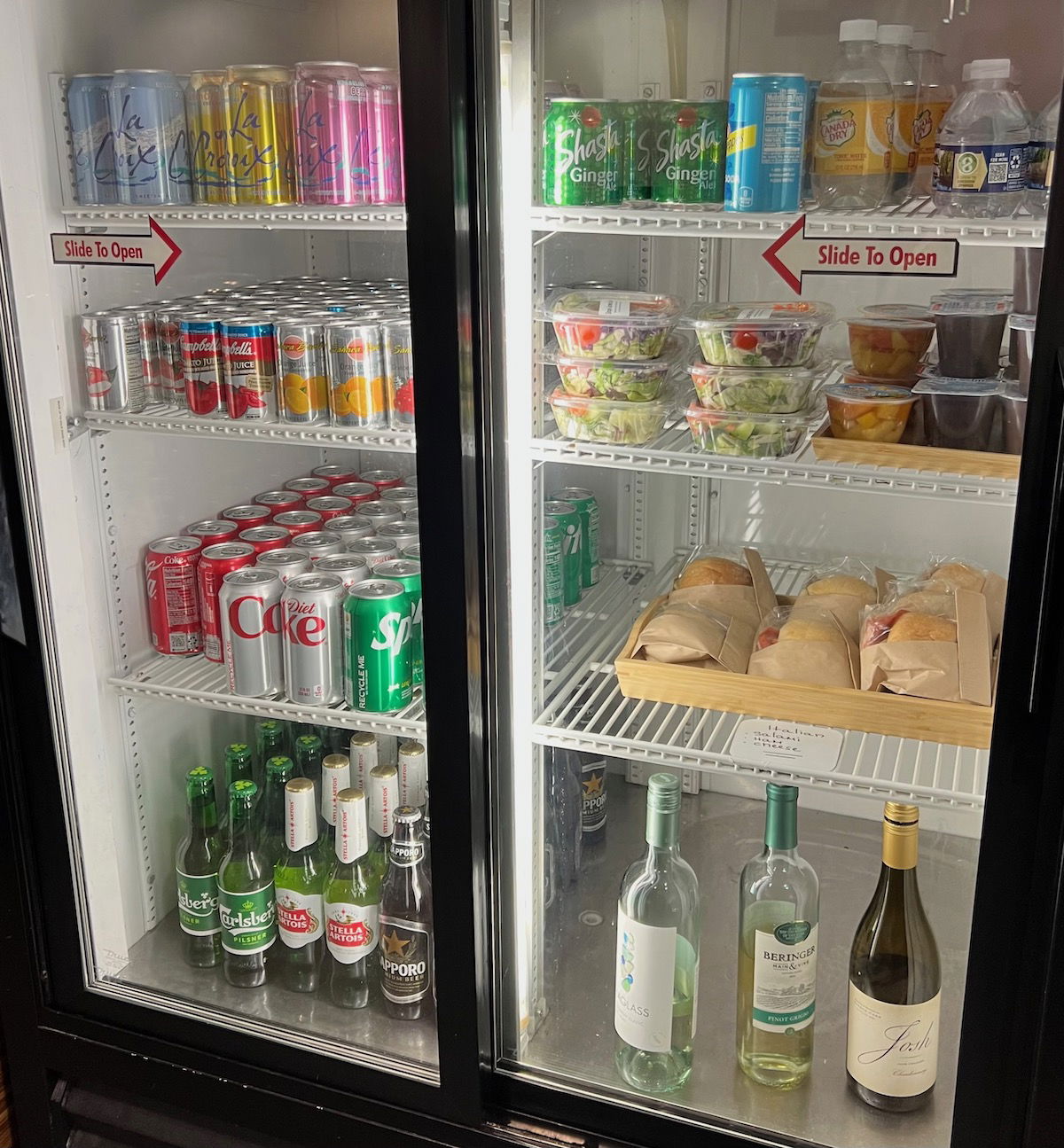 By comparison to the rest of the lounge, the alcohol selection isn't terrible… which, I could see how this lounge could drive someone to drink.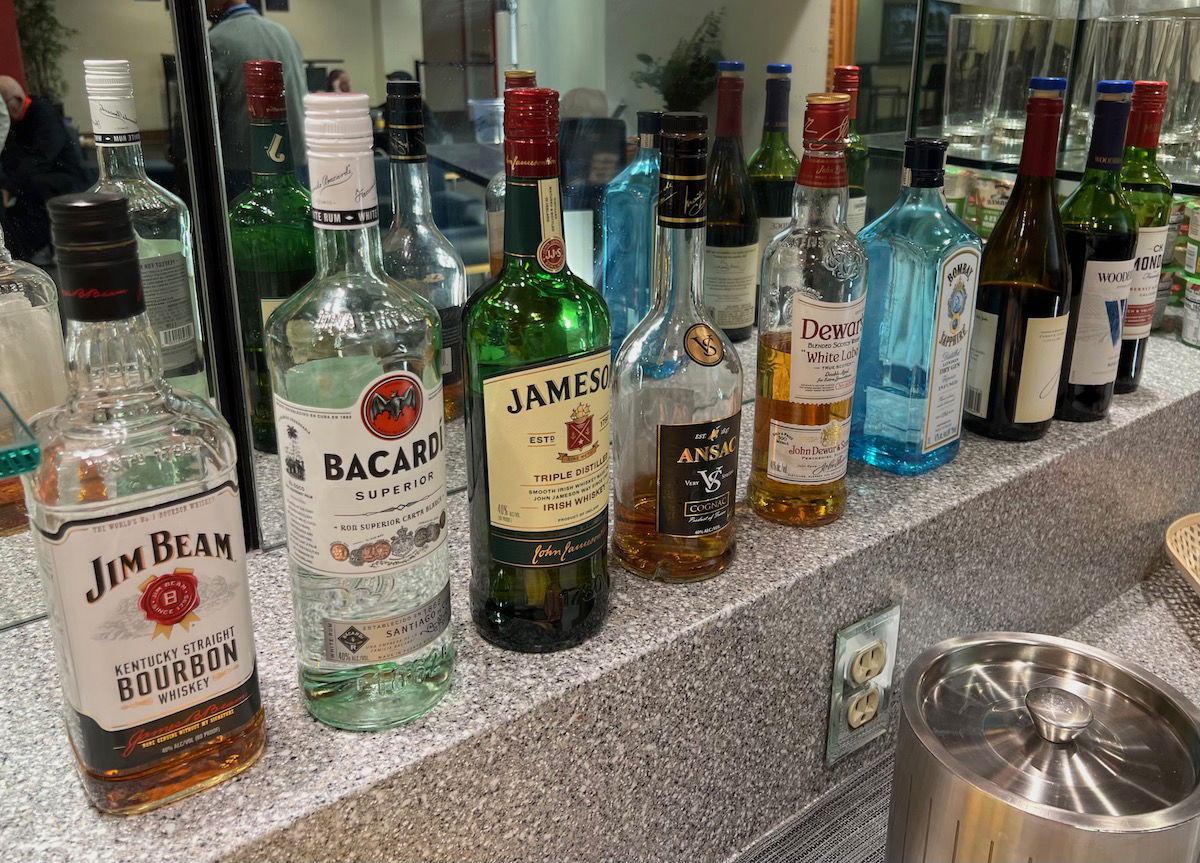 I was going to write a detailed review of the lounge, but honestly, I'm not sure there's enough to write about? All I can recommend is to avoid this lounge as much as possible. If you're in transit at O'Hare, stay in Terminal 1 or Terminal 3 for as long as you can, assuming you have access to American or United lounges. If you're originating in Chicago and this is the lounge you'll be sent to, arrive as late as you can, and then go sit in the gate area, or something.
Is there a worse lounge in the United States?
It's not intended to by hyperbole, but I genuinely think this might just be the worst lounge in the United States. At least it's the worst lounge in the United States that I can remember visiting. Between the lack of bathrooms, lack of power outlets, lack of natural light, tiny size, Fyre Festival catering, and drab decor, I can't think of a lounge in the United States I'd want to spend less time in.
I'm curious to hear from the OMAAT community — are there any worse lounges you've been to in the United States?
Now, to be fair, I can think of a couple of worse lounges I've visited outside of the United States. Air Astana's domestic lounge at Almaty Airport leaves a bit to be desired, with not-great decor, food & drinks for purchase, and no Wi-Fi.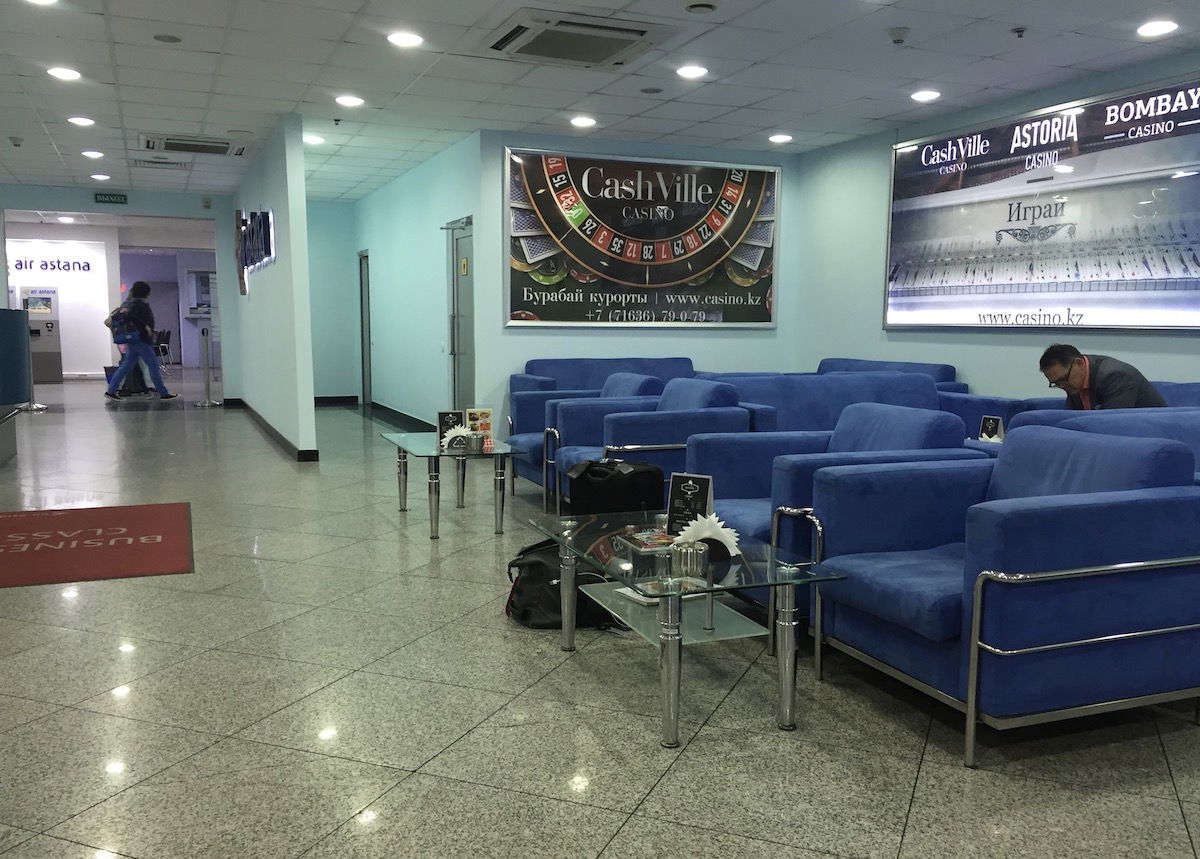 Meanwhile the No. 7 F/C VIP Lounge used by Hainan Airlines at Changsha Airport isn't exactly luxurious either. The decor feels a bit more like a foot massage parlor you'd find in a strip mall in the United States (I'm very familiar with these, and a huge fan) than an airport lounge, minus the foot massage.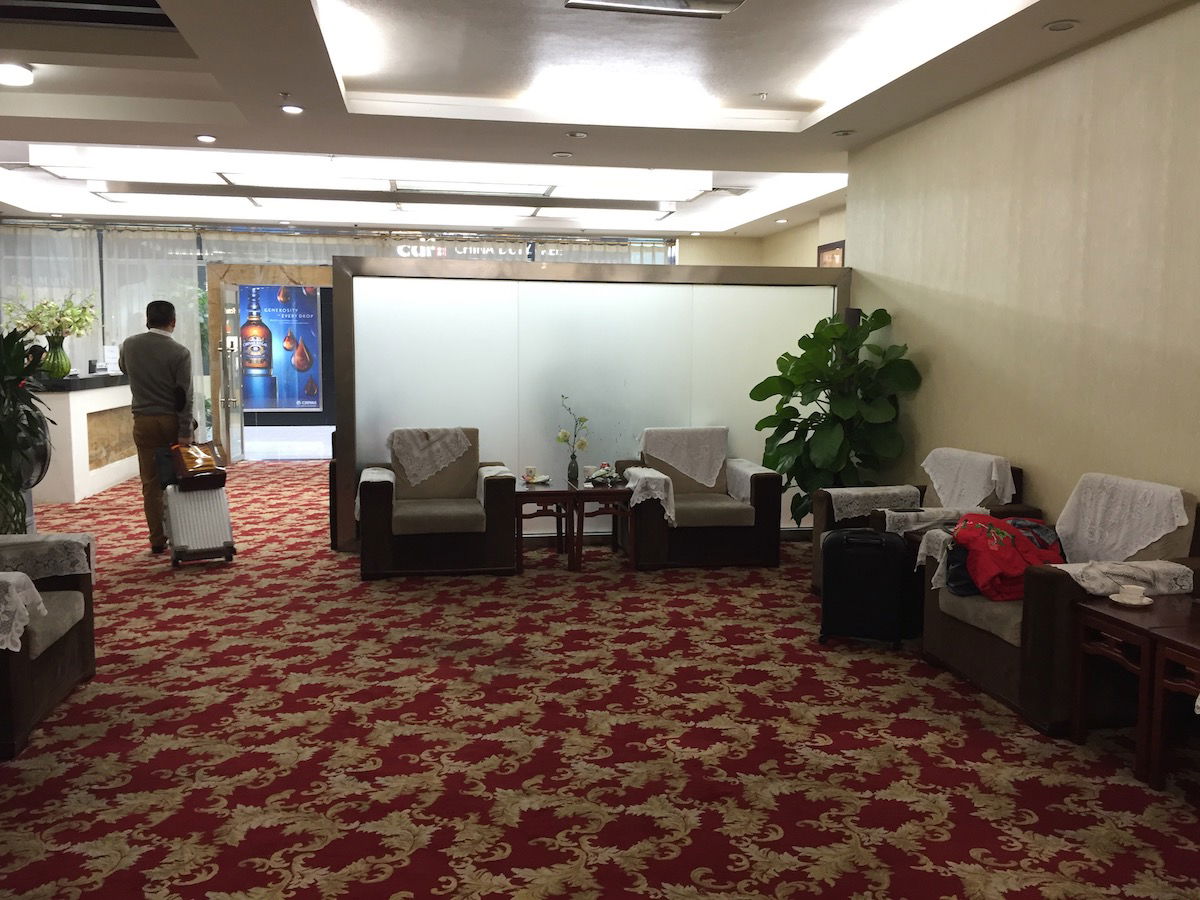 Bottom line
Terminal 5 at O'Hare has to be one of my least favorite terminals to fly out of (in fairness, the new terminal extension that Delta took over is pretty nice, and I've heard the Sky Club is great, but I'm talking about when traveling with other airlines).
The Swissport Lounge Chicago O'Hare takes the airport lounge concept to a new low, in my opinion. I don't think I've been to a worse lounge in the United States.
If you've visited the Swissport Lounge Chicago, what was your experience like? Can anyone think of a worse lounge in the US that I should check out?