Earlier I shared my impressions from a recent Austrian Airlines business class flight. While Austrian has fantastic business class catering in general, I wanted to dedicate a post to what's probably my single favorite part of the Austrian Airlines experience.
Austrian Airlines takes coffee to the next level
I'm a huge coffee enthusiast, and I love when airlines put some effort into the coffee that they serve (I've written in the past about the airlines serving the best non-alcoholic drinks). When it comes to coffee, Austrian Airlines really is in a league of its own, to the point that business class passengers are offered a separate coffee menu on long haul flights.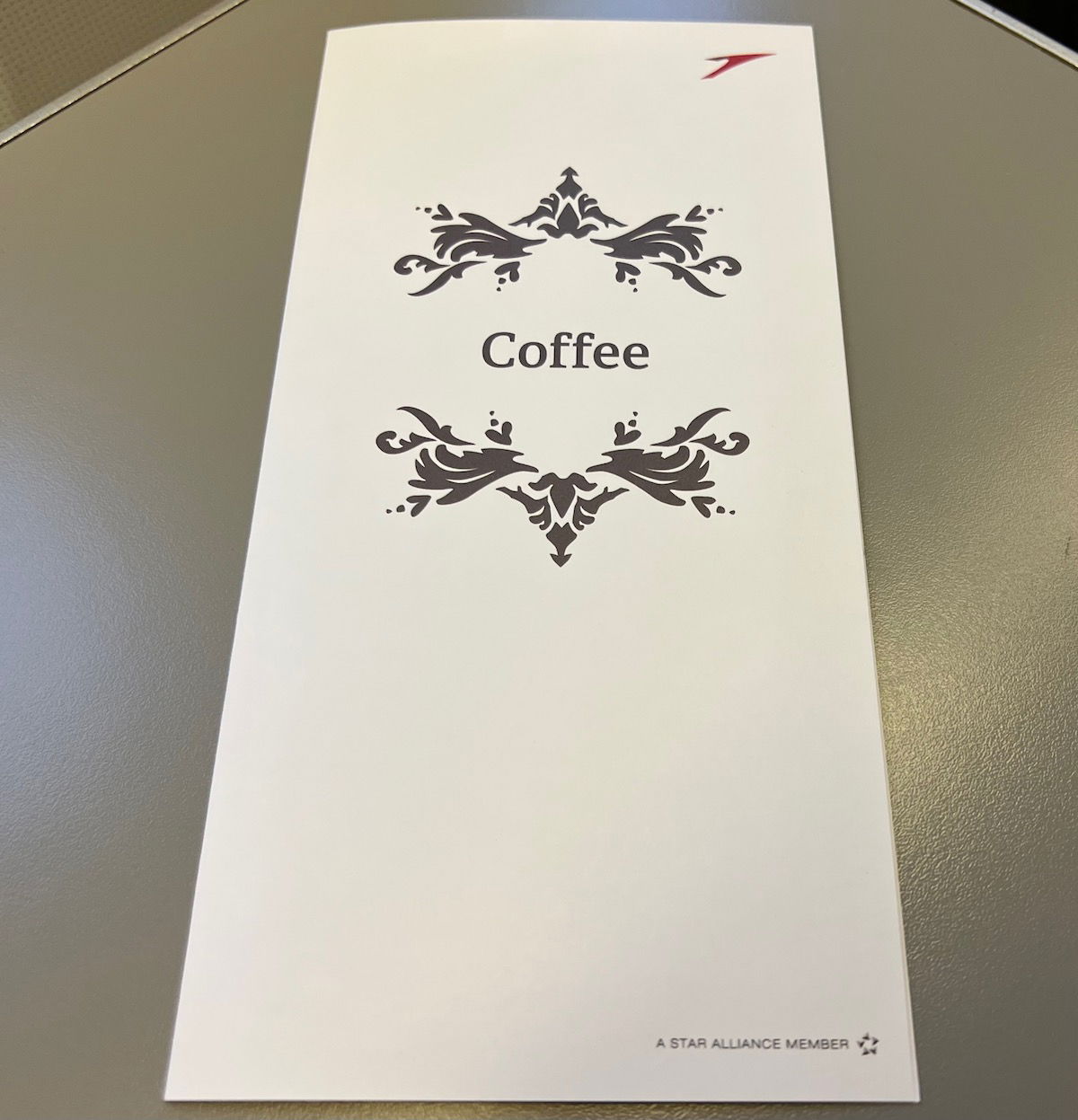 Austria is known for its coffee culture, so it's great to see the country's national airline integrate that into the inflight experience. The way it works, at the end of the main meal service after takeoff, orders are taken for these coffee specialties, and they act a dessert of sorts. You can find the coffee menu below.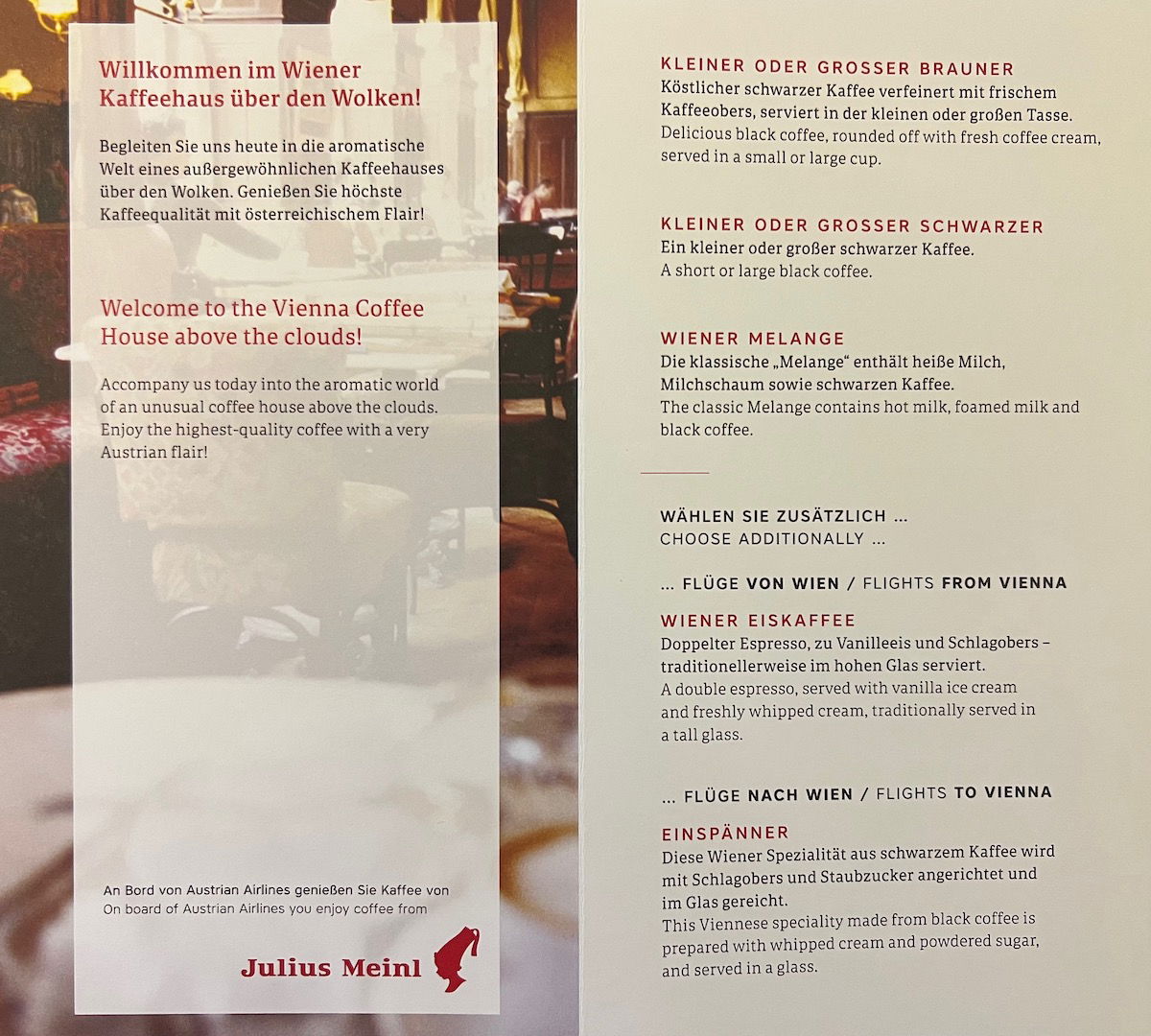 I decided to order an Einspänner, a Viennese specialty made from black coffee with whipped cream and powdered sugar. Okay, of course it's worth acknowledging that this would horrify coffee purists — this is intended to be a dessert, and not a black coffee replacement.
I love the presentation of this, as it's served with a glass of water and a chocolate, as you might find if ordering something similar at a cafe in Vienna.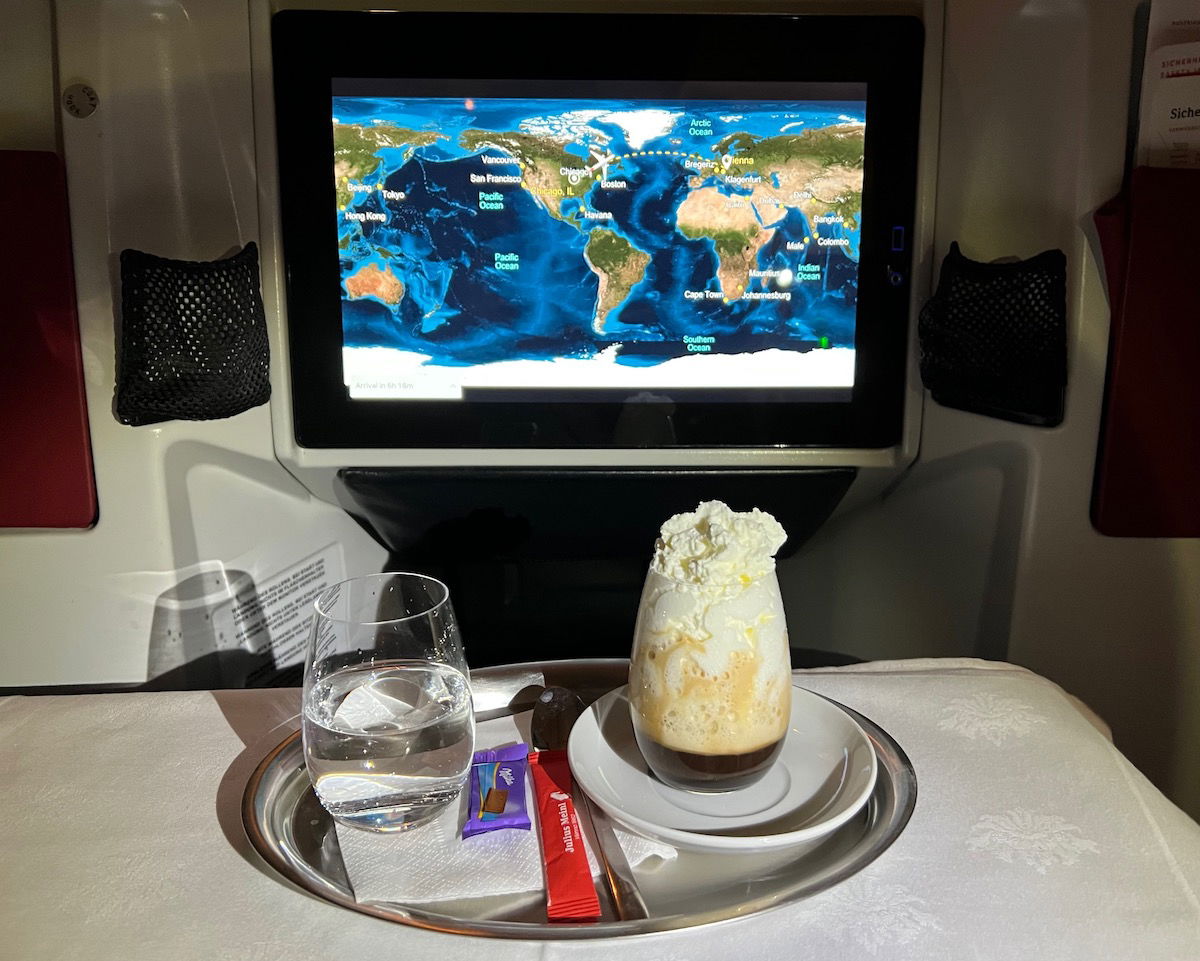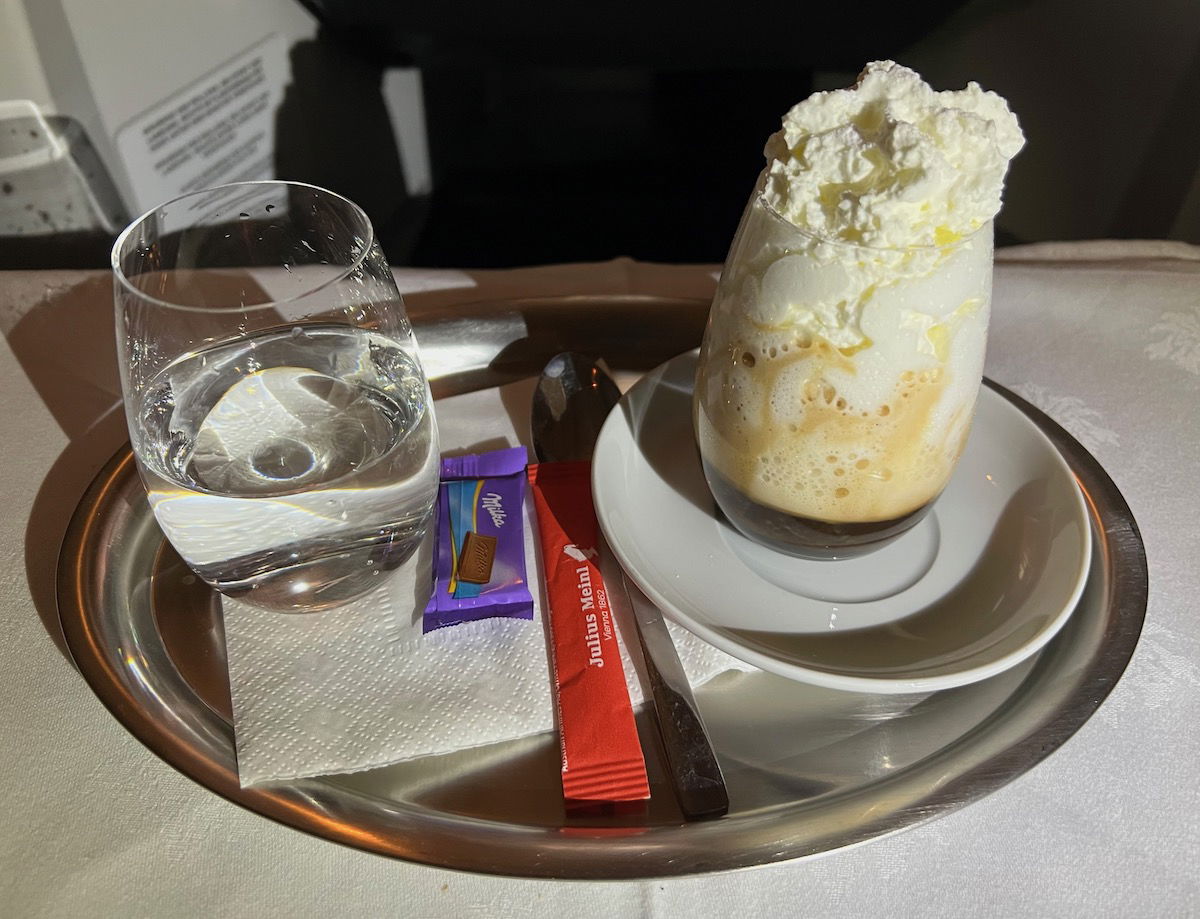 Just to take one for the team and to be able to report back, I ordered a second coffee drink as well. Specifically, I had the Wiener Melange, with hot milk, foamed milk, and black coffee.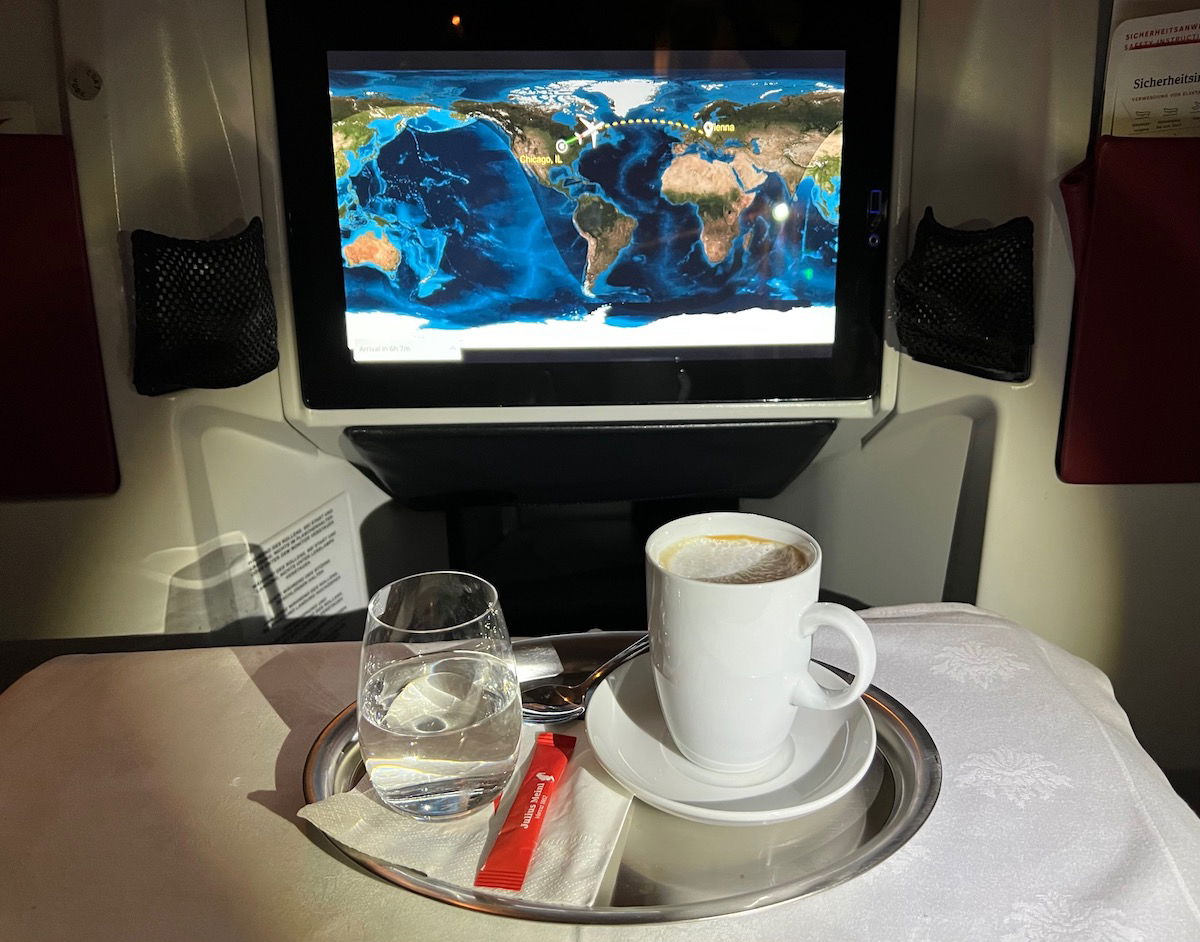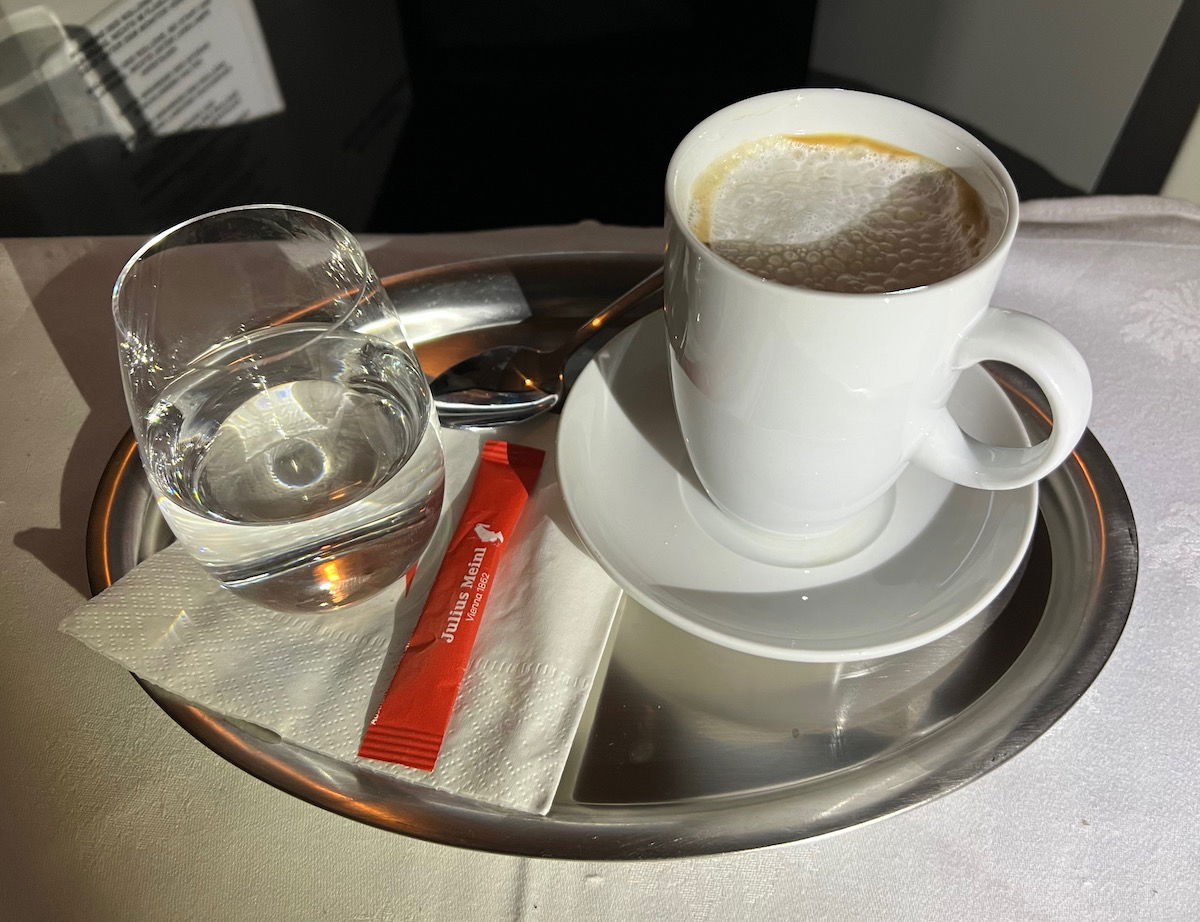 Come and think of it, now I understand why I might not have slept so well on the flight. 😉
Austrian has made coffee menu cutbacks
While Austrian Airlines' coffee menu continues to be a highlight of flying with the airline, I think it's worth mentioning that the airline has made significant cutbacks to this offering compared to pre-pandemic. For example, below is the menu that was available on my Newark to Vienna Austrian business class flight back in 2018.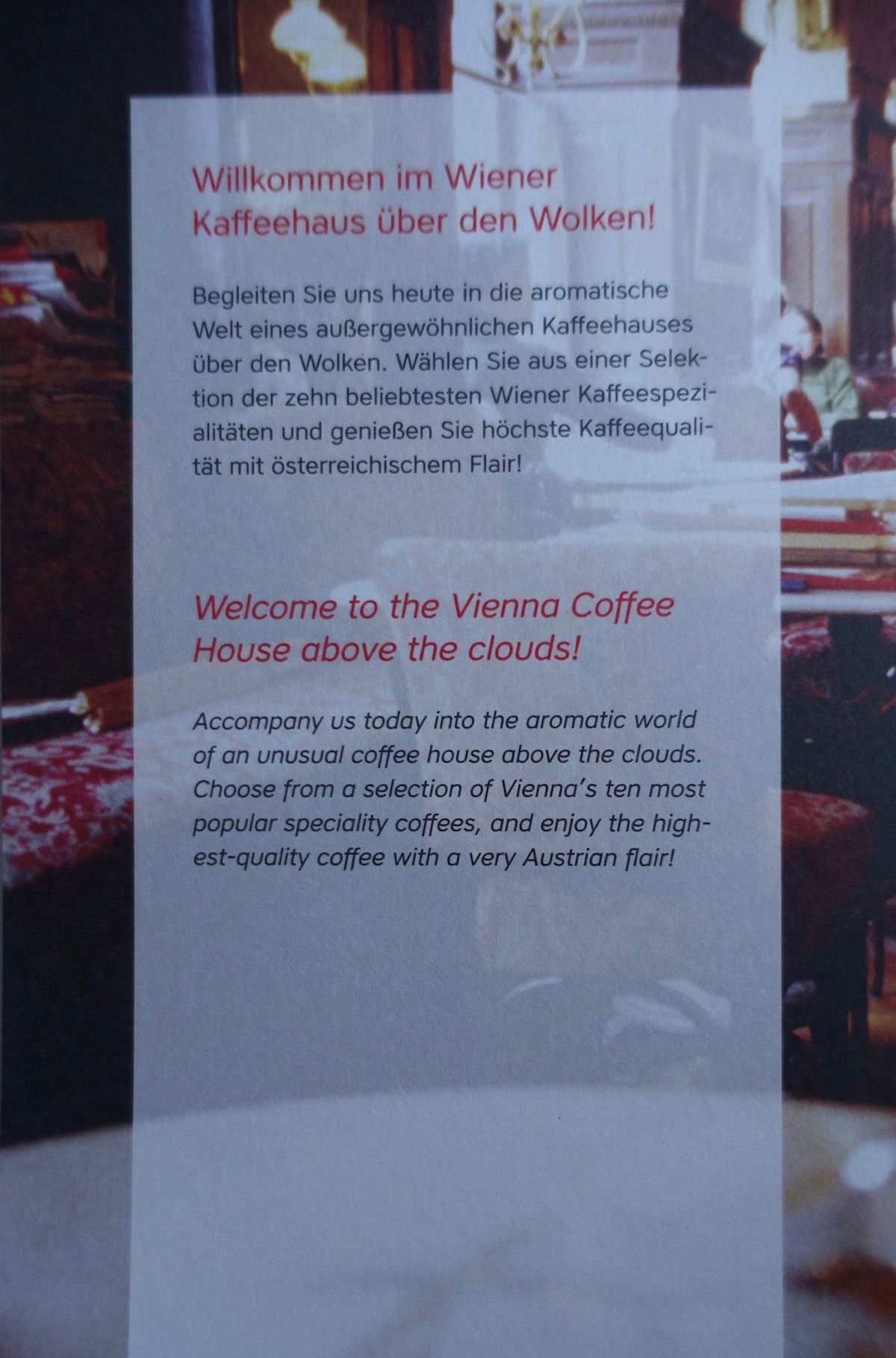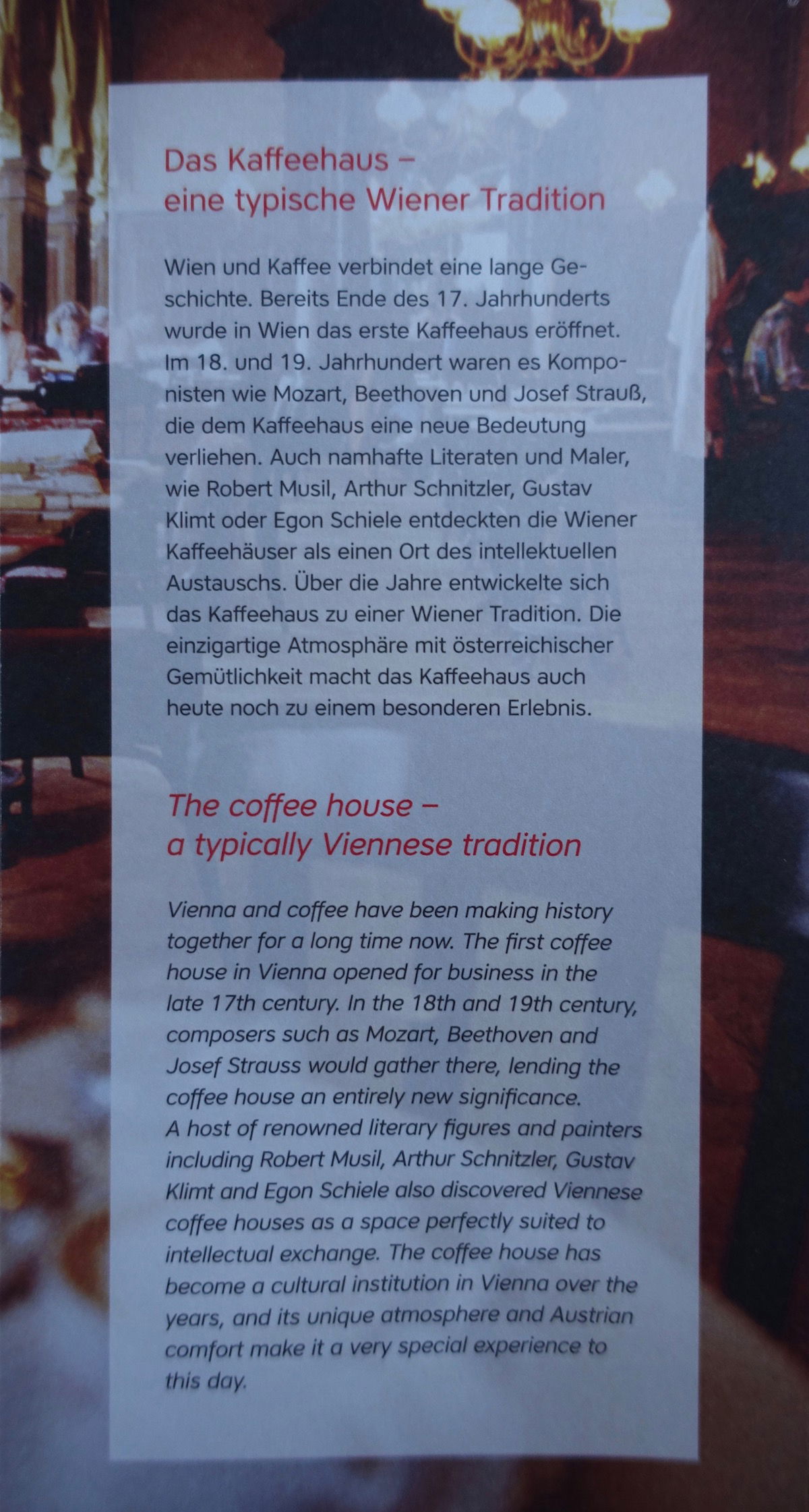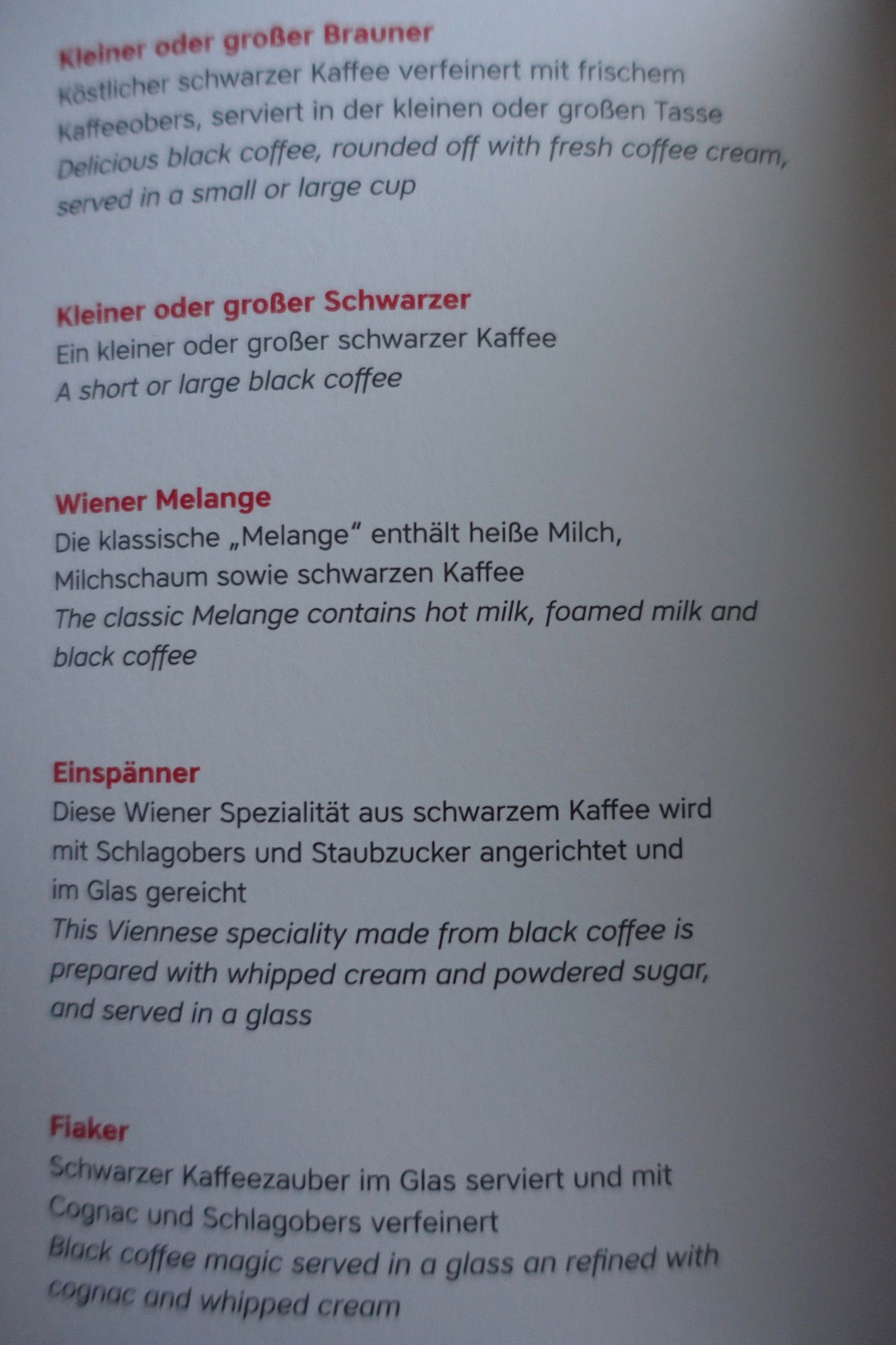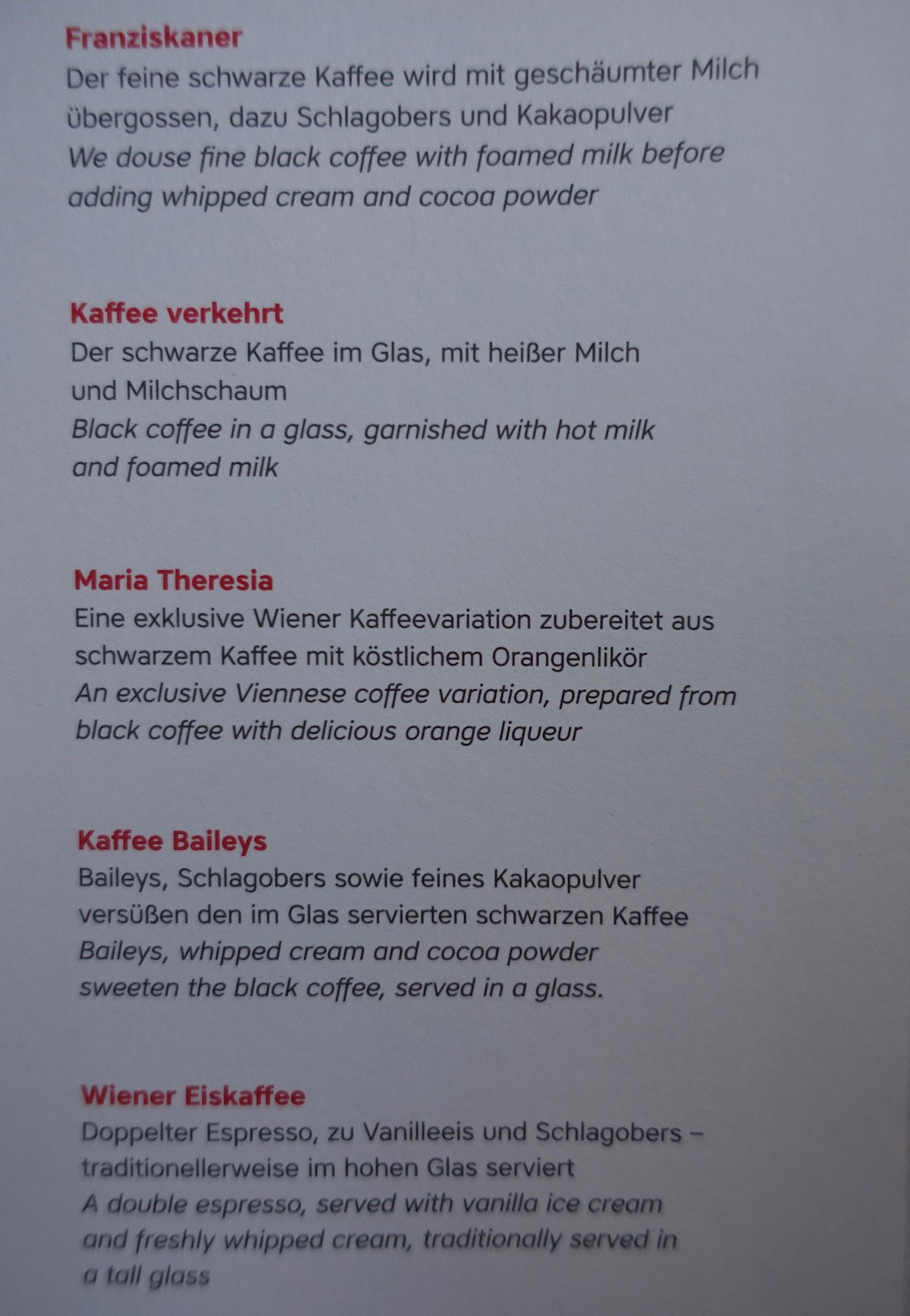 As you can see, back in the day the menu was much more substantial. While you can now only order the traditional Eiskaffee on flights from Vienna, back then you could also order it on flights to Vienna.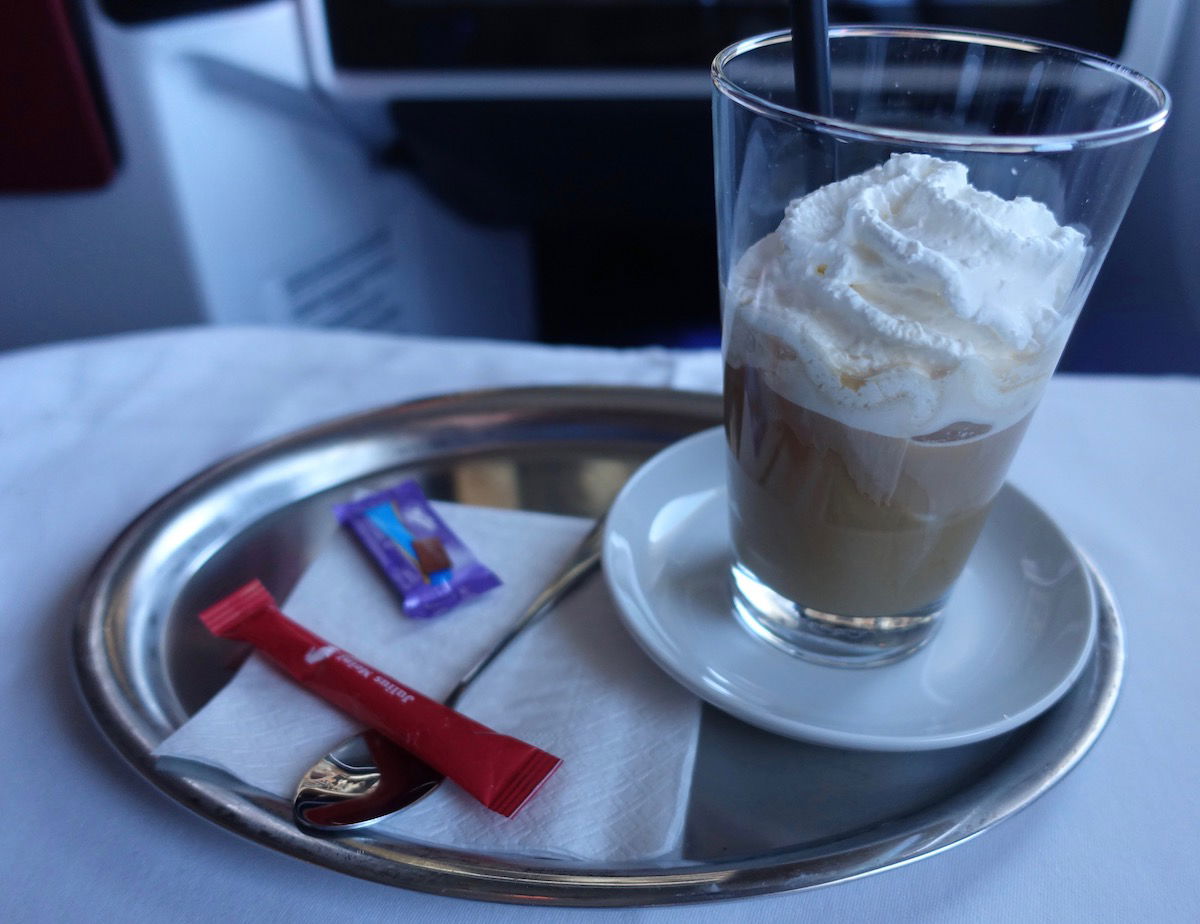 Frankly this seems like a strange place for Austrian to cut costs. Is there really an incremental cost to stocking the ingredients, or is it about streamlining the service, with there no longer being an inflight chef?
Bottom line
I love when airlines put some effort into their soft product in a way that reflects the culture of the carrier's home country, and that's exactly what Austrian Airlines does with its coffee menu. On long haul flights, business class passengers can look forward to an awesome menu with Viennese coffee specialties. While this has been cut back a bit compared to pre-pandemic, it continues to be an awesome feature.
Anyone else love Austrian's coffee menu as much as I do?