Introduction
Domestic (Including Hawaii)
Europe
Asia
Australia & New Zealand
Middle East & India
Africa
South America
Caribbean, Central America, & Mexico
---
If you have a stash of Membership Rewards and are looking for your best award booking options within the contiguous 48 states or to Hawaii, you have a number of interesting options.
Since your best option could differ based on your departure city, we'll take a look at the scenarios when each program makes the most sense.
I'll touch on options that will allow you to take advantage of Oneworld, SkyTeam and Star Alliance partnerships as well as individual partnerships outside these major airline alliances. Some of these airline programs have region-based award charts while others have distance-based charts, but each has their uses.
Perhaps, I'm just obsessed with maximizing my points and miles, but the thought of using more than necessary for the exact same flight makes me twitch. With that in mind, I'll be focusing on ways for you to get the most out of each Membership Rewards point you transfer.
As a reminder, here are some of your options for earning Membership Rewards points:
Earn Amex Membership Rewards points with these cards:
Let's get into it!
Air France-KLM Flying Blue
It's an interesting time to look at the Air France-KLM Flying Blue program as it has shifted to a more Delta-like award approach. While Delta keeps its lowest redemption rates completely opaque, Flying Blue at least provides a mileage calculator so you can see the lowest mileage cost possible — though we don't know how commonly saver level awards will be available.
Previously, Flying Blue had been a go-to program for those with Amex Membership Rewards points hoping to book awards to Hawaii on Delta — not that finding award space to Hawaii on Delta is an easy task.
Flying Blue award rates to Hawaii
As of June 1, 2018, 17,500 Flying Blue miles are required for a one-way economy award to Hawaii. This is only an increase of 2,500 miles from the previous 15,000 miles. Unfortunately, business class awards are increasing from 30,000 miles one-way to 43,000 miles one-way — an increase of nearly 45%!
Currently, the Flying Blue calculator doesn't show the new mileage cost from many airports in the U.S. to Hawaii, including New York (JFK), but we'll keep an eye out just in case there are important differences.
How to book with Flying Blue
You can search and book Delta flights online on either Air France or KLM's sites. Given Flying Blue's penchant for overzealous security measures, however, we'd recommend calling to place the award on hold, and to issue your ticket once your points have been transferred over.
British Airways Executive Club
British Airways' distance-based chart offers solid redemption rates on short-haul flights in the U.S. and even to Hawaii. Both American Airlines and Alaska Airlines are partners with British Airways, and you can use Avios for saver-level space on either carrier. Fortunately, you won't get hit with the infamous British Airways surcharges on these domestic flights.
Avios award rates — short-haul
One-way awards of no more than 1,150 flight miles on either Alaska Airlines or American Airlines will only require 7,500 Avios for economy class. While one-way flights of 650 miles or less only cost 4,500 Avios in other regions of the world, this tier doesn't exist for flights within the U.S. anymore.
Still, it's a great way to book short flights when you have Membership Rewards points. Just keep in mind that you pay for each segment individually, so if you have to connect the points will add up quickly.
Avios awards to Hawaii
For longer flights, you'll want to choose carefully. You can get a great deal by using 12,500 Avios from the west coast to Hawaii but that cost jumps to at least 25,000 Avios from the east coast for economy flights. Flying out of Chicago (ORD) or Dallas Fort Worth (DFW) will require at least 22,500 and 20,000 Avios, respectively, for a one-way award.
If you want to fly business class to Hawaii from the west coast on American Airlines, you'll pay double the economy rate — 25,000 Avios. The front cabin on Alaska Airlines codes as first class for the purposes of Avios redemptions, so their flights from the west coast would be a whopping 37,500 Avios.
How to book with Avios
British Airways allows you to search for and book awards on American Airlines online. Recently, the website has experienced some issues with showing the correct award space on American Airlines. Sometimes refreshing your browser a few times will help while other times you'll need to search on American then call British Airways to book (1 800 452 1201).
Unfortunately, the British Airways site doesn't show award space on Alaska Airlines. If you want to book an award on Alaska Airlines, you'll need to search on American's site and then call British Airways.
Cathay Pacific Asia Miles
Cathay Pacific is updating its award chart on June 22, 2018 which will make these redemption rates obsolete
For shorter flights, you'll often find that booking with British Airways Avios is a better option than using Cathay Pacific's Asia Miles program. However, if you want to book a transcontinental business class award on Oneworld partner American Airlines (or Alaska Airlines), it might be your best bet.
Transcontinental business class awards with Asia Miles
A round-trip business class award between 2,501 – 5,000 flight miles will cost you 50,000 Asia Miles. Keep in mind that connecting flights could bump you up an award zone and increase the miles required as Asia MIles uses a distance-based award chart.
You'll notice, I've highlighted the mileage requirement for an award between 1,201 – 2,500 miles. If you don't include a stopover on an award governed by the Standard award chart — awards with no more than one partner in addition to Cathay Pacific and Cathay Dragon — then the miles required is dictated by the one-way distance.
Also, be aware that some transcontinental routes will require more miles. A few examples at the 50,000-mile tier include:
New York (JFK) – Los Angeles (LAX)
Washington, DC (DCA) – LAX
DCA – San Francisco (SFO)
DCA – Seattle (SEA)
Miami (MIA) – LAX
Venturing outside the U.S., you can actually fly Cathay Pacific business class — with lie-flat seats and direct aisle access — from JFK to Vancouver (YVR) for the same number of miles.
While it won't be the ideal way to book for most domestic awards, it's a good option to keep in your back pocket.
How to book with Asia Miles
Oddly, while Alaska awards can be booked instantly online — though not all Alaska cities are loaded into the Asia Miles search tool, for American Airlines and a number of other Asia Miles partners, you'll need to call. Don't be surprised if you sit on hold for a long time, though calling early in the day can help. You can use British Airways to search for award space or, if the BA site is acting up, give Qantas a look.
Transfers often take at least 24 hours and sometimes up to two days, so be aware of that before transferring.
Delta SkyMiles
Delta certainly doesn't make things easy by not publishing an award chart. Not only that, but the amount of miles required for domestic awards varies based on your route, so you won't necessarily see consistent rates.
Domestic Delta awards
Looking through the end of the calendar, I can see one-way economy awards between 5,500 and 6,500 SkyMiles between LAX and SFO.
If you want to fly DCA-LAX, you can find one-way economy awards as low as 13,500 SkyMiles but you won't find Detroit to LAX for less than 15,000 miles (even though it's a shorter flight).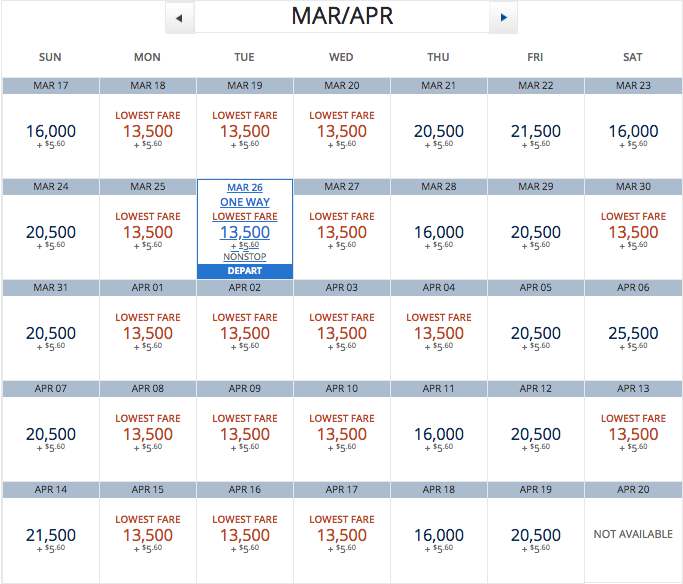 With so much variability and award charts hidden away, it's no surprise why so many of us have big issues with the Delta SkyMiles program. I'd always recommend checking the cash fares if you're considering using miles for a flight on Delta.
How to book with Delta SkyMiles
If Delta has anything going for it, I guess you could say it's that it's easy to search for Delta awards and book online. I'm sure now that I've said that, they'll pull all online award search functionality.
Singapore KrisFlyer
The most versatile program for booking awards to Hawaii or within the contiguous 48 states just might be Singapore KrisFlyer thanks to its ability to book awards on both Star Alliance partner United as well as Alaska Airlines.
Economy awards on Alaska Airlines
Starting with flights to Hawaii, you can book one-way economy awards on Alaska Airlines for as few as 12,000 KrisFlyer miles depending on the region from which you depart. For shorter economy awards, you can book for as little as 7,500 KrisFlyer miles.
The biggest downside to Singapore's award chart for flights on Alaska Airlines is that it doesn't allow connections and charges by segment. Those without non-stop flights to Hawaii will have to use an additional 7,500 to 12,000 miles to connect. As a result, most people will be better off using KrisFlyer miles for flights on United.
Economy awards on United Airlines
While not quite the sweet deal that you get when flying Alaska non-stop, a one-way economy award on United is still only 17,500 miles. Additionally, you'll get a much better deal if booking business class awards to Hawaii on United at 30,000 miles one-way rather than at least 42,000 miles to fly Alaska.
Even if you're just flying around the continental U.S., Singapore is still the best Star Alliance partner of Membership Rewards, with one-way awards going for 12,500 miles in economy and 20,000 miles for business class.
How to book with Singapore KrisFlyer
One important thing to remember about using KrisFlyer miles is that while you can find United award space on Singapore's site and book online, you'll need to call to book awards on Alaska. To find Alaska award space, you can search with American Airlines, or use ExpertFlyer.
Virgin Atlantic Flying Club
With different award charts for each of its partners, it's not surprising that Virgin Atlantic Flying Club isn't the most talked about program — unless you're like me and fascinated by it. Don't sleep on it though. Flying Club provides a great way to book transcontinental awards on Delta.
Transcontinental business class awards on Delta (non-stop)
Business class is really where the program shines at 22,500 miles for a one-way award on Delta — economy awards are still solid at 12,500 miles. Of course, the tough part about domestic business class awards on Delta is finding award space, especially on popular routes such as JFK-LAX.
If you can find award space on a transcontinental Delta flight with lie-flats, however, this is one heck of a way to book.
Business class awards on Hawaii on Delta (non-stop)
With the change to Air France-KLM Flying Blue's redemption rates to Hawaii, you might even consider Flying Club for a non-stop Delta flight — connections require more miles.
A non-stop, one-way business class award to Hawaii on Delta prices at 37,500 miles which is 5,500 miles less than Flying Blue requires.
How to book with Virgin Atlantic Flying Club
You can search and book online, but I prefer to call and have Flying Club hold the award while I transfer Membership Rewards points. Generally, transfers process within a day but you will often see them in your account much sooner.
When searching for Delta award space online, you'll need to click the upside down teardrop, then choose "US & Canada" and select your destination state and airport. If you try to just enter the airport name or code, the airport won't show.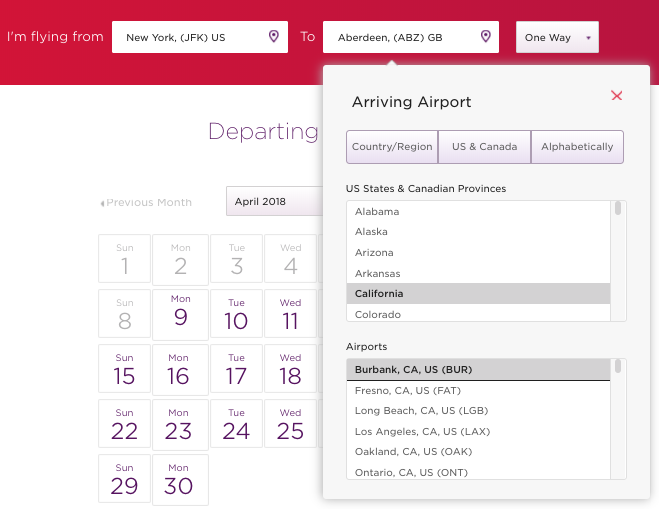 Other programs to consider
The options above are going to be your staples, but there a few options you might want to keep in mind just in case they line up with your travel needs.
Aeroplan for stopovers
If you want a stopover on your way to Hawaii, Singapore KrisFlyer won't be able to help you. With Aeroplan, however, you can include a stopover on a round-trip award to Hawaii by paying a small premium in points.
A round-trip economy award requires 45,000 Aeroplan miles, while business class requires 80,000 miles. These awards require you to transfer 10,000 and 20,000 more Membership Rewards points than you'd use for a Singapore KrisFlyer redemption, respectively, which might make sense in some cases.
Iberia Plus for round-trip awards on American with connections
If you need a domestic award flight on American Airlines but your itinerary will require a connection, you can save some points by booking with Iberia Avios instead of British Airways Avios.
Now, there are a couple important aspects to remember when booking flights on American with Iberia Avios. First, the booking must be round-trip. Second, the award is not cancelable so you need to be sure you can travel.
Hawaiian Airlines HawaiianMiles in a pinch
A non-stop flight on Hawaiian Airlines from JFK to HNL is listed at just under 11 hours. No one will judge you for wanting a lie-flat business class seat for that journey — technically, Hawaiian Airlines calls it "first class".
While not the fewest miles you can use to fly to Hawaii, you can book this award for 40,000 HawaiianMiles one-way at saver level, while economy will require 20,000 miles. Of course, finding first class award space at saver level can be quite the chore, especially if you're looking for two seats, but for some the premium for standard awards may be worth it.
Bottom line
With Amex Membership Rewards, you'll have access to awards on all three alliances and Alaska Airlines.
British Airways Avios will often be a go-to for short non-stop but don't sleep on Delta SkyMiles. Asia Miles and Flying Blue are more limited but have their uses. And, finally, Singapore KrisFlyer is the most versatile of Amex's partners thanks to its ability to book awards on both Alaska Airlines and United.
How have you used American Express points domestically?