Singapore Airlines is regarded as being one of the best airlines in the world, and as you'd expect, that's especially true in premium cabins. In this post I wanted to take a look at how you can redeem miles for Singapore Airlines' Suites and first class products. What is pricing like, and is there ever award availability?
The basics of Singapore Airlines Suites & first class
Many people are confused about the difference between Singapore Airlines Suites and first class, so let's start with that. Essentially Singapore Airlines has Suites on its Airbus A380s, and first class on its Boeing 777s. Planes have one or the other, but not both.
While the products are very different, the award pricing is the same — for all practical purposes, the name of Suites vs. first class is about marketing. It's just to reflect that one plane has a much better first class product than the other.
Singapore Airlines' best product is its Airbus A380 Suites. These planes have six Suites, and they're at the front of the upper deck, in a 1-1 configuration.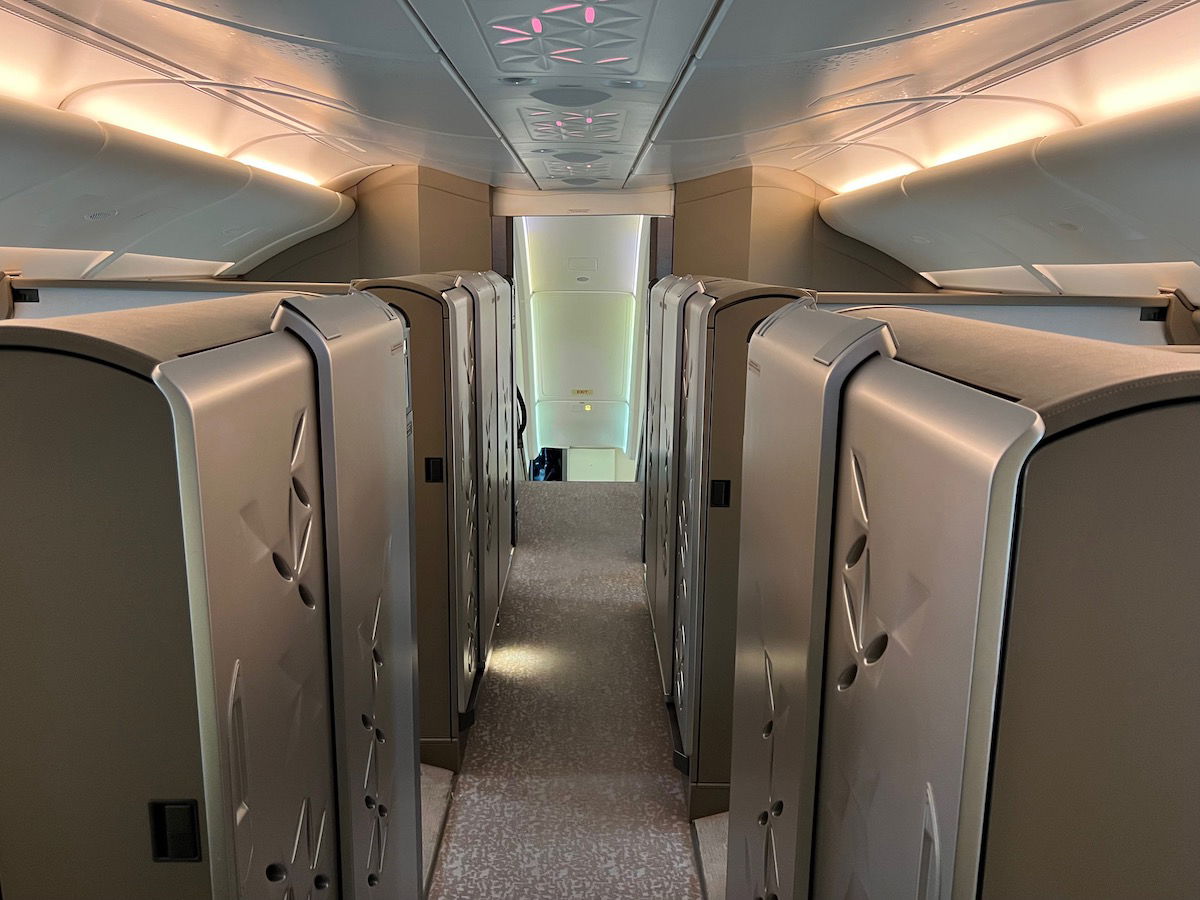 Each Suite has a door for privacy, and a separate bed and chair.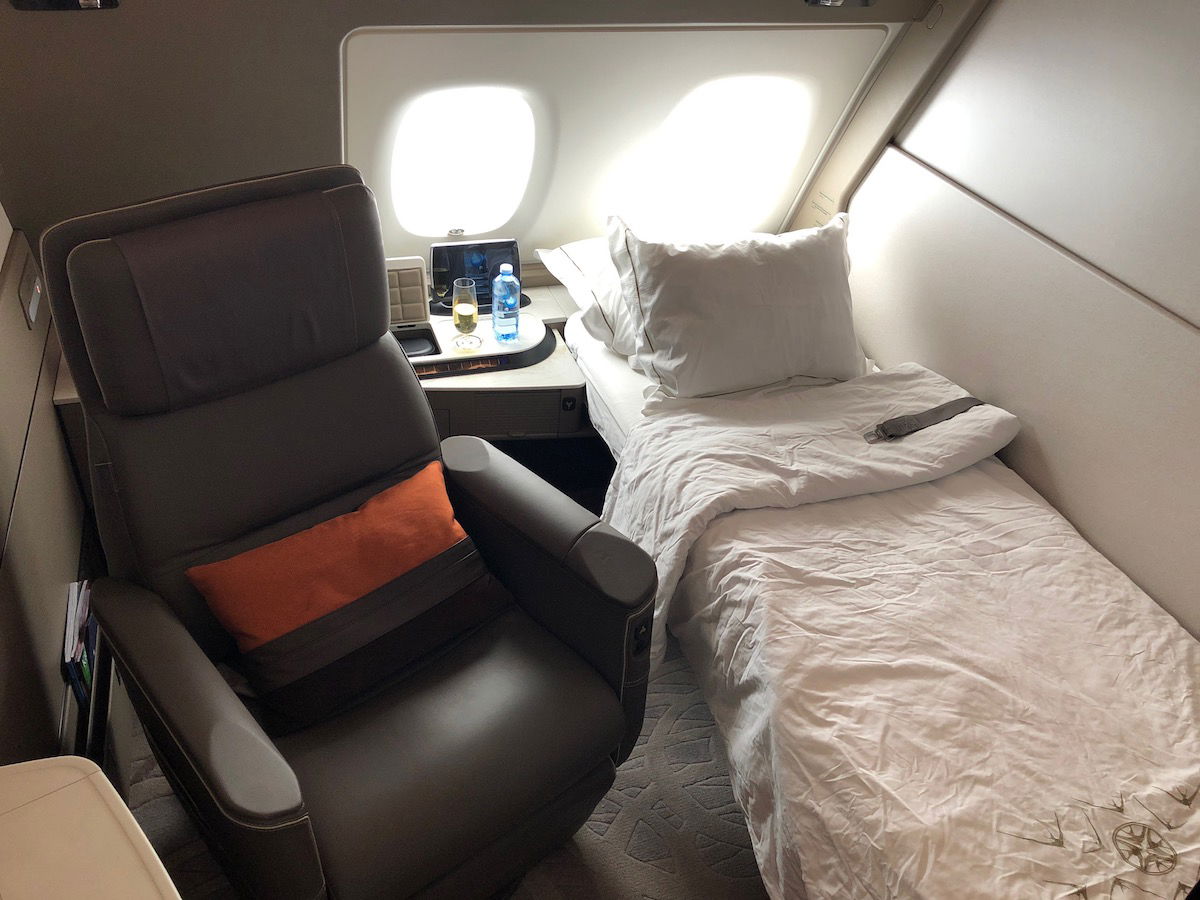 If you're traveling with someone, you even have the option of turning your space into a double bed (this is only available in select seats).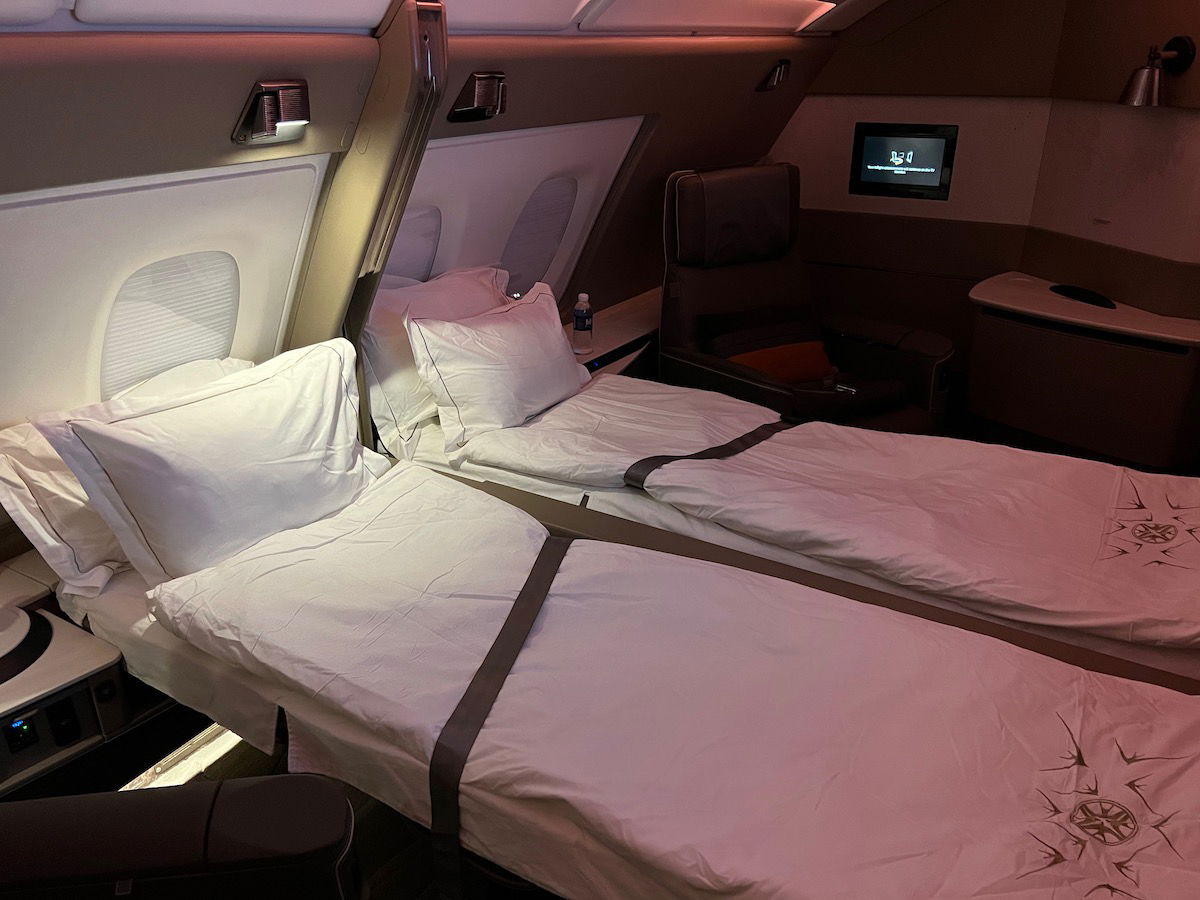 If you have the choice, I'd definitely recommend seeking out an A380, as I rank this as one of the world's best first class products.
Singapore Airlines also has its Boeing 777 first class. These planes have four first class seats, in a single row, with a 1-2-1 configuration. While this is a perfectly nice product, suffice it to say that this pales in comparison to the A380.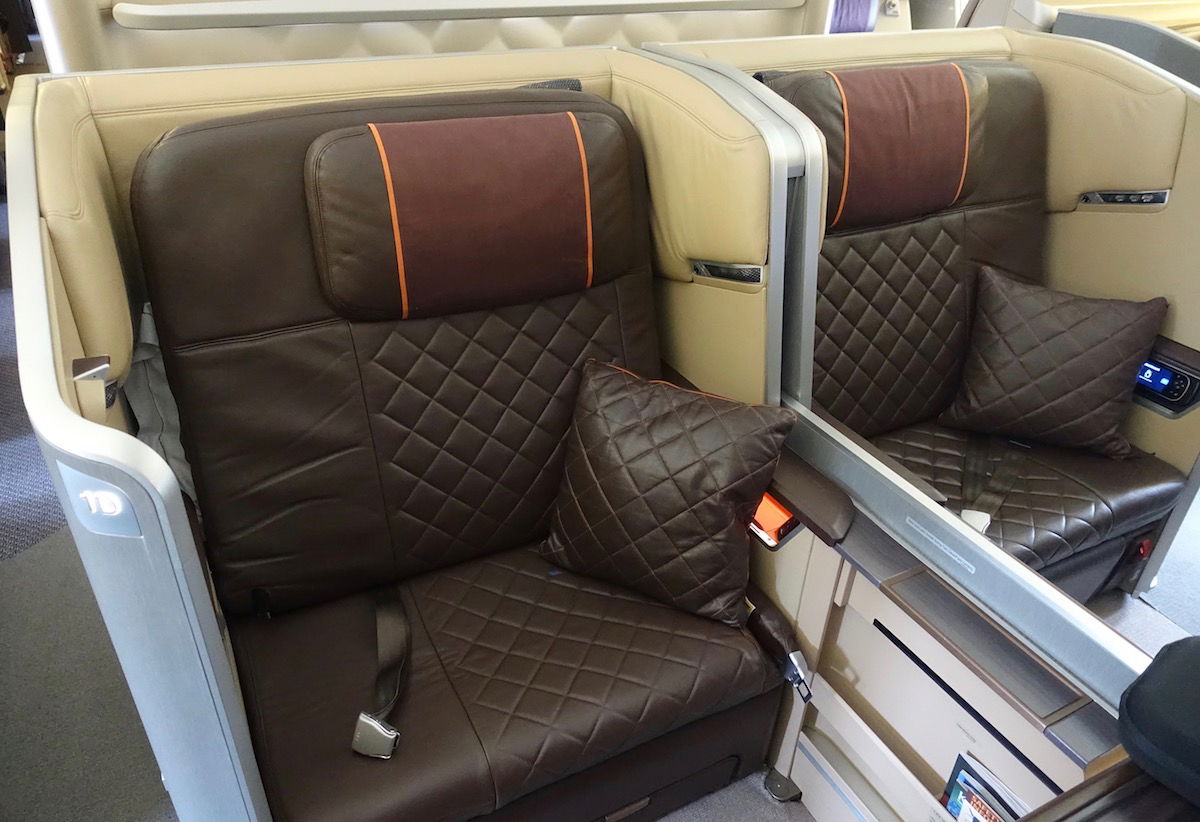 Regardless of whether you fly Suites or first class, you can expect an exceptional soft product, with friendly service, and great food and drinks. To me, it's the people that make Singapore Airlines shine.
Redeeming Singapore KrisFlyer miles for Suites & first class
The good news is that you can redeem miles for Singapore Airlines Suites and first class. The bad news is that it will cost you a lot of miles, and could also require a lot of flexibility. Unlike some other airlines, Singapore Airlines doesn't necessarily have a consistent pattern with which it releases Suites and first class award availability. That's understandable, because the cabins are so small.
For example, it doesn't make economic sense to open two first class award seats when the schedule opens, when that's 50% of your first class cabin. But don't worry, all hope isn't lost. There are ways to redeem miles for Singapore Airlines' top cabin.
You need to book through Singapore KrisFlyer
If you want to redeem for Singapore Airlines Suites and first class, you'll have to book directly through the KrisFlyer program. Partner airline frequent flyer programs generally won't have access to this award space.
Now, this isn't necessarily bad news, because KrisFlyer miles are easy to come by. KrisFlyer is partners with all major transferable points currencies, including Amex Membership Rewards, Capital One, Chase Ultimate Rewards, and Citi ThankYou. So if you're earning your rewards with credit cards, you should have no issues sourcing the points for these redemptions.
Singapore Suites & first class award pricing
Singapore KrisFlyer publishes a zone-based award chart, so at least you always know how much you're going to pay if there is availability. Singapore KrisFlyer has two tiers of awards:
There are Saver awards, which are the cheapest awards
There are Advantage awards, which are more expensive (an average of around 40-60% more)
You can find the Saver award chart below (one-way pricing is shown for economy, premium economy, business, and first).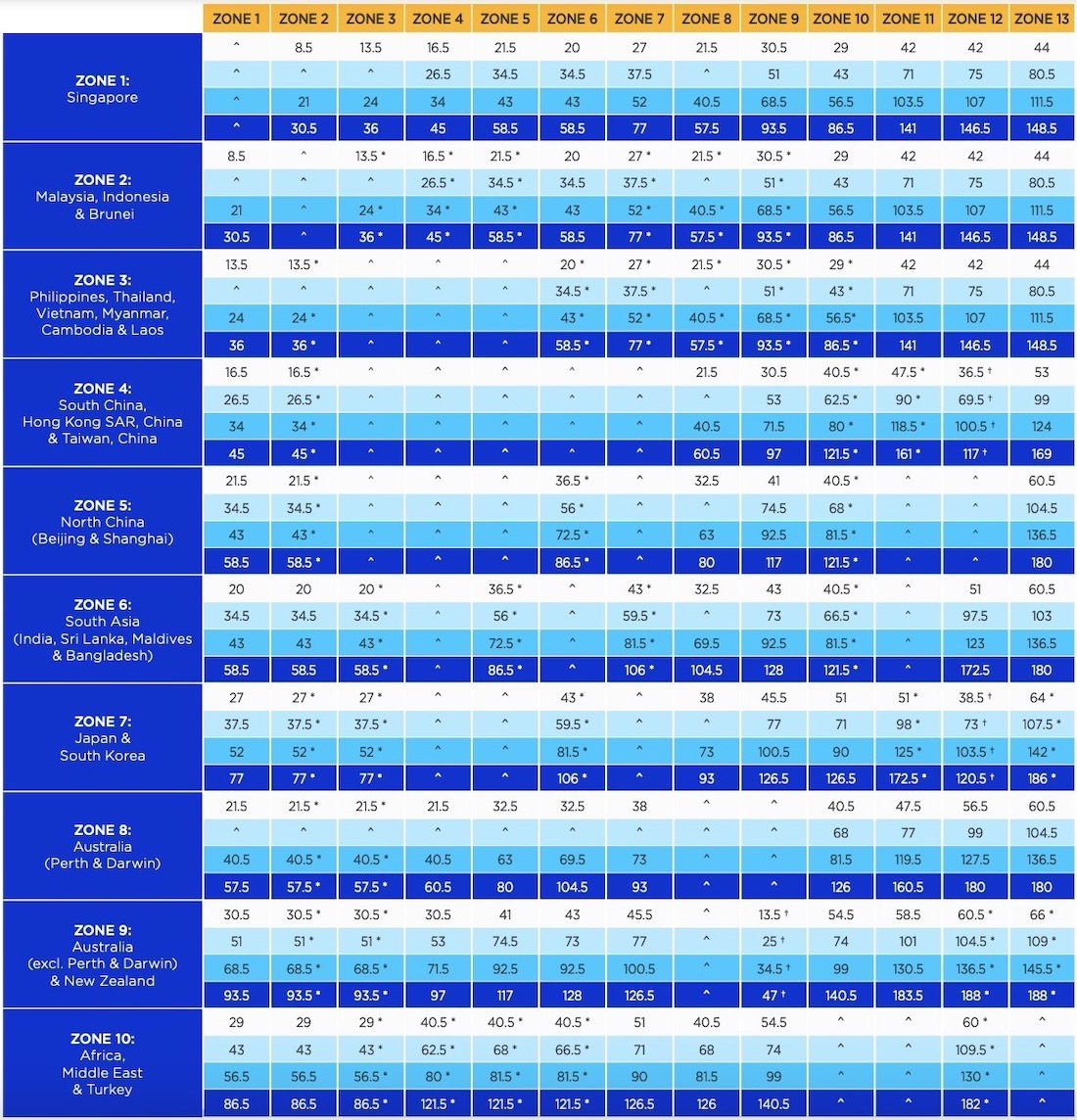 You can find the Advantage award chart below (one-way pricing is shown for economy, business, and first — there are no premium economy redemptions).
Unlike other frequent flyer programs, KrisFlyer doesn't have dynamic award pricing, so you won't find flights always available for a million miles (or whatever). Instead you'll either see awards available at an Advantage or Saver award price, or not available at all.
While in our hobby we always try to redeem at the lowest possible award cost, let me say that redeeming for an Advantage award might just be your only practical option at times, so be prepared to redeem that way. I think it can totally be worth splurging on an Advantage award for Singapore A380 Suites, assuming you can find availability and it meets your travel needs.
Singapore Suites & first class award availability
How realistic is it to score a Singapore Suites or first class award seat? It depends on a variety of circumstances:
Whether you're looking to fly the A380 or 777; even though the A380 has more seats in Suites, I find that Singapore generally makes more award seats available in first class when the schedule opens
What kind of a route you're looking at; in general, you'll have an easier time snagging a Suites or first class seat from Singapore to Jakarta or Mumbai, than from Singapore to Frankfurt or London
Whether you're willing to pay the Advantage or Saver price; you might sometimes find a long haul Saver seat when the schedule opens on a 777, but rarely on an A380
Let's go over some examples, and for now I'll ignore the option to waitlist (I'll talk more about that in a bit). All the below screenshots are from Singapore Airlines' website. You can search availability from the homepage (just like you'd search a booking with cash), but you need to be logged into your KrisFlyer account.
For example, from Singapore to Jakarta (Singapore Airlines' shortest route with first class), I see plenty of Saver 777 first class award availability way in advance, so snagging that is no issue.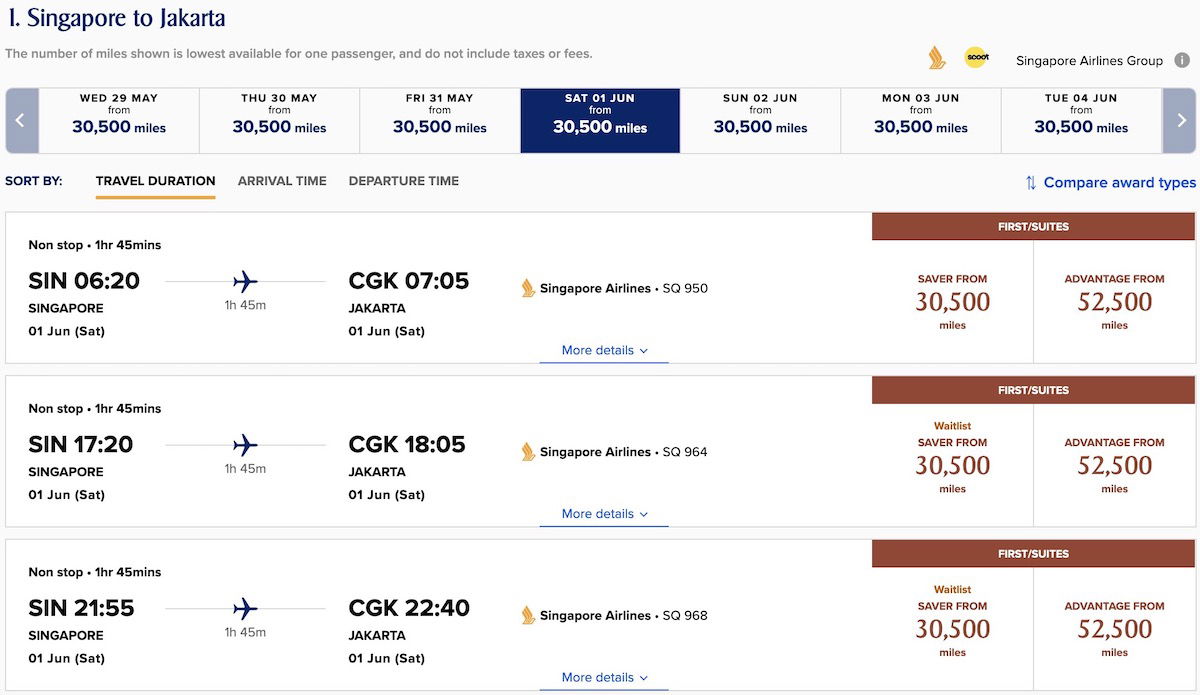 Meanwhile from Singapore to London, I see a Saver seat way in advance for 777 first class (the third flight below), while A380 Suites (the second flight below) is only bookable at the Advantage level. But hey, at least it's confirmable at all!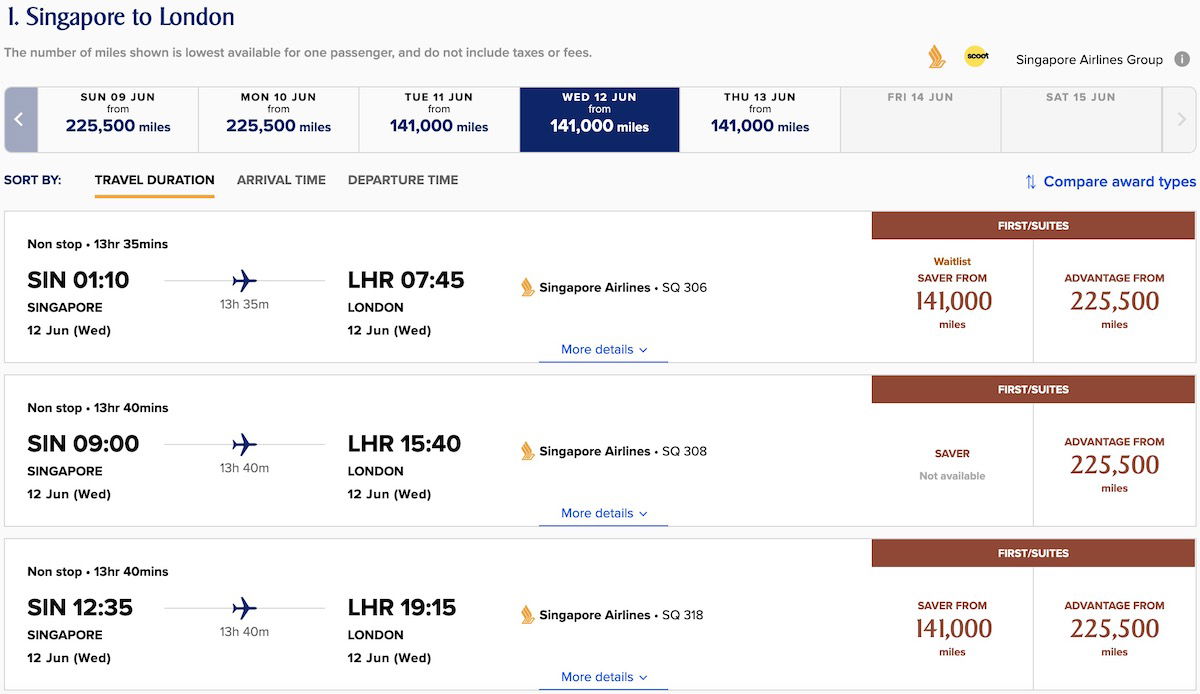 From Singapore to Los Angeles via Tokyo in 777 first class, I see an Advantage award bookable some dates, when confirming in advance.

So if you want to be able to lock in a Singapore A380 Suites seat on a long haul flight, your best bet is to book an Advantage award when the schedule opens, if it's available. You'll typically only see A380 Suites Saver seats that far in advance on a short haul flight.
What about closer to departure? Does Singapore Airlines open up lots more award seats? Unfortunately not really. It does happen, but it's fairly rare, and that simply comes down to there not often being lots of unsold seats at the last minute. With only four or six seats per cabin, Singapore Airlines tends to sell out (or nearly sell out) its top cabin in advance.
Nonetheless, sometimes you might get lucky. For example, in a couple of weeks I see a date where Frankfurt to New York has availability for both Saver or Advantage awards in 777 first class.

In the months leading up to departure, availability tends to be better in short haul markets, even on the A380. For example, I'm seeing a good number of Advantage seats available in A380 Suites from Singapore to Hong Kong and Mumbai.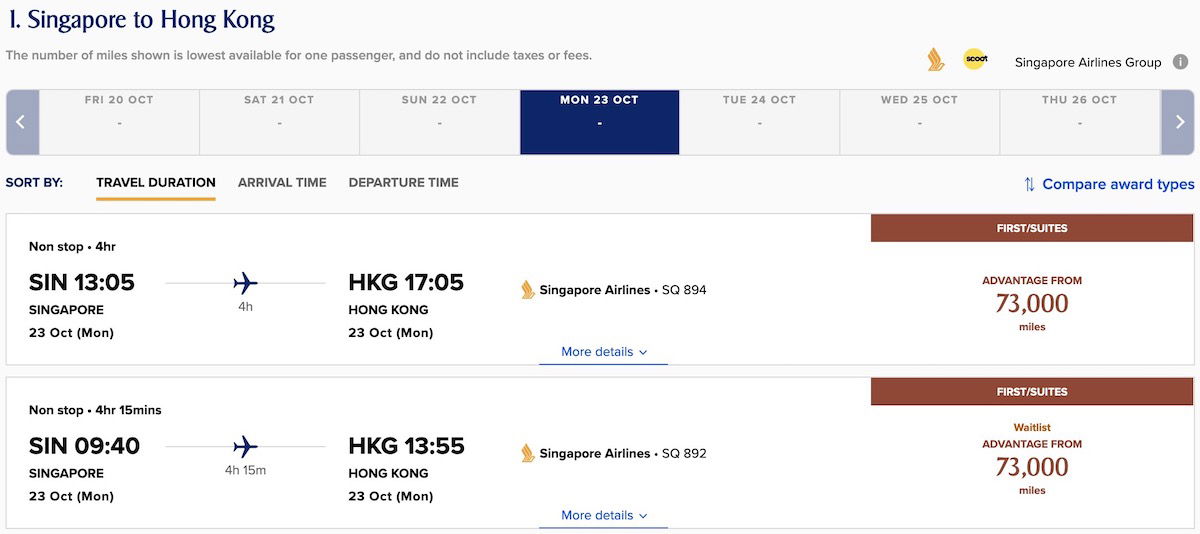 Now, let me say that if you're looking for more than one seat, that complicates things significantly, especially on long haul flights. I'm not saying you won't ever find seats, but it will reduce options by 90% or so.
What about waitlisting Singapore KrisFlyer awards?
As you can see in many of the above screenshots, it's possible to waitlist Singapore KrisFlyer awards, and I've written a guide to that as well. Long story short, I wouldn't rely on those waitlists clearing with any regularity, and I'd focus on finding a flight with confirmable award space.
That's because waitlists clear up to 14 days before departure. If they don't clear by then, they're canceled. Unless a flight is totally empty in Suites or first class, don't expect that the waitlist will clear, since the airline will want to hold back some seats to sell within two weeks of departure. Furthermore, if the cabin is wide open 14 days before departure, odds are that there's confirmable award space.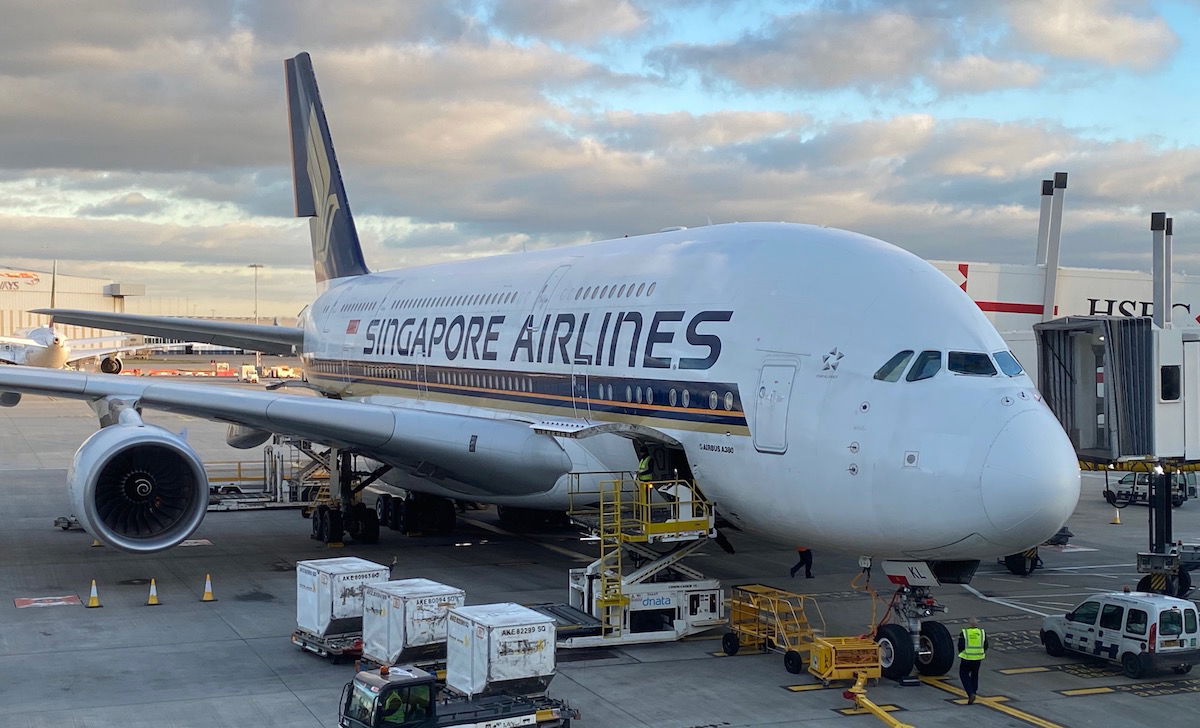 Bottom line
Singapore Airlines has incredible premium products. The catch is that redeeming miles for them can be a challenge.
If you want a shot at redeeming for Singapore's A380 Suites, you'll want to have access to KrisFlyer miles (through points transfers). Also, be prepared to pay the higher Advantage award cost, especially if you want to fly a long haul route, which gives you the full experience.
If you've redeemed miles for Singapore's Suites or first class, what was your experience like?