In the miles & points world, people often joke about the value of Delta SkyMiles, going so far as calling them "SkyPesos." In Taylor Swift terms (and I'm no Swiftie, but it seems appropriate), you could say that SkyMiles is kind of the anti-hero.
But here's the thing — not everything about SkyMiles is bad. I wanted to address that in a bit more detail in this post. What does SkyMiles get such a bad rap, and what's the best way to redeem this currency?
Why do people not like Delta SkyMiles?
There are plenty of people who like the Delta SkyMiles program, though savvy people who are into miles & points aren't necessarily a fan of redeeming this mileage currency. For many of us, the beauty of miles & points is being able to redeem for aspirational first and business class flights that would be unaffordable if paying cash.
From redeeming American AAdvantage miles for Qatar Airways business class, to redeeming United MileagePlus miles for Lufthansa first class, there are all kinds of ways to use miles for tickets that would cost many thousands of dollars. This represents a disproportionately good value, compared to the cost of a ticket if paying cash.
Delta SkyMiles, on the other hand, is a much more strictly revenue based program, meaning there are fewer opportunities to get outsized value:
You'll virtually never find a reasonably priced one-way Delta long haul business class award, unlike with American or United
Even though Delta reimburses partner airlines very little for partner redemptions, the airline still charges an outrageous number of miles; for example, Virgin Atlantic one-way transatlantic awards regularly cost over 300K miles, while Virgin Atlantic would charge under 50K points for the same redemption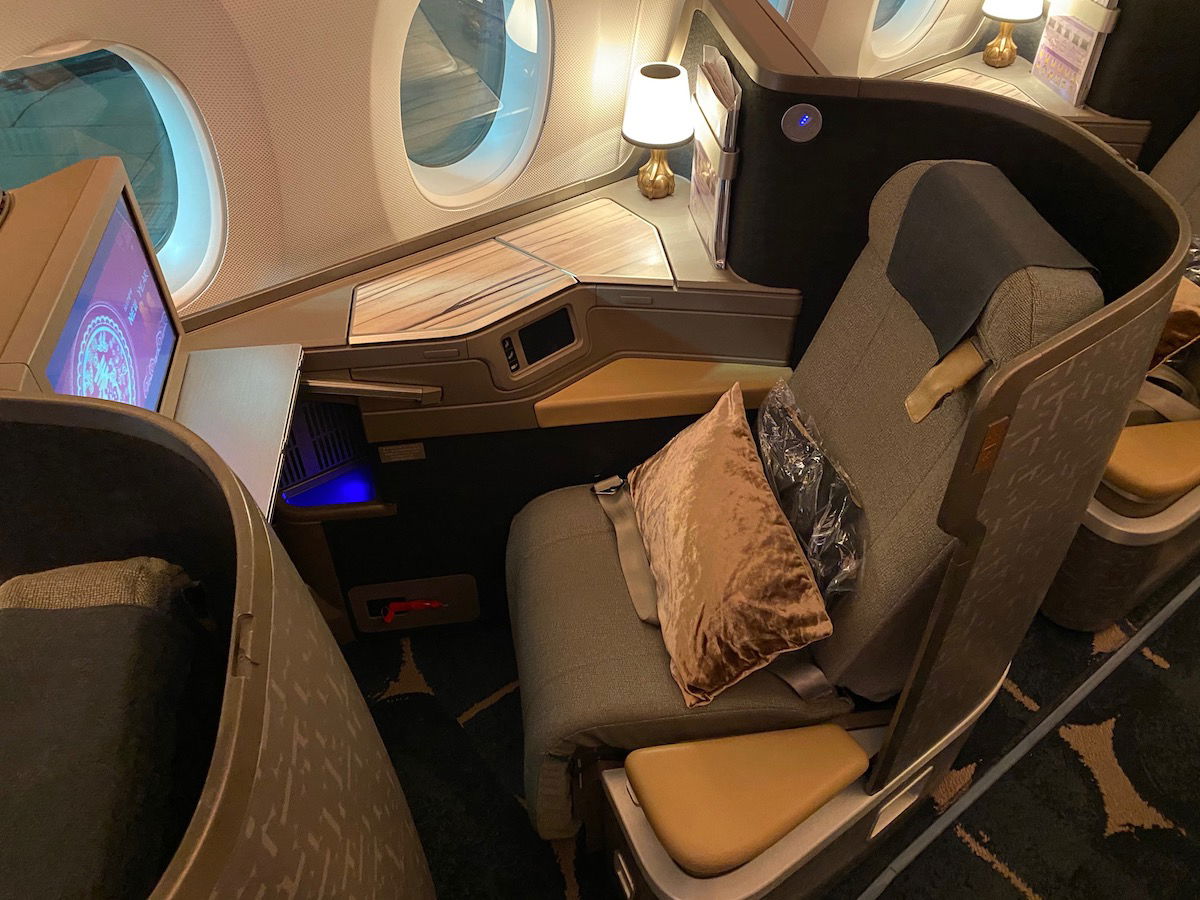 What are the best ways to redeem Delta SkyMiles?
How should you go about redeeming Delta SkyMiles, to get as much value as possible? Unlike with other programs, you'll generally find that you get the best value with SkyMiles on the same flights that would be reasonably priced in cash. You just need to have a different mindset when you redeem Delta SkyMiles vs. other mileage currencies.
Below I'll share what I consider the best uses of SkyMiles to be. Let me state upfront that you're almost never going to get a good deal with SkyMiles if you're booking a partner award originating or terminating in the United States, and/or if you book a one-way Delta long haul business class award.
Conversely, Delta SkyMiles is one of the mileage currencies with the highest floor value. Unlike with other programs, it's almost impossible to redeem SkyMiles for less than one cent of value per mile.
With that out of the way, let me share what I consider the best uses of Delta SkyMiles to be. As you'll see, if you want to maximize value, there's a strong incentive to have a co-branded Delta Amex credit card.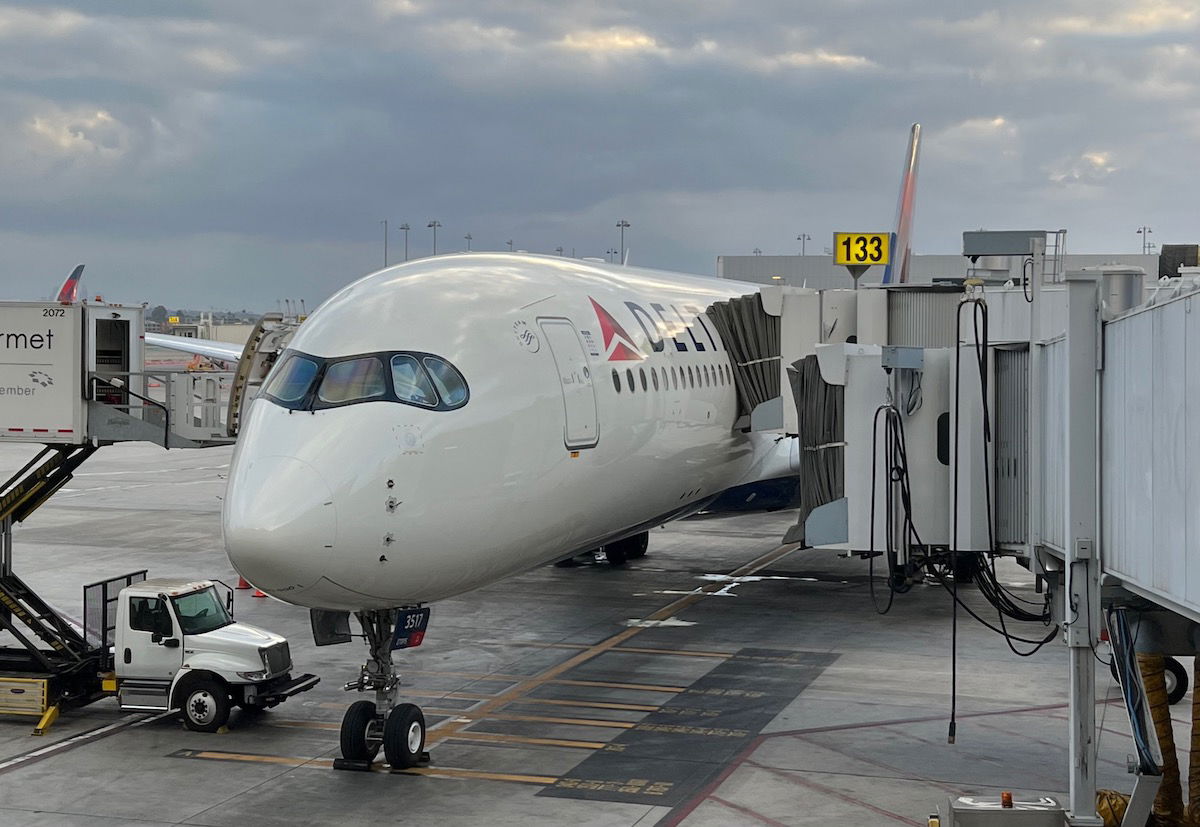 Use the Delta TakeOff 15 benefit
Nowadays I think the single best, easiest way to redeem SkyMiles is using the TakeOff 15 benefit, which is available to those with a co-branded Delta Amex. Essentially if you have a co-branded card and log into your SkyMiles account, you'll get a 15% discount on award redemptions.
Delta SkyMiles has dynamic award pricing, and you'll find that the cost in miles is roughly correlated to the cost in cash (though it's not an exact cent per mile ratio). So start by finding a flight that you think is fairly priced in cash (you can do this through Delta's website, or through Google Flights).
Let's use a $409 one-way first class fare from Boston to Seattle as an example.

If you wanted to redeem miles for that ticket, it would ordinarily cost 32,000 SkyMiles. However, if you have a co-branded credit card, you'd pay just 27,200 miles.

You're saving $403 (after subtracting the $5.60 in taxes you'd pay if redeeming miles) for 27,200 SkyMiles, so that's nearly 1.5 cents of airfare per mile. That's pretty solid, and you'll find similar redemption rates for most types of Delta tickets.
Use the Delta Pay With Miles feature
Delta also has the Pay With Miles feature for those with a co-branded Delta Amex. With this, you can redeem SkyMiles toward the cost of any Delta ticket, in increments of $50 worth of savings for every 5,000 SkyMiles.
In other words, this gets you one cent of value per mile. Is this my favorite use of SkyMiles? No, as I find that you'll typically get better value with the TakeOff 15 benefit. However, this gives SkyMiles an absolute floor value of being able to redeem them for one cent each toward airfare, even if you don't have enough miles for the entire ticket.

Redeem on SkyTeam partners outside the US
Delta's premium cabin partner award pricing is consistently borderline offensive when traveling to and from the United States. Expect Delta to consistently charge 200,000+ miles for a one-way business class award, even if a partner airline would charge only a fraction as many miles through its own program.
Why does Delta have such high partner award pricing? Well, I think it's primarily about setting expectations. Delta wants to charge these very high amounts for travel on its own flights, so it wouldn't look very good if partner awards only cost a fraction as much, so Delta instead jacks up the prices across the board.

The good news is that Delta's partner award pricing is much more reasonable if you're not traveling to or from the United States, since these aren't markets where Delta is competing. So I don't want to say there are any spectacular redemption values, but you'll find much fairer redemption options in other markets.
For example, you could fly from Tokyo to Sydney via Ho Chi Minh City in Vietnam Airlines business class for 75,000 SkyMiles…

Or you could fly from Johannesburg to Frankfurt via Paris in Air France business class for 85,000 SkyMiles…

Or you could fly from Bangkok to Paris via Jeddah in Saudia business class for 80,000 SkyMiles…

I'm just picking routes at random here, but my point is that Delta SkyMiles is a program worth considering for partner business class awards that don't touch the United States.
Book roundtrip Delta One business class awards
If you want to redeem for a long haul Delta One (business class) award, is there ever a deal to be had? Yes and no. You'll almost never find a good deal for a long haul one-way award on Delta. The reason is because Delta uses similar logic for award pricing and revenue pricing, and when paying cash, a one-way long haul ticket is almost never half the cost of a roundtrip.
You will sometimes find decent deals on point-to-point Delta One flights, but only if booking roundtrip. For example, doing a quick search, I see a roundtrip business class award from Boston to London for 230,000 miles, which is less than the cost of a one-way on that same outbound flight.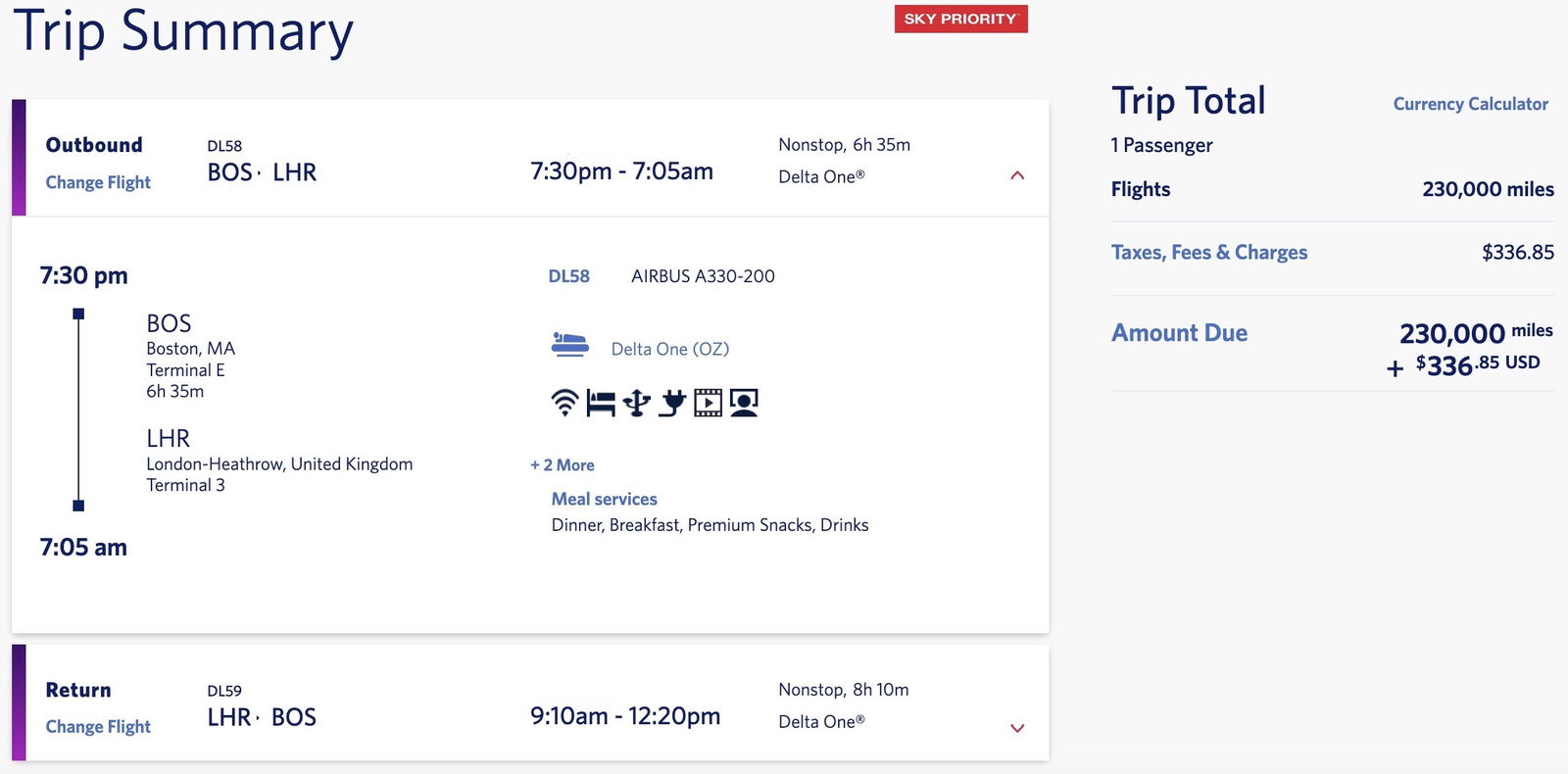 Redeem for premium alcohol in the Sky Club
One of the benefits of Delta making SkyMiles a revenue based currency is that you can redeem miles toward the cost of just about anything Delta related… including alcohol in the Delta Sky Club. So while Delta ordinarily seems to make SkyMiles worth around a cent each, you can redeem SkyMiles for 1.5 cents each toward premium alcohol in the Sky Club.
If you appreciate good alcohol, don't feel guilty about redeeming SkyMiles this way.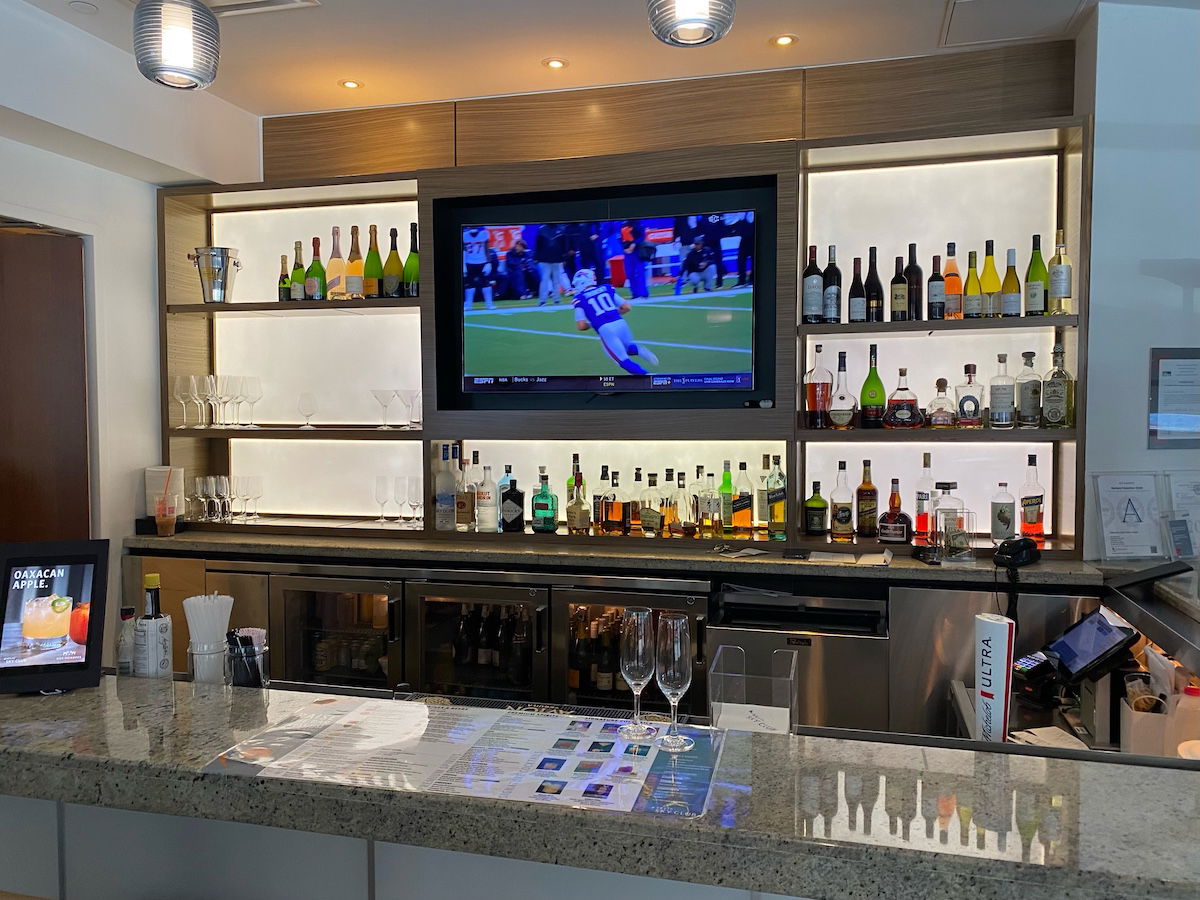 How much are Delta SkyMiles worth?
Personally I value Delta SkyMiles at 1.1 cents each. I'm not claiming that should be your valuation, but that's the number I feel good about, while trying to be conservative with my valuations of rewards currencies.
While you can consistently redeem SkyMiles for one cent each with the Pay With Miles feature, it shouldn't be hard to get a bit more value than that through the TakeOff 15 benefit, or even when redeeming on partner airlines outside of the United States.
Bottom line
While Delta SkyMiles is far from my favorite mileage currency, the miles also aren't worthless. Delta's program is much more revenue based than that of American and United, and that's both good or bad, depending on how much effort you're willing to put into redemptions.
On the plus side, SkyMiles has a high floor value. If you have a co-branded Delta Amex card, you'll almost always get more than one cent of value thanks to the TakeOff 15 benefit.
The best ways to get significantly outsized value through SkyMiles is for partner redemptions not to or from the United States, and for roundtrip Delta One awards.
What's your take on the best use of Delta SkyMiles?