Introduction
Domestic (Including Hawaii)
Europe
Asia
Australia & New Zealand
Middle East & India
Africa
South America
Caribbean, Central America, & Mexico
---
When it comes to booking flights from the U.S. that provide over the top luxury, South America won't be your destination of choice. That being said, the countries themselves are more than enough reason to visit. Whether you're a foodie, a nature buff or just want to explore a different culture, you'll have plenty of options.
With Membership Rewards points, you'll have access to flights across all three major airline alliances — Oneworld, SkyTeam and Star Alliance. You'll also be able to take advantage of a couple individual partnerships.
Earn Amex Membership Rewards points with these cards:
Before we dive in, I want to touch on something for those who enjoy flying business and first class. While there are some flights with lie-flat seats — American Airlines even has an international first class cabin on the occasional flight, you will also find business class awards on flights with a domestic first class layout.
With that out of the way, let's jump in!
Air France-KLM Flying Blue
On June 1, 2018, Flying Blue revamped its program and is now more like Delta's SkyMiles program with variable award rates and less transparency. What was once a simple region-based award chart — with some interesting region definitions — has been replaced by a calculator where award rates now sometimes vary based on your origin and destination.
You can no longer include stopovers with Flying Blue awards but you can book one-way awards, which allows you to return from a different city.
Flying Blue award rates
With the recent changes, Flying Blue now provides a miles estimator function so you can check what saver level awards should cost. Unfortunately, it does not have info for many city pairs, especially in South America.
After running a bunch of searches, I found some consistency with Flying Blue awards to South America. In fact, like some other programs, it seems to split the continent into northern and southern regions. These are the one-way award rates you should look for:
| Class of Service | Northern South America | Southern South America |
| --- | --- | --- |
| Economy | 19,000 Miles | 20,000 – 29,000 Miles |
| Business | 47,000 Miles | 50,500 Miles – 72,000 Miles |
FlyingBlue Award Chart for South America
If you're looking to fly Delta, Flying Blue will provide better rates to southern South America in both economy and business class, and sometimes for economy to northern South America (see the Delta section below for more info).
I also noticed that you'll sometimes see economy awards that include a flight(s) on Aeromexico that require 20,000 or even 20,001 miles.
Seriously, one mile? Okay, then.
How to book with Flying Blue miles
To find award space, you can search on either Air France or KLM's sites. You will have to search one day at a time as Flying Blue removed the flexible date search option. Once you find award space, you can book online.
You can expect Amex Membership Rewards points to transfer (1:1) almost instantly. While some phone agents (1 800 375 8723) will say they can't hold awards, I've been able to get holds for 48 hours.
When you consider the problems Flying Blue has had with "fraud prevention", we would recommend calling to put your award on hold before transferring Amex points. Additionally, make sure the name on the credit card matches the one on the Flying Blue account.
All Nippon Airways (ANA) Mileage Club
ANA Mileage Club is a bit different than some of the other options in that it only allows round-trip awards — though, you can include a stopover — and it includes all of South America in one region. As a result, ANA Mileage Club often provides the best round-trip award rates to southern South America but lags behind on awards to northern South America.
While you will be responsible for surcharges on many Mileage Club awards, it does not require them on several Star Alliance partners that fly to South America including:
Air Canada
Air China
Avianca
Copa Airlines
United
Mileage Club award rates
Unlike many regions, the hard part won't be finding awards without surcharges, rather it will just be finding the award space you want.
Regardless of your destination in South America, the round-trip award rate for business class will be 88,000 miles and economy class will be 55,000 miles. This is the same redemption rate that you'll find to Europe.
How to book with Mileage Club miles
I find it easier to search for one-way awards even when booking round-trip. Since ANA Mileage Club requires you to search round-trip or multi-city, you might consider searching with United or Aeroplan to find the dates you want first.
Transfers from American Express to ANA Mileage Club can take 2 to 3 days and ANA won't hold award space for you. Keep that in mind as award space could disappear while you wait.
British Airways Executive Club
We haven't seen much of British Airways Executive Club in our series on using Membership Rewards, but South America does provide some solid redemption opportunities with Avios. You can include stopovers and book one-way awards, so it's a pretty easy program to use.
Unlike awards to Europe (and other destinations), you won't be hit with massive surcharges when flying American Airlines or LATAM to South America.
British Airways Avios award rates
Unlike the other programs on our list, British Airways uses a distance-based award chart so you'll need to total the flight miles of all segments to determine your redemption rate. If your itinerary includes a connection (or connections), you'll have to keep an eye on the award zone as these connections could easily bump you up into a more expensive zone.
To make things more complicated, British Airways also has two award charts you need to know. The standard award chart includes awards on a single partner and/or a British Airways flight — the latter won't impact this region — and a multi-carrier chart for itineraries with 2 or more Oneworld partners and no flights on British Airways.
First up, the standard award chart — note that all partner awards use "peak" pricing:
Zone // Distance

Economy Off Peak // Peak

Premium Economy Off Peak // Peak

Business Off Peak // Peak

First Off Peak // Peak

Zone 1
1-650 miles*
*Not available in North America

4,000 // 4,500

5.750 // 6,750

7,750 // 9,000

15,500 // 18,000

Zone 2
651-1150 miles

6,500 // 7,500

9,500 // 11,250

12,750 // 15,000

25,500 // 30,000

Zone 3
1151-2000 miles

8,500 // 10,000

12,750 // 15,000

17,000 // 20,000

34,000 // 40,000

Zone 4
2001-3000 miles

10,000 // 12,500

20,000 // 25,000

31,250 // 37,500

42,500 // 50,000

Zone 5
3001-4000 miles

13,000 // 20,000

26,000 // 40,000

50,000 // 60,000

68,000 // 80,000

Zone 6
4001-5500 miles

16,250 // 25,000

32,500 // 50,000

62,500 // 75,000

85,000 // 100,000

Zone 7
5501-6500 miles

19,500 // 30,000

39,000 // 60,000

75,000 // 90,000

102,000 // 120,000

Zone 8
6501-7000 miles

22,750 // 35,000

45,500 // 75,000

87,500 // 105,000

119,000 // 140,000

Zone 9
7001+ miles

32,500 // 50,000

65,000 // 100,000

125,000 // 150,000

170,000 // 200,000
British Airways Executive Club Award Chart
Next, we have the multi-carrier chart for economy awards: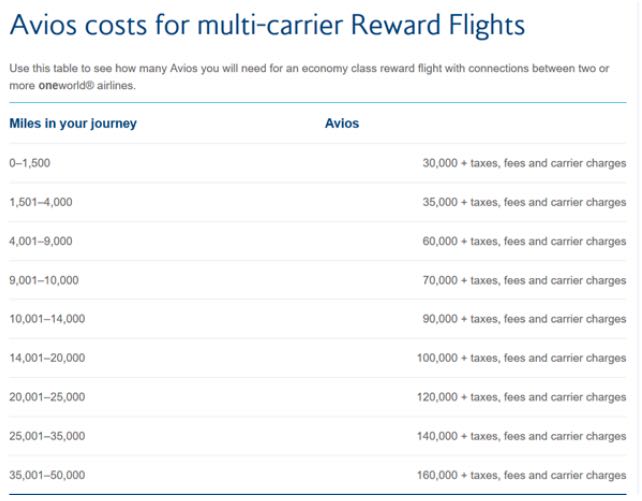 Premium economy requires 50% more Avios, business class requires an additional 100% and first class requires 150% more.
As an example, you can book a round-trip economy award from New York (JFK) to Sao Paolo (GRU) on American Airlines for 50,000 Avios (see standard chart). However, if you connect in Rio de Janeiro (GIG) on LATAM, it will require 70,000 Avios. Your route will determine which chart will provide the better redemption rate.
If you want to book a multi-carrier business class award to South America on American Airlines and LATAM, I suggest looking at Cathay Pacific Asia Miles.
How to book with British Airways Avios
Booking with British Airways is relatively simple. Just search for the award you want and complete the booking online. While the search capability is solid, the site often fails and, at times, has been unable to see award space on American Airlines. Sometimes it just takes reloading or changing browsers but it can be quite frustrating.
You can expect transfers from Amex Membership Rewards (1:1) to process almost instantly.
Cathay Pacific Asia Miles
If you want to book a business class award on American Airlines or LATAM, you might want to consider Asia Miles. Asia Miles uses distance-based award charts and allows stopovers which can help you see even more of a region.
For awards to South America, you'll be interested in the Oneworld multi-carrier award chart as well as the soon-to-be-released single partner award chart which will differ from the standard chart — awards only on Cathay Pacific and/or Cathay Dragon.
Asia Miles award chart
As with British Airways Avios, the usefulness of Asia Miles will depend on your total flight miles. Here are the redemption rates when using the Asia Miles Oneworld multi-carrier award chart:
If you were to book Orlando (MCO) to GRU with a connection in Miami (MIA), your itinerary would fall under Award Zone 6 which would require 65,000 Asia Miles for economy compared to 60,000 British Airways Avios.
However, business class would require 100,000 Asia Miles which is much better than 120,000 Avios. Considering you'll get the same flights on American and LATAM, why not save a big chunk of Membership Rewards points?!
We're waiting to see what Asia Miles will decide to do with awards on a single partner and will provide an update when we have that info.
Book with Asia Miles
To book flights on American Airlines or LATAM, you'll need to call Asia Miles (1 866 892 2598). You can search for award space on either Britsh Airways or Qantas. Transfers from Amex Membership Rewards (1:1) take one to two days to transfer.
Delta SkyMiles
As with Flying Blue, when searching for awards with Delta SkyMiles, you are at a distinct disadvantage because Delta refuses to publish their award chart. You won't be able to include a stopover either, but the redemption rates can be useful. Additionally, some award space on Delta won't be available to Flying Blue.
SkyMiles award rates
Delta divides South American into a northern and southern region with the vast majority of the continent falling under the southern region. These are the one-way award rates I was able to find by looking through the end of the schedule:
| | Northern South America | Southern South America |
| --- | --- | --- |
| Economy | 18,000 – 25,000 miles | 32,000 – 35,000 miles |
| Business | 43,000 miles | 80,000 miles |
Each of these award prices included a Delta flight on the U.S to South America segment.
How to book with SkyMiles
As always, watch out for some absolutely obscene redemption rates with Delta, especially in business class. On the plus side, you can run a 5-week search which makes it easier to hunt for saver level awards. If you can find the space you want, you can simply book online.
You can transfer Amex Membership Rewards points (1:1) almost instantly. American Express will require you to pay a small fee on transfers to Delta as it does with all U.S. carriers, but it's more of an annoyance than a huge issue.
Etihad Guest
Stepping outside the major airline alliances, we have Etihad's partnership with American Airlines. Unlike when using British Airways Avios or Asia Miles, you won't be able to connect on LATAM. However, Etihad uses a region-based chart that can be quite useful in many cases.
The tough part can be finding saver level award space on American but, recently, I've seen space to South America roughly 10 months from departure.
Etihad Guest award rates
Whether you should use British Airways Avios or Etihad Guest for economy awards will depend on the flight miles required. If you need a connection, that could bump up the Avios rate and make Etihad Guest the way to go.
Here are the one-way redemption rates for Etihad Guest:
| | South America 1 (Northern) | South America 2 (Southern) |
| --- | --- | --- |
| Economy | 17,500 miles | 20,000 / 30,000 miles |
| Business | 30,000 miles | 50,000 miles |
| First | 40,000 miles | 50,000 miles |
While programs such as Delta SkyMiles and Flying Blue consider Peru as part of southern South America, Etihad Guest includes the country in northern South America.
As a result, Etihad Guest will be your best option for many itineraries from the U.S. — a non-stop economy flight from MIA to Lima (LIM) is one exception, as you'd be better off using British Airways on that edge case. With business and first class awards, though, look to Etihad for the best rates.
Economy awards to southern South America, like those to northern South America, depend on the itinerary and whether it's an off-peak period which reduces Etihad awards from 30,000 to 20,000 miles. Etihad is the clear favorite for premium cabin awards on American Airlines, overall.
How to book with Etihad Guest miles
Etihad's online search function only shows options on its own flights so you'll want to search on American Airlines' site to find award space then call Etihad to book (1-877-690-0767). The agents in Serbia generally know what they're doing and make booking pretty painless.
You can transfer Membership Rewards points at a 1:1 ratio. While you can't hold award space with Etihad, you can expect the transfer to process almost instantly.
Singapore Airlines KrisFlyer
While Aeroplan has often been our go-to for one-way Star Alliance awards, Singapore KrisFlyer is just slightly better if you're going to South America.
Singapore KrisFlyer does pass on surcharges but flights on Aviance, Copa and United won't have them so you'll only be responsible for the standard taxes/fees.
Singapore KrisFlyer award rates
Singapore Airlines considers South America one region so you will see the same award rates regardless of your destination. Here are the one-way award costs you can expect:
Economy: 30,000 miles
Business: 50,000 miles
Aeroplan's redemption rates are actually very similar, at 30,000 and 55,000 miles for economy and business, respectively.
How to book with KrisFlyer miles
Singapore Airlines now lets you search for Star Alliance awards online though I've found it doesn't always see some available award space. If you find space, you can easily book online. If you don't, you can double check by searching with United then calling Singapore KrisFlyer (1-800-742-3333) if you find space — make sure they waive the phone booking fee if this is the case.
Transfers from Membership Rewards points generally transfer within 24 hours and transfer at a 1:1 ratio.
Other programs to consider
The options above will be more broadly applicable but we do want to mention a scenario in which it makes sense to use Virgin Atlantic Flying Club.
Virgin Atlantic Flying Club – non-stop Delta flights
Flying Club considers South America to be one region and, because of this, it can make sense to use this program for some non-stop Delta flights — connecting flights will require more miles. Unlike many Flying Club awards, you won't get hit with steep surcharges.
You can book a one-way non-stop economy award on Delta for 22,500 miles and a business class award for 45,000 miles. This is quite good when you compare it to 80,000 SkyMiles or 72,000 Flying Blue miles.
Transfers from American Express (1:1) generally process within 12-24 hours and you can even hold awards by calling Flying Club (1-800-365-9500) before transferring. You can search for some South American destinations online, but it's not quite a simple process.
To find the route you need, you might need to choose a destination such as London Heathrow (LHR), then choose "Pay with miles" — and "Within 5 weeks" to give yourself a better chance of finding space. From there, you can change the destination by clicking the teardrop pin and run your search.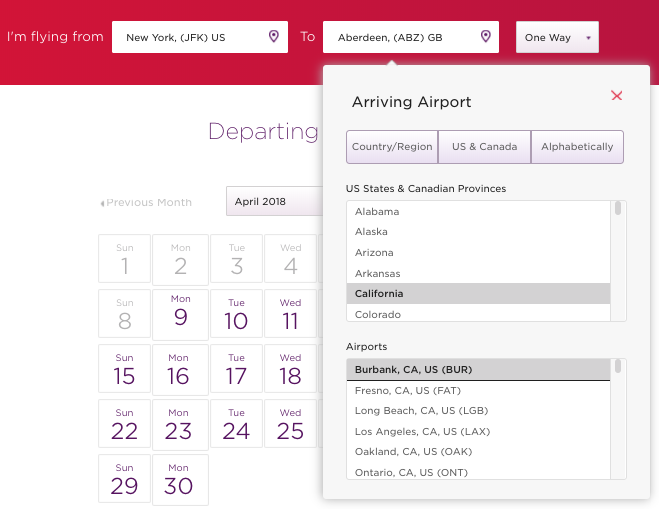 Some countries such as Brazil are not even in the list, so you'll want to search with Delta then call Virgin Atlantic.
Bottom line
Clearly, you'll have plenty of options to book awards to South America if you have Membership Rewards points.
To make sure you use the fewest miles possible when flying Delta or American Airlines, take a look at each booking option as the best rate can vary based on your destination and/or class of service.
Now, all you have to do is figure out where you're going to go!
How have you used American Express points to South America?