---
While my family is from Frankfurt, my travels have me transiting Frankfurt a lot more than they have me terminating there. Usually they're one night layovers while connecting, and I always make an effort to go into the city. There's a train from the airport to the city, and from there it's just a quick ride to just about anywhere.
In the past my go to hotel was the InterContinental Frankfurt, which is very reasonably priced and does great with Royal Ambassador benefits. I've reviewed the hotel extensively, including here, here, here, and here. During my last transit in Frankfurt I discovered the Westin Grand Frankfurt, which is now my go-to hotel in Frankfurt, given that they seem to be pretty good with Platinum upgrades, and the hotel is a bit more modern than the InterContinental. Furthermore, the hotel is part of American Express Fine Hotels & Resorts (for American Express Platinum/Centurion card members), meaning you can get an 85EUR food and beverage credit plus free breakfast there if you book through them, even just for a one night stay.
But I had never stayed at the Sheraton Frankfurt Airport, so I decided this would be a good opportunity to try it out. Our layover was only about 16 hours, so it wasn't quite enough time to go into the city and see anything while getting a good night of sleep. Beyond that, our flight the next morning was fairly early, and there's not much I hate more than getting up early.
I had actually gone out of my way to avoid the Sheraton Frankfurt Airport previously. While it's connected to the terminal and therefore very convenient, the outside of the building just looks so tired that I figured the hotel couldn't be any good.
After landing and clearing immigration we took the walkway to the Sheraton, which can be accessed from the departures hall.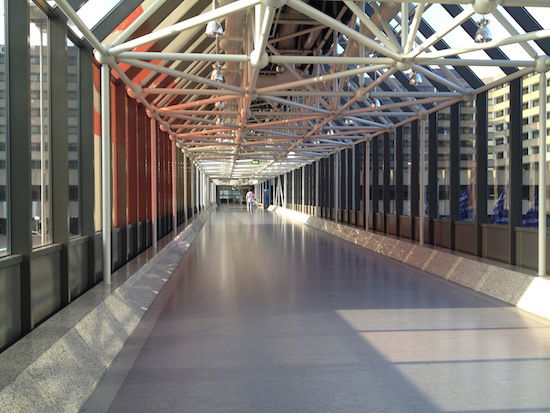 Walkway to the hotel
While there was a short queue at check-in, they had a dedicated Gold/Platinum line, where there was no wait. I presented my Chase Sapphire Preferred and SPG Platinum card, and after typing away from a moment the agent informed me that I didn't have a booking at the hotel. I'm a complete idiot, and it's probably a sign that I'm on the road a bit too much, because I had just assumed that I made the reservation. The good news is that they had plenty of rooms, and the agent gladly made me a cash & points booking (4,000 SPG points plus $60), which only took a few minutes. She couldn't have been nicer about the whole situation, and even commented that I'd be surprised by how often that happens.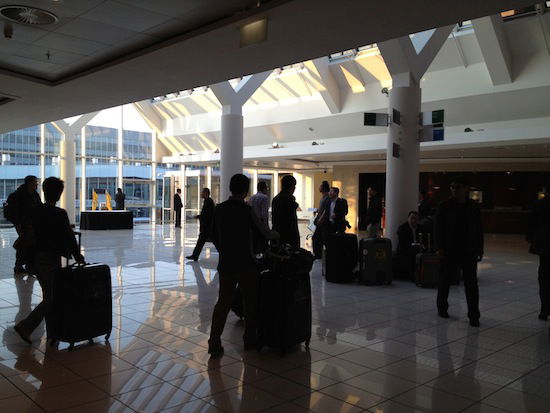 Lobby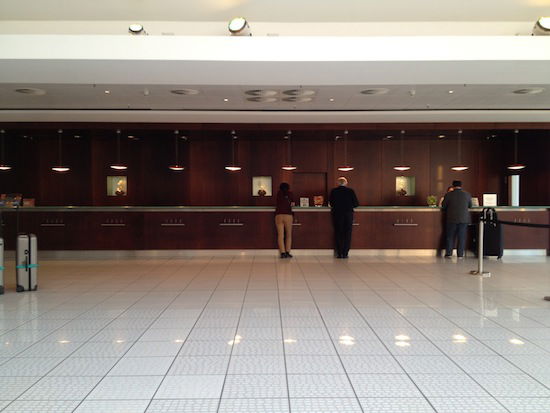 Lobby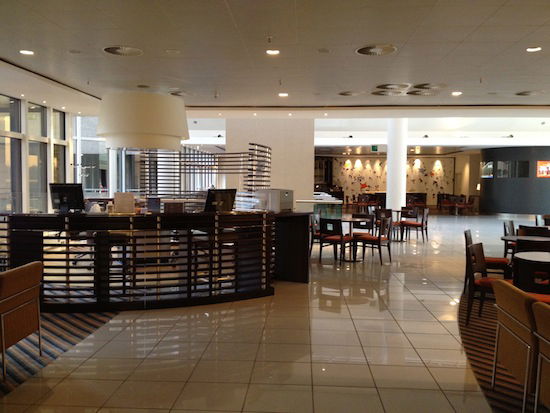 Computer terminals
She gave us the option between being upgraded to a club room in the renovated tower and a junior suite that wasn't renovated. We went with the former, since I've heard that the non-renovated rooms aren't in good shape at all.
The Tower elevators are located right across from reception.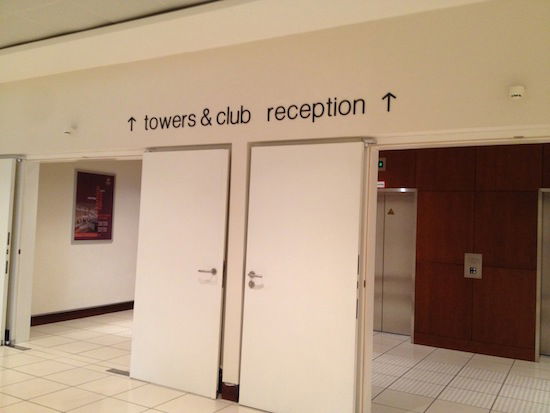 Walkway to elevators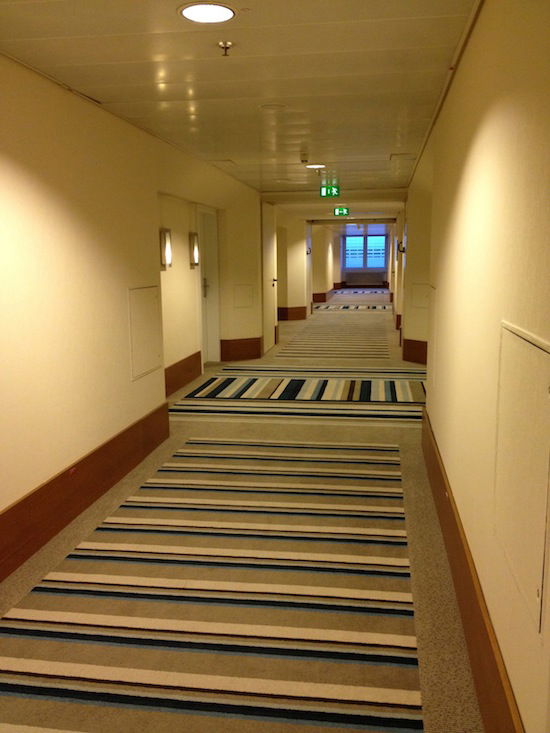 Hallways
While the room wasn't huge, it was very nicely appointed, with bright colors and IKEA-esque furniture.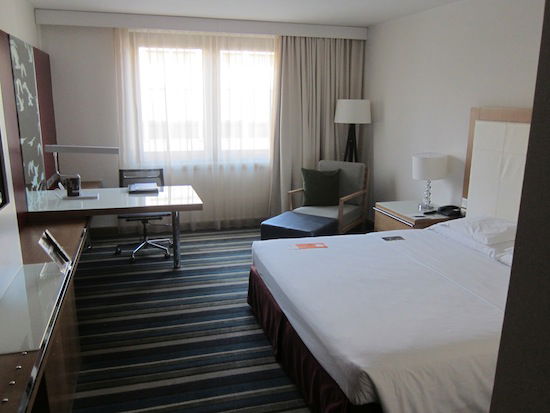 Room
The bed was firm, though not nearly as hard as the one at the Hyatt Regency Incheon.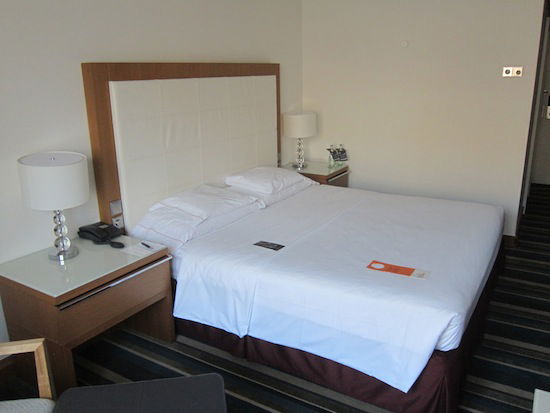 Bed
The room featured a flat screen TV across from the bed, as well as a desk and chair with ottoman.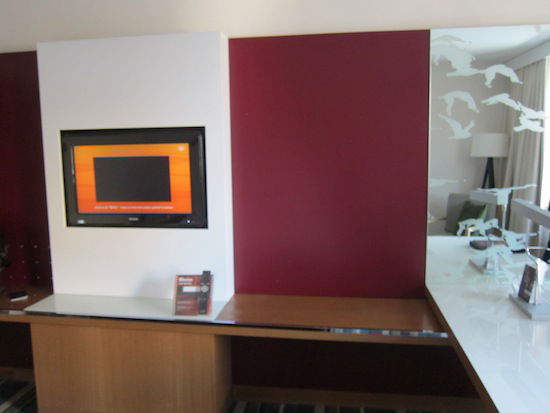 TV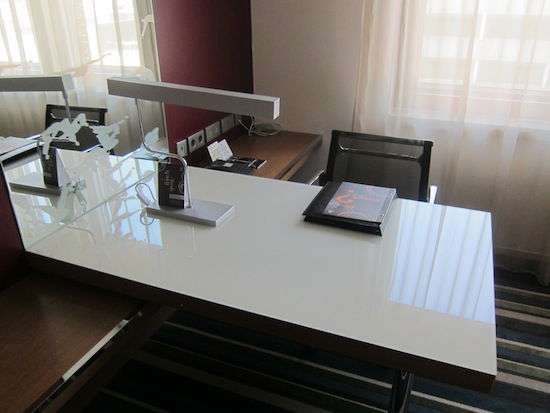 Desk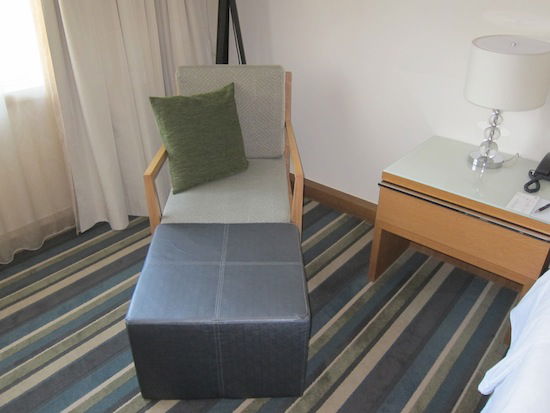 Chair and ottoman
While the room faced a parking garage for the most part, at an angle you could see the airport, which I always love.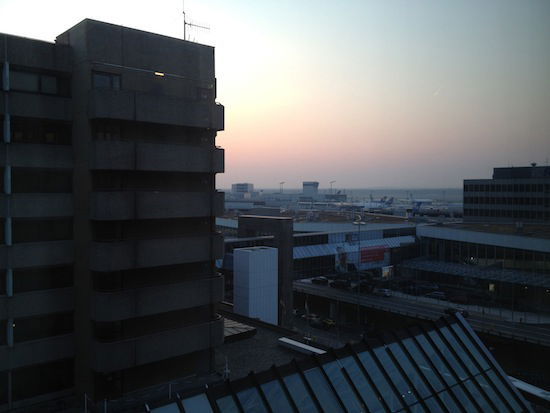 View from the room
The bathroom was a decent size and featured a sink, toilet, and shower/tub.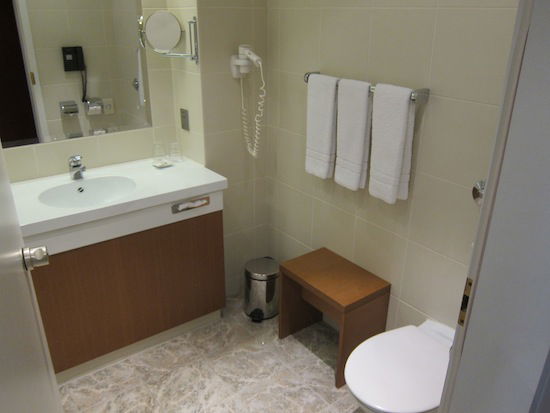 Bathroom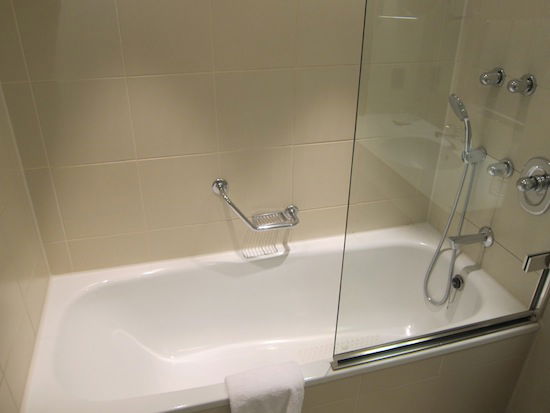 Shower
While I selected the points as the Platinum amenity, we still got a nice welcome plate with some fruit and desserts. Clearly the hotel knew about my sweet tooth. 😉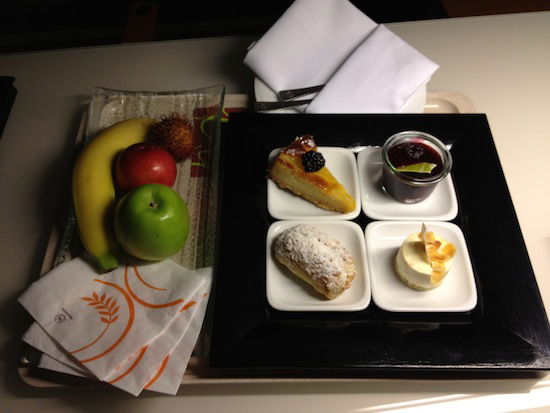 Welcome amenity
The club lounge had keyed entry and was really the biggest shocker of the hotel, since it was one of the best Sheraton lounges I've seen anywhere.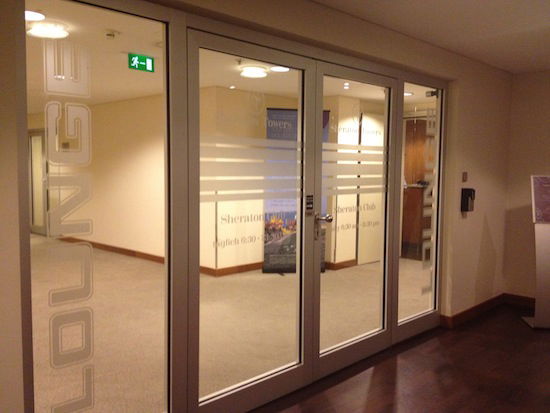 Club lounge
The lounge featured a bunch of seating, both tables as well as couches.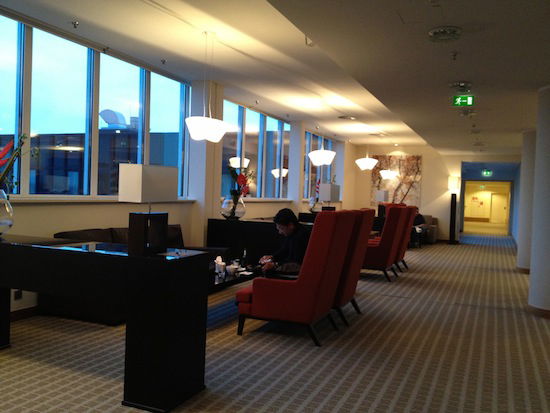 Club seating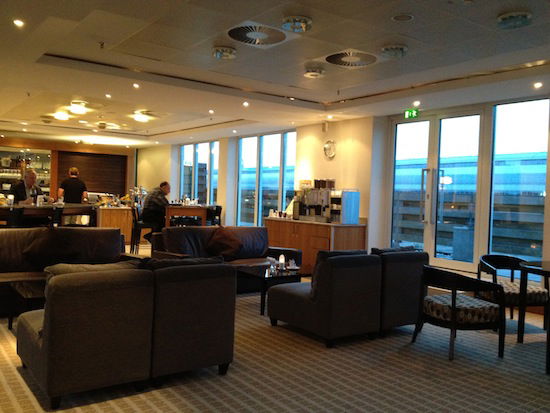 Club seating
The evening spread, which was out till after 10PM, consisted of finger sandwiches, fruit, vegetables, salad, and some delicious chocolate cake. Not only was the spread great, but the service was great too, with constant offers for refills.
The only downside of the lounge was the group of five or six Americans sitting at a table at the other side of the lounge that were talking very loudly. It wasn't just the volume they were talking at, but what they were talking about, and how they were expressing themselves. Dude, I'm happy to hear you were able to "bag that chick," but I really don't need to hear about it. And not every second word has to be four letters…
Fortunately their conversation abruptly ended when one loudly exclaimed "I've gotta go take a dump." Again, good to know.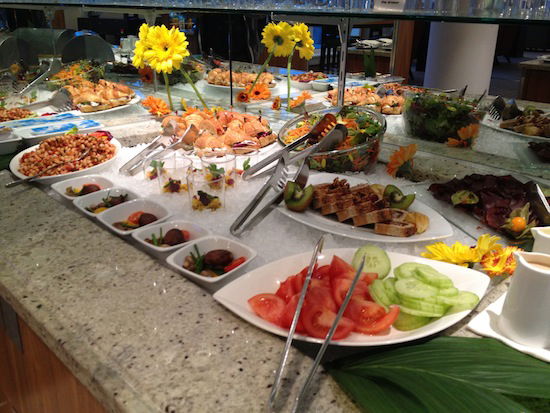 Spread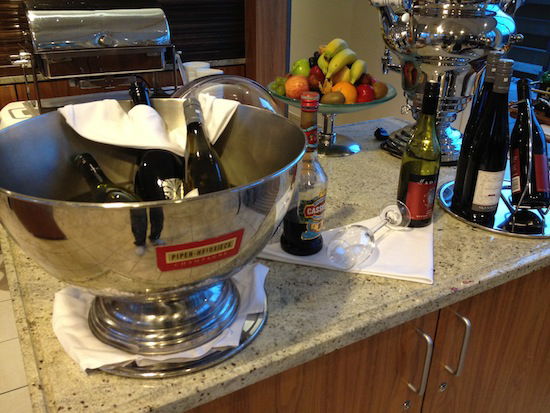 Spread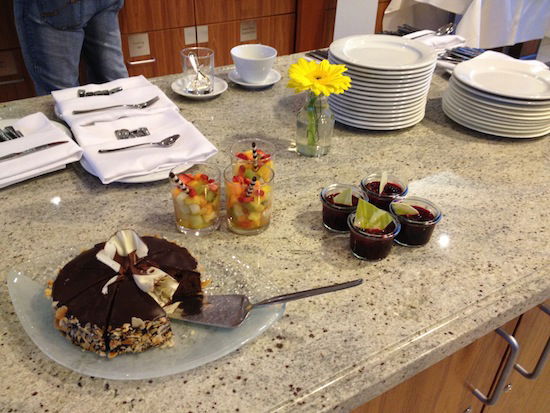 Dessert spread
And while I didn't partake in the breakfast offerings since I had an early flight, I did quickly stop by the lounge to snap a couple of pictures, and the spread was equally impressive, with fresh fruit, breads, and even hot dishes with a chef on site. They even had champagne, which is the first time I've seen that in a Sheraton club lounge.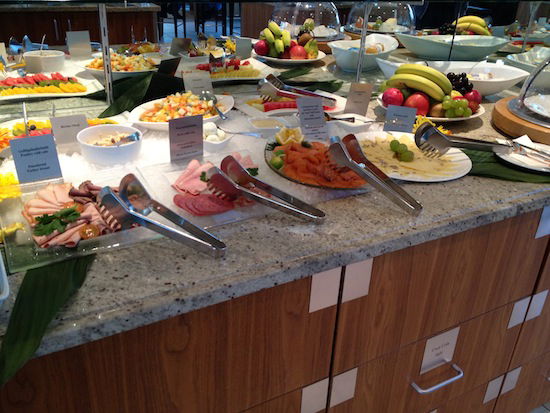 Breakfast spread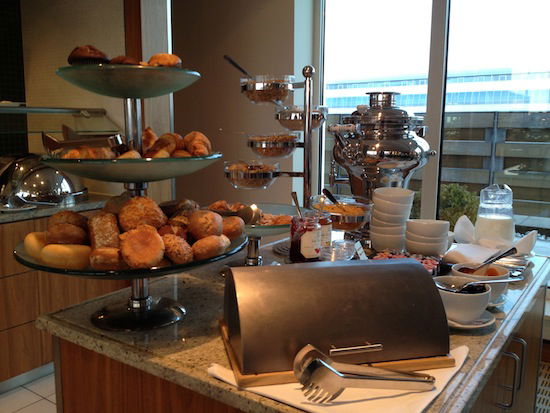 Breakfast spread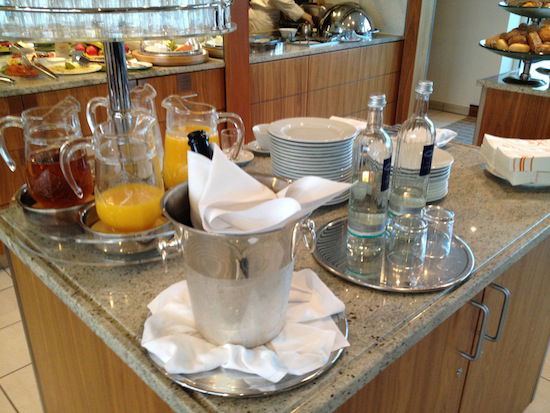 Breakfast spread
Anyway, on the whole this is really a phenomenal airport hotel. While I try to leave the airport grounds when I have a longer overnight to get a change of scenery, this place is fantastic for a quick overnight, and I'm sure I'll be back soon.