---
While my dad flew in from Tampa the same day, I had spent the night in Houston. Our flight to Frankfurt was only at 4:10PM, so if I had my way I would've shown up at the airport at 3PM. But my dad was landing from Tampa at 12:30PM so I wanted to be sure I was there in time to meet his flight. My dad doesn't have a cell phone (he claims he's too old to learn how to use one), so the easiest option was to just meet him at his gate.
I made it to the airport at around 12:30PM, and headed to terminal D, where Lufthansa departs from. Lufthansa's check-in counters are at the far end of the terminal, over near all the other "exciting" airlines that grace Houston with their presence, including Emirates, Qatar, and Singapore.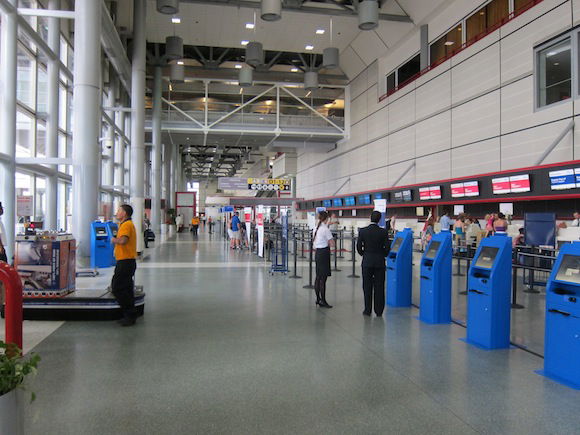 Terminal D check-in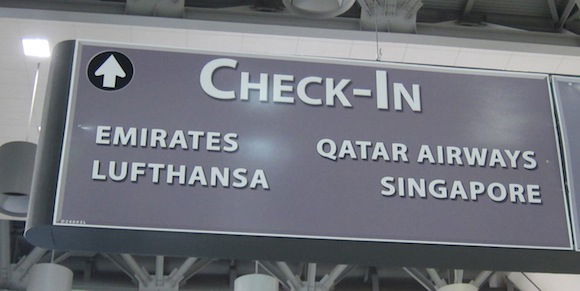 Check-in signage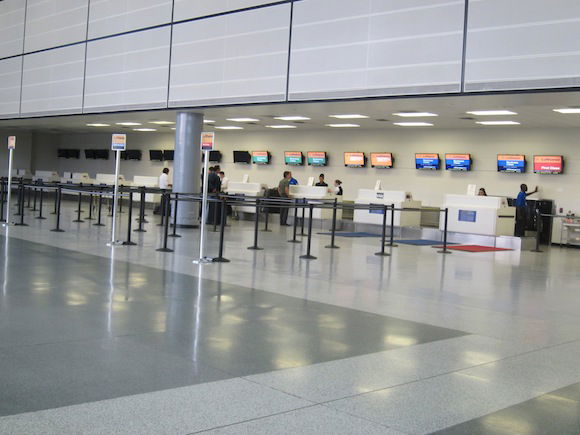 Lufthansa check-in
Check-in was efficient, and the security checkpoint was just a few minutes away. There were only a few people in the queue for security, though they were training someone new on the x-ray machine, so it took a good 15 minutes before I was through. As always, the TSA agents were discussing their favorite athletes/sports teams, with the occasional "man, you whack if you think they gonna win."
Once through security I managed to find my dad, and together we went to the "Executive Club," which is the contract lounge that Lufthansa uses in Houston. It's also used by Air China, Emirates, and Qatar. As a reminder, if you wouldn't normally have access based on your ticket, there are a couple options available in Houston for those with a credit card with lounge access.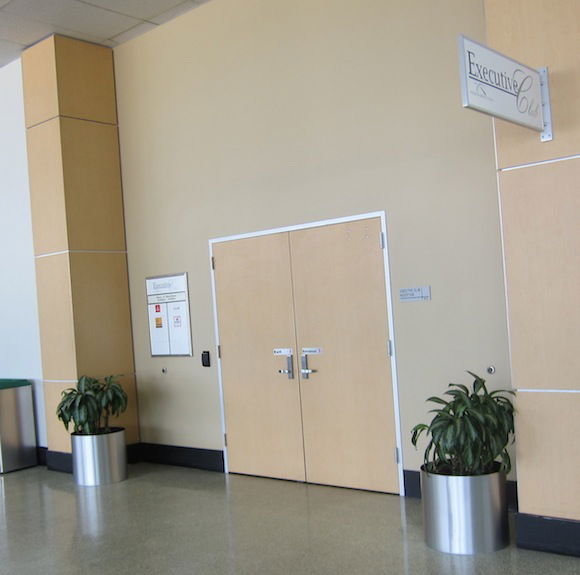 Lounge entrance
At the entrance we were welcomed by a Lufthansa representative, who marked our names off a list.
The lounge was actually surprisingly large, though had no windows and felt a lot like a (nice) hospital waiting room.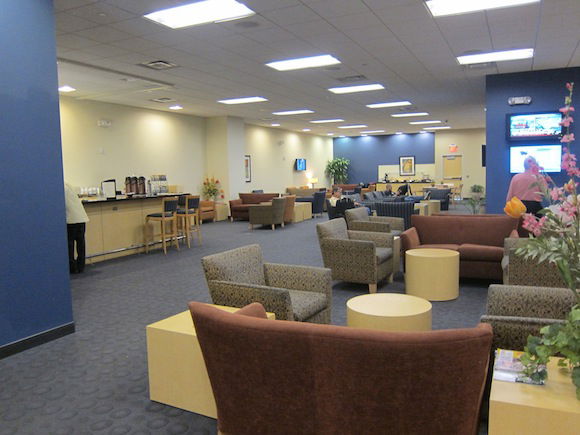 Lounge seating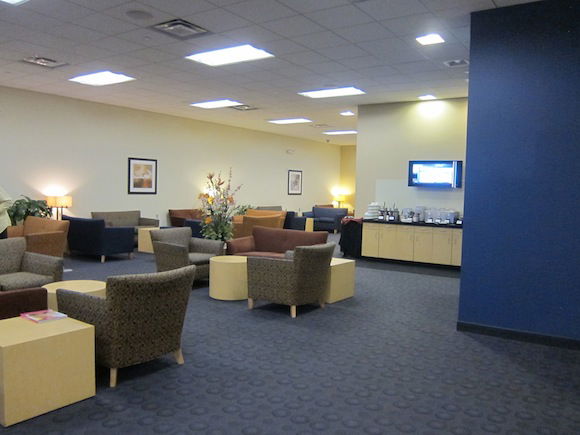 Lounge seating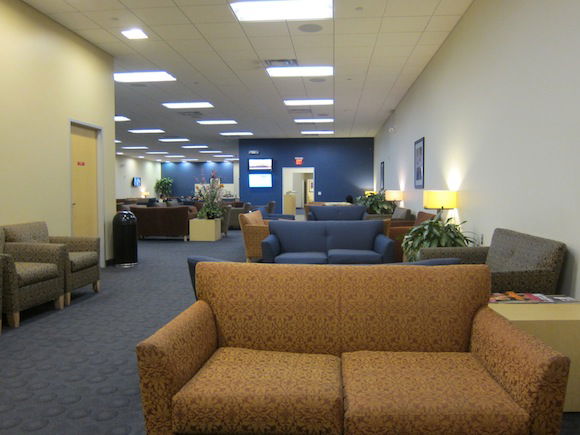 Lounge seating

Lounge seating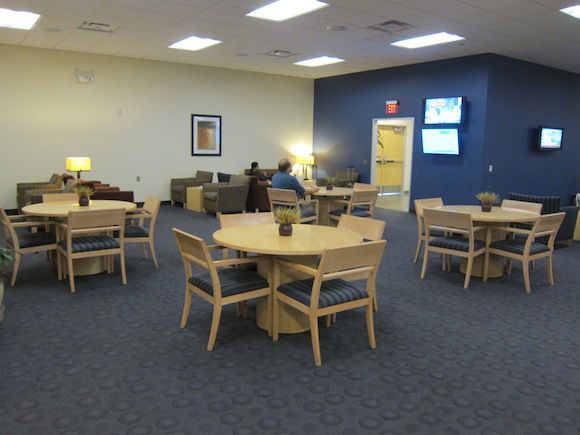 Lounge seating
Most of the lounge seating consisted of couches with side tables, though there were also tables with chairs. Then there was a quiet room at the far end of the lounge.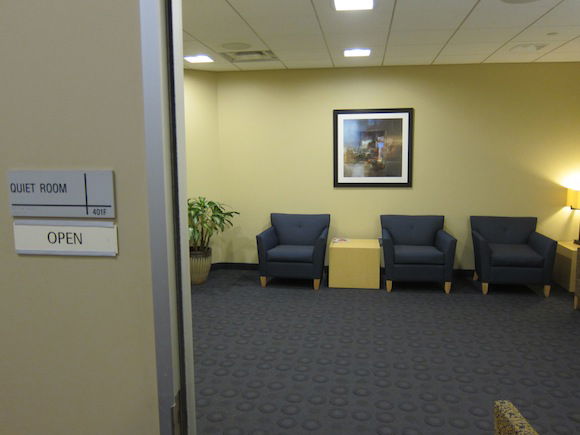 Quiet room seating
Near the quiet room was a small business center with two PCs and a printer.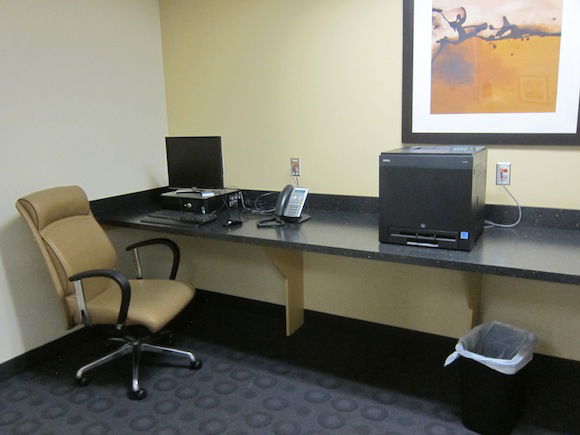 Business center
The food spread was quite good for a contract lounge, definitely much better than what you'd otherwise get in the club of a US airline. There was also a bar with complimentary alcoholic beverages.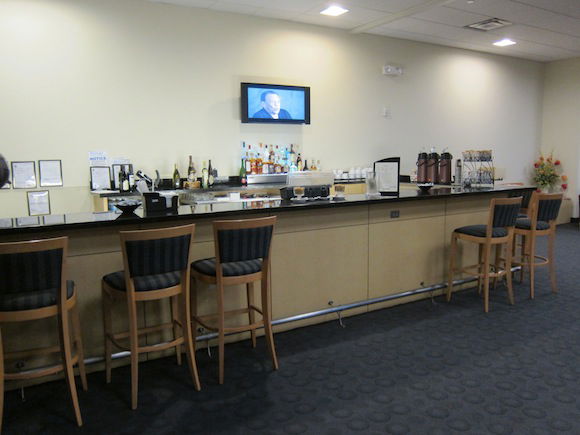 Bar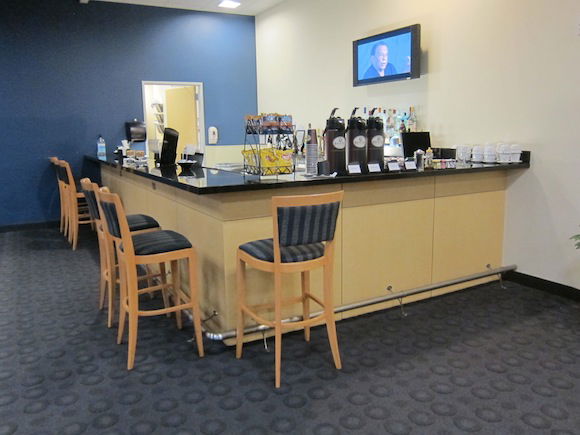 Bar
Then there were two buffets — one at each end of the lounge. One buffet had hot options, including soup (chicken noodle and Boston clam chowder) and five hot dishes.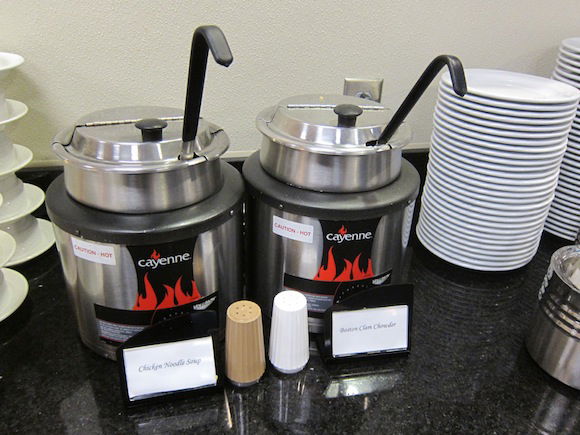 Soup
One display had a vegetable medley, vegetable spring rolls, and vegetable egg rolls.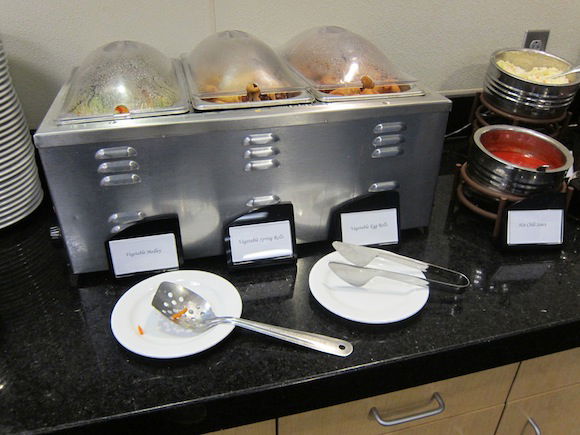 Hot options
Another had fried rice and chicken stir fry.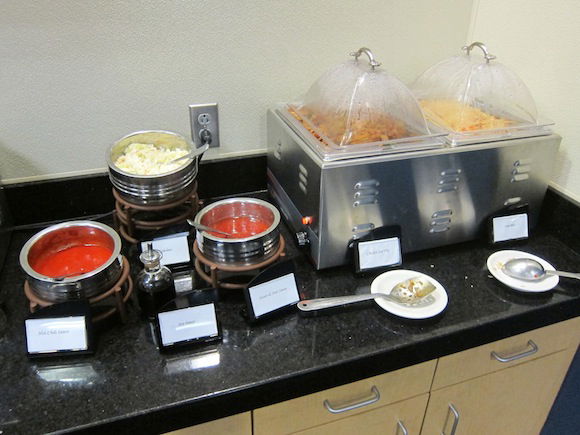 Hot options
The other side of the buffet had cold options, including finger sandwiches, cheese, fruit, veggies, and packaged snacks.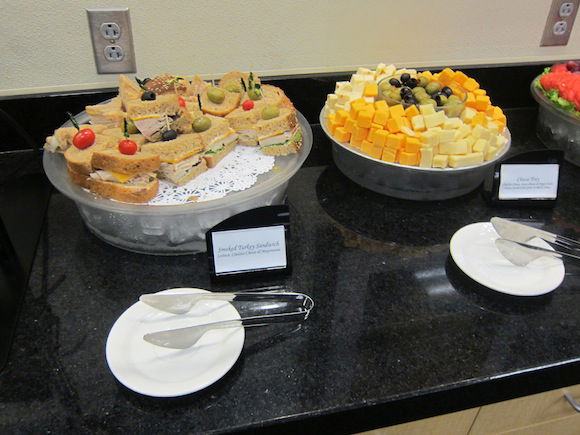 Finger sandwiches and cheese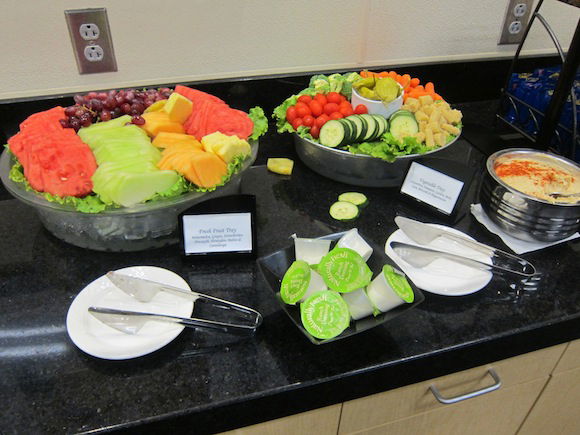 Fruit and veggies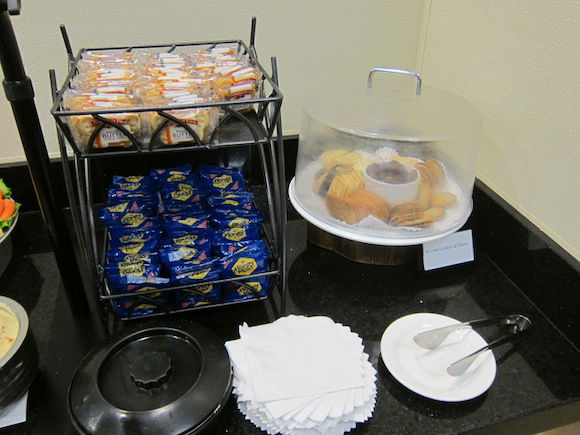 Packaged snacks and cookies

I tried to get some work done while in the lounge. I thought ahead and loaded some stuff on my iPad that I figured my dad would enjoy, so while I got some work done I put on the Comedy Central Roast of Roseanne for him. It was a great option in that he was extremely entertained by it, but a horrible option in that he was so entertained by it that his laughter could be heard throughout the lounge. Oops!
The only other thing worth noting about the lounge is that it doesn't have bathrooms. Seriously, it's a trend I've noticed with lounges I've visited lately, though for the life of me I can't figure it out. The lounge is huge, so why doesn't it have bathrooms?!
We got bored in the lounge after a while, so at around 3PM started wandering the terminal and looking at planes. There was a KLM Combi 747 and an Air France 777 parked right near the lounge.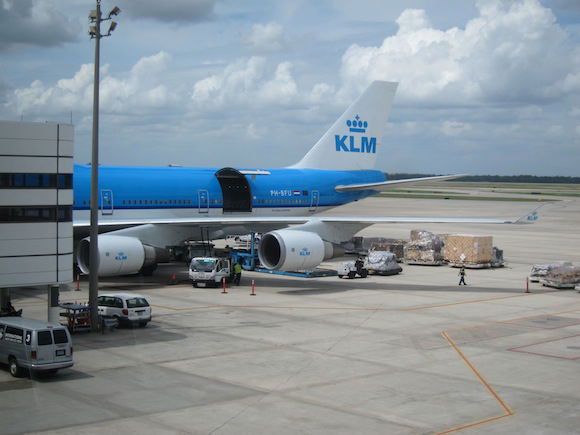 KLM Combi 747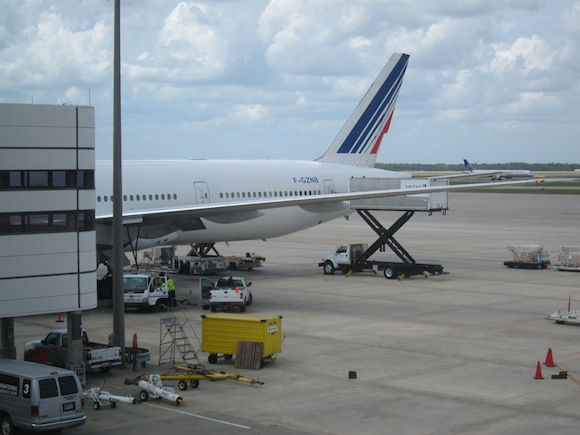 Air France 777
As we wandered around we saw our Lufthansa crew trickling into the terminal one by one, with most of them stopping at the duty free shops. I noticed they were mostly quite young, which I find to be pretty normal for Lufthansa's A380s. Lufthansa crews typically fly mostly Boeing OR Airbus aircraft, and typically the latter are more junior.
At 3:30PM we headed to our gate, D11-12, where there were several lanes for boarding given the multiple jet bridges needed to load an A380.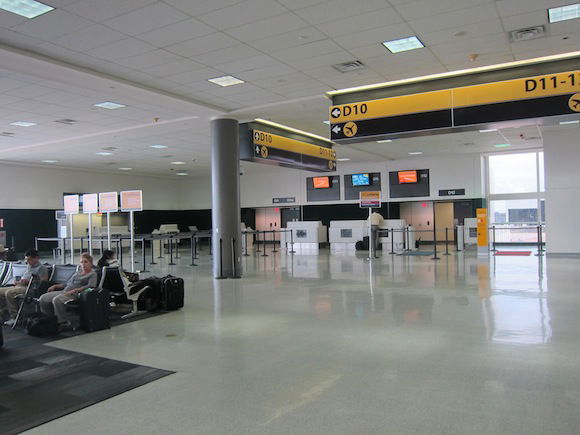 Departure gate
At around 3:40PM boarding commenced, starting with first class.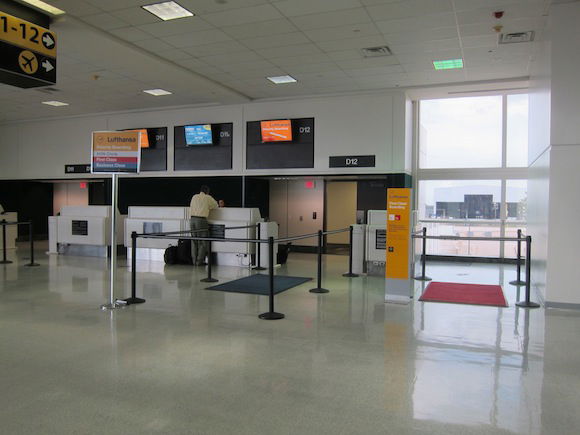 First class boarding queue
For once I wasn't the most excited person boarding the flight — my dad was!
Anyway, the Houston ground experience was fine. The Executive Club had good food for a contract lounge, though the lack of windows and bathrooms was a bit disappointing.