Life has been an interesting journey since moving from Tampa to the Pacific Northwest last year, and due to a variety of reasons (none of which are valid), I haven't visited my parents as much as I'd like to. I took a trip to Bali with my mom for her birthday in June, and had an amazing time. Ever since, I've made it a goal to travel more with my parents since we're all still in relatively good health, and that's not something that should be taken for granted. So I also went to the US Open with my mom, have a trip planned with her to Puerto Rico soon, and another trip planned with her early next year.
Similarly, it has been a long time since I've taken a trip with my dad. Back in the day when I got into this hobby he was the biggest advocate of it, and at first we mileage ran and traveled the world together on award tickets. After all, I was about 12. 😉
But he hasn't been able to travel as much as he'd like to lately (again, for a variety of reasons, which are more valid than my lack of good reasons for not visiting my parents as much as I'd like to), and I figured it was about time for us to take a trip again. I'm attending TravelMagic in Brussels next week, so figured I'd take my dad with me and also extend the trip a bit. So we're spending a week together in Europe, which I'm really excited about. He's from Germany, so he always loves going back.
This is literally my dad's first international trip in years (the last one was to his mother's funeral a few years ago), and I don't think I anticipated quite how excited he'd be.
While the trip has just started, I figured I'd share my experience so far, as we just flew Houston to Frankfurt in first class on Lufthansa's A380. To add some context, the last time my dad flew Lufthansa first class their old first class product was still new, and the first class section was split up into a smoking and non-smoking section… so maybe 15 years ago?
Anyway, I'm of the opinion that Lufthansa first class is a spectacular product, and I think this flight may just have been my best Lufthansa flight EVER!
First of all, I love everything about the A380 cabin – the colors, the design, the bathrooms, the personal lockers, etc.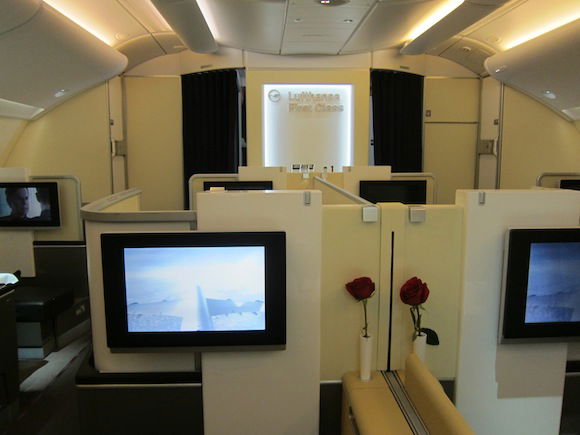 The food was actually probably the best I've ever had on Lufthansa as well. There wasn't a single thing on the menu I could fault. For once the amuse bouche wasn't "decomposed urchin semen with quail thigh feather", which was a welcome change. I actually decided to switch it up and had ordered an Indian vegetarian meal as a "backup plan," but the main menu looked so good that I didn't even want it. And that worked out perfectly since they catered the cabin for eight passengers, even though it was only half full.
The crabmeat amuse bouche was delicious.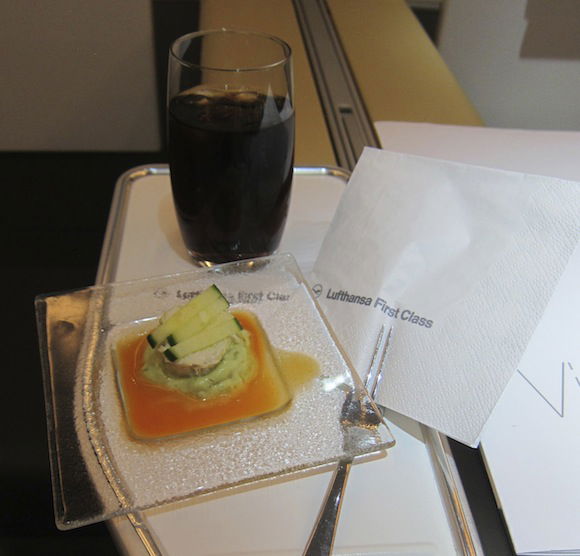 The veggie, beef, and prawn starter was excellent as well.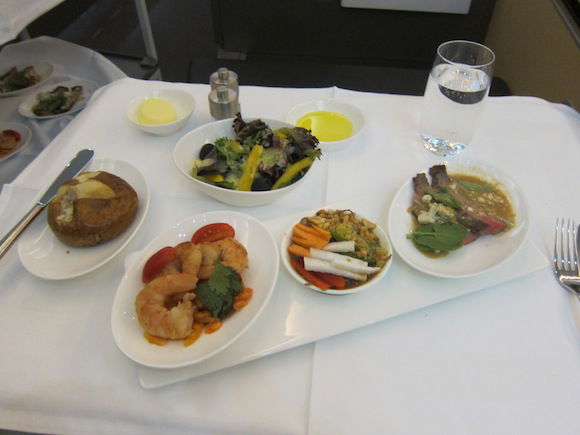 The caviar, was, well, caviar.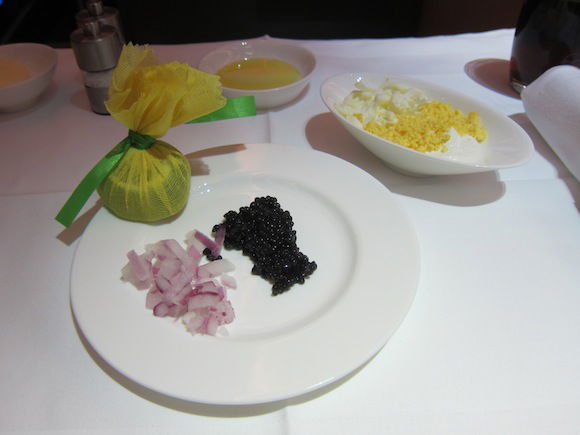 And I did have the Indian vegetarian main course, though at the flight attendant's insistence also had one of the other entrees. The prawn dish looked good, so I ordered the prawns. I didn't actually touch the pasta, but the prawns went quite nicely with the Indian dish.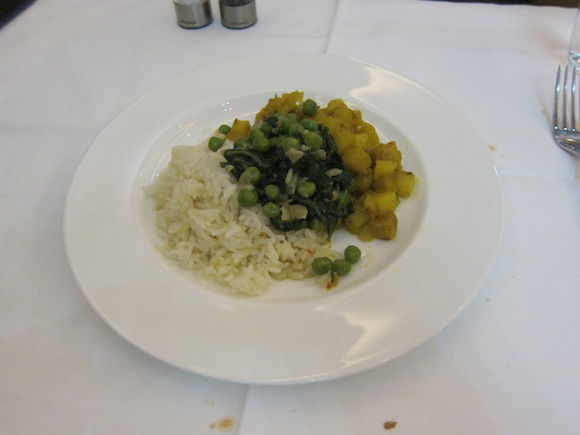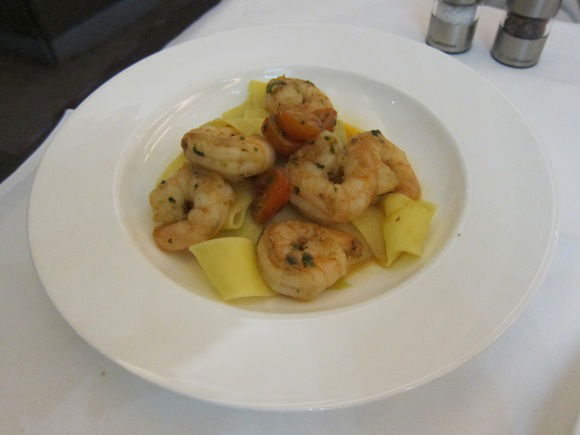 The dessert was even simple and delicious – a chocolate tart with ice cream. No elderflower soup for once!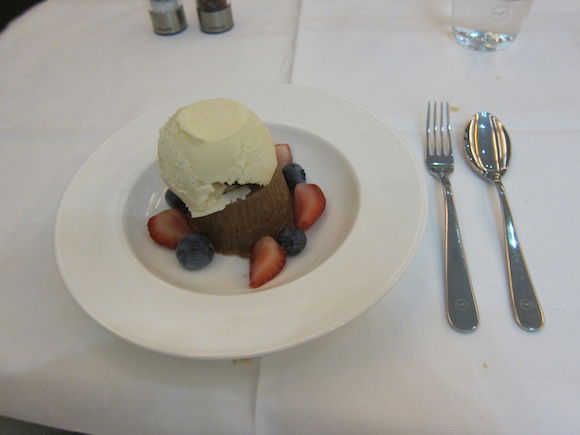 This is quite possibly the best menu I've ever had on Lufthansa.
But really it was the service that was spectacular. Probably the best ever. Two guys in their young 20s were working the cabin, and they couldn't have been more enthusiastic, attentive, or charming throughout the entire service. After dinner they even insisted on giving my dad a tour of the entire plane, which he enjoyed. They were simply amazing on every level.
Of course, the flight wasn't without a bit of entertainment/drama. One passenger from coach climbed up the stairs and under the "gate" to try and smoke in the first class lavatory. To say that the situation was handled with German efficiency would be the understatement of the year. A SWAT team could take a course on response time from this crew.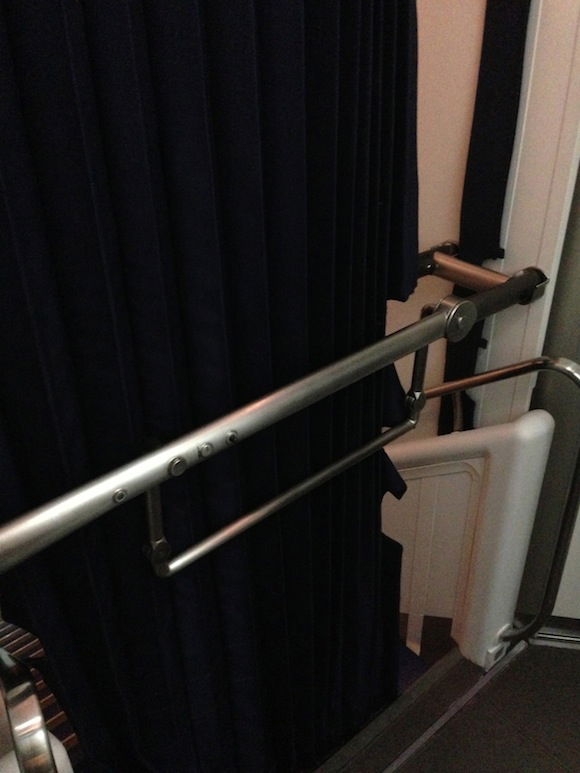 Then, as the dinner service wrapped up, the purser informed us that someone from business class would be moved up and seated across from us. She explained that he was extremely unhappy. That's the first time I've seen an onboard upgrade like that. While he was low maintenance, he proceeded to snore all the way to Frankfurt.
But really the best part of the flight was just watching my dad. Parts of watching him were entertaining. For example, he just couldn't grasp the concept of the computer generated airshow (and to perhaps put this into perspective, he doesn't have a cell phone because he doesn't really "believe" in them). Lufthansa's airshow doesn't just show a map, but also has some computer generated "virtual" images. For example, they'll show what the view would be like from the cockpit based on the landscape, what the view would be like looking at the plane from the outside (from maybe 500 feet away), etc. He just couldn't wrap his mind around that. "Benny, vhere do zhey get za camera to look at za plane from that distance?" "Dad, it's computer generated." He responds with "okay."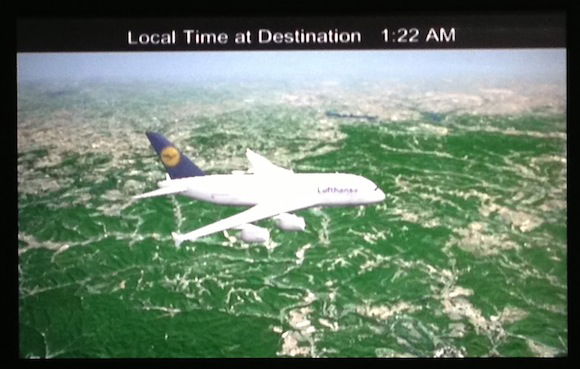 Five minutes later it's "Benny, how do zhey get za camera in za cockpit for za display?" "Dad, it's computer generated." "Oh, okay."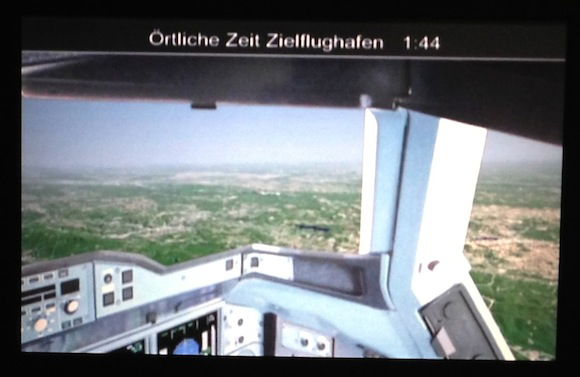 15 minutes later "Benny, vhy iz it still light outside on za camera view?" "Because a computer generated image showing you the scenery around the plane wouldn't be very interesting if everything around the plane were dark."
And then there were parts of watching him that were downright adorable. For example, it was sweet to see how much he was trying to "maximize" the experience. I was trying to help him further maximize the experience by recommending some TV shows and suggesting he get his bed made after dinner, but he was resistant to it all.
"I don't vant to watch za TV, I just vant to sit here and enjoy za ambiance."
Then after dinner I repeatedly asked him if I could get them to make his bed. "No, I don't need zhat, I can sleep vhen ve land." Go figure, five minutes later he's sleeping in the upright position. "Dad, we can have them make your bed for you if you'd like." "No, I can just sleep sitting up, I don't need za bed."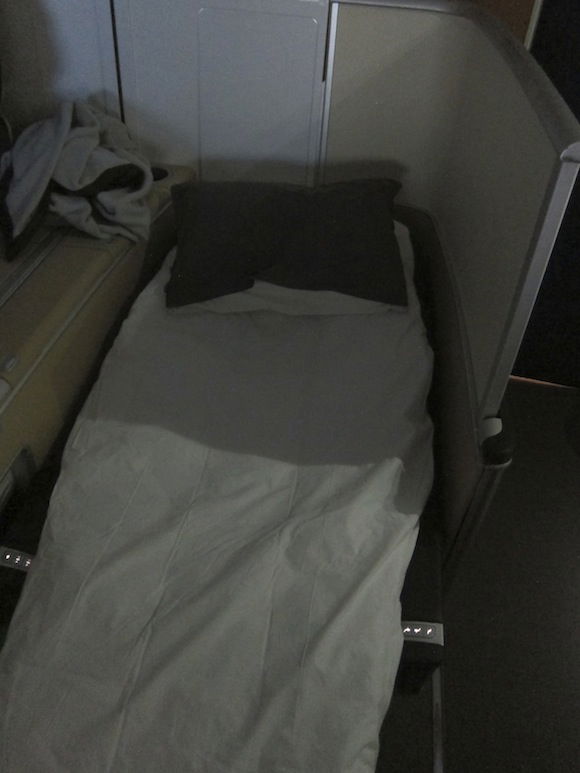 But… but… but… if you want to sleep sitting up then fly coach!
Okay, while I wanted him to enjoy the flight on his terms, I couldn't in good conscience let him sleep in the upright position when he had the option of a fully flat bed with a mattress pad, duvet, and pillow. So I tricked him into getting up for a minute while the flight attendant made his bed, and he was sound asleep for the next few hours.
When he woke up he said "Benny, zhis is za best sleep I've ever had. Even better zhan at home."
Now it's time to take dad to the First Class Terminal. Hopefully he doesn't wet himself… he's too old for that… or too young for that… one or the other.
But in all honesty, this is probably the most fun I've had in a long time. Which is probably partly a sad reflection on my life. But watching other people be literally thrilled — especially when they're my parents — is probably (selfishly) the most rewarding thing I can think of.