---
Upon landing in Frankfurt we walked to the First Class Terminal. Getting to immigration was a real hike from the gate we arrived at, so it was about 20 minutes before we made it to the First Class Terminal. It was my dad's first time, so he was excited to say the least.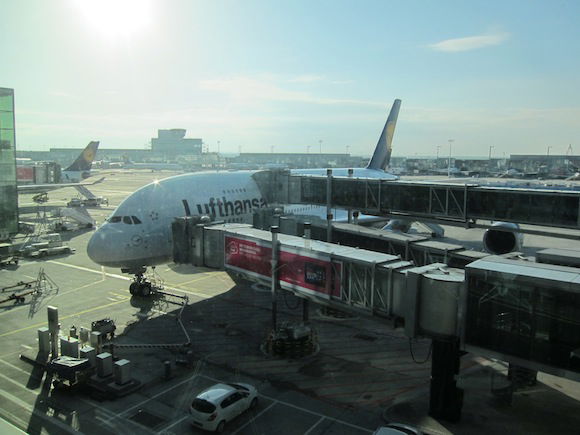 Our A380 upon arrival
As the personal assistant greeted us I said "Hi, we're coming from Houston and…" Before I could finish my sentence my dad jumped in — "yes, it vas on za A380, it waz very nice."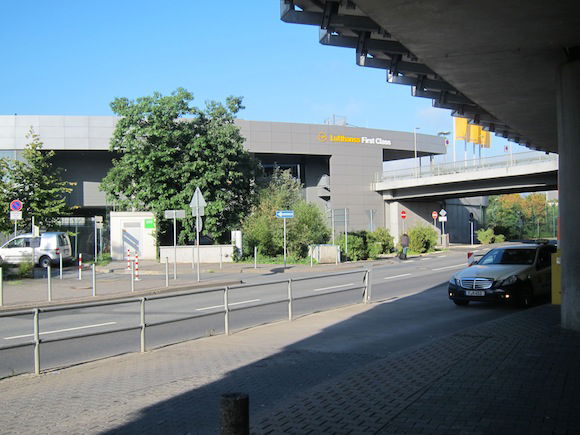 First Class Terminal exterior
Anyway, soon enough we were seated in the Lufthansa First Class Terminal. I grabbed a cubicle because I wanted to get some work done, while my dad took a seat and just relaxed. Here's the thing, I don't think anyone under 25 can sit still nowadays, yet my dad is absolutely brilliant at it. I felt guilty letting him sit there without much to do, but he was once again enjoying "za ambianz."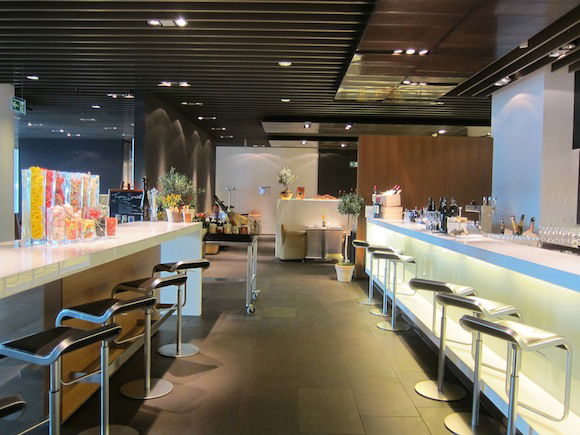 First Class Terminal
Of course I wanted to be sure he wasn't too bored, so I downloaded some stuff on my iPad for him to watch. Specifically, The Comedy Central Roast of Roseanne. Okay, so here's the thing — it's extremely entertaining, but it's probably not the best entertainment choice for someone wearing noise canceling headphones in a quiet lounge. I could hear him laughing from my cubicle 20 feet away.
After that I headed to the shower room area to get one of the limited edition blue rubber ducks. Five minutes later I sent my dad to do the same, even though he had no clue why he was doing it.
I won't review the Lufthansa First Class Terminal beyond that since I've reviewed it a countless number of times (just see my trip report index).
At around 12PM we were driven to our connecting flight to Salzburg. There was one other passenger connecting from the First Class Terminal, so sadly we didn't get a sports car, but rather one of the Mercedes vans to the plane. I know, probably a first world problem 😉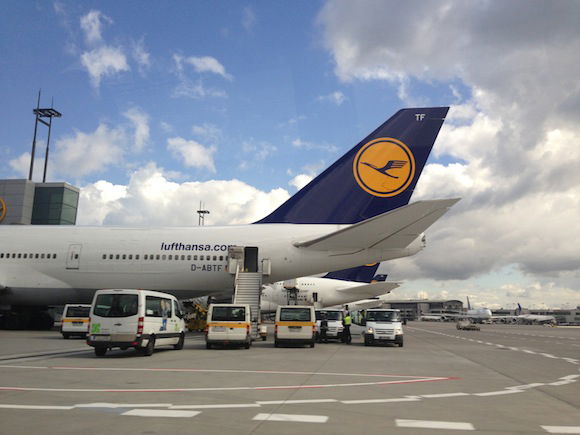 Views on ride to the plane
The flight was operated by an Austrian Fokker 100, though marketed as a Lufthansa flight.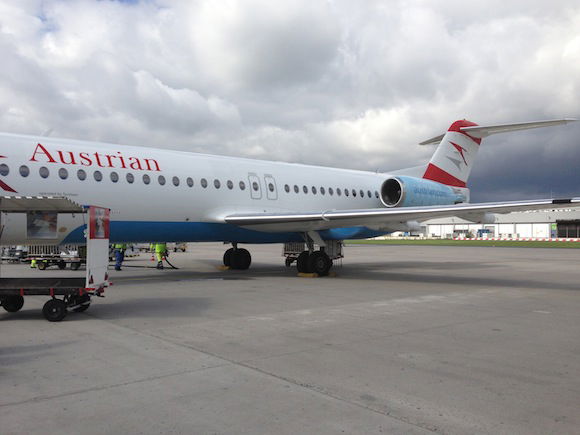 Austrian Fokker 100
Everything seemed fine, boarding was completed on time, we taxied to the runway and held short. I could tell something wasn't right since other planes were taxiing by us and there hadn't been a single announcement from the flight deck. After standing near the runway for about 10 minutes the captain came on the PA and in a very matter of fact way, without even introducing himself, said "ladies and gentlemen, we have a technical problem with the aircraft. We will return to the stand, buses will take you to the terminal, and you will get more information there." That was it.
So we returned to our remote stand and sat in the plane for a few minutes as we waited for a bus to arrive to take us to the terminal. I was actually blown away that Lufthansa sent a first class van as well, so that the four first class passengers wouldn't have to take the bus. The driver asked us to sit in the van for a few minutes as they figured out what was going on.
In the van it was me and my dad, a quiet, middle aged Japanese guy, and an older yappy guy from New York.
If there's one thing I've learned in my over three million miles of flying it's that crap happens and in situations like this you have to be patient for a bit, since nobody actually knows what's going on. But things do solve themselves with time.
Meanwhile the New Yorker guy was throwing a fit. We were sitting in the van for all of three minutes before he got on the phone to his assistant and said "they're holding us hostage in a bus and not giving us any further information." He was panicking, and that started to send my dad into panic mode. Neither of the other guys spoke German, so my dad started asking the driver questions, and I had to tell my dad to just be patient. It's not like the driver knew what was going on either.
At this point the New Yorker starts bitching about Lufthansa and how bad the service is. Meanwhile, I'm actually impressed given that they sent a first-class van when a mechanical happened. The New Yorker went on to bitch about how no one picked him up from his New York flight today and that Lufthansa was slipping, blah blah blah. After listening for a few minutes, the Japanese guy that hadn't otherwise said a word says "no, you wrong, Lufthansa service good, just too many first class passenger and HON Circle." You tell him, dude!
I tried to calm the guy down as well. I explained the next flight was at 5PM and had open seats, so once we got back to the lounge they'd be able to protect us on it.
Instead of being driven to the Lufthansa First Class Terminal we were driven to the "A" pier Lufthansa First Class Lounge, which is equally nice.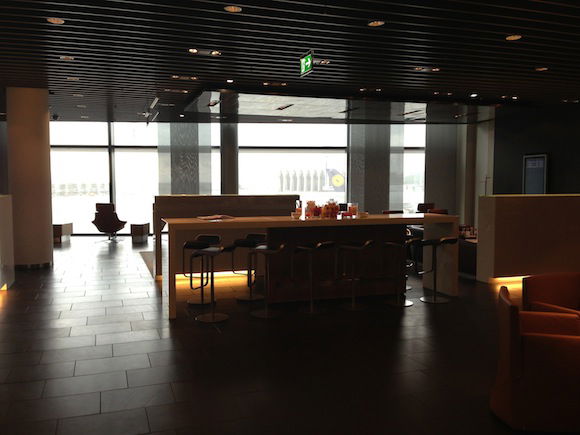 "A" pier First Class Lounge
My first order of business, of course, was to go harass the spa attendant for a rubber duck. And then I had my dad do the same a couple of minutes later.
About 20 minutes later we were informed the flight was definitely canceled (up until that point it was "pending"), so we were given boarding passes for the 5PM flight.
At that point I decided to take a bath. They had changed shower attendants again, which meant another rubber duck was up for grabs.
Spending eight hours at any airport sucks… it just sucks slightly less at Frankfurt when flying Lufthansa first class.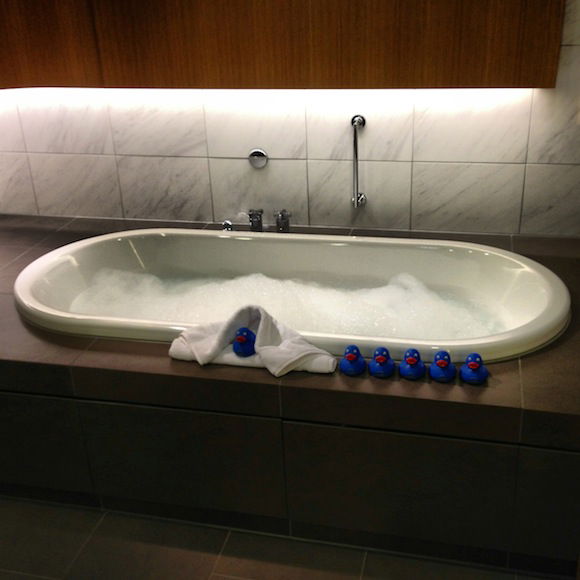 I got all my ducks in a row!
This is the point where things actually get fun. While in the bathtub I remembered the ridiculously generous EU compensation rules for delays and cancellations. I think they're actually too consumer friendly (or ultimately consumer unfriendly, because if the airlines actually had to pay these out to everyone airfare would go up), but I wanted to find out a bit more if for no other reason than so I could report back on the blog, since it's not something I previously have experience with.
Articles five and seven of this suggest that if a flight with a distance of up to 1,500km is canceled and you are delayed over three hours you're entitled to 250EUR cash.
So I approached the agent working the lounge and asked her about it in a really nice way. I wasn't stern about it and didn't demand anything, but rather just innocently asked if we'd be entitled to the EU cancellation/delay compensation under these circumstances. She said she's almost certain we wouldn't be, but promised to check with a supervisor.
20 minutes later she found me in the lounge and said "I checked with my supervisor and I was right, this wouldn't apply. It only applies to flights of at least 3,500km." She was really nice about it, but that's a total lie, so I showed her the relevant guidelines that someone had Tweeted me in the meantime, and she seemed confused.
I asked if she had a pamphlet with passenger rights in these situations, and she laughed and said "I don't think we've ever had anyone ask that in the first class lounge before, but let me see what I can do."
In the meantime she said that if I go down to the help desk one level down they could maybe get me further information, so she escorted me down there. She said "you seem like a nice person I don't have to tell you to be nice, but do be sure you tell them you're coming from the first class lounge or else they might not listen to you." They weren't able to help me further, though did give me a pamphlet with my rights.
At 4:30PM we were picked up and driven to our plane once again, which was swapped to an Airbus A321 so that everyone could be accommodated.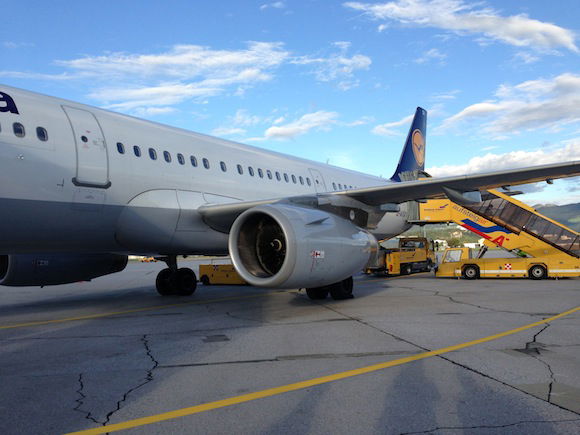 Plane to Salzburg
The crew was great. They were supposed to be done for the day but then got called to work the Salzburg turn, and despite that they were in great spirits. The 35 minute flight was pleasant. As usual a snack was served, and it was only mildly edible.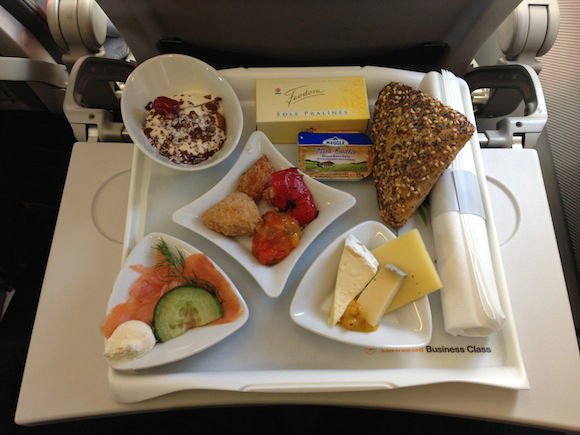 Snack
There was a bit of chop on approach due to some thick clouds, which made for some nice pictures.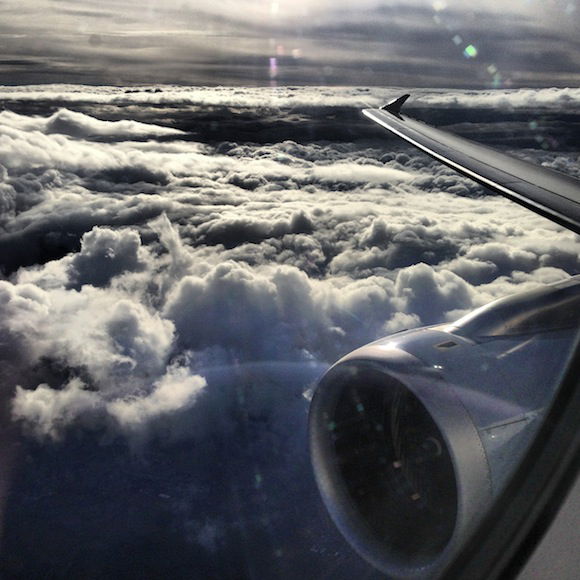 View on approach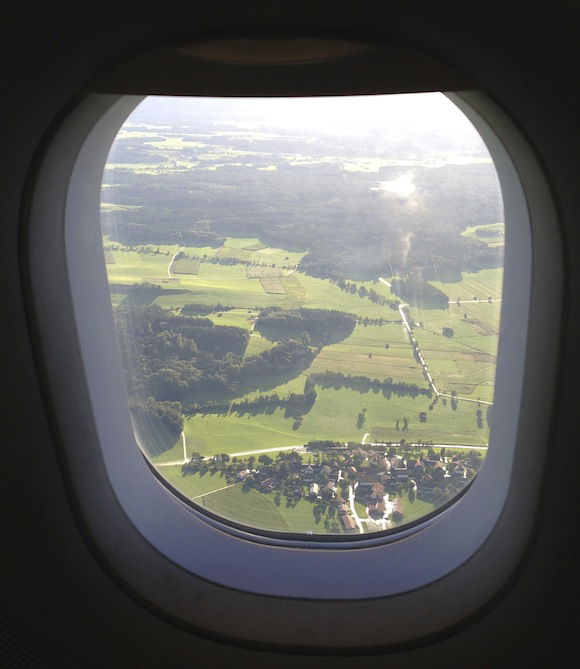 View on approach
Upon arrival we waited at baggage claim… and waited… and waited… and waited. Some bags were arriving, though oddly everyone that we saw on the original 1PM flight to Salzburg was still at baggage claim. And then bags stopped arriving.
It seems Lufthansa totally forgot to load the bags of all those passengers that were rebooked, even though they had four hours to do so. On top of all that they had a single agent working the lost baggage desk.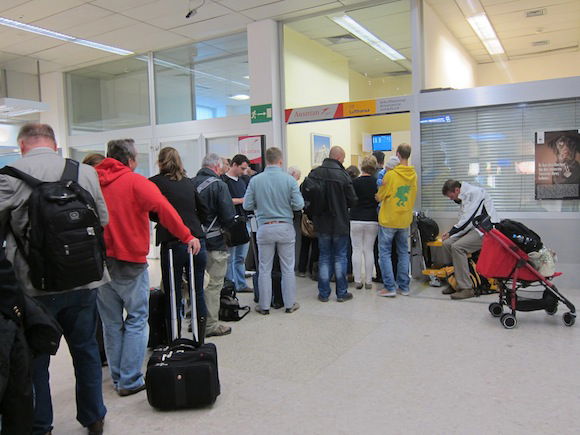 Line to see baggage agent
I have a lot of understanding when things go wrong in the industry — weather, delays, etc., all happen even to the best airlines, but to simply forget about everyone's bags is completely ridiculous, in my opinion.
In the end our checked bag ended up arriving at our hotel the next day at around noon. And I also followed up with Lufthansa after our flight regarding EU 261 compensation, and they're mailing my dad I each checks for 250EUR!
Anyway, definitely a not so pleasant conclusion to an extremely pleasant journey, but there are certainly worse things than getting paid to sit in a Lufthansa First Class Lounge!