As I deplaned I noticed something was wrong, though I couldn't quite put my finger on what it was. By process of elimination, I quickly realized that perhaps wearing pajamas in the terminal wasn't the best idea. And by that, I mean perhaps it was the worst idea. Ever.
You know when a seat poacher tries to take a first-class seat during boarding and then has to take the "walk of shame" back to coach when the flight attendant kicks them out? Yeah, well that's how I felt all the way to the Qantas lounge. It certainly doesn't help that the pajamas were a light color and I'm pretty pale, so I probably was mistaken by some people for Casper the Ghost.
I finally made it to the first class lounge, where I figured it was going to get better — surely someone else had the same idea to wear pajamas? Nope. I quickly ran to the shower rooms to shower and change.
So much for my "brilliant" idea. Must have been the "wine tasting" that put me in that state of mind…
This time around the first class lounge was packed as there were multiple flights leaving to Europe and Australia. The snack selection was fine, though that was the last thing on my mind.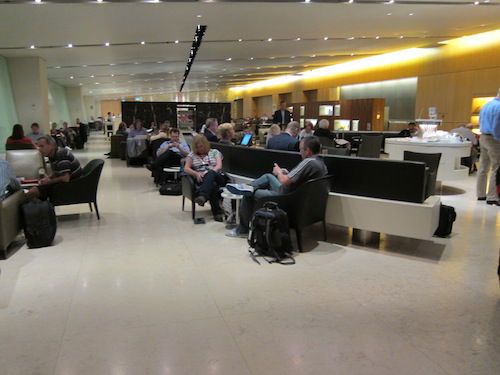 First class lounge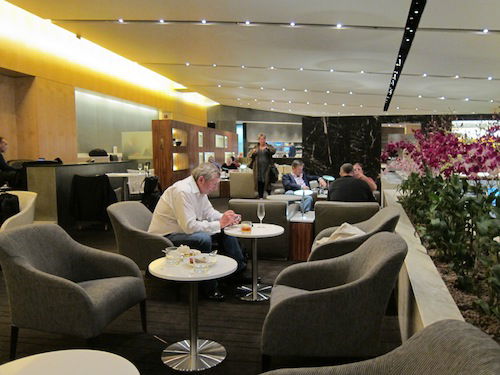 First class lounge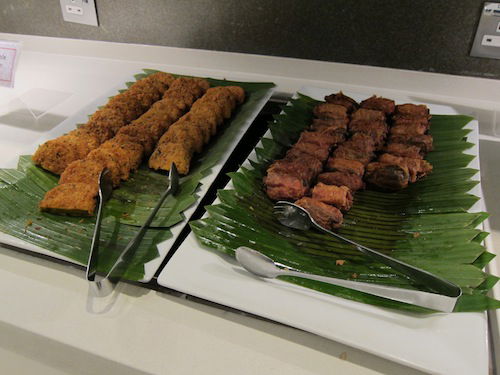 Snack selection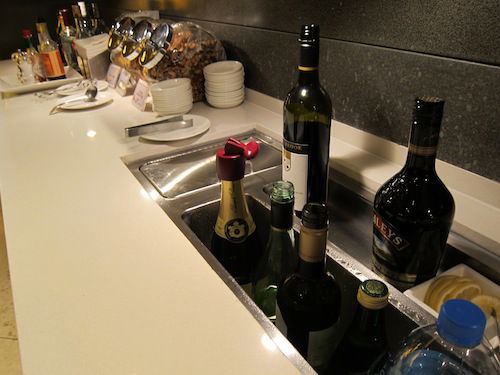 Drink selection
The shower rooms have an interesting design given that there's a "ring" on them with the shower rooms on the outside.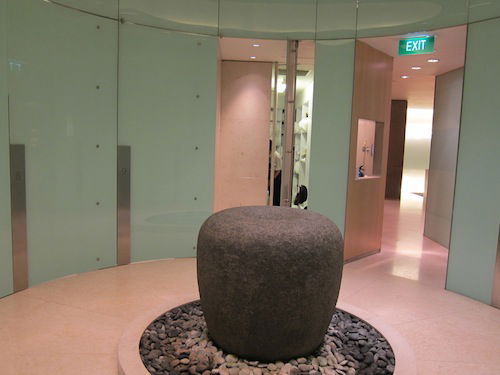 Shower rooms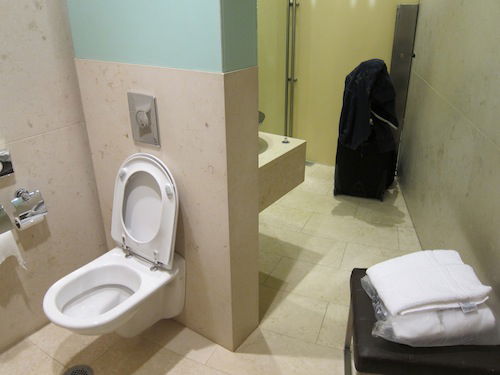 Shower room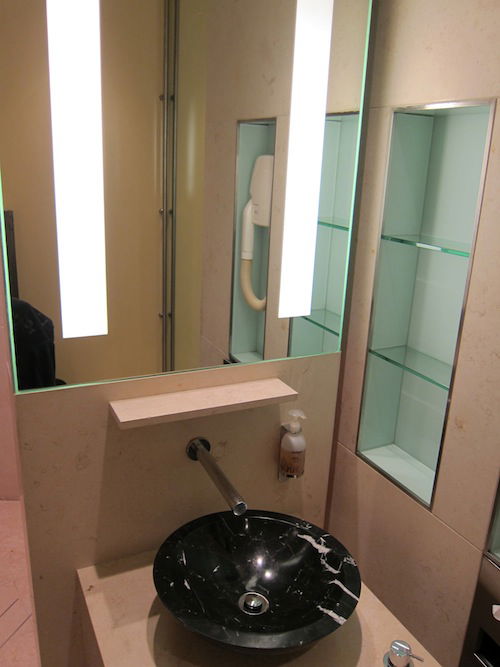 Shower room
The shower itself didn't have any sort of a door, which meant I damn near flooded the place by the time I was done. I tend to "splash," though clearly not as much as this lady.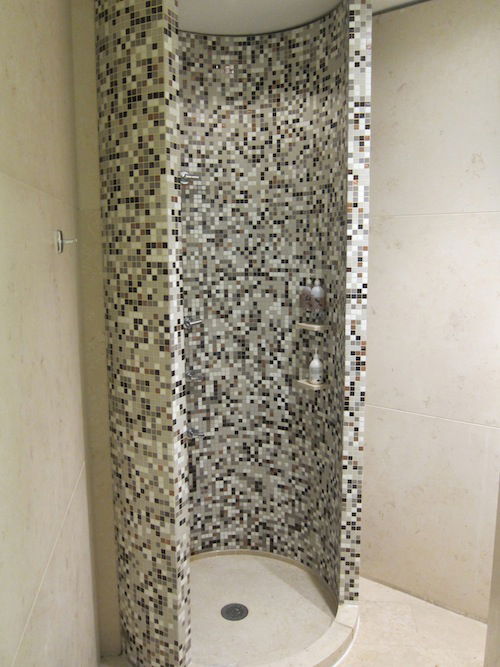 Shower
After a shower and changing back into "normal" clothes I was feeling good and ready to fly. I briefly hopped on my laptop to try and catch up on a few things, though the Wi-Fi was dreadfully slow.
About 10 minutes after boarding was announced in the lounge I headed back to the gate, which was maybe a 10 minute walk.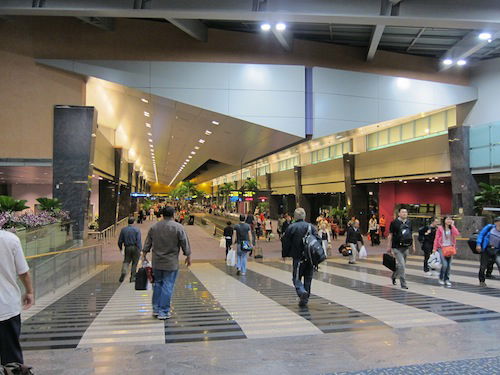 Heading back to gate
Changi airport has security at each individual gate, which is both a curse and a blessing. Qantas flies two Airbus 380s from Singapore to London within an hour of each other in the evenings from the same gate area, so in tonight's case, it's a curse.
There was a "priority" security line, though there was no enforcement, so everyone ended up using it.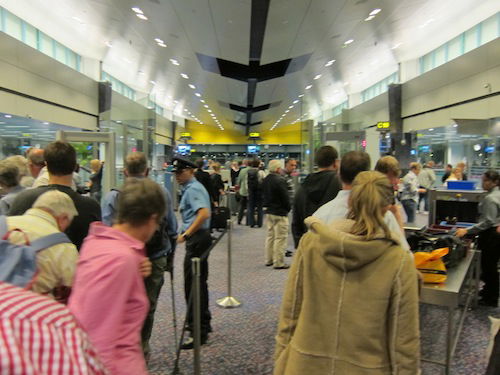 Security checkpoint for two A380s
What I hadn't realized, however, was that nearly all the passengers were booked on the other (later) Airbus 380 flight. By the time I made it to the gate, I was basically the last passenger to board.
Qantas Airways 9
Singapore (SIN) – London (LHR)
Tuesday, May 24
Depart: 11:05PM
Arrive: 5:40AM
Duration: 13hr35min
Aircraft: Airbus 380
Seat: 2A (First Class)
Once aboard I was escorted to my seat and immediately offered a beverage. It's worth noting that this crew was London-based as opposed to Melbourne-based. The London crews exclusively fly to Asia and back for Qantas, so it's not a half-bad gig — three trips a month and you're done!
Anyway, the flight attendant working my aisle introduced himself and asked what I'd like to drink. I went with a Diet Coke, which was served olives, and some flatbread and spread.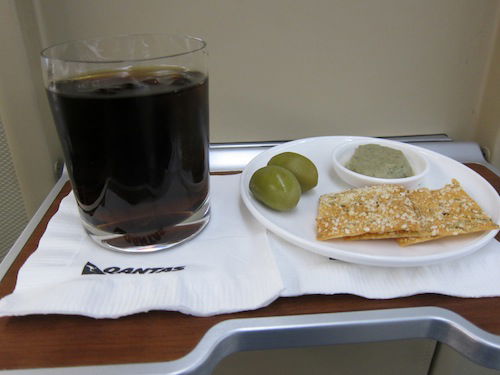 Diet Coke and Sea Salt Lavosh, Eggplant Dip and Gordal Olives
I was once again offered pajamas and an amenity kit, which made my third or fourth set, plus a hot towel.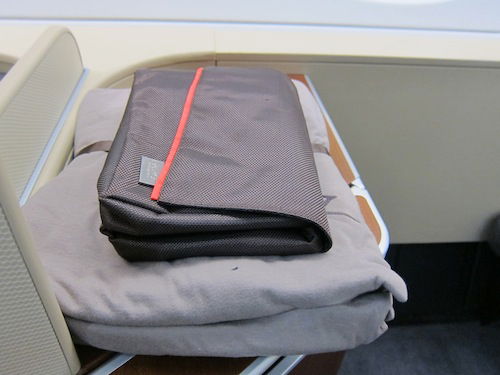 Amenity kit and (more) pajamas
Within a few minutes, we pushed back and started our quick taxi to the runway.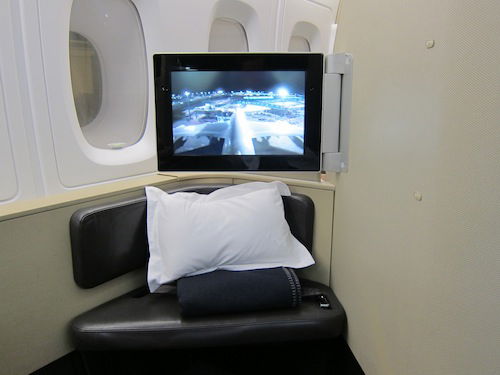 SkyCam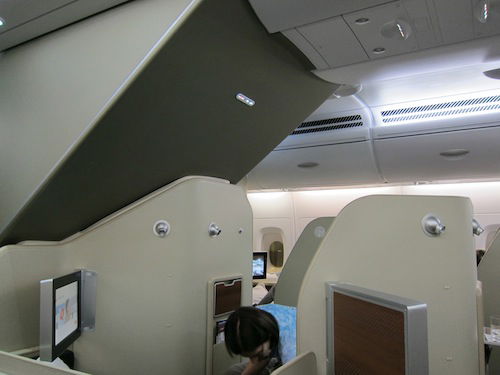 Cabin view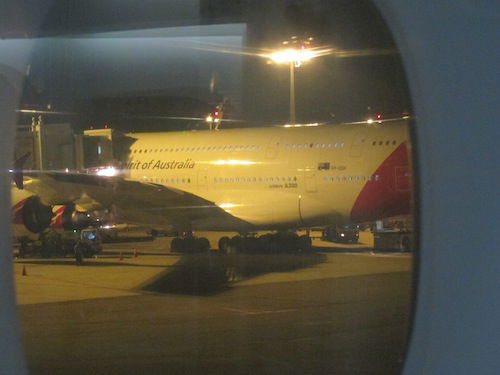 Other A380 heading to London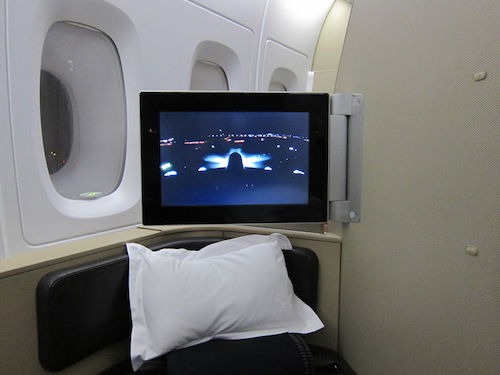 Taxiing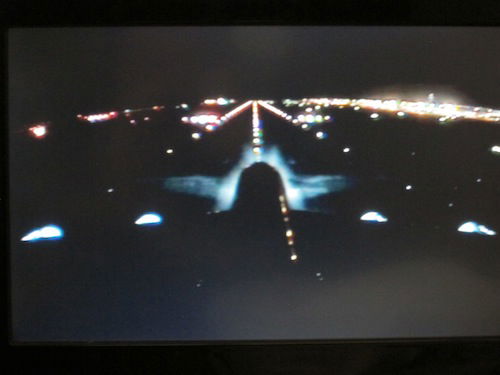 Ready for takeoff
The takeoff roll was surprisingly quick for a 13-hour flight (and the fuel, cargo, passengers, and captain's ego that come with it), and with that, I reclined my seat and got comfortable for what would be a stress-free 13 hours.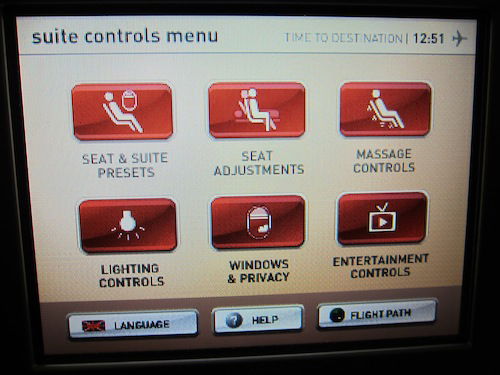 Seat controls
Within 10 minutes the seatbelt sign was turned off, and shortly after that, the captain made a welcome aboard announcement informing us of our flight time of 13hr10min. As the crew set up the galley the customer service manager came by to greet all the first-class passengers by name and give us the menus.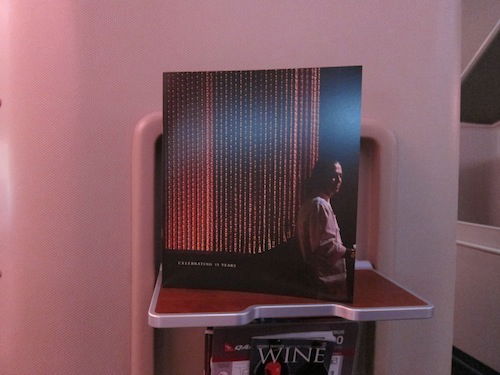 Menu
The menu on this flight read as follows:
Singapore to London

SUPPER
Our extensive Rockpool-designed menu allows you to enjoy a completely personalized dining experience. Your Flight Attendant will be pleased to assist you with selection.

CANAPES

Sea Salt Lavosh, Eggplant Dip, and Gordal Olives

ENTRESS

Cream of Leek Soup with Chives

Smoked Salmon and Artichoke Salad with Herb Vinaigrette

LIGHT MEALS

Big bowl of Porcini Mushroom and Pearl Barley Soup

Pumpkin and Gorgonzola Pizzette with Rocket Salad

Our signature Steak Sandwich with Tomato and Chilli Relish

MAIN COURSES

Warm Eggplant Stack with Roast Peppers, Herbed Goats Cheese and Pesto

Sea Bass with Tomato, Chilli and Caper Sauce, Sugar Snaps and Potatoes

Nonya Style Chicken with Lemongrass and Ginger, Fragrant Rice and Bok Choy

SIDE SALAD

Salad of Baby Leaves with your choice of dressing

Aged Balsamic and Extra Virgin Olive Oil

Fresh Lemon Juice and Extra Virgin Olive Oil

Red Wine Vinaigrette

CHEESE

Hand selected blue, soft and hard cheese served with accompaniments

DESSERT

Hazelnut and Coffee Syrup Cake with Mascarpone and Figs

Baked Custard with Blueberry Compote

Nice Cream Chocolate Coated Raspberry Ice Cream

Whole or Sliced Fresh Seasonal Fruit

PETITS FOURS

A selection of Cacao hand made chocolates

Manna from Heaven Jaffa Cake

Candied Lemon Shortbread
And for those of you interested in the wine list, here it is:
WHITE WINE

Tappanappa Tiers Vineyard Chardonnay 2008
Piccadilly Valley, South Australia

Pewsey Vale Vineyard Pinot Gris 2009
Eden Valley, South Australia

Grossed Semillon Sauvignon Blanc 2010
Clare Valley, South Australia

RED WINE

Penfolds St Henri Shiraz 2004
McLaren Vale and Barossa Valley, South Australia

Spring Vale Melrose Pinot Noir 2010
Tasmania

Mount Mary Vineyard Quintet Cabernet 2006
Yarra Valley, Victoria

DESSERT WINE

De Bortolli Noble One Botrytis Semillon 2007
Riverina, New South Wales
After the amazing tasting menu on the previous flight, I wasn't quite as hungry this time around, though still didn't want to miss out on the meal service. Therefore I "just" went with an appetizer, main, and dessert.
For the appetizer I had the smoked salmon salad, which was delicious. As I've said in the previous two installments, Qantas' first meals aren't as "fancy" as those of some other airlines, but they're infinitely more tasty. Qantas has obviously realized that what tastes well on the ground doesn't always taste great in the air, which is a lesson some other top carriers could learn.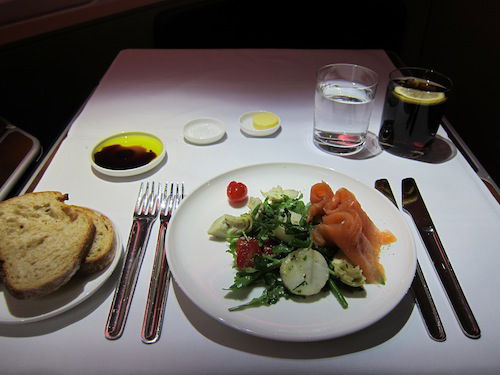 Smoked Salmon and Artichoke Salad with Herb Vinaigrette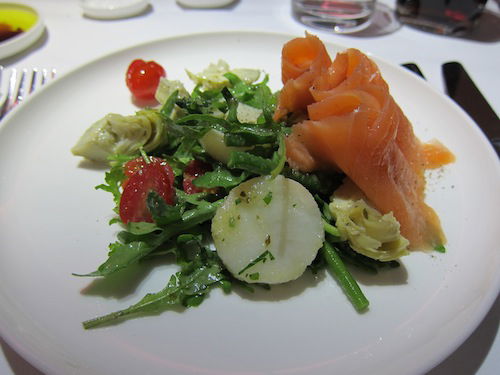 Smoked Salmon and Artichoke Salad with Herb Vinaigrette
I wasn't especially hungry by the time the main course was served though ended up deciding on the steak sandwich, which is really a "light meal" option on their menu, but oh-so-delicious.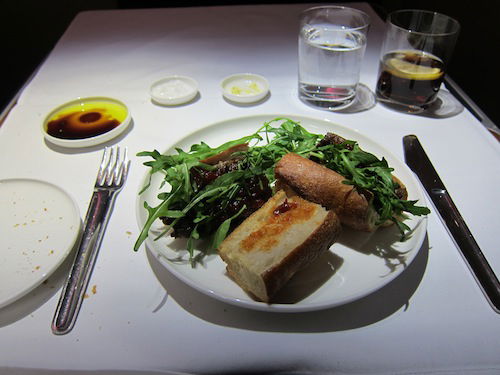 Signature Steak Sandwich with Tomato and Chilli Relish
After that came dessert, and I went with the custard.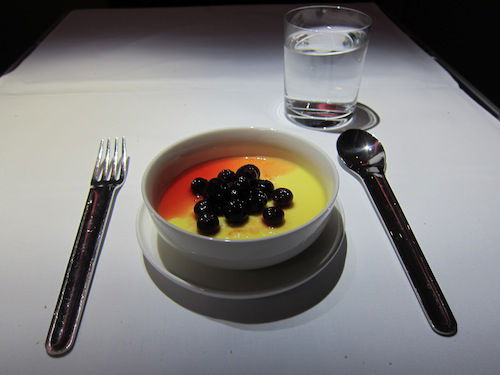 Baked Custard with Blueberry Compote
Just like on my other flights, the meal experience was spectacular. The food was truly the tastiest I've had in the sky, and the service was consistent. The flight attendant working my aisle on this flight was very friendly, though as is a theme on Qantas, the service is very slow (which I'm thinking is somewhat intentional). My three course meal took about two hours, which was totally fine by me since I was enjoying it.
By the time the meal service was done I was feeling quite exhausted and wanted to get some rest, so I asked the flight attendant to make my bed. He did so with great care and took at least five minutes to get all the creases out and make it perfectly presentable — very Singapore-esque. He also placed a bottle of water on my fold out table.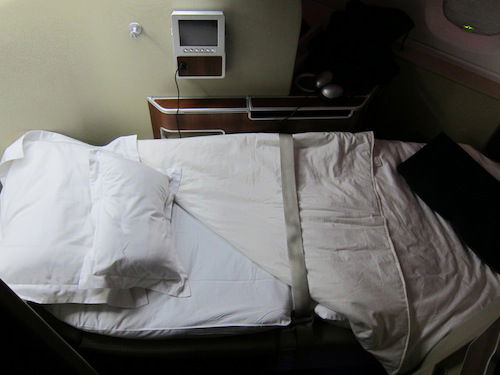 Most comfortable bed in the sky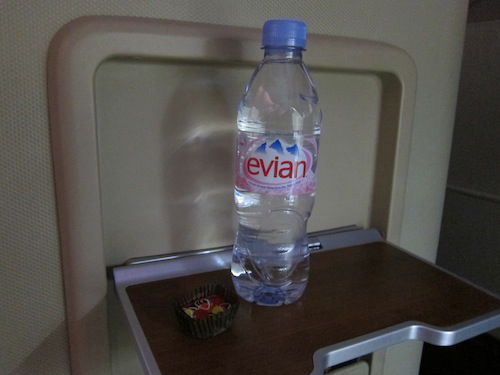 Bottled water
I slept amazingly well for six hours, probably the best airplane sleep I've ever gotten, and woke up with five hours to go to London. As much as I wanted to go back to sleep, I couldn't, so I ordered some tea and watched some sitcoms.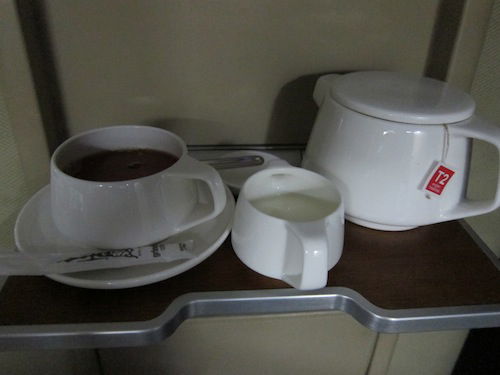 Tea
I also went with some raspberry ice cream off the menu, which was delicious.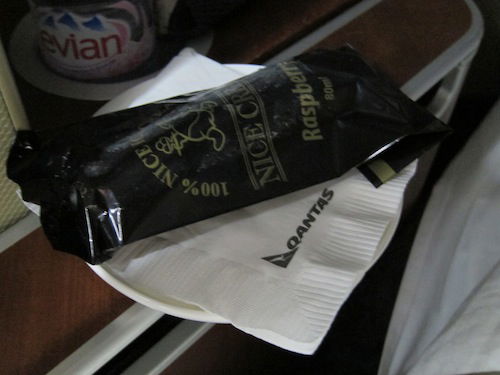 Ice cream!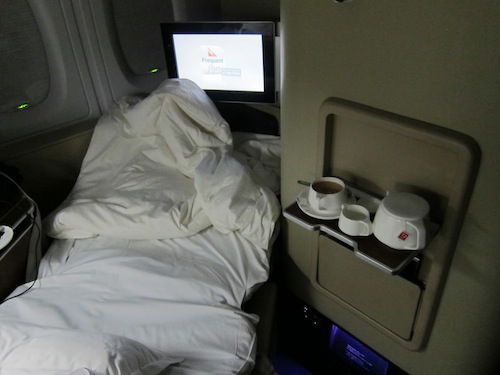 All ruffled up
After that, I decided it was time to stretch my legs, so I did "the lap," going up the stairs through business class and premium economy, down the rear spiral staircase, and back to first-class on the lower deck.
This is where it gets kind of funny. On the lower deck there are thick curtains between coach and first-class, so I passed through them as I was trying to get to my seat. As I get through the curtains one of the flight attendants says in a raised voice "sir, you can't go here, this is first class! You just can't pass through the curtain like that." Mind you, I'm wearing first-class pajamas. The male flight attendant seated there almost starts to chuckle, before he addresses her by name and says "ya know, I think he might just be in first class, he is wearing the pajamas."
The flight attendant was overly-apologetic when she realized her mistake, and even said "we're just trying to keep your cabin nice and private."
When I got back to my seat there were still a few hours to go, so I decided to watch a few episodes of The Big Bang Theory. What shocked me was that it was already light outside. Given that the flight arrives at 5:40AM and departs Singapore late at night, I figured it wouldn't be light three or four hours before landing.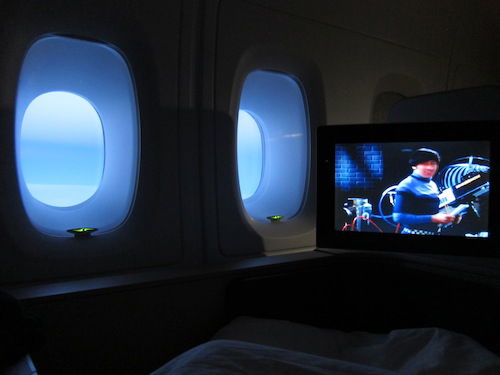 Sunrise way too early!
After a bit of TV I got my laptop out to start getting a bit of work done. I managed to work for about two hours before I was offered breakfast, which I immediately accepted since I was once again hungry (the joys of sitting and doing nothing all day).
Service started with a hot towel.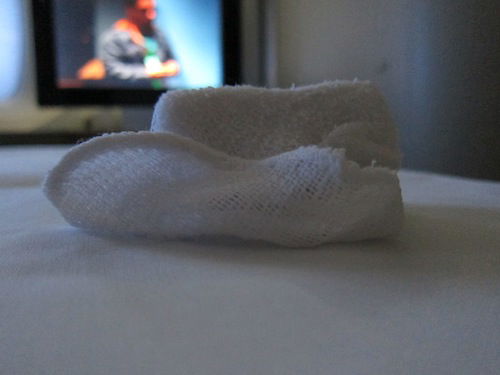 Hot towel
The breakfast menu read as follows:
BREAKFAST
Create your favourite Breakfast from our extensive Rockpool deisgned menu. Your Flight Attendant will be pleased to assist you with your selection.

Orange Juice

Apple Juice

Tomato Juice

Five Star Sunraysia Mango Liquid Fruit

Five Star Sunraysia Pear Liquid Fruit

Mango Energiser Drink

Fresh Fruit Salad

Bircher Muesli

Toasted Muesli

Cereal Selection

Yoghurt and Honey

Toast

Croissant

Pain au Raisin

Strawberry Jam, Orange Marmalade, Honey, Vegemite

HOT SELECTION

Scrambled Eggs, Potato and Sweet Corn Cakes, Smoked Salmon and Tomato Ragout

French Toast with Grilled Bacon, Maple Syrup, Spiced Appled

Buttermilk Pancakes with Glazed Oranges and Vanilla Yogurt
I went with coffee, orange juice, fruit, a croissant, and the scrambled eggs.
I was first offered the orange juice, which tasted very "fresh," not like "airplane" orange juice.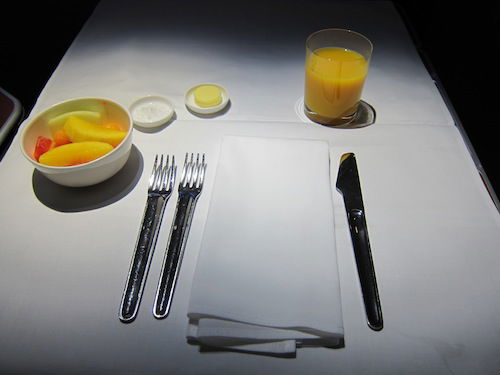 Fresh fruit and orange juice
Next I was offered coffee and a croissant, which was also tasty and still warm.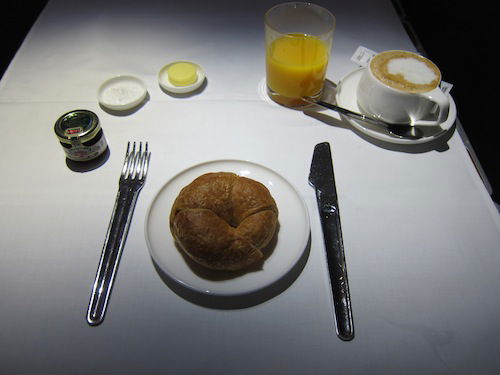 Croissant
The main course consisted of scrambled eggs, salmon, and sweet corn cakes. This was literally the tastiest breakfast I've ever had. No, not the best airplane breakfast, but literally the best breakfast dish I've ever had… anywhere.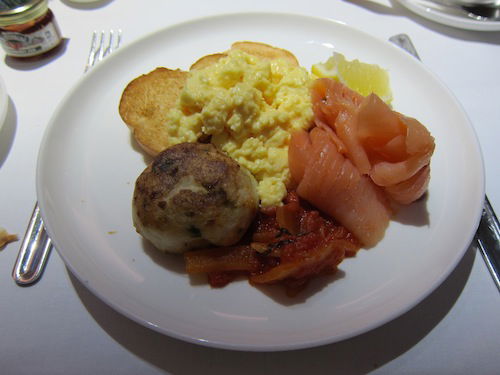 Scrambled Eggs, Potato and Sweet Corn Cakes, Smoked Salmon and Tomato Ragout
The plus side to it getting light so early was that the SkyCam view was breathtaking.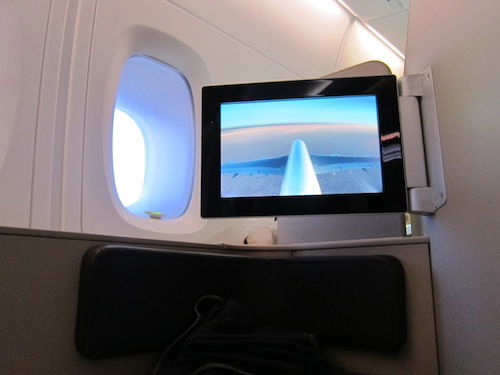 Contrails
The downside to the SkyCam is that two hours before landing (as breakfast was starting) the first officer came on the PA to "alleviate any worries regarding what we might be seeing on SkyCam." He explained that the contrails coming out of the engines on SkyCam were completely normal, as apparently some passengers were concerned about this.
I'm worried over time that SkyCam will become like Channel 9 on United, as we have more "armchair" pilots. I've seen threads where A380 passengers critiqued the pilot's landing based on what they saw on SkyCam, etc. It's an amazing feature, so I hope people start to realize that the guys up front know what they're doing.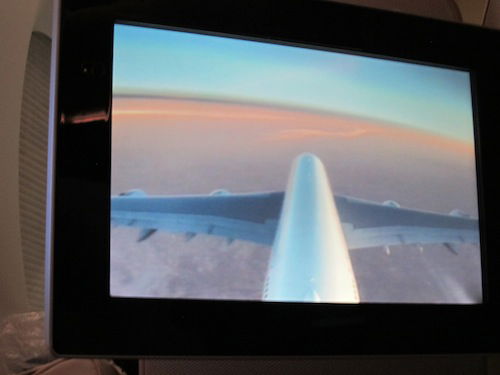 Contrails
About 90 minutes out of London we passed over Vienna, which is where I was connecting to, so while I was quite looking forward to the remaining 90 minutes to London, I wasn't looking forward to the 90 minutes in which I would have to endure "Euro Business."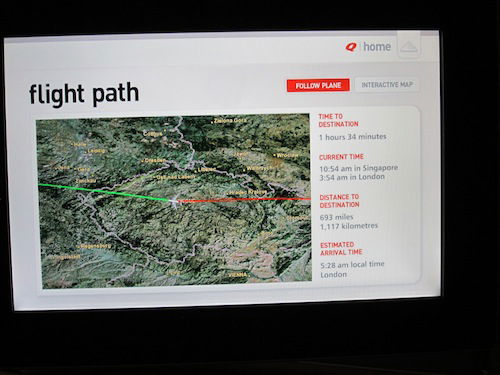 Almost there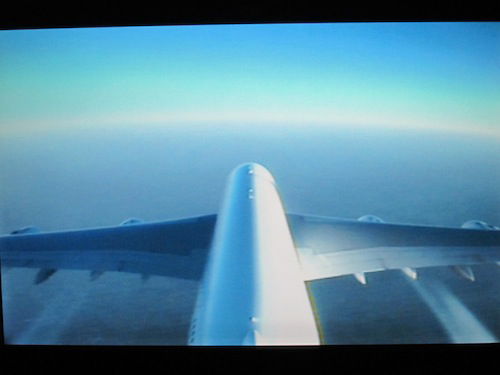 Contrails
30 minutes before landing the captain came on the PA to advise us of our on-time arrival in London. About 10 minutes before landing the seatbelt sign was switched on and we began our descent into London.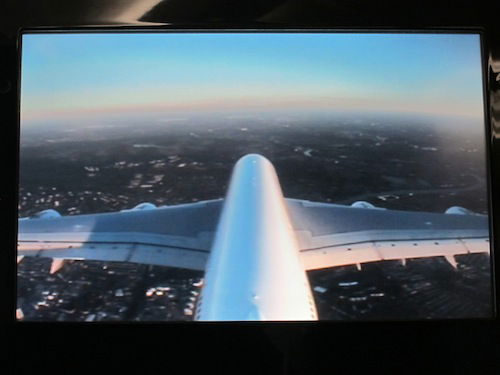 Final approach
After a smooth touchdown and long taxi we made it to our gate at terminal 3. For whatever reason the jet bridge that was supposed to go to the first class door (1L) didn't deploy, so we had to disembark through 2L.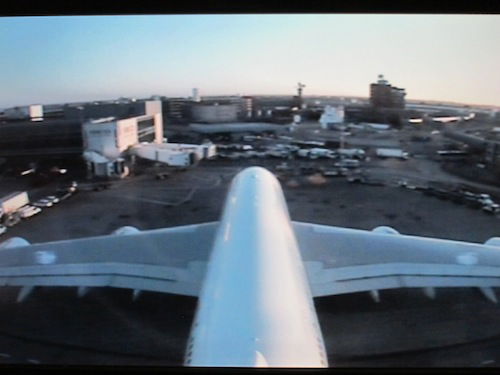 Approaching the gate
While I'll cover the remainder of the trip in the next installment, I have to say that my journey on Qantas exceeded my expectations in every way. I didn't know what to expect with the Airbus 380 and was convinced the plane was more hype than anything else. It really isn't, it's a whole new flying experience. Between how quiet the plane, the onboard lounge, SkyCam, and the general spaciousness, I was convinced I wasn't in the sky for most of my journey.
It's easy to feel like a flight was amazing right when you get off the plane, but over a month later I'm still marveling at how amazing Qantas was. The seat was among the best I've ever experienced. The food was the best I've ever had on any airline. And the service was also very, very good.
Anyway, more to come with the next installment, as I negotiate with the UK's finest security officers…