————————————————————————————————————-
Please note: The introduction is largely a repost of this post from April
My trip planning started off innocently enough last December. As I posted last year on December 3, Singapore Airlines had just announced that they would be replacing the Boeing 747 with the Airbus 380 on the Los Angeles to Tokyo to Singapore route. There was a bit of lag in updating the system, so for a couple of days there was the opportunity to book business class on Singapore Airlines on the Airbus 380, which is otherwise blocked for partner award redemption. I've had the opportunity to fly Singapore's new business class on the 777 in the past, and it really is just about on par with most other airlines' first class products.
I made the booking speculatively using my United miles, since I could always cancel closer to departure if I changed my mind. Once I had that reservation ticketed I decided to "maximize" it. I added the segments from Tampa to Washington to Los Angeles to the itinerary, and then considered where in Asia I wanted to go. One of the few major Asian cities I've yet to visit is Kuala Lumpur, so I decided to add on a segment from Singapore to Kuala Lumpur, again on Singapore Airlines in business class. I've always been fascinated by the city, so this seemed about as good of an opportunity as any to visit.
I left the trip alone for a couple of months, as I really wasn't sure where I wanted to go from there. I figured I'd maybe book a Cathay Pacific first class award back to the States, even though I've flown them several times before.
One afternoon while on the phone with a fellow FF-nut friend, I mentioned that I wanted to try a couple more A380s, and he suggested I look at Qantas A380 award space between Asia and Australia. I had a bit of a "yeah right" response, since anyone that has looked at award space for Qantas from the US knows how stingy they are, so I wasn't expecting them to be any better between Asia and Australia.
Sure enough I plugged in my preferred date, and what do you know, there's a first class award seat on the Airbus 380 from Singapore to Sydney. Holy cow! While I had been to Sydney before, I hadn't been to Melbourne, so I decided to book Singapore to Sydney, have a 23 hour layover in Sydney, and then fly Sydney to Melbourne in Qantas business class. The award cost me 45,000 American AAdvantage miles.
I was feeling awfully spontaneous at this point, since I still hadn't decided where I wanted to go from Melbourne. I was thinking of doing Air New Zealand back to the US, though examined all of my options carefully. After playing around with just about all the options out there, I noticed that Qantas had A380 first class award space from Melbourne to London via Singapore for a few days after I arrived, allowing me to see the city. For the geographically challenged among us (myself included), that's a 22 hour one way journey. I couldn't turn down the opportunity, so immediately put the ticket on a five day courtesy hold with American for 80,000 AAdvantage miles.
I thought this one out strategically. For those of you not familiar with UK air passenger taxes, the UK charges a nearly $200USD tax for those departing the UK on a longhaul flight in a premium cabin. However, that tax isn't charged if you're just connecting in the UK.
So over the next couple of days I examined my options for getting back to the States, and eventually stumbled upon Air New Zealand Business Premier award space on their brand new Boeing 777-300ER aircraft. I didn't want to continue on straight away after a nearly 24 hour flight from Melbourne, so figured I'd spend a night in Europe between those flights. The obvious choice was to spend the night in London, but like I said, I would have been charged the $200USD tax if I did that.
So instead I decided I'd visit Vienna. I added a segment to my OneWorld award on British Airways from London to Vienna after I arrived from Melbourne, and then added a segment from Vienna to London on British Midland the following morning before continuing to Los Angeles. Two more flights, two more products to test, a new city, and $200 saved. I booked the British Midland/Air New Zealand award through British Midland Diamond Club, where the one way business class award cost me 33,750 miles.
The hotel planning process was equally complicated, though I'll explain the booking process with the individual hotel installments.
In the end my routing looked like this: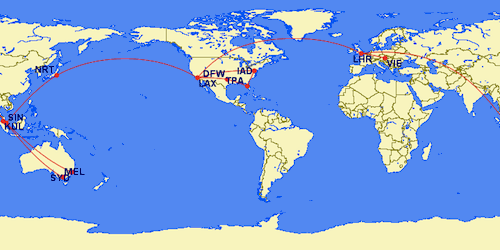 The irony in all of this is that due to the Japan earthquake, Singapore Airlines actually downgraded my Los Angeles to Tokyo to Singapore flight from an Airbus 380 to a Boeing 777-300ER. Fortunately even that plane features their new business class and I managed to snag the best business class seat aboard, so I wasn't too bummed about it, especially given the other products I'd be able to try during the trip.
This'll be a long one, probably the longest ever, so grab an adult diaper and extra pair of glasses, as you'll need 'em.