---
About 90 minutes before my Air New Zealand departure to Los Angeles I made it to the Star Alliance lounge, where I was directed to the Air New Zealand representative. She took my passport and boarding pass and said she'd bring it to me in the lounge later, as she needed to reprint it on Air New Zealand cardstock.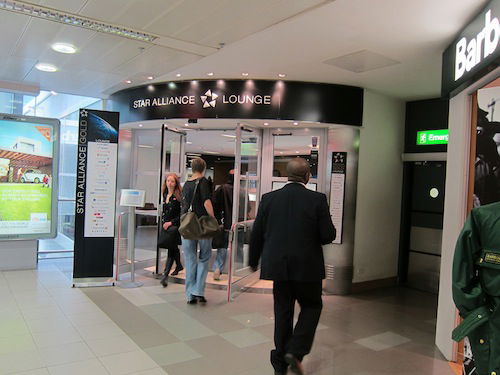 Star Alliance lounge Heathrow
While the lounge was crowded the Wi-Fi was fast, which makes it more useful to me than British Midland's otherwise nicer lounge.
The lounge itself is fairly bland with seating designed to maximize capacity as opposed to comfort.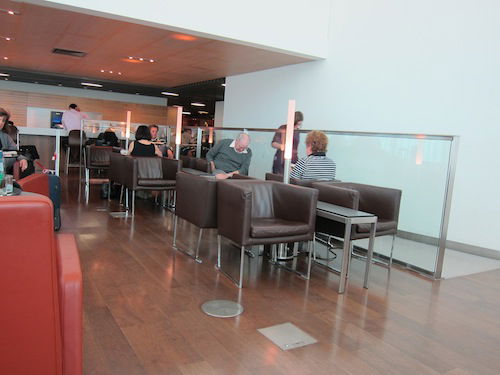 Star Alliance lounge Heathrow seating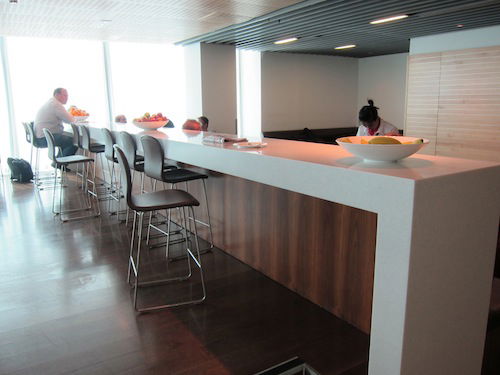 Star Alliance lounge Heathrow seating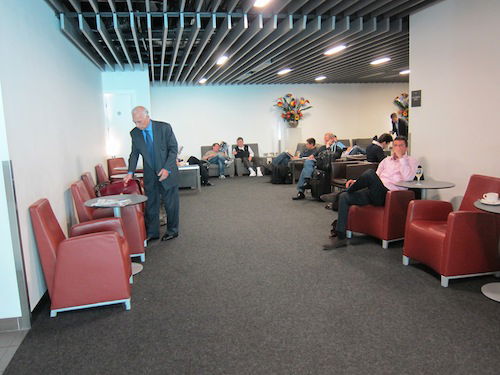 Star Alliance lounge Heathrow seating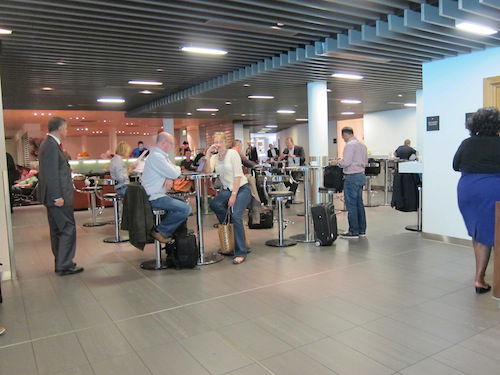 Star Alliance lounge Heathrow seating
The snack selection was pretty good with several hot options.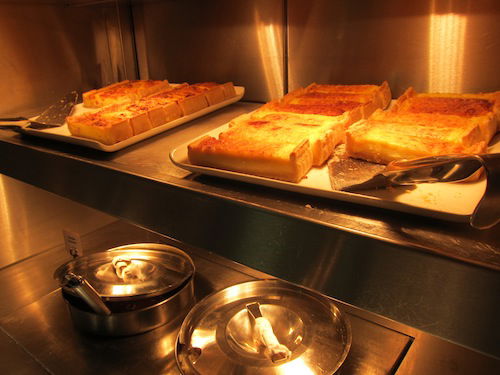 Snack selection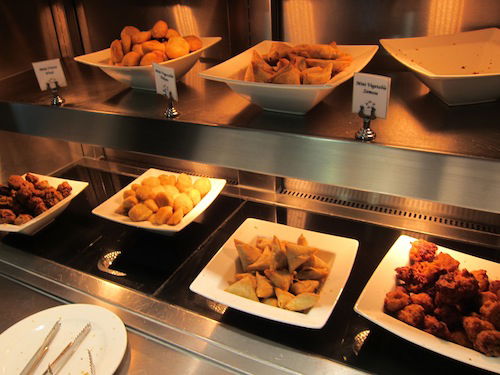 Snack selection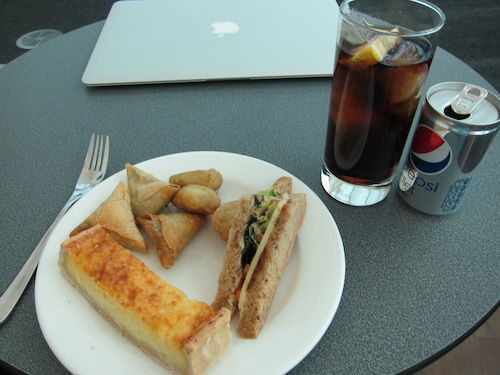 Pre-flight snack
Within about 10 minutes of being in the lounge the Air New Zealand representative presented me with my boarding pass and advised me to be at the gate 30 minutes before departure.
About 45 minutes before departure I headed to my gate, which was about a 15 minute walk away.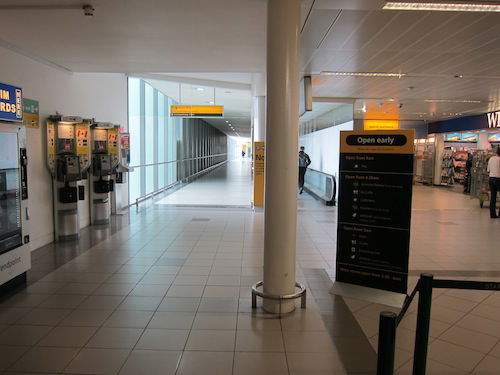 Corridor to departure gate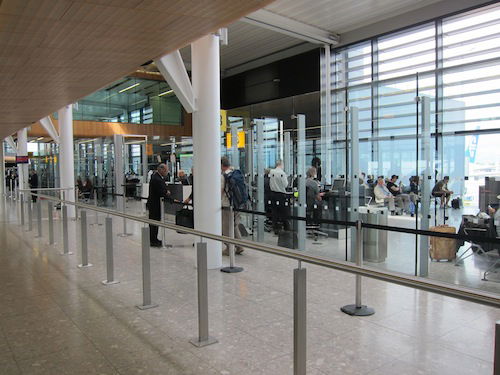 Departure gate
Air New Zealand's 777-300ER looked brand spanking new, probably because it is. At the gate next to us was a TAM 777-300ER, looking equally sexy.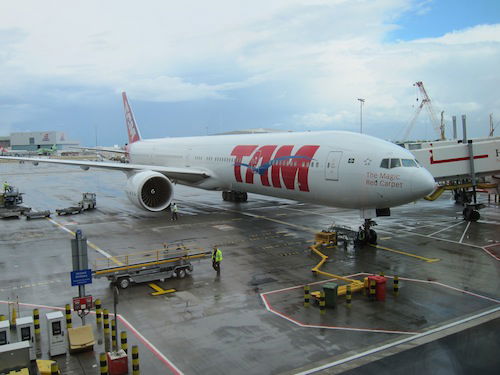 TAM 777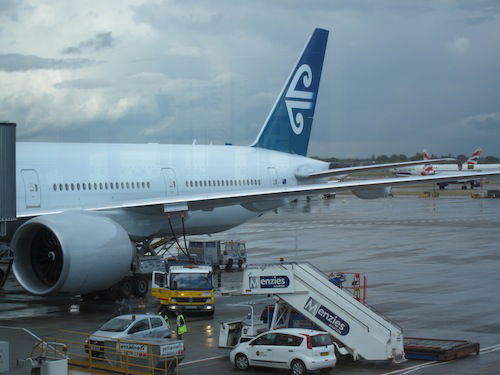 Air New Zealand 777
About 30 minutes before departure boarding started with families and BusinessPremier.
Before getting too much into the actual flight report, I should mention that there's something special about Air New Zealand. On the surface most would assume they'll be your typical "conservative" international airline, but they're really not. They're actually incredibly quirky, from their outrageous safety video to their edgy 777-300ER commercials. That's part of the reason I love flying Air New Zealand, even if it means business class on them vs. first class on another airline.
Air New Zealand 1
London (LHR) – Los Angeles (LAX)
Thursday, May 26
Depart: 4:15PM
Arrive: 7:45PM
Duration: 11hr30min
Aircraft: Boeing 777-300ER
Seat: 2K (BusinessPremier)
Anyway, once onboard I was directed to my seat by one of the flight attendants at the door. Air New Zealand's new 777s feature a slightly modified BusinessPremier product. Most notably the color of the seats changed to a cream white color. Interesting choice, but I think it worked (for now).
I was booked in seat 2K, where a bottle of water, amenity kit, headphones, menu, and wine list were already waiting for me.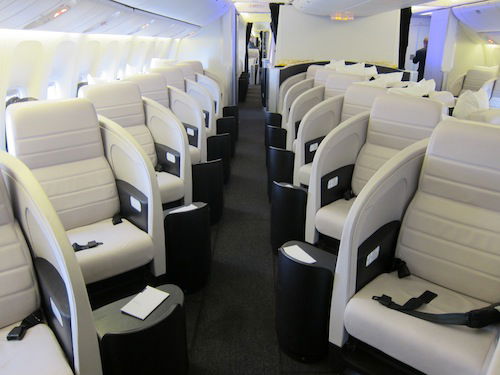 BusinessPremier cabin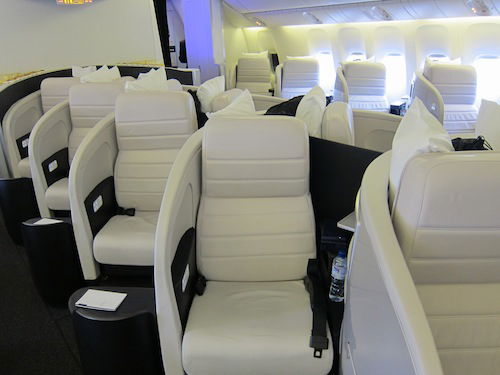 BusinessPremier cabin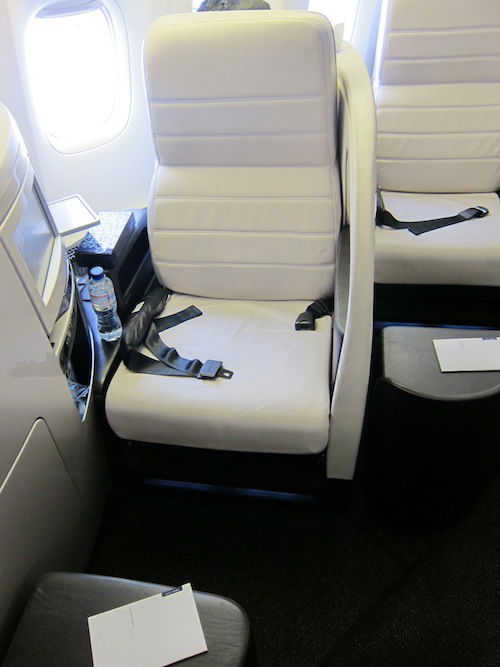 My seat, 2K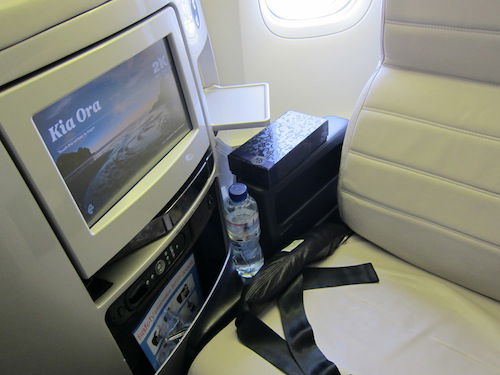 My seat, 2K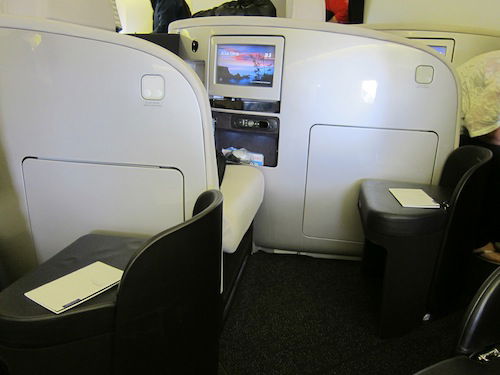 View from my seat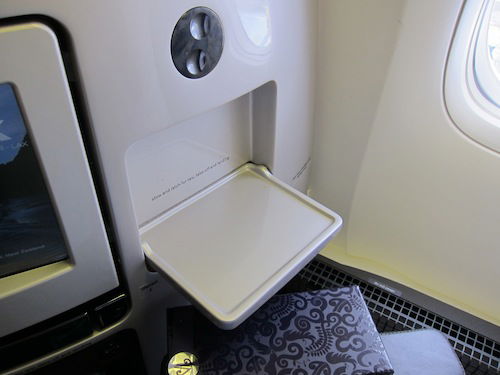 Fold out tray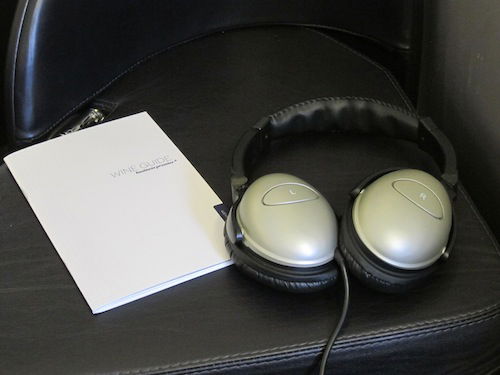 Headphones and wine list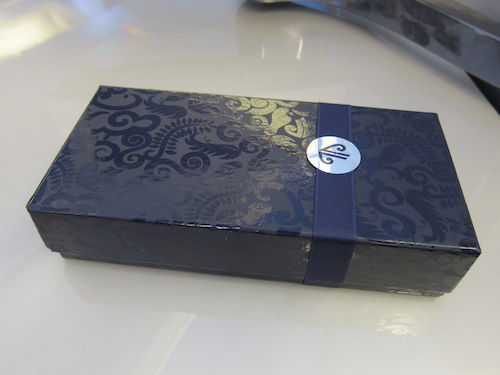 Amenity kit (or box?)

Amenity kit contents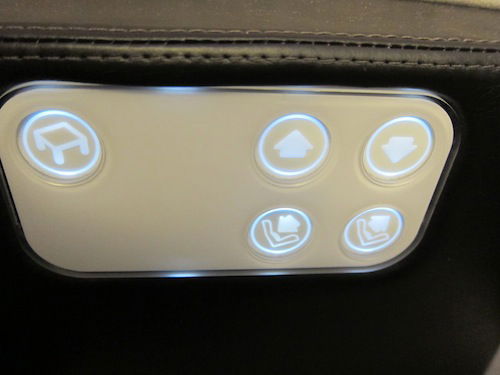 Seat controls
While herringbone style seats are no longer cutting edge, they still get the job done, especially as a solo traveler.
The BusinessPremier cabin quickly began to fill up, at which points the flight attendants started their service.
Air New Zealand has London based crews which exclusively operate their sectors between London and Los Angeles and London and Hong Kong. In the case of this flight the crew working BusinessPremier was exclusively male, all under 35 (which is a rarity on both counts among most airlines).
They were very professional and gave each passenger a personalized welcome aboard, asking whether passengers wanted a rundown of the seat's features and also offering pre-departure beverages.
I went with some champagne which was served in interesting glassware along with mixed nuts.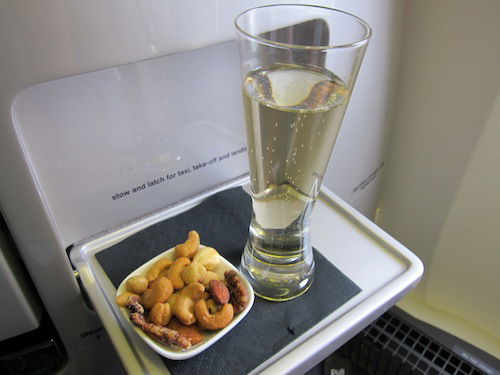 Pre-departure beverage
Departure time came and went though due to the weather we were about 30 minutes late departing. There was lightning in the area so the ground crew was a bit delayed in loading bags, though eventually we got clearance to push back. The captain announced our flight time of 11 hours.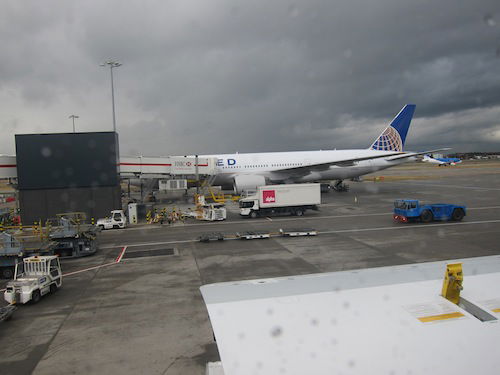 Bad weather
As soon as pushback started the safety video began playing, which features Richard Simmons. Air New Zealand has long had quirky safety videos which I usually love, though this one is so beyond obnoxious that it makes me cringe. Take a look for yourself:
There was a young boy (maybe eight or nine years old) seated across from me, and as the safety video finished up he yelled "mommy, what was THAT?" I kind of had the same question.
Once underway our taxi to runway 27R was quick and after a long takeoff roll we were airborne into a rather nasty storm.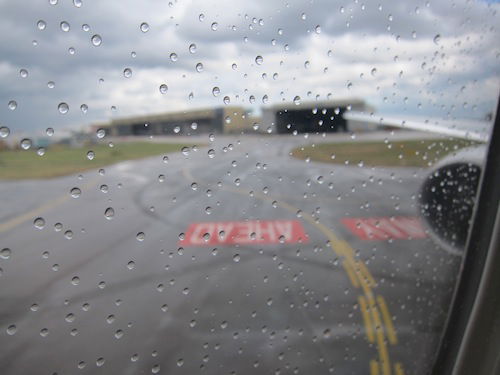 Taxiing to runway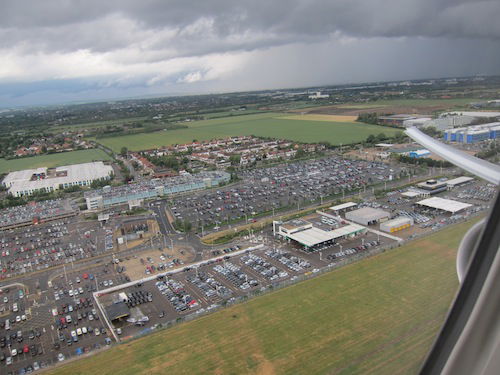 View after takeoff
About five minutes after takeoff a bright light filled the cabin along with a loud thud, though oddly looking around I seemed to be the only one phased by it. Everyone else acted as if nothing happened.
About 10 minutes later as the captain turned off the seatbelt sign and made an announcement he informed us that we had been struck by lightning though suspected there was no damage and was working to resolve the situation in hopes of not having to divert.
At that point service began and I started browsing Air New Zealand's extensive entertainment system. They had something like 20 episodes of "Two and a Half Men," most of which I hadn't seen before, so I started off by watching that.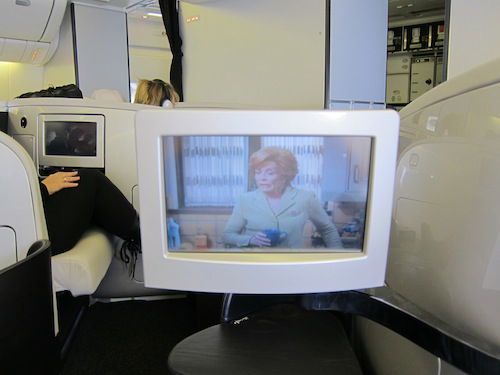 Two and a Half Men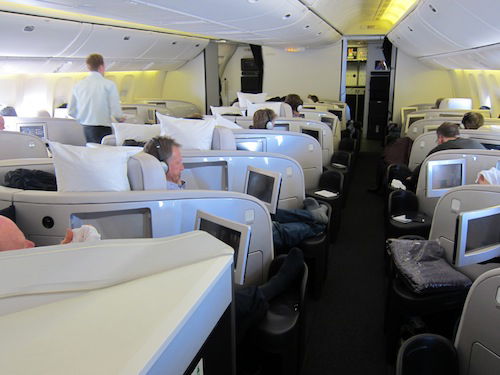 Cabin shortly after takeoff
The dinner service began with hot towels followed quickly by a beverage service.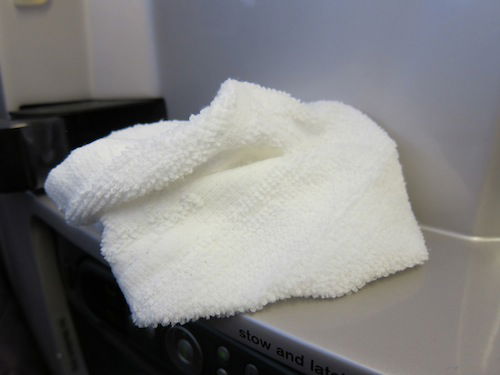 Hot towel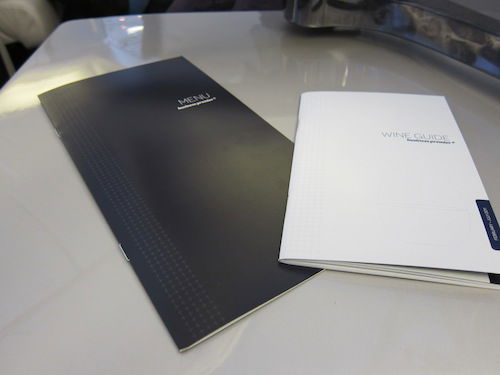 Menus
I ordered a Diet Coke, which was served with a small plate containing an olive, slice of cheese, pickle, and tomato.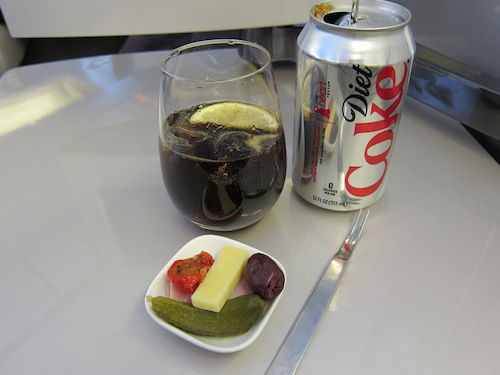 Diet Coke
After that the meal service began. The dinner menu read as follows:
Dinner

To begin
Smoked chicken salad with mango, papaya, cucumber, almonds and old fashioned mayonnaise Geoff Scott

From the bakery
Potato rosemary bread, garlic bread, black olive sourdough bread

Mains
Seared eye fillet of beef with peal barley, bacon and cream, caramelized onion jus and green beans Geoff Scott

Pan seared halibut with nam phrik num dressing, herb potato mash and asparagus Peter Gordon

Truffled potato tortellini with wild mushroom stew, cherry tomatoes and basil Rex Morgan

Angus Pure beef burger with salad greens, red onions, cheese and bacon offered with beetroot and horseradish chutney

Vegetarian soup of peak and sweet potato with crème fraiche and croutons Peter Gordon

Prawn and asparagus salad with baby potatoes, pea shoots and tomato mayonnaise Peter Gordon

To finish
Ice cream sundae of vanilla bean ice cream, red wine and cinnamon stewed plum compote, orange and pistachio biscotti Geoff Scott

Dessert trio of lemon crème and gingernut mouse, Opera cake and peach melba

Cheese selection of Cornish English brie, Cropwell Bishop Stilton blue and Butlers Secret cheddar with quince pasta, fig relish and cracker selection

Hot drinks
Freshly brewed or decaffeinated coffee, tea, herbal tea or hot chocolate
The service was done by cart, starting with the salad course, which was accompanied by the bread basket (I went with garlic bread).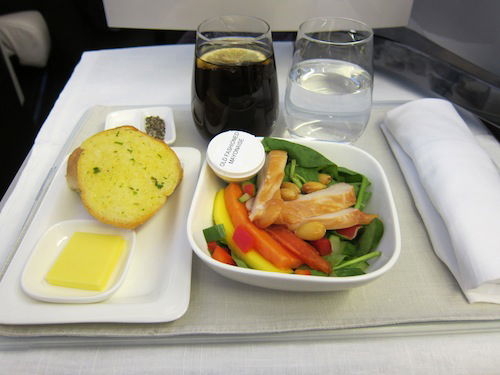 Smoked chicken salad with mango, papaya, cucumber, almonds and old fashioned mayonnaise
I love the variety of main courses Air New Zealand offers in business class, which is more than the selection of any other airline I know of. I went with the fillet of beef, which was beautifully presented, both in terms of the plating and the actual presentation.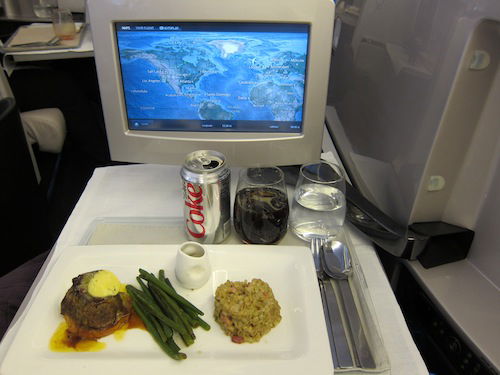 Seared eye fillet of beef with peal barley, bacon and cream, caramelized onion jus and green beans Geoff Scott
Dessert was offered after the main course, and I went with the ice cream sundae, which was tasty.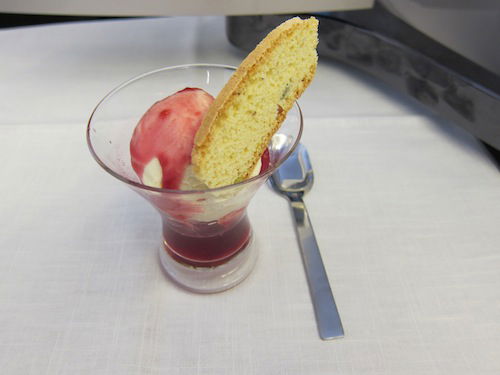 Ice cream sundae of vanilla bean ice cream, red wine and cinnamon stewed plum compote, orange and pistachio biscotti
I finished off the meal with coffee, which was served with wrapped chocolate.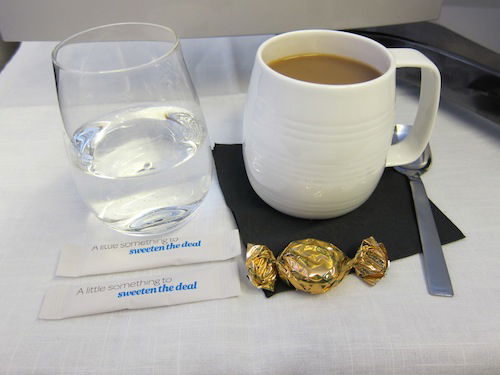 Coffee
Overall the meal was great. No, it wasn't a nine course gastronomic experience, but the food was tasty, well presented, and well executed.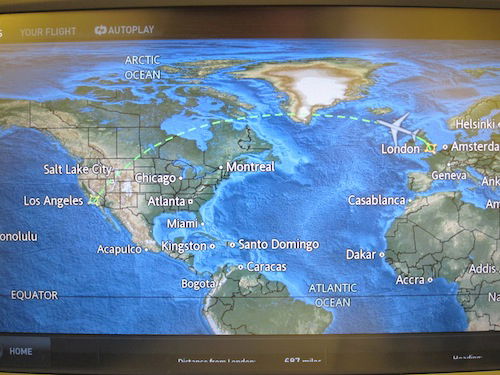 Airshow during dinner
One of the cool things about Air New Zealand's new entertainment system is that it has a timeline which displays the progress of the flight in terms of in-flight service, which is pretty cool.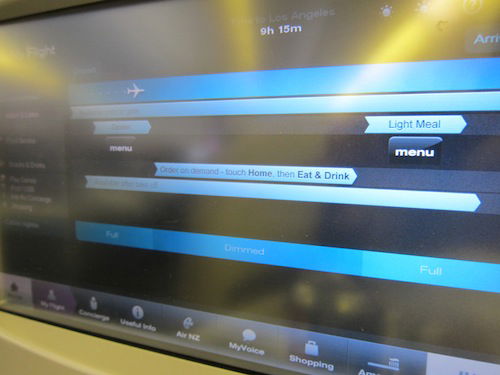 Timeline
After the meal service I headed to the lavatory to change into basketball shorts as I wanted to sleep, and was surprised to see that they had music in the lav. That's pretty interesting.
I made my bed using the duvet located behind my seat, and then covered myself with the blanket. Herringbone seats do feel slightly claustrophobic in the sleeping position, though I still managed to get a solid six hours of sleep.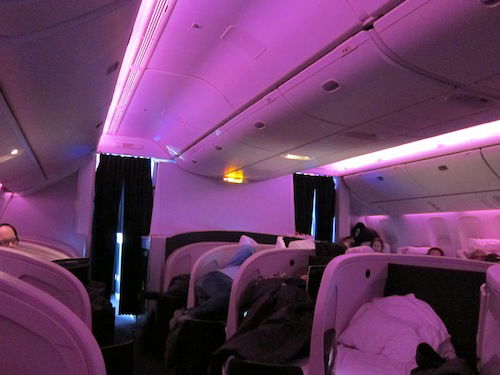 Mood lighting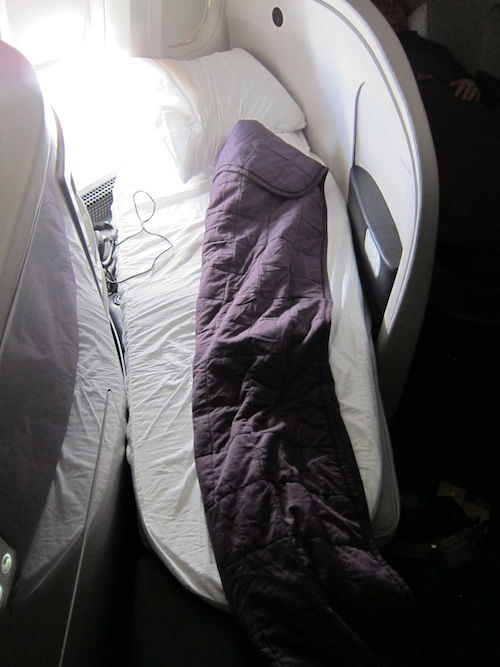 Flat bed
When I woke up we were about three hours of out of Los Angeles, and I decided to watch a few more sitcoms.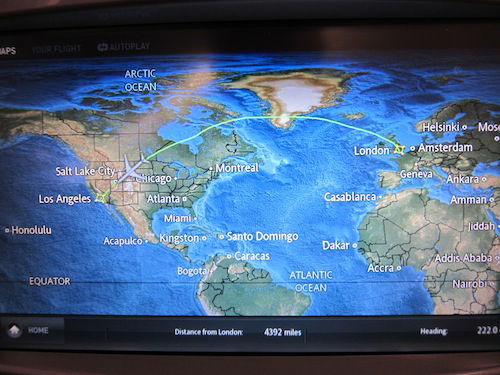 Location upon waking up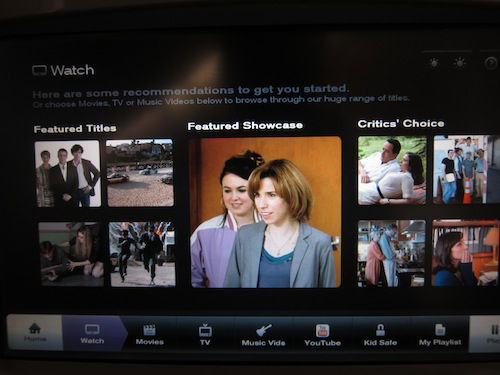 Entertainment selection
About two hours out afternoon tea was served. The menu for that read as follows:
Light Refreshment

Smoothie
Peach, apricot and banana fruit smoothie

Fruit
Fresh fruit salad with passionfruit syrup

Sandwiches
Ham, cheddar and tomato sandwich
Ceasar chicken, rocket and sun kissed tomato sandwich
Roast beef with horseradish and beetroot relish sandwich
Smoked salmon with egg mayonnaise sandwich

Scones
Freshly baked scones with strawberry jam and clotted cream

Hot Drinks
Freshly brewed or decaffeinated coffee, tea, herbal tea or hot chocolate
Service started with hot towels, followed quickly by a smoothie, which was refreshing.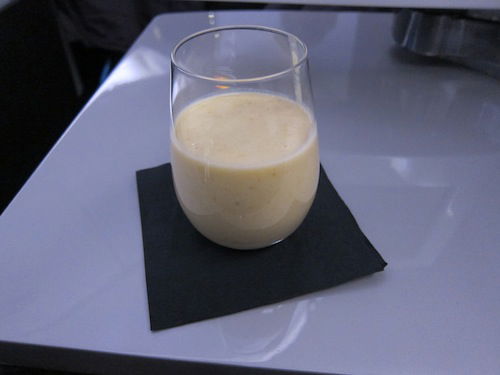 Smoothie
That was followed by a fruit plate and a variety of sandwiches.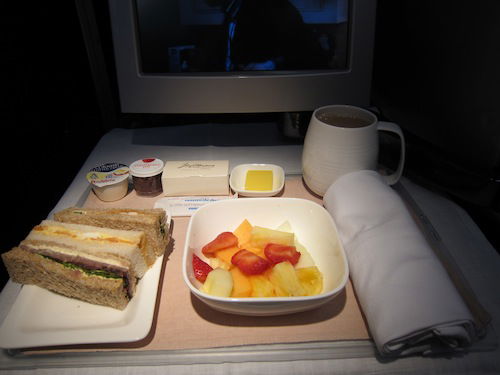 Fruit and sandwiches
Once that was cleared scones were served, accompanied by jam and clotted cream, which were already on the tray. I had a cup of tea with the scone.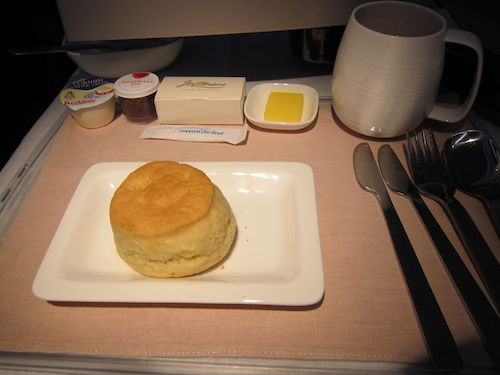 Scone
There was also a box of pralines on the tray for dessert.
About 30 minutes before landing the captain came on the PA to advise us of our position. Shortly after that we began our descent into Los Angeles just as the sun was setting.
While Los Angeles doesn't have as exciting of a skyline as New York or Hong Kong, there's something I love about the approach into LAX when landing into the west.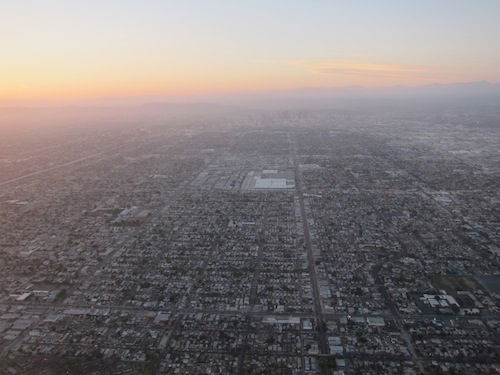 Approach into Los Angeles
We touched down on runway 25R and began our taxi to the North end of the airport. That took forever, and to top it all off we were parking at a gate which required us to be towed in given how tight the space was.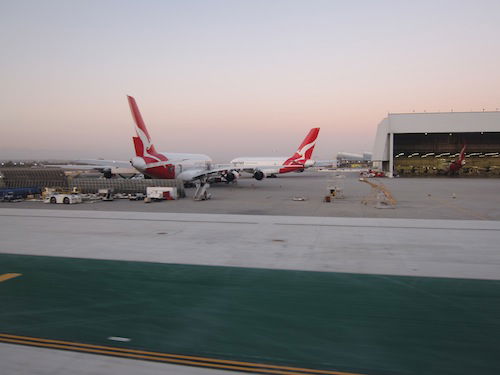 Two Qantas A380s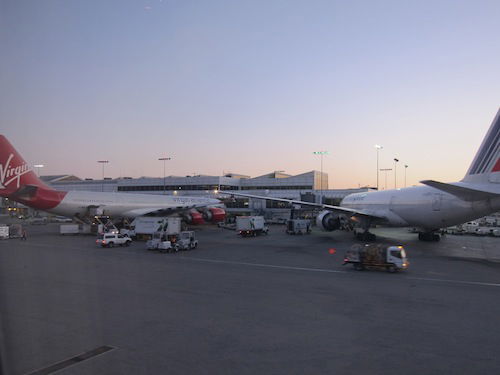 Beat us by a few minutes…
That's usually not a big deal, though in this case there was an Air France and Virgin Atlantic flight that arrived at virtually the same time, meaning every extra minute would translate to about ten times as long in the immigration line.
And surely enough immigration was a mess. As a matter of fact the line was so long that the queue started outside of the immigration hall.
I had to wait in line for nearly an hour. The only good news is that the frustrating experience prompted me to finally join Global Entry, after seeing those empty kiosks as I stood impatiently waiting.