---
The day started on my "usual" flight, which is the 9AM Tampa to Washington flight. I've probably taken that exact flight well over a hundred times, so my Saturday morning was like any other, really. I woke up at 6:30AM, took a quick shower and finished packing up. In this case, ensuring I packed everything was a bit more "high stakes" than usual, given that I'd be gone for two weeks.
My mom drove me to the airport, and I arrived at around 8AM. Before my trip I had asked for feedback as to how to handle my luggage situation, given that it would be very hard to live out of a carryon for two weeks. In the end I decided to take a duffel bag with me, which I would check. I figured the other benefit of checking a bag from the get go would be that I could take along proper sized liquids, which would make my trip a bit easier. So instead of using the kiosk I saw an agent, and I exchanged my usual Saturday morning pleasantries with some of my favorite agents. I found out that United would be moving to Continental's concourse in Tampa, which I'm not all that excited about.
I proceeded to security, where there was virtually no line. I didn't even get picked for the full body scanner.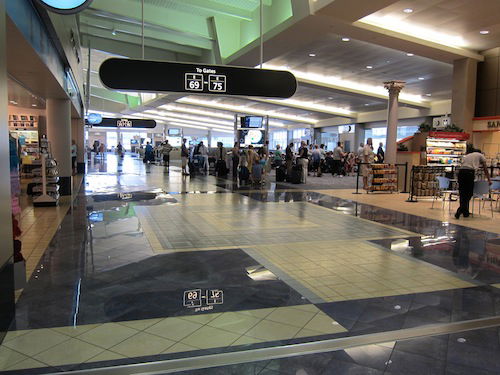 E concourse
I went to the "business center" to get a bit of work done, and at 8:34AM boarding was announced.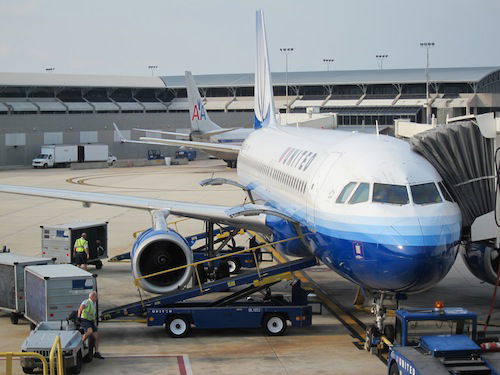 A320 bound for Washington
United Airlines 758
Tampa (TPA) – Washington (IAD)
Saturday, May 14
Depart: 9:04AM
Arrive: 11:20AM
Duration: 2hr16min
Aircraft: Airbus 320
Seat: 2B (First Class)

The boarding process was uneventful, though no pre-departure beverages were offered. The captain announced the flight time of 1hr53min, and after the safety video (and creepy new intro by Jeff Smisek) we were airborne. About 20 minutes into the flight the seatbelt sign was turned off and the flight attendants began their service.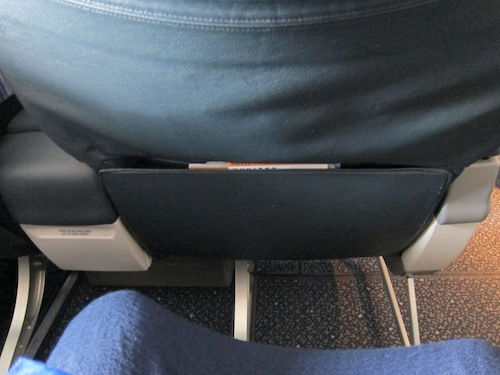 Legroom
Around this time Shakira music filled the cabin, and no one could quite figure out why. I'm pretty sure I exchanged looks with just about everyone in the first class cabin, as we all wondered what the heck was going on. By process of elimination we determined the music was coming from the lady in 1D, and we were indeed correct. She was playing Shakira music without headphones on her iPhone. I rang the flight attendant call button and asked her to tell the passenger to turn it off, which she promptly did, though not before apologizing to the lady for having to make the request.
As usual, we were first offered beverages, and I went with an orange juice.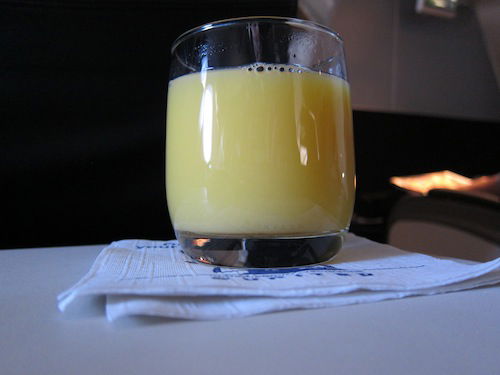 Orange juice
After that breakfast was offered, which on this particular route is only one option. This is because United doesn't have a catering contract in Tampa, so the meals actually sit there overnight and are catered the night before at another hub. For breakfast was the usual egg dish along with cereal.
In today's case it was an omelet served with hash browns and mini sausages (which were even nastier than the old shriveled turkey sausages, if that's possible). The hot dish was served with cereal, a banana, a croissant, and some Biscoffs. It's definitely a pretty filling breakfast!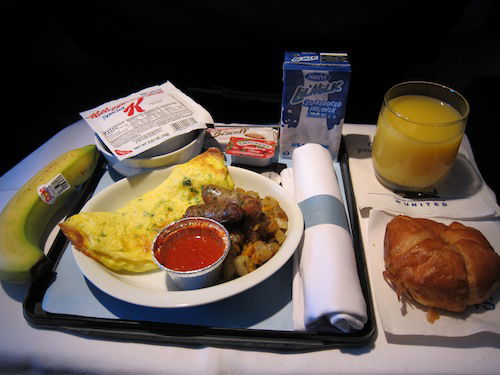 Breakfast
I took the opportunity to get some work done for the rest of the flight, and by around 10:30AM we initiated our descent, flew past Dulles, and turned around to land towards the south. Overall service was fairly good, though nothing special.
Upon arrival at Dulles I headed to the Red Carpet Club by gate D6, as I had a long connection at Dulles. I was planning on using the Lufthansa Senator lounge, though it wasn't going to open until 1:30PM, so I figured I'd first get some work done at the Red Carpet Club.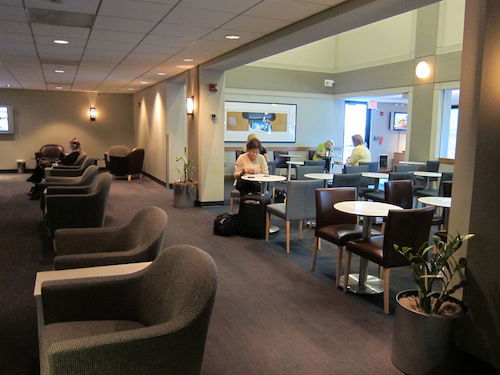 D concourse Red Carpet Club
United's Red Carpet Clubs at Washington Dulles leave a lot to be desired, though I was happy with just a workstation with a plug and Wi-Fi. The snack selection consisted of the "three towers," which have snack mix, trail mix, and yogurt covered raisins. There are also Milano cookies, veggies, cheese, and crackers. United's "free" snack selection is quite a bit better than American's.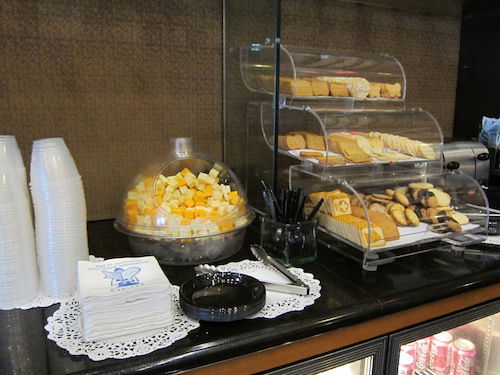 Cheese, crackers, and cookies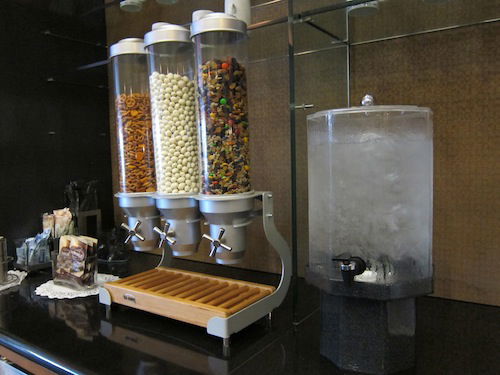 Snack towers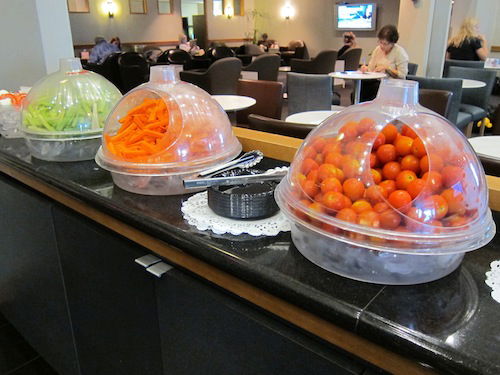 Veggies
At around 1:30PM I took the train over to the "B" concourse, where the Lufthansa Senator lounge is located.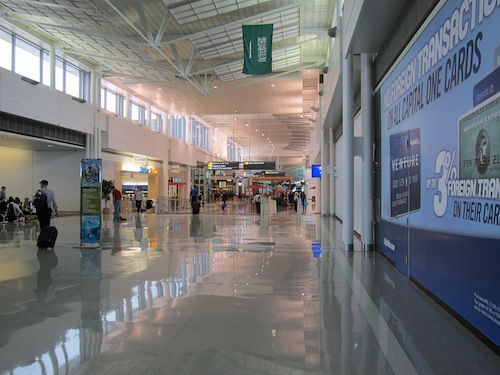 B concourse
This is a spectacular lounge, made even better by the fact that you have access as a Star Alliance Gold member, even when traveling domestically (while you otherwise wouldn't even have access to a Red Carpet Club without a membership).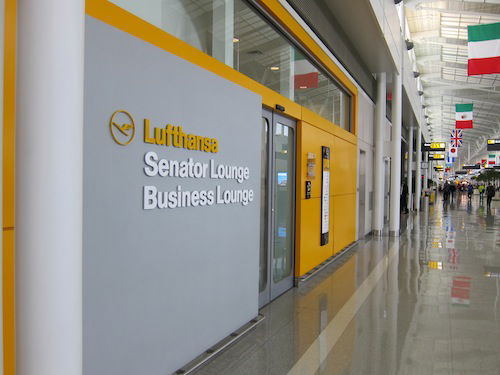 Lufthansa Senator lounge
The lounge has a phenomenal food spread, and all drinks are complimentary. They had several hot dishes, including quiche, meatballs, pasta, and vegetables, as well as soup, sandwiches, cheese, veggies, salad, etc.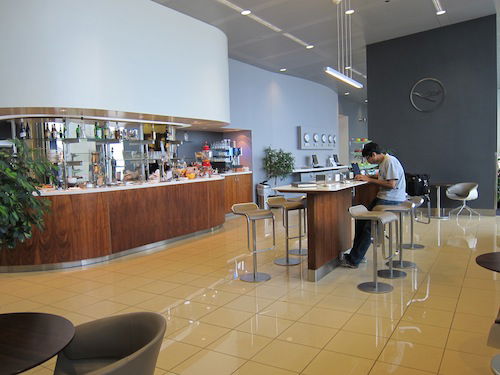 Senator lounge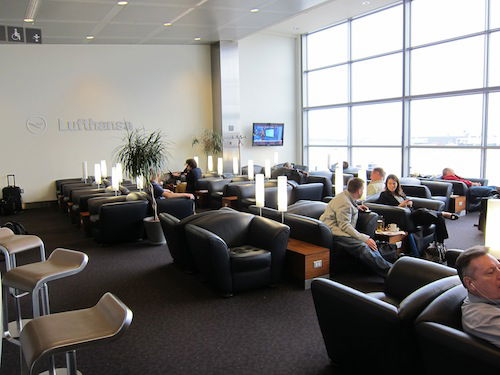 Senator lounge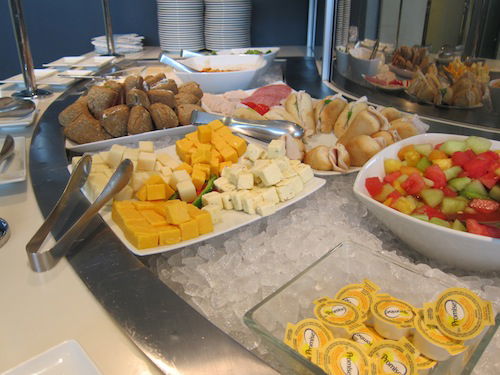 Snack seleciton
My favorite of all are their German pretzels, which are irresistible. The fact that they brought out fresh, warm pretzels twice during my stay there didn't help either.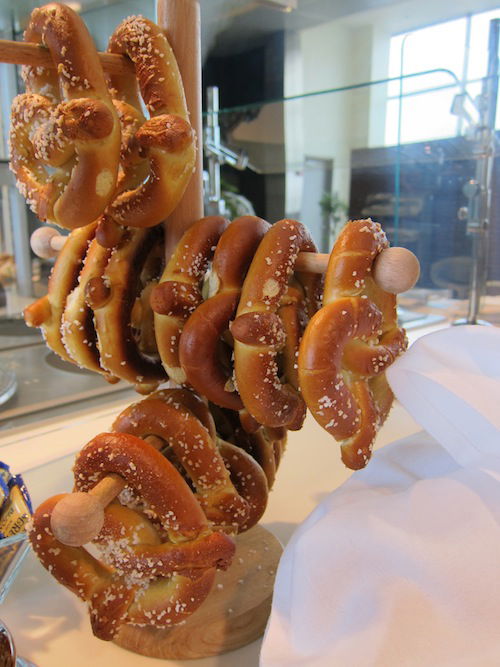 Pretzels
Given that my flight wasn't until 5:30PM, and I probably wouldn't have dinner until an hour after that, I had a full lunch in the lounge.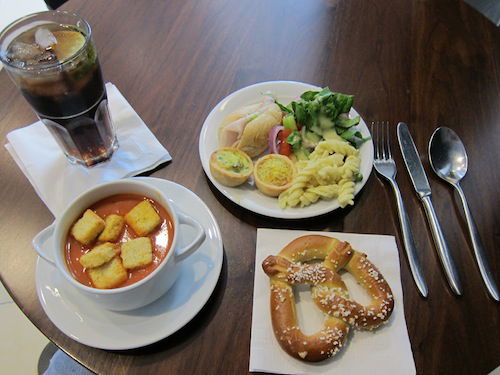 Lunch
I ran into a friend while there, so ended up talking to him for most of the time. The only other noteworthy thing is that a lady had placed her toddler on top of one of the bar tables, and the toddler fell head first onto the tile floor. Obviously the baby screamed like hell, and while the mother tried to comfort her, I really feel like they should have gone to the hospital. The screaming continued for at least an hour, so I hope the baby was okay.
At around 4:30PM I left the Senator Lounge and headed to the "C" concourse, where my connecting flight would be leaving from. The problem with the lower "C" gates in the early evening is that at least a handful of 777s all leave from gates right next to each other, so it's nearly impossible to get to your gate, let alone find a seat. They were boarding Munich and Los Angeles at the same time from gates right across from each other, both 777s, so naturally it was a cluserf*&$#, to put it nicely.
Boarding started 40 minutes before departure with first class, business class, Global Services, 1Ks, Platinums, etc. In other words, half the plane.
United Airlines 951
Washington (IAD) – Los Angeles (LAX)
Saturday, May 14
Depart: 5:27PM
Arrive: 7:59PM
Duration: 5hr32min
Aircraft: Boeing 777-200
Seat: 2B (First Class)
Once aboard I turned left to the first class cabin, seat 2A. Secretly I was hoping that the flight would be operated by a new configuration plane, though there was no such luck. An international first class flat bed isn't half bad, though.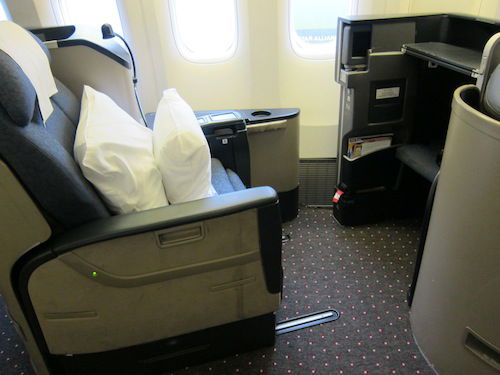 Seat 2A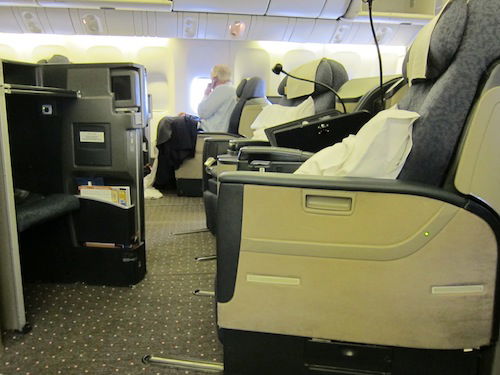 First class cabin
United's first class suites have always been pretty good for sleeping, and while they're not in great shape anymore, they're still in one piece, for the most part. Still, the condition of them is somewhat embarrassing. The really nice thing about the experience domestically, however, is that they still give each passengers two large pillows and a very comfortable blanket.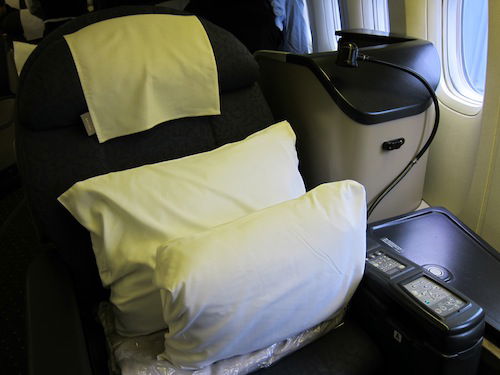 First class seat
Within a few minutes of settling in I was offered a pre-departure beverage, and I went with water. I quickly noticed that I was the only person in the first class cabin under 70 (and no, that's not because the rest of the passengers were non-revs with a lot of seniority), with the exception of the two air marshalls in first class (yes, your tax dollars at work, folks).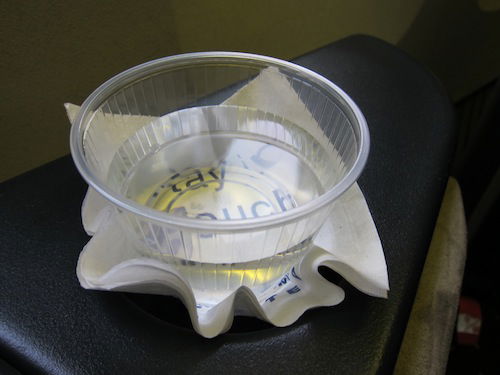 Pre-departure water
Shortly before departure the captain made a very professional welcome aboard announcement, informing us of our short flight time of 4hr40min, well under schedule. Unfortunately we had a slight departure delay as we were waiting for some cargo to be loaded, though within 15 minutes of our scheduled departure time we pushed back.
There was a pretty long queue for takeoff, though about 20 minutes later we were airborne.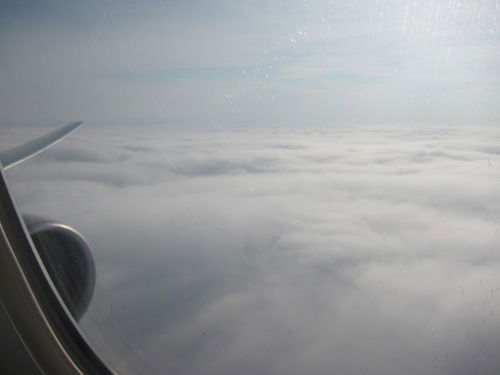 View on climb out
Shortly after takeoff the entertainment system was turned on. United has about 10 channels that "loop," so while it's not on demand, you do have a few options to choose from. In first class, they also have a selection of movies on cassette, which the purser came around with. I had seen most of the movies, so passed. Instead I watched "Company Men," which was featured on one of the channels.
Service started about 30 minutes after takeoff with hot towels followed quickly by hot nuts.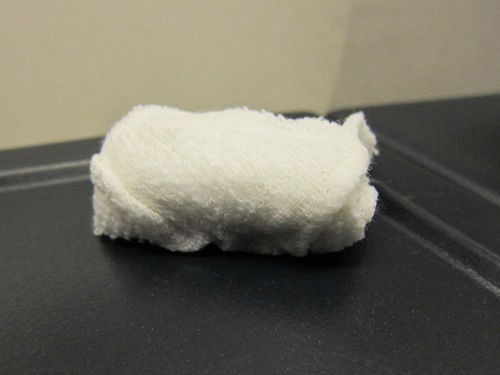 Hot towel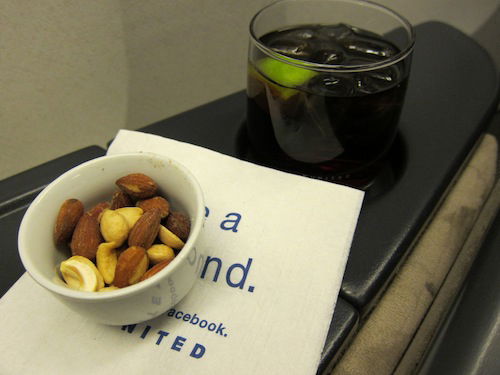 Diet Coke with lime and hot nuts
The choices for dinner were peppercorn beef or chicken with rice. I went with the chicken, which was decent, though a fairly meager portion for a transcon dinner (though when everything is factored in, the meal was incredibly filling… I've never been hungry on an airplane).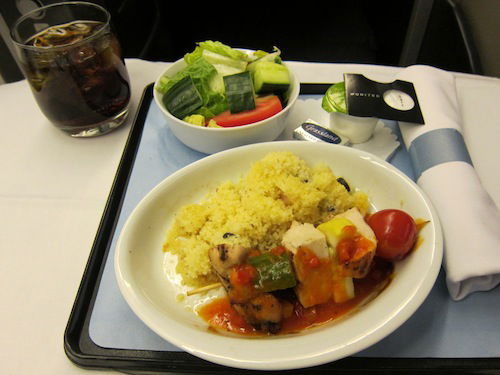 Dinner
After dinner cookies were served, and I ordered a glass of milk with it.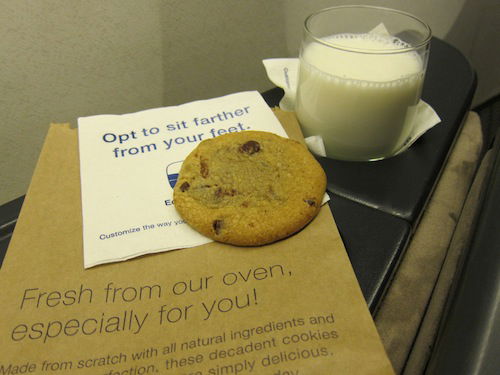 Cookie and milk
The crew was LA based and generally attentive. They were through the cabin every 20 minutes or so throughout the flight to see if anyone wanted something to drink, which I find United to do a better job at than most other airlines.
About an hour before landing the flight attendants came around with the snack basket, consisting of Toblerone chocolate, Pop chips, nuts, and Cliff bars. I went with some of the chocolate and chips, accompanied by a glass of water.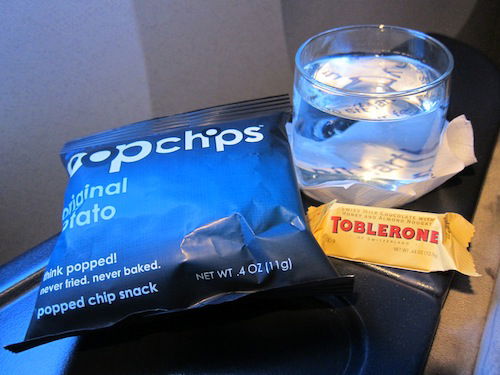 Snacks and water
About 30 minutes before landing we began our descent, and shortly thereafter the seatbelt sign was turned on. We began our descent into a fairly foggy LA, and touched down on runway 25R a few minutes early.
I proceeded to baggage claim, where I was reminded how incredibly impatient I am. It took about 20 minutes for the first bag to come off the belt, and then my bag didn't arrive for another 20 or so minutes. I proceed outside to the hotel shuttle area, and called the Holiday Inn Express to tell them I was waiting (since their shuttle is at least somewhat "on demand").