I was a bit torn about how to get from Kuala Lumpur to Singapore. Initially, I had narrowed it down to Jetstar or taking a bus. Neither option was ideal. While Jetstar was $40, I'd have to pay for checked bags and the timing of the flight wasn't very good for me. A bus sounded like fun in theory, but apparently, it takes six or seven hours, which is time I didn't want to spend traveling between the two cities.
By chance, I noticed that Sri Lankan Airlines has a tag on flight from Kuala Lumpur to Singapore, and their business class fare was only $150 all-in. Admittedly I wouldn't usually pay that kind of a premium for business class on a 45-minute flight, though the opportunity to try a new airline along with lounge access and no "nickel and diming" seemed worthwhile.
I got to the airport at around 12 PM, with plenty of time to spare before my flight. The check-in hall at Kuala Lumpur Airport is breathtaking, much like Hong Kong, Osaka, etc.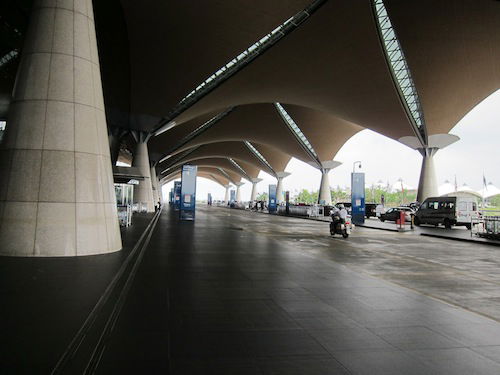 Terminal exterior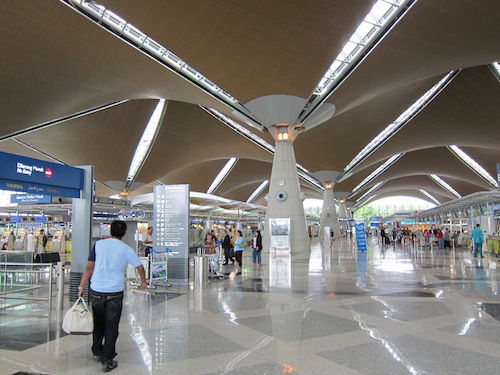 Terminal interior
Sri Lankan's check-in desk was at the far end of the terminal at the "M" counters, and as I approached there was a long queue for economy, though no one was in the business class line. What I found odd was that as I walked up, I was immediately directed to the business class line, despite not hinting that I was in business class. I'm not sure if that's because I seemed to be the only non Sri Lankan aboard or what, though it was in stark contrast to the US, where I'm often sent to the coach line by default.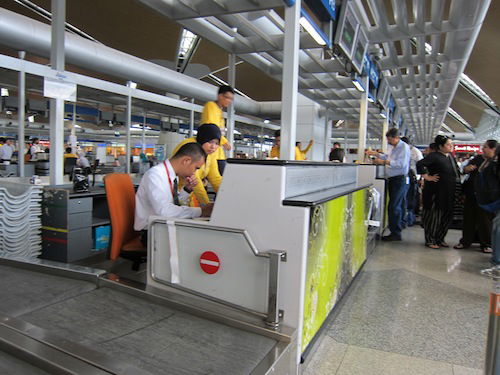 Sri Lankan check-in
Within moments I was issued a boarding pass by the friendly agent and proceeded airside. First I had to clear a very superficial security checkpoint, at which point I had to queue for immigration. Despite there only being three or so people in line, it took forever to clear. I found it funny that right above immigration was a sign saying "we treat every visit like we would a guest in our home." In that case, based on the immigration queues and lack of friendliness of the immigration agents, I'll have to decline that dinner invitation. 😉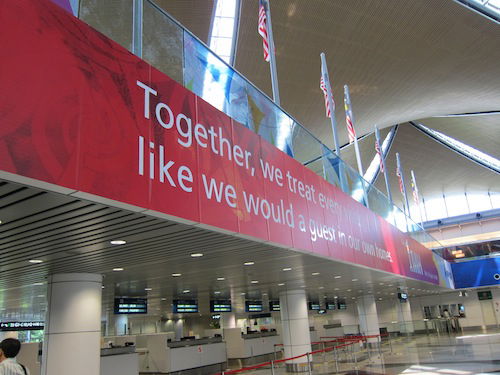 Immigration
Once airside I proceeded to the Plaza Premium Lounge, which is the lounge Sri Lankan uses in Kuala Lumpur. I was directed to the right-hand side of the lounge, which was fairly empty.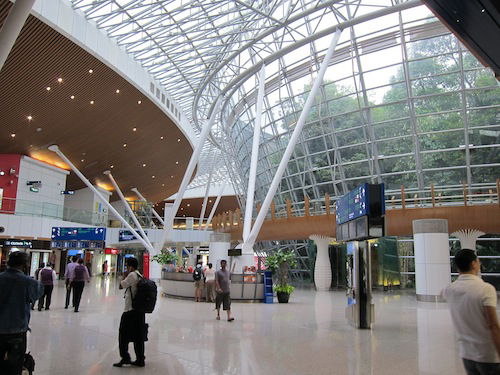 Terminal airside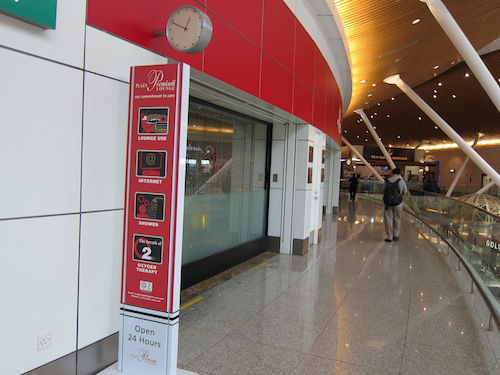 Plaza Premium Lounge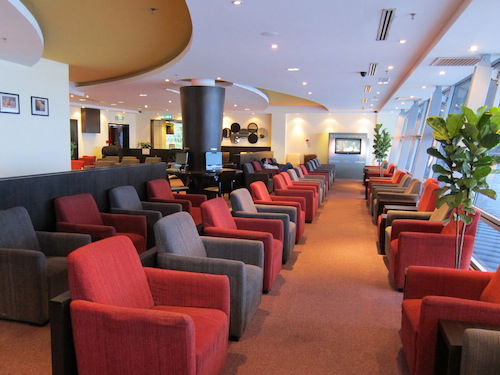 Lounge interior
The lounge was just fine, nothing more, nothing less. It had plenty of seating, decent Wi-Fi speed, and an okay buffet spread.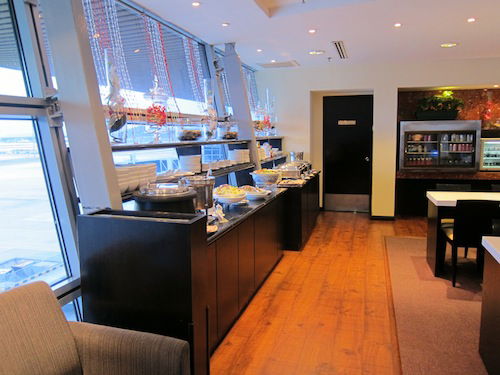 Food service area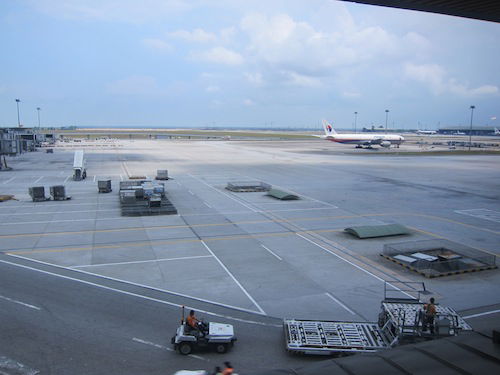 View from the lounge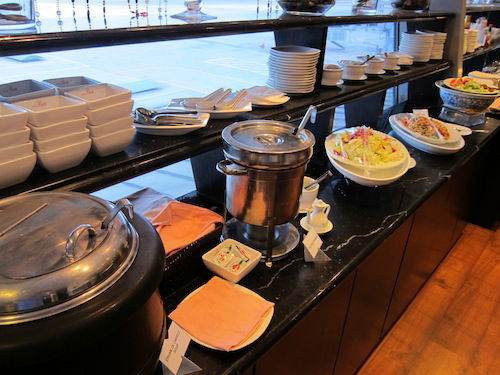 Snack selection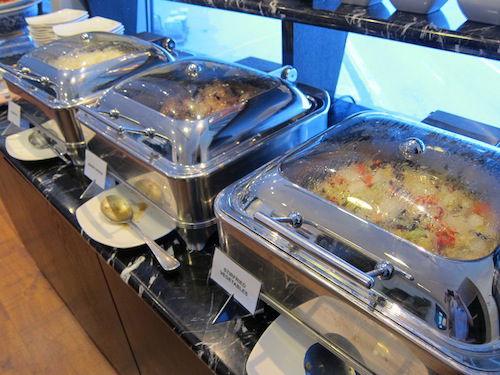 Hot food selection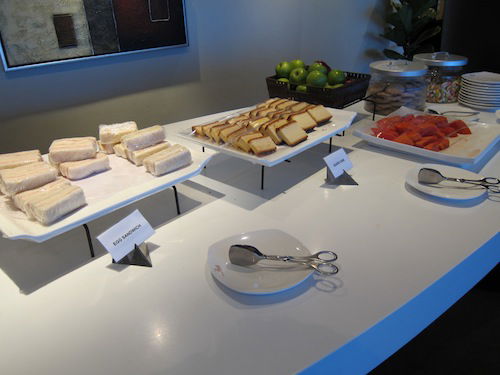 Sandwiches and cake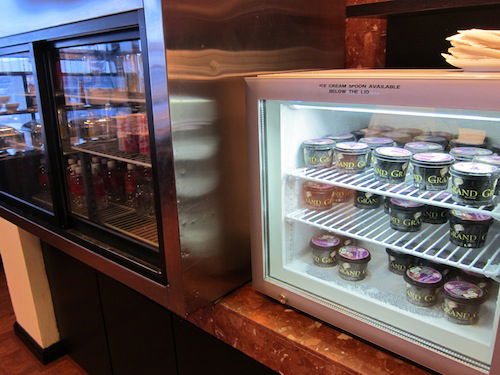 Ice cream and drinks
Boarding was scheduled to begin 30 minutes before departure, so I left the lounge about 40 minutes before departure. At Kuala Lumpur Airport every gate has an individual security checkpoint, so I was a bit surprised to get to the gate 30 minutes before departure, only to notice that there was no plane at the gate and that the security checkpoint hadn't even opened yet.
One thing I've noticed when traveling abroad (in contrast to flights in the US) is that gate agents often just don't announce delays, probably sometimes out of laziness and sometimes because they don't want to provide incorrect information (probably more of the latter than the former), so there was no way to know how late the plane would be. I kind of leaned into the "secure area" and asked one of the gate agents when the flight would be leaving, to which he responded "soon." I said "but the plane isn't here yet, is it?" He said it was coming, though my follow up question was only answered with "soon" once again.
After standing there for about five minutes I was approached by a Sri Lankan guy that seemed to just be interested in having a conversation. I stuck out like a sore thumb on this flight, since I was just about the only non-Asian on the flight. As it turned out he was a cab driver living in Toronto, and we talked for about 20 minutes.
It was one of those conversations that made me appreciate just how fortunate I am. I asked how he liked living in Canada, and he said "I love it, there's nothing better than freedom." It's something I often take for granted. He also mentioned he was visiting family in Sri Lanka for the first time in six years, since he can't afford to go more often than that. And to think I jet around the world in first class for fun…
Well, it certainly puts things into perspective (not that I see anything wrong with what I do, but I should be more thankful for being able to do it).
As departure time rolled around the security checkpoint was opened up, so we could finally get into the "secure" area.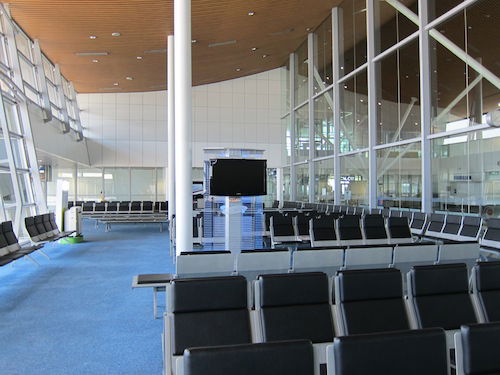 Gate area
Security was efficient and I took a seat in the waiting area. Within a few minutes I saw the Sri Lankan Airbus 340 land, and it slowly made its way over to the gate.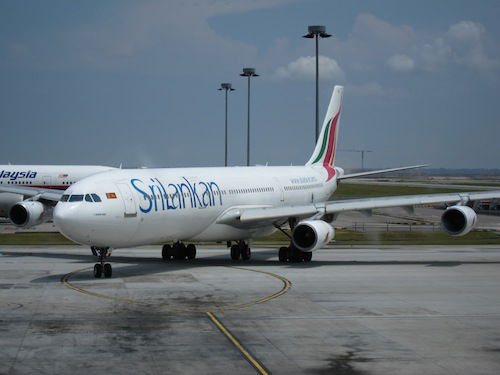 Plane pulling in
As the plane approached the gate and was motioned in, it first made a very abrupt stop maybe 15 feet short of its final parking position. Then it powered up again, taxied another five feet, and made another abrupt stop. The third time it got it right. I'm not sure whether they were just testing the brakes (yeah right) or what, but that was a bit odd, I thought.
Boarding started about 30 minutes after our scheduled departure time with business class, though only a few people boarded.
Sri Lankan Airlines 312
Kuala Lumpur (KUL) – Singapore (SIN)
Friday, May 20
Depart: 2:20PM
Arrive: 2:55PM
Duration: 45min
Aircraft: Airbus 340-300
Seat: 1K (Business Class)
Once aboard I was greeted by two gorgeous flight attendants that had some of the most "exotic" uniforms I've ever seen. They directed me to my window seat in row one.
The business class cabin on the A340 consists of 18 recliner seats spread over three rows. The product was on the old side, though the recliners were perfectly comfortable for an hour-long (or longer) flight.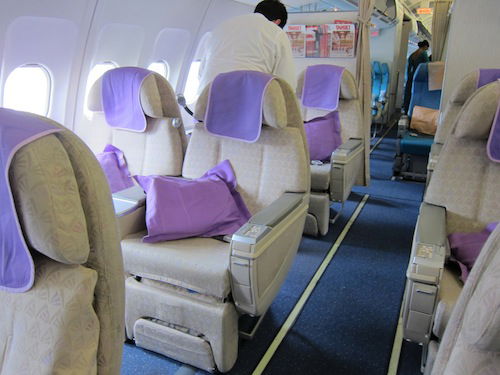 Business class cabin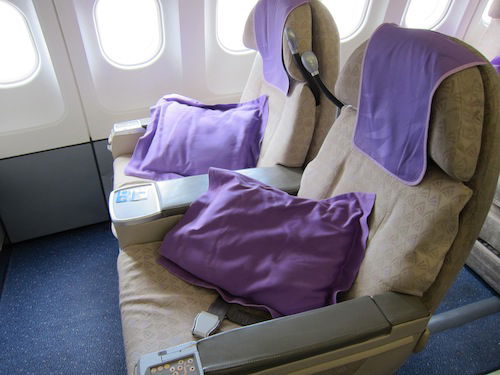 Business class seats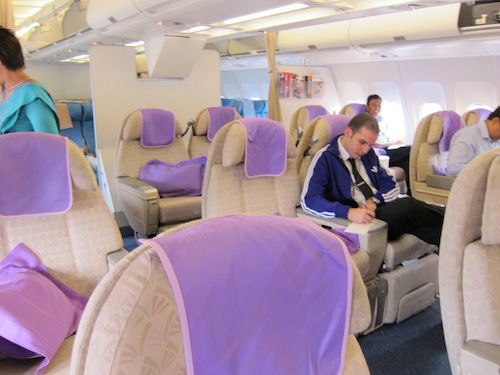 Business class cabin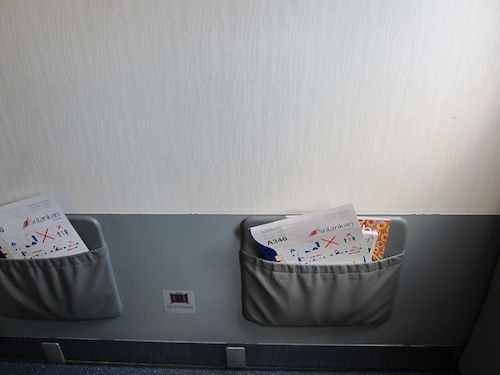 Legroom
There was just something special about being on Sri Lanakan. Even on Singapore, ANA, Cathay Pacific, etc., I feel like a "local" to some extent, but on Sri Lankan I just felt like I was in a different world. It was exciting.
Moments after settling in I was offered a pre-departure beverage and went with orange juice, which was delicious.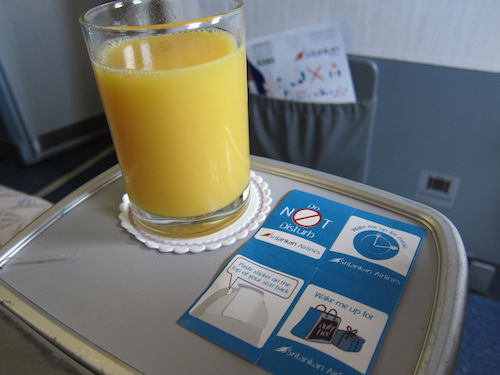 Pre-departure orange juice
That was quickly followed by a hot towel.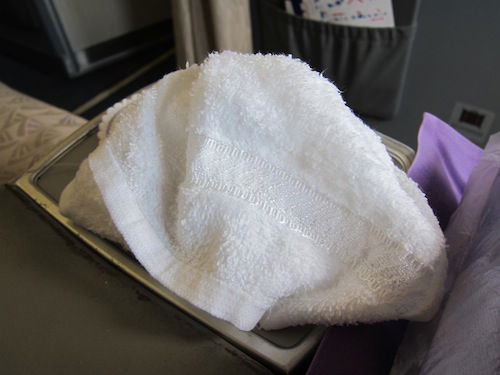 Hot towel
I also found it funny that there were "stickers" at my seat, reading "do not disturb," "wake me up for meals" and "wake me up for duty free." I had to take them along as a souvenir, and might even have to try and use them on my next flight on another airline.
As I finished up my orange juice I noticed that the glass I was drinking out of was "Lucky" brand, so I couldn't help but take a picture. As I stuck my camera inside the glass and took a picture, the very concerned flight attendant came up to me to make sure that everything was okay. I explained to her that "Lucky" is my nickname, and she laughed and insisted that she get me a fresh glass so that I can take a better picture, though I declined.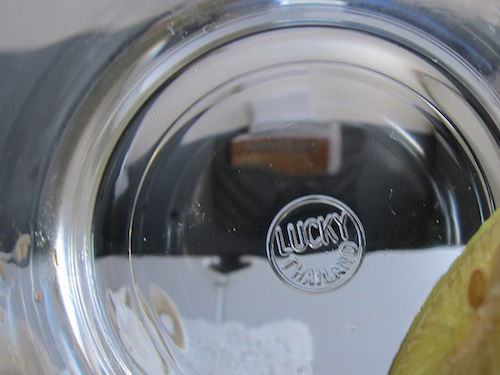 Glass
When the door closed the cabin was about 30% full, including one first officer seated in business class (I'm guessing he was the relief pilot for whatever their onward sector was). At least a dozen people tried to "self upgrade" when they saw there were empty seats in the cabin, though one-by-one they were sent back to coach.
As we taxied out the safety video played, and I was surprised by how "modern" it was. It was a lot more fun than Singapore Airlines', actually, with some pretty cool animation.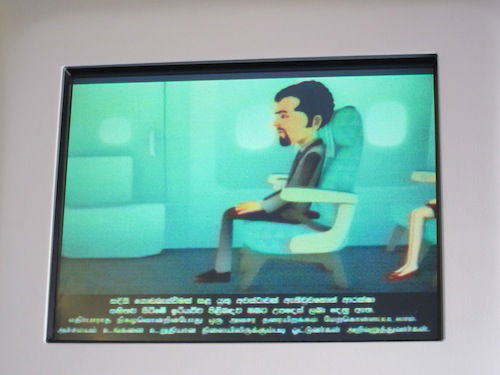 Safety video
As we approached the runway I was asked whether I wanted a chicken or vegetabe panini after takeoff. I went with the chicken one, and was also asked what I wanted to drink, though I'm guessing y'all already know the answer to that. 😉
Once at runway 32R we taxied into position, held, and eventually were ready to roll. I'm convinced we were half way to Singapore before we made it off the ground, given how powerless the A340-300 is.
The seatbelt sign was turned off about five minutes after takeoff, at which point the flight attendants closed the curtains and started the service.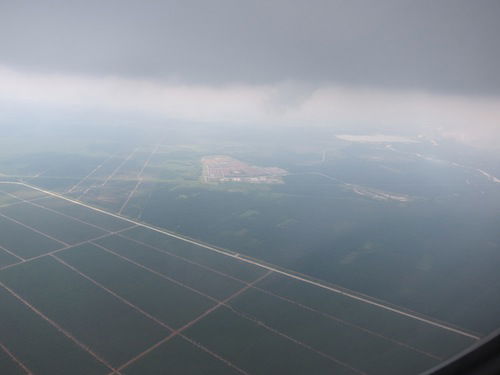 View after takeoff
I was first offered yet another hot towel, followed quickly by my Diet Coke and a mini-tablecloth of sorts. Moments later my hot panini was brought out, along with a fork and knife. The panini was tasty, and I was offered a refill on my Diet Coke.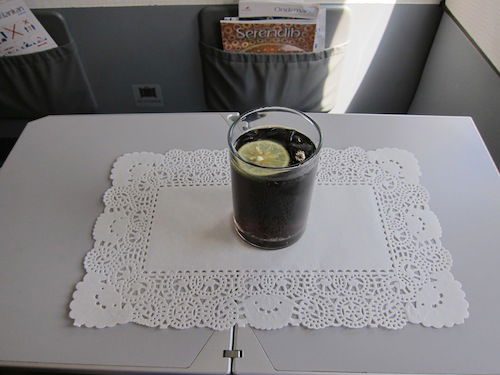 Diet Coke with lime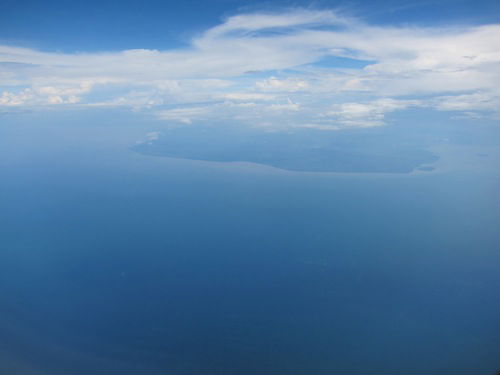 View enroute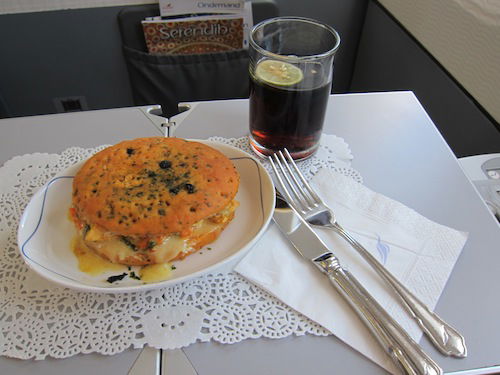 Panini
After I finished the snack I put the seat as far back as it would go to see how much it would recline. It was decent, probably as much as United's old recliner business class seats.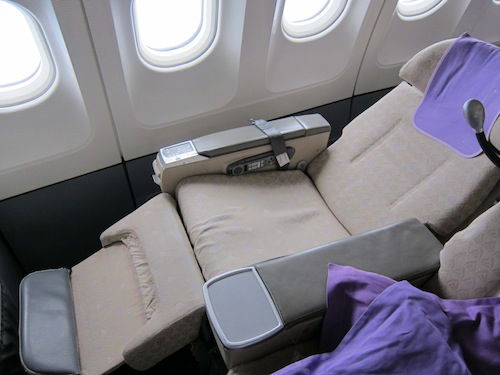 Reclined seat
About 15 minutes before we were supposed to land the seatbelt sign was turned on, though we began a holding pattern, which was a first for me at Changi Airport. We stayed in the pattern for about 15 minutes, and then initiated our final descent into Changi.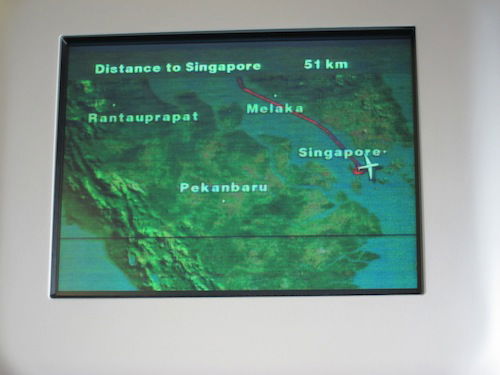 Airshow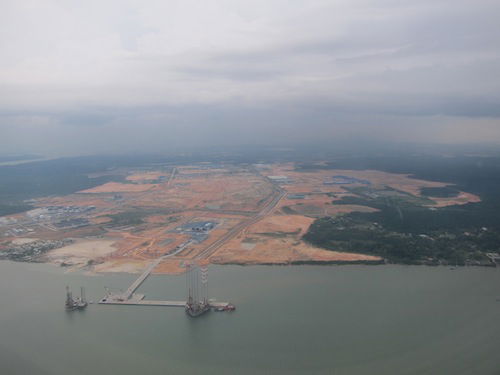 Final approach
We had a fairly quick taxi to the gate, though once again the pilots played the same "game" with the brakes. They made three abrupt stops only a couple of meters apart before we got to our final parking position.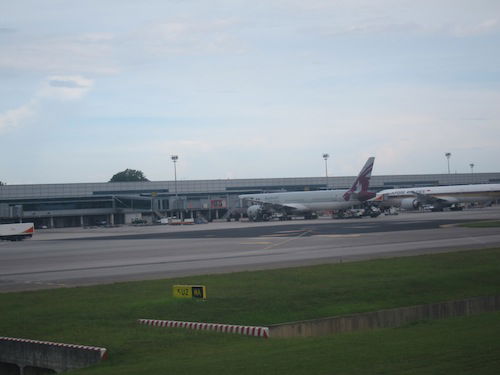 Terminal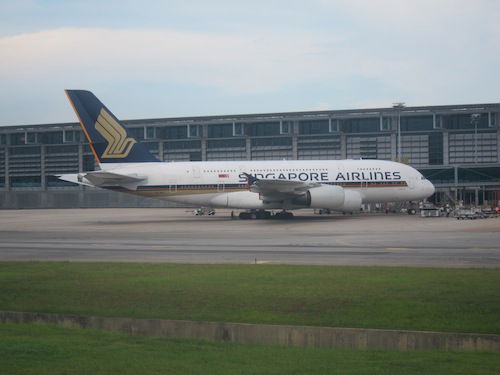 Airbus 380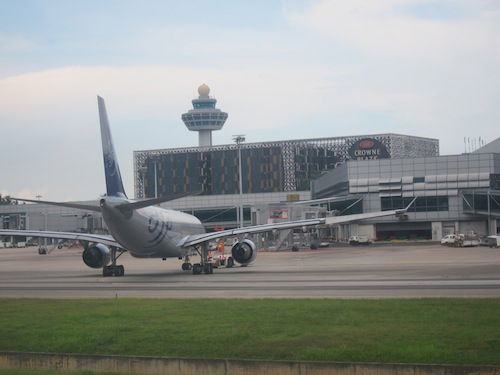 SkyTeam Airbus 330 and Crowne Plaza Changi
I bid farewell to the lovely crew and high tailed it to immigration, where there was no line, fortunately. I headed to baggage claim, where my bag was out within a few minutes, and I headed to the shuttle bus pick up area for my shuttle to the Marina Bay Sands Hotel.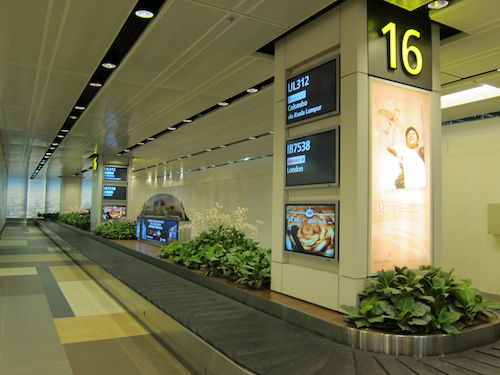 Bagagge claim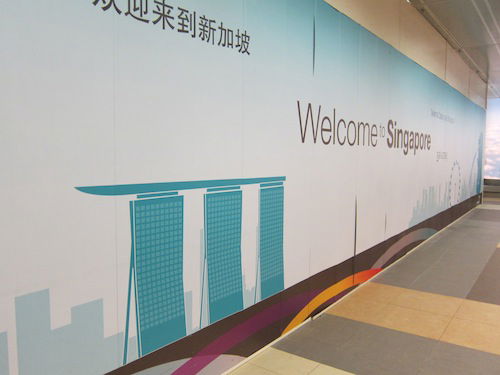 Marina Bay Sands on the "Welcome to Singapore" wall!
Despite the hour or so delay, I really enjoyed my flight on Sri Lankan. There was just something different about them, something that relaxed me and put me in a different world for just about an hour or so. Sri Lankan was actually a lot what I picture Air Tahiti Nui to be like, though I've yet to fly with them. So I'd fly them again in a heartbeat, and after seeing how friendly and beautiful the flight attendants were, I'm actually very interested in visiting their country.