I was dropped off by Super Shuttle at the domestic terminal at around 2:20PM, and proceeded straight to check-in. Check-in for intra-Australia flights is very efficient, since almost everyone uses kiosks or checks in online.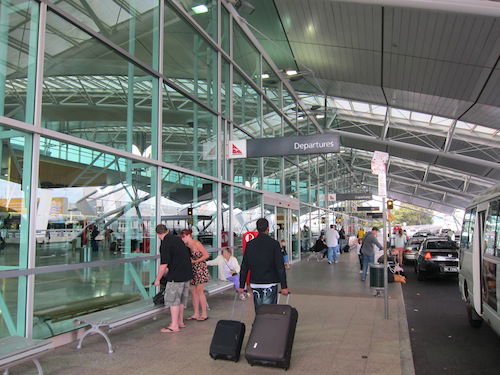 Terminal exterior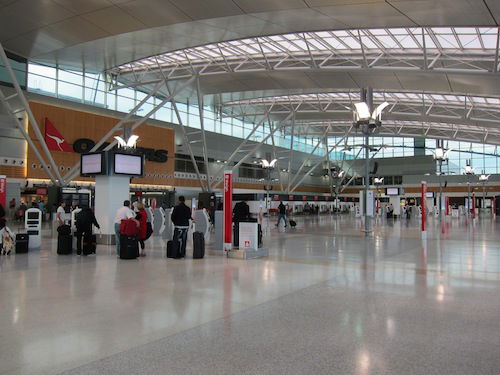 Terminal
There was a business class check-in area with no line, so I had an agent manually check me in. I was booked on the 5PM flight, though the agent asked me if I preferred to take an earlier flight. Qantas has a flight almost every half hour, so I figured I might as well take the 4PM flight to ensure I made it to Melbourne in time to enjoy the evening spread in the club lounge at the Park Hyatt.
Moments later my bag was checked and I had a boarding pass for the 4PM flight.
I proceeded to the security checkpoint, which had a dedicated premium line, though as it turned out there was no wait for anyone.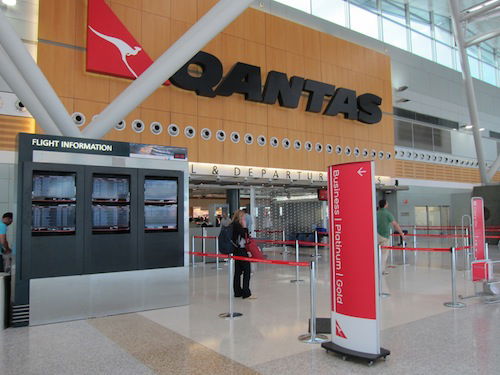 Security checkpoint
Security in Australia is hassle free, so within a minute or so I was airside, where there were quite a few shopping options for a domestic terminal.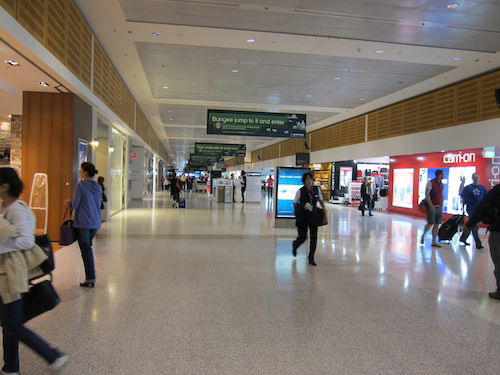 Airside terminal
The Qantas business class lounge was maybe a five minute walk away, so I quickly found it and proceeded up the escalator to the reception desk.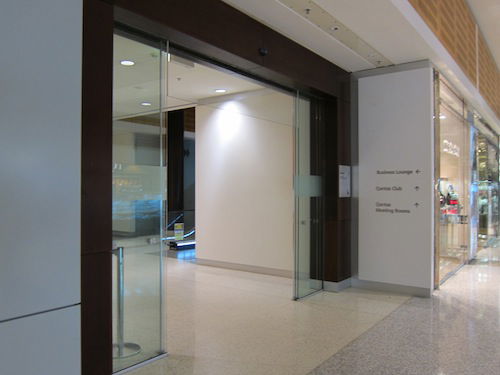 Qantas Business Lounge
The lady at the entrance couldn't have been nicer, and regrettably informed me that the Wi-Fi seemed to be down, though there were computer terminals available.
I think everyone expects international lounges to be a bit better, though even Qantas' domestic lounges are truly top notch.
For one, they featured plenty of seating, so there was no battle over finding an empty seat or power outlet.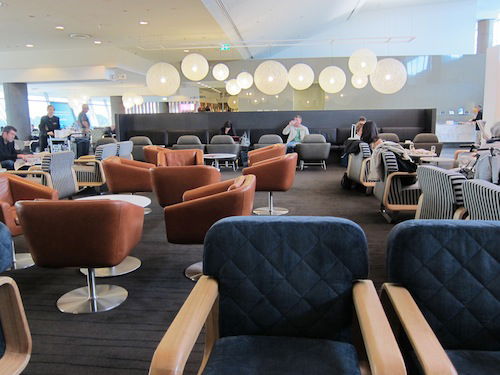 Qantas Business Lounge seating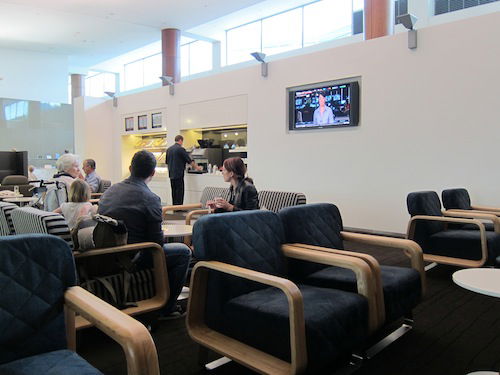 Qantas Business Lounge seating
Second, the snack selection was incredible. They had a bunch of cappuccino machines with great sweets (I had more blueberry crumble things than I can count), and also a buffet area.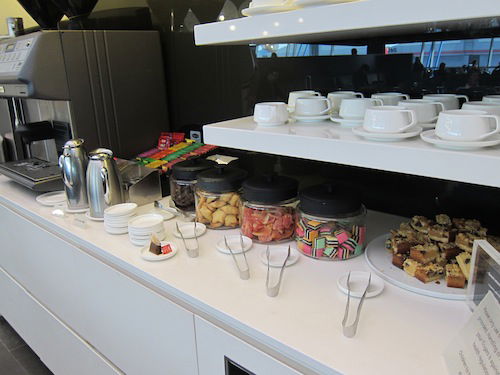 Sweets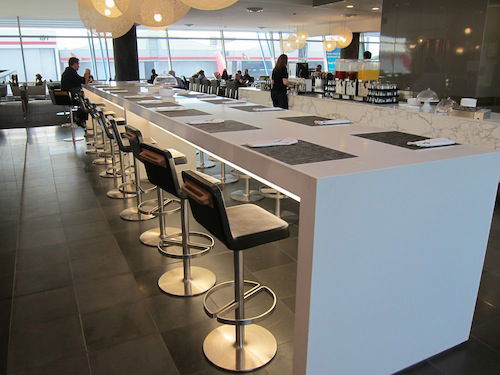 Qantas Business Lounge bar area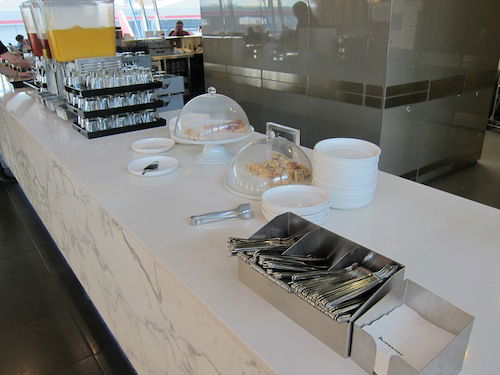 Silverware, juice, and more sweets
The buffet featured salad, meats, cheeses, breads, and plenty of other things that could easily constitute a meal.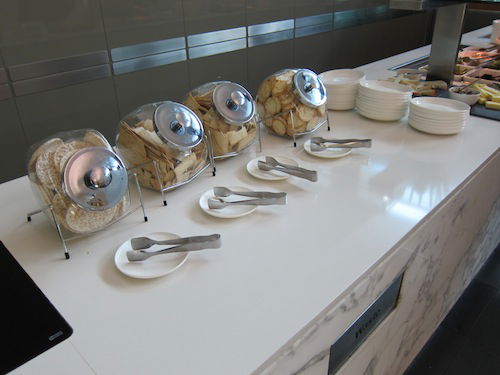 Buffet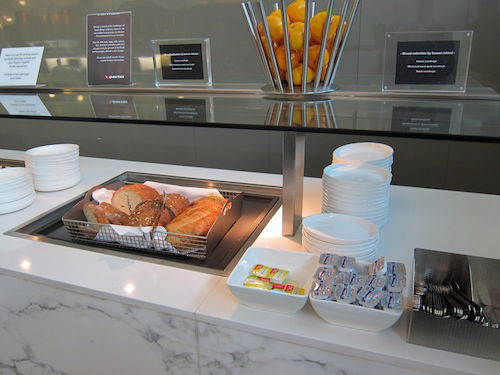 Bread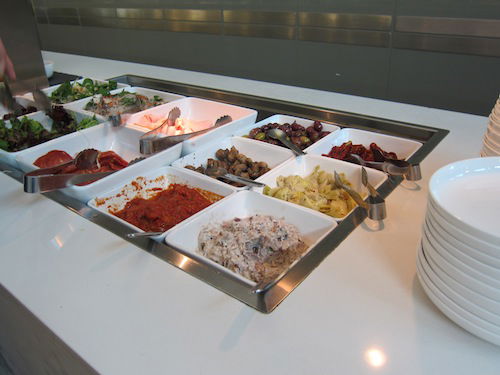 Buffet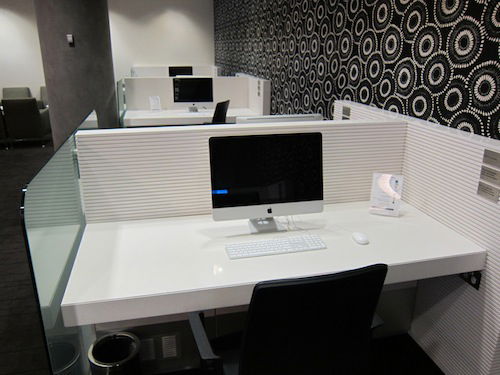 Workstations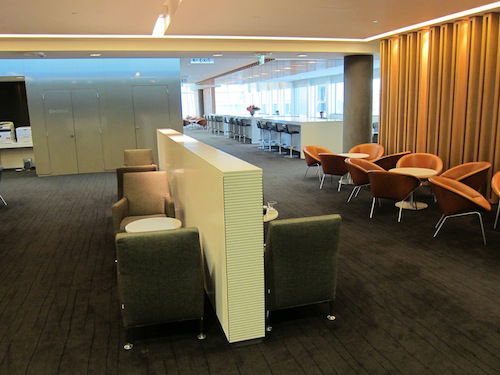 Qantas Business Lounge seating
I wasn't quite sure what to expect on an hour long flight in the way of food, so I figured I'd have something. I first had a coffee with some of those blueberry crumbles while on one of their computers trying to figure out how to get from Melbourne Airport to the Park Hyatt upon arrival.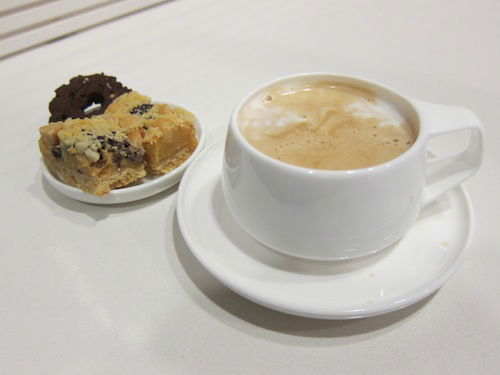 Coffee and blueberry crumble
I then had a light lunch.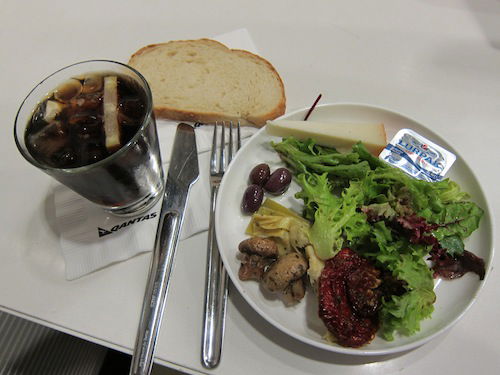 Lunch
At around 3:30PM I headed to my departure gate, for a scheduled boarding time 3:40PM. Most of the plane had already boarded and there wasn't any sort of a premium boarding line, so I was among the last aboard.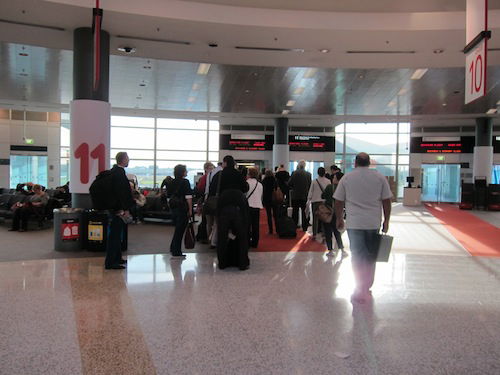 Qantas boarding gate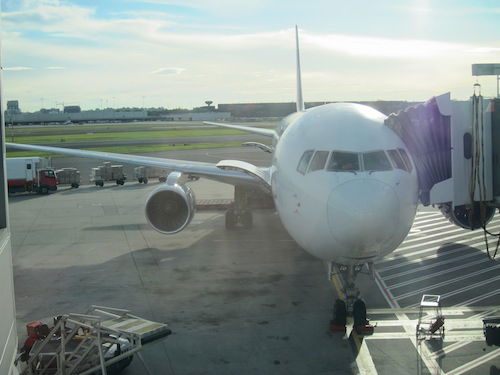 767-300 bound for Melbourne
Qantas Airways 447
Sydney (SYD) – Melbourne (MEL)
Sunday, May 22
Depart: 4:00PM
Arrive: 5:35PM
Duration: 1hr35min
Aircraft: Boeing 767-300
Seat: 5F (Business Class)

Despite how close Sydney and Melbourne are, Qantas primarily operates 767s on the route. I was assigned an aisle seat in the center section in the last row of business class. The seats were slightly more comfortable than domestic first class seats in the US, with a couple more inches of legroom and a legrest.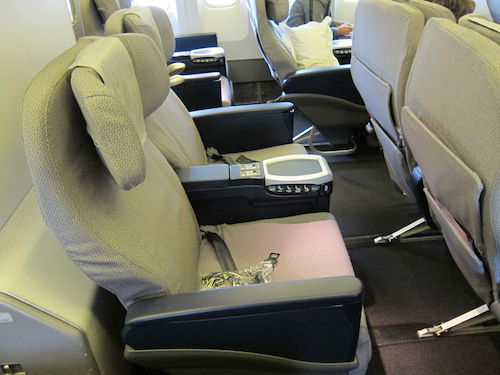 Business Class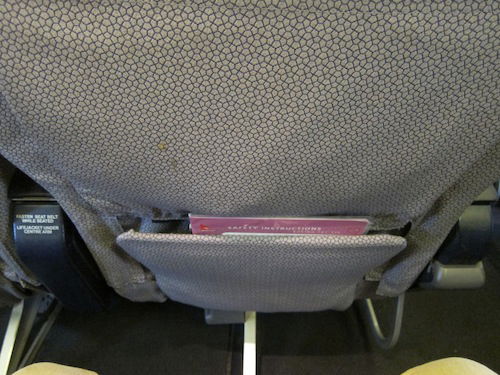 Legroom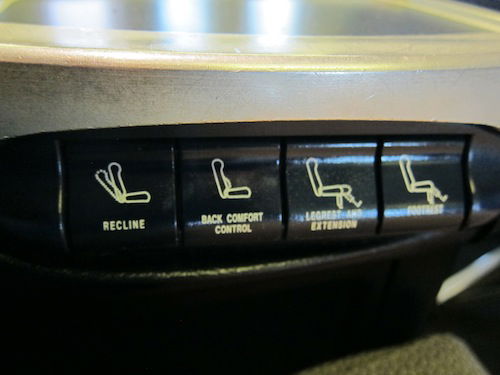 Seat controls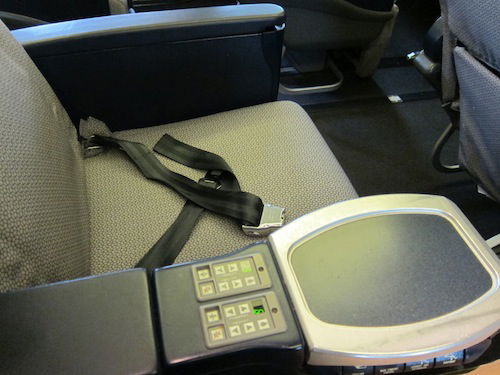 Center console
Because the 767 has some of the worst bins of any aircraft, boarding was a mess. A lady settled in next to me, with her two young kids seated across the aisle, while the husband schlepped back to coach.
Eventually, pre-departure beverages were offered by one of the flight attendants who had one of the most bizarre accents I've ever heard. As it turns out, he's from Texas but has lived in Australia for 20 years. Oh man, that's a killer combination.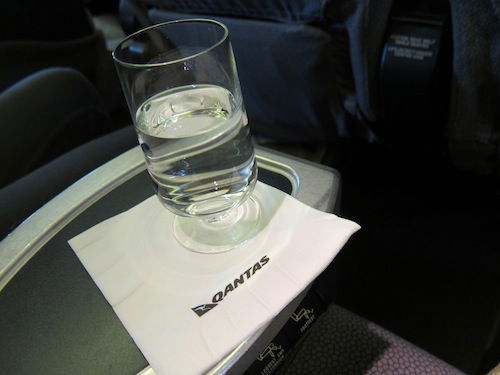 Pre-departure water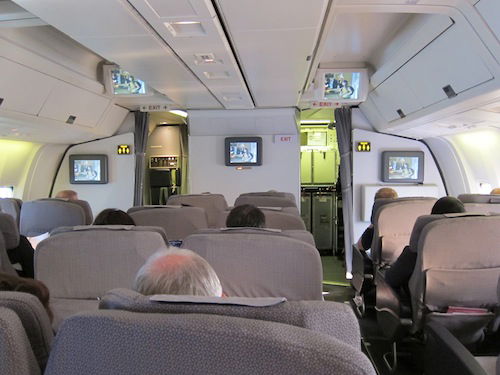 Business Class cabin
We pushed back right on time as the safety video began to play, and started our fairly long taxi. As we held short of the runway the captain welcomed us aboard and informed us of our flight time of 70 minutes once airborne, anticipating an on-time arrival.
Shortly before takeoff the overhead screens started playing sitcoms including Two and a Half Men, 30 Rock, etc.
Soon enough we were airborne, and 10 minutes later the seatbelt sign was off and the flight attendants sprung into action.
They first offered hot towels.

Hot towel
That was quickly followed by the "snack" service, which was the option between some fish dish and soup. I went with the soup, which was served right out of a canister. It came with bread, crackers, and a chocolate muffin. I ordered a Diet Coke with lime lemon and water with it.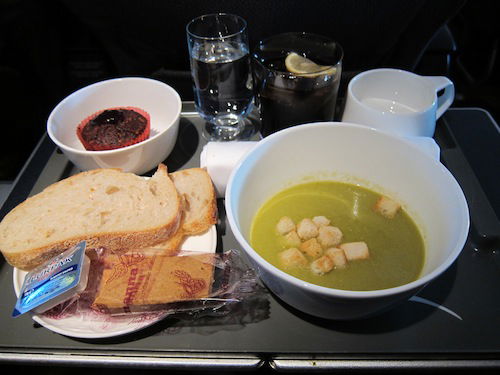 Soup
The soup was fairly tasteless, but then again, for a 70 minute flight you won't get this type of service on a US airline.
After the main service tea and coffee was offered. By the time the trays were cleared we were well into our descent and the seatbelt sign was turned on.
The sun was starting to set as we descended upon Melbourne (after all, it is winter in Australia), and we had a smooth touch down just a few minutes ahead of schedule.
Our taxi to the gate was fairly quick, at which point I headed for baggage claim.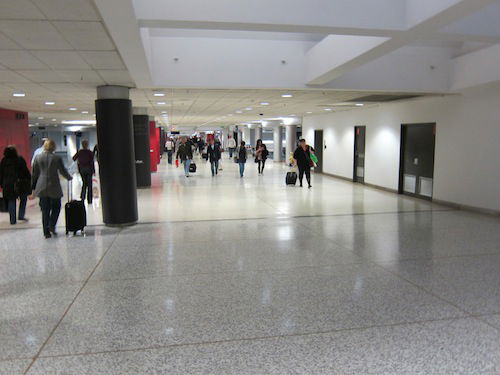 Arrival hall
It was maybe a 10-minute walk to baggage claim, and within another minute or two my bag arrived.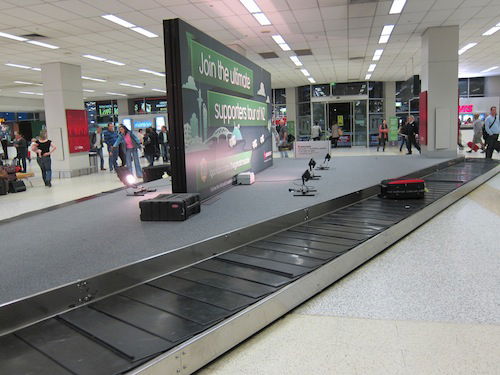 Baggage claim
At that point I saw an information counter offering shuttles to hotels in Melbourne. I bought a ticket, and within a few minutes I was on a bus to the Park Hyatt.