One of the things that's nice about Sydney is how easy (and cheap) it is to get from the airport to the city by train. That makes staying at an airport hotel during a layover reasonably convenient, or for that matter staying in a hotel in the city during a long layover.
After a good night of sleep I headed to the train station near my hotel to hop on a train to Sydney. The ride to Circular Quay took maybe 20 minutes, dropping me off right where I wanted to be.
I've been to Sydney before so wasn't as interested in "traditional" sightseeing as I was in just hanging out and enjoying the views and city's vibe, which is what I love most about Sydney.
I hadn't had breakfast, so first stopped at Starbucks for an iced coffee and blueberry scone, which is my favorite in the US (and I love to try them in other countries to see the differences).
While the coffee tasted fairly similar to what I'm accustomed to in the US, the scone was different than the ones they have at Starbucks in the US. It was more of a "traditional" scone in the sense that one had to add jam and butter to make it taste even half decent. Starbucks was even more expensive than in the US… if that's even possible.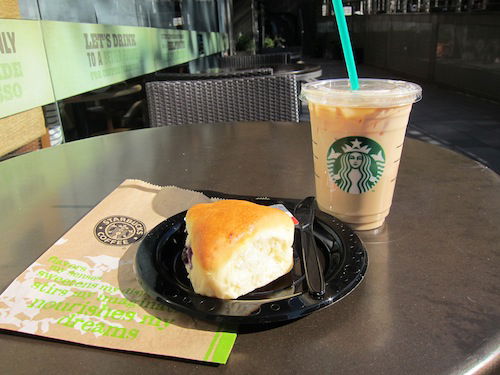 Starbucks
I had just come from Kuala Lumpur and Singapore, where it must have been 100 degrees, so the weather in Sydney was a welcome change, given that it was maybe 60-65 degrees.
I literally walked around the harbor maybe five times, all the way from the Opera House to the Sydney Harbor Bridge on the other side.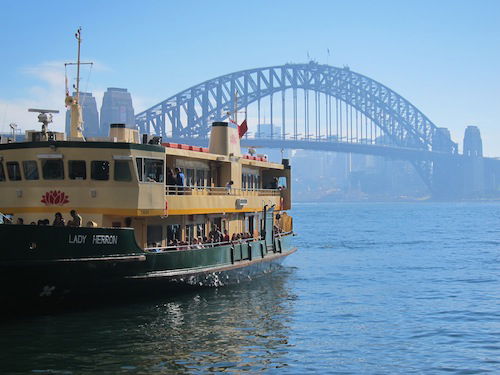 Harbor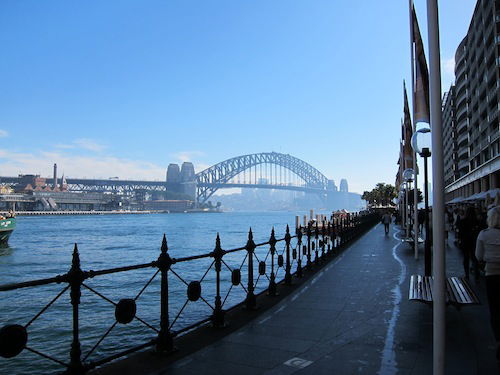 Bridge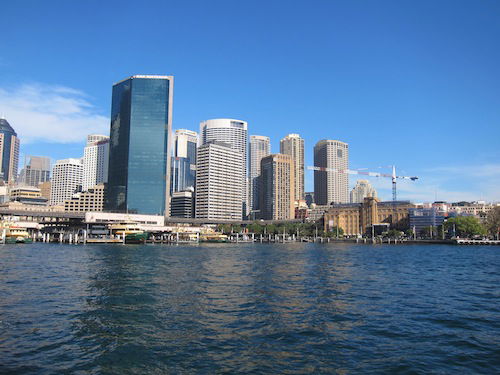 Harborfront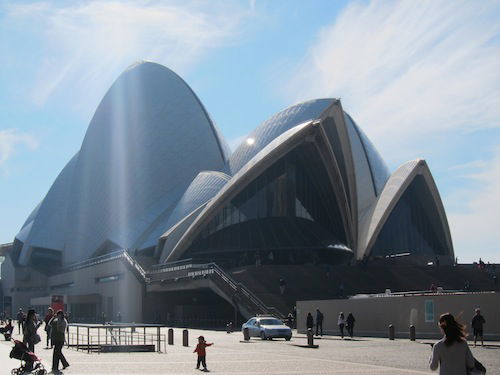 Opera House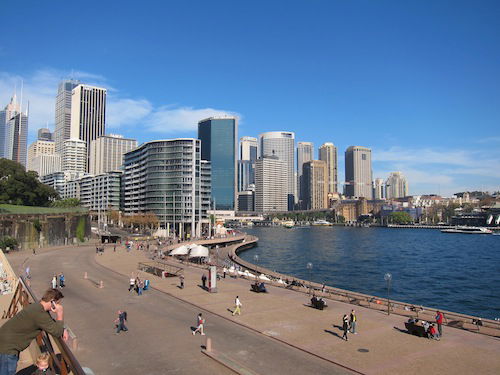 View from Opera House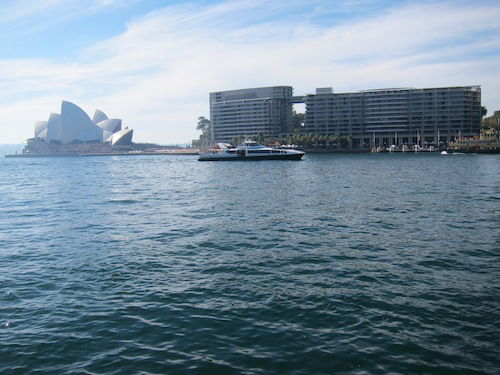 Opera House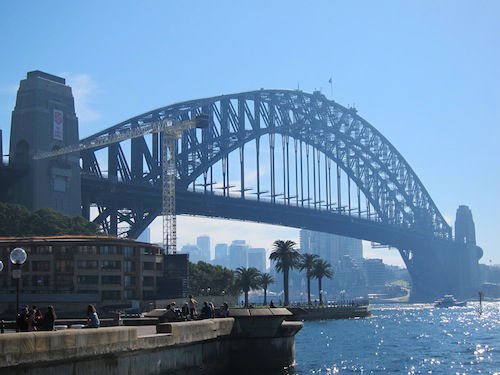 Bridge and Park Hyatt (under renovation)
Touristy as it might be, Circular Quay never gets old for me, especially when being able to enjoy the outdoors (and sun) without sweating my rear off. Since it was the weekend there was a lot of action, from street performers to lots of people sitting in cafes.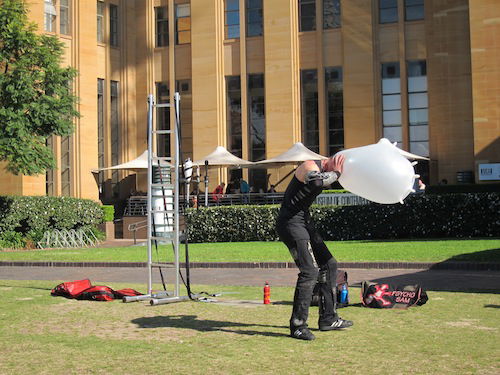 Street Performer
After people watching for what must have been three or four hours I decided to have fish and chips at City Extra, one of the more reasonably priced dining establishments along the water. With a Diet Coke the total was something like $20AUD, which is reasonable enough given the breathtaking view.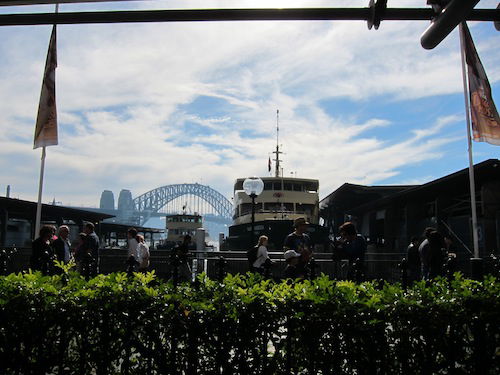 View from City Extra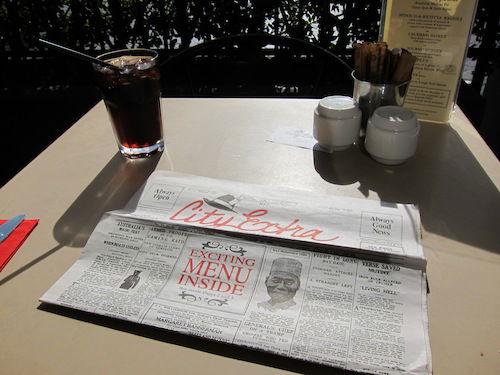 City Extra menu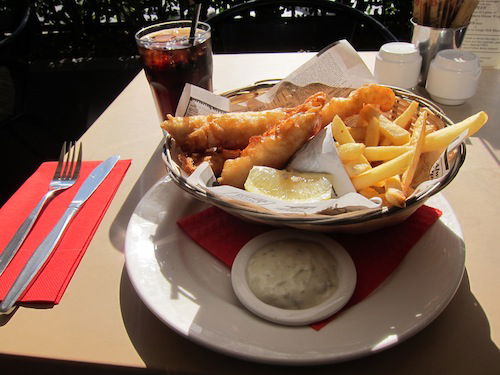 Fish and chips
Shortly after 1 PM I decided to head back to the hotel to shower and pack up in anticipation of my flight to Melbourne. Till next time, Sydney!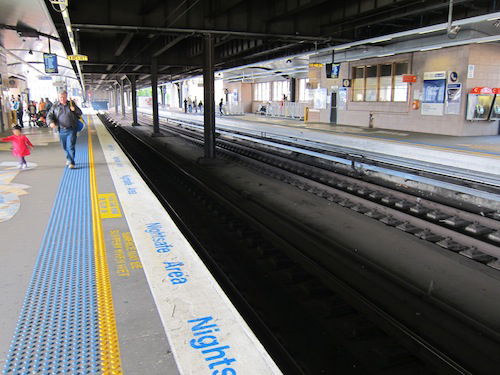 Train station