There's something remarkably relaxing about Singapore Changi airport, which makes it my favorite airport to transit, even at 3AM after a 20 hour flight.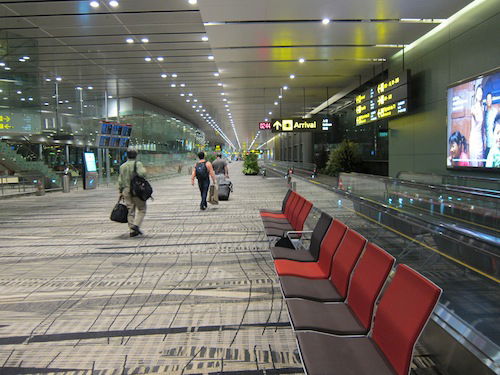 Terminal upon arrival
Rather dreary eyed I headed to the terminal 3 Silver Kris Lounge. It's technically open 24 hours a day, though when I arrived I was the only customer in the lounge for about an hour or two. Instead, the lounge was populated by a cleaning crew of probably 15-20 people. That worked out great, since it was a fairly peaceful environment to get a few hours of work done after being disconnected for so long.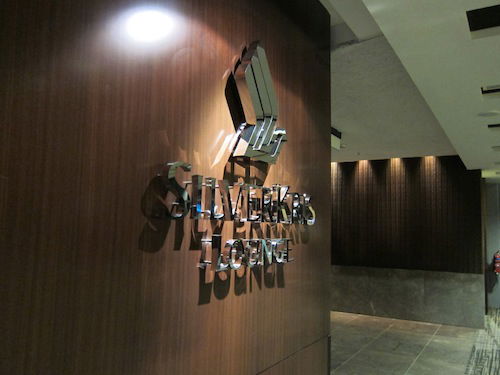 Silver Kris lounge entrance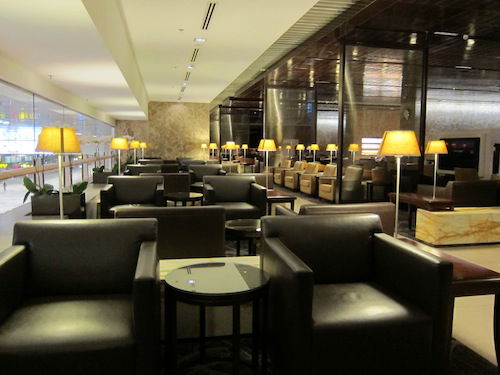 Silver Kris lounge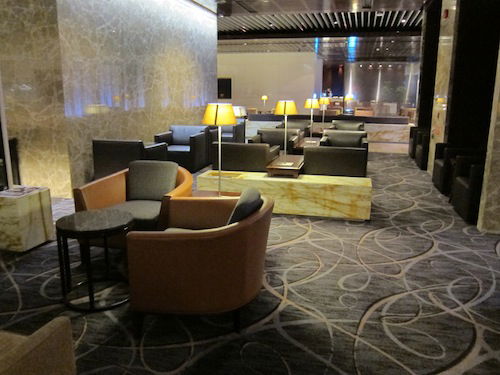 Silver Kris lounge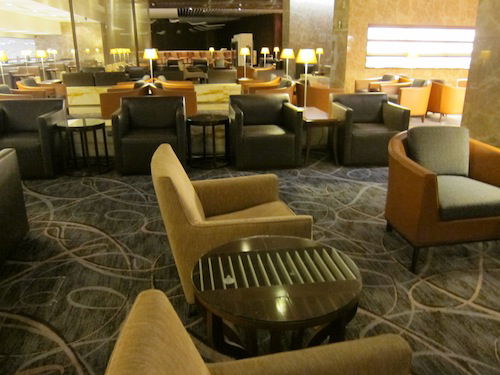 Silver Kris lounge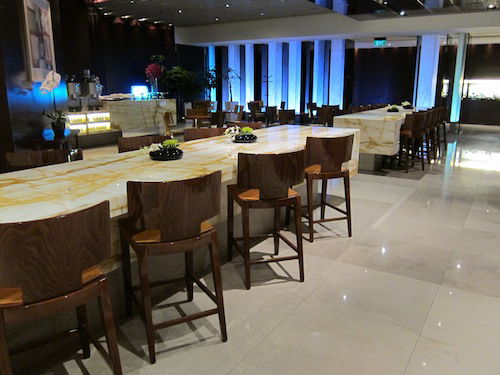 Silver Kris lounge
I just took a seat and worked for about three hours straight.
At that point, the lounge started filling up and I was getting exhausted, which meant it was time for a shower. So at around 6AM, I headed to the bathroom to get a shower. Singapore's shower facilities are actually subpar in this lounge since the showers are in the bathroom. So the bathroom has urinals, stalls, and showers. That means the shower rooms don't have individual toilets.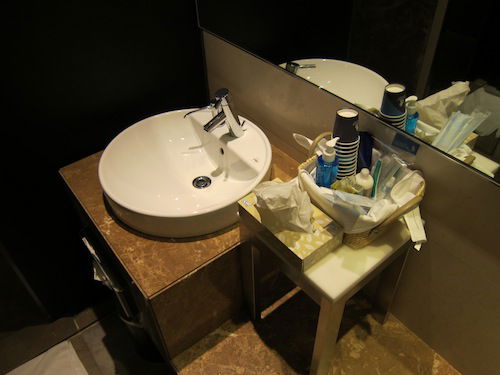 Shower room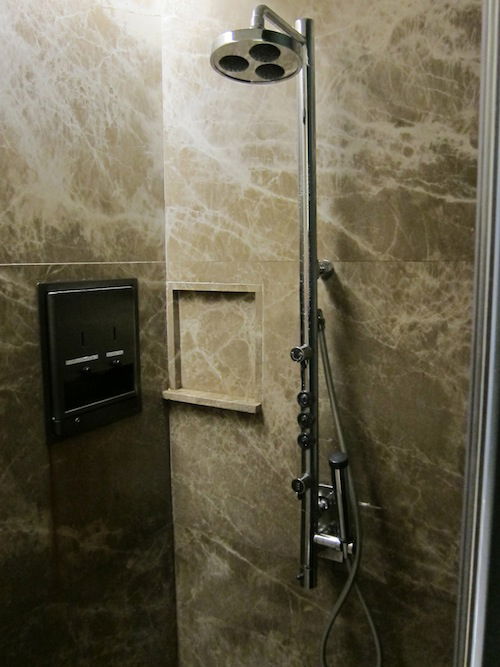 Shower
My biggest problem was that there's no barrier on the floor between the shower area and the rest of the room (there's a door, but it doesn't go all the way to the bottom), so I damn near flooded the place. I was enjoying a warm shower so much that I didn't realize the lounge attendant was probably building Noah's Ark based on the amount of water coming out of my room. Whoops!
At that point it was nearing 7AM so I had a peak at the extensive breakfast buffet. They had everything from pastries to yogurt to fruit to hot options.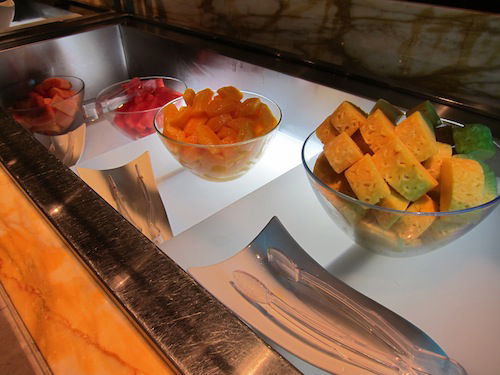 Fresh fruit
I decided on a small omelet, orange juice, and two other hot items.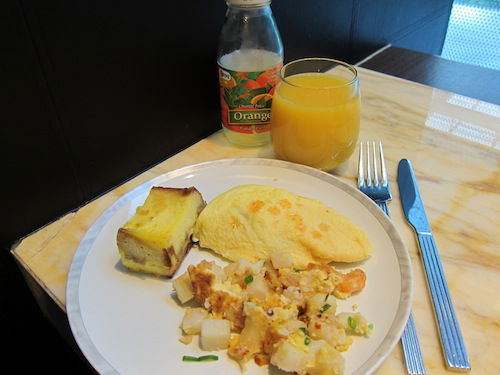 Breakfast
I then moved over to the area of the lounge with cubicles, which had a great view of the tarmac. I asked for an international adapter, which I was loaned in exchange for my boarding pass, and got working. As I've mentioned many times before, my usual "office" is Starbucks or Panera (I need a change of scenery from my desk at home sometimes), so it was just another day at the office, except it had a nice view and featured a great buffet.
After a couple more hours I was starting to feel sleepy once again, so decided to go for a walk in an effort to stay awake.
I've not explored Singapore Changi Airport in the past as much as I should have given that I'm usually in the lounge catching up on emails during layovers. I knew it was one of the world's best airports, but I didn't realize just how much it had to offer.
First of all, terminal 3 has to be one of the most impressive buildings out there. It's stunning. The shopping and dining selection is quite literally endless. Some locals even go to the airport on the weekends to eat and shop!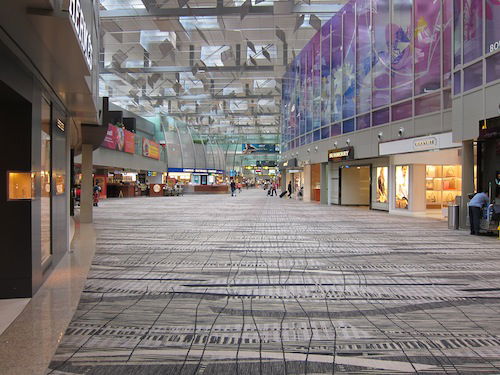 Terminal 3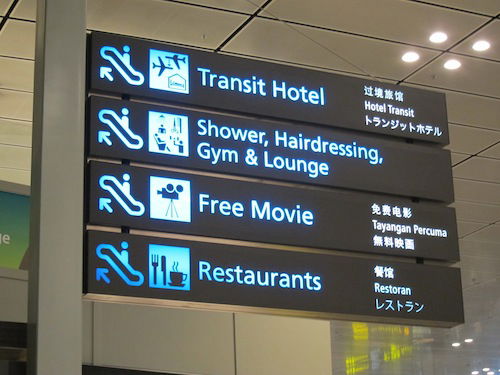 A few of the amenities
But it's the other features that really set them apart. For one, they have a massive, well maintained butterfly garden, which is great for catching some fresh air (even if it's oven temperature).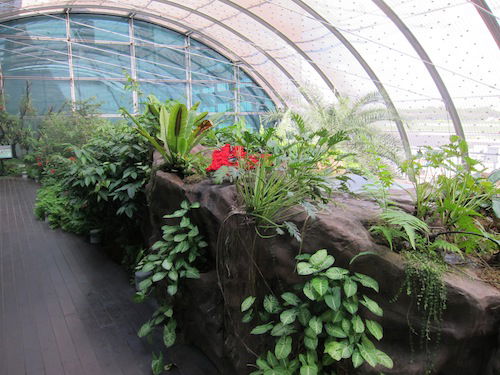 Butterfly garden

Butterfly garden
Not far from there was the free movie theater, which was totally empty and playing the new "Wall Street" movie. Seriously, a decent movie playing in a "real" movie theater at an airport for free? Amazing.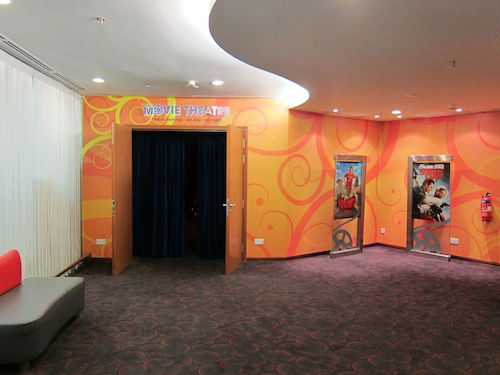 Movie theater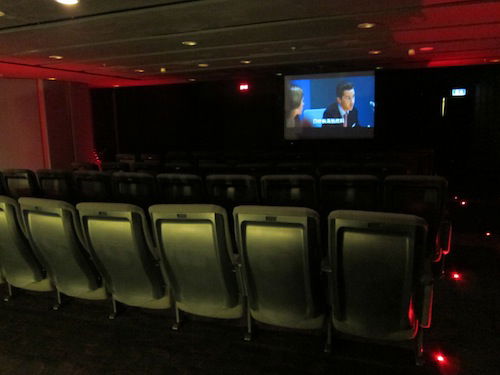 Movie theater
The rest of the terminal is equally impressive. Like I said, think unlimited shopping, dining, endless gardens, free wireless internet, and even free use of PCs if you don't have your laptop. Does it get any better than that?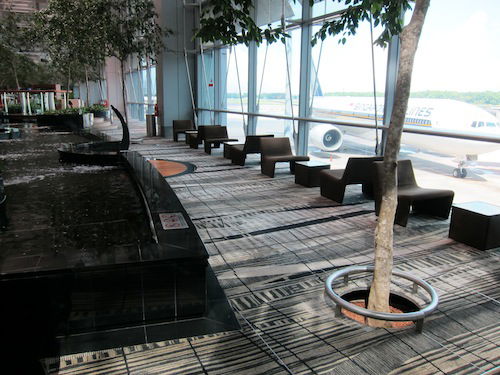 Comfortable lounging areas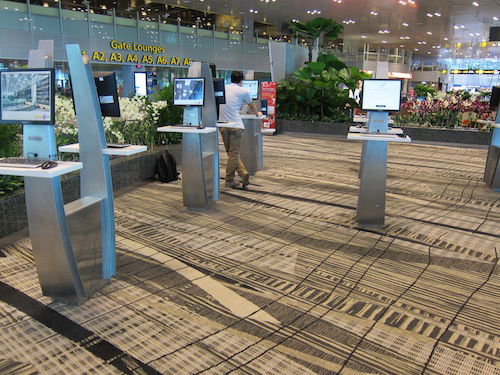 Free internet
When I got back to the lounge it was around noon, so I had easily survived a majority of my layover. It was back to work for me.
After a couple more hours I checked out the lunch buffet, which looked quite good. It had all kinds of dishes – western meals, meals from all parts of Asia, etc. I wasn't hungry, though it was a nice spread nonetheless.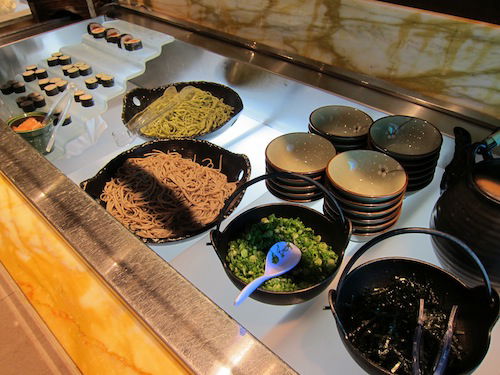 Buffet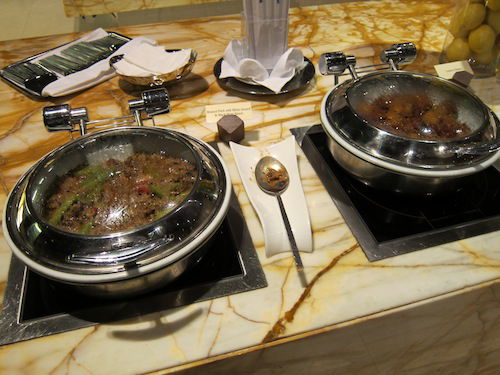 Buffet
At shortly before 4PM I headed to terminal 2, where my flight to Kuala Lumpur was to depart from. It was about a five minute tram ride, so since I had some time to kill, I figured I'd pay the Silver Kris Lounge there a quick visit. Terminal 2 is much older than terminal 3, so the lounge isn't nearly as nice.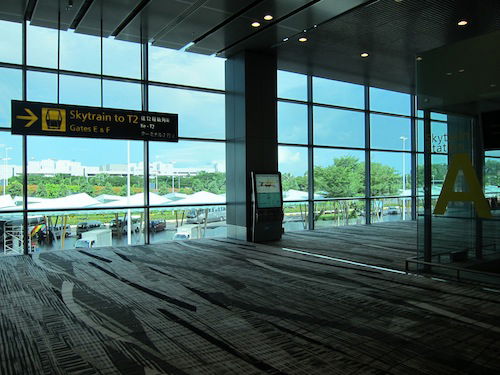 Skytrain to Terminal 2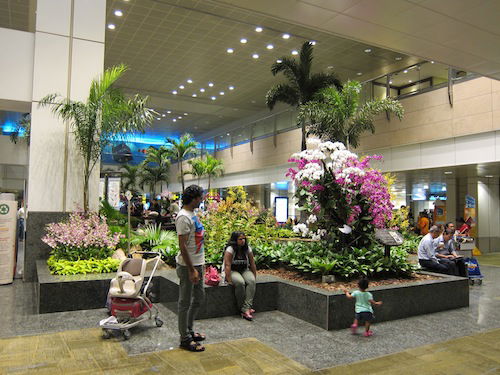 Terminal 2
As I entered the lounge I was invited to the first class lounge, as the business class lounge was closed due to renovation. While the first class lounge is usually incredibly tranquil, it was so packed that I could hardly find a seat. The wireless internet was also so slow that it was basically useless. Fortunately I just had a couple of minutes there before I headed to the gate.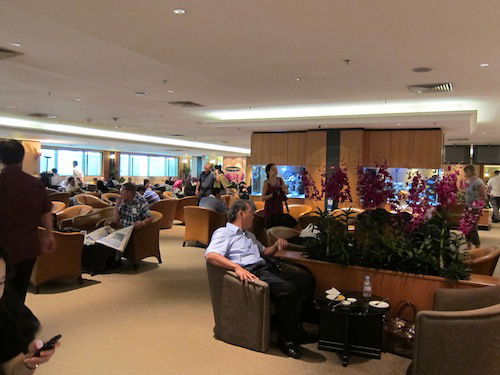 Terminal 2 Silver Kris lounge
At Changi Airport, security is at the individual gates. They always have a priority lane and an economy lane, so the wait time is fairly predictable (besides, they're not going to leave without you if you're in line to get into the gate area). Security was quick, and I was handed a landing card for Malaysia, which I filled out immediately.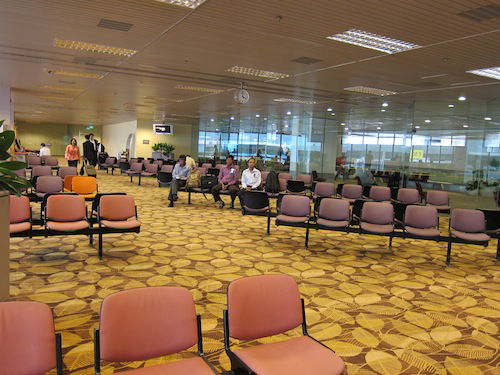 Departure gate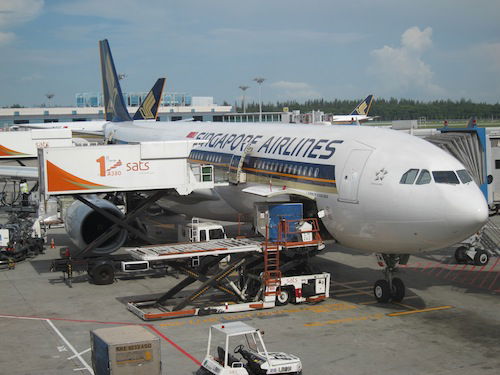 Airbus 330 bound for Kuala Lumpur
After about 15 minutes boarding began. The issue with boarding from these gate lounges is that your boarding pass is already scanned as soon as you get into the gate lounge, which means they don't do a good job of controlling the boarding process. So while they say they're only boarding business class, everyone makes a run for it.
Singapore Airlines 116
Singapore (SIN) – Kuala Lumpur (KUL)
Tuesday, May 17
Depart: 5:00PM
Arrive: 5:55PM
Duration: 55min
Aircraft: Airbus 330-300
Seat: 12C (Business Class)
Once aboard I was pleasantly surprised by the A330-300. The plane is a new addition to Singapore's fleet, and features a new type of business class seat, which is a bit of a hybrid between their longhaul and short-haul seat. The plane still had the new car smell, even though it wasn't that new. The cabin was also in immaculate condition and I really liked the look of the cabin (including colors).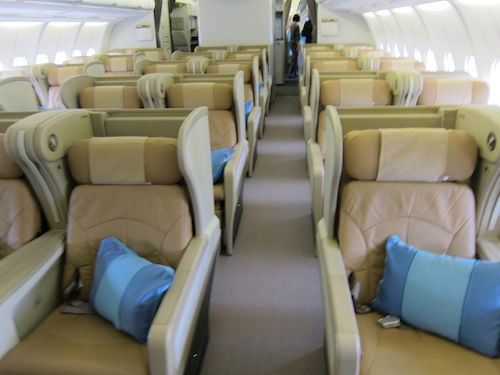 Business class cabin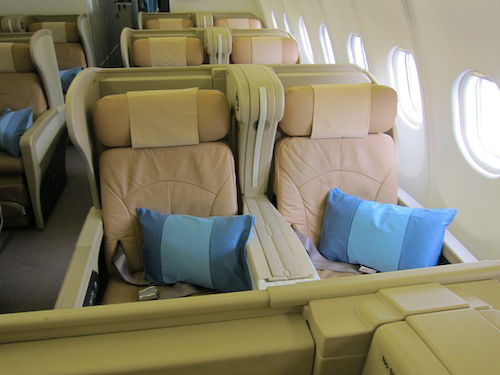 Business class cabin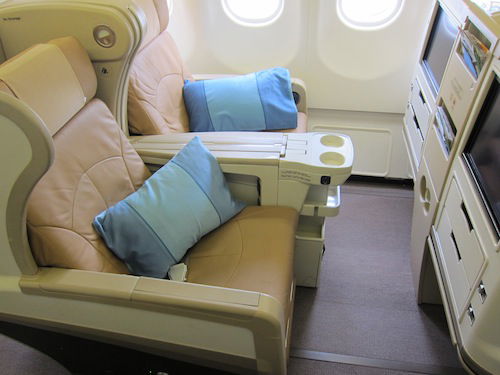 My seat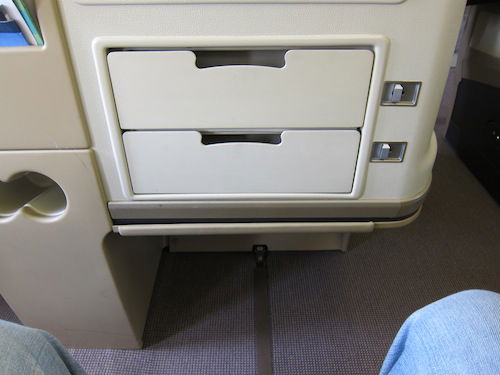 Legroom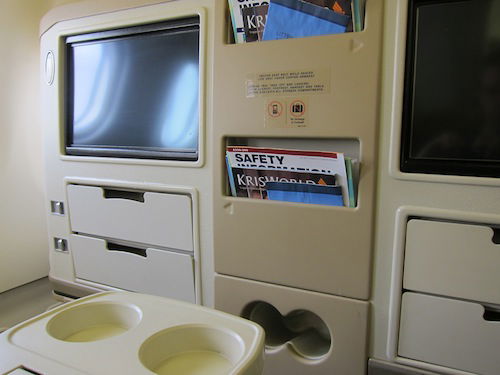 Business class seat console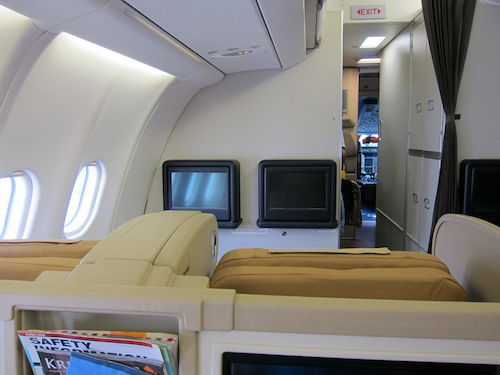 Looking forward in the cabin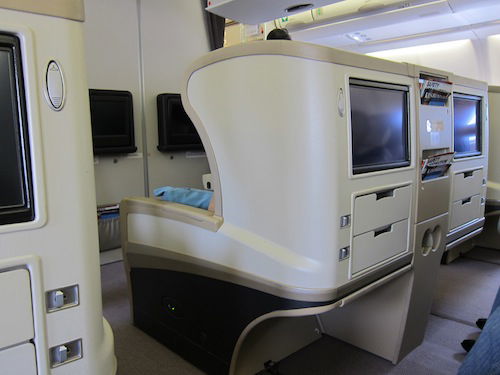 More seats
As far as I could tell the seats seem to be angled flat (the flight was too short to really try it), feature a large TV, and lots of personal space.
The friendly flight attendants seemed to have a hard time working this flight, due to the constant stream of passengers boarding. They started by offering pre-departure beverages, and I went with some pineapple juice. Newspapers, magazines, and hot towels quickly followed.

Pre-departure beverage
The captain made a quick walk through the cabin, and he was surprisingly young. He could easily have been a first officer for Mesa based on how old he looked (and if you've flown Mesa before, you know exactly what I'm talking about… I'm pretty sure the drink of choice for pilots at Mesa is Juicy Juice with a straw, and that they enjoy a good peanut butter and jelly sandwich minus the crust). 😉
He made a welcome aboard announcement once boarding was complete, informing us of our flight time of 37 minutes.
As we pushed back the safety video began to play and we started our taxi to the runway, where we were number five or so for takeoff.
As we were waiting for takeoff the flight attendants took "refreshment" orders. They started by asking each passenger if they wanted a "refreshment." If they said yes, they offered them a chicken or vegetable panini. If they answered no, they offered them a beverage.
Within about 10 minutes of being airborne the cart was in the aisle. While the flight attendants tried to be graceful and smile, it was clear that they were flustered and rushed. Almost as soon as the cart was in the aisle the captain announced "flight attendants, prepare for landing."
I was served a cold chicken panini, though wasn't offered a beverage. Those that ordered beverages were served a bag of nuts with their drinks.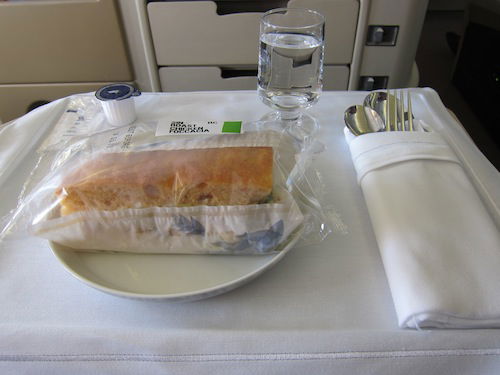 Chicken panini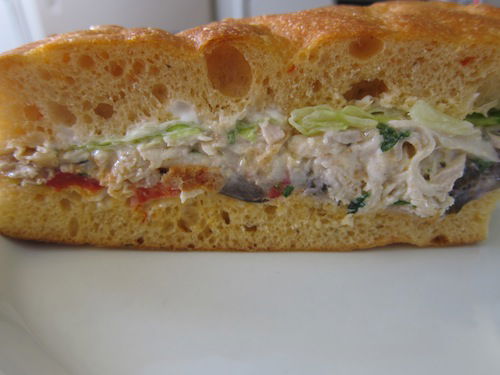 Chicken panini
Look, it's a short flight so there's no need for any service, but it just seems odd to fly Singapore Airlines in business class and not even get a beverage of choice. Having to choose between a cold sandwich and a drink in business class just seems silly. And before anyone calls me crazy, stay tuned for my installment about Sri Lankan business class, which I flew from Kuala Lumpur to Singapore, to see how they do it.
I talked to my seatmate, who was from Melbourne, for most of the rest of the flight, who was in Kuala Lumpur for business for a few days.
Upon arrival we had a quick taxi to the gate where the crew seemed to be too traumatized from the service they had to provide on that short of a flight to say goodbye.
This was my first time in Kuala Lumpur, so I was pleasantly surprised by how nice the airport was. I took the tram to the main terminal, where I cleared immigration fairly quickly. Interestingly, the flight that landed just before mine was from Pakistan, and I overheard as just about everyone from the flight was asked how much cash they had on them, along with a bunch of other questions, only to be sent to a special room for "secondary."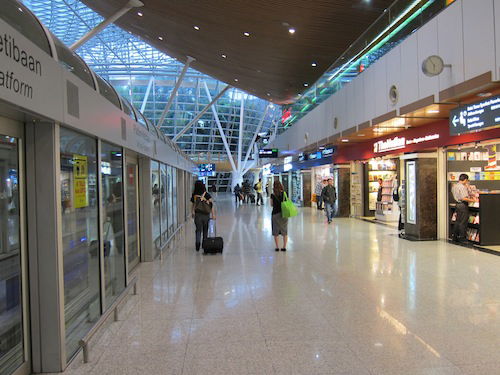 Kuala Lumpur terminal
Once in the arrivals hall I was happy to see my checked bag had made it, given that it sat in Singapore all day.
I left immigration to try and exchange money, though as it turned out they only had currency exchange in the departure hall, so I had to go up a level. I found that rather odd.
Then I tried to get into a cab, and I had one of those moments where you feel like you're the only person in the entire city not "with the program." I went outside to try and find a taxi queue, though the guy informed me that I needed to go inside the terminal to get a taxi ticket. Okay, fine, I went inside, though I didn't see a desk for taxis.
I asked another guy, who pointed into the arrivals hall. There were police officers guarding the arrivals hall since it's "one way," though when I explained the situation they let me back in to go to the taxi desk.
I bought a taxi ticket, which was about 75 Ringgit, or $25USD. That seemed awfully high to me for a country like Malaysia, though it seems cabs from the airport are regulated. It is a long ride, but in countries like Malaysia, Thailand, etc., I've found cabs are dirt cheap, and $25USD isn't "dirt cheap."
With my ticket in hand I got into the queue to get in a cab for the InterContinental Kuala Lumpur, where I would be spending my first night.