---
After 23 hours in Qantas first class, reality hit me. The journey would only go downhill from there. After deplaning I followed the signs for my connecting flight. As much as I wanted to fly out of British Airways' (somewhat) new Terminal 5, Vienna is one of the few destinations that British Airways serves out of Terminal 3. On the plus side my flight from Singapore was arriving at Terminal 3, so I didn't really mind that.
When I picture what hell is like in my nightmares, I picture a combination of London Heathrow and Paris Charles DeGaulle airport. There's a reason many of us Americans are out of shape – so many of our airports are designed in such a convenient manner, making connections and transfers fast and easy. Heathrow, on the other hand, cares about your health. They want to maximize your exercise and reduce your carbon footprint by making you walk half the way to your destination.
Fortunately I didn't have to change terminals, so it only took me about 15 minutes to make the transfer, though then I had a bit of an encounter at security.
I'm used to the lovely TSA, which really couldn't care less about liquids. I don't remember the last time I've taken them out of my carry-on, and I don't remember the last time I was stopped.
Not at Heathrow, though. This was a scene right out of the BBC show "Come Fly With Me." I got through the checkpoint and the agent detected liquids in my bag, so he searched it. The only liquids in my bag were shaving cream from the collection of Qantas amenity kits I had gotten over the past several days. Each amenity kit had two sets of shaving cream. Instead of getting the liquids out of my bag all at once and then re-screening the bag, he had his own method (despite my practical suggestion). He preferred to take my liquids out one at a time, test the bottle each time, and rescreen the bag each time. I was absolutely blown away. The process took about 20 minutes and I stood there in amazement, though kept my mouth shut. Given that my bag was screened eight times, I guess I'm not a threat, at least.
After going through the shopping mall which is Terminal 3 I made it to the British Airways lounge, where I was promptly admitted to the first class section based on my inbound boarding pass.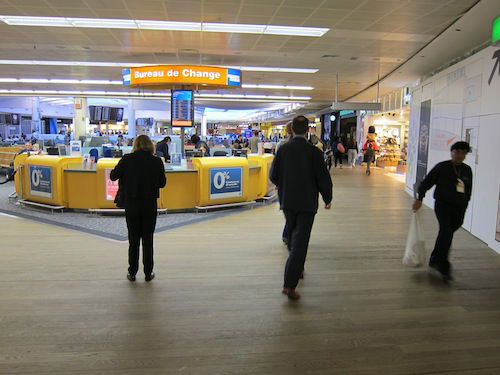 Terminal 3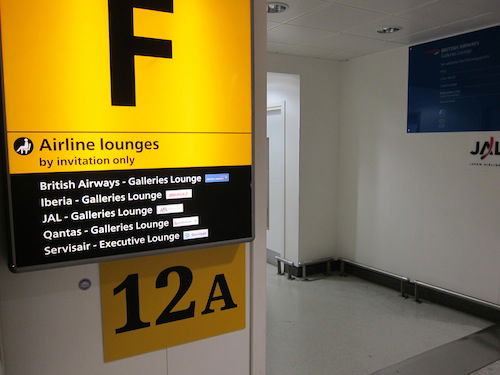 British Airways lounge sign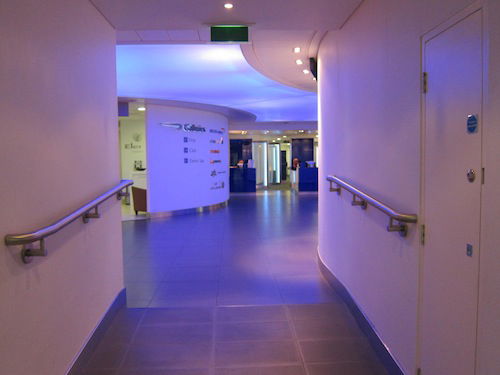 British Airways lounge entrance
The lounge was very bland for a first class lounge, certainly not as nice as other OneWorld lounges, let alone the first class lounge in Terminal 5.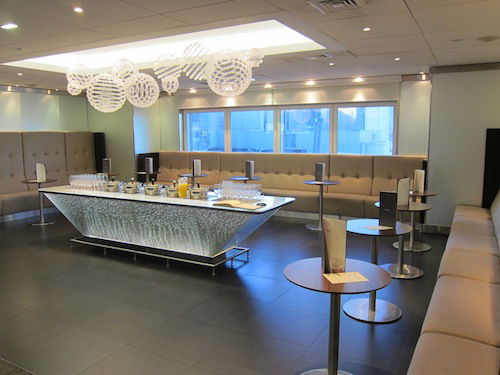 First class lounge
Fortunately the lounge was quiet and featured fast Wi-Fi, which kept me happy.
The lounge featured a beverage, coffee, and cookie station, which offered every packaged cookie you could possibly imagine.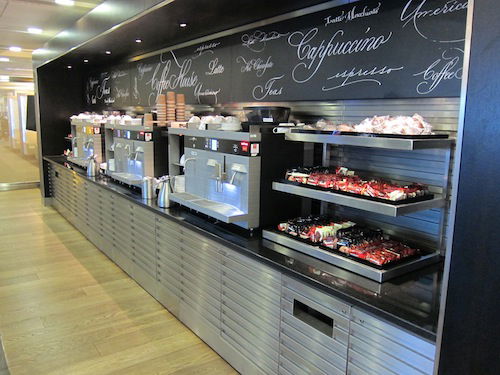 Drink/cookie selection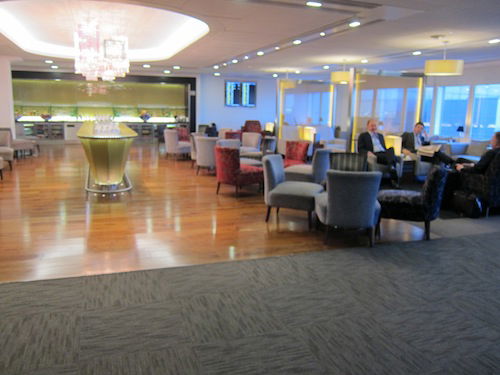 First class lounge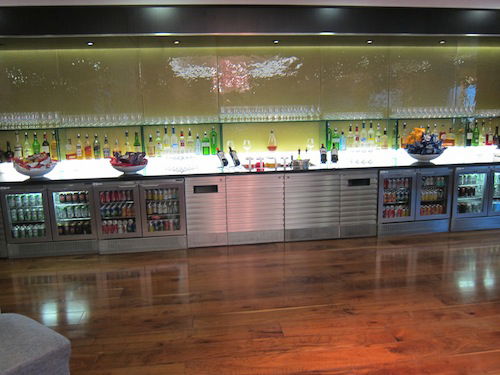 Drink station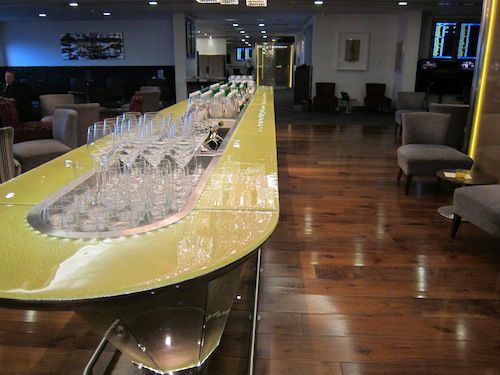 First class lounge
The lounge also featured a breakfast menu which was decent, though I was anything but hungry.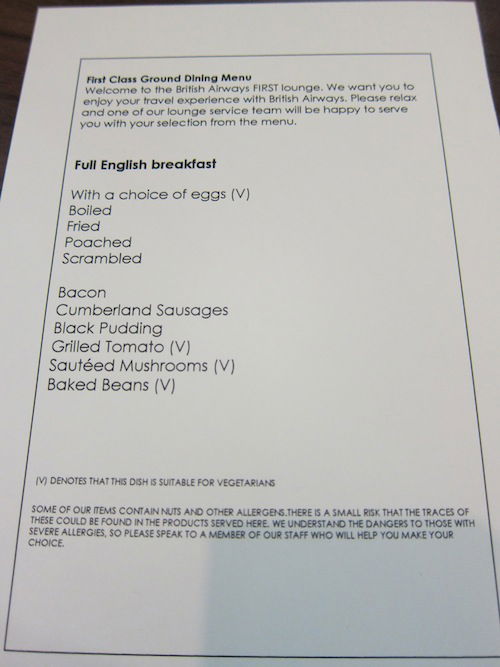 Breakfast menu
I caught up on email, and about 30 minutes before departure headed to the gate for my flight to Vienna.
The gate was about a 10-minute walk away and when I got there I was sad to see that it was a bus station and not a gate, since we were leaving from a remote stand. Boarding started about 15 minutes late, at which point I got on the sardine can (which I suppose could describe both the bus and the intra-Europe configured plane I was flying).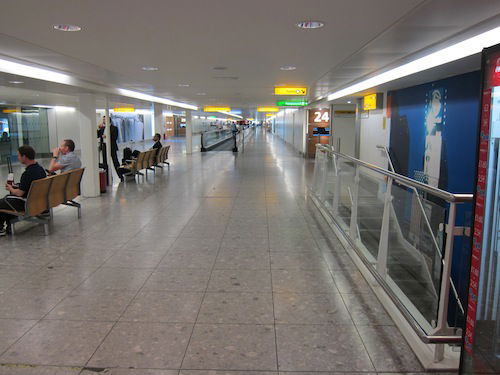 Walk to the gate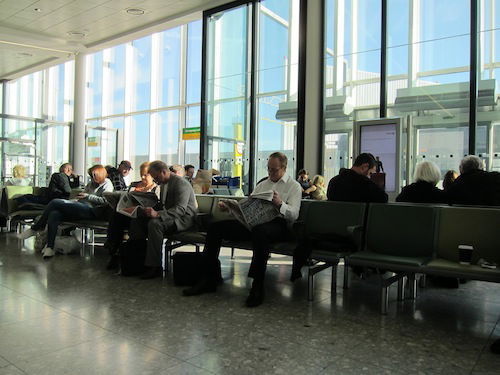 Gate
After a five minute ride we arrived at the remote stand for the Vienna flight. I proceeded up the air stairs and as is the norm for British Airways flights, had to show my boarding pass at the door for "inspection."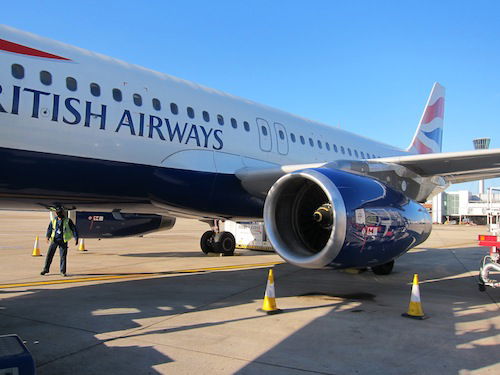 Aircraft taking me to Vienna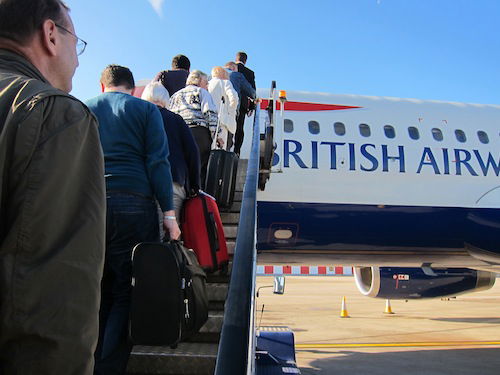 Boarding
British Airways 696
London (LHR) – Vienna (VIE)
Wednesday, May 25
Depart: 7:40AM
Arrive: 10:55AM
Duration: 2hr15min
Aircraft: Airbus 320
Seat: 3C (Club Europe)
Intra-Europe business class sucks. While the service is nice enough, the seats are normal economy seats with a blocked middle.
Boarding was complete within about 20 minutes, and I was happy to see that the business class cabin was less than half full and that I had an empty seat next to me. Because of that I switched over to the window seat since the views intra-Europe are usually quite nice.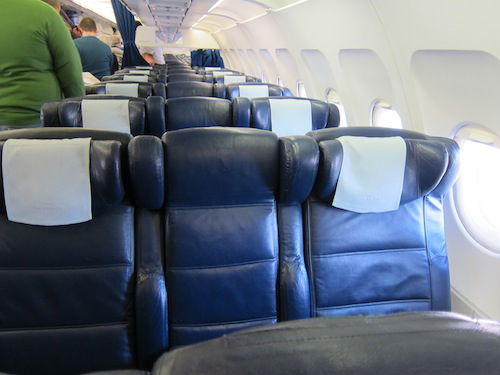 Club Europe cabin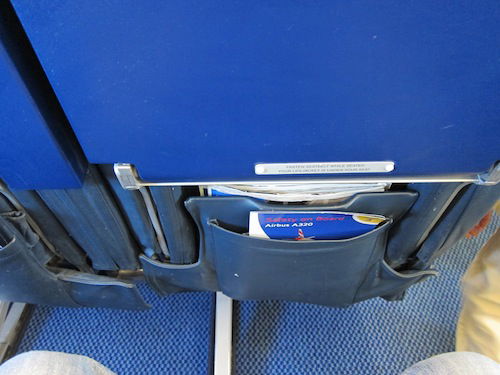 Club Europe legroom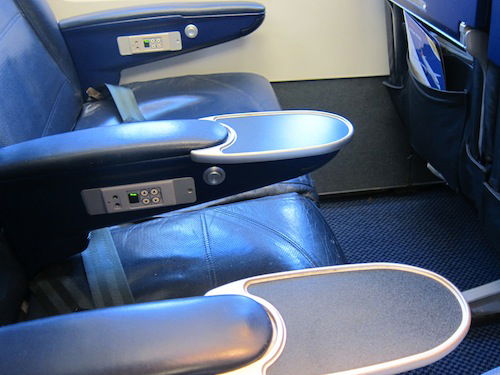 Club Europe blocked middle seat
Sasha, the customer service director introduced herself on the PA and advised us of our fight time of 1hr40min. The manual safety demonstration played and we started our taxi to runway 27L for takeoff. After a long wait and quick roll we were airborne.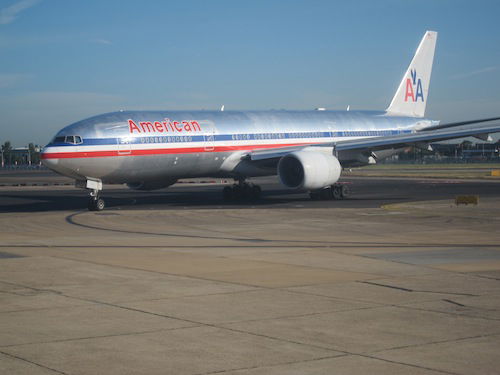 American 777 arriving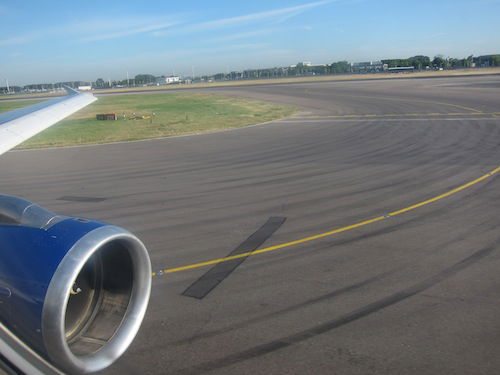 Taxiing to runway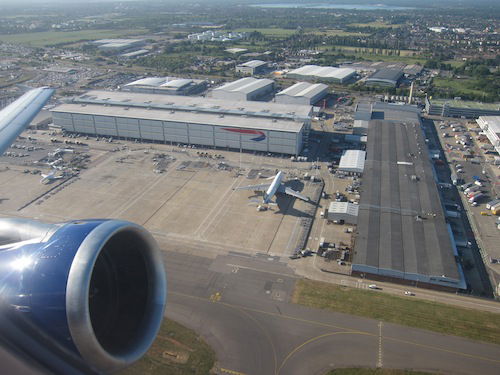 Shortly after takeoff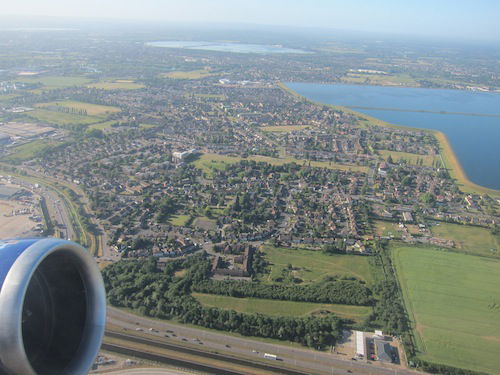 On the climb out
About 15 minutes after takeoff the service began, consisting of a "hot breakfast" in Club Europe. Service was done by the two flight attendants with a cart, with one offering the meal and the other offering drinks.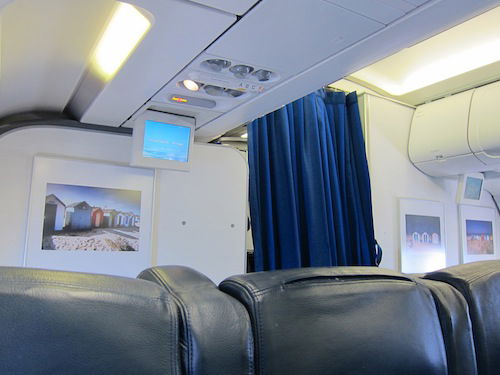 Curtains closed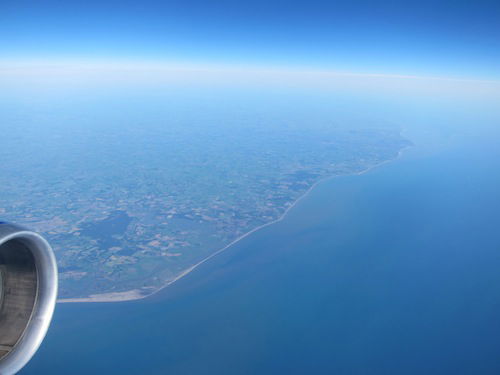 Views enroute
The breakfast consisted of scrambled eggs with sausage and mushrooms. How was it, you ask? I'll let the picture speak for itself…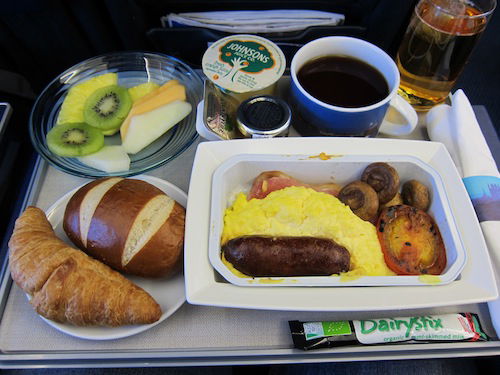 Breakfast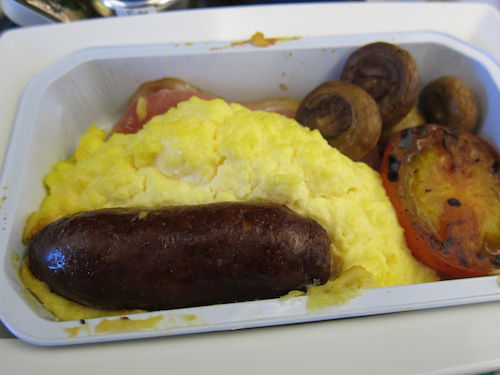 A close up
The only good part of the breakfast were the pretzel roll and croissant. Drinks were constantly being topped off and service was generally good, though intra-Europe business class still isn't great. I'll take a domestic US first class seat with no service over an intra-Europe business class flight any day of the week.
About 10 minutes before landing we began our descent with beautiful views of the Austrian countryside, making me even more excited about my visit to Vienna.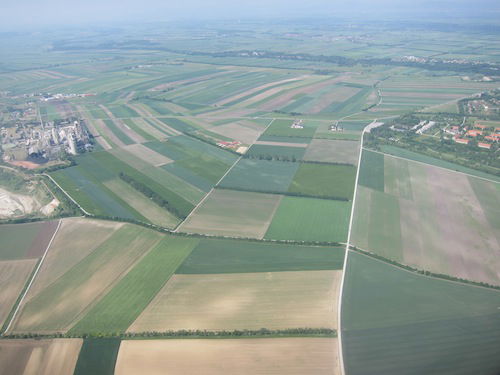 Views on descent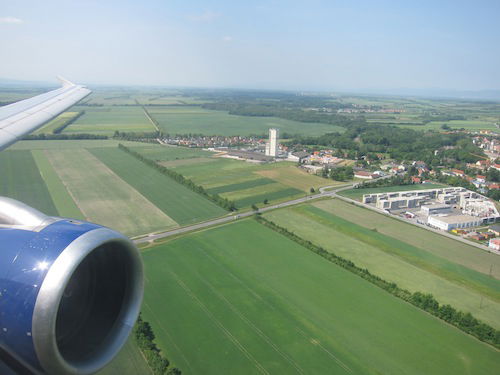 Final approach
We touched down nearly on-time and had a quick taxi to our gate.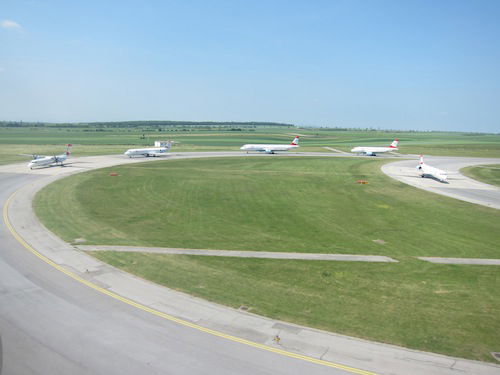 Short final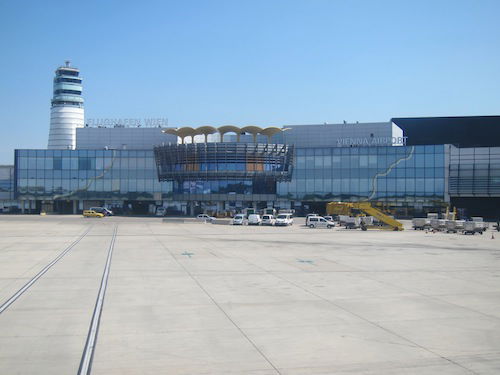 Terminal
After deplaning I made my way through the rather tired looking airport to baggage claim, where I was relived to see my bag made it (it was even the first bag off the belt).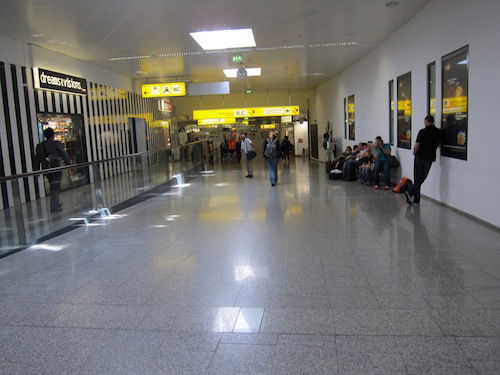 Terminal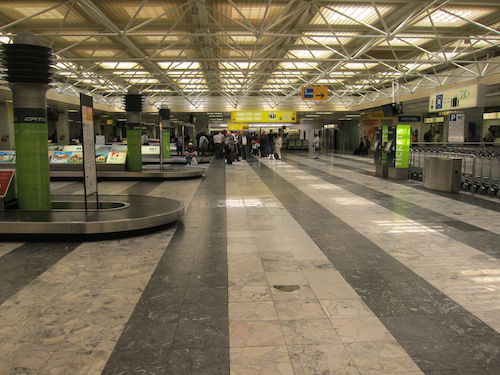 Baggage claim
It was a beautiful day outside and I headed for the train going to central Vienna.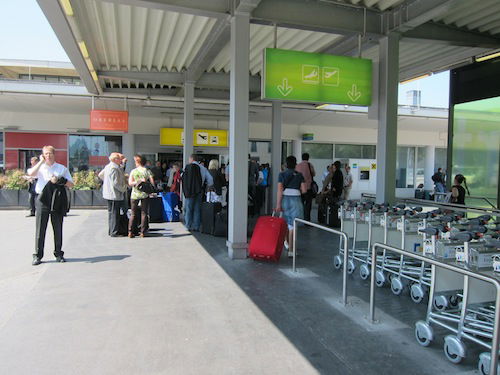 Path to train station
There was an American lady who was maybe 40 years old traveling with her 80+ year old dad and they needed help figuring out how to use the ticket machine, so I helped them (since I speak German). After helping them they said "wow, you speak amazing English," which always cracks me up. I responded with "thanks, I'm from the US."
We ended up sitting next to each other on the train. As it turns out they were on a six-week tour of Europe and just got in from Ireland. How sweet of the daughter to take that trip with her dad, I thought. Our conversation was perfectly normal and they started asking about what I do. I explained and they were fascinated by it all. Up until this point her 80+ year old father was perfectly mellow, until he loudly exclaims "wow, you must get a lot of action with what you do." I was surprised to find that I was the only one that found this awkward, since his daughter didn't seem to bat an eyelash. I responded with "nah, not really," at which point he only pushed it further. Oy.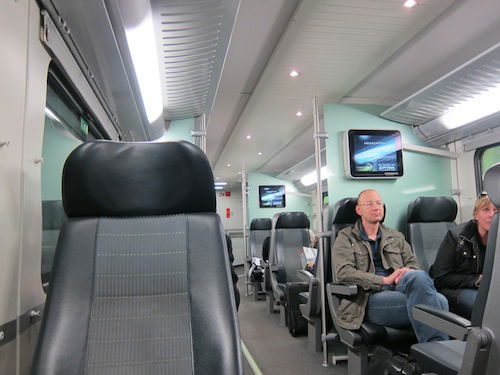 Train to the city
Soon enough I made it to Vienna and walked to the Le Meridien to check-in for my one night in Vienna.