---
I'm actually mildly embarrassed to be reviewing a Holiday Inn Express in the same trip report as Qantas A380 first class, Singapore Airlines business class, etc. But sometimes loyalty programs make you do crazy things. In this case I needed another Saturday night stay to complete my Priority Club "Crack the Case" promotion. I had stayed at the Holiday Inn LAX and Crowne Plaza LAX before, so decided I'd try the Holiday Inn Express. Just to point out how brilliant loyalty programs are, this place cost more than the Sheraton Gateway LAX, which really is a very nice hotel. Anyway, on to the actual stay.
Upon landing, when I called to ask about when the next shuttle would be, they said it would be 15-20 minutes. After 30 minutes I called again, and they once again said it would be 15-20 minutes. After waiting for about 45 minutes the shuttle finally showed up. The shuttle bus driver was just so damn nice, which made up for over 30 minutes of wasted time (compared to most other LAX hotels, which have shuttles every 10-15 minutes).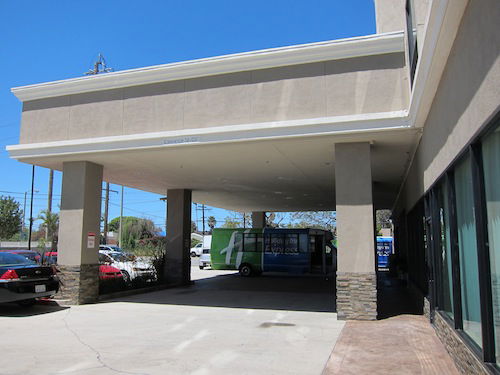 Hotel exterior
At check-in I was immediately thanked for being a Platinum member and informed that I had been upgraded to a suite. I was also offered a "welcome gift" consisting of a bottle of water and a granola bar, "as a thanks for being a Platinum member." Hey, it's the effort that counts, and in that case they succeeded.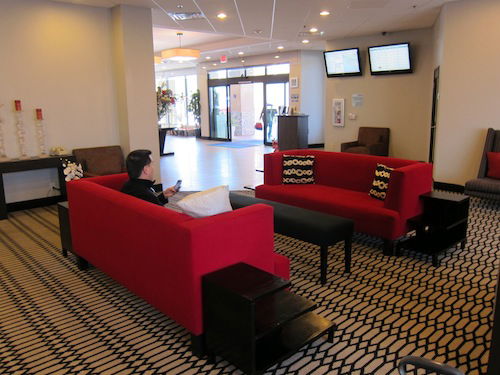 Lobby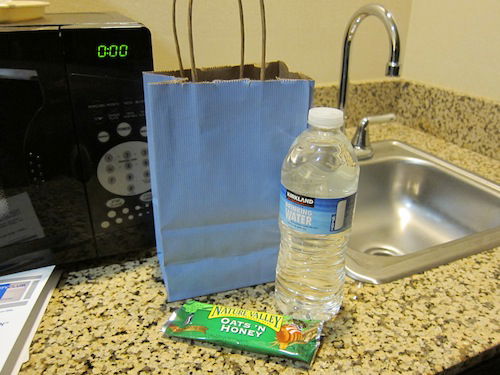 Welcome amenity
I headed up to my room on the sixth floor (the highest floor), room 602. The "one bedroom suite" was really a single room basically cut in half and separated with a wall in the middle. It had a small living room and a small bedroom, with the bathroom separating the two parts. My only pet peeve was that the sink area was in the middle of the room, instead of being in the bathroom.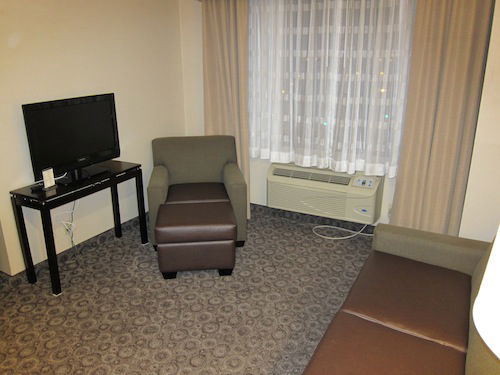 Living room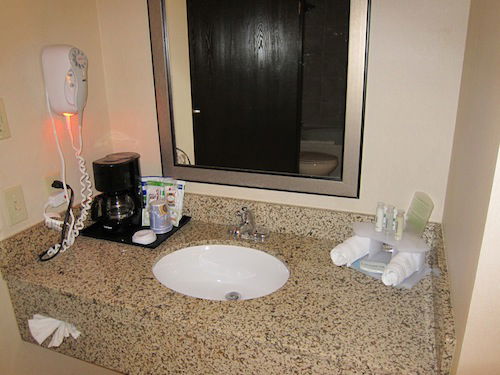 Sink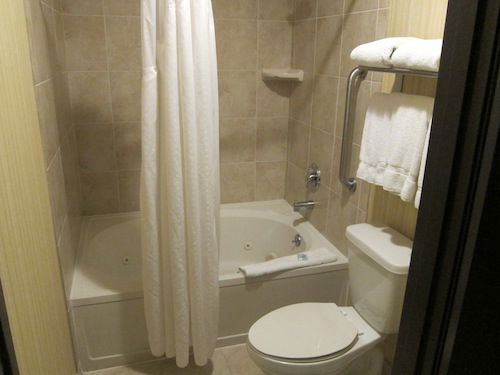 Bathroom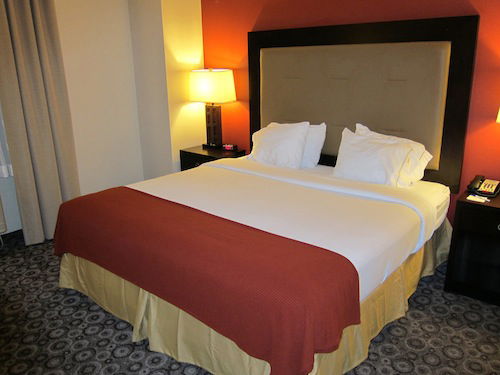 Bedroom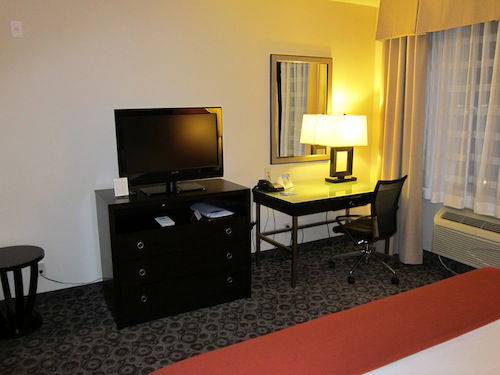 Bedroom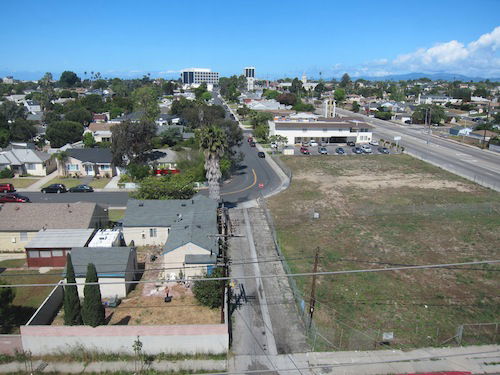 View from bedroom
The furnishings were reasonably well maintained, though of the quality you would expect at a Holiday Inn Express. My room had a mini fridge, though the door was open when I arrived, and as it turned out, wouldn't close. You'd think they would take a look at it at a certain point, though I guess it's not really a priority for them.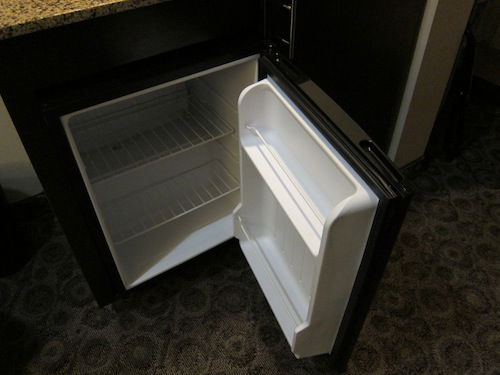 Fridge that wouldn't close
The wireless internet was pretty fast, and the following morning I went to their restaurant area for the infamous Holiday Inn Express breakfast. Now, I'm pretty sure I hit a new low in my life with my visit to the restaurant. Why? Because I took pictures of the breakfast spread at a Holiday Inn Express… for you guys. Man, the looks I got from the other guests for that. Anyway…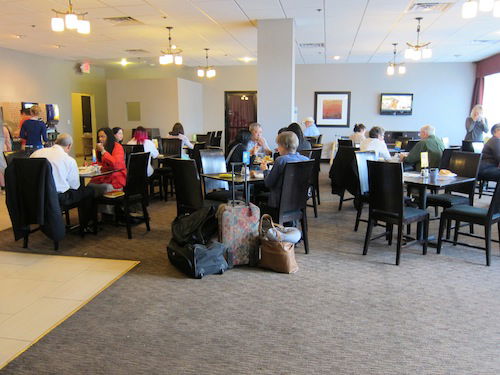 Breakfast area
This was my first time at a Holiday Inn Express in years. The lesson I learned is that their cinnamon rolls are delicious, while their omelets are indescribably nasty. I'm pretty sure their secret ingredient is battery acid.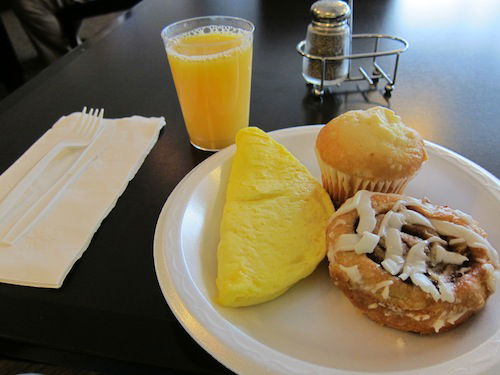 Breakfast
I headed back to my room where I tried to get some work done, though despite having the "do not disturb" sign up, housekeeping knocked on my door to see if I had checked out yet. I mean, I guess a lot of people leave the "do not disturb" sign out even after they check out, though it's still not appropriate to knock. Either communicate with the front desk to see if the guest has checked out, or at least wait till the published check-out time before knocking.
I ended up taking the 11:30AM shuttle to the airport, which dropped me off at Bradley Terminal. With that stay out of the way, I was ready for the real fun to begin.
While the hotel was fine, I probably wouldn't return. The Holiday Inn and Crowne Plaza share shuttles with other hotels, meaning shuttles run every 10 minutes or so. Since the Holiday Inn Express has their own shuttle, it only runs every 30 minutes and sometimes only on demand. I'd avoid the hotel for that reason alone. While the Crowne Plaza is far from luxurious, it's my preferred Priority Club property at LAX, I think. That being said, the Sheraton Gateway blows all of these hotels out of the water, as I'll review in a later installment, so now that I'm a Starwood Platinum I'll always be staying there.