After a morning swim at the Marina Bay Sands' amazing infinity pool, it was off to Changi Airport for my first Airbus 380 flight. Previously the Airbus 380 hadn't excited me all that much, though that was quickly changing.
After taking the 7:30AM shuttle from the Marina Bay Sands I got to Changi Airport terminal 1 shortly before 8AM.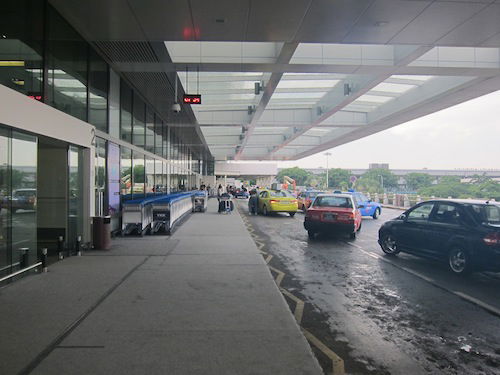 Terminal 1 exterior
Terminal 1 isn't nearly as impressive as terminal 3, though still fairly nice compared to most major airports.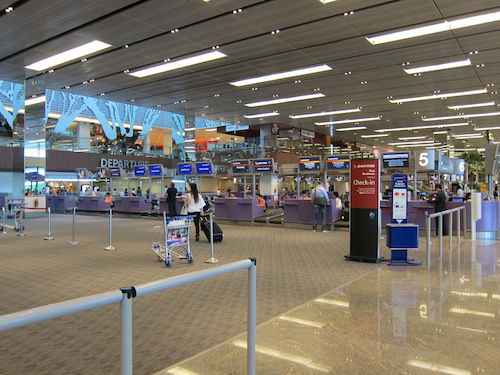 Terminal 1
While Qantas' check-in was located right by the entrance, it was for economy class only. Their first and business class check-in is handled in the SATS Premier check-in area, which is a private room with a priority immigration line.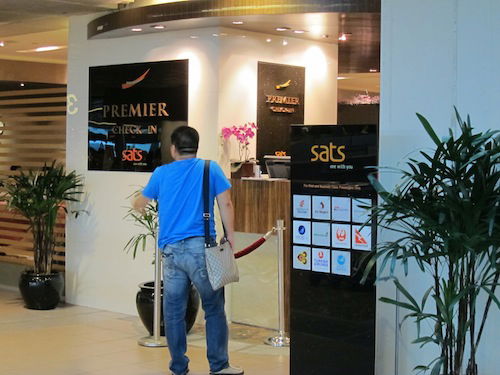 SATS Premier check-in
I was welcomed by the friendly agent and gave her my passport. After typing away for a few minutes she asked me whether I had a visa for Australia. Ugh, you've gotta be kidding me. I'm a moron. I've been to Australia before, and I darn well know about how easy it is to get a visa with them online. However it had totally slipped my mind, though fortunately they can still be issued at the airport.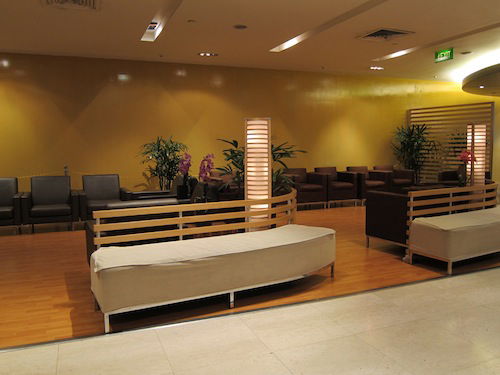 SATS Premier check-in
The agent asked for my credit card and walked away for about 10 minutes, returning with a receipt for about $70 (which is about triple the price of doing it online, if I recall correctly). Hey, I guess that's better than being denied boarding, and it was entirely my fault.
Moments later I had my boarding pass for seat 3A on the Airbus 380, and was given directions to the Qantas first class lounge.
I proceeded through immigration and five minutes later found myself in the first class lounge which is shared by British Airways and Qantas.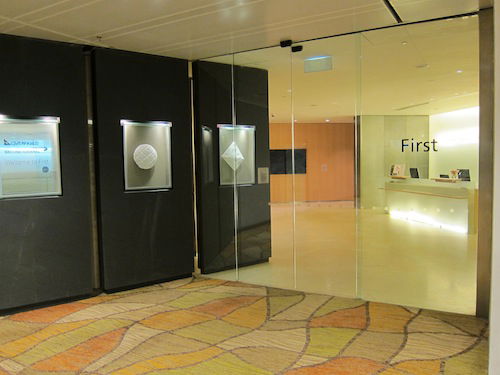 British Airways/Qantas first class lounge
The first class lounge was fairly large and quite nice for a non-flagship lounge. It featured plenty of seating and a decent buffet consisting of scrambled eggs, pastries, bread, cheese, yogurt, fresh fruit, muesli, etc.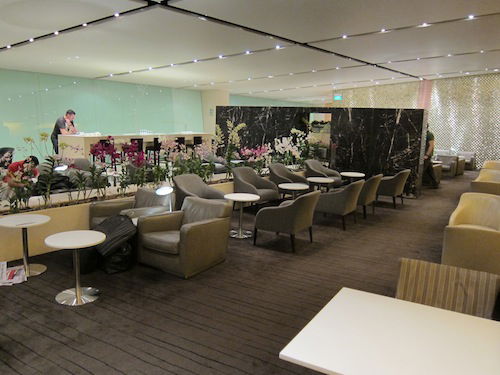 Qantas first class lounge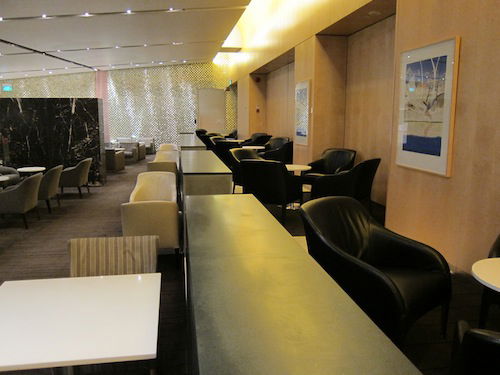 Qantas first class lounge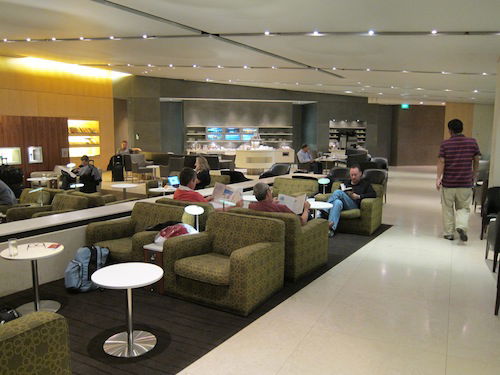 Qantas first class lounge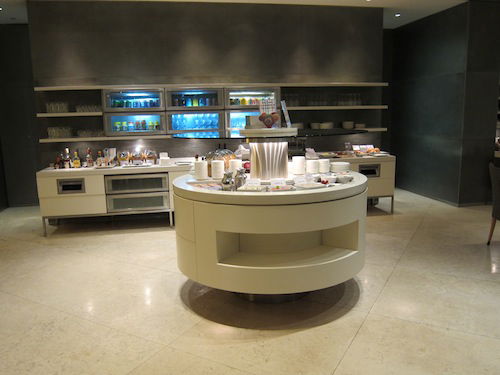 Buffet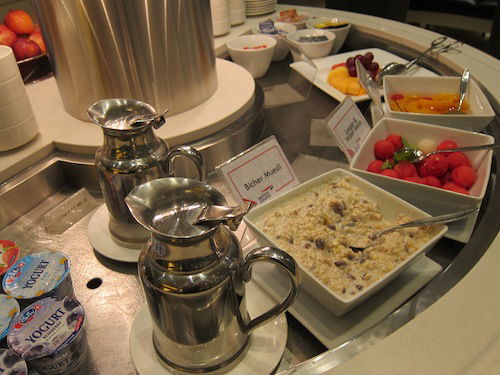 Breakfast selection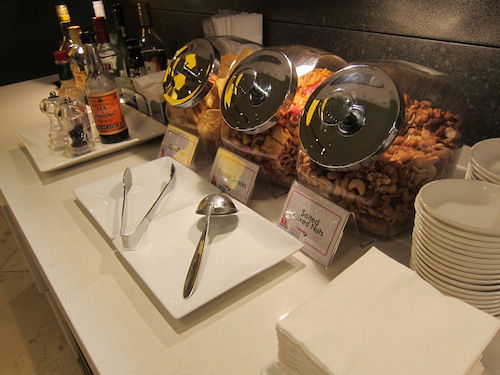 Snacks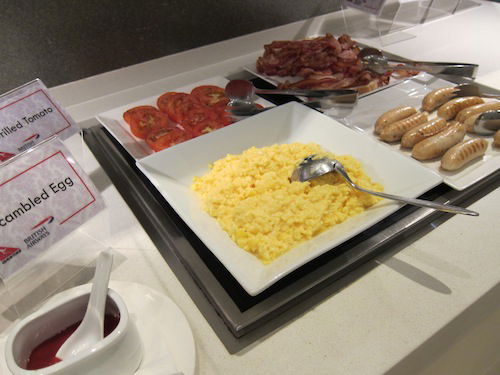 Scrambled eggs with all the trimmings
I spent the rest of my time in the lounge browsing the web and catching up on email. Boarding was scheduled to begin at 8:55AM, so I left the lounge at around 8:45AM. I could hardly contain my excitement.
It took about 10 minutes to walk to gate 23, which would be my departure gate to Sydney. Terminal 1 isn't as grand as terminal 3, though still has some very nice upscale duty free shopping and plenty of amenities. I wasn't paying a whole lot of attention, as the Airbus 380 kept my mind occupied. I'm pretty sure I was salivating the whole way to the gate.

Terminal 1
At Changi Airport security is at each individual gate, so I used the premium security line to get through in no time.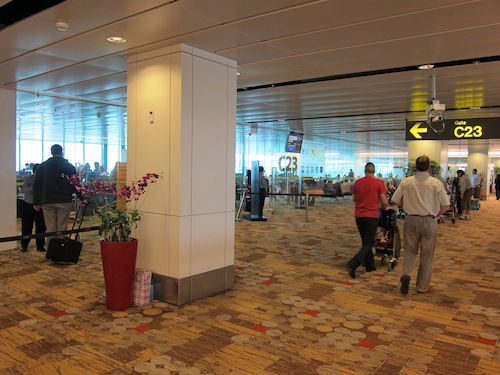 Gate security
Once through security, my boarding pass was scanned and I was in the gate area, face to face with the beast for the first time.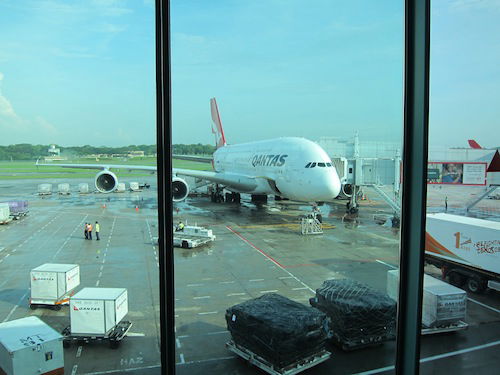 There she is!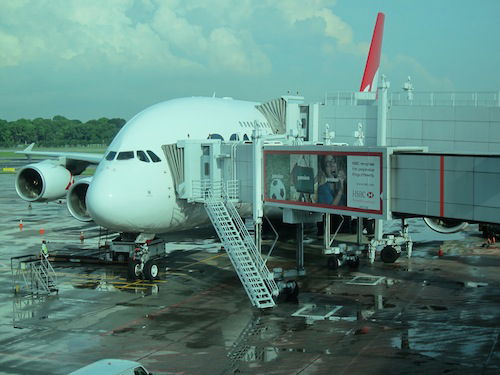 From another angle
While the gate area was huge, I was surprised there weren't more people, given that we're talking about the Airbus 380, after all.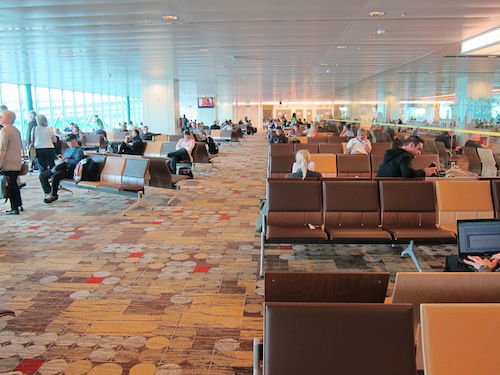 Gate area
Boarding didn't start for about 15 minutes, which had to be the longest 15 minutes of my life. My excitement could only be compared to a tween girl waiting in line to meet Justin Bieber. Seriously.
At 9:10AM first and business class boarding was called, and on I went.
One of the interesting things about the Airbus 380 is that on Qantas, first class is on the lower deck while business class is on the upper deck. So the plane has three jet bridges — one for first class, one for business class and premium economy, and one for economy. As the lines start to separate, economy and first class are in the same line (since both are on the lower deck), while business class and premium economy are in the same line.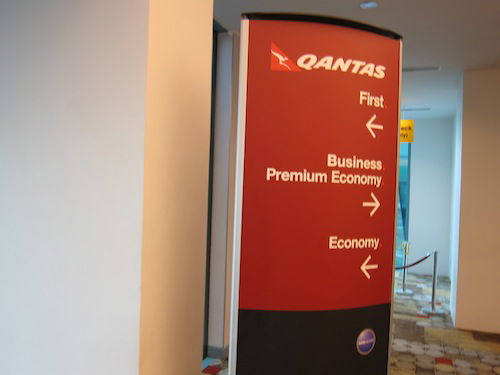 Signage
Qantas Airways 32
Singapore (SIN) – Sydney (SYD)
Saturday, May 21
Depart: 9:40AM
Arrive: 7:20PM
Duration: 7hr40min
Aircraft: Airbus 380
Seat: 3A (First Class)
Once down the first class jet bridge I was asked for my boarding pass and directed to my seat, 3A.
I can't even say how blown away I was by the Airbus 380 at first sight. It's in a totally different league. The entrance way was so spacious, with "grand" stairs leading to the upper deck (compared to the 747, where the stairs are cramped), and the forward galley was the size of a regional jet.
Qantas' first class cabin is in a 1-1-1 configuration, with a total of 14 first class suites.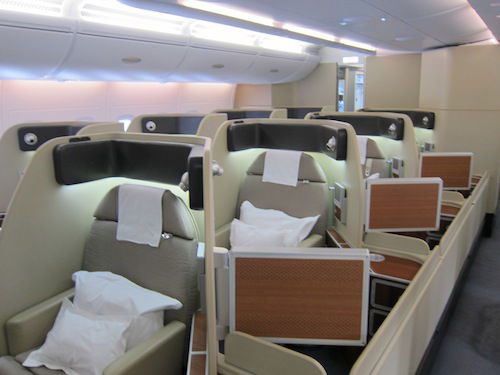 First class cabin
On the surface Qantas' suites don't look that impressive compared to the likes of Singapore's "Suite Class" on the Airbus 380 or even Emirates, because they're not fully enclosed. But I'd argue that they combine the best of both worlds. The seats are private without being confined. You'll notice in the picture above that the seats are fairly "exposed," but after takeoff a wall goes up for the center suites, making it totally private. Therefore I recommend sitting on the left side of the plane, since the right side of the plane shares the aisle with the center seats, while the left aisle does not.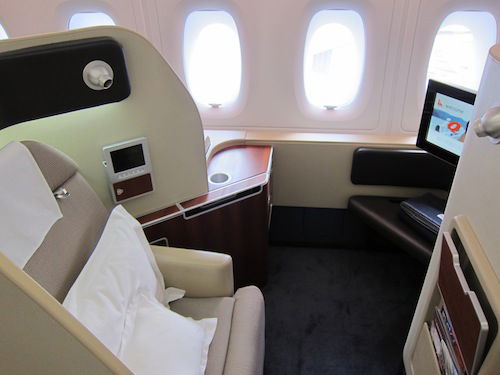 My seat, 3A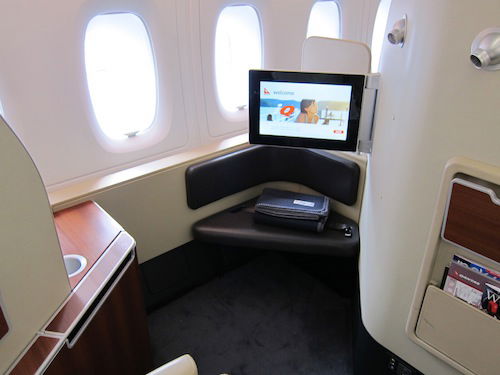 View from my seat, 3A
The suite is designed with just about everything in mind. It has a huge, comfortable chair, great legrest, perfectly sized TV screen, plenty of storage, a monitor with which you can control your seat, a fold out table, and even a cup holder.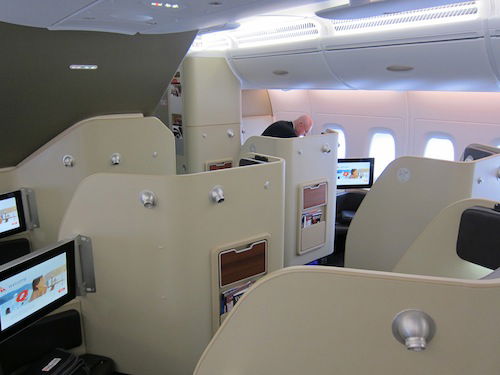 View from my seat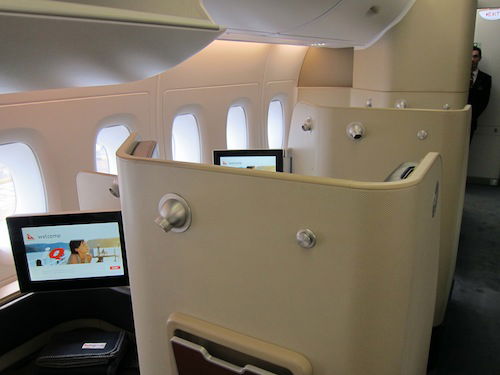 Rows one and two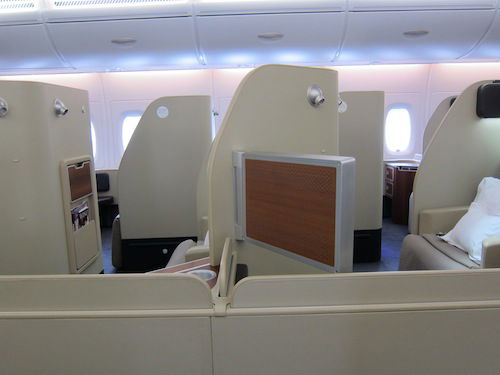 Looking right from my seat (before the privacy shield was put up)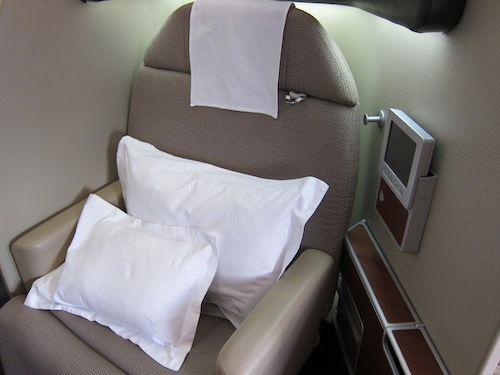 Seat with two pillows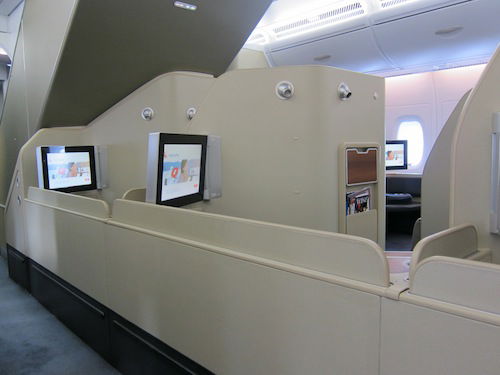 Staircase
It's also worth noting that the overhead bins on the Airbus 380 are truly massive.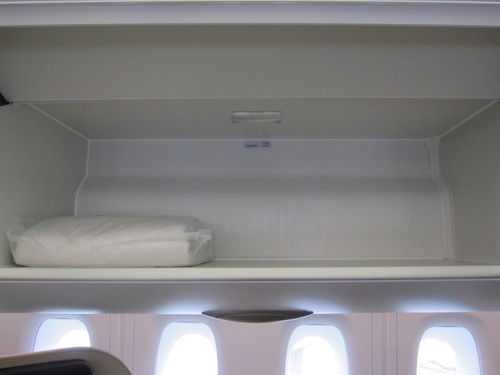 Overhead bin
As soon as I was settled in one of the very friendly flight attendants introduced her and her two colleagues that would be taking care of me, and explained to me the features of the seat. She offered me a beverage to "get [my] flight off to a good start," and I went with the obligatory champagne.
After essentially insisting that I inspect the bottle, she brought out a glass, lowered my fold out table, and poured me a glass. "Please enjoy, Mr. Lucky," she said.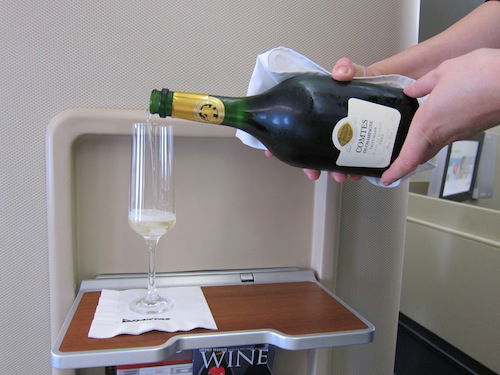 1999 Taittinger Comtes de Champagne
Once the champagne was served I was offered an amenity kit and set of pajamas (large). I love the bow they had around them.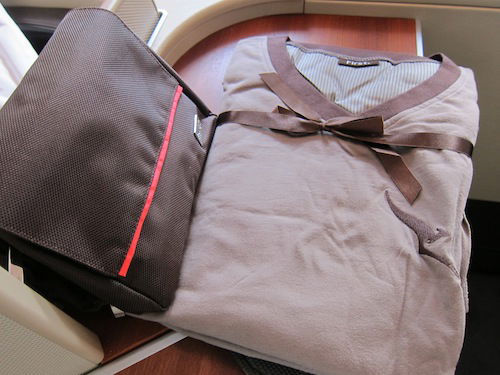 Pajamas and amenity kit
I headed to the lav to change into them immediately.
Unfortunately, Qantas' first-class lavs aren't as extravagant as Emirates', which feature showers, or Lufthansa's, which feature a massive bathroom, though it was fine nonetheless. One of the cooler features was that it had a window, though when you locked the door the window became tinted.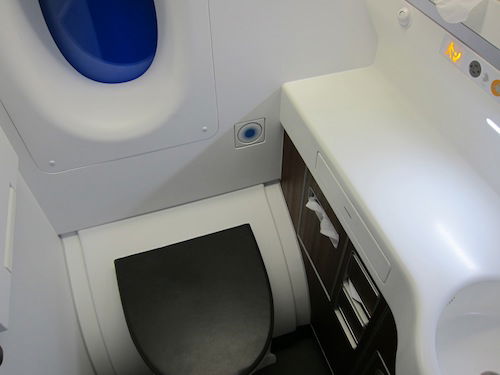 First class lavatory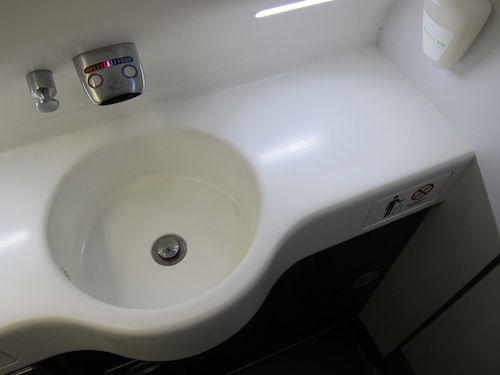 Sink
Once settled back in I was offered newspapers and magazines. I requested The Straits Times, since a friend had mentioned to me that there was an article about Singapore vs. Qantas in there, so it only seemed fitting.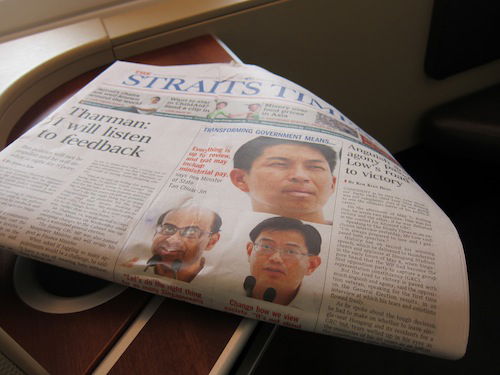 Newspaper
As boarding continued the flight attendants were relentless when it came to keeping my champagne glass full, which is always much appreciated.
Next Australia landing cards along with fast track passes were distributed, followed by hot towels.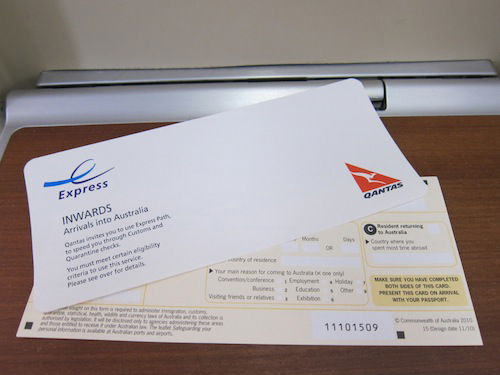 Landing card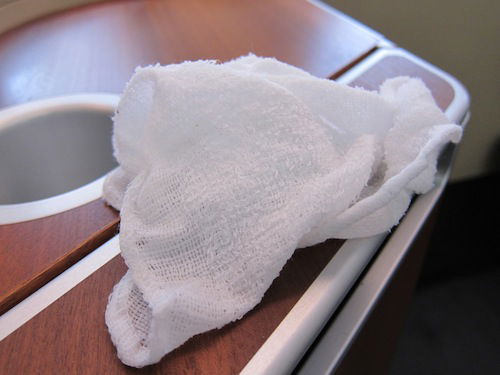 Hot towel
As boarding finished up the captain came on the PA to welcome us aboard and advise us of our flight time of 7hr10min. There's a certain amount of confidence and pride in the voice of an Airbus 380 captain. I suppose being at the controls of a plane that's referred to as a "super heavy" is a natural viagra of sorts for some.
I started to play with the seat controls and also entertainment system, and quickly discovered my favorite feature of this airplane — SkyCam. The plane has a camera mounted on the tail of the plane which you can watch at any time. I love playing flight simulator, so this is kind of like that, except a million times cooler. Literally.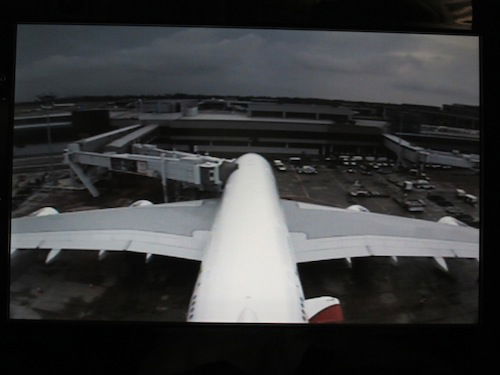 SkyCam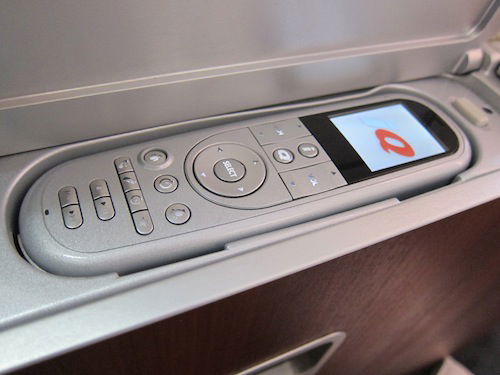 Entertainment control
As we began our pushback the safety video started playing, which includes an intro by John Travolta. While I think he's a bit of a nut, I really liked the intro, and thought it was attention grabbing. I'm a firm believer that anything airlines can do to grab peoples' attention when it comes to safety is a good thing, since people otherwise just ignore the videos.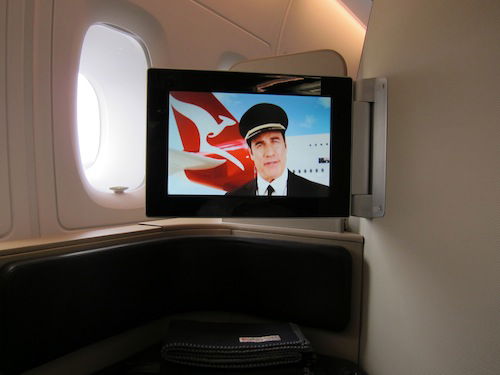 Safety video
Here's a link to the video:
I didn't know until after landing and researching the video a bit more that it has actually caused a bit of controversy among crew members, who find it to be a bit of a mockery of safety. I've gotta disagree there.
As we pushed back and started our taxi, I was in shock that we were moving, because the engines were so quiet. The Airbus 380 is so much quieter than any other plane you might be used to, that you almost feel like you're not flying.
The first-class seats have a shoulder harness that has to be worn for takeoff, so I put on my shoulder harness and watched the SkyCam. While Qantas activates their entire in-flight entertainment on the ground, there's nothing I'd rather watch than the plane in action.
The coolest part had to be that we were following out a Singapore Airlines A380 to the runway. Talk about a show!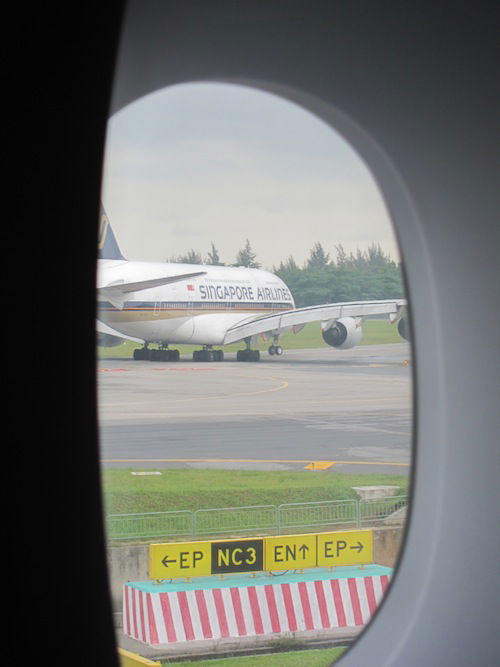 Singapore A380 we were following
One of the downsides of first class on the Airbus 380, if you can even call it that, is that the seat is so far from the window that you have no chance in hell of looking outside without some serious camera zoom. The SkyCam more than makes up for that, though.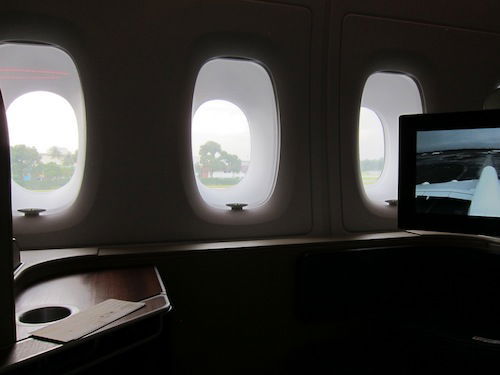 Distance from the windows
After a very short wait, we lined up on runway 20C, held for about a minute, and then rocketed off. I was surprised by how quickly the Airbus 380 gets airborne. We had well over a third of the runway remaining.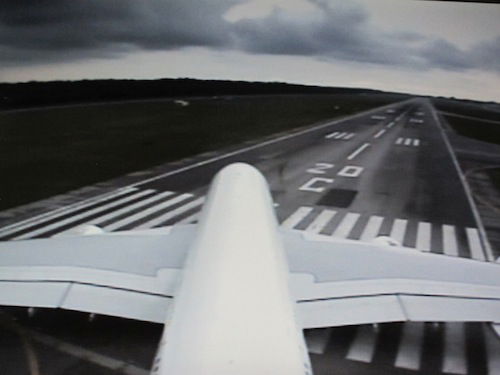 Lining up, runway 20C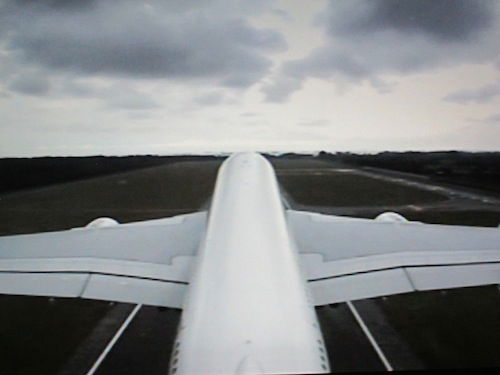 Airborne!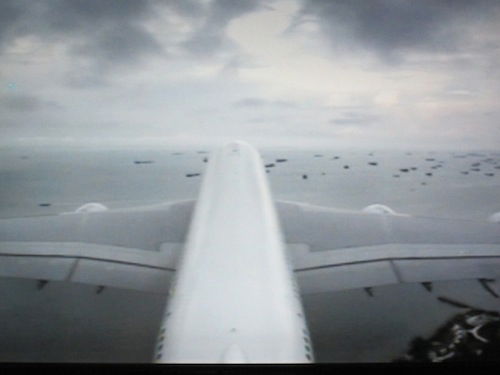 On climb out
As soon as we were airborne I reclined my seat and started playing with the seat control monitor, which controlled everything from the privacy shield to the recline of the seat to the lighting to the window shades.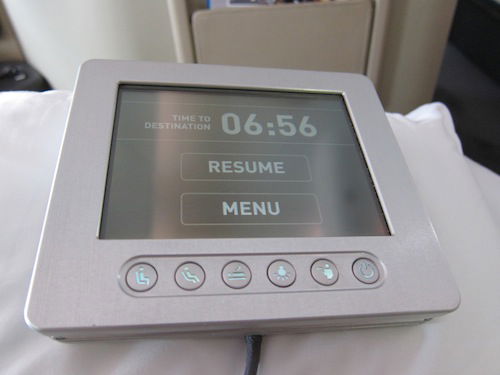 6hr56min to go!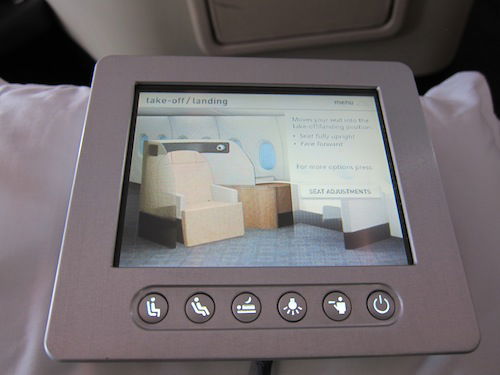 Seat controls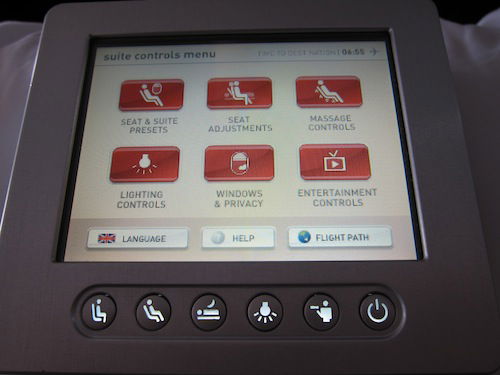 Seat controls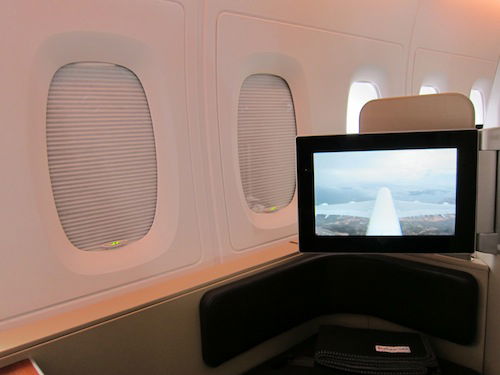 Window shades
Just for fun I reclined my seat all the way, though with no intention of actually sleeping.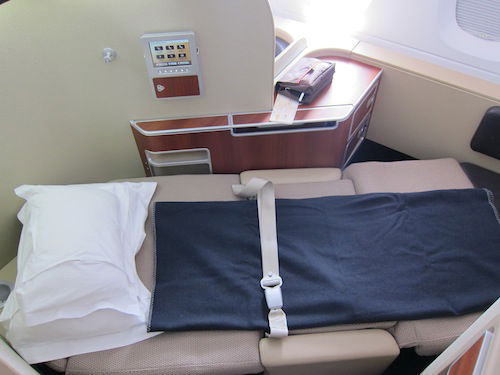 Flat bed
About ten minutes after takeoff the seatbelt sign was turned off and the crew sprung into action, starting with them closing all the curtains and raising all the privacy shields. The customer service manager, Andrew, introduced himself to each passenger and offered us the menus for the flight, inviting us to dine at our leisure.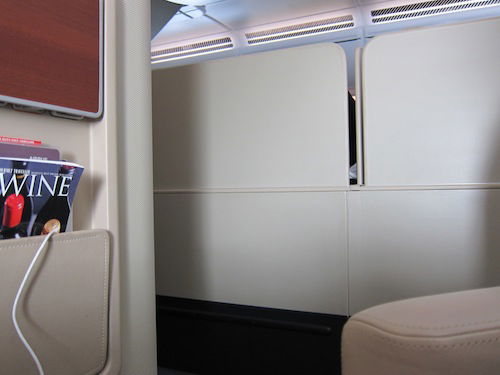 Privacy shield raised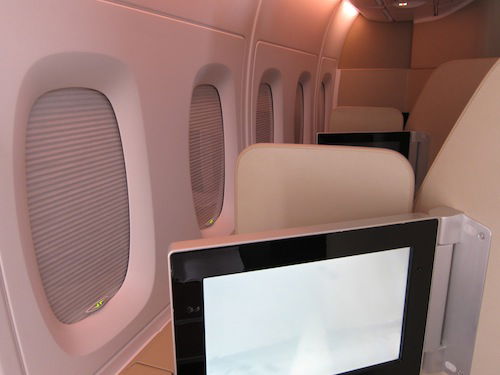 Privacy shield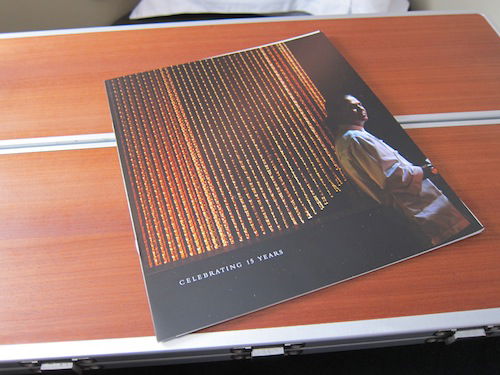 Menu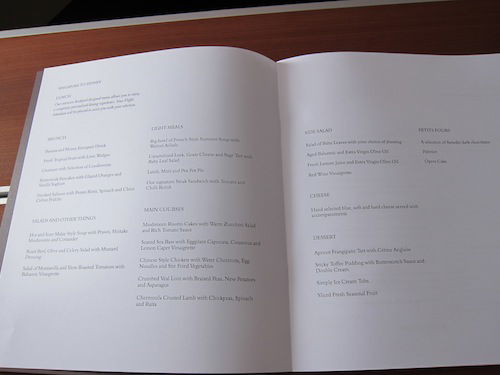 Extensive menu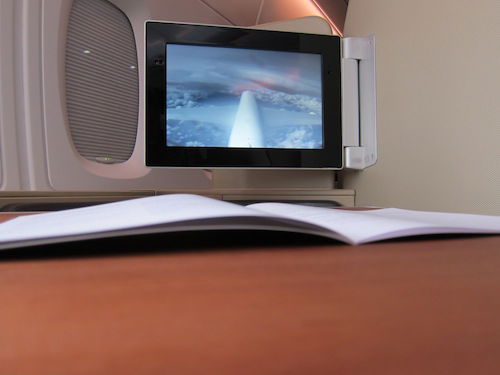 Dining with a view
The flight attendant working my aisle walked by shortly to take drink orders. I went with a Diet Coke with lemon (I've come to terms with the fact that there's no such thing as lime on non-US airlines), which was served to me a few minutes later with a small plate of almonds.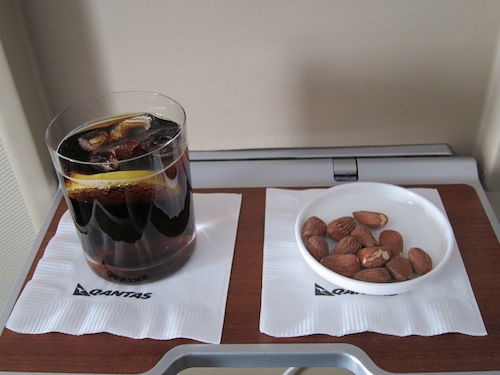 Diet Coke with lemon and almonds
As I mulled over the menu I decided that Qantas has one of my favorite menus in the sky. It's not the best in the traditional sense of having caviar and the "normal" first class food, but the variety of options was better than what I've seen on any other airline. You could have as much as you wanted of whatever you wanted in whatever order. While most airlines allow you to "dine on demand," Qantas actually has a menu which is conducive to that.
For example, on most flights of this length, airlines would have a formal "main meal service," and maybe a "light snack" before landing. Qantas, on the other hand, has a "brunch" menu, "salad and other things" menu, "light meals" menu, "main courses" menu, "side salad" menu, "cheese" menu, and "dessert" menu. So it totally lacked structure, which I thought was awesome. Feel like having pancakes? Done. Fancy lamb? Good news, Mary has one!
The menu read as follows:
Singapore to Sydney

LUNCH
Our extensive Rockpool-designed menu allows you to enjoy a completely personalized dining experience. Your Flight Attendant will be pleased to assist you with selection.

BRUNCH

Banana and Honey Energiser Drink

Fresh Tropical Fruit with Lime Wedges

Croissant with Selection of Condiments

Buttermilk Pancakes with Glazed Oranges and Vanilla Yoghurt

Smoked Salmon with Potato Rosti, Spinach and Chive Creme Fraiche

SALADS AND OTHER THINGS

Hot and Sour Malay Style Soup with Prawn, Shiitake Mushrooms and Coriander

Roast Beef, Olive and Celery Salad with Mustard Dressing

Salad of Mozzarella and Slow Roasted Tomatoes with Balsamic Vinaigrette

LIGHT MEALS

Big bowl of French Style Summer Soup with Walnut Aillade

Caramelised Leek, Goats Cheese and Sage Tart with Baby Leaf Salad

Lam, Mint and Pea Pot Pie

Our signature Steak Sandwich with Tomato and Chilli Relish

MAIN COURSES

Mushroom Risotto Cakes with Warm Zucchini Salad and Rich Tomato Sauce

Seared Sea Bass with Eggplant Caponata, Couscous and Lemon Caper Vinaigrette

Chinese Style Chicken with Water Chestnuts, Egg Noodles and Stir Fried Vegetables

Crumbed Veal Loin with Braised Peas, New Potatoes and Asparagus

Chermoula Crusted Lamb with Chickpeas, Spinach and Raita

SIDE SALAD

Salad of Baby Leaves with your choice of dressing

Aged Balsamic and Extra Virgin Olive Oil

Fresh Lemon Juice and Extra Virgin Olive Oil

Red Wine Vinaigrette

CHEESE

Hand selected blue, soft and hard cheese served with accompaniments

DESSERT

Apricot Frangipane Tart with Creme Anglaise

Sticky Toffee Pudding with Butterscotch Sauce and Double Cream

Simply Ice Cream Tubs

Sliced Fresh Seasonal Fruit

PETITS FOURS

A selection of Amedei dark chocolates

Palmier

Opera Cake
And for those of you interested in the wine list, here it is:
WHITE WINE

Tappanappa Tiers Vineyard Chardonnay 2008
Piccadilly Valley, South Australia

Pewsey Vale Vineyard Pinot Gris 2009
Eden Valley, South Australia

Grossed Semillon Sauvignon Blanc 2010
Clare Valley, South Australia

RED WINE

Penfolds St Henri Shiraz 2004
McLaren Vale and Barossa Valley, South Australia

Spring Vale Melrose Pinot Noir 2010
Tasmania

Mount Mary Vineyard Quintet Cabernet 2006
Yarra Valley, Victoria

DESSERT WINE

De Bortolli Noble One Botrytis Semillon 2007
Riverina, New South Wales
Not too shabby, if you ask me!
After a round of nuts my meal order was taken, followed by another round of hot towels and my table being set (with great precision). The first class suite has a huge table, since it's designed for two people to dine together, with one person on the ottoman.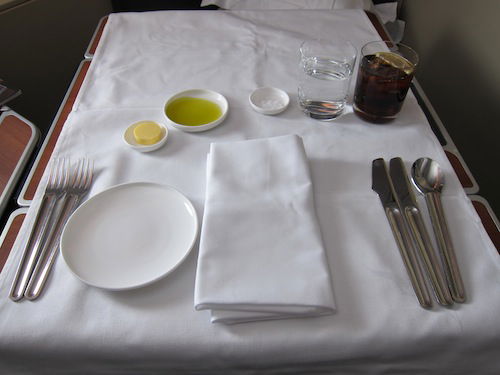 Table setting
For the first course I went with hot and sour soup, along with some sliced bread from the bread basket (the options were white or some sort of wheat).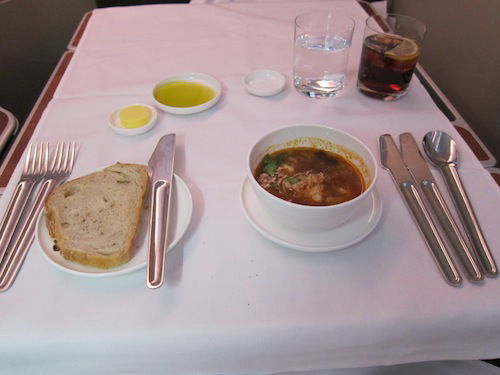 Hot and sour soup Malay style soup with prawn, shiitake mushrooms and coriander
For the next course I had the roast beef and celery salad, which was very tasty. It took a while for it to be served, though I'm guessing the leisurely pace of the meal was intentional.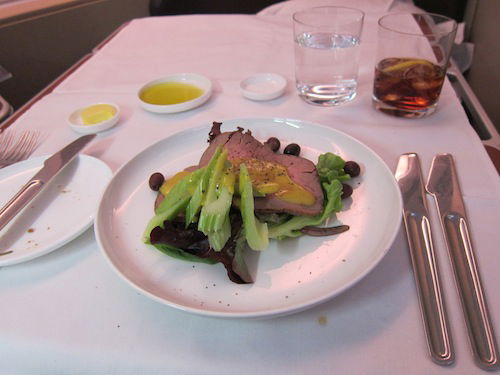 Roast beef, olive and celery salad with mustard dressing
For the main course I went with the mushroom risotto cakes, which were also very good. It was served with a side salad with vinaigrette.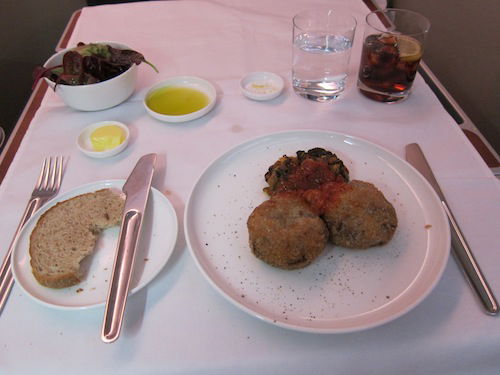 Mushroom risotto cakes with warm zucchini salad and rich tomato sauce
For dessert I had the toffee pudding with a White Russian.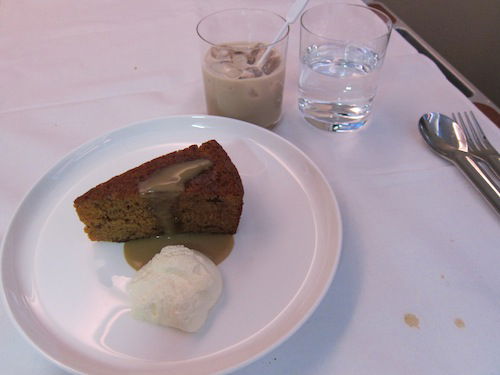 Sticky toffee pudding with butterscotch sauce and double cream
The meal service finished off with being offered a praline and bottle of Evian water, which was placed on my fold out table.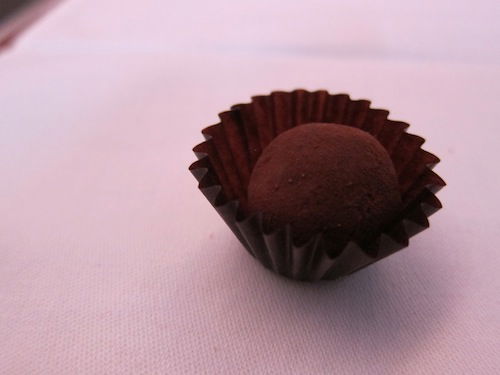 Praline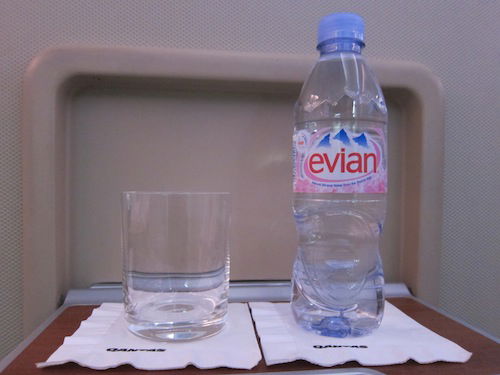 Water
On the whole it was one of the most enjoyable in-flight meals I've had. No, it wasn't a nonstop circus of Dom and caviar, but the food was tasteful and well presented. Being able to watch the tail of my "restaurant" on SkyCam the whole flight didn't hurt either. 😉
After breakfast it was time to start working off those calories, so I decided to go for a walk to the upper deck.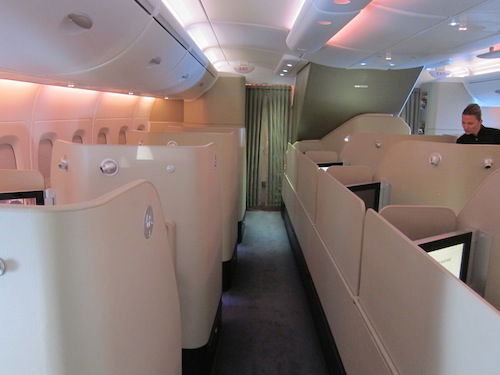 First class cabin
I went to the forward galley area, where the staircase is located. There are a few things worth noting about this. First of all, the flight attendants work out of the galley behind first class, so if you're in row one or two, you have virtually no foot traffic. The forward galley just seems to have some carts that aren't used a whole lot (maybe duty free). It's a huge free space, and features the two first class bathrooms.
As far as the cockpit goes, it's interesting to note that the entrance door is on the lower deck, and they have something that makes this plane especially "safe" — you have to pass through two doors to access the cockpit. The first door leads you up a few stairs, and then on the right side are their sleeping quarters. Then that second door leads to the cockpit. So I'd say that adds to safety quite a bit.
One more thing that's interesting about the flight attendants — those that work the Airbus 380 work just the Airbus 380. That's right, they don't do any other flying. Out of both Melbourne and Sydney, Qantas flies the Airbus 380 to Los Angeles and Singapore, which are the only destinations these crews fly to. Qantas also has two Airbus 380 flights a day from Singapore to London, which are staffed by their London based crews. So while you lose the excitement of always having a new destination, you have some regularity in your schedule, and as one of the flight attendants told me, "they know me at the Starbucks next to our hotel in Singapore."
Anyway, I headed up the rather grand staircase to the upper deck, which first leads to the business class lounge.

Staircase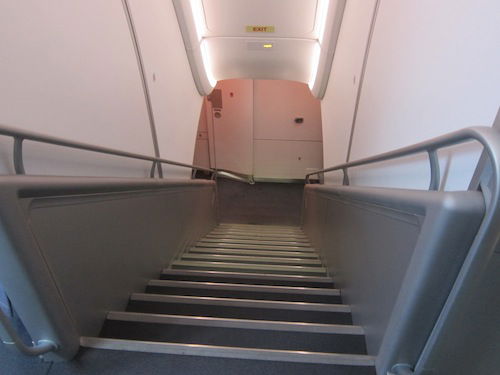 Staircase looking down
The business class lounge features two couches that seat maybe five people, along with a large TV on which you can view the Airshow or anything else. There's also a magazine rack with over a dozen magazines.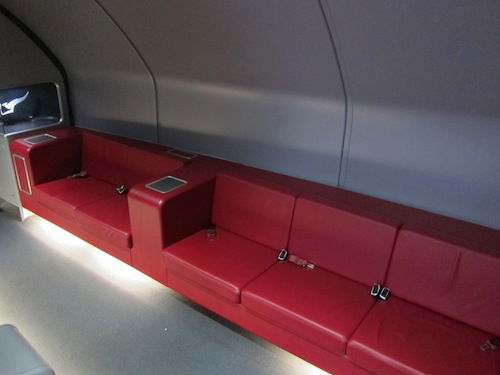 Business class lounge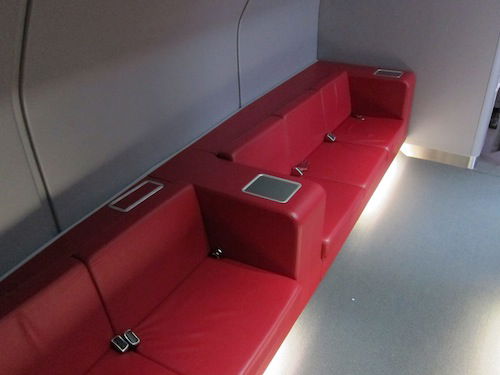 Business class lounge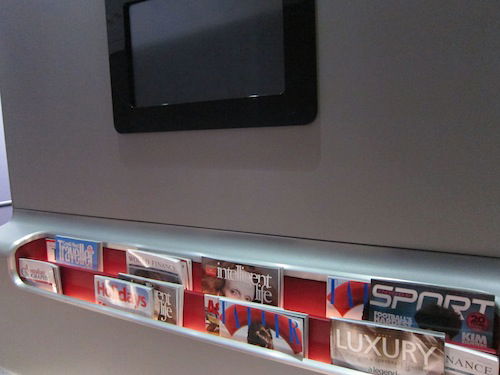 Magazines and TV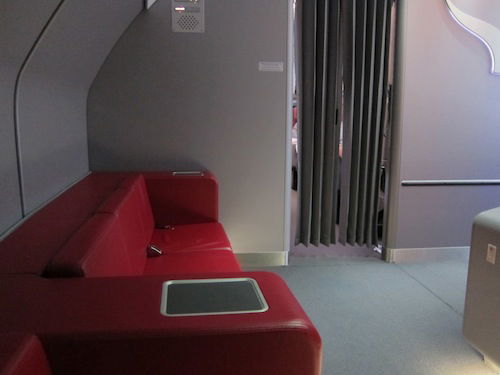 Business class lounge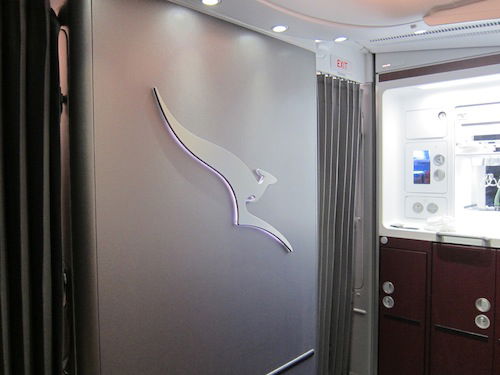 Logo
There's also a fridge with a fairy limited drink and snack selection.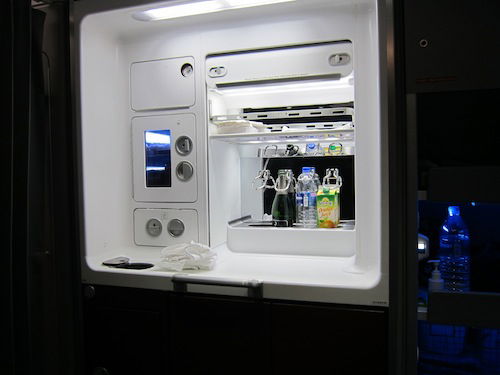 Self service area
Despite some evil glares due to my first class pajamas, I made a quick trip around the upper deck. There are three business class cabins, followed by a premium economy cabin at the back of the upper deck. They looked very nice, though certainly not as "exclusive" as a business class cabin on a smaller aircraft, thanks to the number of seats. Still, I would take the Airbus 380 any day.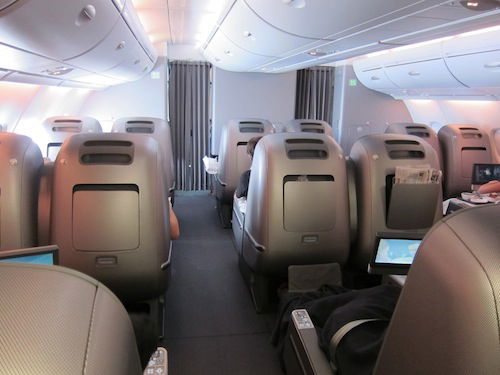 Business class
After the workout I was so exhausted that I needed to sleep. 😉
I asked the flight attendant if she could make my bed, and five minutes later pure sleep heaven was waiting for me. Qantas has an all around great first class product, though hands down the best part of the experience is the bedding. I've flown a lot of airlines with a lot of great bedding, though first class on Qantas had the most well cushioned mattress pad of any airline I've ever flown on. No exaggeration, I thought I was in a real bed with a thick mattress and great duvet (which on Qantas happens to be New Zealand sheepskin, by the way).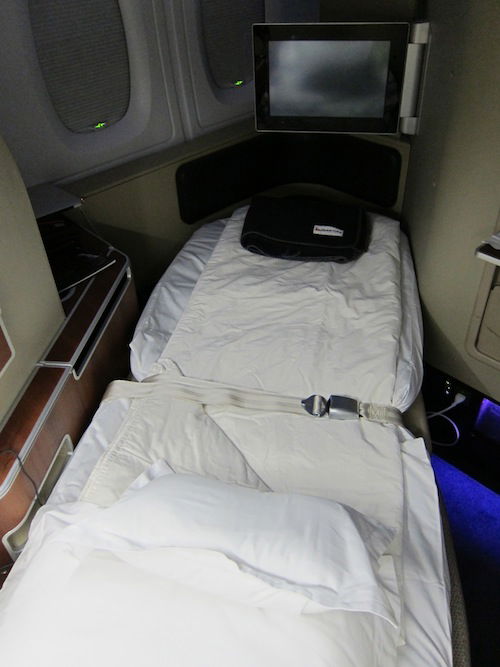 Bed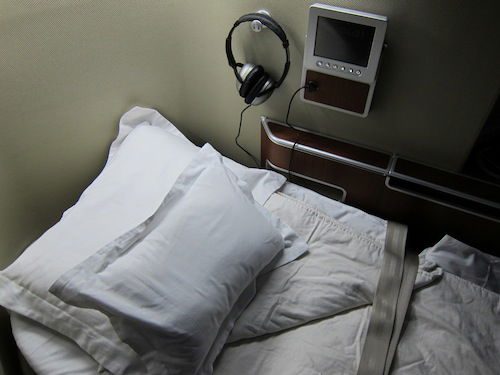 Zzzzzz….
I was exhausted, though not tired yet, so decided to watch a few episodes of "Curb Your Enthusiasm." The show is so predictable, though never gets old.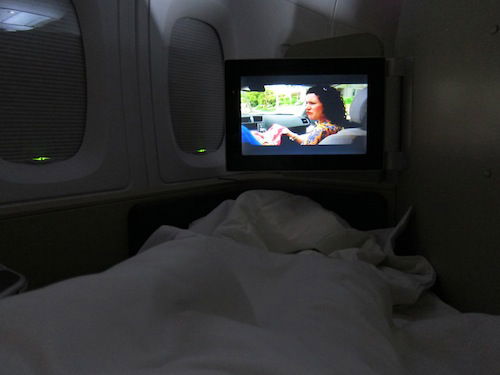 If only I could always watch TV as comfortably
Seeing as I wasn't sleeping, the flight attendant came by and brought me another bottle of water and asked if I wanted something else. I ordered some ice cream, and was offered coconut or strawberry. I went with coconut, which was tasty.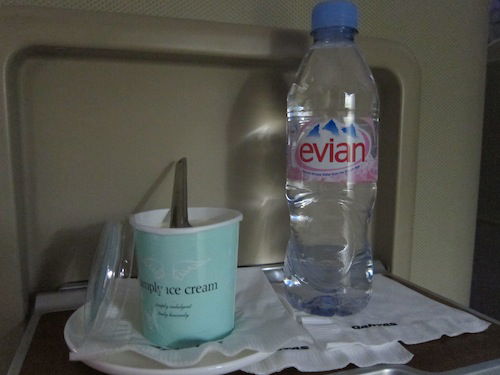 Coconut ice cream
At this point we had about four hours to go to Sydney, and I ended up losing the battle with my bed and fell asleep for about two hours.
I watched "Miranda," a BBC sitcom, which kept me fairly entertained.
About an hour out of Sydney I decided to order a pre-arrival snack, since I knew this would be my "dinner," and I'd likely end up hungry otherwise later on. I ordered the steak sandwich, which I had heard so much about, and I'll just say that it certainly lived up to its reputation.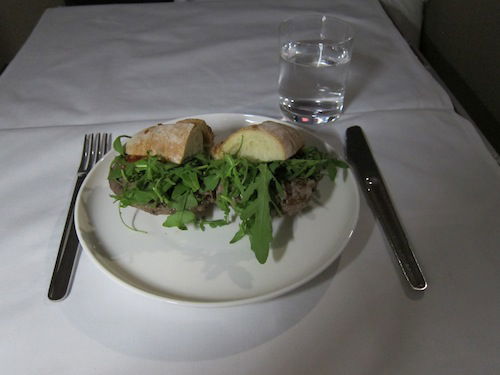 Signature Steak Sandwich with Tomato and Chilli Relish
Half an hour before landing the captain came on the PA to advise us we were beginning our descent into Sydney.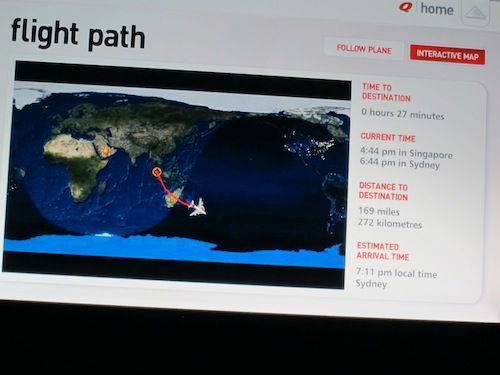 Airshow
As the flight attendants started preparing the cabin for landing, the customer service manager came around to say goodbye to all the first class passengers. About ten minutes before landing the seatbelt sign was turned back on, at which point I switched on the SkyCam so I could view the approach and landing.
The touchdown was smooth as could be, generally fitting into the "am I really in an airplane theme?" of the flight.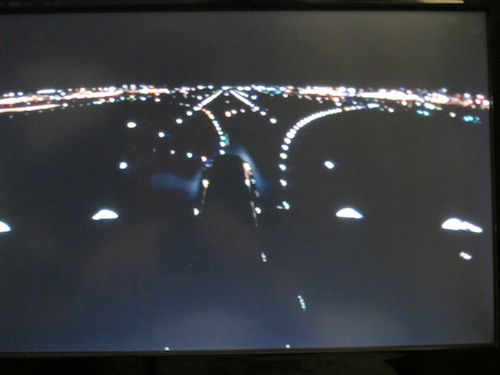 Touchdown
Our taxi to the gate took about five minutes, though for all I cared it could have taken hours, because I was watching the camera in pure amazement.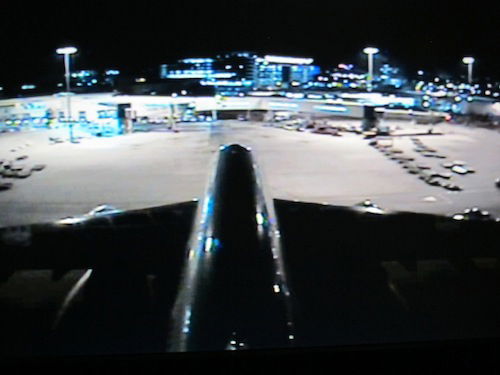 Taxiing to our gate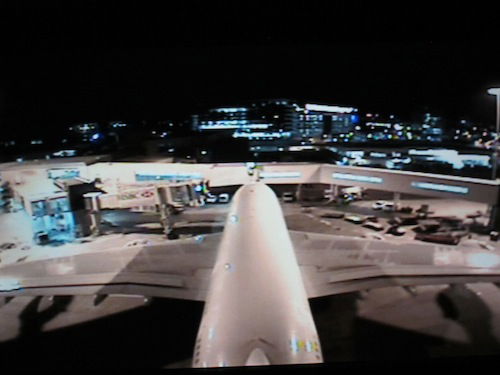 And we made it!
The crew lined up at the door to bid their farewell, and we deplaned through door 1L in no time. There were no queues at immigration and my checked bag made it within a few minutes, so 10 minutes after the aircraft door opened I found myself outside the terminal, trying to find the shuttle for the Holiday Inn. Talk about a buzz kill…
This was quite honestly one of the best flights of my life. Before flying the Airbus 380 I never appreciated what made it different. I figured it was just another plane, but it's not. Every aspect of this flight was great, and I was already looking forward to my 23-hour journey on the Airbus 380 from Melbourne to Singapore to London a few days later.