Usually I have no problem staying at Holiday Inns, though staying at an airport Holiday Inn right after getting off a Qantas first class Airbus 380 flight (and paying $220 for the privilege, no less), sucks. Why did I stay at the airport instead of the city? Well, it was the last weekend of May, and I needed one more night for Priority Club's "Crack the Case" promotion, which would be ending a few days later. It was my last opportunity to earn close to 100,000 Priority Club points, so it seemed worthwhile. All the Priority Club hotels downtown were at least double the price, so I figured I'd suck it up and use the points I earn through the promotion for a nice hotel somewhere.
My ultimate destination was Melbourne, so I would be leaving from Sydney to Melbourne the following afternoon. My plan was to go into the city the following day for a few hours, and then take the train back and head to the airport in time for my flight.
The first challenge was trying to find a shuttle to the hotel. In the US we take free airport hotel shuttles for granted. In many parts of the world that's totally unheard of.
I was told to go to some obscene corner of the airport and wait there, though nobody seemed to know what shuttle I needed to take. As it turns out the only way to get to the hotel is using Super Shuttle, which I believe was $6.
The issue is, it took over 30 minutes for a shuttle to arrive, and for the first 15 minutes I was waiting by myself. In the dark. Did I mention I'm scared of the dark?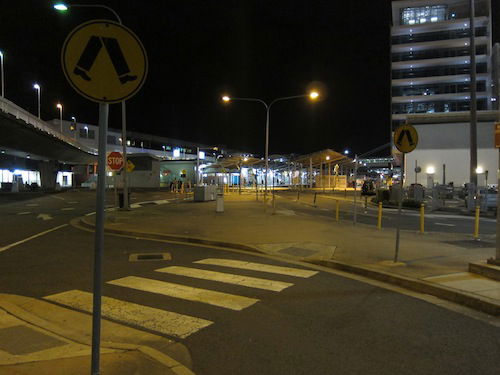 Waiting…
Eventually, I was joined by an Australian couple that was on my flight from Singapore. They engaged me in conversation, talking about how massive the Airbus 380 is. They continued with "but didn't it just feel a bit cramped with so many seats?" I hate disagreeing with people I don't know, so with a smirk I simply responded with "yeah, I thought it was pretty cramped too." What they don't know can't hurt them. 😉
After 30 minutes the Super Shuttle driver showed up. Now, I've taken Super Shuttle a few times before in the US, and while the drivers are typically pretty friendly, they're almost always telling me how they're one speeding ticket away from having their license suspended, which is the reason we're being passed on the interstate by the 95 year old couple that just had the 3PM early bird special at Cracker Barrel.
Anyway, this guy was probably the rudest douche I've ever witnessed, and that's putting it nicely. He damn near interrogated everyone that got in "his" shuttle, and yelled at us till we complied with his every order. We all had to write our names on his sheet agreeing to pay the amount, which we would be charged at check-out.
We stopped at a few hotels before making it to the Holiday Inn.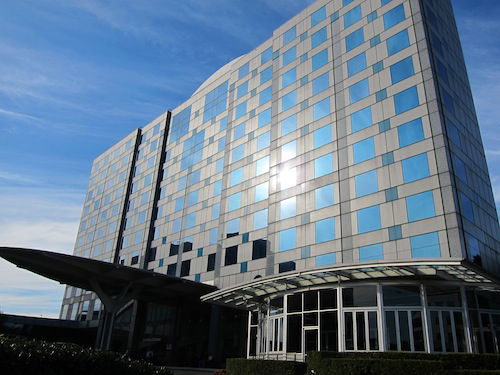 Holiday Inn Sydney Airport
The lobby was quite nice for an airport Holiday Inn, and I was promptly helped at check-in. The agent informed me with great pride that I had been upgraded to a "superior" room on account of my Platinum status. If you're a regular blog reader you may recall what I find to be the three most worthless words in the hotel industry — contemporary, superior, and deluxe.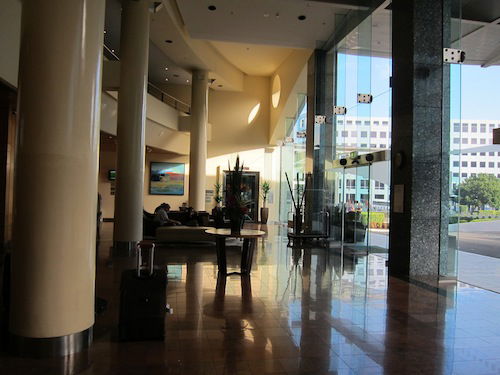 Lobby
I headed up to my "superior" room on the top floor.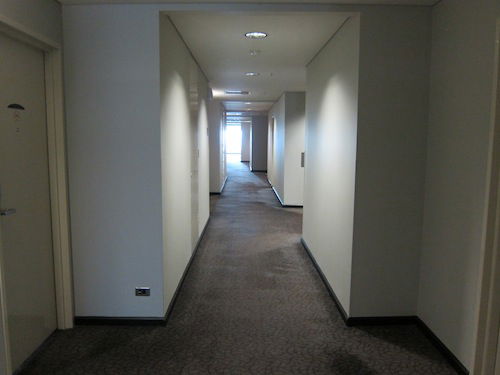 Hallway
Interestingly, the picture below makes the room look nicer than it is. Right at the entrance was a bathroom, leading into the actual room which featured a queen size bed, desk, and single chair.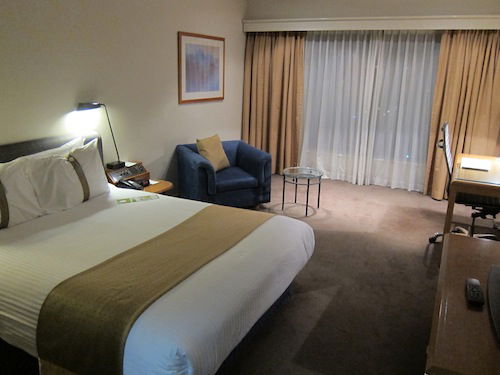 Superior room
I was happy to find out what made this room "superior." See in the picture above how the chair is maybe three feet from the wall? I'm guessing that's what makes this room "spacious," as they use that word to describe a superior room but not a standard room.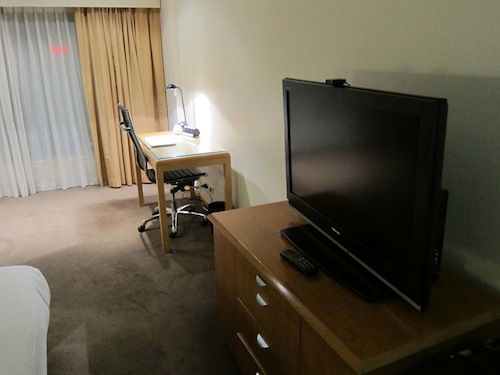 TV and desk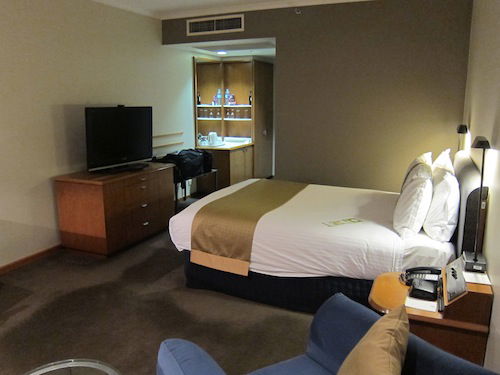 Room for the other side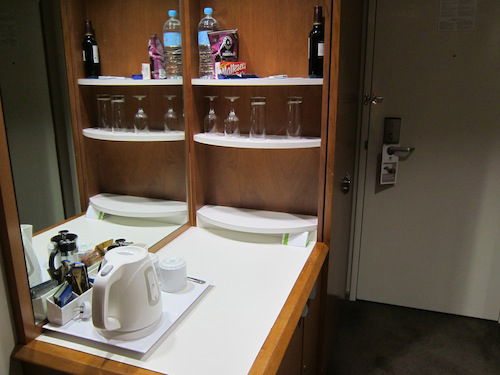 Table/minibar by the entrance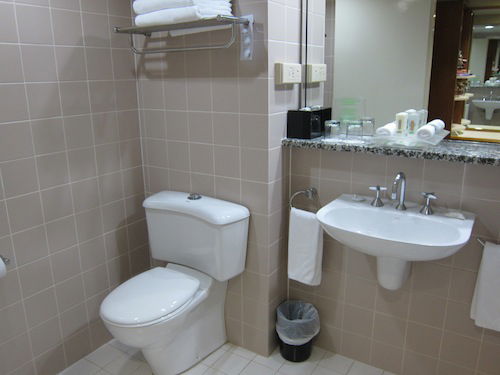 Bathroom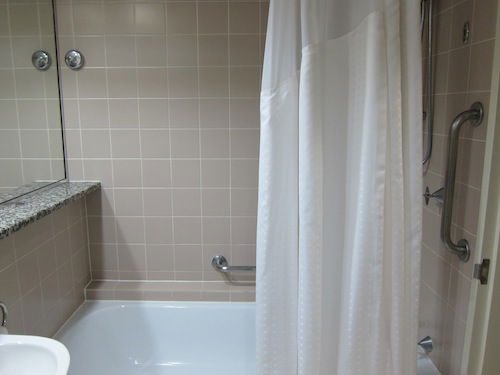 Shower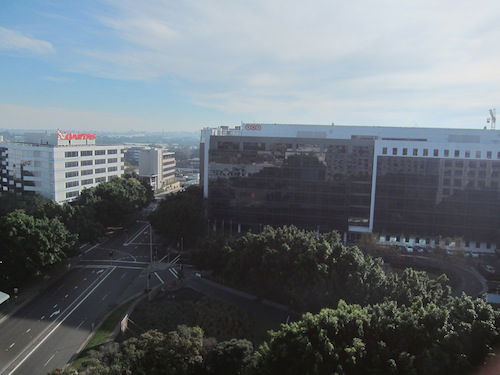 View from my room
By the time I got to my room I was fairly tired, so I spent a bit of time trying to catch up on email. The hotel offers free wireless internet, though only 200MB worth. Now, I'm no tech guy, so I have no clue what that means. It's like giving me 10,000 Nepalese Rupees without a conversion rate and telling me to budget a week long vacation. I'm pretty sure I "spent" half my MBs checking how many MBs I had left. Oy, I need to get onboard with this technology thing.
I slept reasonably well and the following morning took the train to Circular Quay to sightsee a bit. The train station is a five minute walk from the hotel, which is reasonably convenient. I'll cover my time in the city in the next installment.
I was granted late check-out, and at about 2PM left the hotel after a quick shower. I forgot to buy a Super Shuttle ticket for the return journey, though the front desk agent gave me one for free. The only other thing I found bizarre was that the hotel charged a credit card fee. I realize some places do that, but I wouldn't have expected that from a chain as global as Holiday Inn.
All-in-all the stay was fine. It sucks to pay over $200 for an airport Holiday Inn, though as far as Sydney Airport hotels go, this is probably one of the nicer ones. There's no doubt my stay was tainted quite a bit by the fact that I had just gotten off a Qantas A380 flight. It's quite fun to get off an Airbus 380 in first class and head to a Four Seasons or Park Hyatt, though not so fun to head to a Holiday Inn or Hampton Inn. Next time I stay at a Holiday Inn I'll try to make it after getting off an EasyJet flight from Gatwick. 😉