---
Over the years I'm pretty sure I've stayed at just about every LAX-area hotel, be it through Priceline, on an airline's dime when being bumped, or by choice.
I stayed at the Sheraton Gateway years ago with my mom on our way back from New Zealand, and it was definitely the nicest airport hotel at LAX. That being said, loyalty programs have gotten in the way since, given that I've lately made most of my stays at the Crowne Plaza and Holiday Inn in order to earn Priority Club points.
Fortunately I'm now a Starwood Platinum member, which opens up two of the best LAX airport hotels to me – the Sheraton and the Westin.
This time around I stayed at the Sheraton for under $100 for the night, and it didn't disappoint.
The shuttle bus from LAX runs every 10-15 minutes and it's shared with a few other hotels, which makes it pretty convenient.
While the hotel has a dedicated Gold and Platinum check-in queue, nobody understood the distinction between that and the normal line, so people just randomly lined up in one queue or the other.
Check-in was prompt and I was informed that I had been upgraded to a suite on the 9th floor.
The suite was very nice with the bathroom at the entrance, leading to a seating area with a couch and some chairs. That led to a desk and then the bed, which was extremely comfortable with lots of pillows.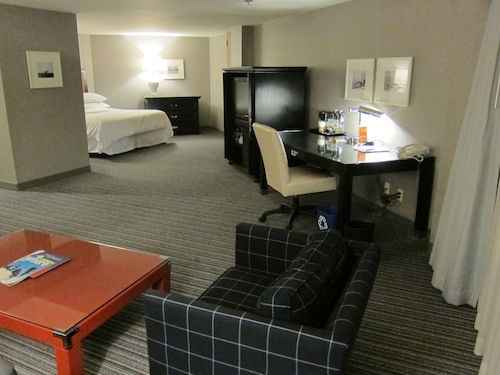 Suite looking towards bed and desk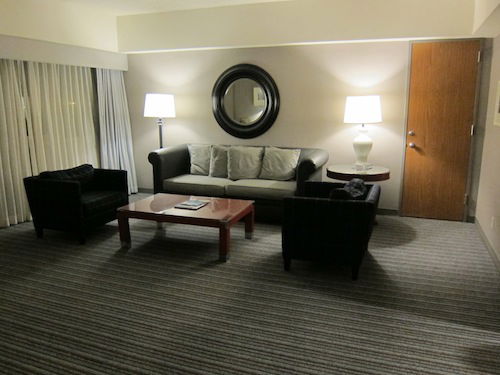 Suite living room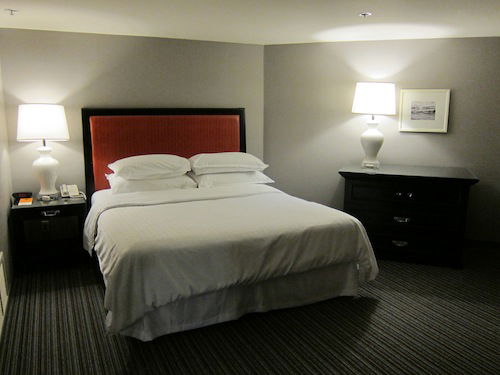 Comfortable bed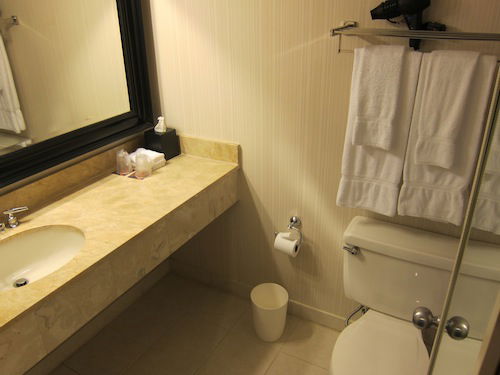 Bathroom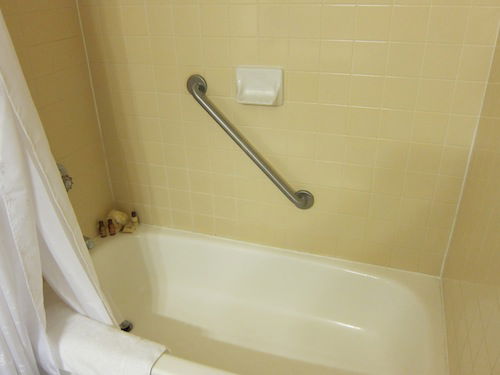 Shower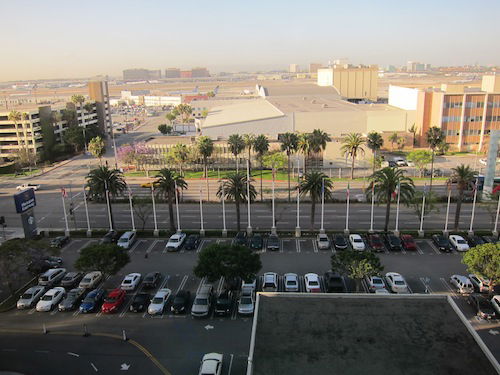 View from room
The furnishings were far from luxurious, though given the rate and the fact that it's an airport hotel, definitely nice.
The next morning I had breakfast in the club lounge, which had a good spread as far as airport Sheratons go. There were pastries, fruit, bread, cereal, yogurt, etc.
The evening spread was also quite good with the usual fare – cheese, veggies, chips, etc.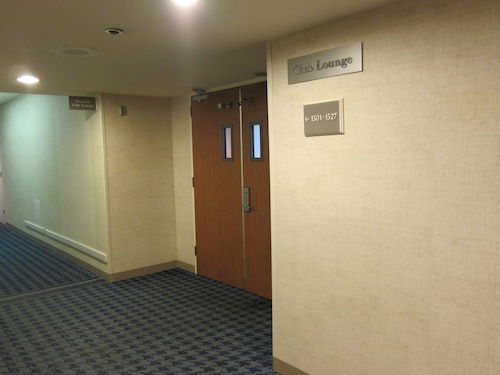 Club lounge entrance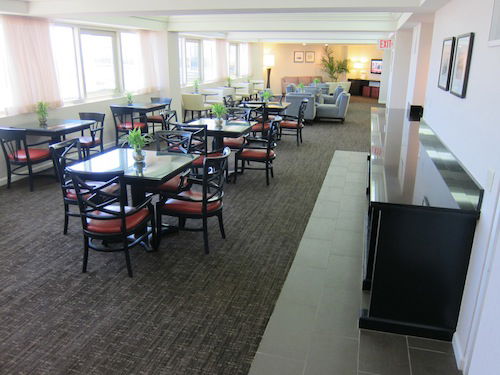 Club lounge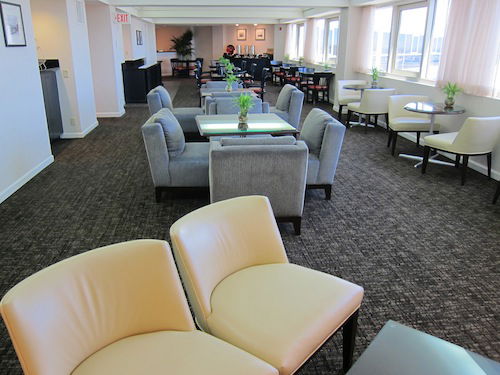 Club lounge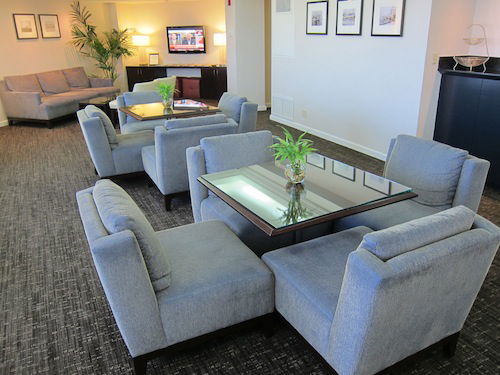 Club lounge tables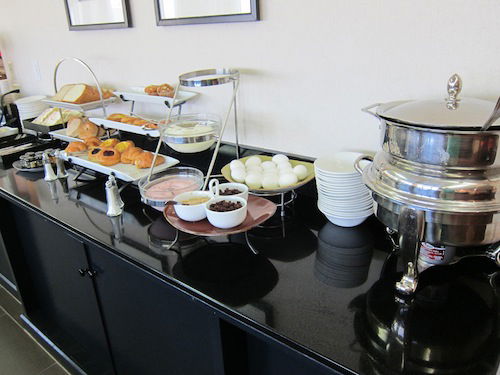 Breakfast spread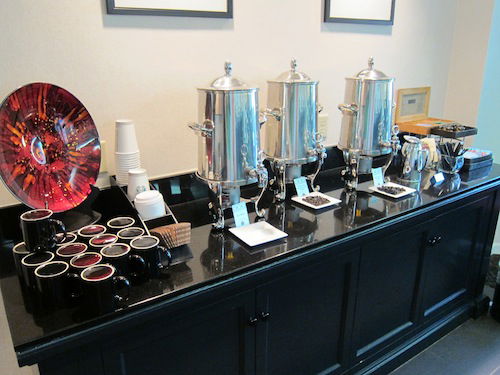 Tea and coffee
The highlight of the hotel had to be the Paparazzi Bar & Grill. It's probably one of the nicest airport restaurants/bars I've been to, both in terms of food and service. I met a couple of friends there and we shared some appetizers.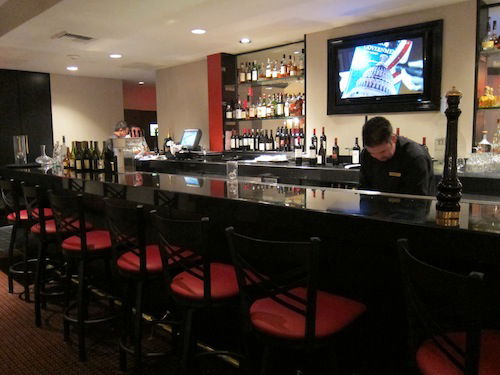 Paparazzi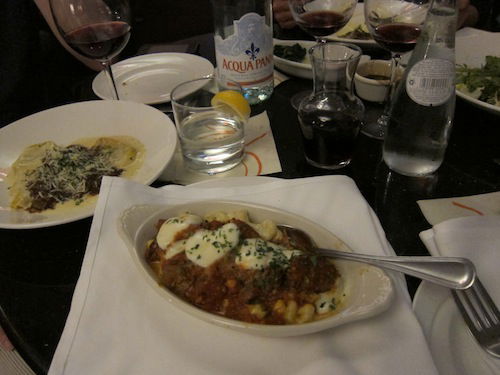 Dinner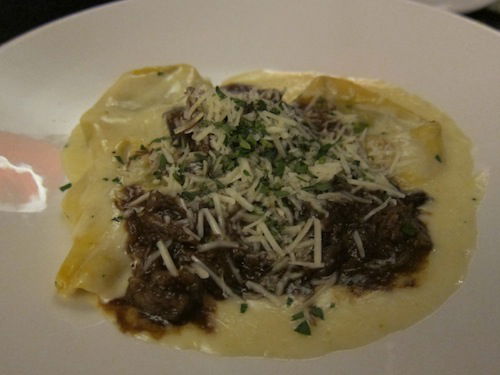 Dinner
I was just spending a night at the Sheraton Gateway before heading to the Andaz for a couple of nights and figured that would be the extent of my stay. However, two days later after checking out of the Andaz at 2PM it occurred to me that my redeye on American wasn't until 1AM, so I decided I might as well book another room at the Sheraton to get a bit of rest before the redeye. The fact that my stay would earn credit towards Starwood's generous second quarter promotion was the icing on the cake.
Per a friend's suggestion I requested a corner suite during my second stay, which featured even better views and was even larger.
At the end of the day this is an airport hotel, so don't expect to stay here on vacation and be blown away. As far as airport hotels go, though, this is definitely the nicest I've stayed at near LAX, especially as a Platinum member, given their excellent treatment. I'll be back!