My lounge experience really started the night before my flight, when I had read on FlyerTalk that it was possible to pre-book a spa treatment in the Qantas lounge as a first class passenger. While OneWorld Emerald members also have access to the first class lounge, they can only book treatments day-of on a standby basis. Apparently the first class concierge calls first class passengers the day before the flight, though I wasn't using my phone while traveling internationally, so I had no way of being contacted.
I had no sense as to how much competition there was for what I assume are a fairly limited number of appointments, so I was determined to find a way to contact them. I could only find the phone number for the Qantas first class lounge in Sydney, so I gave them a call on Skype and asked them for the phone number for the Melbourne lounge. They gave me a number, though no one ever picked up when I dialed it. I then called reservations, and they were able to connect me to the first class concierge office, though it was closed for the evening, so I left a voicemail for them. It was tough to leave a call back number, given that I was calling from Skype, so I just told them I was staying at the Park Hyatt and what room I was in.
Surprisingly enough I got a call early the next morning, and they confirmed my 30 minute massage for 1PM. Fantastic.
I had heard great things about the Qantas first class lounge, so booked an 11AM shuttle, allowing me plenty of time to check-in and catch up on email. The ride to the airport took just under 30 minutes, and I was dropped off at international departures.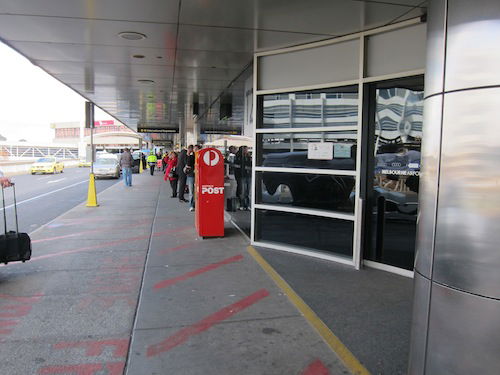 Terminal exterior
The terminal itself was fairly bland, and I struggled to find the first class check-in area. Little did I know that it's actually a separate room that could be accessed directly from outside.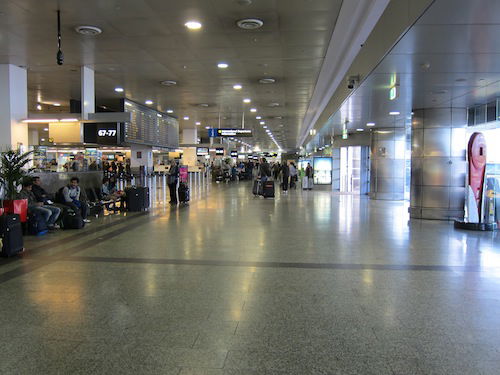 Terminal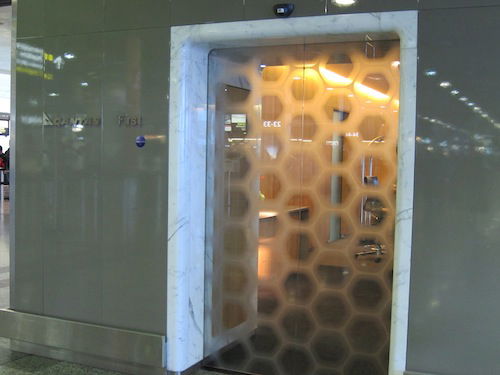 Qantas first class check-in entrance
The check-in area was nicely done, with two agents and a bellman assisting with bags. The agents were courteous, and there was even a seating area in which I could fill out the departure card, rather than having to do so in the terminal.
I'm pretty sure I had the biggest grin on my face when I was handed a boarding pass for seat 2A all the way to London. Talk about 23 hours of pure relaxation.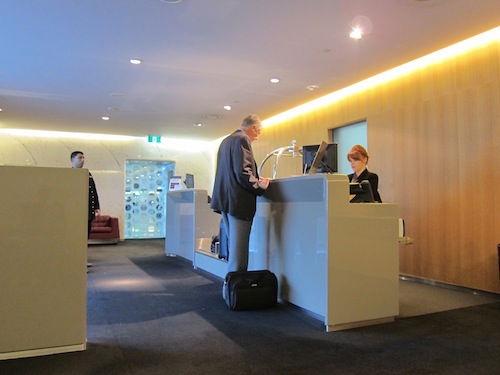 Qantas first class check-in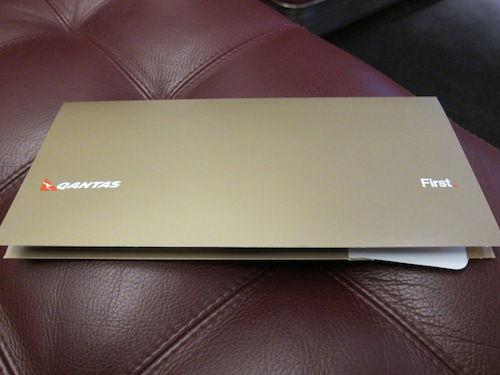 Sexy ticket jacket
I headed to the departures hall where I quickly cleared security. There was a priority security line, though it turned out to be rather awkward since the lane it lead to was closed and no one was working it. So while I could get in the premium queue, I ended up cutting everyone else. It's always uncomfortable to do that when someone isn't directing the line.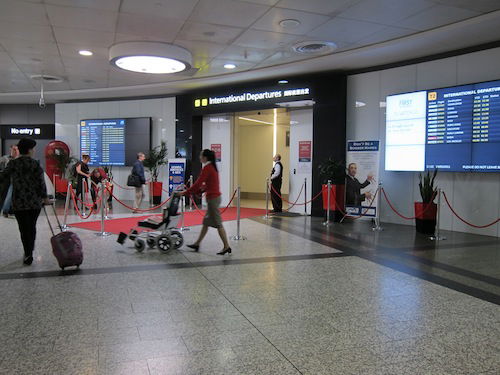 Departures hall entrance
Through security was immigration, where I was helped by a friendly agent who said "wow, your signature looks just like mine." I'm always told how bad my signature is (people even laugh at it), so I couldn't help but mention that and pass on my condolences. Fortunately, that didn't land me in any type of secondary security.
The international terminal featured duty-free shop after duty-free shop after duty-free shop. It was pretty crazy, since it wasn't just duty-free shops spread between gates, but rather a seemingly endless array of them you had to walk past before you reached the gates.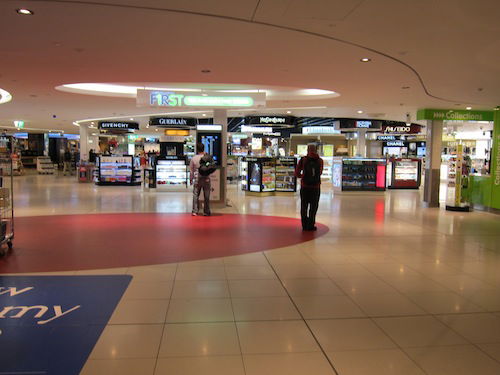 Duty free
I couldn't help but laugh at the pilots that were looking at some of the alcohol in duty free. Nothing inherently wrong with that, though it seems the basis of many airline comedy skits.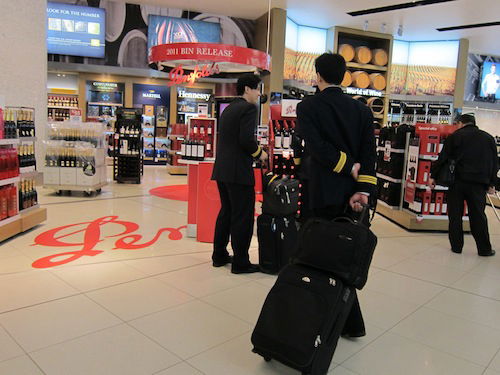 Careful, gents!
I figured I was halfway to Singapore by the time I actually made it to the gate area, since they really do send you through just about every shop and restaurant before you can get there. The gate area itself was quite nice, though I was more looking forward to the first class lounge up the escalator.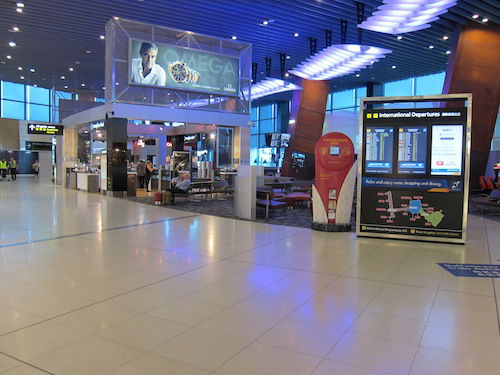 Gate area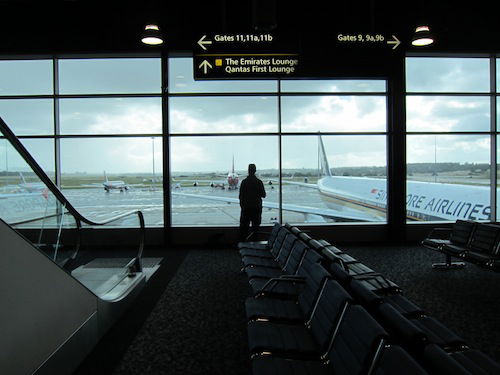 Cool shot, or what?
I did on the way up notice the Airbus 380 that would be taking me to Singapore and London already at the gate.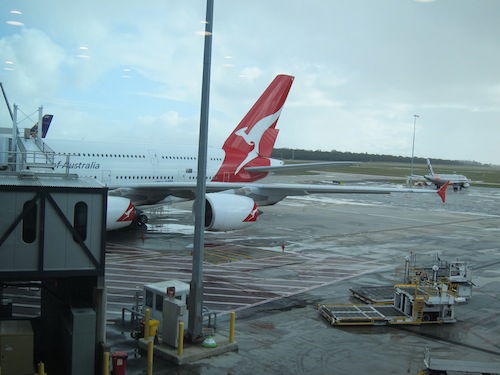 Big bird waiting for me
The first-class lounge was located up the escalator across from the Emirates lounge. It's worth keeping in mind that Qantas grants OneWorld Emerald members first-class lounge access, meaning a top-tier elite traveling in coach would have access to this lounge. So naturally, my expectations were a bit lower than a Star Alliance first class lounge as I entered, though not for good reason.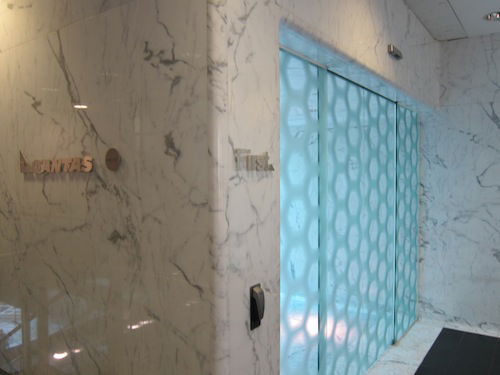 First class lounge entrance
At the entrance, I was greeted by a friendly agent that informed me a boarding announcement would be made for my flight and invited me to enjoy the lounge.
The lounge itself was very nicely decorated, possibly even one of my favorites. It was almost totally empty, which surprised me, since I assumed allowing OneWorld Emeralds in the lounge would translate to a full lounge.
The lounge featured plenty of seating with great views.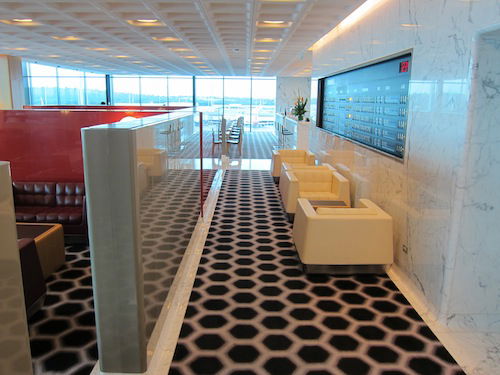 Lounge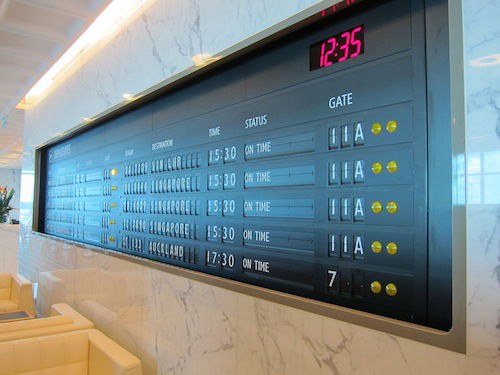 Departures board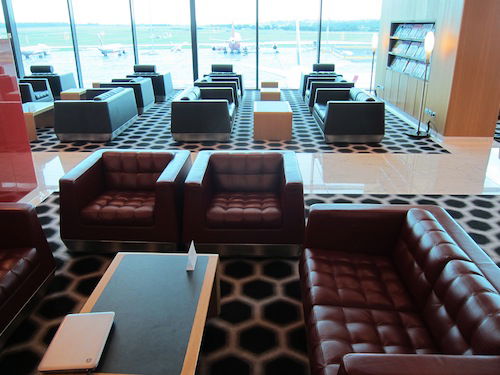 Plenty of seating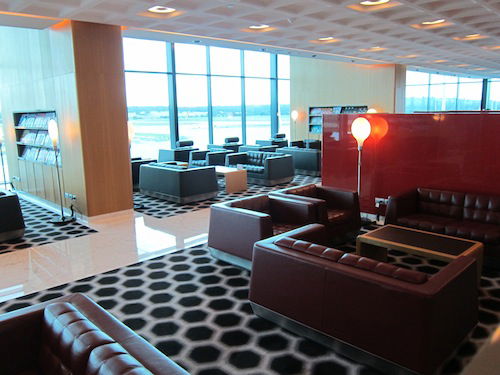 More seating
Service in the lounge was also excellent. There was a self service drink area, though there's also a restaurant with bar, and even if you don't want to sit in the restaurant, there are waiters constantly roaming the lounge ready to take orders.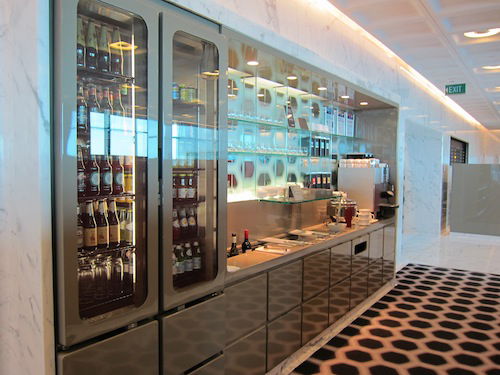 Self serve drink area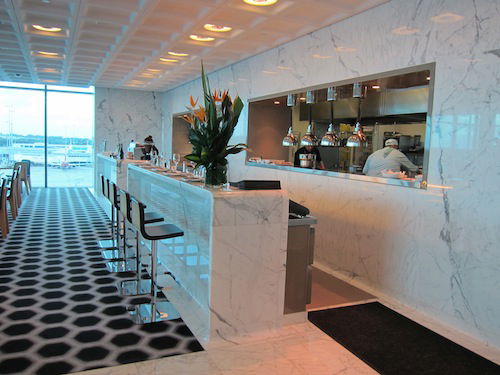 Restaurant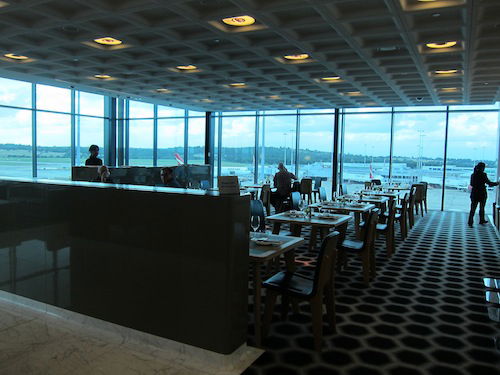 Restaurant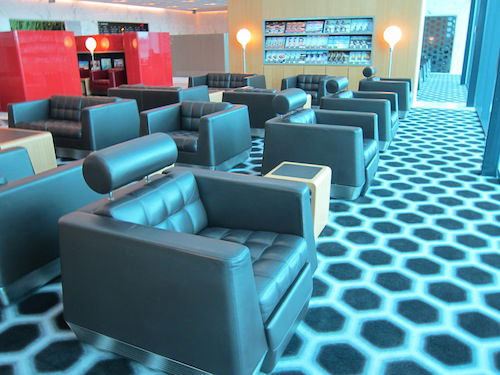 Window seating
The lounge also had awesome tarmac and runway views, including of the Singapore 777 parked immediately below the lounge and also the A380 off to the side that would be taking me all the way to London.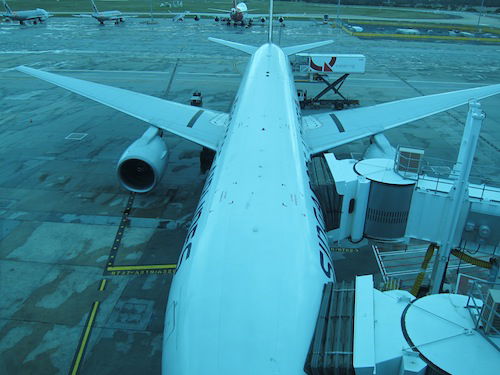 Not too bad of a view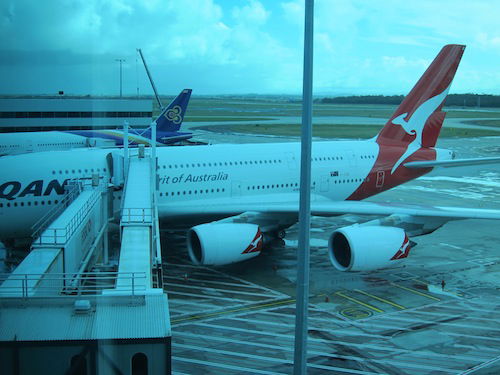 Big bird
The lounge also featured a library area and plenty of individual work stations with iMacs.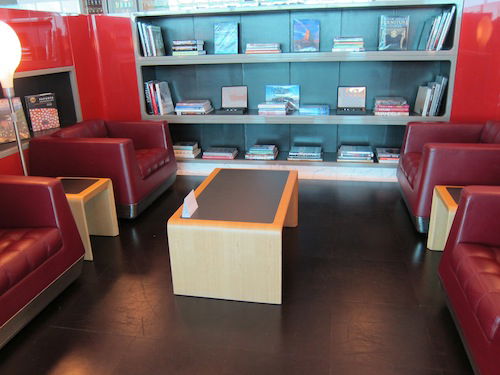 For the smart people…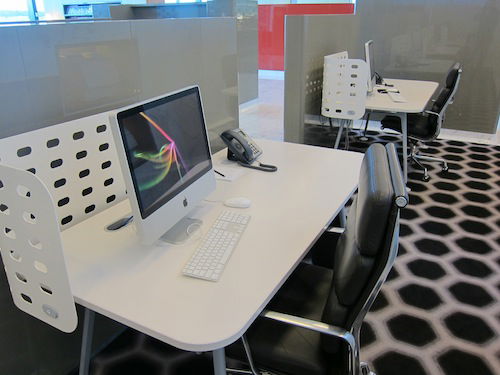 Individual work stations
As I mentioned, I had made a spa appointment for 1PM, so headed there a few minutes early.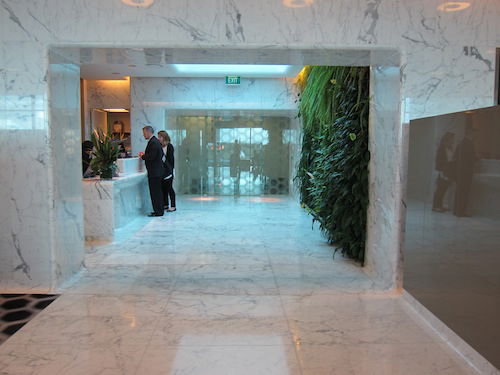 Spa
I was greeted by a rather young, attractive lady (girl?) that confirmed my choice for a 30 minute back massage. She asked if I was familiar with the range of services they provide, and I indicated I wasn't, so she gave me a run down. Ultimately she recommended the facial and neck massage, which she said a lot of men like, so I went with that.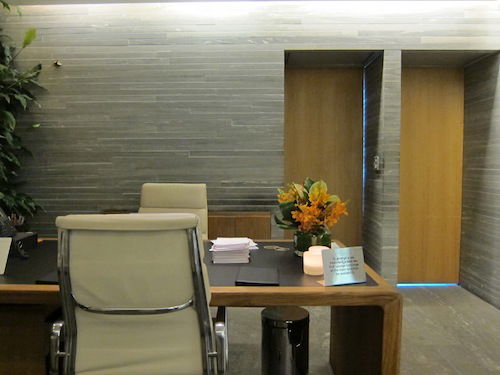 Spa welcome area
She brought me to the treatment room, which was great, with relaxing music, some plants which gave it a bit of a tropical feel, and plenty of space. While I think everyone loves spa treatments, there's something even cooler about them than normal when it's at an airport.
She left the room for a moment as I took my shoes and shirt off (per her request) and laid down on the chair. The facial was perfectly pleasant, though she talked to me for most of the time, during which I found out she's only a year older than me. For whatever reason there was something a bit weird about getting a facial from someone around my age. Not sure why, but I'm used to getting treatments either from people 20 years older than me or people that don't speak my language!
We talked about her tattoos, her upcoming trip to Bali (I made some suggestions), and working at an airport. I left her a $20 tip, simply because I didn't have smaller change and she was going on vacation the following week, so I figured why not.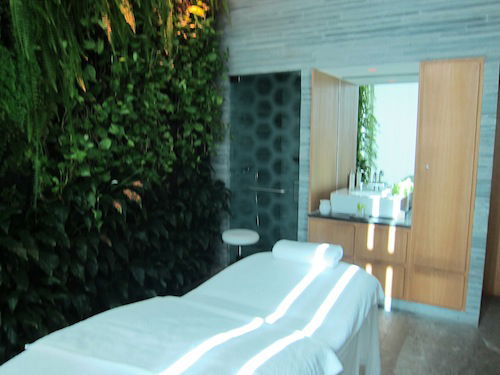 Spa treatment room
After the spa treatment I felt the urge to at least take a look at the restaurant menu, since I couldn't leave the lounge without having tried anything. While I was hungry, I knew a feast would be awaiting me aboard, so I went with the obvious choice — chocolate lava cake with rhubarb and vanilla bean ice cream. I stayed seated in the lounge instead of the restaurant, and the waiter was happy to deliver it to me when ready.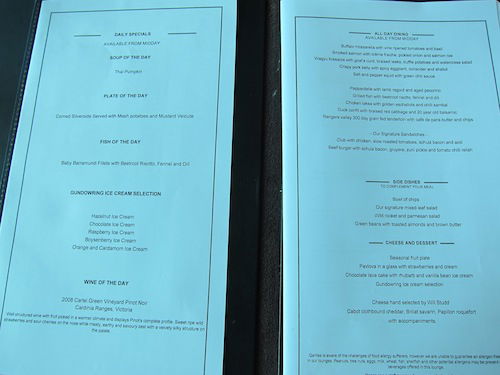 Dining menu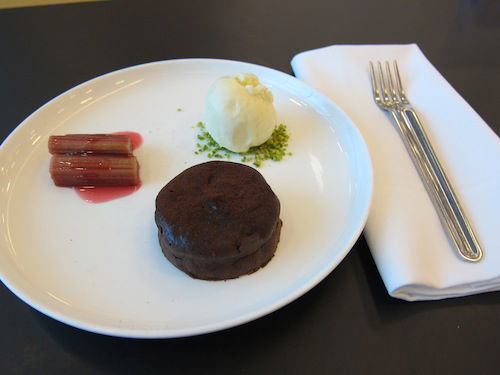 Chocolate lava cake with rhubarb and vanilla bean ice cream
About 30 minutes before boarding I was approached by another passenger who asked if I was "Lucky." As it turns out, a Twitter friend's friend was in the lounge, so he referred him my way. He was flying business class to Singapore on my flight, so we talked for the next 20 minutes or so. Great meeting you!
Shortly before 3PM boarding was called and I headed down to the departure gate for my longest flight ever (even though there may have been a quick stop in Singapore)…
On the whole the Qantas lounge blew me away. Between the excellent service, abundance of seating with great views, restaurant, and spa, this ranks among my top five lounges (probably behind the Lufthansa First Class Terminal and Thai first-class lounge, and probably ahead of the Cathay Pacific Wing/Pier, Virgin Atlantic Clubhouse, and Qatar Airways Premium Terminal). Now that I'm a OneWorld Emerald, I can't wait to access this lounge when flying business class (or coach… eek).