Hello from San Diego, where it's a chilly 70 degrees! 😉
I'm in California this week for the opening of the new Emirates lounge at LAX, and eventually have to figure out how I'm getting to the Maldives, but it's been such a fun week of news and deals that I haven't spent time on anything else. As a matter of fact, I can count on one hand the number of times I've changed out of my American Airlines pajamas this week.
---
Featured Stories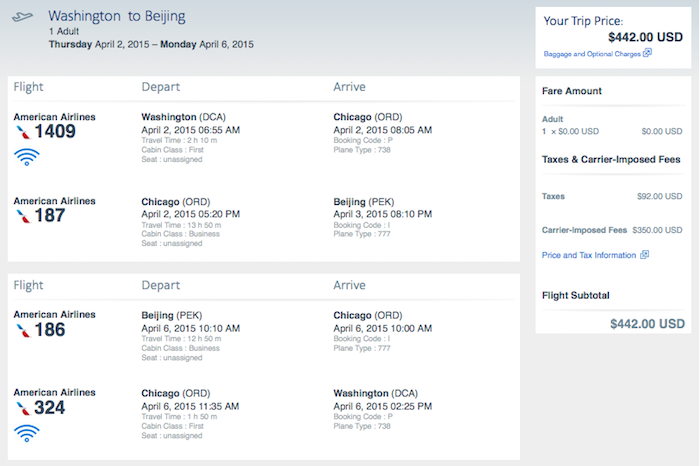 It's too late to get in on this deal, but this is certainly the biggest news of the week! Unless you've been totally out of touch with the miles and points world this week you've certainly heard about this amazing fare and the corresponding drama.
American has announced they'll be honoring purchased tickets, though it's not looking good for those of you who didn't listen to me reservations that were only held.
I'll have more details on hotels and my suggestions for Beijing soon, but if you got in on the deal make sure to post your flights in the meetup thread so we can coordinate!
---
I'm often asked which credit cards are best for certain purchases, so thought it would be helpful to go through the main spending categories and highlight the best earnings rates.
Leveraging sign-up bonuses is still the best way to accelerate your mileage earning, but for day-to-day spending these are the cards I'd recommend in each category.
---
If you've ever tried to redeem miles for Singapore Airlines you may have noticed many flights display with a "Waitlist" button.
So how do you waitlist a KrisFlyer award, and can this be a good way to improve your mileage redemption?
---

Beijing Beijing Beijing!
Going To Beijing? Do You Need A Chinese Visa?
Beijing Meet-Up Thread — Post Your Flights Here
American Will Honor Ticketed ~$450 Business Class Fares To Asia
10 Things You Need To Know About American's Business Class Fare To Beijing
Can American Cancel Held Reservations Within 24 Hours?
Will American Honor Cheap Business Class Tickets To Asia?
Revealed: American's Internal Memo On China Fares
AMAZING DEAL: $450 Business Class Tickets Between Washington And Beijing
TIPS: Earning Miles & Promos
Buy IHG Rewards Club Points With Up To 60% Bonus
Cheap Business Class Tickets To Brazil!
At What Price Does It Make Sense To Purchase Rapid Rewards Points?
Free Admirals Club Access With Status Match To Airberlin Gold Status
Best Credit Card Category Bonuses
Earn American Miles With BankDirect
Changes To Earnings Rates On British Airways Credit Card
Best Western Customer Appreciation Week: 1,000 Bonus Points For A Stay
5 Credit Cards You Should Consider Paying Your Taxes With
Register To Earn 5x Points At Restaurants And More
Is The BA Visa Still Worth Acquiring?
TRICKS: Redeeming Miles
SkyTeam Airlines Will Simplify Online Award Bookings
American Refreshing Look Of Award Charts — NO CHANGES
Best Way To Redeem Miles To Greece?
Are Qatar Airways A380 First Class Awards Ever Available?
Basics Of Waitlisting Singapore Airlines KrisFlyer Award Tickets
25% Discount On Etihad Guest Award Redemptions
TRAVEL With Lucky
Benefits Of Having Dual Citizenship (And Two Passports)!
First Look: Emirates' New Lounge At Los Angeles LAX Airport
Three Approaches To Mistake Fares, And Why They're All Valid
Some Airlines Shouldn't Bother With First Class
Is Travel Relaxing?
What Does An "Experience Specialist" At An Airport Hotel Do?
REVIEWS & Trip Reports
Review: Qatar Airways A350 Inaugural Flight Gate Party
Review: The Airport Hotel Doha Hamad International Airport
Review: Qatar Airways First Class 777-300ER Cairo To Doha
Review: Westin Abu Dhabi Golf Resort & Spa
Review: Cairo Airport Ahlan VIP Service
Review: Etihad Airways First Class 777-300ER London To Abu Dhabi
NEWS & Updates
The Most Epic Airport Meltdown I've Ever Seen
Ryanair Won't Fly To The US After All… Apparently?
Air Canada Aeroplan Introduces Premium Economy Awards
US Airways Credit Card Removed From Barclaycard Website
Who Needs Business Cards When You Have Model Airplanes?
Portland Airport's Old Carpet Is Now On Sale
Marriott's Puzzling Short Film, "Two Bellmen"
Air France's Chic New Safety Video
Would You Like A Police Escorted Convoy With Your Airport Transfer?
This Is Why People Hate Travel Hackers
Egypt Will Stop Issuing Visas On Arrival
Lady Lights Cigarette On Plane, And That's Not The Craziest Part
JetBlue To Start Offering Mint Class To The Caribbean
---
Whew! I have no idea what I'm doing this week, but hopefully, it's as much fun on the miles and points front! Anyone else have fun plans?