Last night American published some amazing ~$450 roundtrip business class fares between Washington and Beijing. The fare was pulled after a few hours, though not before hundreds of people managed to book.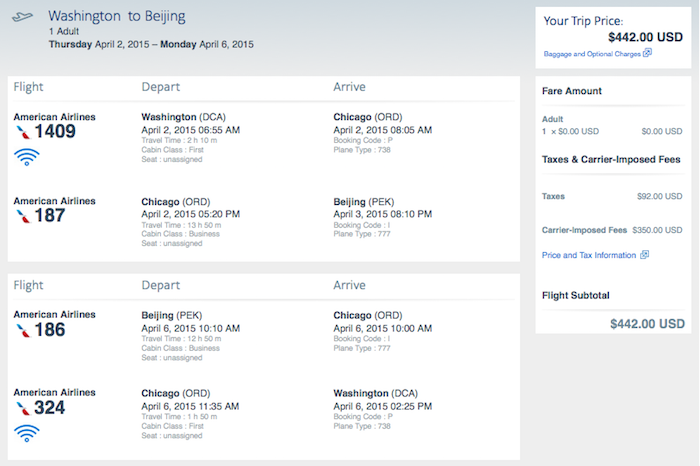 The trend as of late when we see these types of mistake fares is that the airlines issue an official statement very quickly about whether they'll honor them or not. Per DOT regulations it seems pretty clear that American will have to honor them, but I guess we'll see.
But we haven't heard from American. Why?
I have two theories:
American won't make an announcement at all
What made this fare especially interesting is that American allows 24 hour guaranteed holds on tickets, which they offer in lieu of allowing you to cancel a ticket for free within 24 hours. While American hasn't canceled any ticketed reservations, they have canceled reservations which have been on hold.
A lot of people have called American, and internally it seems to be common knowledge that American will honor those reservations that were ticketed, but won't honor those reservations which were on hold. Though we haven't heard this publicly or officially yet, so don't assume that's true.
So from American's perspective it might not be a bad idea to just not make an announcement at all, and just let consumers assume that if they have a ticket they'll be flying.
This minimizes the backlash from those that had tickets on hold, since they can't cry foul quite as easily/loudly. It will be an individual battle rather than a group effort. I'm not saying that's the right thing to do, but it's actually sort of logical from American's perspective if they're trying to minimize this mess.
American is waiting until tomorrow to make an announcement
It could also be that American is simply waiting until all of the held reservations would have expired anyway at midnight tonight before issuing a statement.
If they issued a statement now there would be a bunch of people with held reservations calling and claiming it's not fair their tickets weren't honored, requesting that they be reinstated. That gets much trickier after 24 hours. After 24 hours the agents can simply be instructed to say "well, even if I wanted to do something I couldn't, since it's past the hold window anyway."
Bottom line
I'm not saying either of the above are the right thing to do or that they're necessarily what's going on, but those would be my two guesses. Almost across the board agents seem to be "aware" of the fare, and internally it's apparently well known that the ticketed reservations will be honored, while those on hold won't be (though I wouldn't take this as fact).
I've received literally dozens and dozens of emails and comments from people with held reservations asking what to do. First of all, you should listen to me the next time you book one of these, since I warned y'all to issue the tickets and not hold them. 😉
But beyond that I'd recommend just holding off a bit and seeing if American comes out with a formal announcement tomorrow:
Calling up won't help, because it's unlikely individual agents will be able to do anything; this issue is above their heads (though perhaps if you call a hundred times you might get an agent that can do something… I doubt it, for the most part)
If you want to file a DOT complaint, there's no benefit to doing so tonight vs. tomorrow; we'll possibly have more complete information tomorrow, and it's not like they'll get to it tonight
So have an adult beverage and grab some popcorn, in my opinion… 🙂
What's your theory on why American has been so quiet about the fare?