On Tuesday I posted about the amazing ~$450 roundtrip business class fares which American published between Washington and Beijing. The deal was available for several hours before it was pulled.
Not surprisingly, American has now confirmed on Twitter that they'll honor the fare for everyone that managed to ticket their reservations, presumably thanks in no small part to the DOT regulations saying they have to do so: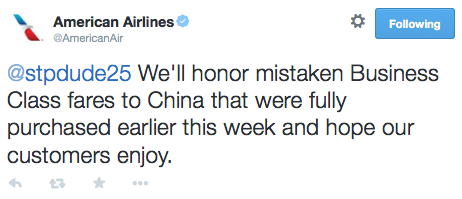 Presumably those that only had their tickets on hold are out of luck.
While this took a bit longer than I would have hoped (my guess is that they talked to the DOT and their lawyers), I'm happy that they're honoring ticketed reservations.
So, who's headed to Beijing? 🙂