Let me start by saying that the content in this post will be offensive to many, and some peoples' blood pressure may even rise. So if you're easily offended and don't want to raise your blood pressure, stop reading now. 😉
I've written in the past about Justin Ross Lee, who is one of the most controversial people in our hobby. He's basically a "social media" celebrity (if that's a thing) — check out his Facebook, Instagram, and Twitter to get a better idea of what he's all about. I think his Wikipedia page speaks for itself. The post I wrote about him a couple of years back got a ton of traffic and comments, so there's no denying that he evokes responses, be they positive or negative.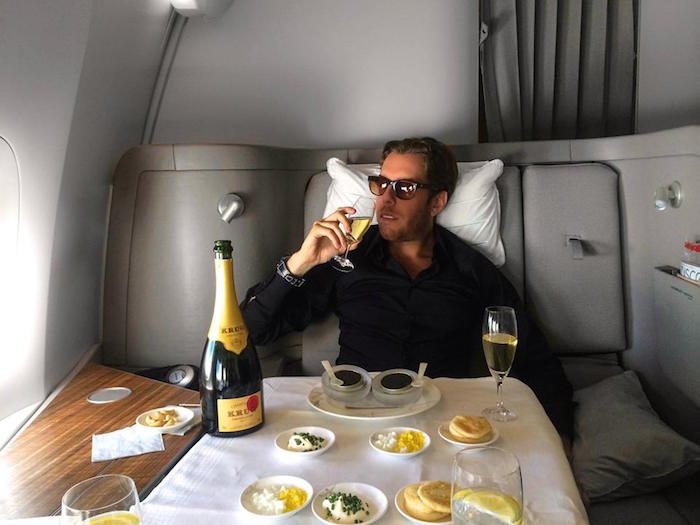 He calls himself a "Jew Jetter," which he defines as "one who flies frequently as opposed to the working man."
Anyway, Elite Daily has a story about Justin Ross Lee today, entitled "How One Man Singlehandedly Hacks The Entire Travel Industry."
And there's even an accompanying (roughly) seven minute video, which you won't be bored by. You may want to punch him by the end of it, but you certainly won't finish the video having said "well that was boring."
In the video he shows all the "fake" business cards he has to get corporate rates at hotels, and exposes how he books refundable airline tickets just to visit the lounge for a day. He also talks about a "guaranteed" way to get your seat changed. I feel like this won't end well for him, but oh well…
Here's the video:
I'm sure you guys will have a lot to say about Justin Ross Lee, which he's probably quite happy about:
And what you think of him? Well, he doesn't really care – as long as you don't think of him as normal.

In the words of JRL, "Normal is the ugliest word in the English language. Average is a close second." For Lee, these words are synonymous with mediocrity, and those who simply accept mediocrity are schmucks – and fall in line to those who stand out. Literally speaking.
I know Justin Ross Lee pretty well, and while the "act" is no doubt pretty extreme, he's actually a nice guy underneath it all. He genuinely gets enjoyment out of making people laugh & smile, and that's something there's not enough of in the world (there certainly are enough pricks, though). 😉
Feel free to chime in with your thoughts below — I know you guys will!