I know I'm not the only person in this hobby that's mildly addicted to the A380. As far as the "big three" Middle Eastern carriers go, I know many have already booked Emirates A380 First Class and Etihad A380 First Class Apartments, though snagging Qatar Airways A380 First Class seems to be more challenging.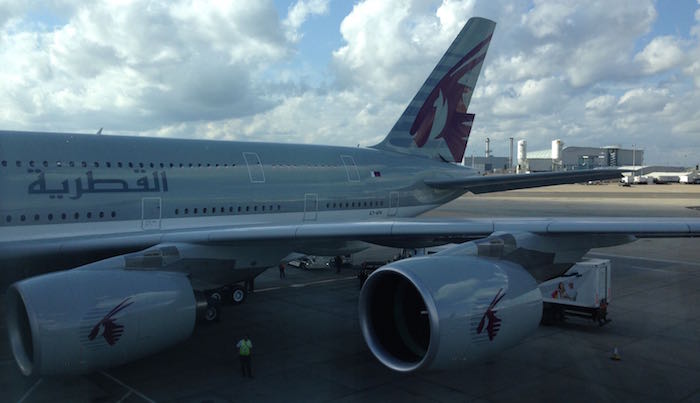 Some people come to the conclusion that Qatar Airways doesn't release A380 first class award space, and they're not that far off.
Does Qatar Airways release A380 first class award space?
First of all, keep in mind that Qatar Airways only flies the A380 on select frequencies to London, Paris, and Bangkok.
Furthermore, Qatar Airways is extremely inconsistent with how they release A380 first class award space. While first class award seats are pretty easy to snag on their other three cabin planes, the A380 is tricky. It's true that sometimes they don't seem to show any A380 first class award space. But other times they do.
As a general rule of thumb, Qatar Airways releases the most A380 first class award availability last minute out of Paris. For example, both of their A380 flights tomorrow from Paris to Doha have two first class award seats.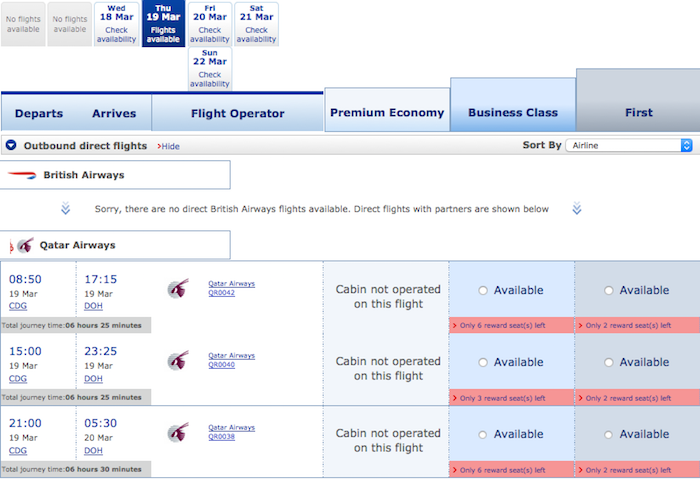 Reader James also notes that Qatar Airways seems to be releasing two first class award seats per A380 flight between Paris and Doha later in the year, especially around November.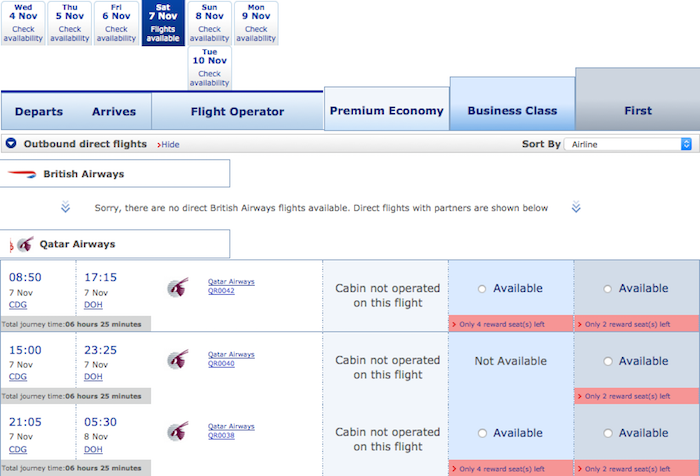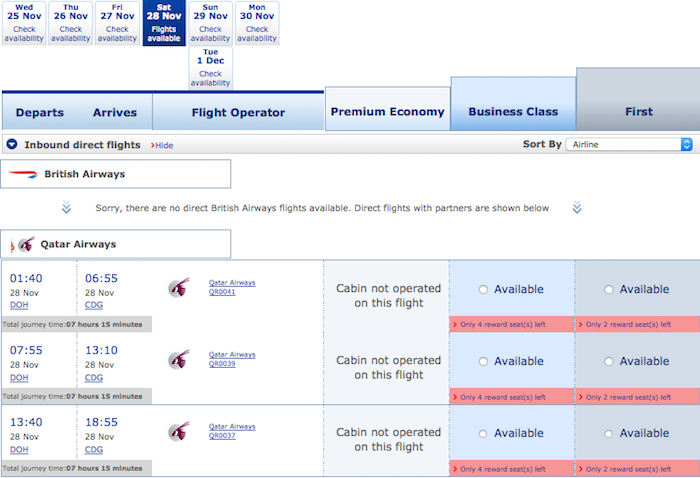 At the moment I'm not seeing any Qatar Airways A380 first class award space to/from London or Bangkok. But Qatar Airways is really inconsistent, so I'd recommend always keeping an eye on space. I'd recommend using ba.com to search for space — here's a primer on how to do that.
How to book Qatar Airways A380 first class awards

Hands down the best value for redeeming miles for travel in Qatar Airways first class is through American AAdvantage. American AAdvantage charges just 40,000 miles for one-way first class between Europe and the Middle East, and there are no fuel surcharges. That's an incredible value.
Should you go out of your way to fly Qatar A380 first class?
I tend to think Qatar Airways' A380 first class is the least impressive of those operated by the "big three" Middle Eastern carriers. But that's not really a huge deal, since the longest route on which they operate the A380 is about seven hours.
I reviewed Qatar Airways first class on their A380 inaugural flight, but as a refresher, the cabin consists of just eight seats, spread across two rows in a 1-2-1 configuration.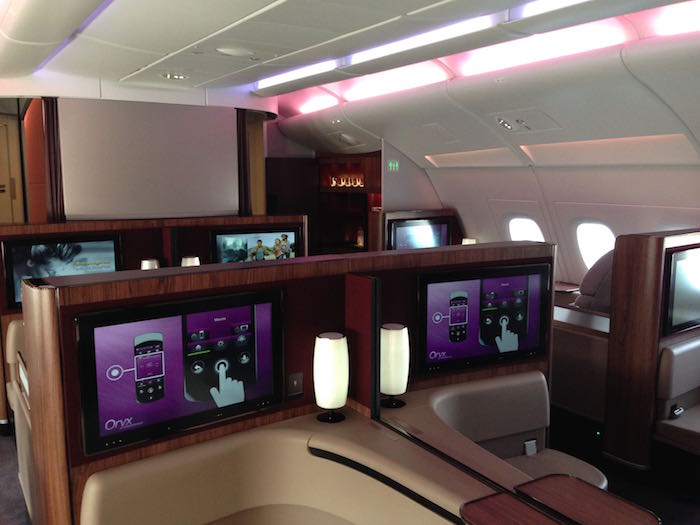 While the cabin and design is very elegant, the seats aren't private, and pale in comparison to what Emirates and Etihad offer up front.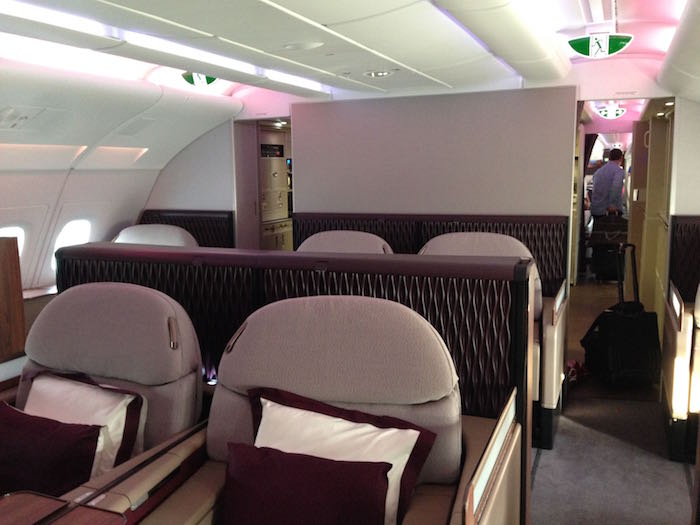 The highlight of the plane is the onboard bar, which I think is the nicest onboard bar offered by any airline. They even serve Krug at the onboard bar, which even business class passengers can request (that's better than the champagne they otherwise serve in business class).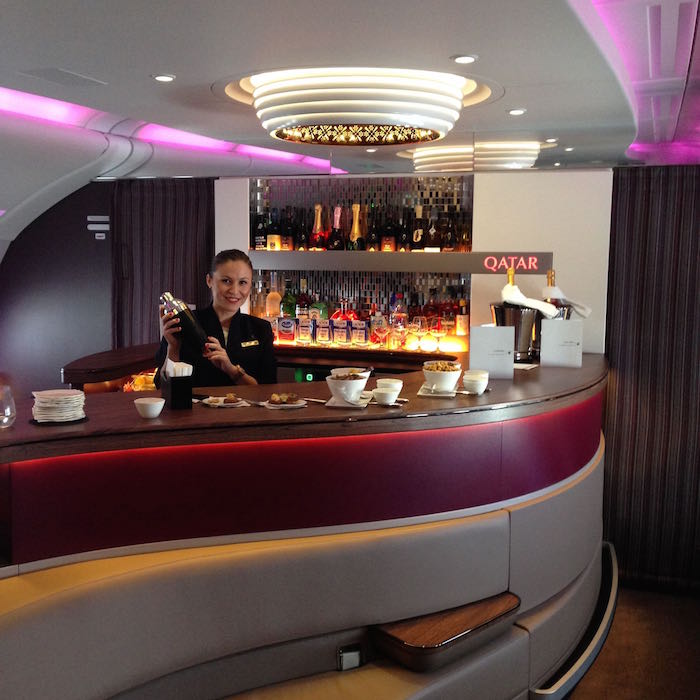 While I think first class is worth a 10,000 AAdvantage mile premium over business class, it's the onboard bar that's the most impressive, and you get that regardless of whether you fly first or business class.
If you're someone that likes to try different A380 products I'd give Qatar Airways' A380 a try, but otherwise I don't think it's exceptional enough to go out of your way for.
Bottom line
Qatar Airways first class award availability can be really tough to find, though it's not impossible. Your best bet is booking out of Paris, and doing so either last minute or way in advance.
Have you flown Qatar Airways A380 first class? If so, how was your experience?