Last night I posted about an amazing American Airlines business class fare between Washington DC and Beijing. American was charging under $450 for roundtrip business class. After a couple of hours the deal was dead, though that didn't stop hundreds of people from booking.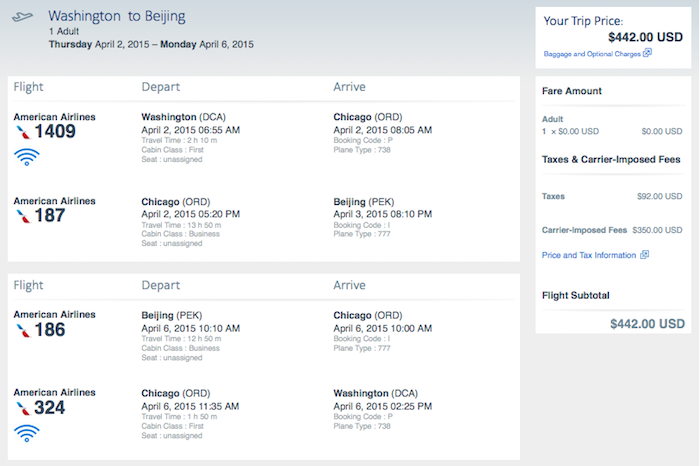 I'm receiving a ton of questions, so figured I'd answer some of the most common ones:
Will this fare be honored?
Given how cheap the fare was, I suspect American will make a statement soon as to whether they'll honor it or not. I would expect them to do that within a day.
Personally I think it's very likely that this fare will be honored.
Keep in mind that there are Department of Transportation regulations protecting consumers from post-purchase price increases, which are extremely pro-consumer. Here are the relevant regulations:
(a) It is an unfair and deceptive practice within the meaning of 49 U.S.C. 41712 for any seller of scheduled air transportation within, to or from the United States, or of a tour (i.e., a combination of air transportation and ground or cruise accommodations), or tour component (e.g., a hotel stay) that includes scheduled air transportation within, to or from the United States, to increase the price of that air transportation, tour or tour component to a consumer, including but not limited to an increase in the price of the seat, an increase in the price for the carriage of passenger baggage, or an increase in an applicable fuel surcharge, after the air transportation has been purchased by the consumer, except in the case of an increase in a government-imposed tax or fee. A purchase is deemed to have occurred when the full amount agreed upon has been paid by the consumer.
Recently United had a mistake fare which was marketed in Danish Krona, which the DOT didn't honor. Here's the reason they gave for siding with United:
The mistaken fares appeared on a website that was not marketed to consumers in the United States. In order to purchase a ticket, individuals had to go to United's Denmark website which had fares listed in Danish Krone throughout the purchasing process. In addition, only people who identified "Denmark" as their location/country where billing statements are received when entering billing information at the completion of the purchase process were able to complete their purchase at the mistaken fare levels. Consistent with the Office's treatment of fare advertisements and disclosure of baggage fees, it does not intend to enforce the rule in question (the post-purchase price increase prohibition) when the fare offer is not marketed to consumers in the United States. Additionally, the Office is concerned that to obtain the fare, some purchasers had to manipulate the search process on the website in order to force the conversion error to Danish Krone by misrepresenting their billing address country as Denmark when, in fact, Denmark was not their billing address country. This evidence of bad faith by the large majority of purchasers contributed to the Enforcement Office's decision.
None of those circumstances are present here, and frankly I don't see any way American could get out of this fare.
Should I book my hotel & positioning flight?
Just to be on the safe side I wouldn't make any non-refundable reservations yet. Like I said, I suspect American will chime in about the fare very soon, most likely to say that they'll honor it.
Can I cancel my ticket for free within 24 hours?
No you can't. American is one of the few airlines to allow free holds for 24 hours, and because of that they don't have to offer free refunds for 24 hours. So if you've ticketed your reservation you technically can't get it refunded anymore.
I have a ticket on hold — can I definitely issue it until the deadline?
If you have a ticket on hold, I'd highly recommend issuing the ticket sooner rather than later. American can cancel tickets which are on hold.
Update: I'm not convinced American can legally cancel itineraries on a confirmed hold.
But my base fare showed as $0 — does that matter?
Interestingly with this fare, some tickets showed a $0 base fare, while others showed a $20 base fare. Some seem to think whether you booked the $0 or $20 version makes a material difference as to the fare being honored.
I disagree. It's one thing if the airlines were just charging taxes, but keep in mind there are ~$400 in "carrier imposed surcharges," which includes fuel surcharges. That's considered to be the same as the rest of the base fare when it comes to what you paid for your ticket.

Can I do a 72 hour transit without visa on this fare?
China does indeed offer a 72 hour transit without visa. The catch is you must actually be in transit, meaning you must be connecting to a third country. If you're flying from Chicago to Beijing and then 48 hours later back to Chicago, that's not transit, since you're not continuing to a third country.
The only way around that is if you continue to a third country while you're in China. For example, say you booked a roundtrip ticket from Washington to Beijing, and are on the ground for a few days. If you make a separate booking to continue to somewhere else during that time (like Hong Kong), then you'd technically be in transit, and would therefore be eligible for a 72 hour transit without visa.
How should I get a Chinese visa?
The good news is that China now issues 10-year, multi-entry visa. So if you get a Chinese visa now it can be valid for 10 years, which is exciting news.
You can apply for a visa directly with the consulate, or otherwise you can use a visa service.
I recommend using Allied Passport for getting your visa, as they're very familiar with the 10 year Chinese visas.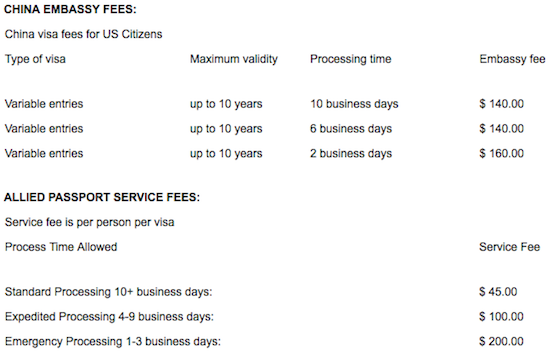 They're offering a $5 discount to readers of One Mile at a Time — simply write a note on your Allied Order Form that One Mile at a Time referred you and you'll receive a $5 discount.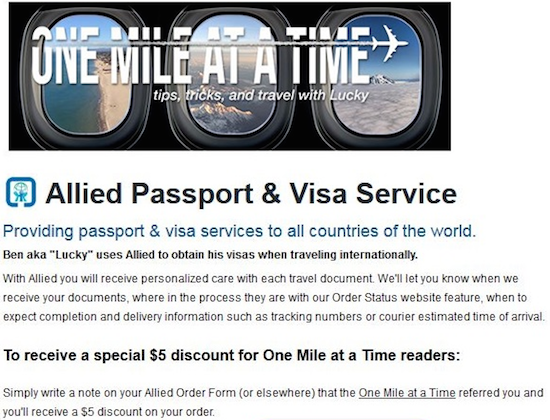 What kind of a business class product does American have to Beijing?
American exclusively flies Boeing 777-200s to Beijing, which feature American's old first & business class product as of now (these planes don't have Wi-Fi).
While American is in the process of reconfiguring their 777-200s, the reconfigured planes aren't scheduled to fly to Beijing as of now.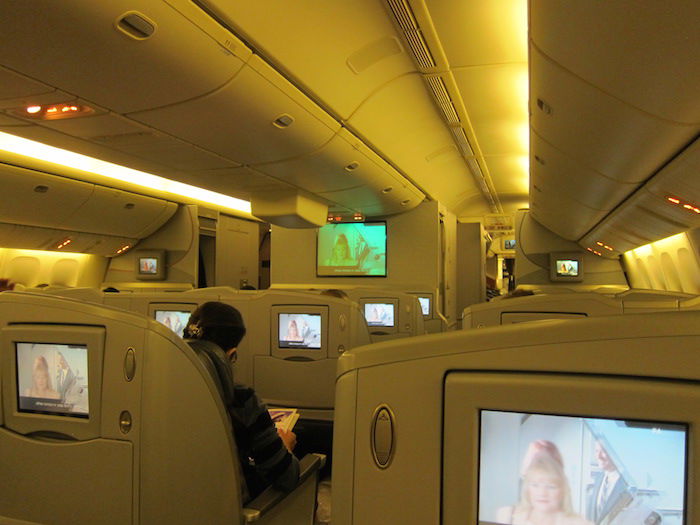 That means business class seats are in a 2-3-2 configuration and are angled flat. They're definitely not the most comfortable out there for such a long flight, but can't be beat for the price. 😉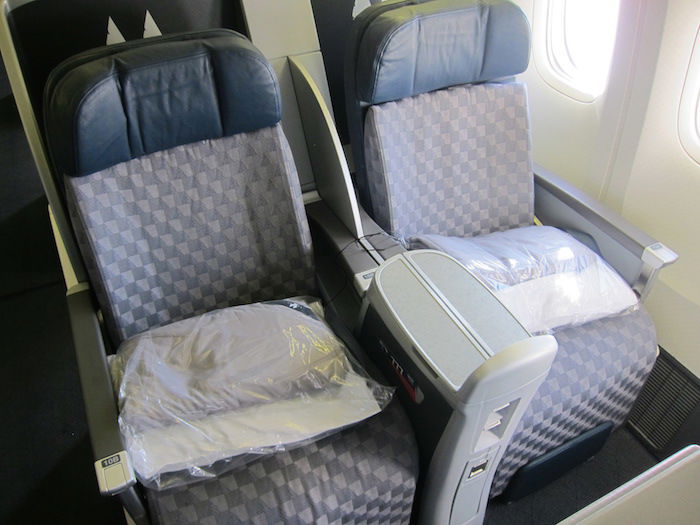 Can I upgrade this fare to first class?
Yes! One of my favorite thing about being an Executive Platinum member with American is that I receive eight systemwide upgrades just for qualifying for the status, each of which can be used to confirm an upgrade from any revenue fare. So even discounted business class fares are upgradable to first class.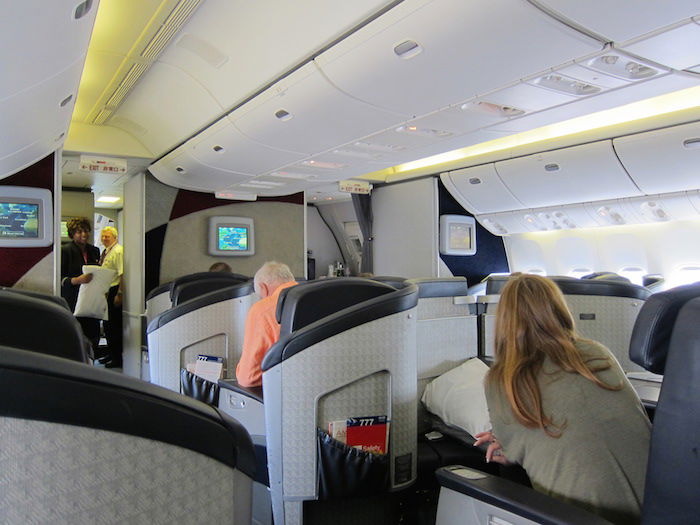 American does have their old first class product on the 777-200, though it's still very comfortable. It features fully flat seats with direct aisle access.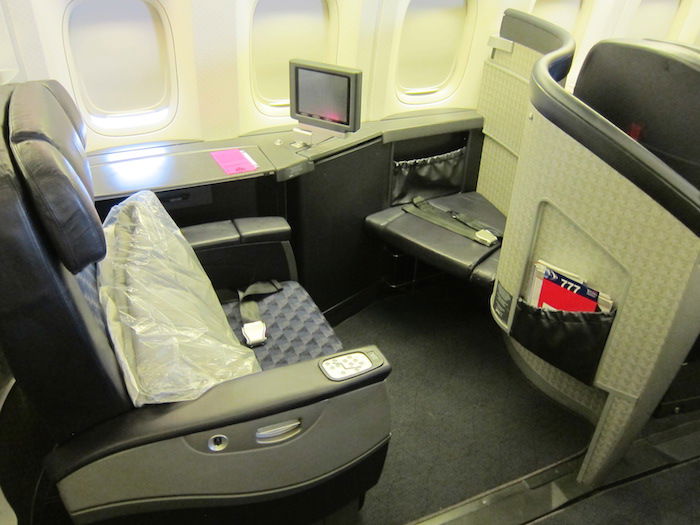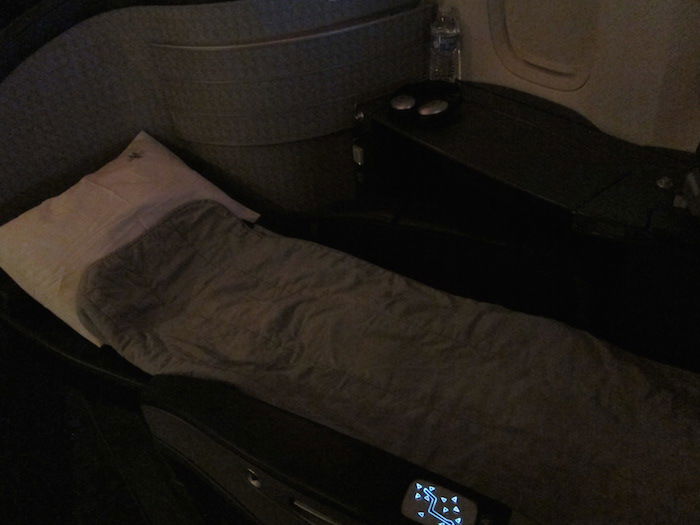 How many miles will I earn for this trip?

Assuming you booked a one-stop routing between Washington and Beijing, you're connecting either in Chicago or Dallas:
Washington to Chicago to Beijing is 7,191 miles
Washington to Dallas to Beijing is 8,163 miles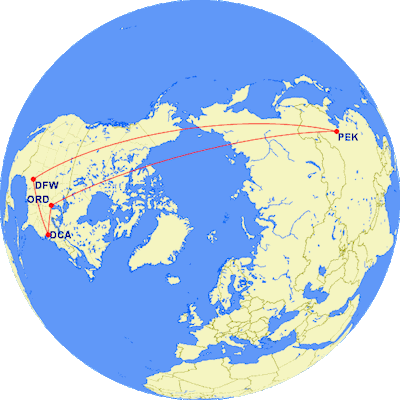 Map image from gcmap.com
On top of that, AAdvantage Gold members receive a 25% mileage bonus, and AAdvantage Platinum and Executive Platinum members receive a 100% bonus. Also keep in mind that American is offering additional bonus miles this year for paid premium class tickets, as follows:
Non-elite AAdvantage and Dividend Miles members

AAdvantage Gold/Platinum and Dividend Miles Silver/Gold/Platinum

AAdvantage Executive Platinum and Dividend Miles Chairman's Preferred

Medium and Short-haul flights less than 3,000 miles

Discounted Business Class Z*, I

N/A

250

500

Medium and Short-haul flights less than 3,000 miles

First / Business Class F, A, P, C, J, R, D

250

500

1,000

Long-haul flights greater than 3,000 miles and JFK-SFO/LAX

Discounted Business Class Z*, I

N/A

1,000

3,500

Long-haul flights greater than 3,000 miles and JFK-SFO/LAX

First / Business Class F, A, P, C, J, R, D

3,000

6,000

12,000
Lastly, you also receive 50% bonus redeemable miles and 50% bonus redeemable points for travel in paid business/first class:

So adding it all up, an Executive Platinum member traveling both ways via Dallas would earn a total of:
16,326 elite qualifying miles
24,489 elite qualifying points
49,815 AAdvantage redeemable miles

16,326 flown miles roundtrip
16,326 bonus miles for being an Executive Platinum member
8,163 bonus miles for flying paid business class
9,000 bonus miles thanks to the promotion being offered this year
That's less than one cent per redeemable AAdvantage mile in paid business class. Not too shabby. 😉
Bottom line
Congrats to those of you that got in on the fare, as it's one of the best I've ever seen!
While I think it's extremely likely this fare will be honored, I would hold off just a few hours for the mainstream media to pick up on the fare and for American to issue an official statement.
Were you able to take part in this amazing deal?