---
Inaugural flights are always interesting on of a few levels. One thing I always find especially interesting is the effort different airlines put into making them "special." Some inaugural flights have more production value than an episode of Real Housewives, while others seem like any other flight.
In theory this seems like it would be a very special flight for Qatar Airways. Not only was it their inaugural commercial A350 flight, but it was the worldwide inaugural A350 commercial flight. A few months prior I had flown the Qatar Airways A380 inaugural flight, and wrote a bit about the gate party there.
Anyway, back to this inaugural. After a few hours of solid rest at The Airport Hotel Doha Hamad International Airport, and a Krug breakfast with friends at the Al Mourjan Lounge, it was off to the gate for us at around 6:30AM.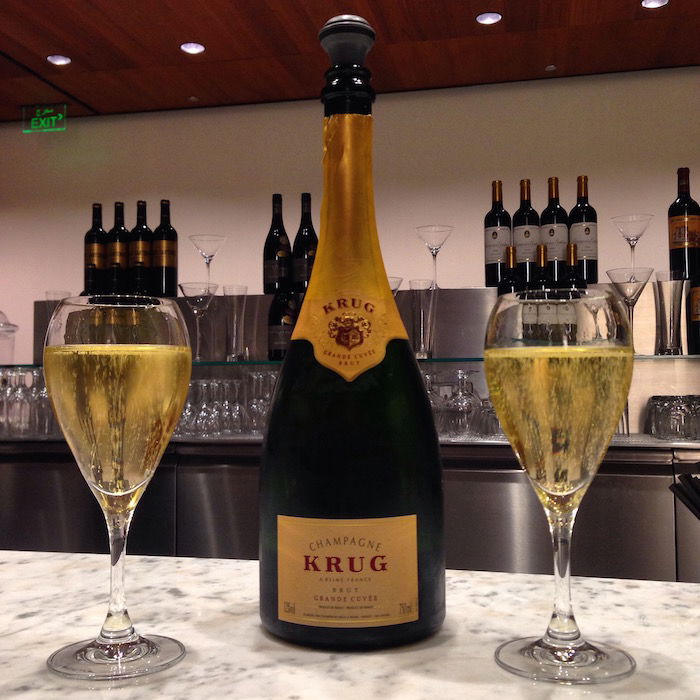 My kind of breakfast!
The flight was scheduled to depart at 7:40AM, so boarding was scheduled for 7:10AM. Therefore we figured we'd leave a bit over 30 minutes before boarding, to leave plenty of time for any gate festivities.
The flight was departing from gate A3, which is just a short walk from the lounge.

Qatar Airways A350 inaugural flight departure gate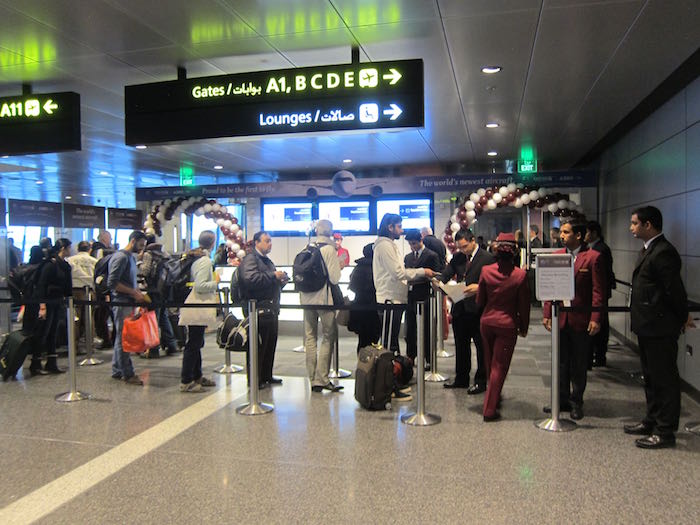 Qatar Airways A350 inaugural flight departure gate
While there was quite a queue to get into the gate area, fortunately they had a special premium line. There our passports were checked and boarding passes were scanned.
Qatar Airways sure went all out with the decorations, as they had two massive balloon arches, which were pretty darn cool. On top of that, they had an almost overwhelming amount of ads about how they're the first to fly the A350.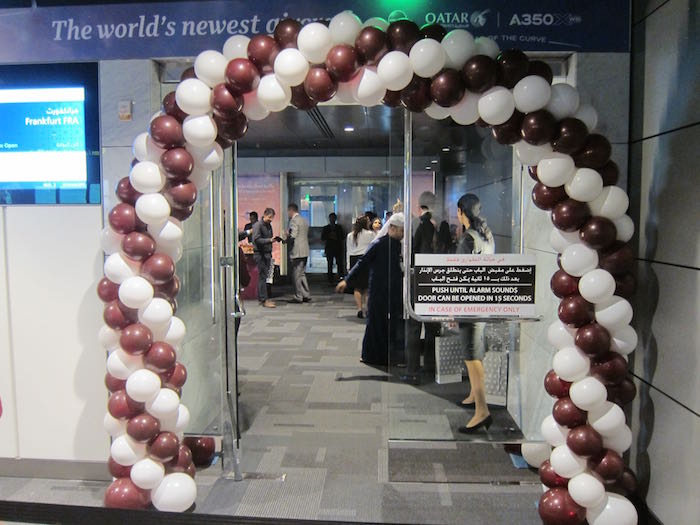 Qatar Airways A350 inaugural flight departure gate
Once inside the gate area I was excited to see a table with some rose and canapes. After already having a couple of glasses of Krug in the lounge, my morning sure was off to a good start!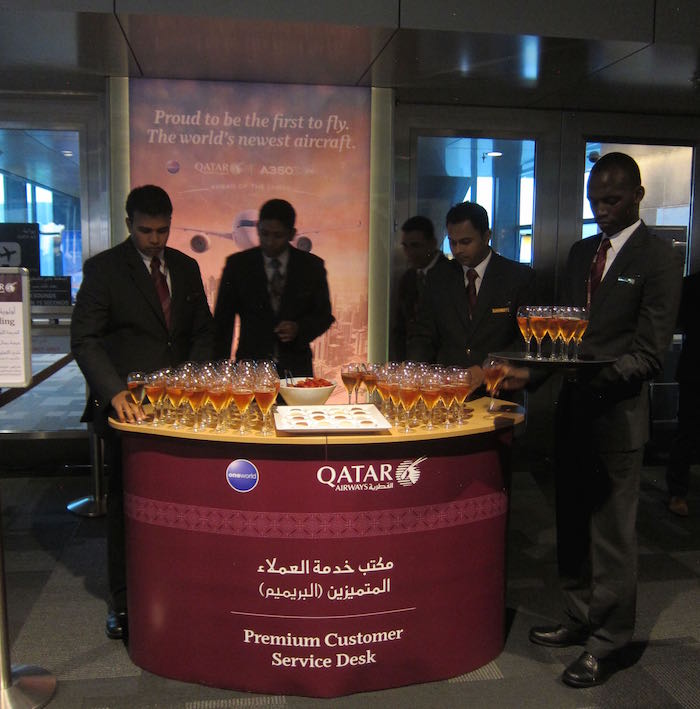 Qatar Airways A350 inaugural flight departure gate festivities
On top of that there were gift bags for each passenger. Each bag had a Qatar Airways A350 model airplane, as well as an inaugural flight certificate.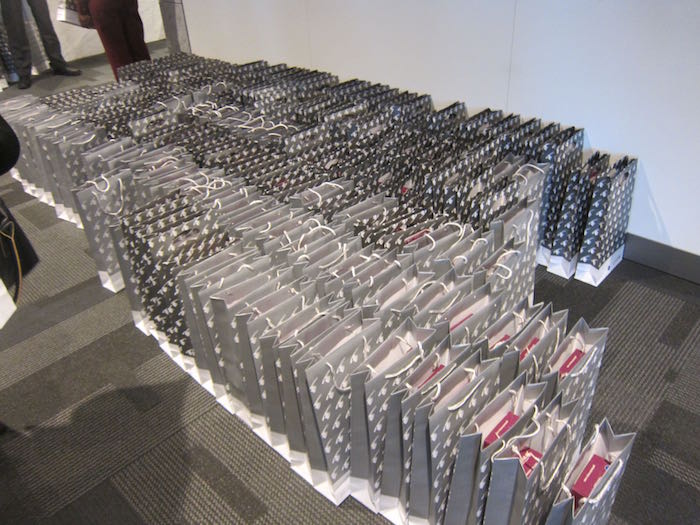 Qatar Airways A350 inaugural flight departure gate goodie bags
Aside from that, the gate area was actually pretty tame. There were no speeches or ribbon cutting or cake, but there was lots of rose and lots of canapes. And really the champagne and food is what I like about parties, so that worked for me. 😉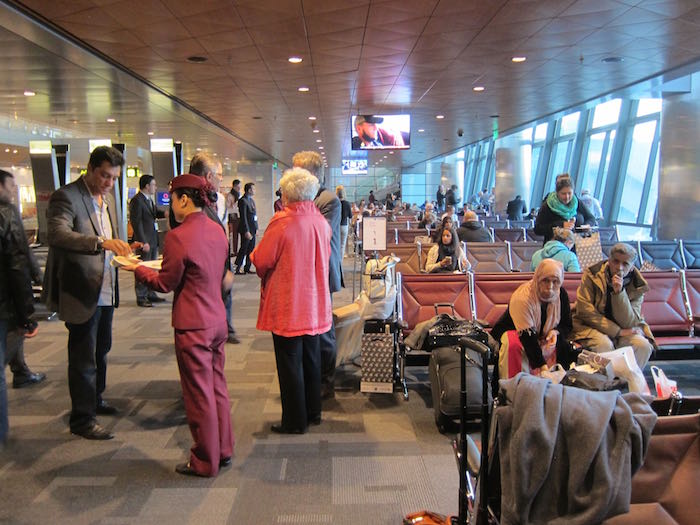 Qatar Airways A350 inaugural flight departure
There were also many uniformed employees walking around on their very best behavior, presumably because His Excellency was eventually going to show up.
In the meantime I had a great time catching up with friends. This flight had a ton of hobbyists. Out of the 36 business class passengers, I'd say about 12 were Qatar Airways employees (His Excellency and his entourage), probably 20 were hobbyists, and then just a few happened to randomly book the flight.
It was great to catch up with Gino (Etihad's first passenger of The Residence), several people from the "First To Fly" group, along with some other friends and enthusiasts. Mainly we were just staring at the gorgeous A350.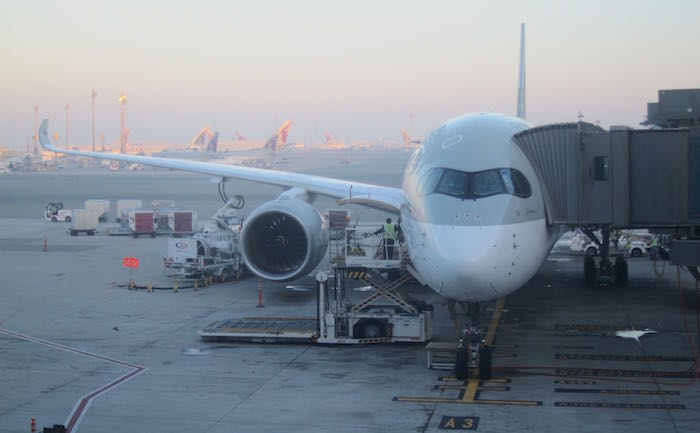 Qatar Airways' first A350
Richard Quest was on the flight as well, so he was filming during this time, which was fun to watch.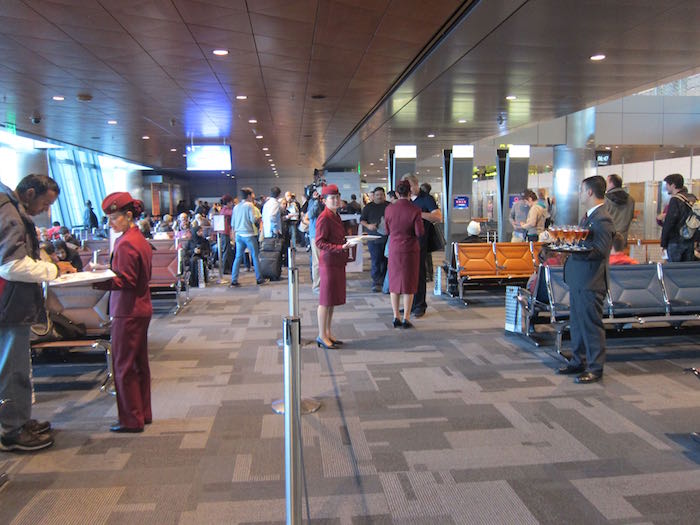 Qatar Airways A350 inaugural flight departure
As boarding time approached, the Qatar Airways employees all seemed to start talking to one another. All I heard repeatedly was them referring to "the chief" being on the way.
Sure enough, shortly after 7AM, His Excellency made what was quite possibly the most impressive entrance I've ever seen. President Obama could learn a thing or two from this guy about making an entrance. First there were close to a dozen people in suits, then there was a guy carrying bags, and then in the very back, surrounded by a handful of uniformed employees, was His Excellency.
To be honest, I'm kind of surprised he didn't buy the chair that the Pope used to be carried on, or otherwise make his own Excellencymobile.
At 7:10AM sharp boarding was called, at which point I basically sprinted onto the plane, hoping to snap as many pictures of the empty cabin as possible.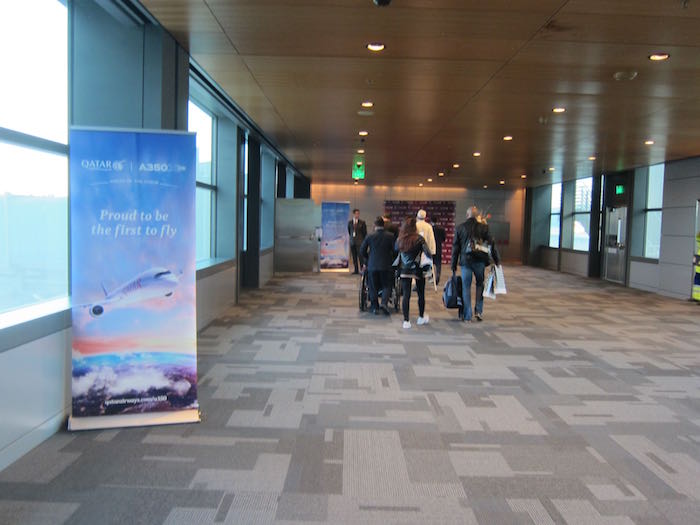 Boarding the inaugural A350 flight!
I can't even begin to explain how excited I was to be flying on a commercial flight with Akbar Al Baker, after having heard oh so many stories (rumor has it that it's not uncommon for someone to board a flight as Qatar crew and deplane as ex-Qatar crew).
Bottom line
I think Qatar Airways did a nice job with the gate area for the inaugural. It wasn't over the top, but they had champagne and canapes, and certainly promoted their new A350 as much as humanly possible.