There are some airports which are notoriously bad for traffic. Two that immediately come to mind are Jakarta and Sao Paulo, where a transfer between the airport and the city can often take several hours.
But it seems like there might be a solution which can cut your travel time in half. Yep, you don't have to be a head of state or diplomat to get a police escorted convoy to the airport. In Jakarta you can get it for a very reasonable price, actually.
Specifically, there's a guy in Jakarta — Eric — who offers both airport transfers and city transfers with two police motorcycle escorts:
Travel in a VIP police escorted convoy. It will halve most journey times. We will arrange police outriders to escort our customized MPV around Jakarta as you direct and for airport transfers. Every service is licensed. It is for visiting foreign business VIPs. It is safe, status enhancing & very practical.
They claim that the service is legitimate:
Our service is for important foreign visitors. It is not a "grey" or black service. It is licensed by the Police HQ. The Policemen will have a letter of authority from their commander which permits them to go where and park where they need, including VIP spots at the airport and at lobbies of hotels, offices and malls. We use up to 4 police motor cyclists taken from a pool of regular riders (they share the bikes and work as a team each day). We view 2 outriders as the most efficient and effective configuration.

Eric has been trained by this elite police unit in fast and safe police convoy driving techniques. Special signalling and coordination is required when forging a pathway through a gridlock or at speed on the highway. The Police prefer to have a regular driver they trust, and a properly equipped vehicle, with radio scanners that lets them give and take instruction as the convoy goes along and/or adjust routes.

Using the same core team is safer for the passengers, for other road users and for the police themselves (as they don't have to worry about an untrained and inexperienced driver behind them).

Here's a video of the police escorted convoy:
https://www.youtube.com/watch?v=35NMKej5uuc
How much will a service like this cost you? While Eric's brochure says pricing is only available via email, from searching online I found what seems to be (or at least seems to have been) Eric's price list: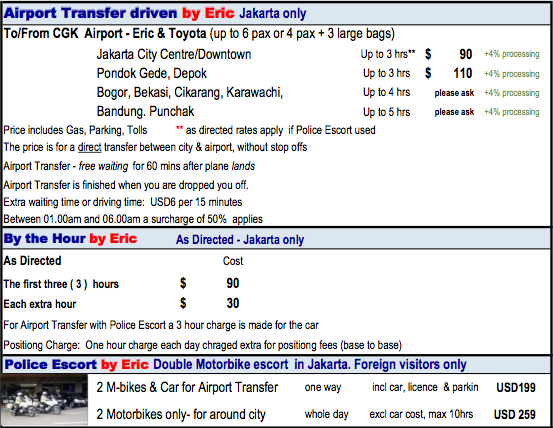 It looks like it costs $90 to be driven from the airport to the city, while the ride with a police escort costs a total of $199.
Bottom line
I'm not gonna lie, that's pretty damn awesome. Is it cheap? No. But most places in the world you wouldn't have access to a service like this, and a ~$100 premium for a police escorted convoy doesn't seem horrible, given that you can potentially save an hour with an airport transfer.
Would you ever use a police escorted convoy for an airport transfer? If so, would you do it for the time savings, the awesomeness factor, or both? 😀
(Tip of the hat to TravelinWilly)