---
I last reviewed Air France La Premiere on a flight a couple of years ago from Paris to Houston. I say that up front because that review was much more detailed than I'll make this one in terms of the hard product, while this review will mostly be focused on how much fun we had.
I rank La Premiere as the world's second best first class product onboard, and I rank their ground product in Paris as being the best in the world. So when you combine the two, I do think Air France offers the world's most well rounded first class.
So, how did they do on this trip?
Booking Air France First Class
The bad news is that it's really hard to redeem miles for travel in Air France first class. The only people who can redeem miles for La Premiere are elite members in the Flying Blue program, and the redemption rates are really high (a one-way from the US to Europe costs 200,000 miles, plus carrier imposed surcharges).
I figured I had to do something to top the flying experience my dad and I had on his 70th round the world trip, so I started looking for the best priced first class ticket. Our final destination was South Africa.
In the end I booked the following:
8/28 DL5322 Toronto to New York departing 9:58AM arriving 11:43AM [Business]
8/28 AF23 New York to Paris departing 4:25PM arriving 5:50AM (+1 day) [First]
8/31 AF990 Paris to Johannesburg departing 11:20PM arriving 9:55AM (+1 day) [First]
The cost for the one-way tickets was ~$4,200 per person. The whole reason we flew to Toronto first was because it made the ticket much cheaper. If we had just originated in New York, the ticket would have cost over 50% more.
It goes without saying that this is a ton of money (I addressed that in the introduction post), and this is the most I ever spent on an airline ticket. However:
You only live once
At least I earned 5x points for paying for the airline ticket
Inadvertently my dad earned Delta Million Miler on our flight from New York to Paris
We all earned a good number of Delta miles, and I've qualified for status, and am now actually tempted to go for Diamond status (which is a topic for a different post)
Oh, and most importantly, did I mention that we actually had the entire cabin to ourselves on both flights? We were booking three of the four seats, and there were no other passengers. To say that this took the trip to a whole new level would be an understatement.
Air France La Premiere 777-300ER Review
In the last installment I explained how we were escorted to the plane. Air France takes your preference for whether you want to be first or last onboard pretty seriously, and we were indeed first onboard.
One thing that really stands out to me about how Air France boards is their use of jet bridges. The 777 had two jet bridges, but the forward jet bridge was exclusively for those in first class.
So as we approached our escort removed the rope to that jet bridge so we could enter, and then closed it right away. As soon as we boarded, the forward boarding door was even closed. Damn!
Air France 23
New York (JFK) – Paris (CDG)
Wednesday, August 28
Depart: 4:25PM
Arrive: 5:50AM (+1 day)
Duration: 7hr25min
Aircraft: Boeing 777-300ER
Seat: 1E (La Premiere First Class)
I could tell it would be an incredible flight the second we stepped onboard. We were greeted by Bruno, "our" flight attendant, and Anne, the chief purser. "Mr. Schlappig, Mr. Schlappig, Mr. Beckett, welcome to La Premiere. You have the cabin to yourselves, so this is your home. Please make yourselves comfortable."
There are flashier first class products out there, but there's nothing quite as elegant as Air France's La Premiere cabin. It almost doesn't look real.
While other airlines have doors in first class, Air France has curtains. I love this because it means you can have a totally open cabin when you want, and full privacy as well.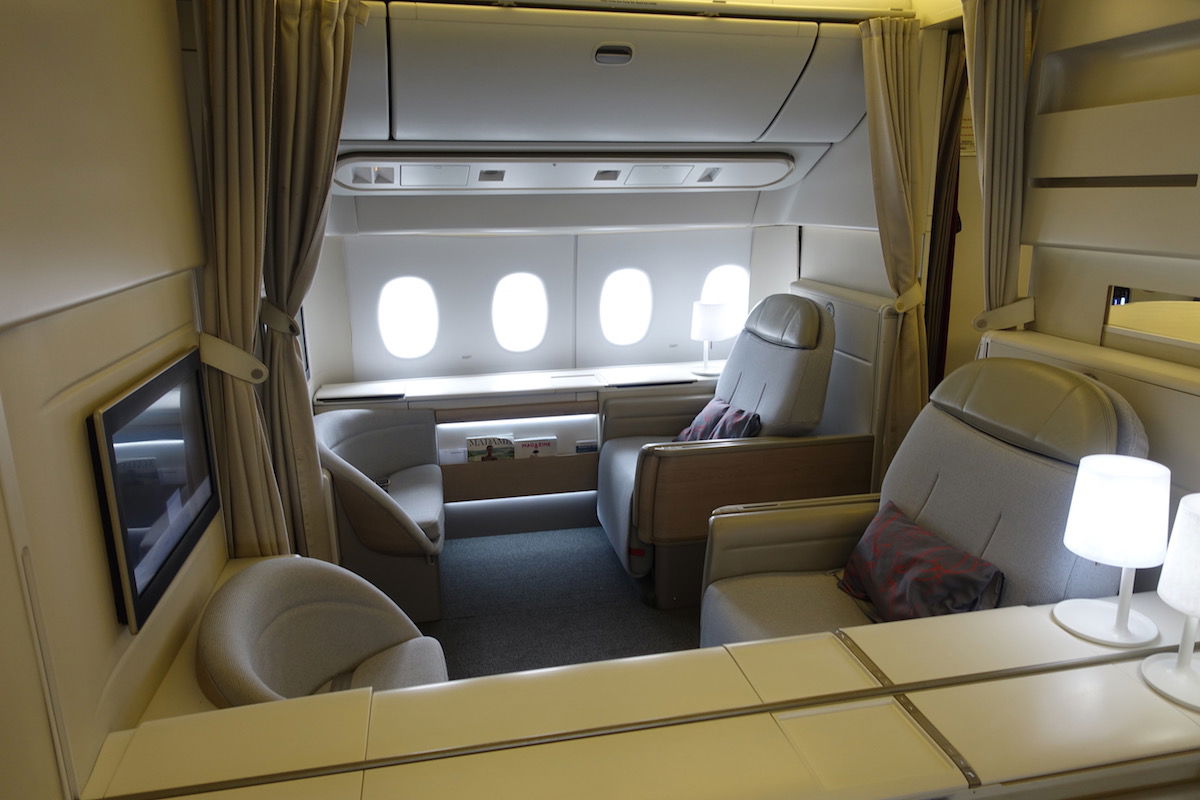 Air France La Premiere cabin 777-300ER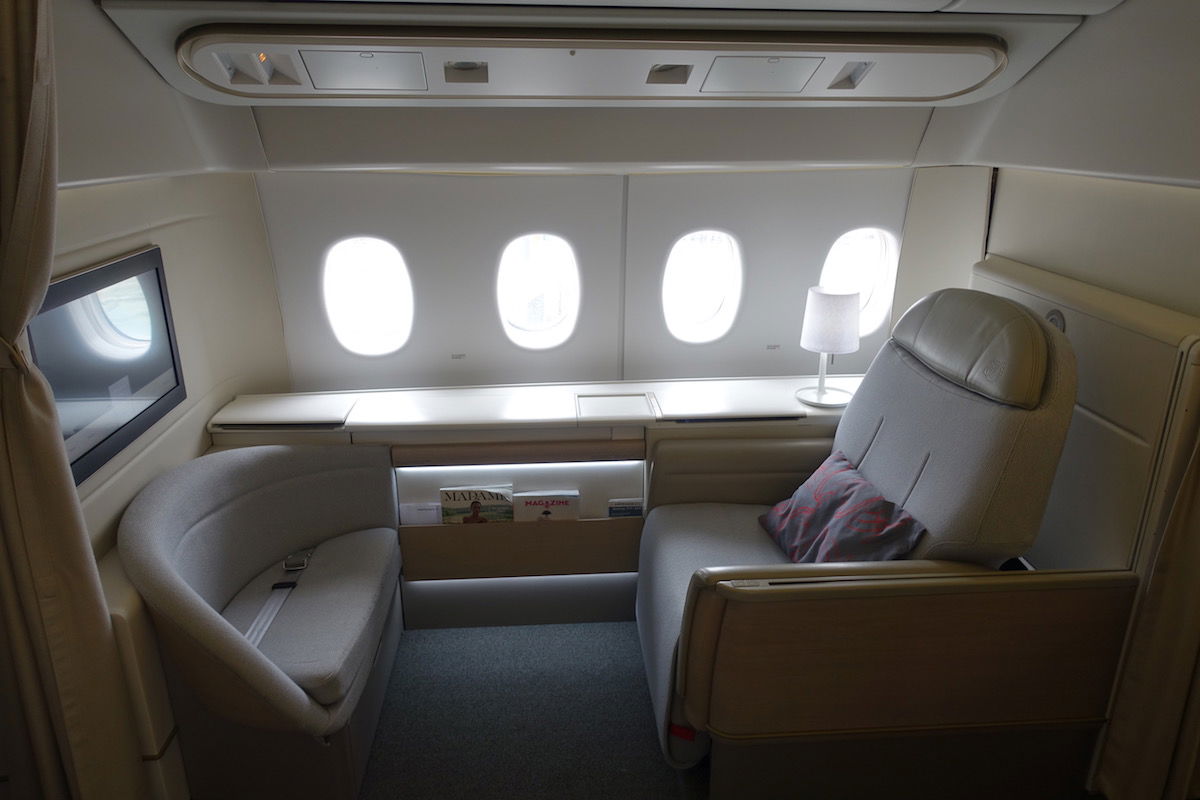 Air France La Premiere cabin 777-300ER
Since we had the cabin to ourselves, we ate together, switched seats constantly, etc. My dad initially sat in 1A so that he'd have a view out the window for takeoff.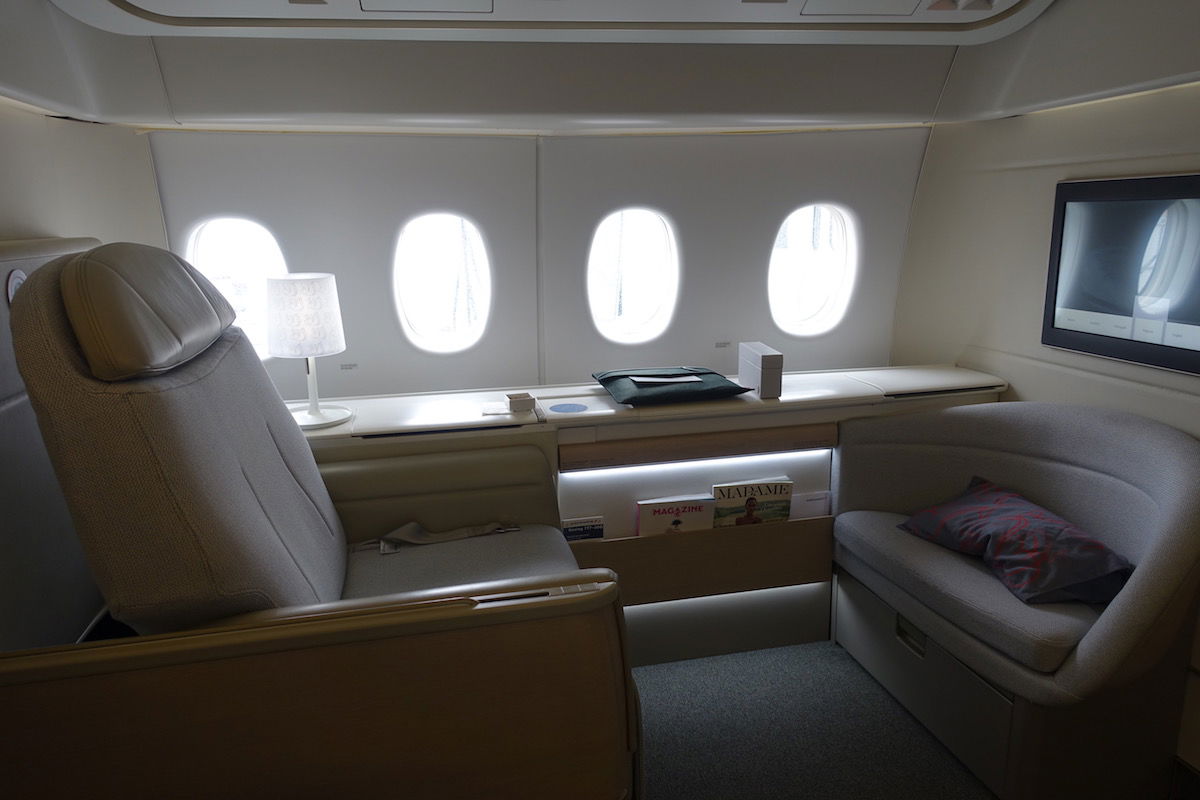 Air France 777 first class seat
I took seat 1E, and Ford took seat 1F. While there are curtains around seats, there's no curtain between the two center seats, but rather just a privacy partition.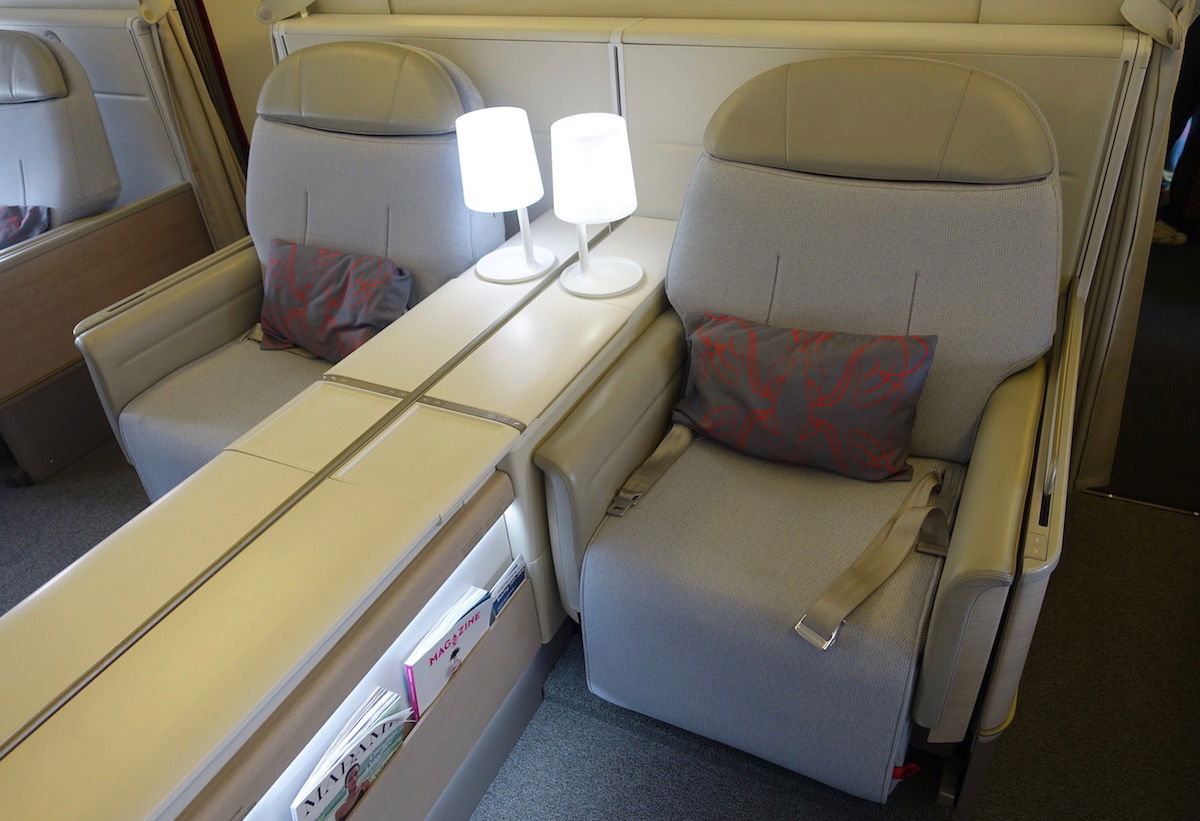 Air France 777 first class seats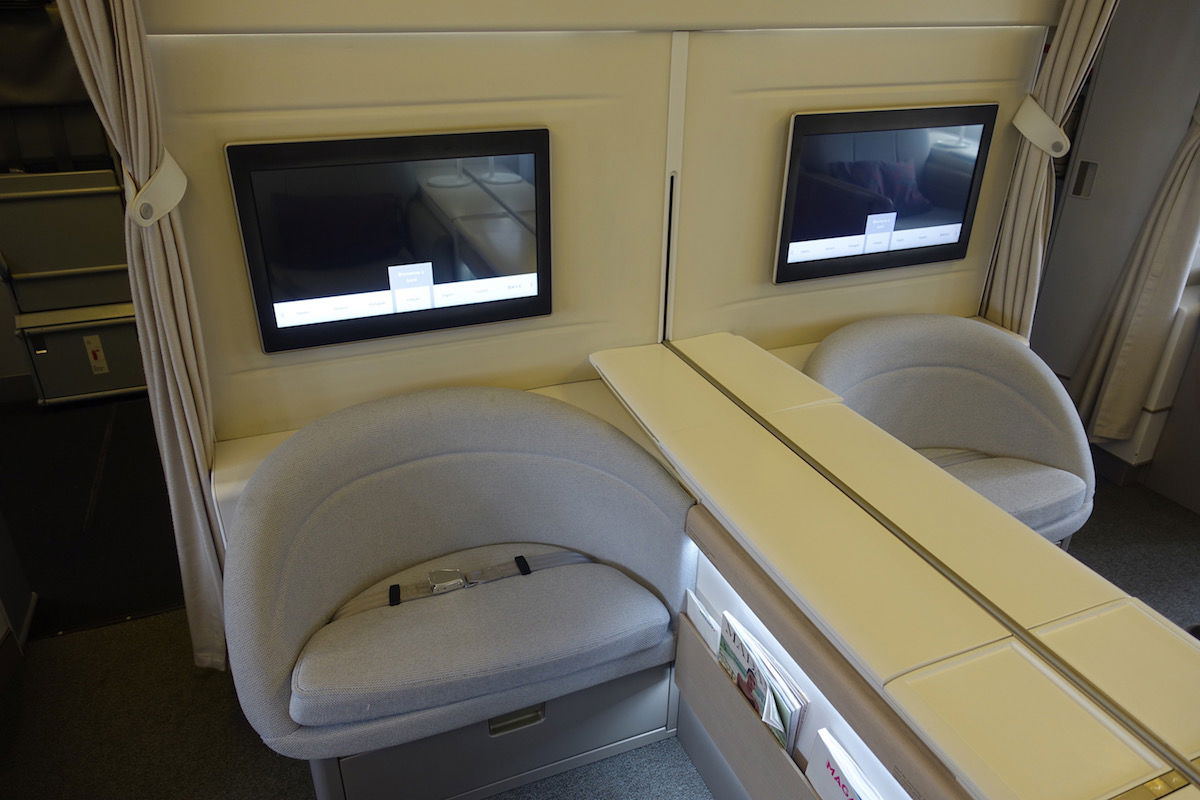 Air France 777 first class seats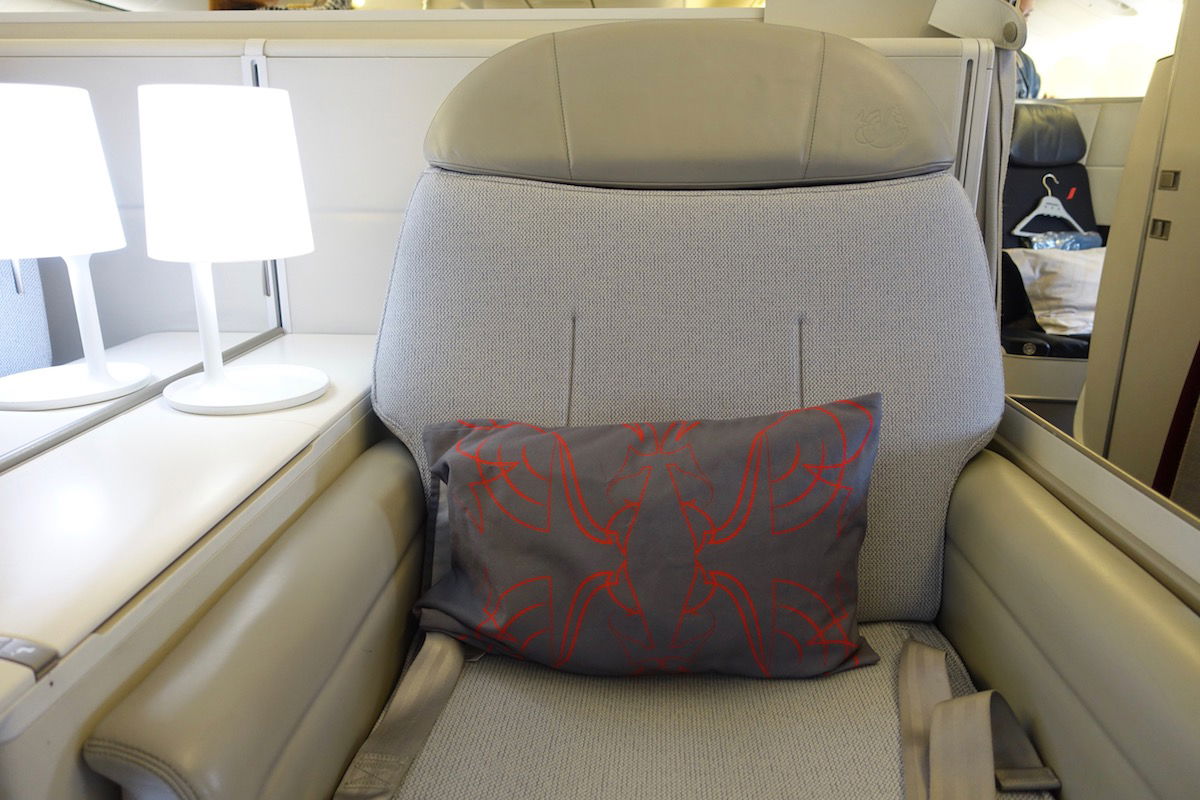 Air France first class seats 777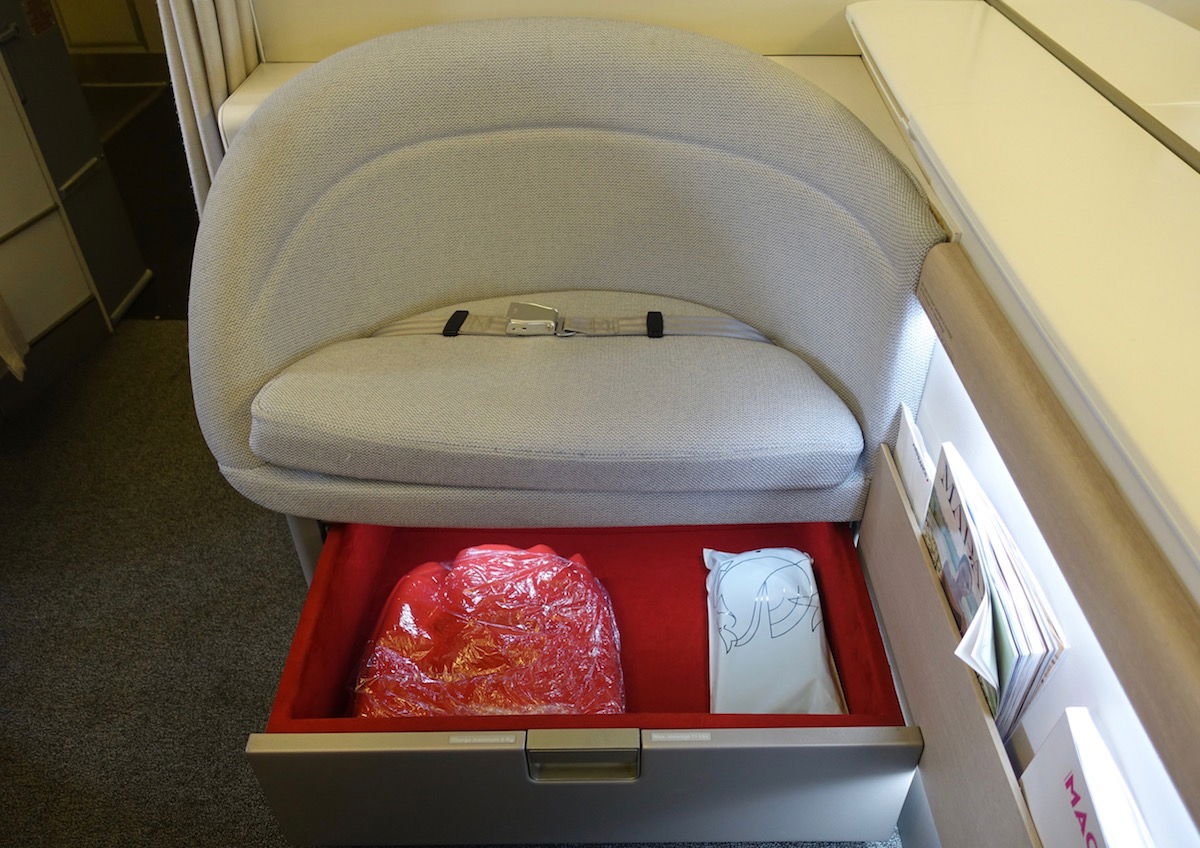 Air France first class seats 777
While I love the Air France cabin in general, this really is an unbeatable cabin if you have it all to yourself. I can't imagine a better setup for just having fun the entire flight.
A few moments after settling in, Bruno presented us with the amenity kits for the flight, featuring Carita products.

Air France first class amenity kits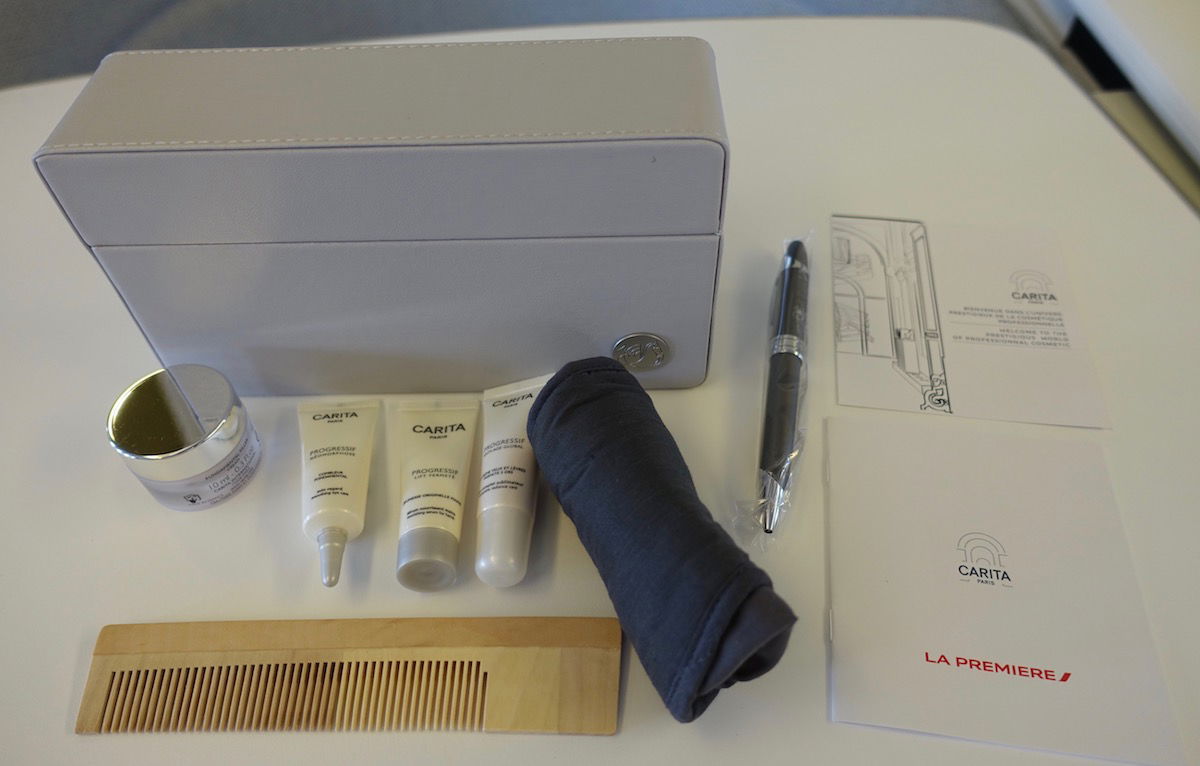 Air France first class amenity kit contents
We were also presented with pajamas. The current La Premiere pajamas are chic, in my opinion.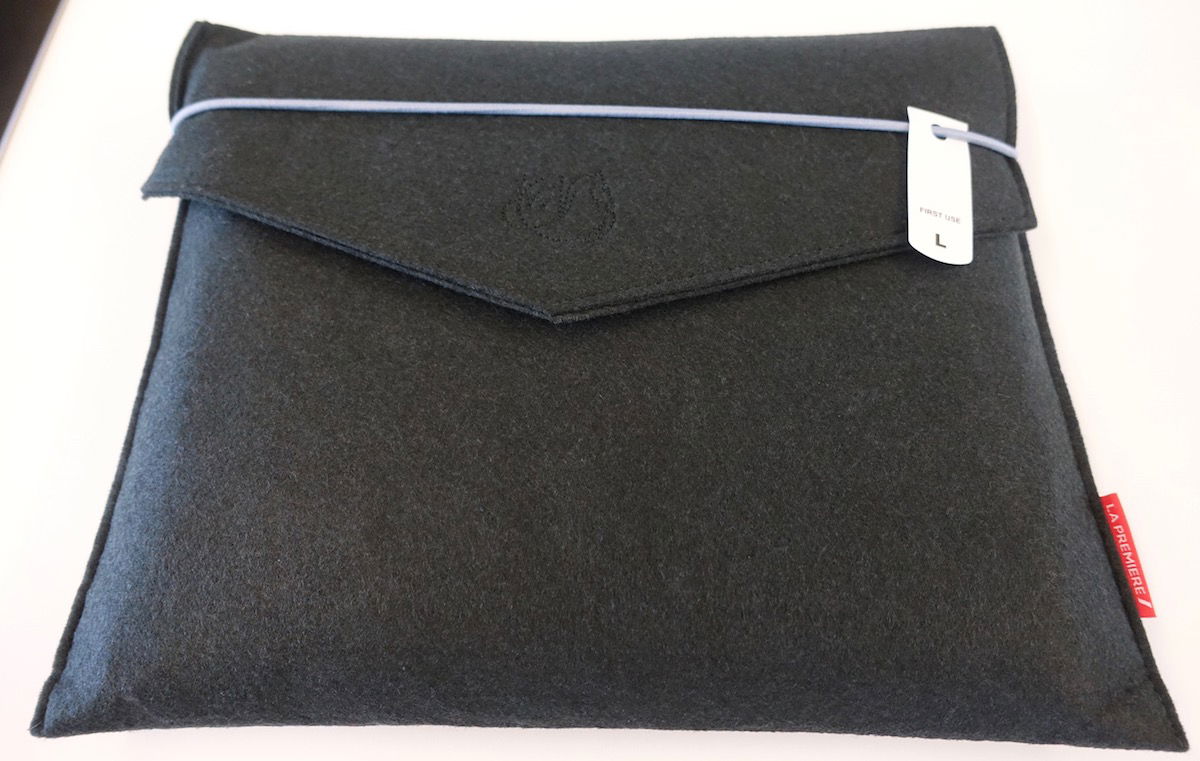 Air France first class pajamas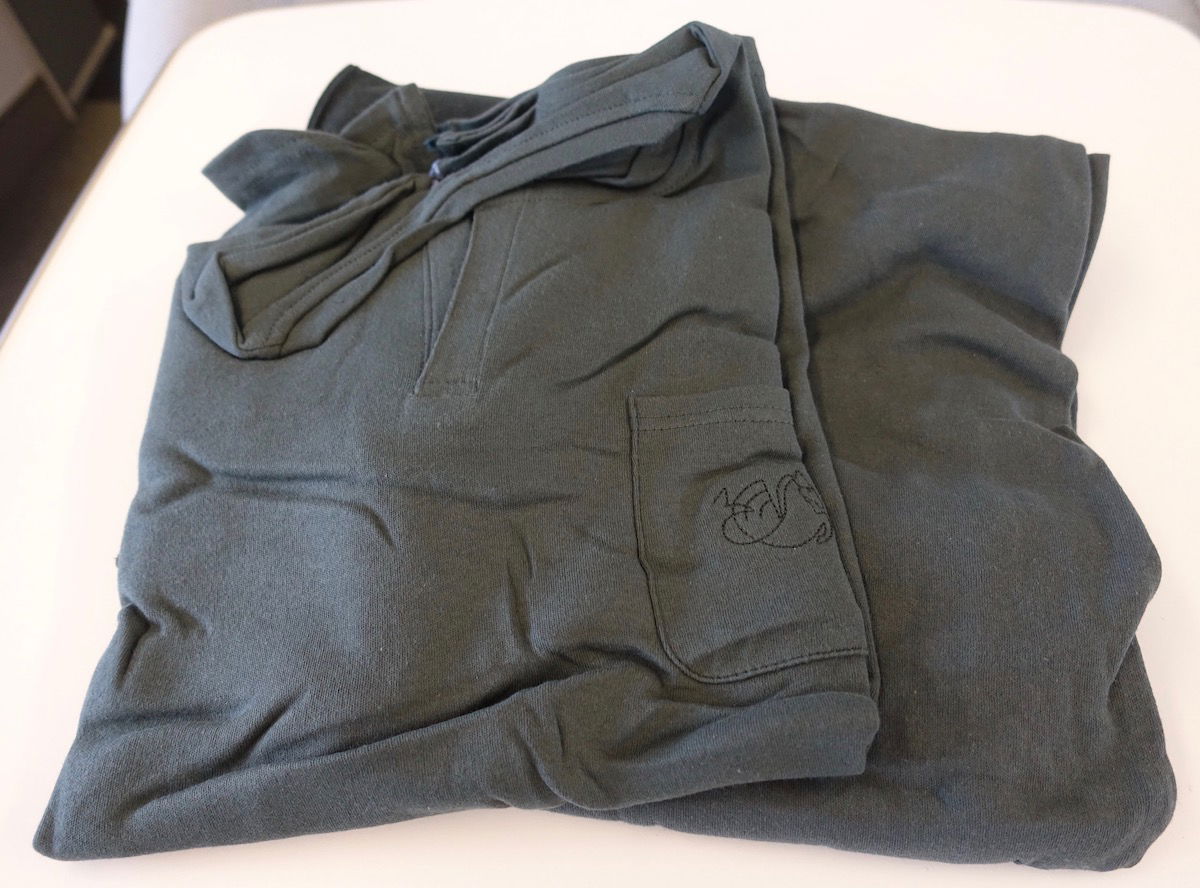 Air France first class pajamas
There were also already slippers waiting at our seats.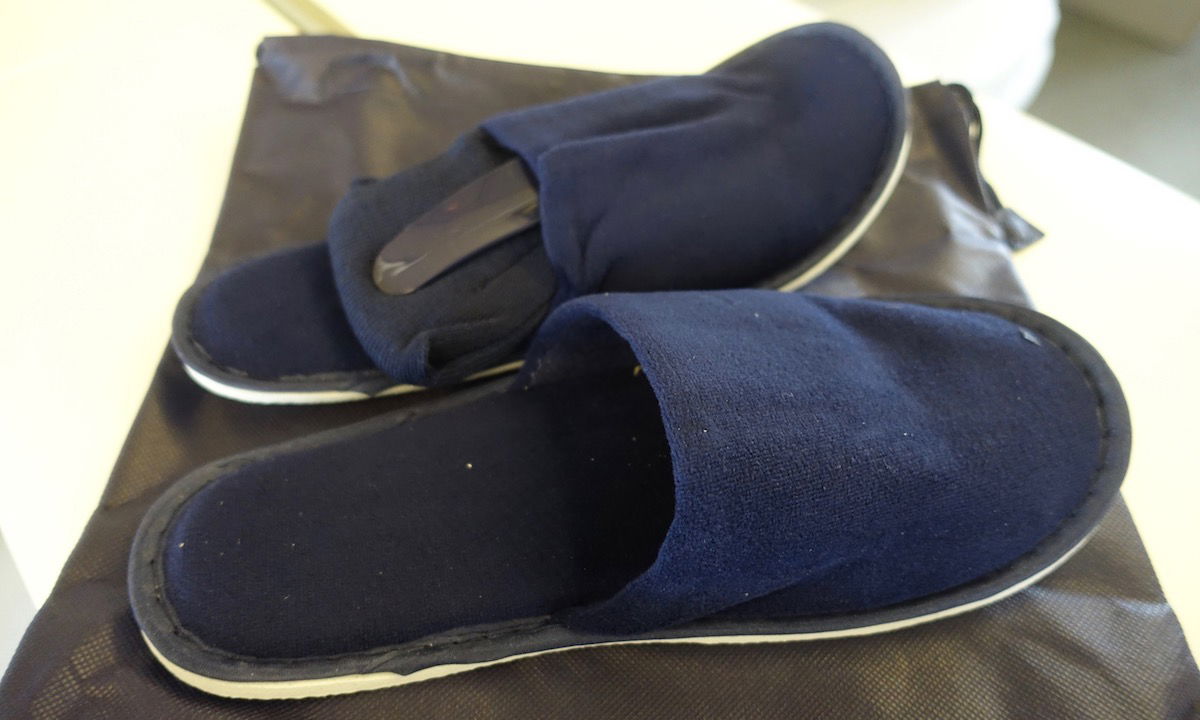 Air France first class slippers
Next up was some drinks. Air France alternates their champagne every so often — currently they have Veuve Clicquot La Grand Dame 2006. While I consider that to be excellent, I would also note that EVA Air serves this in business class, so it's not as impressive as what some other airlines are offering.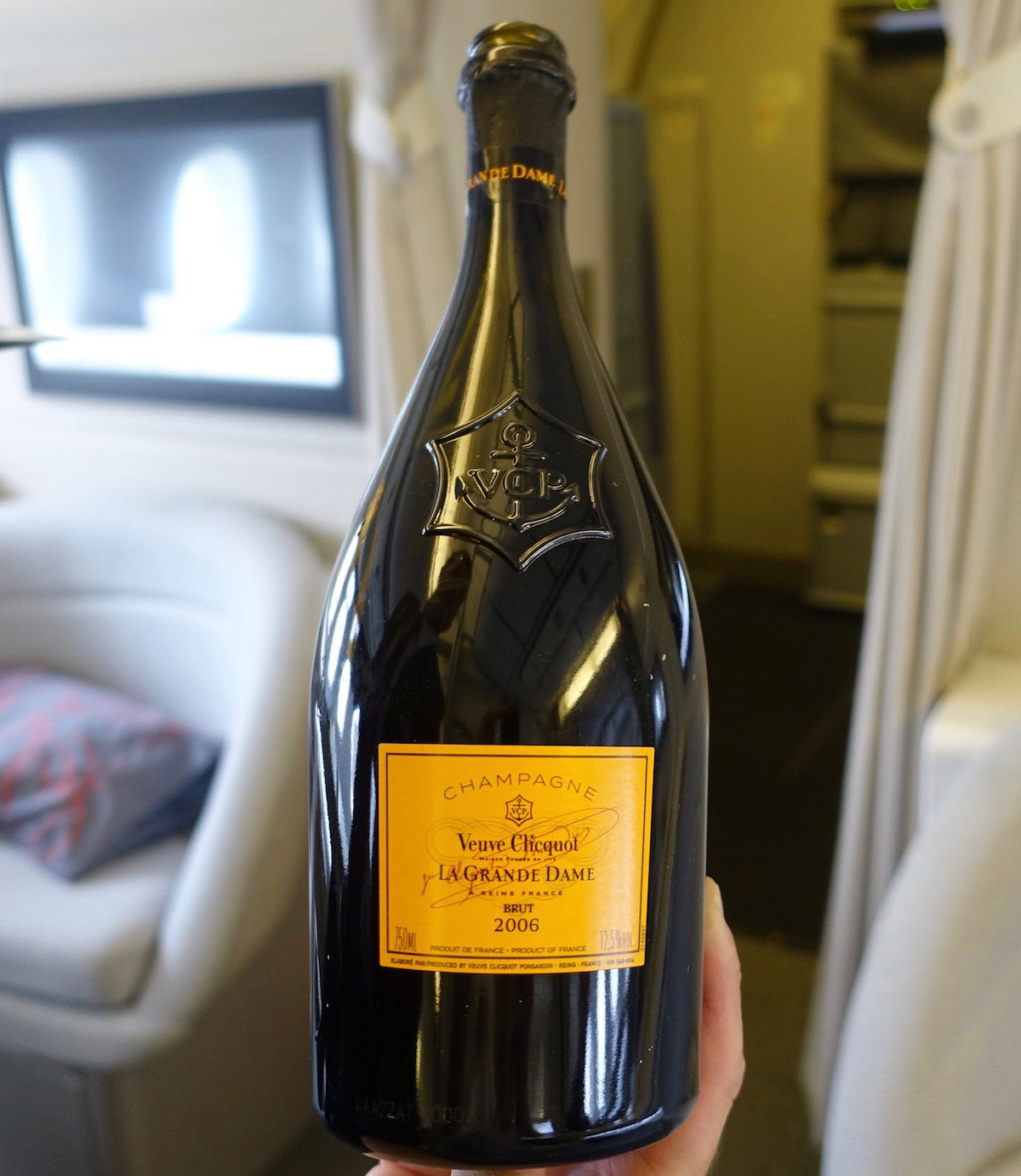 Air France La Premiere Veuve Clicquot La Grande Dame 2006
Along with the champagne we were offered some mixed nuts and raisins. I love how Air France's La Premiere glassware is slanted. Sometimes you wonder if it actually is, or if you've just had one too many drinks and are seeing funny.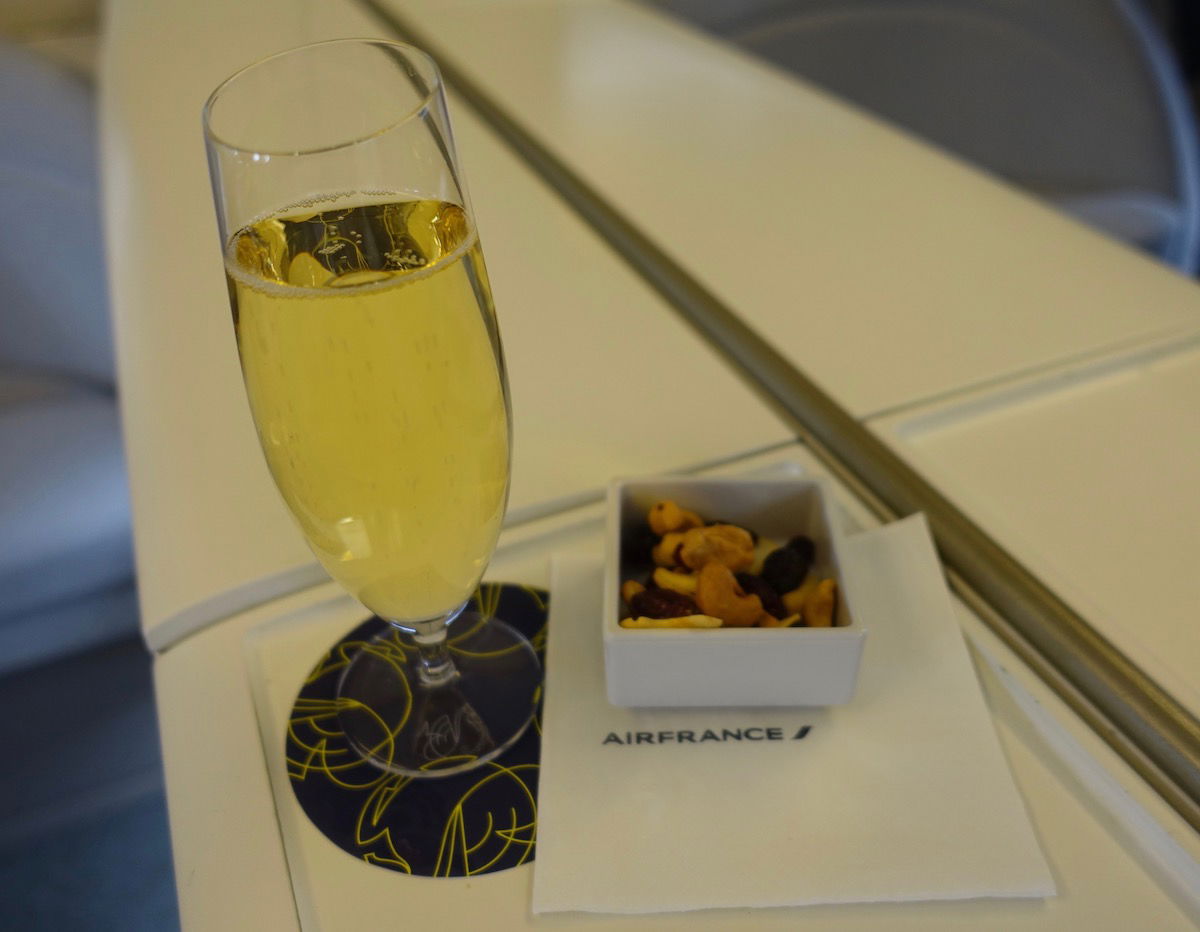 Air France La Premiere champagne & nuts
Happy dad and happy Ford!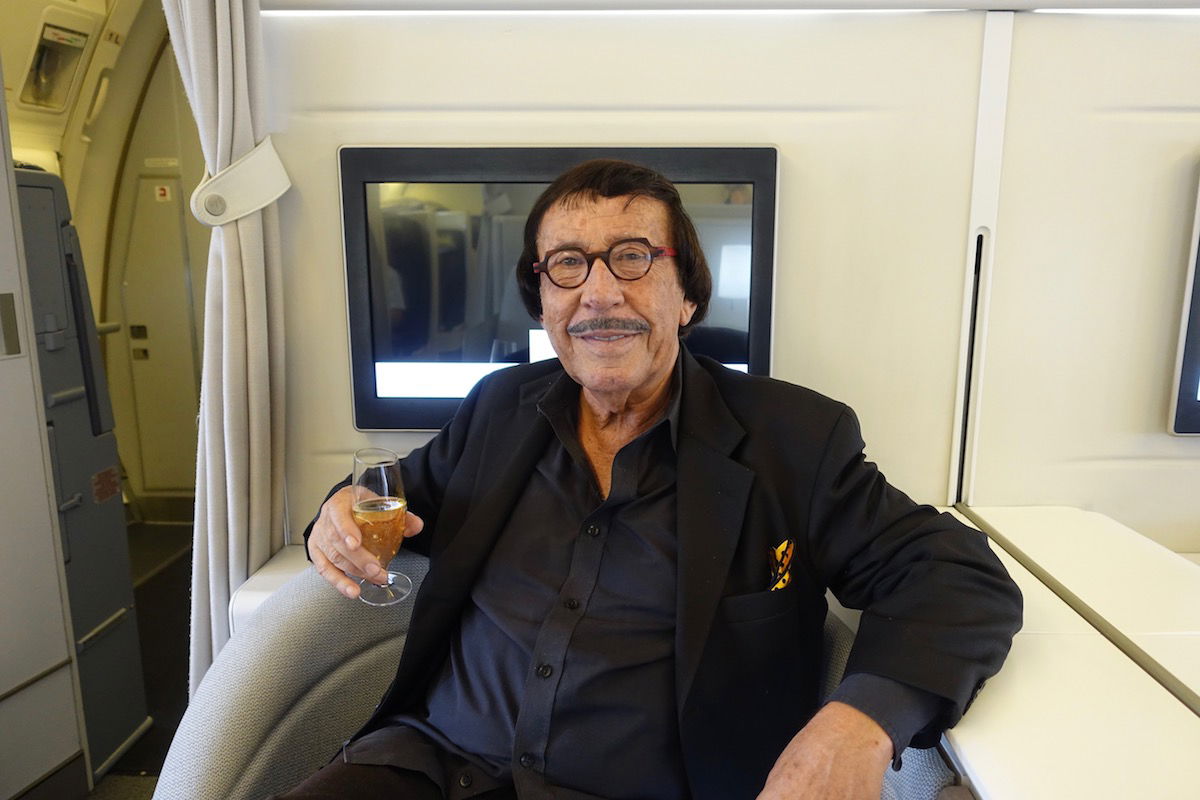 My dad in La Premiere!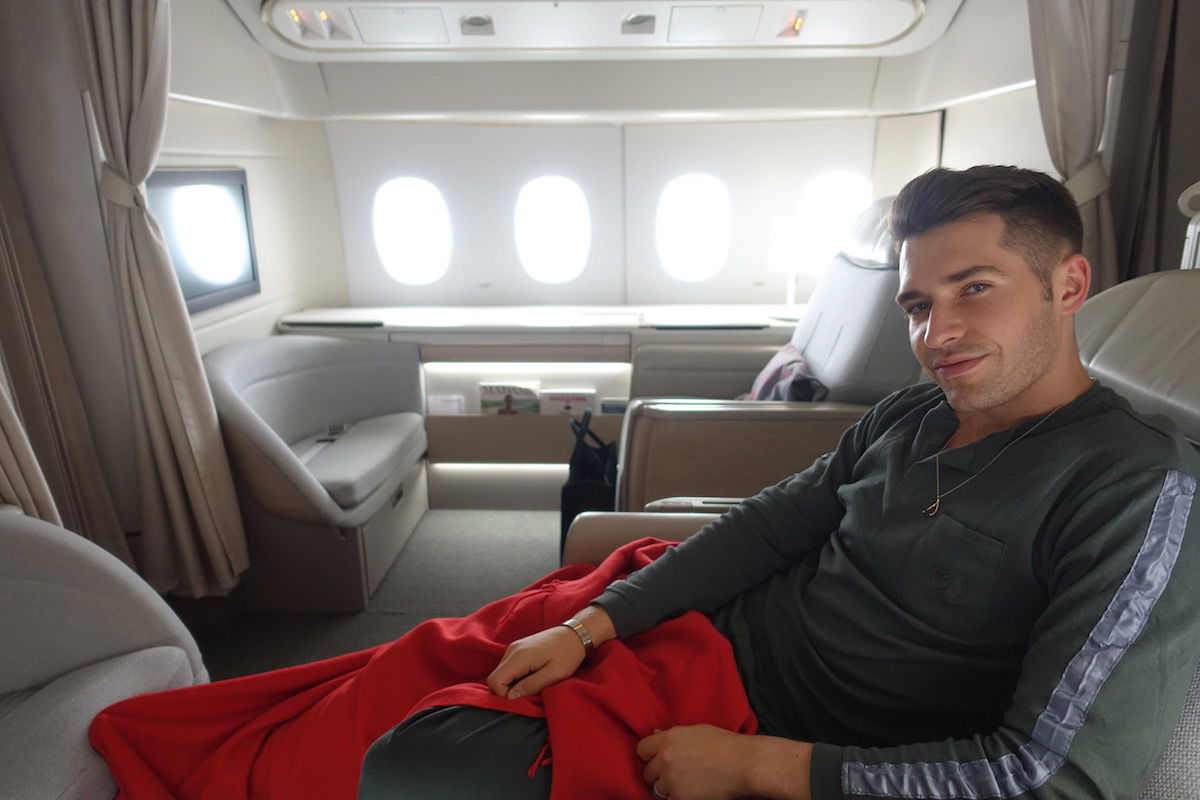 Ford enjoying La Premiere
About 10 minutes after boarding, Bruno presented us with the menus for the flight. He explained that we could have what we want when we wanted. He also said that we could all dine together in the center section and enjoy the meal together.
"It's not often we have groups traveling together in La Premiere, so this is even fun for me."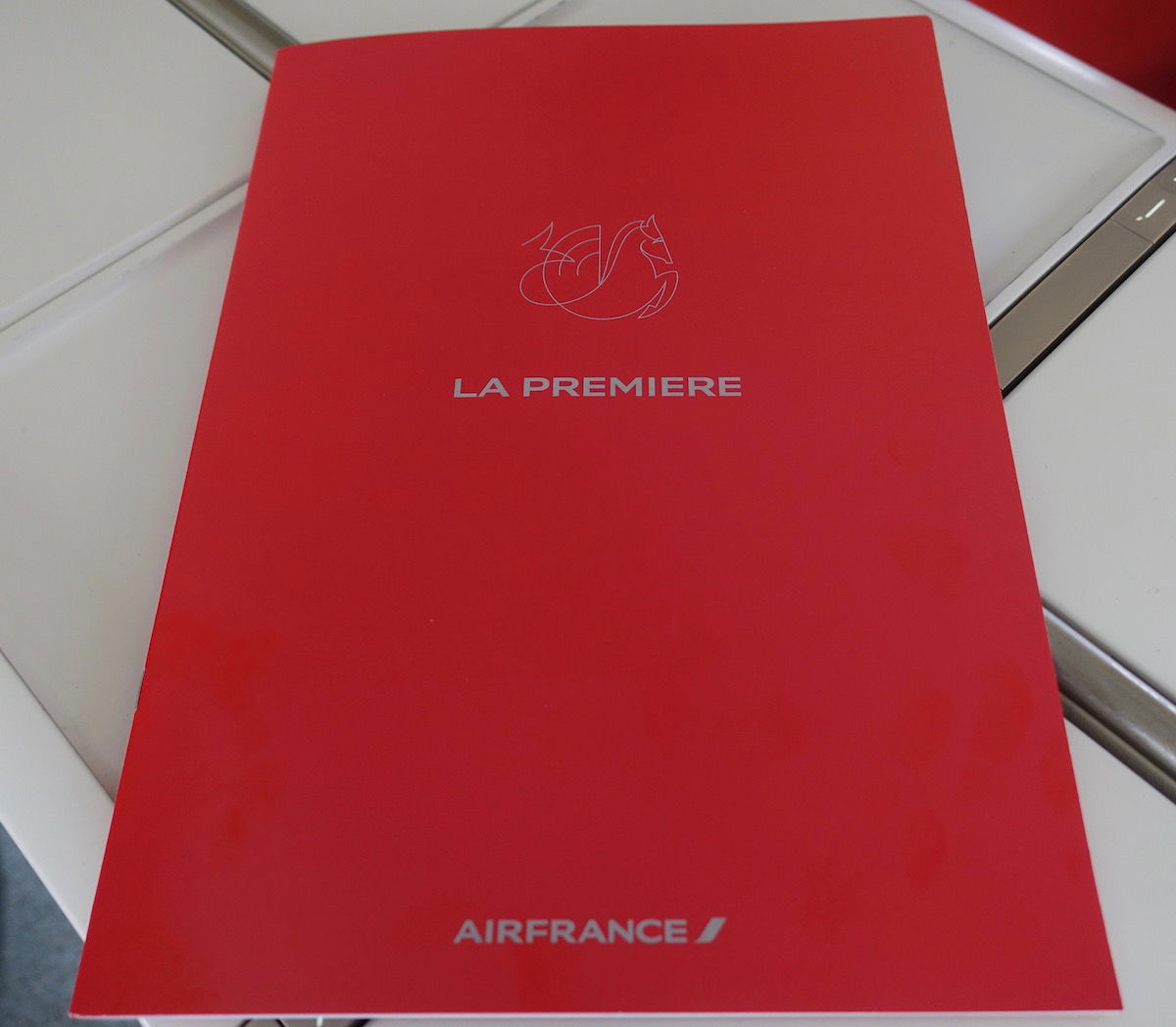 Air France La Premiere menu
At around 4:10PM the captain came into the first class cabin to welcome us onboard. It's a really nice touch that Air France pilots seem to do this pretty consistently. He told us our flight time would be 6hr20min, but that we'd be taxiing for about 45 minutes due to congestion. He also said that there could be some thunderstorms on the way out, but that otherwise it should be a smooth flight.
At around 4:20PM he made a similar announcement over the PA, and five minutes later we began our taxi. As we departed the plane was completely full, with the exception of the empty seat in La Premiere.
Bruno kept our glasses full throughout our time on the ground, and we had easily finished off our first bottle at this point.
After taxiing for around 25 minutes the captain announced that we were numbered 10 in the sequence for takeoff, and should be departing in about 20 minutes. Sure enough, at 5:10PM we were cleared for takeoff.
It was a bit bumpy on the climb out, so the seatbelt sign was kept on for the first 30 minutes. Despite that, our service began just shortly after takeoff.
The menu read as follows: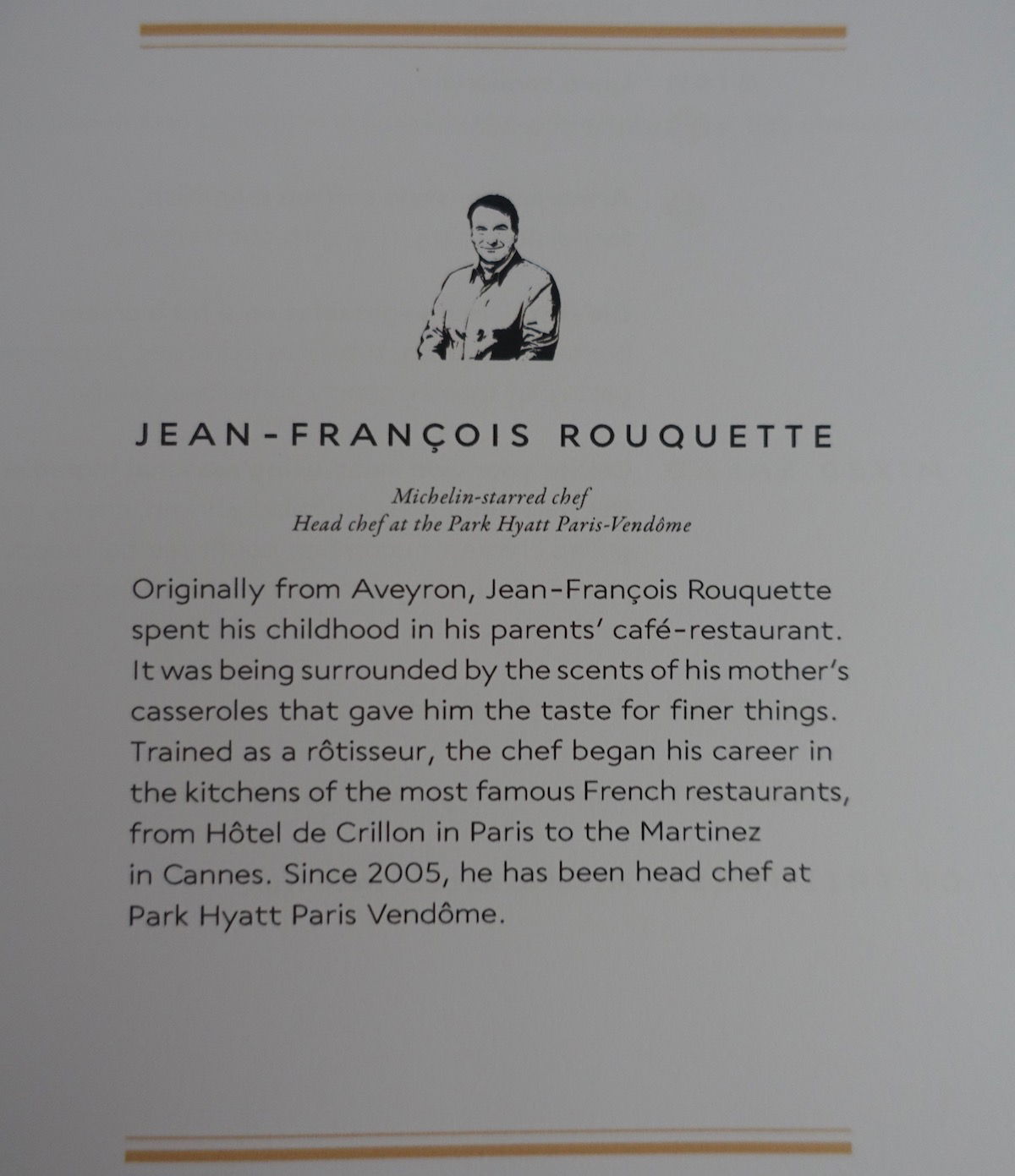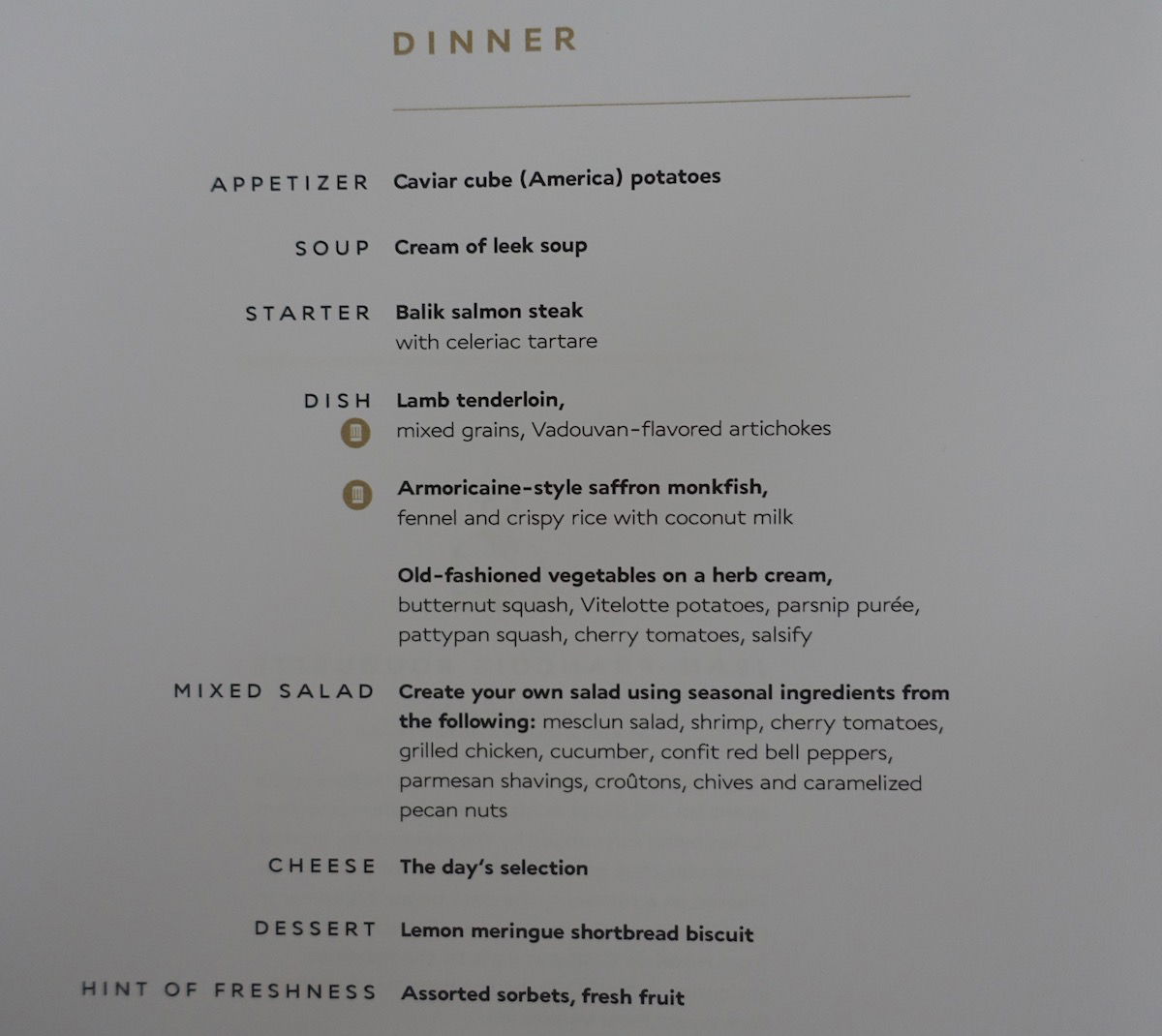 The drink list read as follows: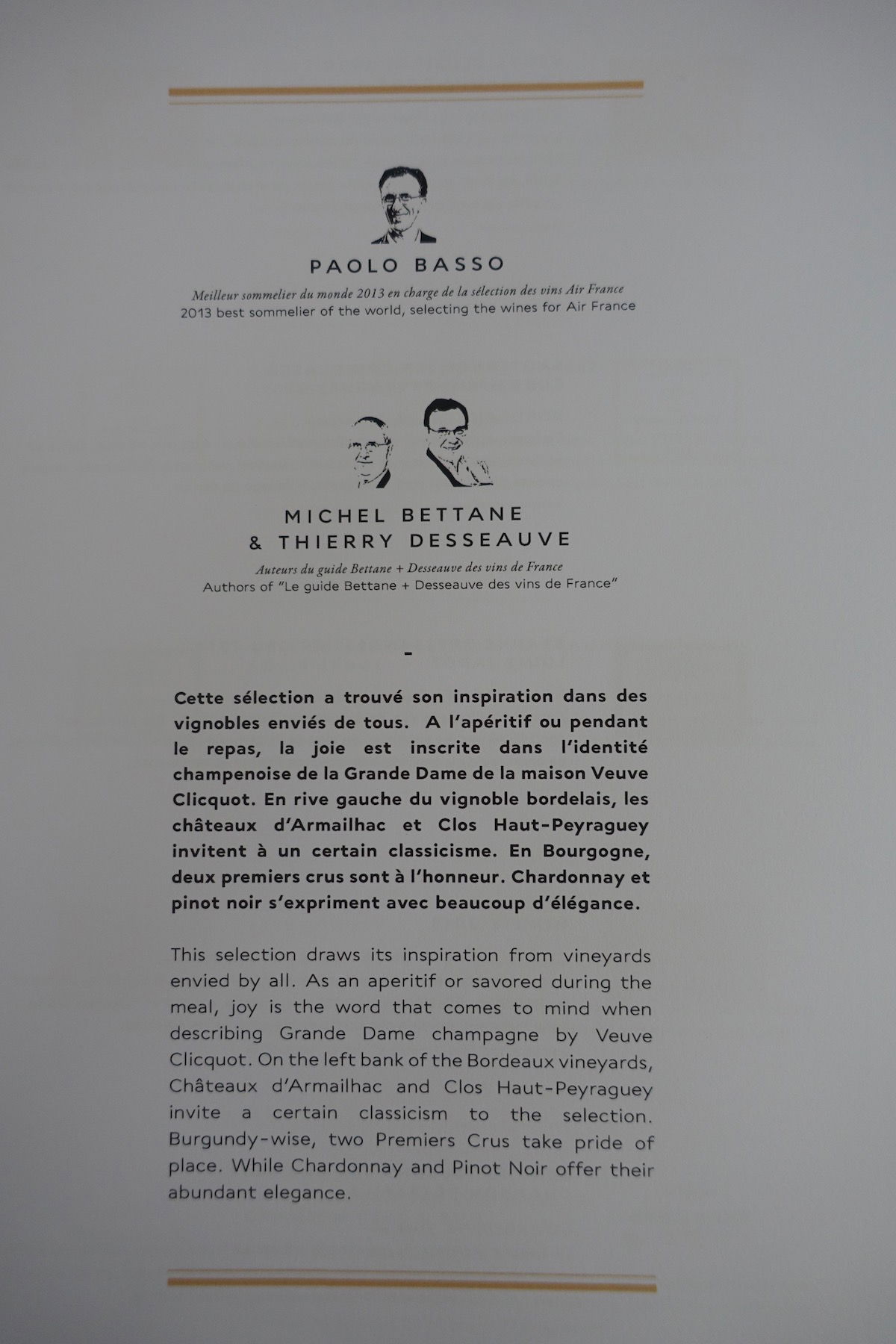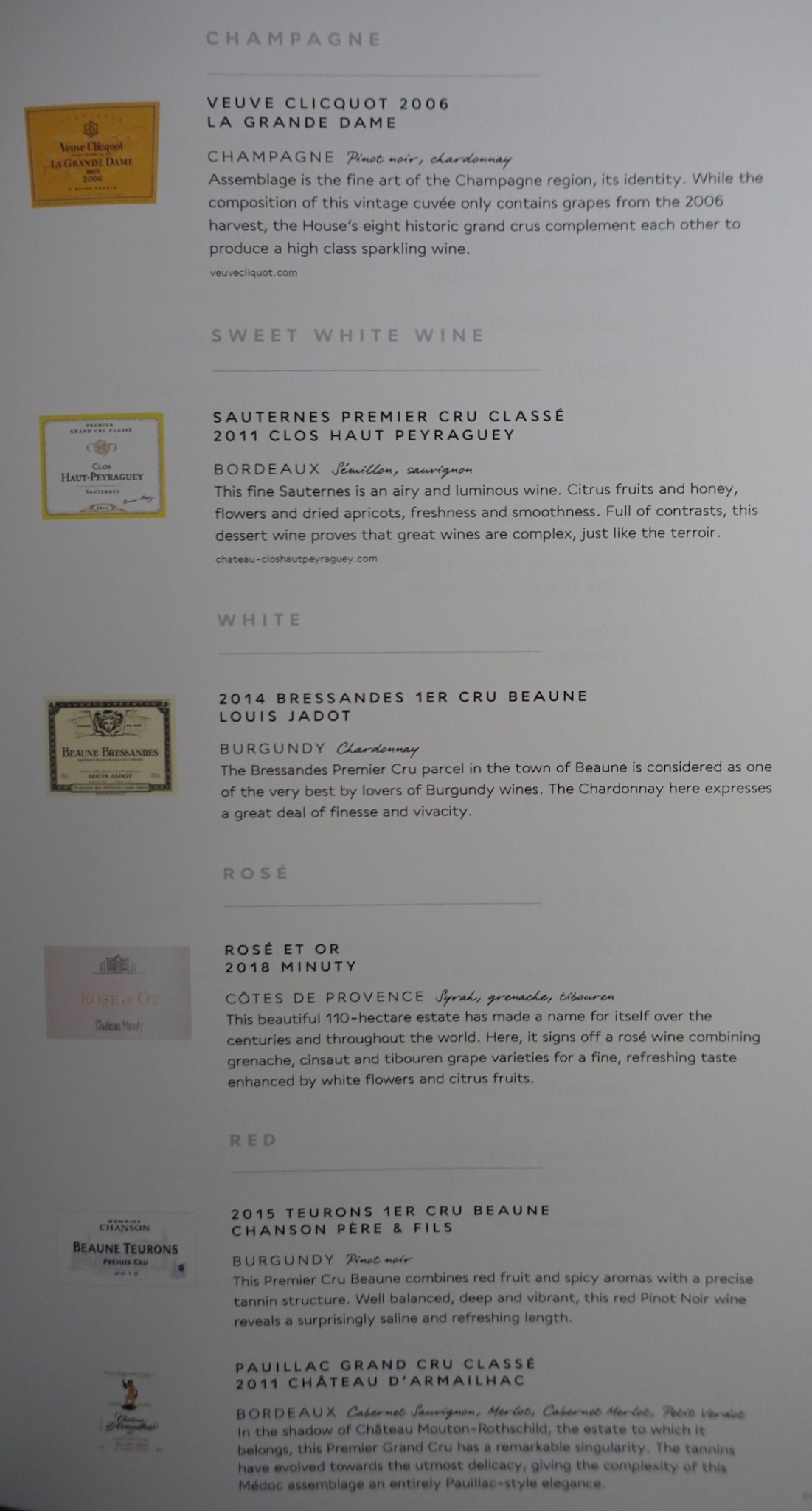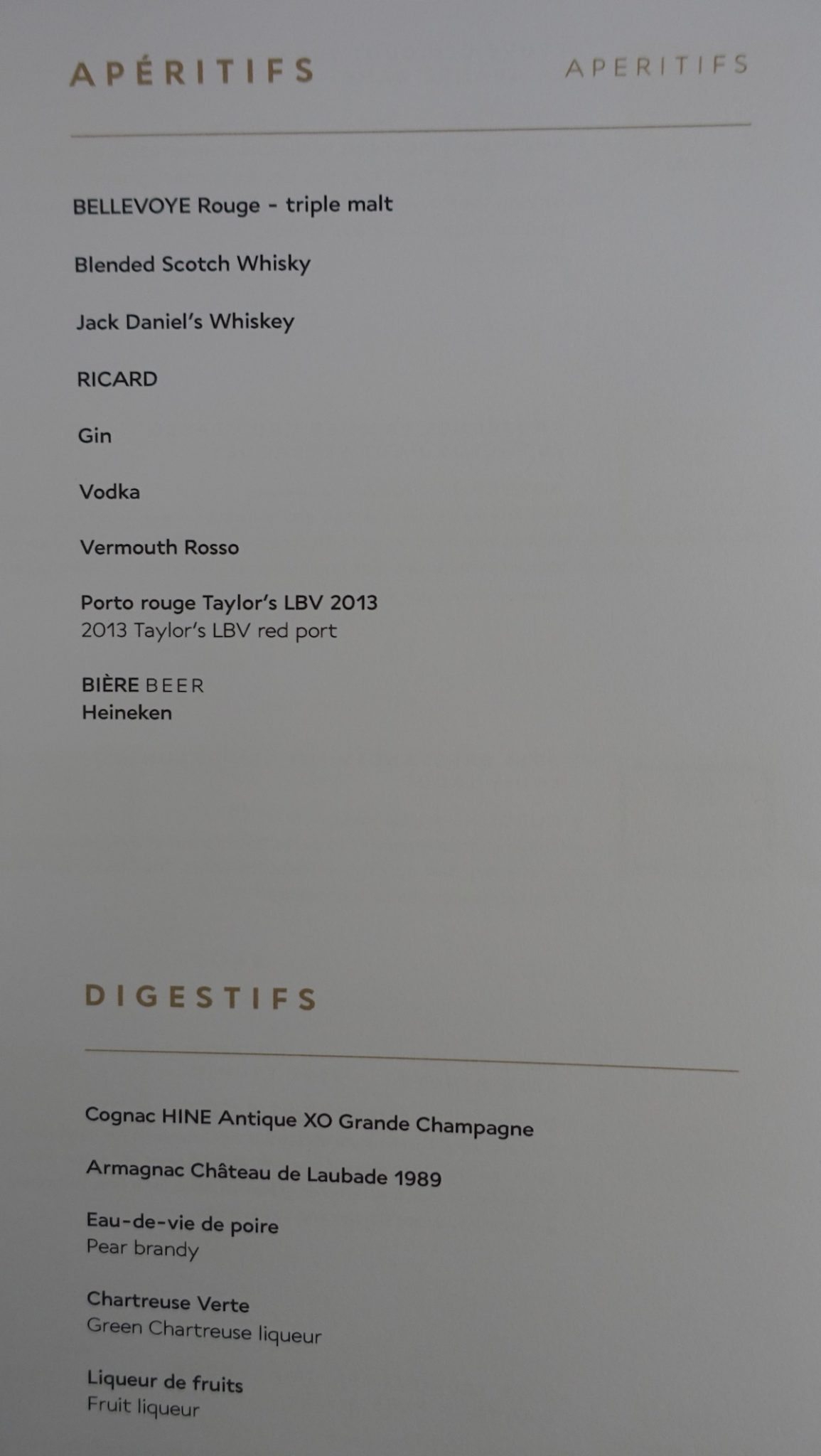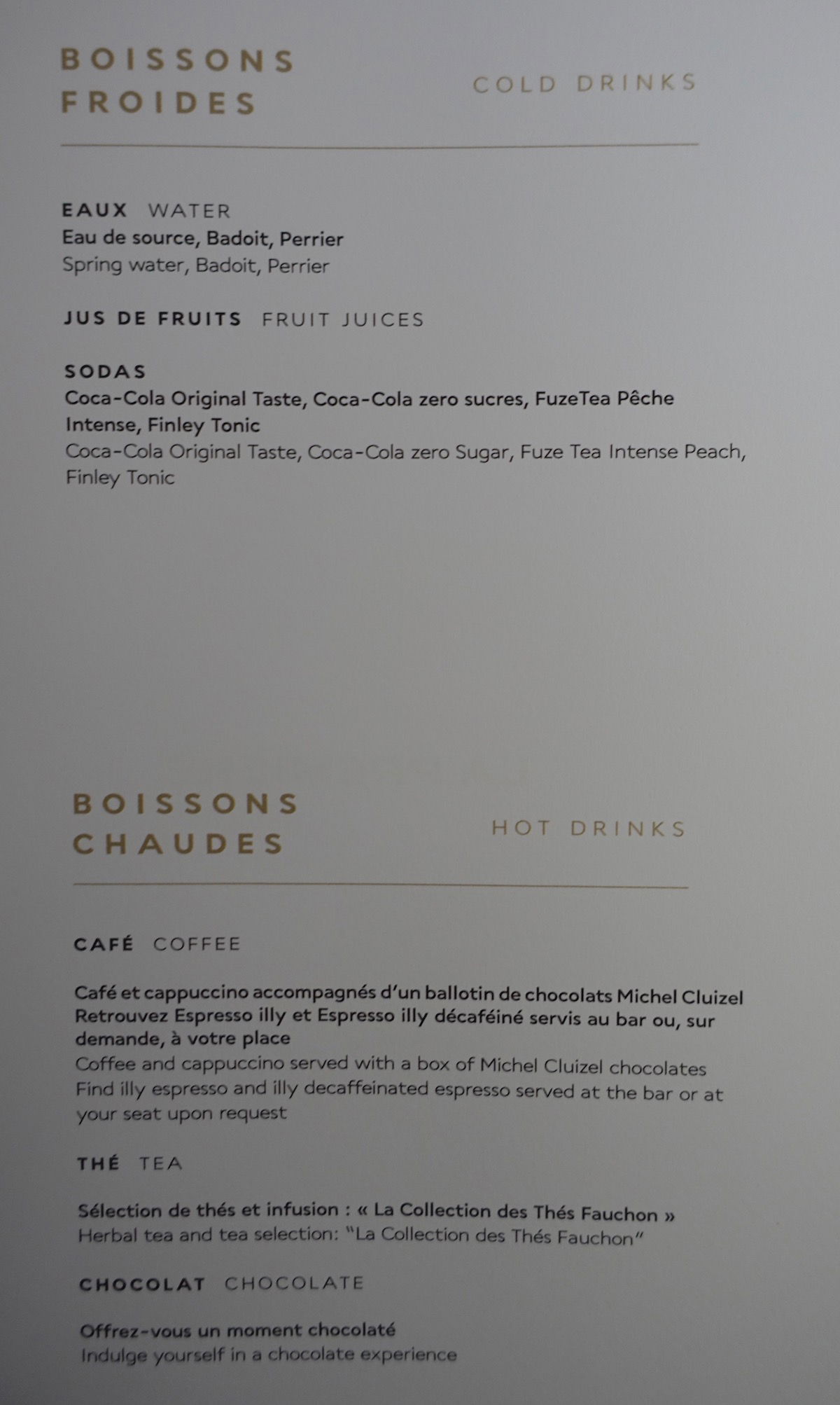 My dad perused the menu, and I'm happy to say that deciding what to eat is the toughest decision we let him make that day (he got his first ever cell phone under two years ago, and now I think I understand why he likes it — he just uses it as a reading light).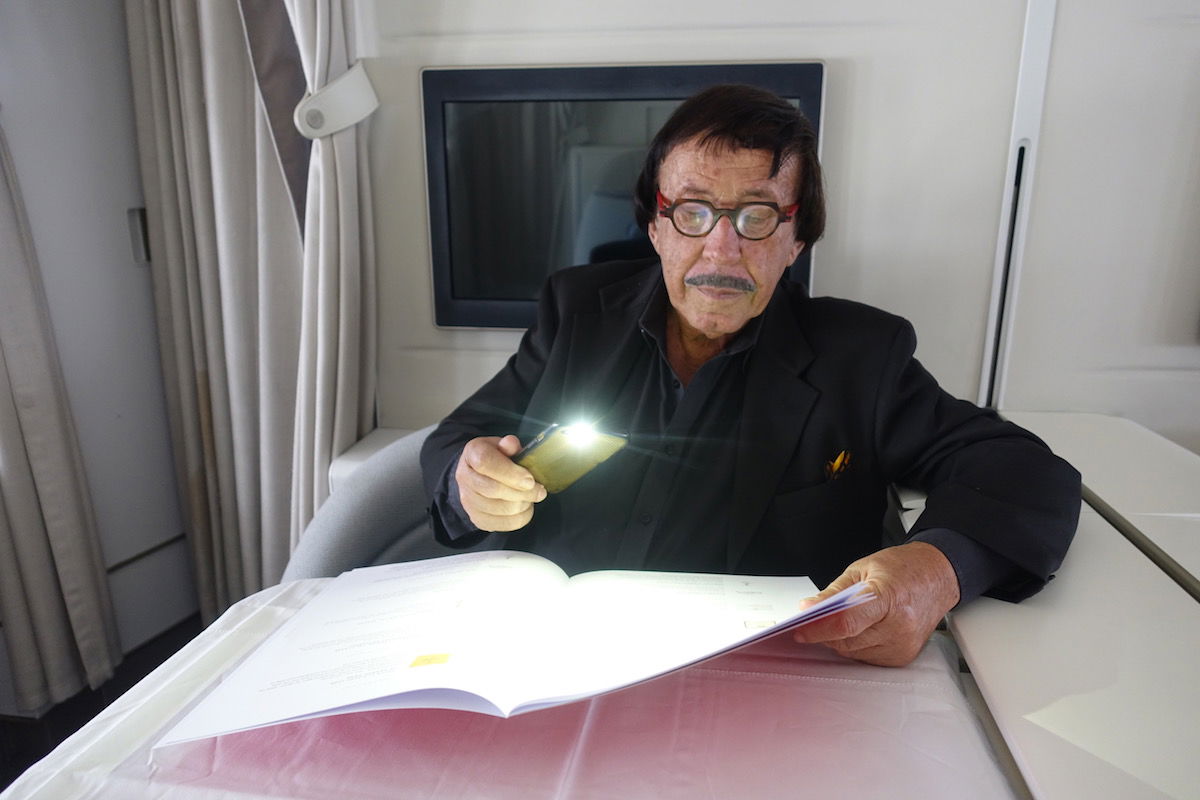 Dad perusing the menu in La Premiere
Bruno brought out the tablecloths, and all three of us decided to dine together in the center section.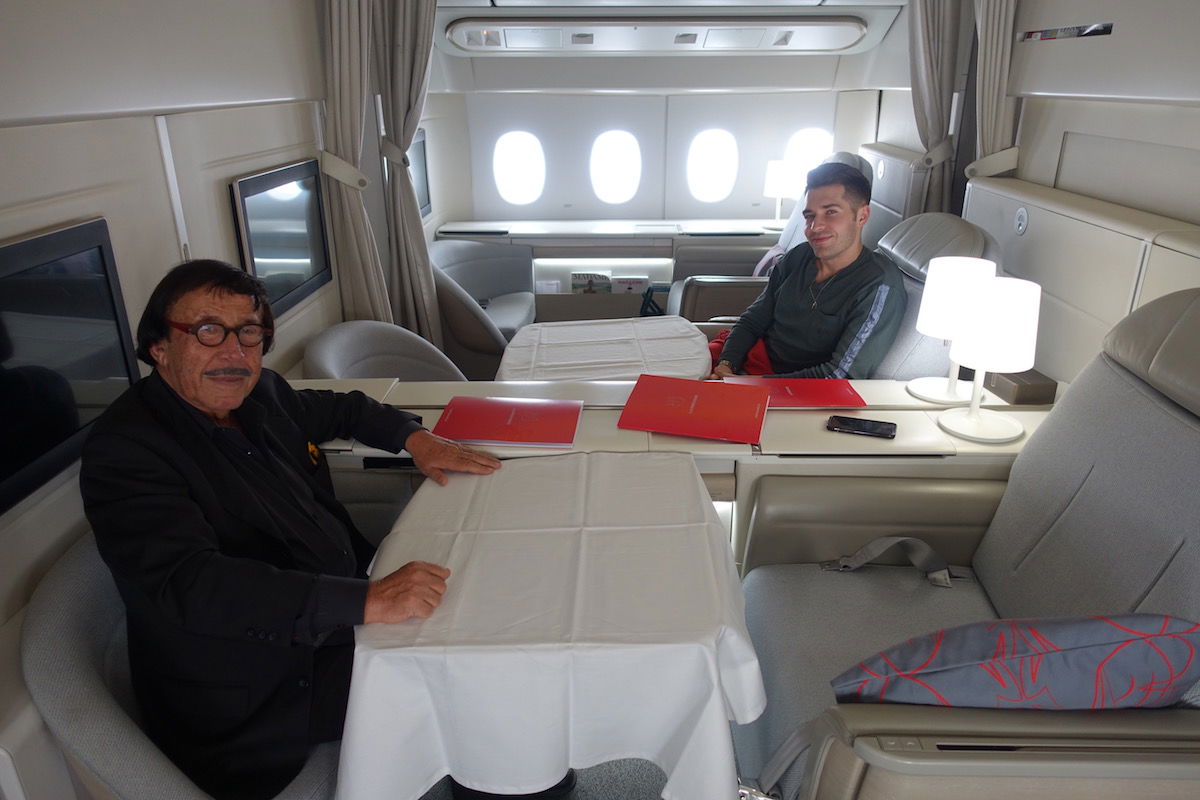 Dad & Ford in La Premiere
Bruno offered to take some pictures of us, which we took him up on. Unfortunately they almost all didn't turn out particularly well — not his fault, but probably because we all had a few drinks at this point. There are barely any pictures where we all have our eyes open…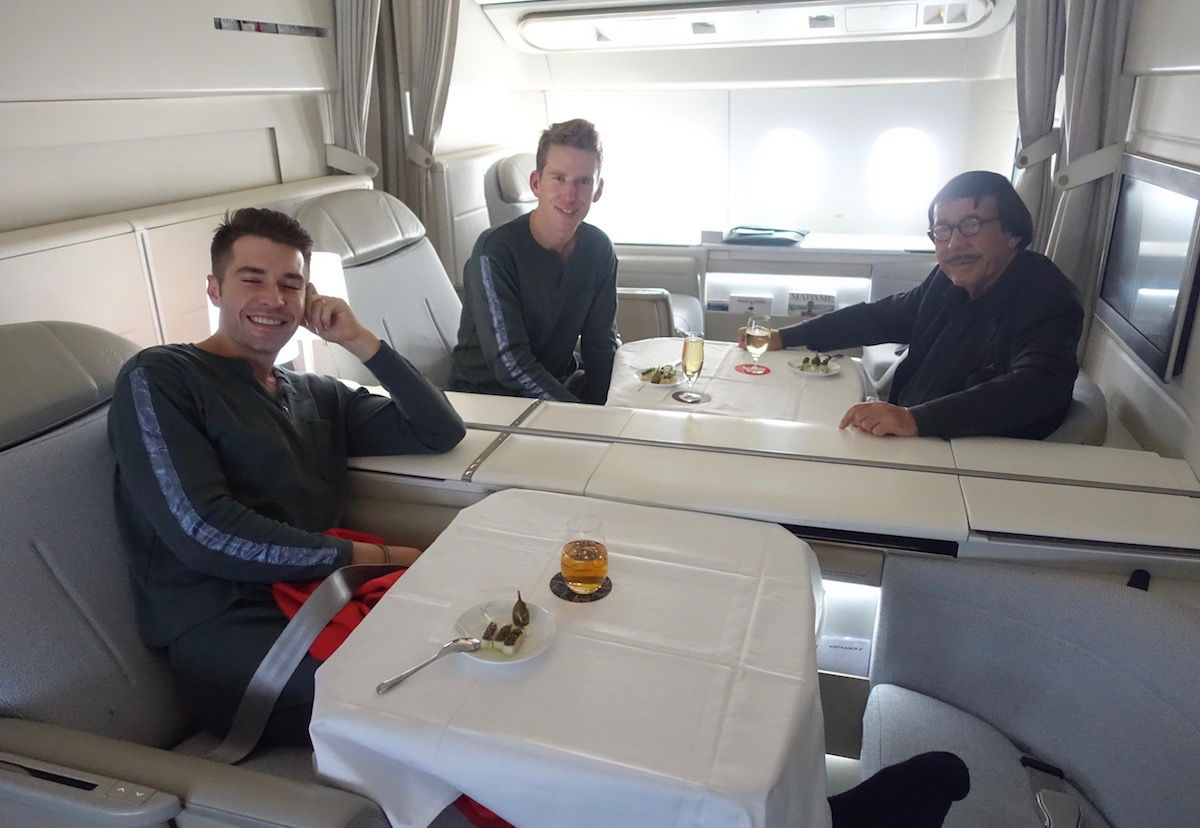 Us all in La Premiere
Oddly the least awkward/bad picture he got was this one, which is still a very awkward picture, so…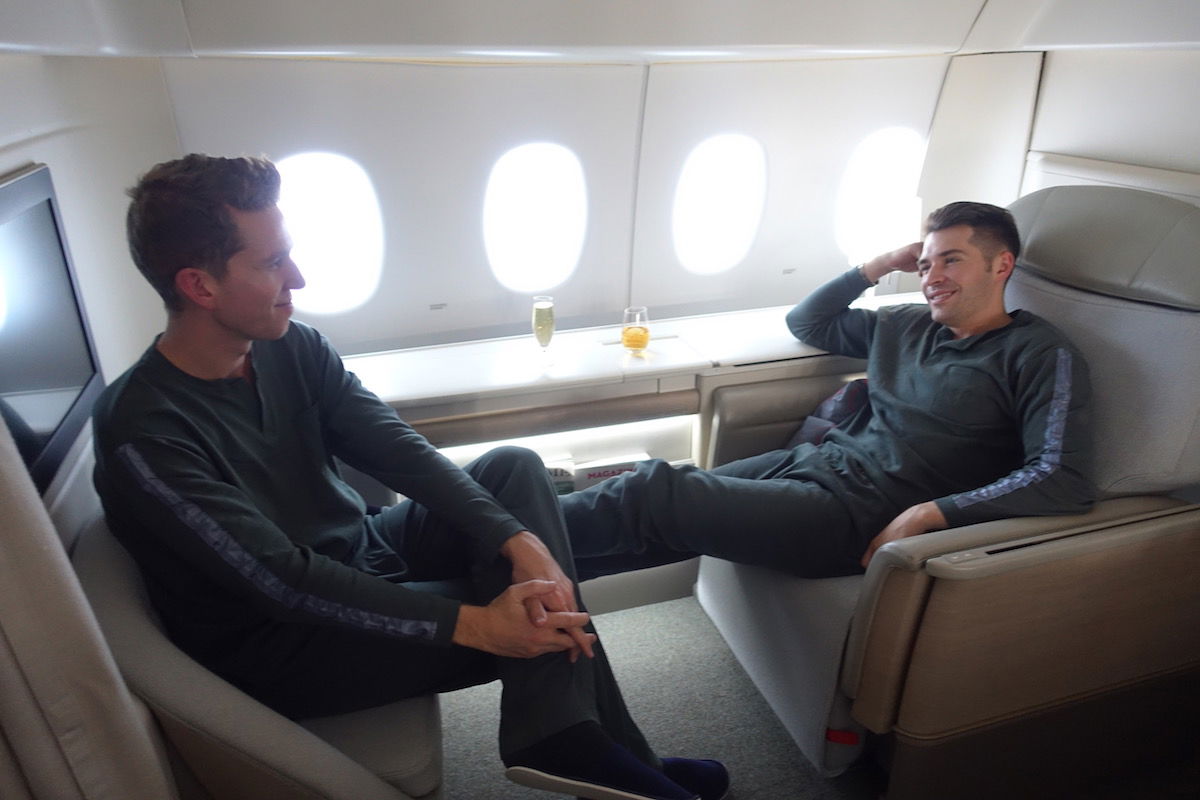 Ford and me in La Premiere
Anyway, after the tablecloths were placed out we were presented warm towels on plates.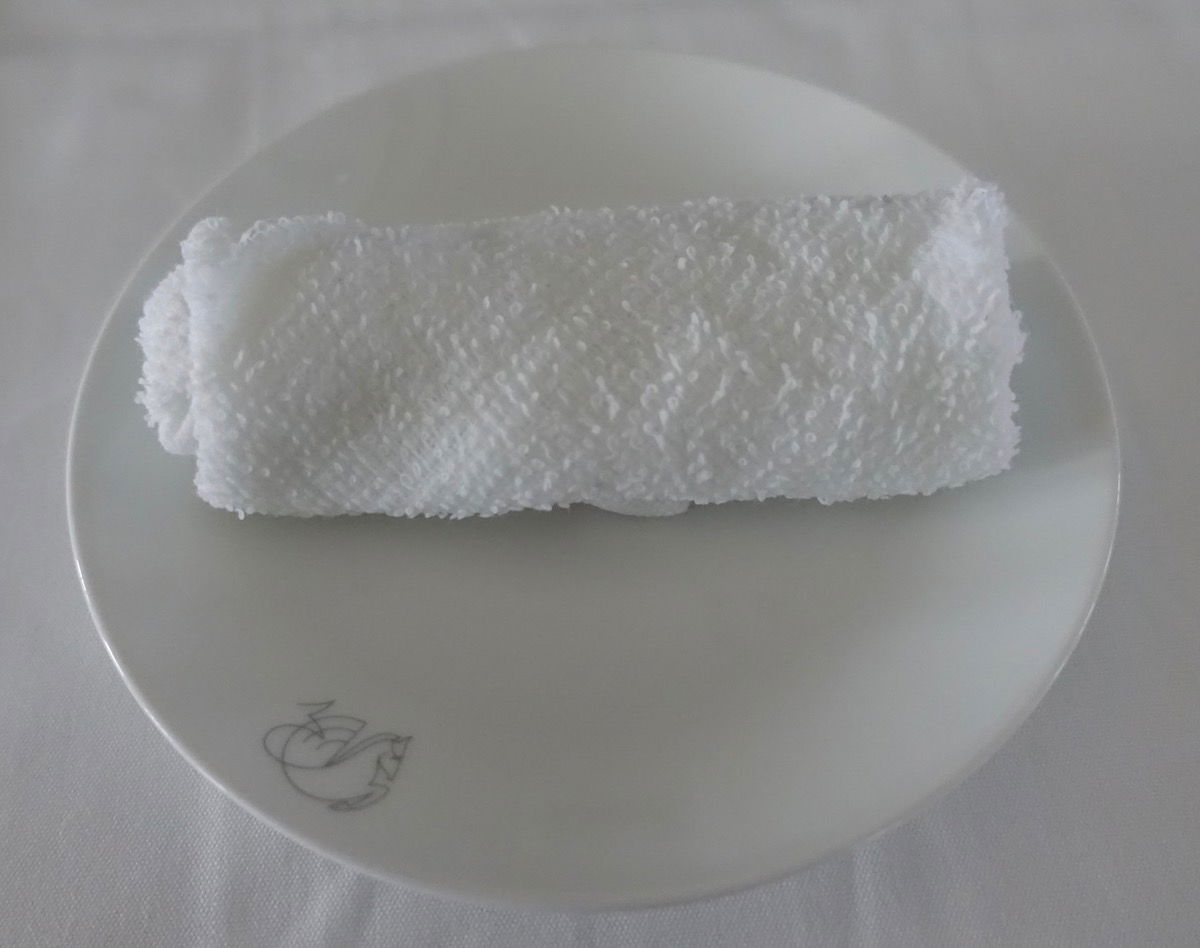 Air France La Premiere dinner — warm towel
Ford and I continued with champagne, while my dad switched to the white wine.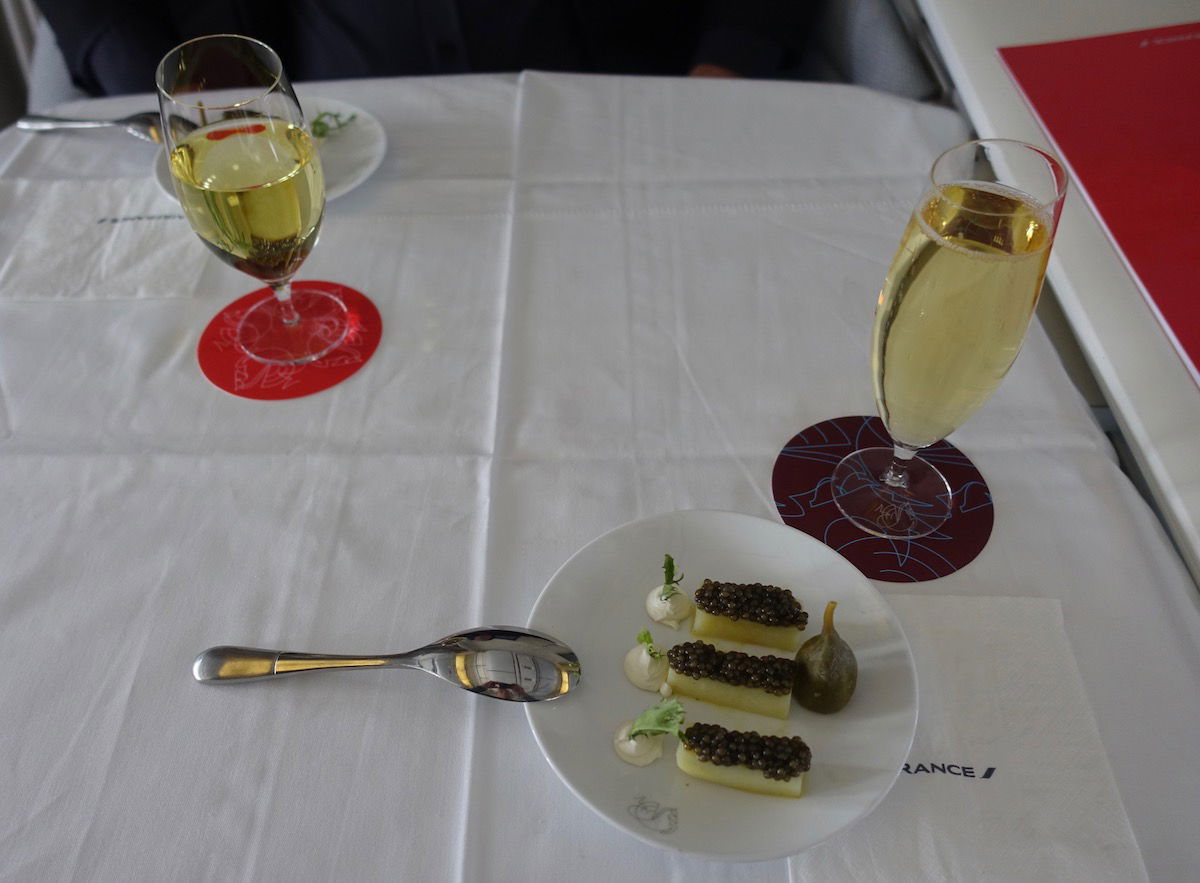 Air France La Premiere dinner — appetizer
To go along with that we were offered a delicious appetizer consisting of caviar on potato cubes.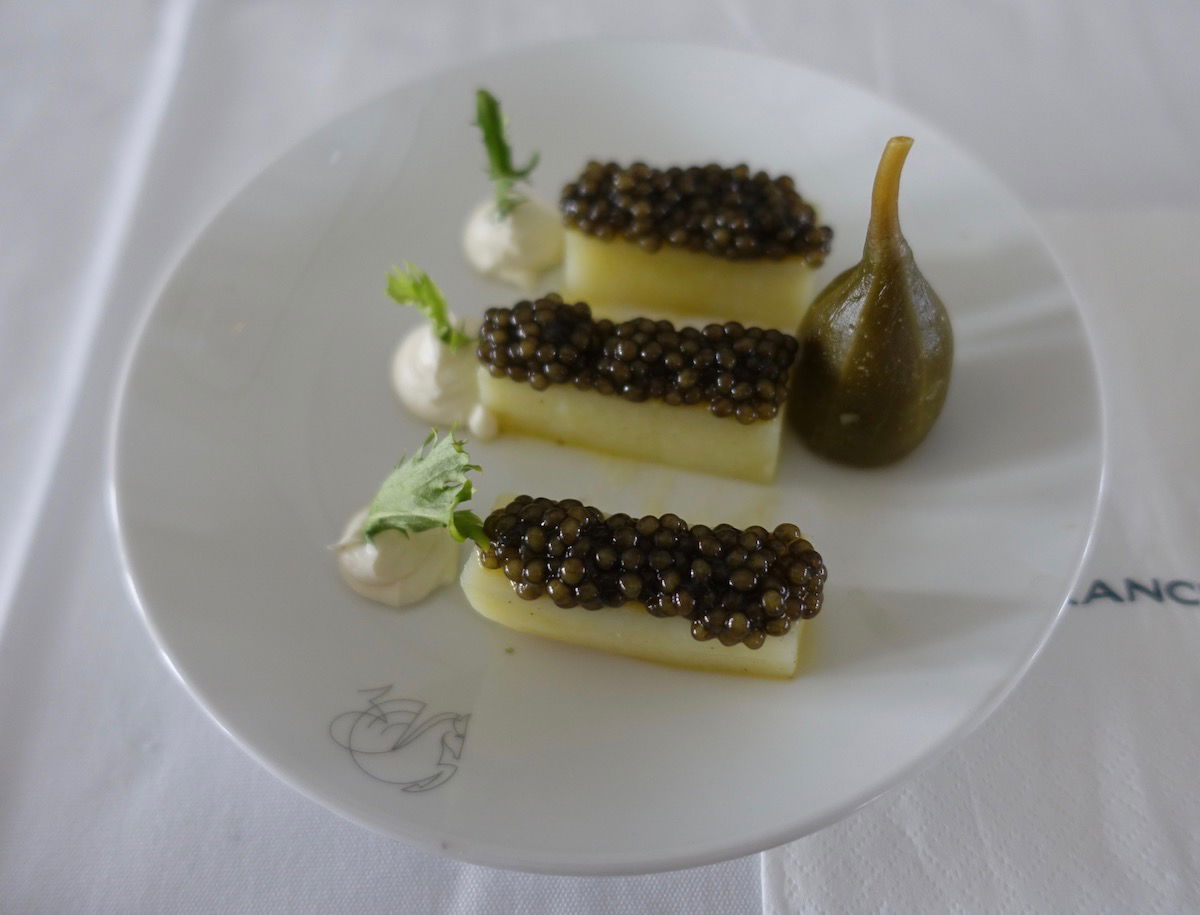 Air France La Premiere dinner — appetizer
At that point our tables were fully set for dinner.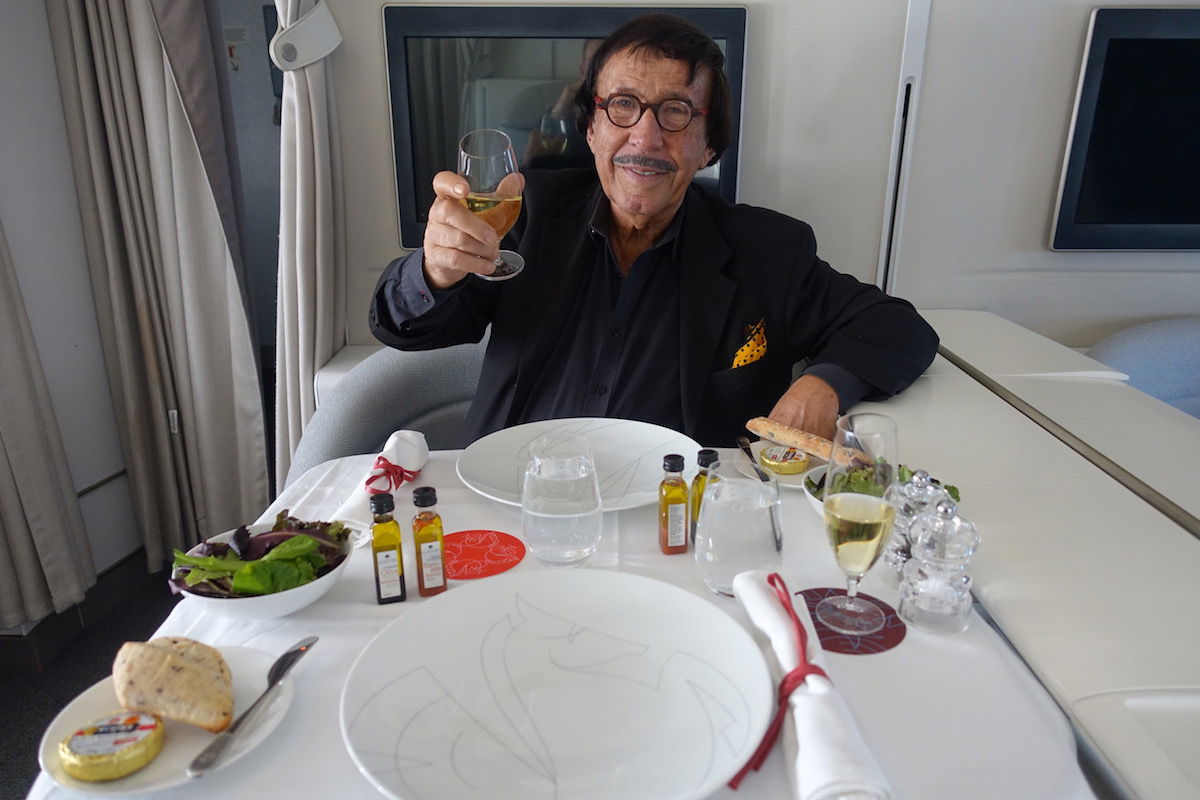 Cheers!
While Air France's first class catering is spectacular, the menu on this flight was a bit more limited, given that it's a fairly short overnight flight. For the starter the only option was the balik salmon steak with celeriac tartare. It was excellent.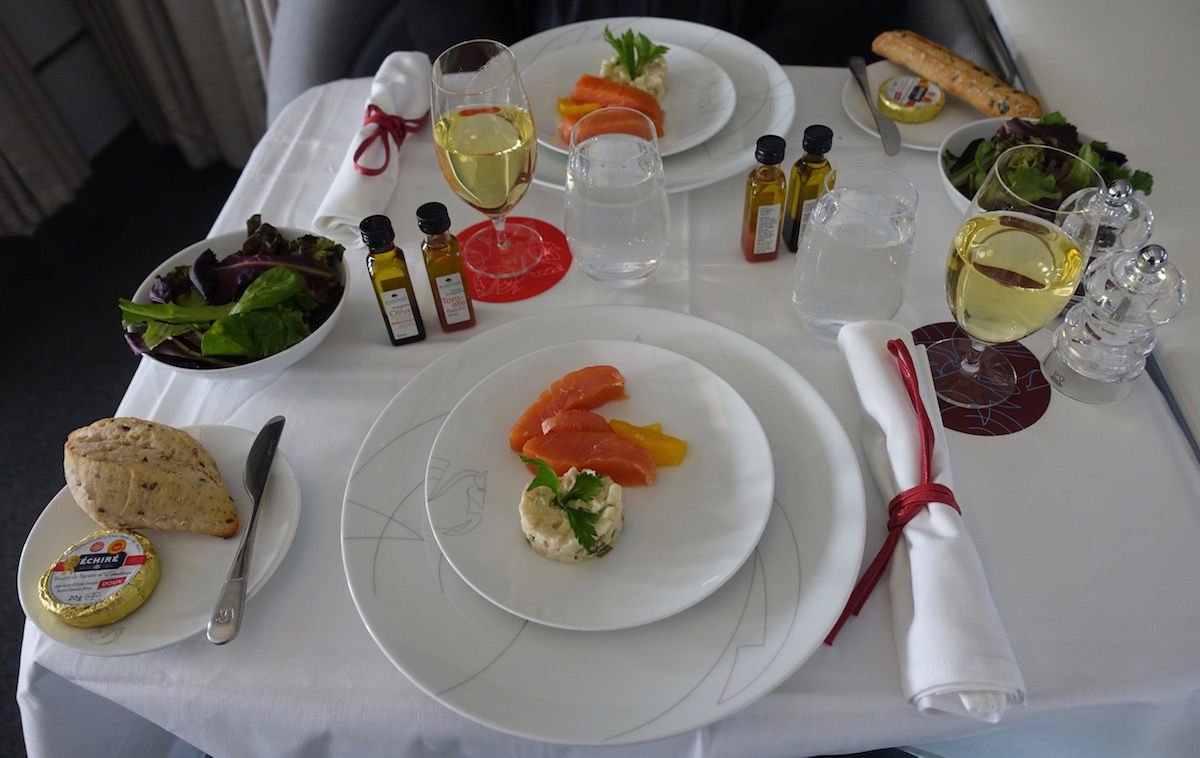 Air France La Premiere dinner — starter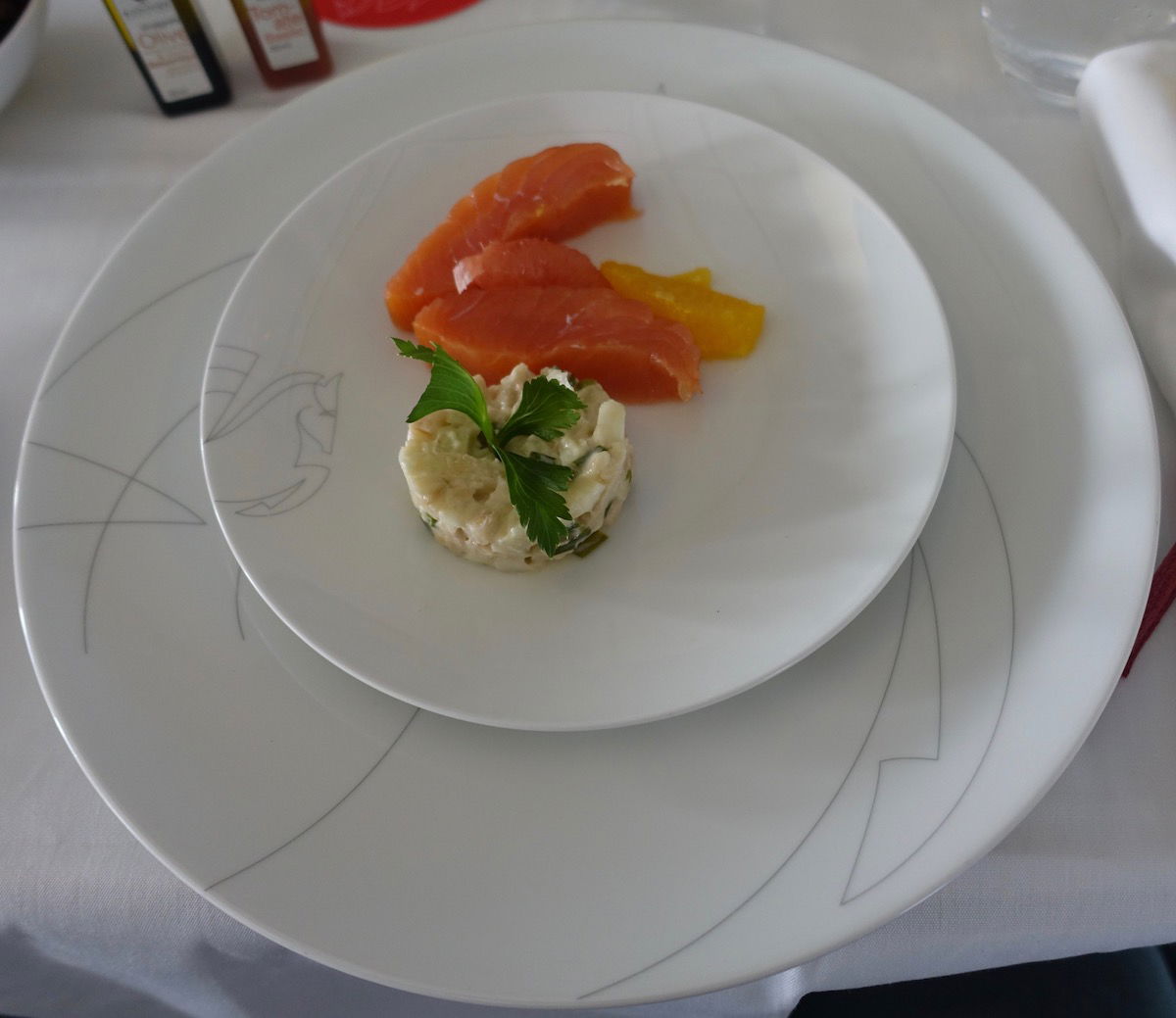 Air France La Premiere dinner — starter
Next up was a tasty cream of leek soup.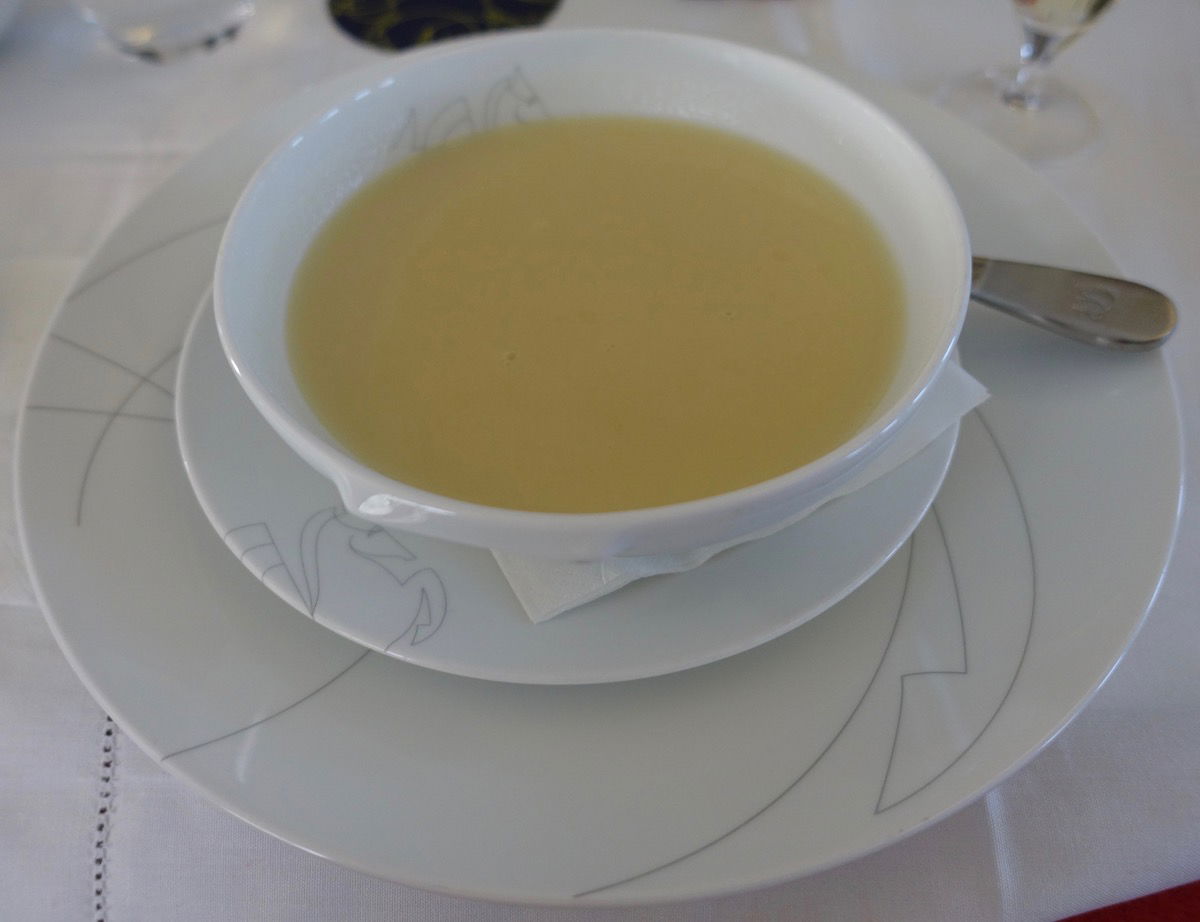 Air France La Premiere dinner — soup
For our main courses we all decided to have something different, and all of us thought our dishes were exceptional. My dad had the lamb tenderloin with mixed greens and Vadouvan-flavored artichokes.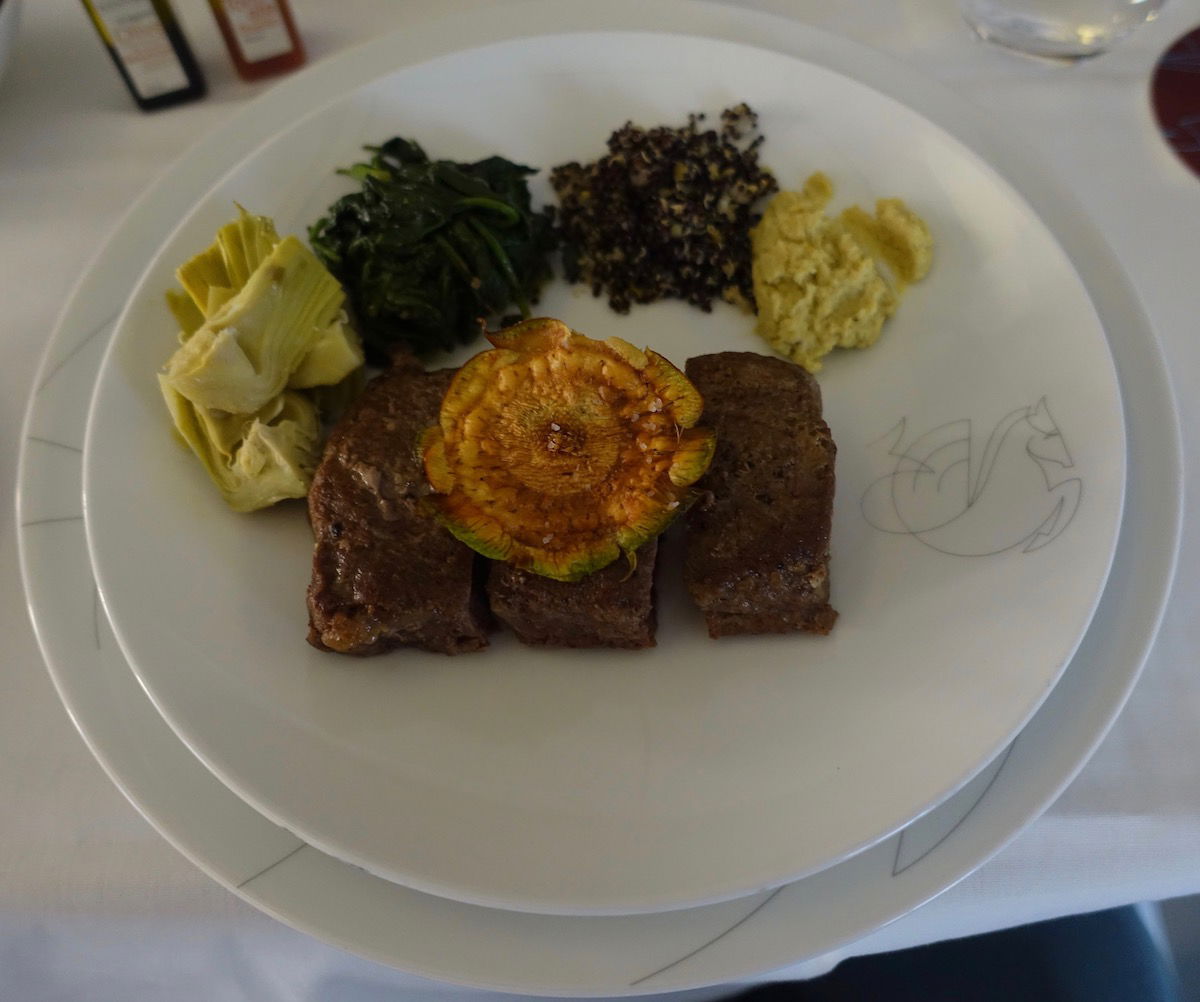 Air France La Premiere dinner — main course
Ford had the saffron monkfish with fennel and crispy rice and coconut milk.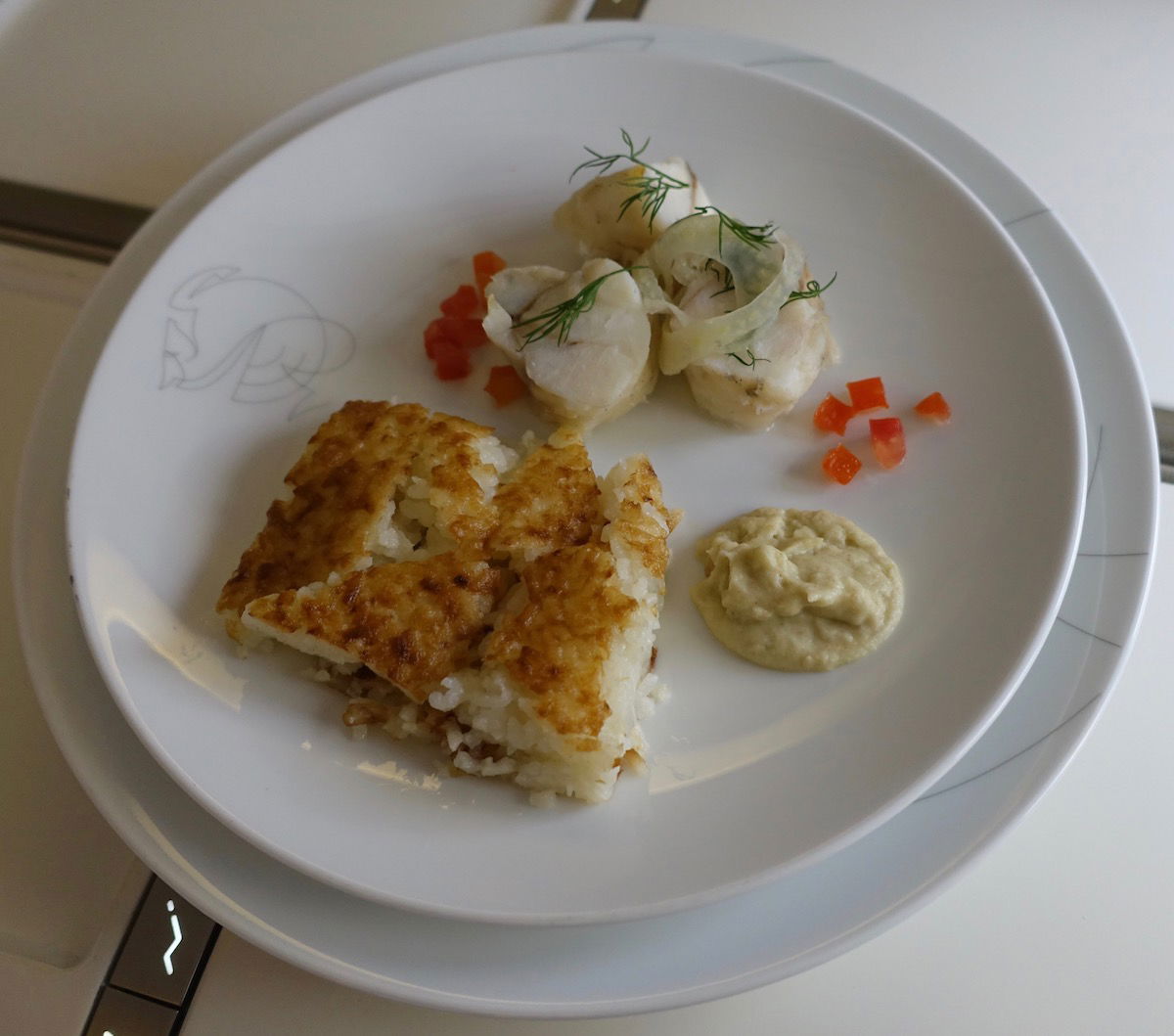 Air France La Premiere dinner — main course
I had the old-fashioned vegetables in herb cream, with butternut squash, Vitelotte potatoes, parsnip puree, pattypan squash, cherry tomatoes, and salsify.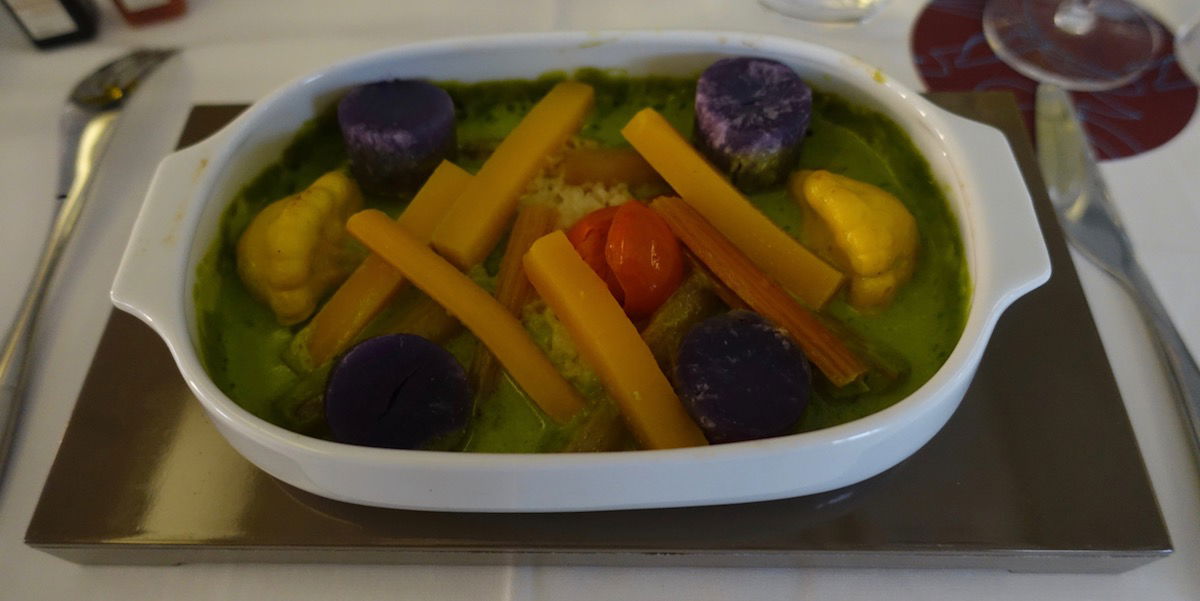 Air France La Premiere dinner — main course
As each dish was served it was brought out with a silver cover on top, which was taken off after it was placed down. There aren't many airlines with such a dedication to presentation!
While we were stuffed at this point, we still decided to order some desserts to share. We ordered a fresh fruit plate, a lemon meringue shortbread biscuit, a vanilla sorbet, and a small cheese plate.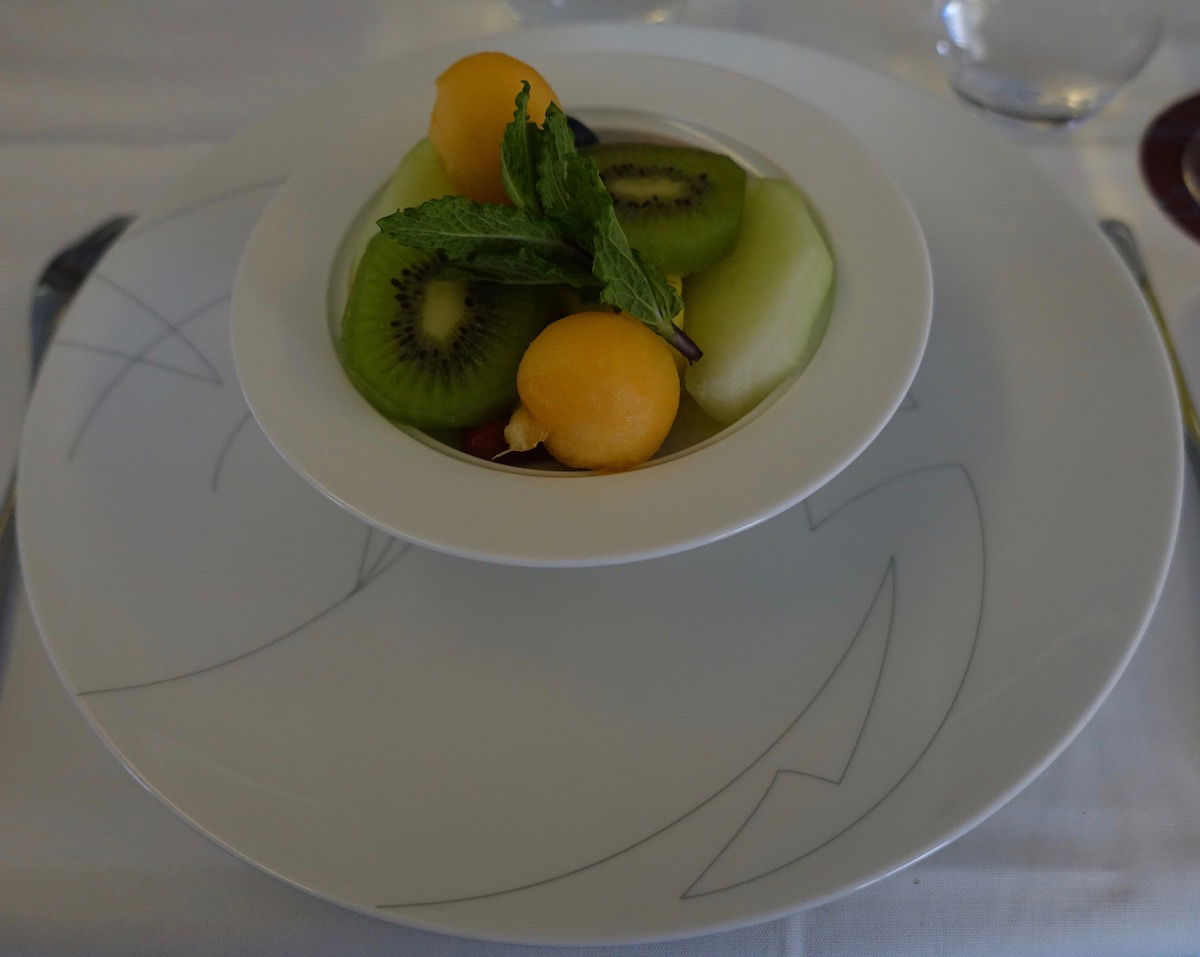 Air France La Premiere dinner — fruit plate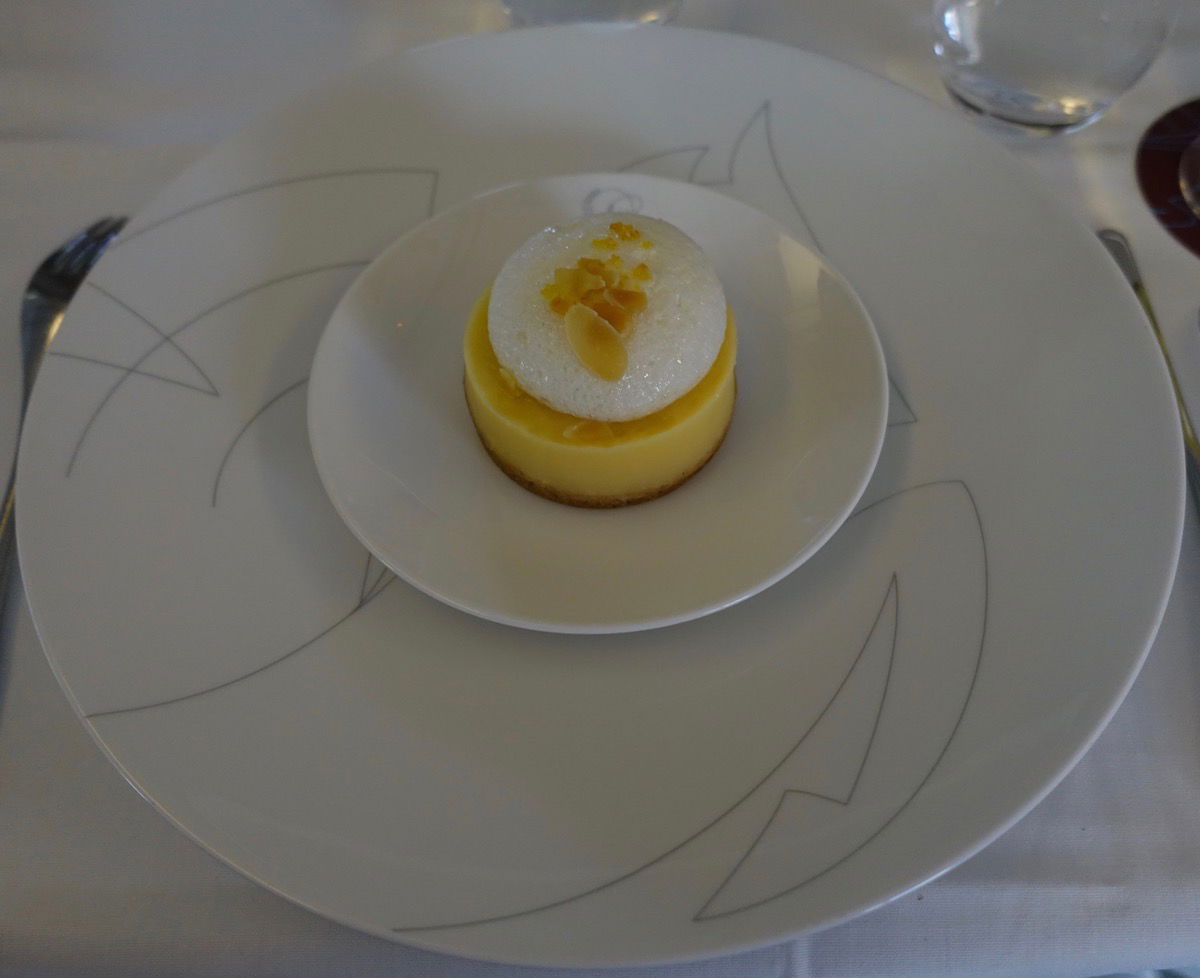 Air France La Premiere dinner — dessert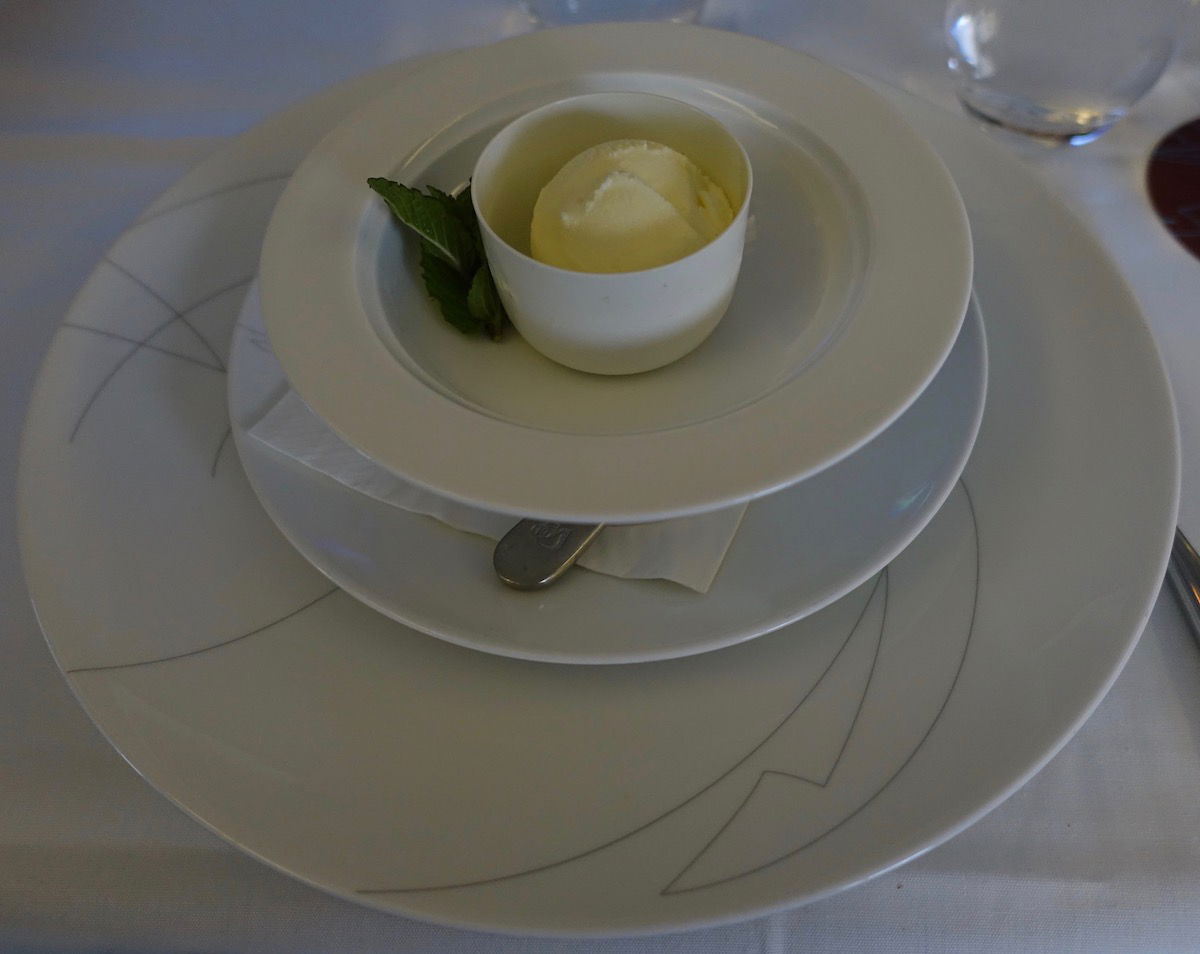 Air France La Premiere dinner — dessert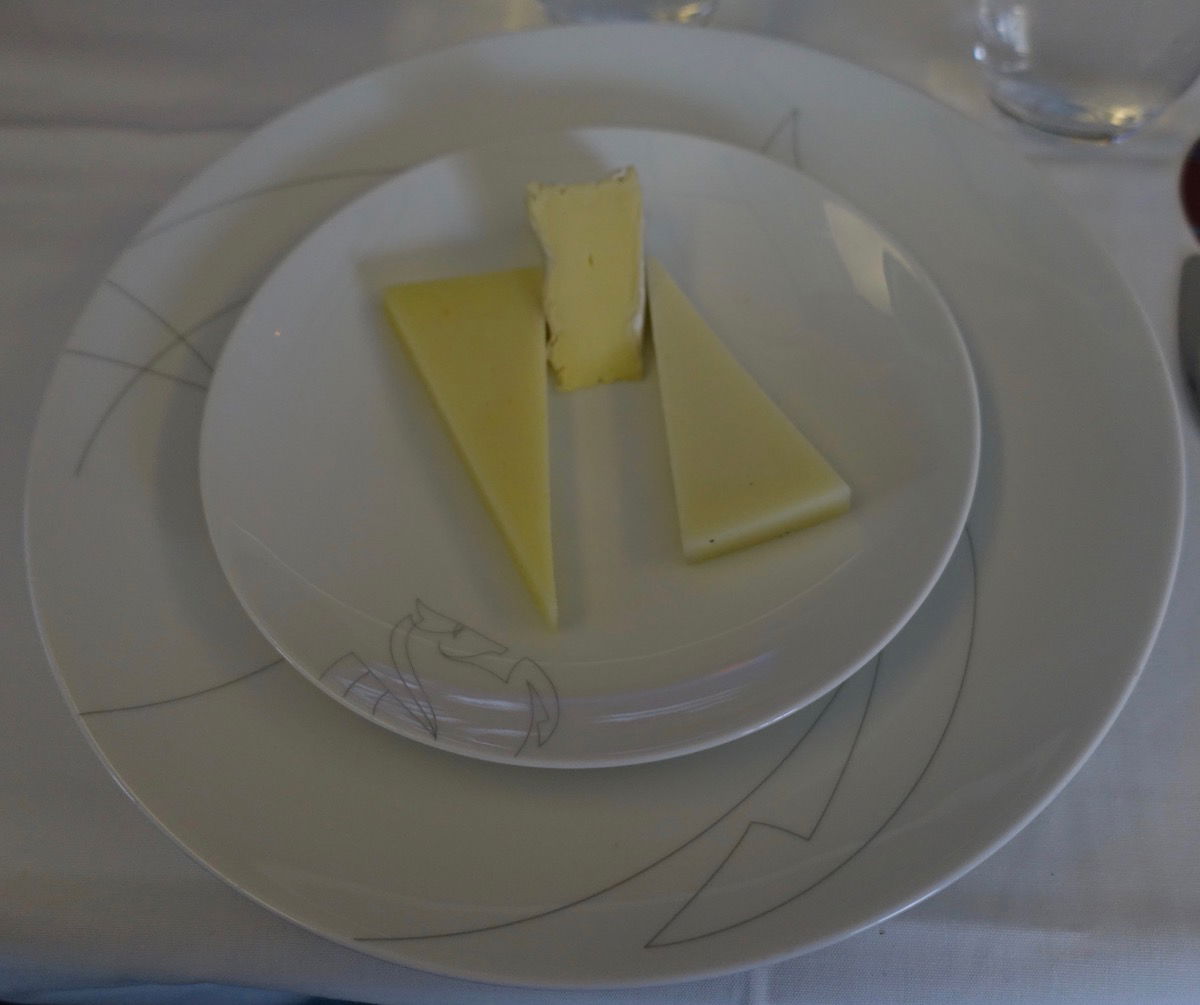 Air France La Premiere dinner — cheese plate
What. A. Feast.
Even taking the excellent food quality out of the equation, there's something surreal about having a private cabin with the ones you love most on a plane. I was pinching myself the entire flight about our situation here.
Bruno also couldn't have been a better flight attendant. He was friendly, fun, professional, attentive, and polished. He paced everything exactly to our preferences, and genuinely seemed to love his job.
While we would have loved to keep celebrating all the way to Paris, we had enough to eat and drink at this point, and needed some rest. So with just over four hours remaining to Paris we asked for our beds to be made.
Air France's bedding is so comfortable, and the curtains for full privacy are something you won't find on any other airline. It really takes privacy to the next level.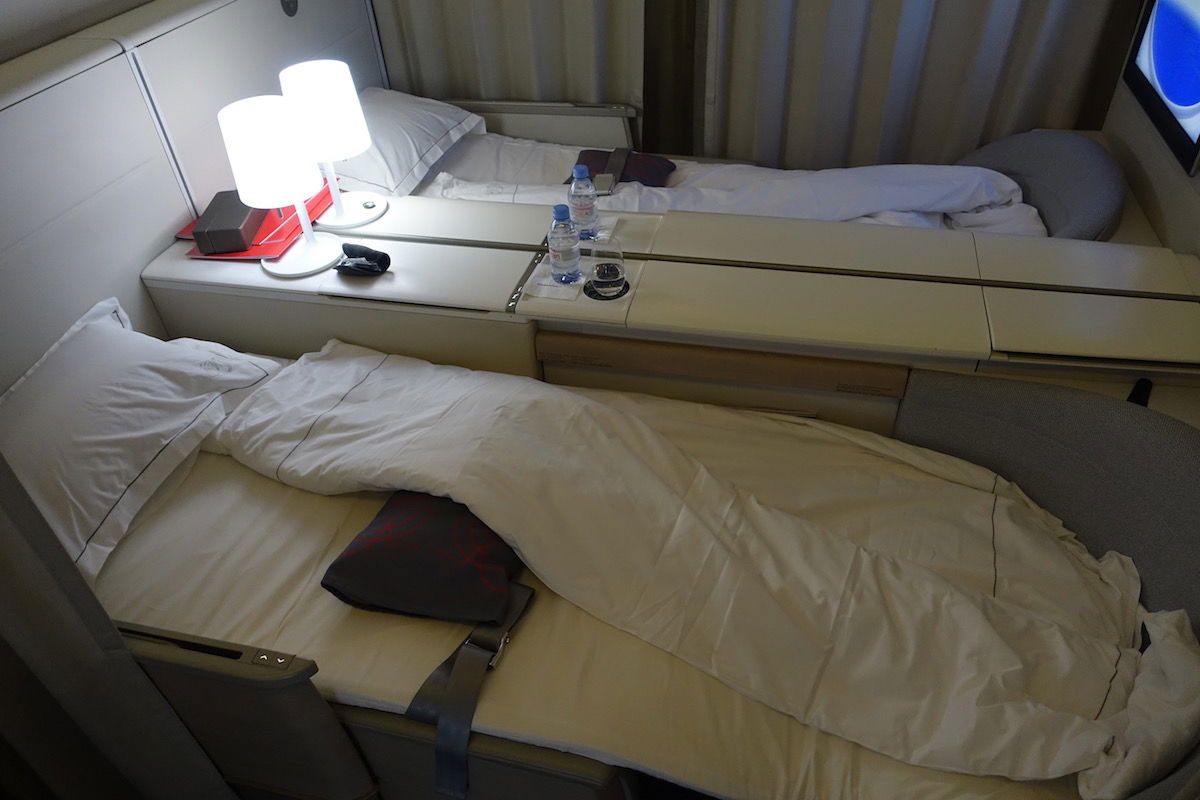 Air France La Premiere first class beds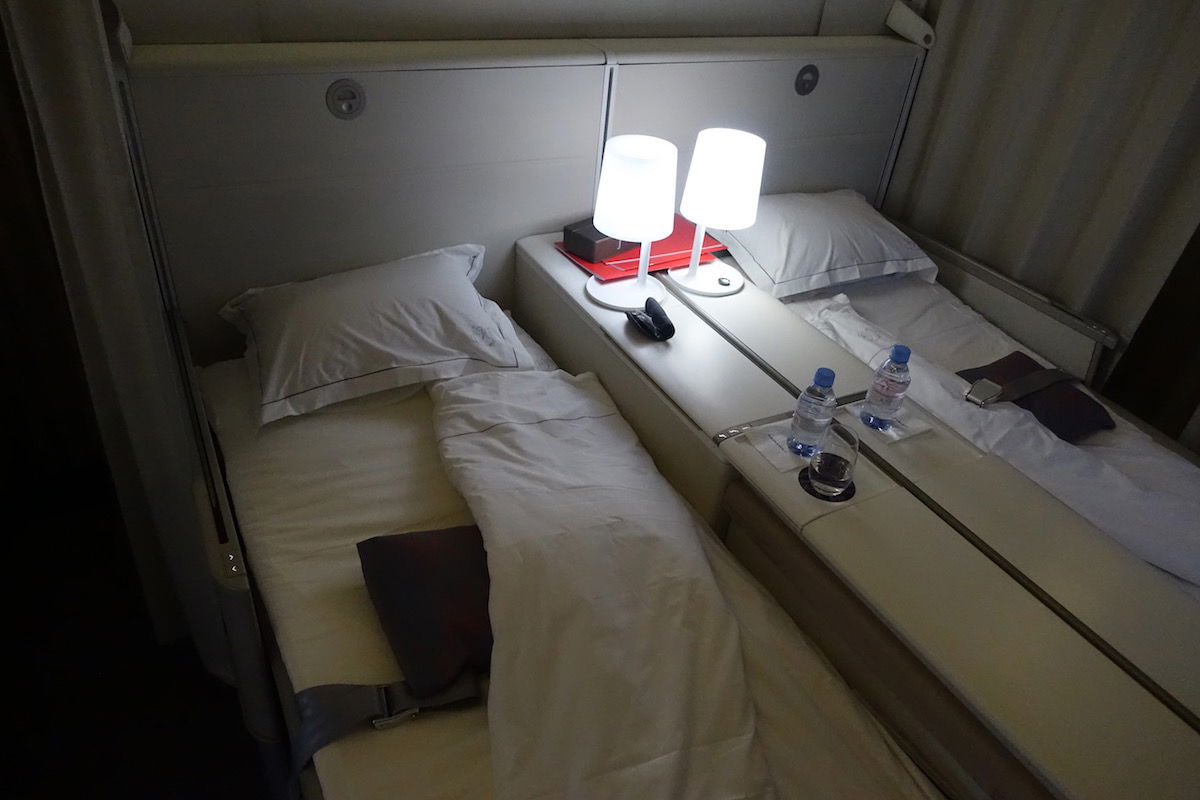 Air France La Premiere first class beds
Bruno asked if we wanted to be woken for breakfast. We said we did (not that we'd be hungry, but I need pics for you guys), and he said he would wake us up one hour out. I appreciate that he was willing to serve it so close to landing, since often they'll only serve a full breakfast 90 minutes out, for example.
By the time I went to sleep we had just under four hours remaining to Paris.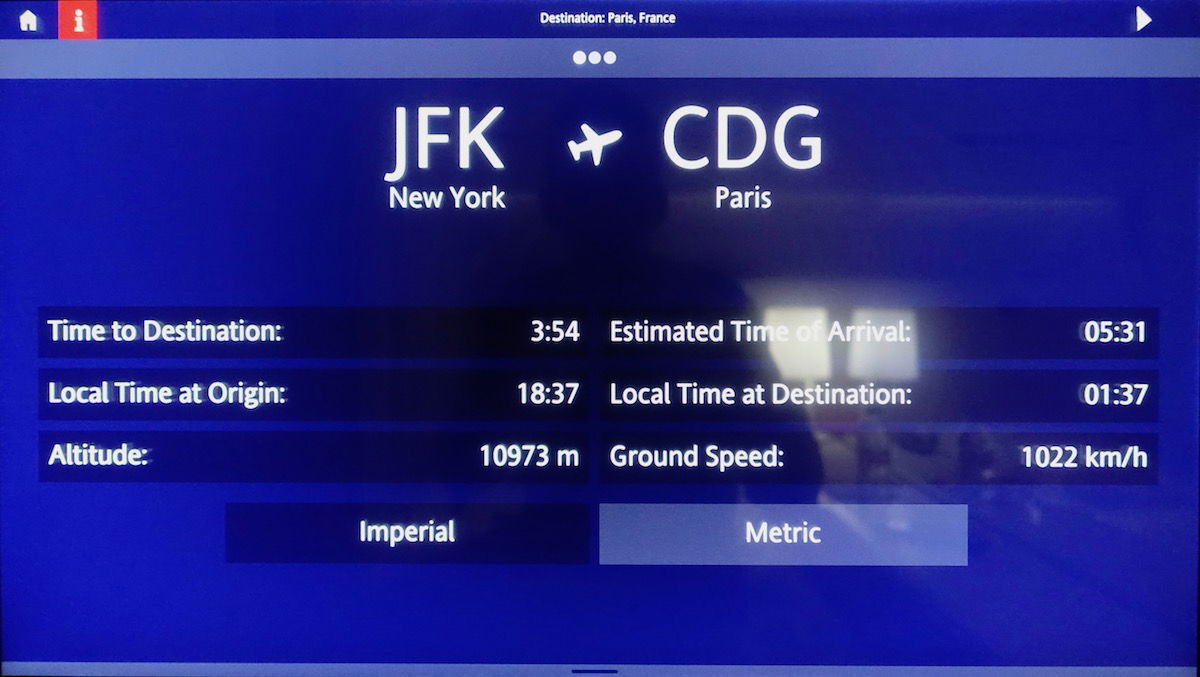 Map enroute to Paris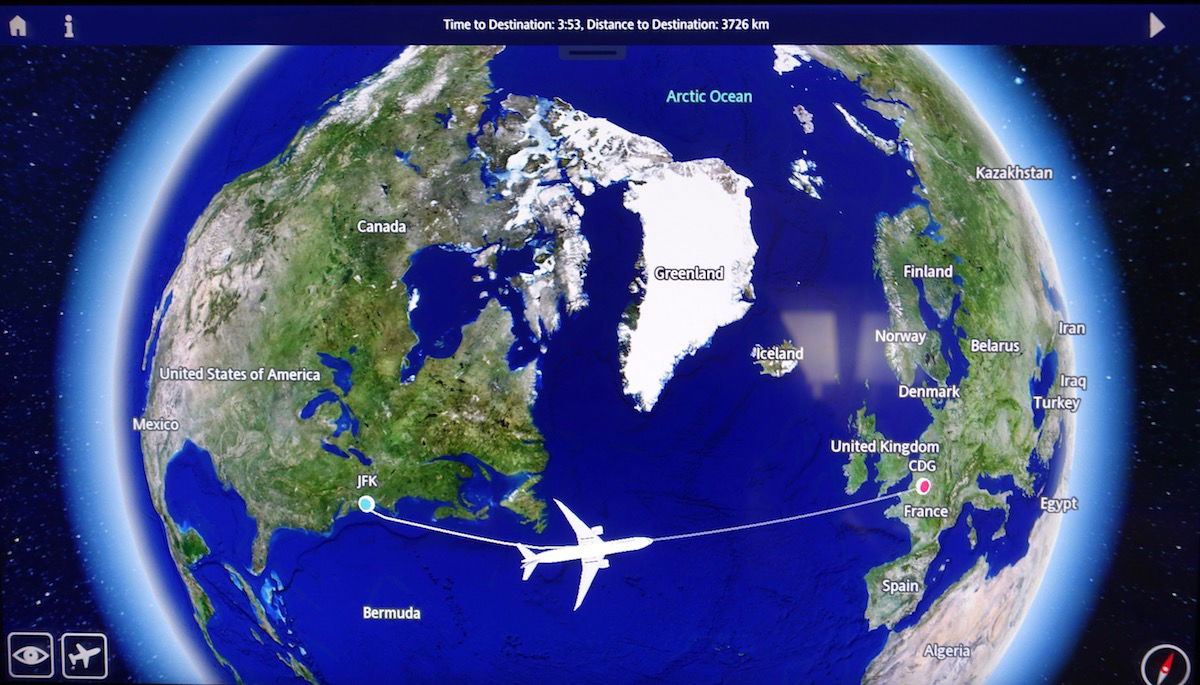 Map enroute to Paris
When I woke up we were just over an hour out of Paris.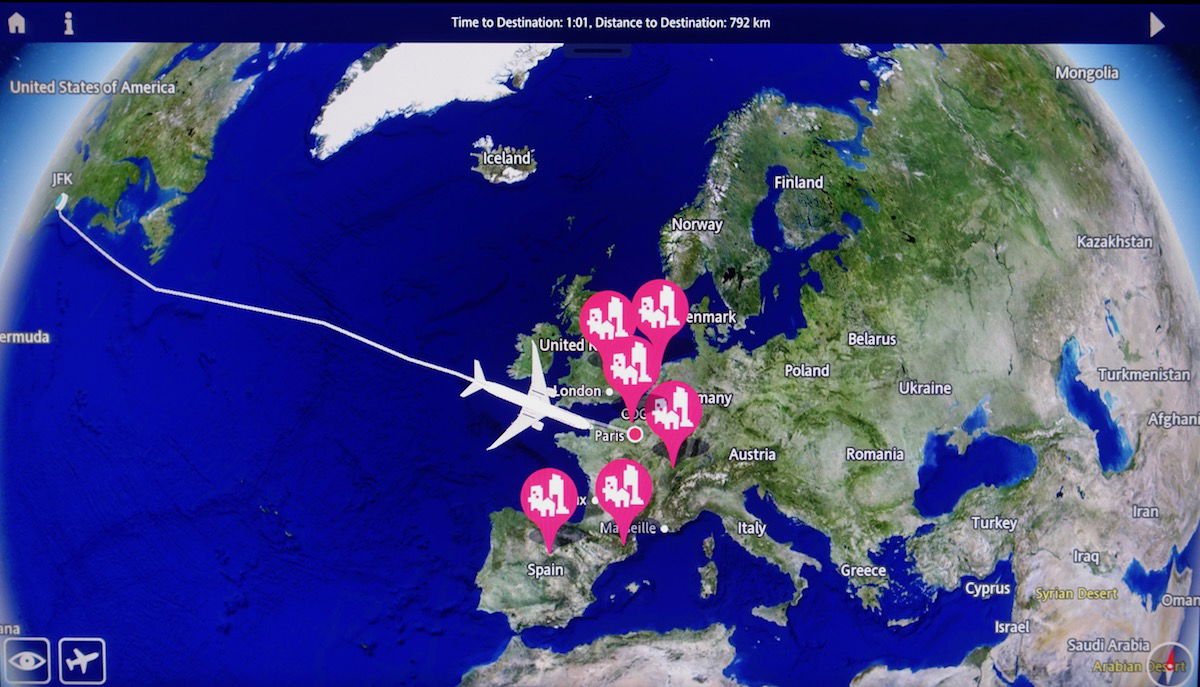 Map enroute to Paris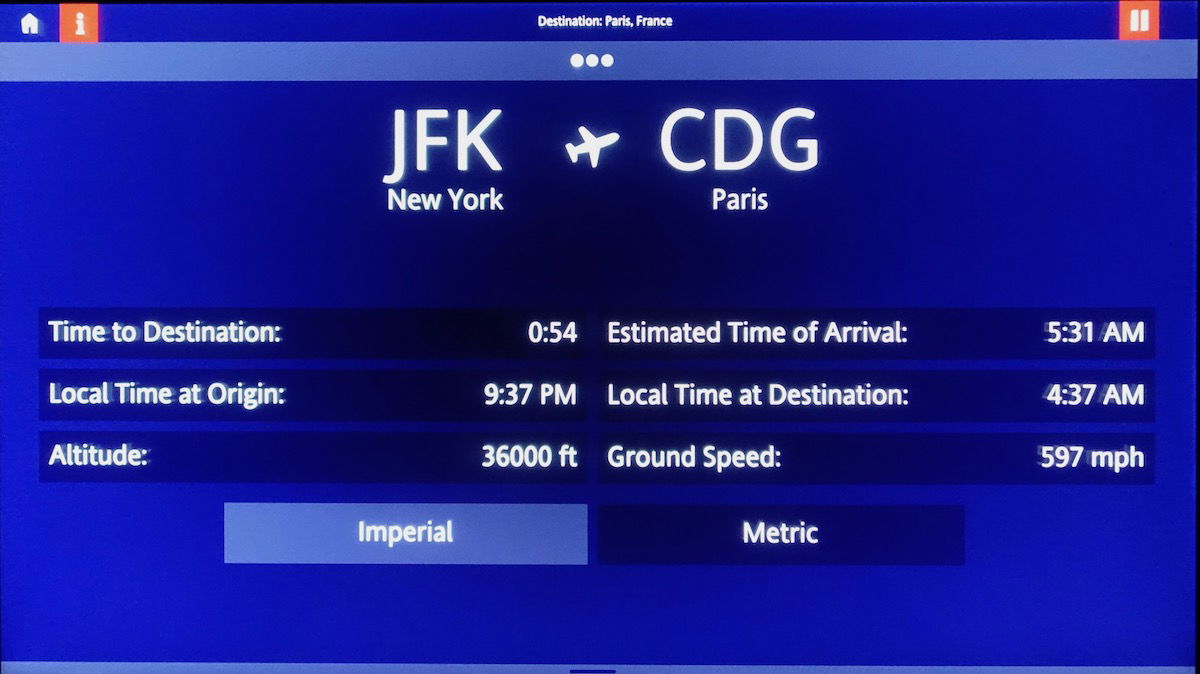 Map enroute to Paris
I probably got about a 2.5 hour nap, which is pretty good when you consider what a short flight this was, and also that we were looking to have fun. While the bed was really comfortable, Air France doesn't have air nozzles in first class, and the cabin was really warm.
The breakfast menu read as follows: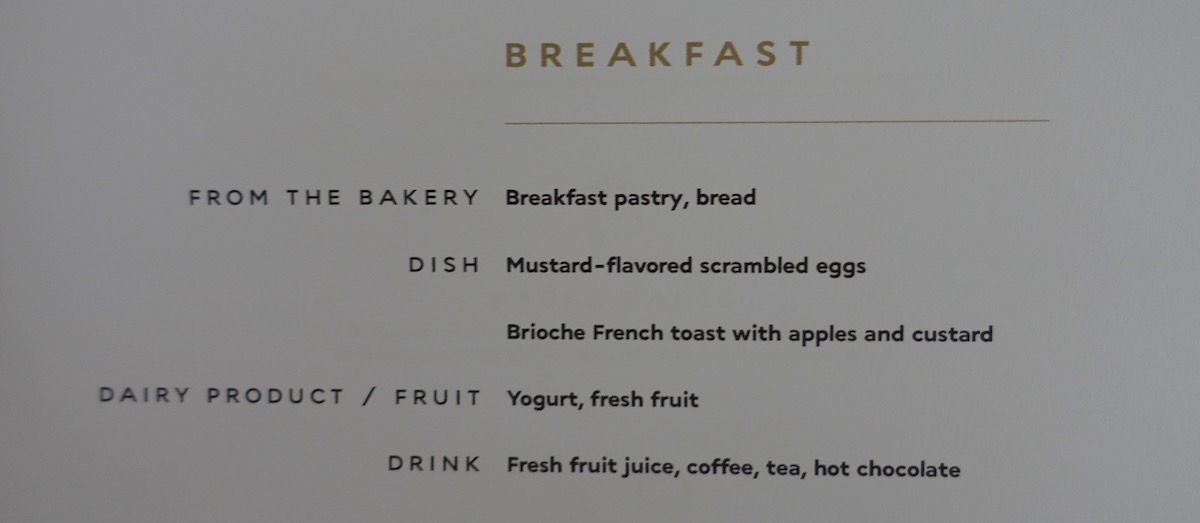 First we were offered warm towels once again, and then tablecloths were brought out. I ordered a coffee and an orange juice, which was brought out on a silver tray.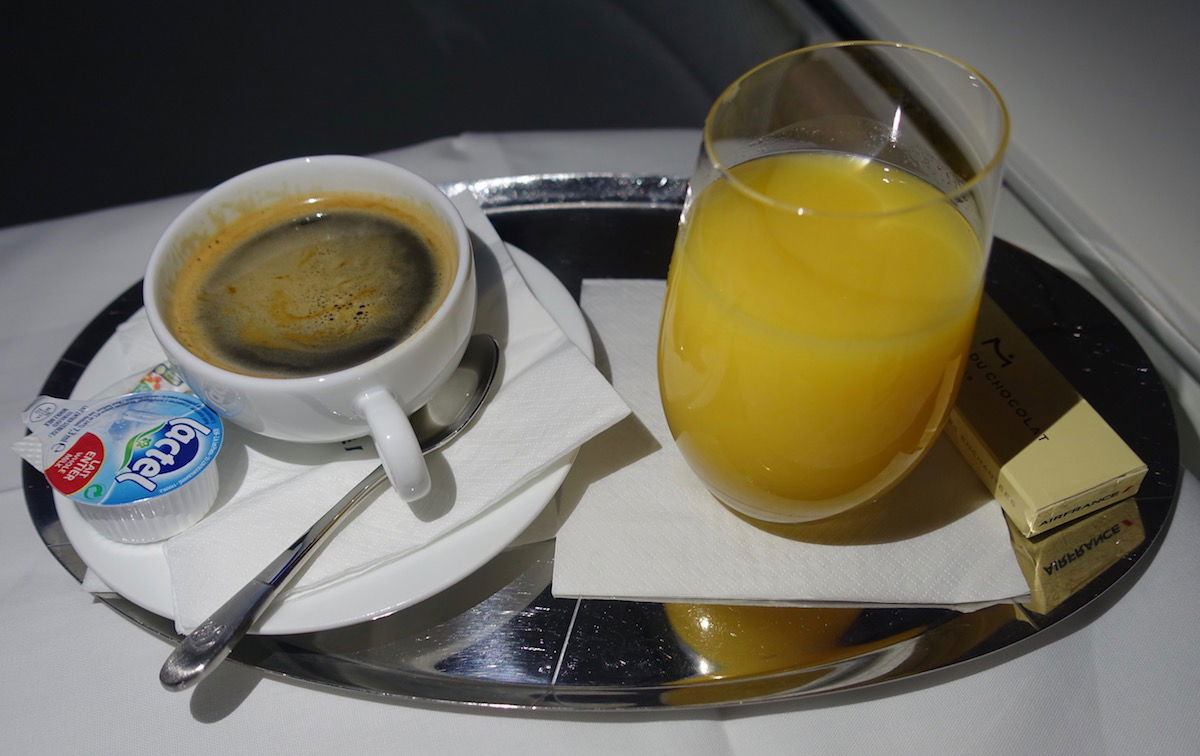 Air France first class breakfast — juice & coffee
For breakfast I was offered yogurt, fresh fruit, a selection from the bread basket, and a hot main course.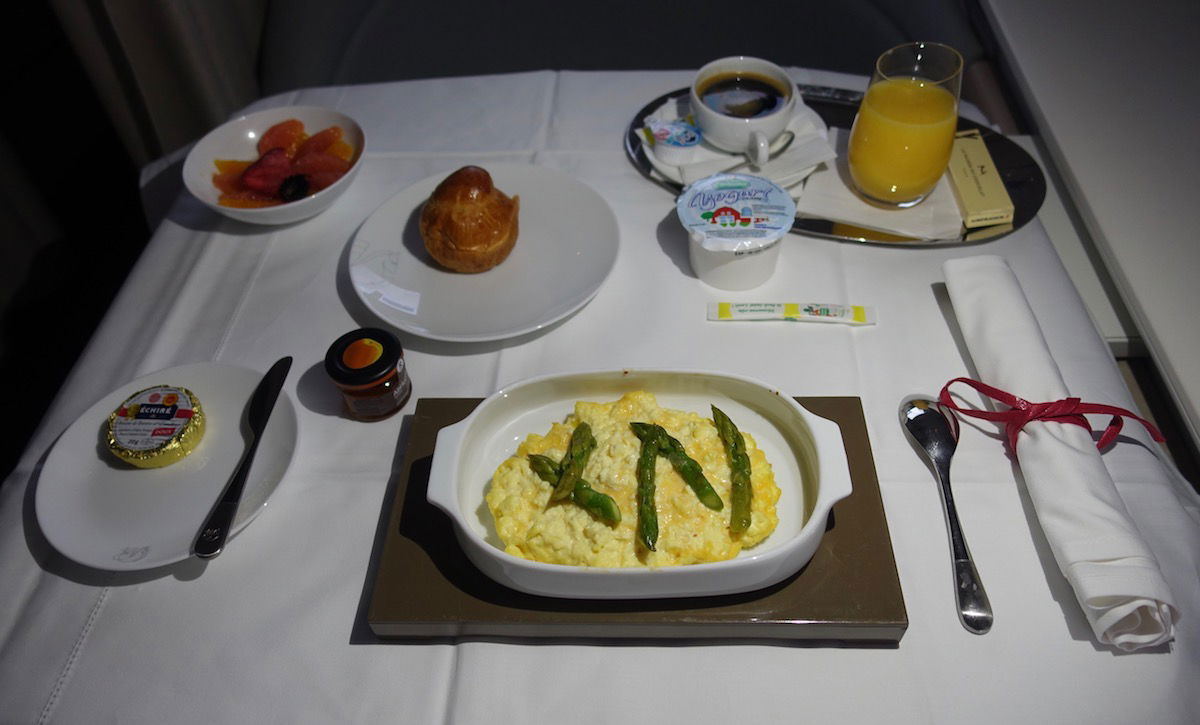 Air France first class breakfast
I selected the mustard-flavored scrambled eggs, which I loved. I was so happy to see mustard eggs, rather than the typical cheesy eggs you'll find on planes.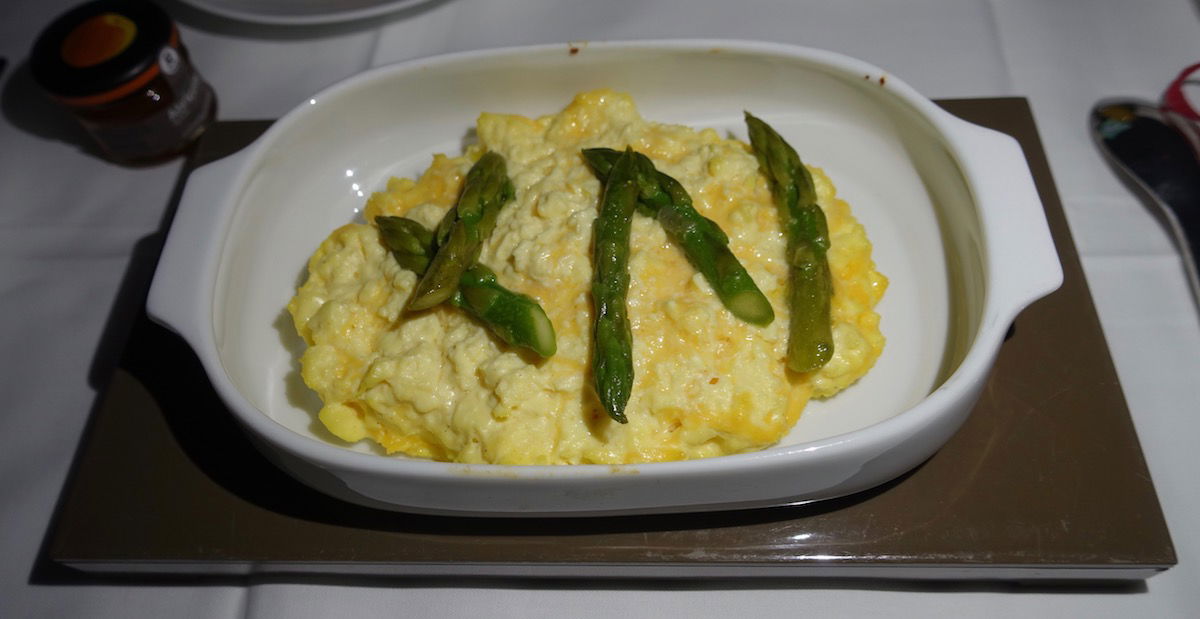 Air France first class breakfast — main course
My dad, meanwhile, had the brioche french toast with apples and custard.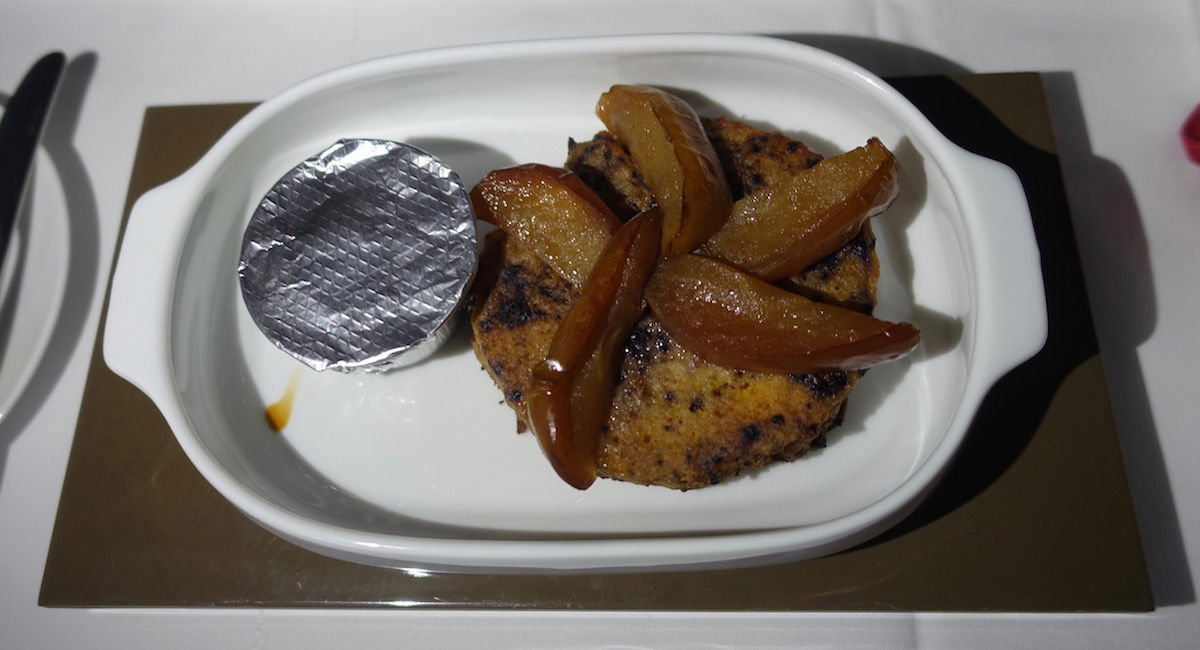 Air France first class breakfast — main course
We finished our meal about 40 minutes before landing. At 4:55AM Paris time the captain announced that we'd be landing around 5:30AM, and that we'd be at the gate at 5:45AM.
Shortly thereafter we began our descent, and I changed out of my pajamas. As we descended, both our flight attendant and the chief purser came by to thank us for flying with Air France.
The seatbelt sign was turned on around 10 minutes before landing, and we ended up touching down on runway 2L at 5:35AM. From there we had a 10 minute taxi to our arrival gate.
At the forward door the onboard crew handed us over to Mohammed, the awesome La Premiere agent who would be handling our arrival experience. After walking off the jet bridge we went into a "restricted" area and walked down some stairs, where a van was waiting to take us to the arrivals area.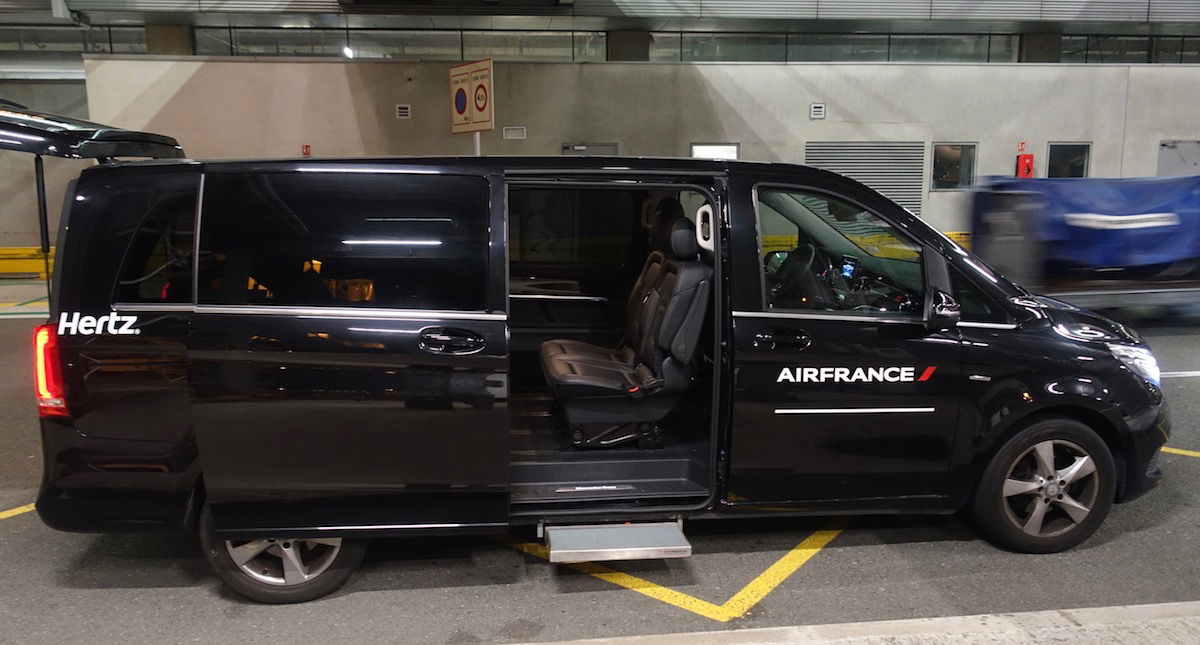 Air France La Premiere pick-up service in Paris
It was only about a five minute ride, and then we were brought through immigration in a line with no one else in it. I had ordered a Blacklane to take us to our hotel, though the driver was a few minutes late. Mohammed insisted on waiting with us until the driver arrived, because he said if the driver no showed there was an arrivals lounge we could wait in.
Air France La Premiere Summary
Air France La Premiere is spectacular in general, though this flight was next level. Being able to share this experience with my dad and Ford all while having a private cabin is simply unbeatable.
La Premiere is such a seamless product, from the departure experience, to the elegance of the product, to the incredible service and top notch food, to the easy arrivals process.
This is a flight we won't soon forget!