I'm incredibly fortunate to be able to travel in first & business class pretty consistently thanks to miles & points. While international first class is always (well, almost always) a treat, some flights are just on a different level. This weekend I had one of those flights, and I'm still pinching myself.
Flying Emirates' new first class from Washington to Dubai
I rank Emirates' new(ish) Boeing 777-300ER first class as the best first class product in the world. Prior to this weekend I had only flown it once, back in early 2018 from Dubai to Brussels (this was shortly after it was introduced).
Emirates only offers its new first class on very limited routes, and at the moment Washington to Dubai is one of those routes. I've been wanting to experience this product on a long haul flight, since the flights between Dubai and Europe aren't really long enough to fully enjoy the experience.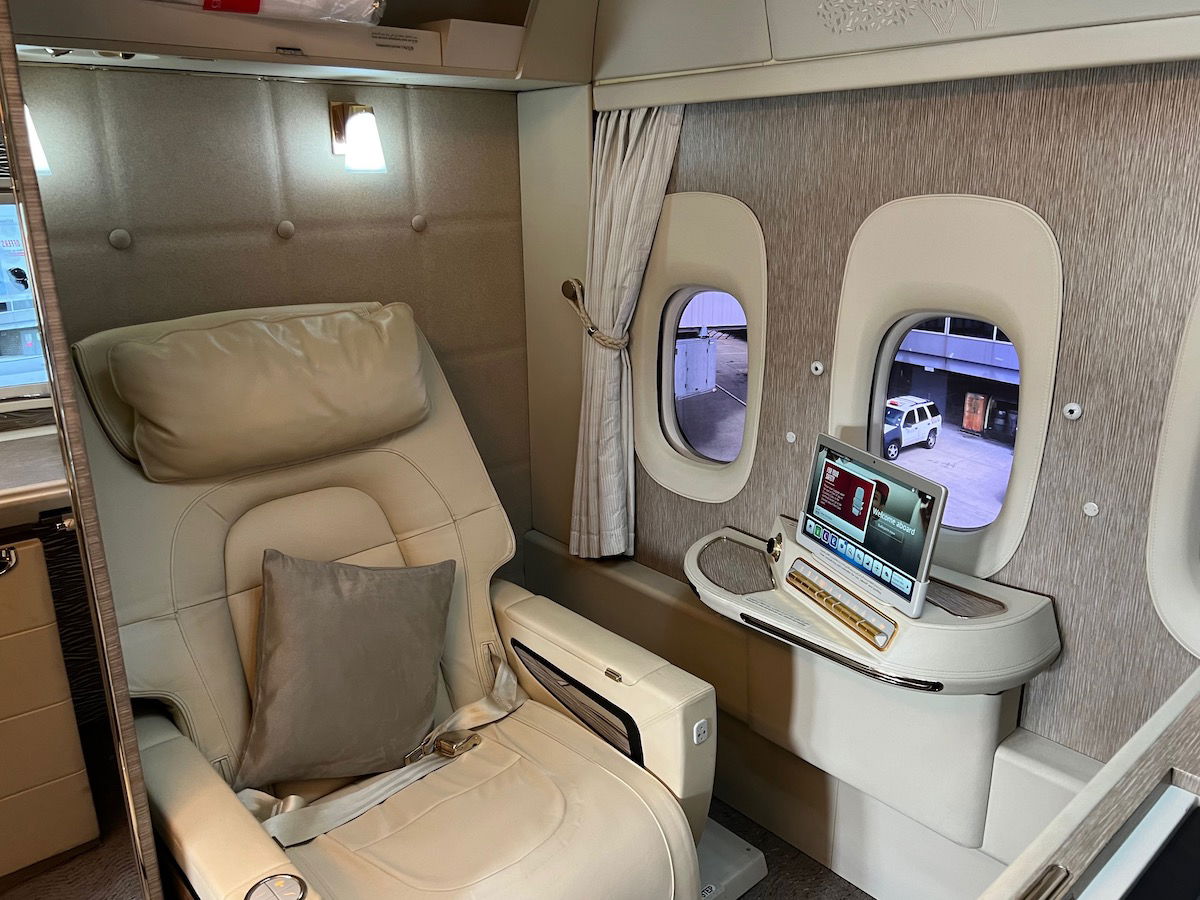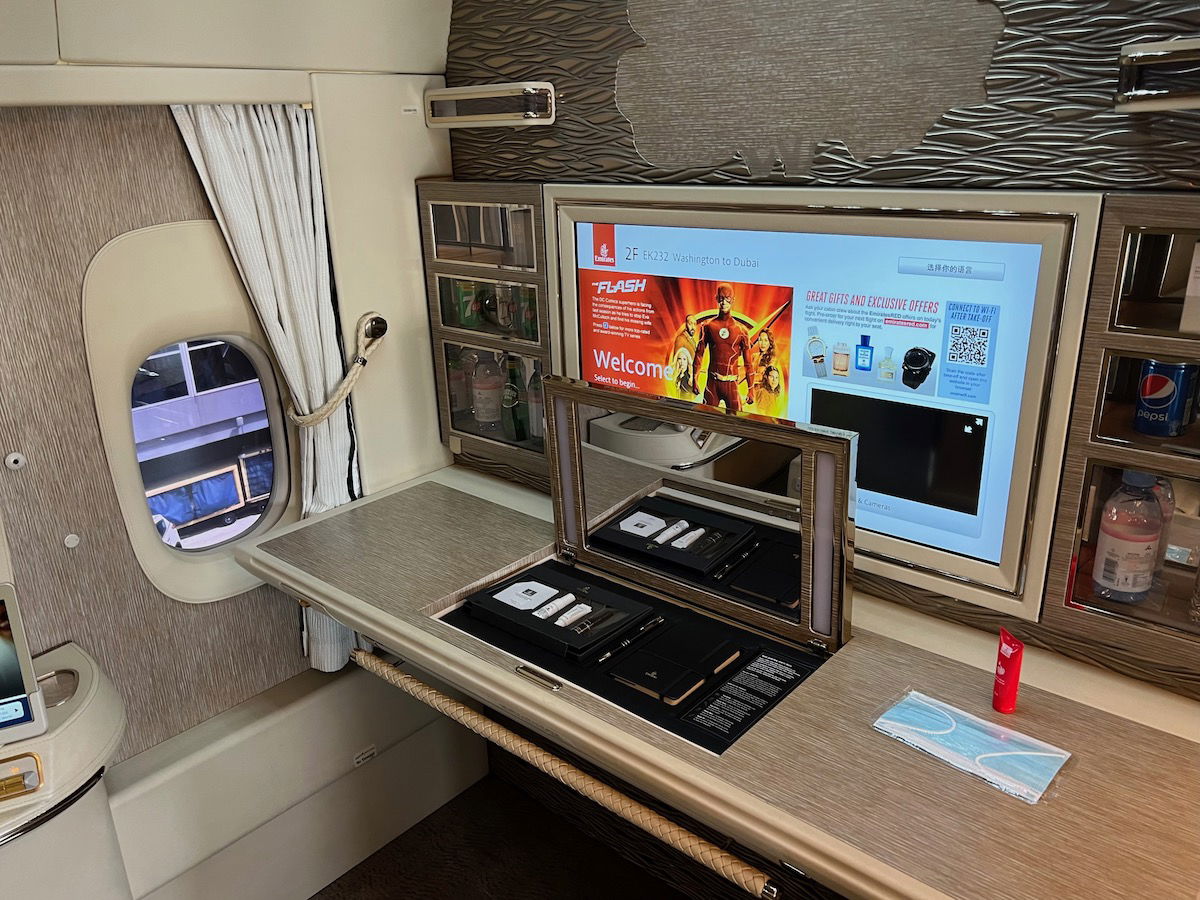 Well, last week I saw that Emirates had opened up two first class award seats on the route for Saturday, so I booked it for us (this is part of a larger trip, and I'll reveal the full details of that shortly). Getting two first class award seats in a cabin with just six seats is pretty awesome.
You know what's even awesomer? Having the whole cabin to yourself. That's right, there were no other passengers in first class. There are some premium travel experiences where you just can't help but wonder how you got so lucky, and this was definitely one of them.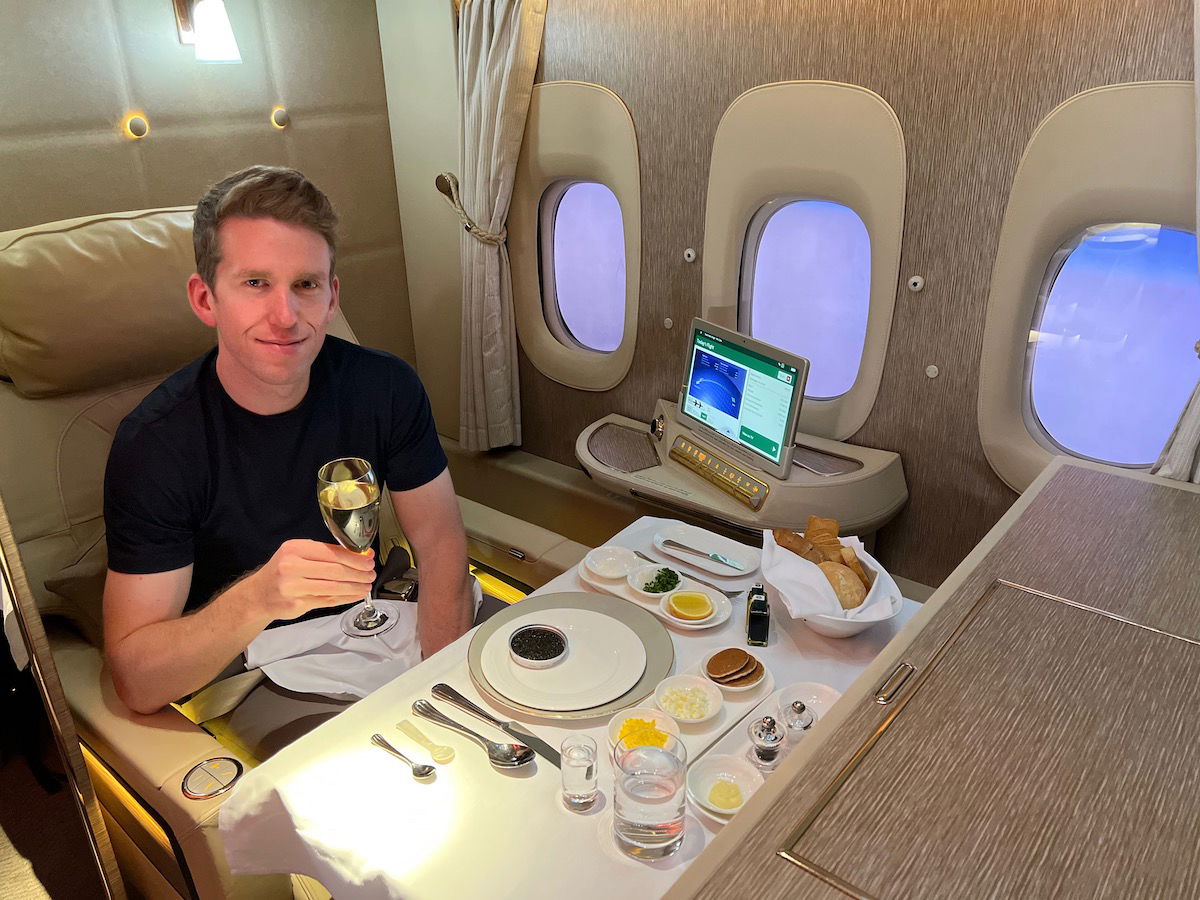 The flight was catered for a full cabin in first class, so we did our best to put a dent into the six tins of caviar and dozen plus bottles of Dom Perignon that were catered. I think I'm still getting over my hangover.
And having two flight attendants plus the purser take care of just us was a pretty acceptable crew to passenger ratio. 😉 Then again, the service on this flight was, um, unique… I'll save that for another post, because I'm still trying to figure out what exactly I can or should say about it.
The funny thing about having Emirates' new first class cabin all to yourself is that this is probably the single first class product where it matters least how full the cabin is. That's because each passenger gets a fully enclosed suite with a floor-to-ceiling wall on both sides.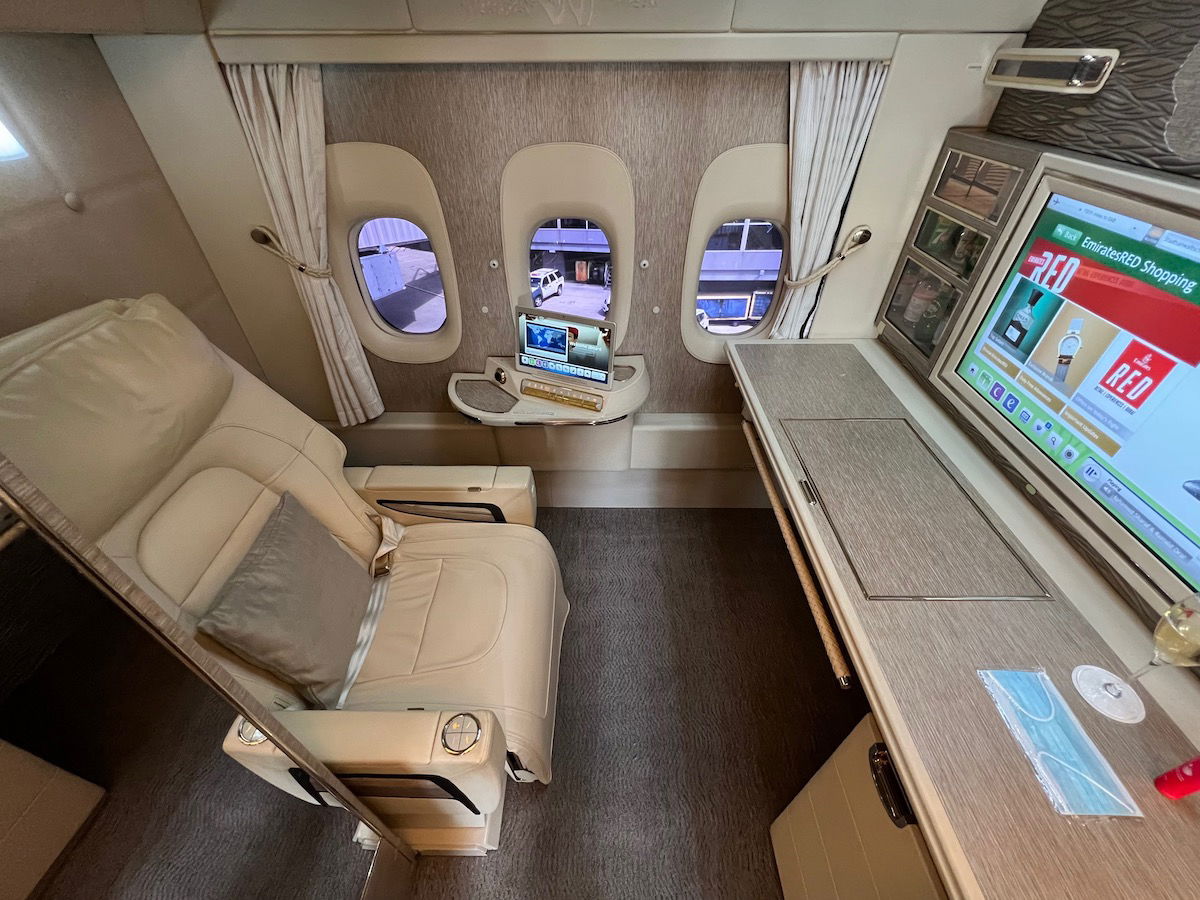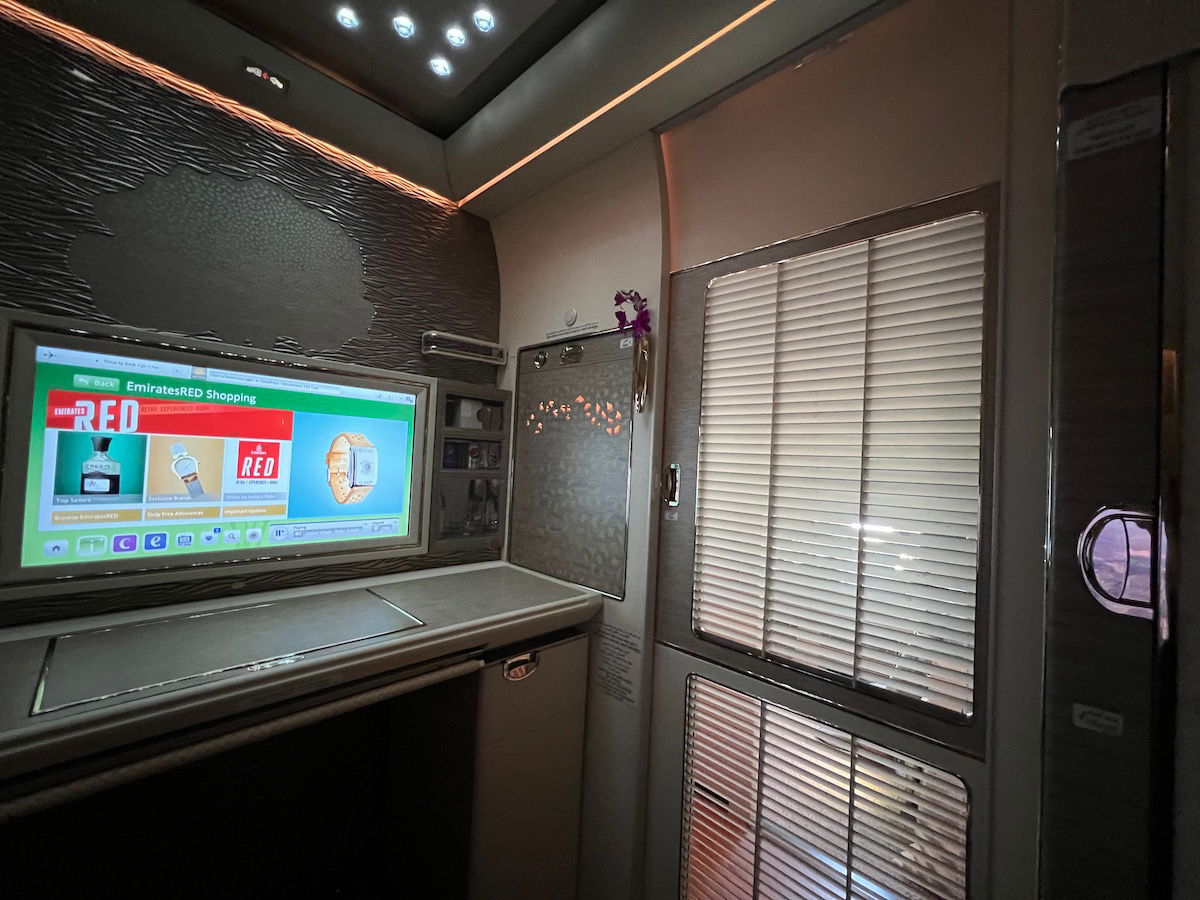 Three seats open to each aisle, and there's no way to see what's even going on in the other aisle.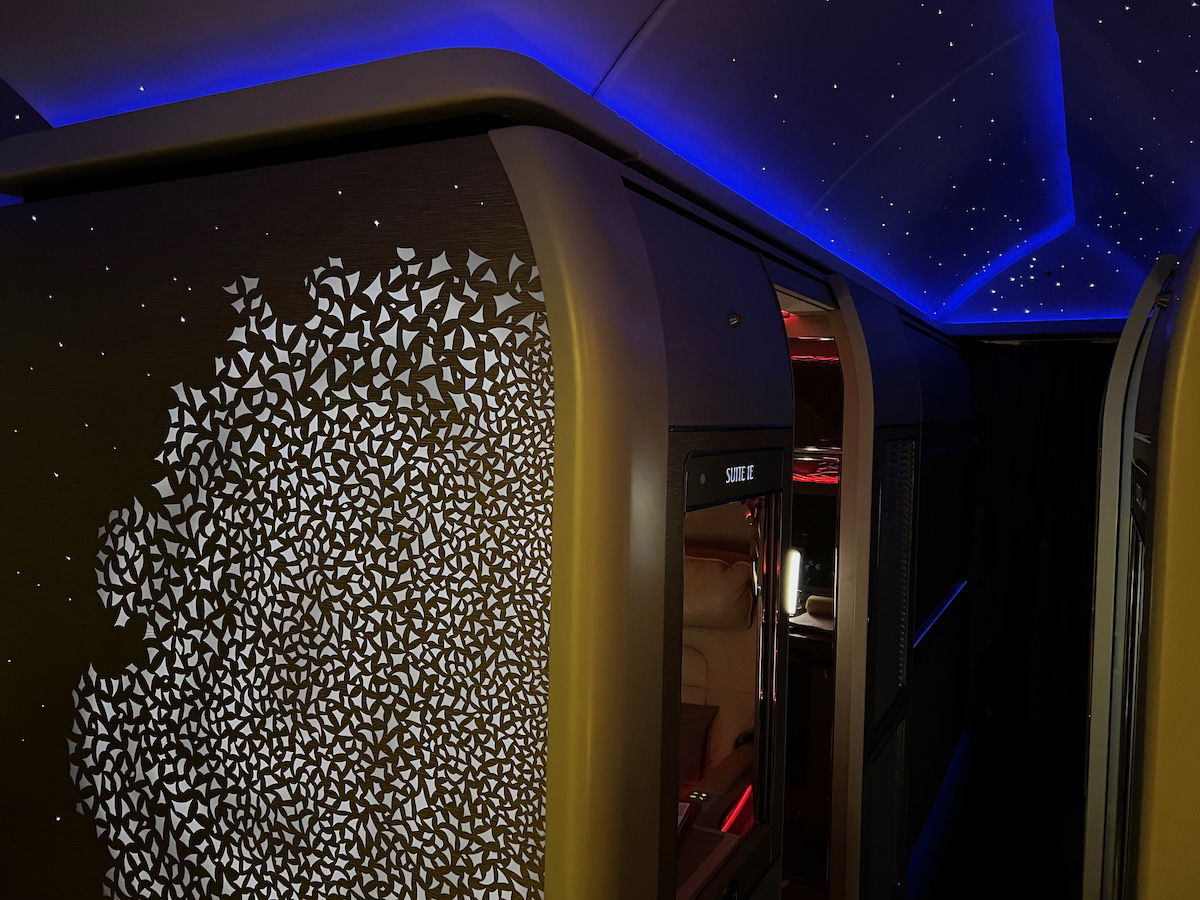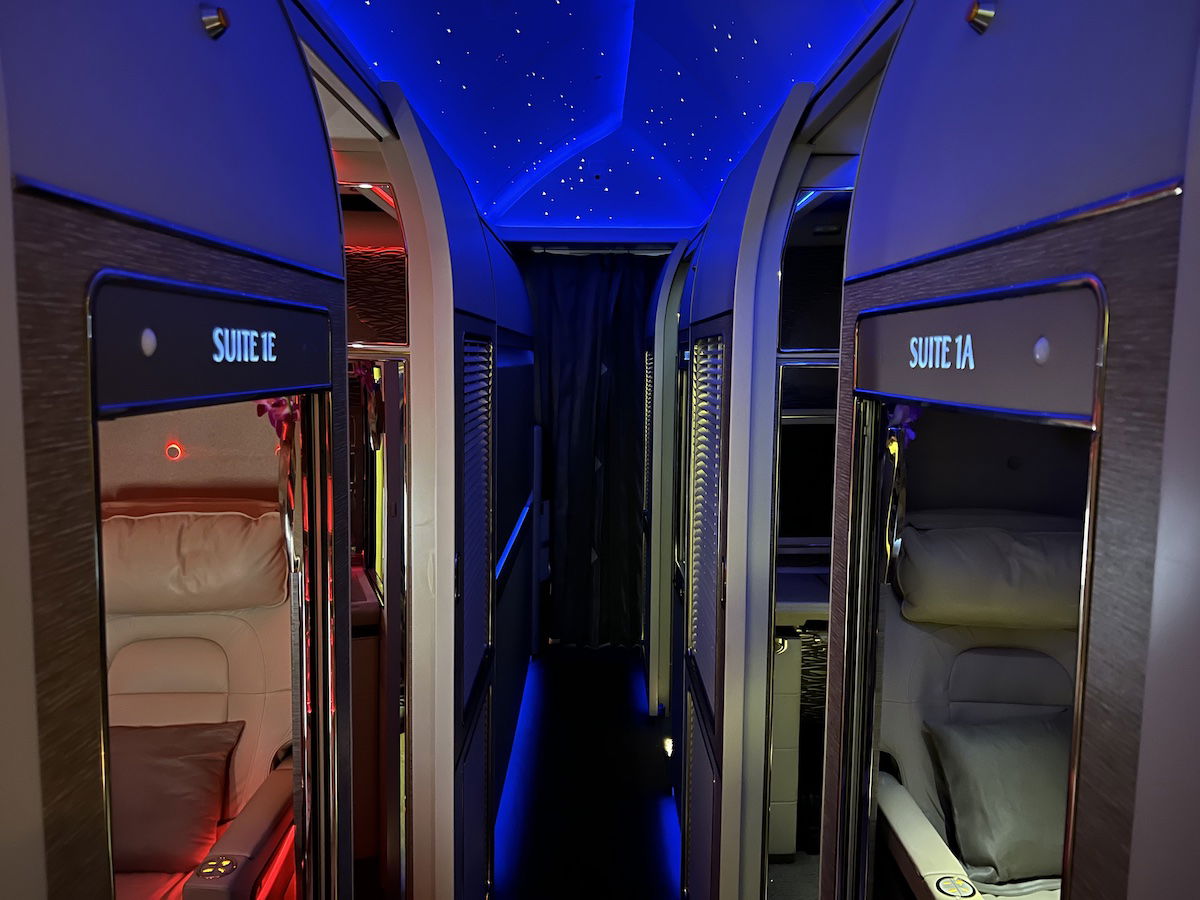 While the flight was 12hr30min, I really didn't want it to end, and it almost felt half that long.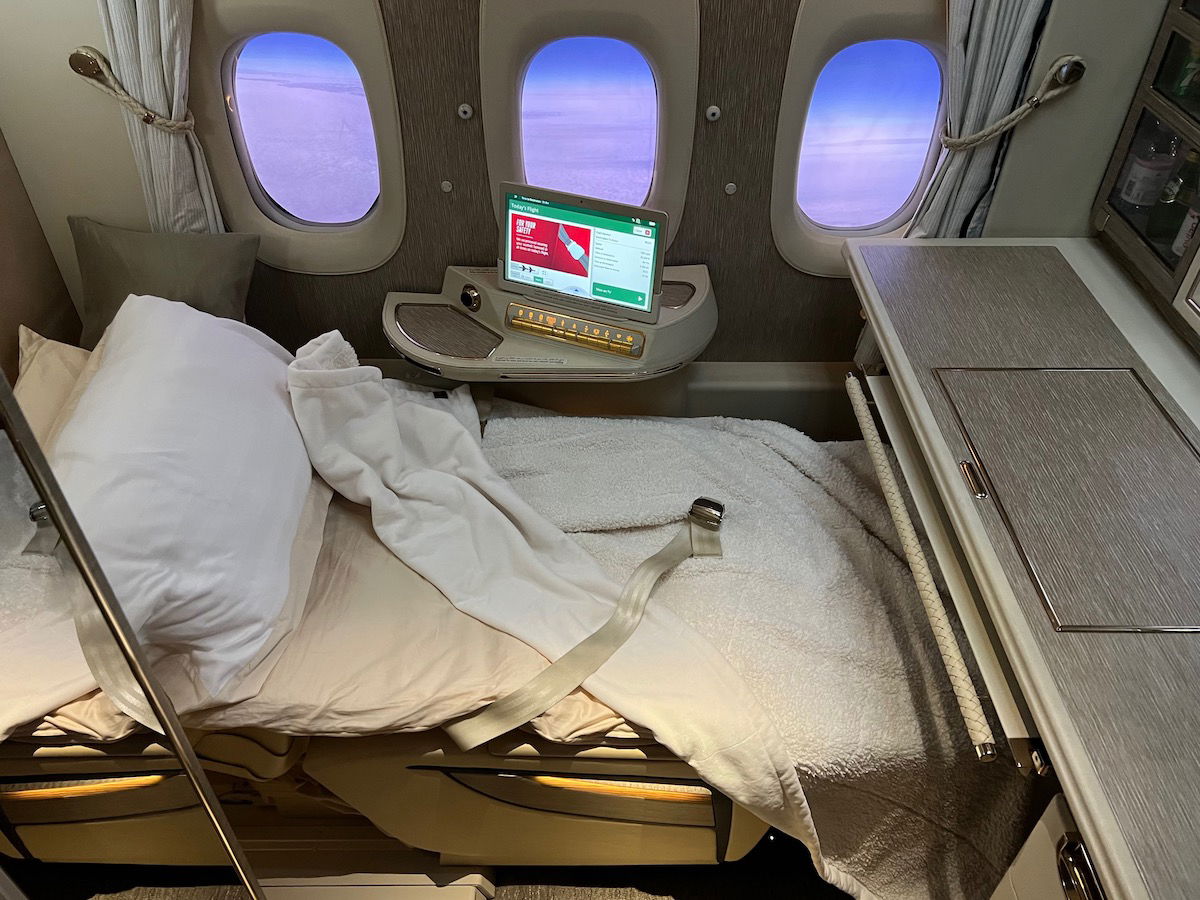 VIRTUAL WINDOWS ARE AWESOME!!!
Last time I flew Emirates' new first class, I sat in a "true" window seat. This time around I sat in one of the center seats, featuring virtual windows. Virtual windows, you ask? Yes, the two center first class suites on the 777 have "fake" windows on one side of the suite, so that you feel like you're in a window seat.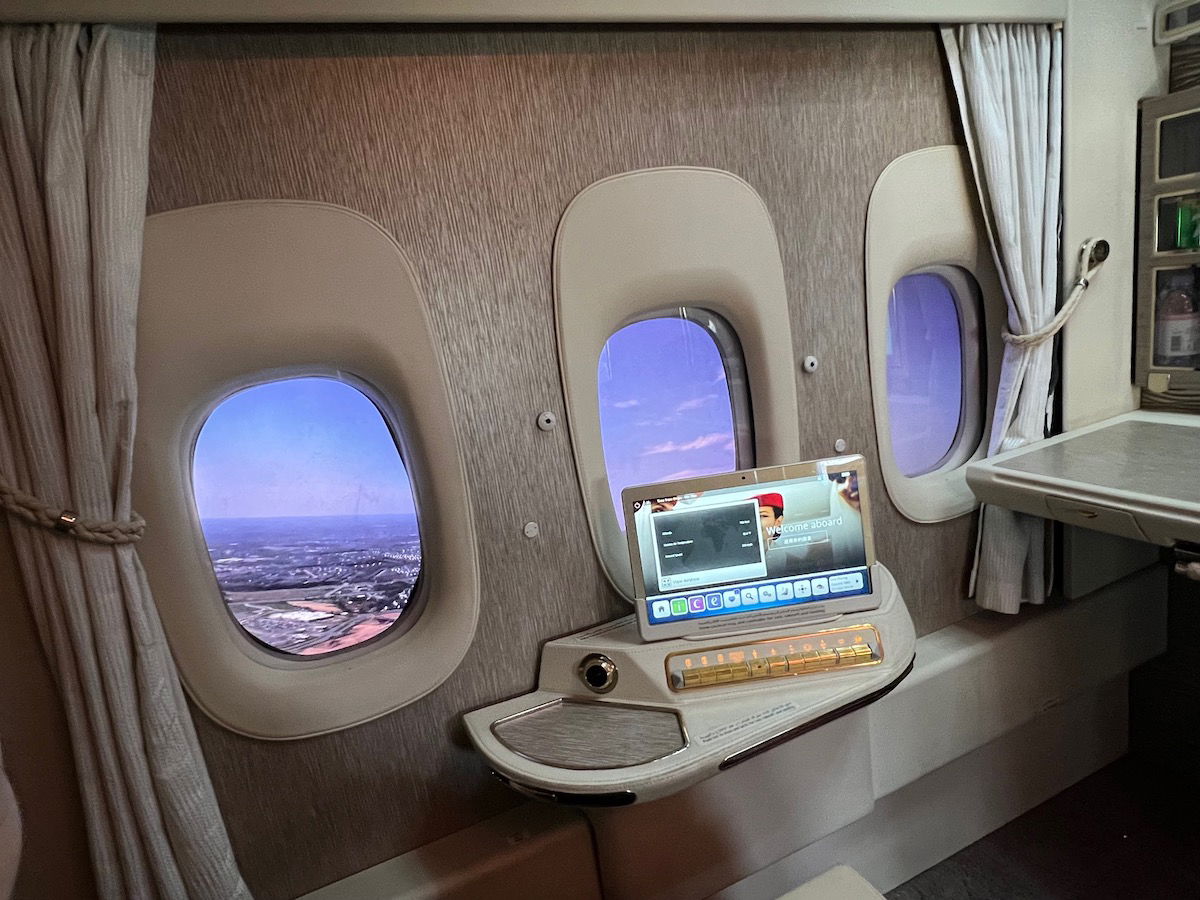 But what you see out of the fake windows is 100% real. There's a camera to the side of the aircraft that projects exactly what you'd see if you were in a real window. I have to say, virtual windows are just flippin' amazing:
Obviously there's the novelty factor to having virtual windows
The center suites have the benefit of being a bit more spacious vertically, given that the fuselage is a bit higher in the center of the cabin
Because these windows are virtual, you can get your private cabin 100% dark, since no light will shine through, unlike in true window seats
Then there was just the general amazement of realizing you're not looking out real windows, but that this is all fake… I must have spent half of my flight thinking about these windows, and for that matter I can't even tell you how many hundreds of pictures I took out these "windows"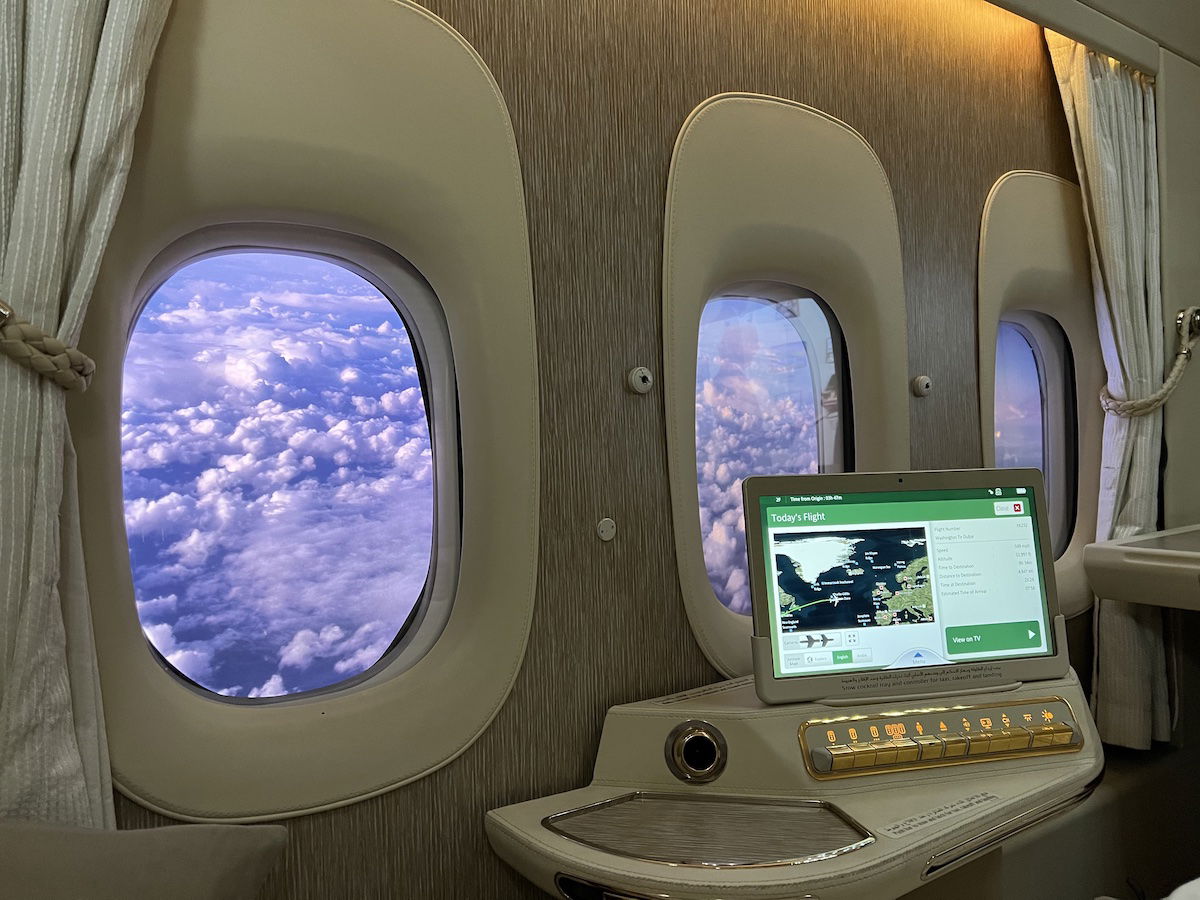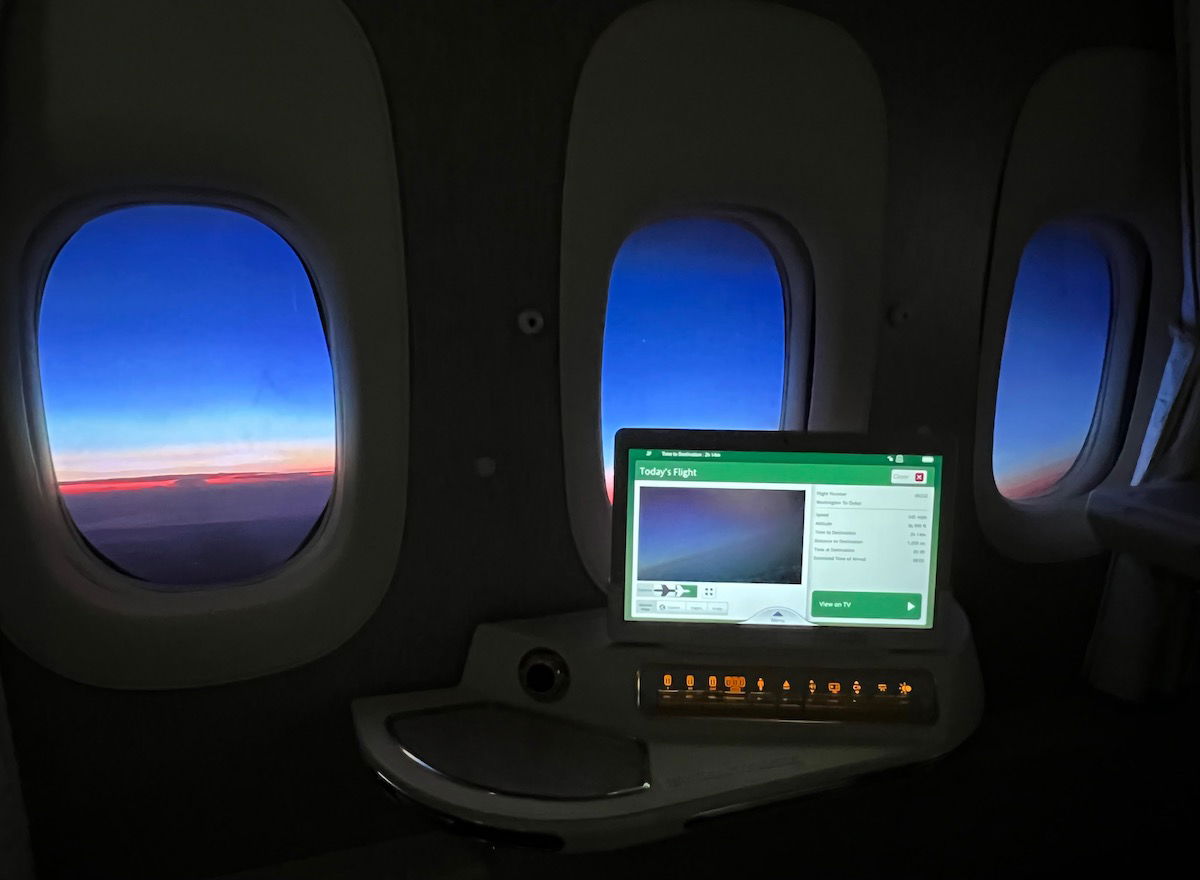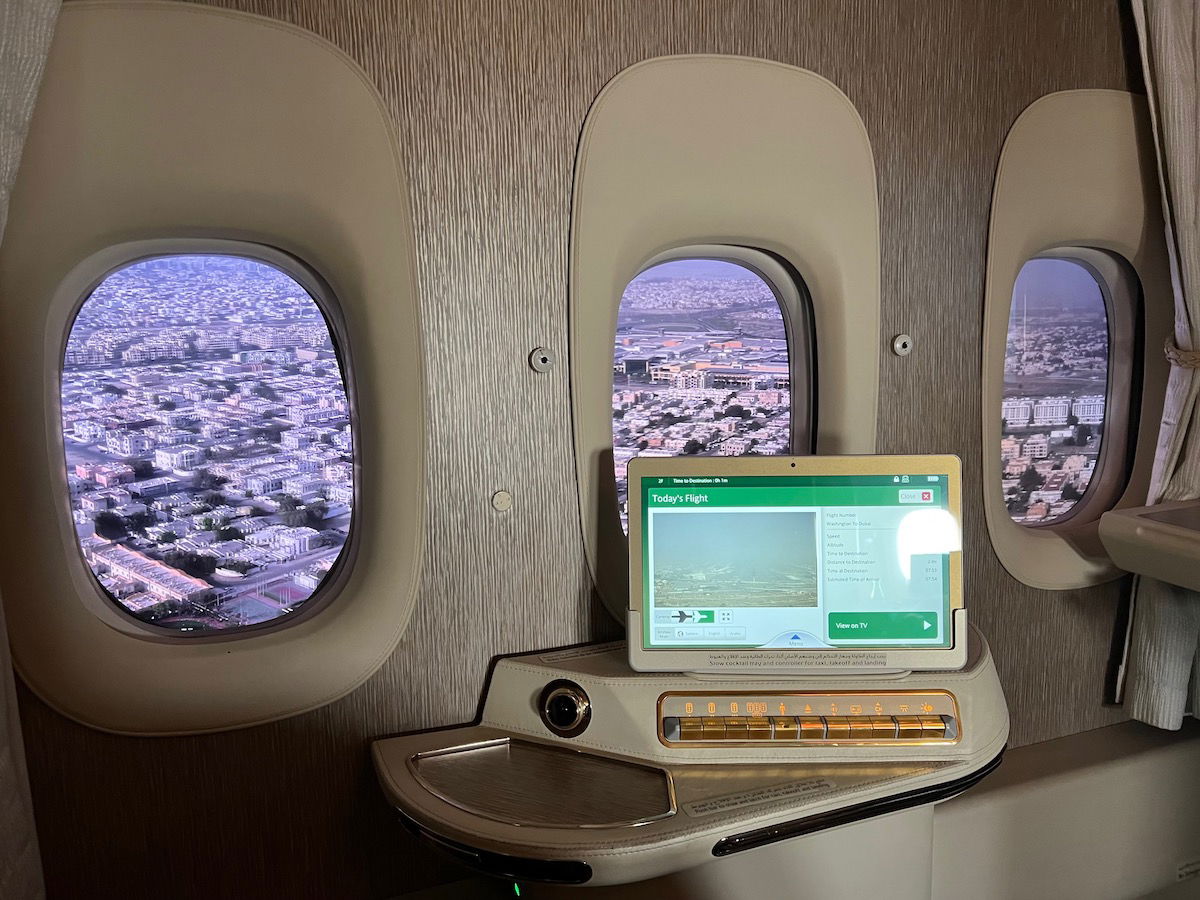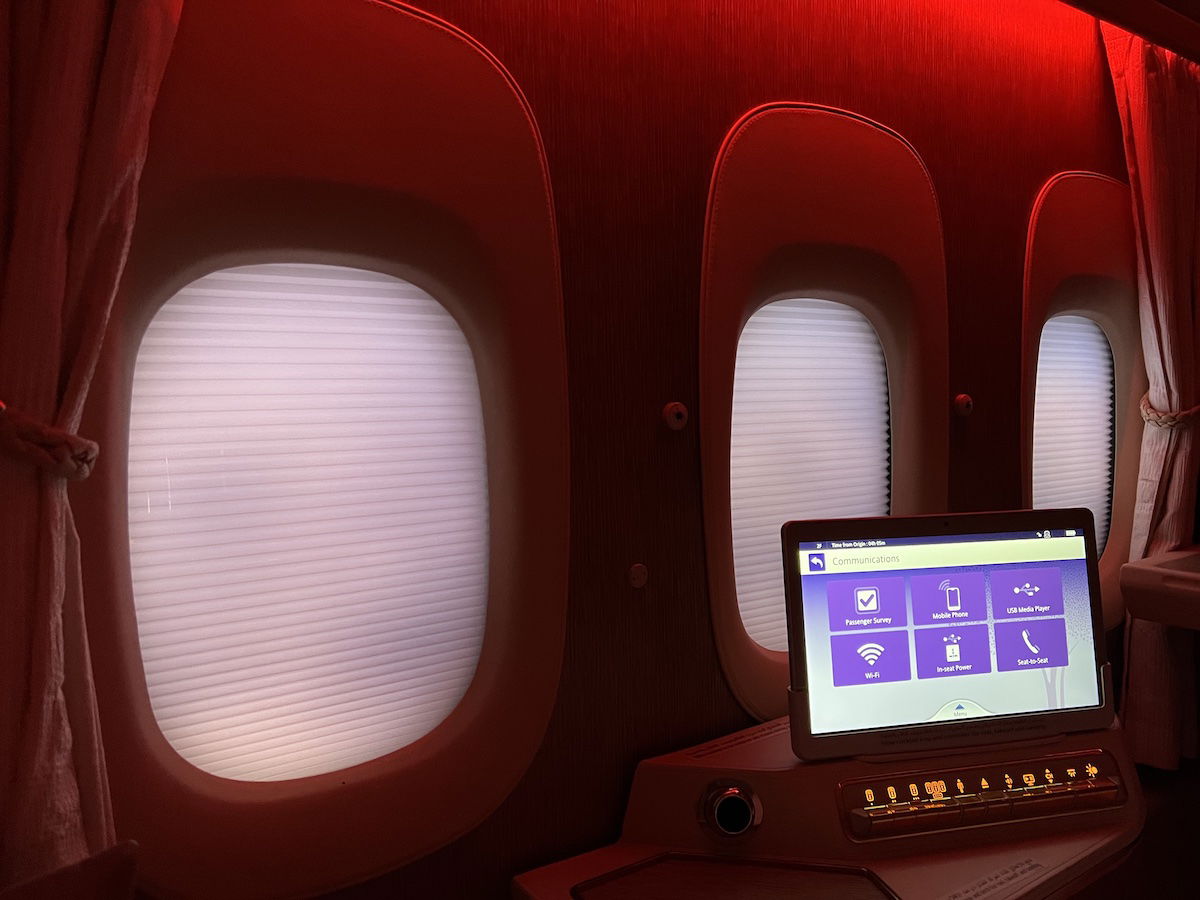 Bottom line
There are great first class flights, and then there's having Emirates' new Boeing 777 first class cabin all to yourself for ~13 hours. I've really had quite an unbelievable couple of weeks in terms of premium travel, between flying Singapore's A380 Suites from Frankfurt to New York in a "double bed," and now flying Emirates' new first class without anyone else in the cabin.
What an incredible experience. Stay tuned, as I'm just finishing my previous trip report, and will then get started with this one. What an experience…