---
We spent a couple of nights in Dubai at the Park Hyatt, which I won't be reviewing this time around, since I've reviewed it before, and not much has changed. Our flight from Dubai to Riyadh was departing at 6:15PM, so we got to the airport plenty early, to start our monster journey from Dubai to Los Angeles, via Riyadh and Jeddah.
Saudia operates out of Terminal 1 at DXB, and has a fairly large check-in area, given how many flights they operate.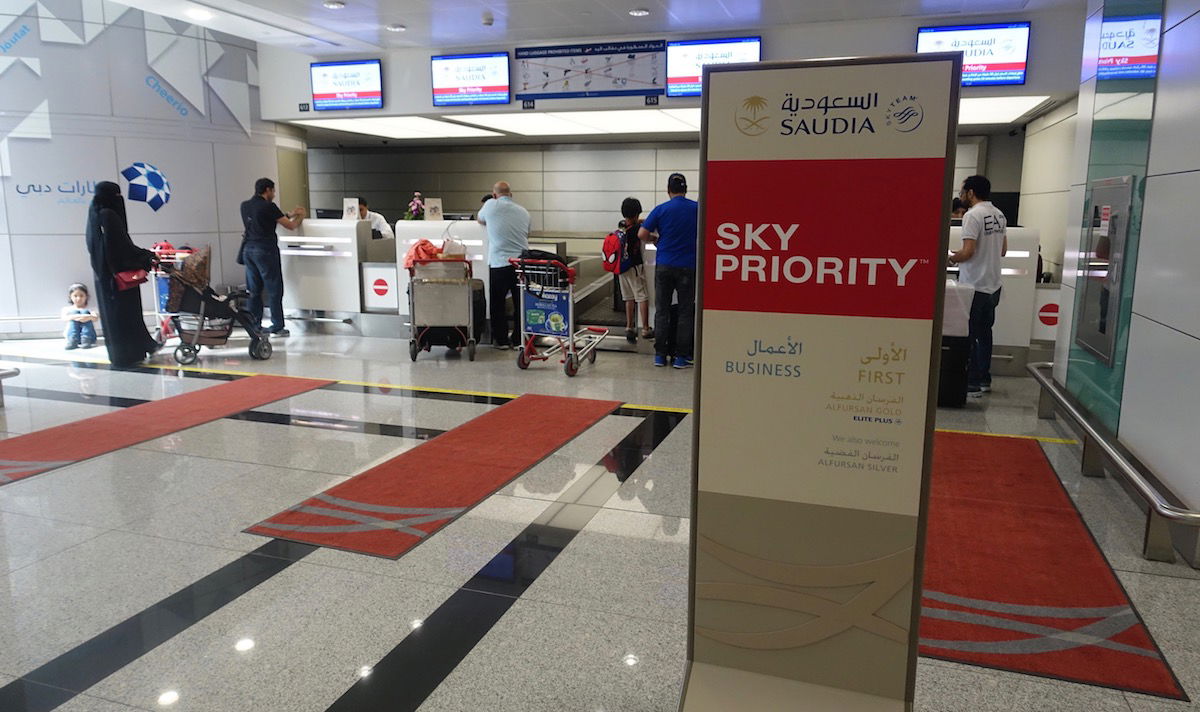 Saudia check-in Dubai Airport
Saudia uses the SkyTeam Lounge, which I just reviewed a few weeks ago, so I won't be reviewing that again. Overall it's a solid lounge, especially as it's accessible through Priority Pass.
We headed towards our departure gate about 75 minutes before departure. Our flight was departing from gate D15, which was about a 10 minute walk from the lounge.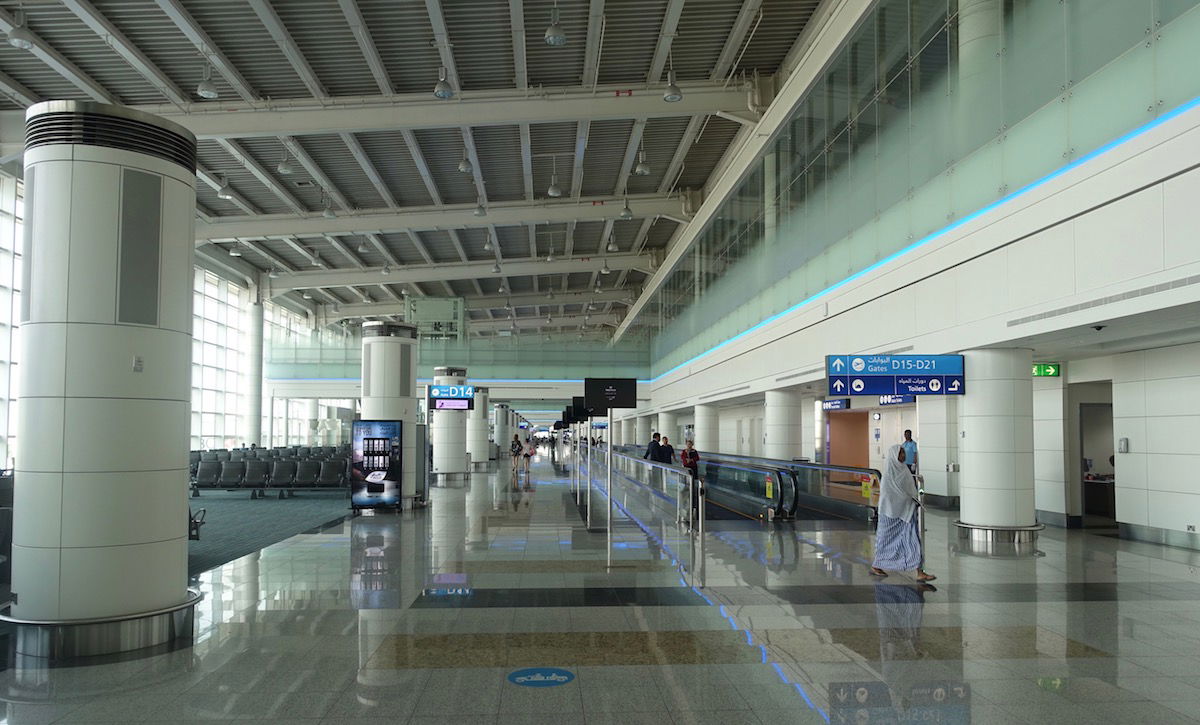 Dubai Airport Terminal 1
Sure enough our 777-300ER was parked there, though the gate area seemed pretty quiet.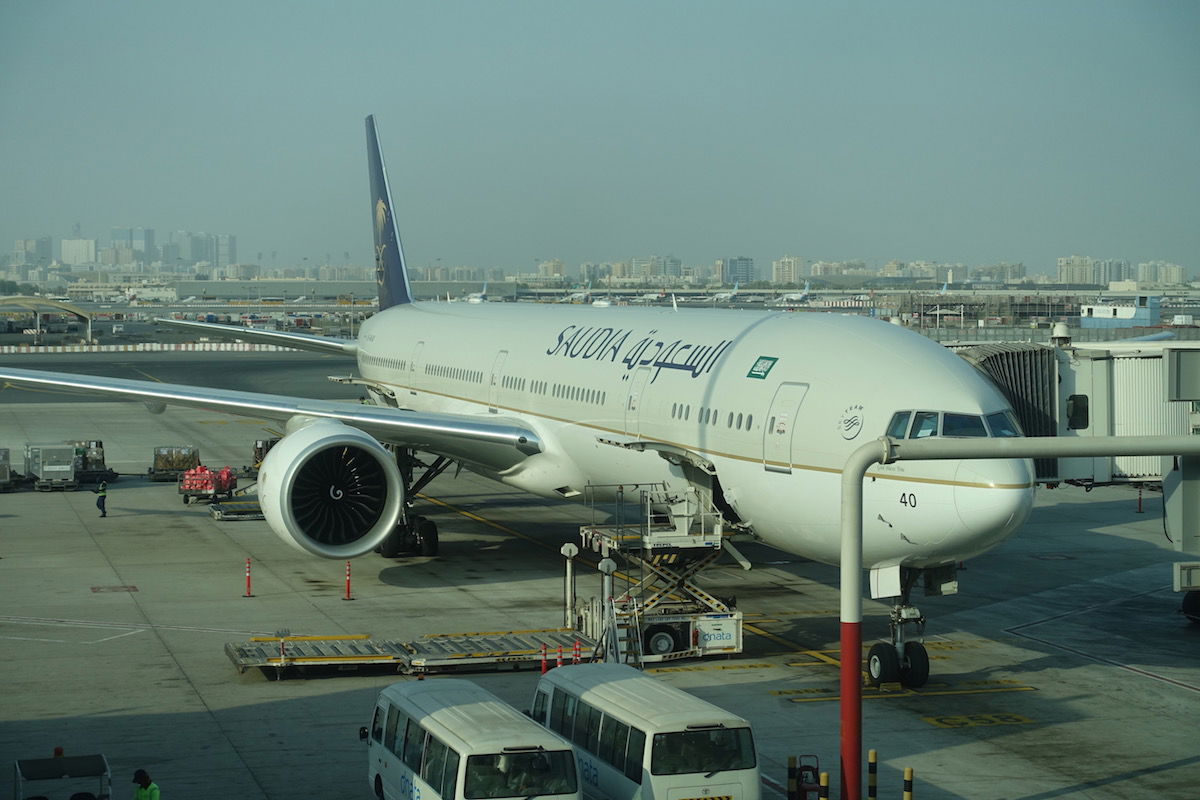 Saudia 777 Dubai Airport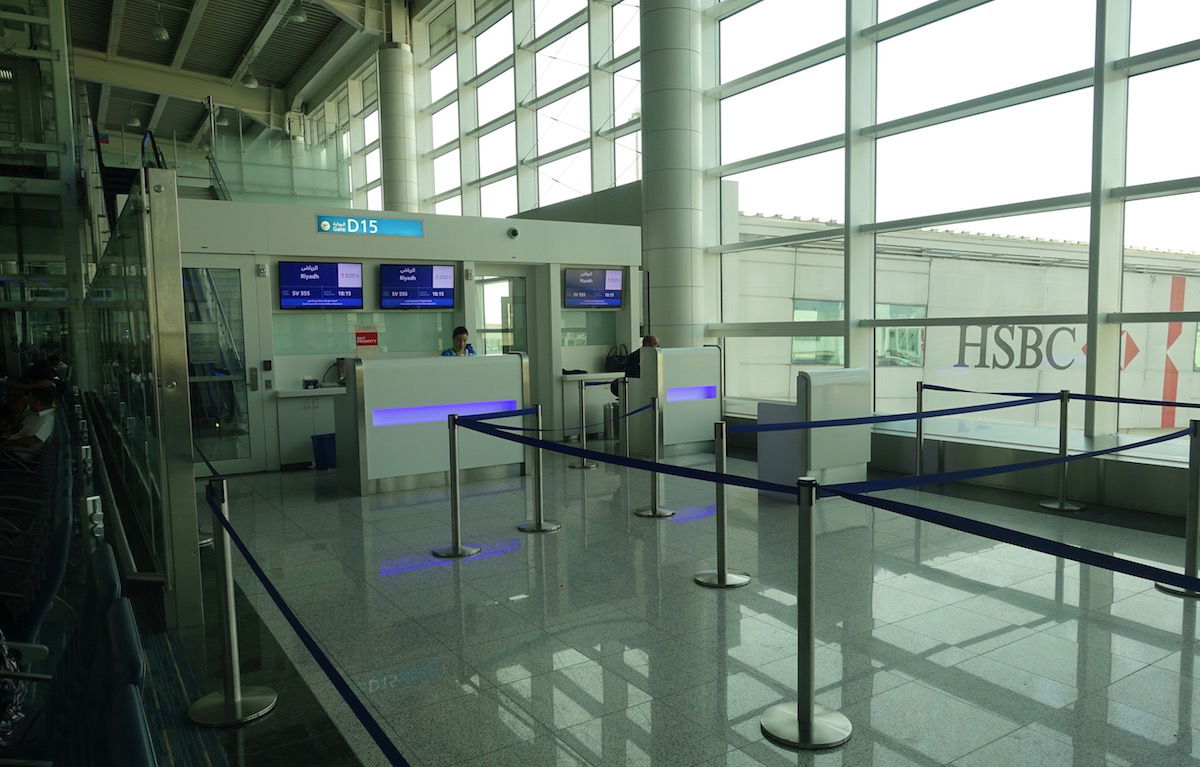 Saudia departure gate Dubai Airport
Priority boarding began at 5:15PM, a full hour before departure.
Saudia 555
Dubai (DXB) – Riyadh (RUH)
Friday, August 18
Depart: 6:15PM
Arrive: 7:15PM
Duration: 2hr
Aircraft: Boeing 777-300ER
Seat: 3A (First Class)
I just recently reviewed Saudia's 777-300ER first class from New York to Riyadh to Dubai, so I'll keep this review brief, especially as it relates to the hard product.
Saudia's new first class cabin has a total of 12 suites, and takes up the entire space between doors one and two.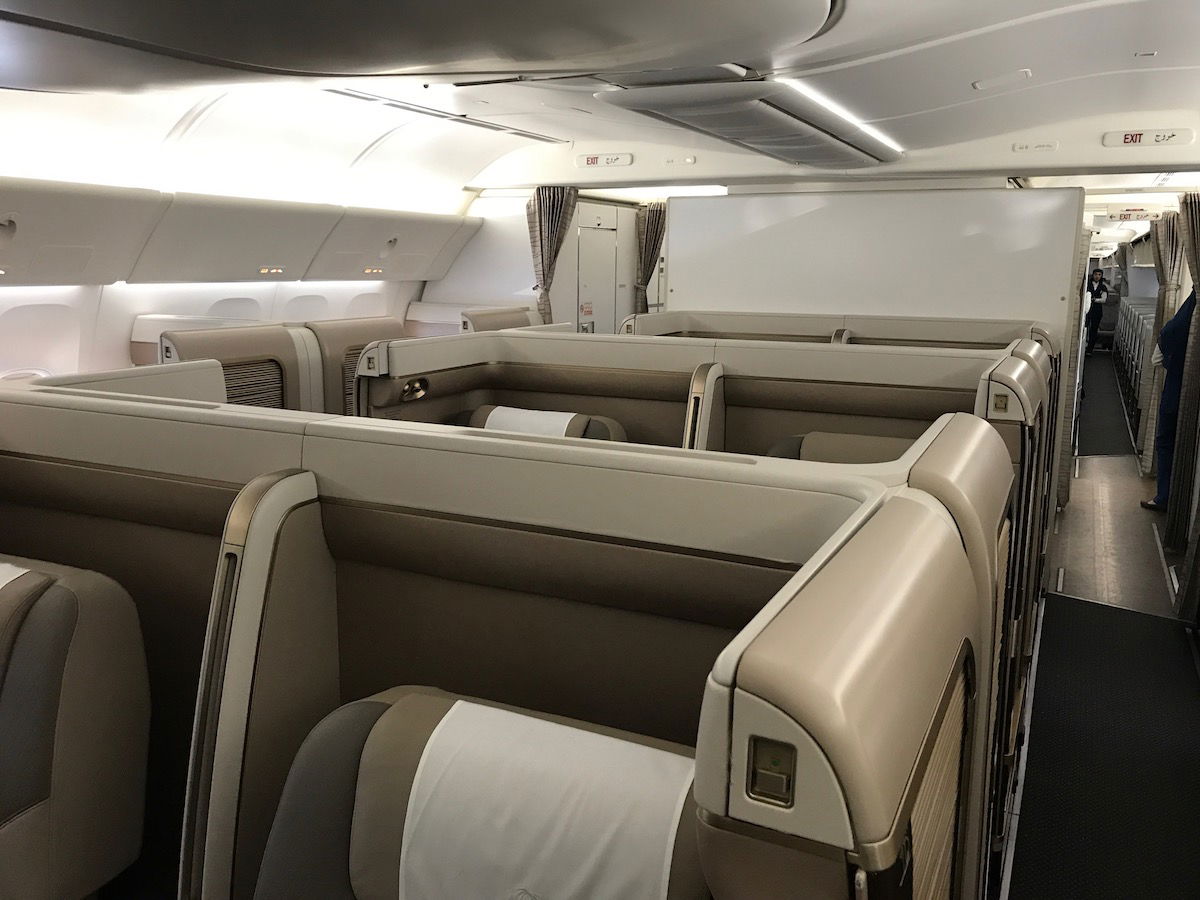 Saudia 777-300ER first class cabin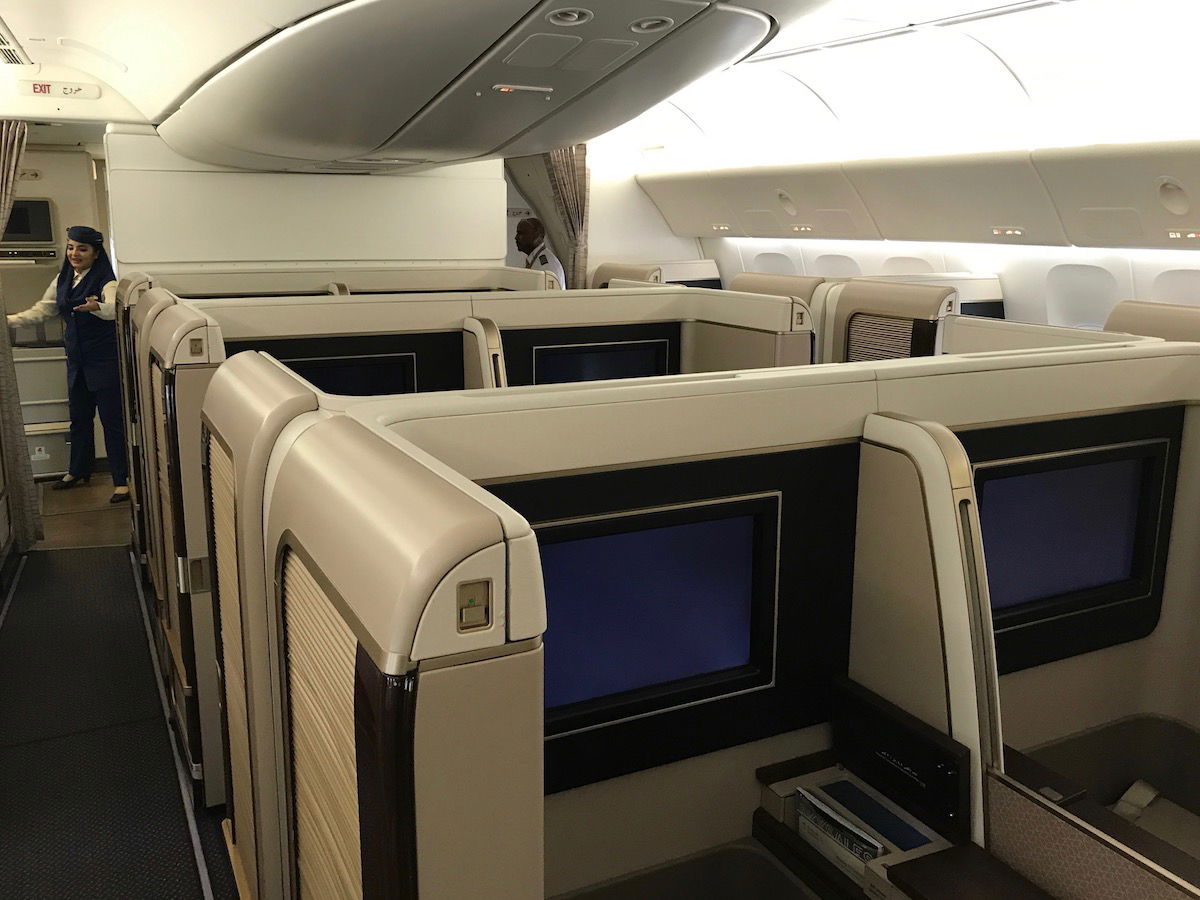 Saudia 777-300ER first class cabin
I had assigned myself seat 3A on this sector.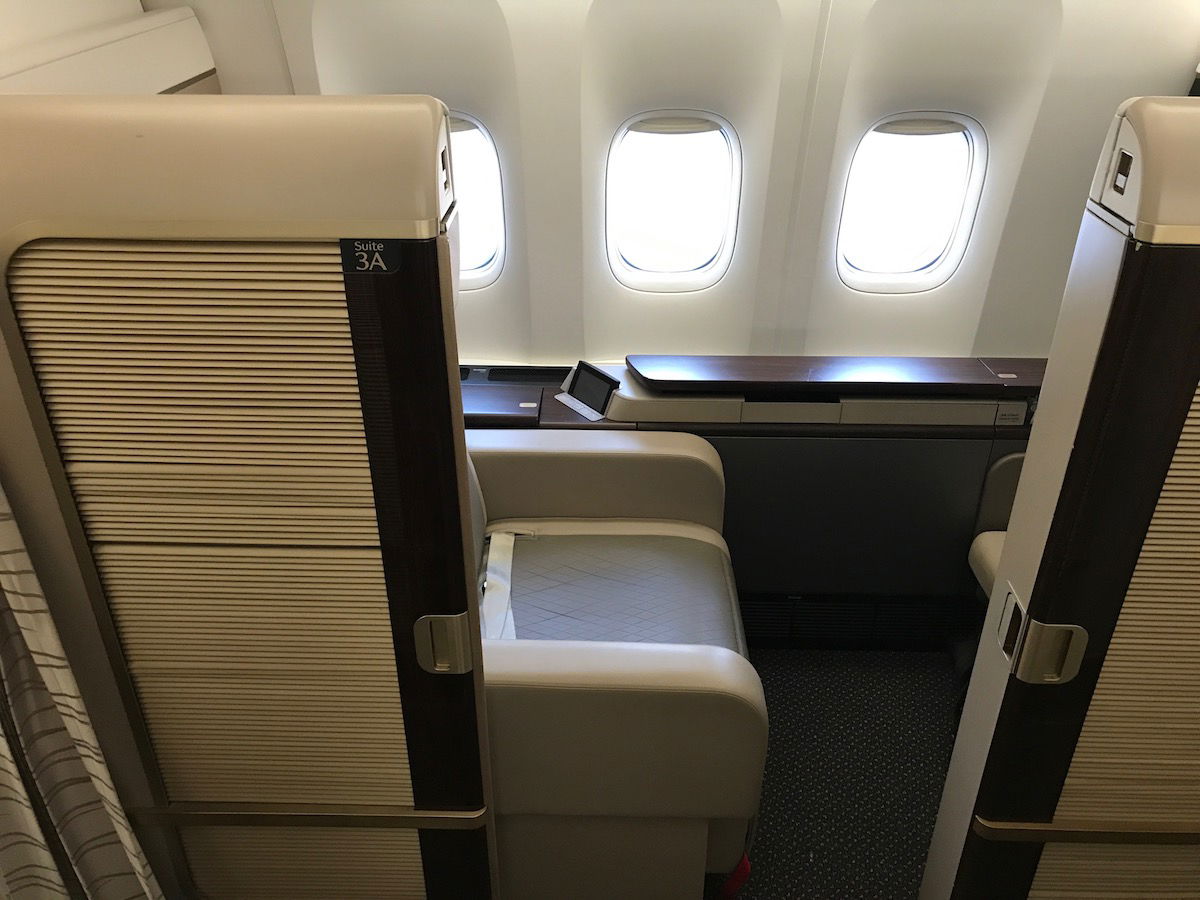 Saudia First Suite, 3A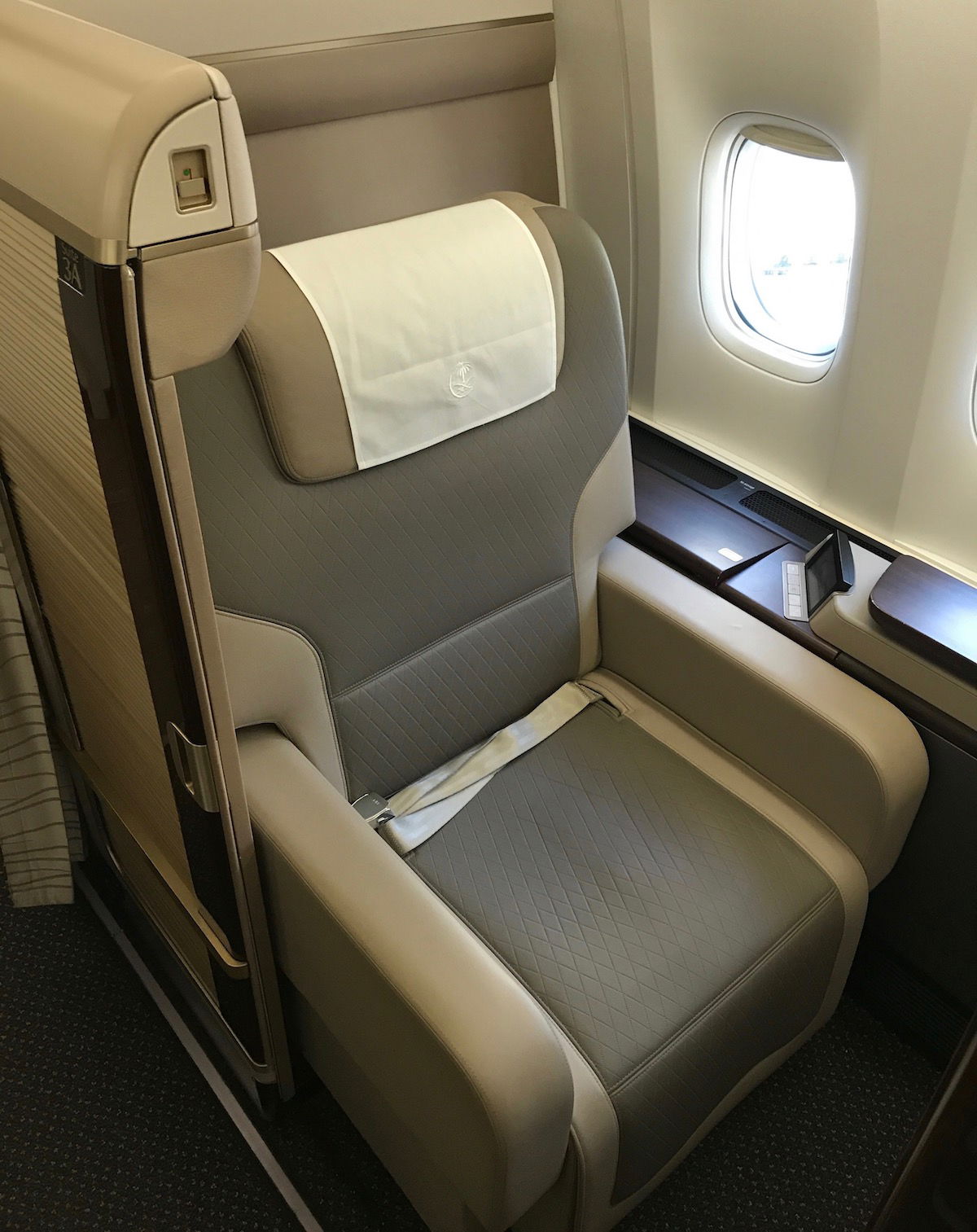 Saudia First Suite, 3A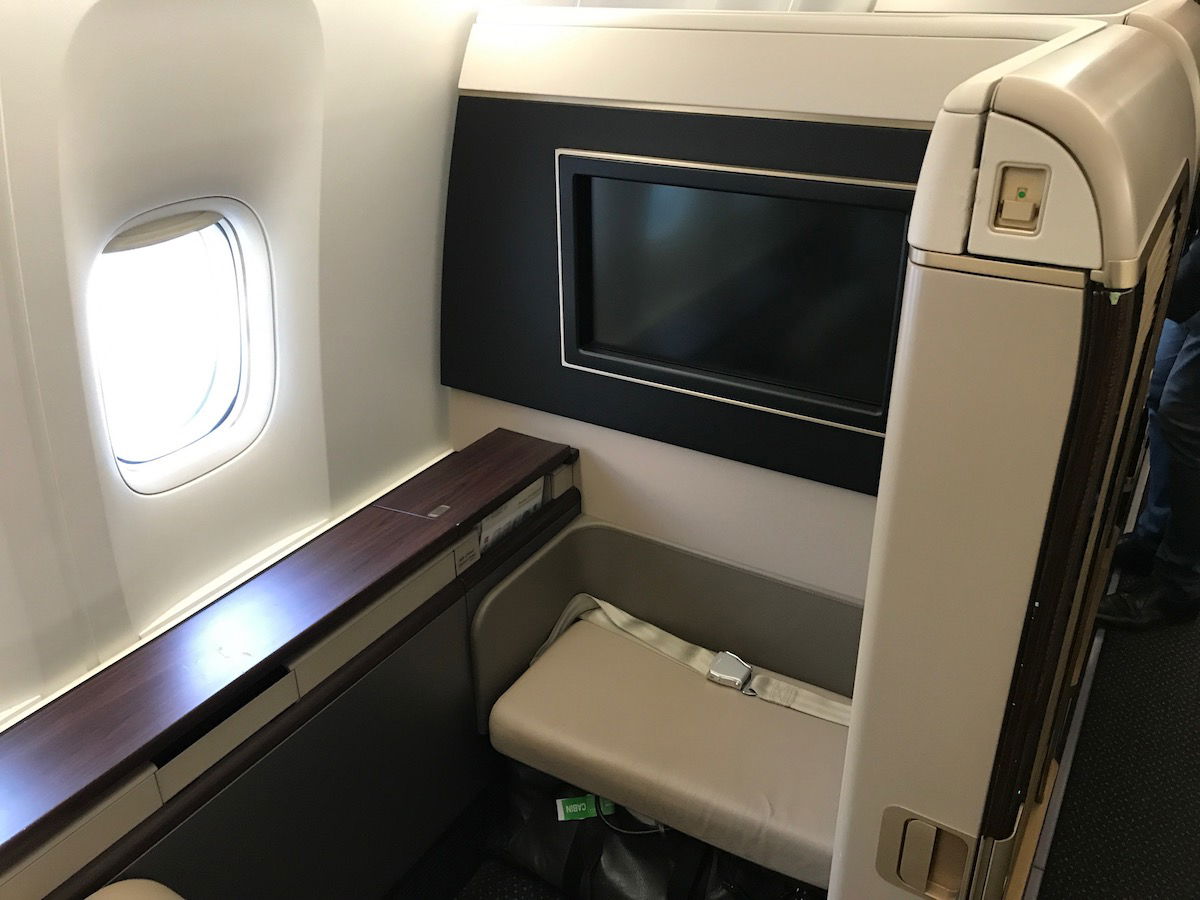 Saudia First Suite, 3A
However, as I arrived at my seat one of the flight attendants approached me and said "this is the supervisor's seat!"
I showed him my boarding pass, at which point the supervisor showed up and said jokingly (I think?) "why are you taking my seat?" So he proceeded to move his hat and crew bag.
I imagine working a few hours can be exhausting (the crew was doing a same day turn from Riyadh to Dubai), so can appreciate the supervisor's need for rest. 😉
In all honesty, the two Saudi men working supervising the cabin — Mohammed & Mohammed — were nice guys, and we had some fun banter.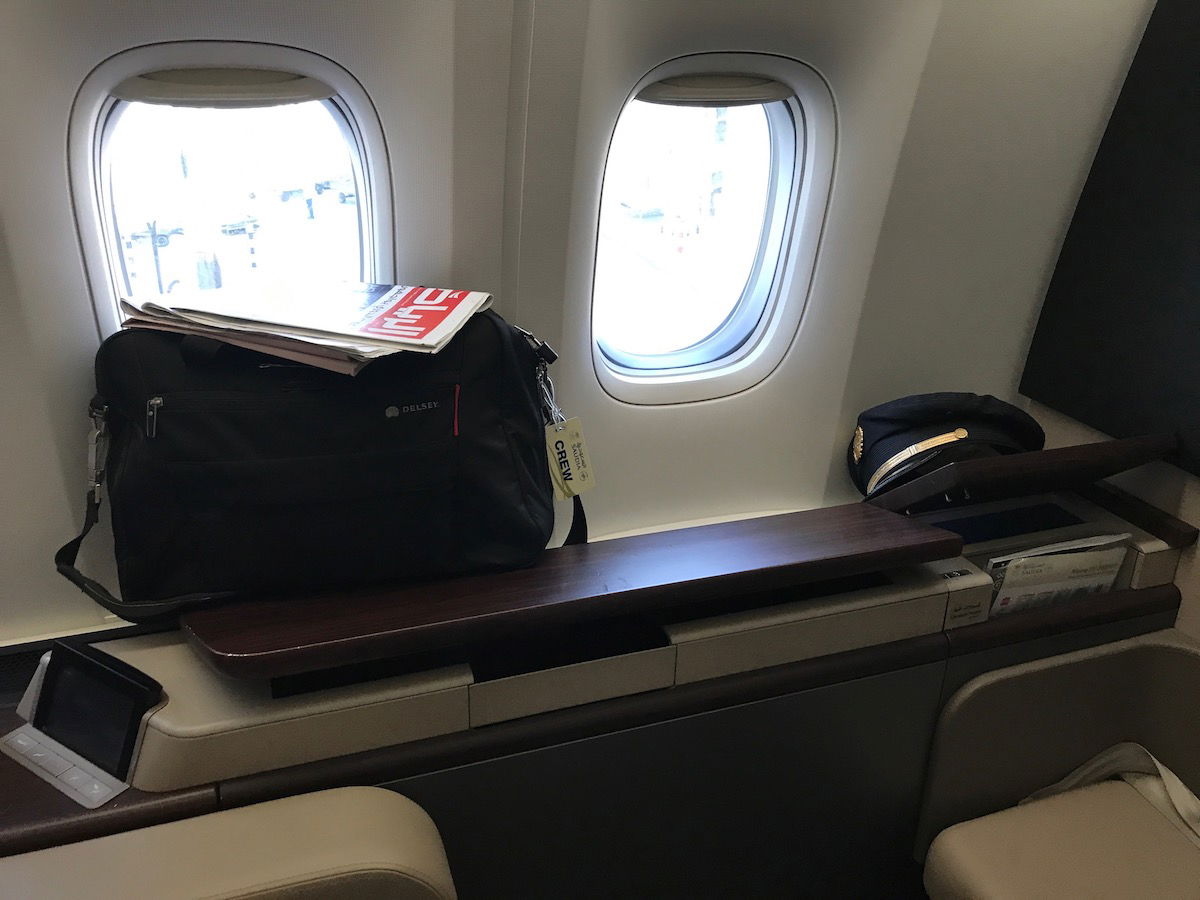 "It's the chief's seat!"
While Saudia's first class cabin is gorgeous overall, I was shocked by how poorly it's aging. Just about all of the suites had their "blinds" broken. Clearly they didn't choose especially high quality materials. How unfortunate.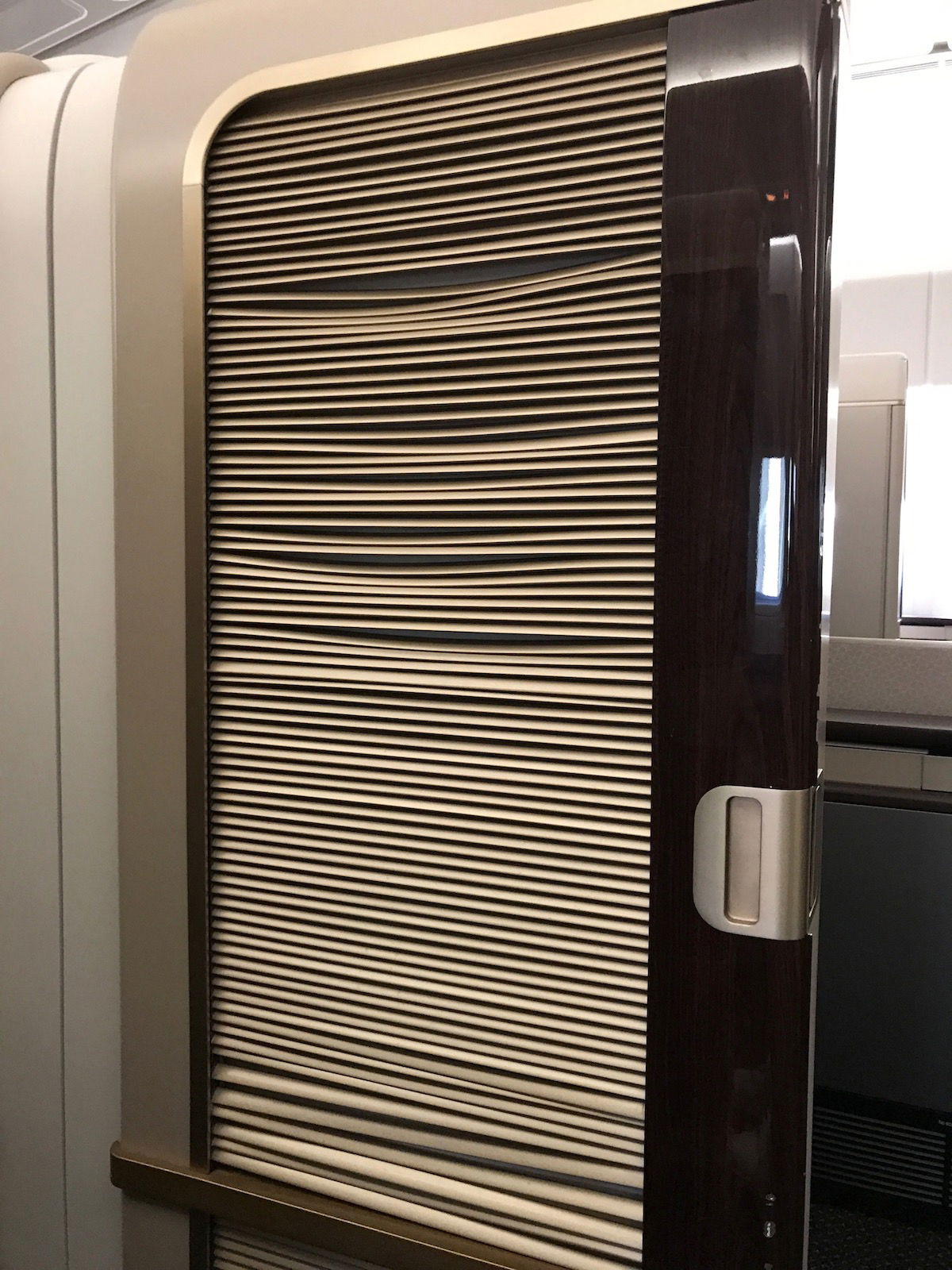 Saudia First cabin not aging well
There was also an inoperative suite.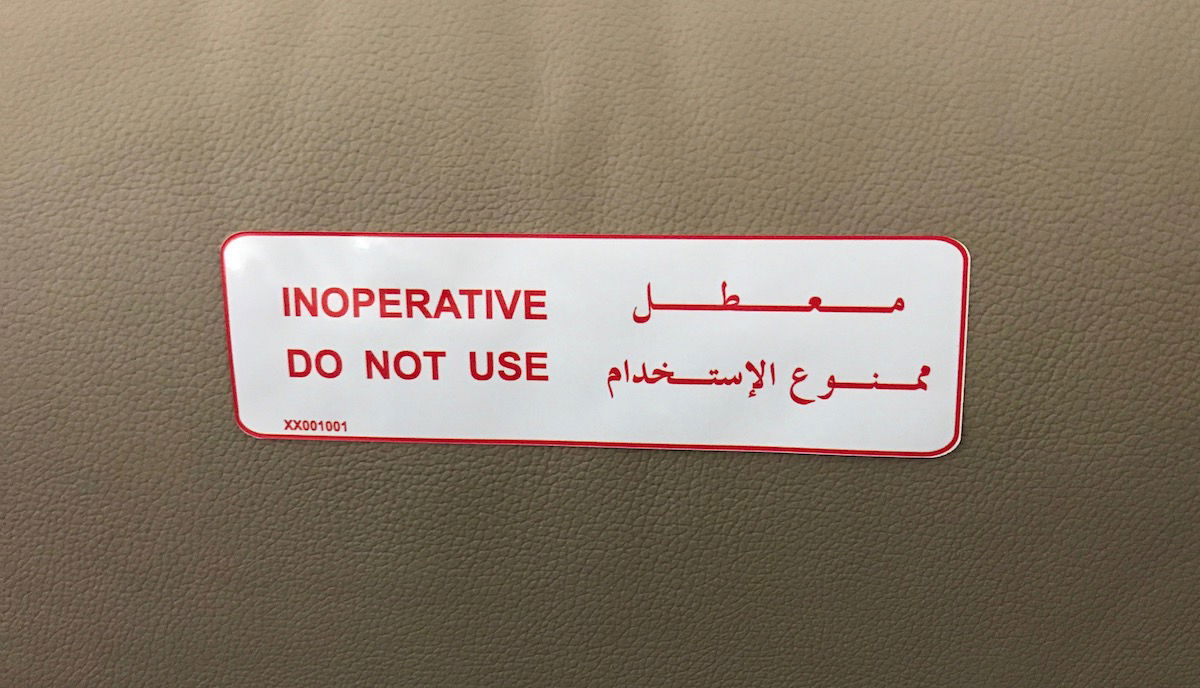 Saudia First inoperable seat
Then the "counter" in my suite had a bunch of marks.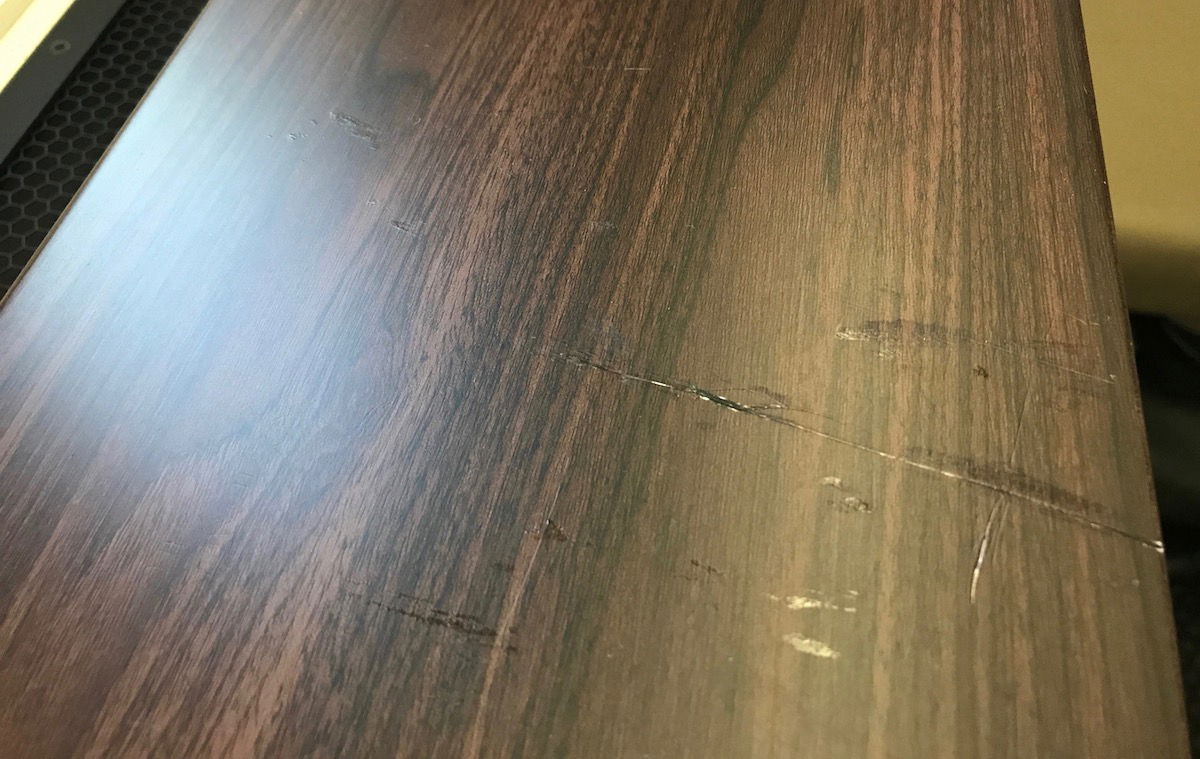 Saudia First cabin not aging well
It's not a huge deal, but for a plane that's only months old, it's sort of sad to see.
Within a couple of minutes the two friendly female Filipino flight attendants came by my seat to introduce themselves and welcome me onboard. They also offered me a choice of hot or cold towel — given that I was flying out of Dubai in summer, you can guess which I chose.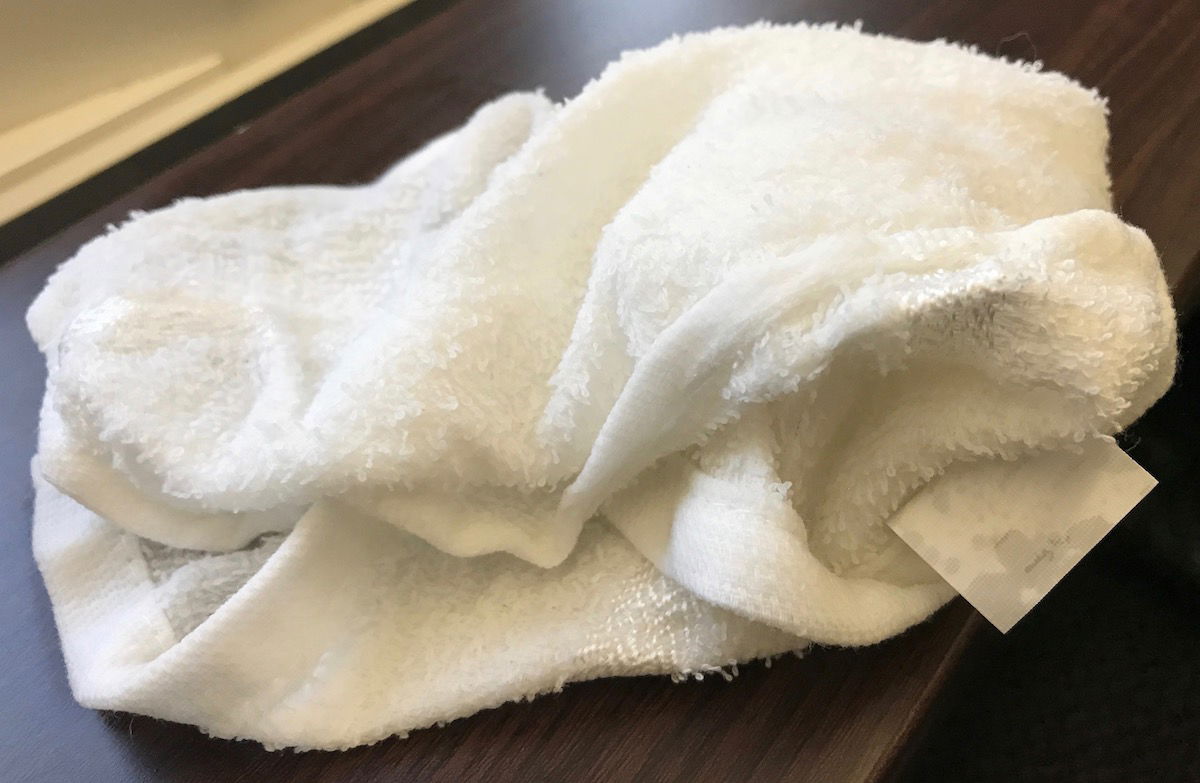 Saudia first class cold towel
I was also offered a drink, with the choice between between lemon juice and a date smoothie. I chose the date smoothie, which was rich.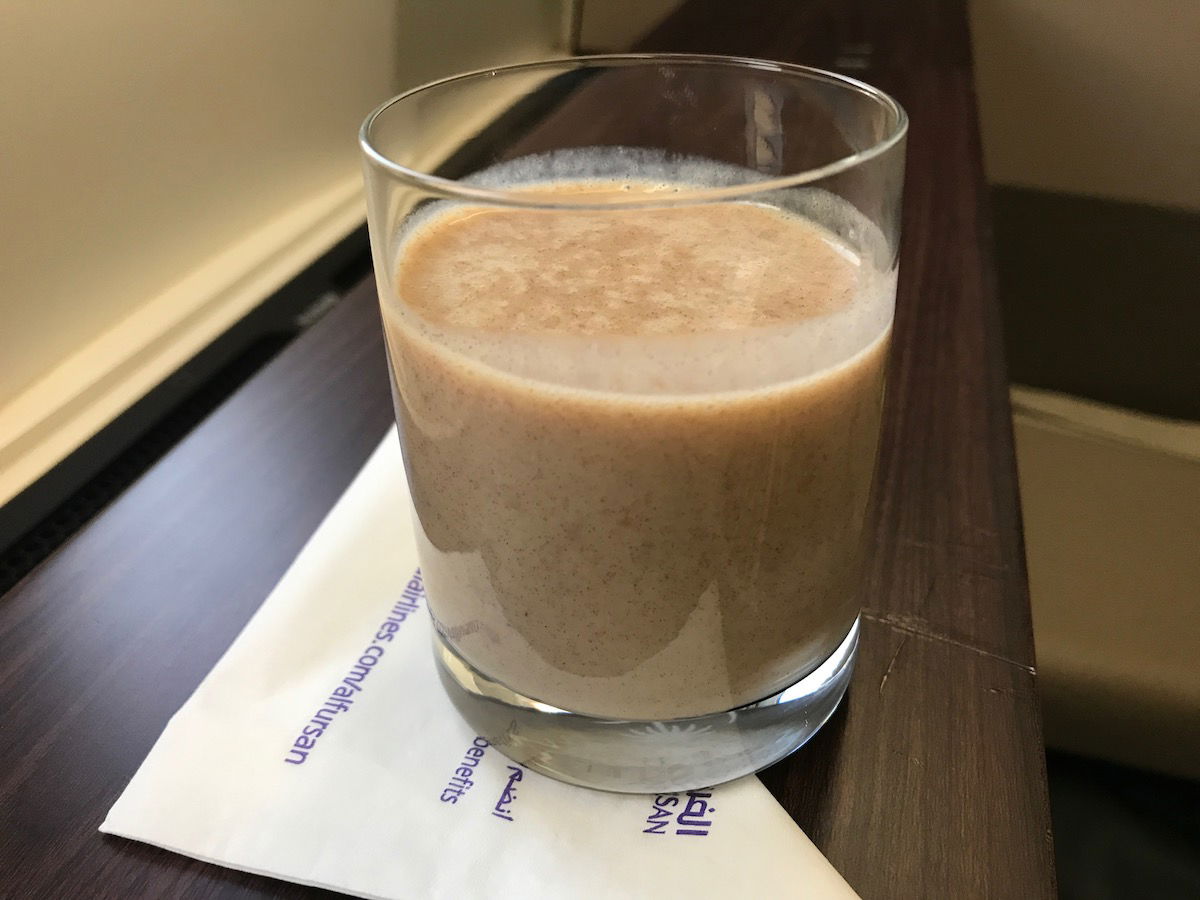 Saudia first class pre-departure drink
Boarding took a while, and eventually five of the 12 first class suites were taken. By 5:55PM the door was closed, at which point the safety video was screened. That was followed by a prayer.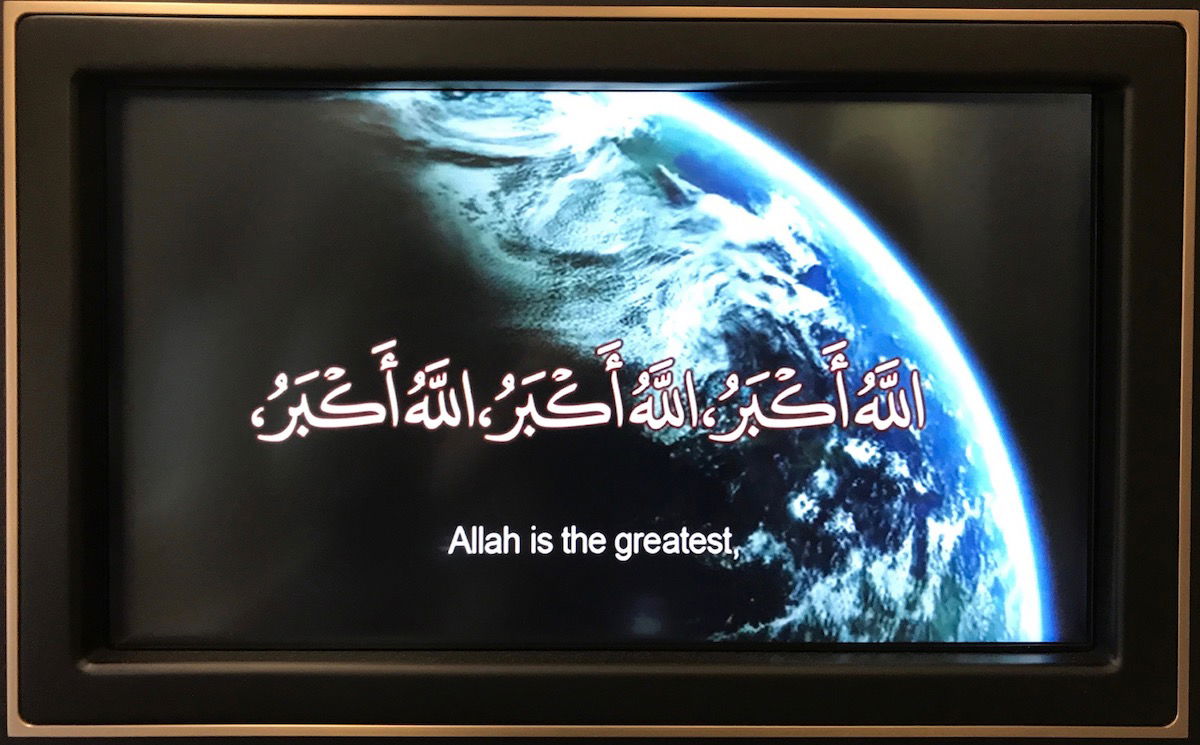 Saudia pre-flight prayer
At 6:05PM we began our pushback, and a couple of minutes after that we began our taxi.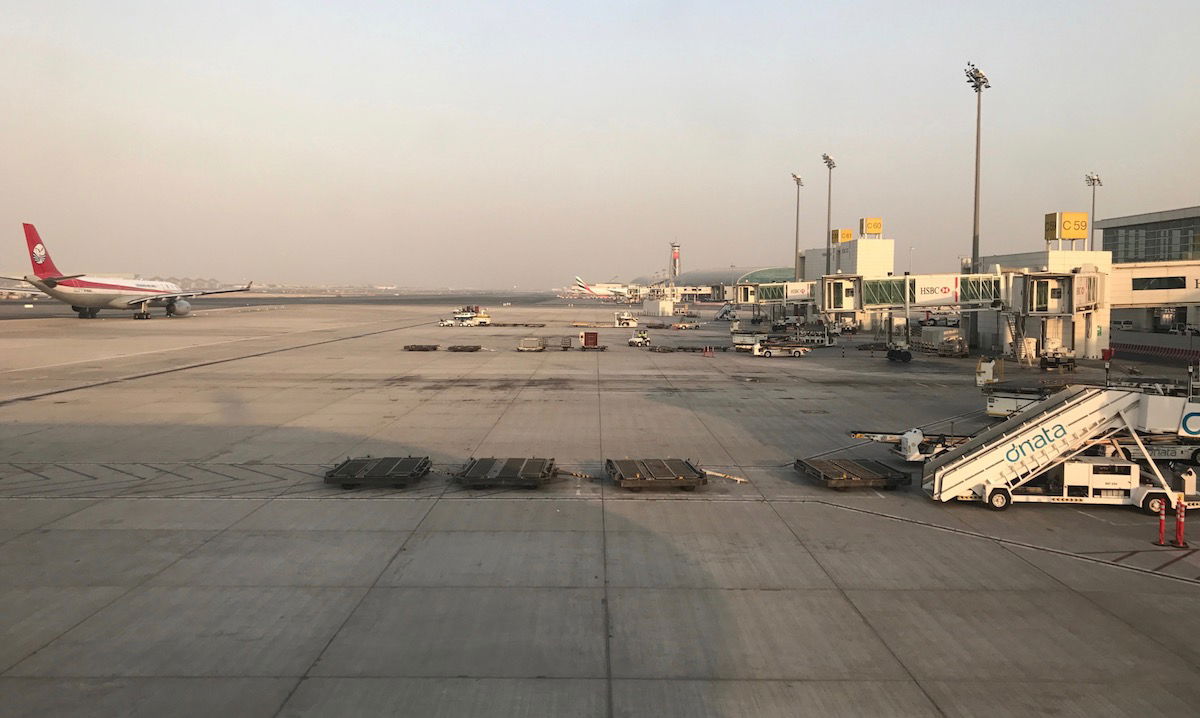 Pushing back Dubai Airport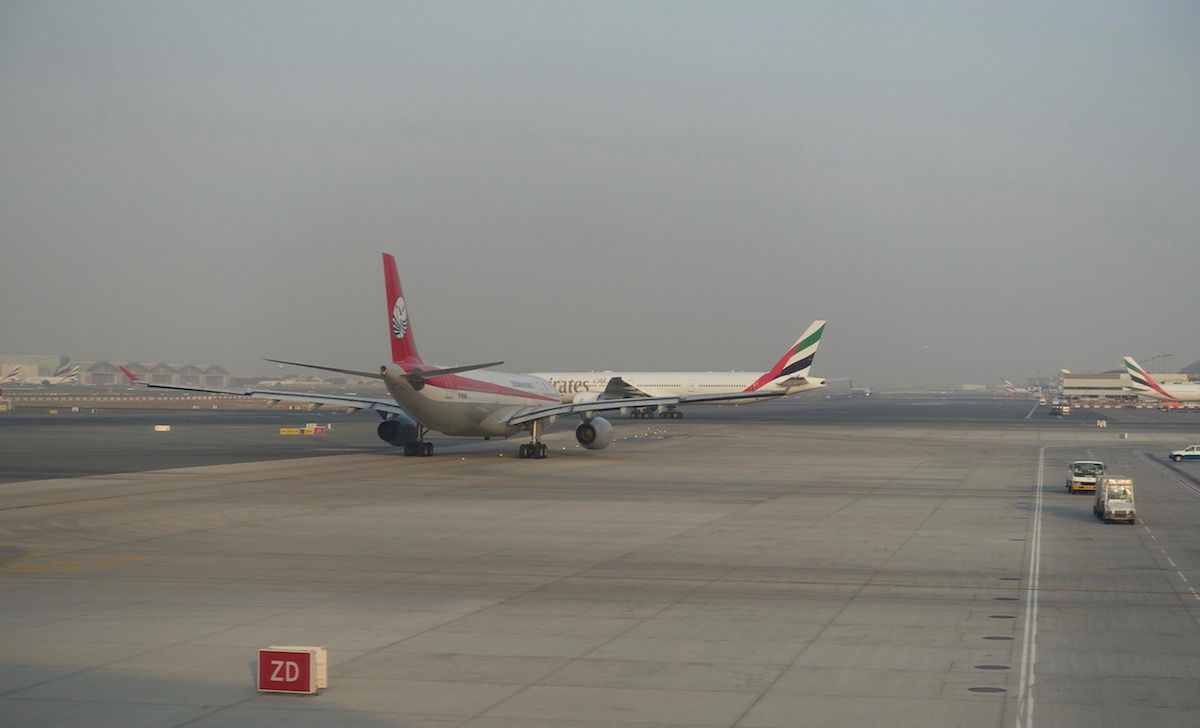 Traffic at Dubai Airport
Terminal 1 had some interesting planes — to our left, a Sichuan Airlines A330 pushed back moments before us, while a Kuwait Airways 777-300ER was at the gate to the right of us.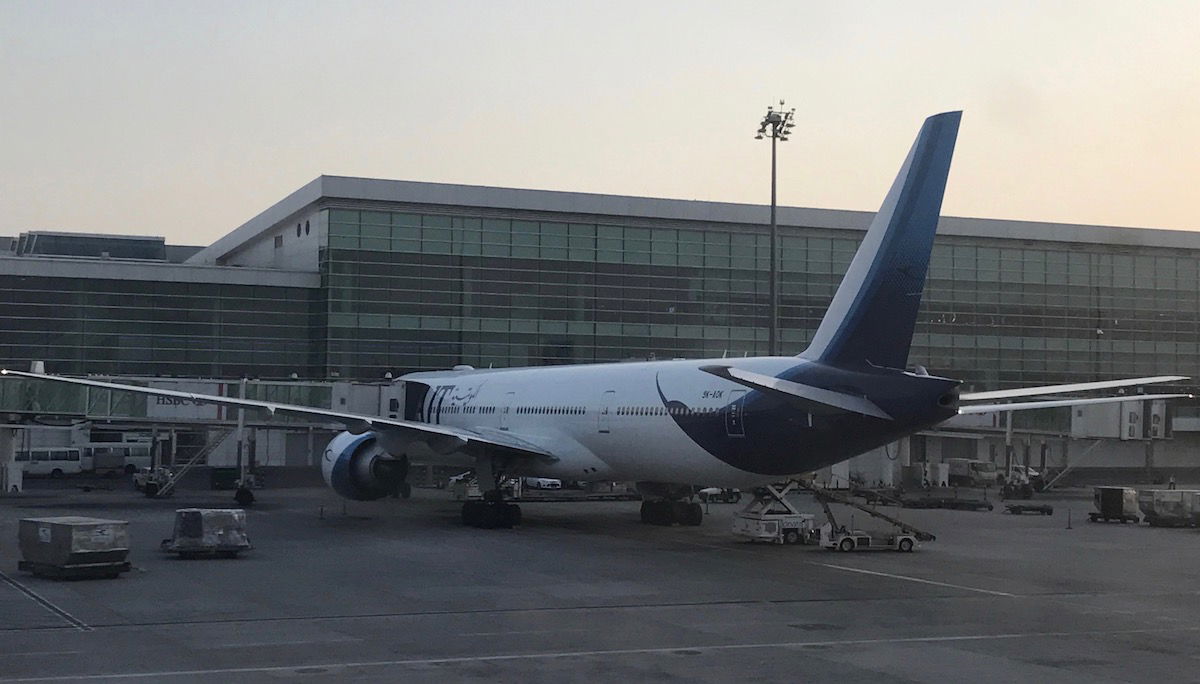 Kuwait 777 Dubai Airport
We had a quick taxi to the departure runway, and thanks to the fact that I was seated on the left, I had a good view of planes taking off.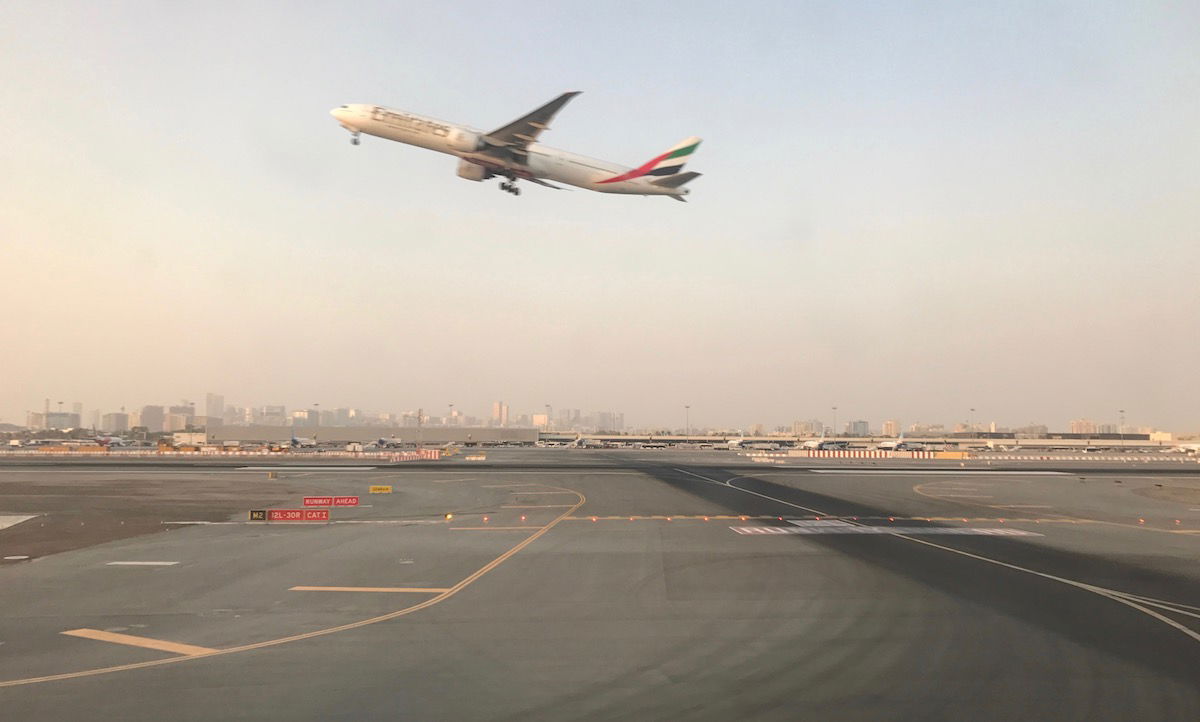 Emirates 777 taking off Dubai
By 6:20PM we made it to runway 30R, where we were cleared for takeoff behind the Sichuan A330 that was parked next to us.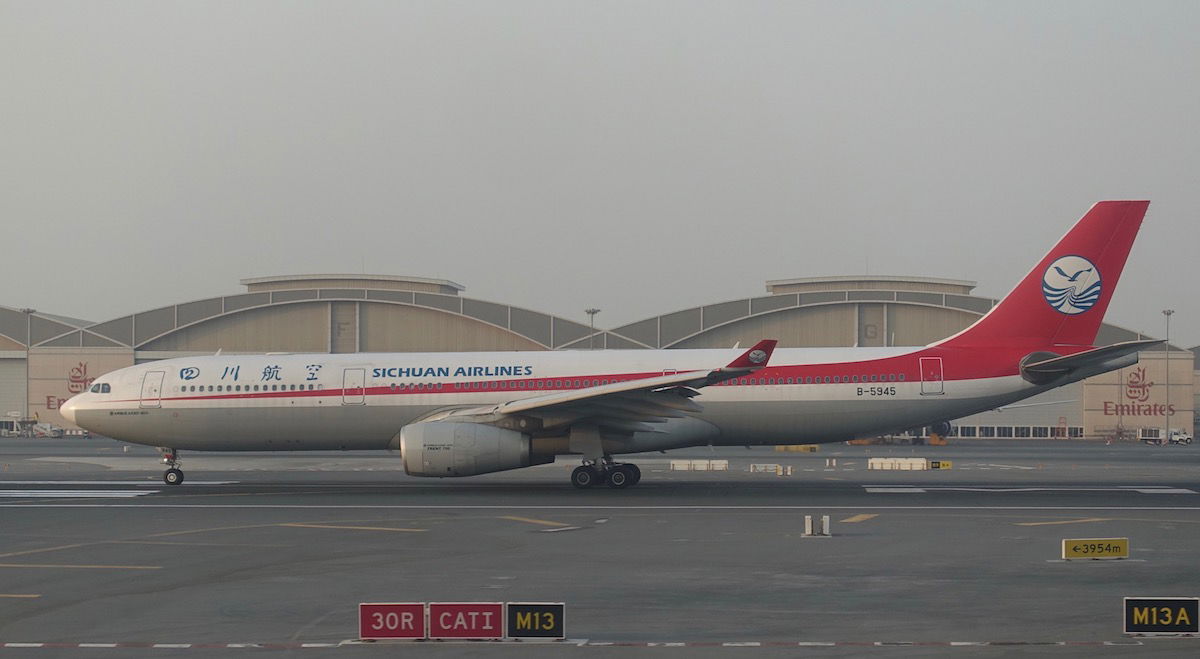 Sichuan A330 Dubai Airport
We were treated to some gorgeous sunset views as we took off.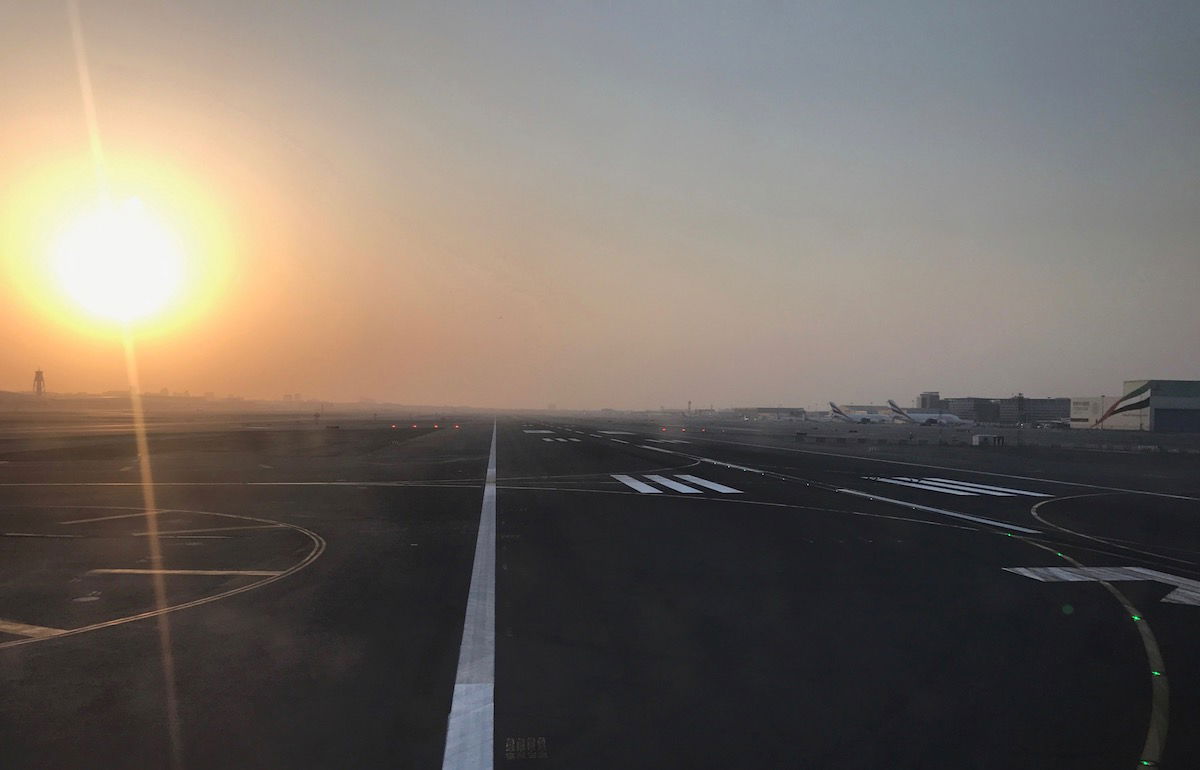 Taking off Dubai Airport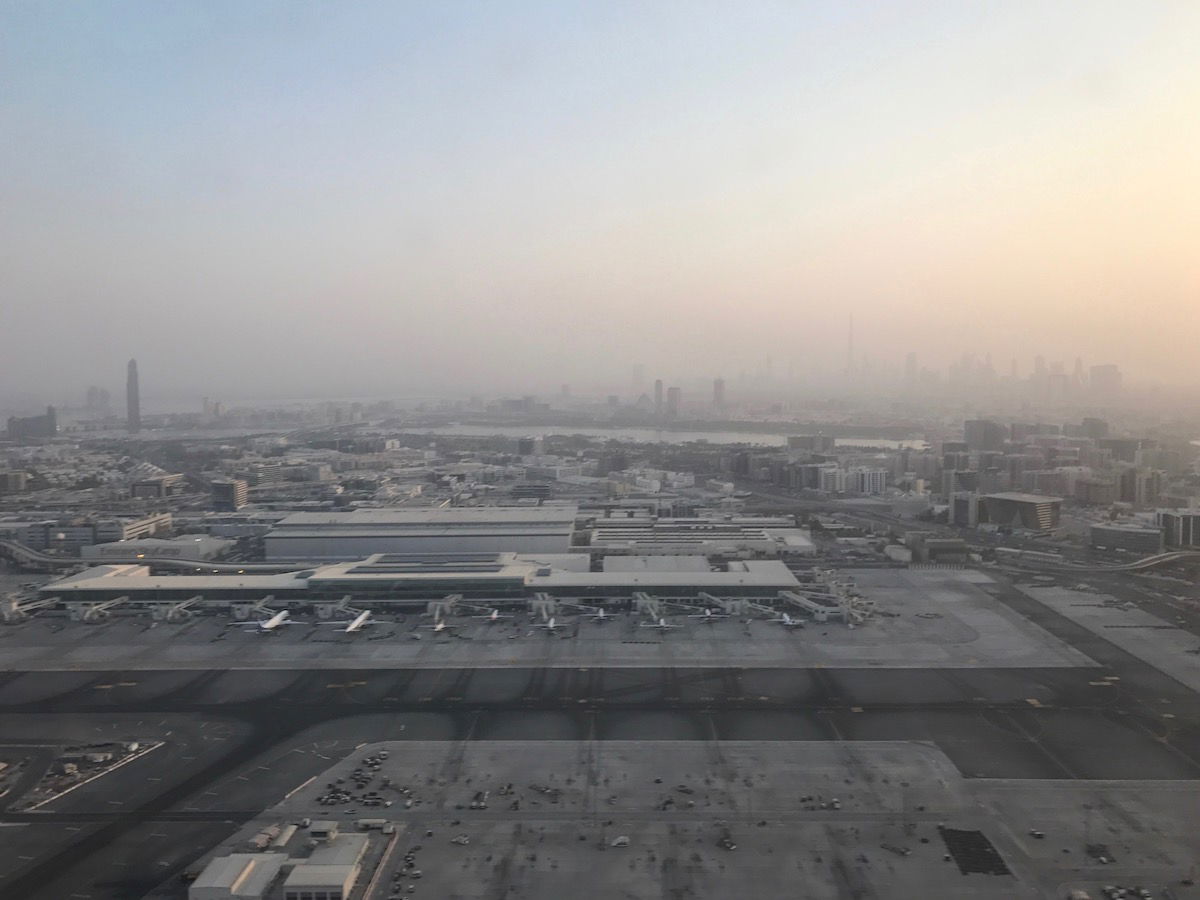 View after takeoff from Dubai
What a skyline, even on a day with limited visibility.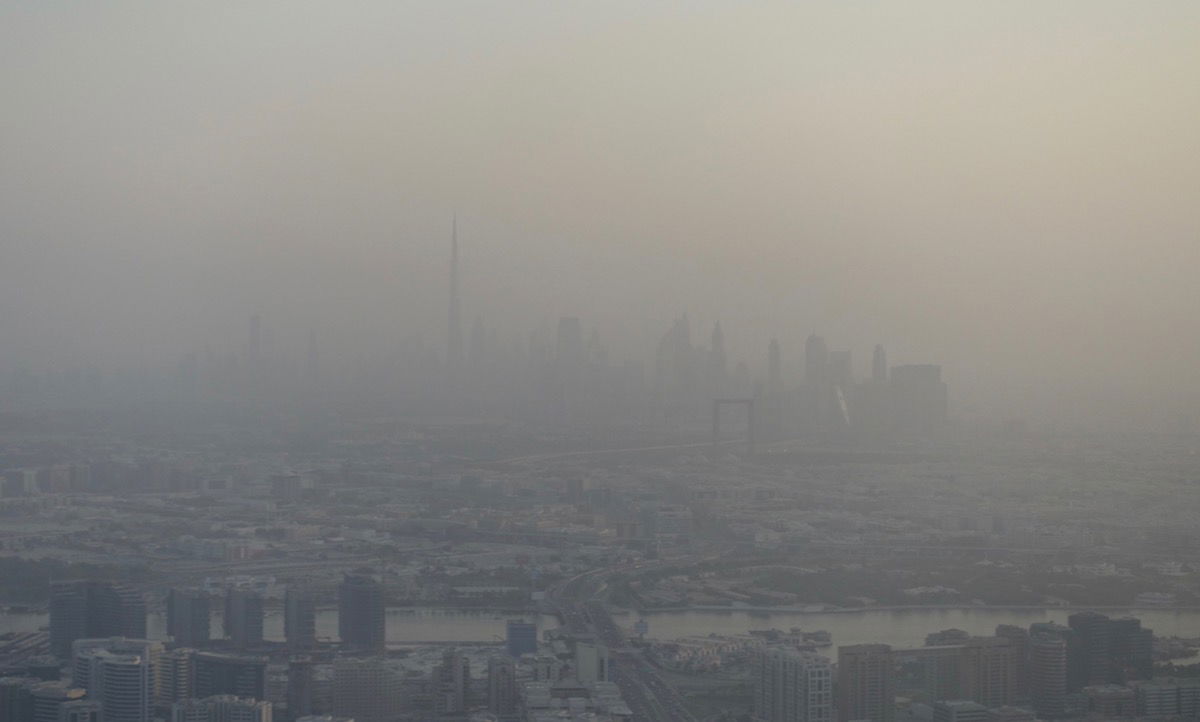 Dubai skyline in the distance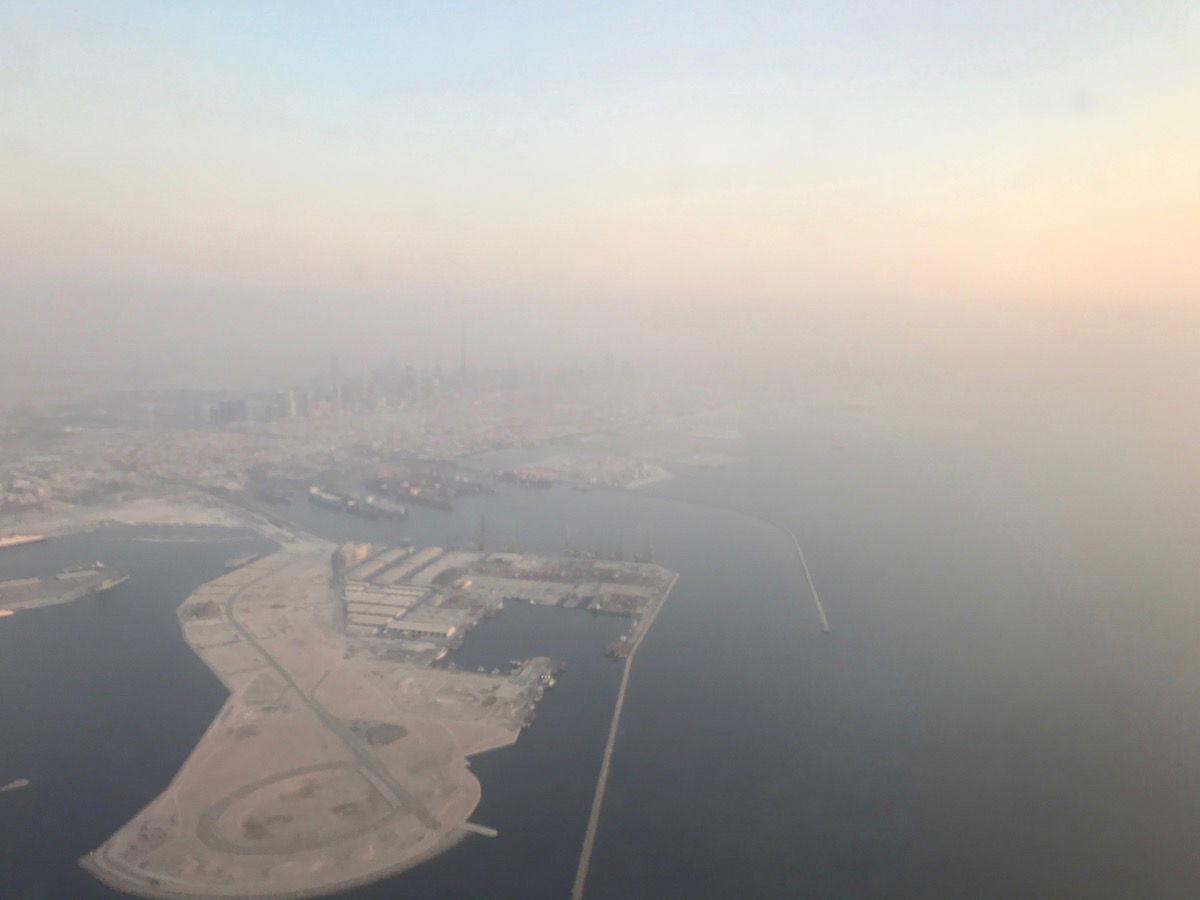 View after takeoff from Dubai
The seatbelt sign was turned off five minutes after takeoff, and five minutes after that, Mohammed and one of the flight attendants came around with Arabic coffee and dates. They offered refills minutes later.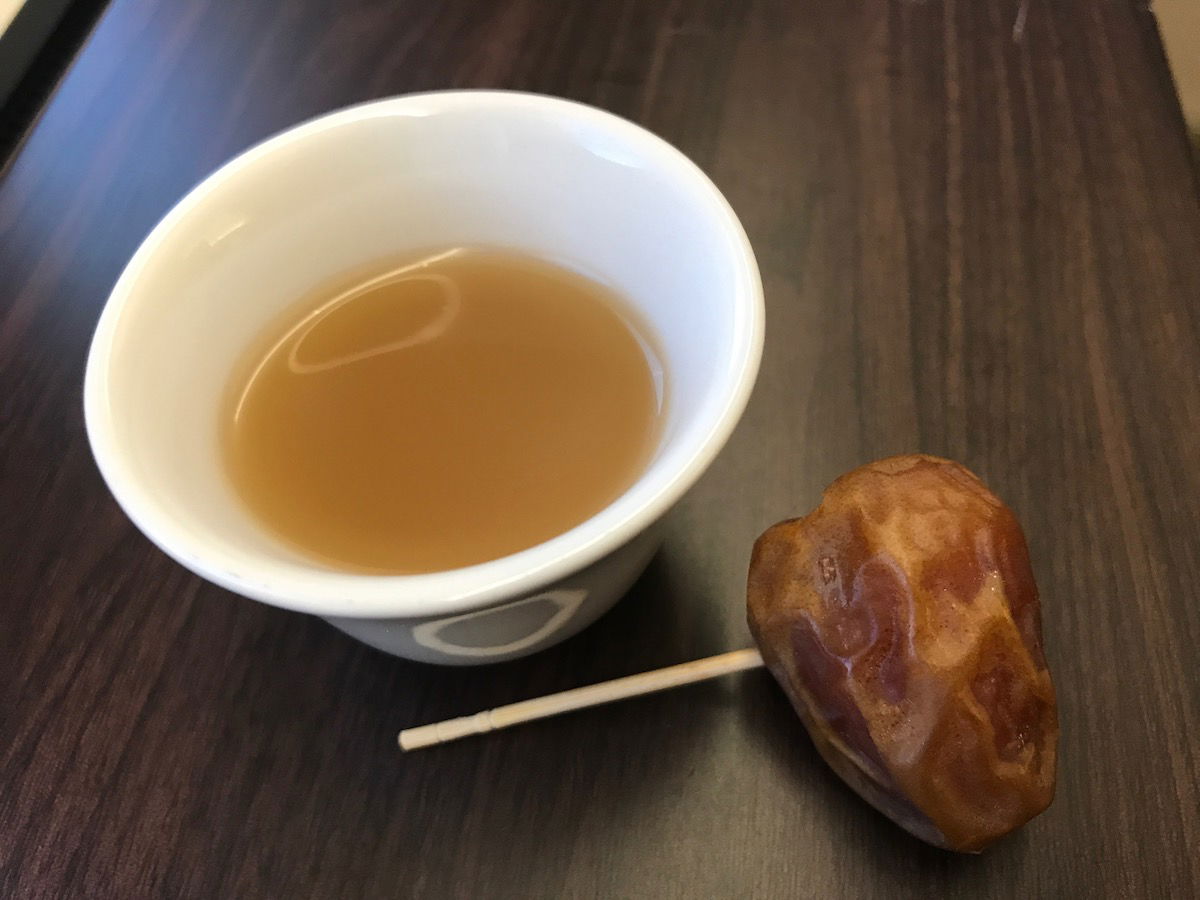 Saudia first class — Arabic coffee and date
Given our short flight time, I just kept the airshow on to monitor the progress of our flight.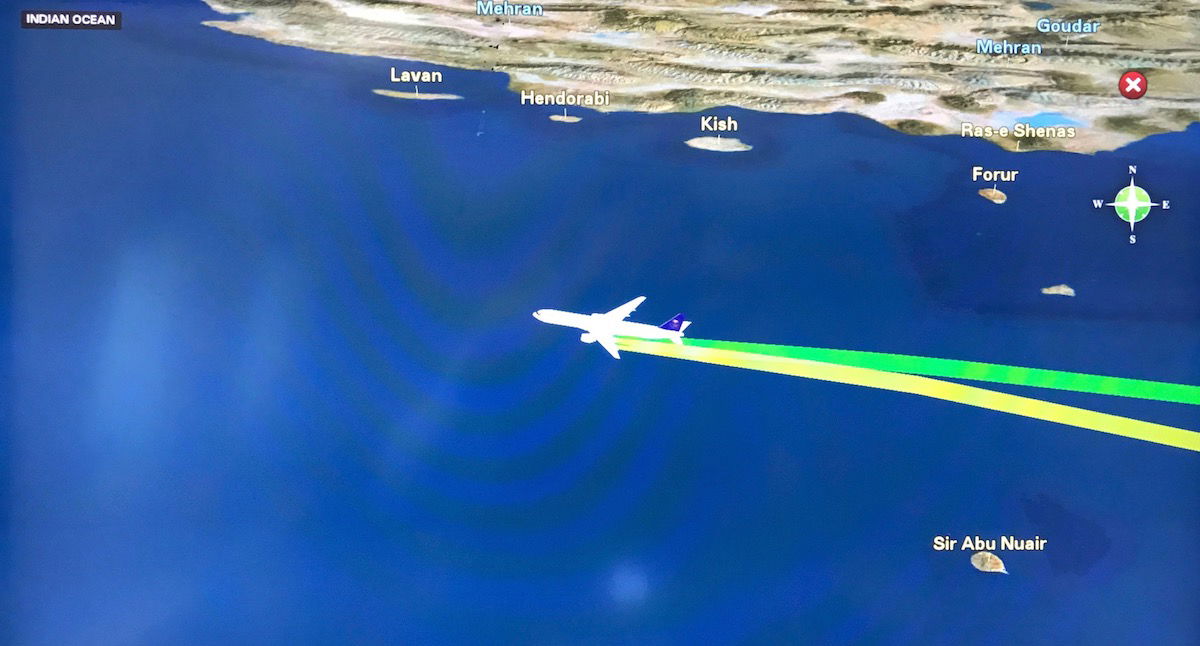 Airshow enroute to Riyadh
About 15 minutes after takeoff Mohammed asked if I wanted dinner, and offered me the choice between "beef steak" and "chicken with rice." I selected the latter.
The entire meal was served on one tray. There was a side salad with cucumbers, olives, and tomatoes, a tiny fruit plate, a piece of cake for dessert, and then the main, which was quite good. The chicken was flavorful, though I wish there were more of a sauce, as the dish was bland. I was also offered a selection of bread from the breadbasket.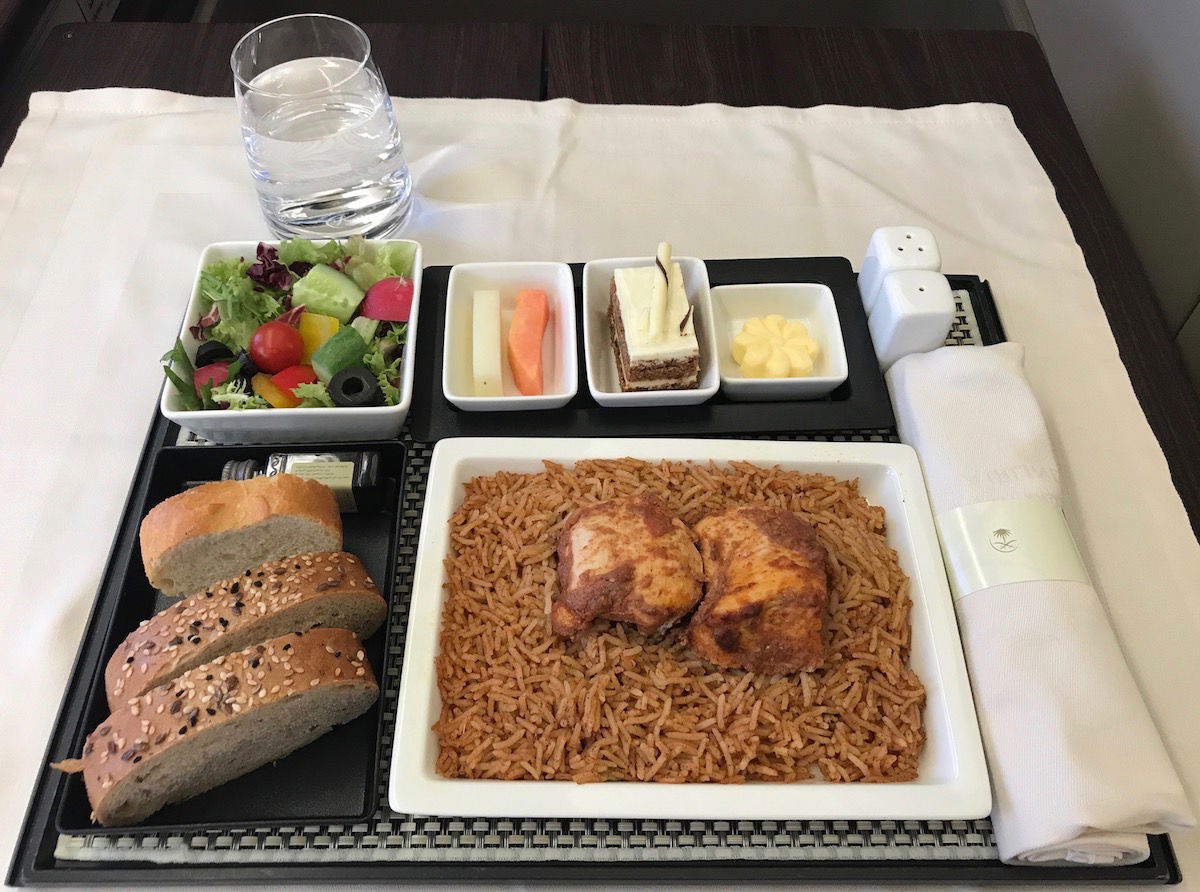 Saudia first class snack service
I wasn't offered a drink of choice (I could have asked for one, I suppose), but rather was just proactively served some still water. At the end of the meal I was asked if I wanted some coffee or tea, so I ordered some coffee. While the coffee tasted fine, it was served in a tiny cup, which seems poorly thought out for a plane.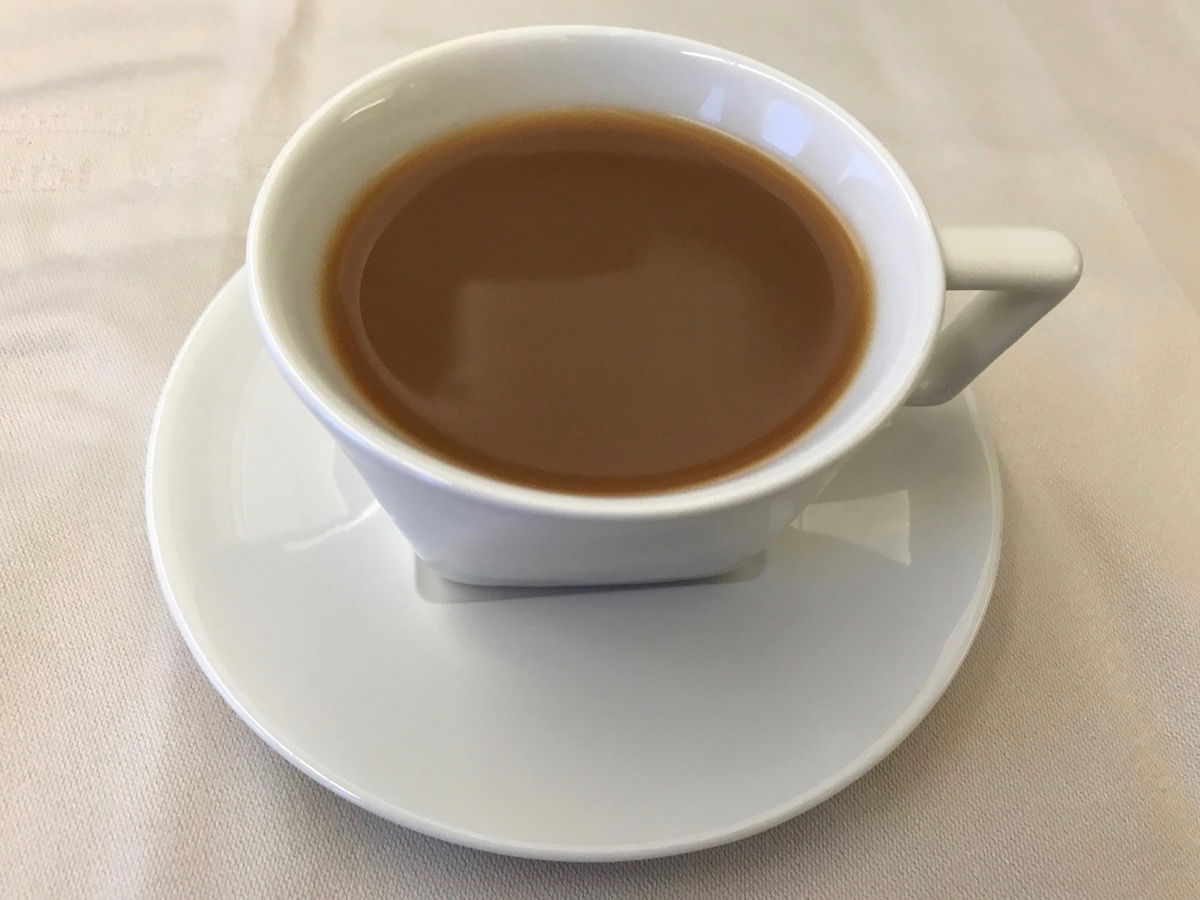 Saudia first class coffee
Once the sun set, the crew turned on the mood lighting.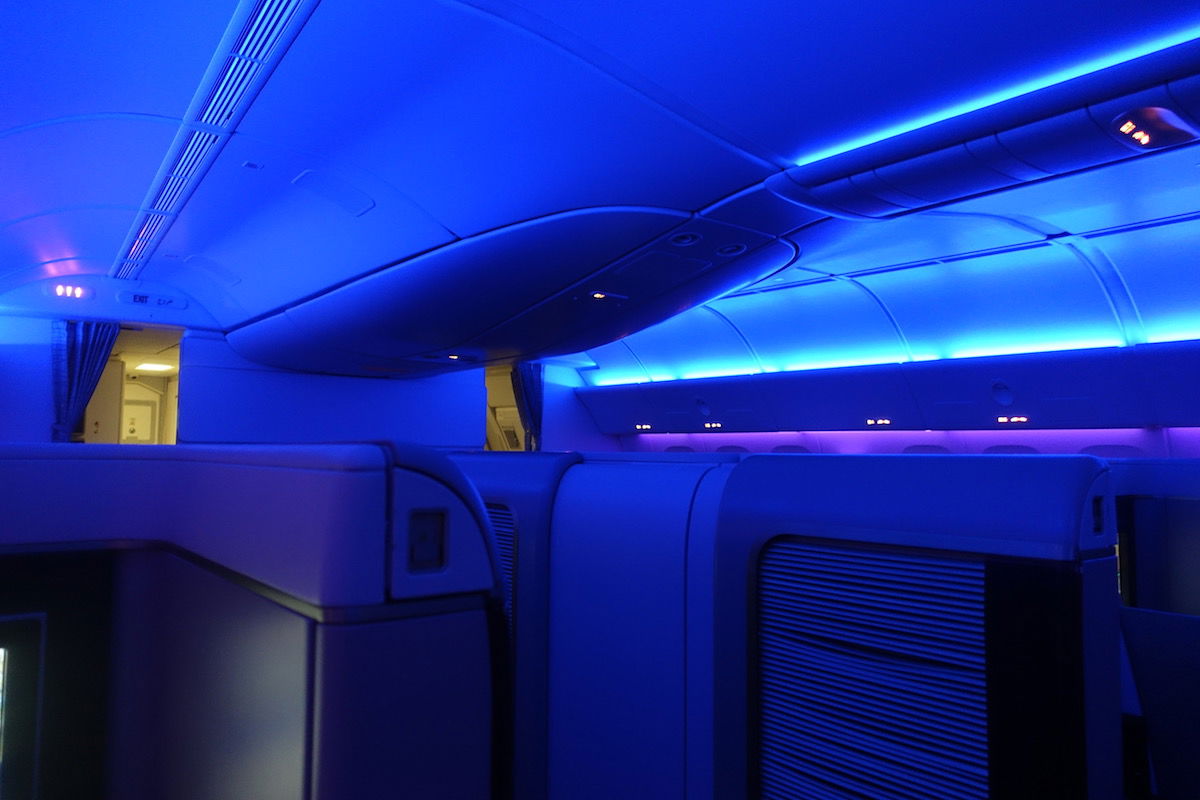 Saudia cabin mood lighting
At around 6:15PM (55 minutes after takeoff, as there was an hour time change), the captain turned on the seatbelt sign.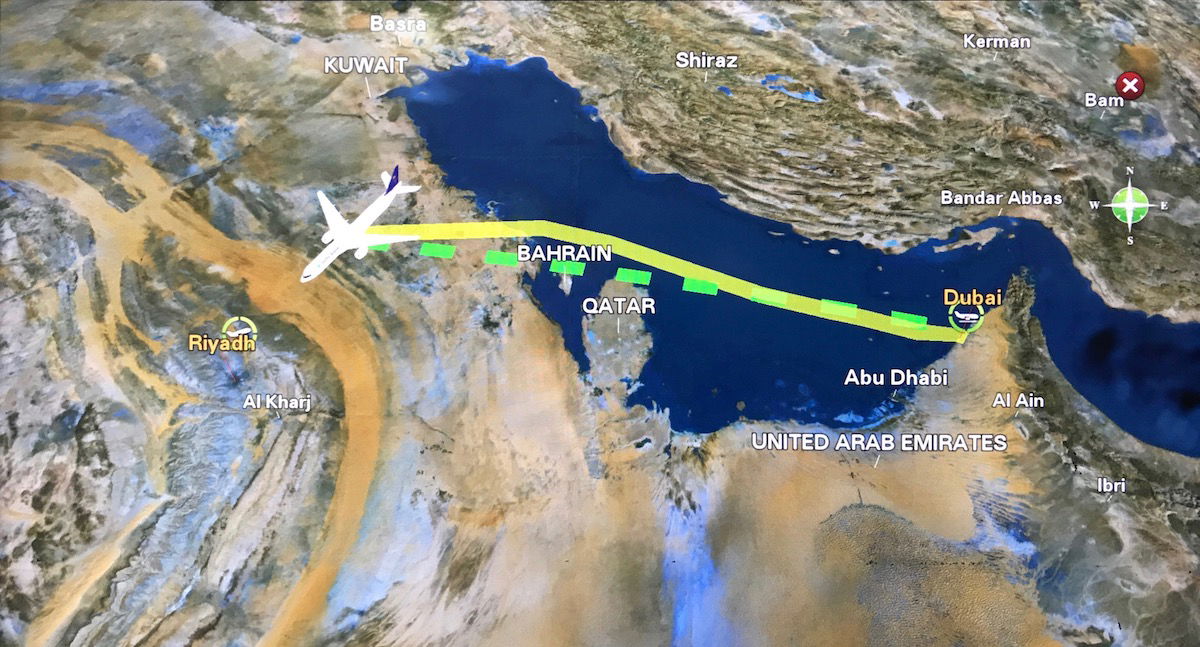 Airshow enroute to Riyadh
We had a pretty smooth descent, and touched down in Riyadh at 6:40PM.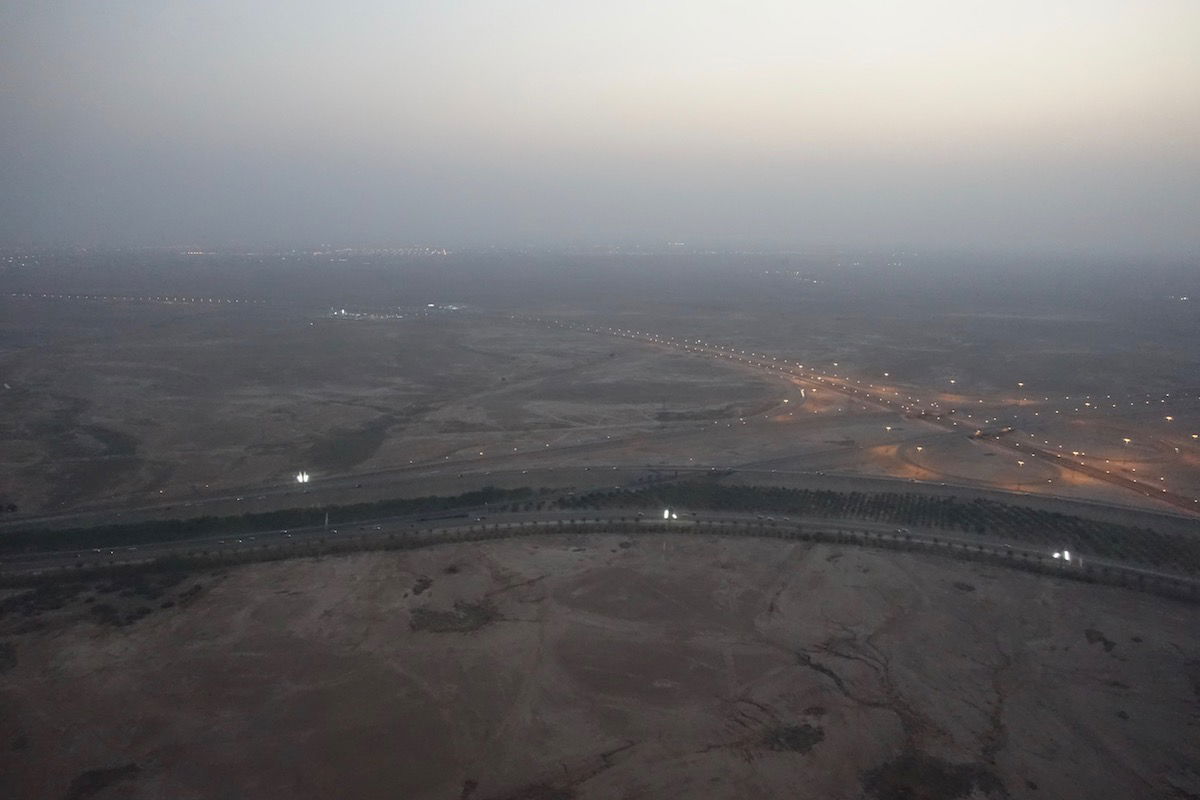 View approaching Riyadh
From there we had a 10 minute taxi to our arrival stand.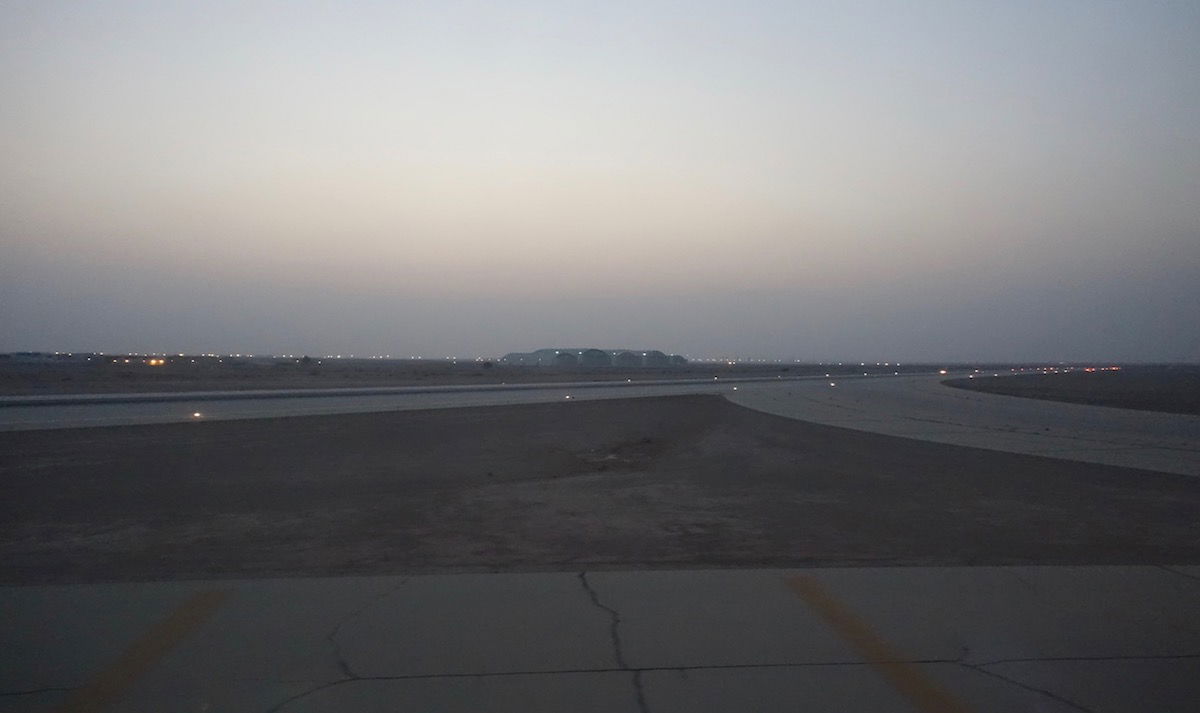 Taxiing Riyadh Airport
We parked by 6:50PM, though unfortunately only at a remote stand, meaning we had to take a bus to the terminal. On the plus side, at least they had a bus for premium passengers, which had funky sideways-facing seats. Unfortunately it was way overcrowded though, given that there must have been about 50 passengers between first and business class.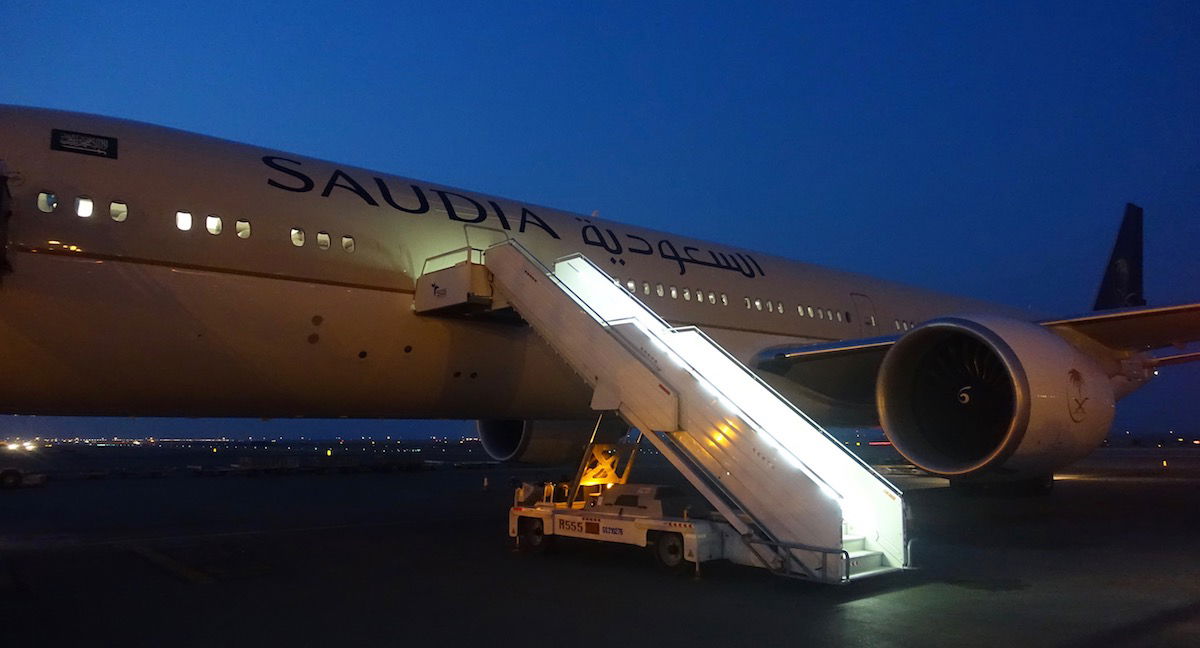 Saudia 777 upon arrival in Riyadh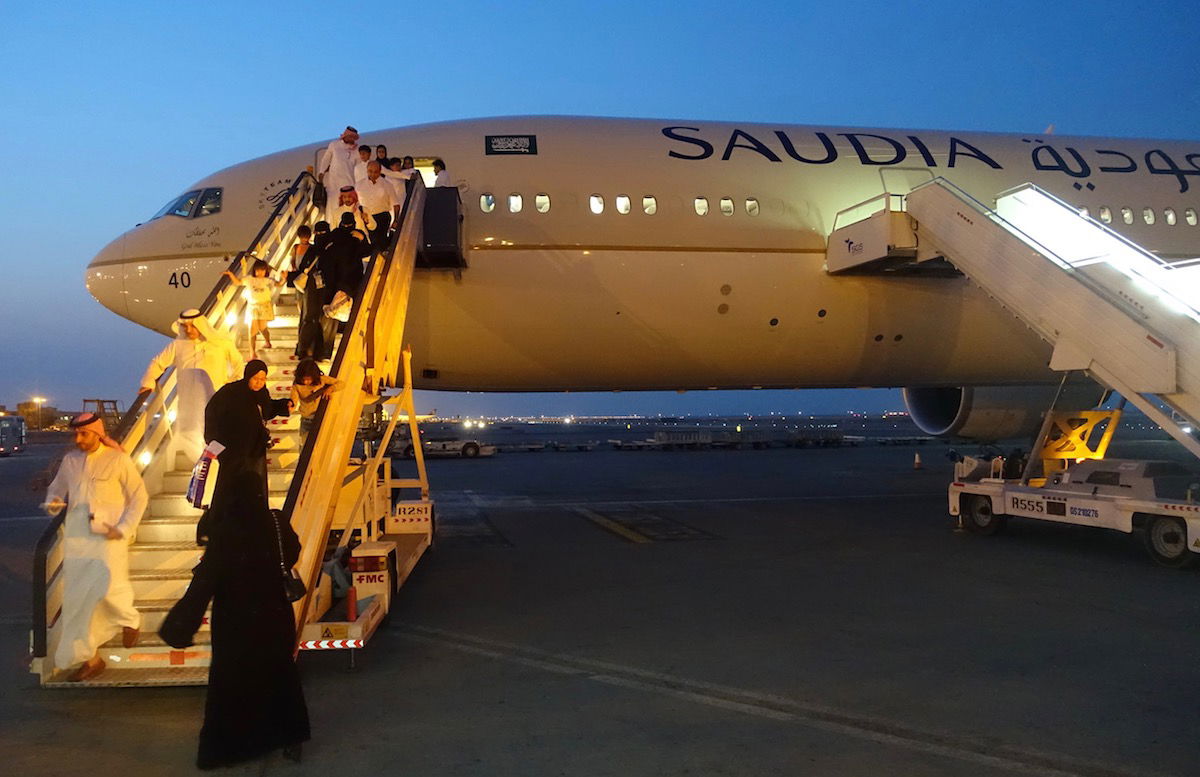 Saudia 777 upon arrival in Riyadh
From there we prepared for our long layover before continuing to Los Angeles.
Saudia First Suite bottom line
Saudia's service on short flights is efficient in first class, though pretty "no frills." Overall they have a beautiful hard product, though it's not aging well at all. While the supervisor was a humorous but not especially hardworking guy, the rest of the crew was attentive and friendly, including the younger of the two Mohammeds.
The real treat was what was coming up on our long flight back to Los Angeles.