---
Emirates 216
Los Angeles (LAX) – Dubai (DXB)
Saturday, June 2
Depart: 4:40PM
Arrive: 7:30PM (+1 day)
Duration: 15hr50min
Aircraft: Airbus A380-800
Seat: 2F (First Class)
Ah, Emirates! It was so nice to be back onboard Emirates, especially on a flight this long. We boarded through the forward left door on the upper deck, where we were greeted by the purser and two flight attendants, and escorted left into the first class cabin. Emirates' A380 first class cabin consists of a total of 14 seats, in a 1-2-1 configuration.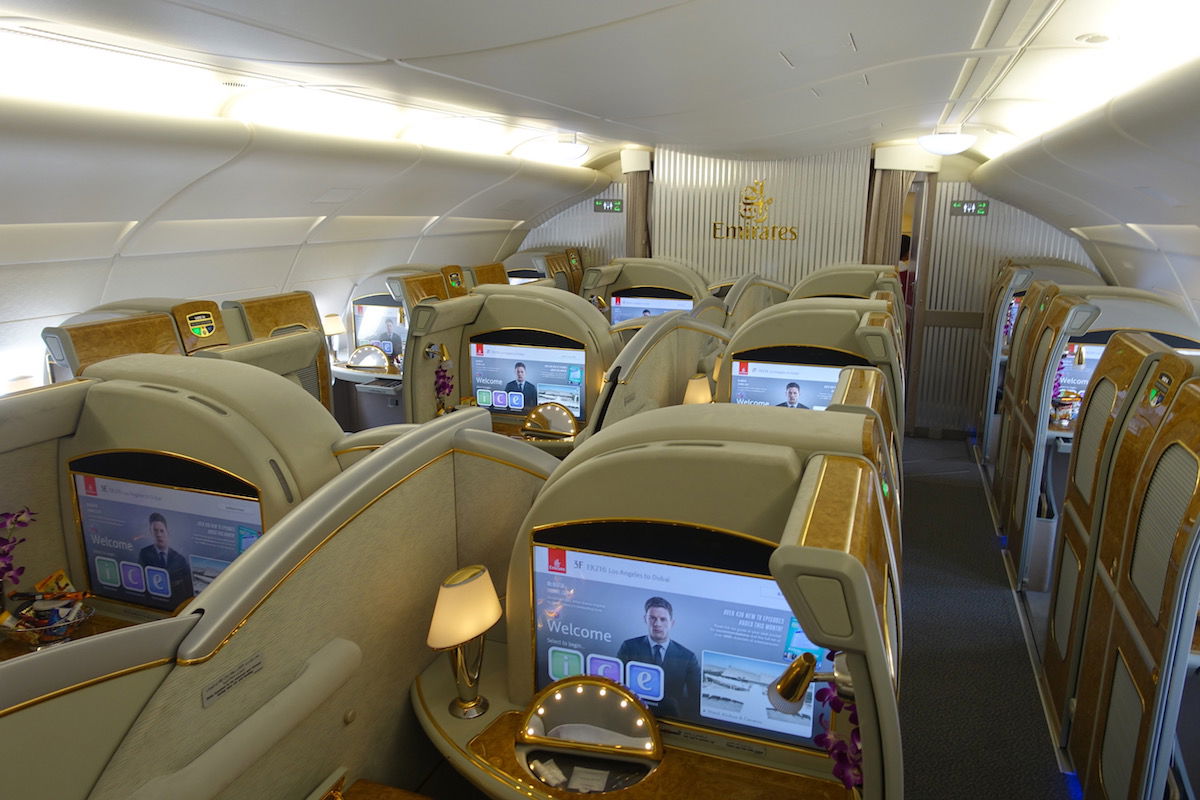 Emirates A380 first class cabin
There are four seats along the windows on each side of the cabin, and then three rows of center seats. While the suite finishes are perhaps over the top, this is the biggest first class cabin of any airline operating the A380 (along with British Airways, though they have first class on the lower deck), and in particular, it's the most densely configured cabin. For example, Etihad fits just 10 seats in the same space, while Singapore Airlines fits just six seats in the same space.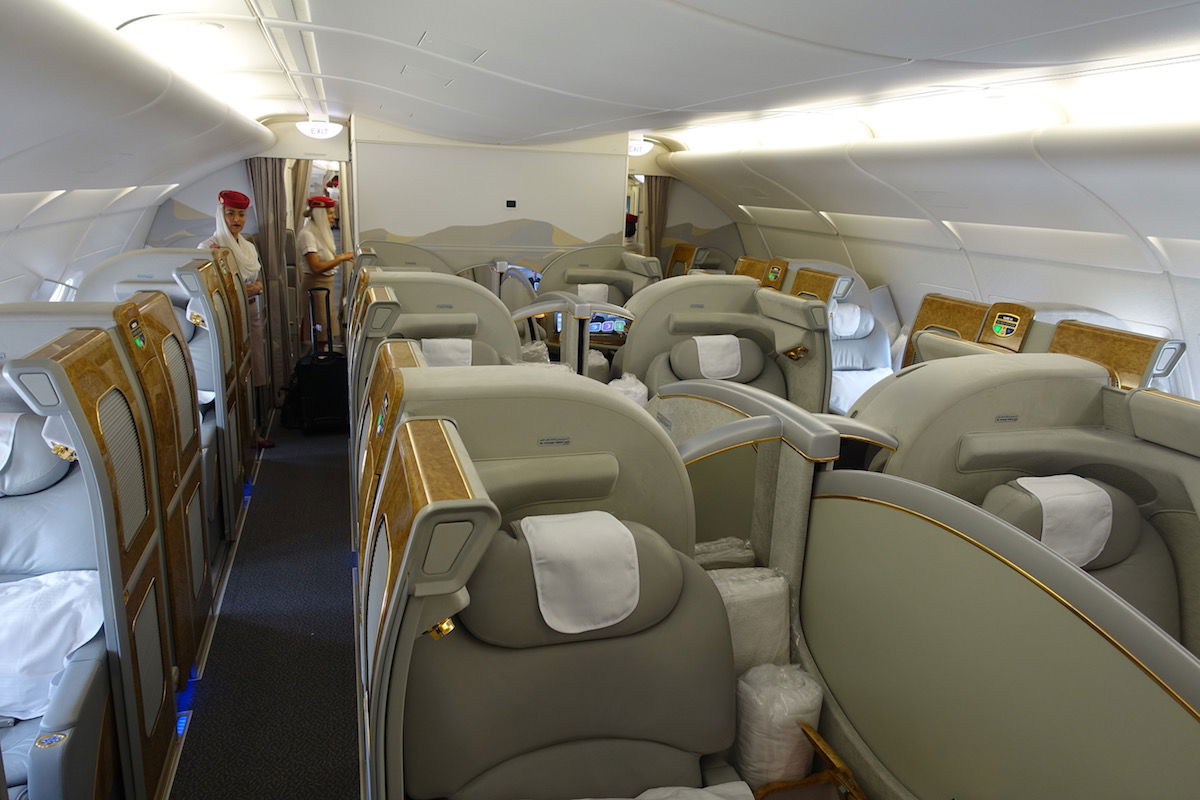 Emirates A380 first class cabin
We had selected seats 2E & 2F for the flight, which are the center seats right in the middle of the cabin. While there are more spacious first class products out there, I love this configuration if traveling with someone, since you can really sit next to them and enjoy the flight together.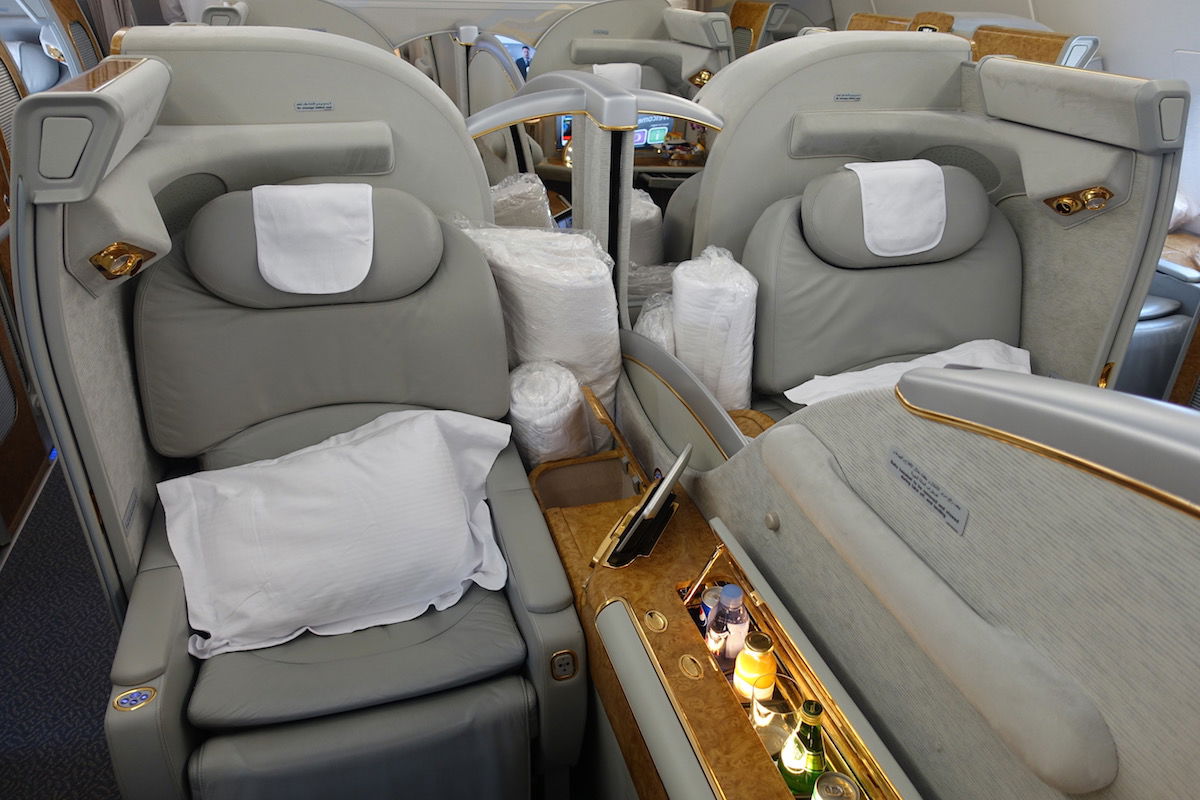 Emirates first class seats A380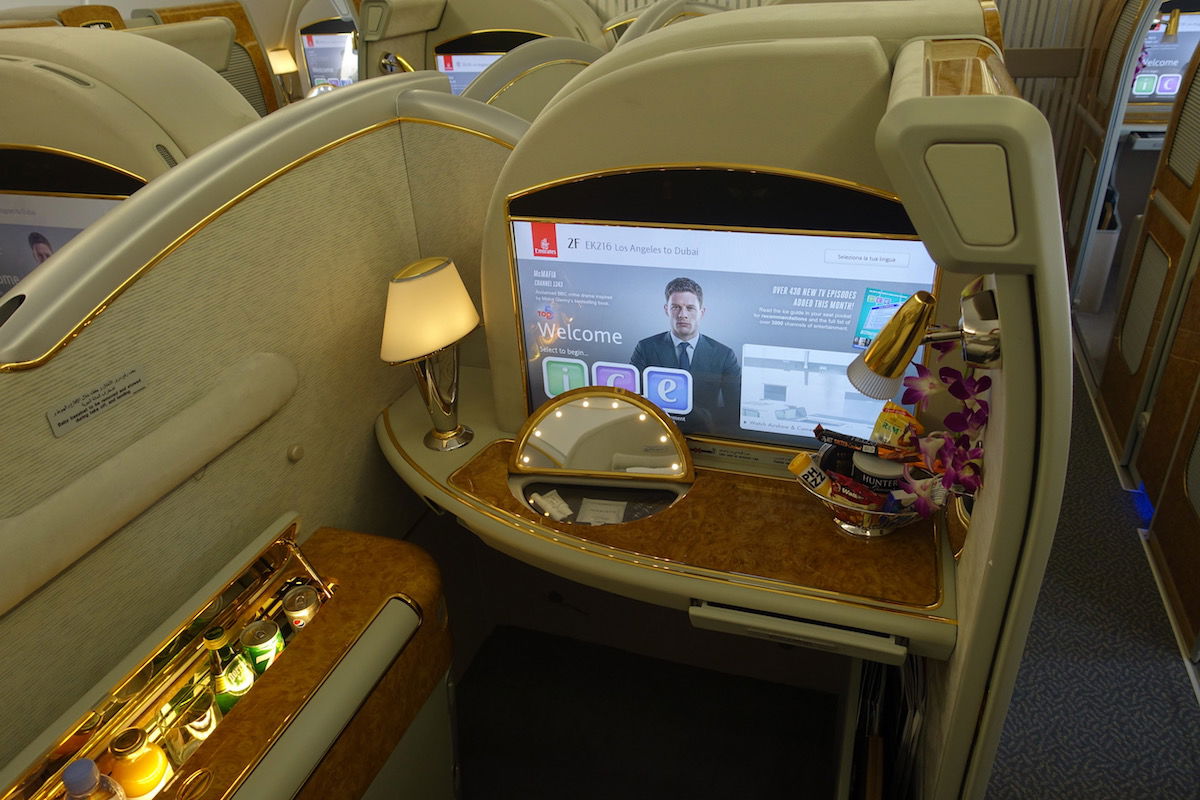 Emirates first class seats A380
Emirates' A380 first class cabin finishes are simply extra. Along the front of the suite you have a back-lit vanity, which has some Byredo toiletries.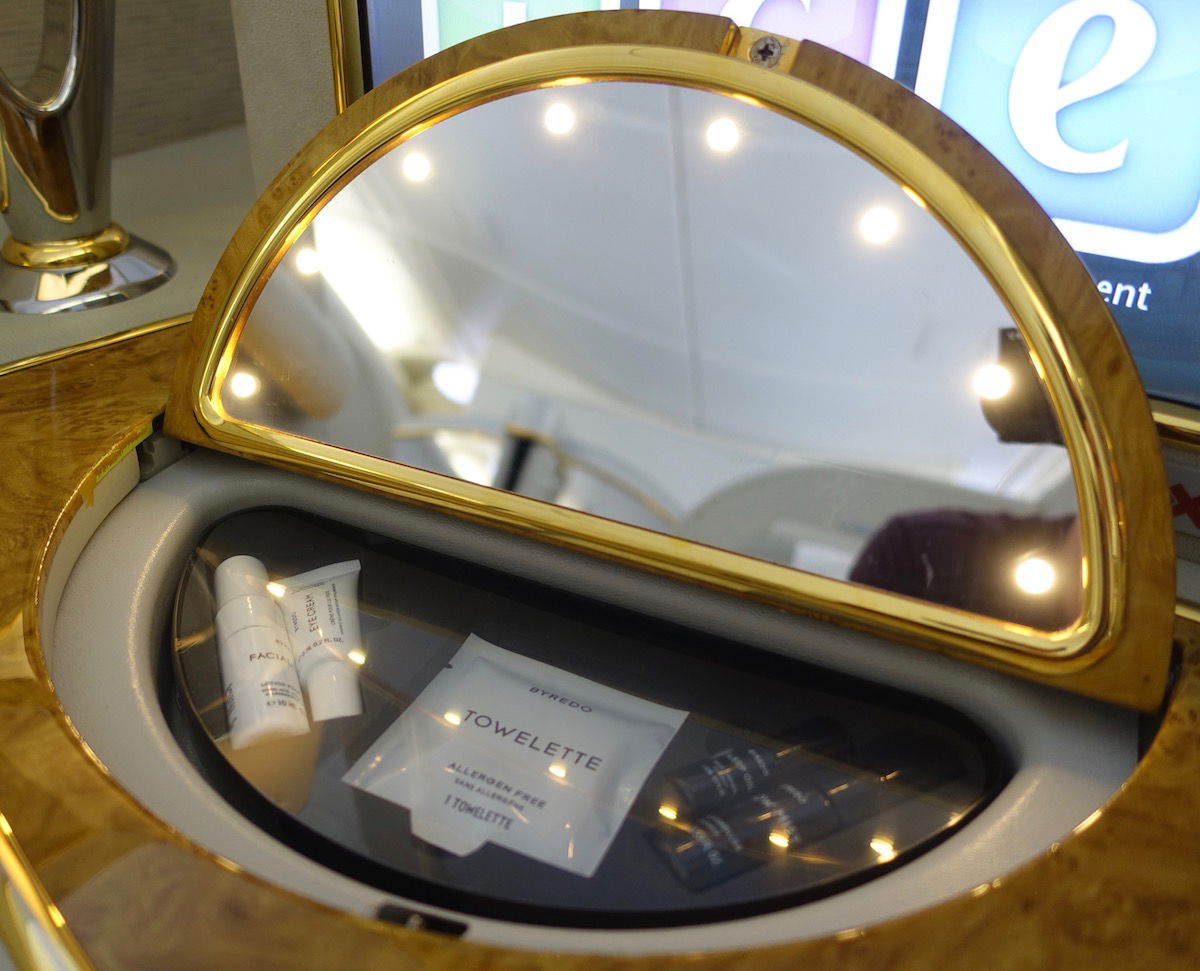 Emirates first class vanity & toiletries
Then to the right of that is a small drawer that can be extended, with an Emirates branded notebook and pen.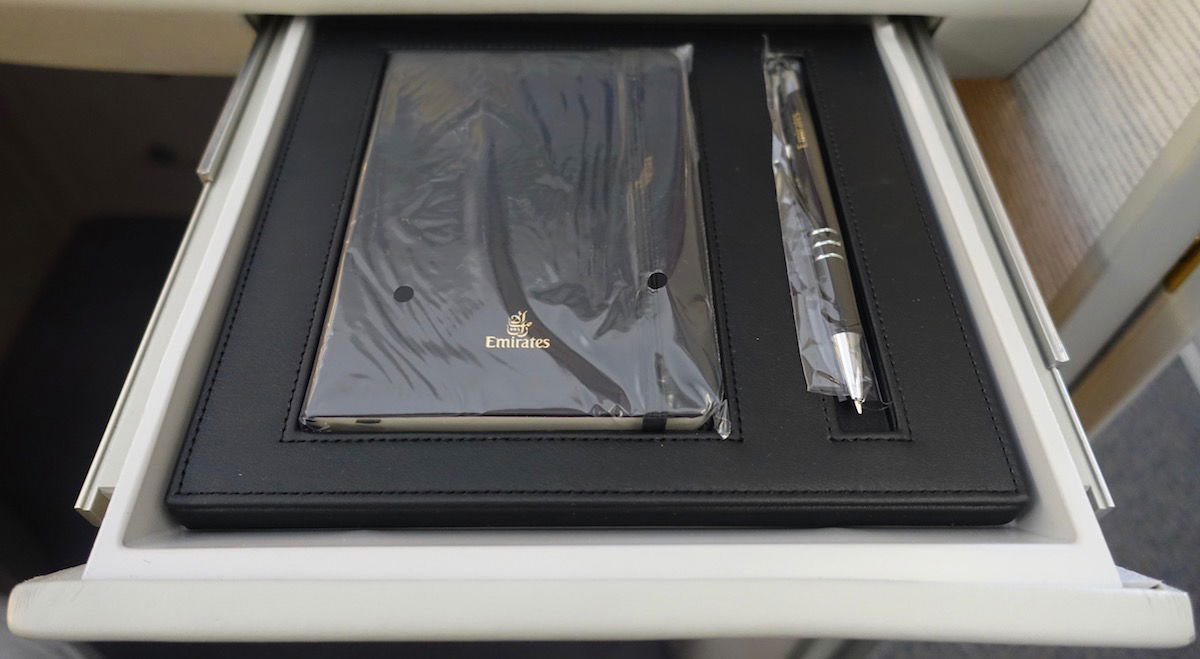 Emirates first class writing kit
There's also a snack basket in this area, which is at your seat during boarding, collected for takeoff, and then brought back again after takeoff. Maybe it's just me, but I've always found the snack selection to be exceedingly random.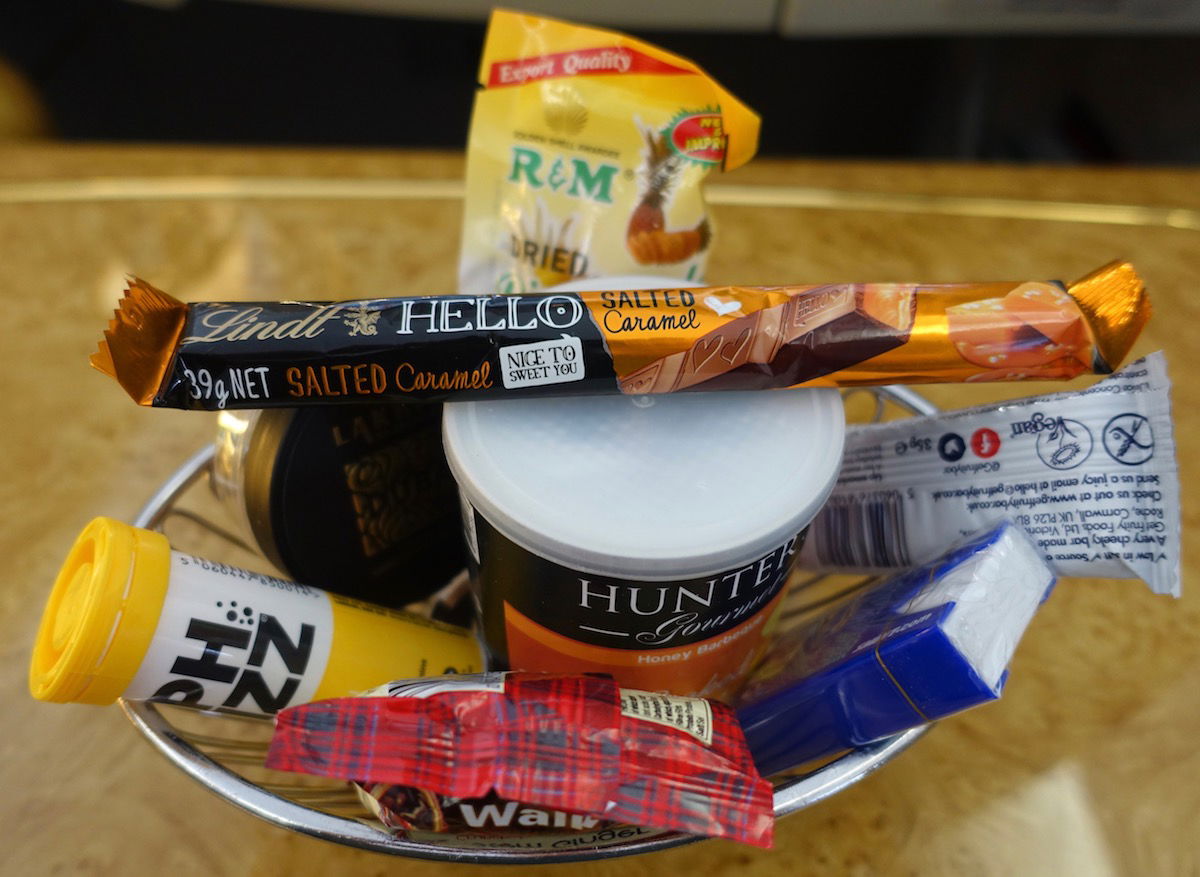 Emirates first class snack basket
Also underneath the front console is a power outlet. I was on one of Emirates' older A380s, where the USB outlet isn't in this area, unlike the newer ones.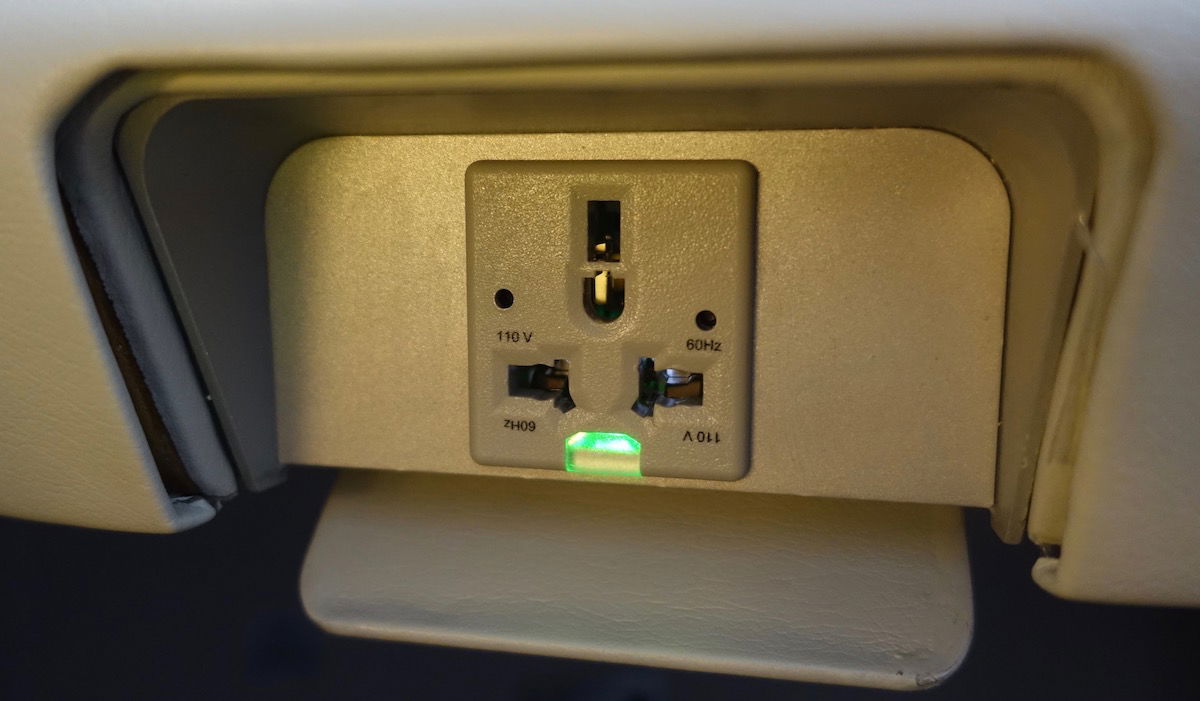 Emirates first class power outlet
Then to the left of the seat is a (non-refrigerated) minibar, with a few sodas, still and sparkling water, juice, and a glass.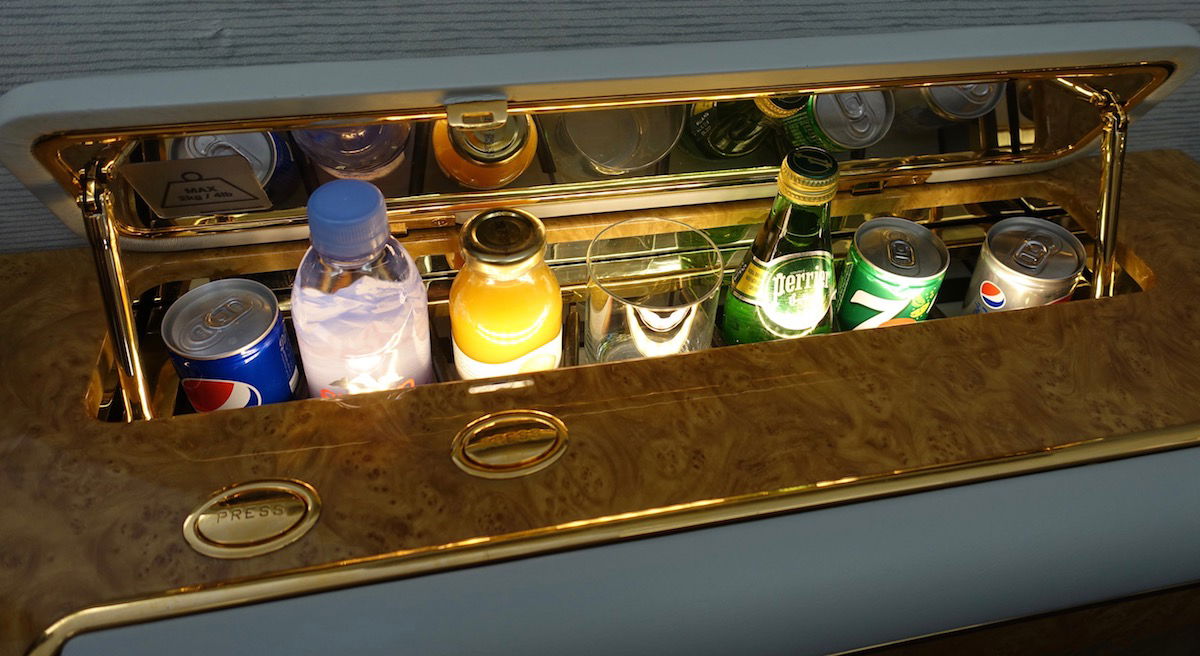 Emirates first class seat minibar
Then you have a small tablet that controls just about everything, from the entertainment to the seat position to the door. The tablet is really well done, given that it's big, and given that you can remove it from its holder if you'd like. Then past that is the seat's only real storage compartment — that's an area where this seat lags, as there's not much room to store things.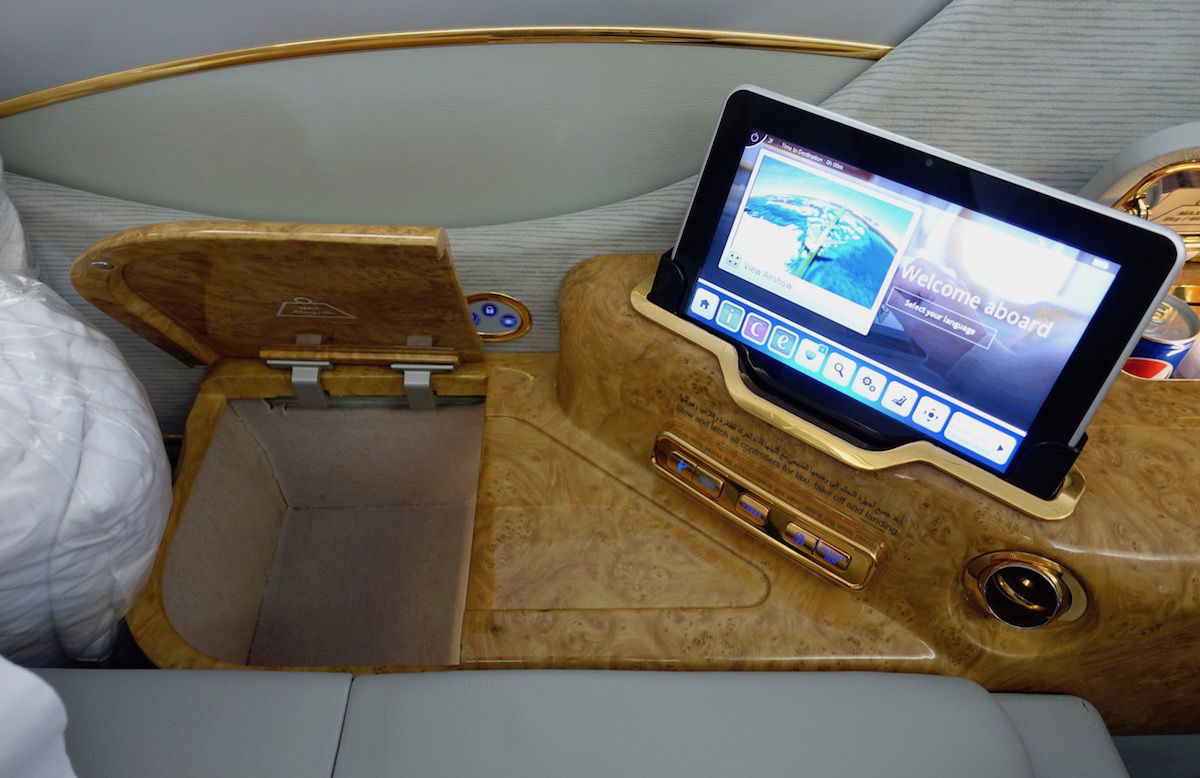 Emirates first class seat storage compartment and tablet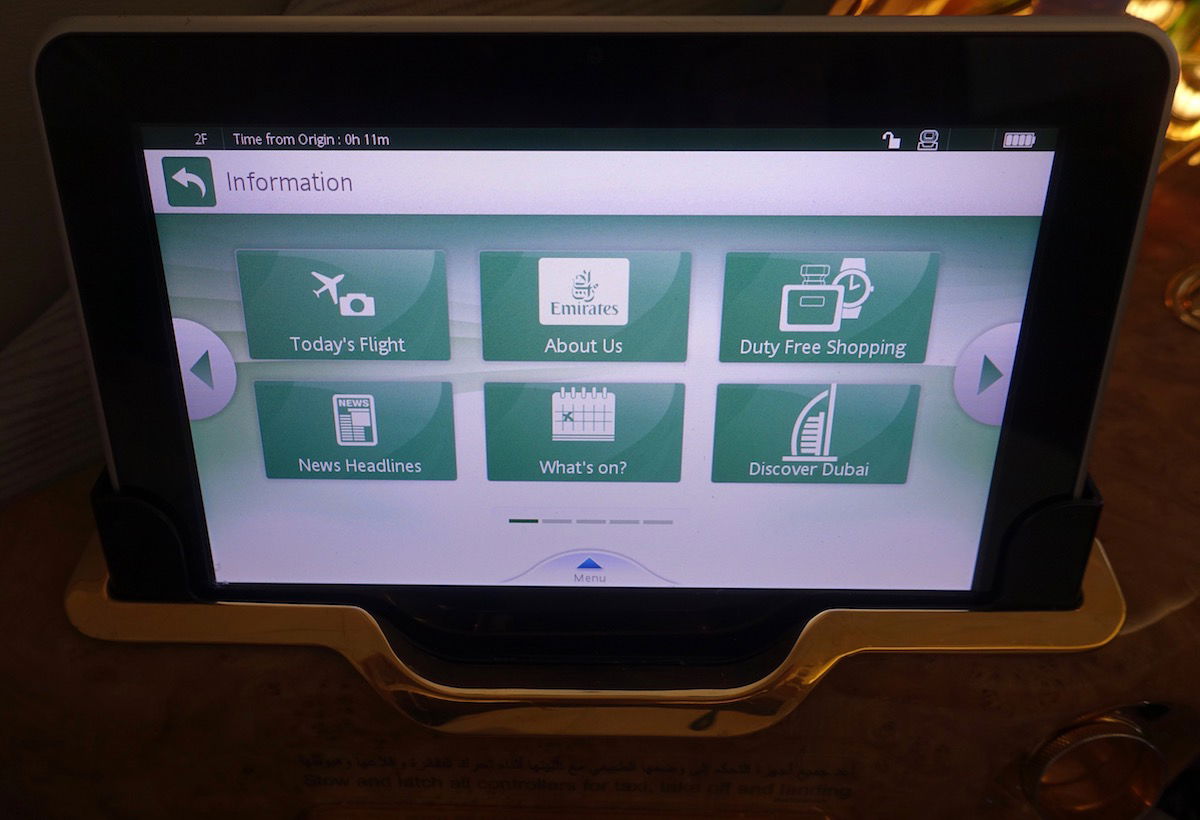 Emirates first class tablet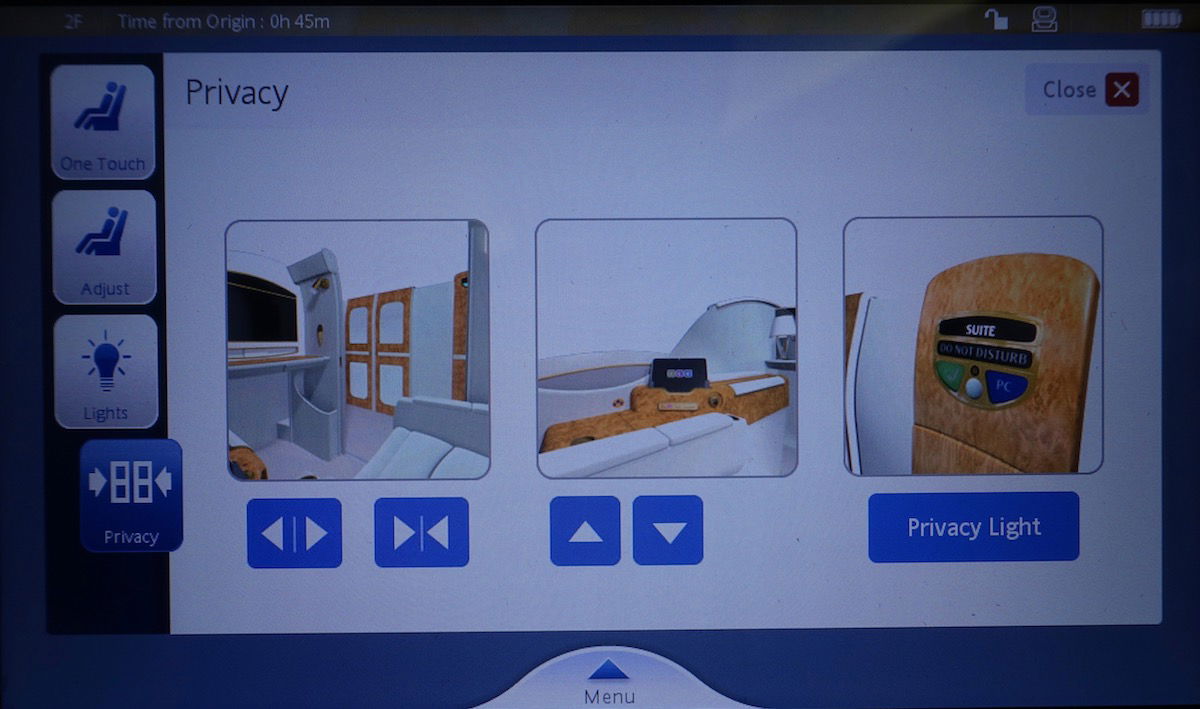 Emirates first class seat tablet
There's a privacy partition between seats, which can be raised if you happen to be seated next to a stranger, or if you get tired of the person you're traveling with. 😉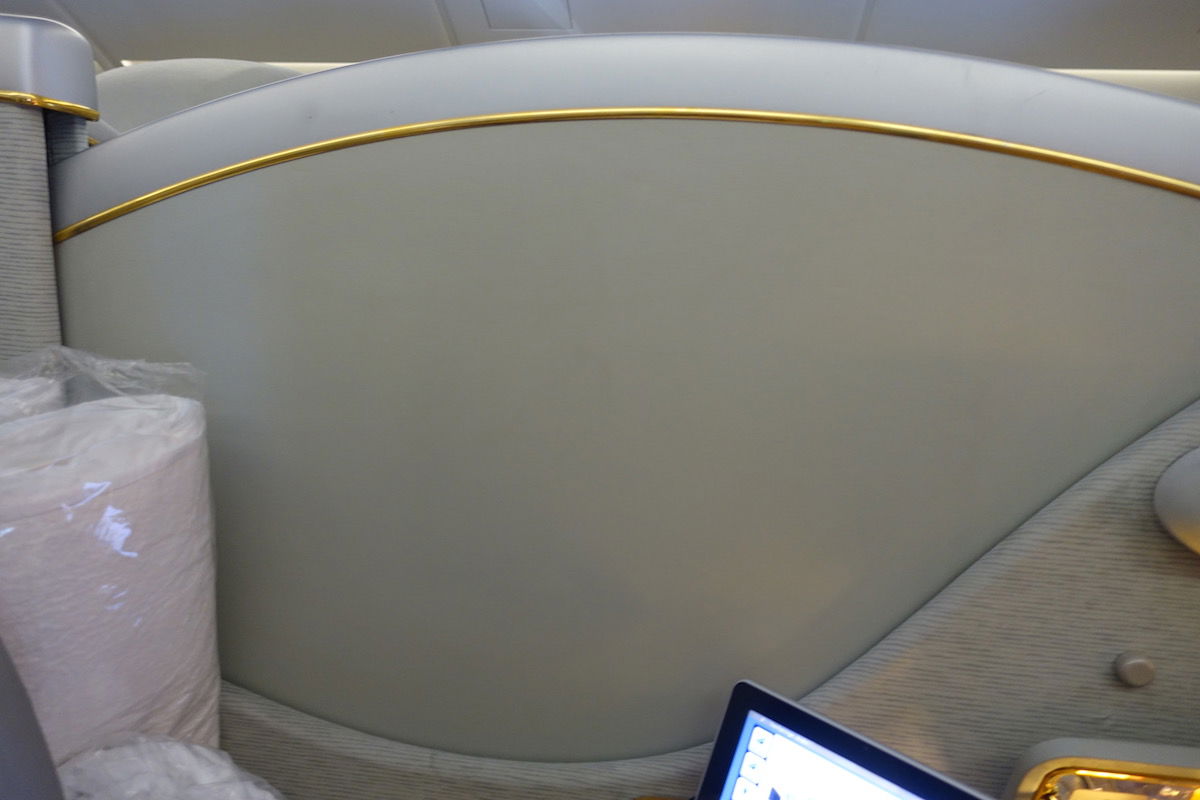 Emirates first class privacy partition
The tray table can be released from next to the minibar, and is massive. It's a single unit, so there's no option to fold it in half, or anything.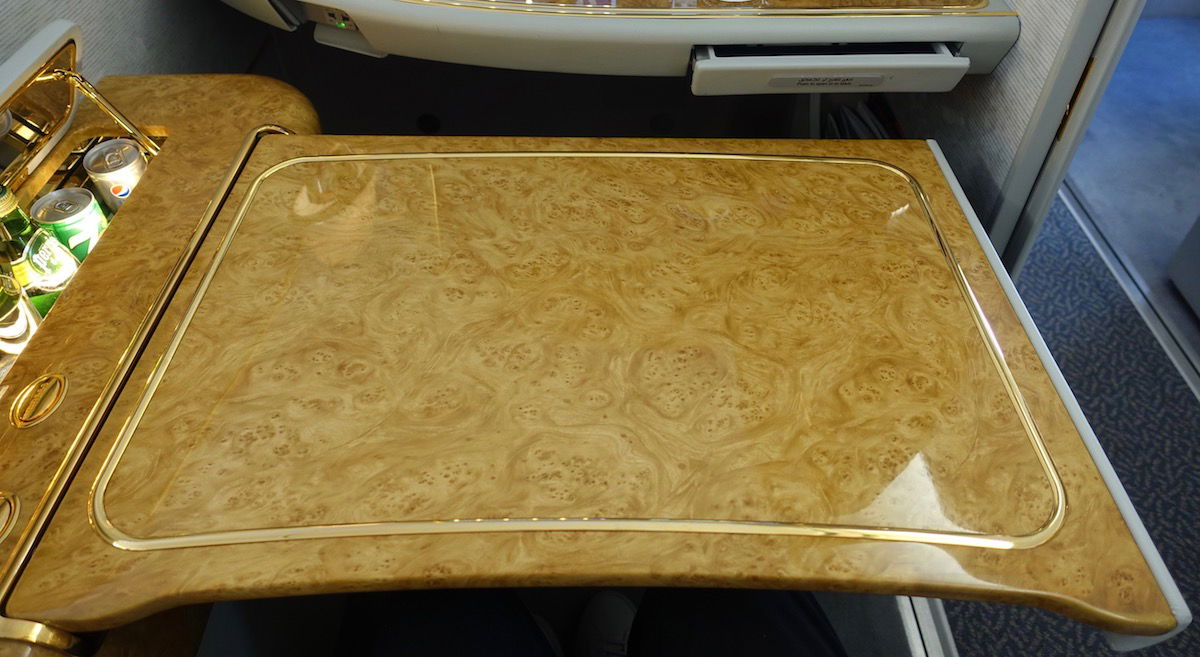 Emirates first class tray table
Along the right back of the seat is a reading light and an air nozzle, which is one of two air nozzles at the seat. That's something I really appreciate, since far too many airlines don't have any individual air nozzles.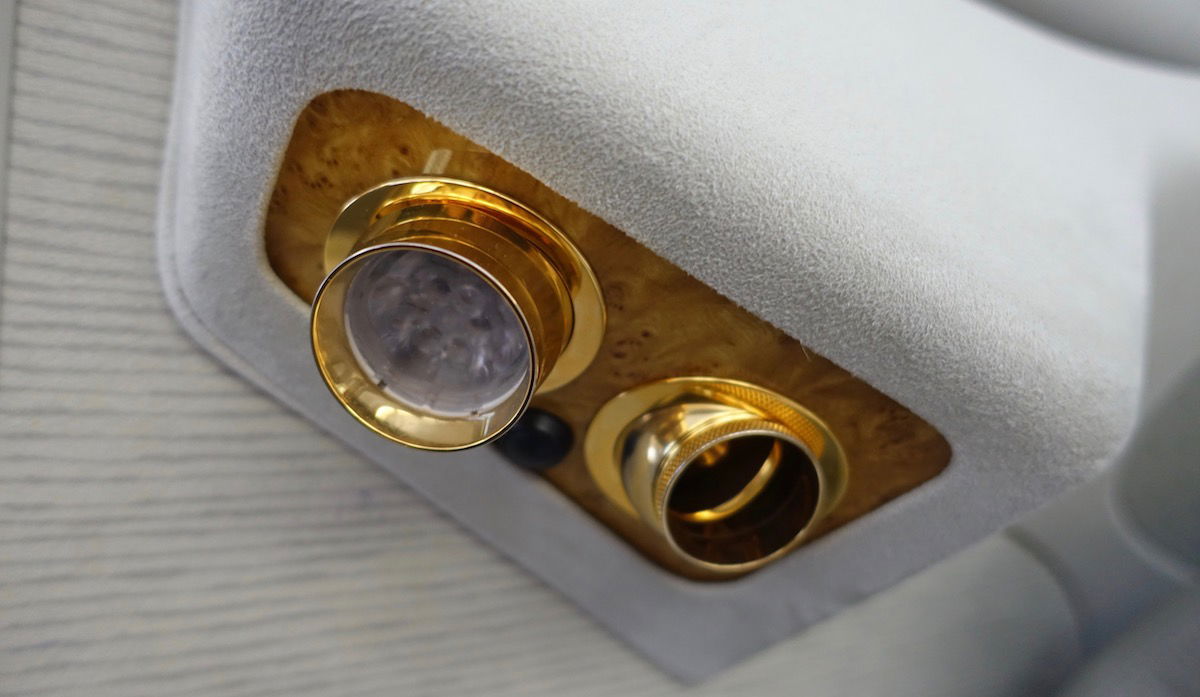 Emirates first class reading light & air nozzle
Then along the right front of the seat are some basic seat controls, should you not want to use the tablet.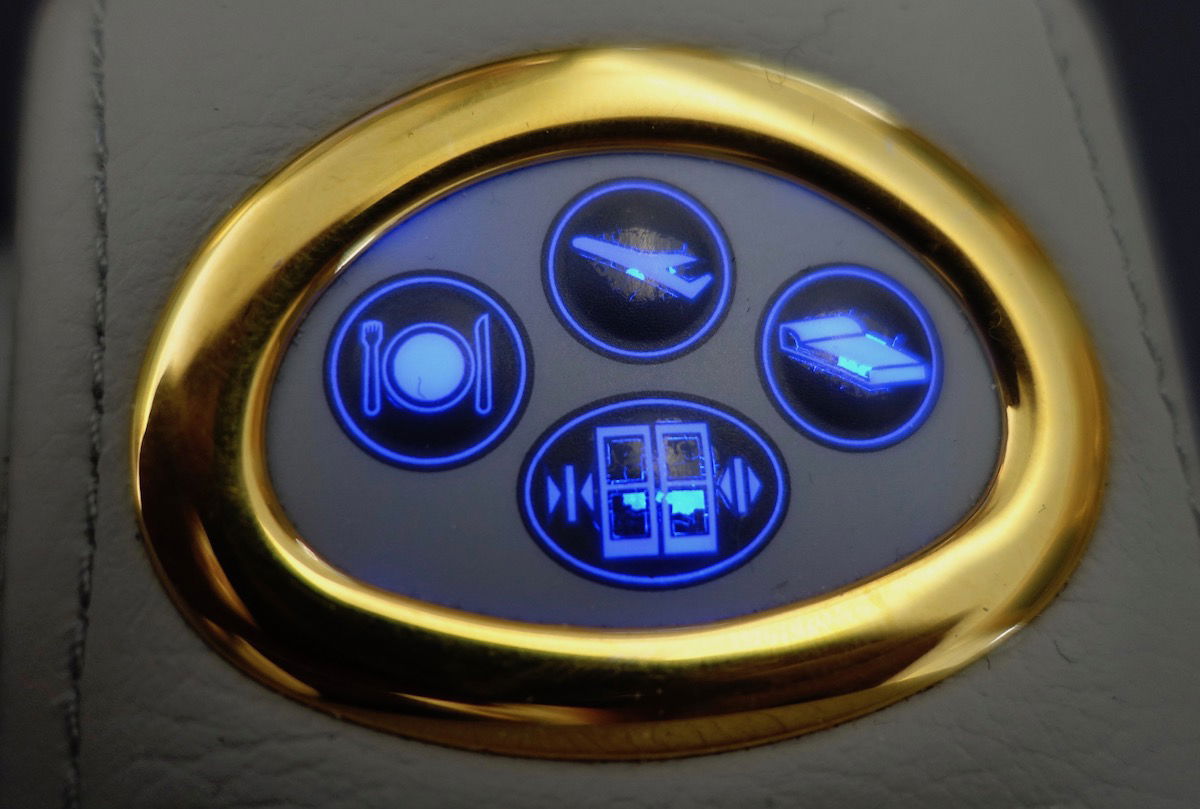 Emirates first class seat controls
Legroom in first class is great, though one major downside of the seat is that you're expected to just place your belongings by your feet, as there are no overhead bins in first class. That's mostly fine, but once you recline your seat your personal belongings can get in the way, and they're also tough to access. The good news is that a vast majority of the times that I've flown Emirates A380 first class the cabin was nowhere close to full, and I could just place my bags in another suite, which I always recommend doing if possible.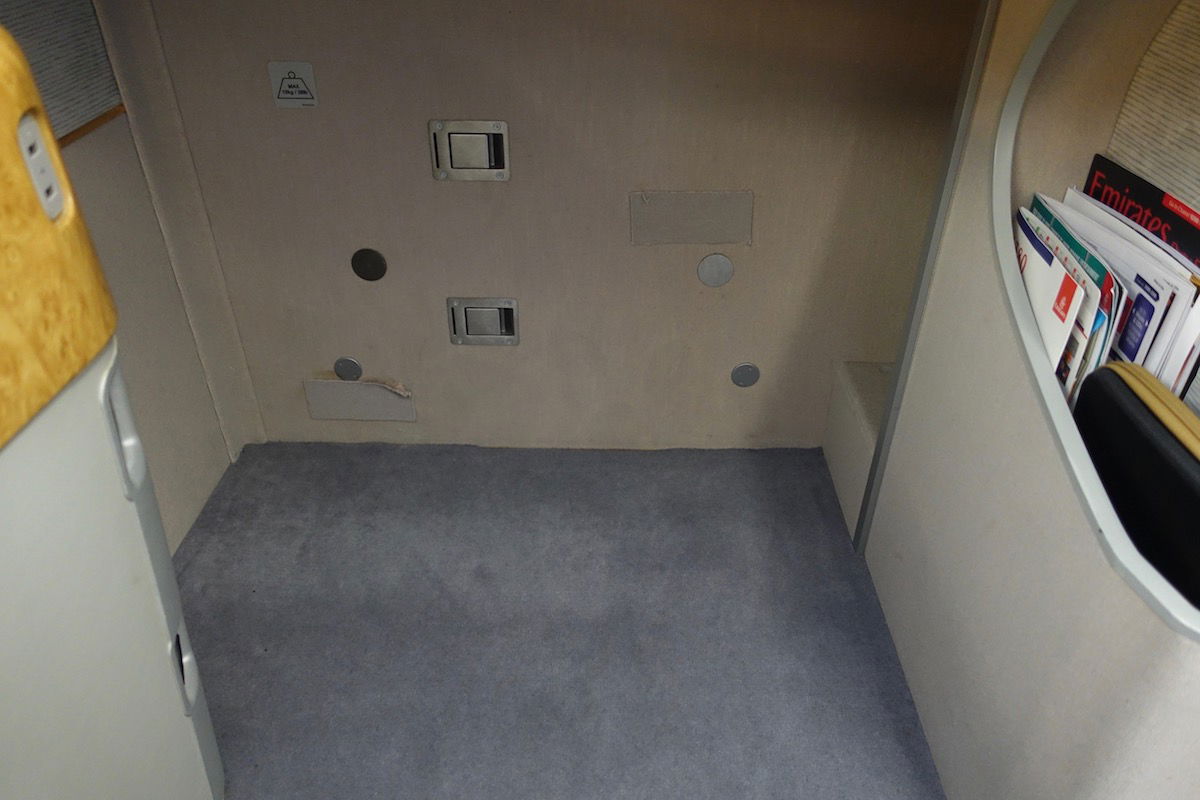 Emirates first class legroom
Speaking of the 14 suites, while that may seem like a crowded cabin, I like that Emirates staggers the suites a bit. So the opening for one suite is never immediately next to the opening across the aisle, but rather it's between two suites. This adds even more of a sense of privacy.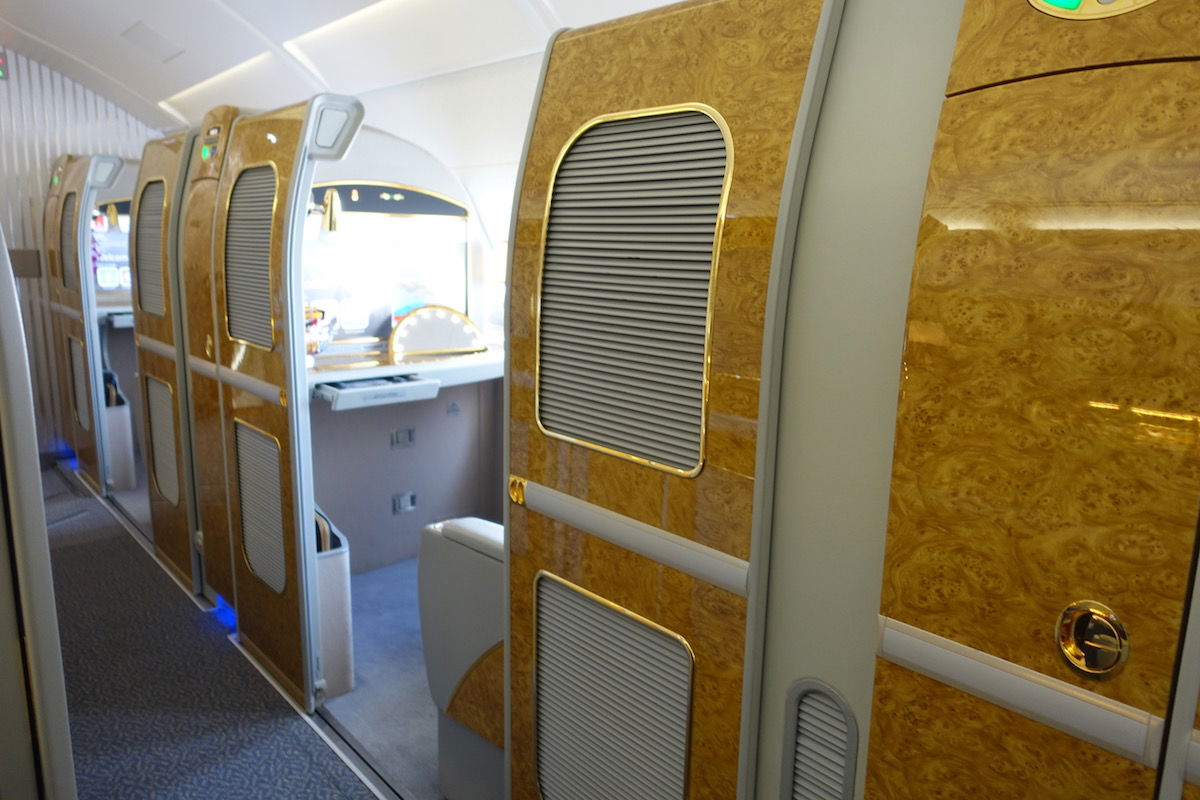 Emirates first class aisle
Emirates has crews from all over the world, so they can be hit or miss. Generally I find service to be excellent, but sometimes it's not. In this case I could tell we had a phenomenal crew working first class. Emirates recently reduced first class staffing on the A380 from four flight attendants to three, so taking care of us in first class were two lovely ladies (Inez from Algeria and Debra from Ireland) and a guy from Serbia (I didn't catch his name).
The two ladies were so incredibly friendly, while the guy didn't have as much personality, though fortunately he worked the galley for most of the flight, so we didn't interact with him much. They all came by to introduce themselves, and asked what we wanted to drink.
I ordered a glass of water. That's right, I skipped champagne. That's because Emirates "only" serves Moet on the ground when departing the US (since they don't want to pay taxes on the more expensive stuff), and I'm a lightweight nowadays when it comes to drinking, and wanted to save my tolerance for the good stuff that's served after takeoff.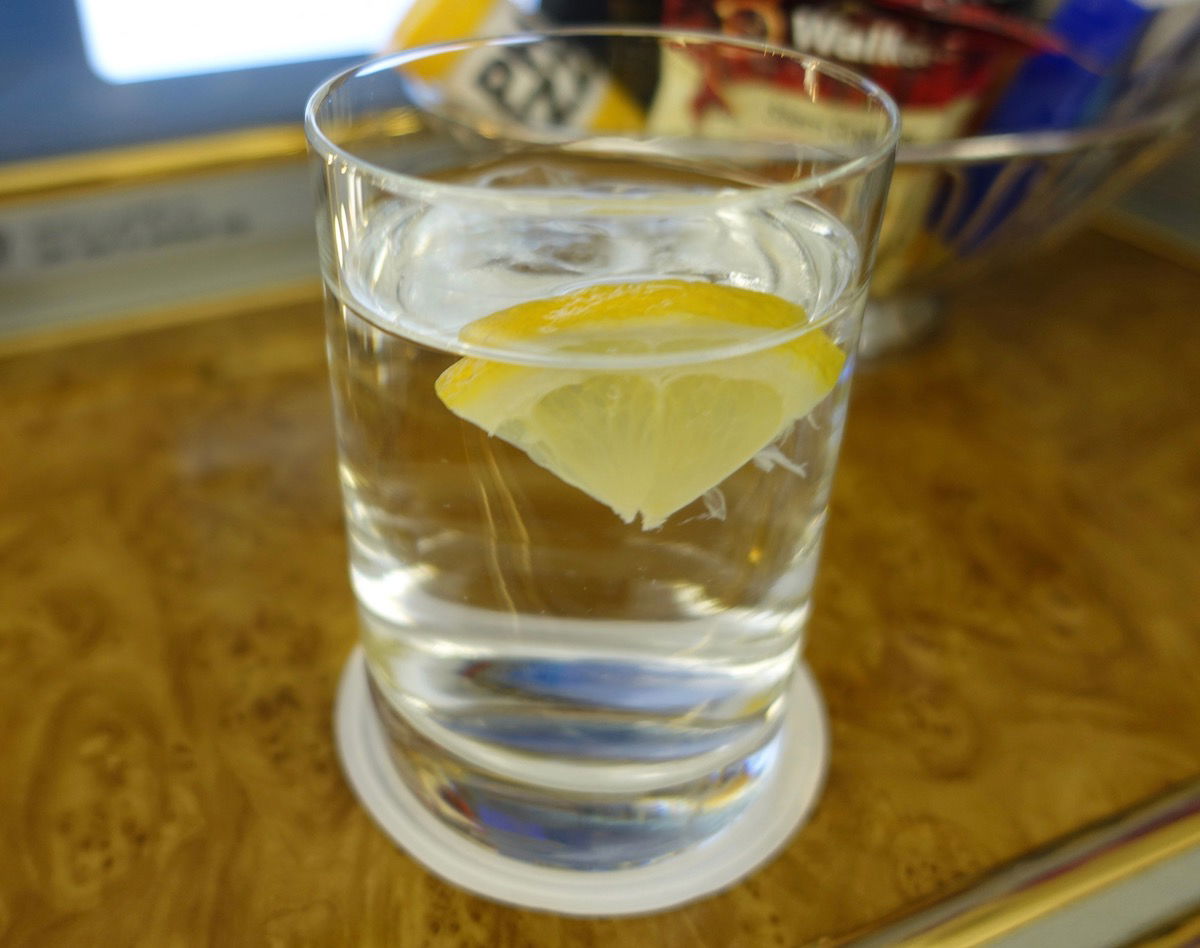 Emirates first class pre-departure water
After that, all of the goodies were distributed for the flight, including the tote bag, pajamas, amenity kit, slippers, and eyeshades. The reason for the tote is that the A380 has shower suites, so the intention is that you can use the tote to take things with you to the shower.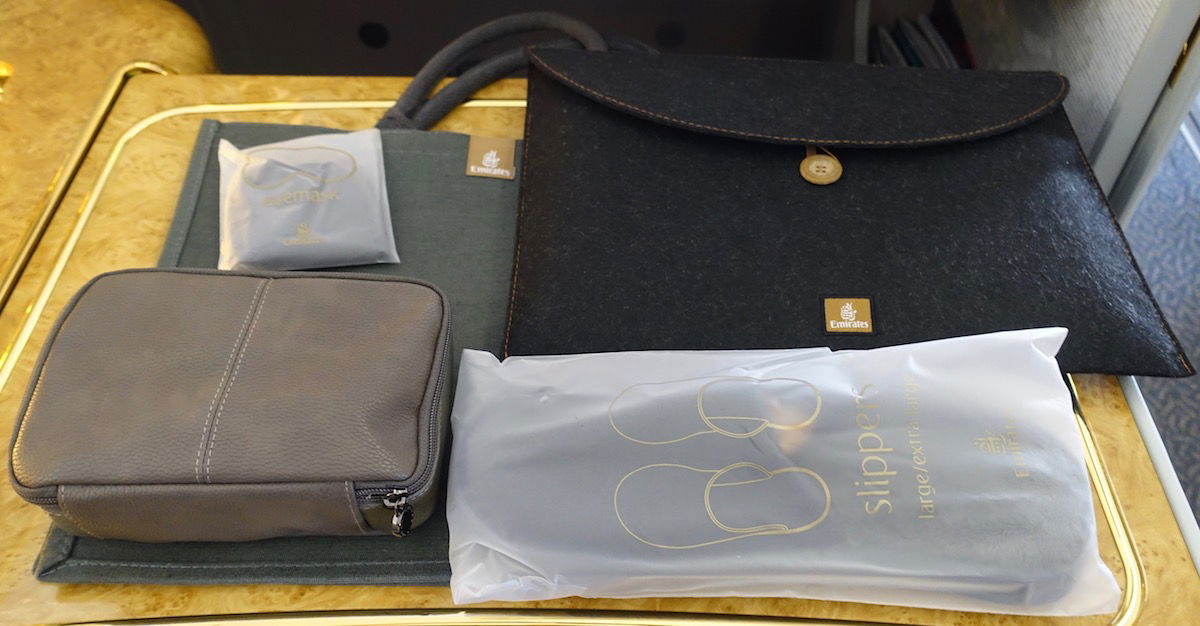 Emirates first class goodies
Emirates' amenity kit is leather and features BVLGARI toiletries.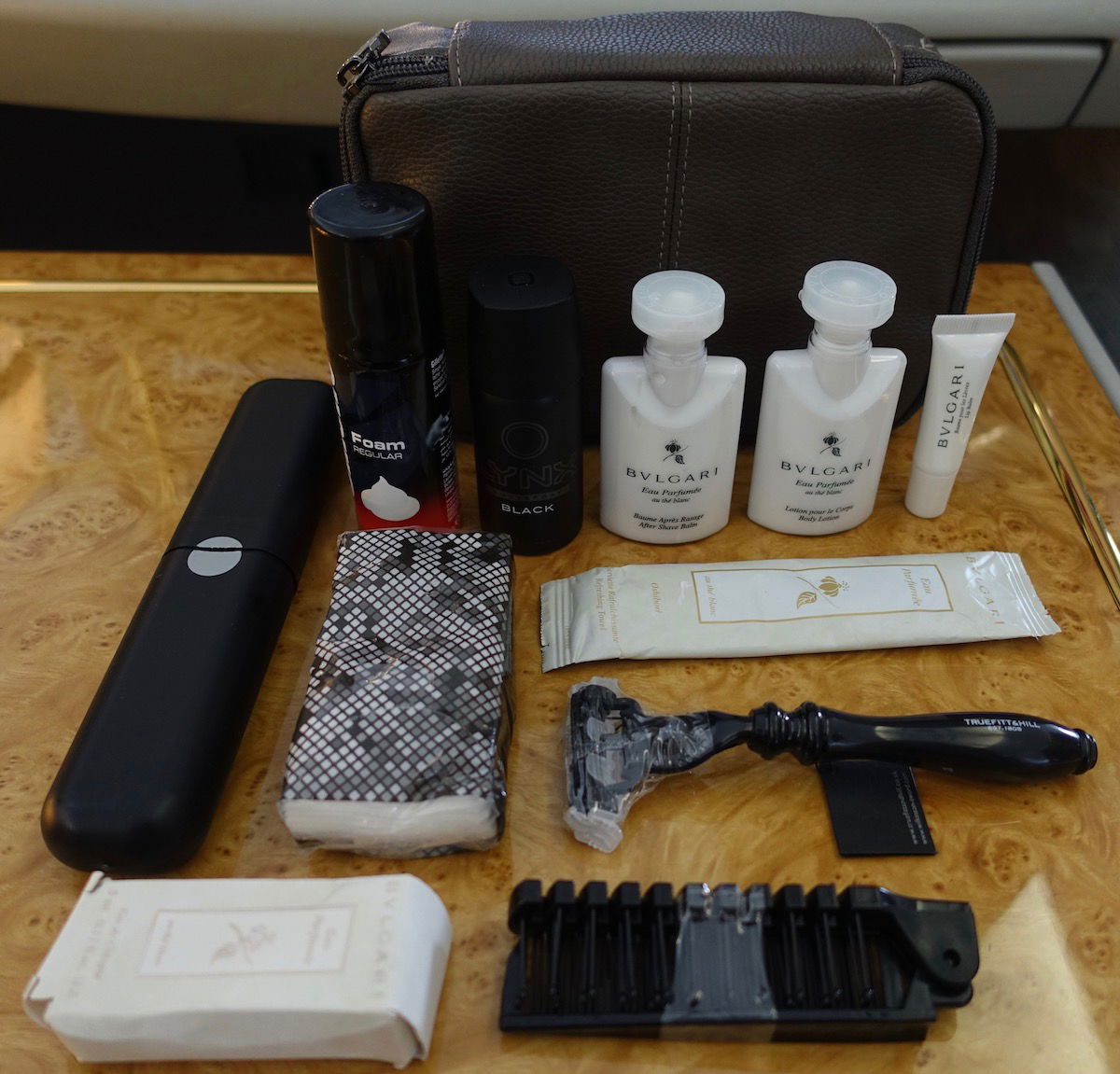 Emirates first class amenity kit
Emirates' pajamas are supposedly moisturizing, though that has always sounded more like marketing to me than anything else. The pajamas are alright, though I don't love them, as I find them to be a bit too warm, personally.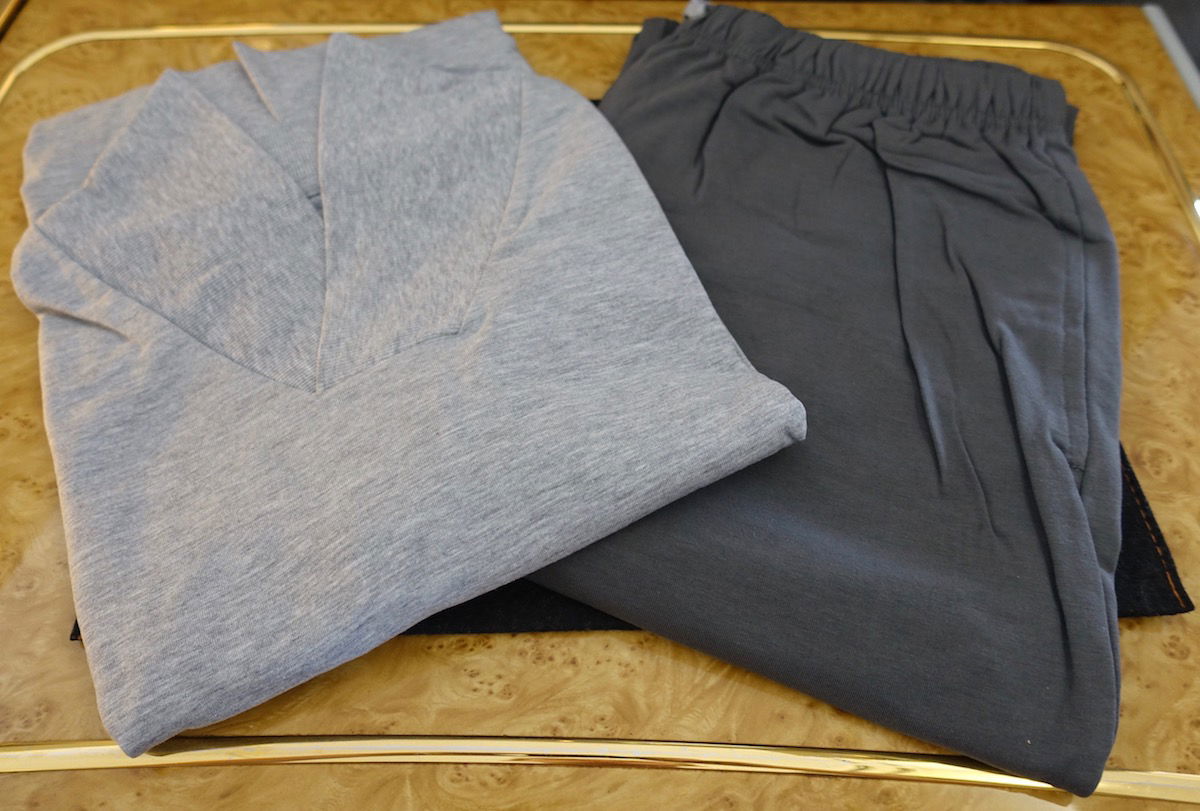 Emirates first class pajamas
Then there are also sturdy slippers and eyeshades.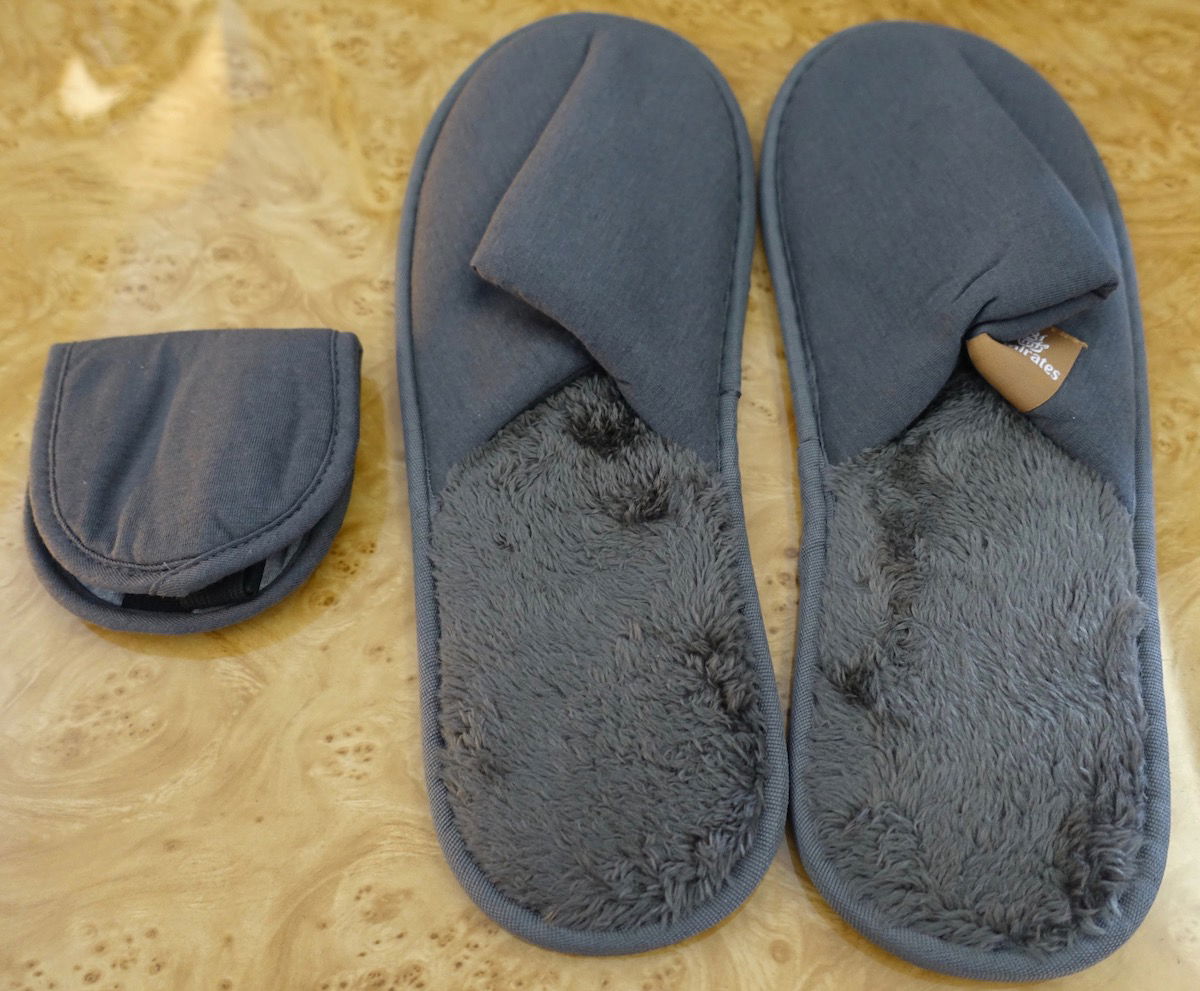 Emirates first class slippers & eyeshades
Also waiting at my seat were a pair of headphones. For an airline focused so much on brands and luxury, I really think they could do better than what they offer, as the headphones have nothing on Bose and the like.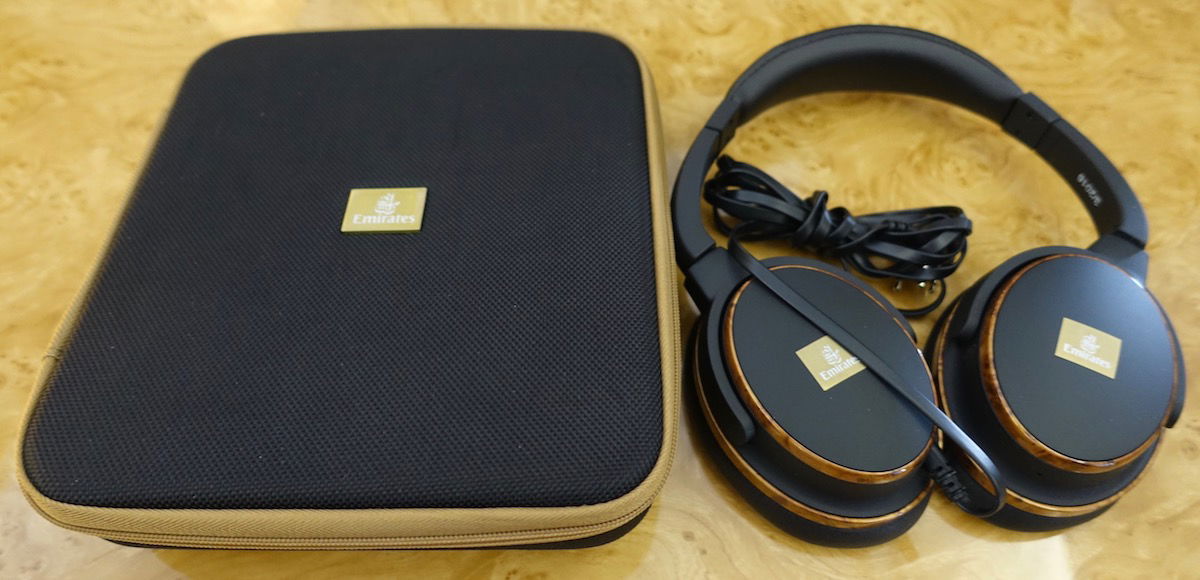 Emirates first class headphones
Over the next 15 minutes the other first class passengers arrived. Fortunately it was a pretty light load today, as there were only six passengers in first class — two other passengers were an Indian couple, and then the other two passengers seemed to be Emirati, based on what I overheard.
While boarding took quite a while, fortunately we didn't have to witness any of it, given that no other passengers passed through first class. I'd note that I used to love Emirates' boarding music, which was this track:
Nowadays they seem to play a combination of pop and Arabic music, which I don't like nearly as much.
About 30 minutes after boarding we were offered Arabic coffee and dates, as well as warm towels.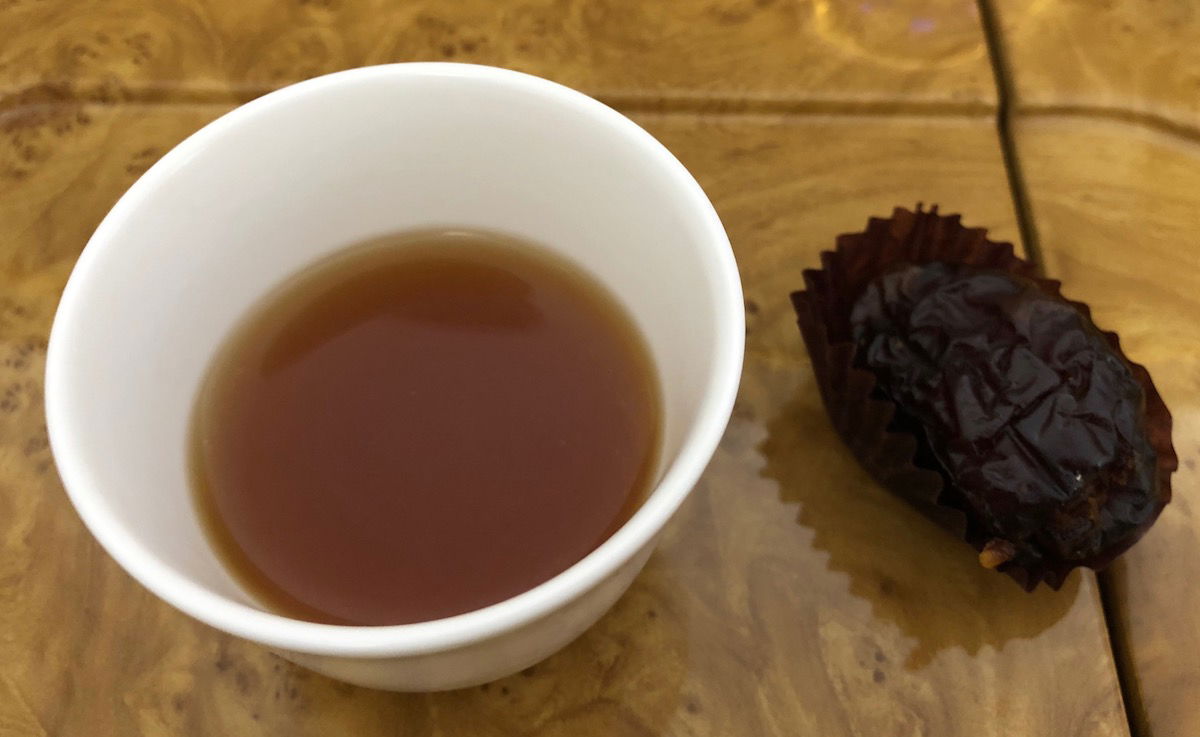 Emirates first class Arabic coffee & date
After that, one of the flight attendants came by our seats to take our shower appointments. Emirates has two shower suites at the front of the upper deck, and they'll take appointments at the beginning of the flight. You can always change these around, though it helps to make a reservation if you want to shower before landing, since everyone seems to want to shower then.
So Ford and I both booked showers for an hour before landing, though later on changed them to earlier (which is usually what I end up doing).
At 4:25PM the (British) captain added his welcome aboard, on behalf of himself and the three other pilots. He informed us of our flight time of 15hr8min, and our cruising altitude of 41,000 feet. He explained we'd be taking off over the Pacific, flying over Reno, and would then be making our way to the North Pole.
A few minutes later the purser added her welcome aboard, on behalf of herself and the crew from 17 countries. At 4:35PM the main cabin door closed, and a moment later we began our pushback. At that point the safety video was screened. It has been a while since I've flown Emirates, but OMG their new safety video is long and boring.
Our taxi to runway 24L was pretty quick, and we were airborne by 4:55PM. For this portion of the flight I watched the tail camera, though unfortunately there was some dirt on the camera, which took away from the view a bit.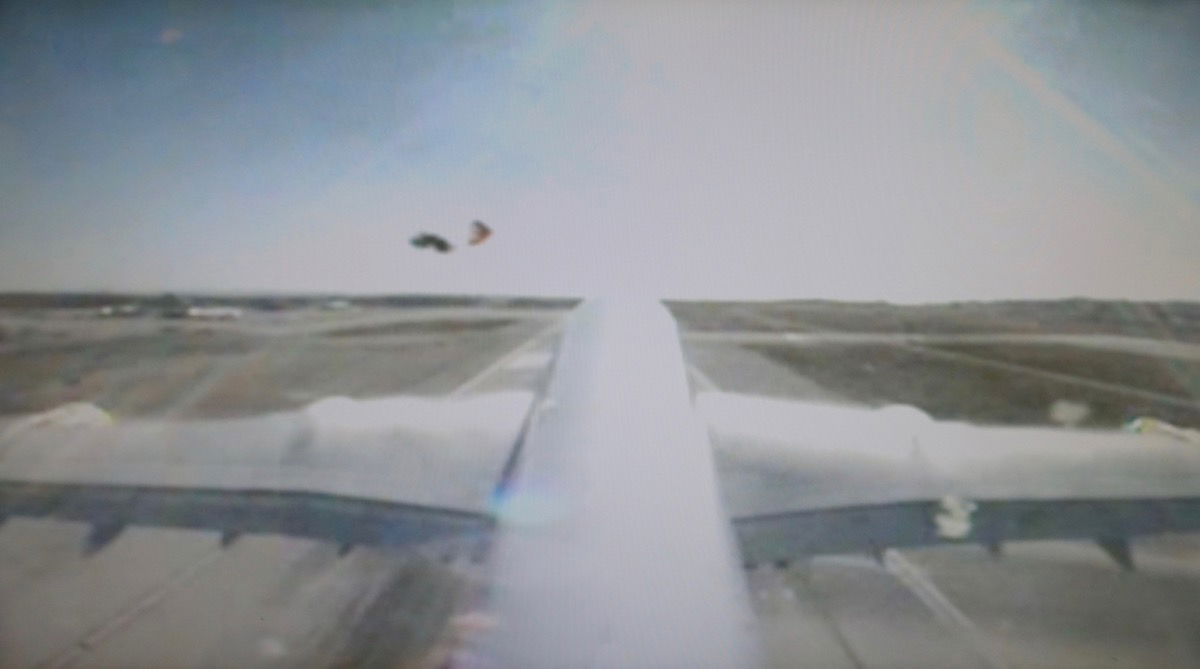 Emirates A380 tail camera
After watching the tail camera I switched to the flight map, which put into perspective just how long our journey would be (not that I'm complaining).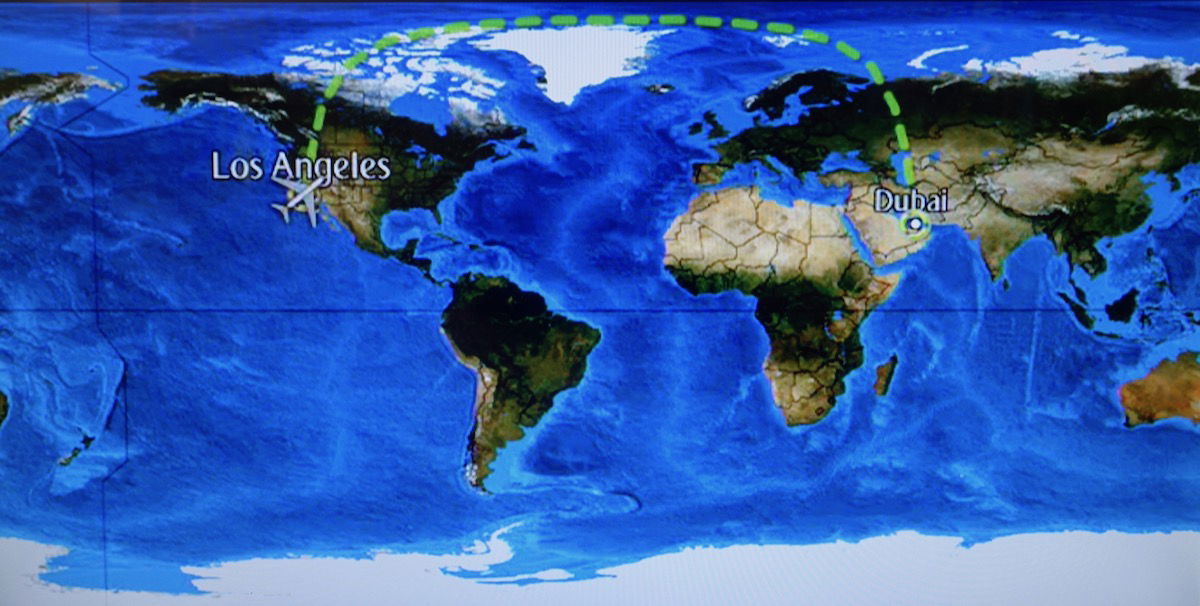 Emirates flight map to Dubai
20 minutes after takeoff Debra asked what she could get me to drink. I ordered a glass of the Dom Perignon 2000 P2, which is a limited time champagne Emirates is offering. At $350+ per bottle, it sure ain't cheap.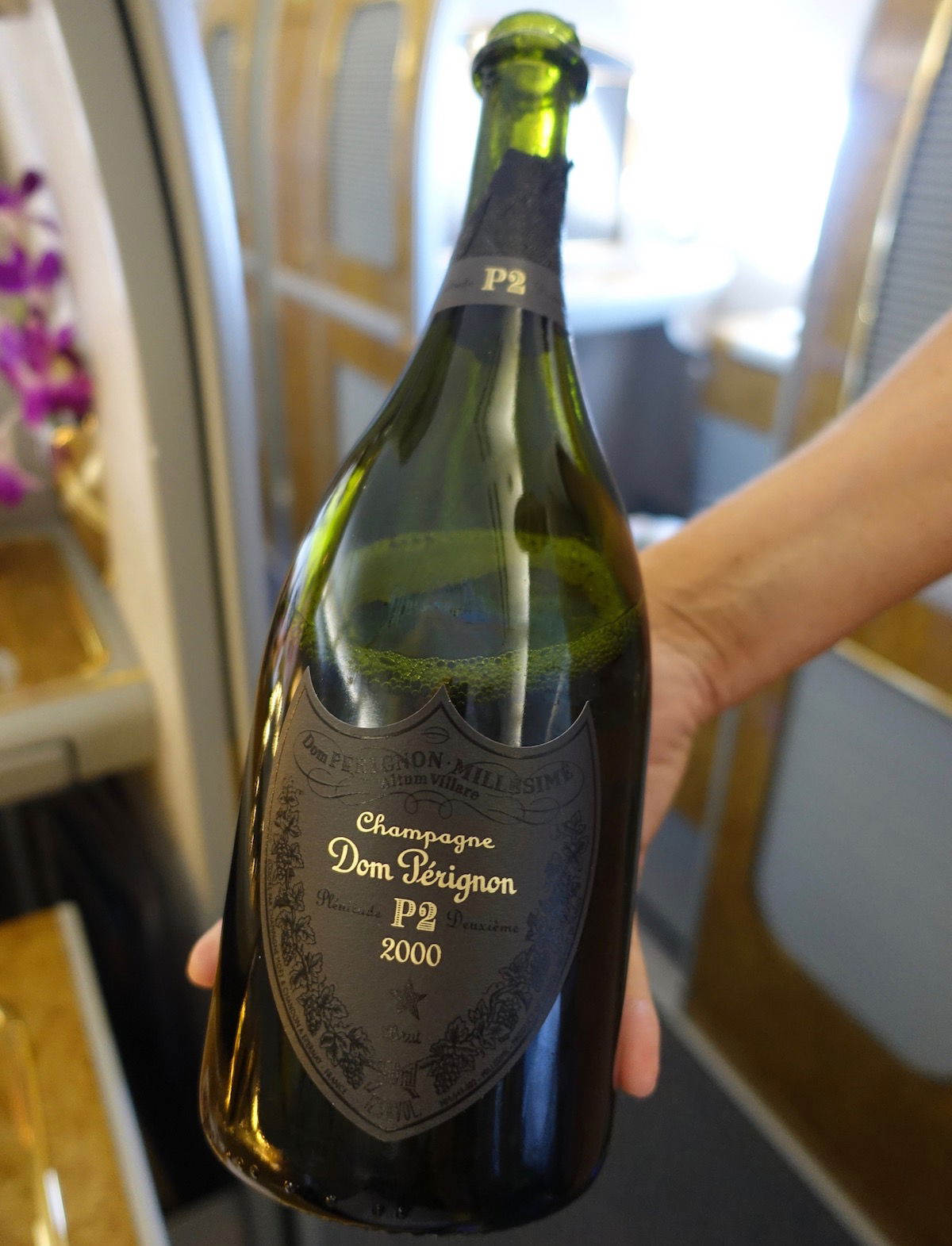 Emirates first class Dom Perignon 2000 P2
"I gave you an Irish pour, I hope you don't mind." I sure don't!
I was asked if I wanted some mixed nuts and canapés to go along with the champagne, which I agreed to. The mixed nuts were warm.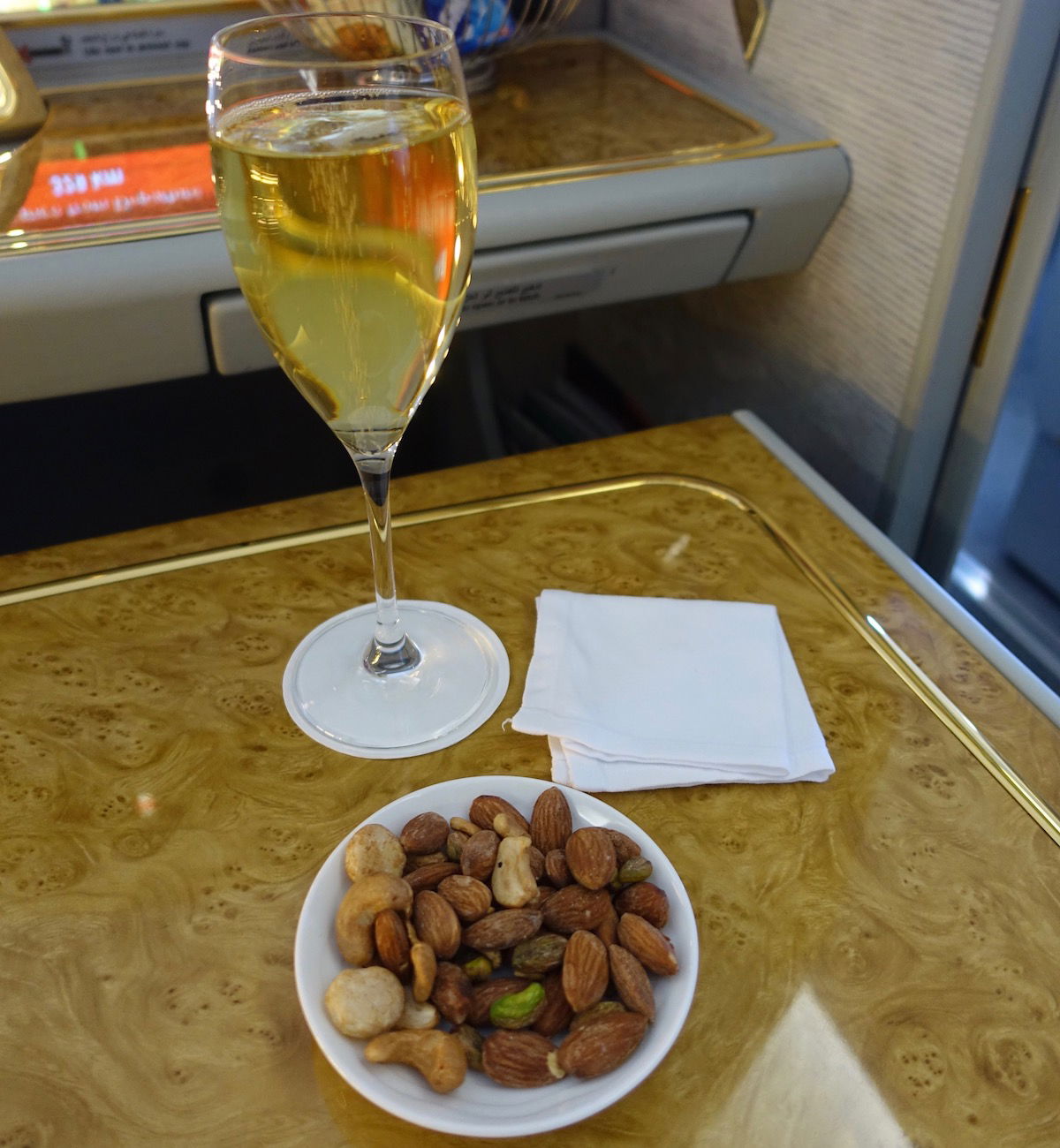 Emirates first class champagne & mixed nuts
The canapés are supposedly created in partnership with Dom Perignon's chef given the special champagne they're offering right now, and included buffalo mozzarella with pea cream and smoked olive oil, bresola with feta, poached pear, and cinnamon, and salmon with panko herb crumble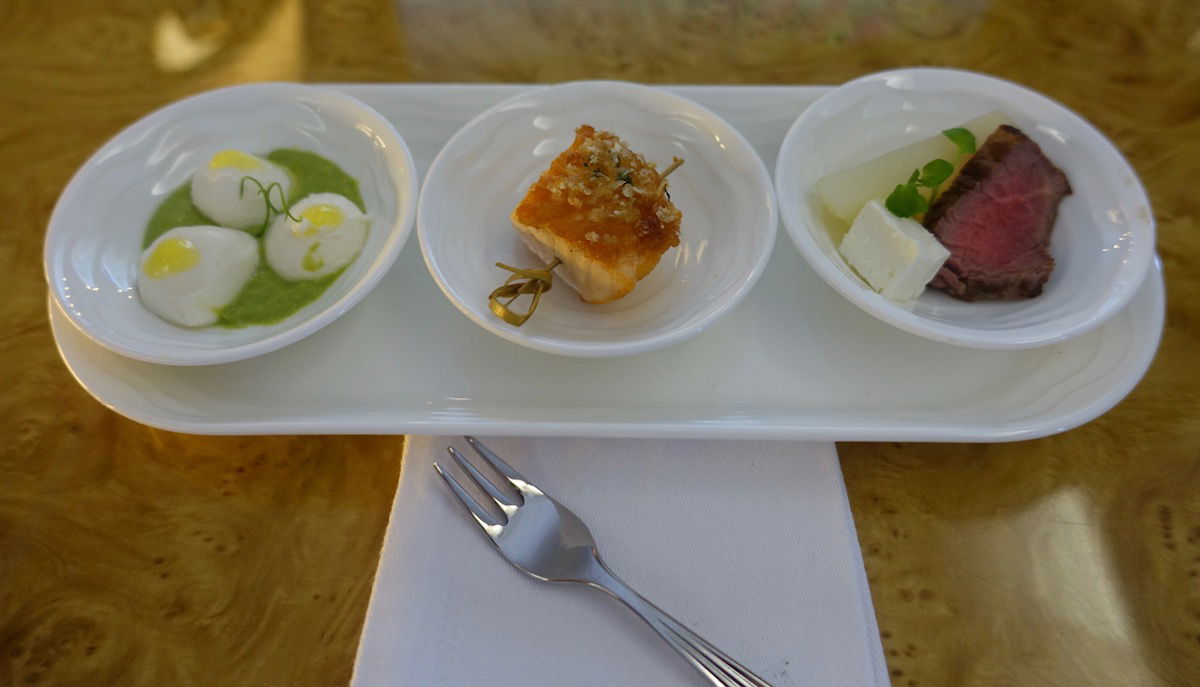 Emirates first class canapés
About 45 minutes after takeoff Sujava, the purser from India, stopped by our seats to welcome us aboard and offer us the menus for the flight, which were presented in leather binders.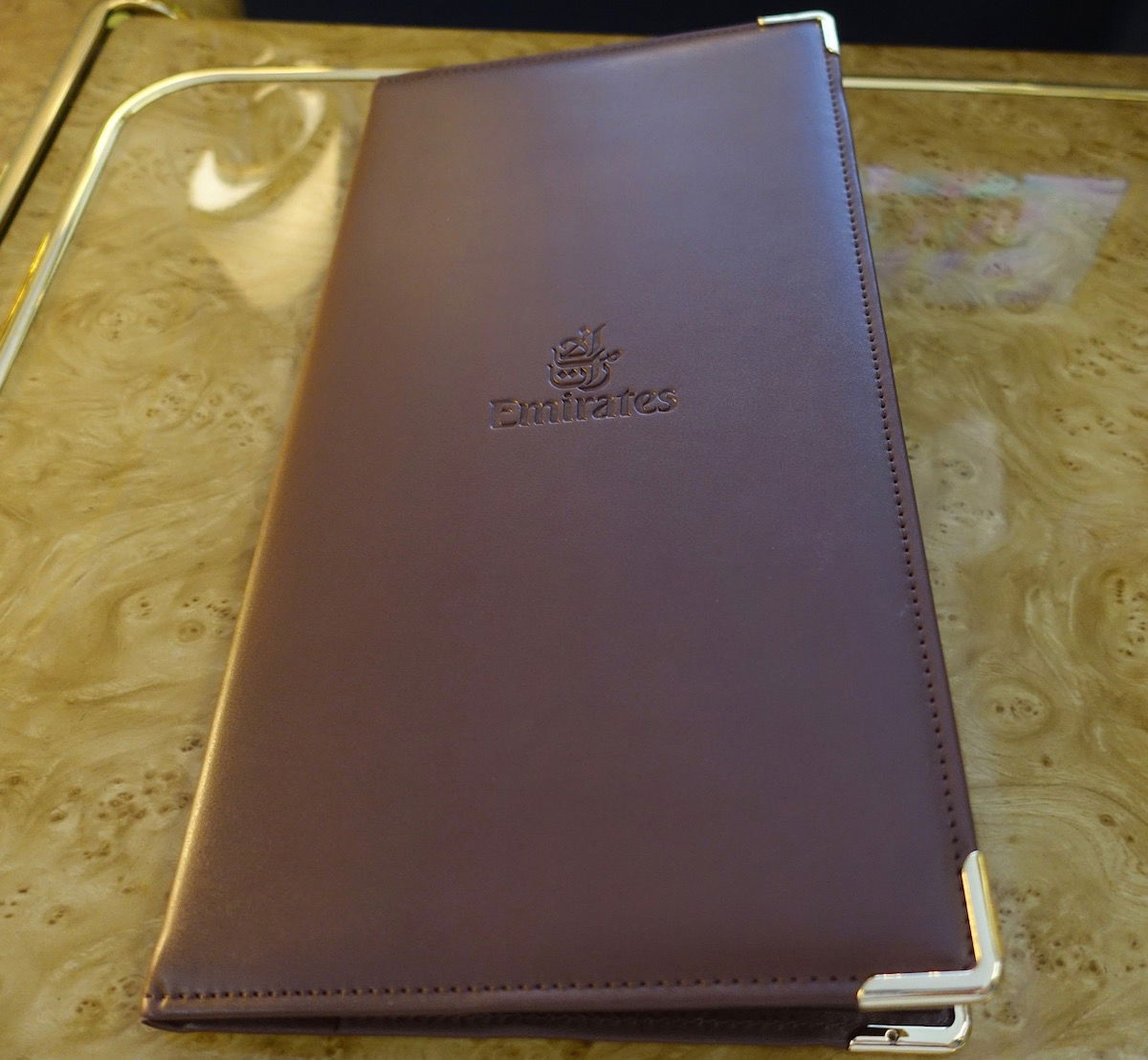 Emirates first class menu
Emirates offers a huge selection of a la carte dining, so you can eat what you want when you want. The menu read as follows: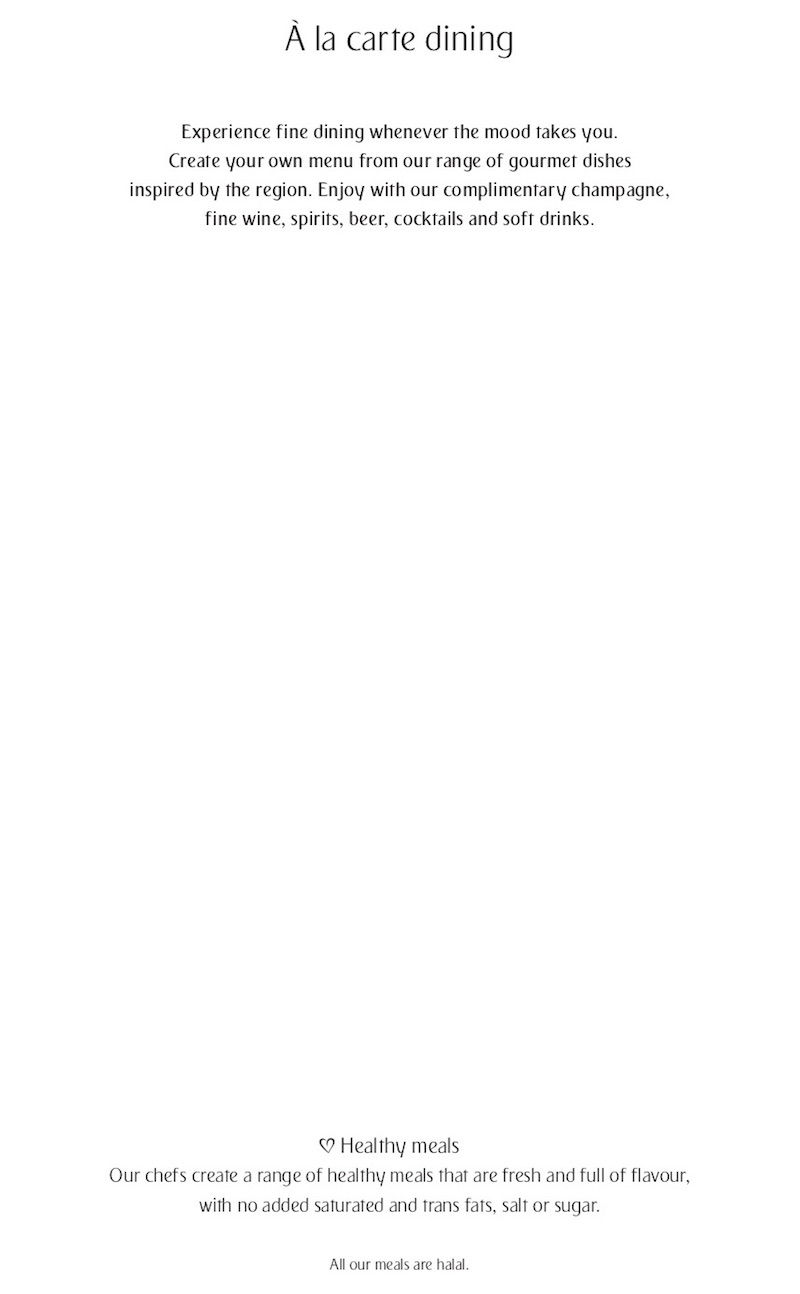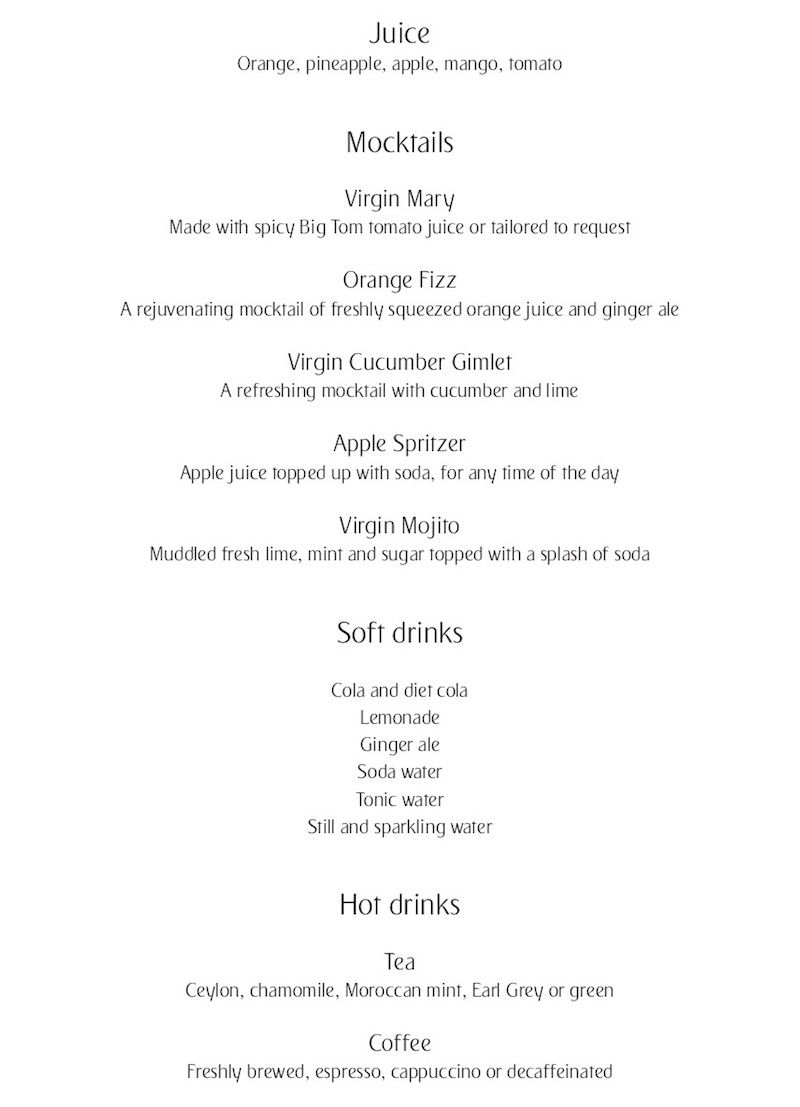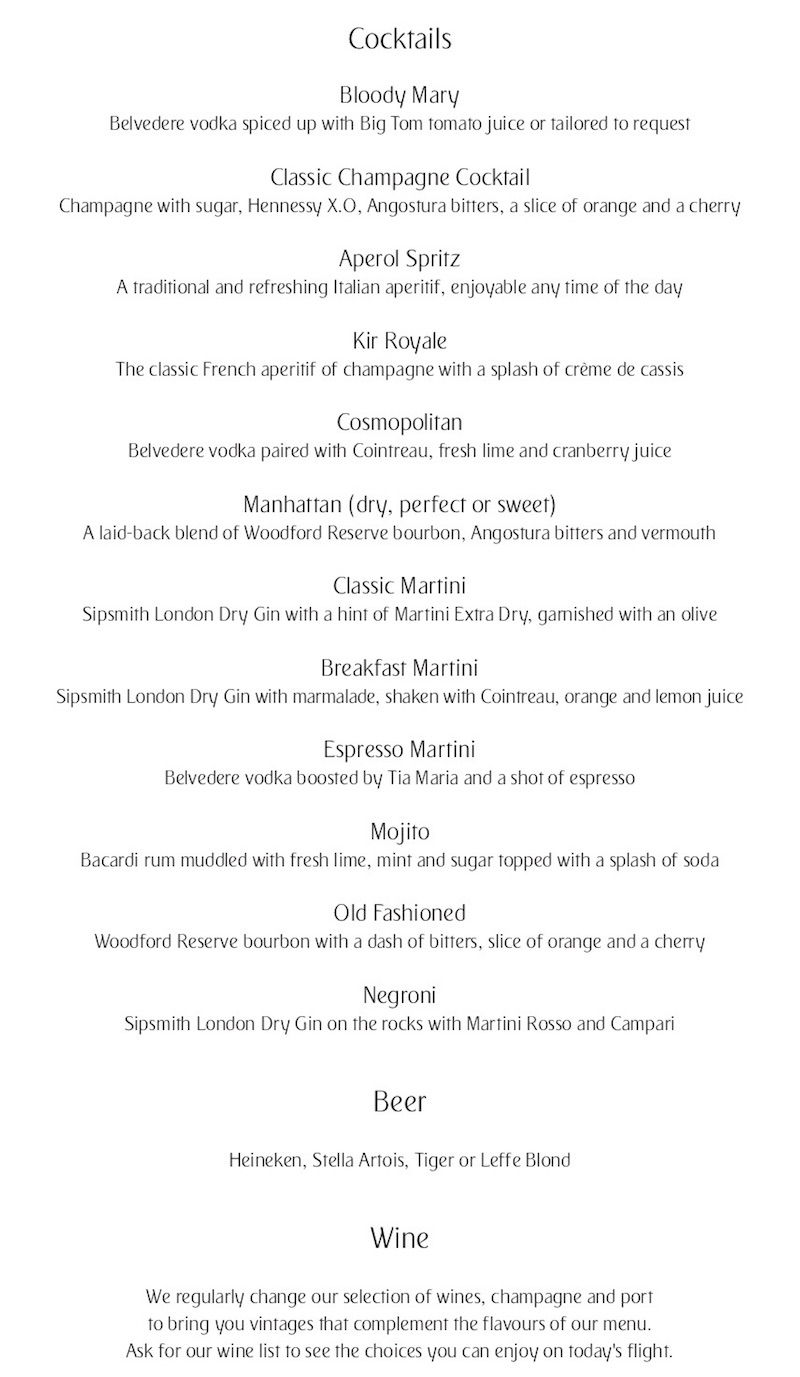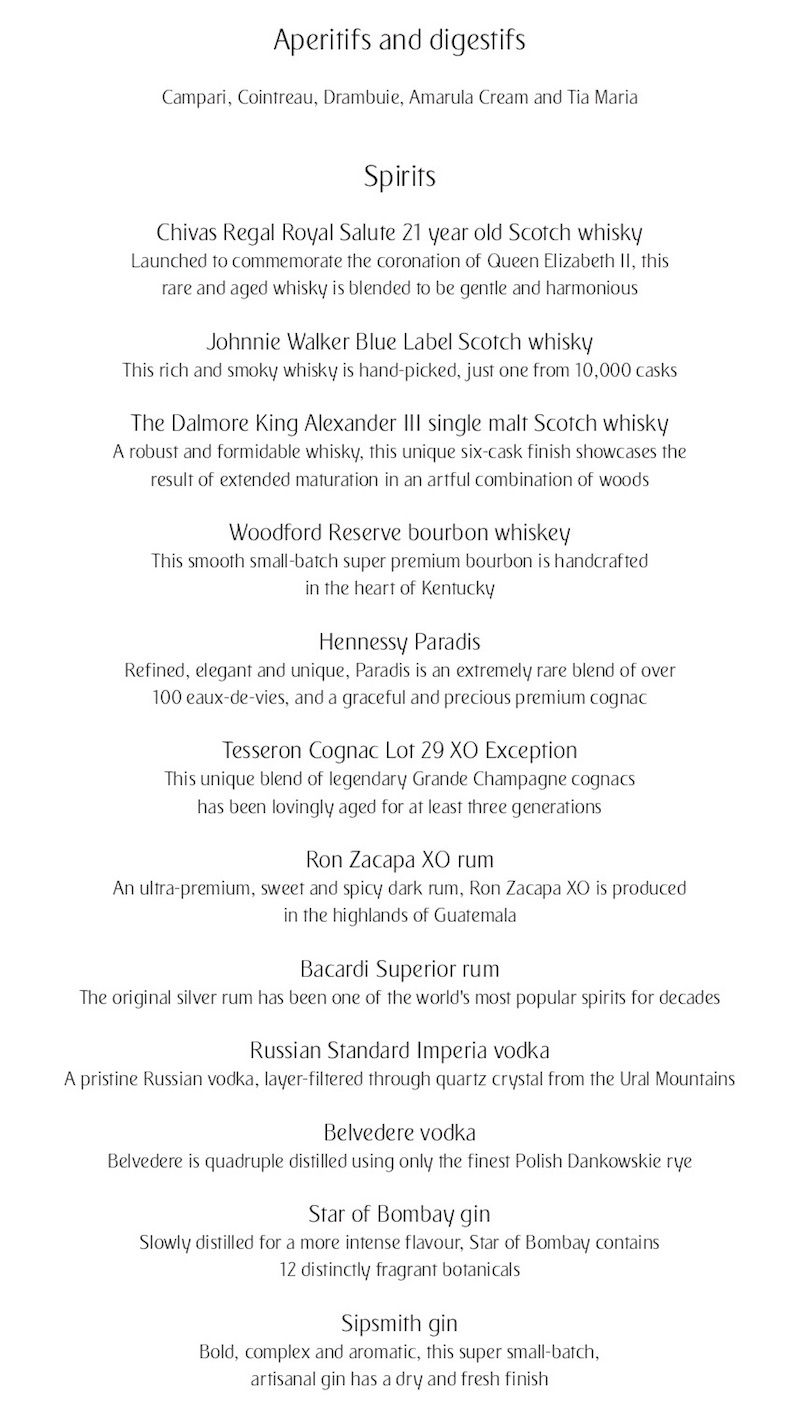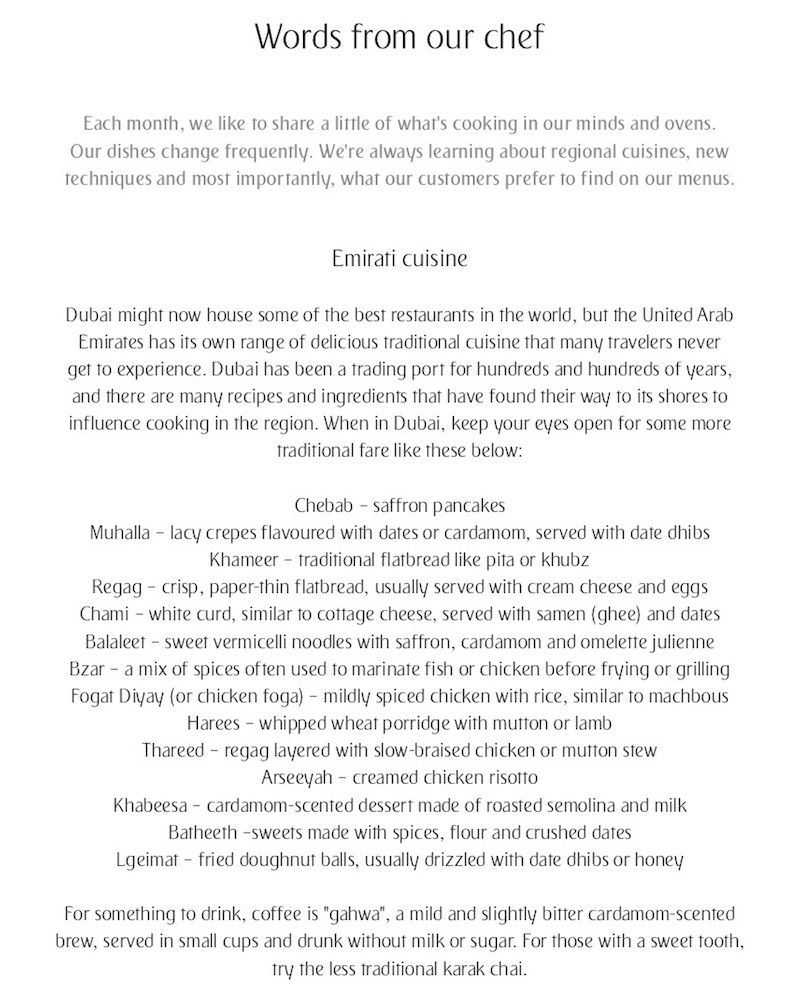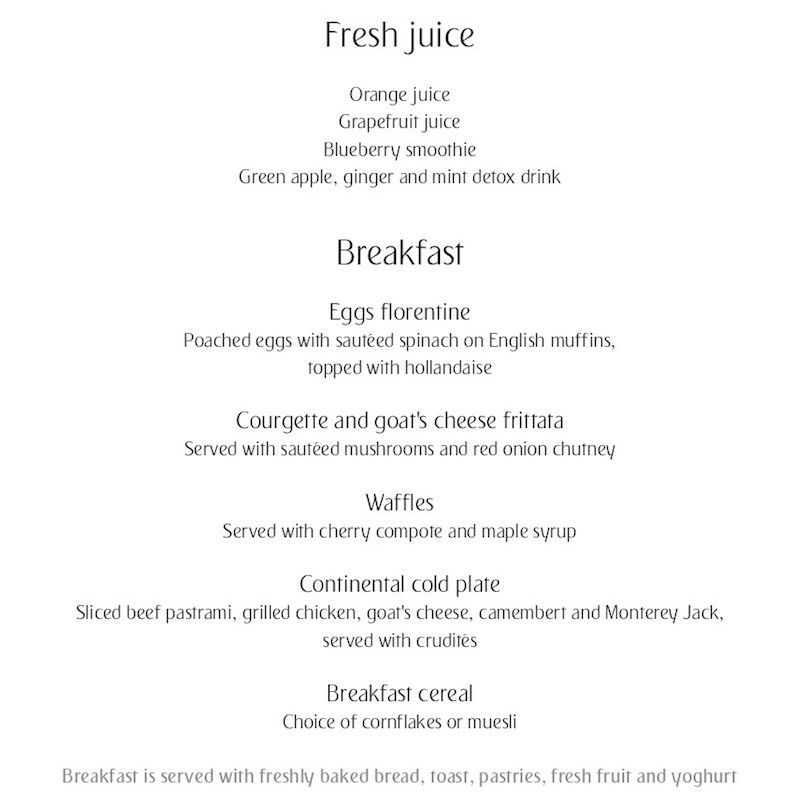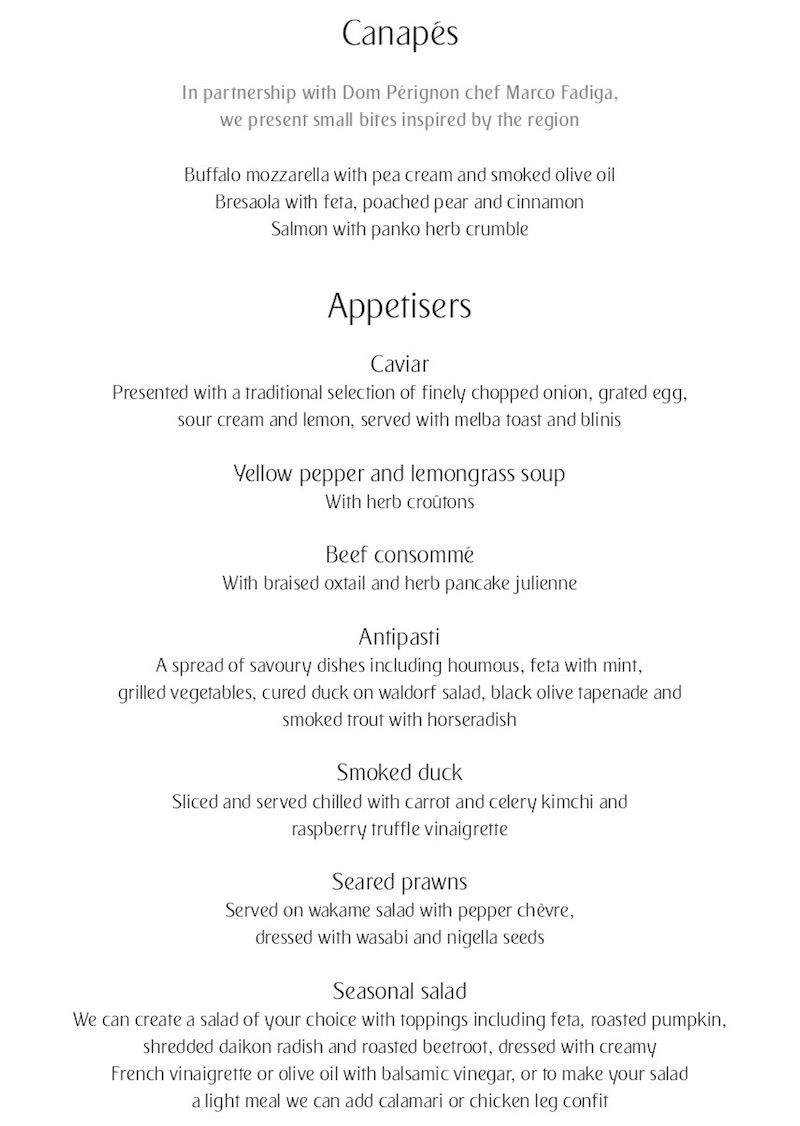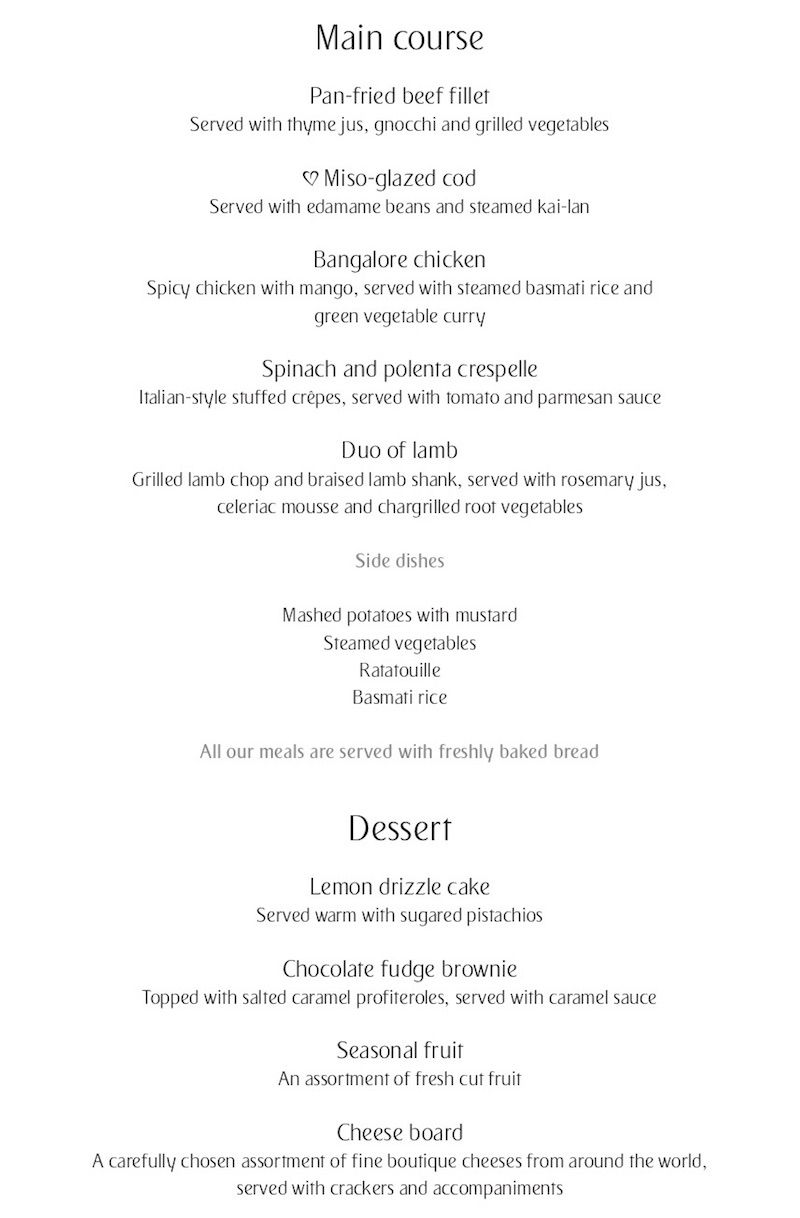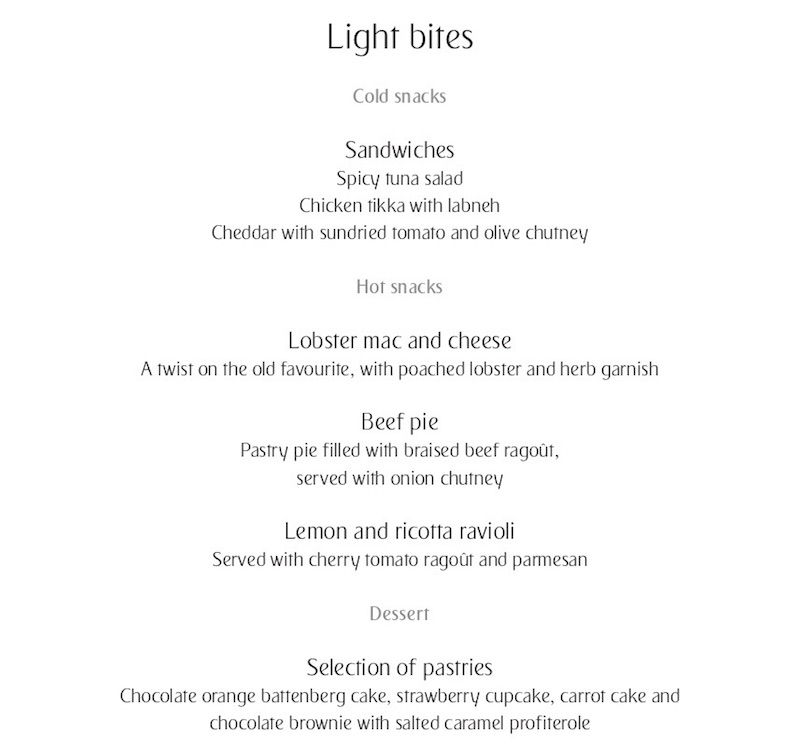 And then there was Emirates' excellent wine list: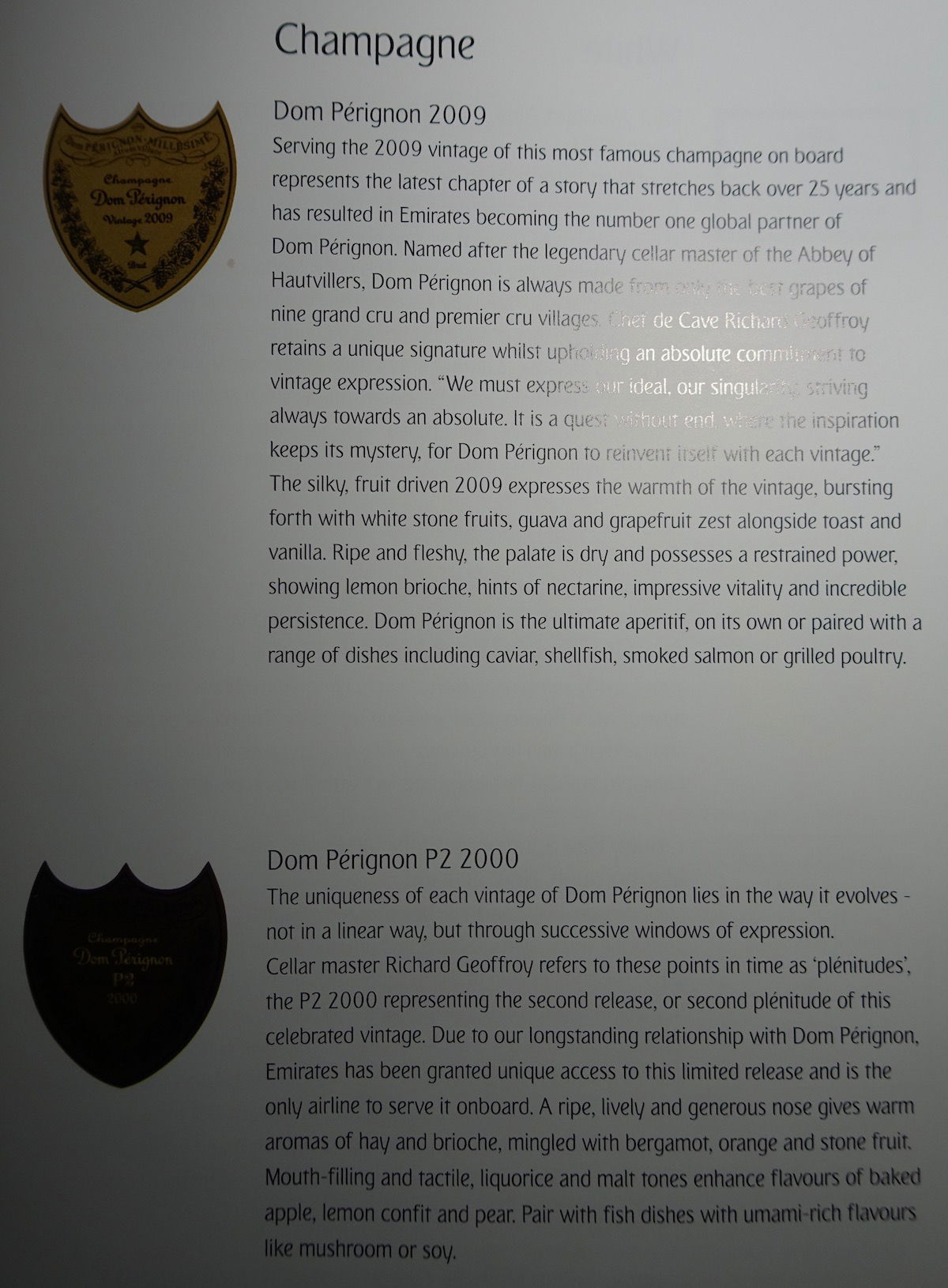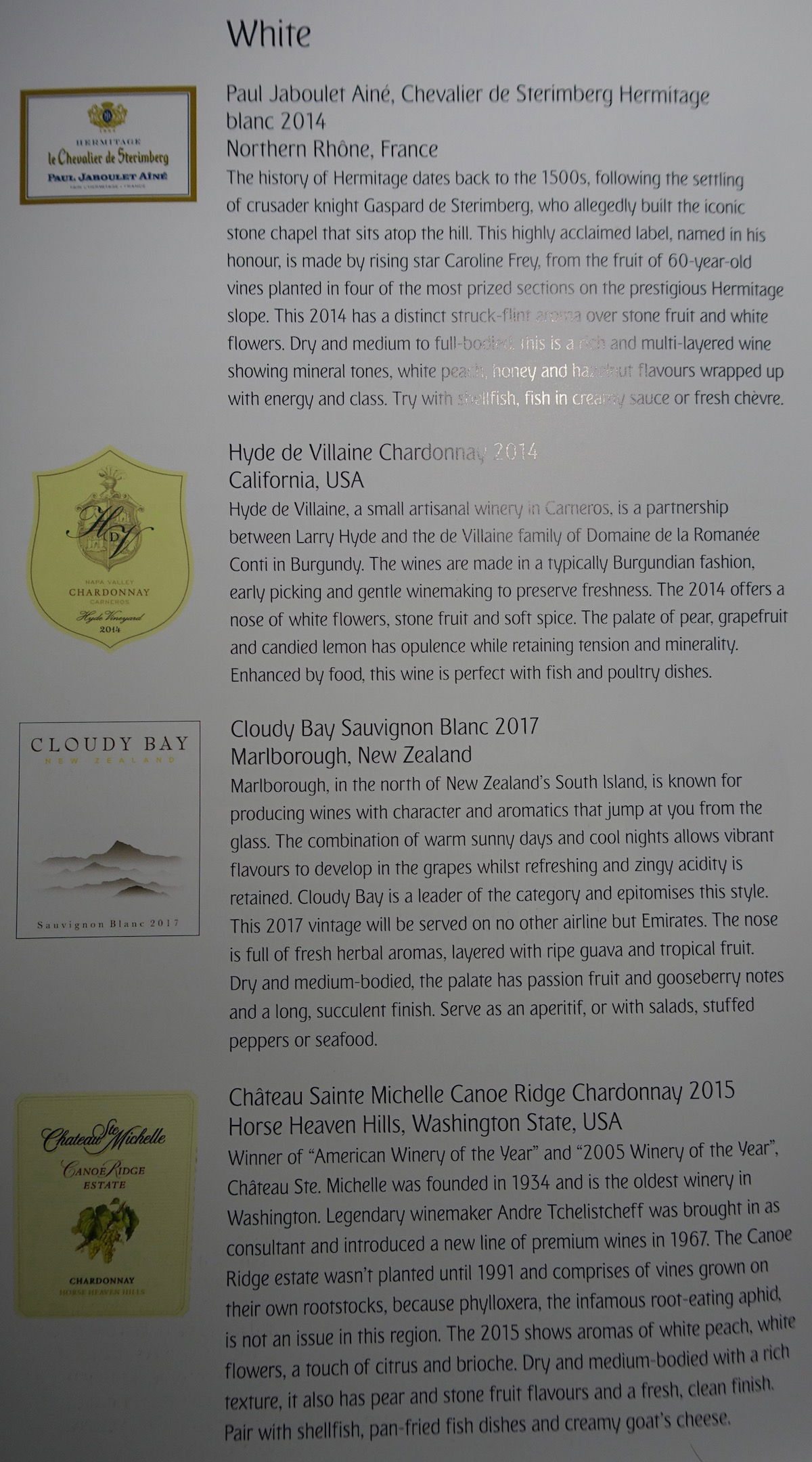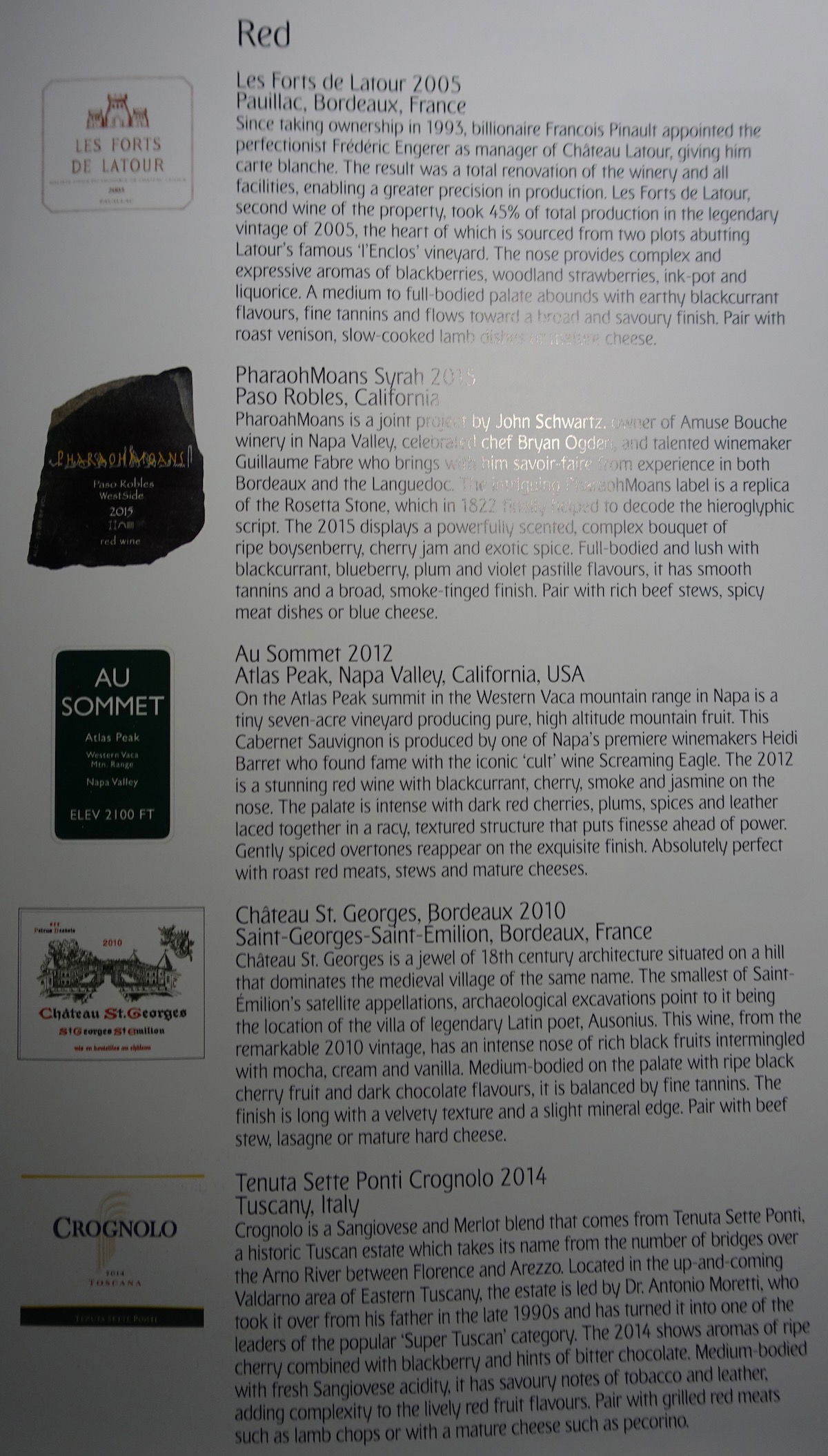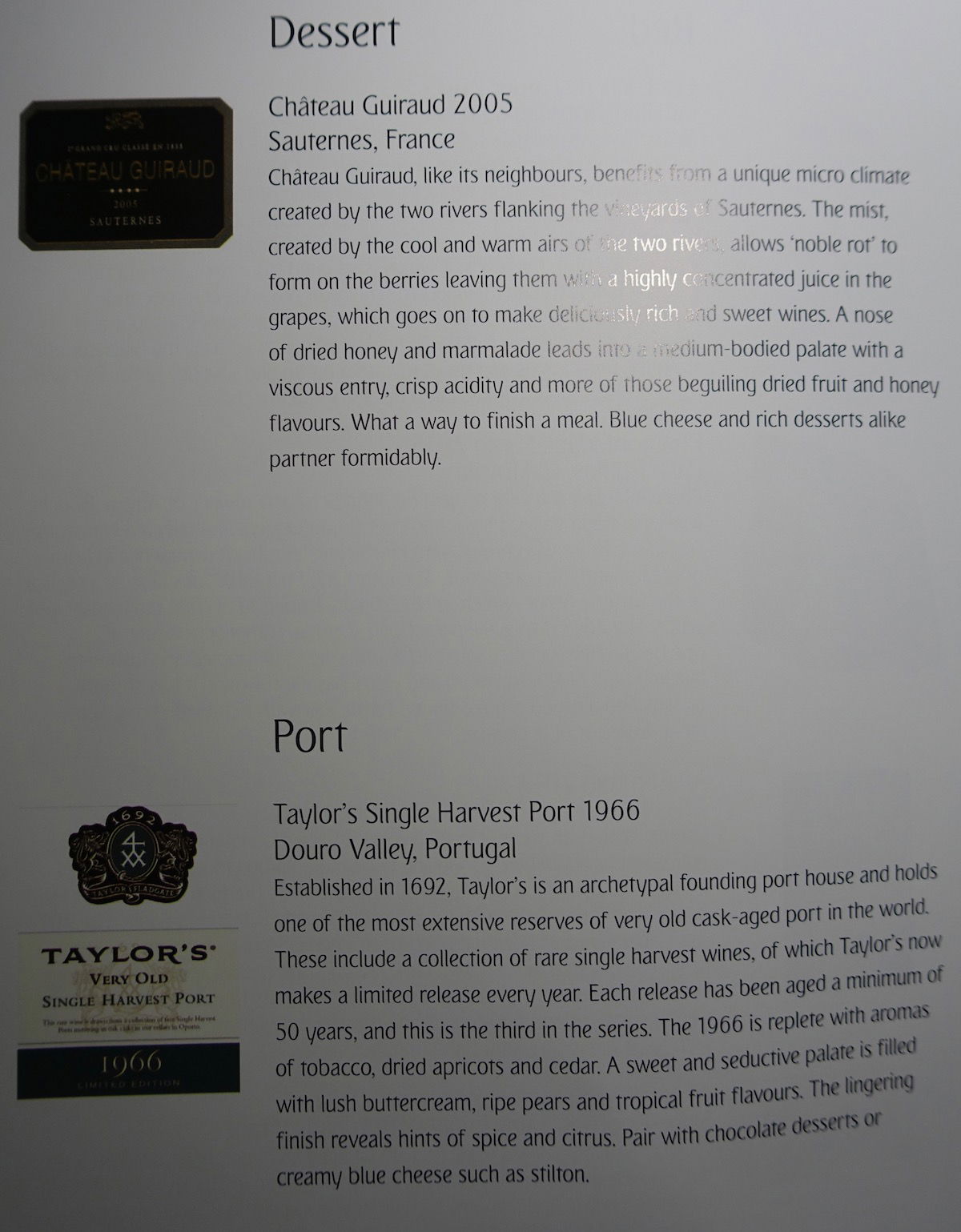 After a couple of glasses of champagne we were asked if we wanted to order any food. I sort of have a "system" down in Emirates first class at this point — I have some champagne at my seat, I have the caviar course (and maybe an appetizer), and then I go to the bar, and then later on decide if I want to eat more.
One of the reasons I like to go to the bar early on is because it's still quiet at that point. That's because Emirates doesn't have dine on demand in business class, so you can expect most business class passengers to be at their seats and eating for the first two hours or so.
So that's exactly what we did. We ordered the caviar course, which was brought out within 15 minutes.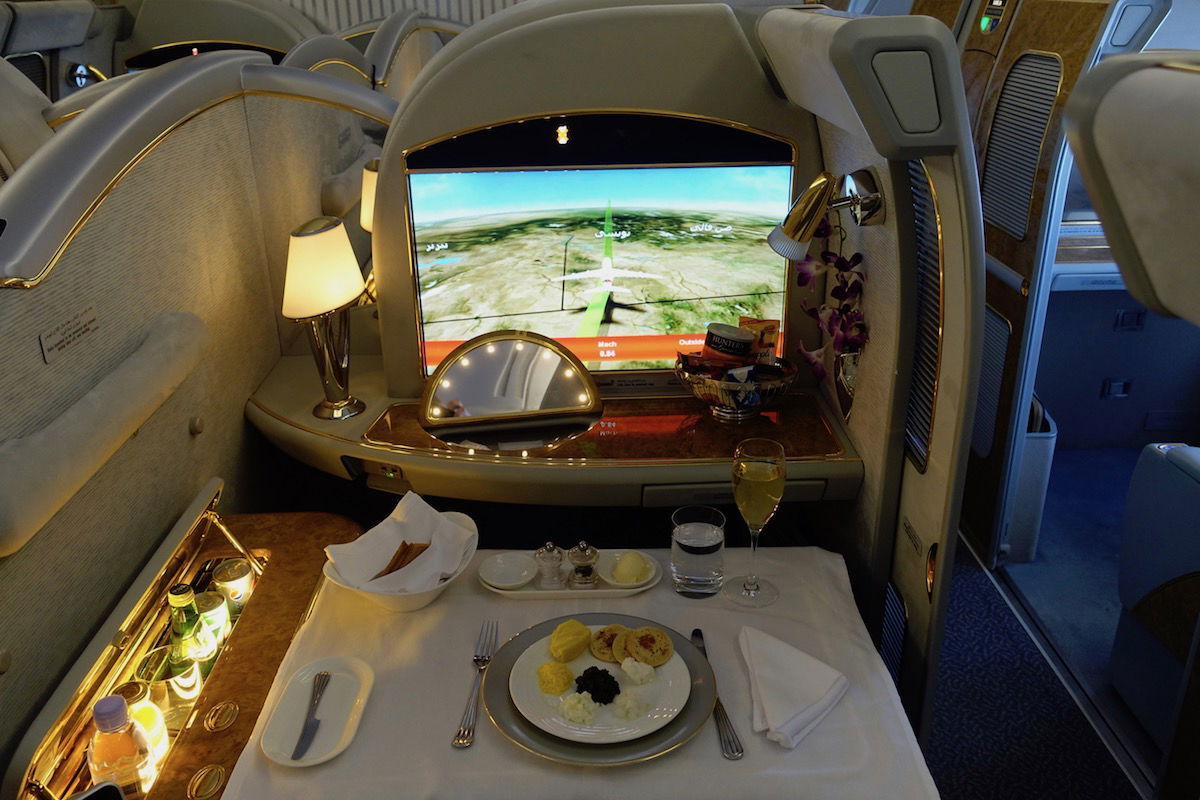 Emirates first class caviar service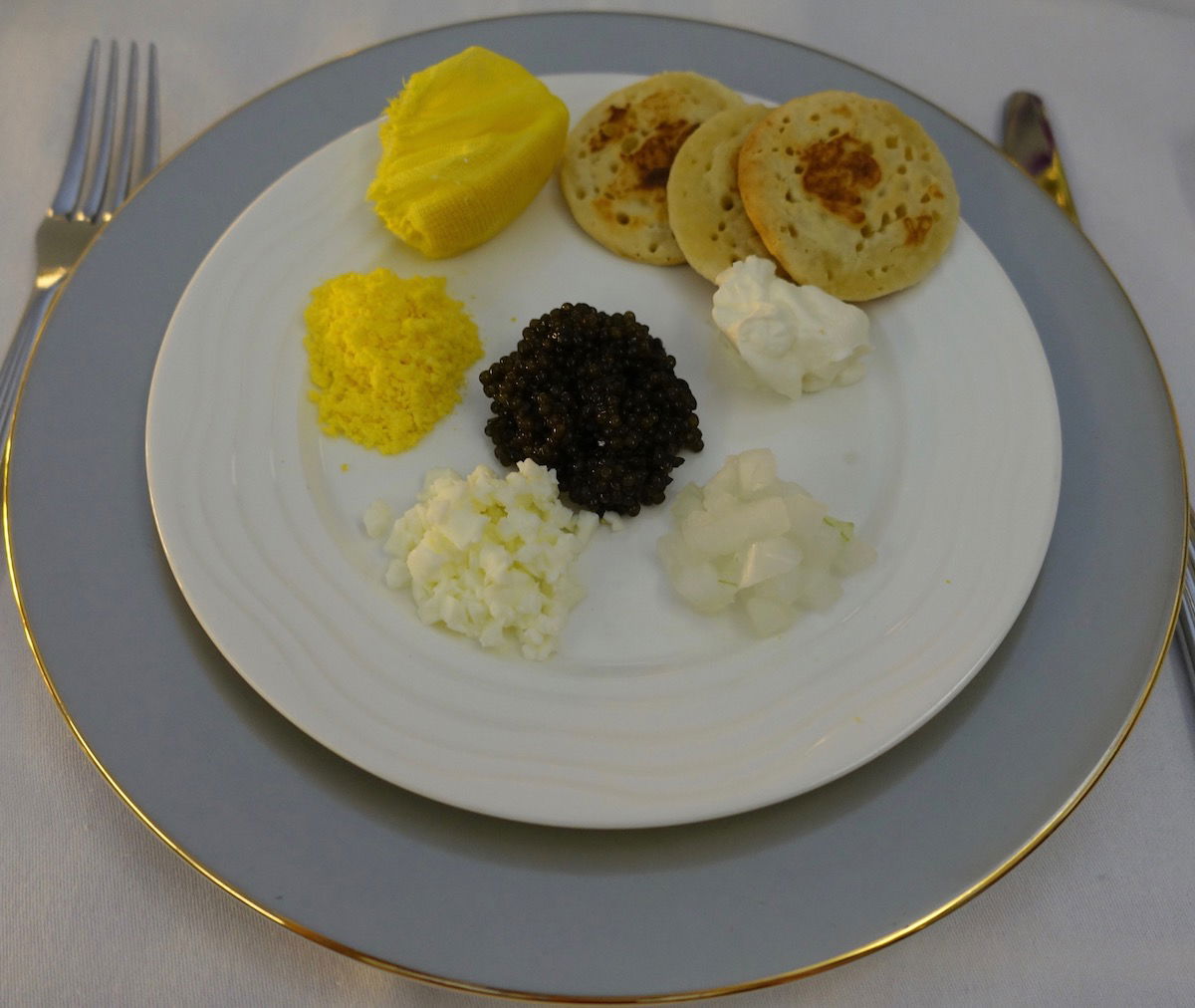 Emirates first class caviar service
When we finished the caviar course the crew asked if we wanted more caviar. Ford ordered a second helping, and I ordered the seared prawns appetizer, which was excellent.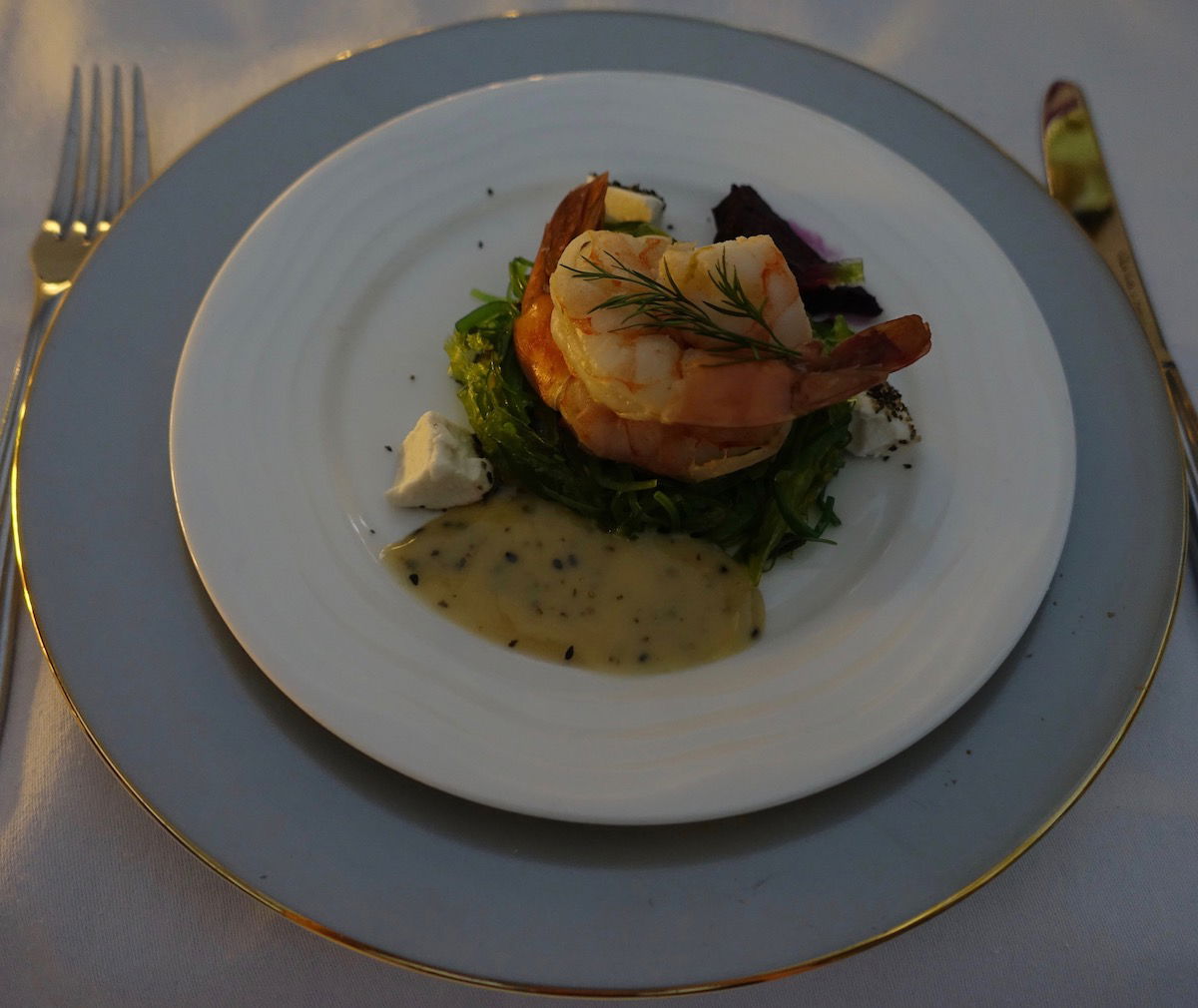 Emirates first class seared prawns appetizer
After that we decided to check out the onboard bars. There's a small bar at the front of the first class cabin by the staircase. This isn't really a social area since it's right by the shower suites, but it is very well stocked with drinks, and also some packaged snacks.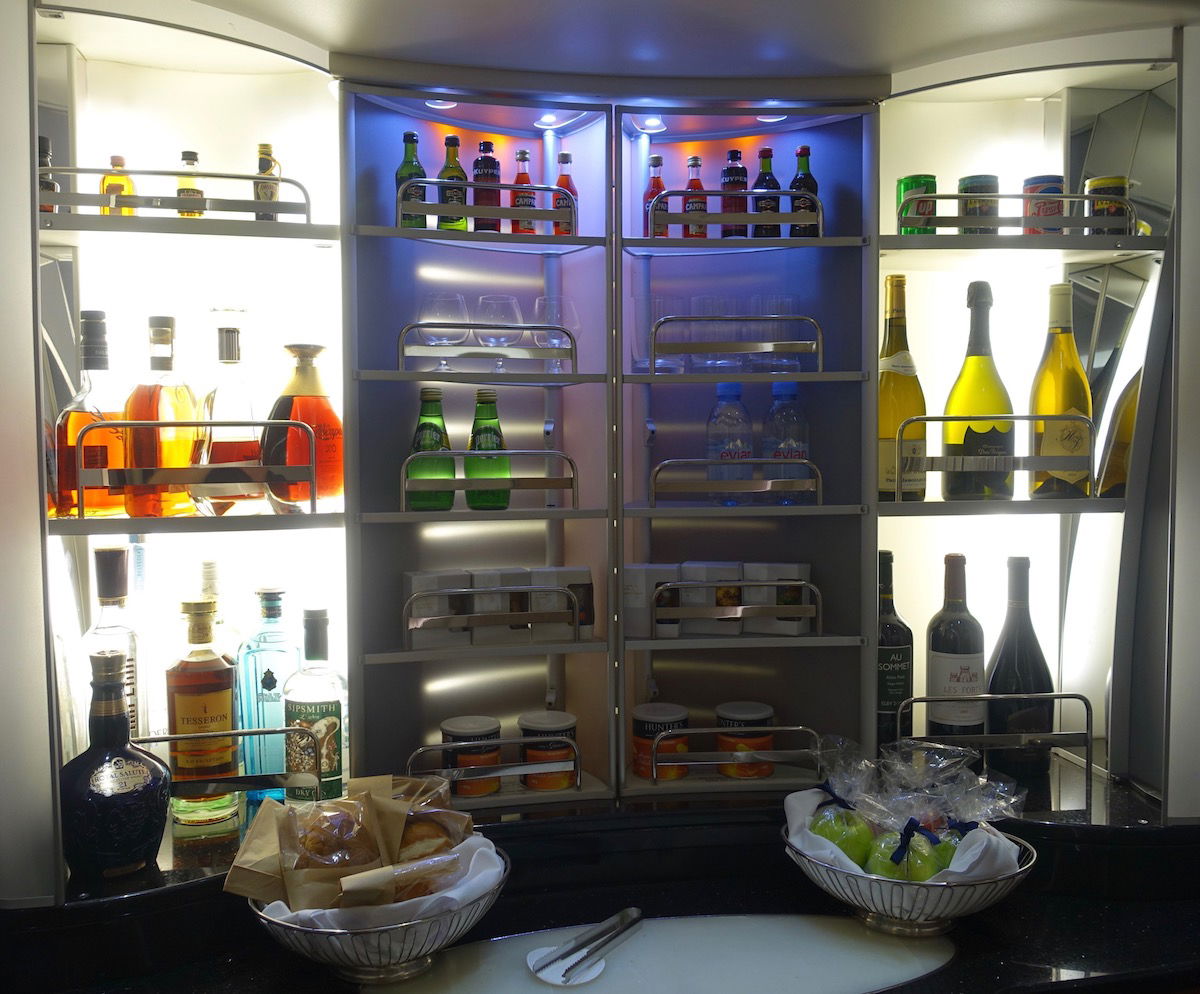 Emirates first class bar
On display was a bottle of Hennessy Paradis (I'm not sure why it had white tape around it?) as well as a bottle of Dom Perignon.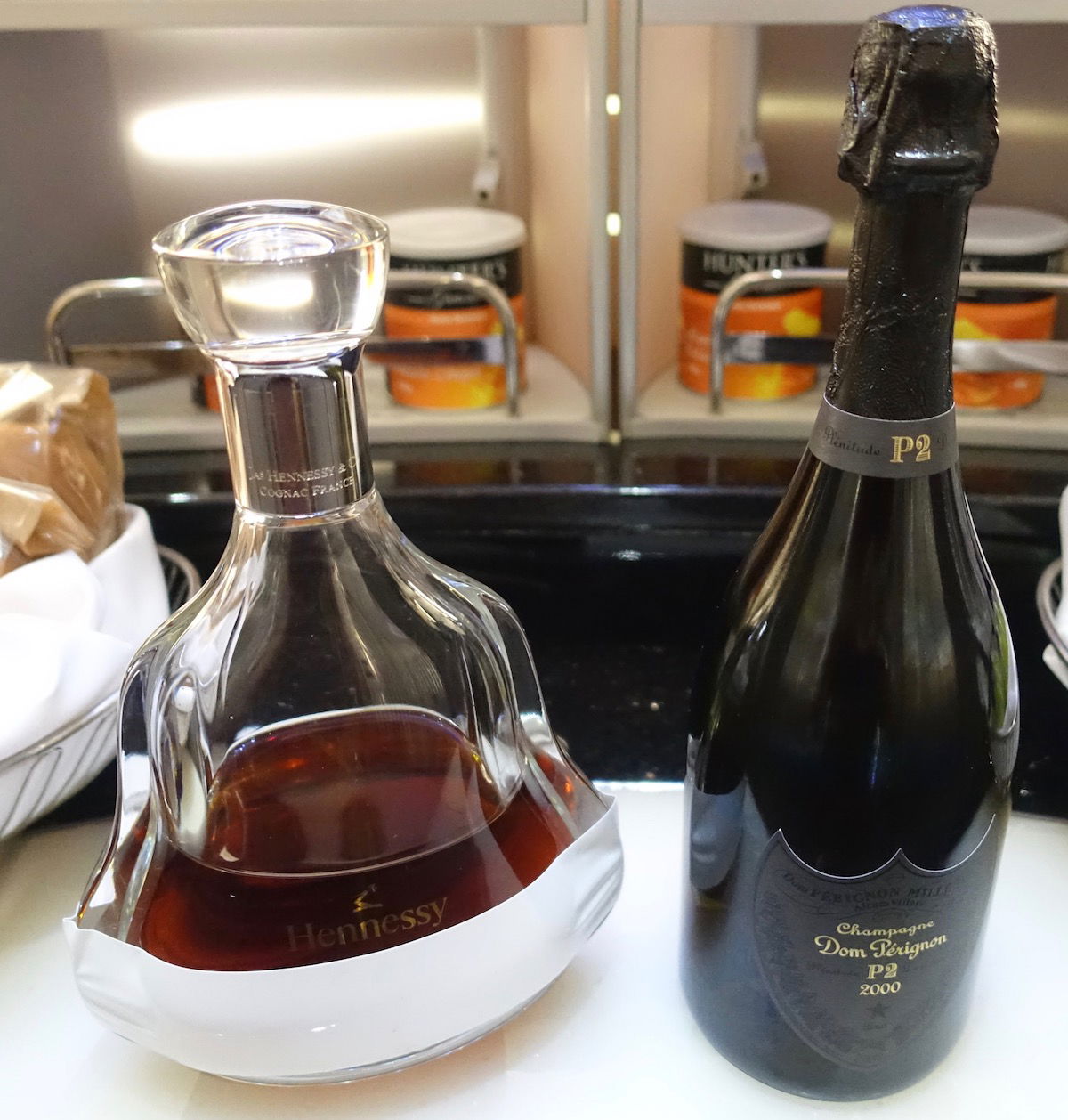 Emirates first class Dom Perignon & Hennessy Paradis
At that point we walked back to the main bar, located at the back of business class. Emirates has two business class cabins on the A380, featuring a total of 76 seats — the forward cabin has 58 seats, while the rear cabin has 18 seats.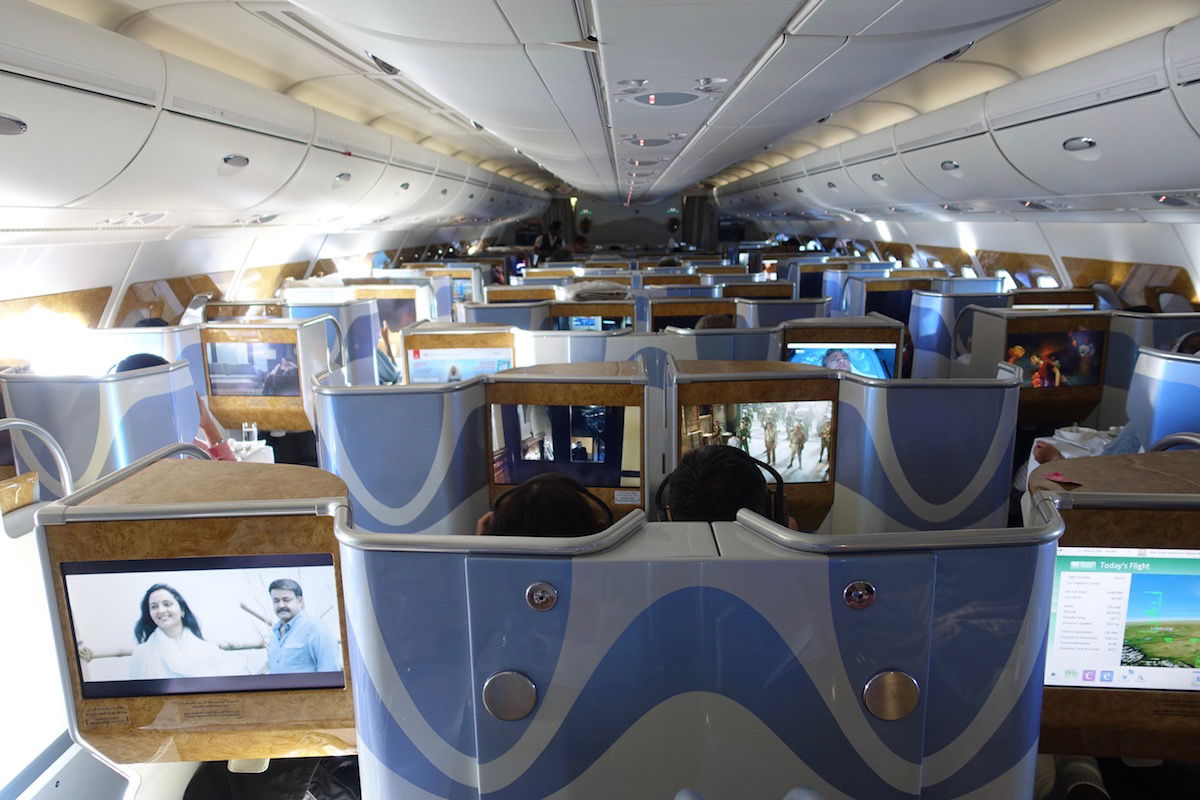 Emirates business class cabin A380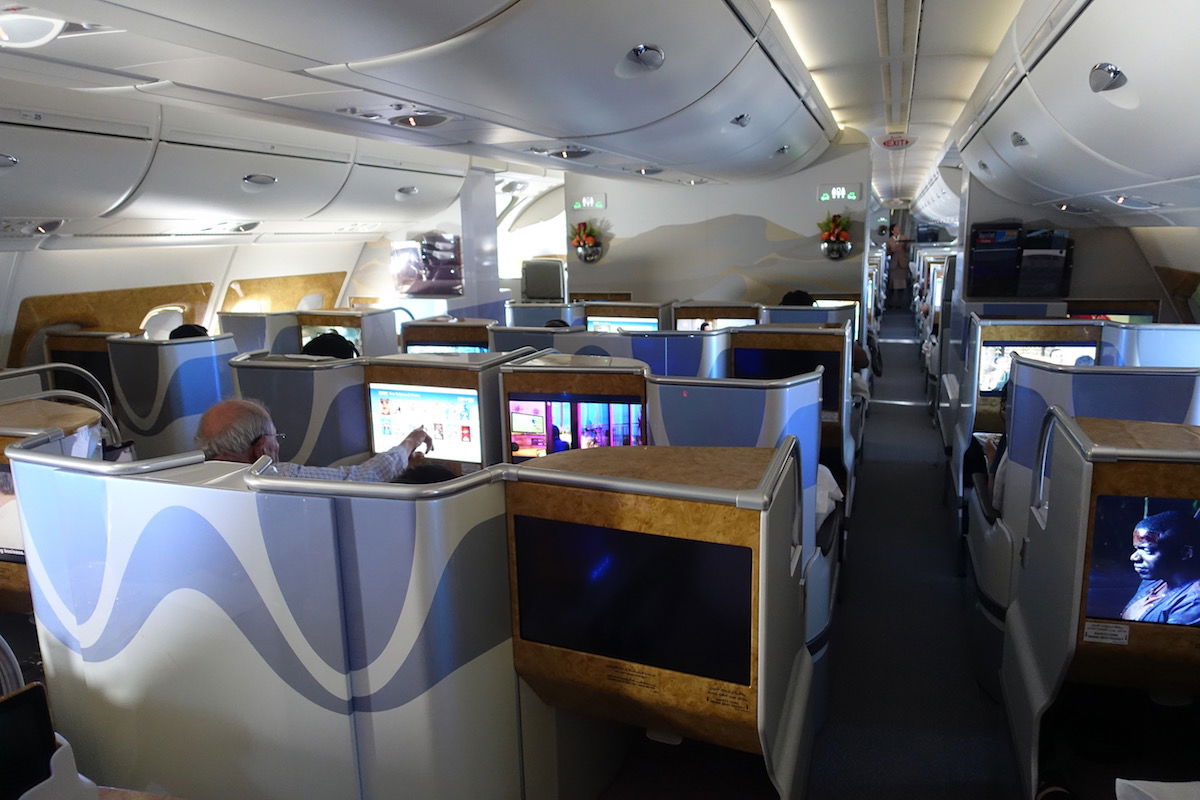 Emirates A380 business class cabin
Then there's the beautiful bar at the very back. Emirates actually has a new style of bar, though very few three cabin A380s have it as of now, so we didn't luck out this time. The bar has a couch on each side of the cabin, as well as a large television monitor.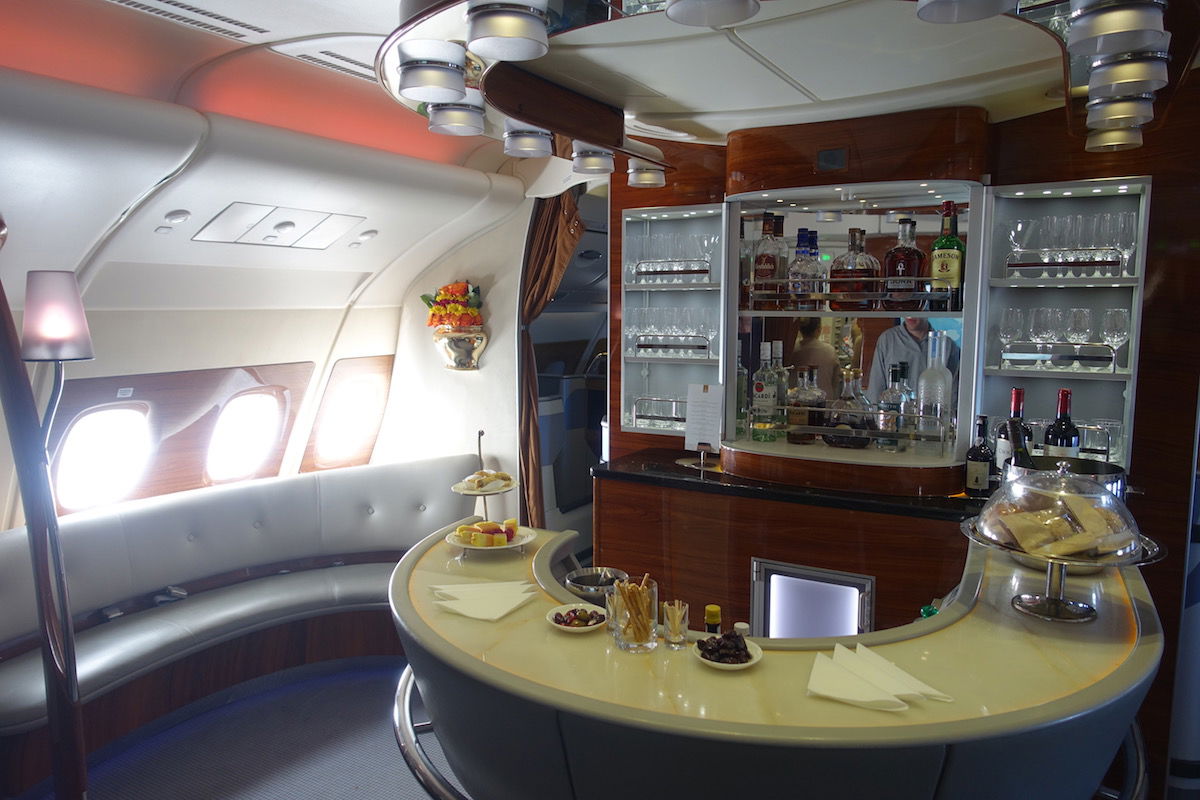 Emirates A380 bar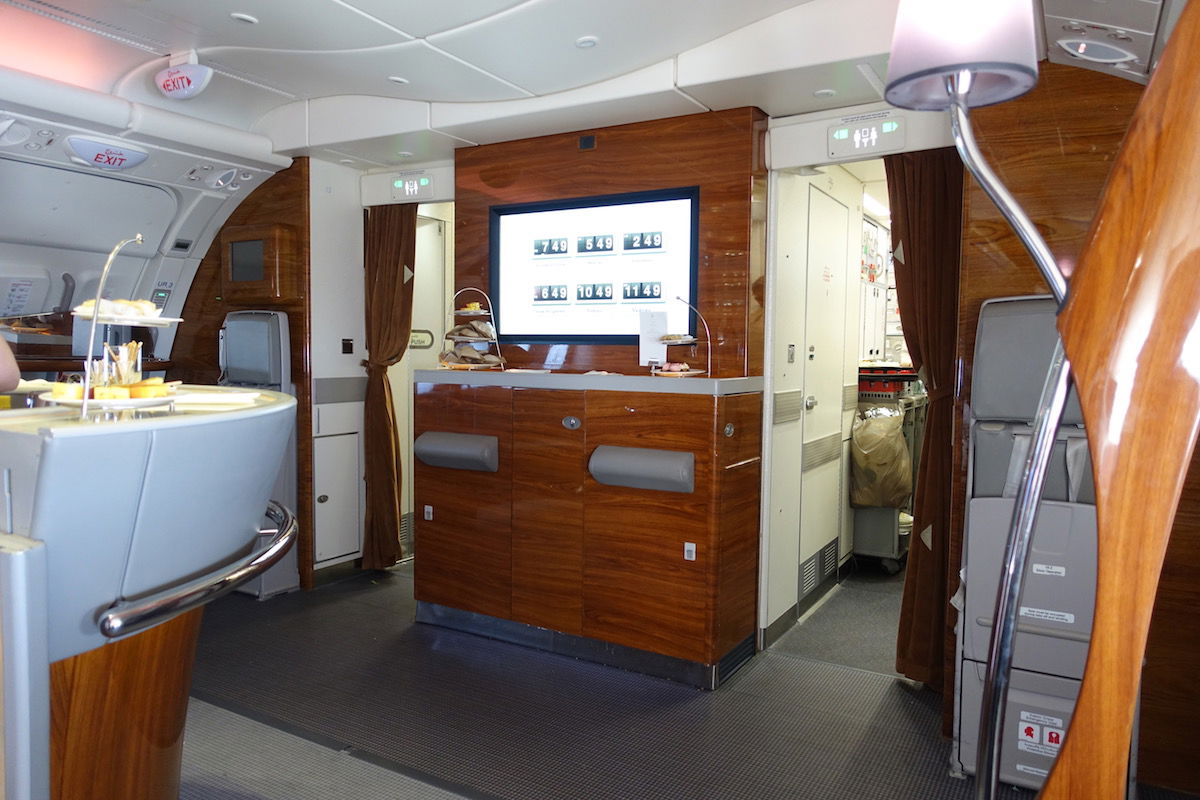 Emirates A380 bar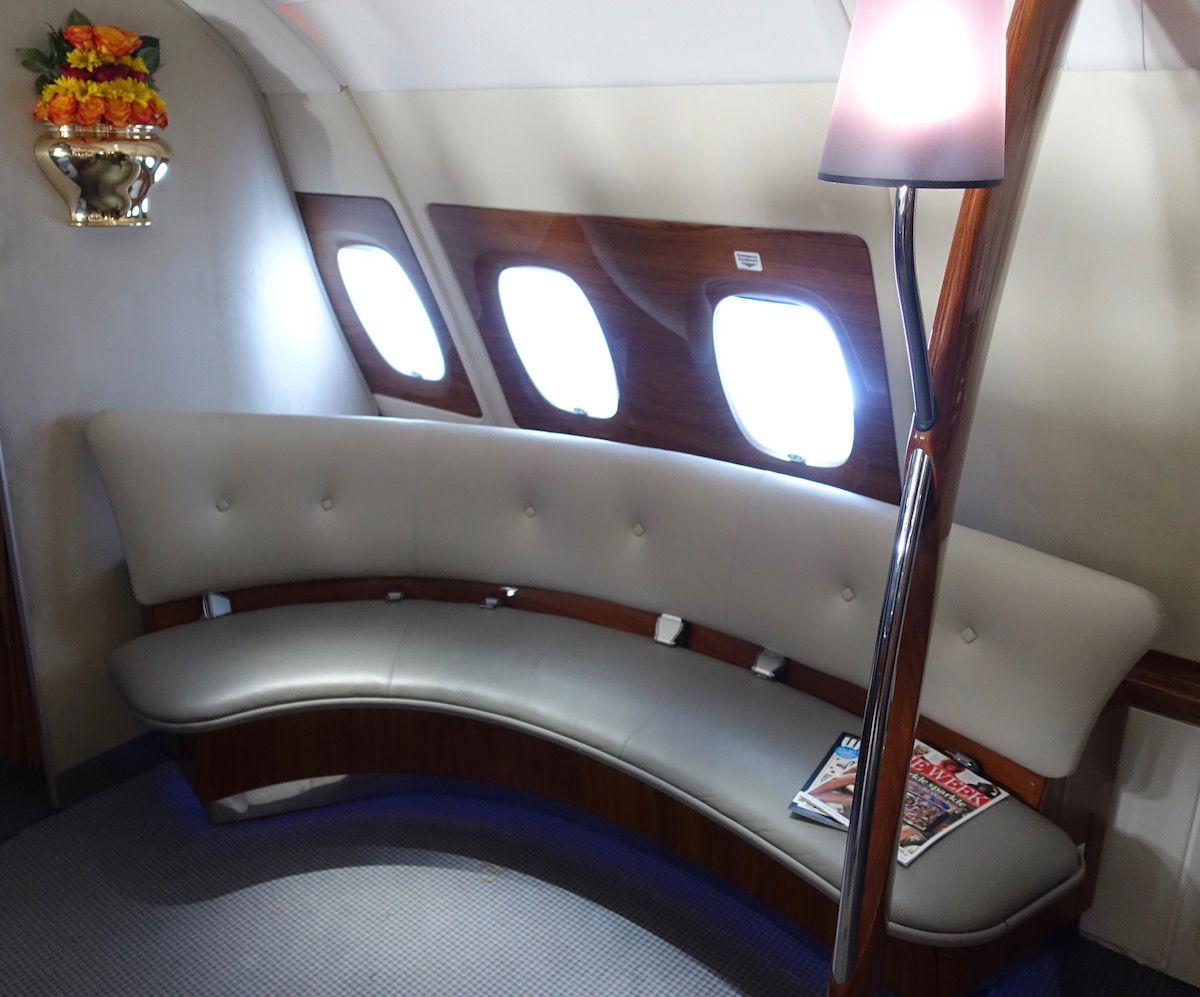 Emirates A380 bar
Of course you could also order a cocktail at your seat, but there is something fun about ordering drinks at a bar on a plane.
The bar cocktail menu read as follows: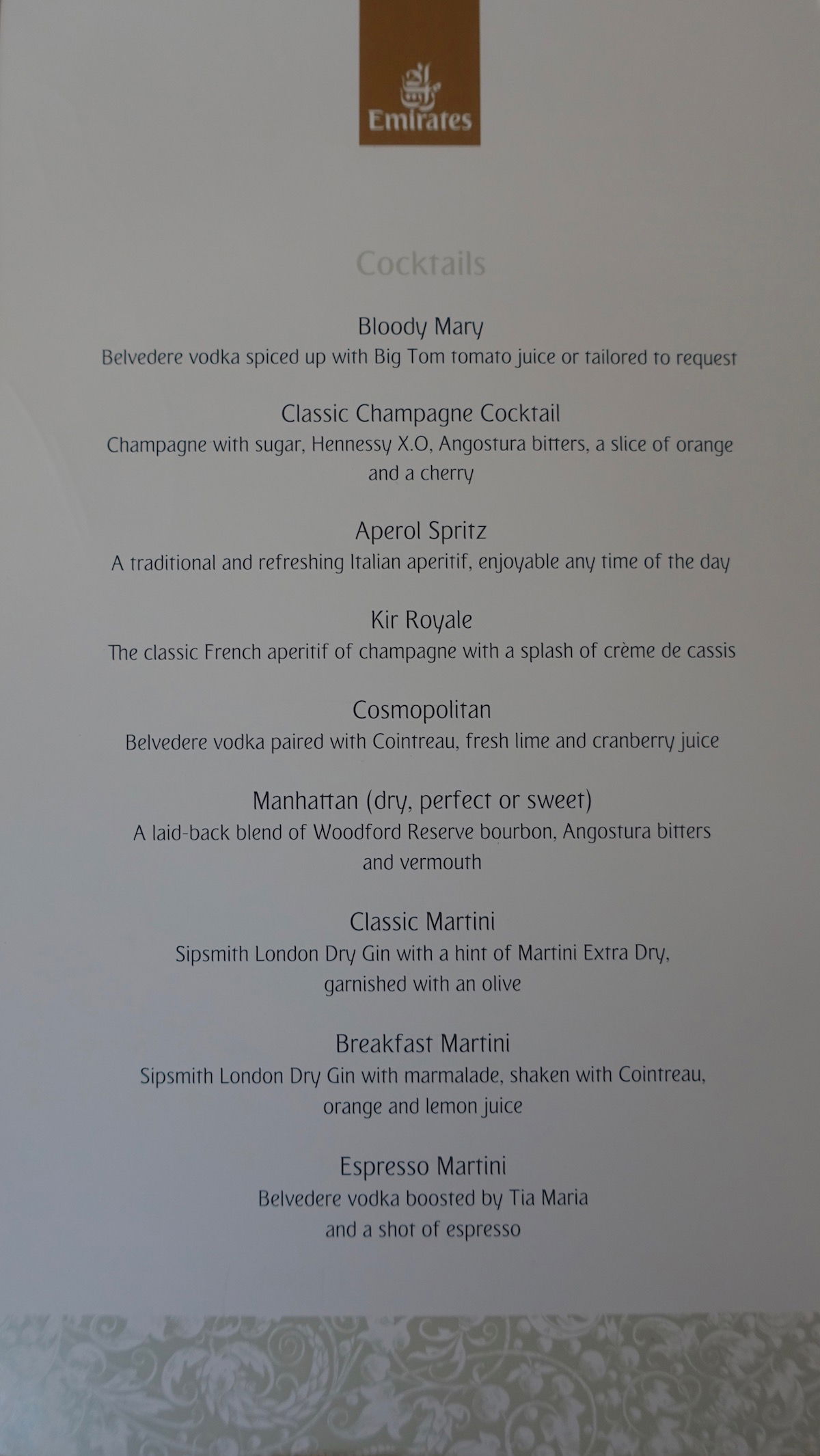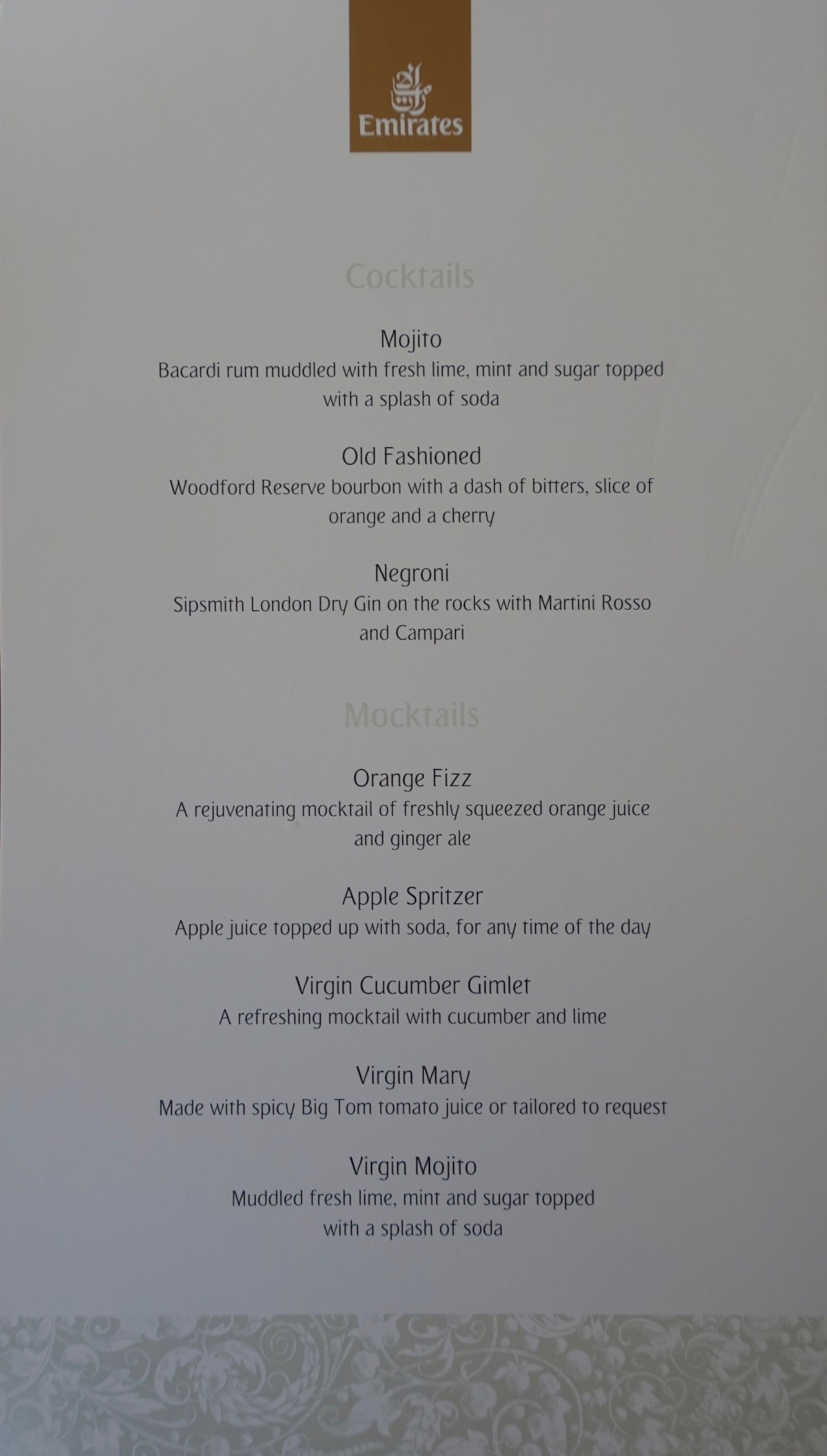 We ended up staying at the bar for a couple of hours, and ended up ordering espresso martinis, and then regular martinis.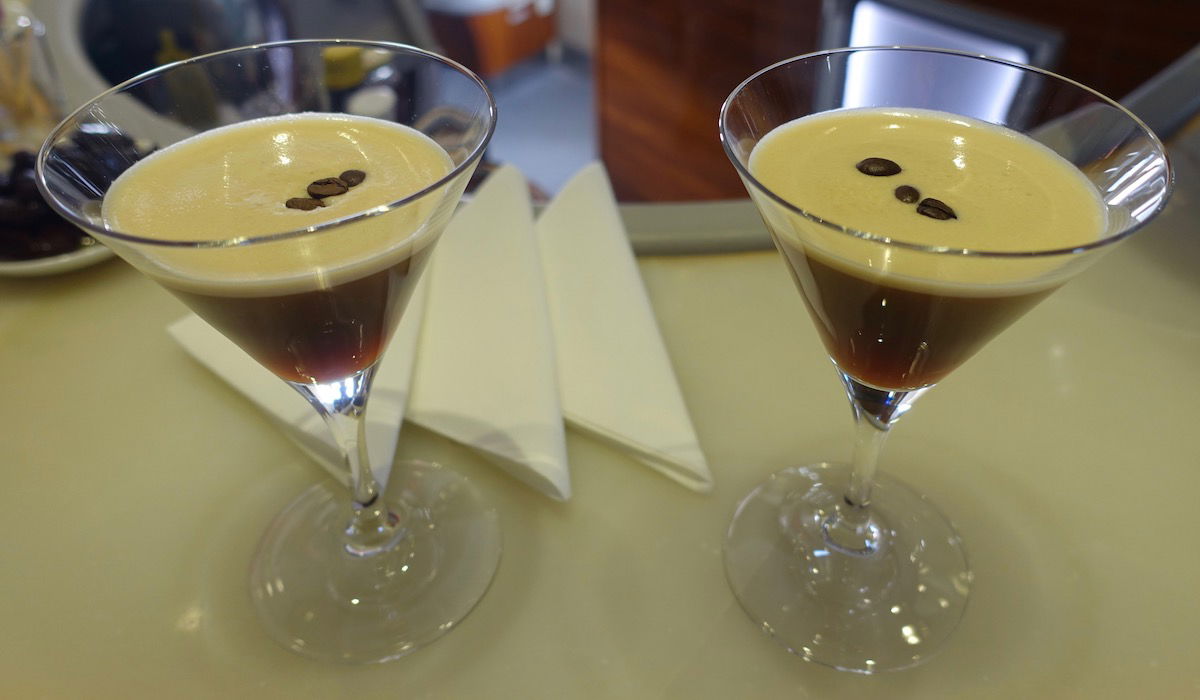 Emirates espresso martinis
We were pretty sleepy at this point, and in the meantime the first class flight attendants had come back to the bar to check on us, and asked if we wanted our beds made for when we return to our seats. We said we did, and we returned about 30 minutes later, with about 12 hours remaining in our flight.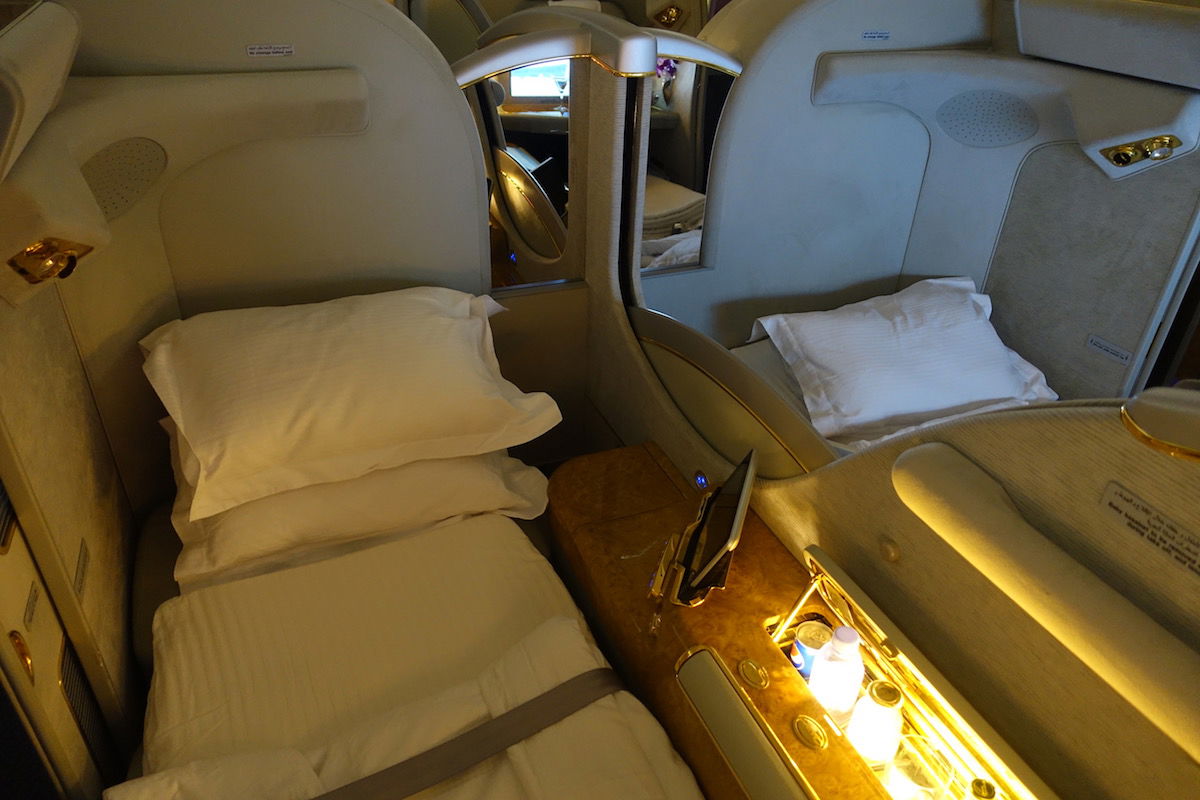 Emirates first class beds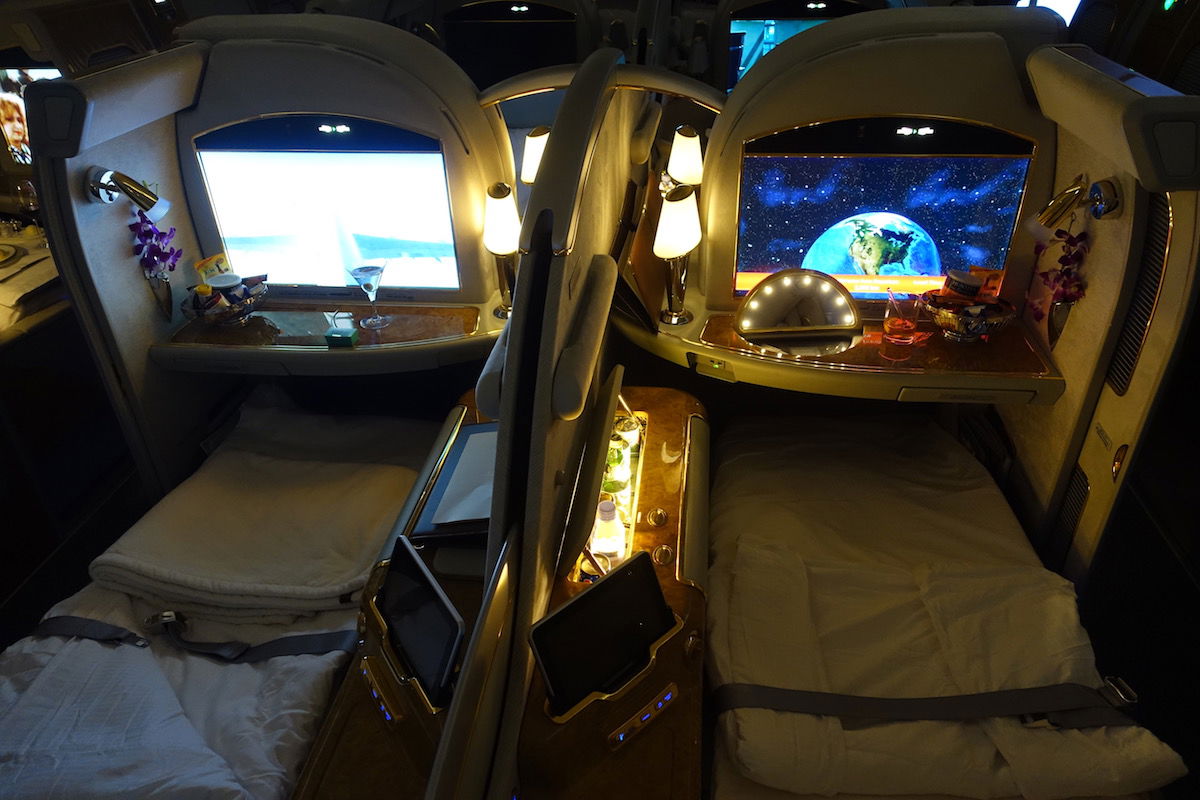 Emirates first class beds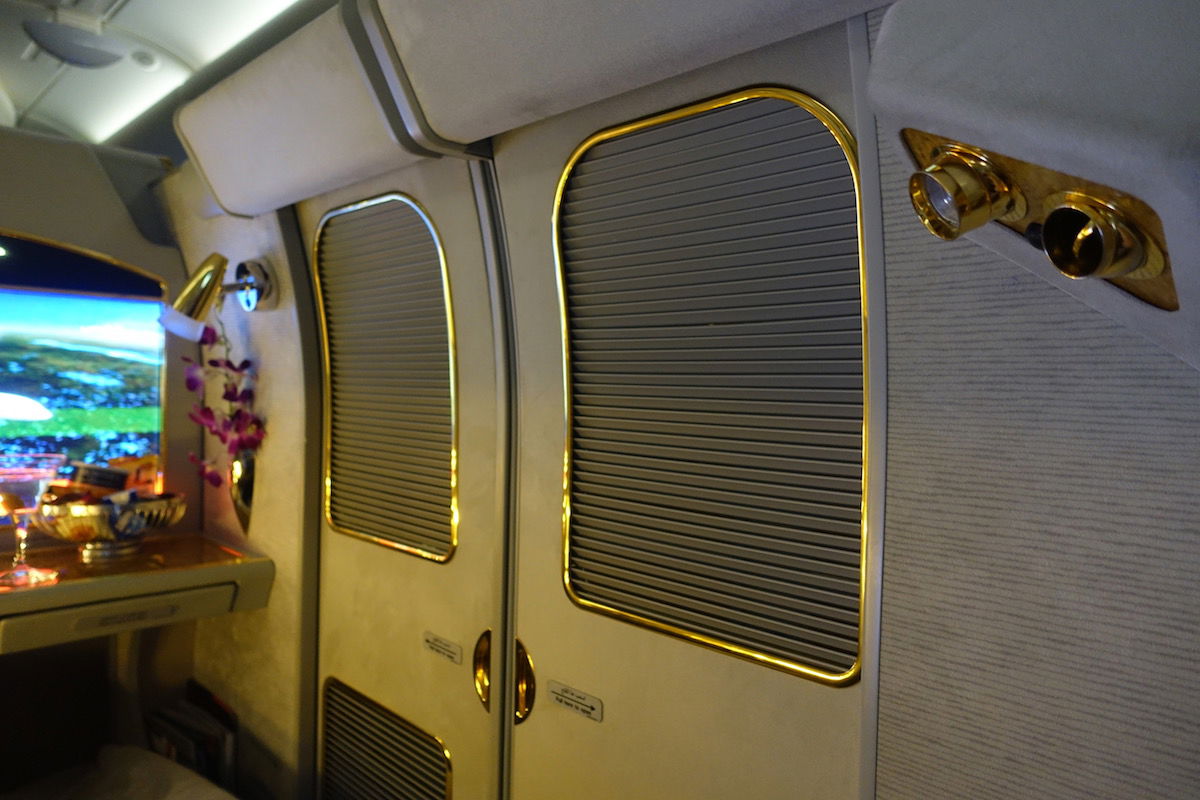 Emirates first class enclosed suite
The cabin was dark at this point, and there were stars on the ceiling, which is cute feature.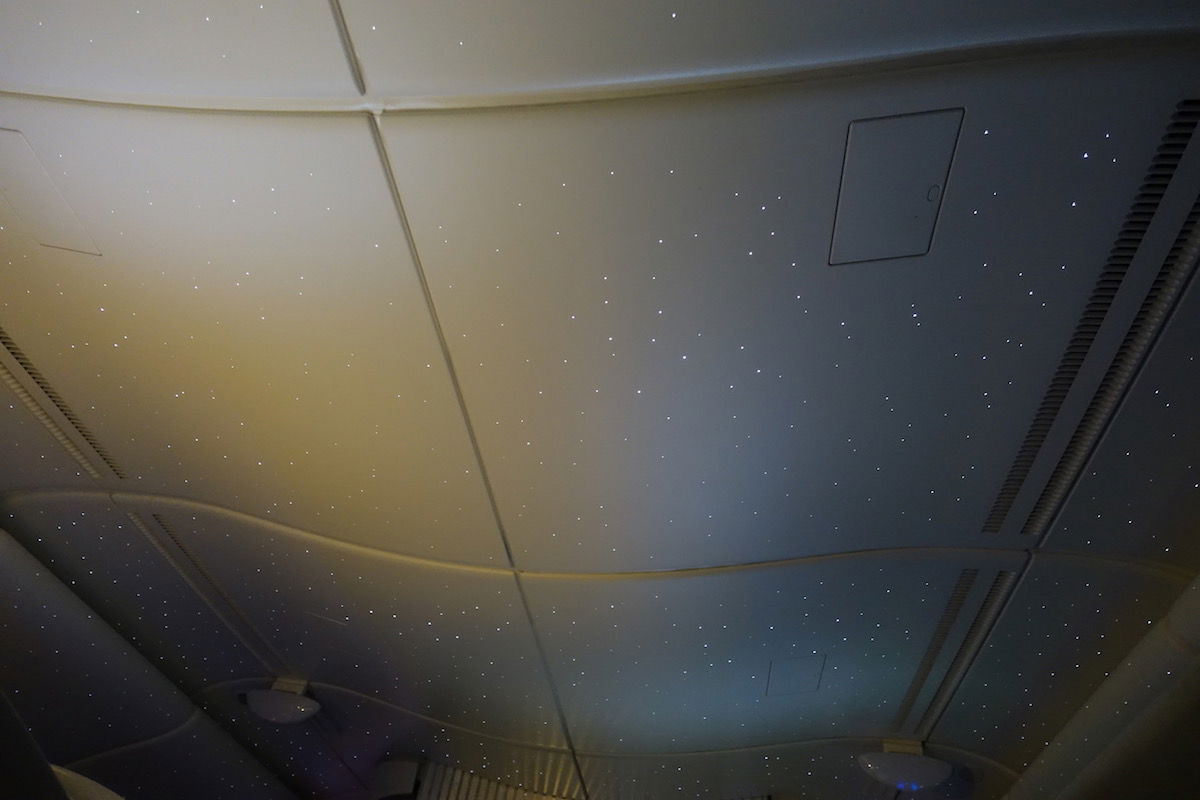 Emirates first class stars
I fell asleep as we were over Northern Canada.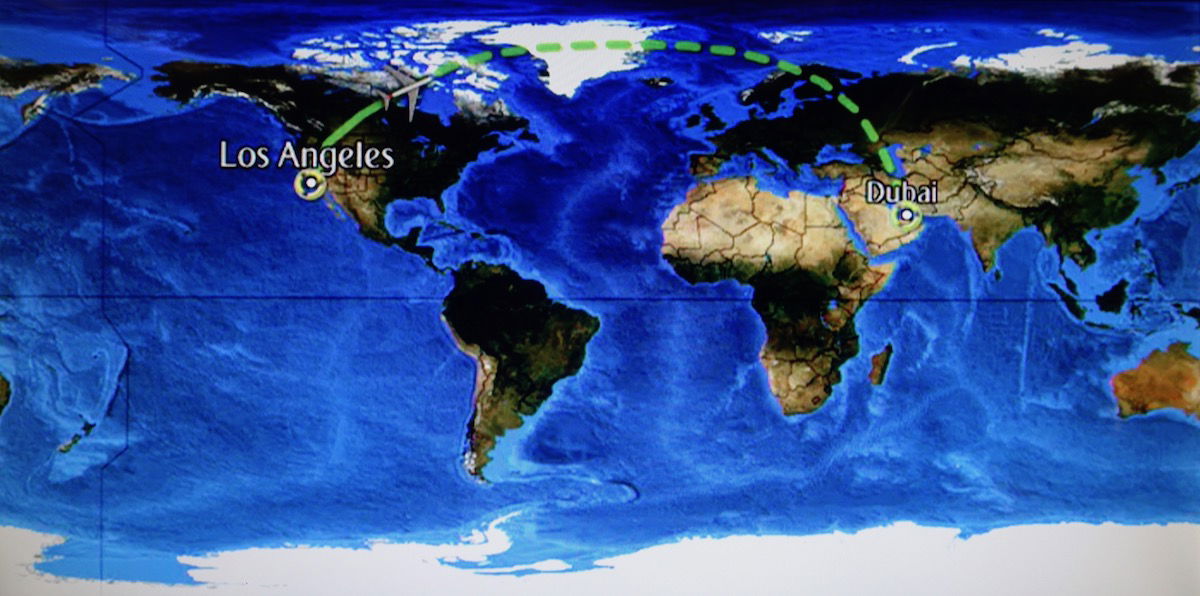 Flight map to Dubai
Emirates' bedding is excellent, and I managed to get about six hours of sleep, so woke up with just under six hours remaining in the flight. Ford and I woke up around the same time, so decided to order dinner, or whatever you'd call a meal at this point. I was hungry, but not that hungry, so I just went straight for the main.
I ordered the miso-glazed cod, which was excellent.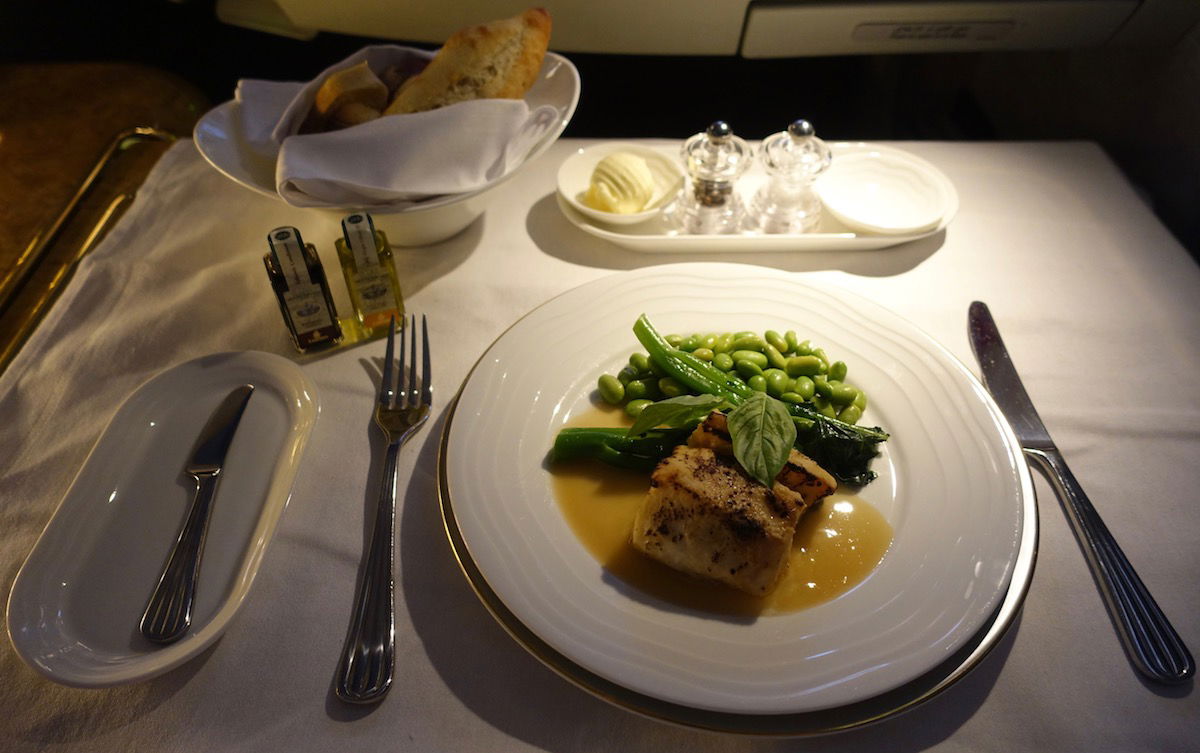 Emirates first class miso-glazed cod
Ford had a salad to start, which he could customize.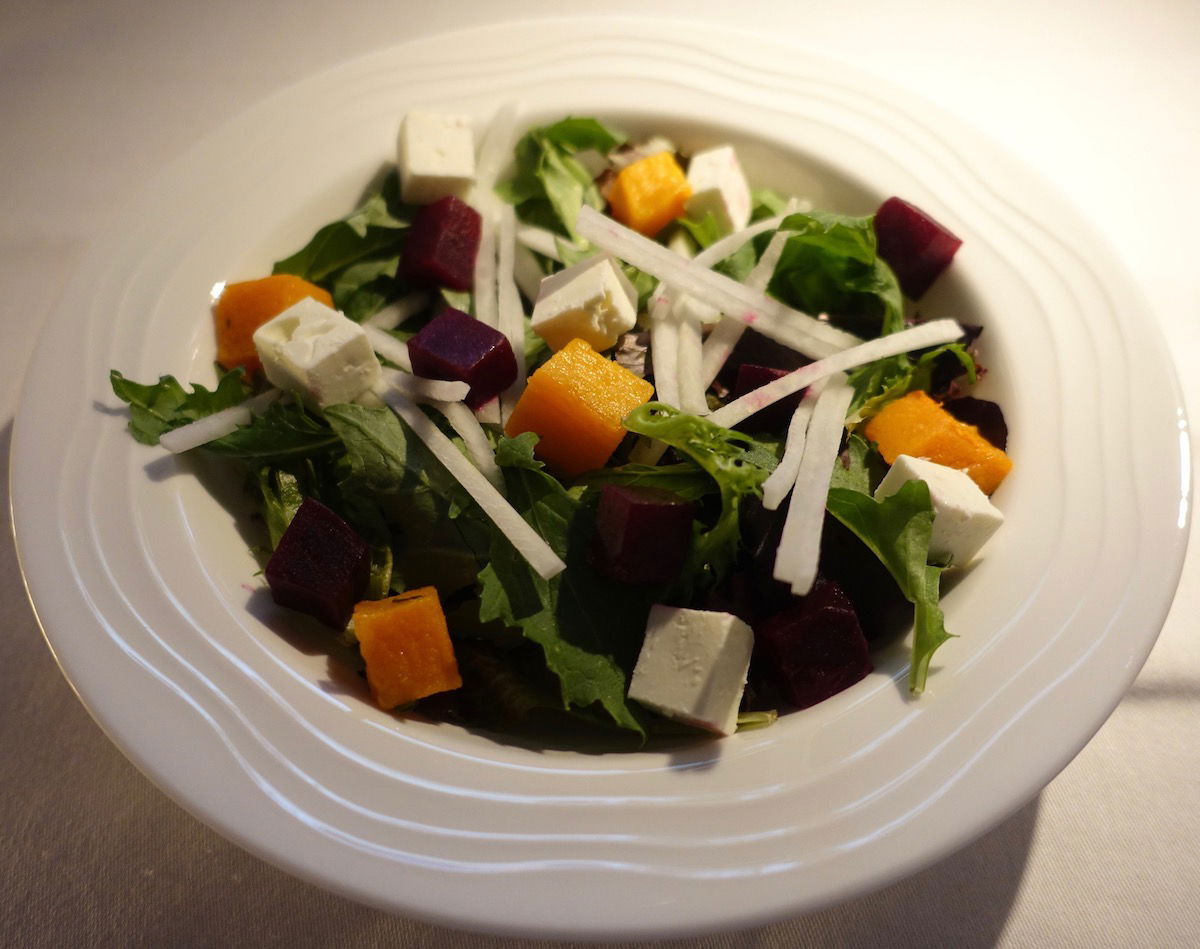 Emirates first class salad
He then had the Bangalore chicken, which he enjoyed.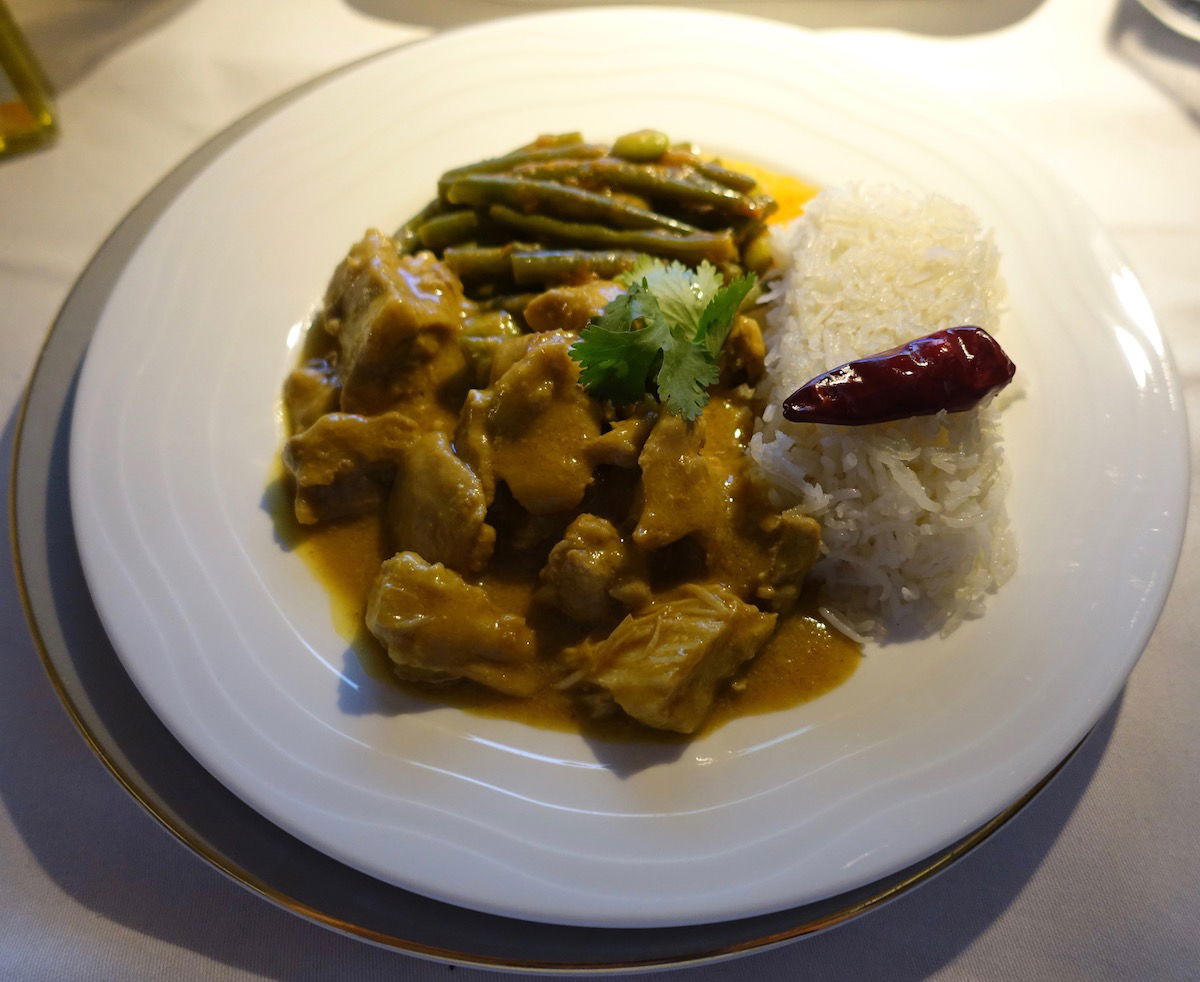 Emirates first class Bangalore chicken
For dessert I decided to order the lemon drizzle cake.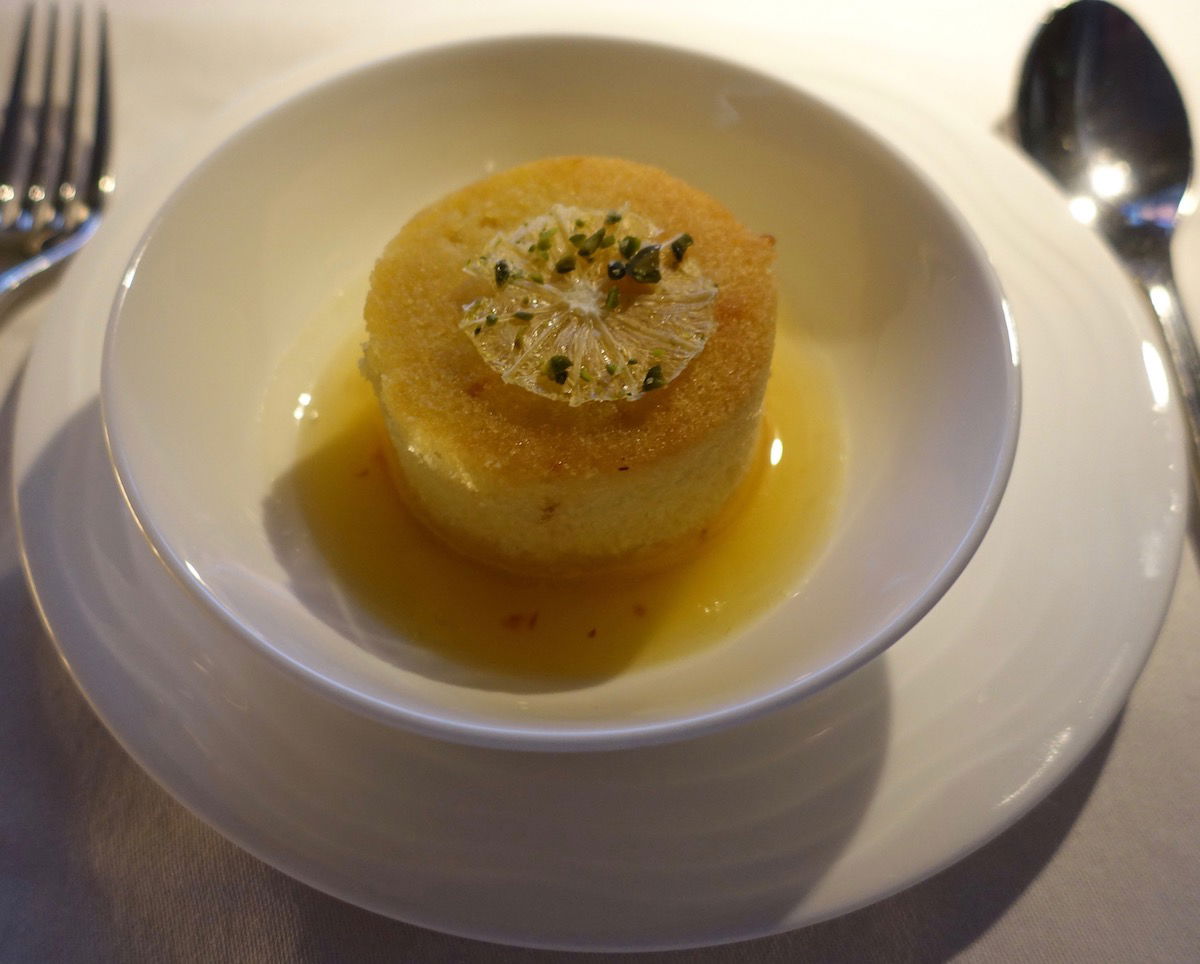 Emirates first class lemon drizzle cake
At this point I checked out the tail camera, and it was light again outside, after a short night, and we were over Northern Europe.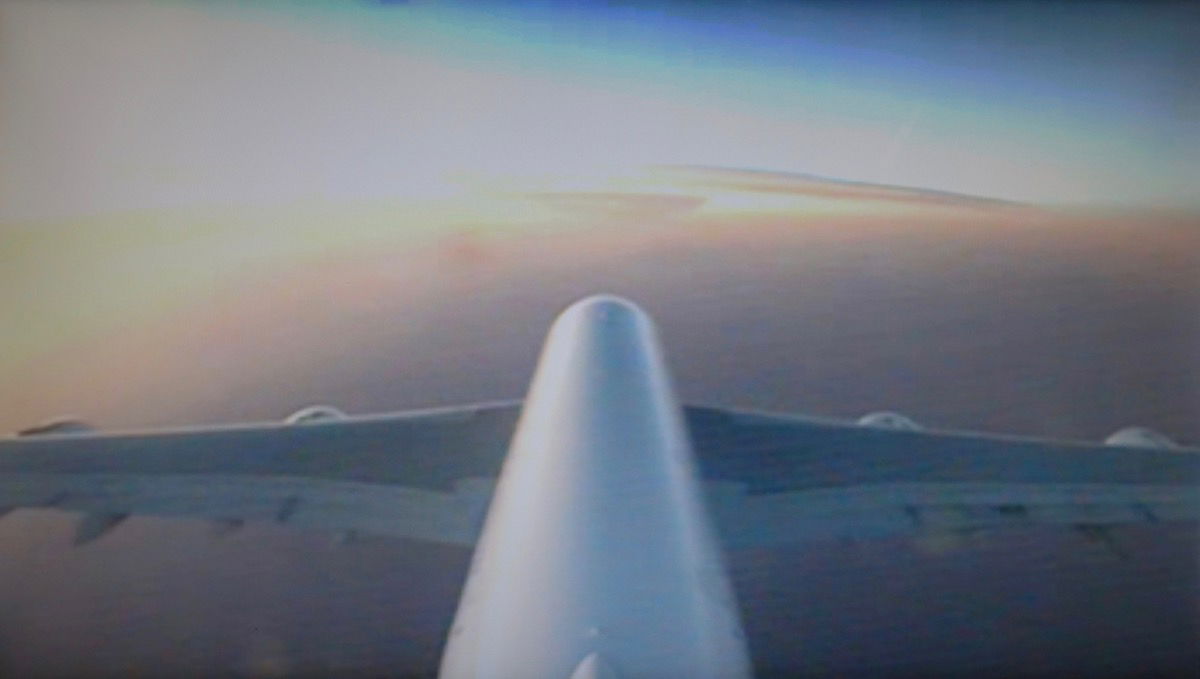 Emirates A380 tail camera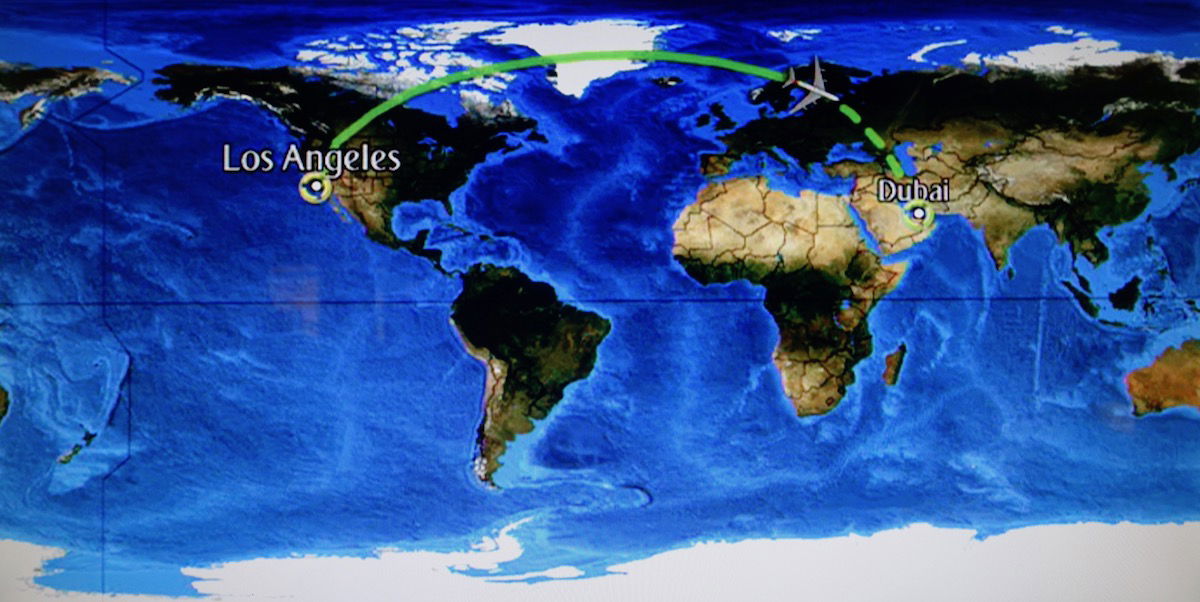 Flight map enroute to Dubai
Up until this point I haven't even touched on ICE, which is the name of Emirates' entertainment system. They have the best entertainment selection in the sky, and I decided to watch Game Night, which I found to be hilarious and stupid.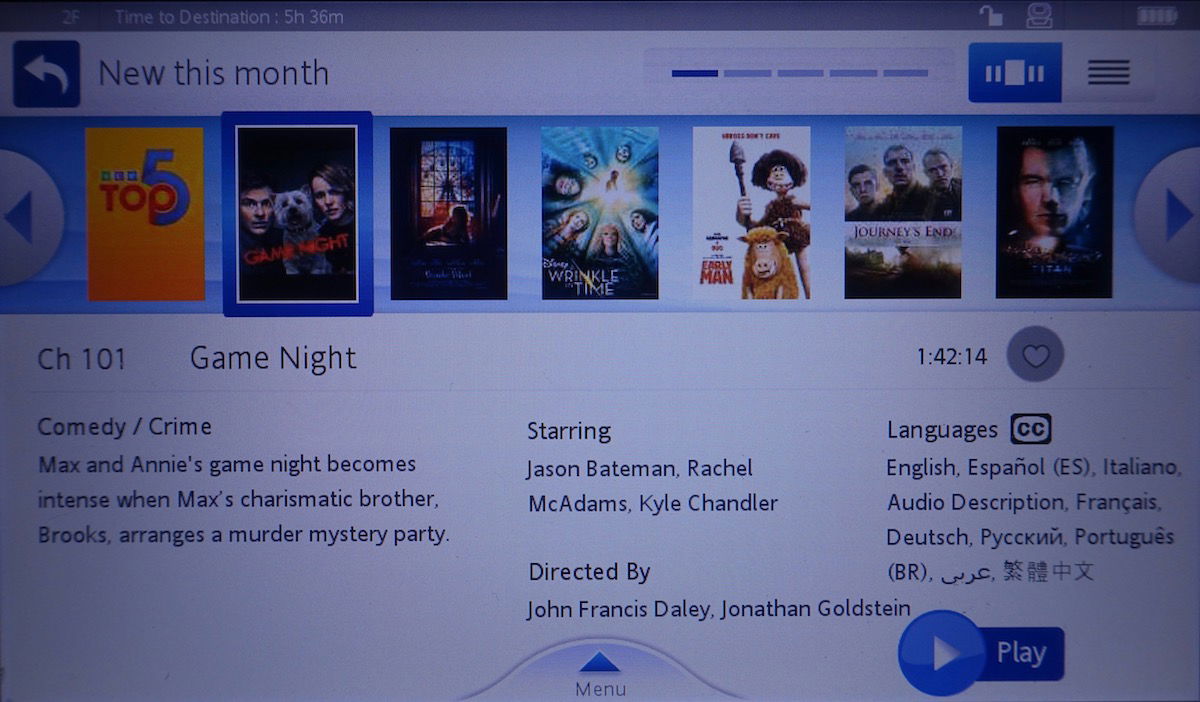 Emirates ICE system
Emirates also offers OnAir Wi-Fi on their A380s. All passengers get 10MB of data for free, and then can pay $9.99 for 150MB of data or $15.99 for 500MB of data. In theory first and business class passengers who are Skywards members are supposed to get free Wi-Fi, but since I was crediting my flight to Alaska Mileage Plan, I wasn't eligible (which I find to be an annoying policy).
The biggest catch with Emirates Wi-Fi is that it's outrageously slow, almost unusably so. Expect to be able to text and maybe check emails, but that's it.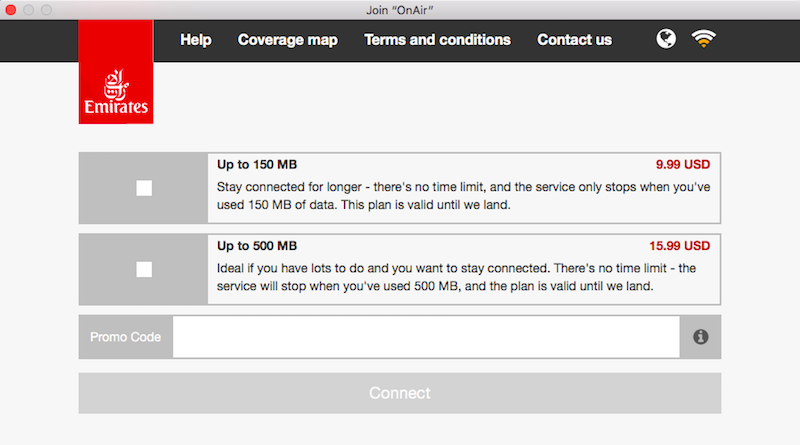 Emirates Wi-Fi
As I watched the movie I ordered a cappuccino. Emirates has soy milk on US flights, which I appreciate.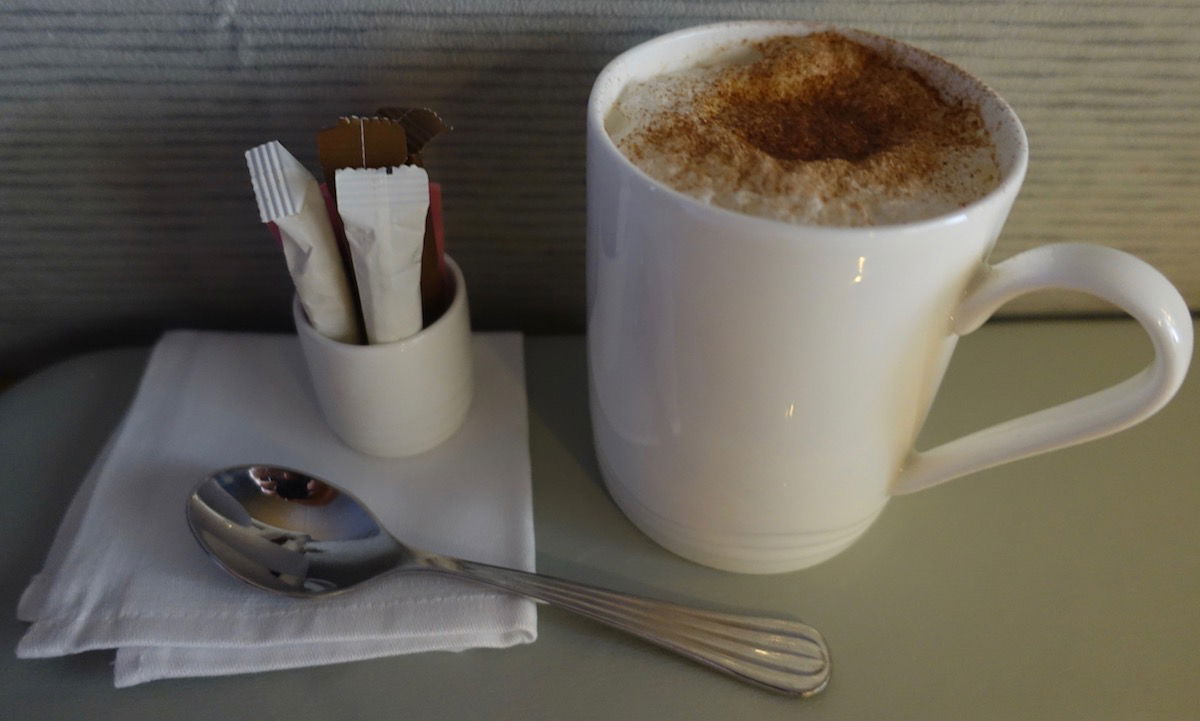 Emirates first class cappuccino
Later on in the flight I ordered a French press coffee, which is another cool coffee option they have.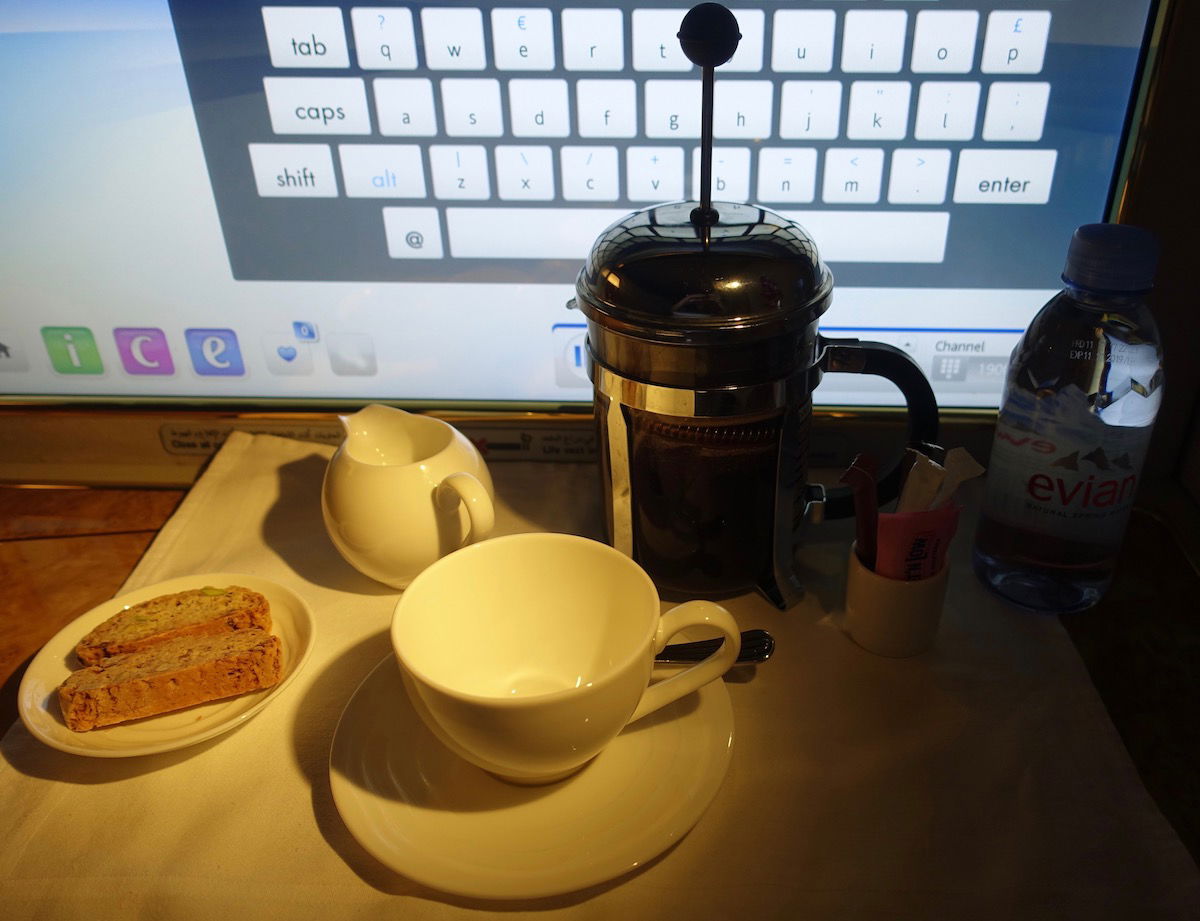 Emirates French press coffee
While we had originally scheduled our showers for an hour before landing, I was feeling a bit groggy and felt like a shower would help, so asked if I could shower ASAP. The flight attendants checked with the shower attendants, and within 10 minutes my shower was ready.
Emirates has two showers at the front of first class (and two shower attendants, for that matter). I've probably showered in Emirates first class a couple of dozen times at this point, but it still makes me giggle every time. Showering on a plane simply never gets old.
The shower suite is spacious when you consider you're on a plane, and also nicely designed.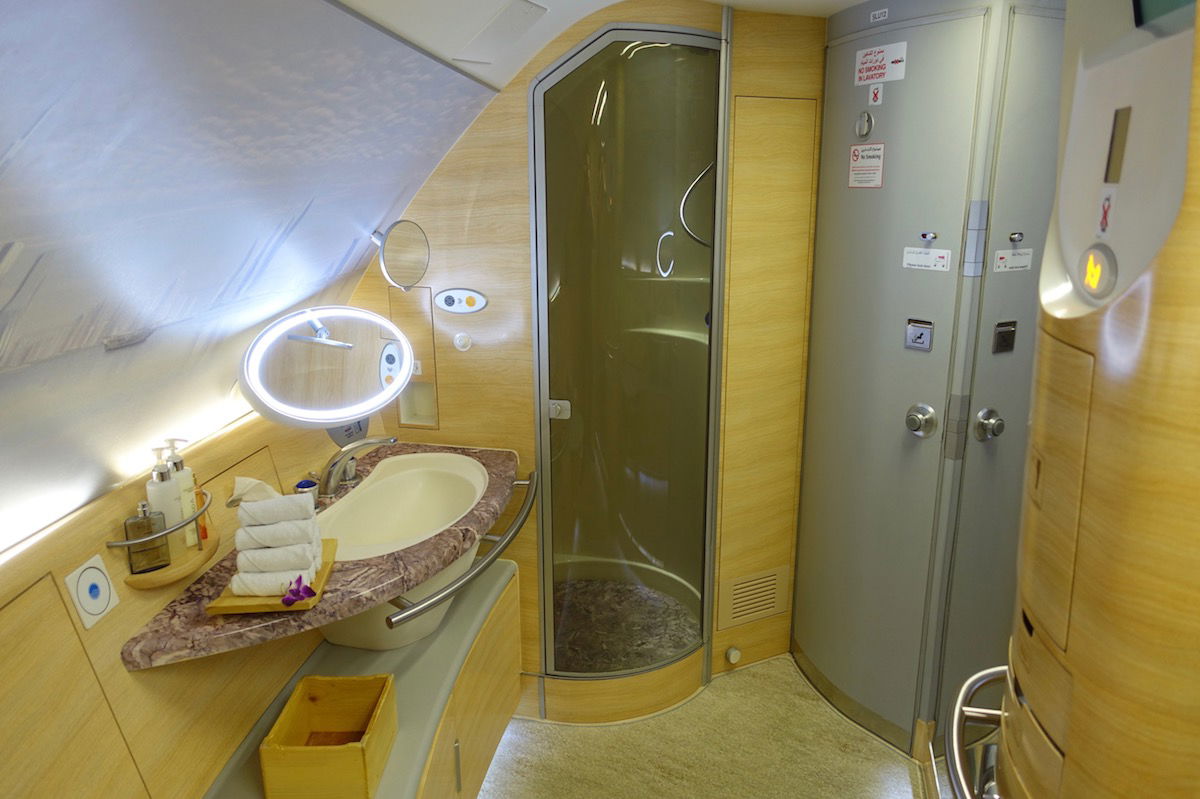 Emirates first class shower suite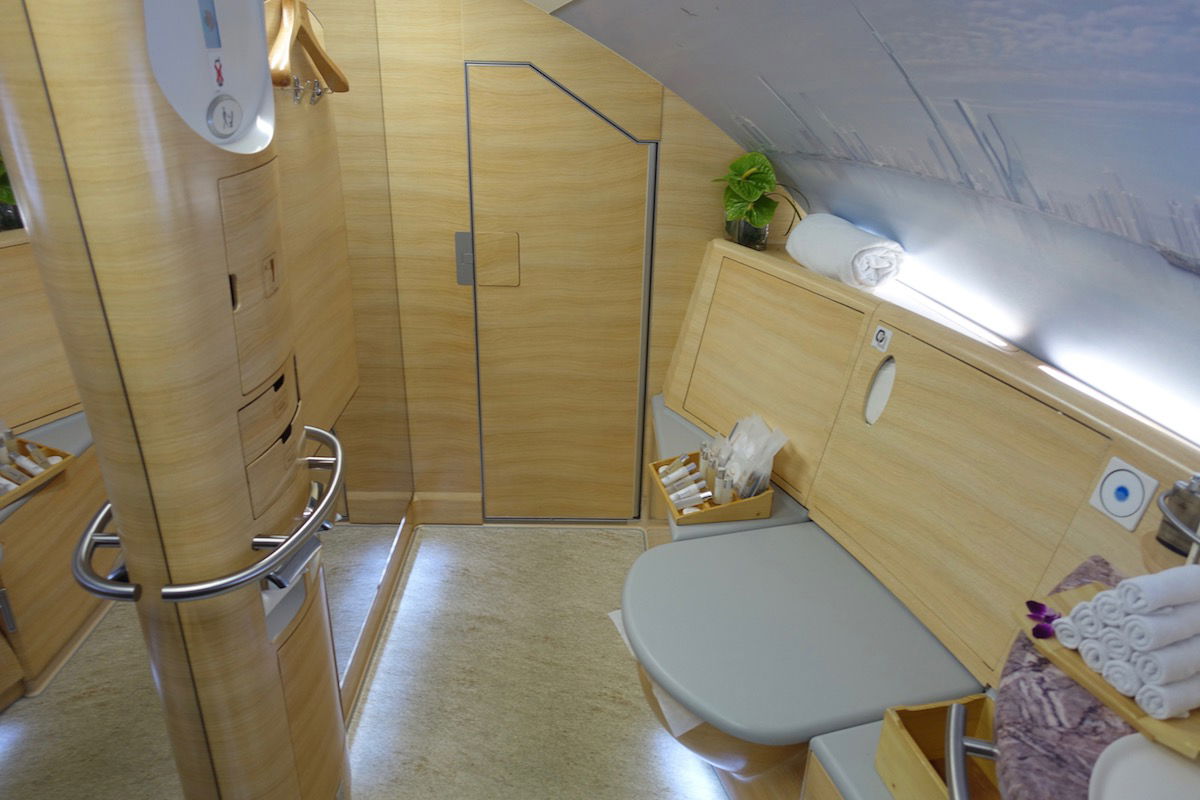 Emirates first class shower suite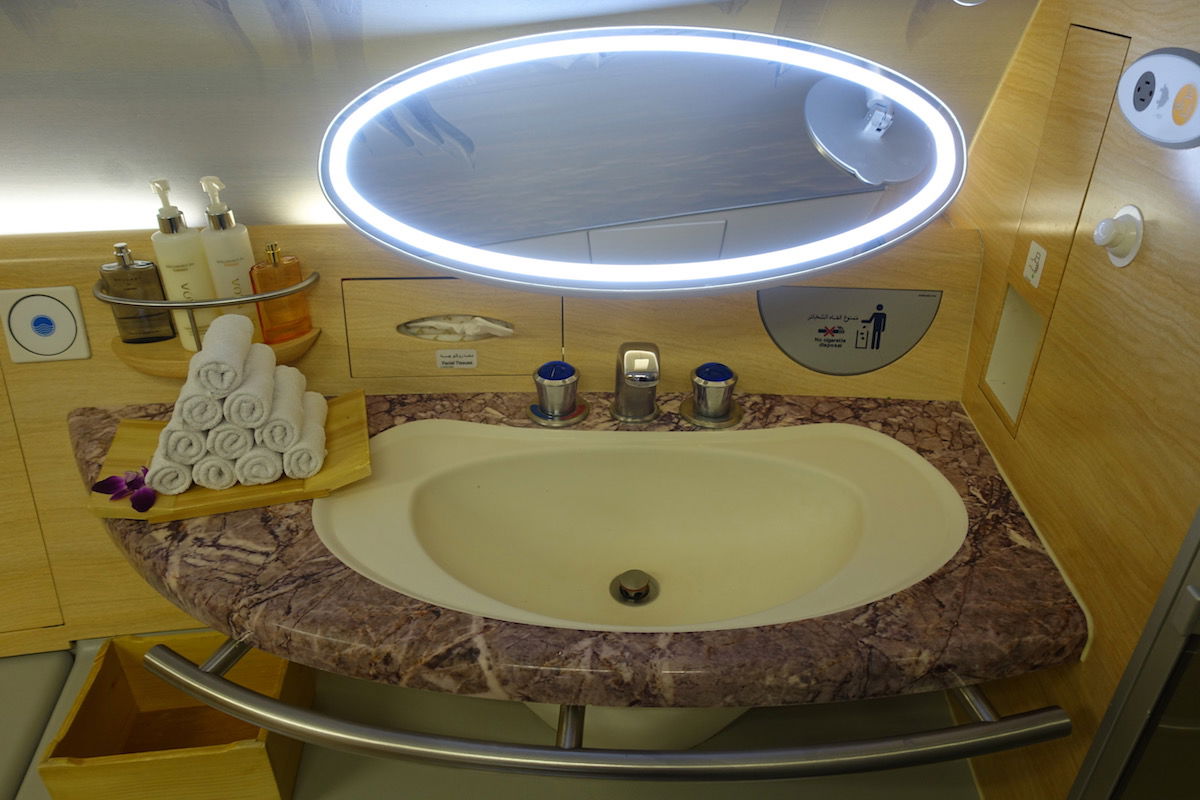 Emirates first class shower suite
There are tons of toiletries, so you really don't need to bring anything.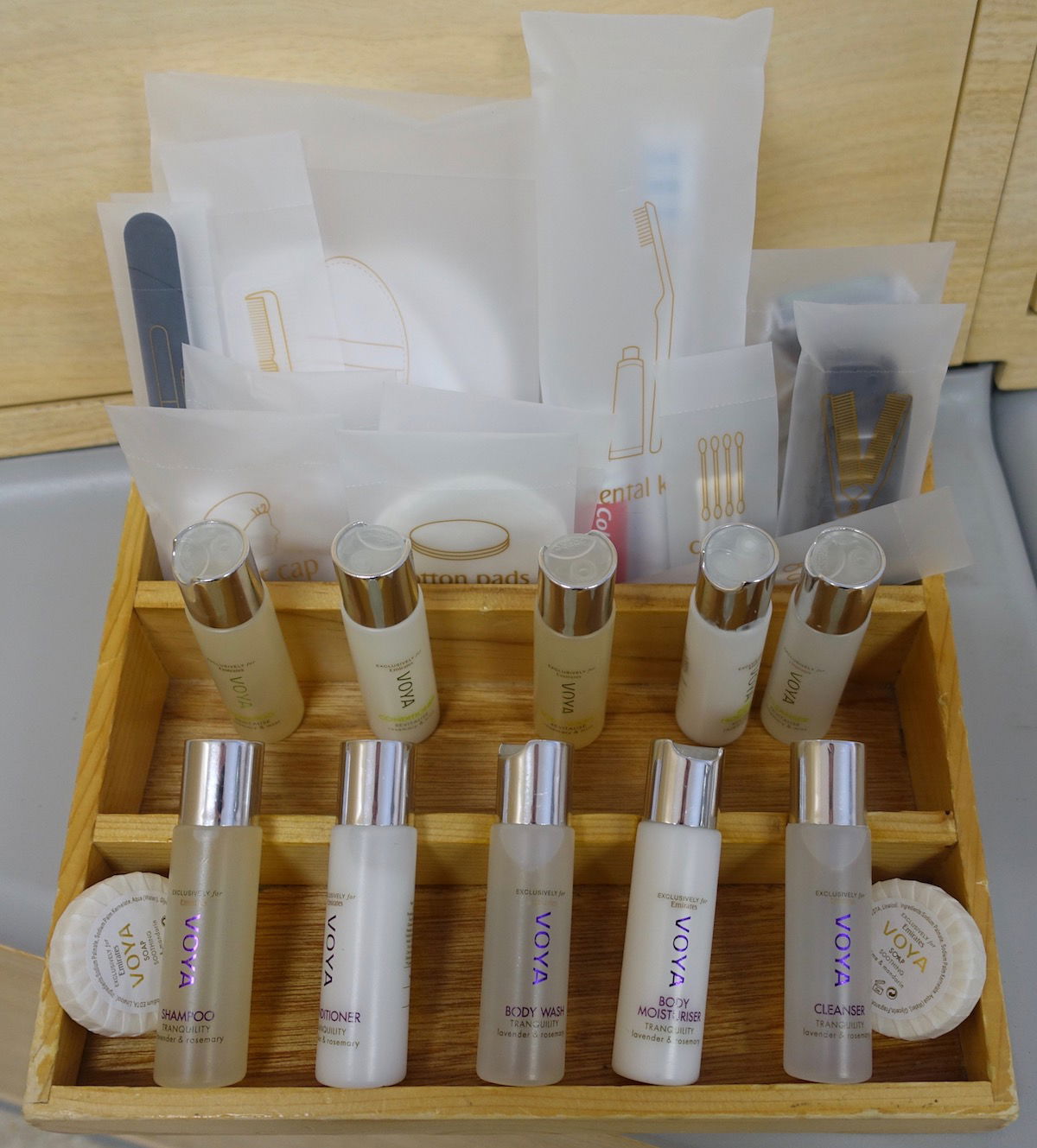 Emirates first class toiletries
The shower suite is so over the top that you can even control the temperature of the floor.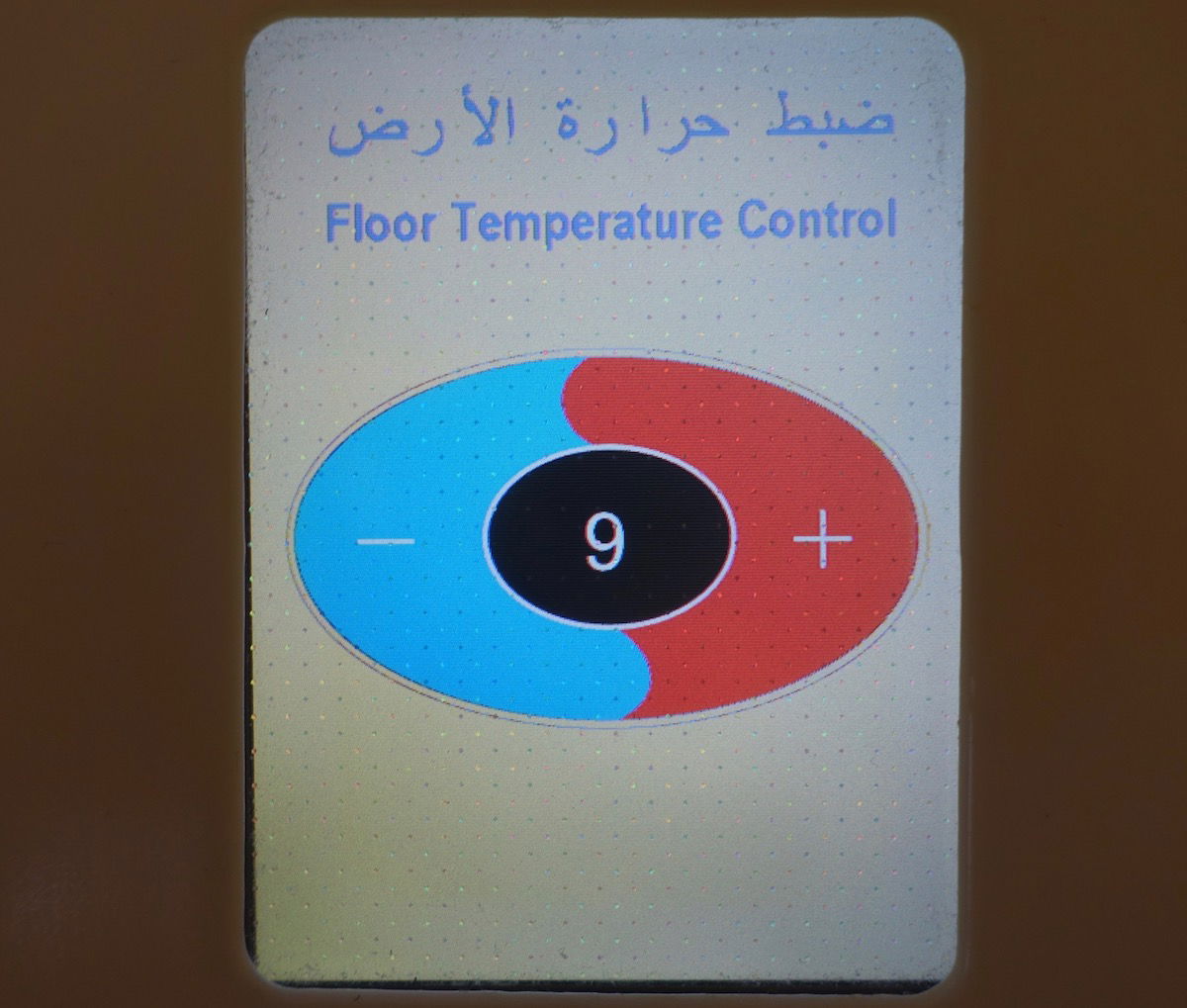 Emirates first class floor temperature controls
The shower itself is a pretty good size, and in the event of turbulence you're advised to take a seat on the bench.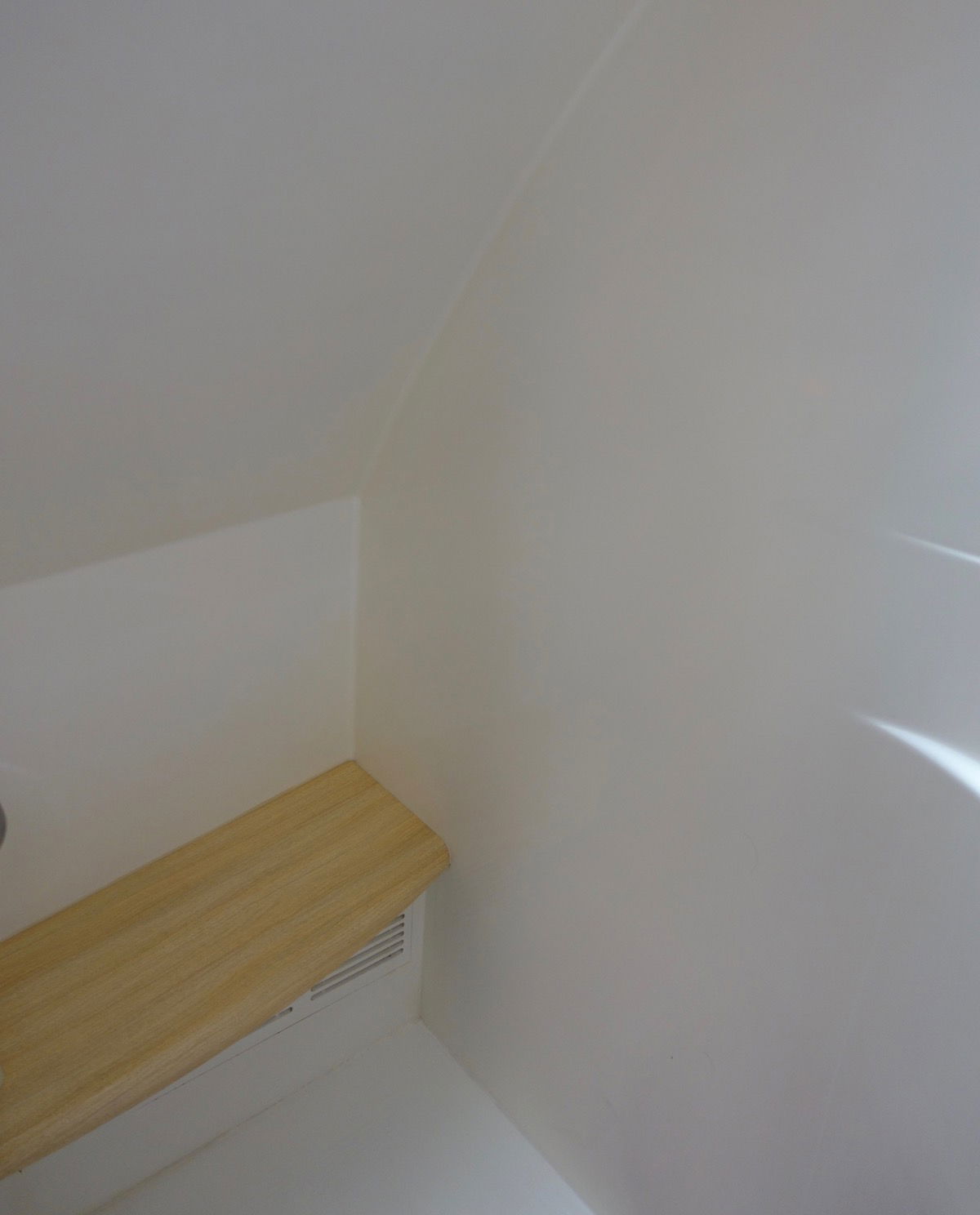 Emirates A380 first class shower suite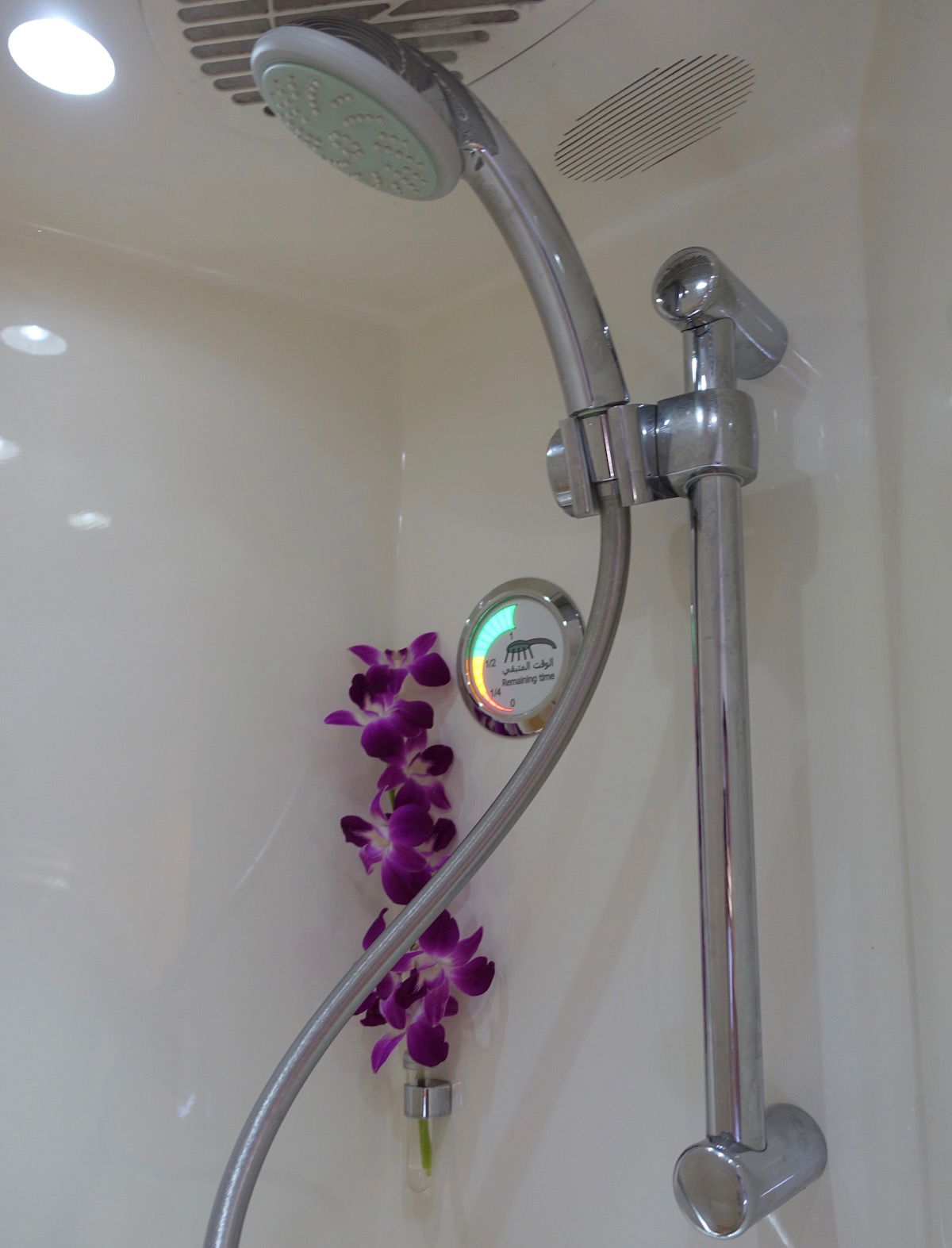 Emirates A380 first class shower suite
Each passenger gets five minutes of water to use, though the trick is that you can turn the water on and off, so in reality your shower can last a lot more than five minutes.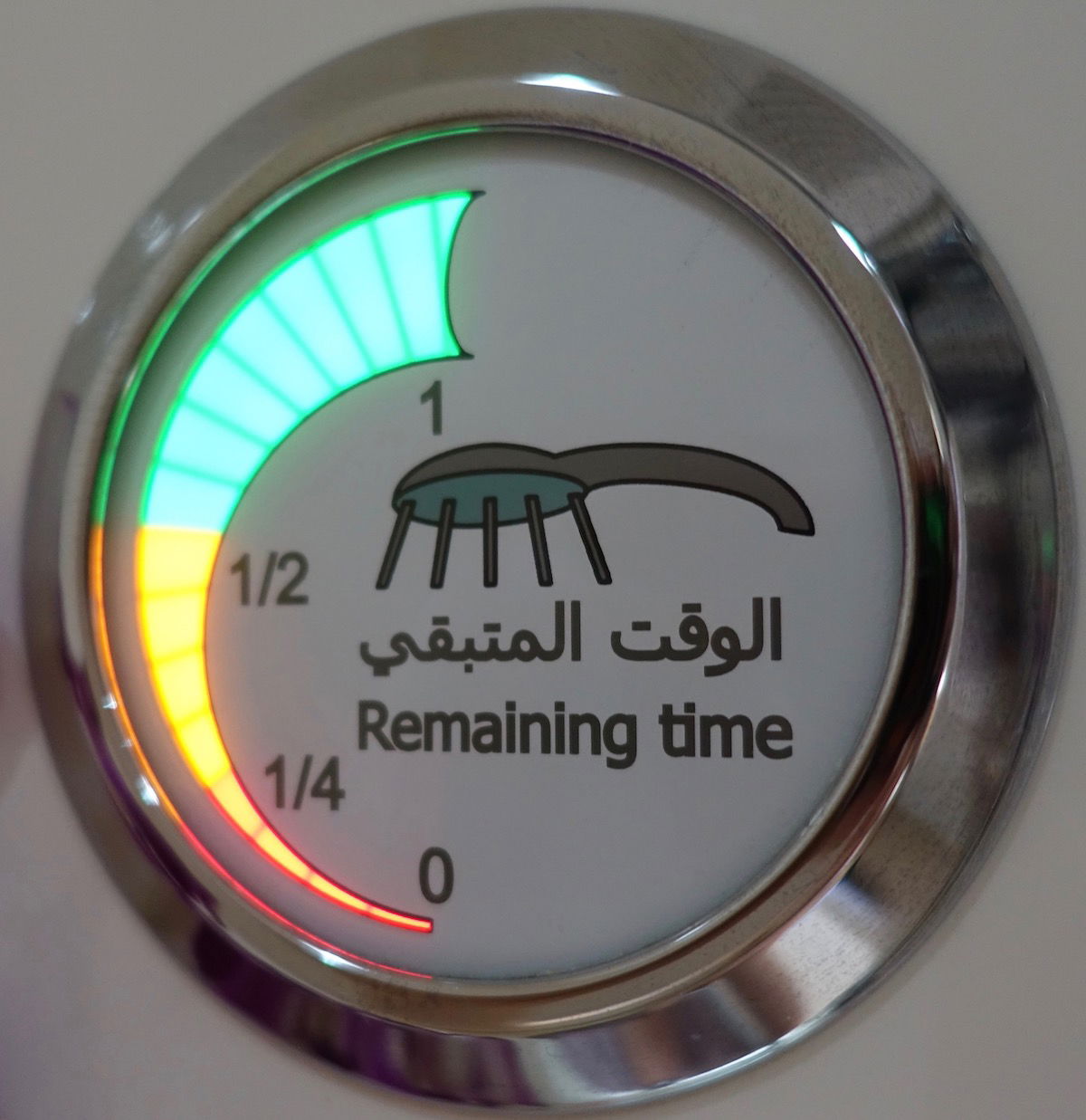 Emirates A380 first class shower suite
The shower was great as always. By the way, remember how at the beginning of the flight there was a bar at the front of first class? Towards the end of the flight that's transformed into something you'd find in a spa, with a water feature and tea. So. Over. The. Top.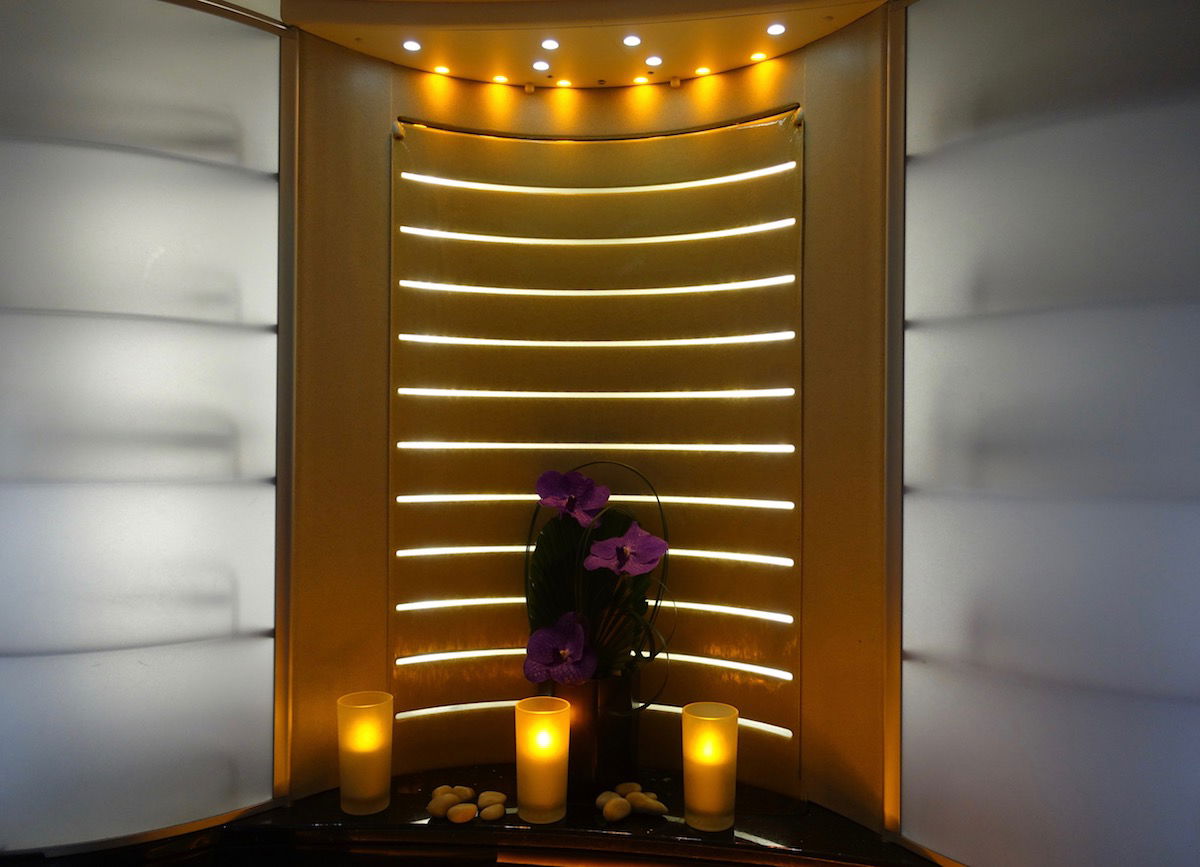 Transformed Emirates A380 first class bar
Speaking of the showers, I wanted to briefly mention the Emirates shower attendants. These aren't actually flight attendants, but rather they're employees who sit in passenger seats for takeoff and landing. They're paid significantly less than flight attendants, and they share hotel rooms on layovers. When they're not looking after the shower spas, they're cleaning all the other bathrooms on the plane. So always make sure you're extra nice to them, cause they're some of the hardest workers on the plane (and certainly the most under appreciated).
Whenever the shower suites aren't being used for showers you can just use them as bathrooms. The shower attendants have an incredible attention to detail, so they're cleaned after every use, and you should always find the perfect towel pyramid by the sink. In the event both shower suites are being used, there's a smaller bathroom in the back of first class.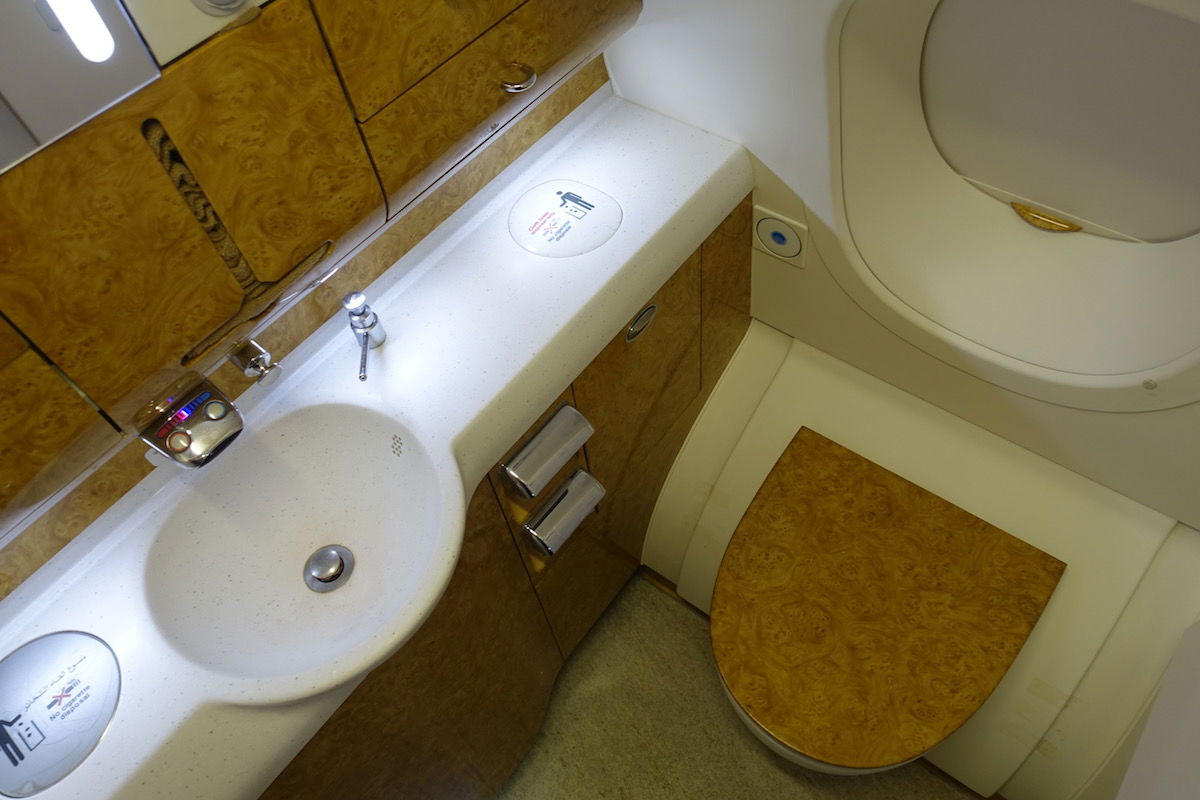 Emirates first class rear lavatory
Upon returning to my seat there was a small fruit plate, which they always place at the seat after the shower.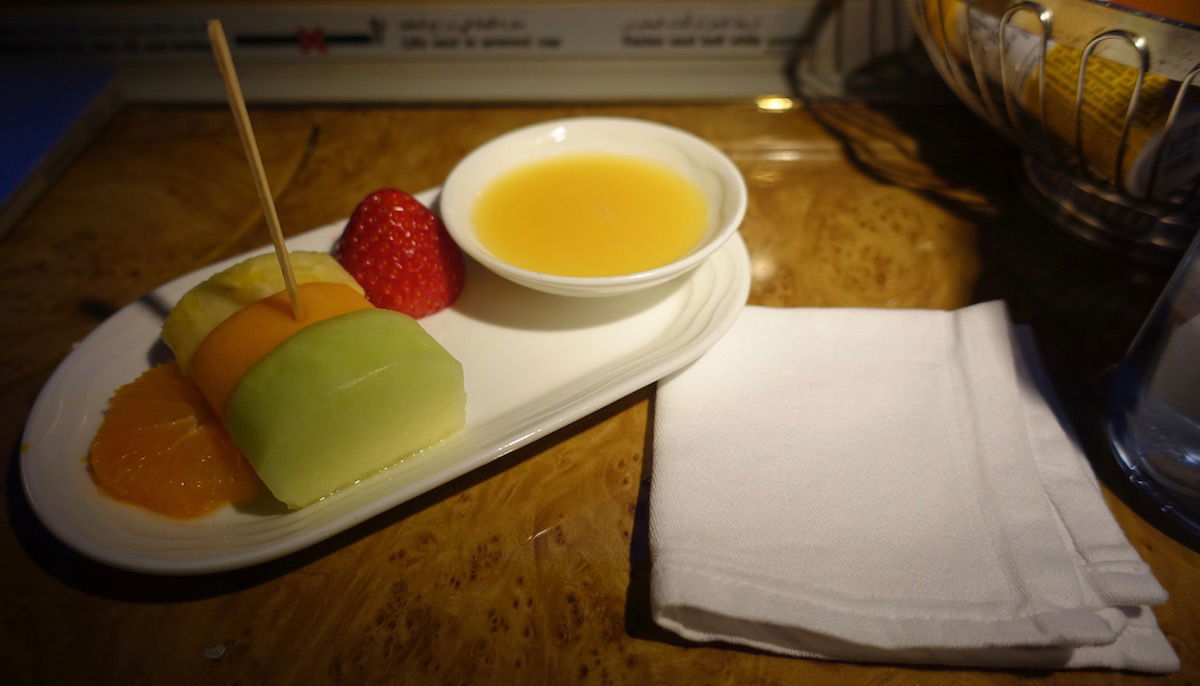 Emirates first class fruit plate
At this point we were about 2hr20min from our arrival in Dubai, having just passed Baku.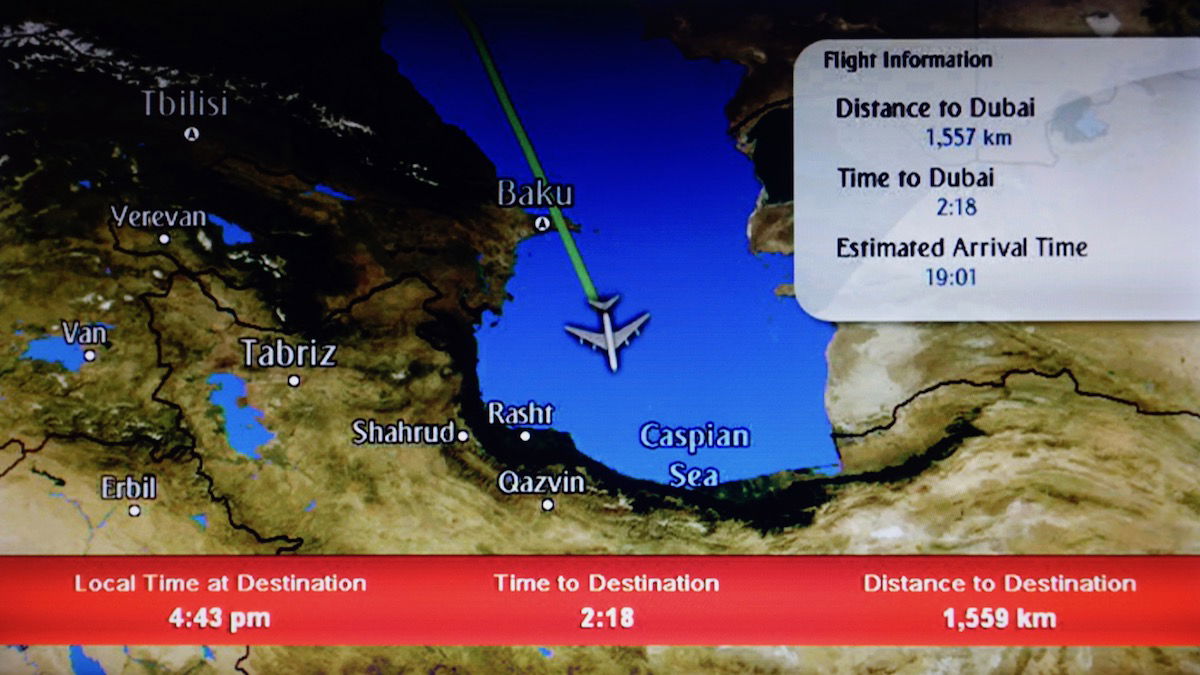 Flight map enroute to Dubai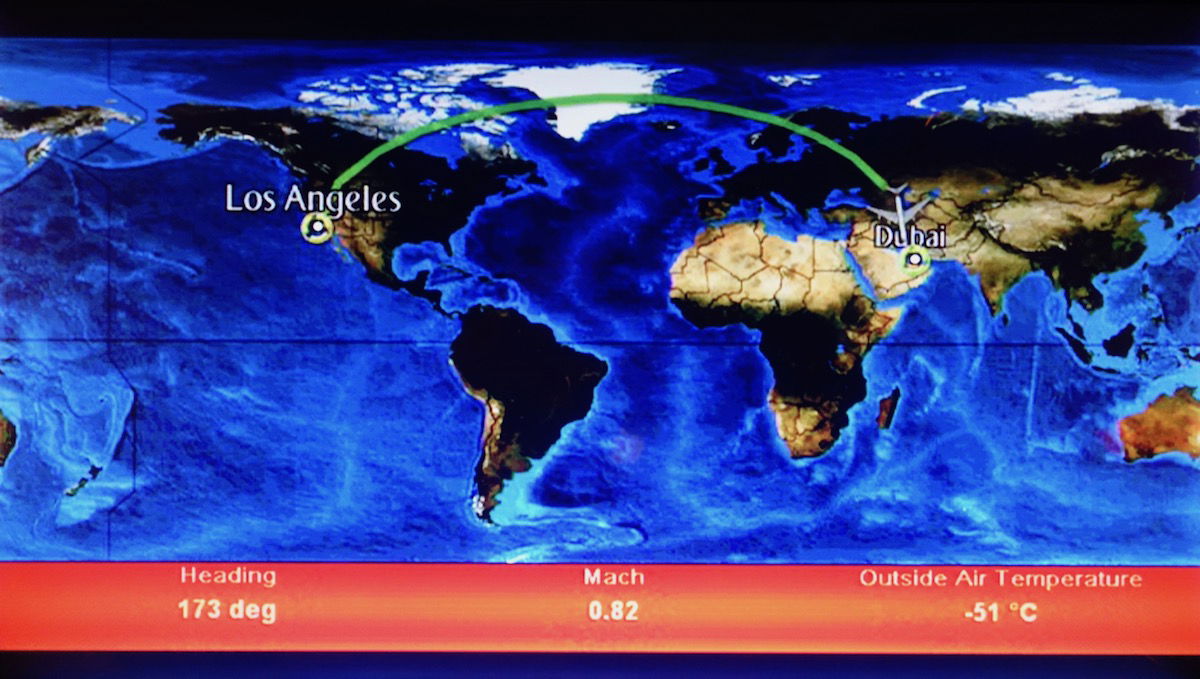 Flight map enroute to Dubai
Within about 30 minutes we decided to order breakfast. I started with a fruit plate and a green juice.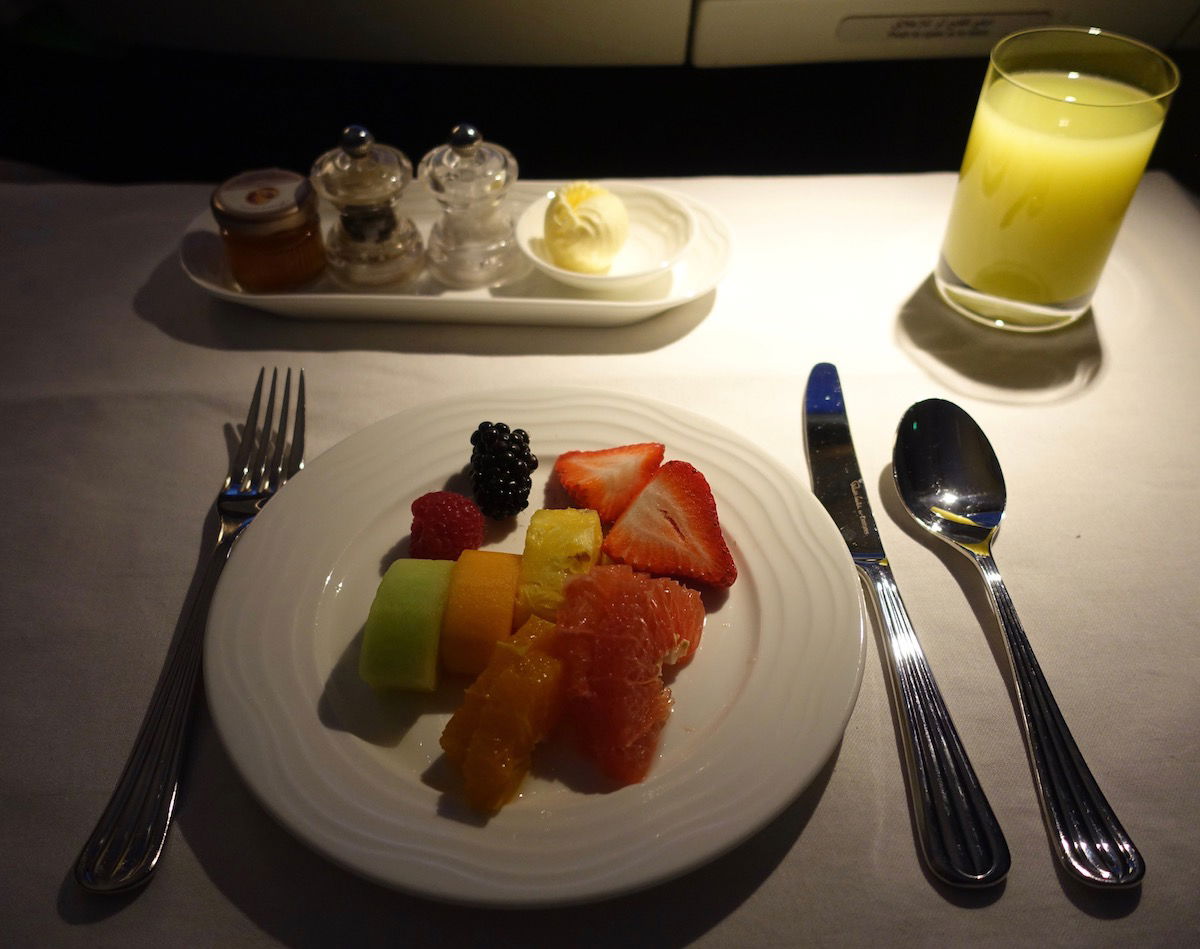 Emirates first class fruit plate
I then had some blueberry yogurt.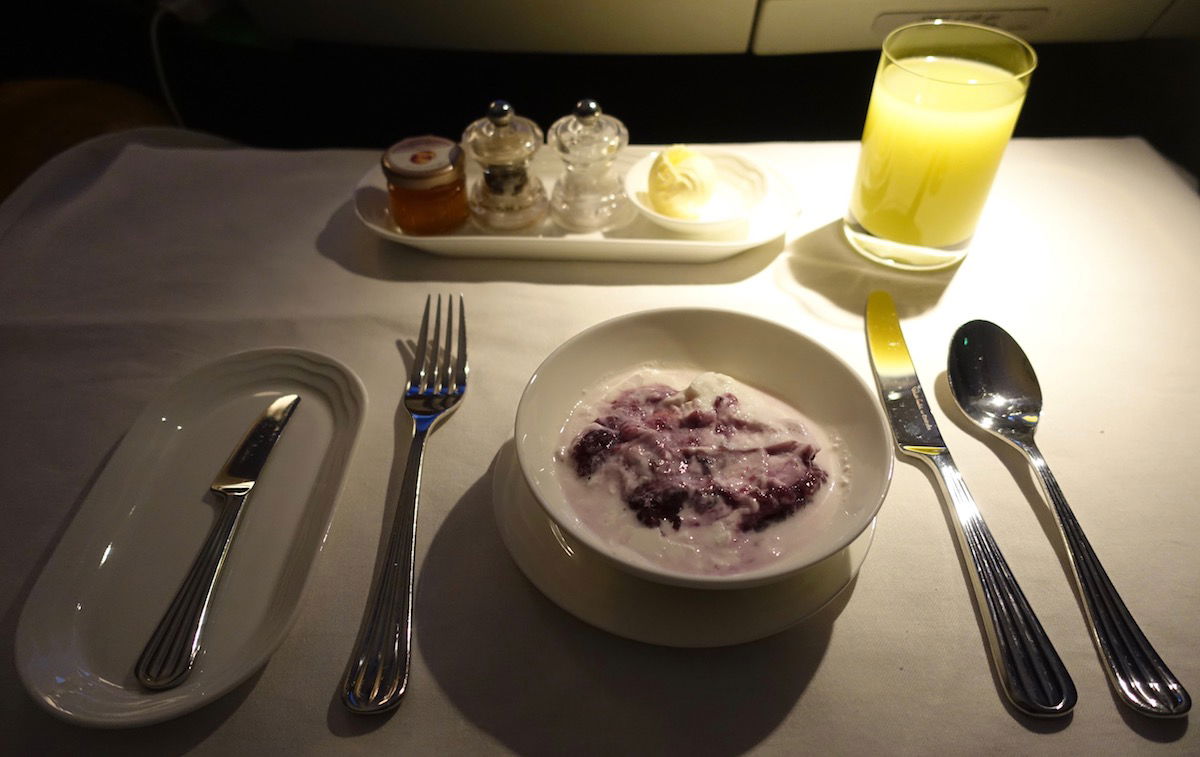 Emirates first class fruit yogurt
For my main course I had a frittata, which was excellent, and in particular the red onion chutney added a nice flavor.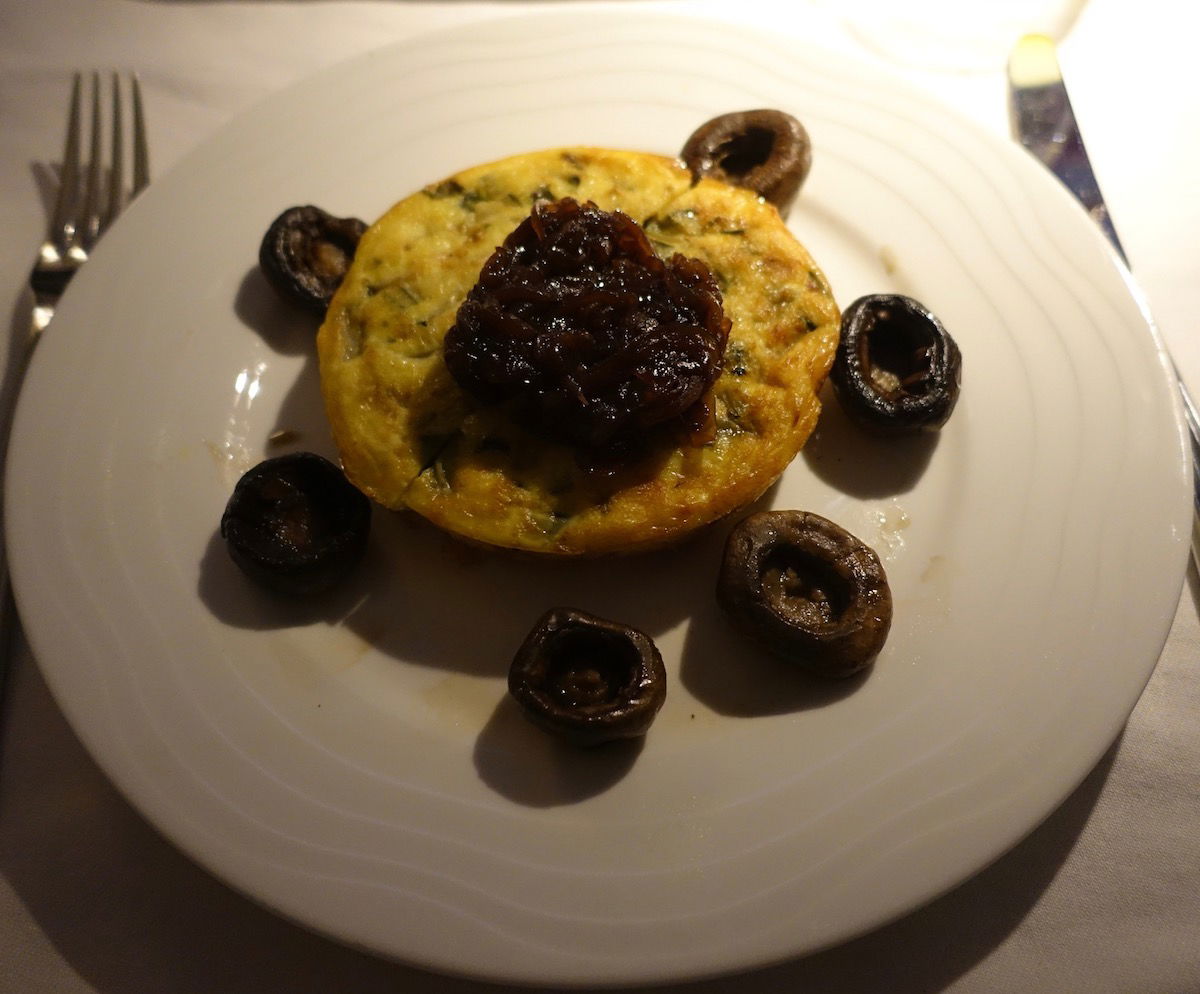 Emirates first class courgette and goat cheese frittata
Ford enjoyed his eggs florentine.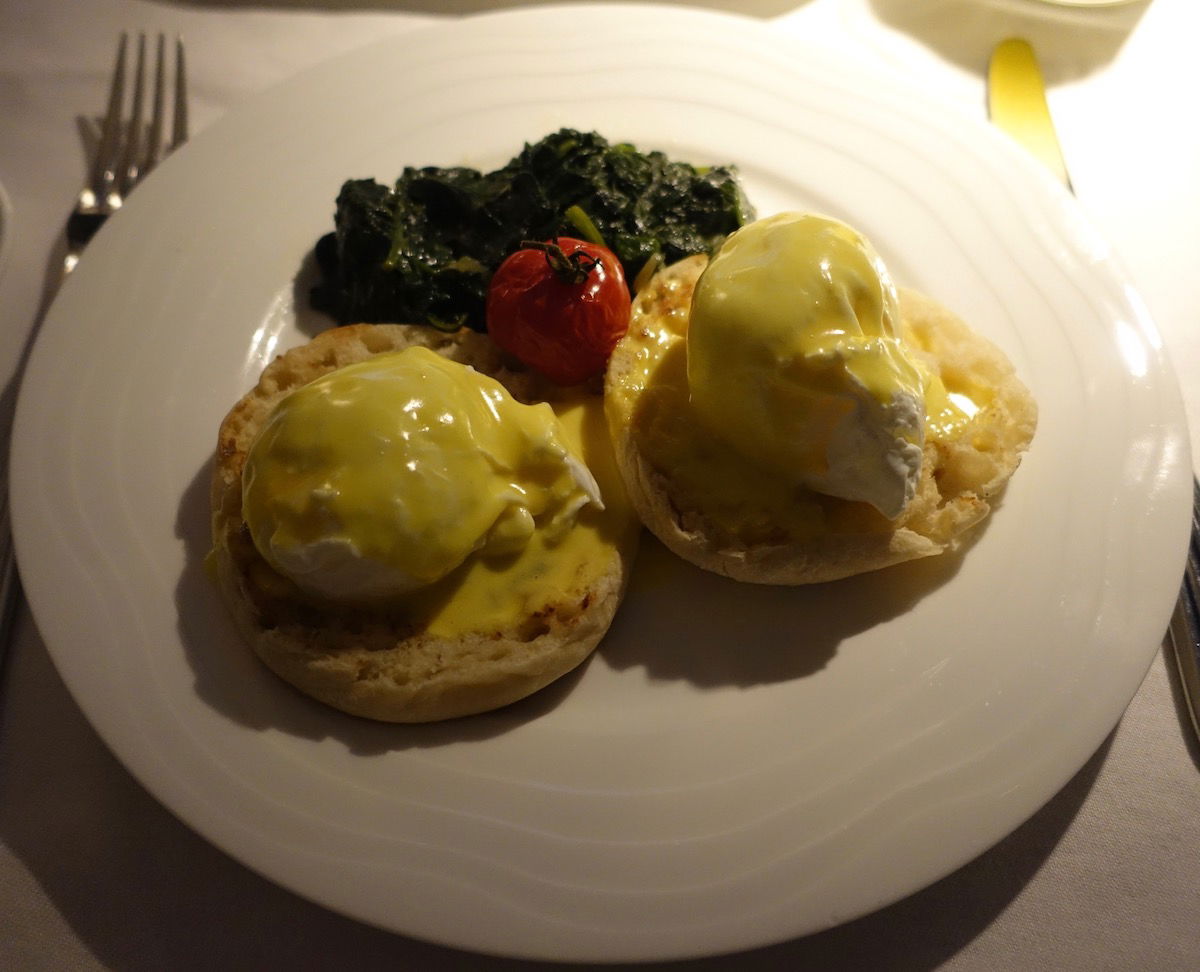 Emirates first class eggs florentine
Soon enough our flight was coming to an end, and just over 30 minutes out our captain provided us with updated arrival information.

Flight map to Dubai
Within 10 minutes a landing video was played about Dubai, and at that point the cabin was prepared for arrival.
The purser passed through the cabin before landing to see how each passenger enjoyed the flight. The couple seated in front of us had been a nuisance the entire flight. They were rude to the crew, they'd yell around the cabin if they wanted something, and towards the end of the flight they even got into a big fight. They were screaming so loudly during the fight that the crew came running from the galley, thinking that something was wrong.
The guy was clearly very, very, very drunk. So when the purser asked how things were, he rattled off a long list of how everything on the flight was awful. "The Indian food wasn't good, the caviar wasn't good, the drinks weren't good."
Given how wasted he was, I think it's pretty rich of him to complain about the alcohol selection. Anyway, we had nothing but nice things to say about the flight, in particular about the excellent crew taking care of us. The purser apologized in advance that we'd be arriving at a gate without an upper deck jet bridge, so we'd have to walk down the forward stairs to deplane. You'd think that's something Emirates could better plan for…
Anyway, we had a smooth touchdown in Dubai at 6:50PM, right as the sun was setting.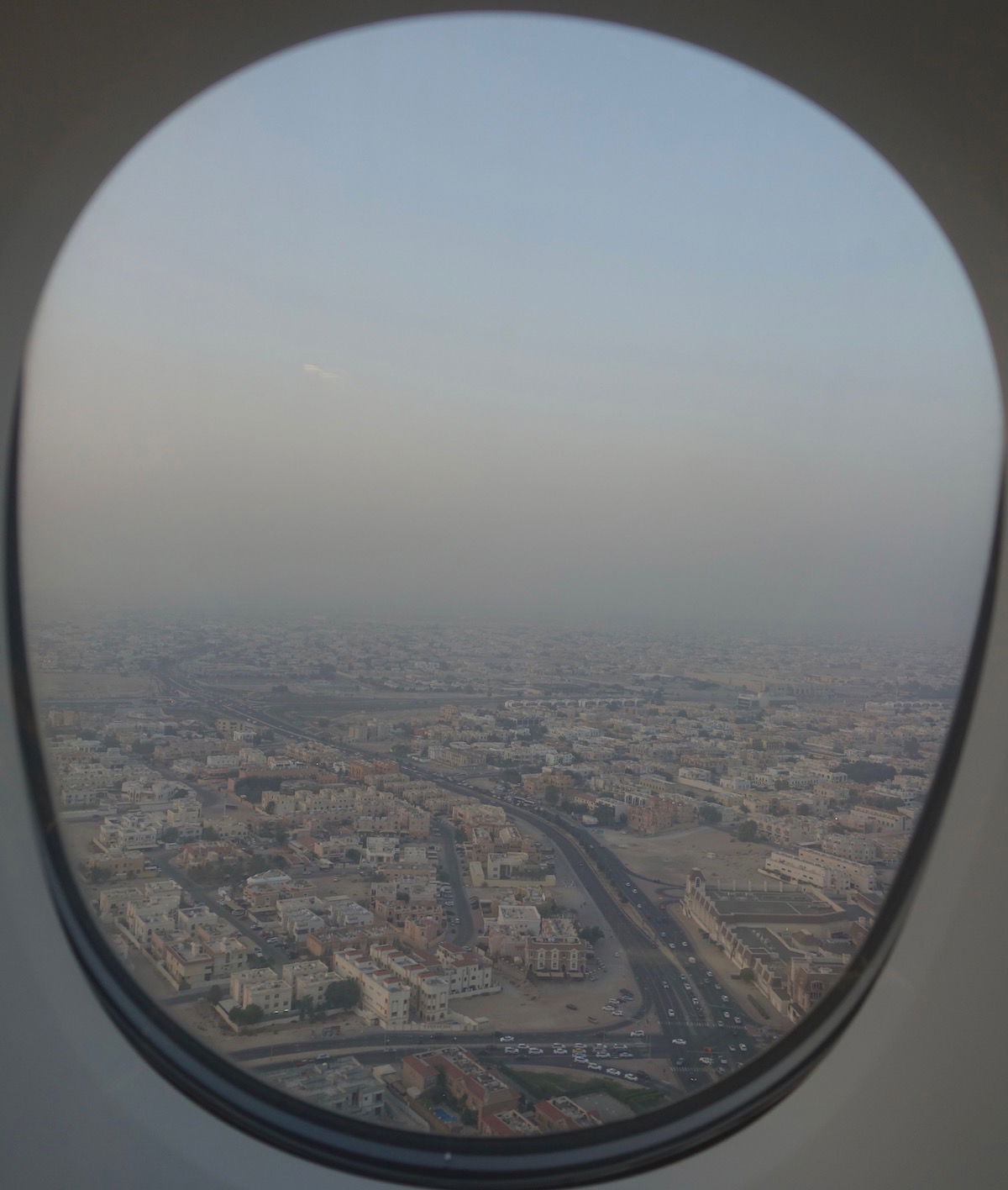 View approaching Dubai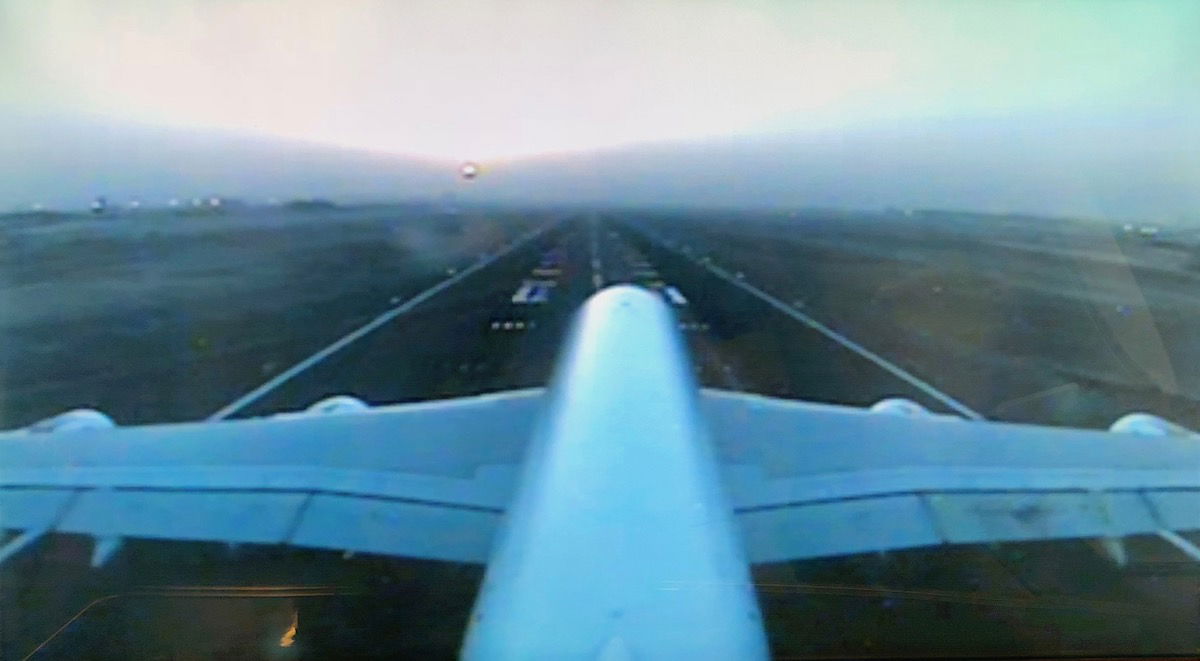 Touching down in Dubai
From there we had just a short taxi to our arrival gate.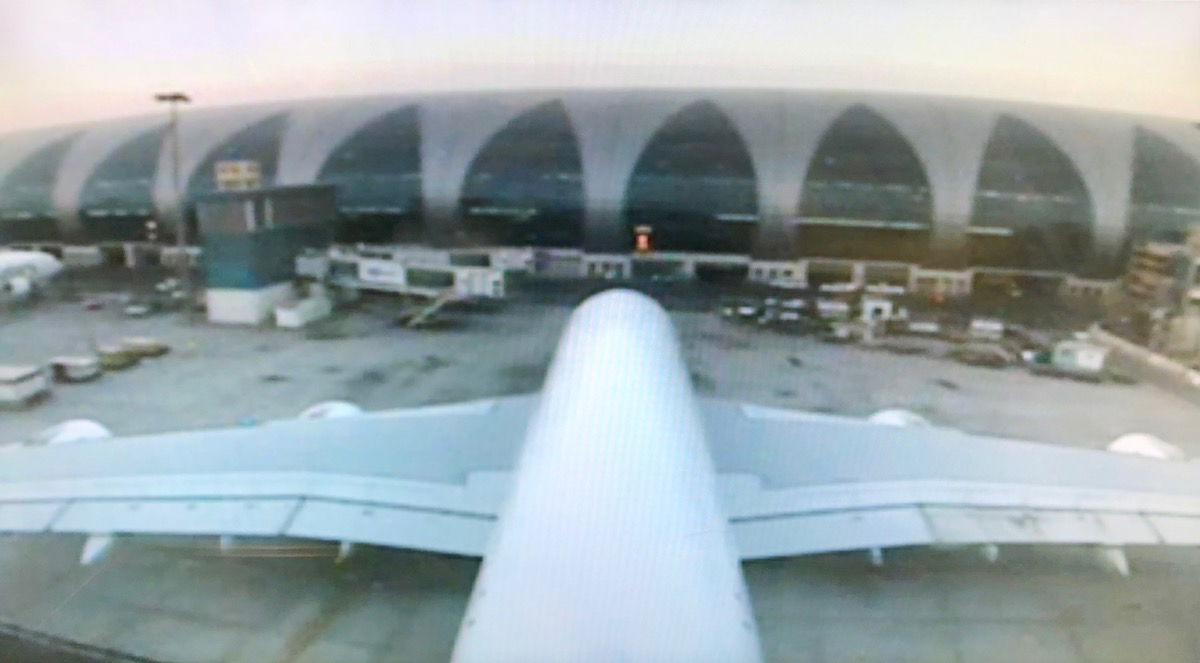 Arriving at gate in Dubai
We bid farewell to the crew, and headed towards our transit hotel for the night, which was a more interesting experience than I was expecting.
Emirates first class A380 bottom line
As far as I'm concerned there simply isn't a more fun way to fly than Emirates A380 first class. Between the bar, shower, and over the top suites, this is a great first class product, especially if traveling with a companion. On top of that, Emirates' drink and food selection is among the best in the sky.
Now, in fairness, in some ways this product isn't cutting edge. These suites are relatively tight compared to some other ones out there, and Emirates' OnAir Wi-Fi is among the slowest in the sky. While the A380 suites are tight, I'd note that Emirates' new 777 first class is probably the best product in the sky, so Emirates is leading the way there as well.
This was an incredible flight, thanks in particular to the excellent crew and fairly empty cabin. It's not often you have a nearly 16 hour flight but are sad when it's over. Fortunately we had three more Emirates A380 first class flights ahead of us.