The past several days I've been researching a fascinating trick for upgrading Emirates flights (and no, it's not dressing nice and saying it's your honeymoon), and I even tested it firsthand on an Emirates flight. Okay, in fairness, I failed, but that's not because it doesn't work, but rather for different reasons (more details below). I'd argue that this is the single best opportunity in the airline industry for securing last seat availability for international first class.
The basics of easily upgrading to Emirates first class
Emirates first class award seats can sometimes be tough to come by, especially if multiple people are traveling. Fortunately business class award availability is much easier to find in many markets. Here's where the trick comes in:
Business class award tickets can be upgraded to first class using miles (there aren't many airlines that let you upgrade award tickets with miles in the same way you can upgrade a revenue ticket)
The problem is that when you waitlist a first class upgrade in advance, it's still capacity controlled, and if award or upgrade seats don't open up, you'll be rejected at the 48 hour mark, and your upgrade request will be canceled
Fortunately on the day of departure there are no capacity controls on upgrades, so you could upgrade to any open first class seat for the same number of miles — you can do this at check-in, at the gate, or you can even upgrade onboard with the flight crew
That's right, as long as an Emirates first class seat is available on the day of departure, you can upgrade to it for a reasonable number of miles, even if you're on a business class award ticket (this same principle works for upgrading from economy to business class, by the way).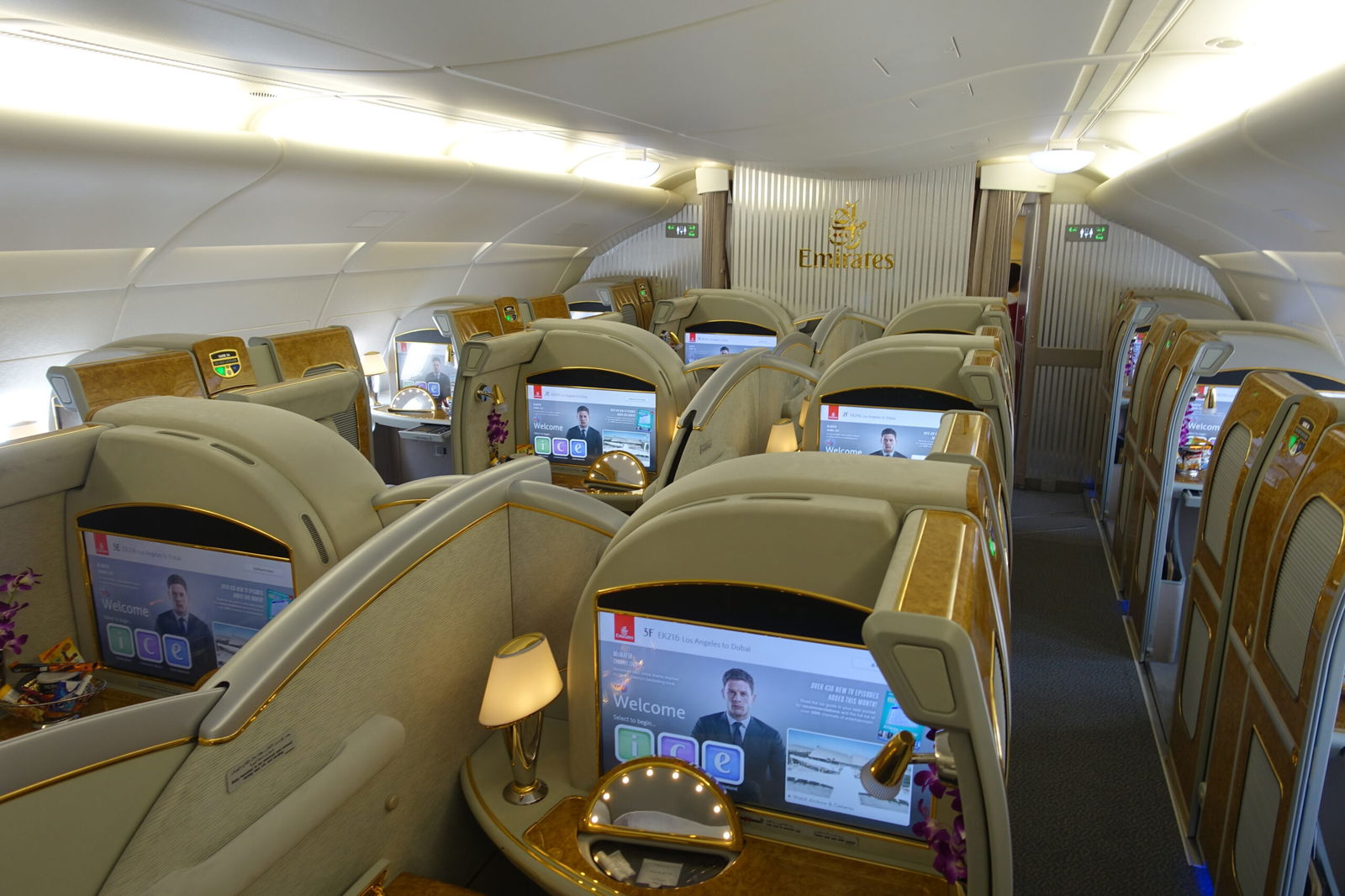 The best way to upgrade Emirates flights
I've written in the past about how to upgrade Emirates flights with miles. You can generally upgrade by one class of service, and only when your ticket is issued directly by Emirates (so a partner ticket wouldn't qualify).
The catch is that I wrote about this in a situation where confirmable upgrade space was available at the time of booking. Airlines make a subset of seats available for awards and upgrades in advance, so the process is easy enough when those seats are confirmable. But what happens when they need to be waitlisted?
I tested this out for an Emirates flight that I took yesterday from Athens to Newark (not to be confused with the Emirates first class review I published yesterday, which was for a flight in June).
When it came time to book, the Athens to Newark flight that I wanted to take had Business Flex award tickets (62,500 miles one-way), but not First Flex award tickets (85,000 miles one-way). So I decided to book business class, and worked on securing an upgrade.

The problem is that Emirates publishes very little on its website about the upgrade process. So it really took a lot of trial-and-error, and asking some friends, to figure out the system.
How many miles do you need to upgrade Emirates flights?
Emirates Skywards has a mileage calculator on its website, where you can search a specific route and find out how many miles you'd need for an upgrade, award ticket, etc. I entered a one-way Athens to Newark itinerary, and here was the result under the business class column: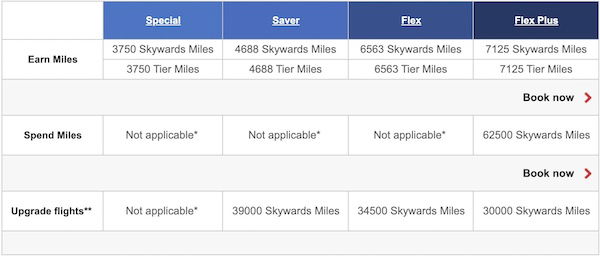 As you can see:
A Business Flex Plus award ticket costs 62,500 Skywards miles
An upgrade from a Business Flex ticket (whether paid with cash or miles) costs 30,000 Skywards miles
Note that the upgrade cost could vary based on the type of ticket you book. For example, if you booked a roundtrip business award between Athens and Newark at the Saver level (rather than Flex Plus) you'd pay only 90,000 miles roundtrip, but then an upgrade would cost 78,000 miles roundtrip (so you pay fewer miles upfront, but more miles for the upgrade).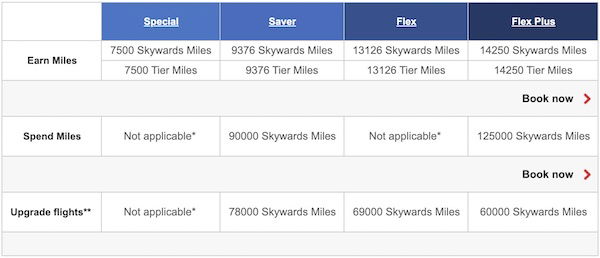 I'm guessing most people will use this for Flex Plus tickets, in which case the first example is more relevant.
What makes Emirates unique here is that you can upgrade a mileage ticket in exactly the same way you could upgrade a cash ticket. That's because Emirates uses the same type of fare bundles (like Flex Plus) for award tickets and cash tickets.
So booking a one-way business class award ticket and upgrading it to first class with last seat availability would cost a total of 92,500 Skywards miles. That's only marginally more than the 85,000 Skywards miles that would be needed for an outright one-way first class award, which comes with significant capacity controls.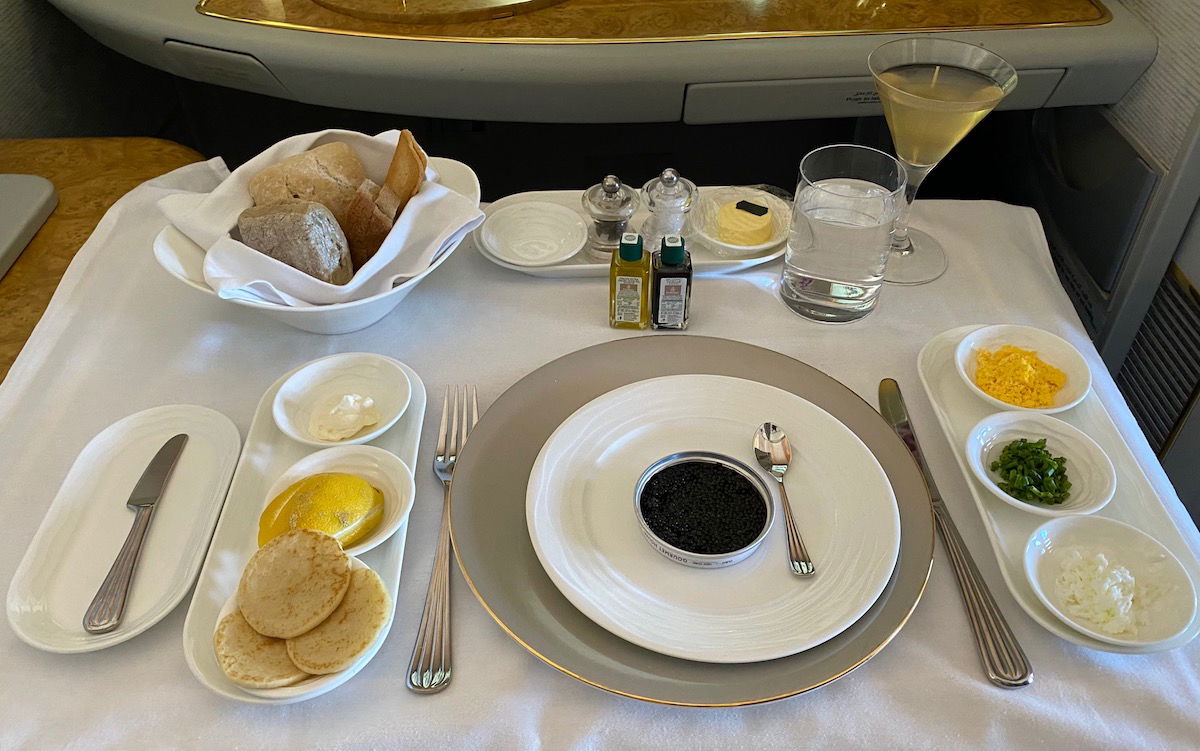 Waitlisting Emirates upgrades with auto upgrade feature
After booking, I decided to try my luck with Emirates' auto upgrade feature. I logged into my reservation, and clicked the "Upgrade with Miles" button.

This confirmed that my flight was eligible for an auto upgrade with 30,000 Skywards miles, but also indicated that there was no immediately confirmable upgrade availability.

Emirates' auto upgrade system is essentially like waitlisting an upgrade. The catch is that:
You have to request the upgrade at least 72 hours before departure
Auto upgrades can be cleared between 60 days and 48 hours before departure
If an auto upgrade doesn't clear at least 48 hours before departure, your upgrade request will automatically be canceled
There's a notification system, so when you request your auto upgrade you can provide your phone number, so you'll be informed if your upgrade clears.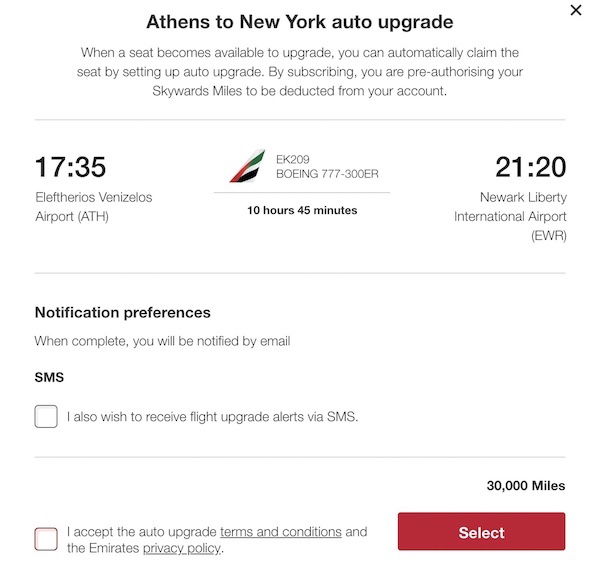 If an award or upgrade seat becomes available then your auto upgrade also clears. Furthermore, theoretically revenue management may sometimes clear waitlisted auto upgrades, but it's far from a sure bet.
I've heard of some people having luck with this, but I certainly didn't. 48 hours before departure I was notified that my upgrade hadn't cleared, and that my request was canceled.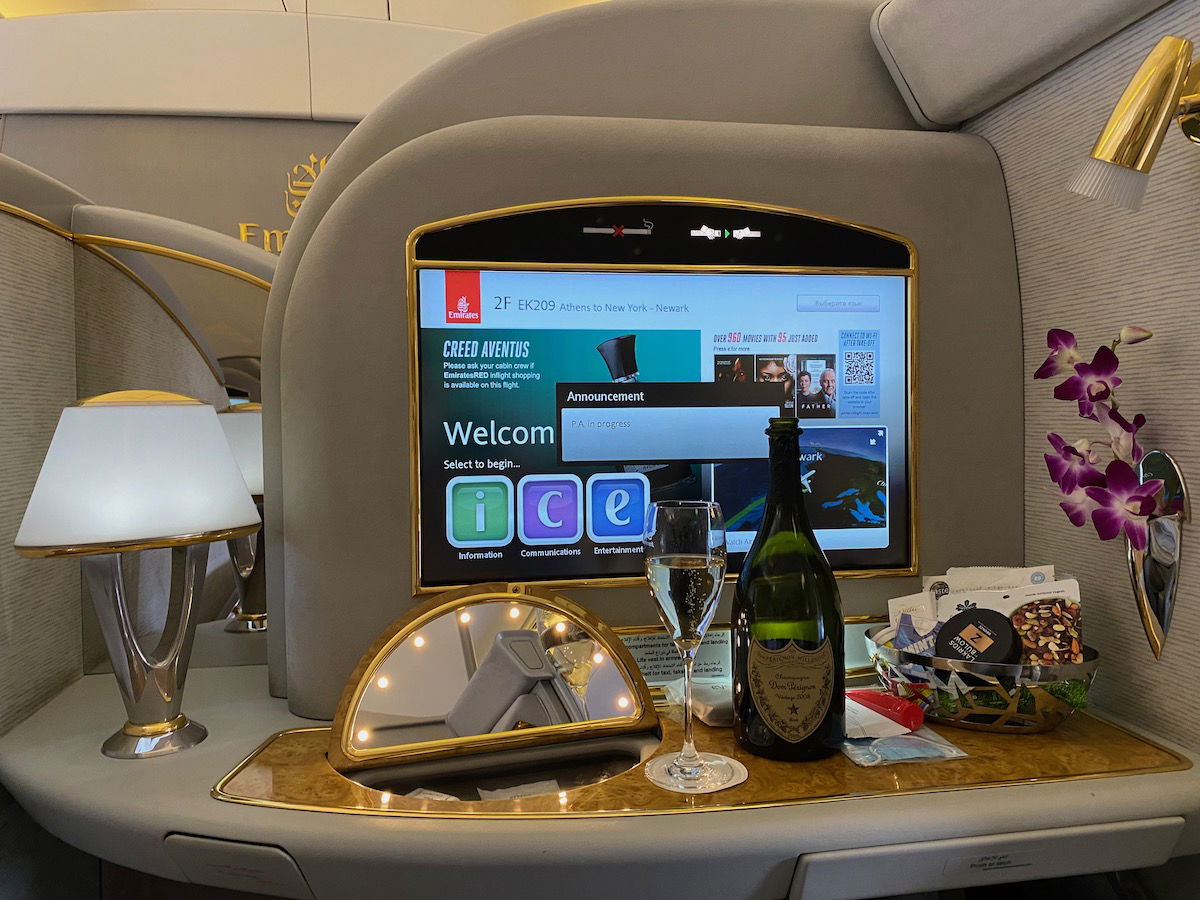 Upgrading Emirates flights with miles at check-in
Emirates allows upgrades with last seat availability at check-in. Unfortunately this only works at the airport, and not via online check-in. When you get to the check-in counter, just inform the agent you'd like to upgrade with Skywards miles, and they can take care of it for you.
So, how did that work out for me? As mentioned above I flew from Athens to Newark yesterday on Emirates. I arrived at the airport just over three hours before departure (shortly before the check-in counter opened), and I looked online and saw that three of the eight first class seats were still available for sale.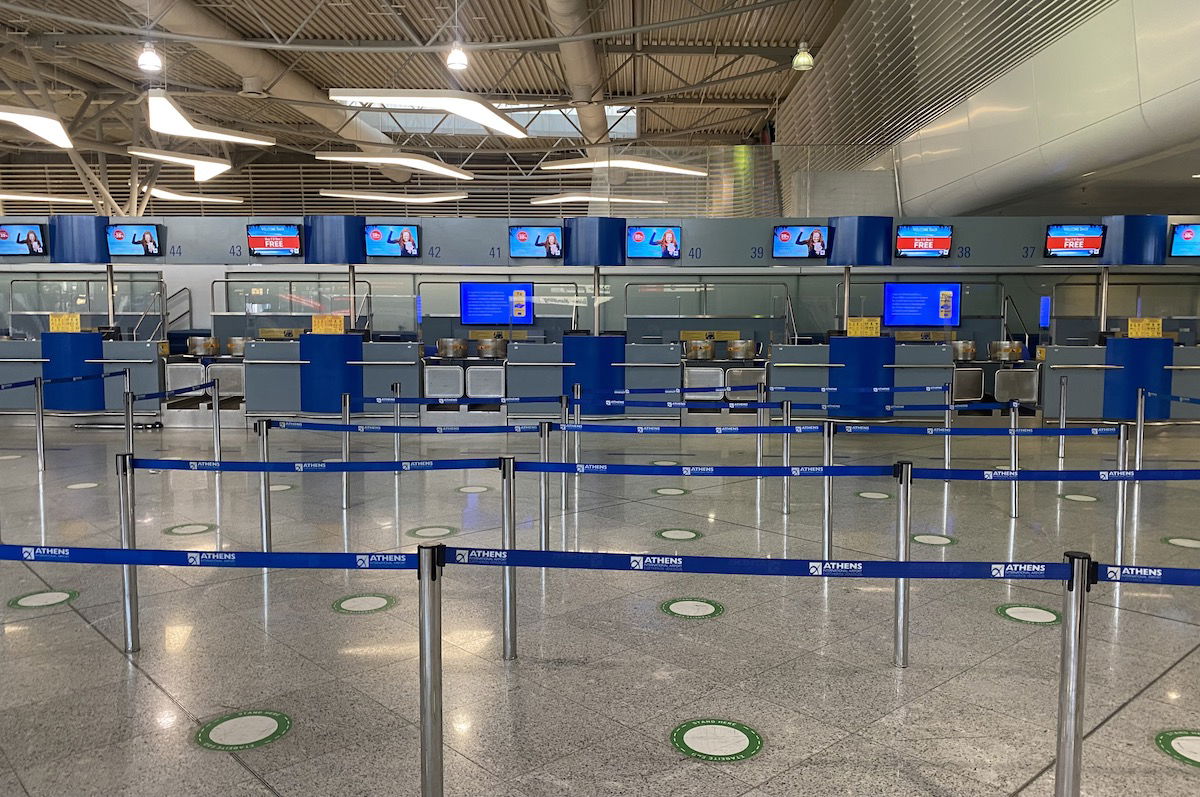 Sure enough, a few minutes later — as it was about to be my turn to check-in — I looked again and saw that first class was sold out. Grrr:
I know exactly the three people who had upgraded (I overheard them speaking about it), but they were behind me, and I'm not sure how they upgraded; I'm not sure if they somehow went to another counter, or if they received some sort of targeted email upgrade offer
I've flown Emirates first class dozens of times, and I can count on one hand the number of times I've been on a plane that went out with a full first class cabin, so I got exceptionally unlucky (at least by my standards)
Nonetheless I confirmed the process with the check-in agent; she confirmed that if there had been a first class seat empty, I could have upgraded to it for 30,000 Skywards miles
I kept an eye on first class availability, and all eight first class seats stayed occupied, so there weren't any no shows. In a way I'm happy I got to experience Emirates' long haul 777 business class, because… wow. I'll leave it at that for now, other than to say that upgrading to Emirates first class is very, very, very much worth it.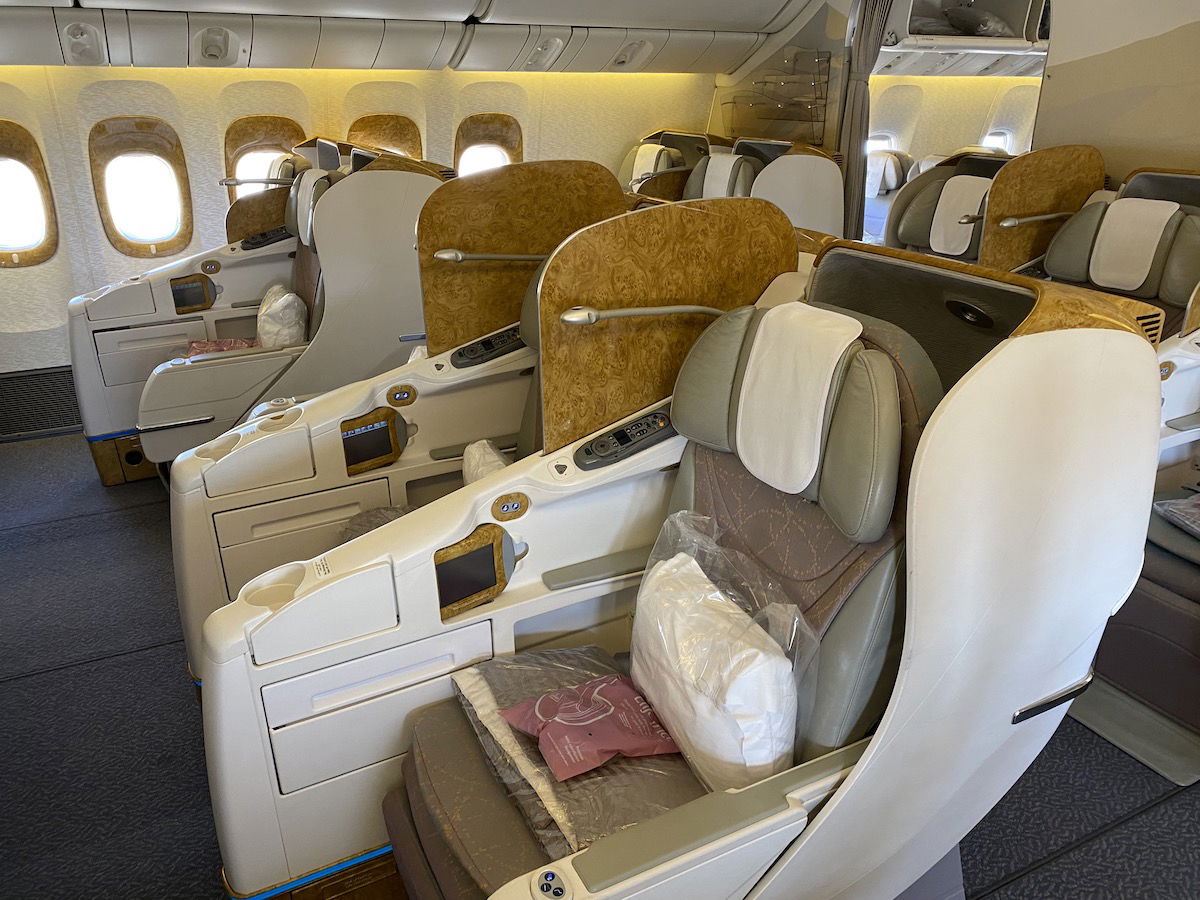 You can even upgrade onboard an Emirates flight
The opportunity to upgrade doesn't end at the airport. Even after you've boarded the flight, the crew can directly process a mileage upgrade if there are seats available.
When I boarded I told the crew that if there were any first class seats left I'd like to upgrade to one, and they said they'd let me know (again, at this point point I was doing this purely for science and to see what kind of a reaction I'd get, and if this works in real life the way I expected it to).
The two potential catches with upgrades
I feel confident in the above information, though I should add a couple of caveats:
Of course not all airline employees are equally well trained, and airlines also sometimes use contract workers at some airports; so agents at outstations might not always be informed of this, and I'd always recommend looking for someone in an Emirates uniform, and/or escalating
The only circumstances under which there might theoretically be capacity controls on upgrades is if not enough food has been catered for all first class passengers; this would only be an issue if a lot of people upgrade on the day of departure (for example, if the cabin goes from two to eight passengers), and you can also generally just agree to forgo the higher cabin's catering and receive the upgrade (though even then you'll probably still get the improved catering if it's available)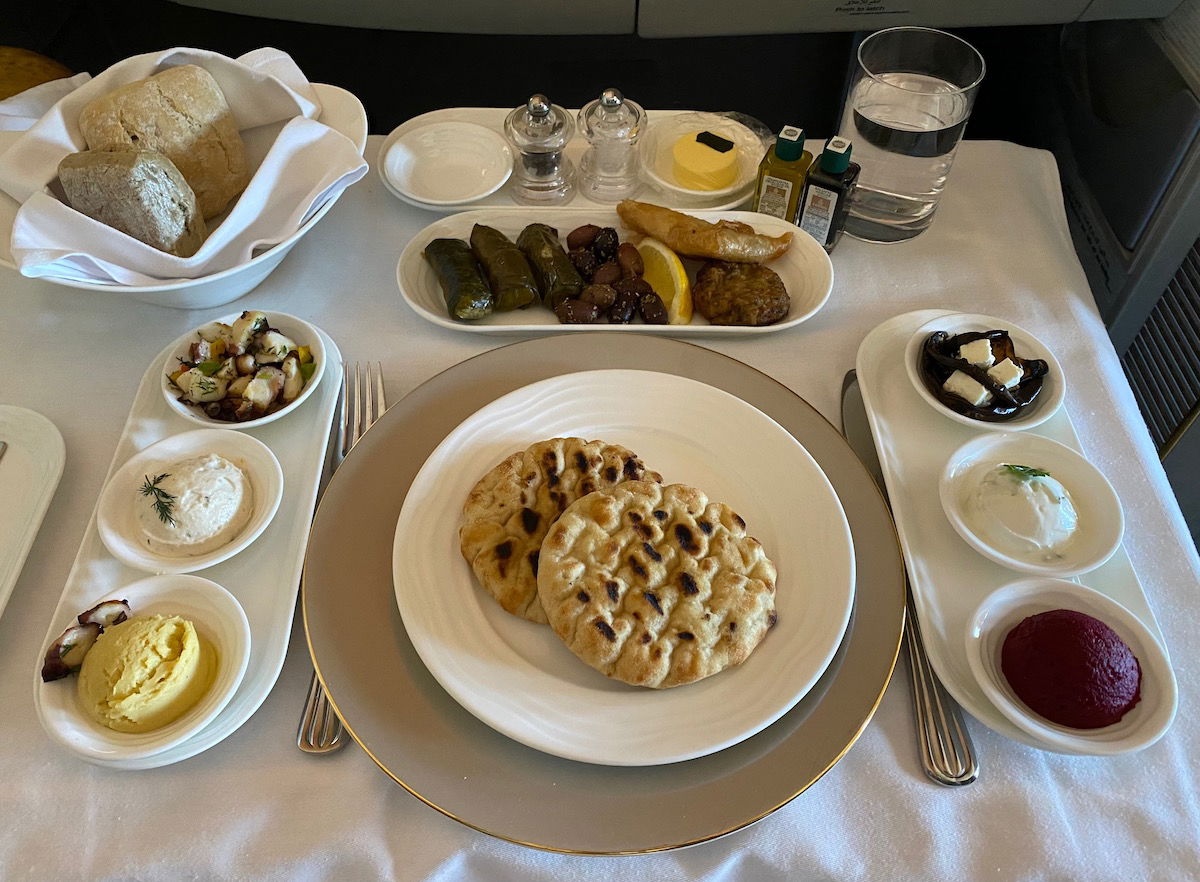 Bottom line
While most airlines offer upgrade opportunities of some sort with miles, I'd argue that Emirates Skywards' upgrade program is one of the most lucrative. You can request an upgrade in advance, and if it's not immediately confirmable it can be waitlisted until 48 hours before departure, at which point it will be canceled.
If that fails, the real trick to securing an upgrade is to make the request again on the day of departure, either at the airport or onboard. Not only can you upgrade award tickets (which very few airlines allow), but you can even get last seat availability (which most non-US airlines don't allow).
This is a great trick when you consider that Emirates business class award availability is often easy to come by, while Emirates first class award availability can be tough to find, even when the cabin is wide open. With this strategy you can snag even the last seat in an Emirates first class cabin with miles.
Assuming there are business class award seats, getting last seat availability for first class from Newark to Athens or New York to Milan for 92,500 Skywards miles is a pretty awesome deal, if you ask me.
Anyone plan on taking advantage of this awesome Emirates upgrade strategy? Or anyone have experience with day of departure upgrades on Emirates?