Emirates is known for having one of the world's best first class products, whether you want to shower in first class on the A380, or enjoy the fully enclosed suite on the 777.
Well, it appears that there will soon be fewer ways to redeem miles for this product, as Emirates will allegedly stop making first class awards available to members of most partner airline frequent flyer programs. How big of a deal is this?
Emirates cutting partner first class awards
Alaska Mileage Plan miles can be redeemed for travel on Emirates, including in first class. Well, it's now being claimed that as of April 1, 2021, Emirates will no longer give partner airlines access to first class awards. Per Alaska Airlines' website:
Book your First Class award travel with Emirates by March 31, 2021. Beginning April 1, 2021, Emirates will no longer allow partner access to First Class award bookings. Mileage Plan members can continue to redeem on the Emirates' award-winning Economy Class and Business Class.
In other words, starting next spring, if you want to redeem miles for Emirates first class, you'll have to book directly through the Emirates Skywards program. Or at least that's the claim.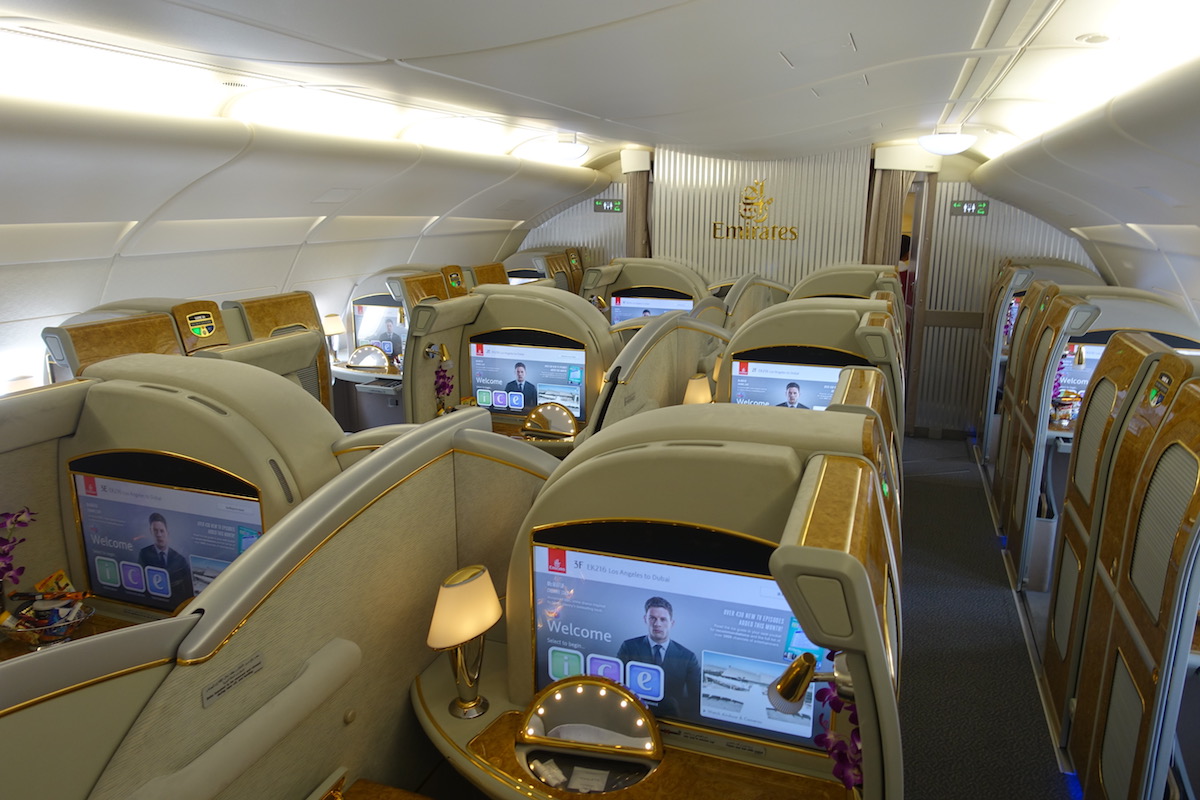 Emirates' A380 first class
Is this specific to Alaska Airlines, or all partners?
As you can see, Alaska Airlines claims that Emirates will no longer allow partner access to first class awards. That makes it sound like this change applies to all of Emirates partners, though is that actually the case? I'm working on clarifying, though have some initial thoughts.
First of all, the timing is interesting. First class awards through Alaska Mileage Plan are being cut off as of April 1, which is a day after Alaska is expected to join the oneworld alliance.
Personally I'm inclined to believe that's a coincidence:
Emirates has other airline partners that belong to major alliances, and they have access to first class awards — this includes Japan Airlines (oneworld) and Korean Air (SkyTeam)
It seems like in general Emirates has been moving in the direction of restricting awards to partners, as the airline has increasingly been blocking award seats to some partners
There are other airlines that only make award seats available to members of their own program, and when that's the case it typically applies to all partner airlines (though there are some limited exceptions)
It has been confirmed that Qantas' frequent flyer program will continue to have access to Emirates first class award space, which isn't surprising since the two airlines have a special relationship
So while I can't be 100% sure yet, it does seem to me like this change applies to most of Emirates' partners, and that's wholly consistent with the policies we've seen at other airlines.
Is Alaska the only partner impacted by this?
Is this a big deal?
If you asked me this one or five years ago, I would have said this is a huge deal. However, some major things have changed:
The truth is that at this point I don't consider there to be that many situations where booking through Alaska Mileage Plan is a better deal than booking through Emirates Skywards. That's especially true when you consider that:
Emirates Skywards is a partner of all major transferable points currencies, and there are sometimes even transfer bonuses
Alaska Mileage Plan always couldn't access at least some Emirates award space, while booking through Skywards gets you all that space
Japan Airlines Mileage Bank does have excellent redemption rates on Emirates, but the issue is that Japan Airlines miles are so hard to come by, as the only easy way to acquire them is through Marriott Bonvoy (and those points aren't particularly easy to earn anymore either).
Just to compare a few first class redemption rates between Alaska Mileage Plan and Emirates Skywards:
Alaska Mileage Plan charges 180,000 miles one-way between the US and Europe, while Emirates Skywards charges 85,000 miles one-way or 135,000 miles roundtrip (Emirates flies from New York to Milan and Newark to Athens, though in fairness Emirates lets you route via Dubai, if you prefer)
Alaska Mileage Plan charges 150,000 miles one-way between New York and Dubai, while Emirates Skywards charges 136,250 miles one-way or 217,500 miles roundtrip
Alaska Mileage Plan charges 200,000 miles one-way between New York and Johannesburg (via Dubai), while Emirates Skywards charges 178,750 miles one-way or 285,000 miles roundtrip
The one advantage of booking through Alaska is that the program allows stopovers on one-way awards, while Emirates only allows stopovers on roundtrips.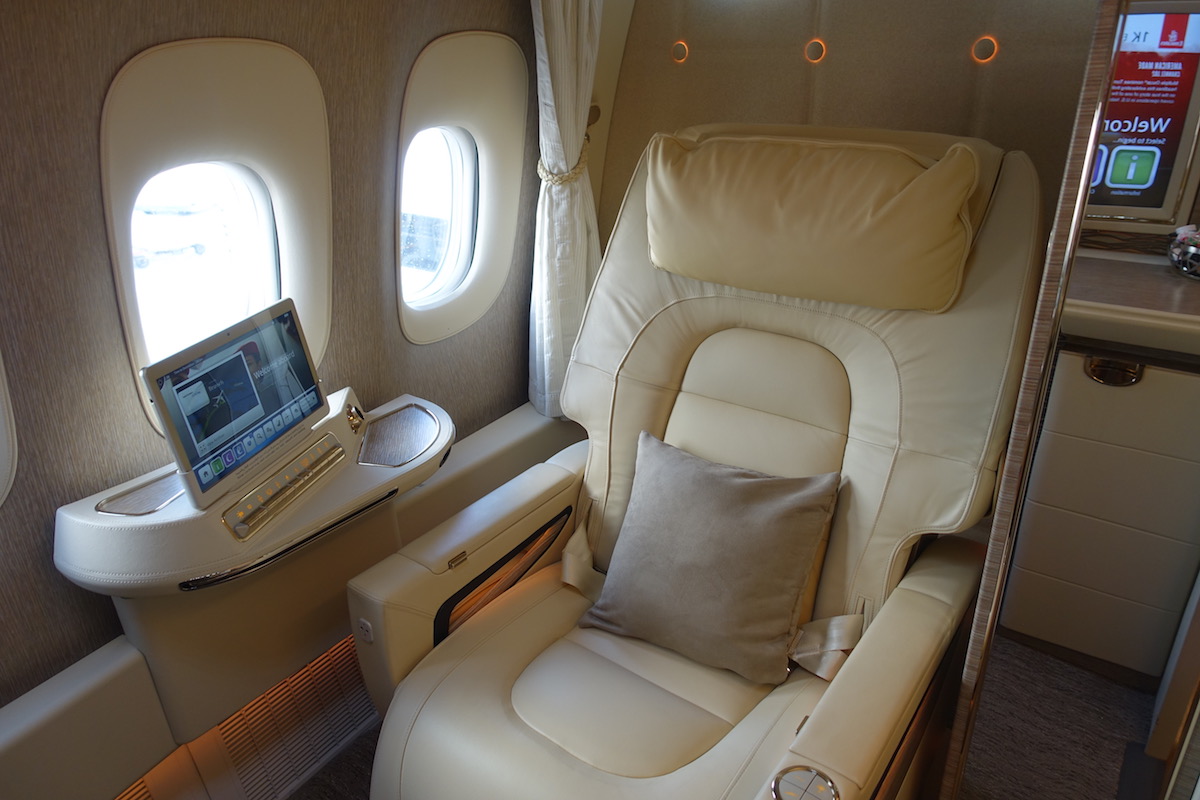 Emirates' 777 first class
Bottom line
Emirates will start restricting first class awards to members of its own frequent flyer program as of April 1, 2021. At least that's what Alaska Airlines is claiming, though it seems that at least Qantas is excluded from this change.
Emirates would be far from the only airline to restrict some award seats to members of its own program, so this doesn't come as much of a surprise.
While more options are always good, personally I don't view this as being that huge of a deal. Ever since Emirates drastically reduced fuel surcharges, the value proposition of booking through the Skywards program has improved significantly.
What do you make of this change to Emirates first class awards?
(Tip of the hat to Frequent Miler)