As I outlined in the introduction post to the series, I had a very special Emirates Boeing 777 first class flight from Orlando to Dubai…
Celebrating Toby's Emirates retirement flight
In late May, I flew Emirates' A380 first class from New York to Milan for a very special reason. One of my best friends, Toby, was getting ready to retire from Emirates after a 15+ year career. His last flight would be on July 2 from Orlando to Dubai, though I was planning to be in Europe until after that date, so I figured that would be my last flight with Toby… well, or at least that's what I had Toby believe. 😉
I've had the pleasure of flying with Toby many times before, and not only is he incredibly professional, but he's also an all-around awesome person and a great friend. So I couldn't not be on his last flight, especially as there was Emirates Skywards award availability in first class.
I decided that it would be more fun if I didn't actually tell Toby I was on the flight, but instead just showed up.
Convincing Toby I wouldn't be on the flight
Toby and I often message about travel related things. I had just flown from Stockholm to New York in Finnair's new A330 business class the day prior, and I remember several times almost messaging Toby about that. But I then reminded myself that he wasn't supposed to know I was flying to the United States.
I do feel sort of guilty for lying to Toby on July 2. Ford was flying home from Europe that day, so while I was actually sitting at the Hyatt Regency Orlando Airport a few miles from Toby, I was messaging him the pictures that Ford was sending me, pretending they were my own.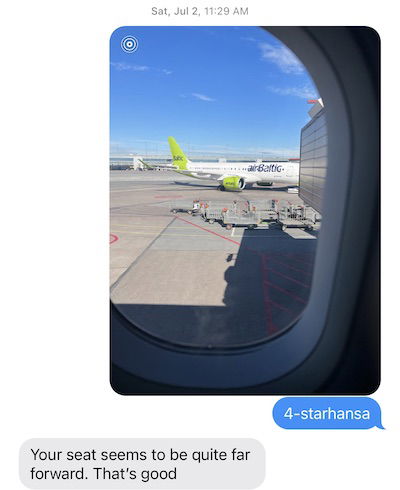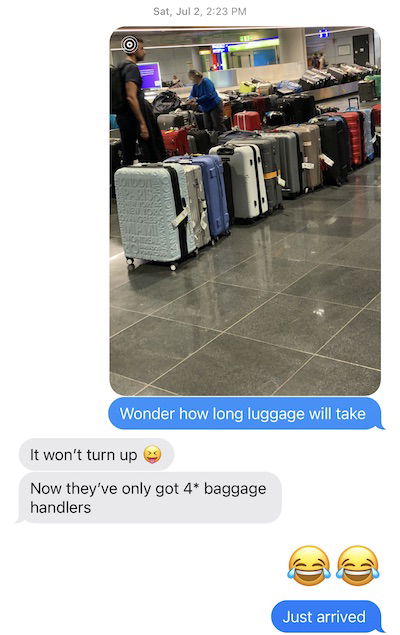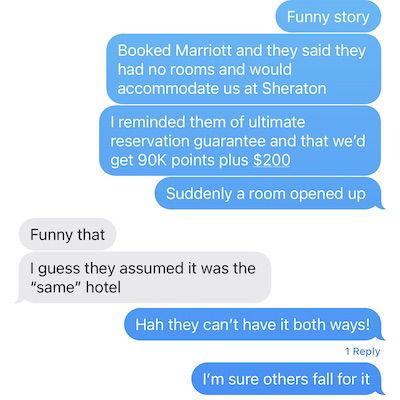 Yes, as you may have guessed, this was shortly after Lufthansa lost its Skytrax 5-star rating.
And yes, Ford had booked the Marriott Frankfurt Airport, and at check-in they tried to put him in the Sheraton Frankfurt Airport, as they allegedly had no rooms. A room suddenly opened up when he reminded them of Marriott's Ultimate Reservation Guarantee. #Bonvoyed
Anyway, I think I had Toby convinced…
Deciding how to approach Toby
I was trying to decide how best to approach Toby to maximize the surprise. Based on our messages, it was clear he had no inkling that I'd show up.
On the one hand, I figured it would be fun if I just boarded the plane and went to my seat as if nothing was going on. On the other hand, I assumed that once he got on the plane he'd have a list of passenger names, and might be looking at how many passengers were in first class, etc., and might notice.
I headed to Emirates check-in at around 5:30PM, for the 9PM departure to Dubai. I cleared security and headed to The Club at MCO, which is the lounge that most airlines in the terminal use. OMG it was packed, and it was almost entirely full of Virgin Atlantic and British Airways passengers. It's unbelievable how many flights Virgin Atlantic has to Orlando in summer.
I knew that Toby's crew bus was going to arrive at the airport around 6:45PM, so my plan was to just approach him after he cleared security.
I took the tram from the concourse back to the main terminal, without realizing that you can't actually stay airside once you take it (obviously I wasn't thinking). At this point I knew Toby wasn't far away, so I rushed to get back through security.
As I was waiting to go through the security checkpoint, I suddenly noticed the Emirates crew coming up right behind me, with Toby at the very front. I quickly headed through the metal detector, and then a second later Toby passed through, still not realizing I was in front of him.
At that point I turned to him and said "oh, you're also flying to Dubai?" He didn't know what to say, but I'm happy that he was definitely caught off guard. We all took the tram to the concourse Emirates departs from, and I got a great picture with the entire cabin crew.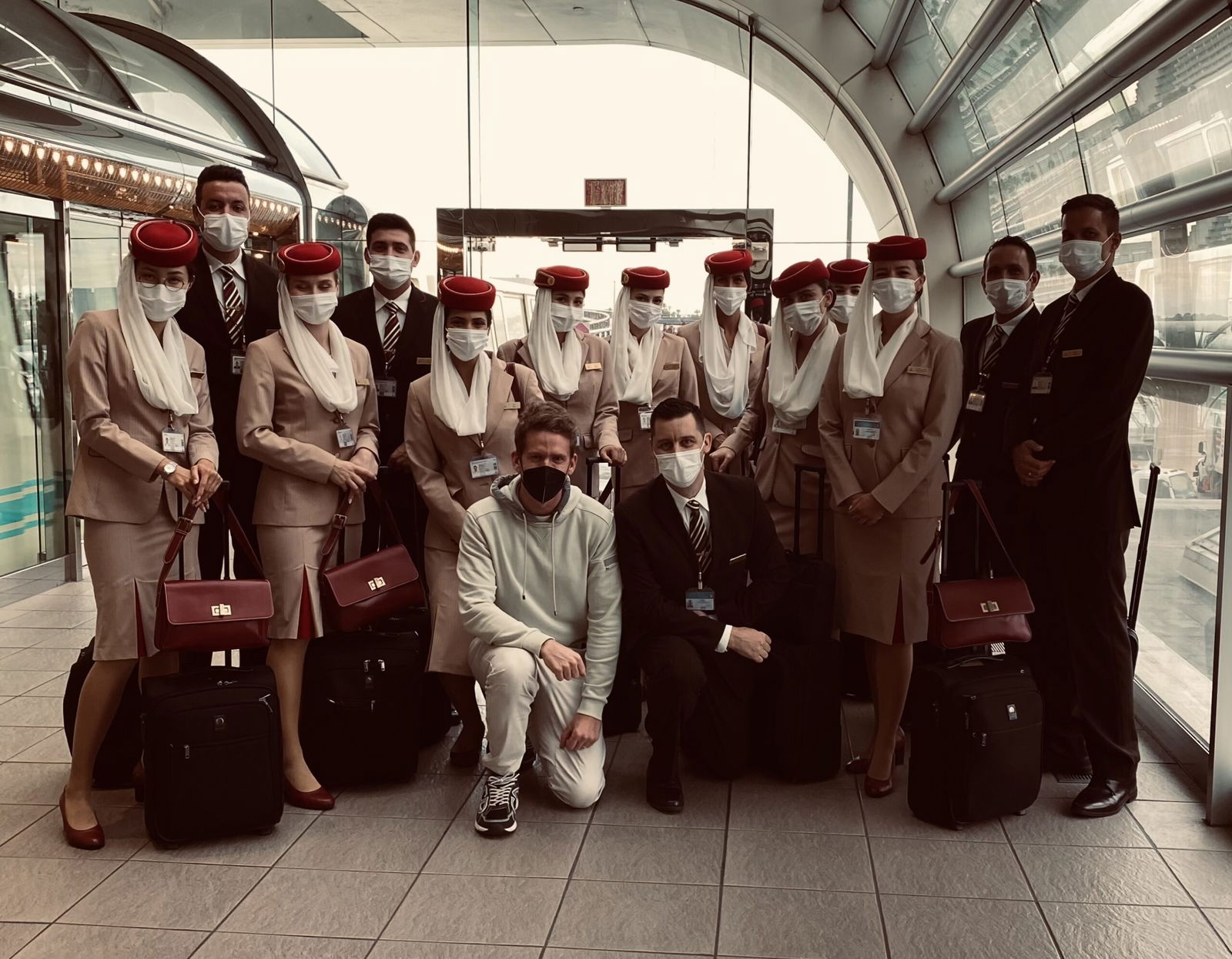 Onboard Toby's retirement flight
I've reviewed Emirates first class many times before, including Emirates' A380 first class, Emirates' new 777 first class, and Emirates' old 777 first class. I won't be doing a traditional flight review, but rather will be focusing on what made this flight special, which is Toby's retirement.
I boarded the Orlando to Dubai flight shortly after 8PM. The flight was operated by a Boeing 777-300ER. While it didn't have the new first class, it was one of the newer "old" planes (and there are some subtle differences, as Emirates frequent flyers can attest to).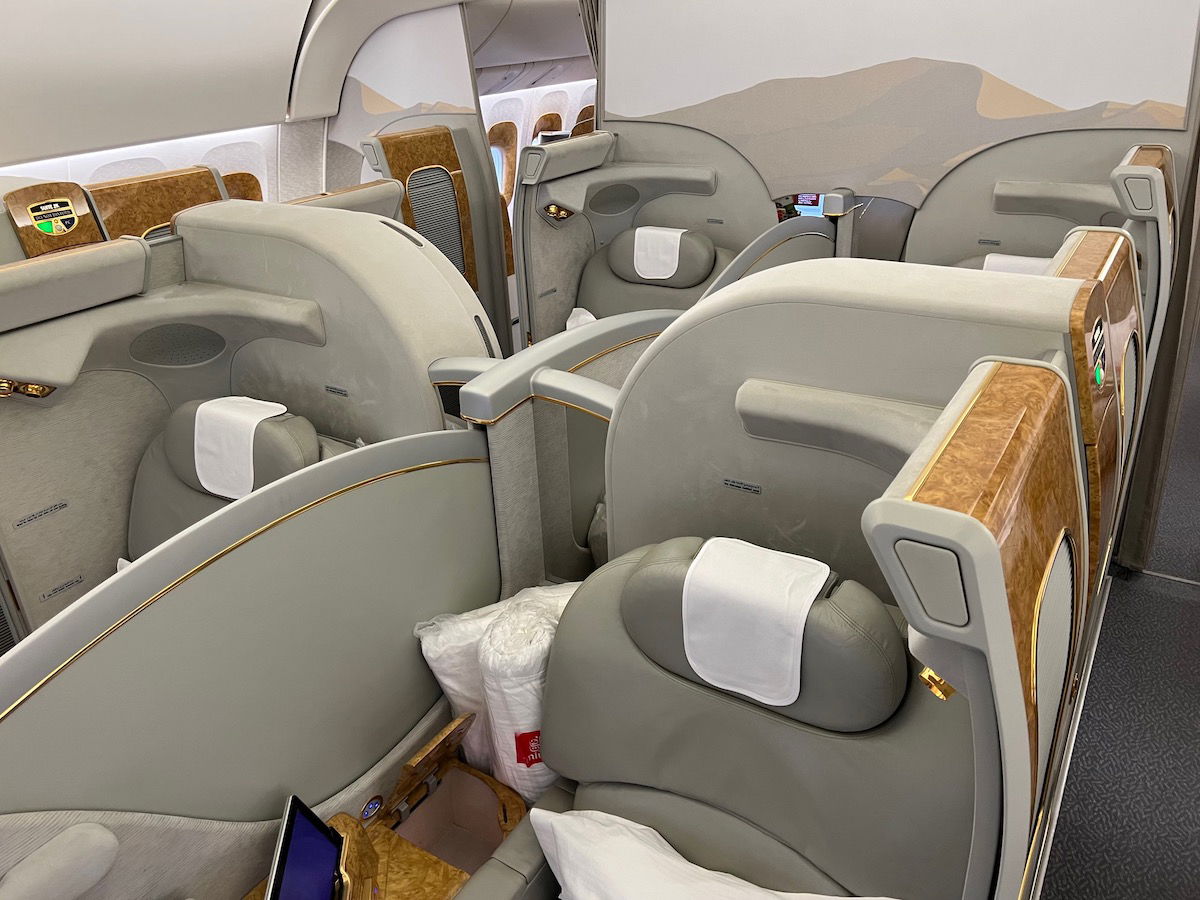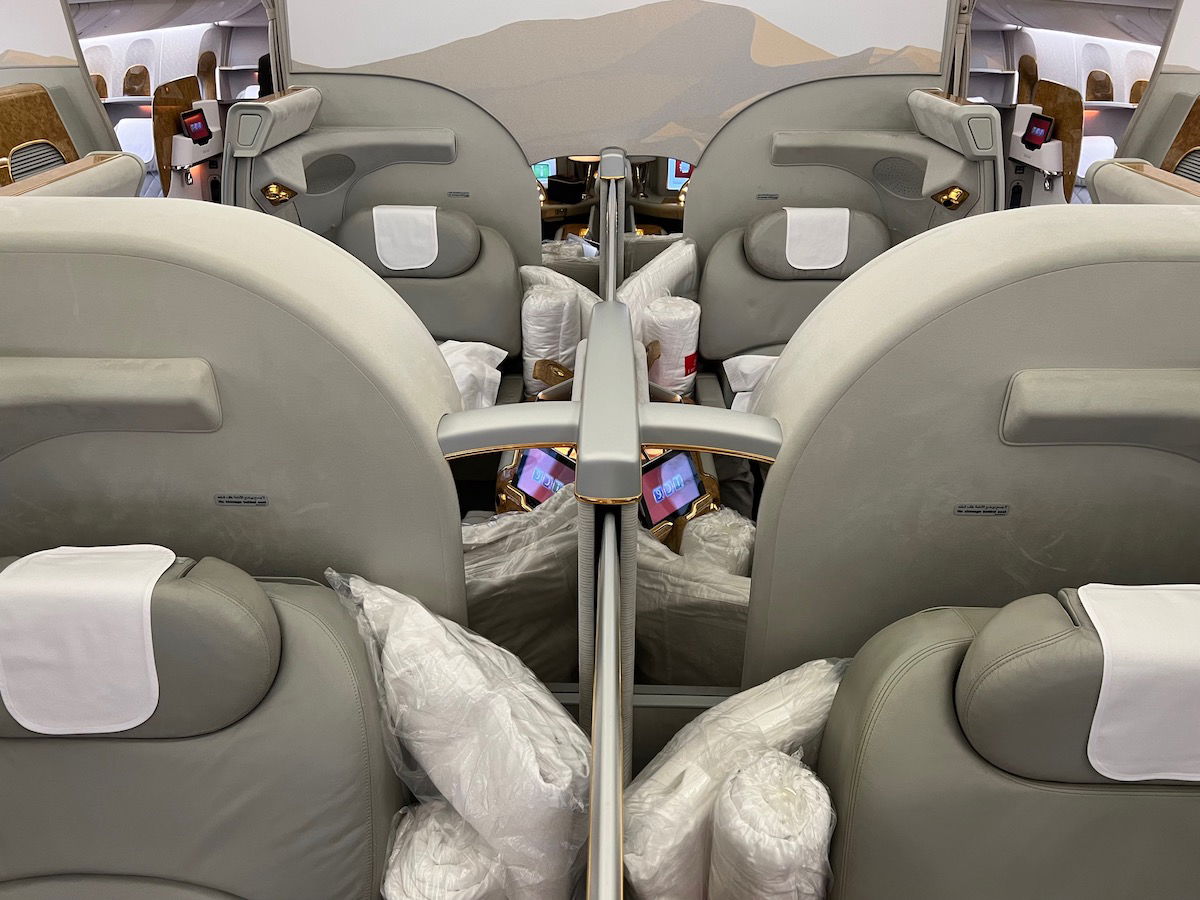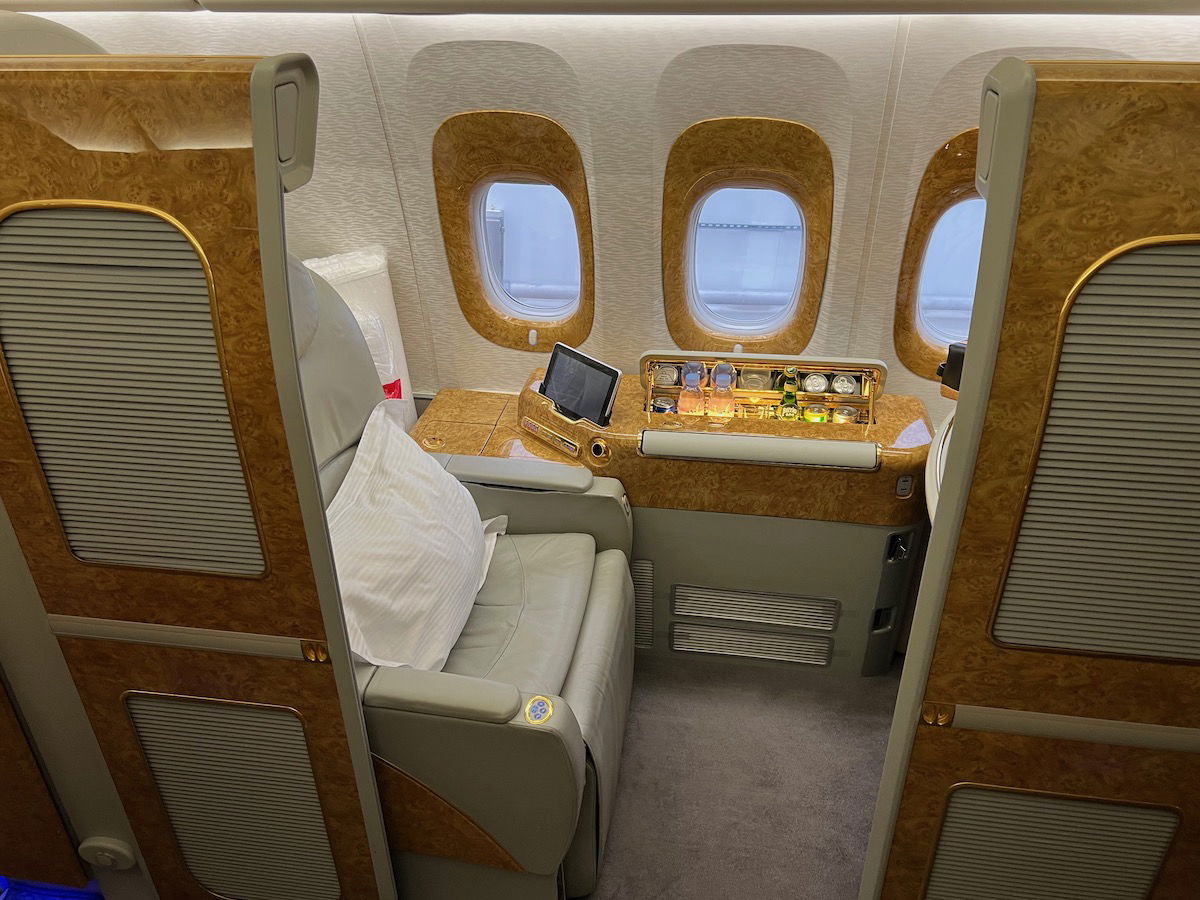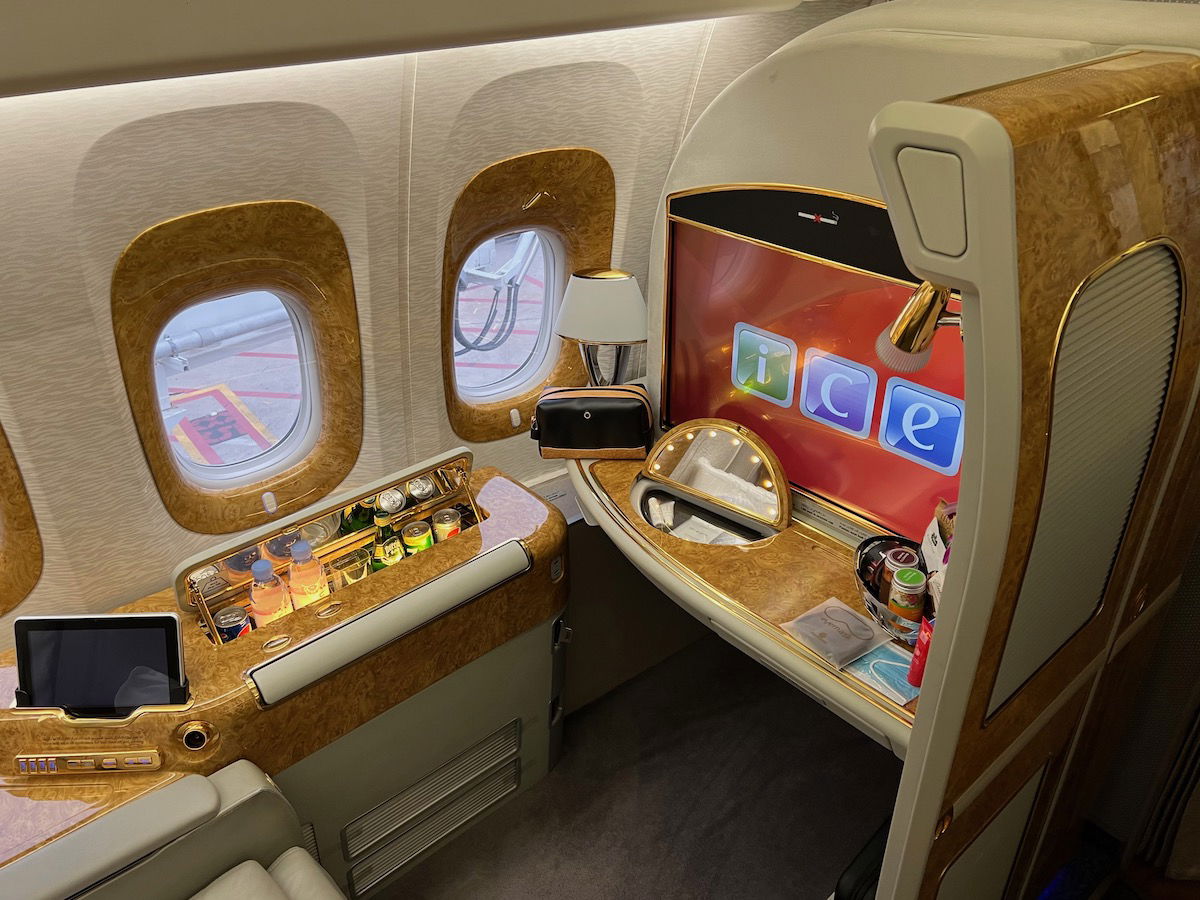 I wanted to pace myself on this 13hr45min flight, so since Emirates doesn't serve Dom Perignon on the ground when departing the United States, I just ordered a sparkling water to drink.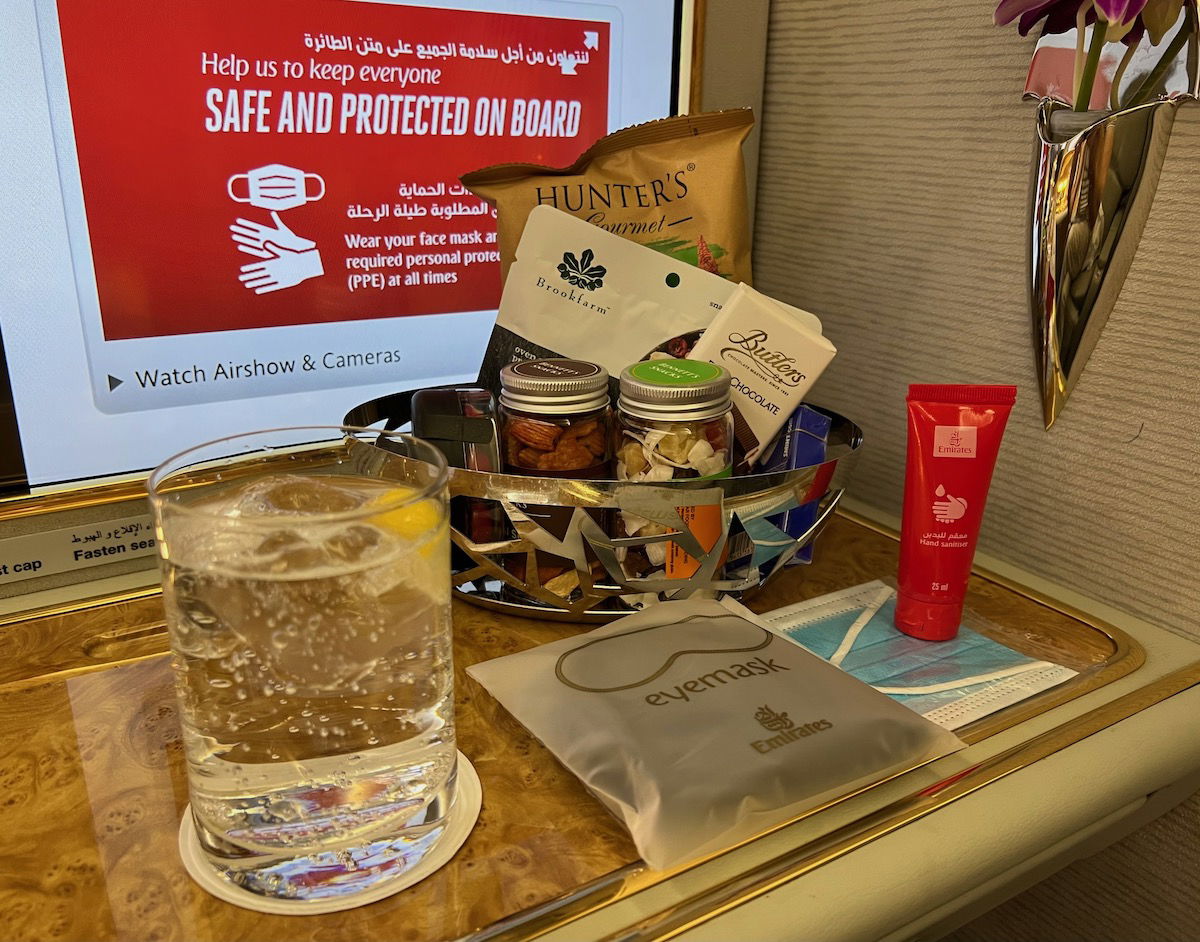 While I was initially the only person booked in first class, there ended up being two other passengers, seated in row two (I was in 1A). I believe it was a retired Emirates captain and his wife, and they were pretty low maintenance.
I lucked out on this flight not just because Toby was onboard, but also because Refka, the Tunisian flight attendant taking care of my aisle, was incredibly professional. Emirates service can be hit-or-miss, but she was textbook perfect in terms of her professionalism.
Unrelated to having the opportunity to fly with Toby, I was excited about flying Emirates out of Orlando. Having grown up in Tampa, I never thought Emirates would serve a destination so close to my home, so that was kind of cool.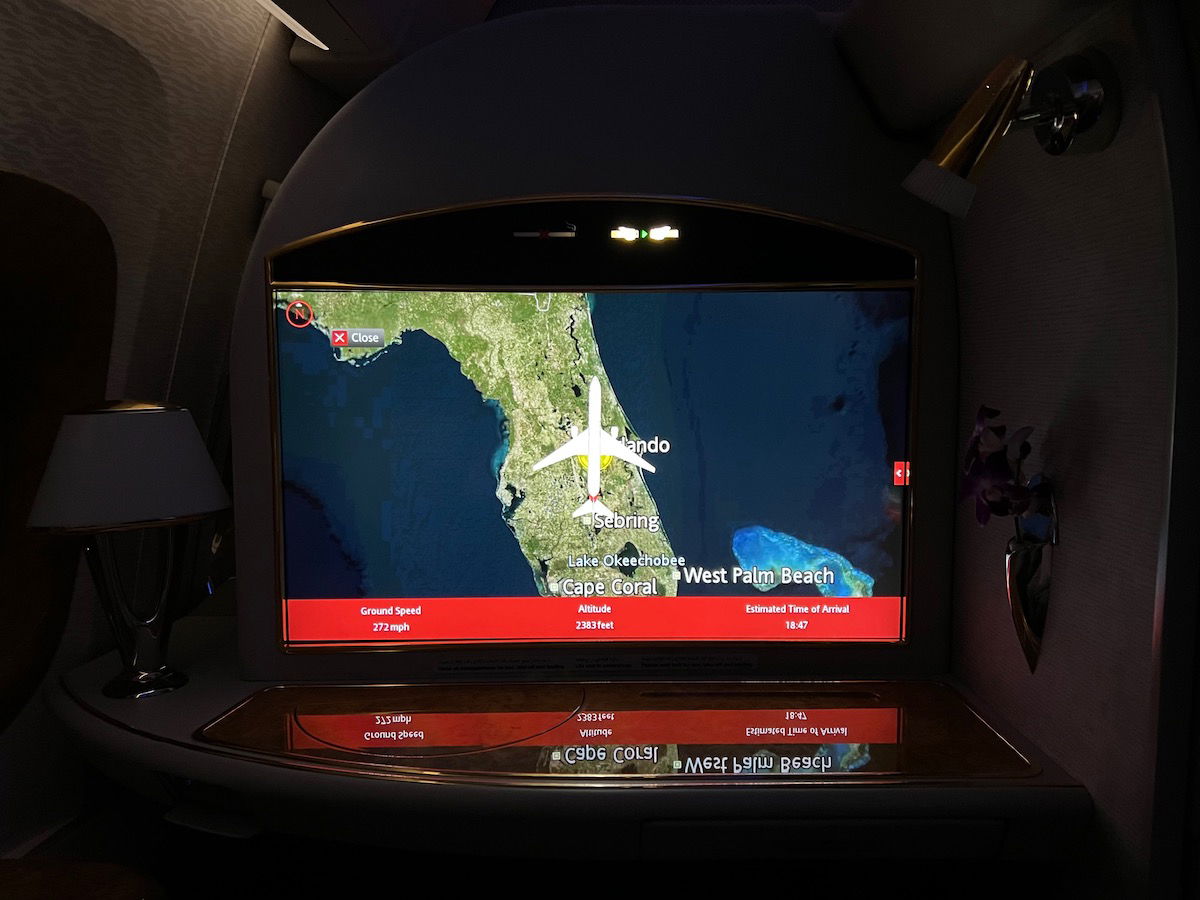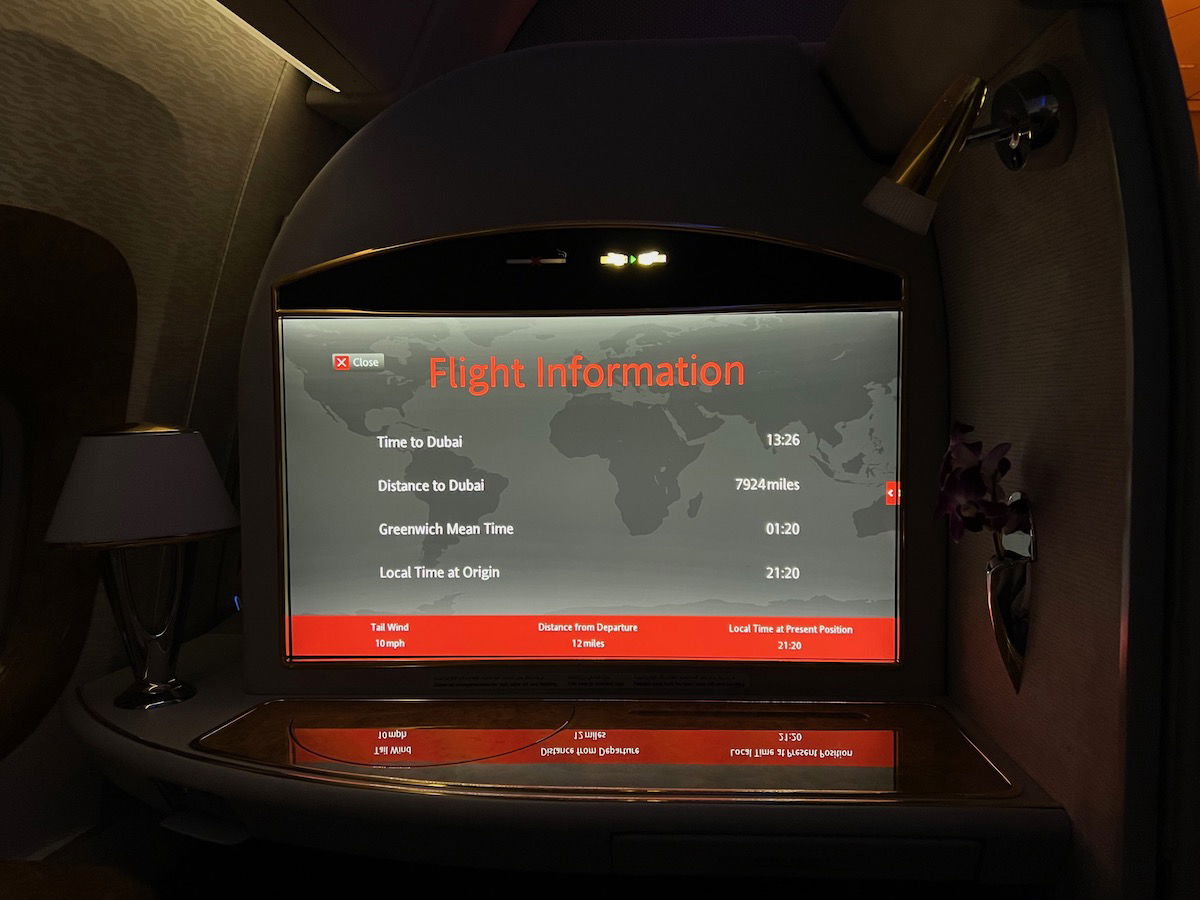 Of course I couldn't help but document all of Toby's professional "lasts." Like the last time he had to present a passenger with a menu…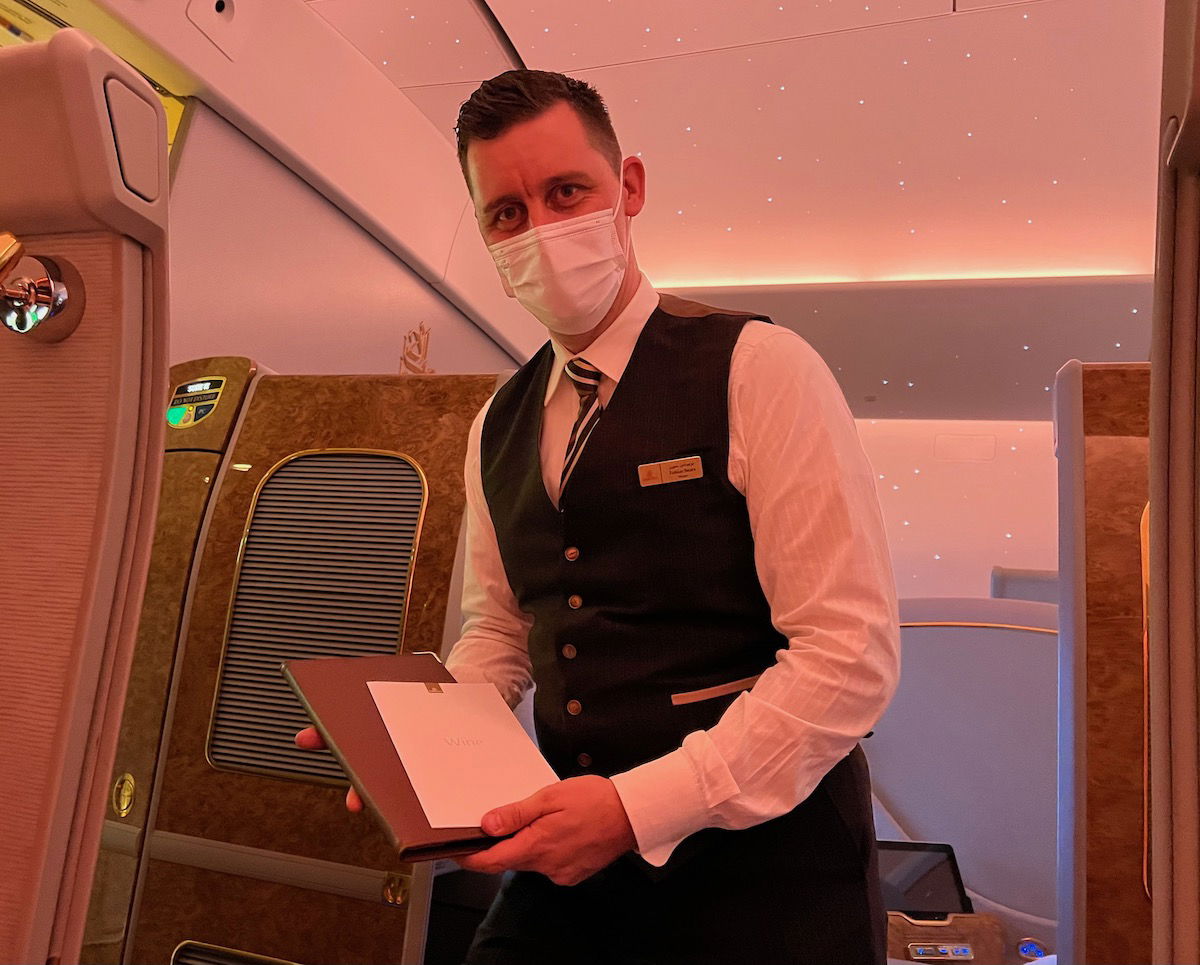 Or the last time he had to pop open a bottle of Dom Perignon (just kidding, I did a bit more damage than that, and wanted to make sure Toby could have that experience more than once on this flight).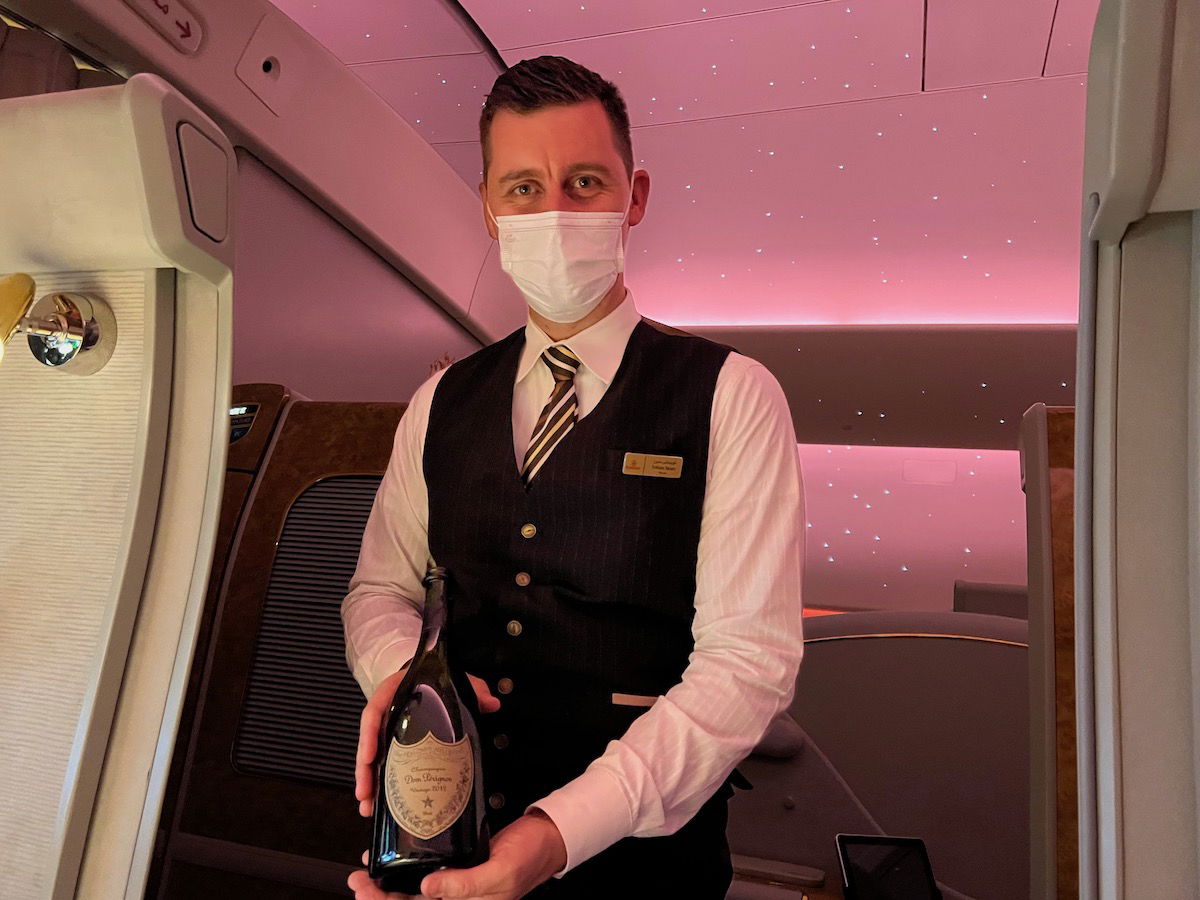 Or the fourth to last time he did a caviar service. 😉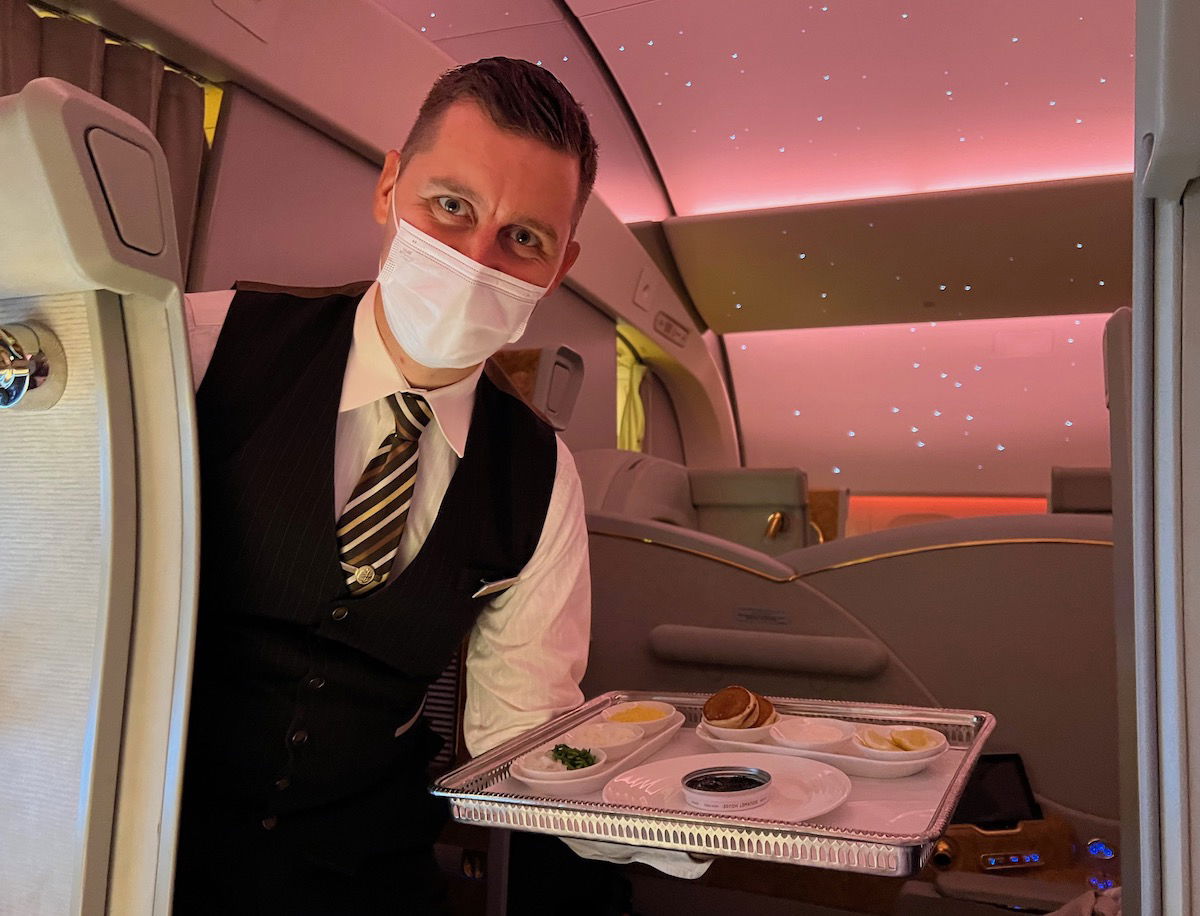 See, the beautiful thing about flying Emirates with Toby is that I don't really have to order anything. He just knows what I'll have. And even if I don't want something he'll serve it to me anyway, and then in the end I like it, so it works out great!
I started with a glass of Dom Perignon, along with the signature canapés and warm mixed nuts. The canapés included a poached prawn and guacamole tartlet, parmesan and truffle arancino, and confit duck with curried pineapple.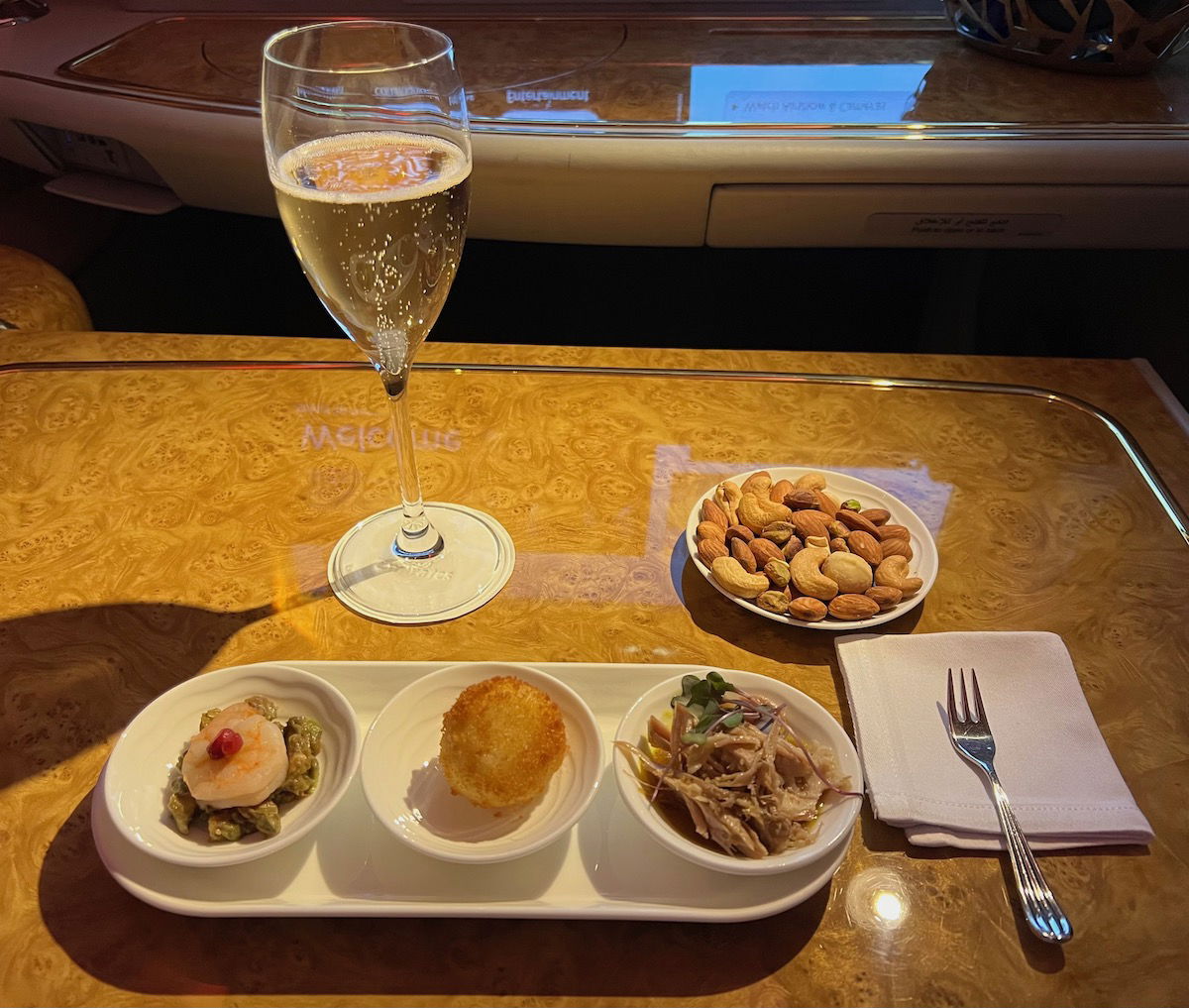 Then I had caviar (more than once, as Emirates is very generous with caviar). Toby asked if I wanted a shot of vodka to go along with my caviar. I felt like I didn't need that, so he suggested another option, which was a shot of vodka in my Dom Perignon. You could say this was a classier version of the "Stoli-Bolli" — we can call it the "Grey Perignon" or "Dom Goose," I suppose.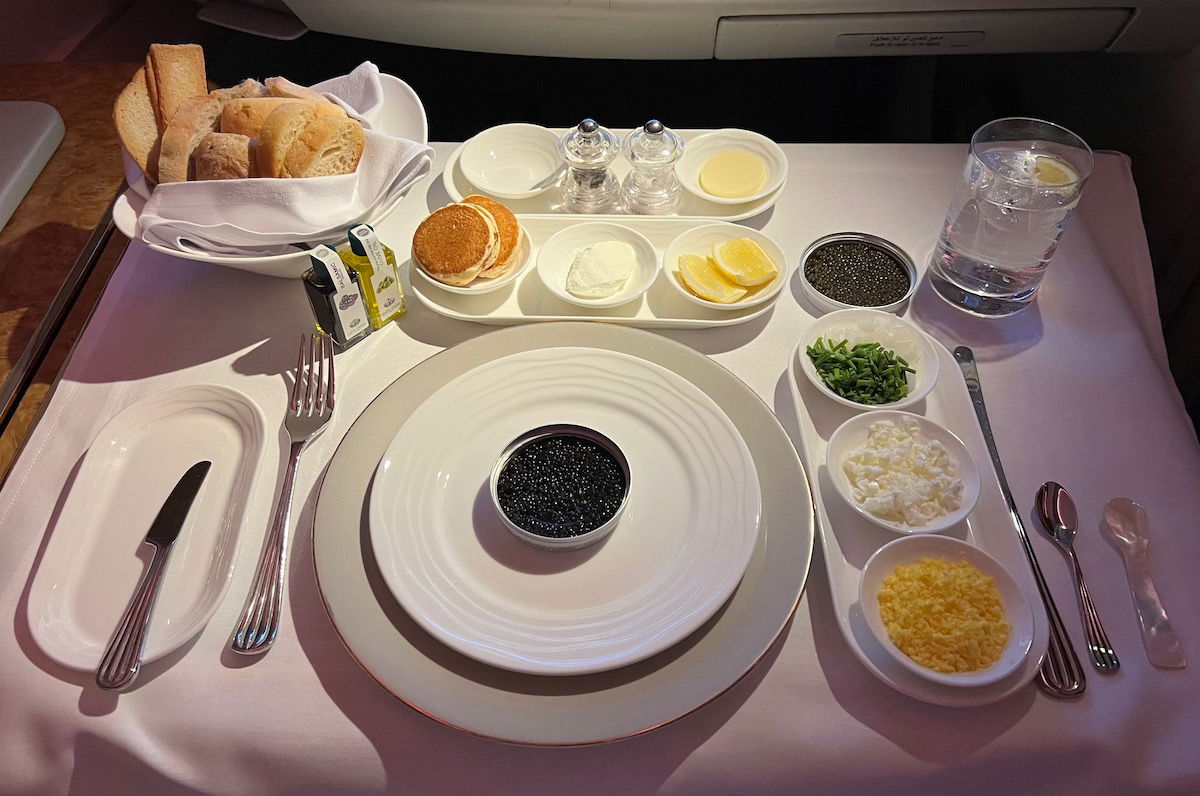 I skipped any other appetizers and mains, and went straight to dessert. I wasn't sure which to have, so somehow the crew ended up making all of them for me (seasonal fruit, chocolate marble cheesecake, and sticky toffee pudding).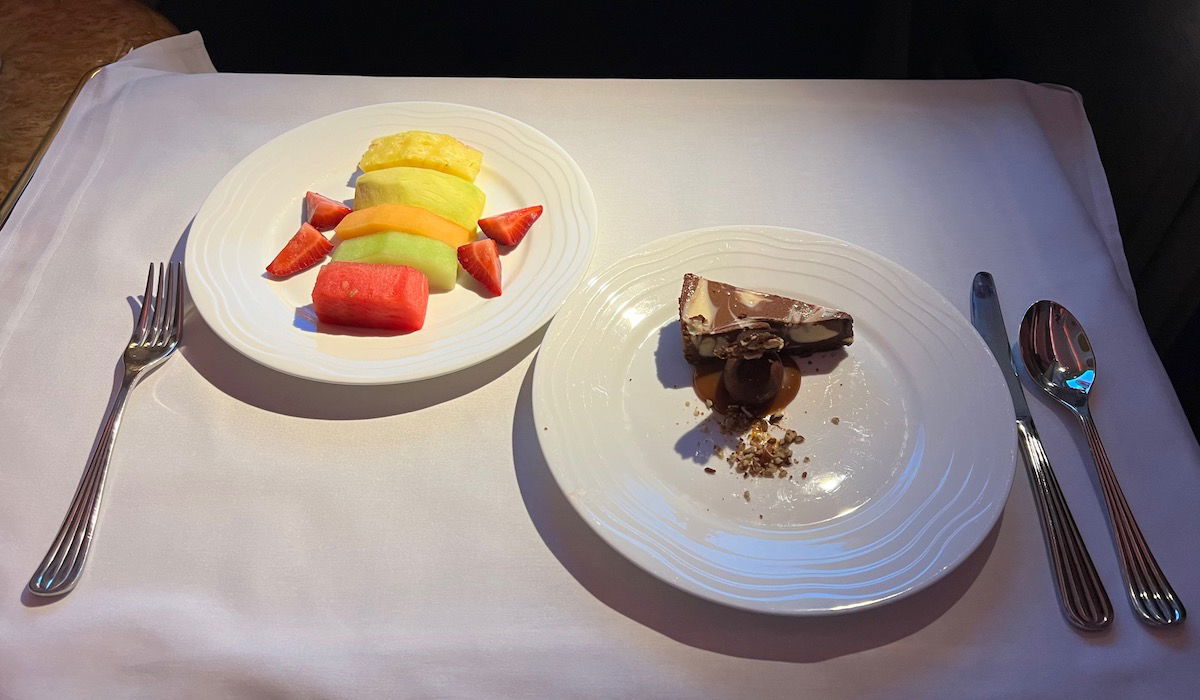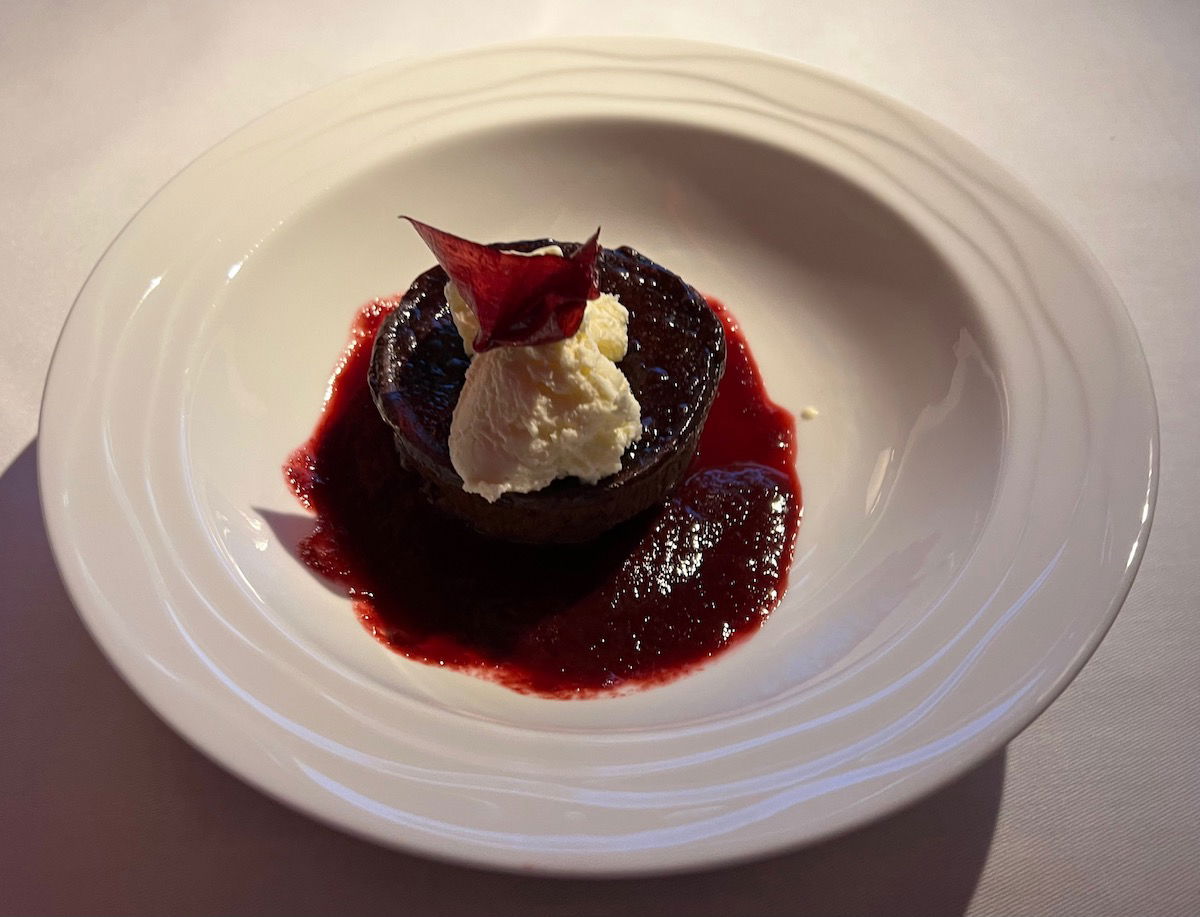 Suddenly I became really tired (I can't imagine why!!), so it was sleep time. Refka made my bed, and I quickly drifted off to sleep. I sure do love how Emirates has stars on the ceiling.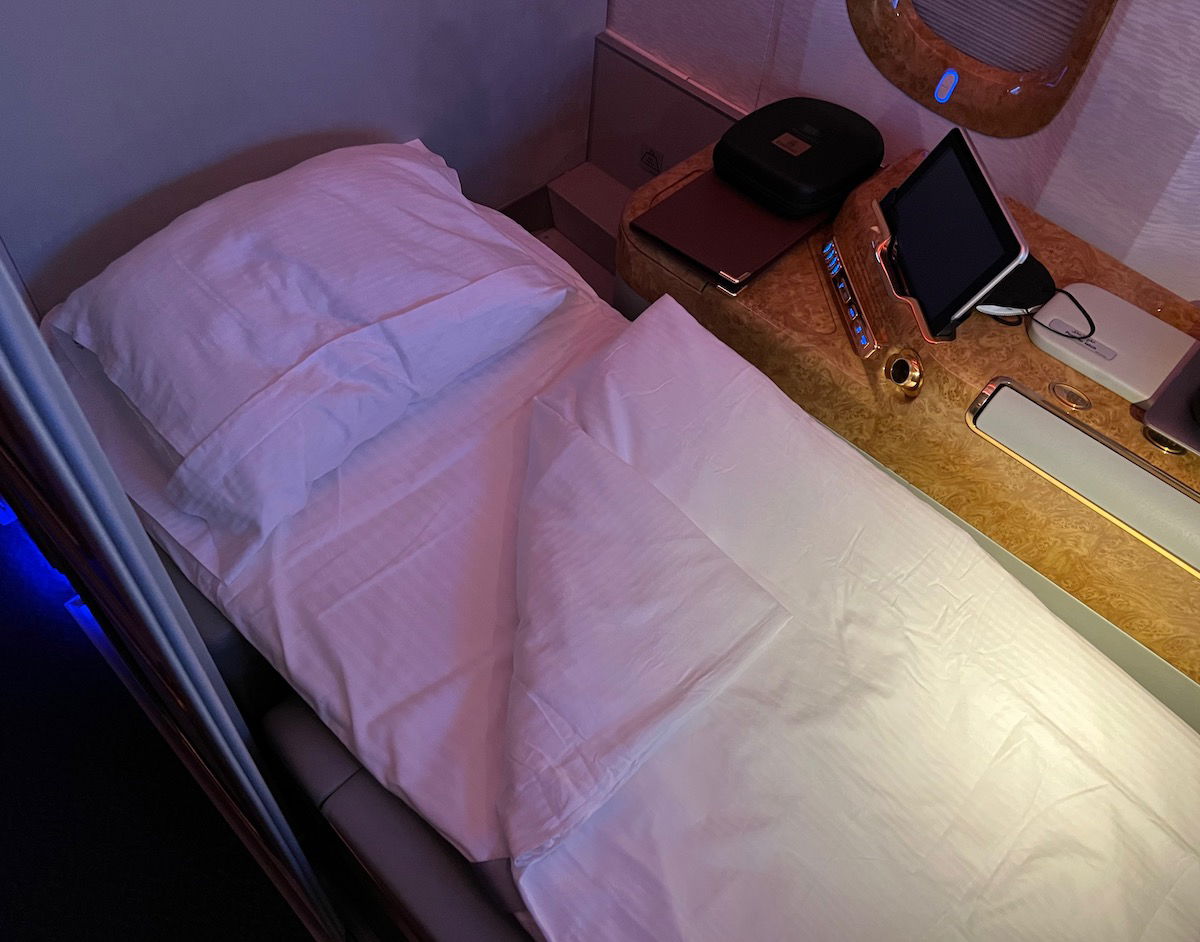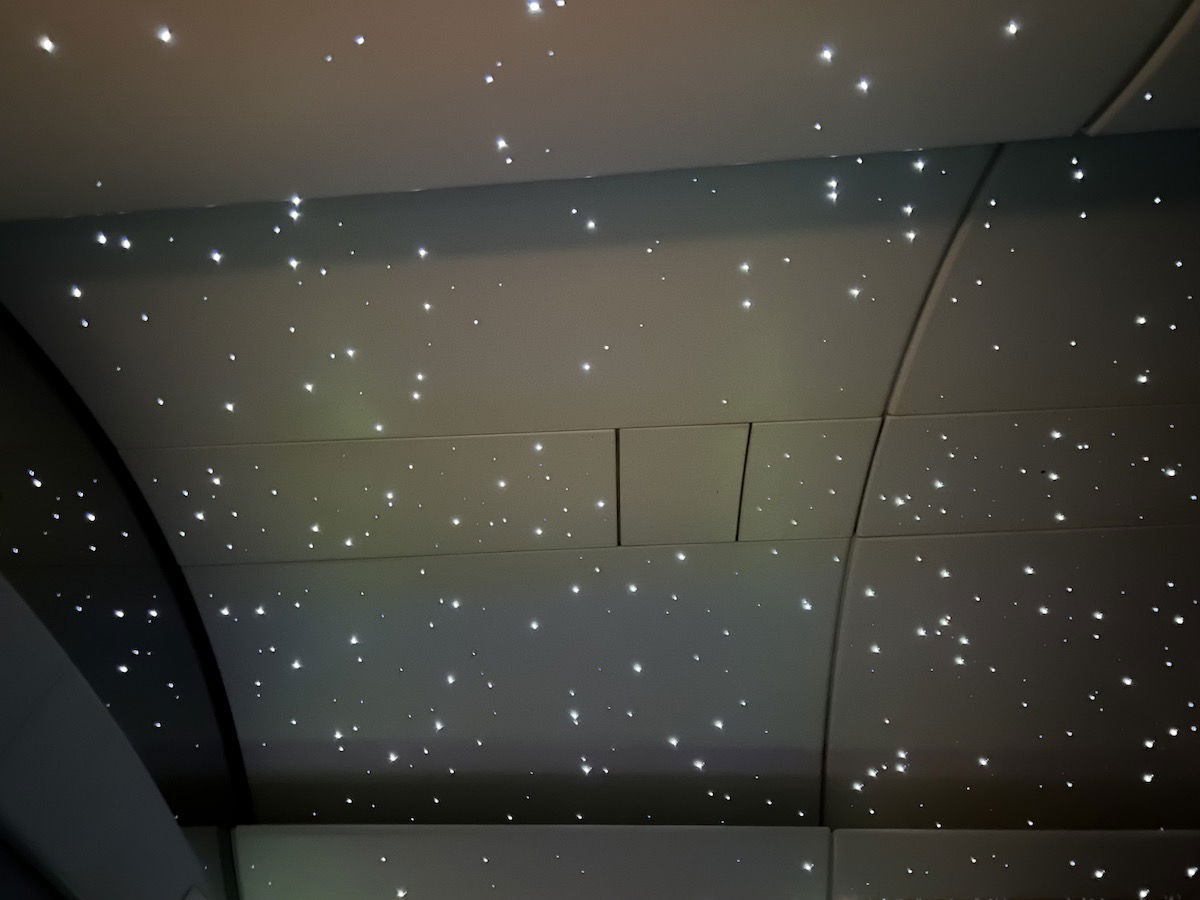 I got several solid hours of sleep, until I was woken up by my TV suddenly turning on. Given the size of the screen and how bright it is, that can easily wake you up if you don't have eyeshades on. Why did my screen go on? Well, I was getting a phone call from 17E.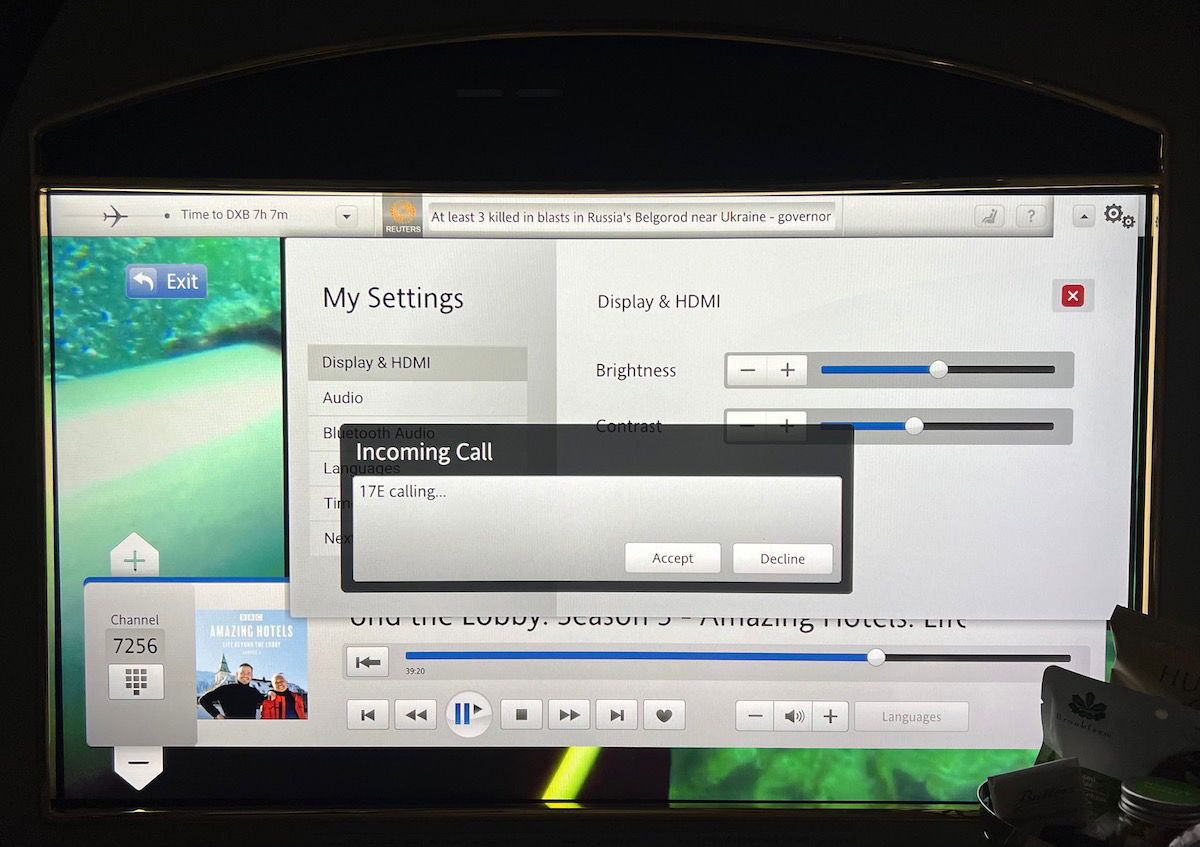 After doing some investigating, it appears that there was a little kid in that seat, so I'm guessing they just pushed buttons accidentally.
At this point we were approaching the UK, with just under seven hours remaining to Dubai. I was ultimately happy about the wake-up call, since sleep wasn't the priority here!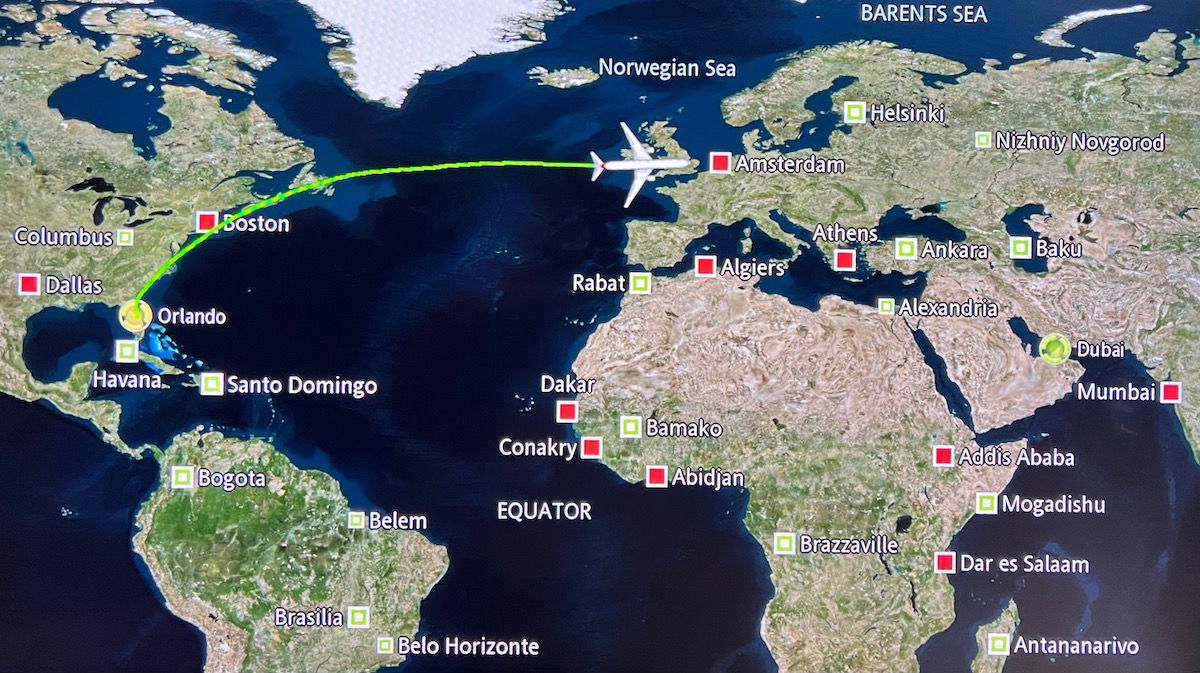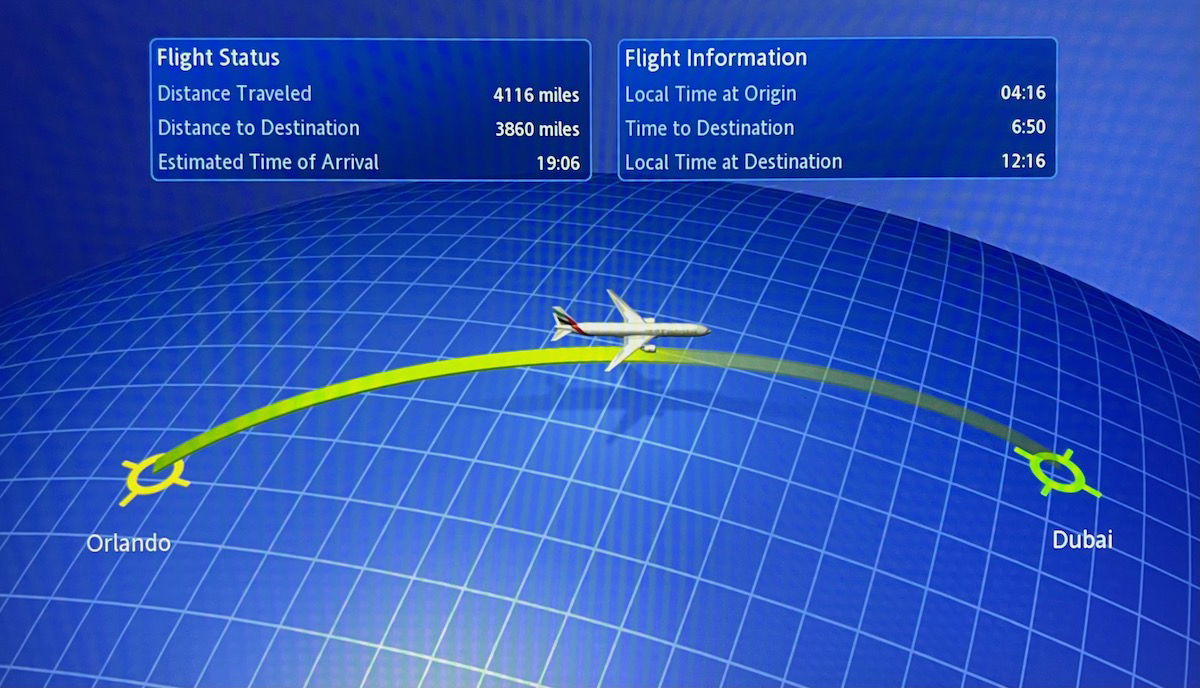 Toby was still on his break at this point, so I ordered a coffee from the lovely Refka, which she served with some sweets (as if I needed any more of those).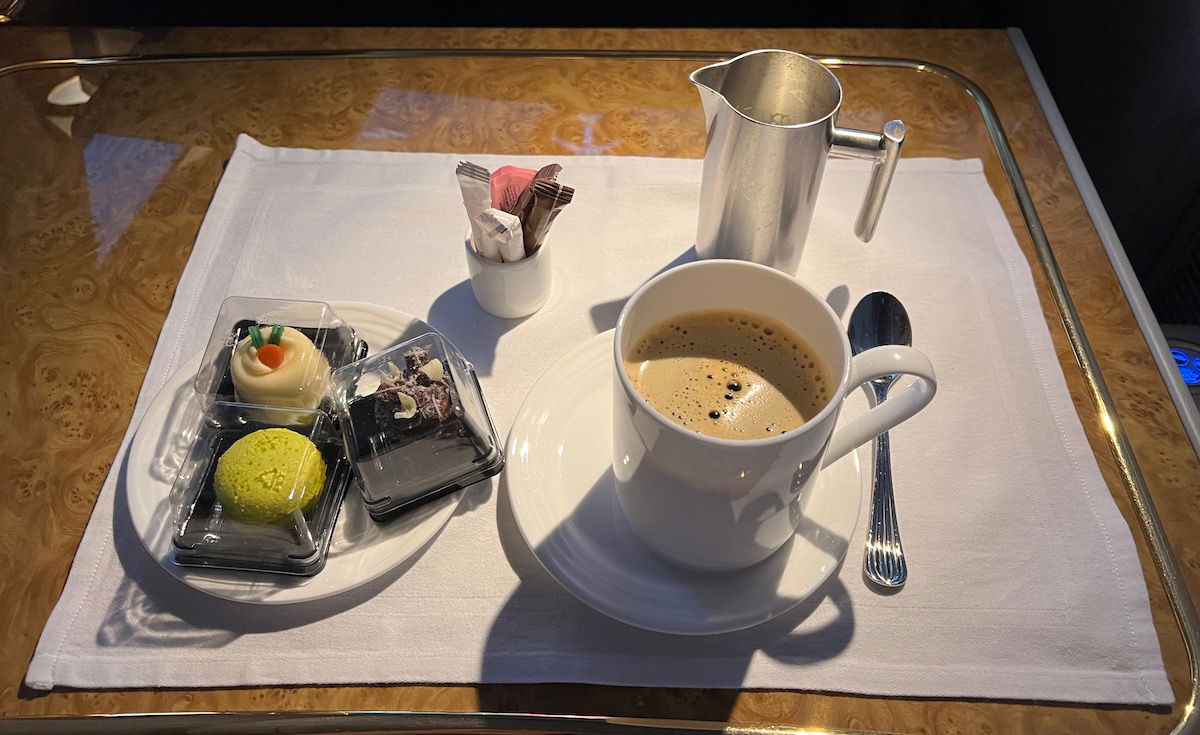 Soon enough Toby was done with his break. About five minutes after Toby returned to work, I was served more Dom Perignon (as if I needed any more of that!).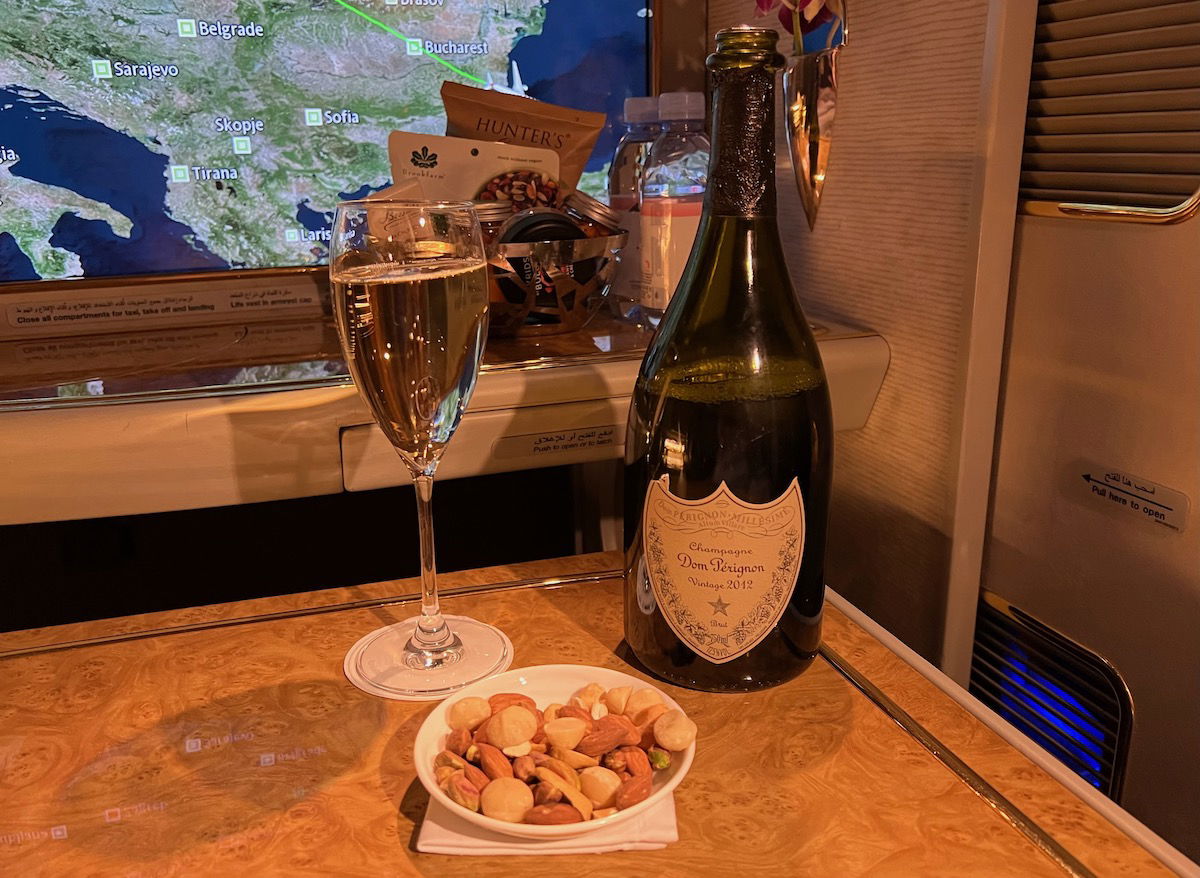 Since the other two passengers in first class were asleep, I had the chance to spend some time talking to Toby, which was nice. Prior to the flight he said he'd probably cry at some point on his last flight, but I figured by keeping him busy we could avoid that, as I don't think it had fazed him that this was really his last flight.
About three hours before landing I decided it was time for another meal. This time around I ordered an Arabic mezze and more caviar, which are my go-to orders on Emirates. While the fuel surcharges were high for this flight, I think I did a decent job recouping them, at least in terms of the retail cost of my consumption. 😉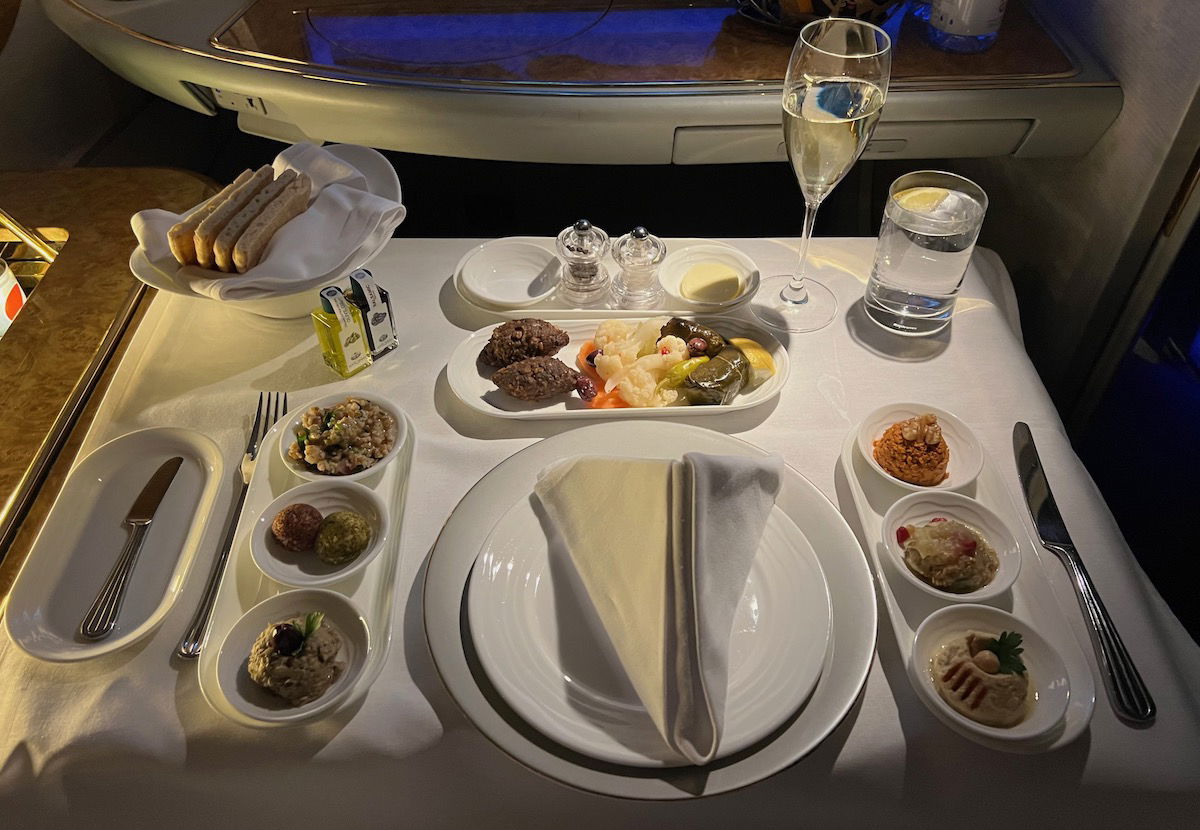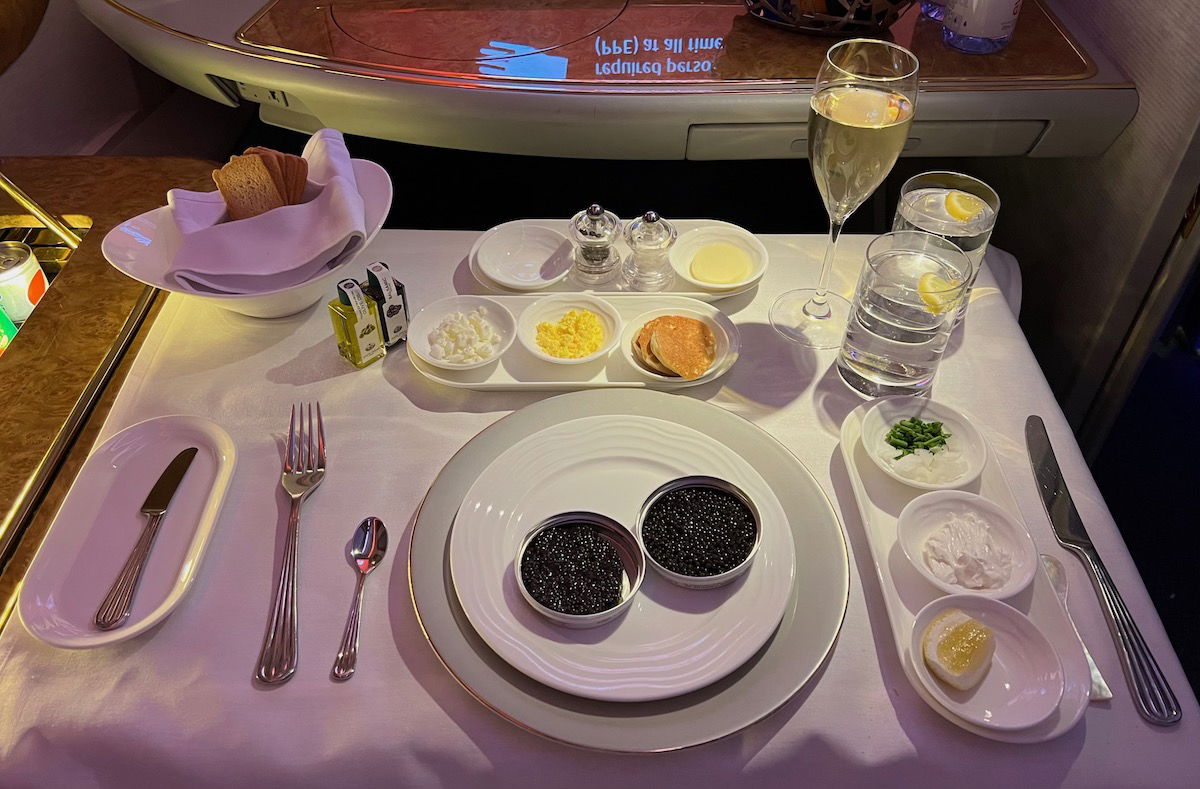 I finished off the meal with a cappuccino.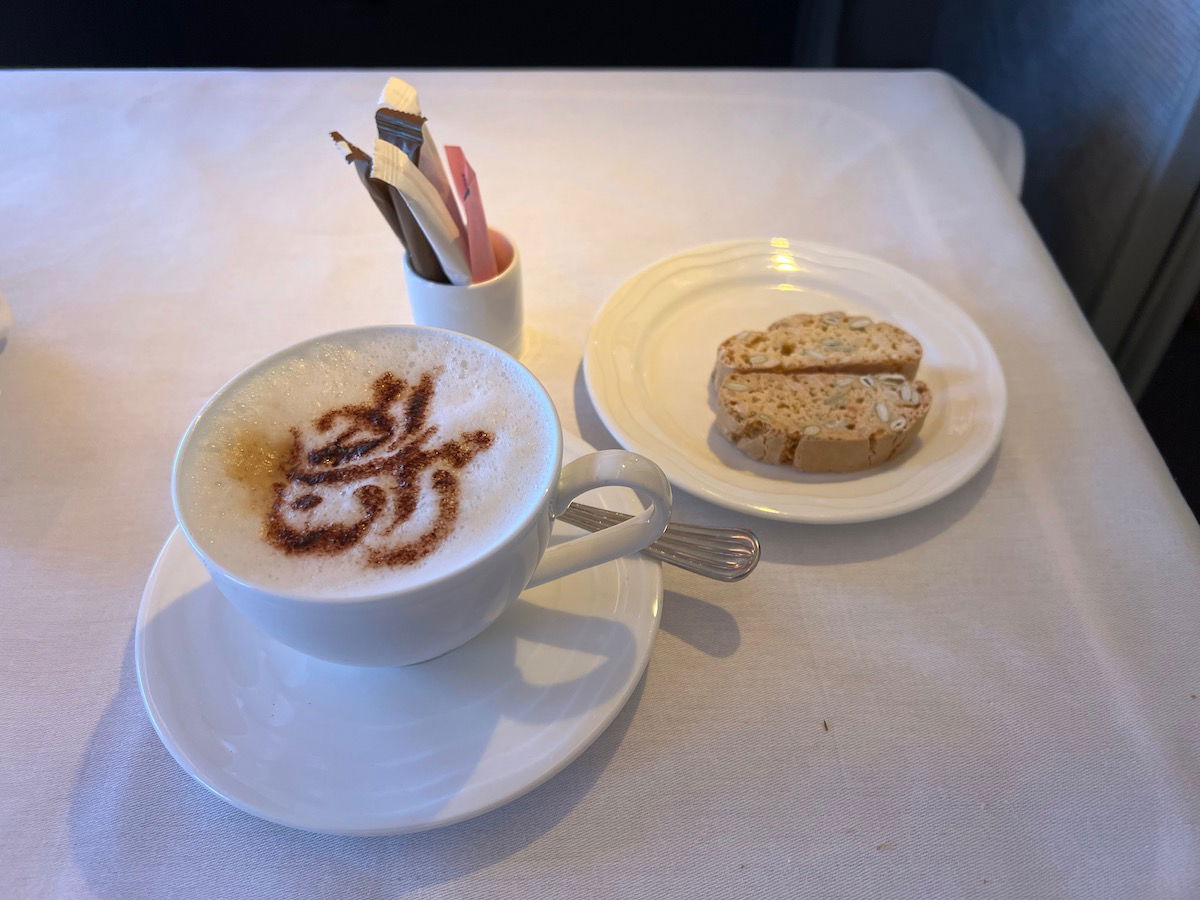 There were some stunning views a few hours before landing.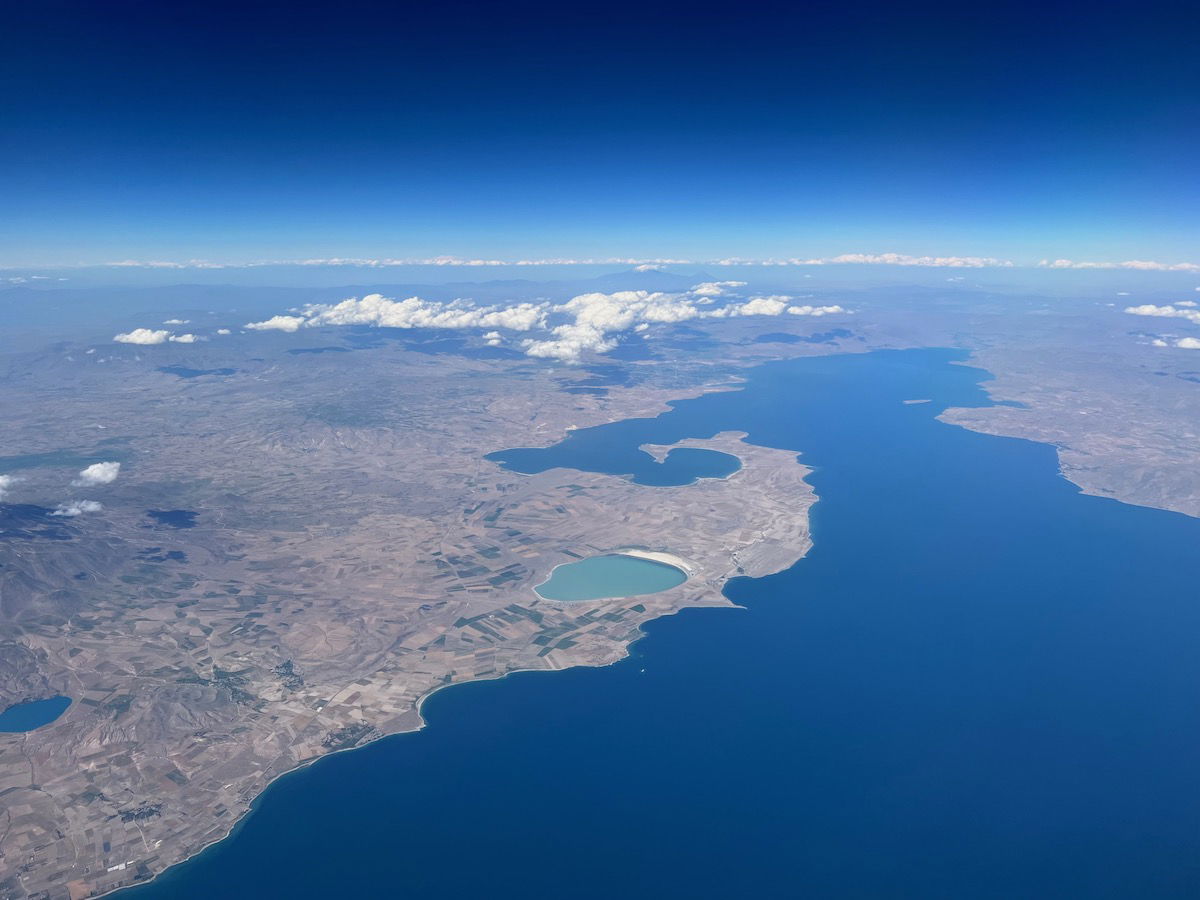 With it being Toby's last flight, we had to document the occasion, so we did a little photo shoot (without disrupting anyone). I also recorded all of Toby's announcements (with his permission, of course), as he does great PAs.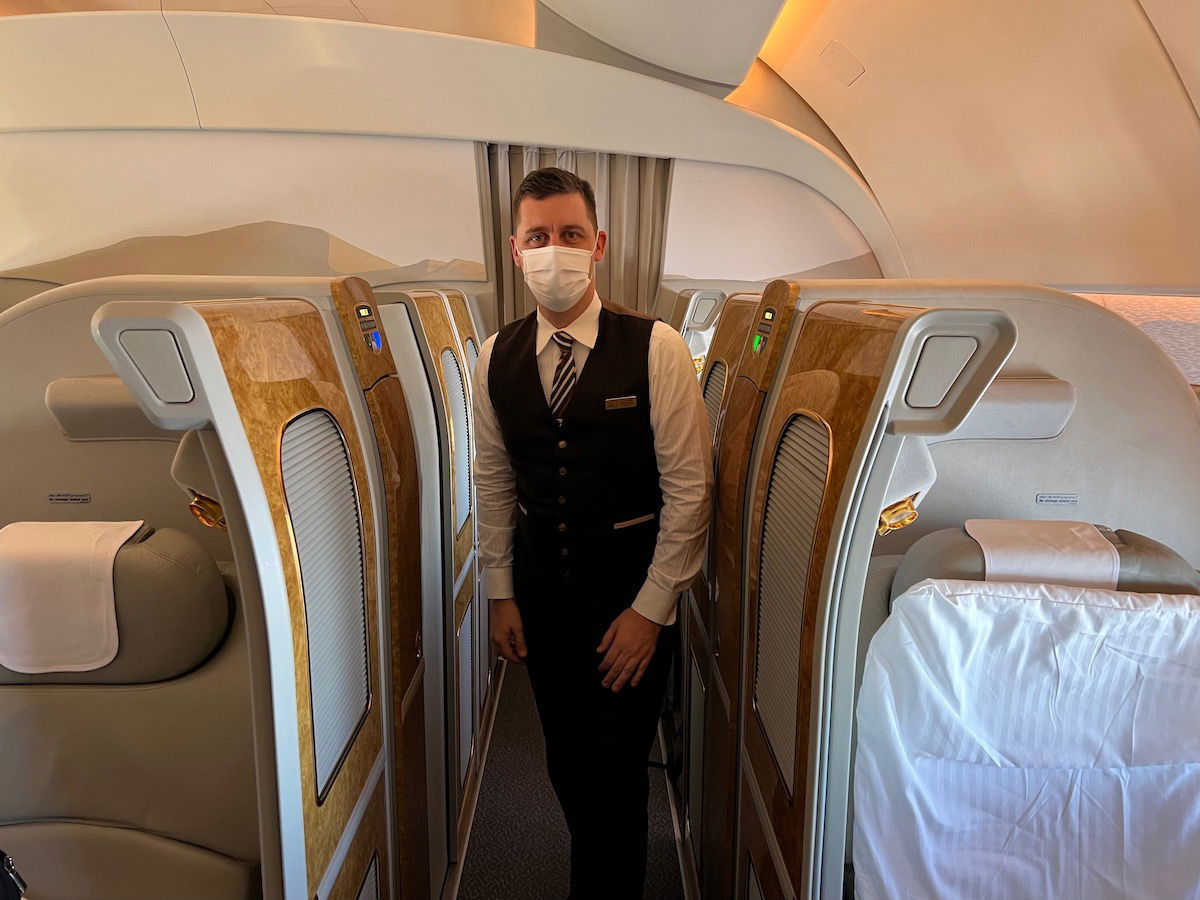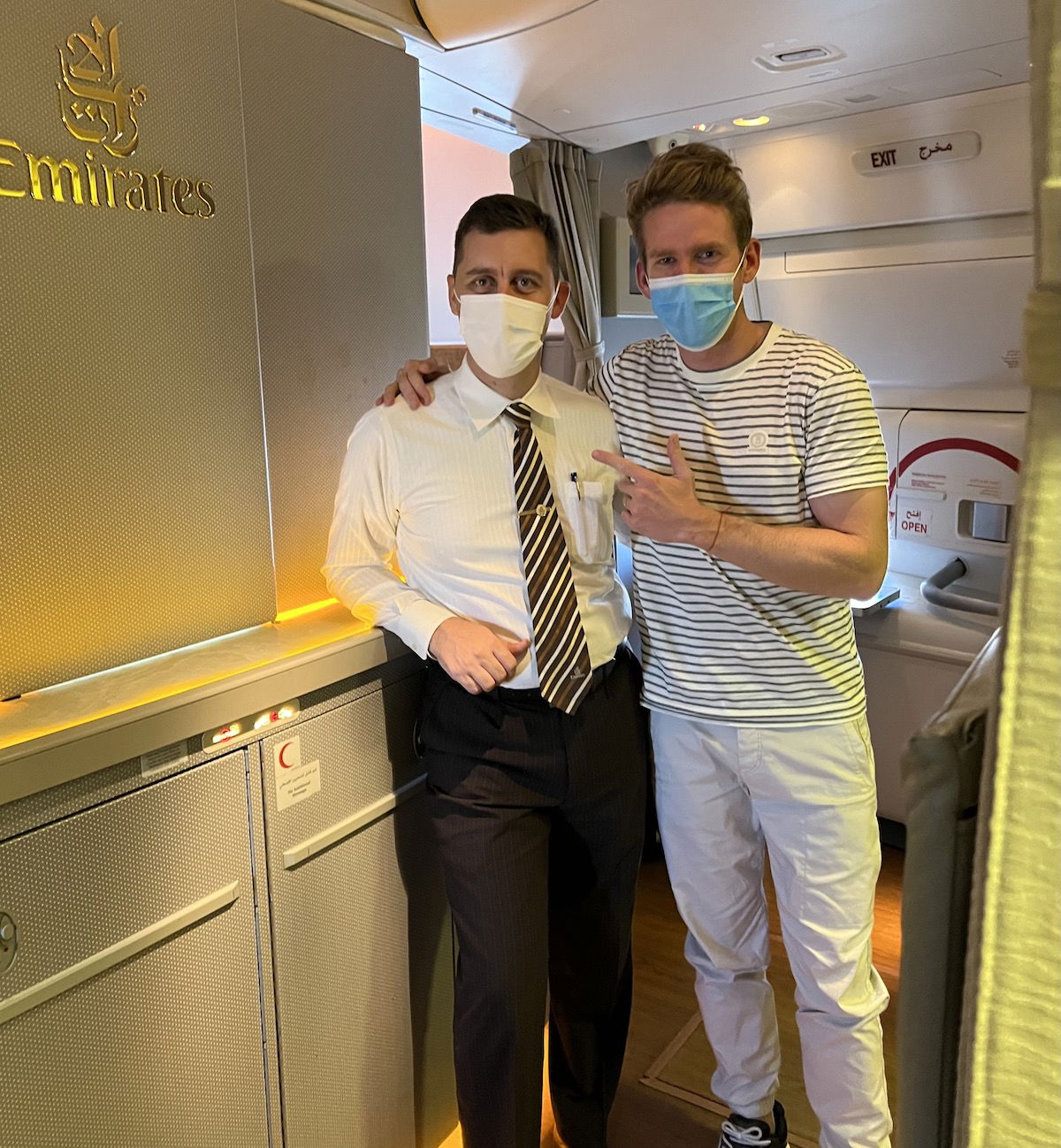 Before we knew it, the flight was coming to an end, and we were on our descent.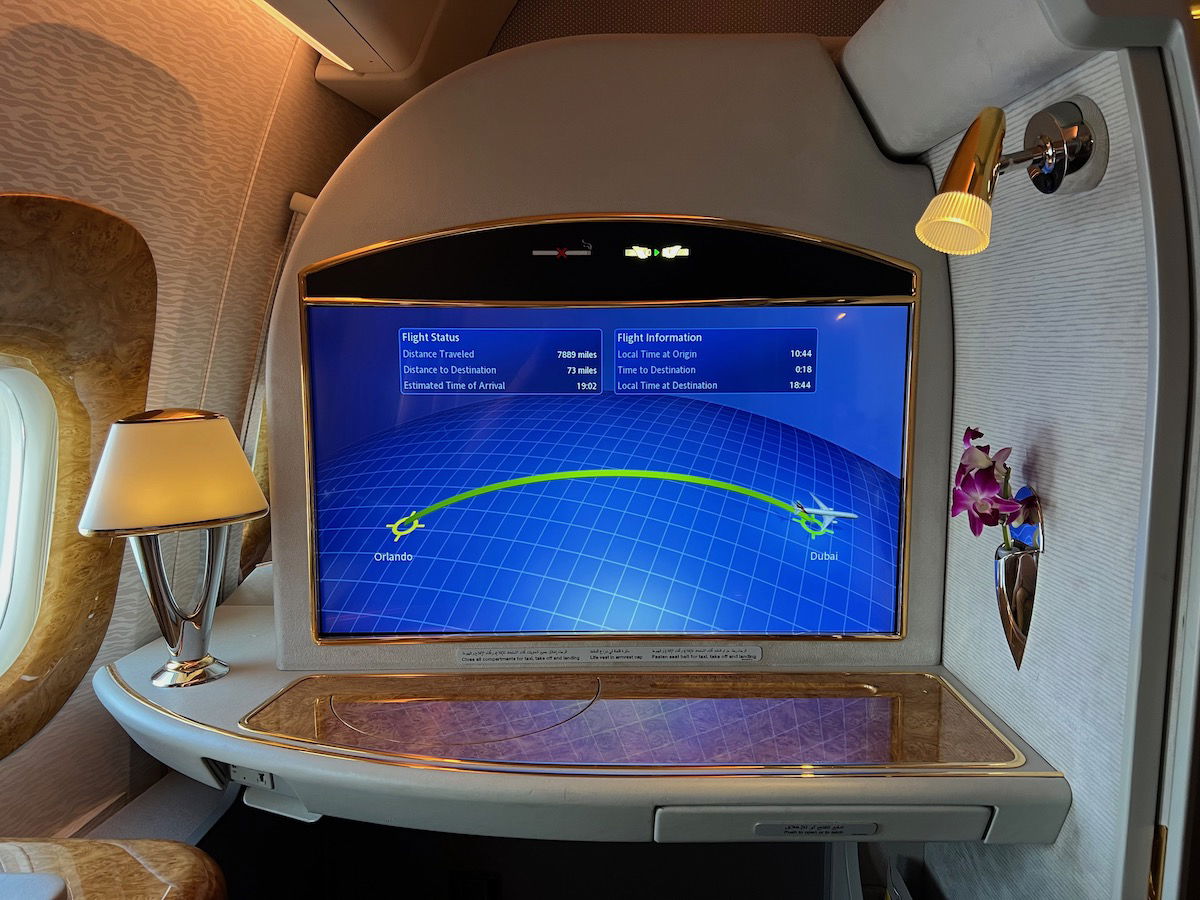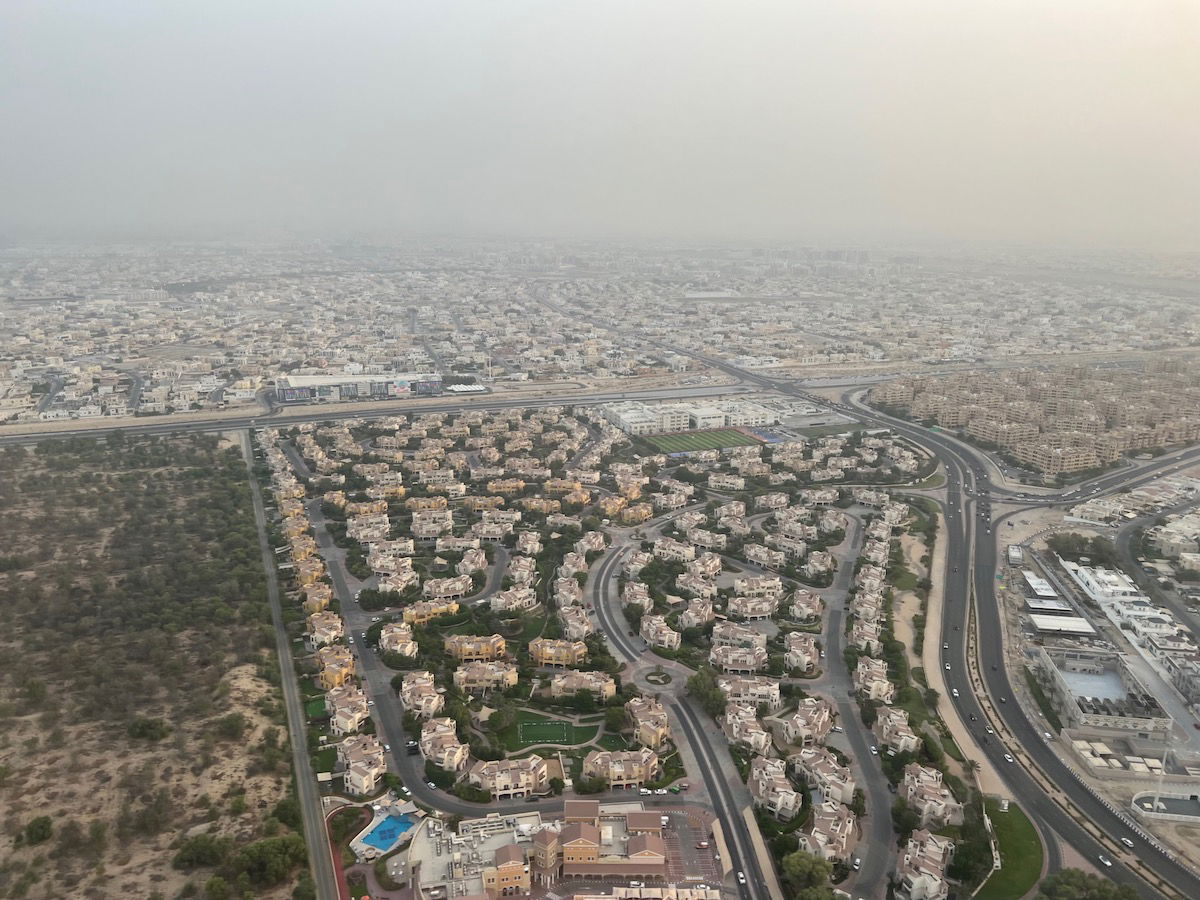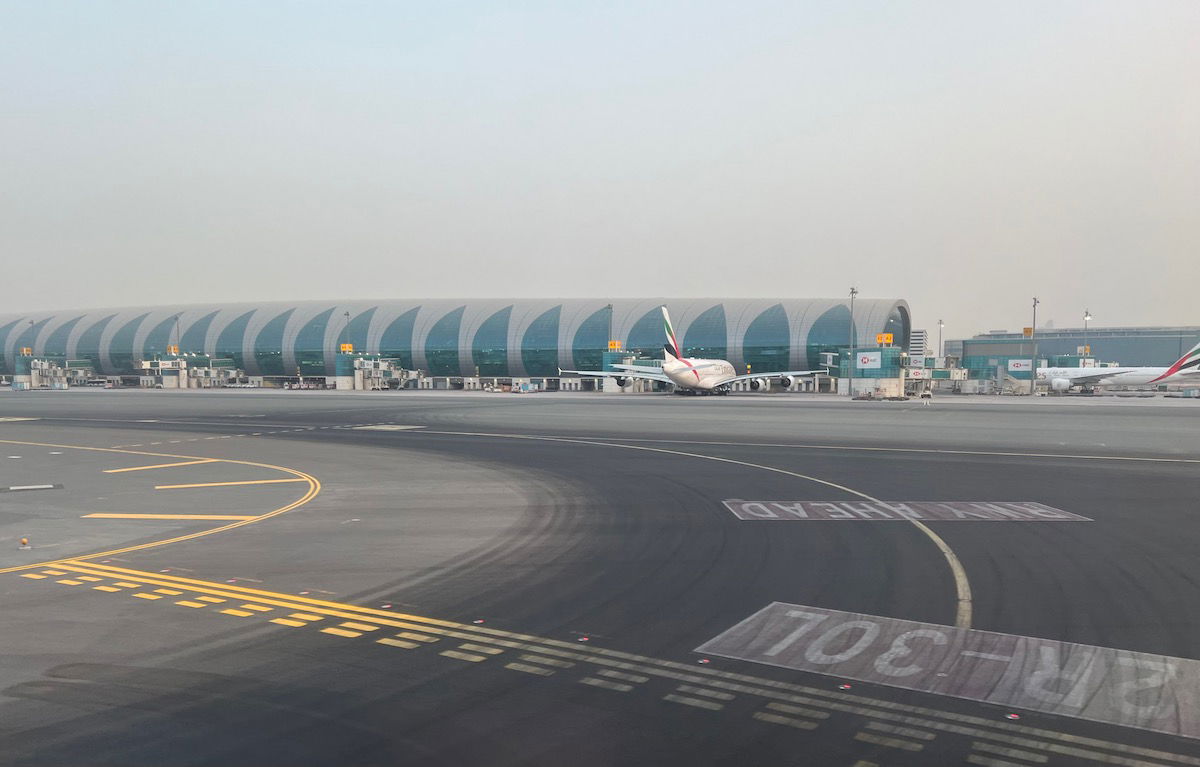 Toby treated this flight just like any other in terms of his announcements. As we pulled into the gate, the first officer made a PA announcing that it was Toby's last flight at the airline, and passengers gave him a round of applause.
And before I knew it, I was saying bye to Toby one last time on Emirates (but it wasn't actually a goodbye for this trip, as I'd see him for dinner a couple of hours later).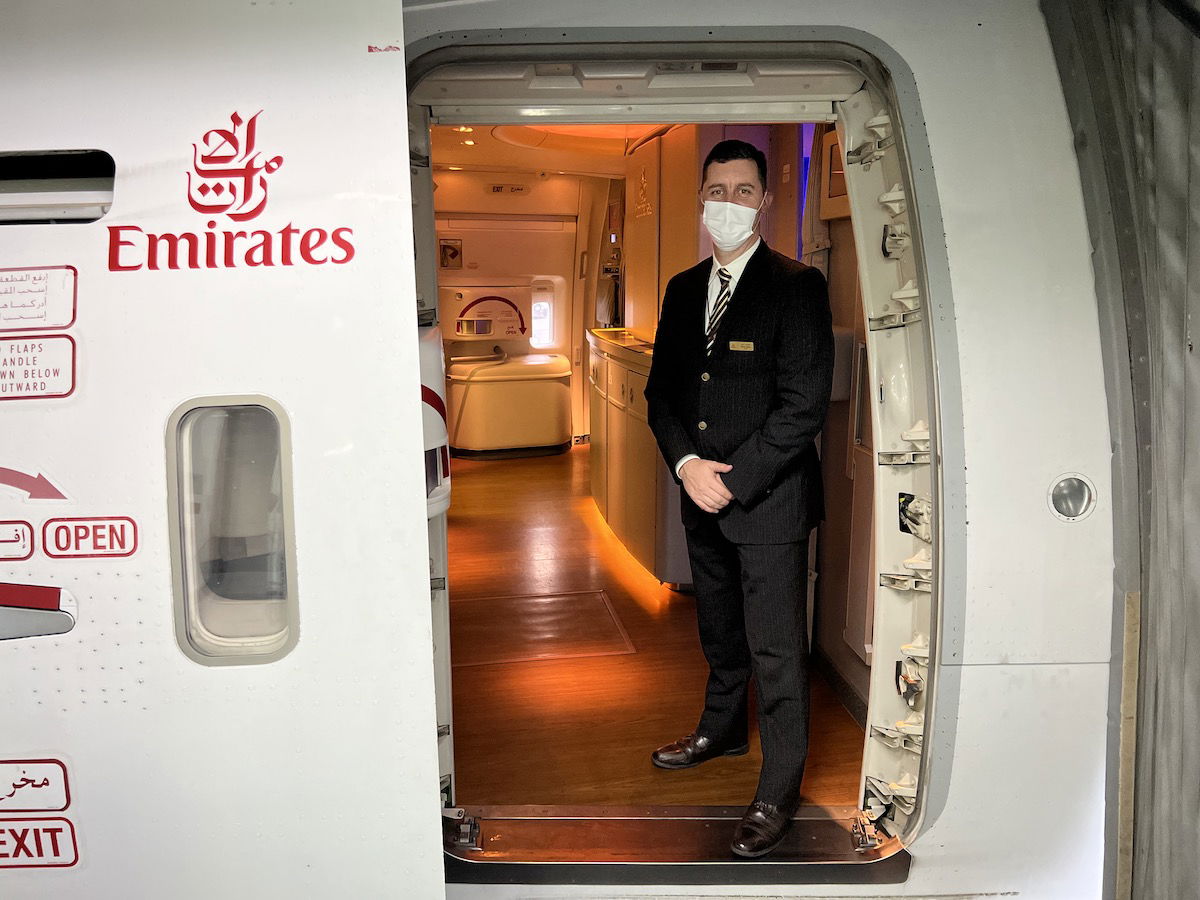 Toby leaving Emirates is bittersweet
I shared lots of background in a previous post, but I met Toby on my first-ever Emirates flight about a decade ago, and we've been great friends ever since. Toby is not only very professional, but an all-around amazing, kind, honest, funny human, and someone I'm lucky to call a friend.
It goes without saying that being cabin crew is also a lifestyle, especially at an airline like Emirates. You constantly jet around the world, and while you're always tired, it's still a pretty good gig, all things considered.
So I can only imagine the mixed feelings Toby has about this. I'm sure he'll appreciate being able to sleep more regularly, having more schedule flexibility, etc. But understandably I'm sure there will also be things he misses.
The good news is that while this was my last flight with Toby that he was working, it's most definitely not my last flight with Toby otherwise. He's a full-on avgeek and loves flying all airlines, and I can't wait to take more flights with him, as he's down to go just about anywhere.
Maybe we can get him to write some guest reviews, to get the perspective of a former crew member.
Bottom line
I feel so lucky that I had the chance to be on Toby's last flight with Emirates. He's a one-of-a-kind person, and getting to be there for all of his Emirates "lasts" was a privilege. I look forward to many more flights with Toby (though probably with less caviar and Dom Perignon). 😉