---
Emirates 651
Colombo (CMB) – Dubai (DXB)
Sunday, January 7
Depart: 9:55AM
Arrive: 1:00PM
Duration: 4hr35min
Aircraft: Boeing 777-300ER
Seat: 2A (First Class)
It has been a while since I've flown Emirates first class, though the second I boarded I had the biggest smile on my face. At the forward door I was welcomed by Draginja, the Serbian flight attendant who would be taking care of me.
Unlike the A380, Emirates' 777s don't have onboard showers or a bar, but they do have a more intimate and spacious first class cabin. First class consists of a total of eight seats, spread across two rows in a 1-2-1 configuration.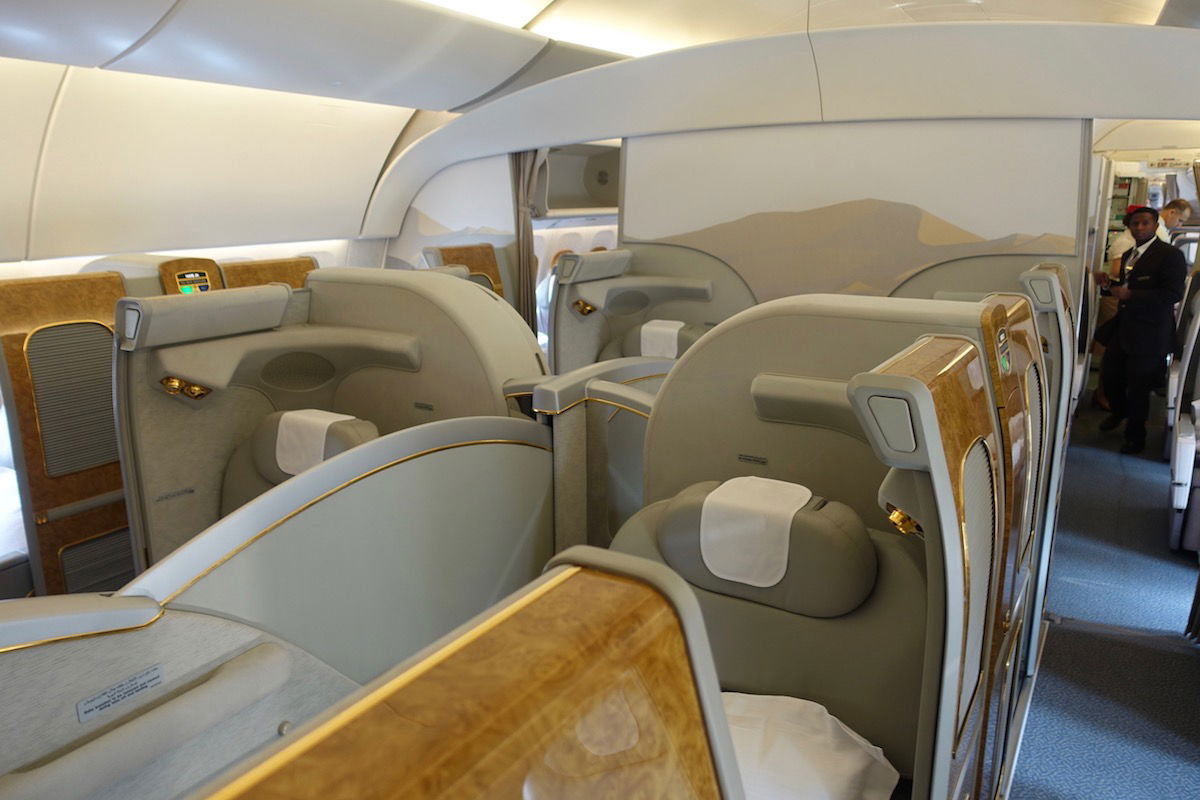 Emirates 777 first class cabin
As a point of comparison, the A380 has 14 first class seats. The reason the cabin feels more spacious is because the 777 has a wider cabin than the upper deck of the A380, so not only is the cabin a bit wider, but the ceiling is also higher.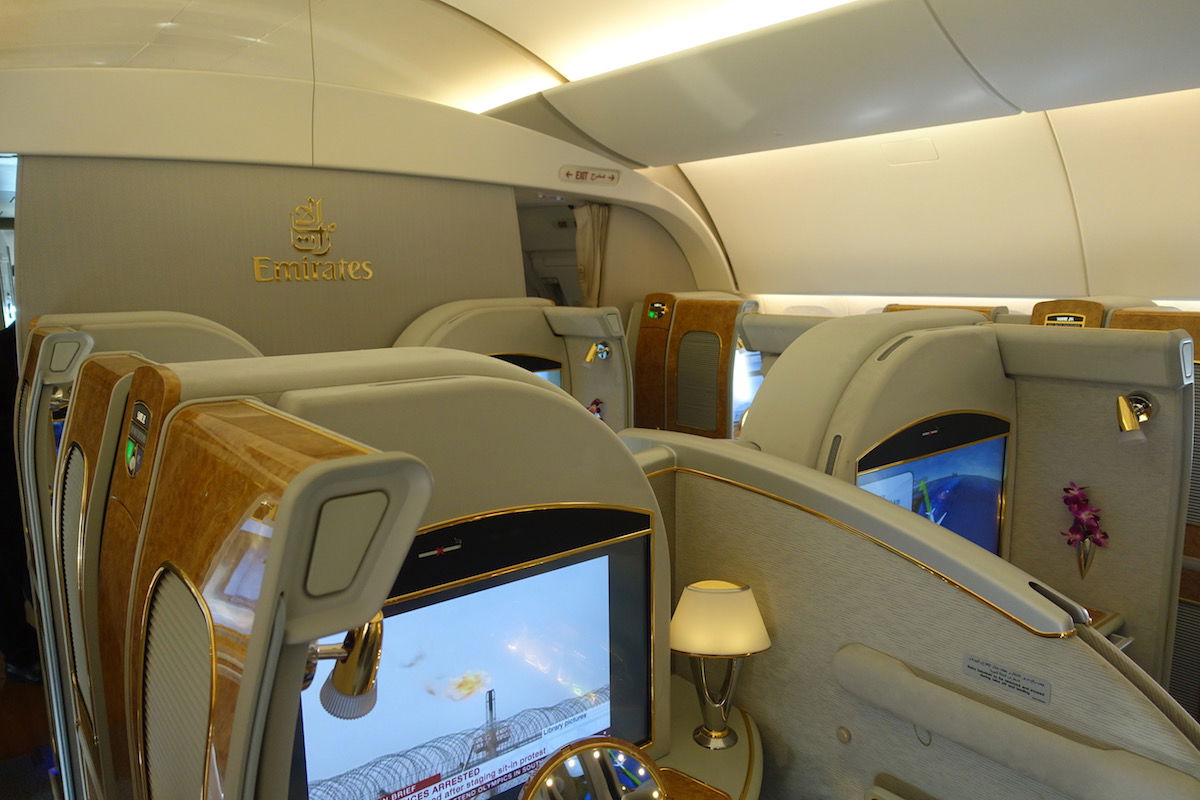 Emirates 777 first class cabin
If you're traveling with someone then you can select the pairs of center seats, which have an adjustable wall that can be raised in the event you're traveling alone (or get sick of the person you're with).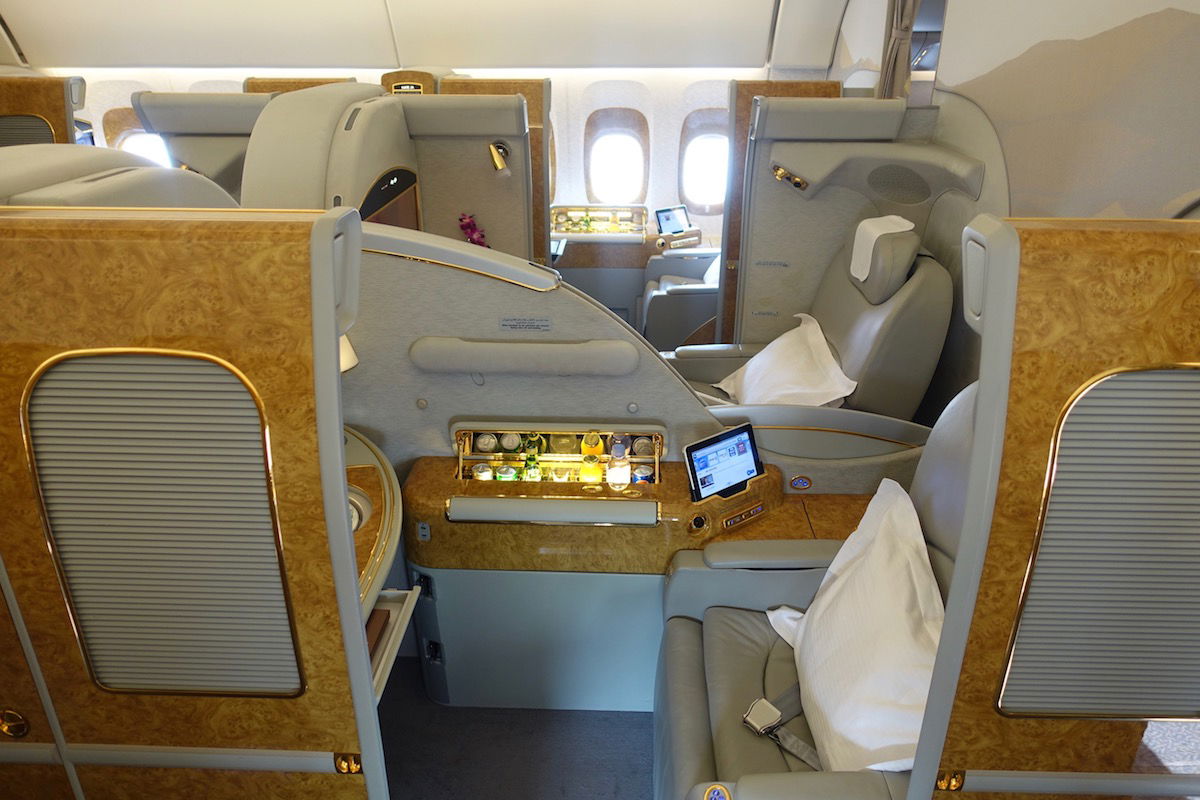 Emirates 777 first class seats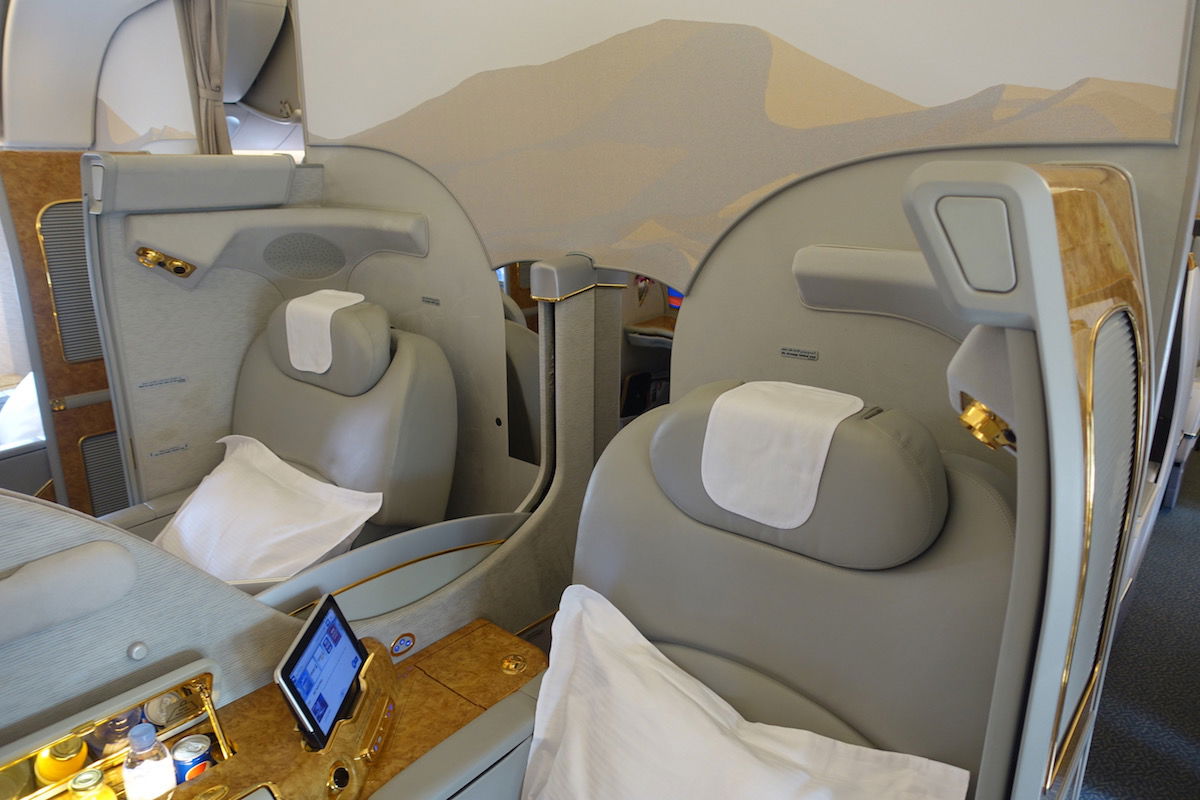 Emirates 777 first class seats
I had assigned myself seat 2A, the window seat on the left side in second row.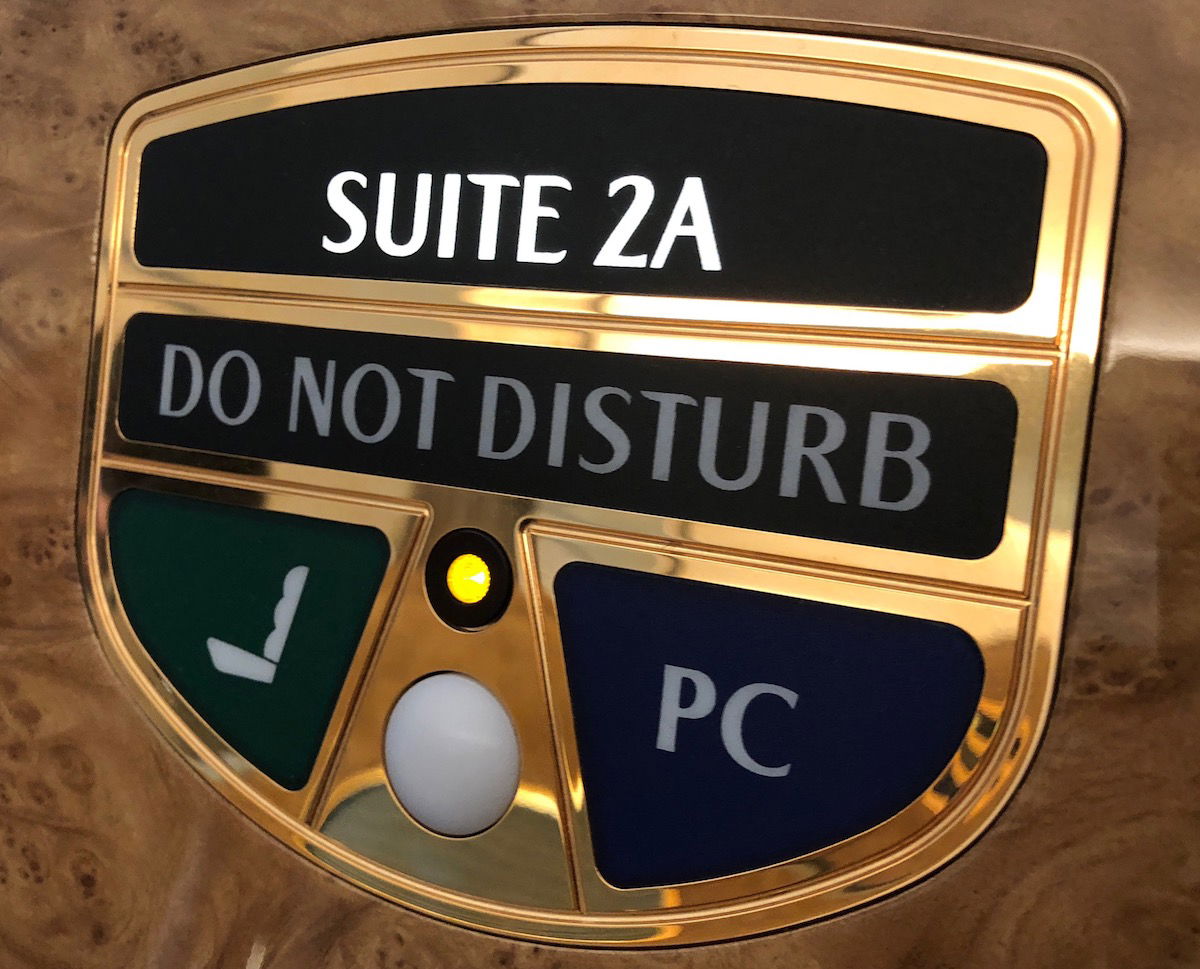 Emirates 777 first class suite
When I look at the Emirates first class cabin in pictures I always think to myself how gaudy and tacky it looks. But in person, and in moderation, I just love it. I like when airlines reflect their homes, and lets be honest, Dubai is a bit gaudy and tacky.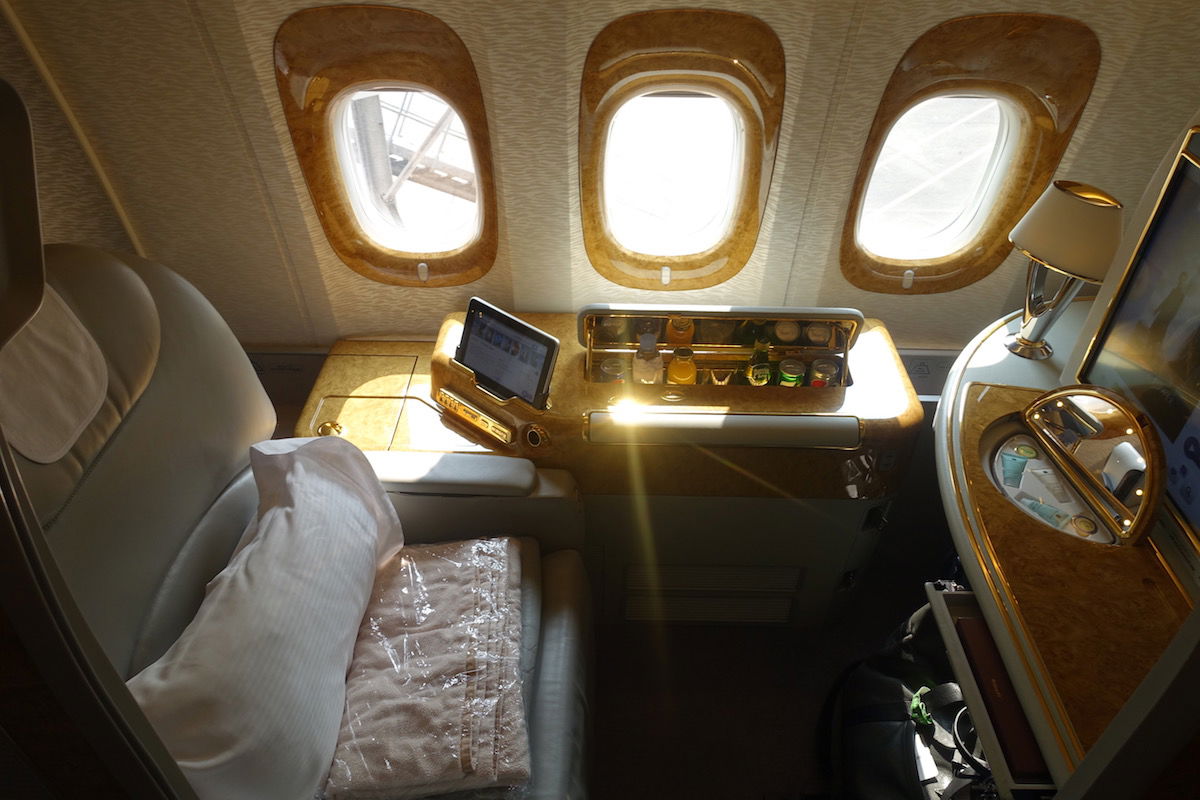 Emirates 777 first class suite
The Emirates first class seat is well padded and easy to adjust.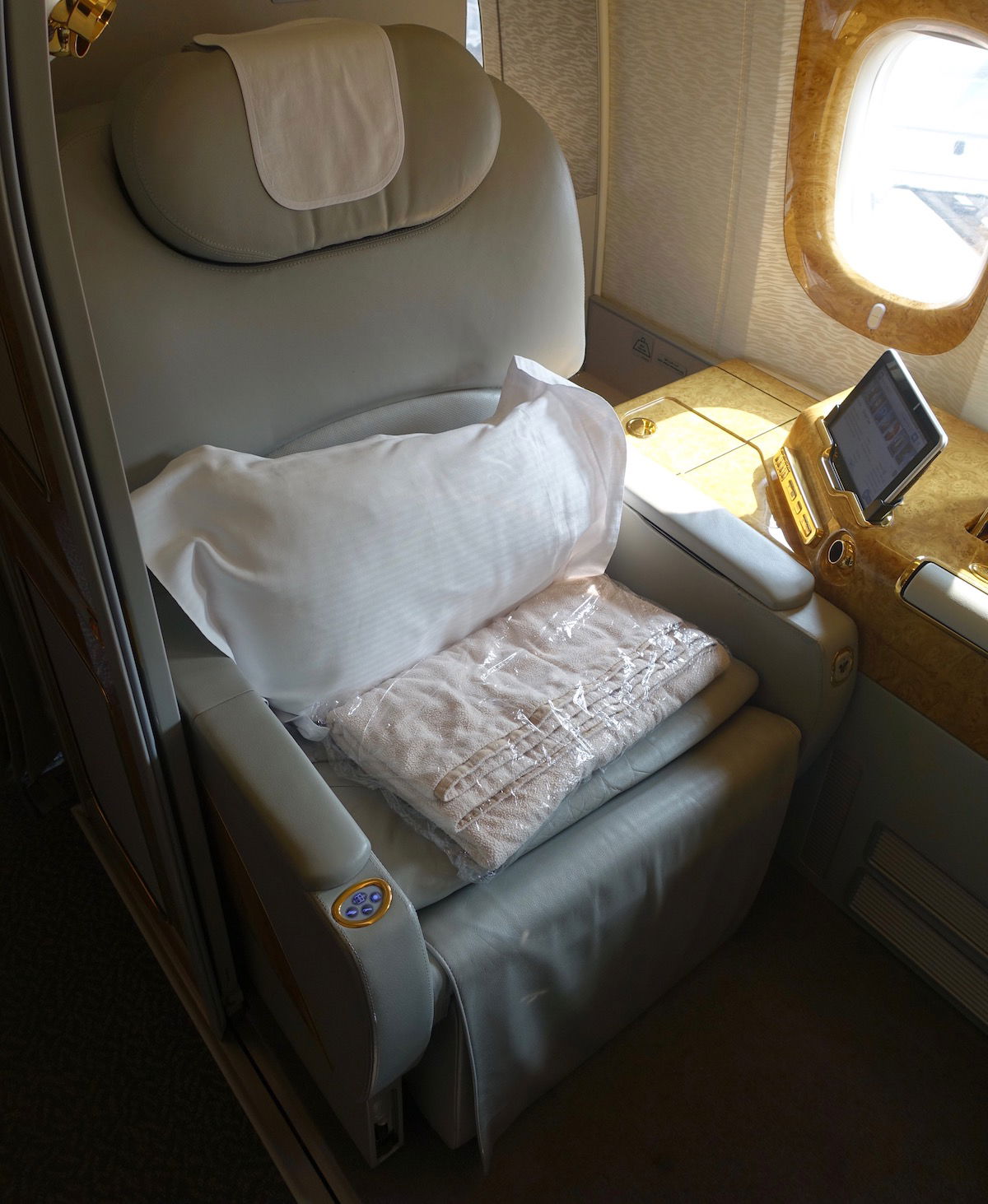 Emirates 777 first class suite
You've gotta love the massive personal television, the two lamps, the vanity mirror, and the writing and toiletry kits, as well. For what it's worth, all carry-ons need to be stored underneath the television, as the first class cabin doesn't have any overhead bins.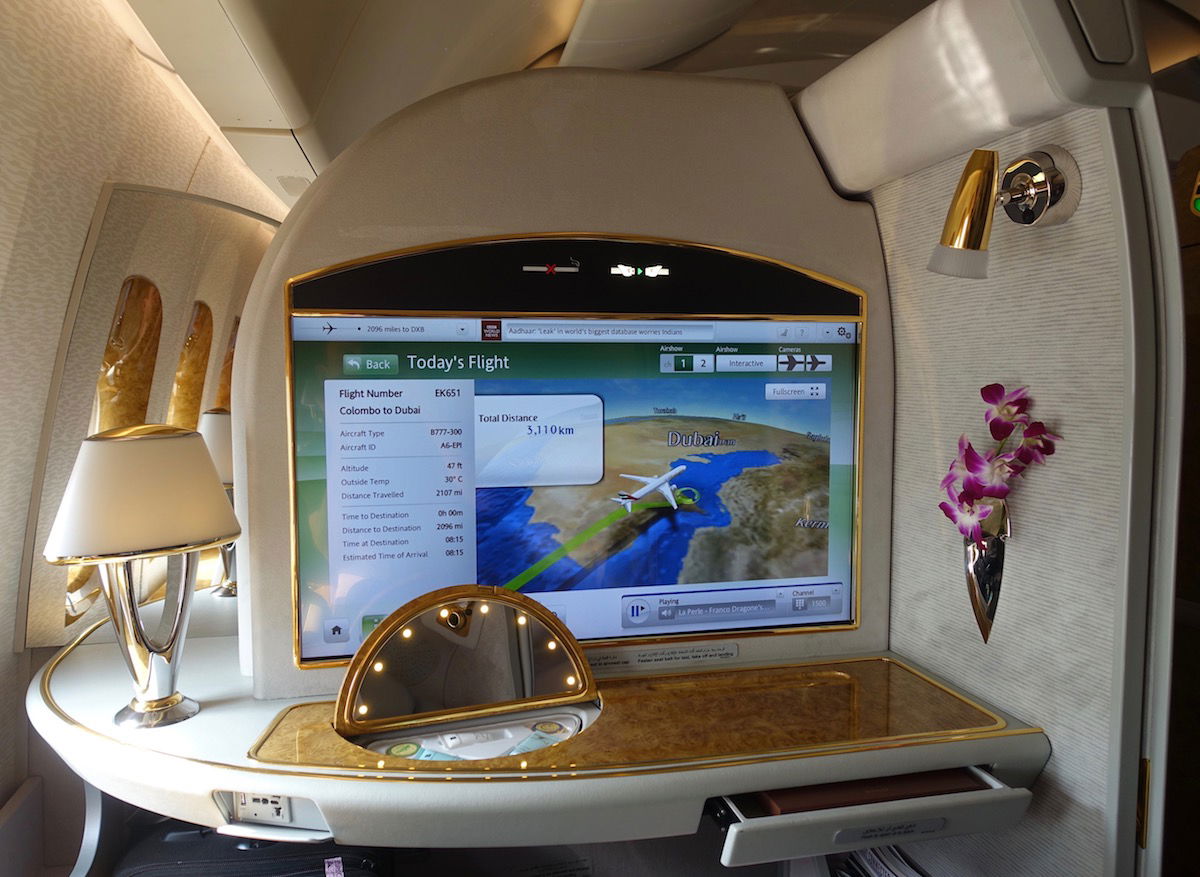 Emirates 777 first class suite
Then there's the minibar, which can be raised and lowered by the push of a button.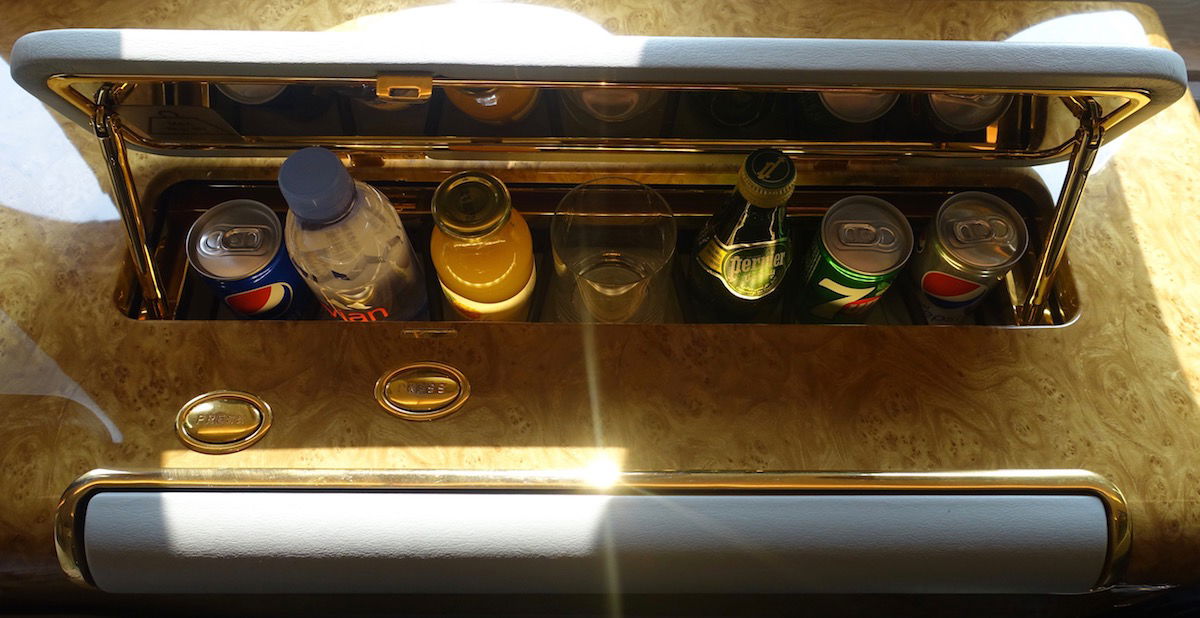 Emirates first class minibar
There's also a small monitor to the side of the seat that's about the size of an iPad, where you can select your entertainment of choice, and control all of the seat's features. Furthermore, if you're watching something on the main screen you can use this as a supplementary screen to keep an eye on the airshow.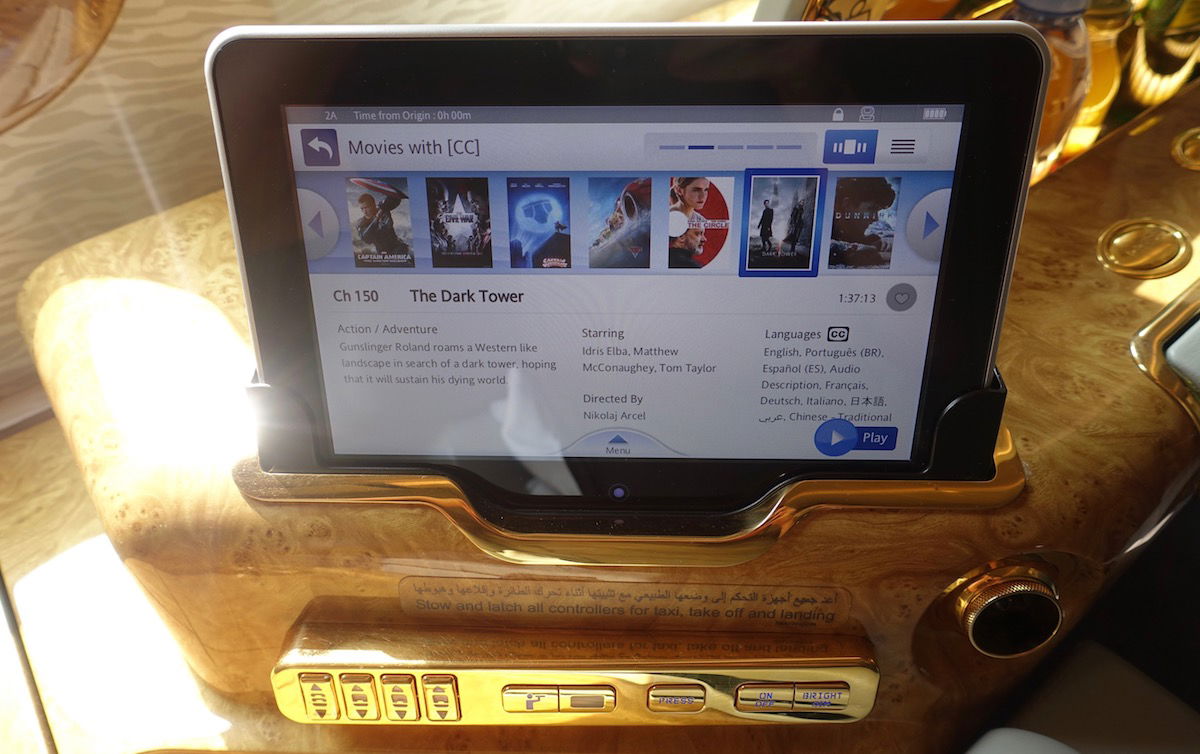 Emirates first class suite monitor
In addition to the main monitor, you can control basic seat settings from the aisle-side armrest.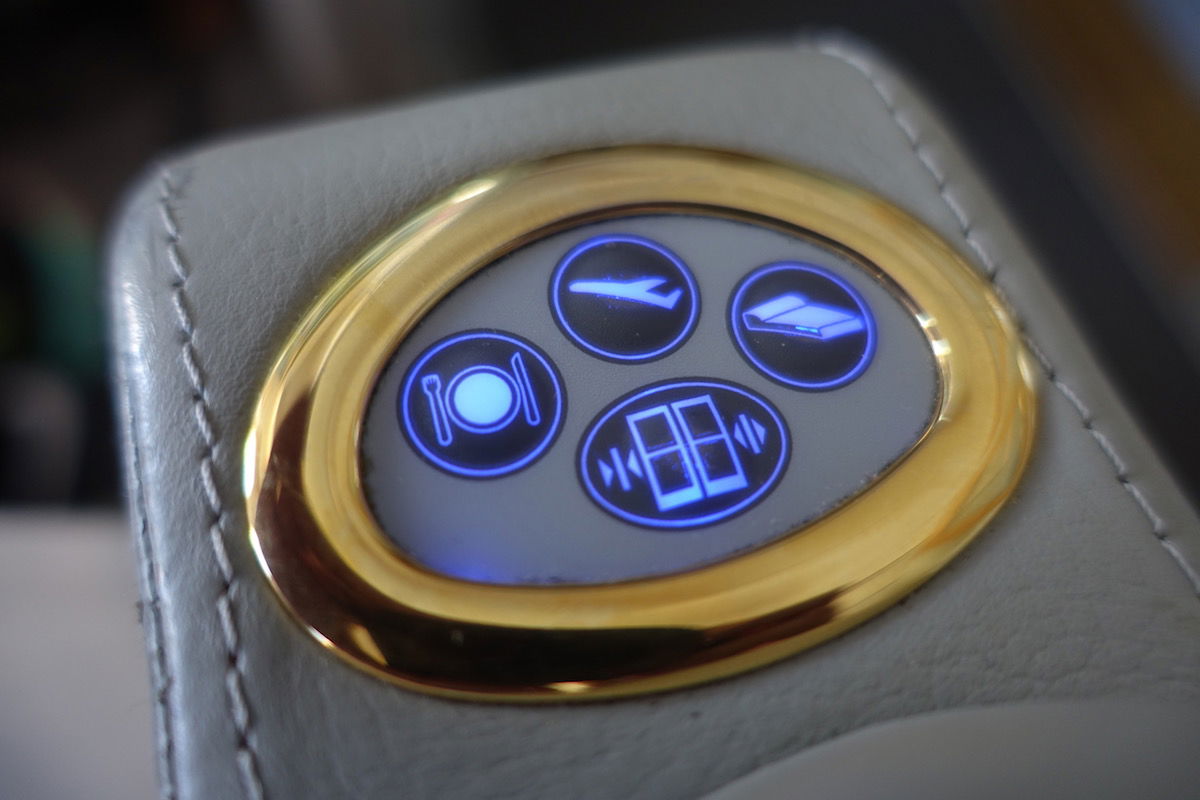 Emirates first class suite controls
The tray table folds out from the side console by the minibar, and is a single big, sturdy table.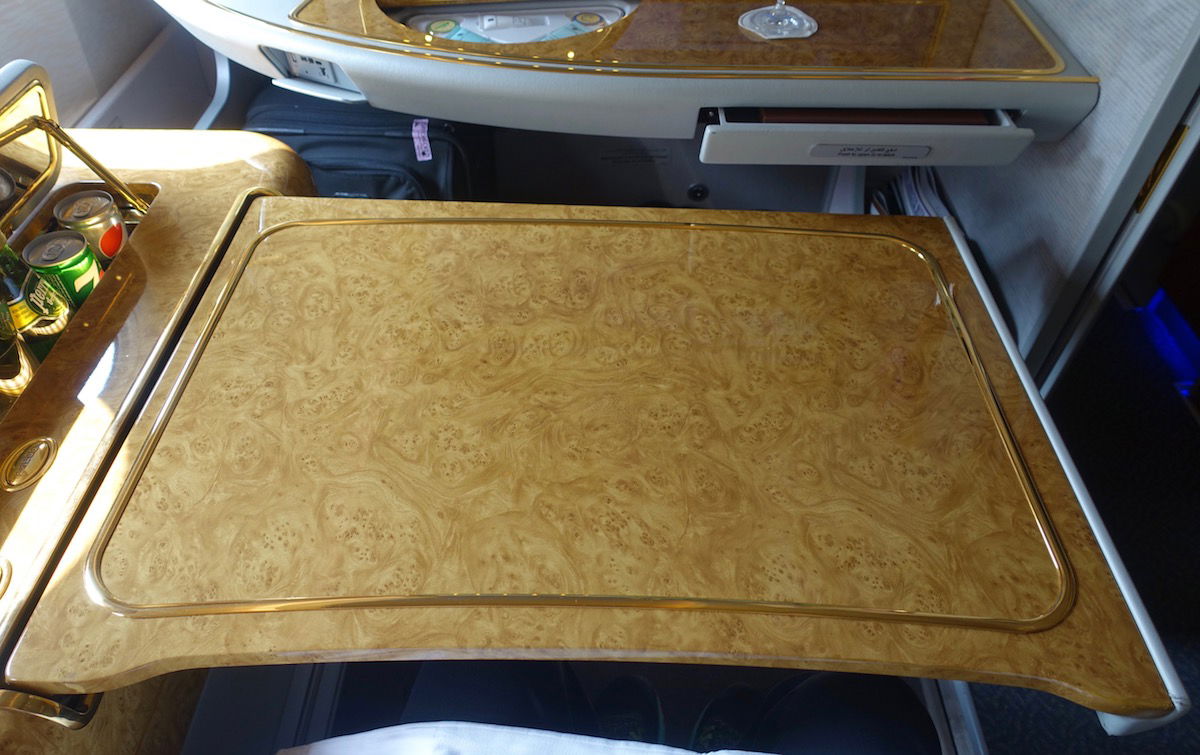 Emirates first class suite tray table
The 110v and USB outlet is on the console in front, to the left.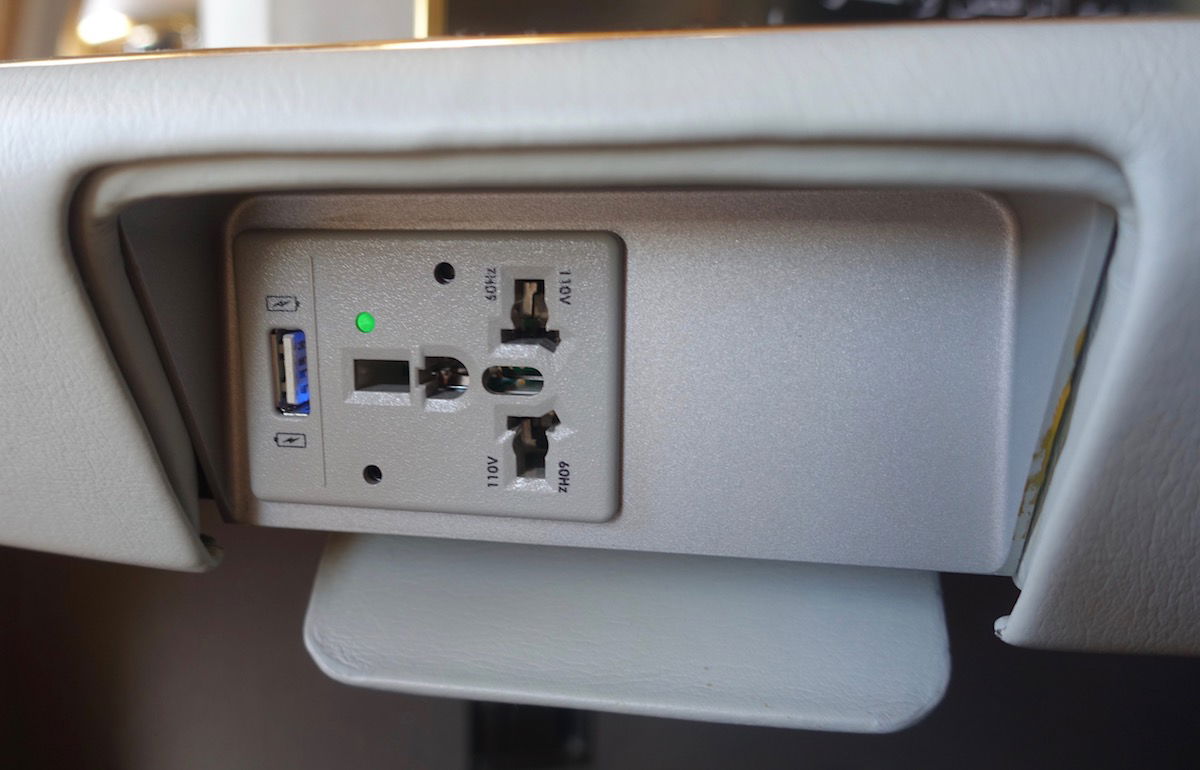 Emirates first class suite power outlet
Waiting at my seat on boarding were the standard pillow and a light blanket. This is probably a good time to mention that for Emirates first class, 4hr40min is the cutoff for whether a flight is considered short-haul or longhaul. This flight was blocked at 4hr35min, meaning it features a less extensive menu, doesn't have dine on demand, French press coffee, a personal breadbasket, or a personal snack basket, just to name a few of the things that are missing. If it had been blocked just five minutes longer it would have had a lot of extra amenities. I know, true first world problems!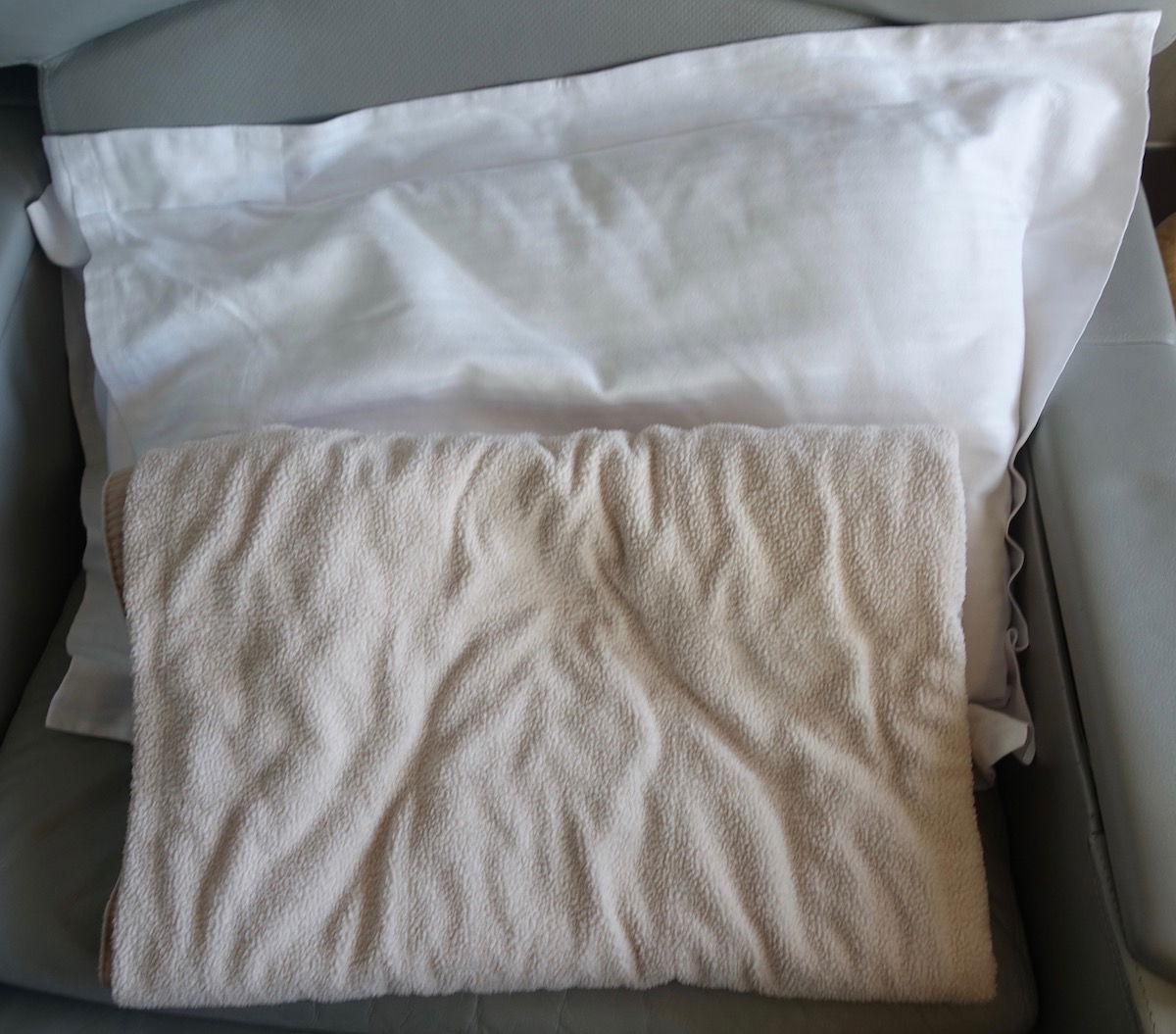 Emirates first class pillow & blanket
Also waiting at my seat were headphones. They're alright quality. While they look on-brand for Emirates, I feel like they could be higher quality. I'm always surprised that Emirates doesn't have Bose headphones (or the like) in first class.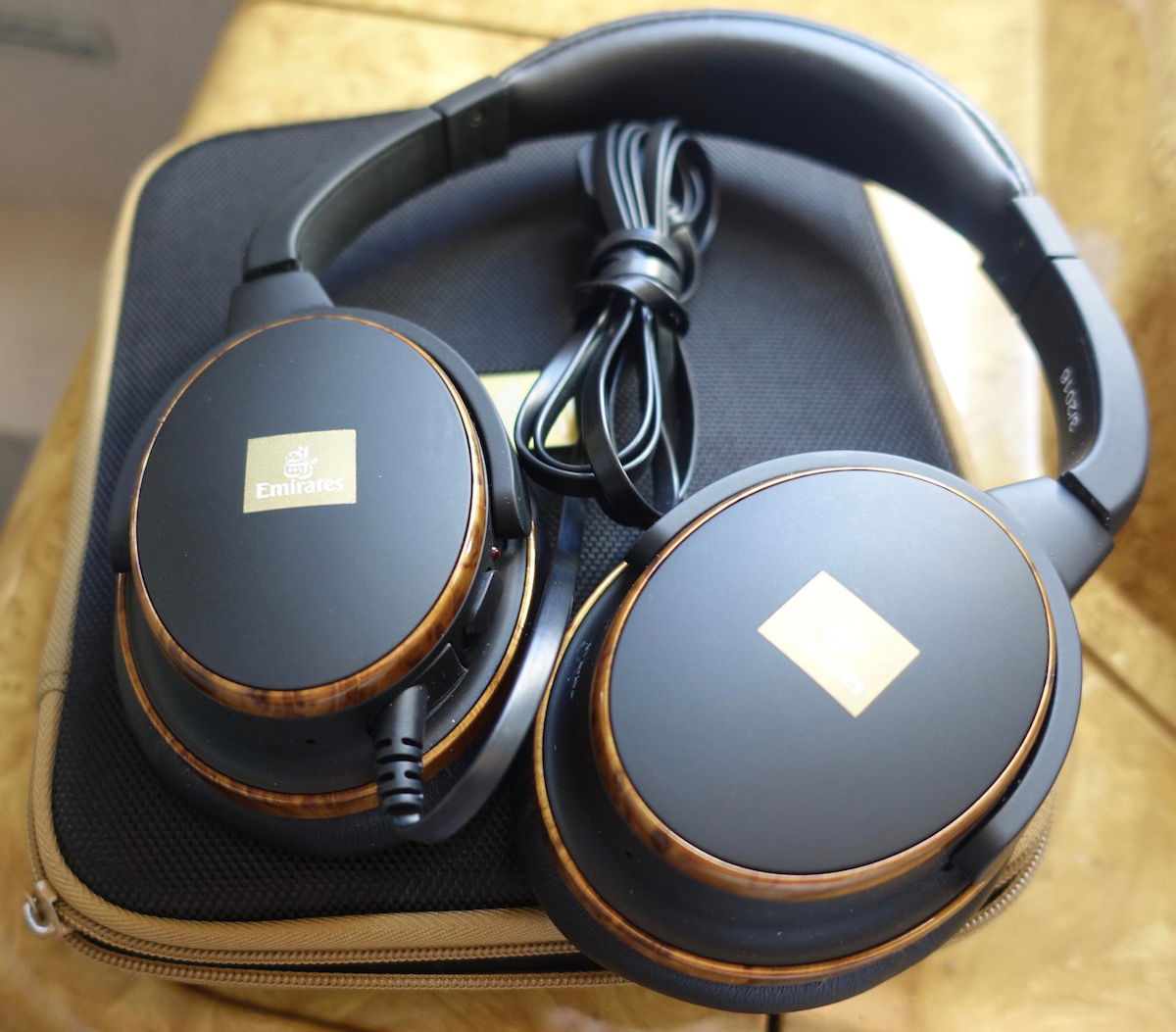 Emirates first class headphones
A couple of minutes after settling in, Draginja offered to familiarize me with the suite, and asked what I'd like to drink. I asked for champagne, and was offered 2009 Dom Perignon. The last time I flew Emirates they had 2006 Dom Perignon. The 2009 is still great, though personally I preferred the 2005 and 2006 vintages.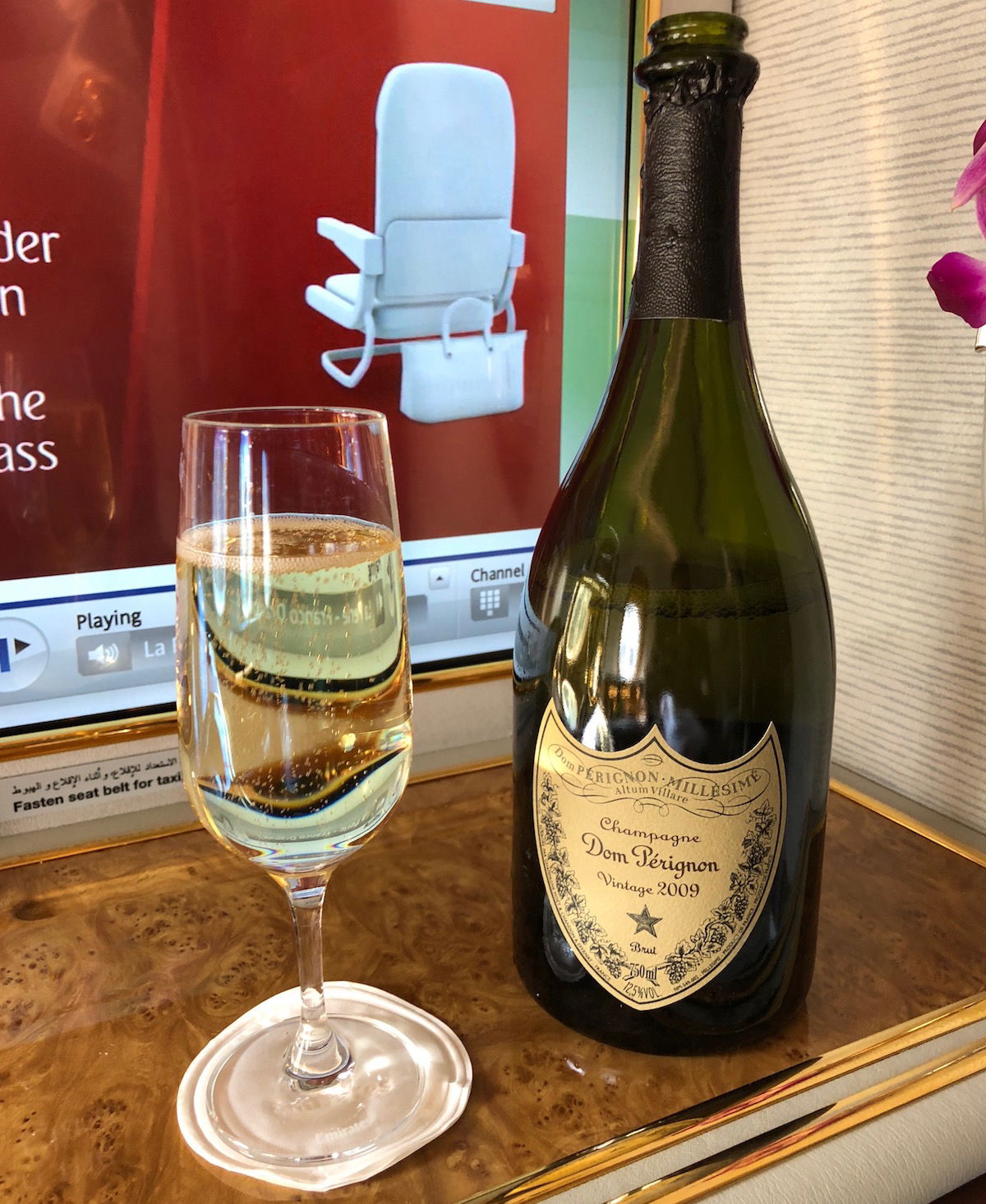 Emirates first class suite with Dom Perignon
If you want to maximize your likes on Instagram or Facebook, the below is the picture to go with. 😉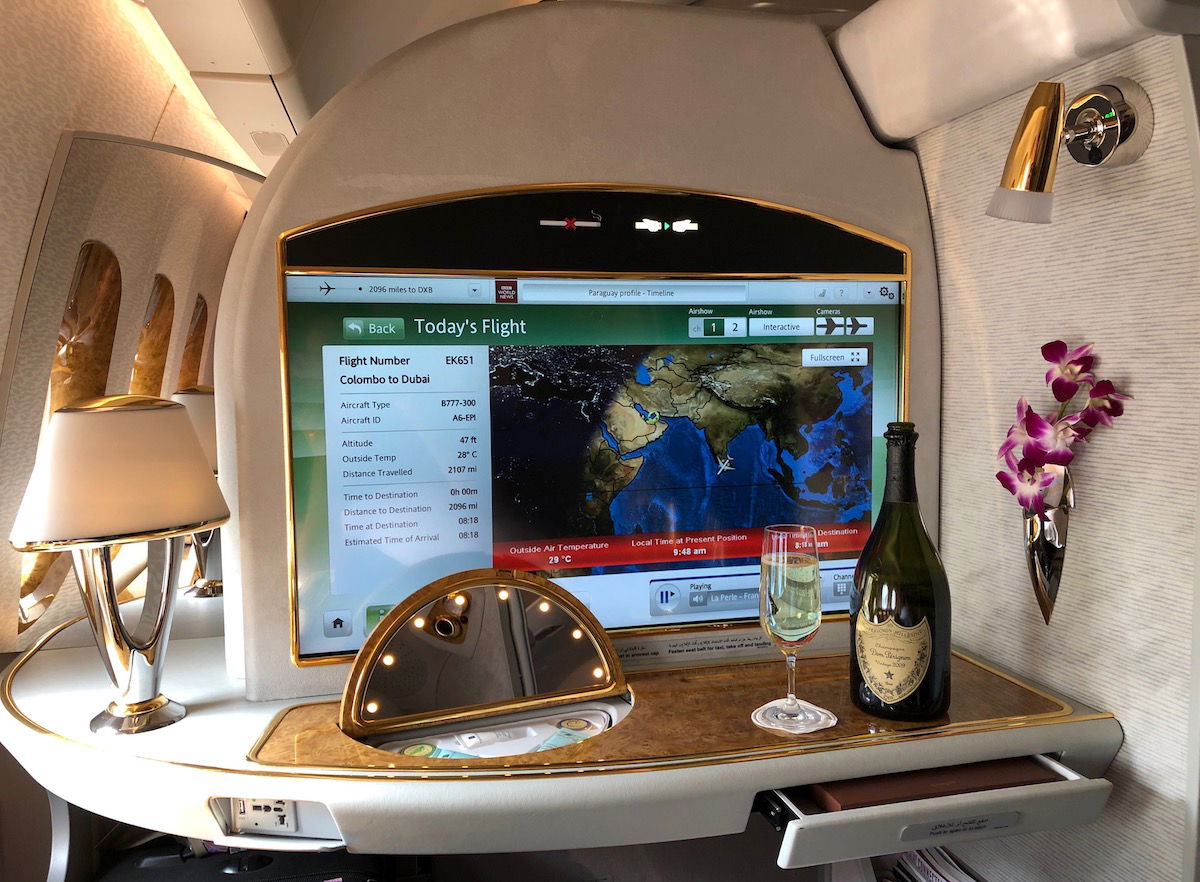 Emirates first class suite with Dom Perignon
I was offered a refill of champagne as my glass started to get empty, and of course I accepted.
A few minutes later, Simon, the purser from Kenya, welcomed me onboard with a big smile and presented me with the menu and wine list for the flight, which were in a brown leather folder.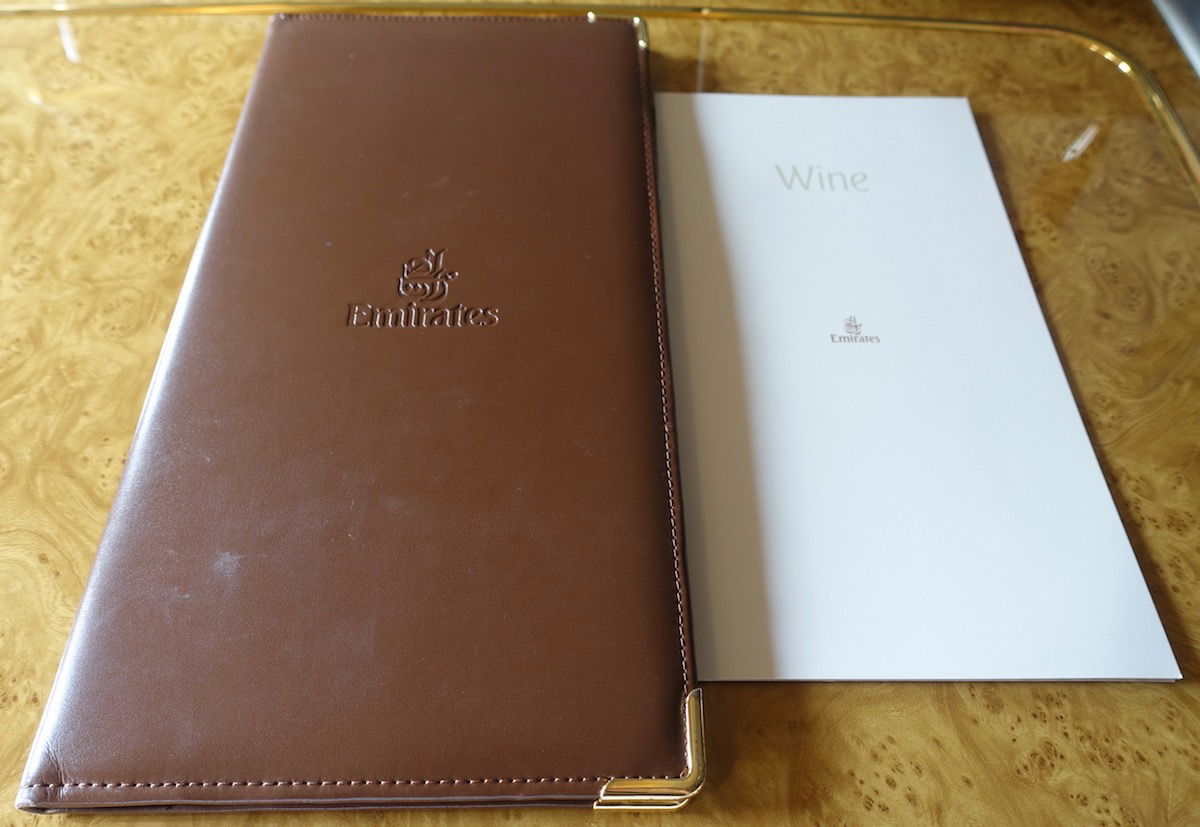 Emirates first class menu
Every seat on the plane was taken, including in first class. Taking up the four center seats was a French family, and best I could tell the other three passengers were Emirati.
A few minutes before the door closed the crew came around offering Arabic coffee and dates.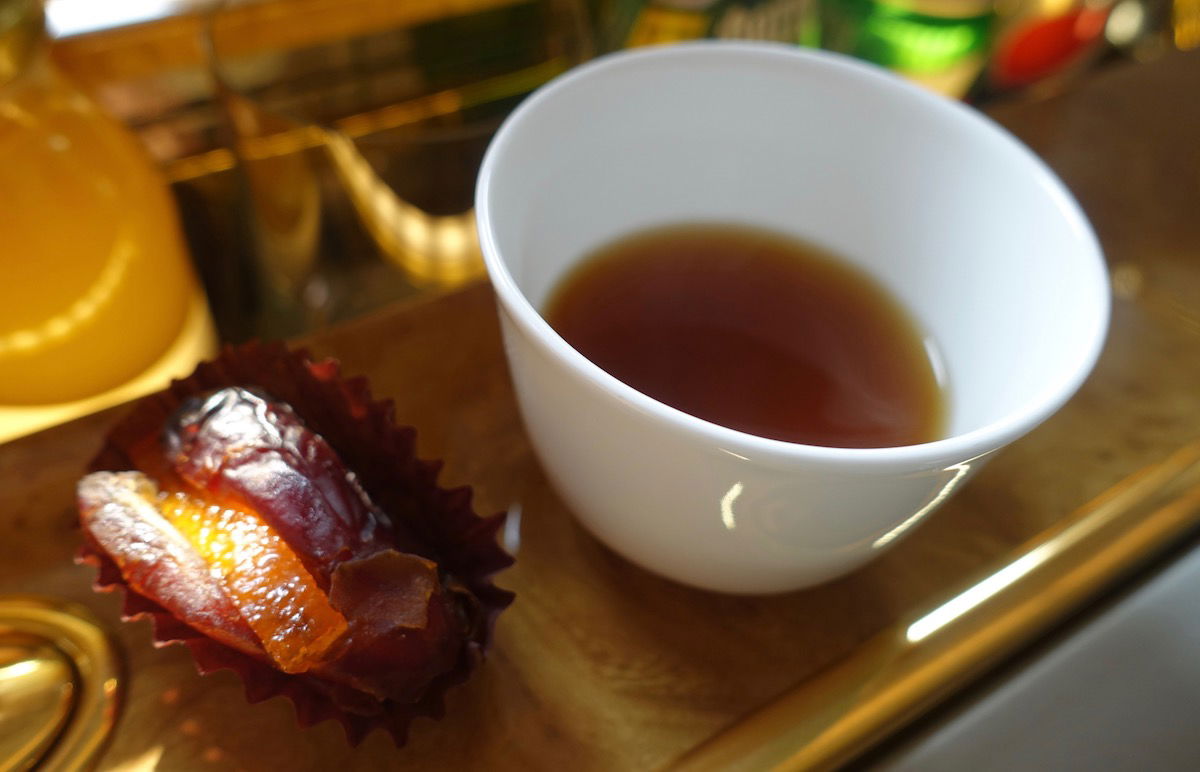 Emirates first class Arabic coffee & date
They also distributed warm towels.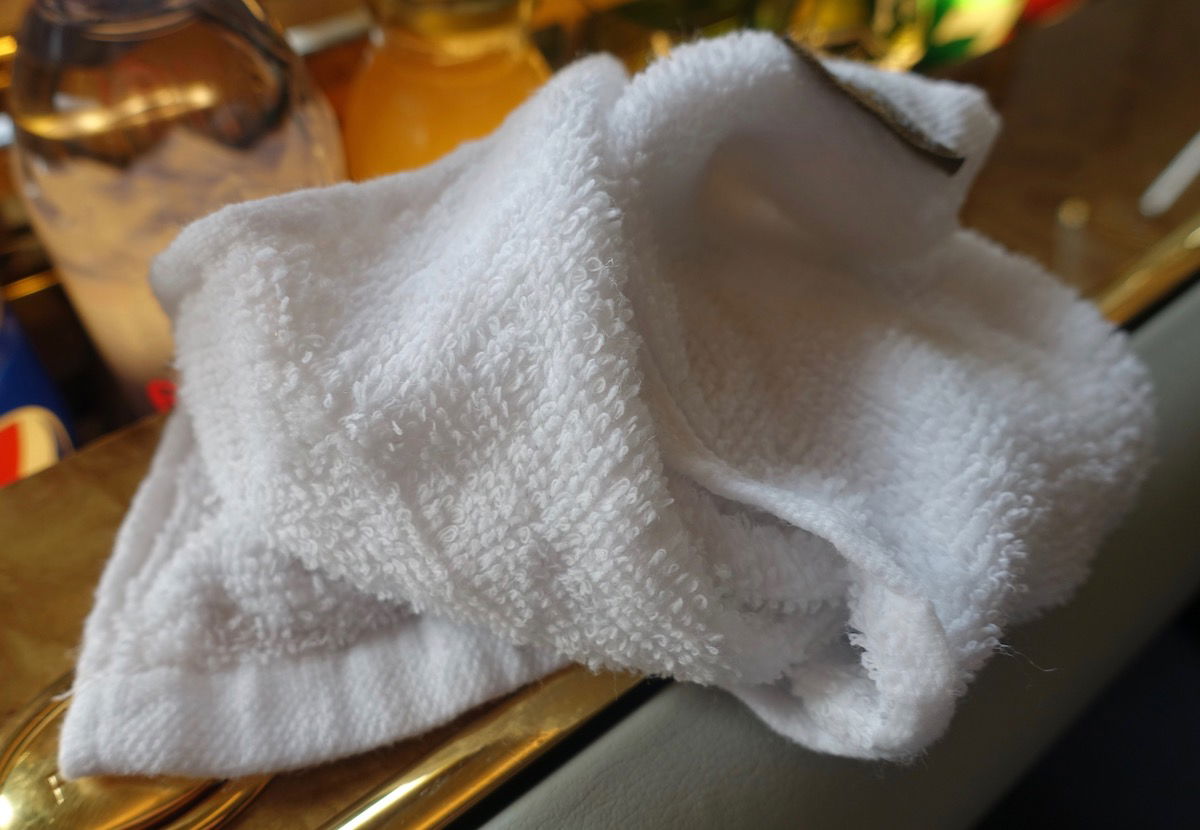 Emirates first class warm towel
At 10AM the main cabin door closed, at which point the French captain added his welcome onboard, and informed us of our flight time of 4hr10min to Dubai.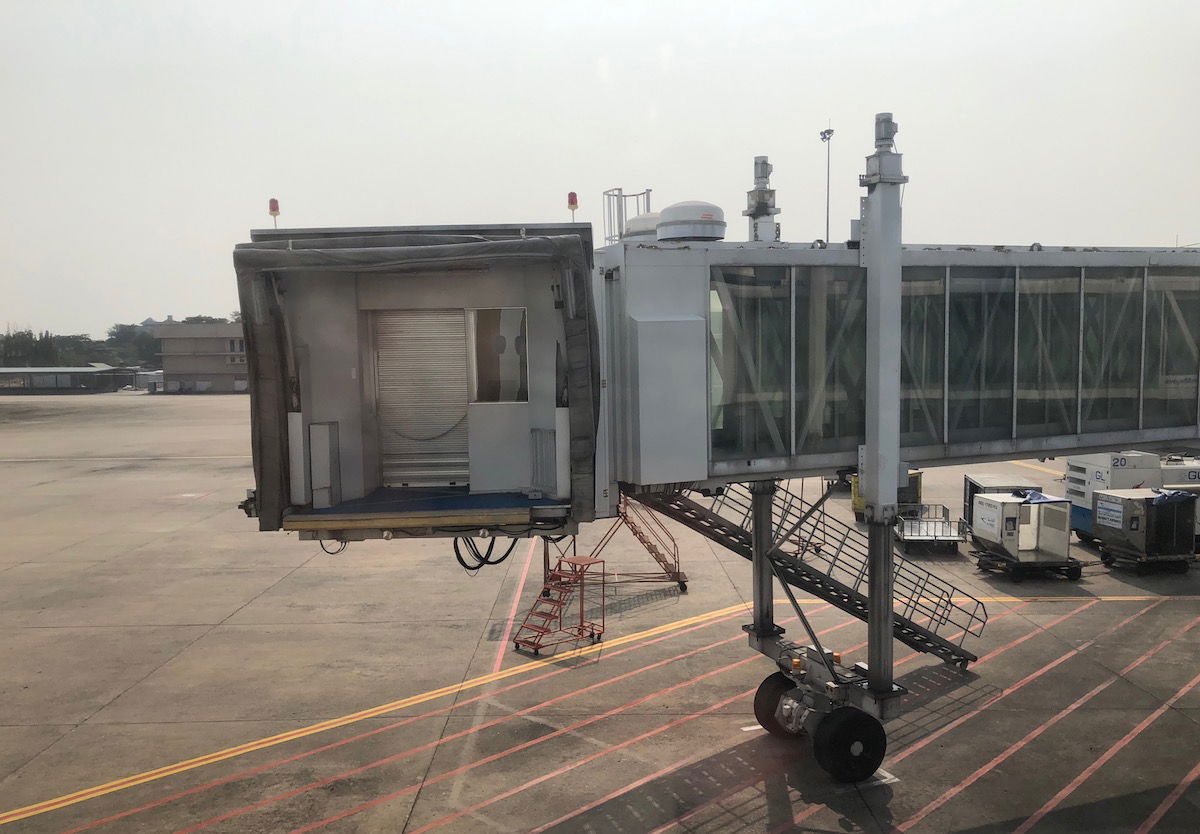 Pushing back Colombo Airport
At 10:05AM we began our pushback, and then started our quick 10 minute taxi to the runway.

Pushing back Colombo Airport
The ramp was quite busy, with some good plane spotting.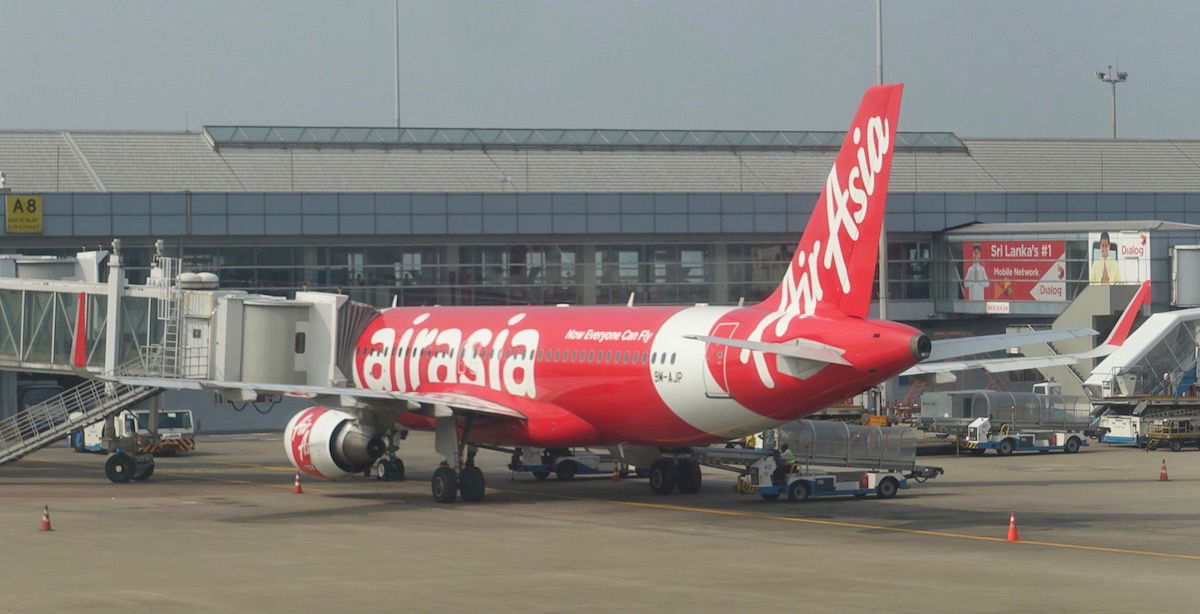 AirAsia A320 Colombo Airport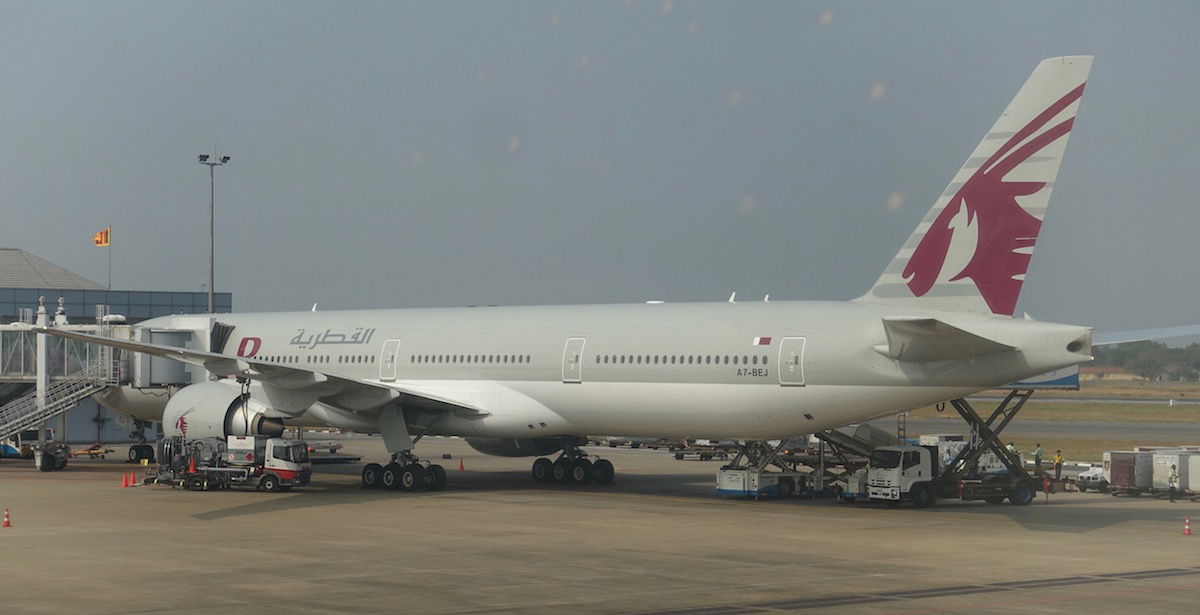 Qatar Airways 777 Colombo airport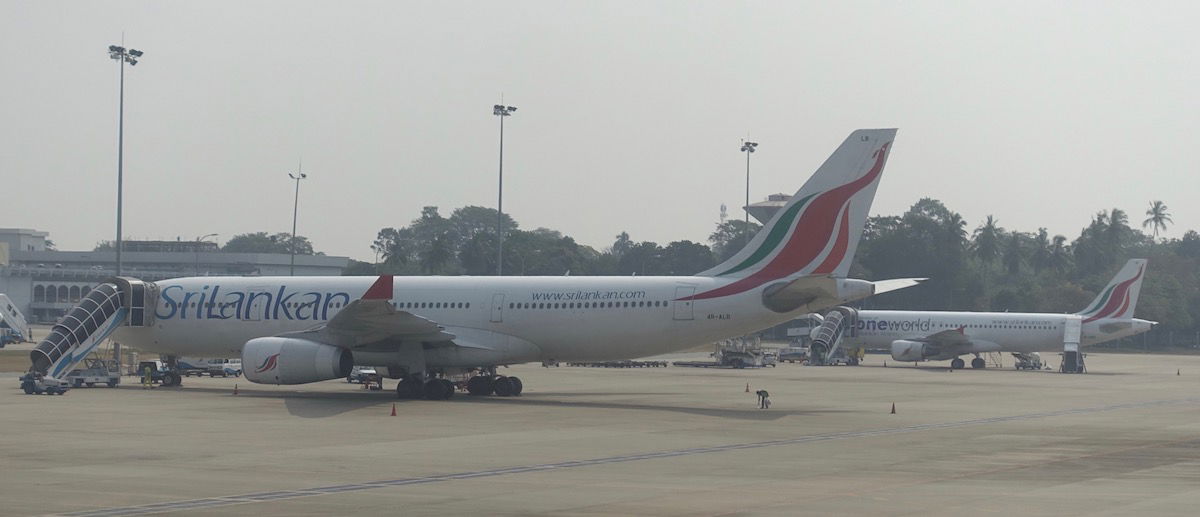 SriLankan A330 Colombo airport
By 10:15AM we were cleared for takeoff on runway 4.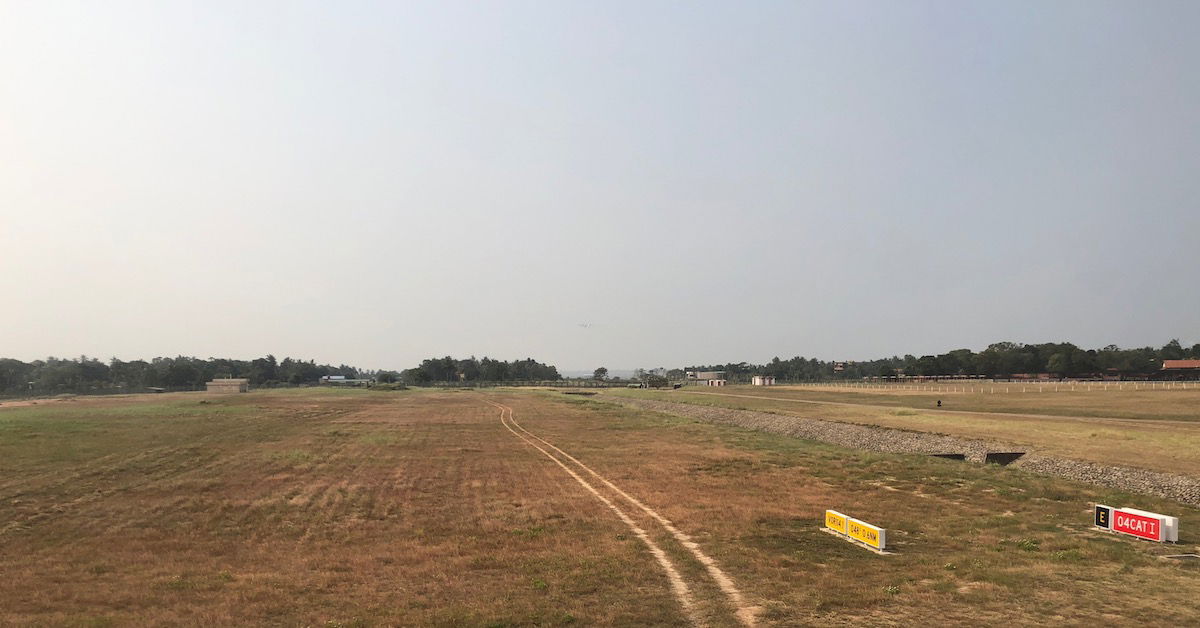 Holding short of the runway Colombo Airport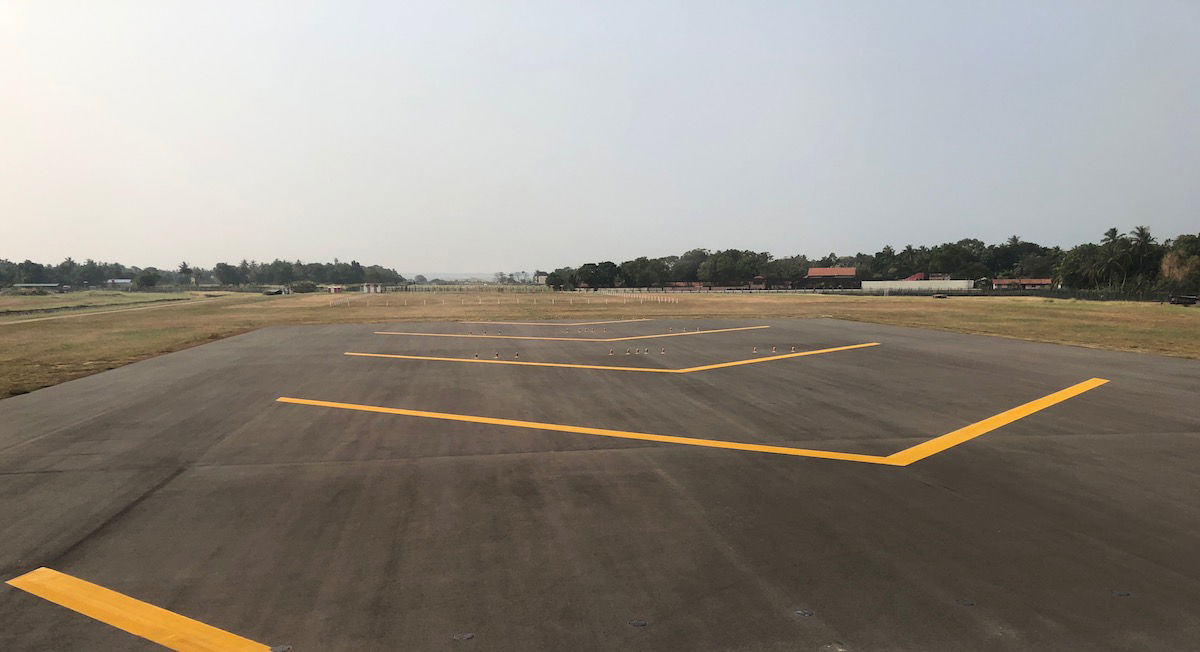 Taking off Colombo Airport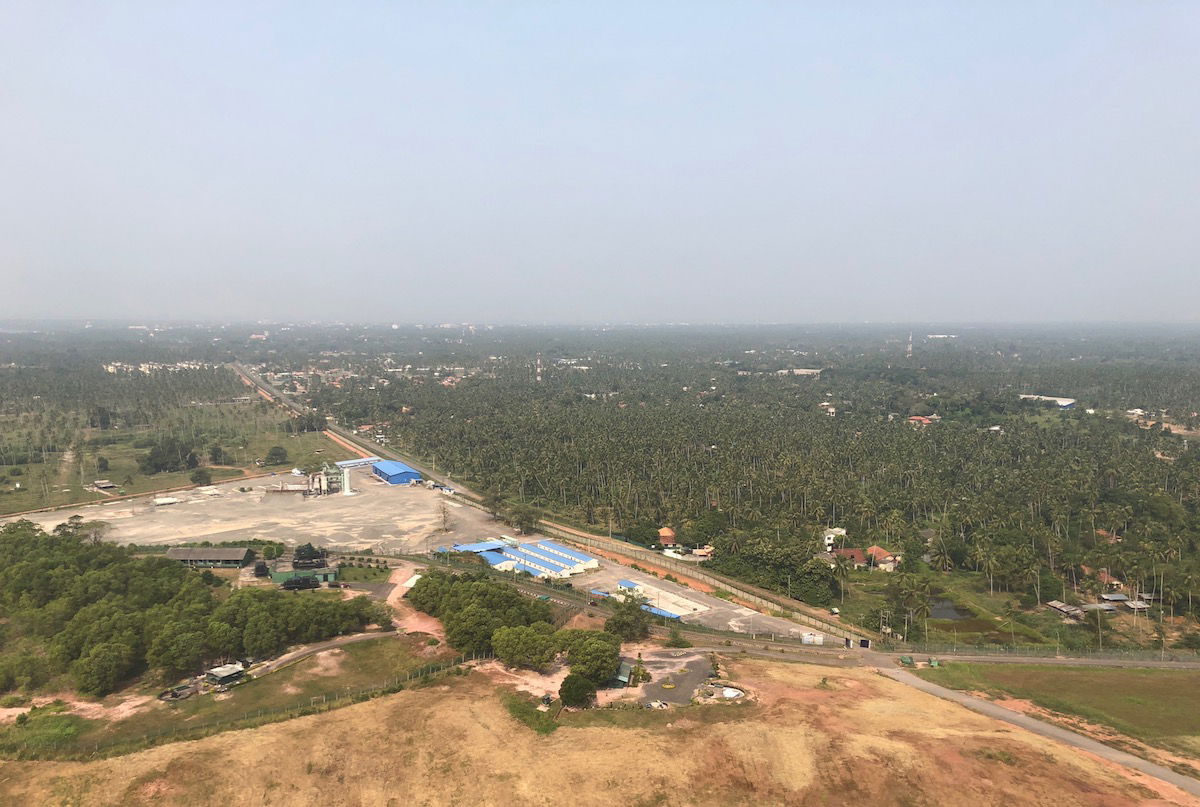 View after takeoff from Colombo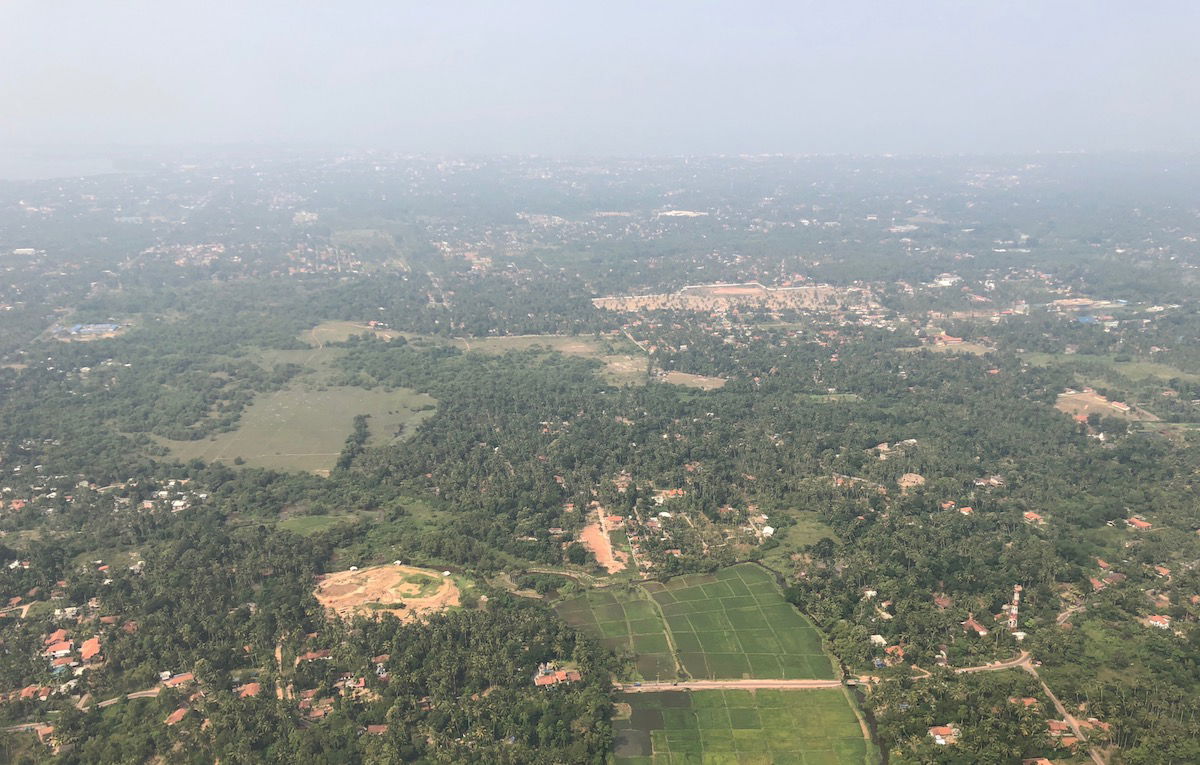 View after takeoff from Colombo
As we climbed out, Simon announced over the PA that the crew was from 12 countries and spoke 14 languages. I love how international Emirates crews are. In many ways that reflects the aspect of Dubai that I love — you have people from everywhere in the world, more so than just about anywhere I've been.
The seatbelt sign was turned off five minutes after takeoff, at which point I closed the doors to my suite, which can be done with the push of a button.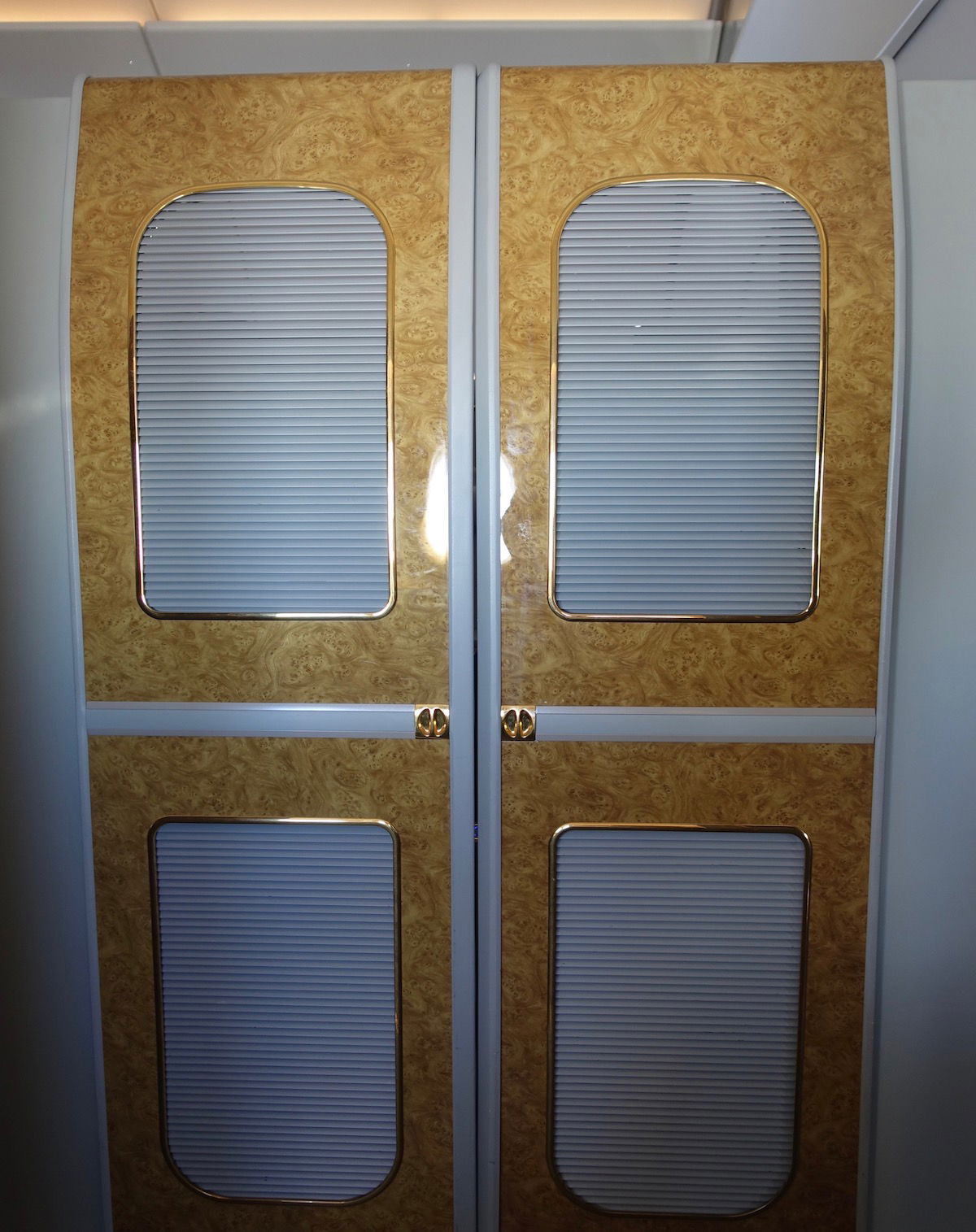 Emirates first class suite door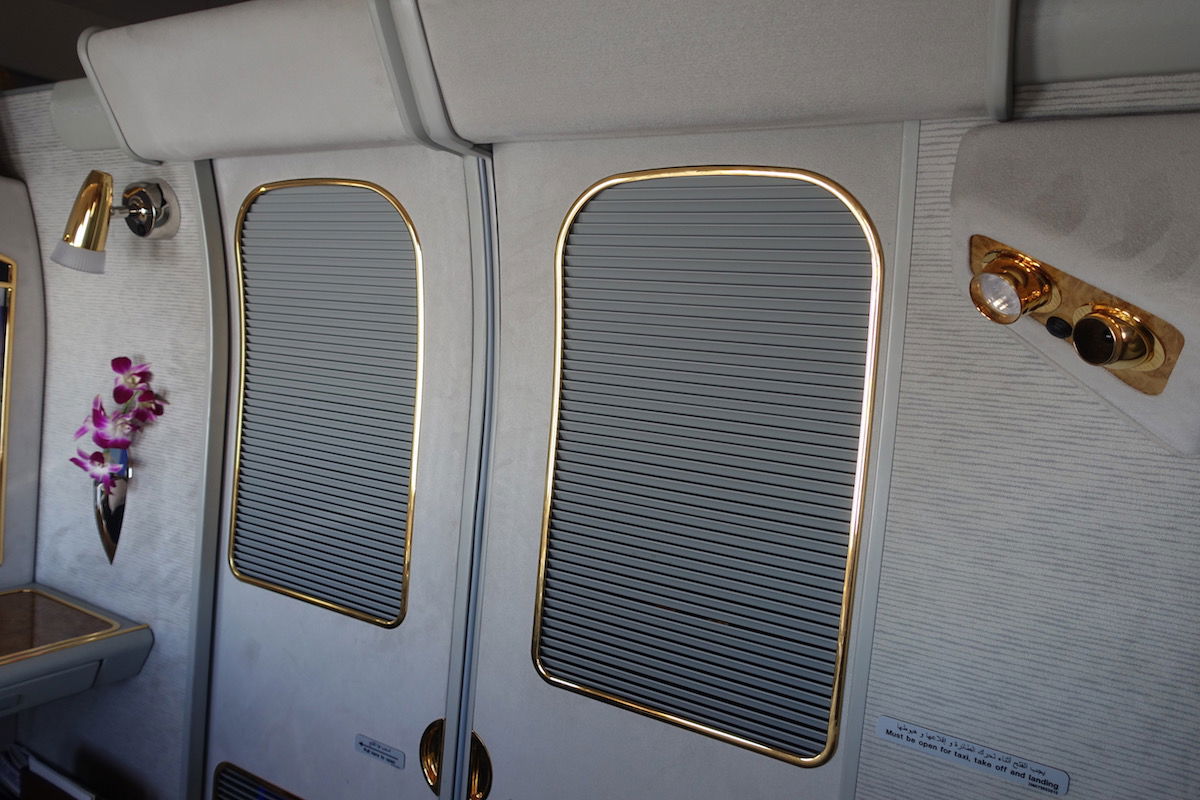 Emirates first class suite door
I also checked out one of the two lavatories, located at the front of the cabin. They're on the small size, though have a decent number of amenities and also BVLGARI perfume.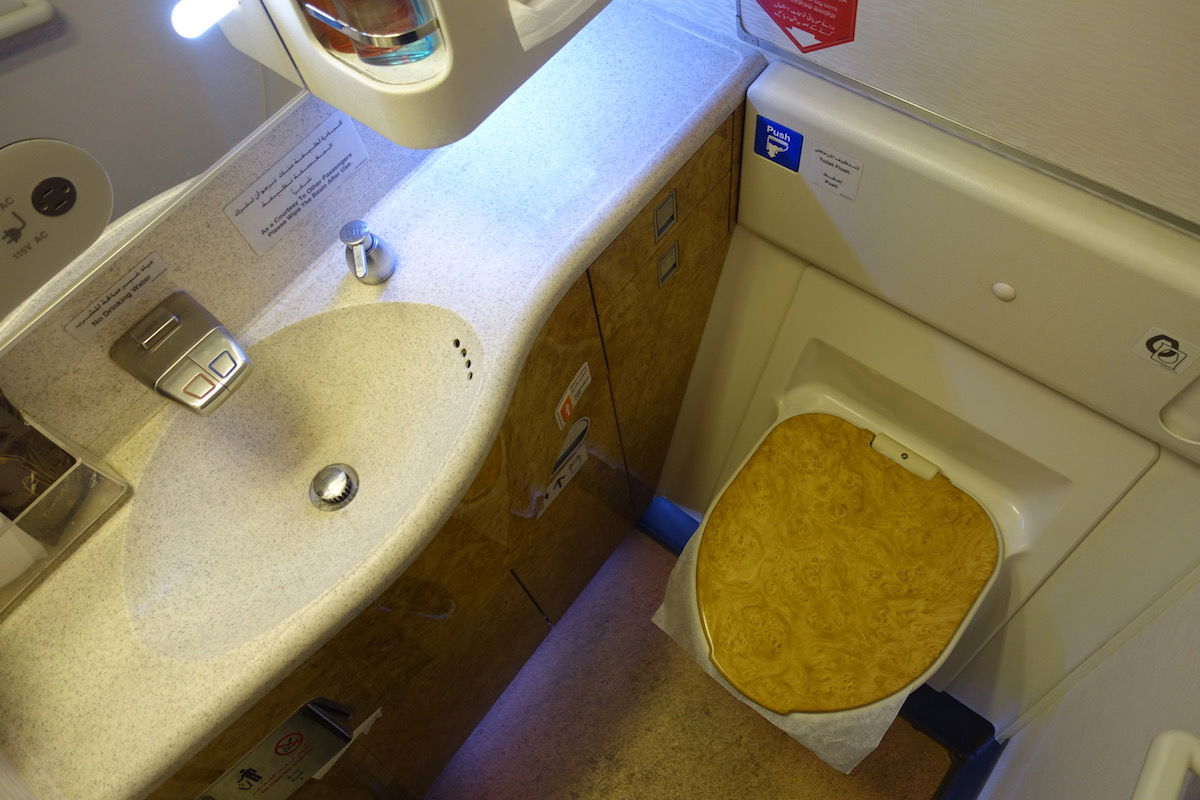 Emirates first class lavatory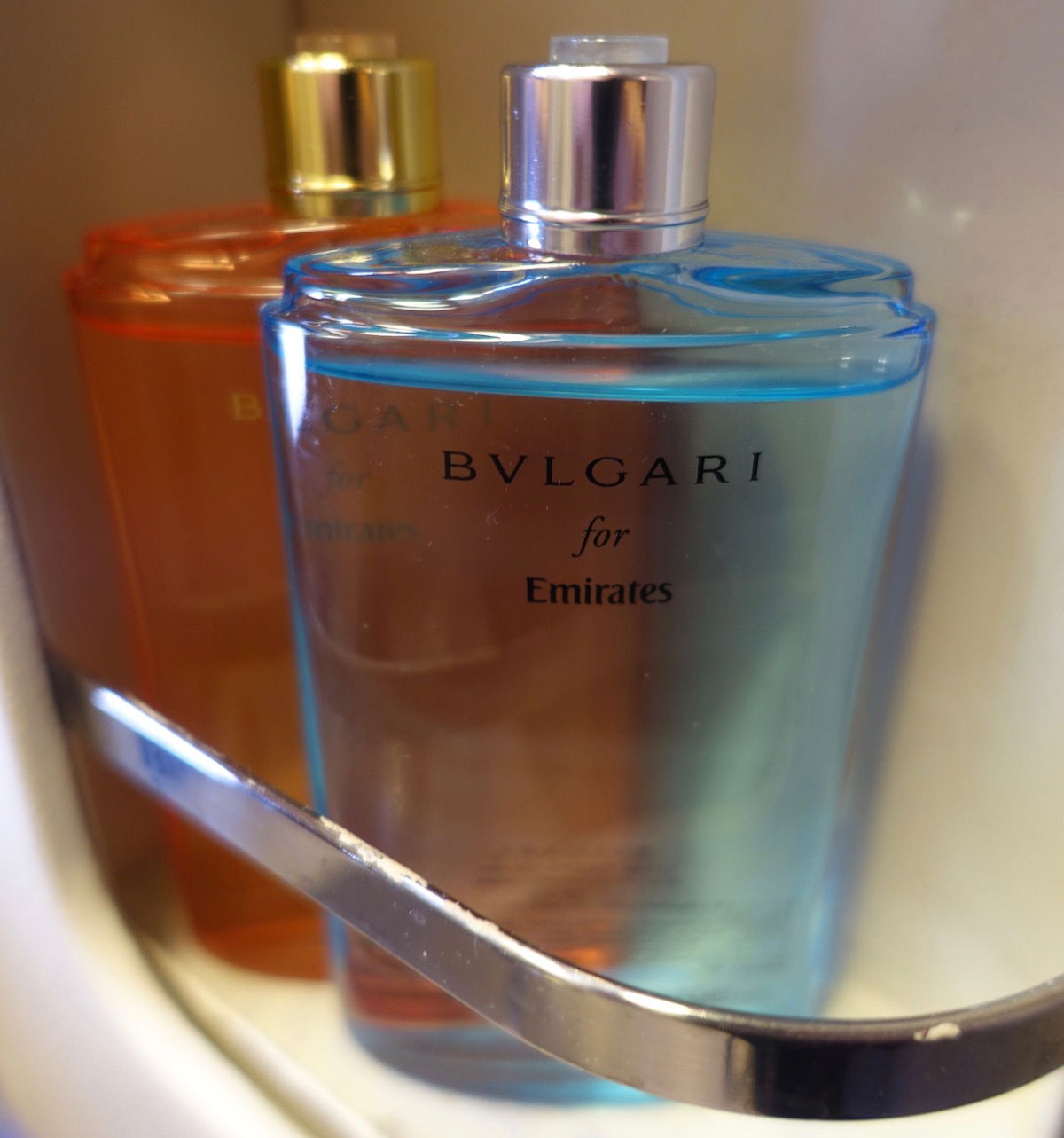 Emirates first class lavatory amenities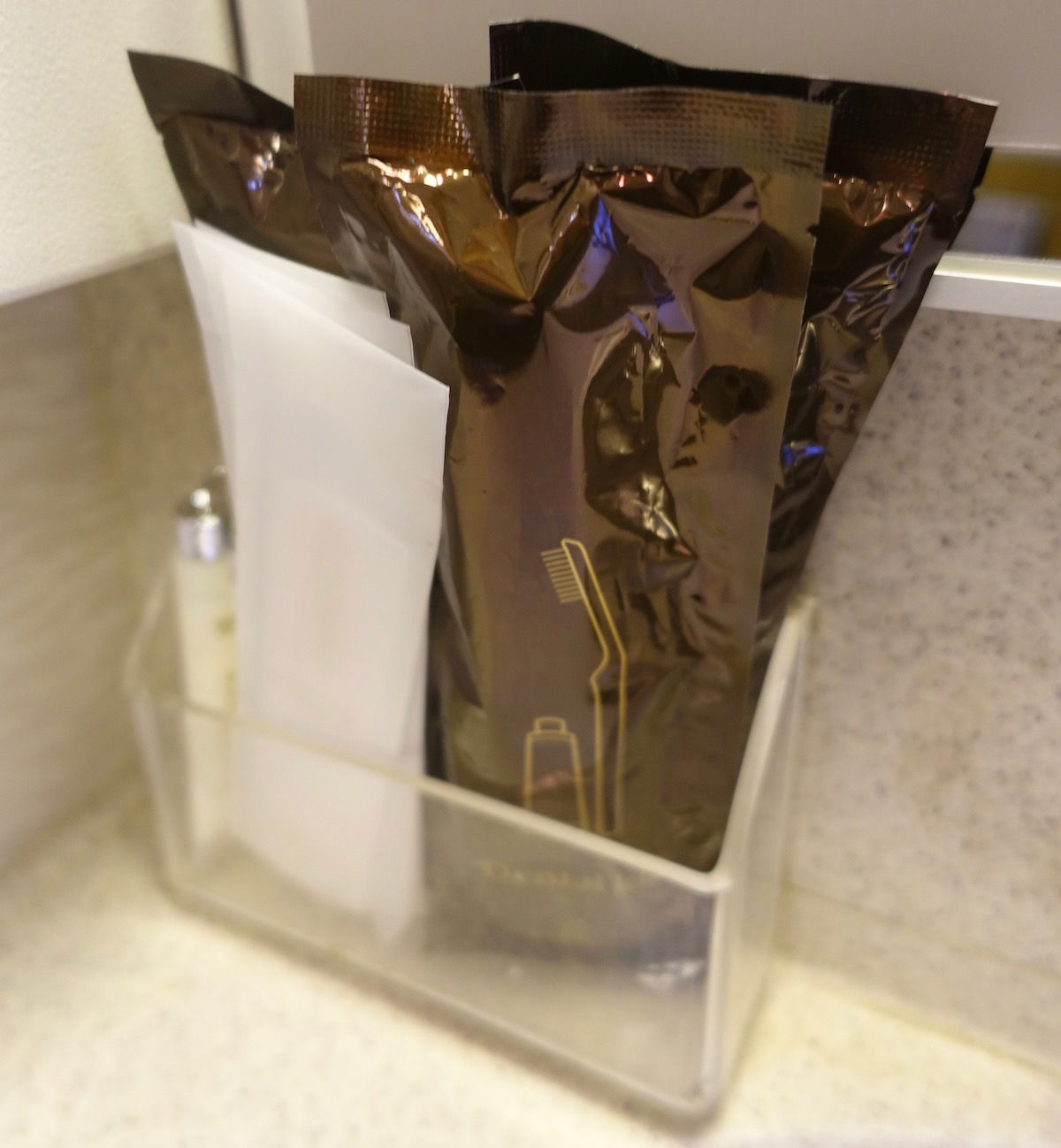 Emirates first class lavatory amenities
Once back at my seat, Simon asked what I'd like to have for lunch. As mentioned above, Emirates doesn't technically offer dine on demand on these shorter flights, though I imagine if you asked to eat later in the flight they'd accommodate you. The lunch menu read as follows: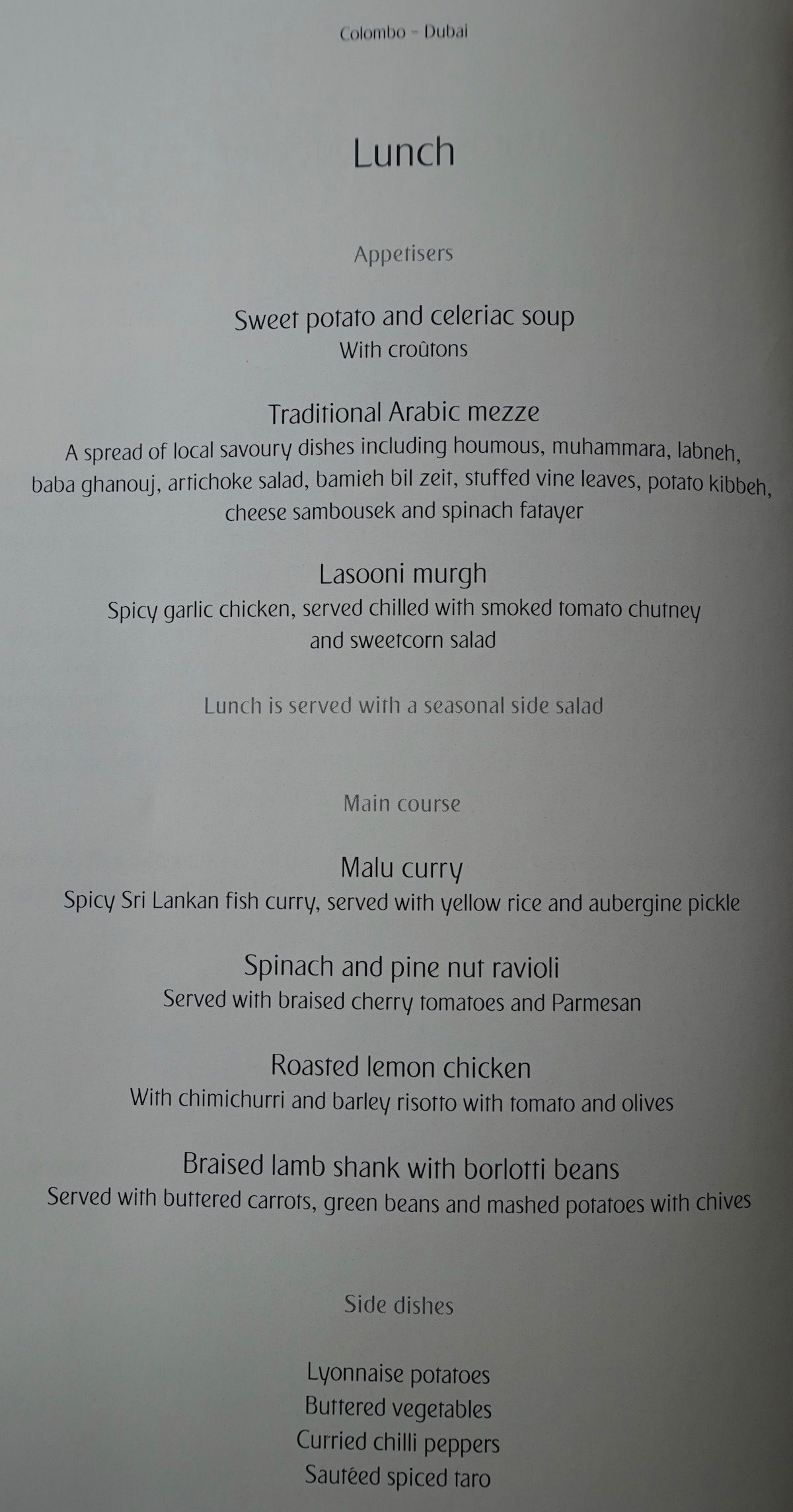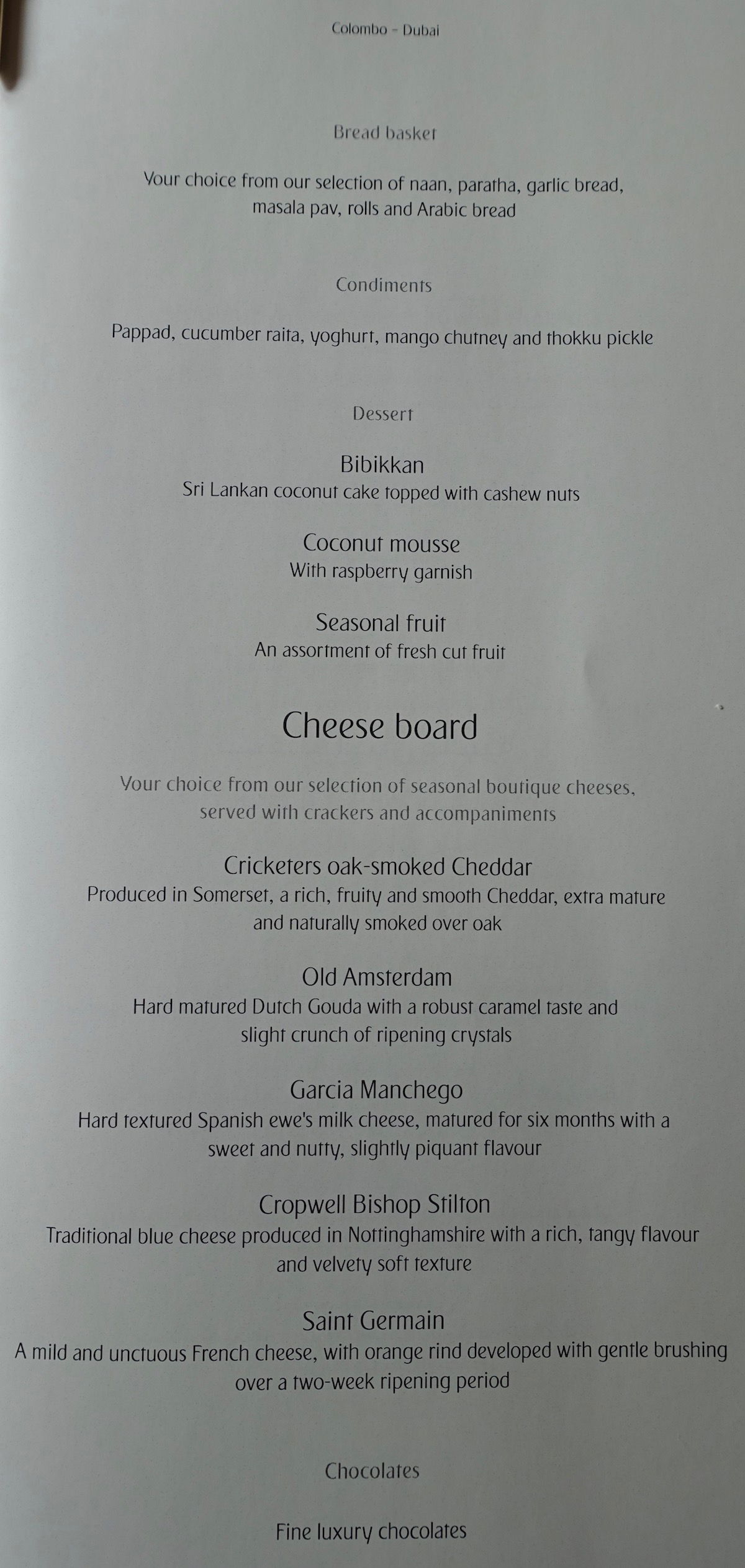 The drink list read as follows: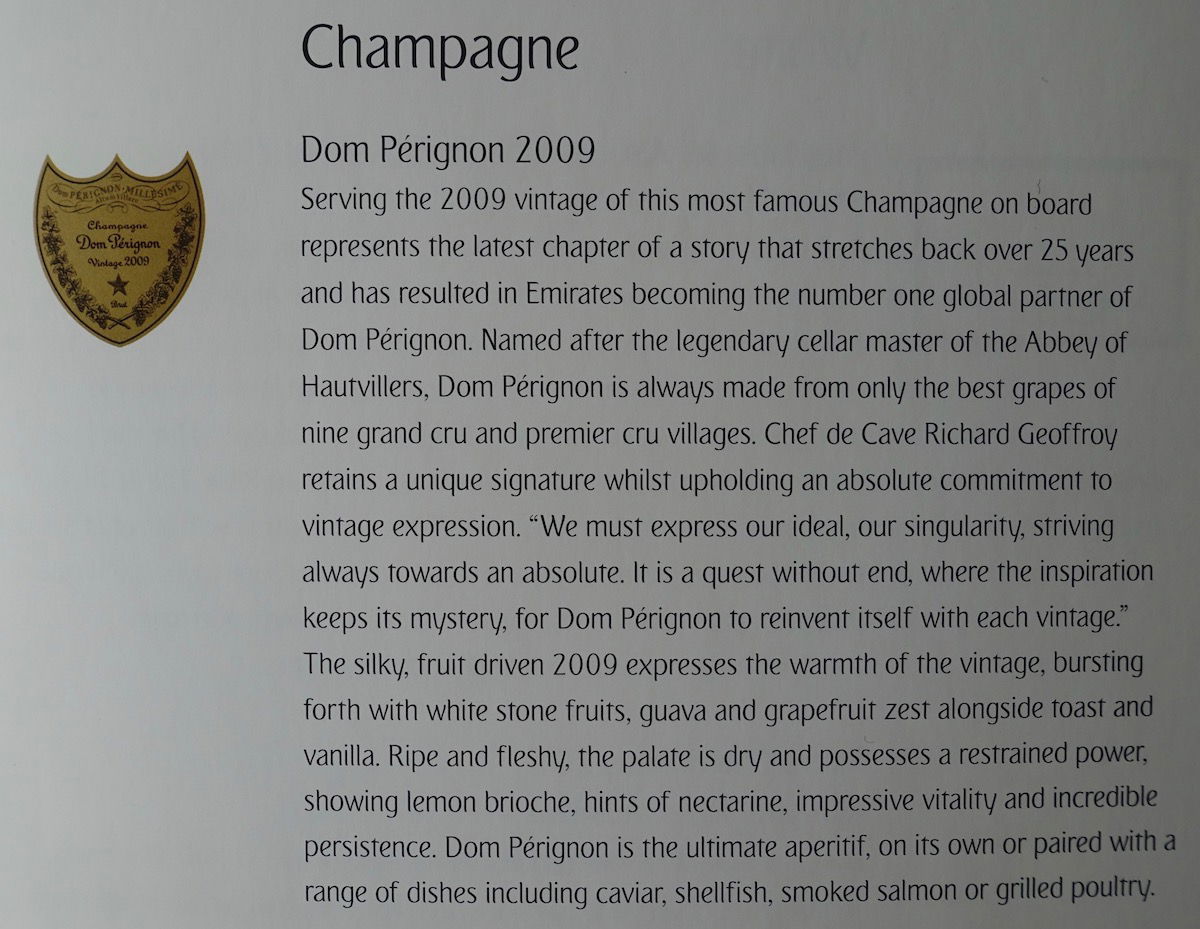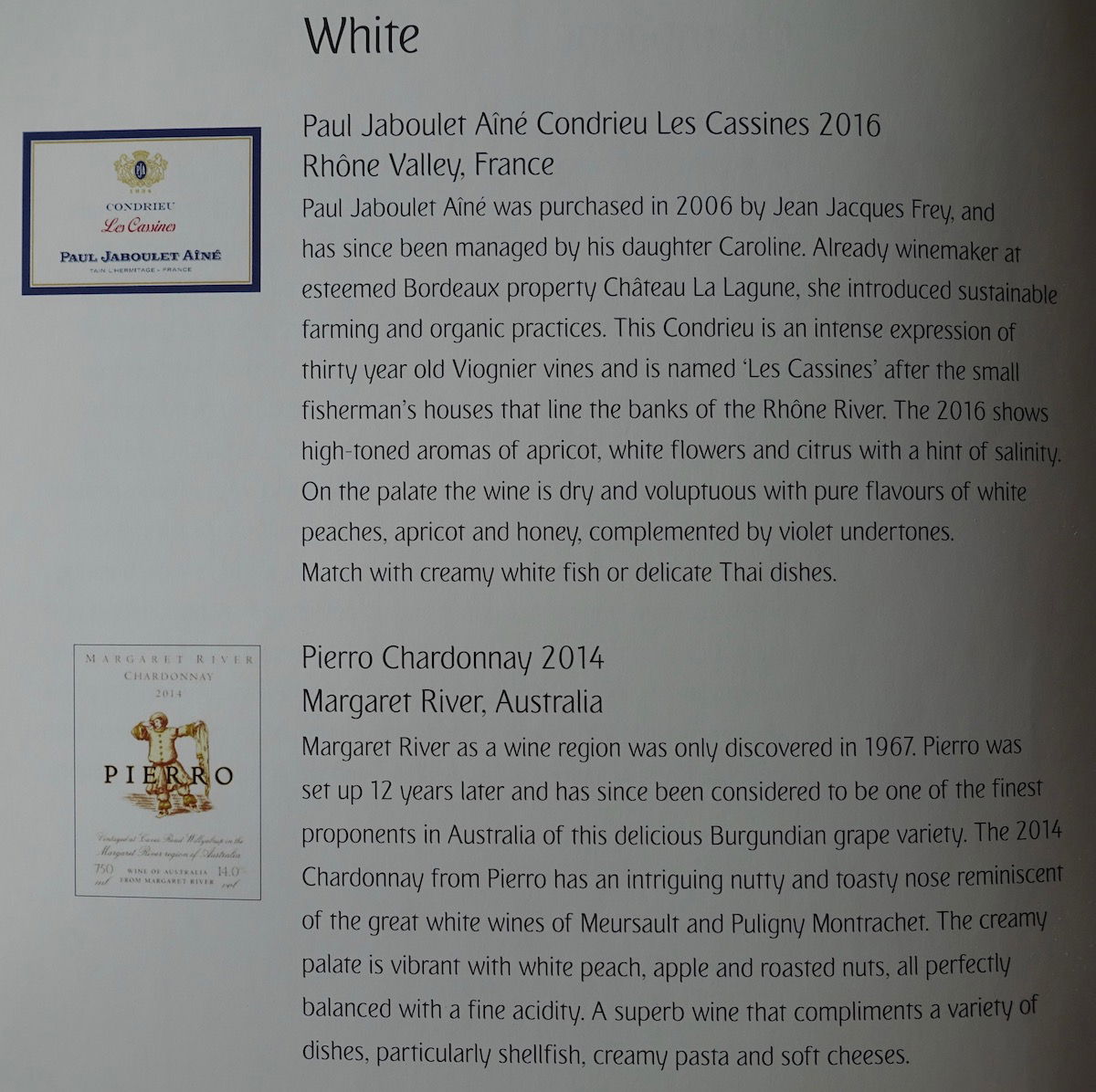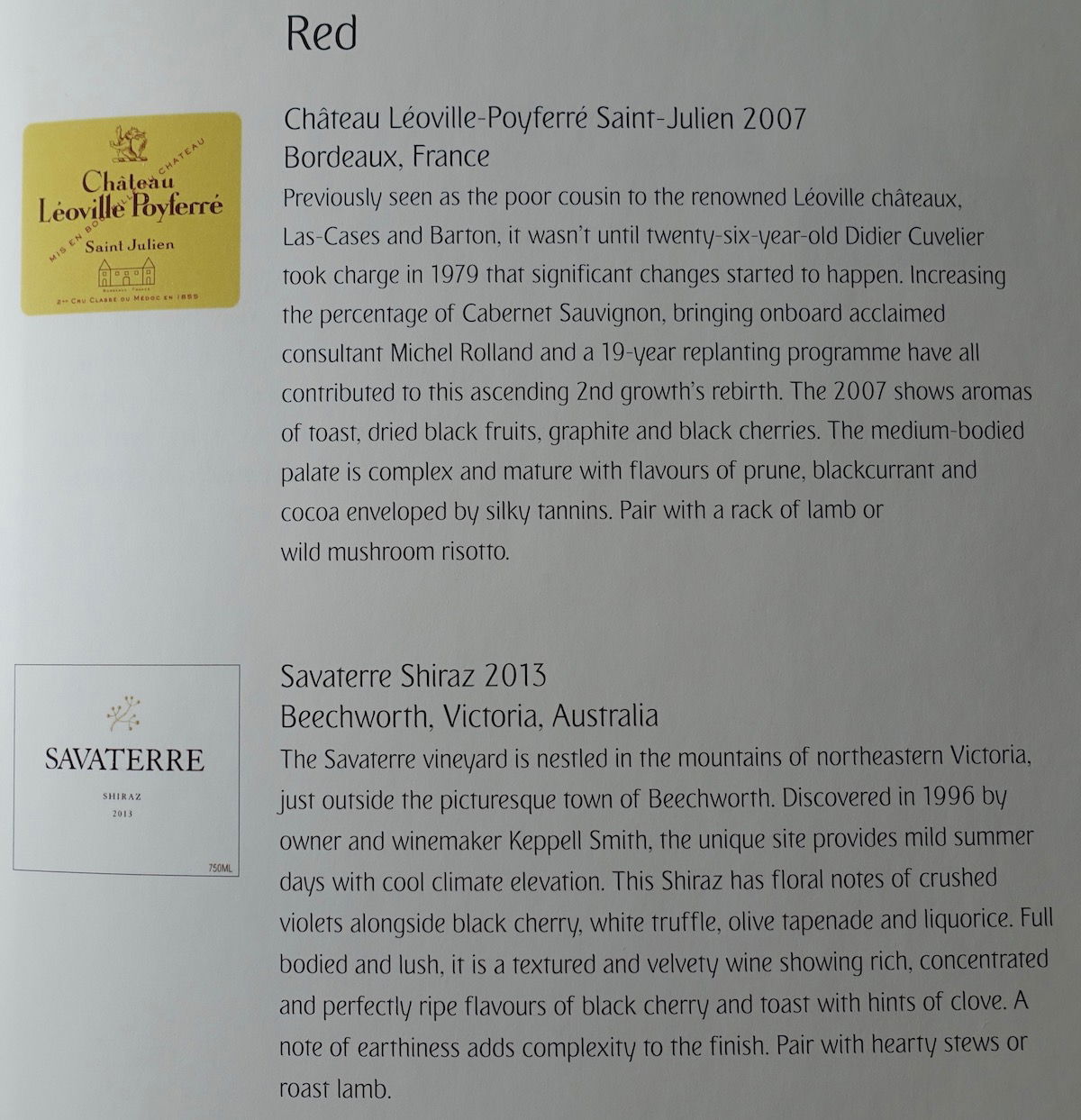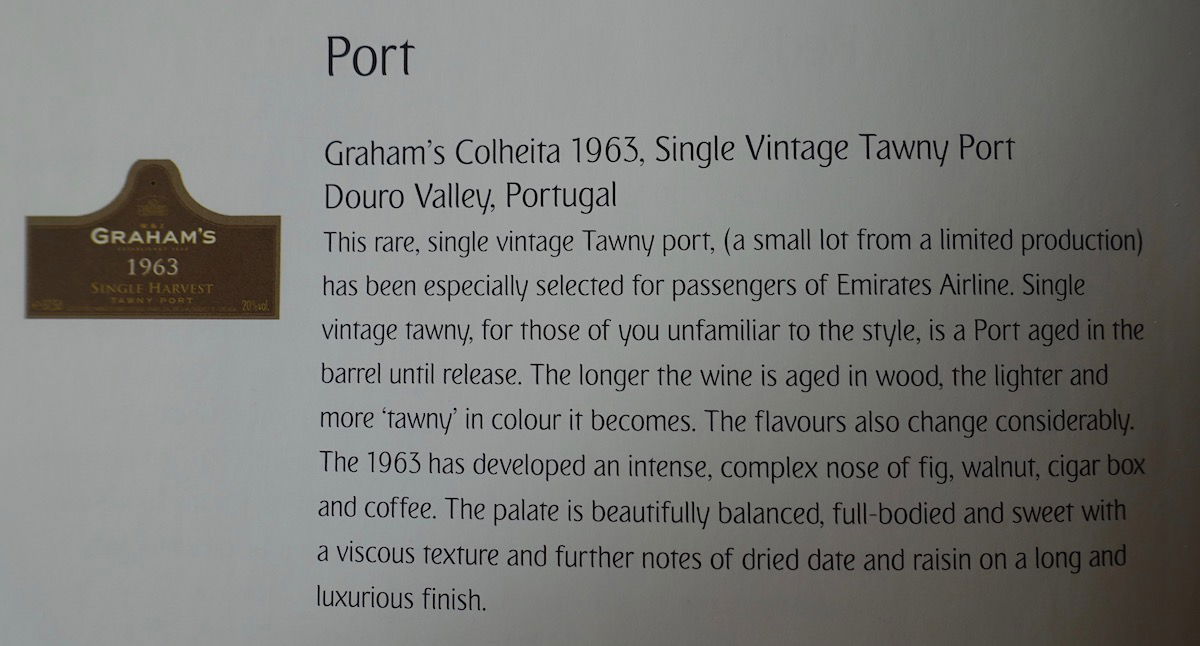 I started with some more champagne. No one else in the cabin was drinking, and I hate seeing stuff go to waste, so I figured it was my duty to finish as much of the bottle as I could. The champagne was served with both spicy cashews and warm mixed nuts. I love the speed at which Emirates gets started with service. I had my first glass of champagne just 10 minutes after takeoff.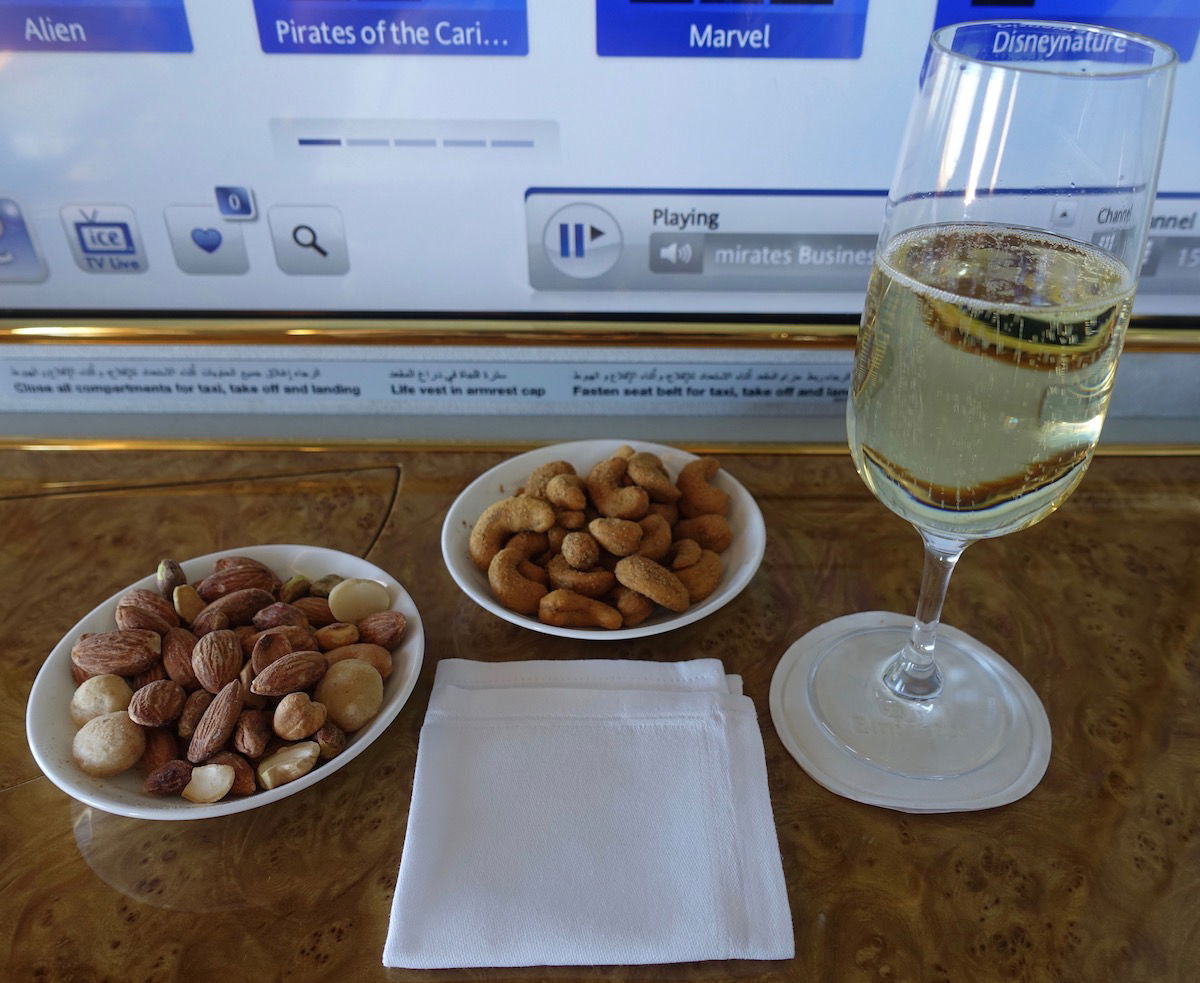 Emirates first class champagne & nuts
About 10 minutes later a tablecloth was placed on my tray.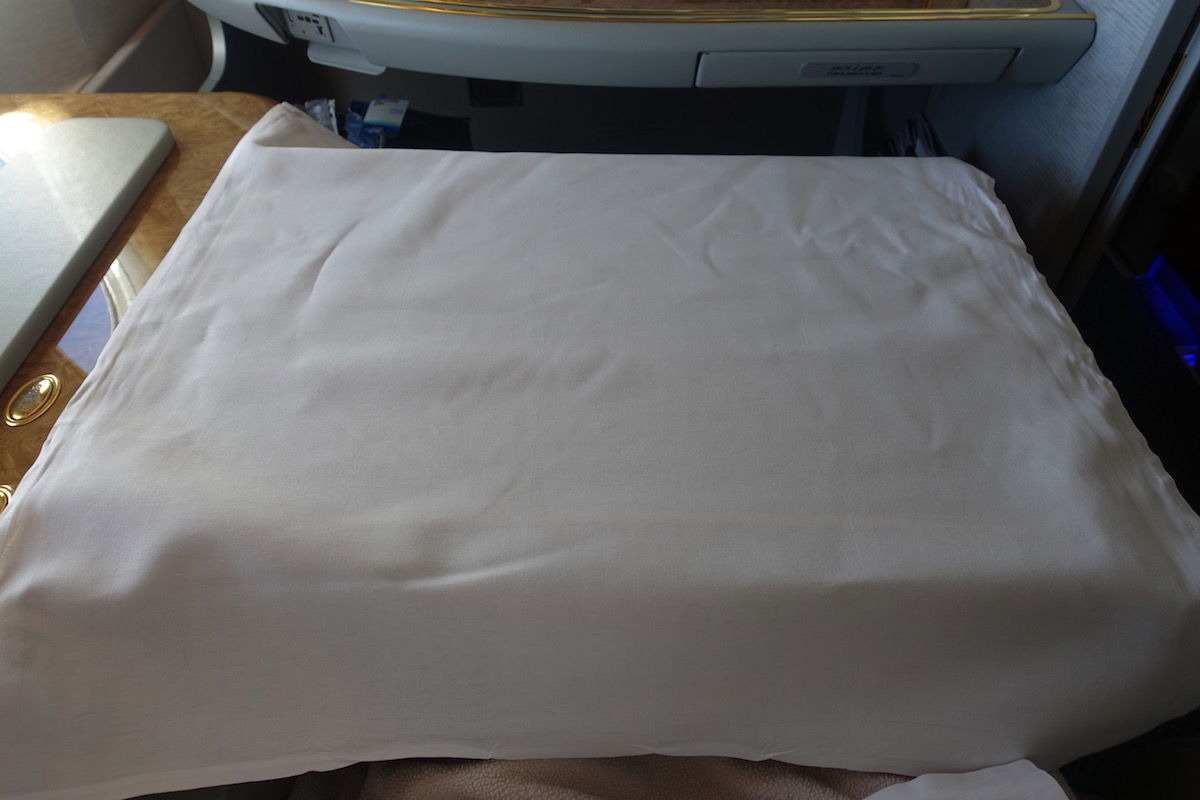 Emirates first class tablecloth
Then I was served the soup and salad, as well as a selection of bread from the breadbasket. First I had a sweet potato and celeriac soup with croutons and a side salad.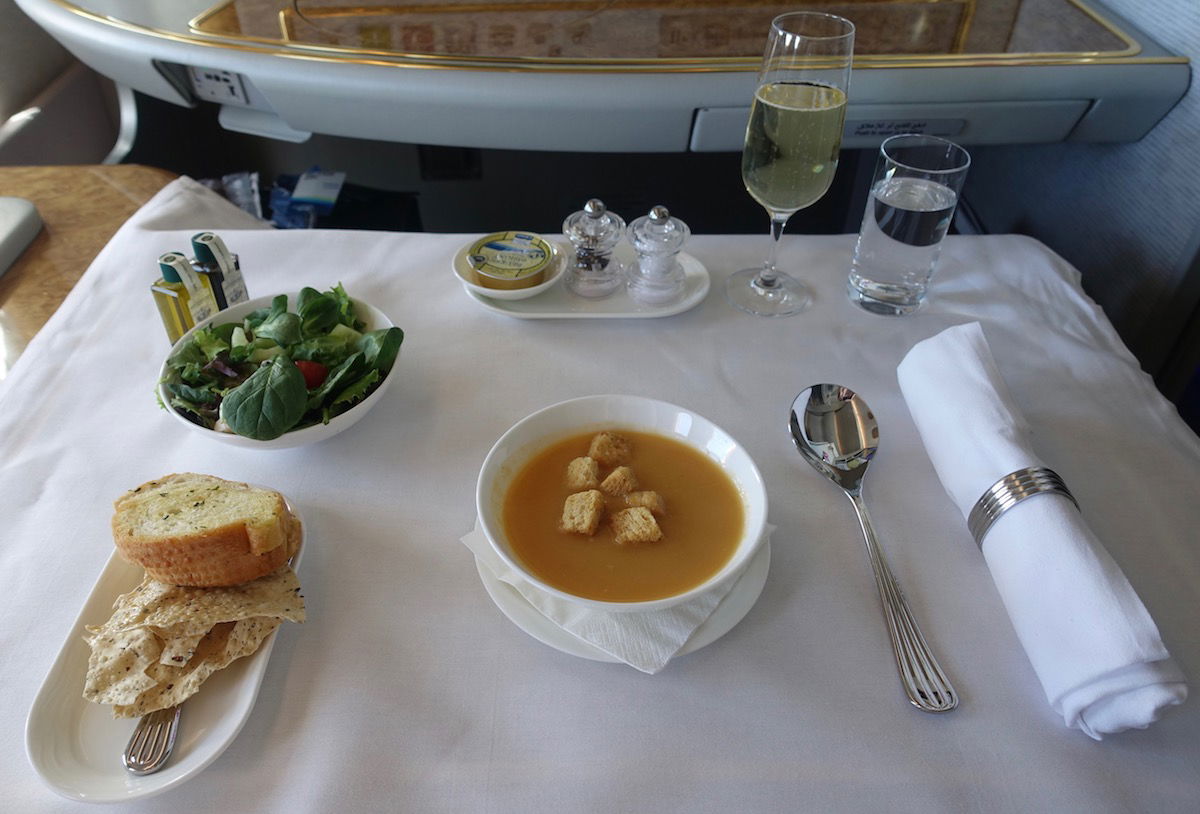 Emirates first class lunch — salad and soup
The soup was flavorful and the perfect temperature.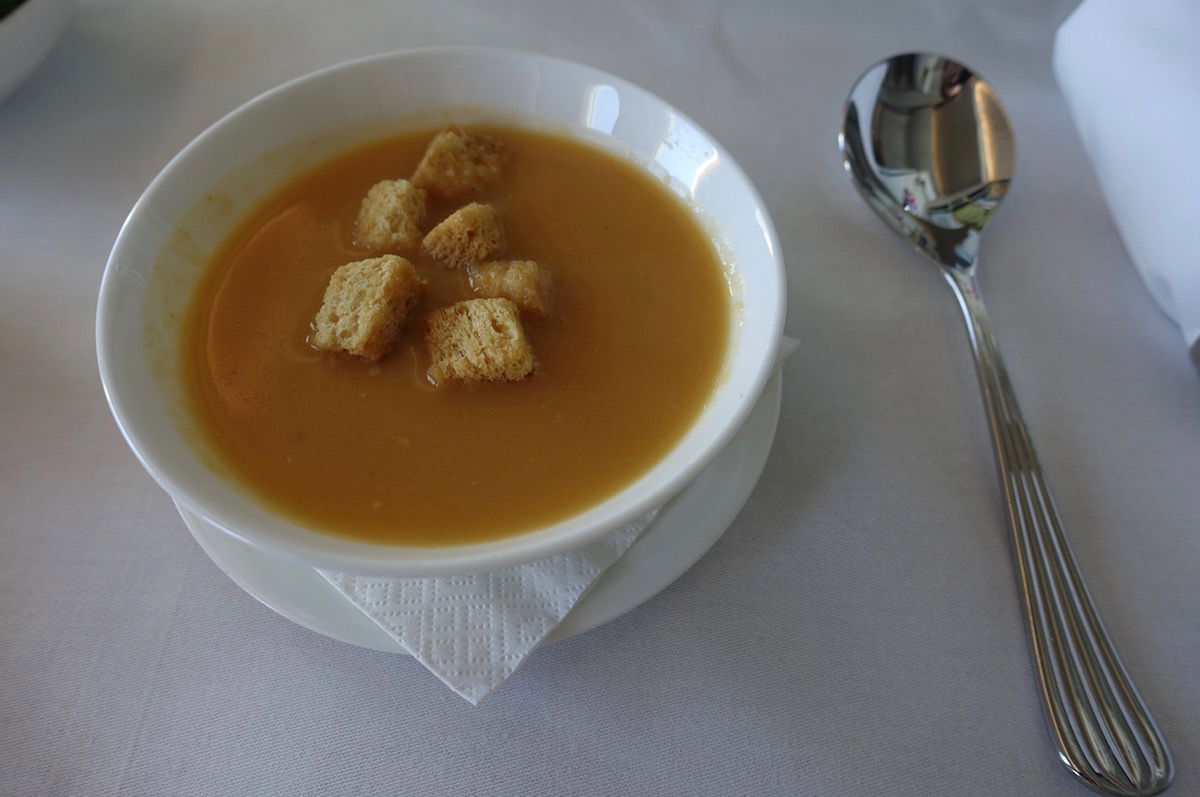 Emirates first class soup
The salad, on the other hand, was quite boring.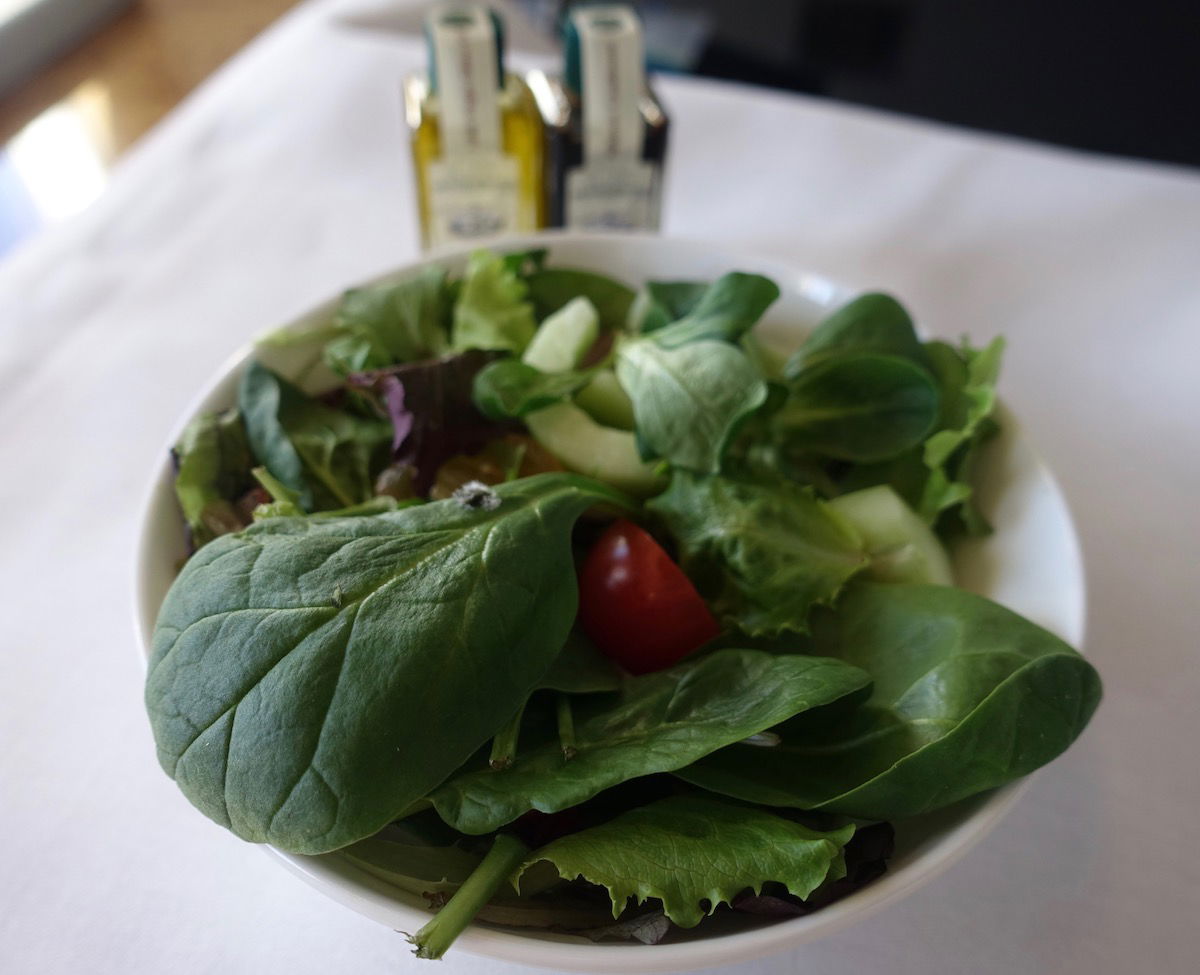 Emirates first class salad
There were plenty of bread options in the basket from which to choose. The garlic bread is always my favorite.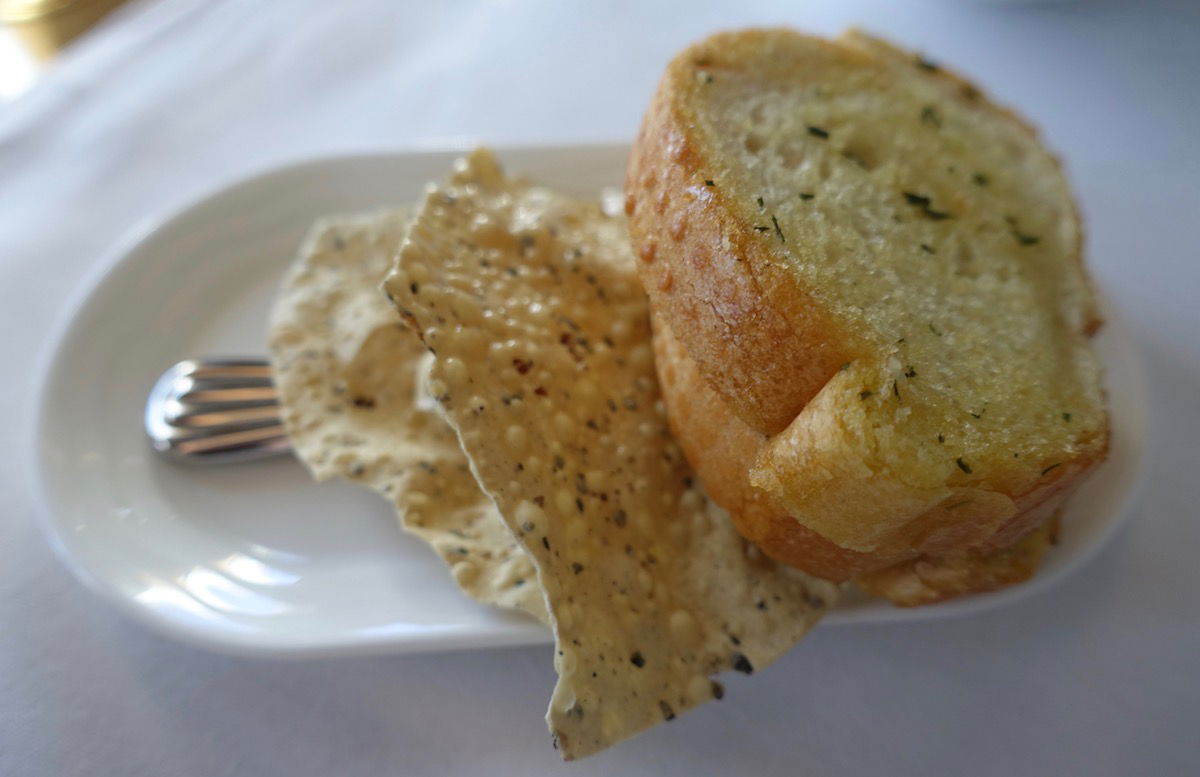 Emirates first class bread
Next up was the main course, for which I selected the spicy Sri Lankan fish curry, served with yellow rice and aubergine pickle. It was fantastic, and bursting with flavor.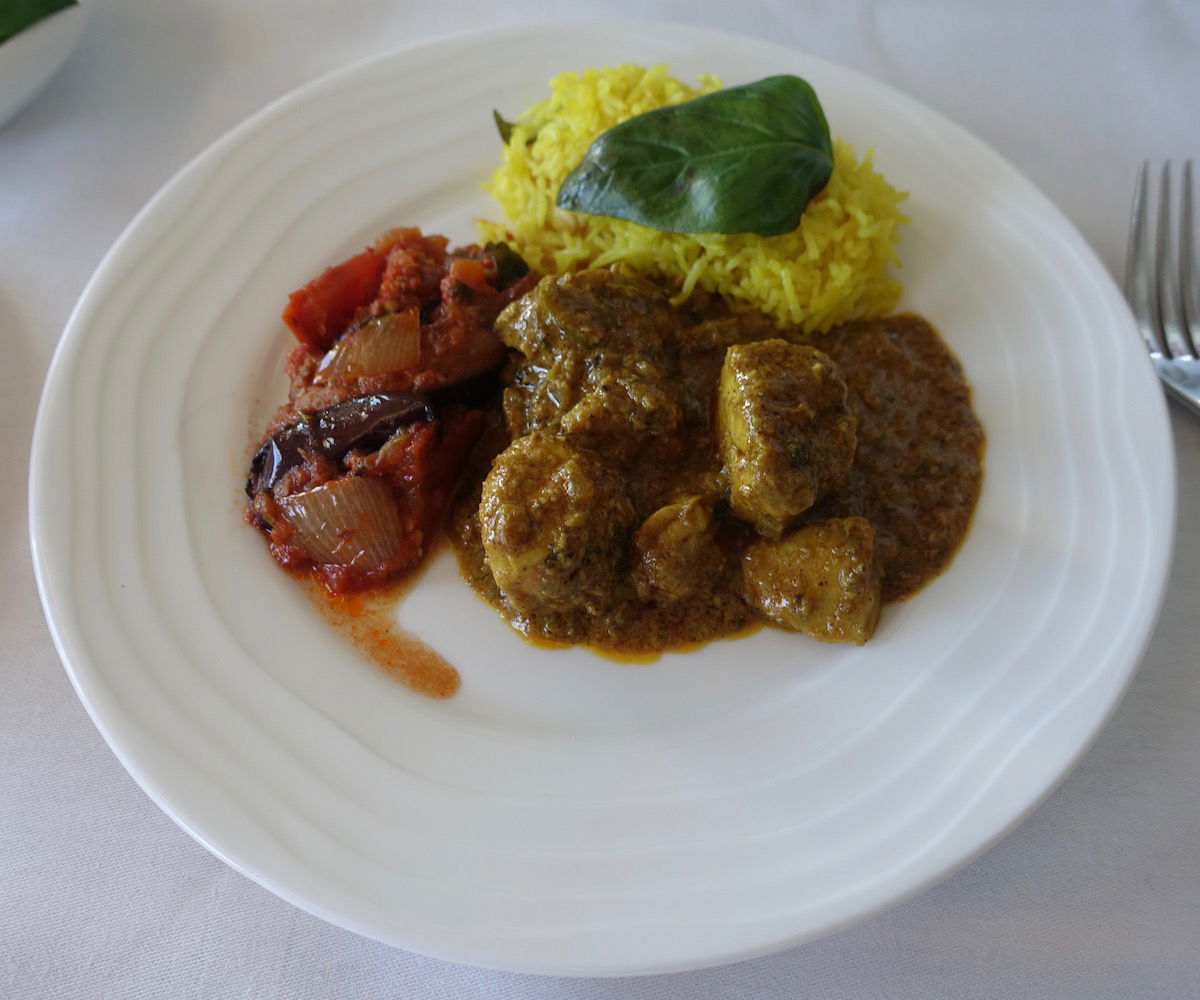 Emirates first class main course
Next up was dessert. I had the bibikkan, which was the Sri Lankan coconut cake. This was the weakest part of the meal, in my opinion. It wasn't bad, it just didn't taste especially fresh, and was sort of dry.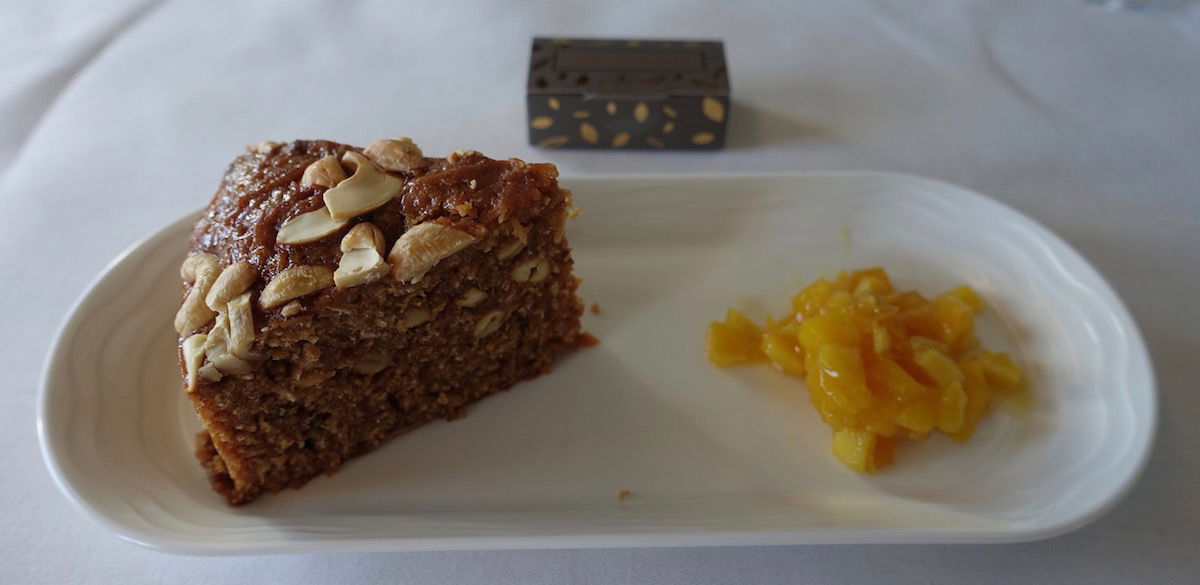 Emirates first class dessert
Service throughout the meal was exceptional from both Draginja and Simon. The entire meal was done about 80 minutes after takeoff, and they paced it perfectly. After that I browsed the inflight entertainment selection. Emirates has live news updates from Reuters, meaning that you can't even escape this stuff when you're on a plane anymore: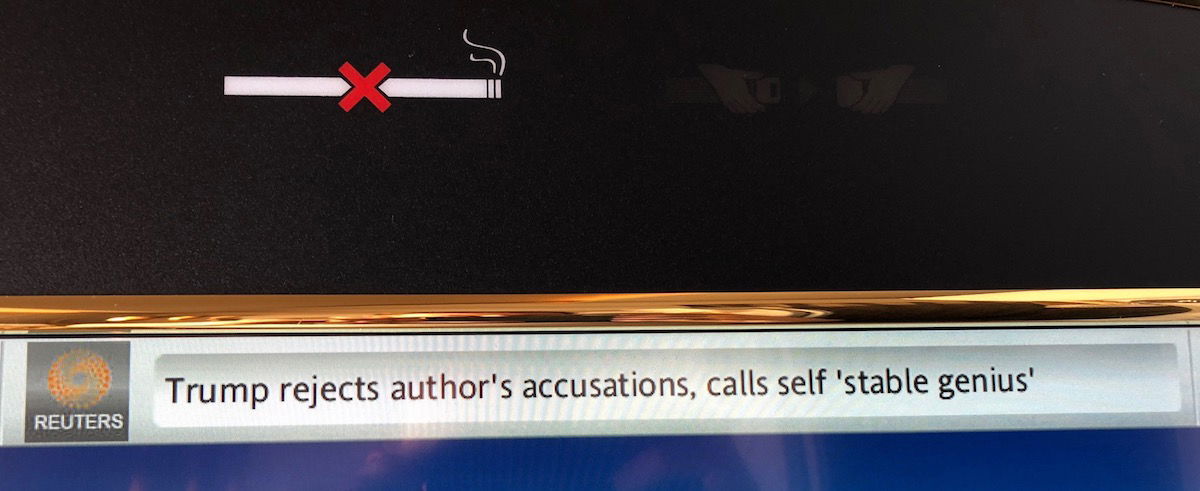 "News"
Emirates has the world's best inflight entertainment selection, with hundreds of movies, TV shows, etc. The selection is endless.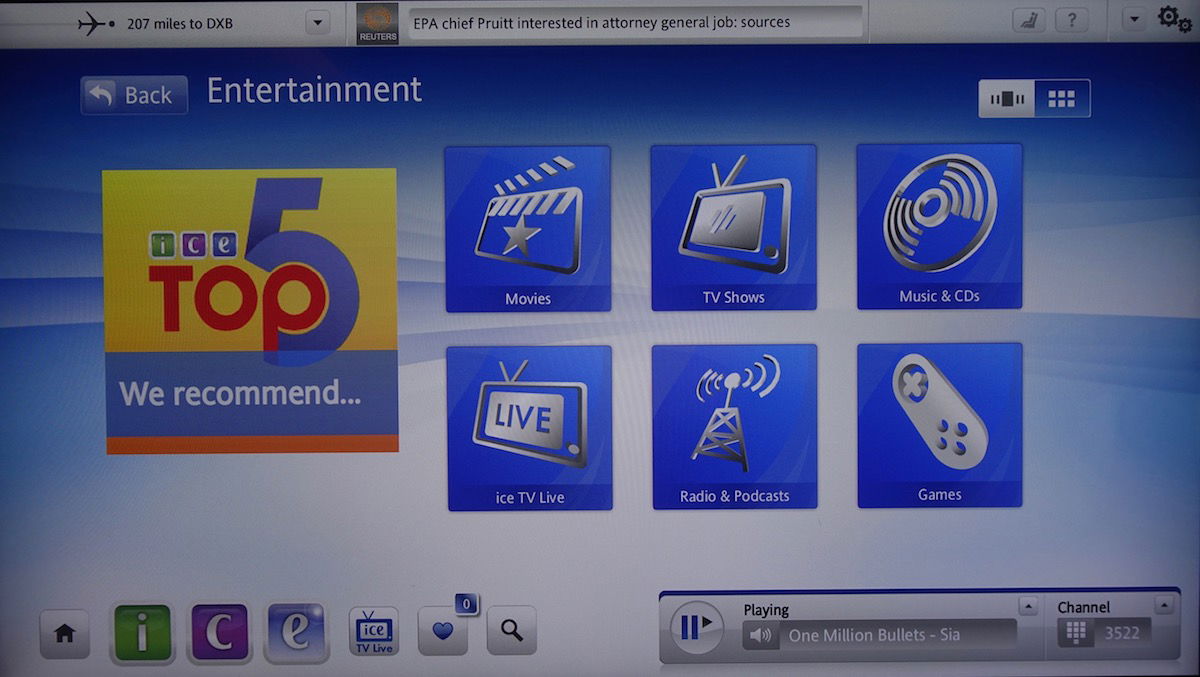 Emirates first class entertainment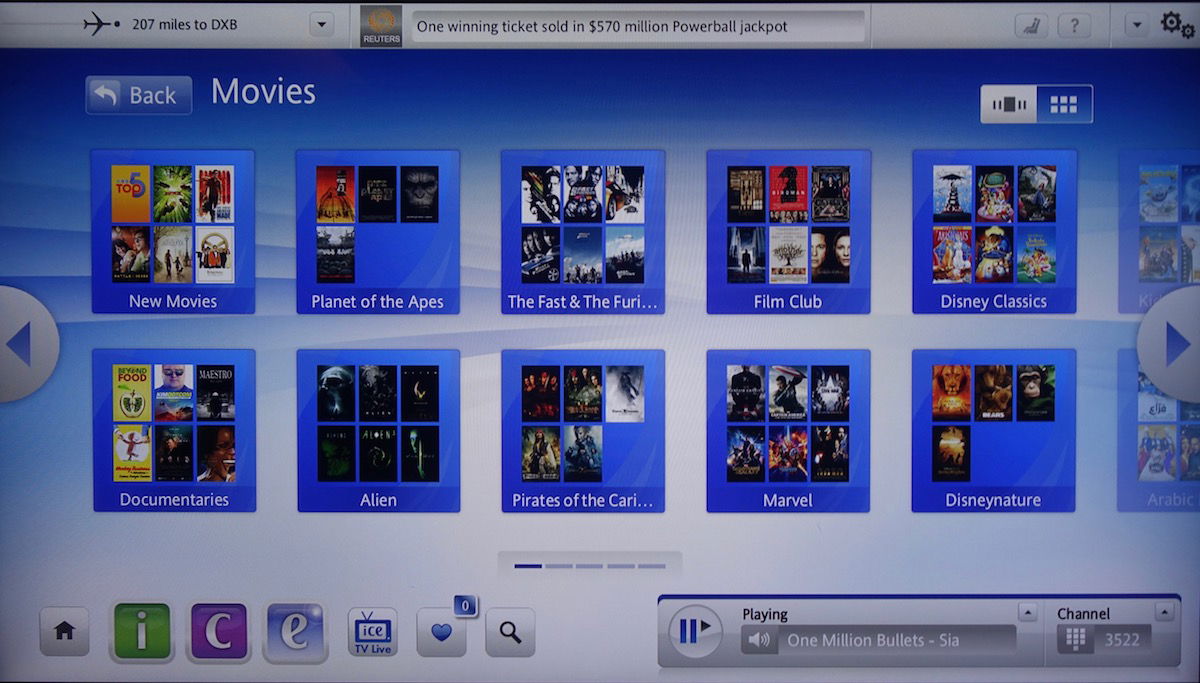 Emirates first class entertainment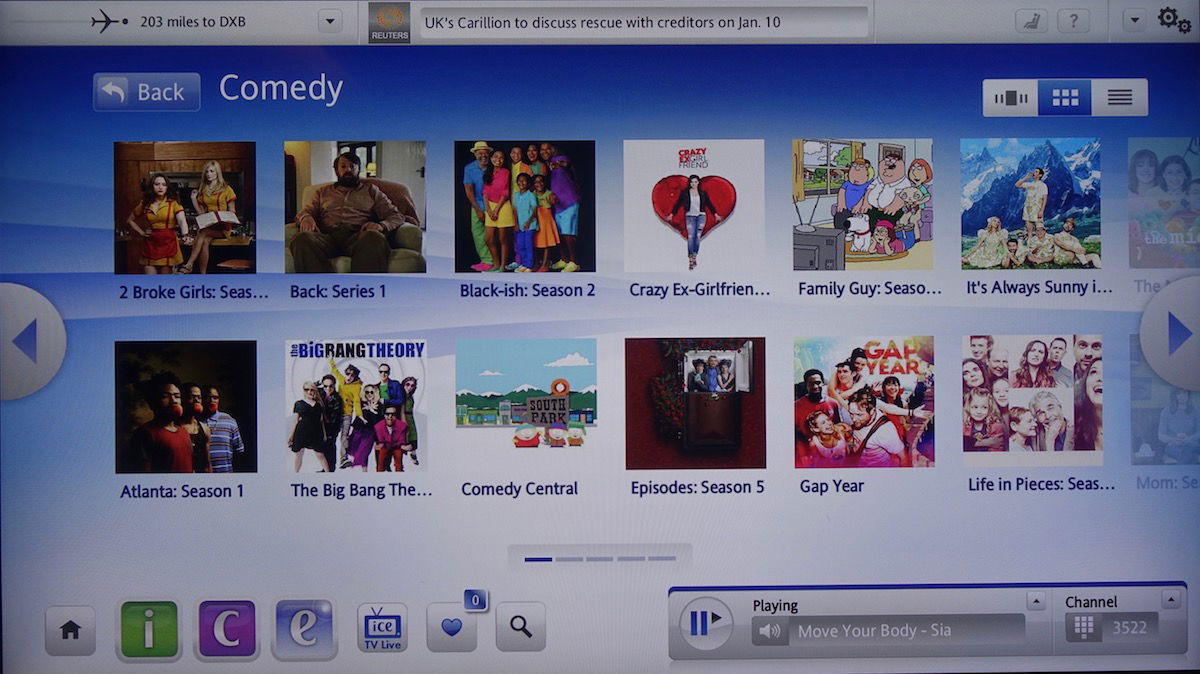 Emirates first class entertainment
I decided to work a bit rather than watching TV, so I just kept the airshow on.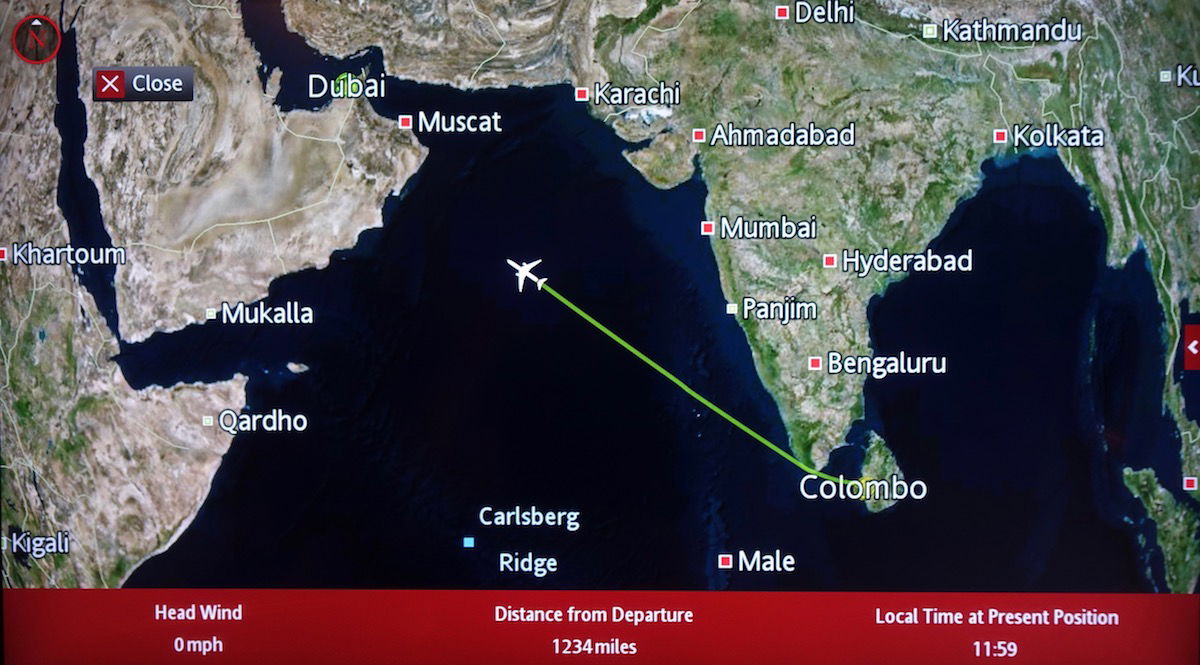 Airshow enroute to Dubai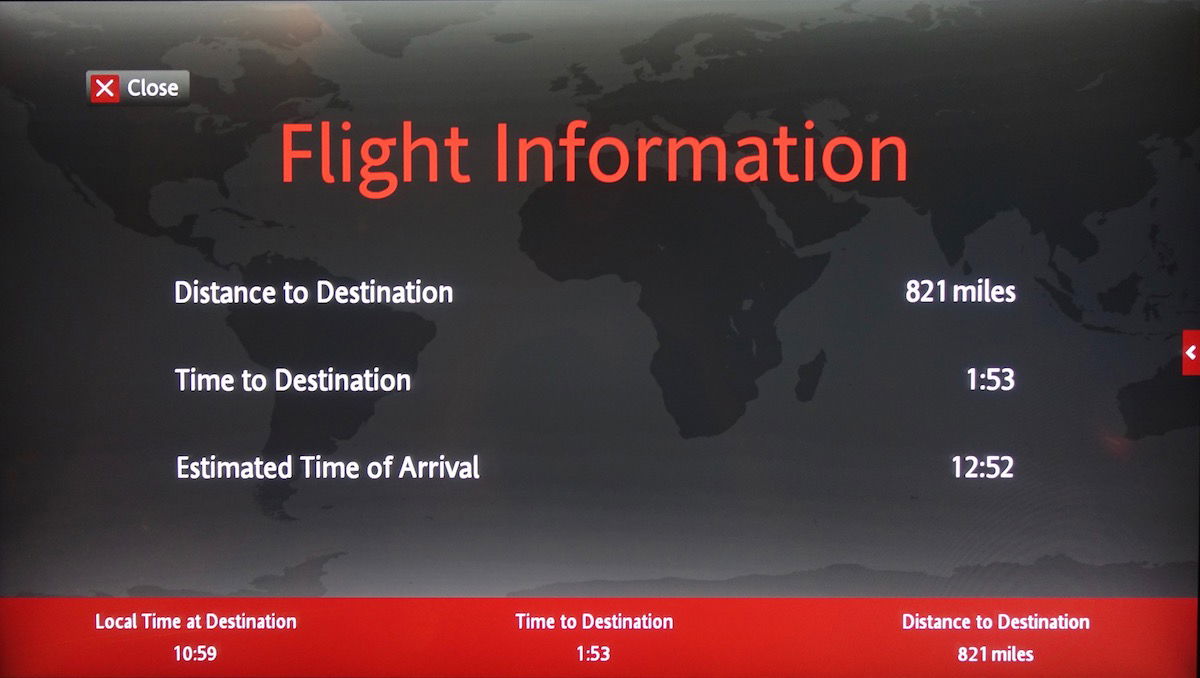 Airshow enroute to Dubai
Most of Emirates' 777s have Wi-Fi, and as of last summer they increased the Wi-Fi pricing. However, I still consider the pricing to be pretty reasonable. For example, you can buy 500MB for $15.99. Skywards members in first & business class are supposed to get free Wi-Fi, but you have to have your Skywards number on the reservation to get that. Since I was crediting to Alaska Mileage Plan, that wasn't an option for me.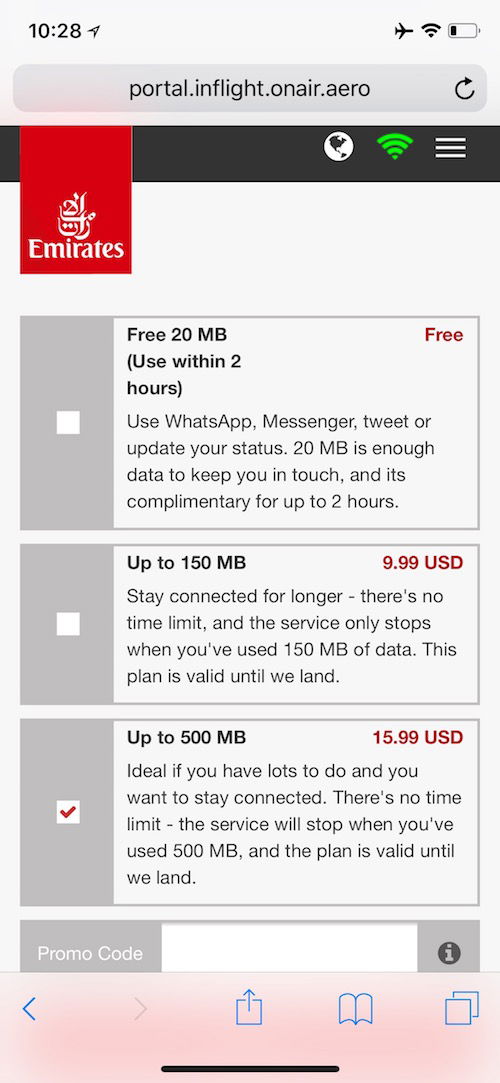 One thing impressed me was that the Wi-Fi was actually usable. In the past I've found it to be borderline unusable on the A380. I'm not sure if the better speeds were because of the 777 vs. the A380, or because Emirates eliminated nearly free Wi-Fi for most passengers.
I spent a bit of time working, and then about an hour before landing I ordered a coffee, which was served with some biscotti and chocolate.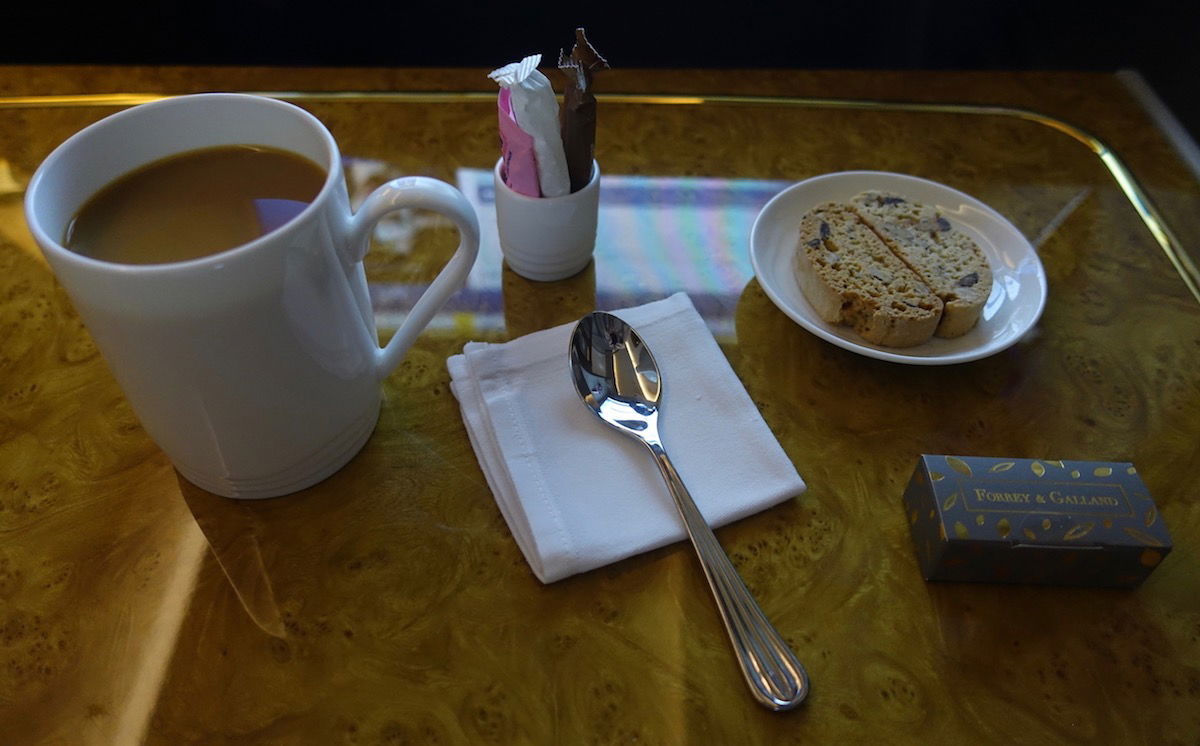 Emirates first class coffee and cookies
At 12:15PM in Dubai there was an announcement from the first officer that we'd be landing in about 45 minutes. A few minutes later we entered a holding pattern. At that point the crew started preparing the cabin for arrival, and a landing video was played describing the Dubai Airport arrivals process. The crew also distributed fast track cards at this point.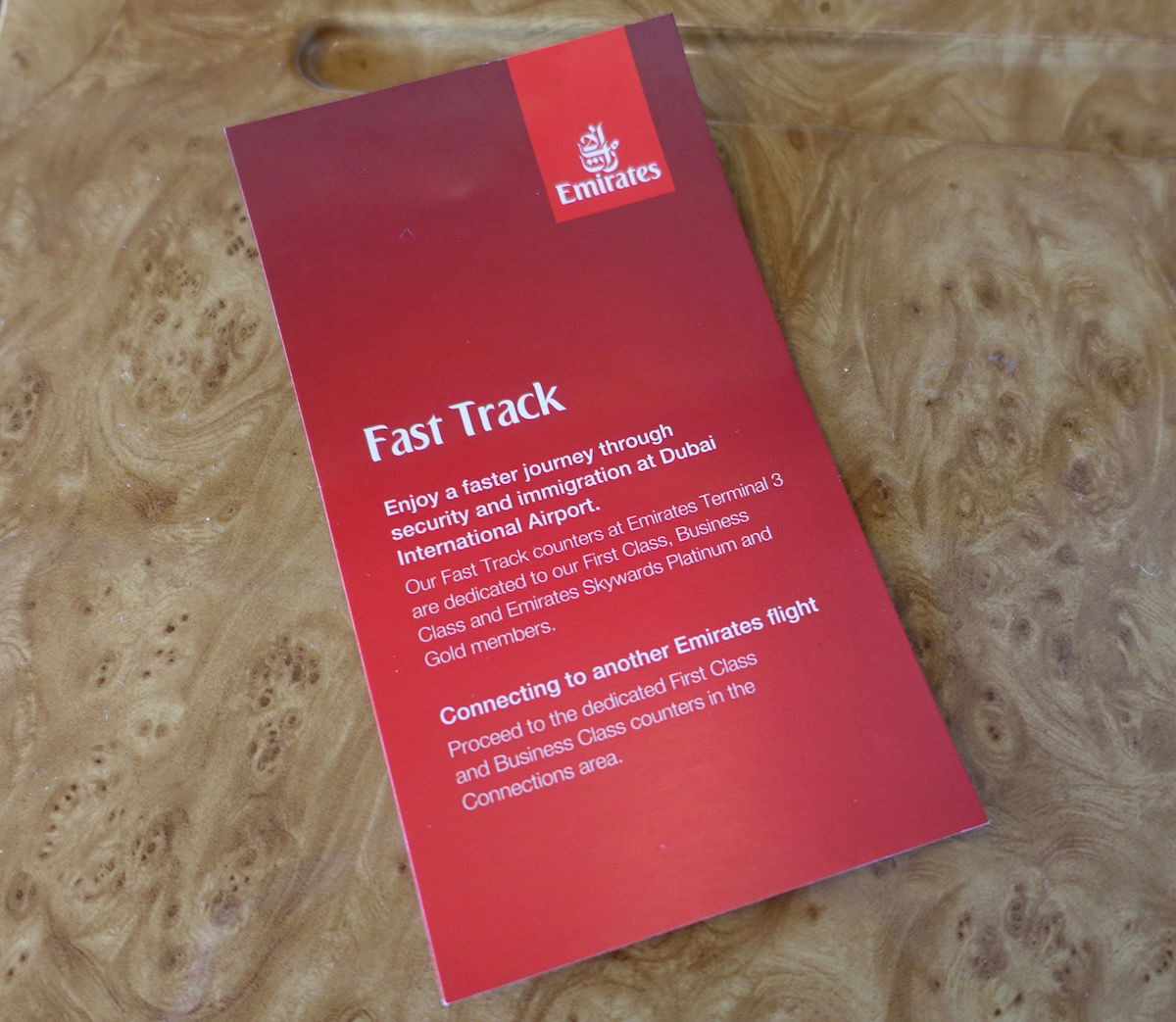 Dubai fast track card

View approaching Dubai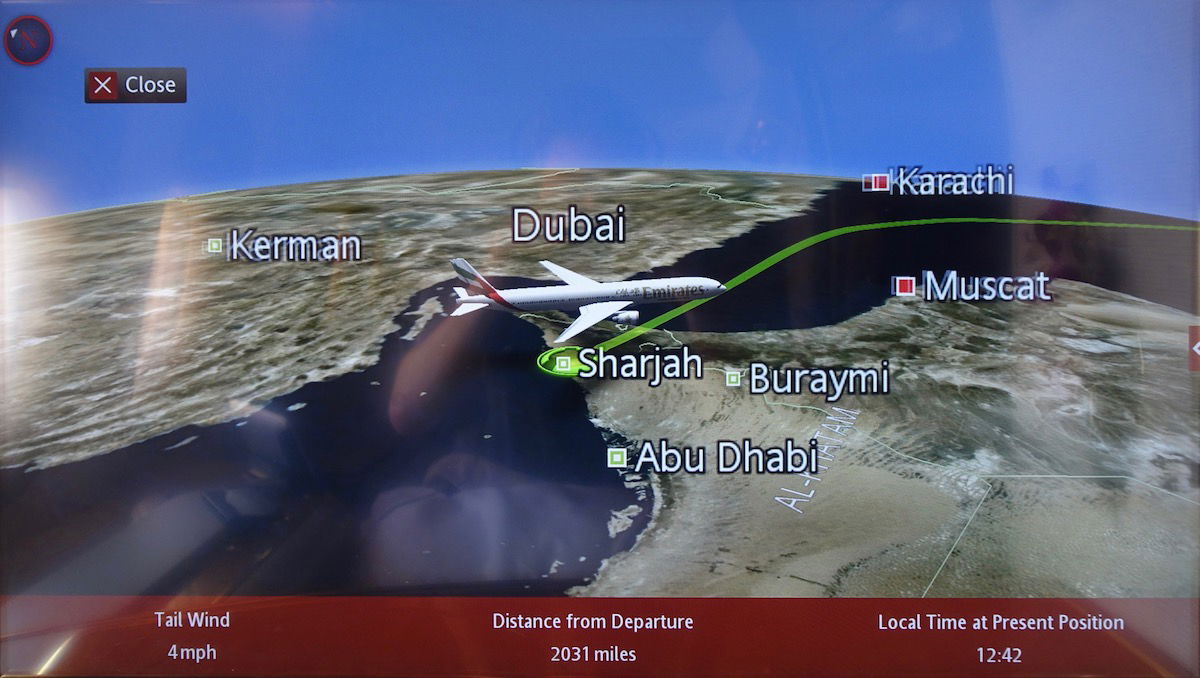 Airshow approaching Dubai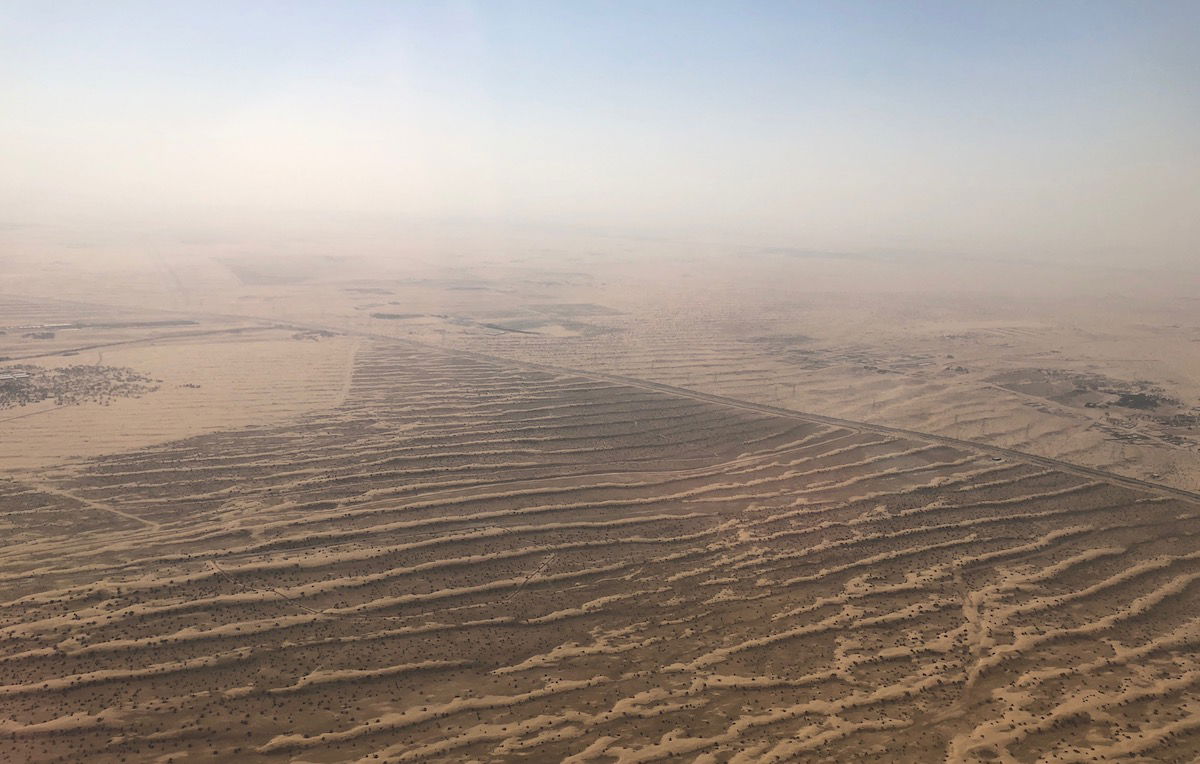 View approaching Dubai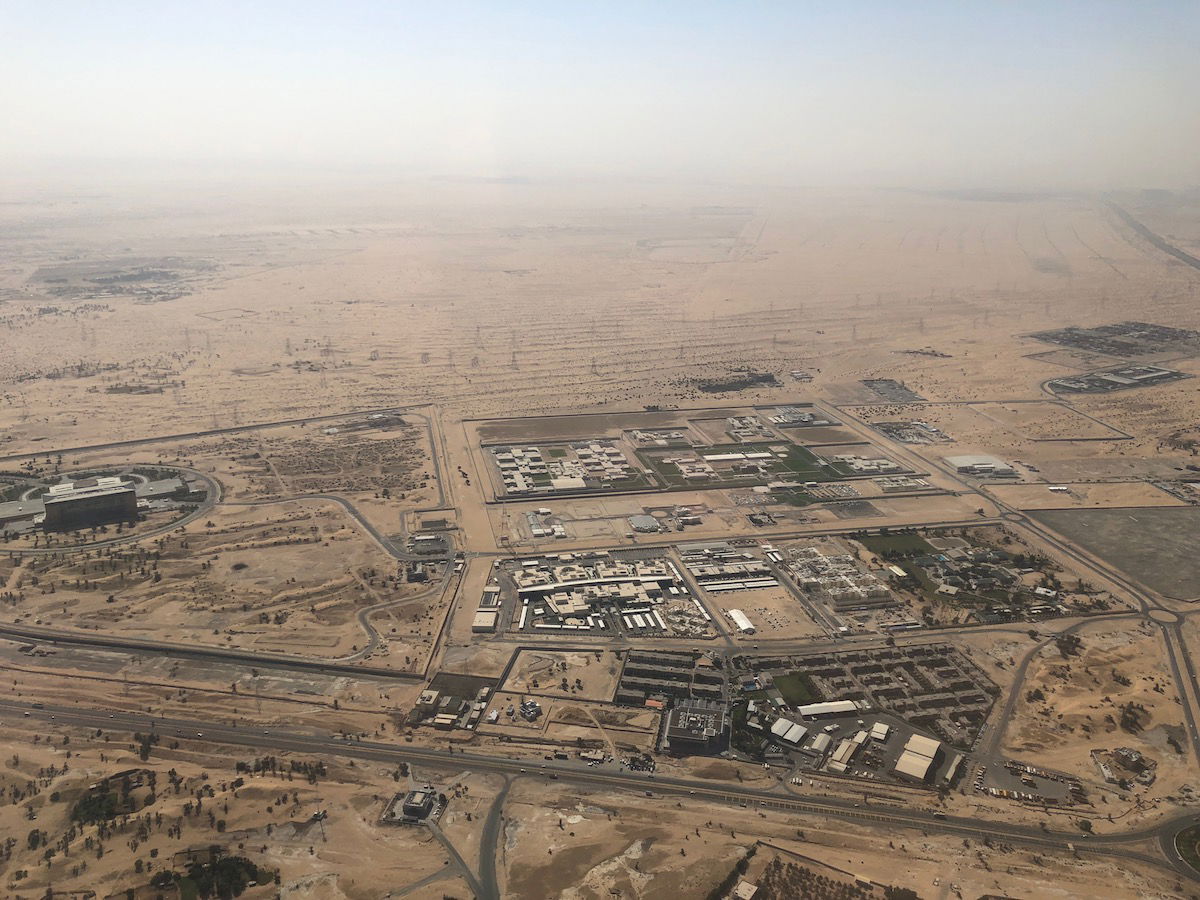 View approaching Dubai
We ended up touching down on runway 30L at 12:50PM, earlier than expected.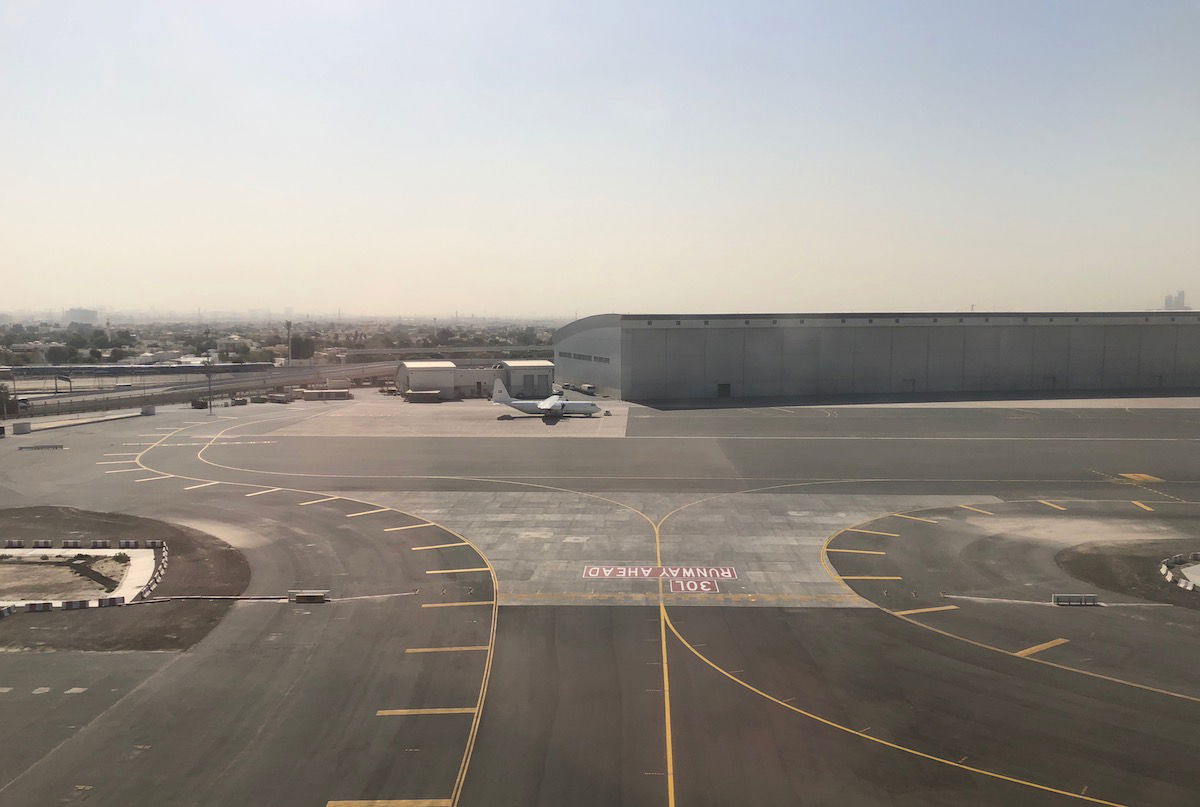 Final approach to Dubai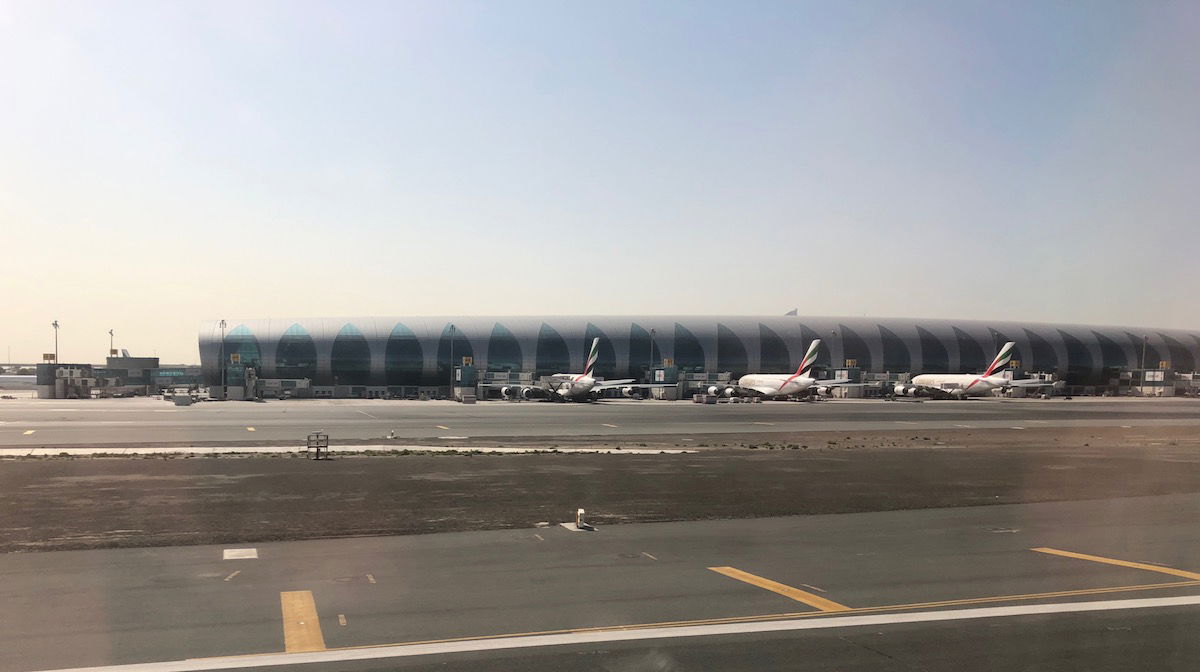 Taxiing Dubai Airport
From there we had just a short five minute taxi to our arrival gate, where we parked next to another 777-300ER.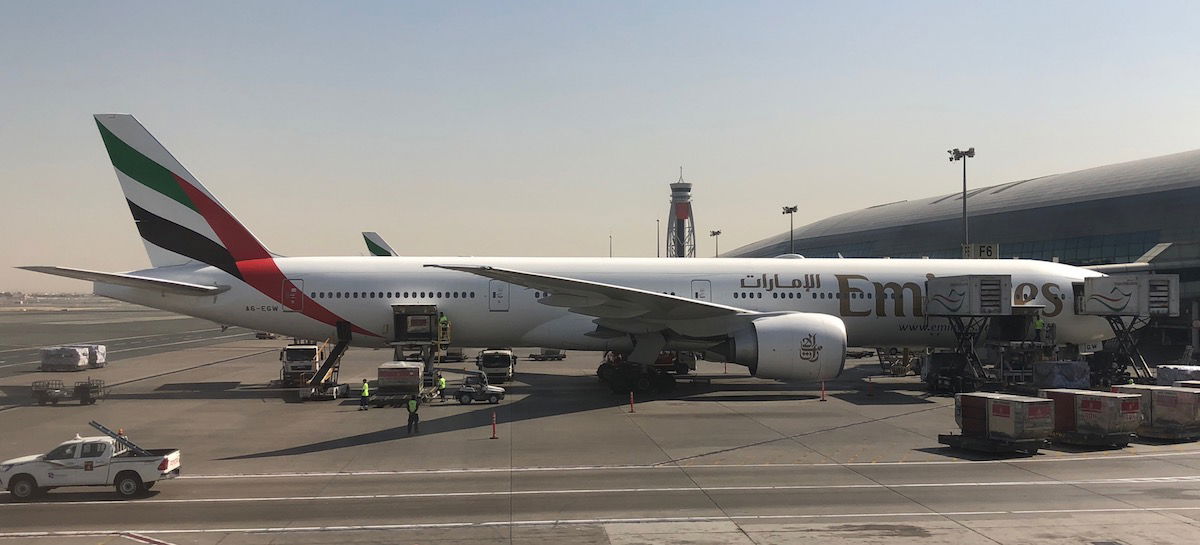 Emirates 777 Dubai Airport
I bid farewell to the crew and began my longest ever walk to immigration at Dubai Airport. There was about a 10 minute wait in the fast track line. Then I headed to the Emirates chauffeur desk. While I wasn't able to book a chauffeur through Emirates' website, they gladly offered me one to my hotel after asking.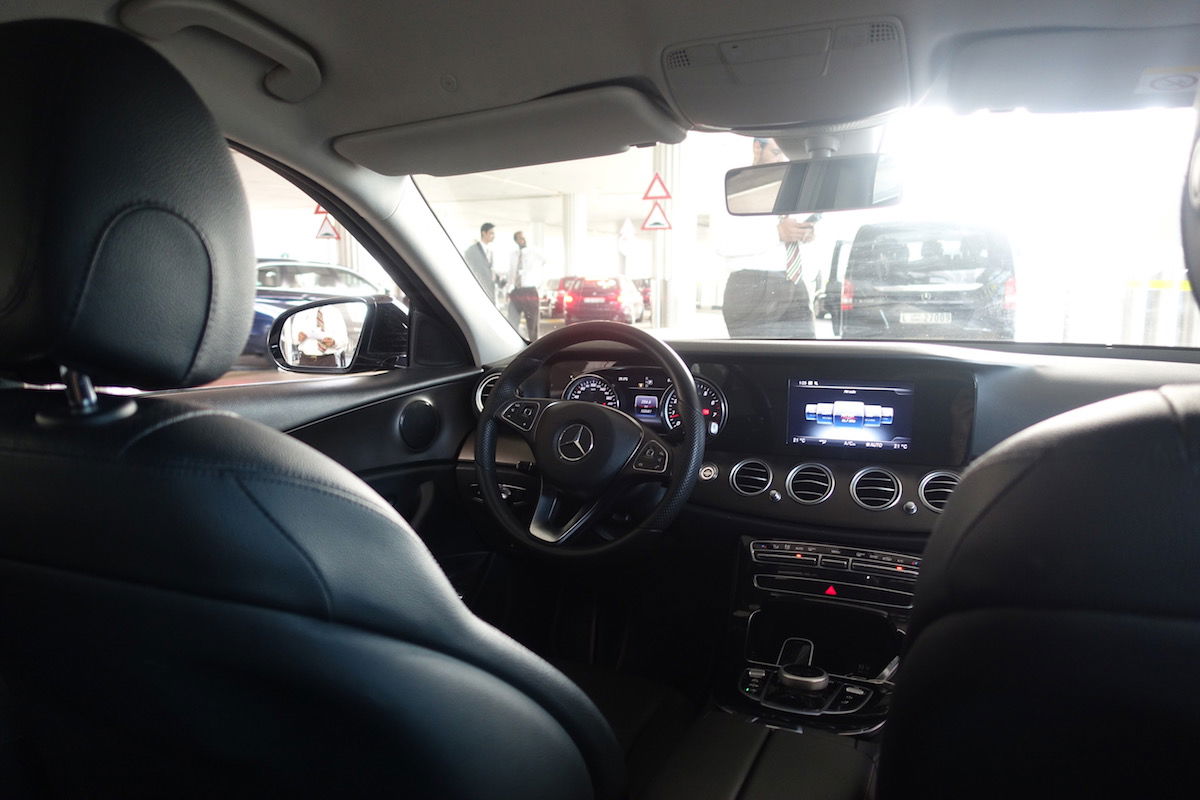 Chauffeur drive Dubai Airport
Emirates 777 first class bottom line
Emirates continues to offer one of my favorite first class products in the world. Even though this was a short-haul flight without all the amenities you'd get on a longhaul flight, it was still excellent. The crew was friendly, I love the Emirates first class suite, the entertainment was endless, the Wi-Fi was actually quite fast, and of course I loved the Dom Perignon. Emirates, you're a great way to fly!