Emirates has finally found a solution to one of the biggest problems that their first class passengers face. Let's set the scene — you're sitting there in your fully enclosed suite, just sipping on Dom Perignon, scooping caviar onto your blinis with your mother of pearl spoon, anticipating your onboard shower, retrieving an additional beverage from your private minibar, when suddenly you think to yourself "man, what would make this flight really great is if these pajamas had built in moisturizer that releases naturally nutrient rich sea kelp."
You spoke, Emirates listened! Okay, maybe not exactly, but that's not stopping Emirates from changing up their onboard amenities in a very cool way.
Emirates has offered the same pajamas and amenity kits in first class for years, and they've been fantastic. The pajamas have been sand colored and very light, and are among my favorites, given how comfortable they are.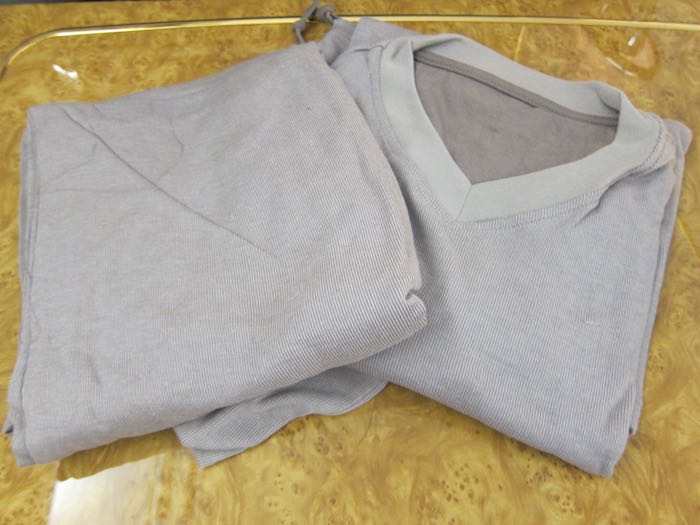 Meanwhile their amenity kits are in a dark brown leather case with BVLGARI amenities.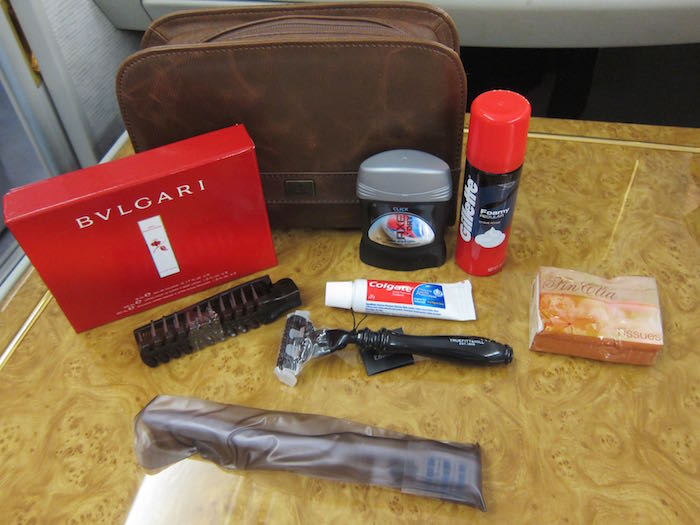 Emirates is making quite a few changes in terms of their onboard amenities, including their pajamas, amenity kits, and toiletries.
To start, Emirates is introducing "the world's first moisturizing sleepwear for the skies," which should now be available for first class passengers. Here's how these moisturizing pajamas are described:
Our new pyjamas for First Class customers traveling on overnight flights use Hydra Active Microcapsule Technology to keep your skin soft while flying. The fabric gently releases naturally nutrient rich sea kelp as you move around, preventing dehydration and stimulating circulation. Drape yourself with our soft sheep-skin like blankets, which are also exclusive to First Class customers, and settle in for a peaceful rest.

The pyjamas have matching slippers, an eye mask and a felt pouch so you can take them home with you – the Microcapsule Technology locks in the moisturiser so you can wash and wear them again.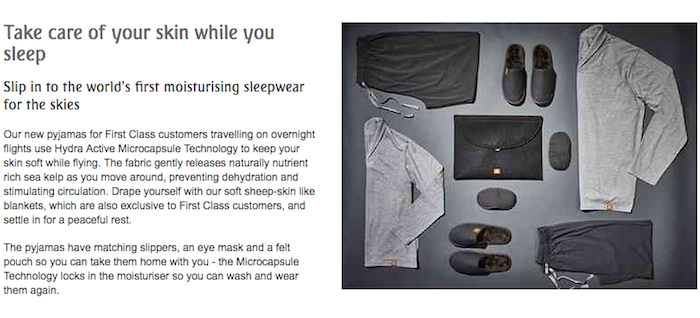 Emirates is also refreshing their amenity kits. While their amenity kits will continue to offer BVLGARI amenities, the bags themselves and contents are changing. Here's how the new kits are described:
Prepare for the next step of your journey using our exclusive Bulgari amenity kits. We've introduced a new set of kits featuring Bulgari's woody floral fragrance – Eau Parfumée au thé noir. Our designer kits are filled with skincare essentials to keep you feeling fresh and pampered throughout your flight and we've added a lip balm to restore softness to your lips.

Our First Class kit bags are made from fine leather and come in charcoal grey for men and pale grey for women. We offer four designs for gentlemen and four for ladies, so frequent flyers can sample the entire collection.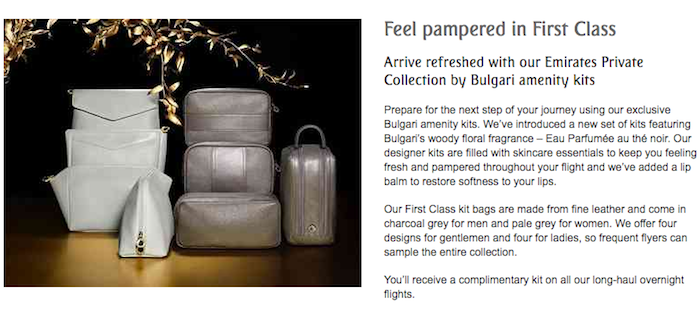 Furthermore, Emirates has long offered Timeless Spa amenities onboard, including in the A380 shower suite. This is the same company that does Emirates' first & business class spa at Dubai Airport. It looks like that's changing as well.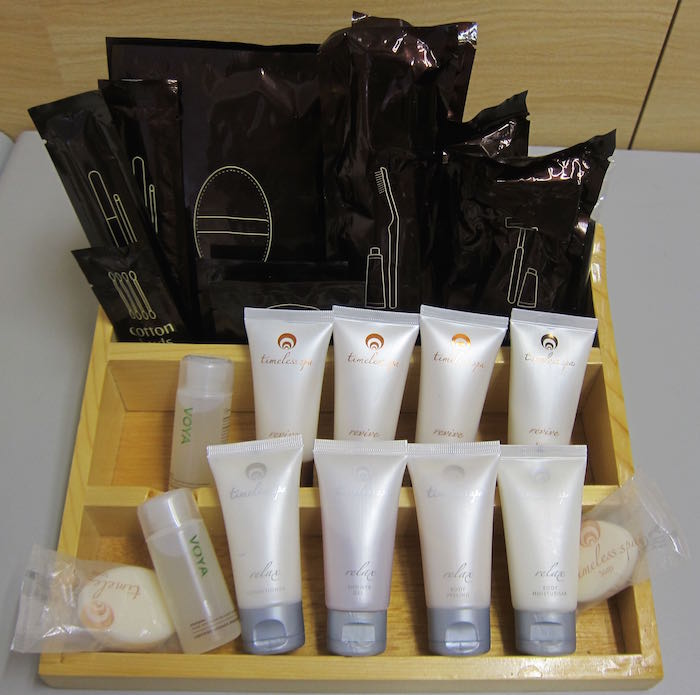 Going forward Emirates will be offering VOYA skincare lines in their first & business class lavatories:
Ireland's seaweed bathhouses offer nature's full therapeutic power in its purest form. You can experience this 300-year old tradition on board with our select VOYA skincare line, carefully crafted using organic, hand-harvested seaweed.

Nourish your skin and hair with our full range of VOYA products including shampoo, conditioner, hand cream, moisturiser, body wash, soap and cleanser. Fragrances include rosemary & mint from the Revitalise range, lavender & rosemary from the Tranquility range, and lime & mandarin from the Soothing range.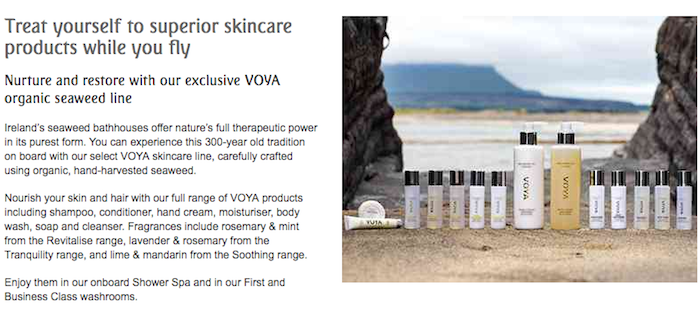 While I've loved Emirates' old amenities, at the same time it's nice to see them changing it up a bit. I'm intrigued by the new pajamas, and hopefully can snag a pair sometime soon.