Hello from Florida! February — or for that matter this whole year — has been crazy for me on the travel front. Last weekend I flew to Jakarta, and after a brief stop in New York I caught a cold (which is rare, because I'd like to think I have the immune system of a horse for all that recirculated air in my system). 😉 I canceled my travel plans and headed down to Florida, where it's much warmer.
Goodness, I think my greatest luxury in life may be the ability to escape cold weather. I don't know how some of you do it. It's looking much nicer here in Florida today, where it's 70 degrees and sunny.
---
Featured Stories
All the rage the past couple of weeks has been about the battle for Open Skies between the "big three" US carriers and the "big three" Gulf carriers. While I think there's truth to both sides, I do side with the US carriers on this, all things considered. That won't stop me from continuing to enjoy showers on my Emirates and Etihad flights, though. 😉
---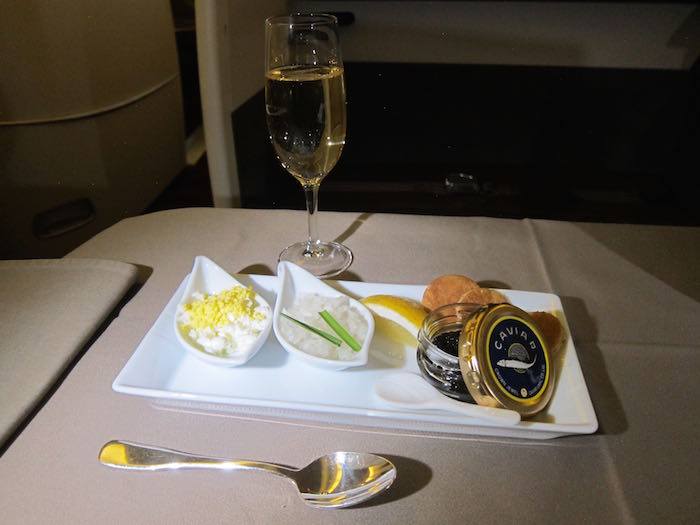 It has been years since I've flown Japan Airlines first class. In the past I always viewed them as the second rate Japanese carrier, after ANA. However, after having tried their new first class product for the first time, I must say I was very impressed, and think they're on par with ANA first class.
I can't wait to fly them again, and can't recommend them enough.
---
Not only do I live in hotels full time, but I mostly live in hotels outside of the US. As a result, using the right credit card to minimize foreign transaction fees and maximize points is very important to me.
Here are my top two credit cards for dodging foreign transaction fees and maximizing my rewards.
---

TIPS: Earning Miles & Promos
Status Match To Etihad Guest Gold
10 Best Credit Card Offers For February
Discover Miles Card — Up To 3% Cash Back On All Purchases
Last Chance: Redeem Your 2014 Hyatt Diamond Suite Upgrades
1,000 Free Points For Changing Your Hilton Honors Password
The 2 Best No Foreign Transaction Fee Credit Cards
Hyatt's 20% Off Award Promo Is Even Better Than We Thought
Win Thousands Of Hotel Points From MobileSuites
Hyatt Promotion Offering 20% Refund On Points Redemptions
Huge Savings On Vancouver Hotels This Spring
Have You Won Up To $500 In Hyatt Gift Cards?
Act Fast: Last Chance To Join StarMegaDO 2015
TRICKS: Redeeming Miles
Difference Between Fuel Surcharges And UK Airport Taxes
Asiana Adding More First Class Capacity To Los Angeles
American Upgrade Priority Changing As Of March 11, 2015
Emirates Will Start Flying The A380 Between The US And Europe
Alaska Offering Double Miles In Select Markets Through May 15, 2015
How To Create Lufthansa First Class Award Availability Alerts
Which American Flights Will Be Operated By The 787?
TRAVEL With Lucky
How Much Food Can You Order In First Class?
Are We All Sick Of Hearing About Emirates Yet?
Can You Ask For Extra Amenity Kits In Business Class?
People Eating Breakfast At Fancy Hotels Piss Me Off
Comments Are Back, For Now
Is The Park Hyatt New York Actually A Five Star Hotel? The Service Suggests Not…
Other Carriers Can't Compete With Gulf Airlines Under The Current System — Here's Why
How Good Is Japan Airlines' New First Class Product?
Taking The Blog For A Spa Day
Cathay Pacific Offers The World's Most Consistent First Class Product
The 8 Best Complimentary Spa Treatments In Airport Lounges
"It Can't Hurt To Ask" When Traveling — True Or False?
Conclusion To W Hotel Barcelona Theft
I Fell In Love At A Bar In Hong Kong On Valentine's Day
NEWS & Updates
Are Your Miles Getting More Valuable Over Time?
I'm Now Applying For A 10 Year Chinese Visa!
Air Crash Investigation Covers MH370
Emirates Lounge Los Angeles LAX Now Open
Delta CEO Apologizes For 9/11 Comment, Emirates CEO Calls Him Out Over It
Delta's New 20 Minute Checked Baggage Guarantee
The Most Epic Airline Safety Video You've Never Seen…
Turkish To Lease Two Malaysia A380s?
Akbar Al Baker Responds To Delta… And Is A Huge Liar
Delta CEO Links "Big 3″ Middle Eastern Airlines To Terrorists… Really?!
Amazing Flow Motion Video Of Dubai
Starwood's CEO Resigns — Why?
$99 Helicopter Transfers Between NYC And Airports Now Bookable
Delta Is Flying A Domestic Plane To Iceland This Summer
---
I hope everyone stays warm out there, and stay tuned, because tomorrow I'll start publishing reports about my travels the past couple of months, including two very special inaugural flights on Etihad and Qatar.