In the interest of full disclosure, OMAAT earns a referral bonus for anyone that's approved through some of the below links. The information and associated card details on this page for the Amex EveryDay® Credit Card has been collected independently by OMAAT and has not been reviewed or provided by the card issuer. These are the best publicly available offers (terms apply) that we have found for each product or service. Opinions expressed here are the author's alone, not those of the bank, credit card issuer, airline, hotel chain, or product manufacturer/service provider, and have not been reviewed, approved or otherwise endorsed by any of these entities. Please check out
our advertiser policy
for further details about our partners, and thanks for your support! The offer for the Barclaycard Arrival® Plus World Elite Mastercard® has expired.
Learn more about the current offers here
.
During the week Quartz ran a story with a rather curious headline — "The simple reason why your airline points always get more valuable."
Now, I don't think there's anyone that likes miles & points more than I do, but I have an "earn & burn" philosophy. Never think of miles as a long term investment. Instead earn them as quickly as you can and then redeem them as quickly as you can. Personally my approach is to never have more miles in an account than I can reasonably redeem within six months. That's why I like to diversify my miles as much as possible.
Can points get more valuable over time? Short term, yes. For example, sometimes an airline announces a new partnership which opens up a great redemption opportunity. For example, when Alaska Mileage Plan miles became redeemable on Emirates, I'd say that increased the value of those miles short term (go figure they're having issues now).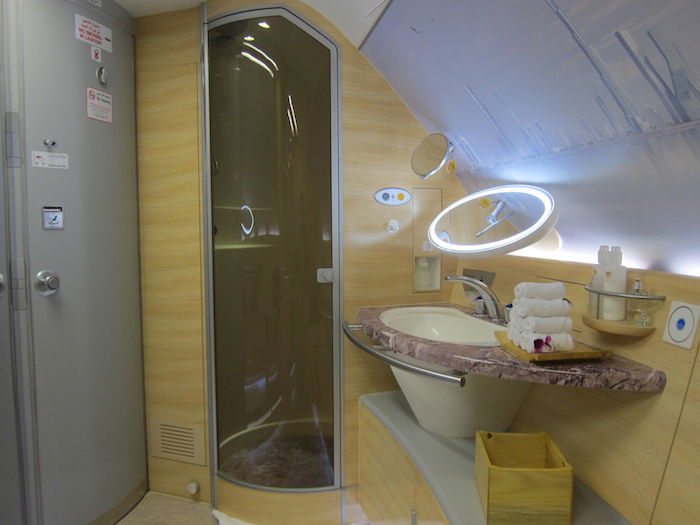 Fancy redeeming miles for a shower?
That being said, long term the value of a particular points currency almost invariably goes down (fortunately it also usually becomes easier to earn points over time, which sort of balances things out for the earner and burner).
But what argument could possibly be made for the value of points always going up on a per point basis?
In the short term, moves like BA's are inflationary: A point buys you a smaller share of a flight today than it did yesterday. But in the long term, when compared to prices, all points programs tend to be the opposite—they're deflationary.

This is because airline fares—as tracked by the US Bureau of Labor Statistics—have been increasing faster than inflation, but reward ticket prices as measured in points have not. And of course, the distance between two cities—the proxy used for point accrual—remains constant.

Airlines hike their prices much more frequently than they update their rewards programs. Since Jan. 1985, there have only been 13 months in which airfares were cheaper than they had been five years earlier. The number of points needed for award tickets at many US airlines has remained constant or even gone down since the 80s, notes MileCards.com.

As a result, the value of those points effectively grows over time—meaning, the longer flyers wait before cashing in their points, the more money they end up saving. Consider the following scenario:

A flyer earned 50,000 points in 1980 after spending the 2015 equivalent of $1,000 on four $250 flights (equal to $88 per flight in 1980 dollars).
In 1980, she could have redeemed those 50,000 points for another $250 flight.
Today, she can still redeem those 50,000 points for the same flight—even though that flight now costs $340.
Those are a lot of statistics for a fundamentally very flawed conclusion.
Why?
Award availability has changed drastically
It's true that airlines have for the most part kept the 25,000 mile roundtrip domestic award constant. This is a big selling point for the credit card companies, so that's one value that hasn't changed much over the years, at least on paper. What has changed, however, is the availability at the saver level. Now, I wasn't around to redeem miles in the 80s, but it's my understanding that award availability at the saver level was much better back then than it is now.
So yes, Delta still charges 25,000 miles for a roundtrip domestic award ticket, but the above does nothing to account for the fact that they now have God-only-knows how many tiers of award pricing (they don't even publish them anymore!), and that space at the saver level is extremely difficult to come by.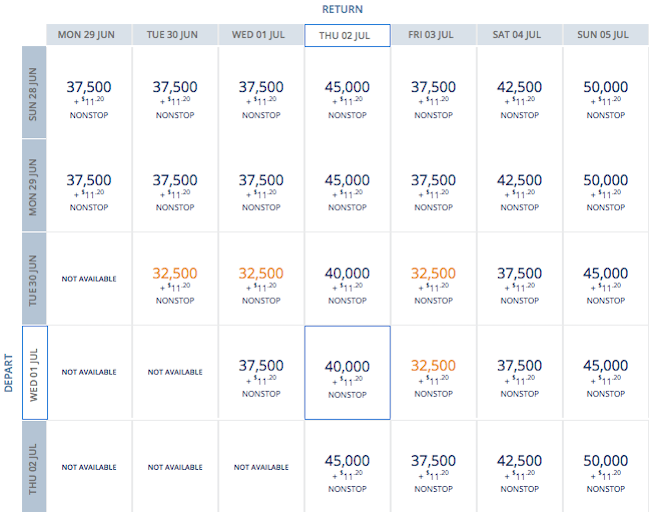 So much for the 25,000 mile domestic saver award!
And let's not even talk about fees (close-in ticketing fees, change fees, redeposit fees, booking fees, etc.).
They're assuming you're redeeming miles sub-optimally
The article is assuming that in 1980 you were redeeming 50,000 miles for a ticket that would cost $250 in today's dollars. That's a redemption value of half a cent per mile.
And then they argue programs have become more valuable, because now you can redeem those 50,000 miles for a $340 ticket. Yep, the aspiration here is redeeming your points for two thirds of a cent each.
In most cases you can redeem miles for merchandise at a better rate than that (and that's a horrible use of miles as it stands).
The other extreme
To use another extreme example, last year United devalued their award chart. Before the devaluation, a one-way first class ticket between the US and Southeast Asia on a partner cost 70,000 MileagePlus miles. Overnight the cost increased to 130,000 MileagePlus miles one-way.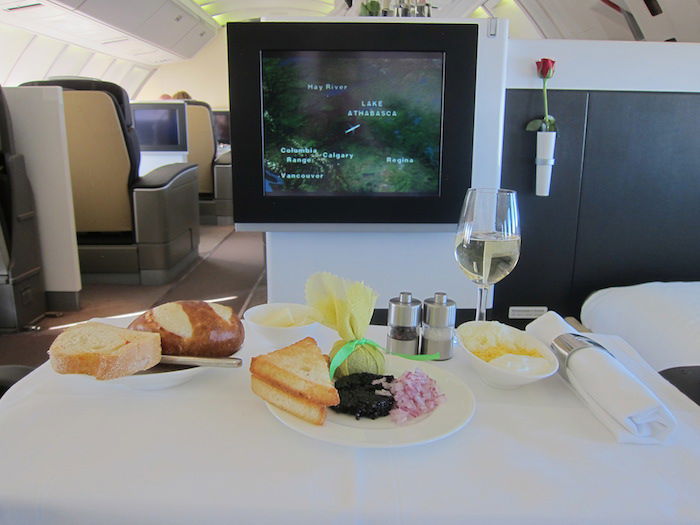 Lufthansa first class awards are more expensive than ever before!
Now am I suggesting that the value of MileagePlus miles was almost cut in half overnight? Nope. But I do think that's even a less extreme case than suggesting "oh, a domestic saver level award hasn't changed in price in over 30 years, and therefore your miles are more valuable."
Bottom line
I guess my general strategy for earning/burning miles can be summed up as follows:
If your redemption goals are aspirational award tickets, earn and burn as fast as you can, since those opportunities are always changing, both in price and in terms of availability
If your goal is simply to redeem for domestic economy tickets, you're almost always better off with a revenue based frequent flyer program, or with a credit card which accrues cash back towards the cost of travel, like the Barclaycard Arrival® Plus World Elite Mastercard®; that way you're at less of an information disadvantage compared to someone that studies this stuff all day
In order to preserve the value of your points as much as possible, try to accrue points with a transferable points currency, like the points you earn with the Chase Sapphire Preferred® Card, The Amex EveryDay® Credit Card and Marriott Bonvoy American Express Card; these points at least devalue more slowly, since you have many redemption options and aren't tied to a specific program
I'm curious, does anyone believe the value of points is going up long term?
(Tip of the hat to Drew)