Qatar Airways is the launch customer of the Airbus A350, and this past Thursday I had the opportunity to fly on the inaugural commercial A350 flight from Doha to Frankfurt.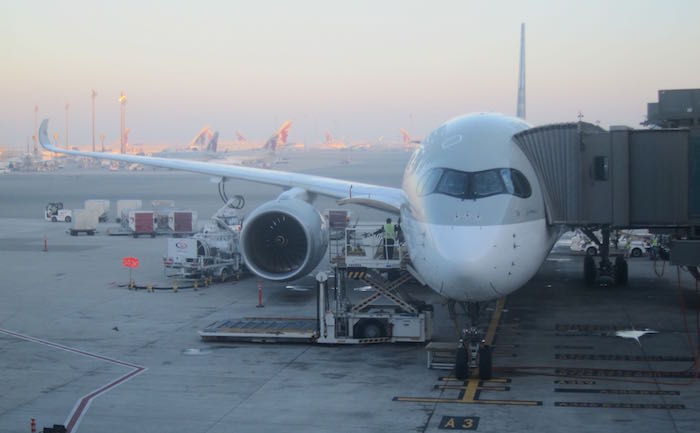 Qatar Airways A350 Doha Airport
Usually it's a big deal when an airline takes delivery of a new plane (just look at Etihad and their A380), but in this case it was even bigger than that, since Qatar Airways was the first ever airline to take delivery of the A350. So it wasn't just a big deal for Qatar Airways, but also for Airbus.
I had the chance to attend the Qatar Airways A350 delivery ceremony in Toulouse a few weeks back, which included a 45 minute media flight. I was curious to see how my impressions of the plane differed when actually flying it on a longer journey.
The awesome thing about this experience was that there were a bunch of avgeeks on the plane, so with these flights there's not only the excitement of flying on a new plane, but also the fun of getting to see a bunch of old friends.
Anyway, our flight departed from Doha at 7:40AM, so a bunch of us headed from the Al Mourjan Lounge (where we had a Krug breakfast) to the gate at around 6:45AM.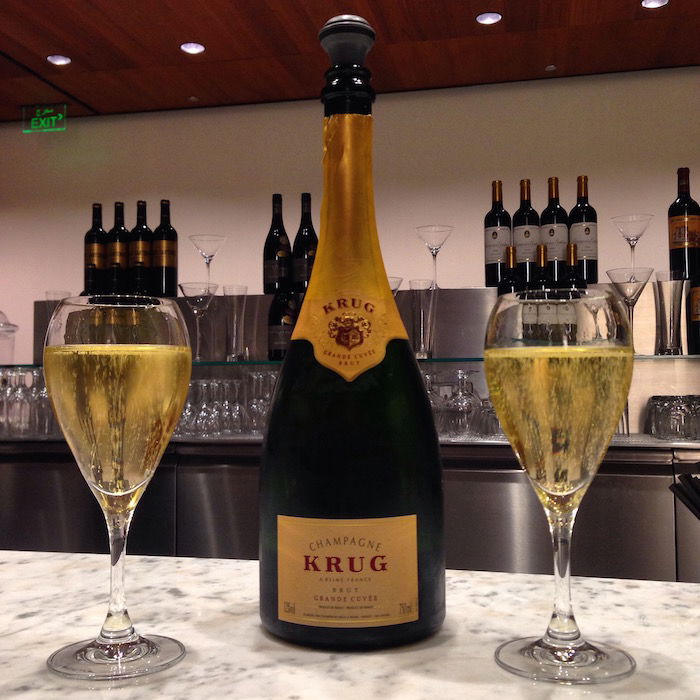 Al Mourjan Lounge Krug Doha Airport
The gate area was super festive, with balloons, live music, champagne, gift bags, and more people in suits than you'd expect at a Secret Service recruiting event.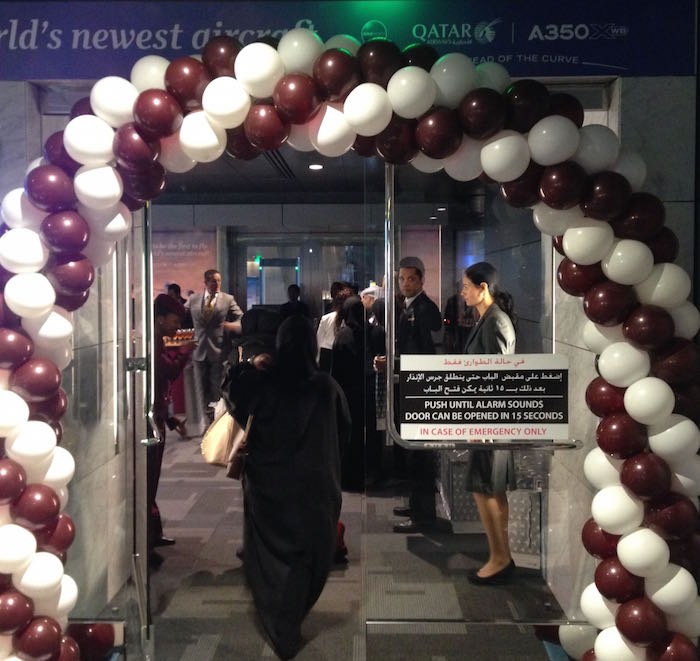 A350 departure gate festivities Doha Airport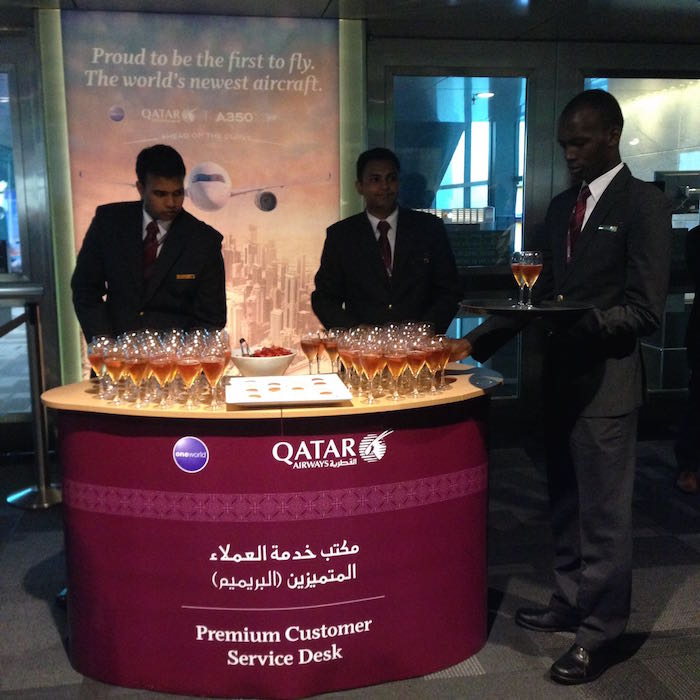 A350 departure gate festivities Doha Airport
At around 7AM boarding was called, and a few of us literally sprinted onto the plane in hopes of snapping a few pictures before the cabin filled up.
Qatar Airways' A350 business class cabin consists of a total of 36 seats, spread across nine rows in a 1-2-1 configuration. There are six rows in the forward cabin, then there's the entrance by door two, and then there are another three rows in the rear cabin.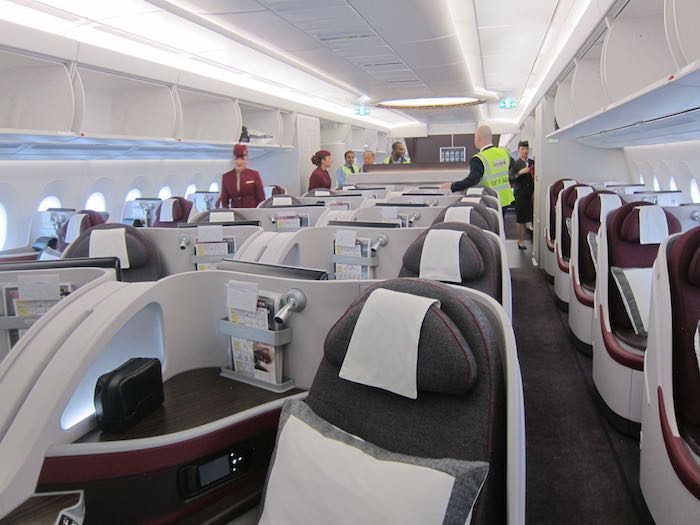 Qatar Airways A350 business class cabin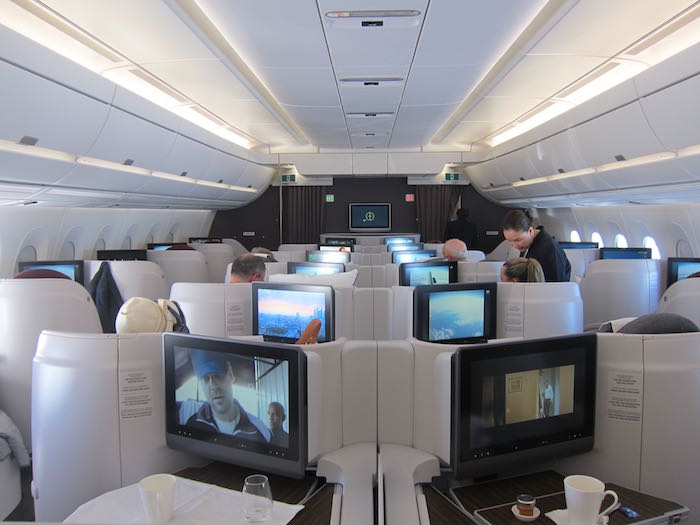 Qatar Airways A350 business class cabin
The seats themselves are virtually identical to the ones Qatar Airways has on the 787 and A380, though this cabin feels significantly more spacious. The cabin is wider than that of the 787 or the upper deck of the A380, and you really feel that with the seats. The seats themselves are apparently about 1.5 inches wider as well, but beyond that the cabin just feels a lot more spacious. Also notice how the ceiling of the plane is "flat," unlike on most other planes.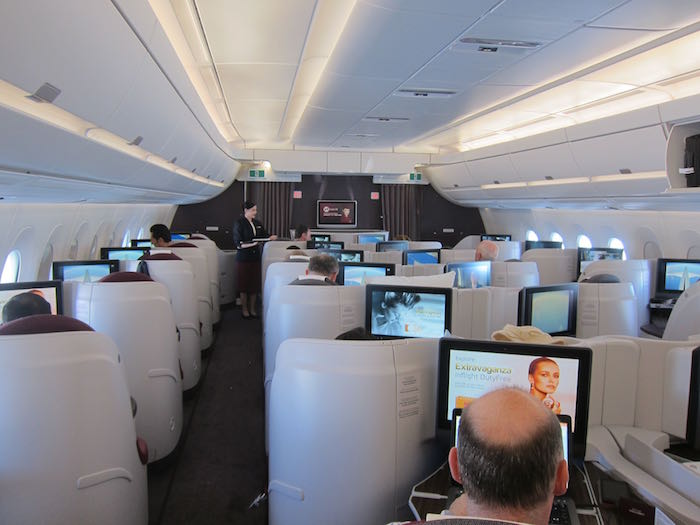 Qatar Airways A350 business class cabin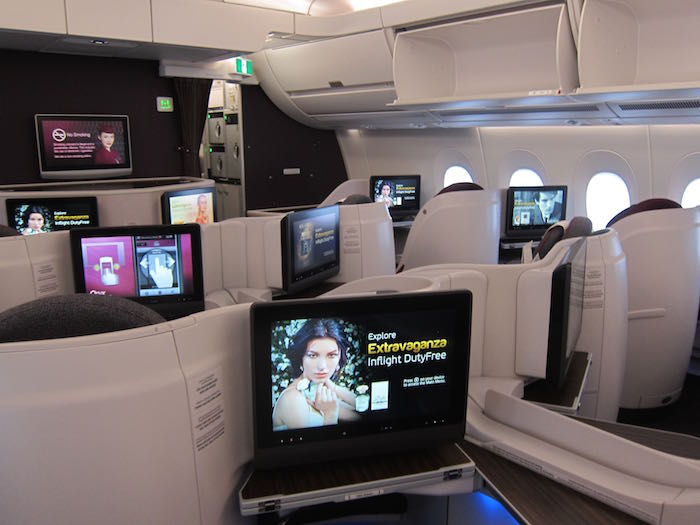 Qatar Airways A350 business class cabin
Reverse herringbone seats are my favorite kind of business class hard product, and Qatar Airways has among the best out there. It's a modified version of the reverse herringbone seats offered by other airlines (like American, Cathay Pacific, EVA Air, etc.), and in many ways is actually better. So it's a fantastic hard product. The one downside is that the seats could be a bit more private. I wish they had a privacy "shield" on the aisle side of the seat so they weren't so exposed.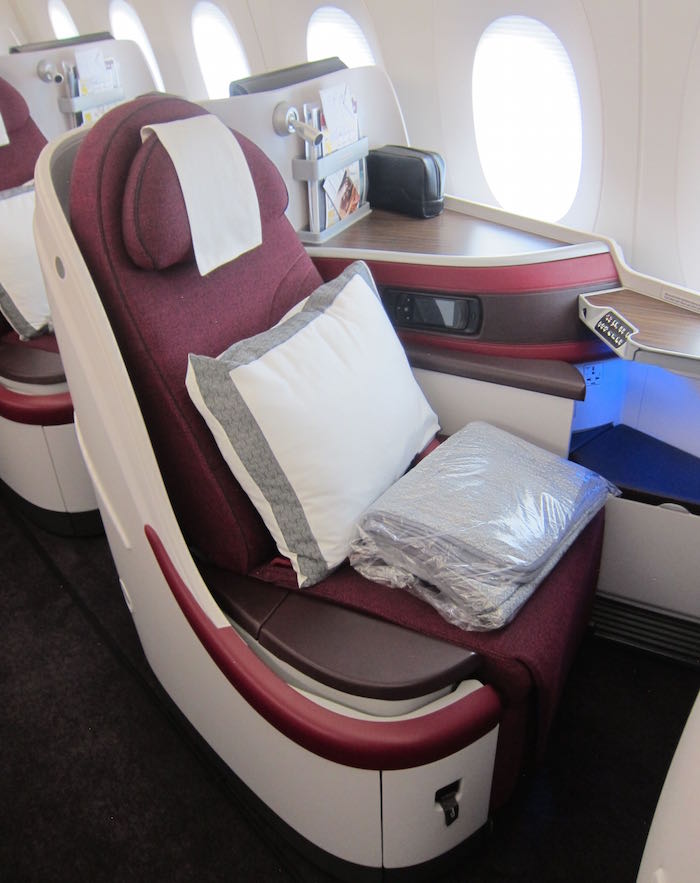 Qatar Airways A350 business class seat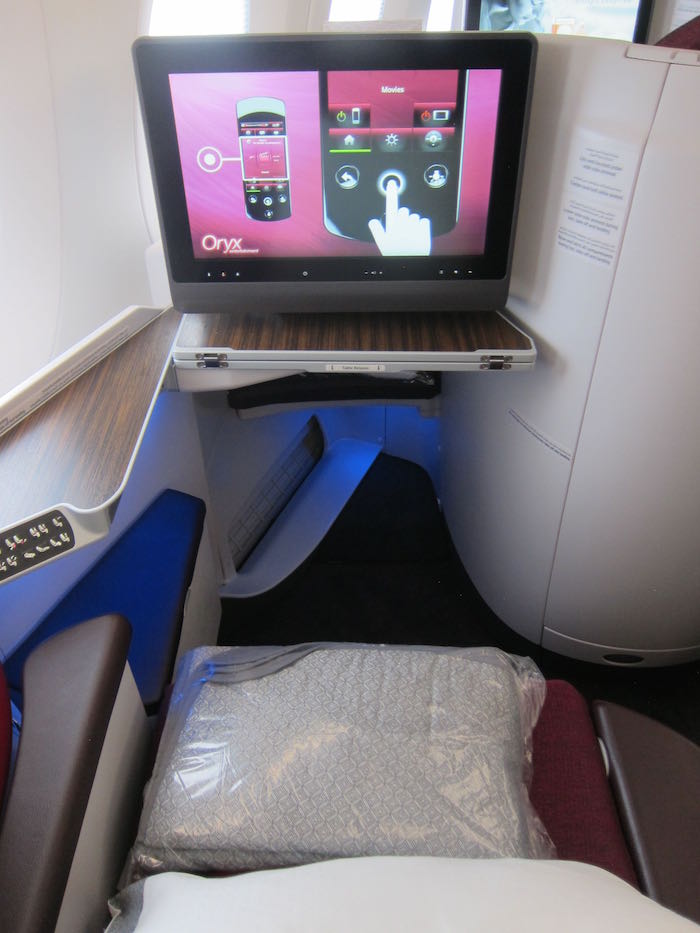 Qatar Airways A350 business class seat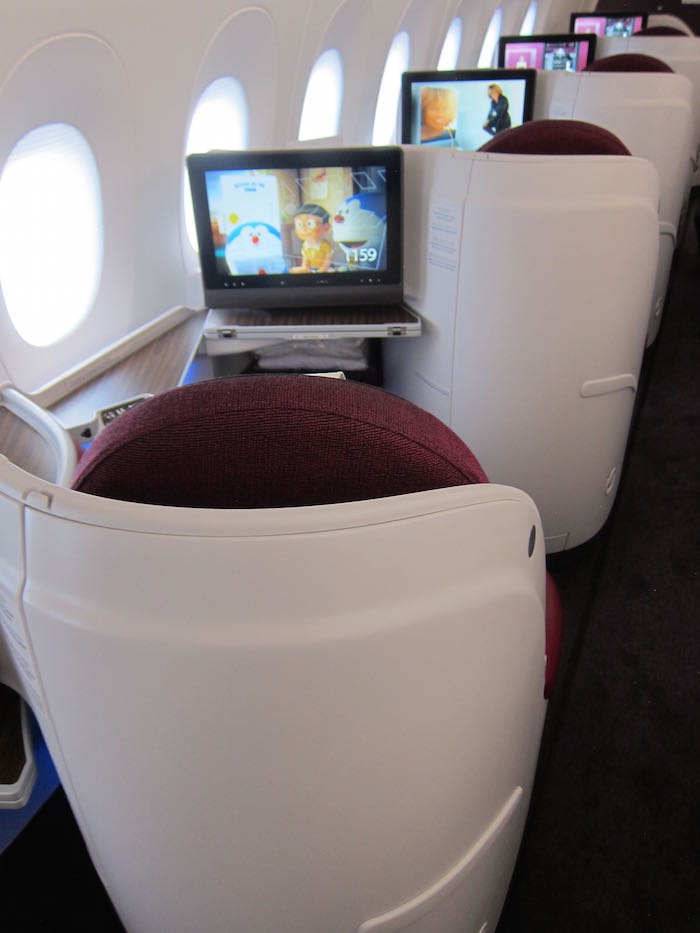 Qatar Airways A350 business class cabin
One thing that surprised me is that at each seat there was a mattress pad. I wasn't expecting that for a five hour daytime flight, though apparently this is now a standard offering on Qatar Airways, according to HEAAB (His Excellency Mr. Akbar Al Baker, CEO Of Qatar Airways).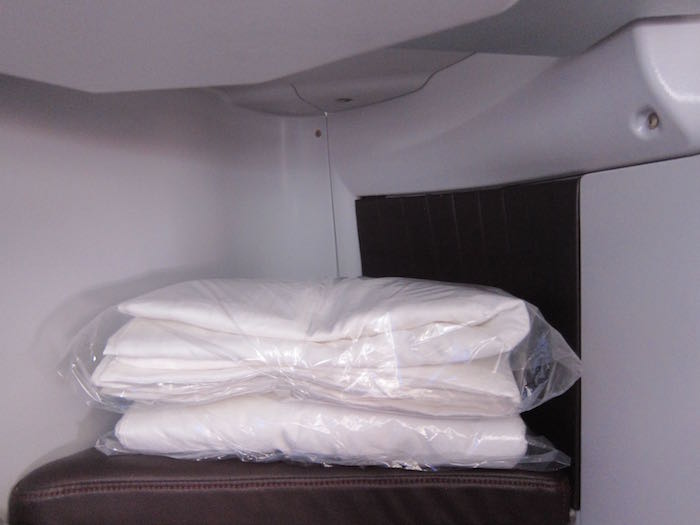 Qatar Airways A350 business class seat footrest

The mattress pad is really nice for business class, among the best I've seen. And the duvet and pillow are great as well.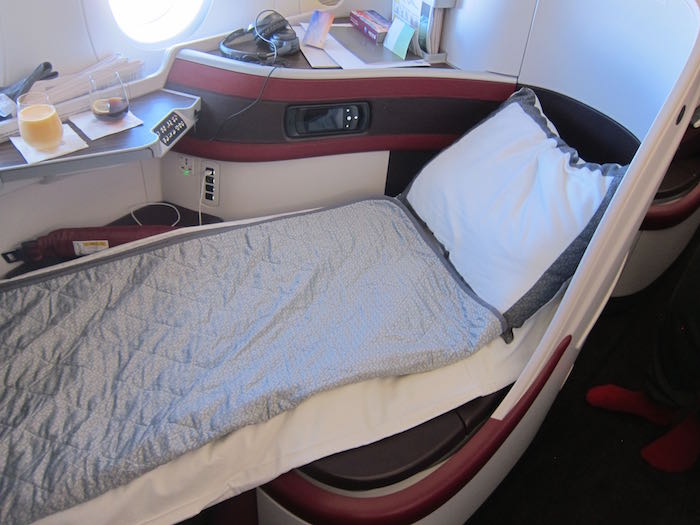 Qatar Airways A350 business class seat in bed position

One other nifty feature of the A350 is the seatbelt sign display. It actually has text that scrolls along the top of it, so isn't the standard sign that can only illuminate. Oh, and the seats each have individual air vents. Wooohoooo!


Qatar Airways A350 cabin display monitor

We were offered amenity kits and pajamas on the flight. For a five hour daytime flight, that's damn impressive. The Qatar Airways pajamas run way big. I requested a large pair, and the pants could have easily fit me and four others.
The amenity kit was awesome as well, with Armani amenities. It had some A350 branded items, so it does seem like they have a special amenity kit for the A350.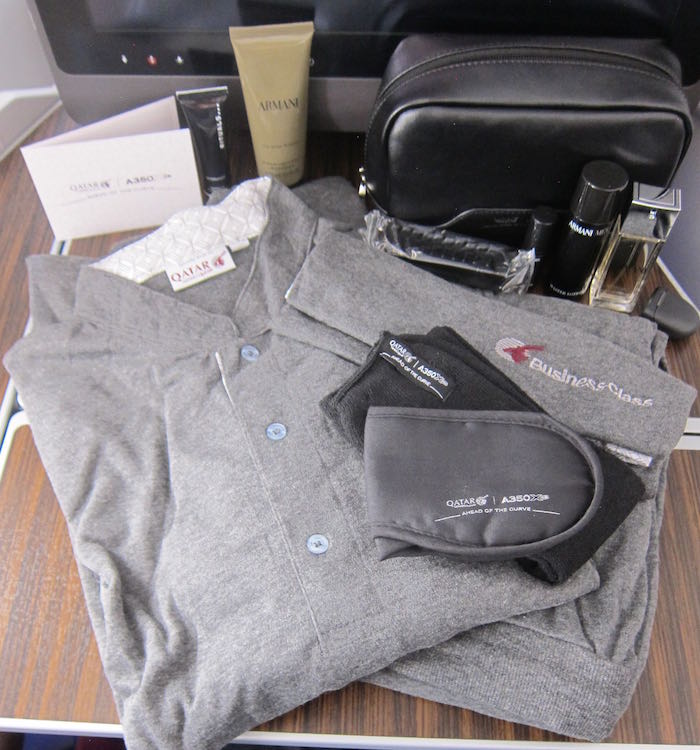 Qatar Airways A350 business class amenity kit & pajamas

I was also happy to find that they offered complimentary Wi-Fi vouchers to business class passengers. That being said, unfortunately the Wi-Fi was among the worst I've ever experienced, and I couldn't get it to work for 90% of the flight. And for the other 10% it was really, really slow.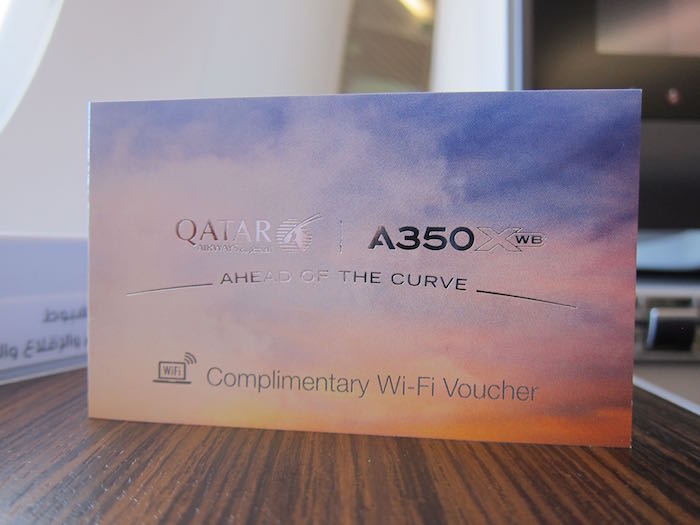 Qatar Airways business class Wi-Fi code

As I mentioned above, we were given gift bags upon arriving at the gate, which consisted of a first flight certificate, a pen made of the same materials as the A350, and a Qatar Airways A350 model airplane.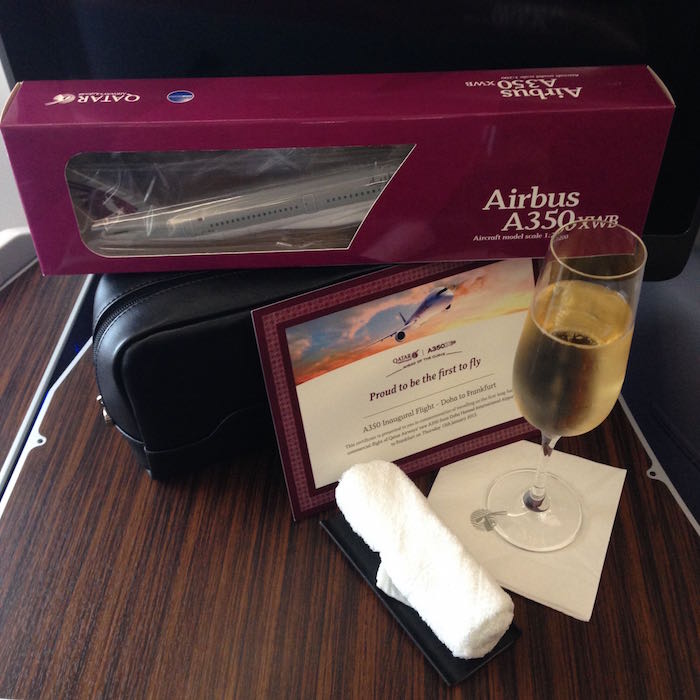 Qatar Airways A350 inaugural flight goodies
In terms of the other amenities in business class, there are three lavatories in the cabin, and they're nice enough, though pretty standard. They're not especially spacious or anything.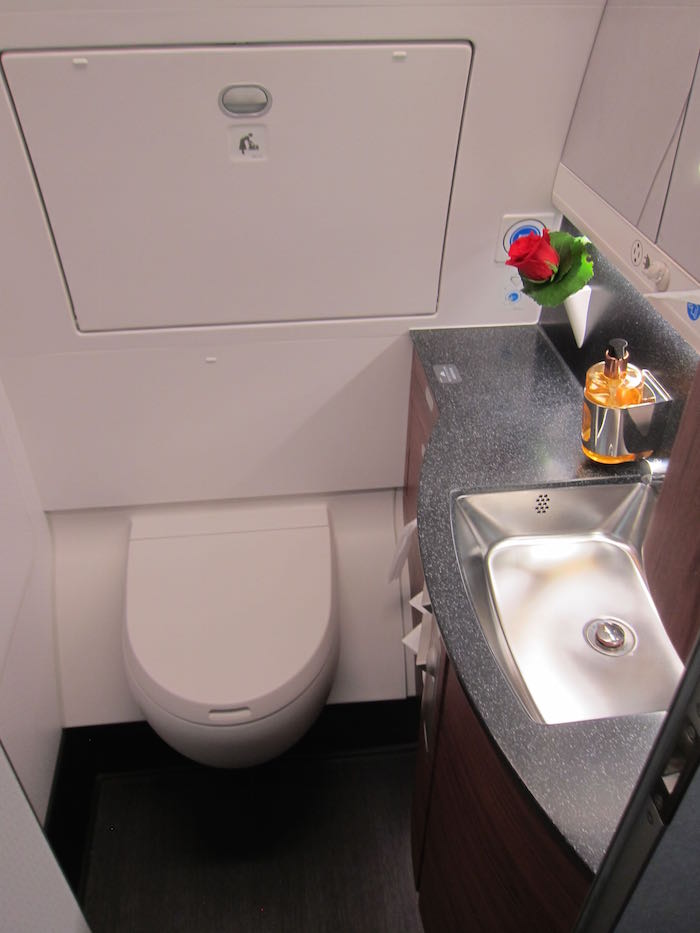 Qatar Airways A350 business class lavatory
Hands down my favorite thing about the Qatar Airways A380 is the onboard bar. It's fantastic, and despite having flown the A380 in first class, I spent 80% of the flight at the bar. So if I flew the Qatar Airways A380 in the future I'd just book business class.
The A350 doesn't have a bar, unfortunately, though there is a rather large space between the two business class cabins, by the second door. They display some champagne, Godiva chocolate, snacks, etc., on the counter top. That being said, there's virtually no separation between this and the rest of the cabin, so if it weren't an inaugural it would be really difficult to hang out there without being disruptive.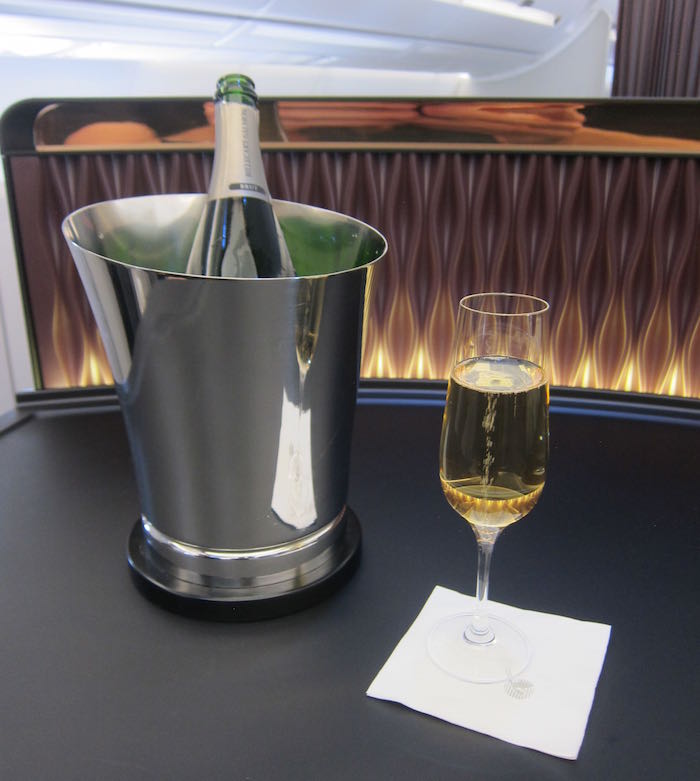 Qatar Airways A350 business class bar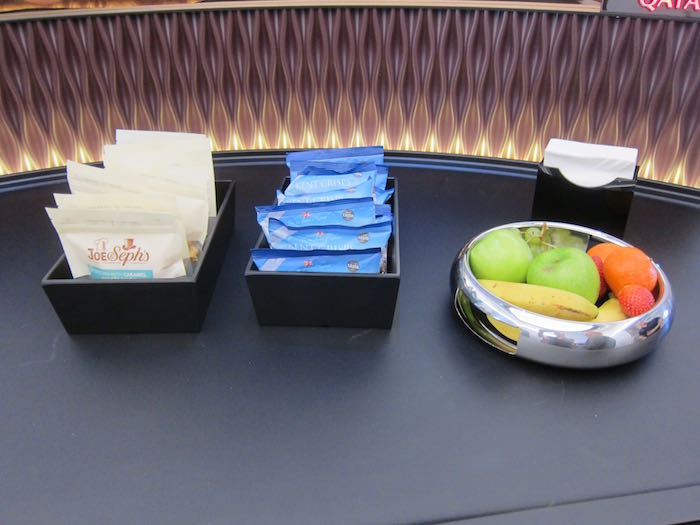 Qatar Airways A350 business class bar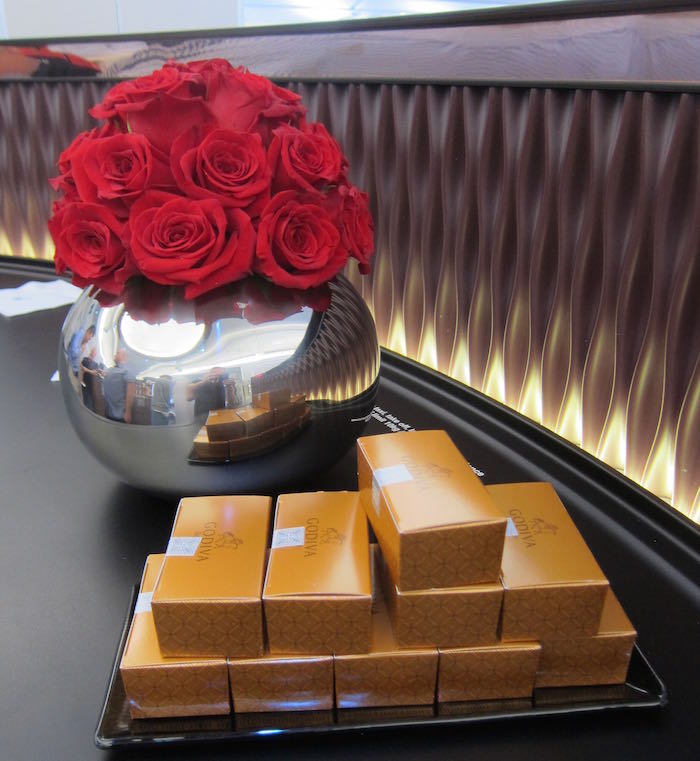 Qatar Airways A350 business class bar
One of the other awesome features of the A350 is the tail camera. Not only does the A350 have a gorgeous fuselage, but the camera on the A350 is by far the most high def of any I've seen.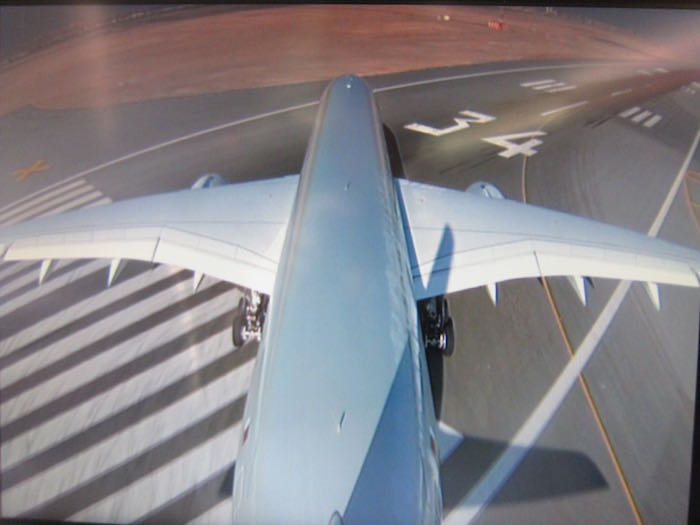 Qatar Airways A350 tail camera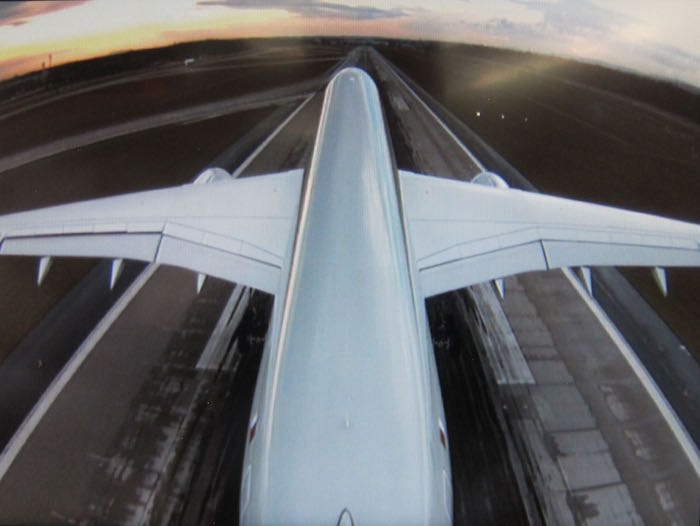 Qatar Airways A350 tail camera
In terms of the actual onboard experience, Qatar Airways serves breakfast after takeoff and then snacks before landing on the Doha to Frankfurt flight. Service was S-L-O-W. I realize the crews were still getting trained on the A350 so I don't blame them for it. But it's still worth pointing out that fact. Getting a drink refill took 45 minutes. That being said, the crew was well intentioned and apologetic about the pace of service, so it was all good.
The food itself was delicious, though.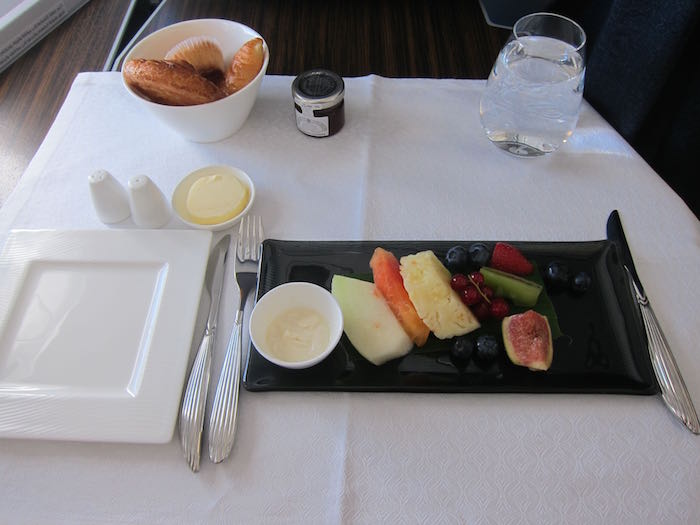 Qatar Airways business class breakfast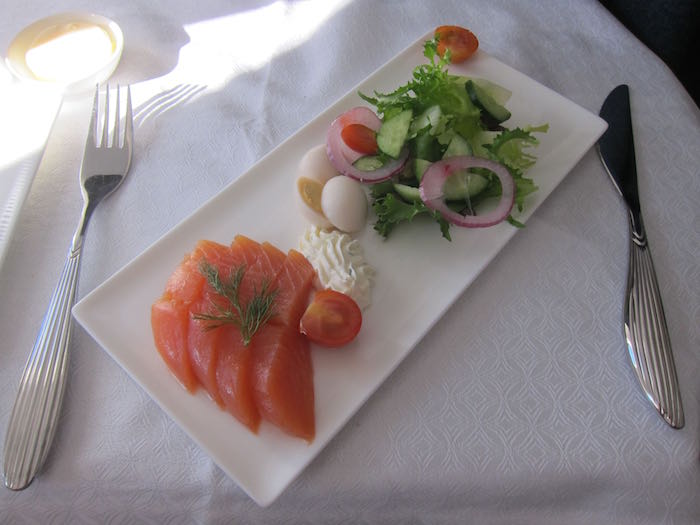 Qatar Airways business class breakfast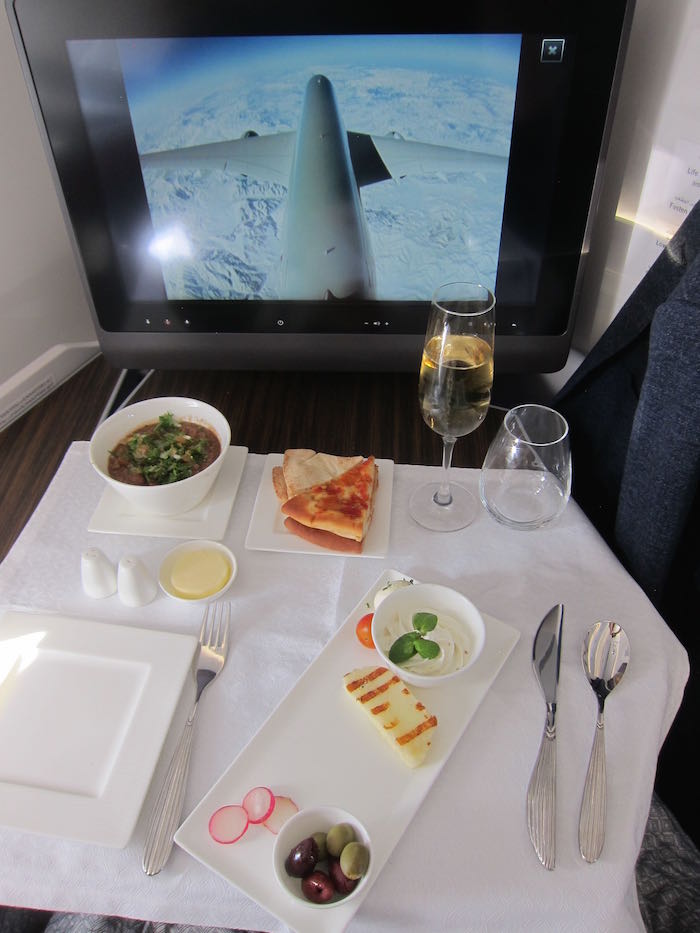 Qatar Airways business class breakfast
This flight had some of the most breathtaking views I've seen in a while, in particular over Iran.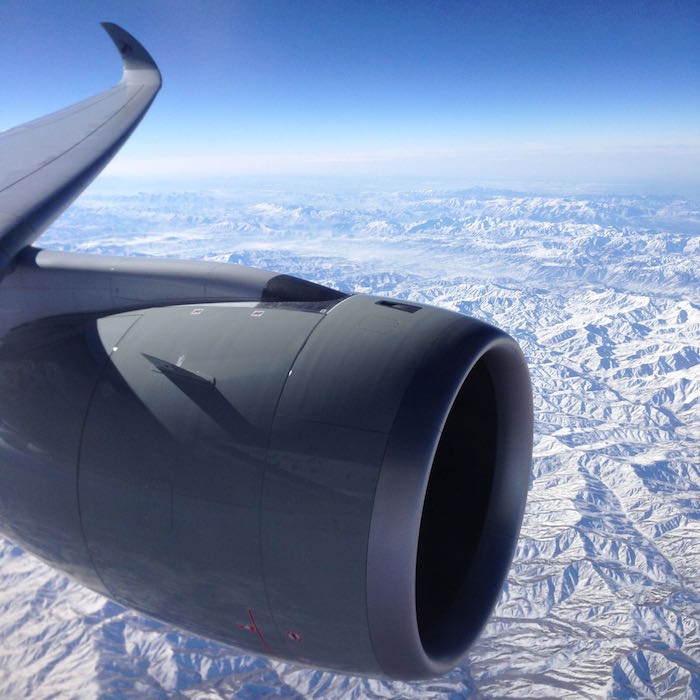 Qatar Airways A350 wing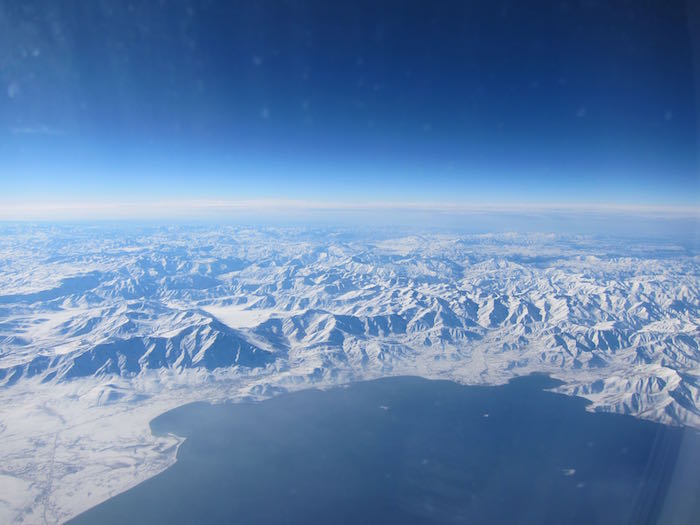 View over Iran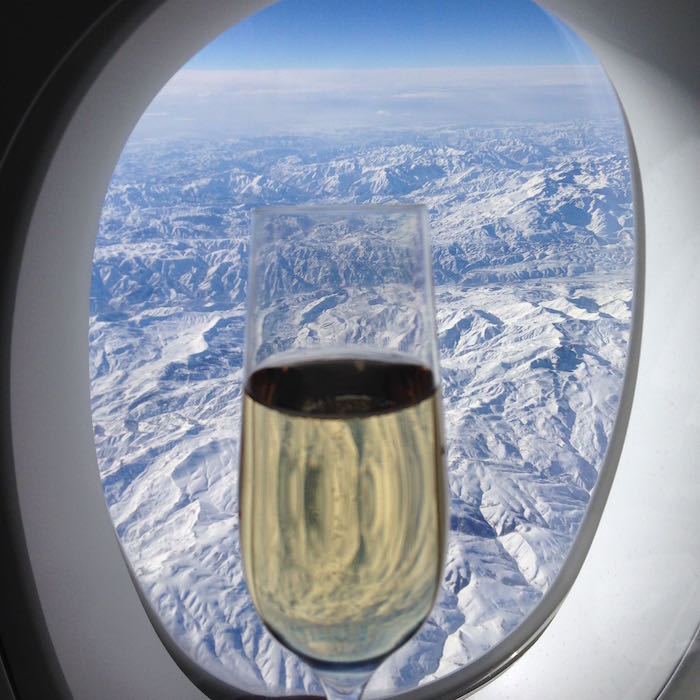 View over Iran
In terms of the plane itself, what sets the A350 apart from others?
The A350 is extremely quiet. Like, unbelievably so. It makes the 787 and A380 seem loud, by comparison. After flying an A330 two days later, I can't even begin to state how different the noise level was.
The A350 has a wide cabin, which feels more comparable to a 777 than a 787. From a passenger comfort standpoint that's awesome, especially since they still only have four seats per row in business class.
I like that the A350 actually has window shades you can pull down. The 787 has this silly dimming system that doesn't really work, in my opinion. I far prefer the A350 in that regard.
But of course the single biggest benefit of the A350 isn't even the passenger experience, but rather what it will allow airlines to do. The plane has significantly lower operating costs than other comparable aircraft out there which will long term allow airlines to operate routes which might not otherwise be viable. If nothing else it lowers how much it costs airlines to provide air travel, and with competition that should lead to lower fares long term. In theory.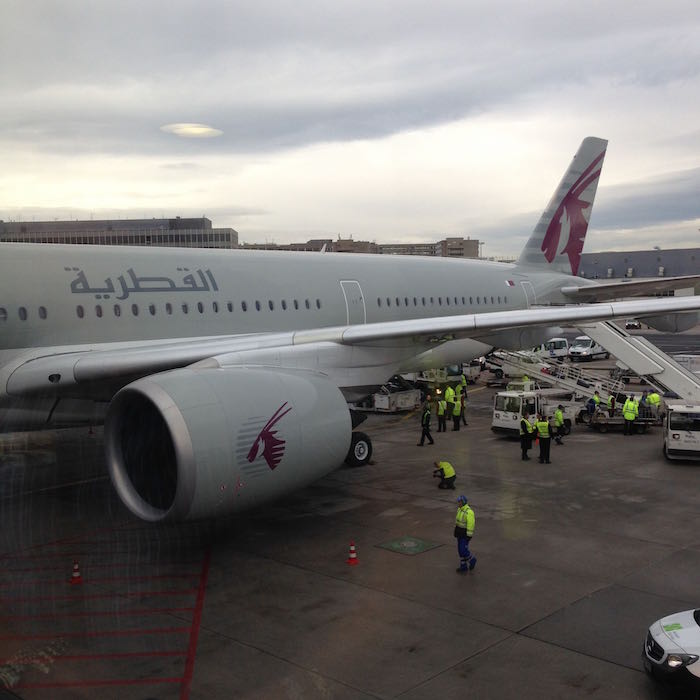 Qatar Airways A350 upon arrival in Frankfurt
Qatar Airways A350 bottom line
The A350 is a joy to fly. Qatar Airways has a fantastic business class product on the A350 (which they claim will be "obsolete" next year). The A350 is quiet and spacious as well. Now I can only hope that Qatar Airways eventually flies these to the US, since their 777s are outdated.
Stay tuned for the next post. Qatar Airways' prolific CEO was on the flight, so I'll be sharing my thoughts on him (and maybe even a selfie I took with him in his pajamas). 😉 My opinion of him actually changed drastically based on this flight.
There were also some pretty awesome other people on the flight, including Richard Quest (CNN), Fabrice Brégier (Airbus CEO), etc.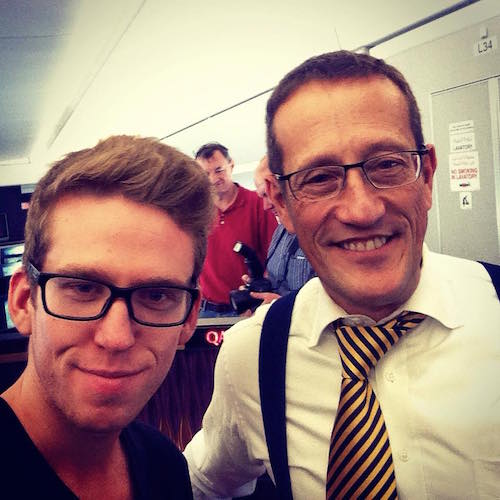 If you've never been on an inaugural flight, give it a try some time. They're a blast!