The quality of airport lounges can vary hugely, depending on where in the world you are, who can access the lounge, etc. Airlines and lounge operators try to find all kinds of ways to differentiate their lounge experience, and one of those ways is with complimentary spa treatments for guests.
In this post, I wanted to provide a rundown of what I'd consider to be the best complimentary spa treatments you'll find in airport lounges. First let me cover the bad news, which is that the number of lounges offering these kinds of treatments has decreased considerably over the years.
Airport lounge spa treatments are limited nowadays
Unfortunately you won't find nearly as many airport lounges offering complimentary spa treatments as in the past. In some cases, spa treatments were cut at the start of the pandemic, but those changes were made permament.
The following airport lounges no longer offer complimentary treatments:
The Thai Airways First Class Lounge Bangkok (BKK) used to offer complimentary hour-long massages
The Japan Airlines First Class Lounge Tokyo Narita (NRT) used to offer complimentary mini-massages
The Virgin Atlantic Clubhouse London Heathrow (LHR) and New York (JFK) used to offer complimentary massages or hair services
The Cathay Pacific First Class Lounge Hong Kong (HKG) used to offer complimentary foot massages or back rubs; this lounge will be reopening soon, and it remains to be seen if spa treatments will return
Multiple British Airways Lounges at London Heathrow (LHR) and New York (JFK) used to offer complimentary massages in partnership with Elemis
Multiple Etihad Airways Lounges at Abu Dhabi (AUH) used to offer complimentary massages or shaves
Unfortunately these are all a thing of the past at this point, and there's no sign of these services resuming. If that changes, I'll be sure to report back!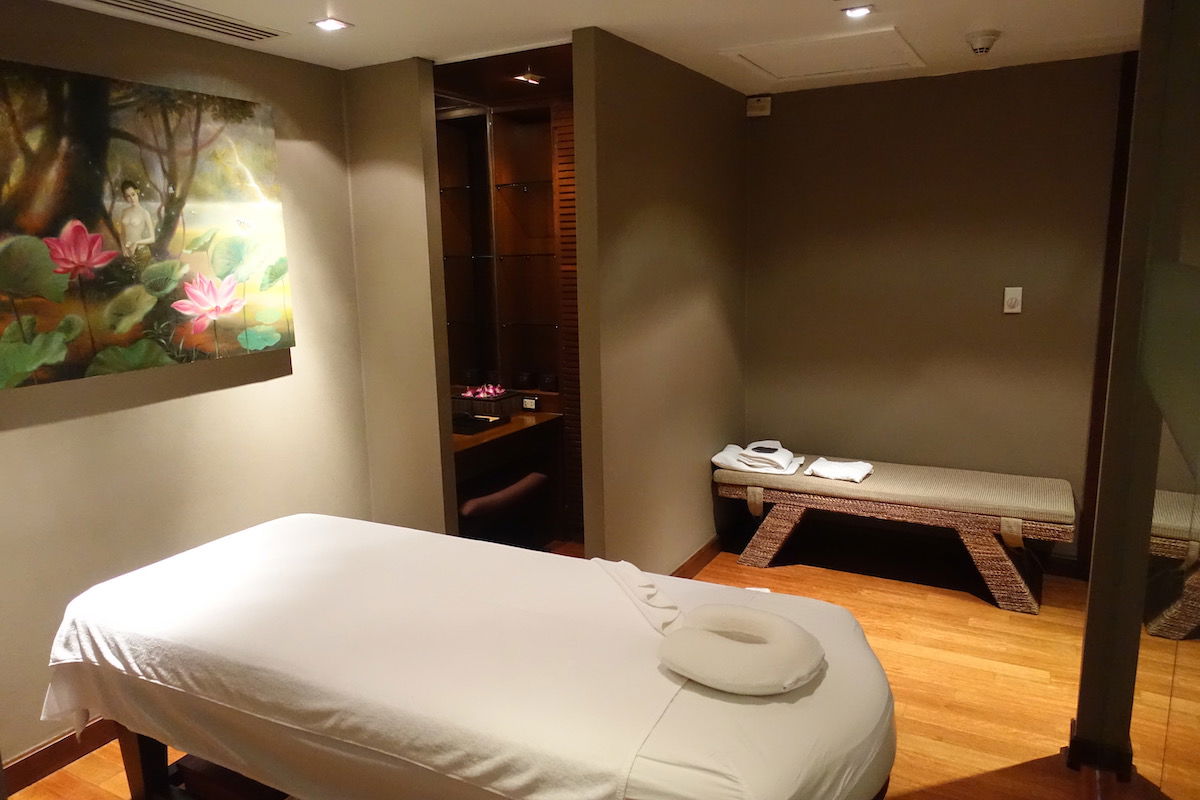 Airport lounges offering spa treatments
With the (sadly) long list of lounges no longer offering spa treatments out of the way, let's talk about those lounges that are still offering these kinds of services. I'll rank them roughly in order of quality and availability. If I get any details wrong or there are any good ones I'm missing, please let me know, and I'll update the post.
Qantas First Class Lounge (MEL & SYD)
Qantas has spas in its first class lounges in both Melbourne and Sydney. In these spas, passengers can receive a complimentary 20-minute treatment, with the choice of a facial, a neck and shoulder massage, a hot stone back massage, or a foot massage. These treatments are lovely, and I'd say that this is the nicest complimentary lounge spa treatment environment you'll find anywhere.
Treatments are available on a first come, first served basis. Qantas first class passengers can generally reserve treatments by email the day before travel, while other guests (including oneworld Emerald members) can inquire about availability when arriving at the lounge.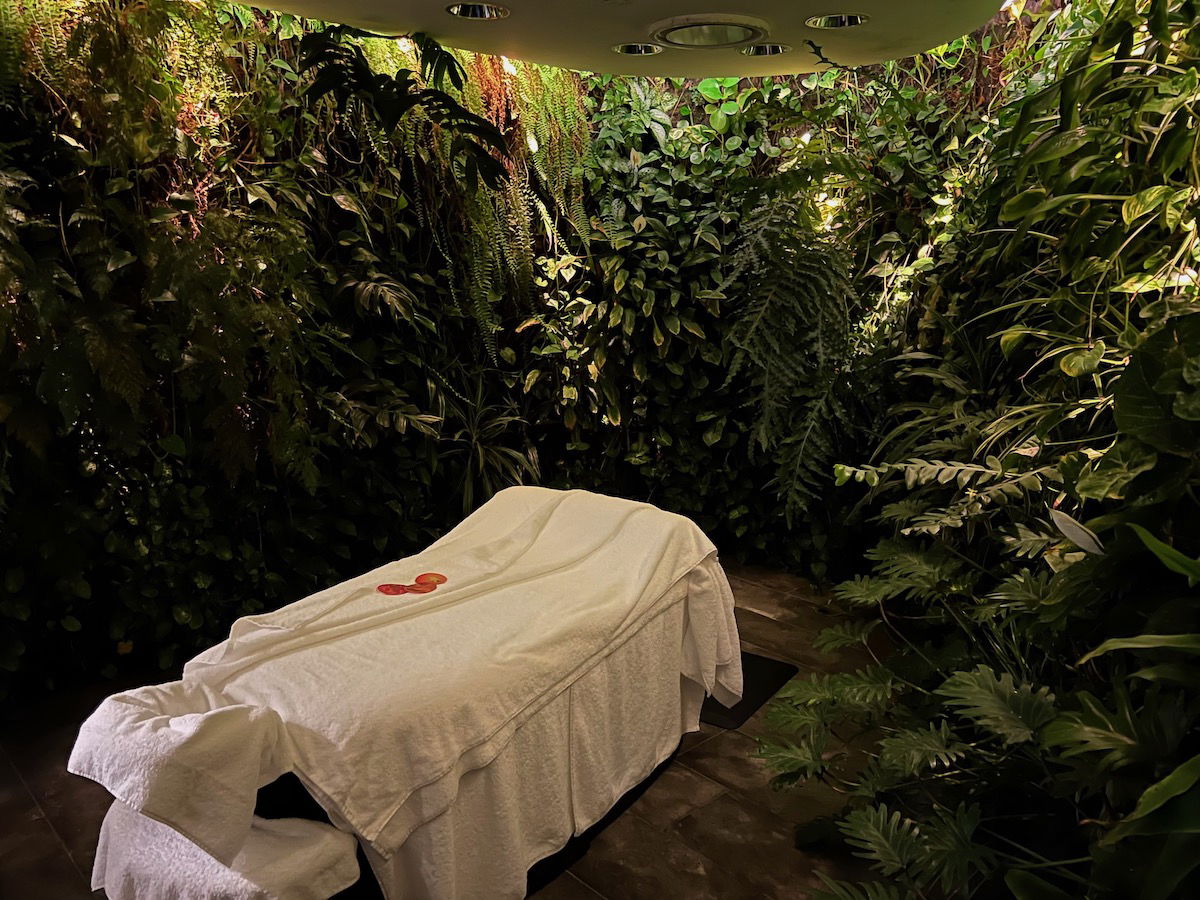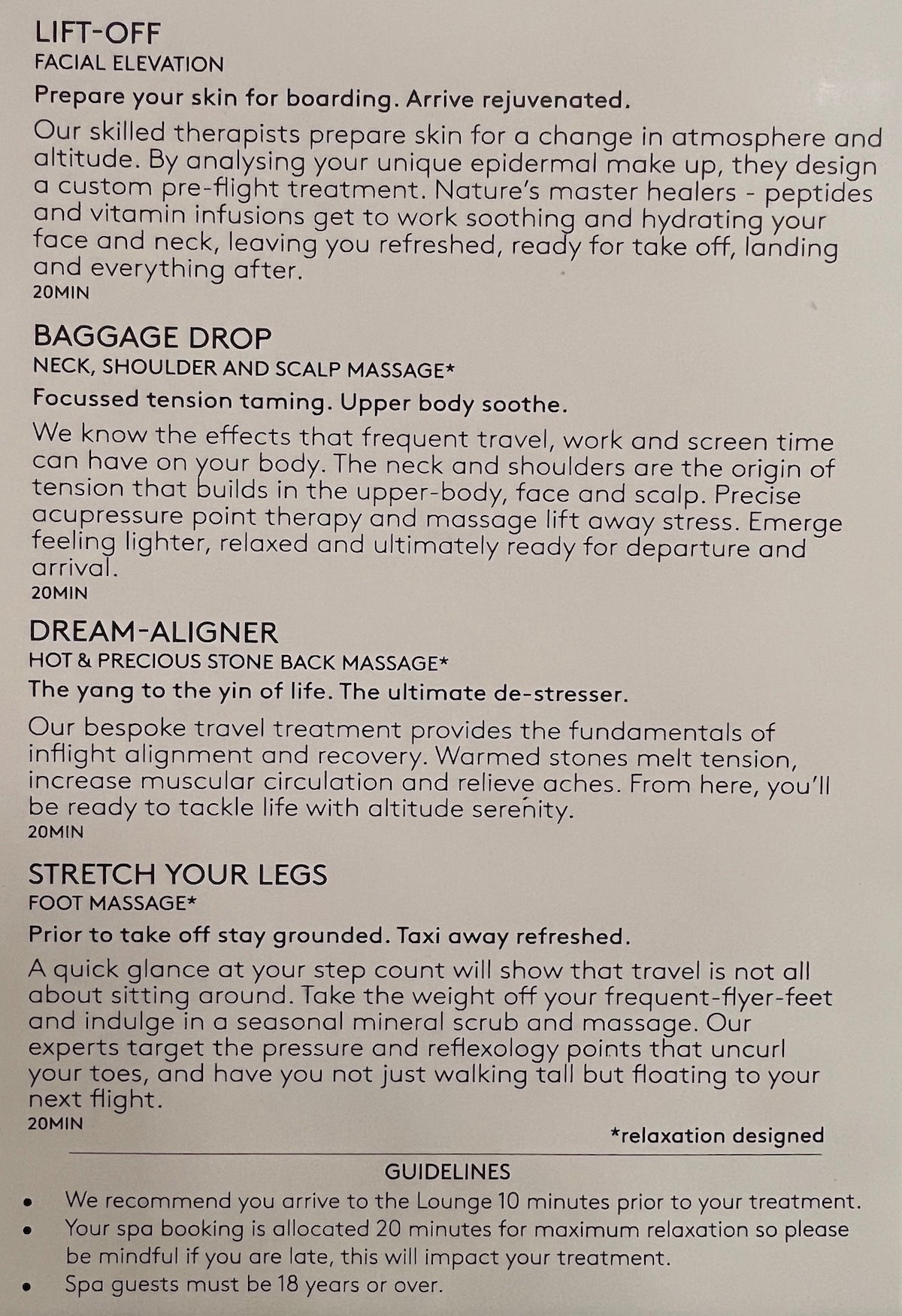 Air France First & Business Class Lounge (CDG & JFK)
Nowadays, Air France is the only major airline to offer complimentary spa treatments to both its first and business class passengers. The airline has spas in both Paris and New York, and they're available on a first come, first served basis:
The Air France Lounges at JFK and CDG have spas in partnership with Clarins, offering complimentary 20-minute face treatments to Air France business class passengers, as well as Flying Blue Platinum and Gold members; treatments include "jet lag relief," "detox time," and "eye-must"
Air France first class (La Premiere) customers receive a complimentary 30-minute treatment, with more options available; this spa is in partnership with Sisley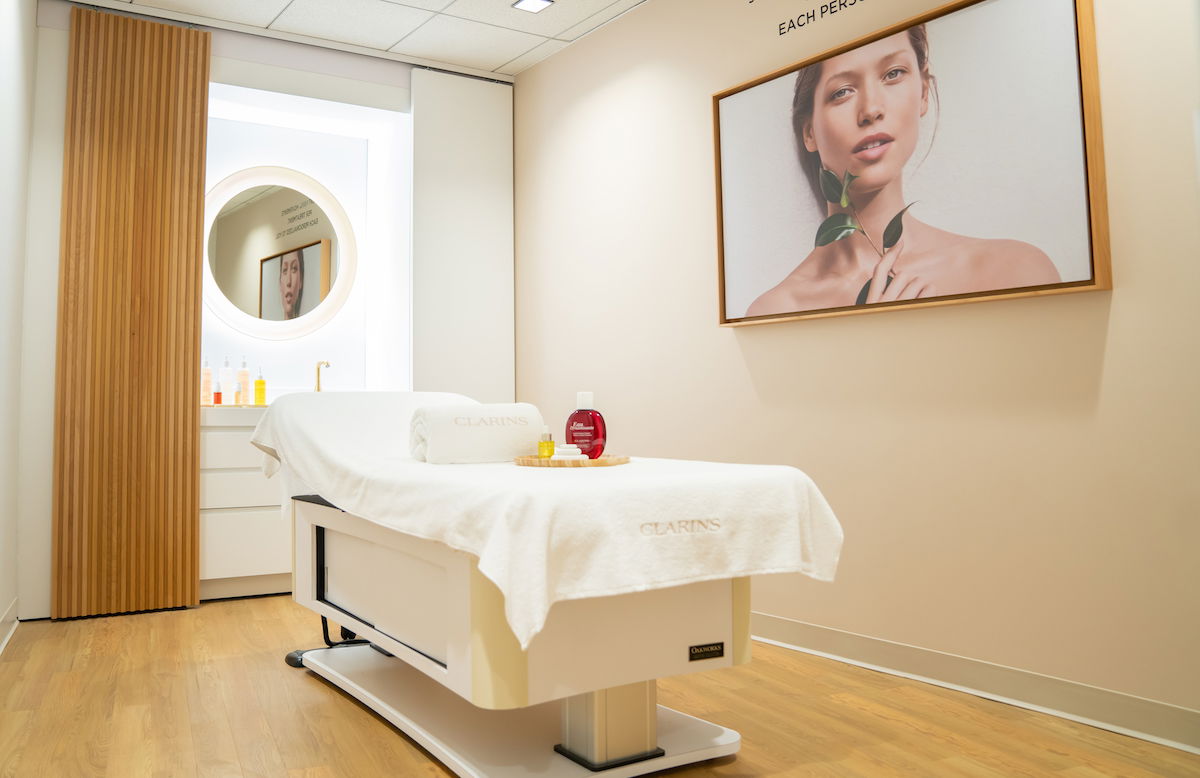 Emirates First Class Lounge (DXB)
Emirates offers first class passengers in Dubai a complimentary 15-minute treatment. The spa is actually located just outside the first class lounge, and sometimes I've found it's tough to get an appointment without a lot of advance notice, so make sure you request one as soon as you arrive in the lounge.
There are several options to choose from, including a back massage, leg & foot reflex therapy, a head massage, a body stretch, or a hand massage. While this is better than nothing, personally I think a bit more effort could be put into making the experience more spa-like, as the whole thing feels a bit like an afterthought.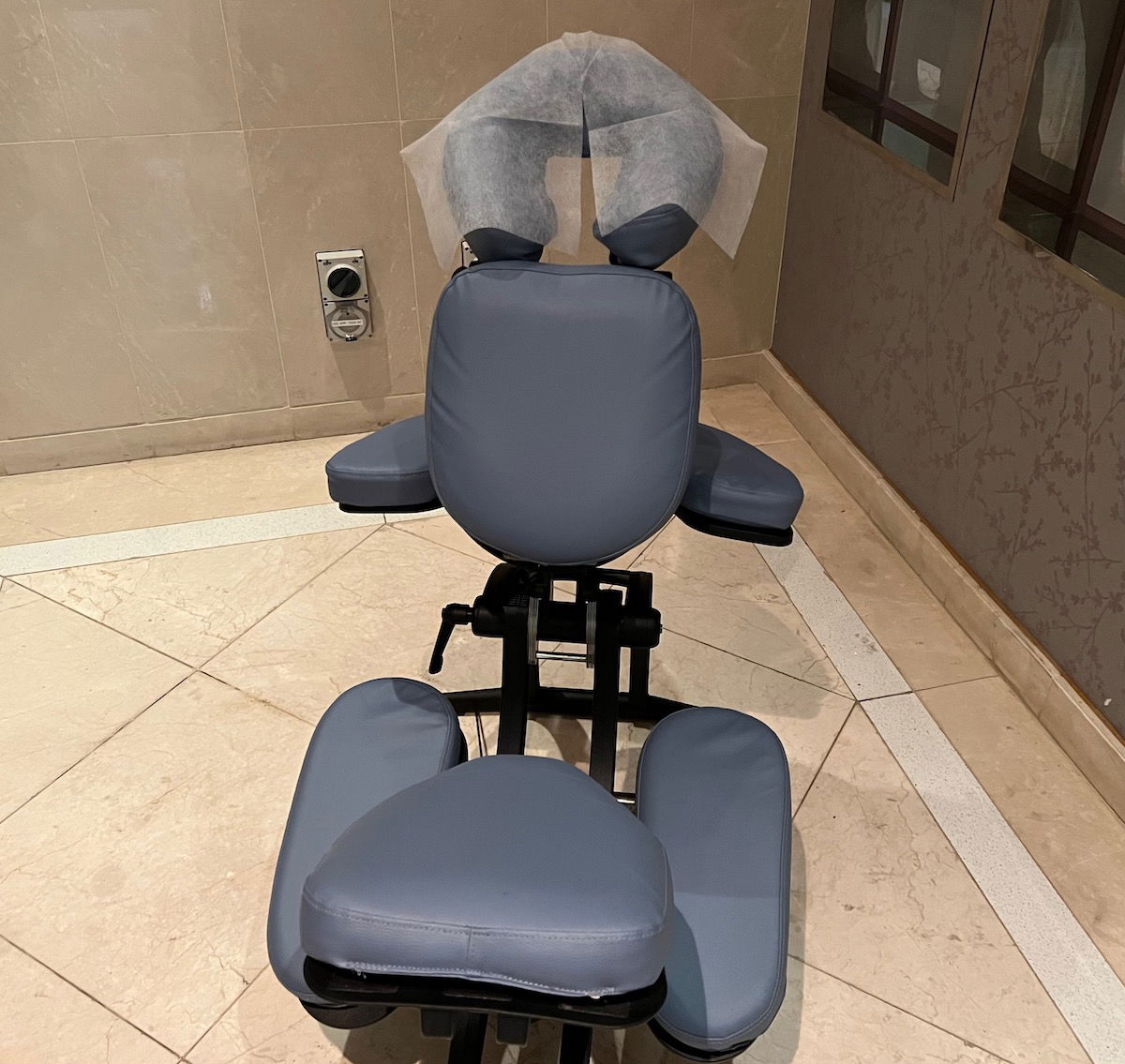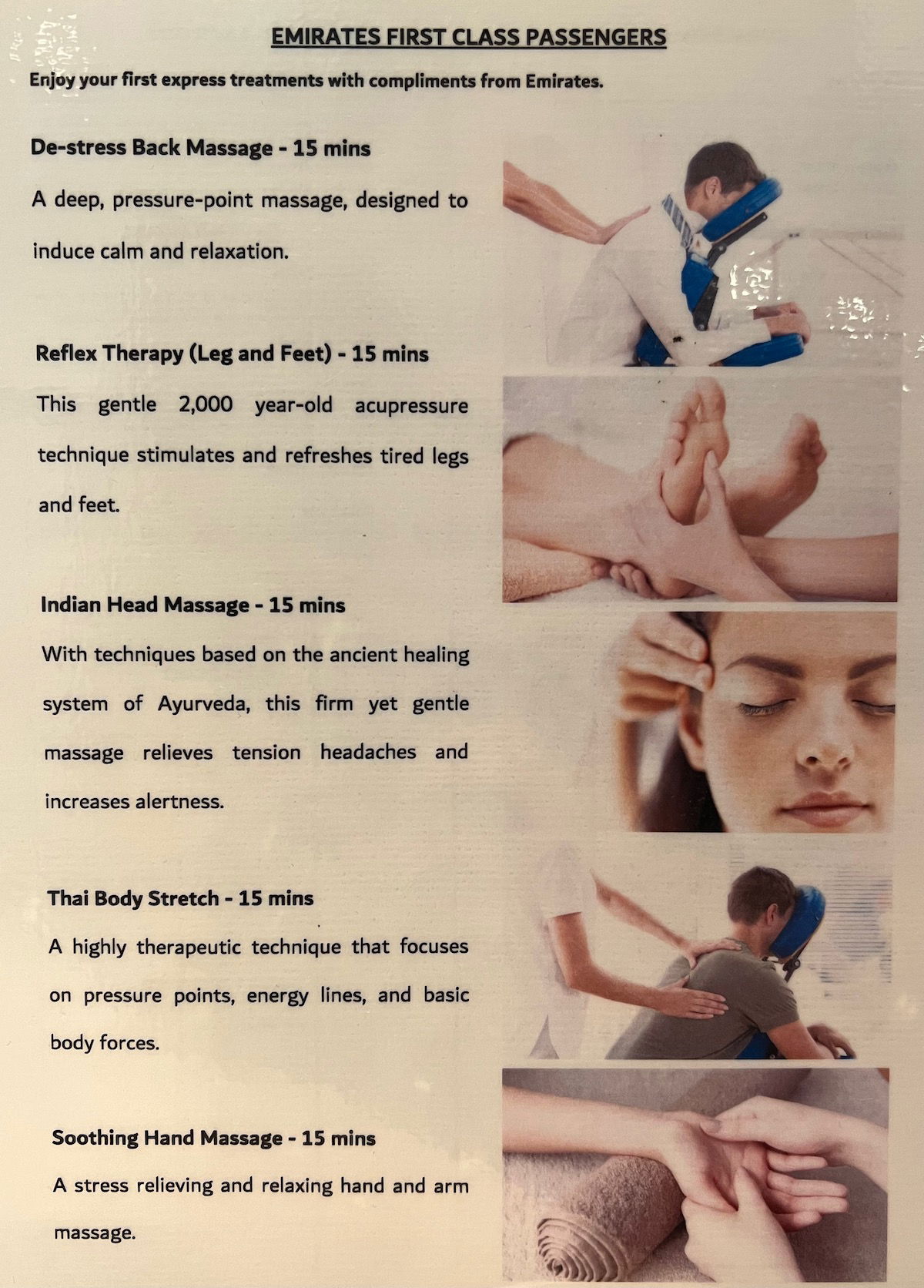 Amex Centurion Lounges (DFW & MIA)
The Amex Centurion Lounges in Dallas and Miami offer complimentary 15-minute massages or manicures to guests. As you'll notice, a vast majority of the above lounges are for international premium passengers, so this is a nice perk for credit card holders. However, getting an appointment can be challenging at times.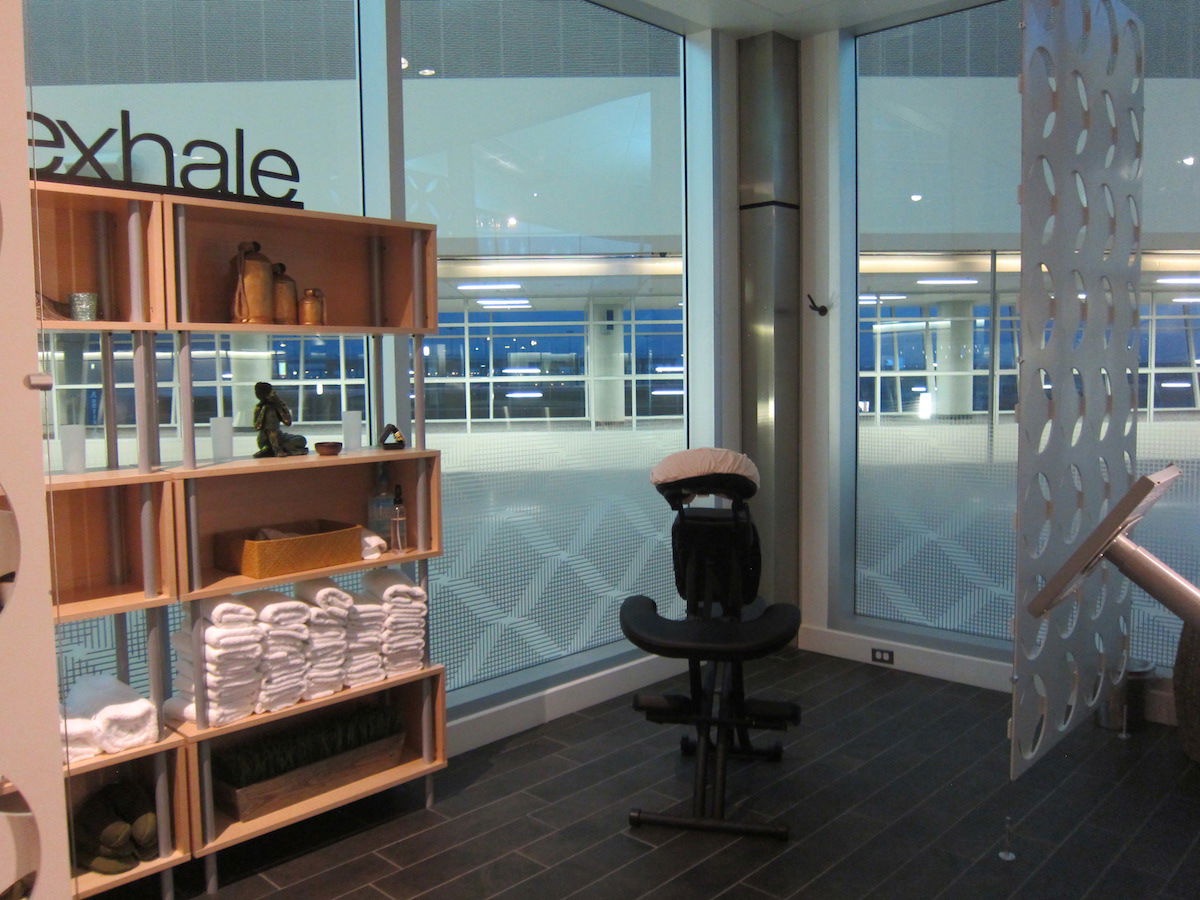 "Be Relax" airport spas with Priority Pass
While not a complimentary spa treatment with an airport lounge, I think it's worth calling out how many "Be Relax" spas at airports participate in Priority Pass. There are a few treatments to choose from, including a 10-minute foot massage, or a 15-minute lounger massage.
Note that since this is considered a Priority Pass experience, those who have a membership through American Express or Capital One wouldn't be entitled to this.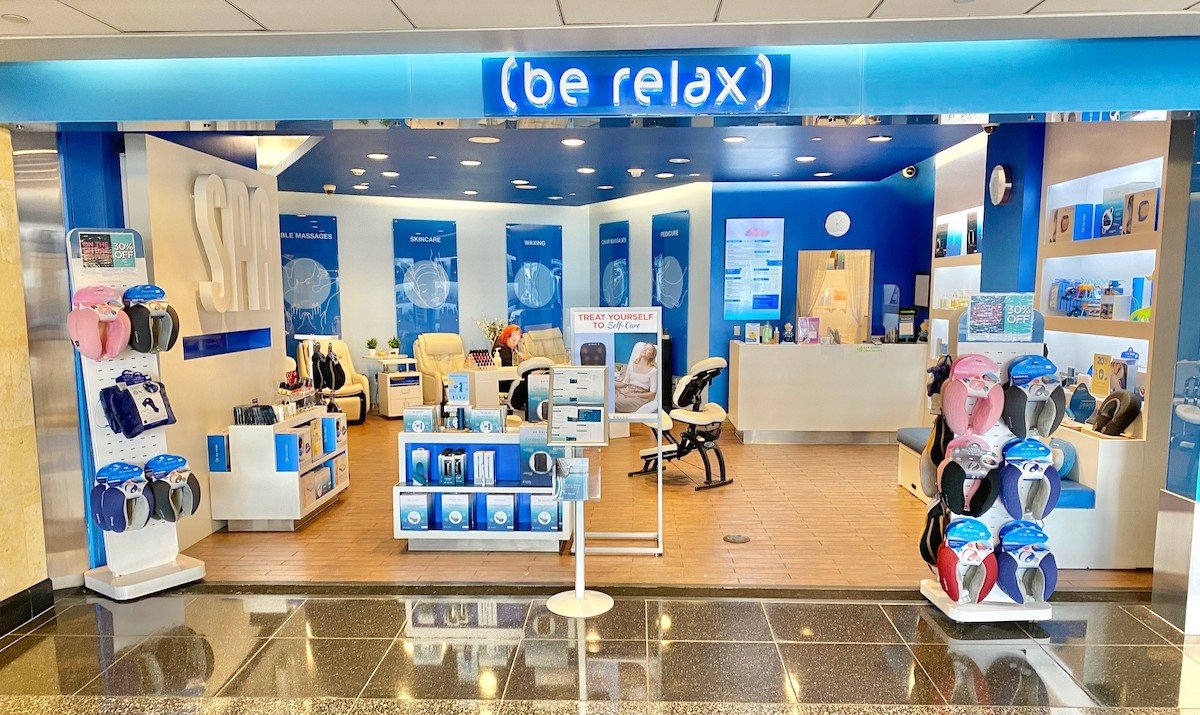 Bottom line
While some airport lounges still offer complimentary spa treatments, unfortunately the list is much smaller than pre-pandemic. Many airlines cut these treatments at the start of the pandemic, and then viewed it as a good long-term cost cutting opportunity.
Fortunately some lounges operated by Qantas, Air France, Emirates, and Amex, continue to offer some lovely treatments. If there are any other good ones I missed, please let me know.
What's your favorite airport lounge spa treatment you've had?