It has been a heck of a week when it comes to airline drama between the "big three" US carriers and their "big three" Middle Eastern counterparts in the battle for Open Skies.
Richard Quest seems to have the "platform" for all the CEOs to express themselves, as the CEOs of Delta, Qatar, and Emirates have appeared on his "Quest Means Business" program this week.
Unfortunately Delta's CEO, Richard Anderson, got his side of the debate off to a bad start when he made the following comment on Monday:
It's a great irony to have the United Arab Emirates from the Arabian peninsula talk about that given the fact that our industry was really shocked by the terrorism of 9/11 which came from terrorists from the Arabian peninsula that caused us to go through a massive restructuring.
What a stupid comment to make. I think (hope?) he didn't mean for it to come across that way, but I think there's only one way to reasonably interpret the statement — he was trying to link the Middle Eastern airlines to the 9/11 terrorists (otherwise I'm not sure I get the "irony" he's referring to).
While it took a while, Delta has now issued an apology… sort of… kind of… not really:
Richard was reacting to claims the gulf carriers have been making that US airlines received subsidies in the form of payments from the U.S. government after the 9/11 attacks and the bankruptcy proceedings that resulted. He didn't mean to suggest the gulf carriers or their governments are linked to the 9/11 terrorists. We apologize if anyone was offended.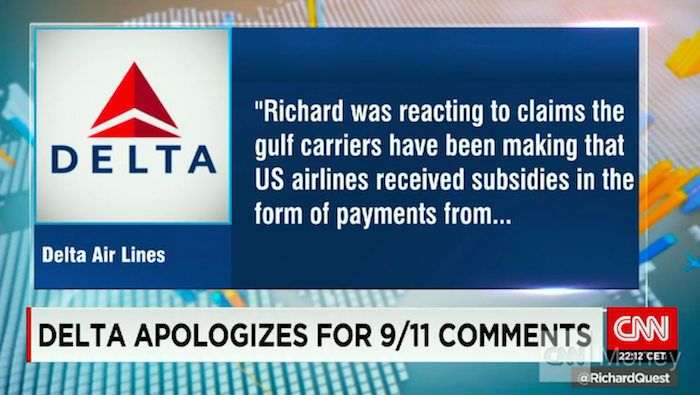 Yeah, unfortunately it seems they're trying to justify his statement rather than just admitting he misspoke.
Emirates' President, Tim Clark, appeared on Quest Means Business last night, and had a very smart response to Richard Anderson's comments:
I'm not angry. I'm a little bit concerned that Mr. Anderson crossed the line with what he said in regard to 9/11, which has caused great offense in this part of the world. I wonder if Mr. Anderson thought of the feelings of his SkyTeam partners at Saudia.
Tim Clark is one of the brightest guys in the industry, and if you're going to address the comments from Delta, that's how you do it, in my opinion.