As you may (or may not) know, I also have a points consulting service, whereby we help people redeem their airline miles. I have several colleagues working with me, and they're some of the most knowledgeable and passionate people I know in this hobby. During my dad's round the world surprise birthday trip they offered to step in and help with some guest posts. Thanks to the positive feedback, they're back with more. This post is from my friend Tiffany, whom you've heard from before.
---
Because I'm about to board an Emirates A380 flight from Dallas to Dubai.
I know, I know.
Between the luckiest irrops ever, the drunkest flight ever, the flight immediately following that one, flights with Papa Lucky, more flights with Papa Lucky, and flights with Mama Lucky, the Emirates first class experience is, shall we say, thoroughly covered here on One Mile at a Time.
Thoroughly.
And I don't even particularly like Dubai. It's basically a country-sized Ritz-Carlton. Which I don't find particularly inspiring either, really.
So why am I going?
Well, because my mom (who is the only one of our parents who knows enough about the internet to follow the blog on Facebook — Hi Mama!) asked nicely.
Actually, the conversation was more like this:
"Can we go on an airplane ride?"
"Ummm…sure?"
"Specifically, I'd like to fly that plane where the stewardesses wear those pretty hats."
"Emirates?"
"I guess."
"So you want to go to Dubai?"
"Is that where it goes? I'm more interested in that Bulgari set."
"So you want to fly Emirates First?"
"Doesn't everyone get those?"
"Pretty sure only first class passengers do, Mama."
"Well, is that what Ben flies? He always posts pictures of these nice seats with wood paneling and makeup mirrors. I'd like to do that, please."
And really, what was I supposed to say to that?
I have a pile of Alaska miles, and given the uncertainty of the relationship between Alaska and Emirates, now seems like a good time to use them. So we're going to the UAE, and then to Singapore, and then maybe to Hong Kong.
To my credit (maybe?), I had this trip booked before Ben decided to take his mom to the Middle East. Which, thank goodness, because that conversation would have been even more awkward otherwise.
My mom isn't quite as adorable as Ben's parents (though let's be honest, is anyone?), but she is a ham, and really fun. This is her first international trip in a few years (though she's probably the most well-traveled of our folks), and her first time flying something "fancy."
She's totally up for giving guided tours of airplanes, and hotels, asking questions of innocent bystanders, and basically doing her best Samantha Brown impersonation. Which could make for some good internet. Or just be horrifyingly embarrassing for me.
So are y'all interested in a review/trip report for this? A Tiffany-style trip report would be pretty different from a Lucky-style trip report, and I'm not sure if that's of interest or not. He's also a much better photographer than I am, though I think we all know what the Emirates shower suite looks like by now. And I'm not sure how helpful it is to write detailed reviews of places he's stayed and products he's already flown.
But of course I have different perspectives on travel than Ben does, and I'm not opposed to writing some more destination-focused reviews. I think.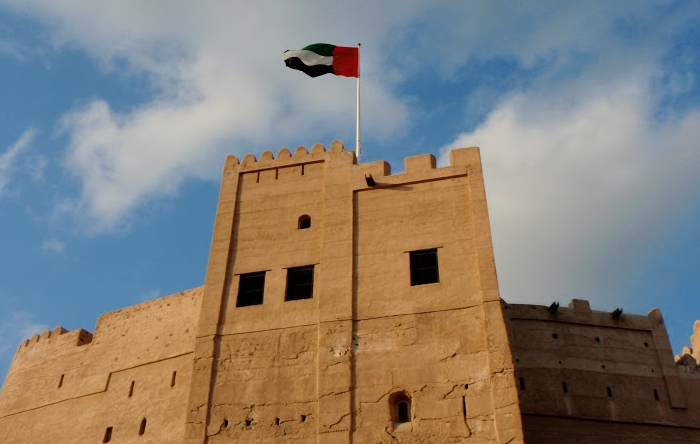 Glimpse of Al Fujairah fort from a previous visit
More importantly, what do you think?
[poll id="49″]
Regardless, I'm super excited! I don't think I've ever taken a trip of more than a few days with just my mom, and I'm grateful to be able to go at all, much less somewhere she hasn't been!