---
Hong Kong is the greatest city on earth. Period. Sadly I know my way around Hong Kong better than I know my way around Tampa, as anyone that has been there with me can attest to. While there are plenty of cities I love visiting, Hong Kong is a city I could actually imagine living in. The city has a beautiful balance being being bustling yet peaceful at the same time. And I'd say the "city" scenery is among the most stunning anywhere.
We only had one full day in Hong Kong, though the weather turned out to be near perfect, so I think we hit most of the major highlights. My apologies for the lack of pictures, as I didn't end up taking that many aside from a few of the highlights. I've been to Hong Kong well over a dozen times, so I have enough of a picture stash. As a result a few of these pictures are "recycled."
We started by taking a taxi over to the Kowloon Star Ferry Terminal, and from there walked along the Avenue of Stars and Kowloon for about an hour. While the views from the Avenue of Stars are fantastic, what I enjoy even more is people watching, as you have thousands of tourists from Japan, mainland China, etc., taking a picture with every possible star. As a Caucasian the most entertaining thing has to be the number of people that randomly stop you and want to take a picture with you.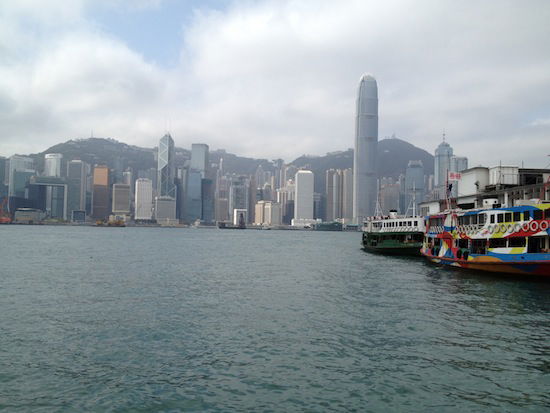 View from Avenue of Stars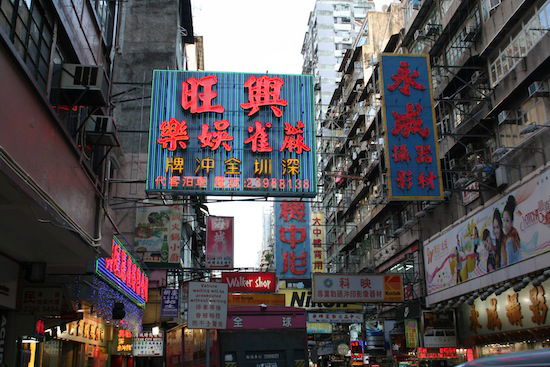 Kowloon
From there we took the Star Ferry over to Hong Kong. It takes about ten minutes, and you've gotta love that it's still under $0.50USD.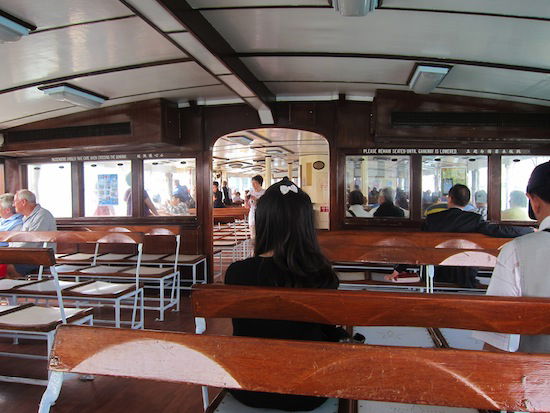 Star Ferry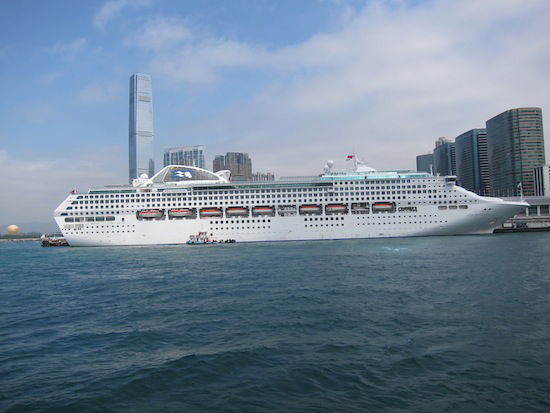 View from Star Ferry with Ritz Carlton in the background
From there we walked towards the Peak Tram. One of my favorite aspects of Hong Kong is how international it is. You walk right past all the office buildings on the way there, and it's always amazing to see the number of ex-pats living and working in Hong Kong, so while I feel like I'm abroad when in Hong Kong, I don't feel like I'm totally "out of my element."
I've taken the Peak Tram to the top of Victoria Peak at least a dozen times, though the views never get old (and my friend had never been to Hong Kong, so it was a must). The one thing that was different this time is that there was an hour-long wait. I've never had to wait more than 10 minutes, though I figured it was still well worth the wait.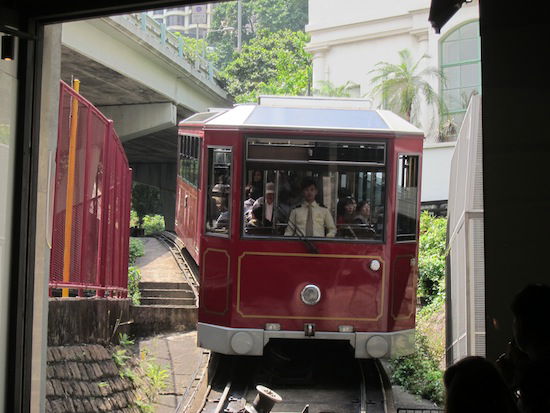 Tram
The tram ride to the top is crazy-steep and takes about ten minutes. And then the views from the top are amazing.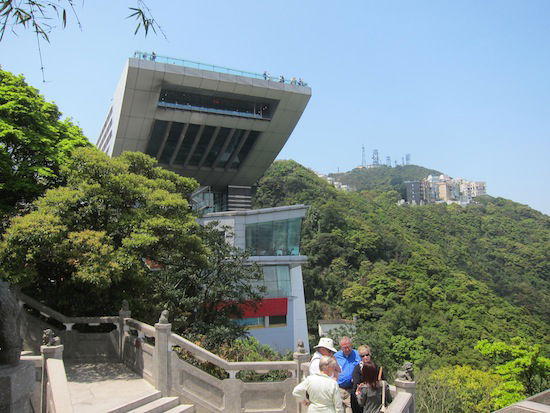 The Peak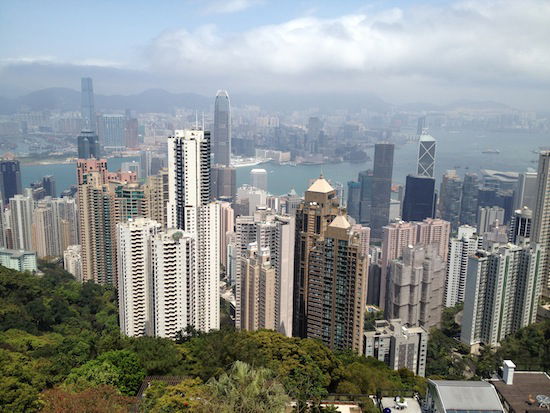 Amazing views from the Peak
After that it was off to Stanley. It's best known for Stanley Market, though I don't find that to be especially interesting (I far prefer the Temple Street Market). What I love about going to Stanley is twofold:
1) The bus ride there is incredibly scenic. They have double decker buses running there on very narrow, winding roads, so the ride itself is worth it.
2) It shows a completely different side of Hong Kong. For the most part Hong Kong is bustling, though Stanley is relaxing and on the water, so it's where a lot of the ex-pats live.
So while we only stayed there for about half an hour (due to time constraints), it was well worth it.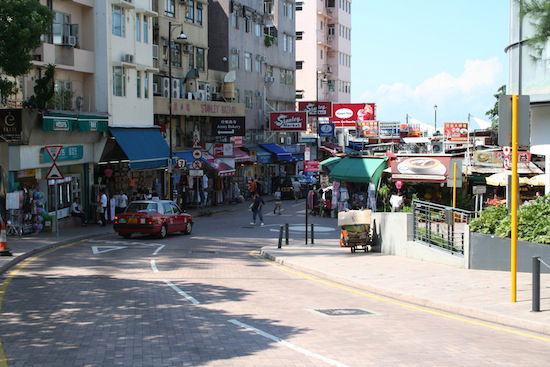 Stanley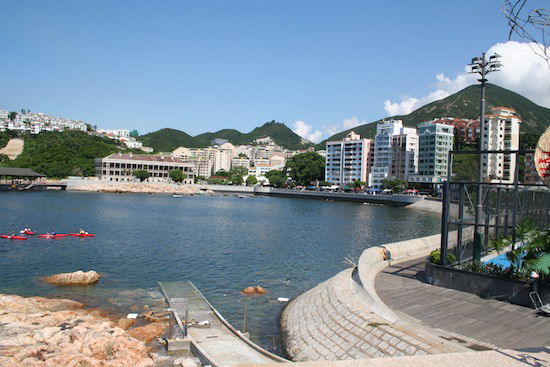 Stanley
And of course no trip to Hong Kong is complete without viewing the Symphony of Lights. Many say it's a total tourist trap. Fair enough, but it's an awesome tourist trap.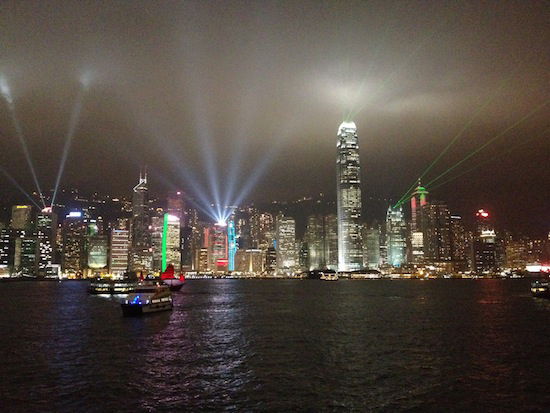 Symphony of Lights
To sum it up, I love Hong Kong. If anyone wants to donate money to the "let Lucky retire in Hong Kong fund," I'd be more than happy to accept! 😉