---
The Swiss First Class Lounge in Zurich definitely ranked among my top five lounges in the world, though after this visit I kind of have to wonder why. In terms of design it's somewhat similar to Lufthansa's first class lounges, though the décor is different. That being said, the lounge is spacious and has several seating areas, a restaurant and bar area, as well as nap rooms and shower rooms. While there are waiters roaming around offering drinks, they're not nearly as proactive and attentive as those in Lufthansa lounges.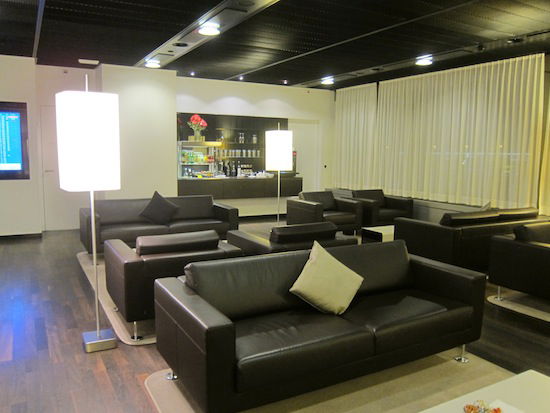 Seating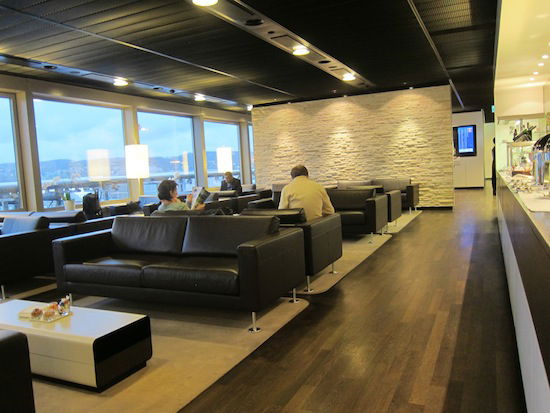 Seating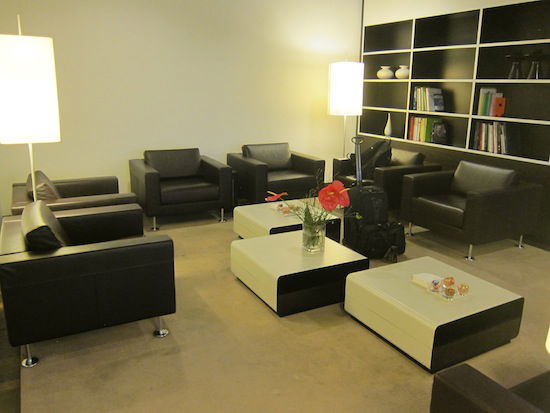 Seating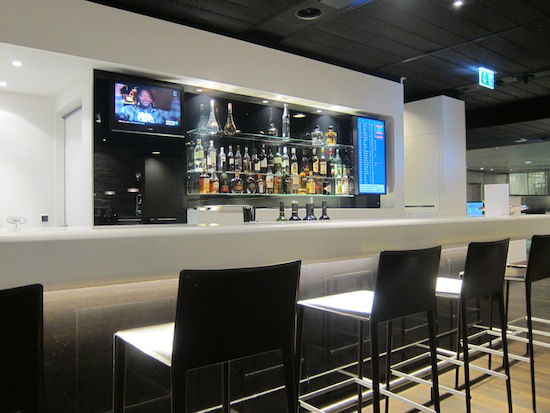 Bar
Since we knew we'd be having dinner aboard a few hours later, we decided to have pre-flight dinner sooner rather than later. I've always enjoyed Lufthansa's first class dining experience on the ground, so was curious to see how the Swiss experience compared.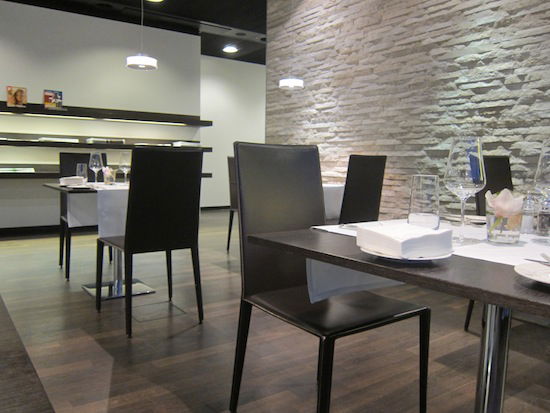 Restaurant
The menu was definitely, erm, interesting, consisting of quite a bit of rabbit.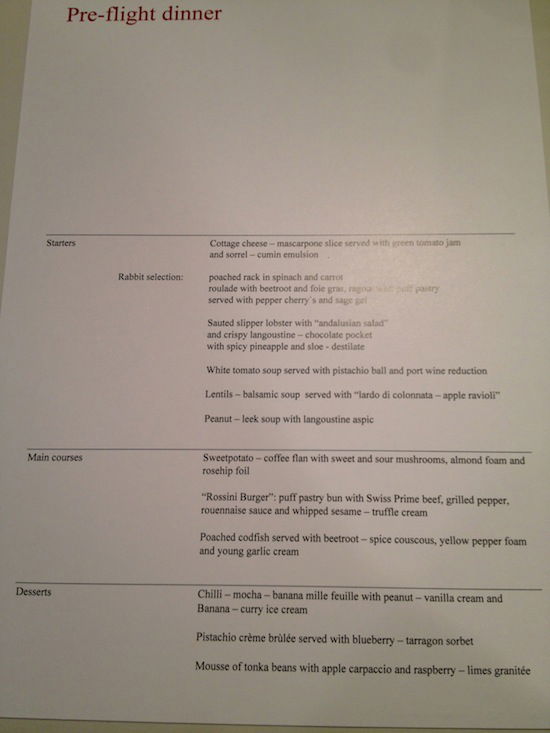 Nothing really appealed to me, though I ordered the white tomato soup. While I realize they're going for more of a "gourmet" dining experience, I really think this fell just slightly short of fast food quality. The soup was watery and tasteless. Or maybe that's just what refined palates crave?
For the main course I ordered the "Rossini Burger." I don't like foie gras, though I figured the beef would at least be decent. Unfortunately it was way rare for my liking.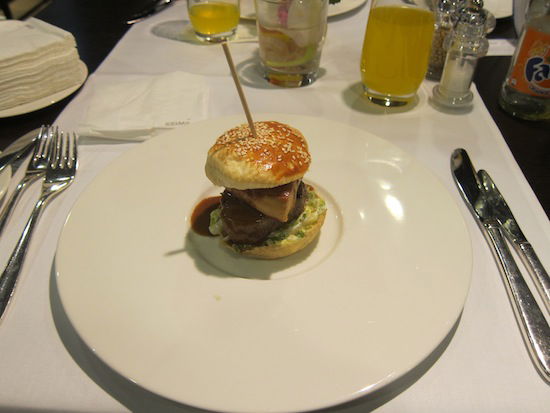 Burger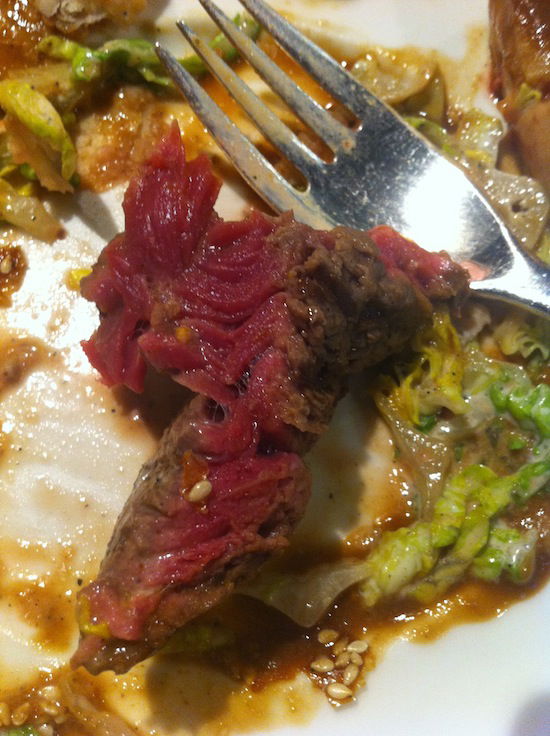 Burger
While my friend napped for a couple of hours I tried to catch up on work. I also decided to take a shower about an hour before our flight. While the shower rooms themselves aren't very nice, they do have Bulgari amenities, which more than makes up for any shortcomings.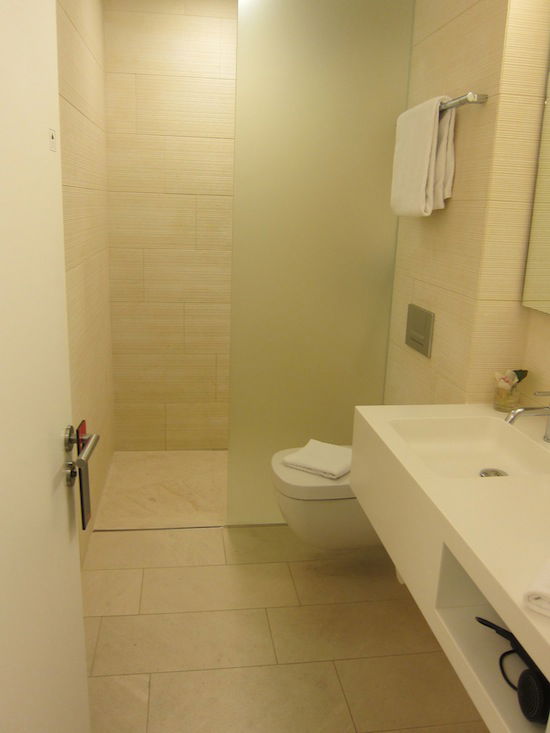 Shower
Swiss has a rather half-assed car transfer service in Zurich, which we had arranged for 10PM. While Lufthansa drives you to the plane from their lounges (assuming your gate is in a different terminal), Swiss drives you in a van to the terminal. No, there's no escorting you to the gate or onboard, but rather they drop you off in a service elevator which leads to the terminal, and then you walk to your gate from there.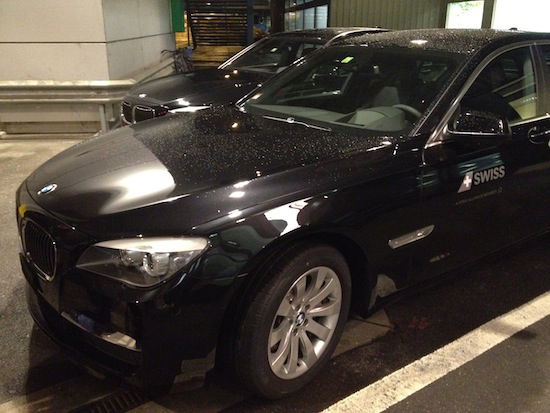 The cool cars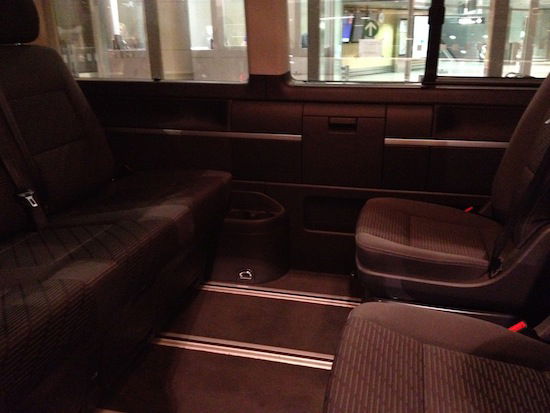 Minivan we got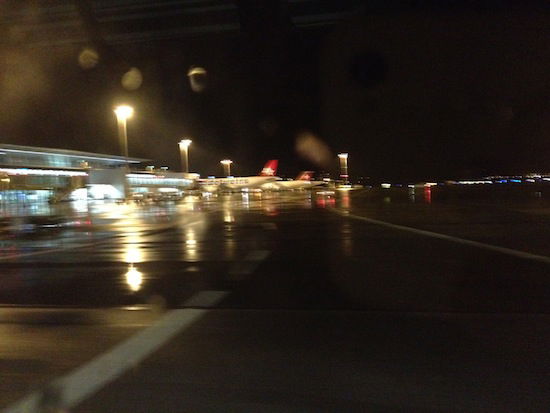 Tarmac views
We were departing from gate E34, where boarding was well underway. Fortunately they had a priority boarding lane, so we were aboard pretty quickly.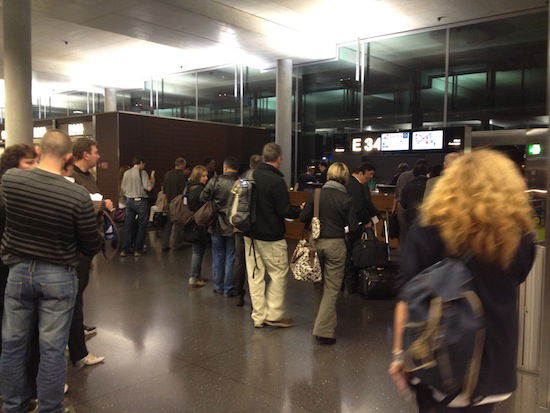 Departure gate
Swiss 180
Zurich (ZRH) – Bangkok (BKK)
Sunday, March 18
Depart: 10:45PM
Arrive: 3:30PM (+1 day)
Duration: 10hr45min
Aircraft: Airbus 340-300
Seat: 2G (First Class)
Once aboard we were directed to turn left to the first class cabin, which already had five of the other six seats occupied.
While the aircraft operating this route is the A340-300 featuring Swiss' old first class product, I still find it to be very comfortable, especially when traveling with someone. The seats are spacious with a separate ottoman and plenty of storage space.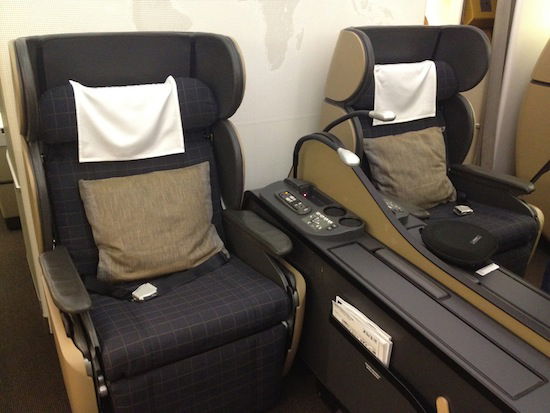 Our seats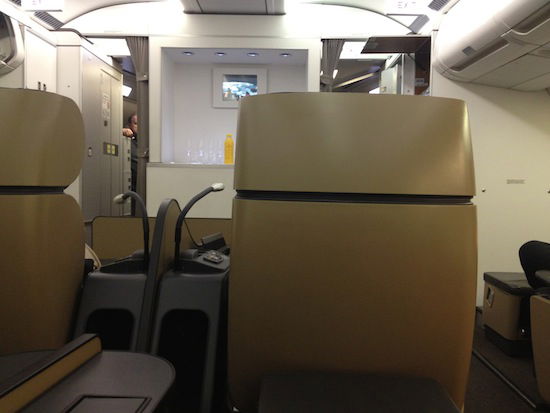 Cabin view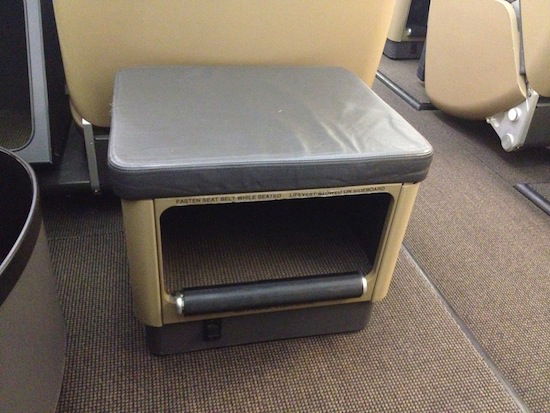 Ottoman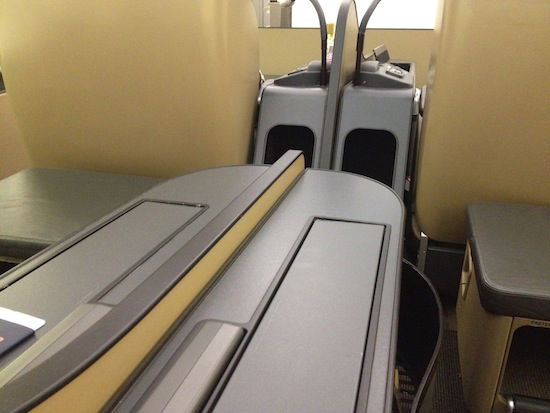 Center console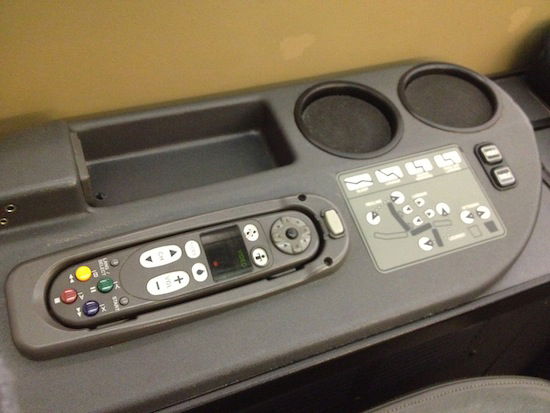 Seat and entertainment controls
Once settled in the two flight attendants working the cabin offered us amenity kits and pajamas. Swiss has some of my favorite pajamas, and they make up about half of my home wardrobe.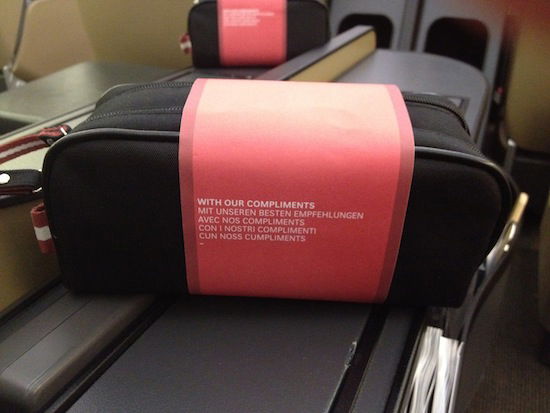 Amenity kit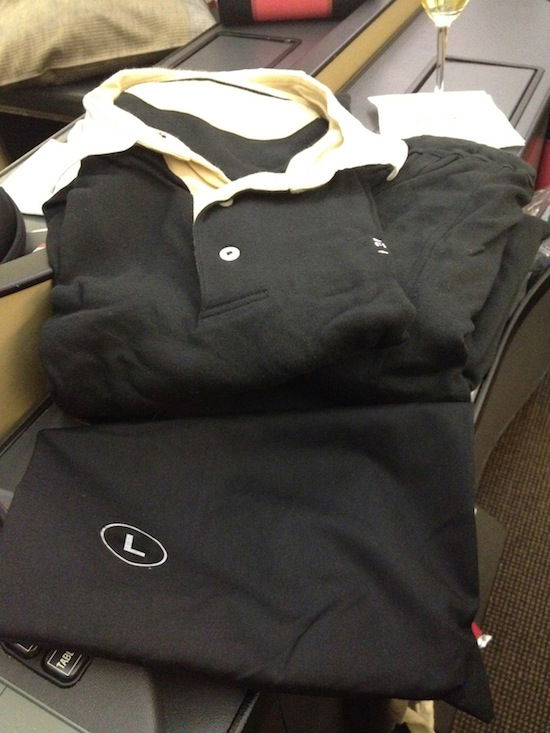 Pajamas
About 10 minutes later we were offered pre-departure beverages, and I ordered a glass of champagne. This was served with a starter consisting of some sort of fish and breadsticks, which were delicious.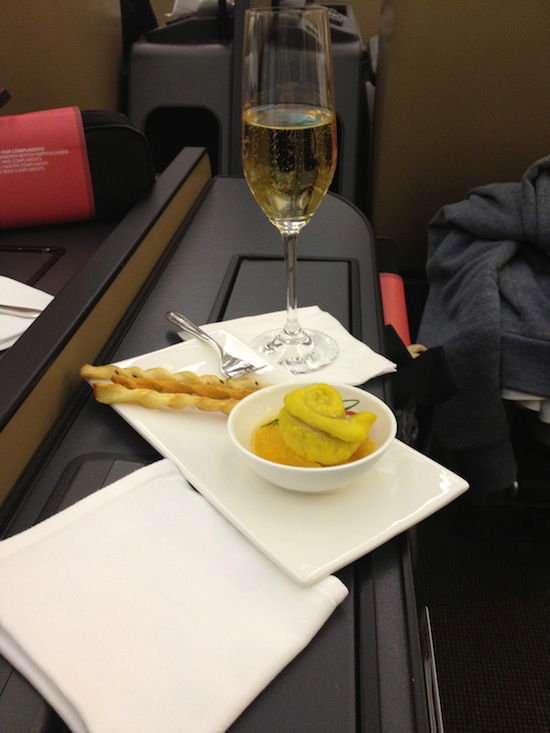 Pre-departure offerings
While the flight attendant working my friend's aisle was reasonably nice, the one working my aisle could only be described as a "matron." It was obvious she wasn't happy to be working, and she made sure everyone knew it.
As departure time approached the captain advised us of our flight time of 10hr30min, anticipating an on-time arrival in Bangkok.
We began our pushback as the safety video started playing, and after a 10-minute taxi we began our long takeoff roll. It never ceases to amaze me how weak the A340-300 feels on takeoff.
About 15 minutes after takeoff the seatbelt sign was turned off and service commenced. During the climb out I tried to choose a movie to watch, and eventually decided on "The Big Year." After about an hour I just couldn't take it anymore.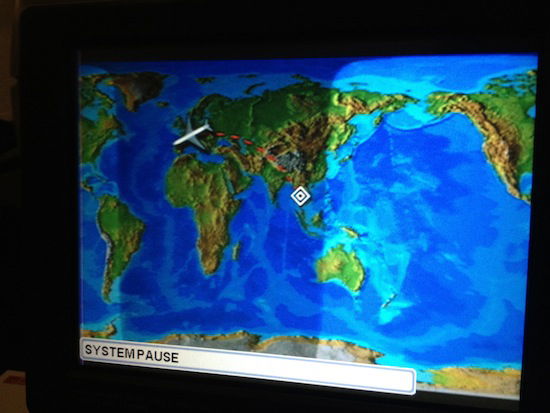 Airshow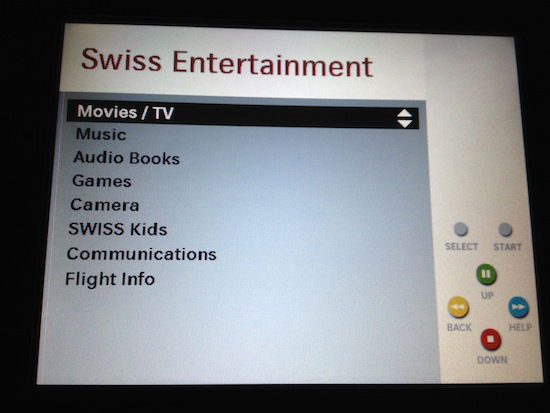 Entertainment system
The flight attendants set up the bar in the front of the cabin, and quickly began the service. It started with the purser distributing the menus and welcoming us aboard.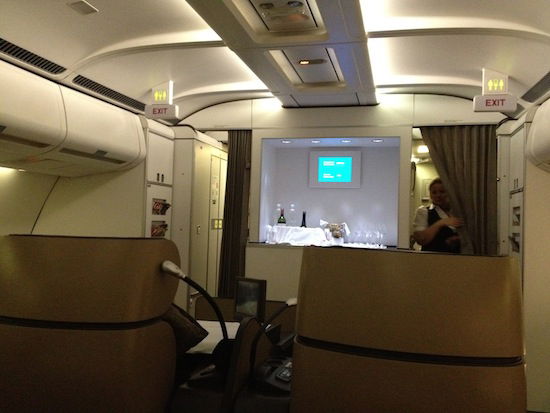 Bar setup
The dinner menu read as follows: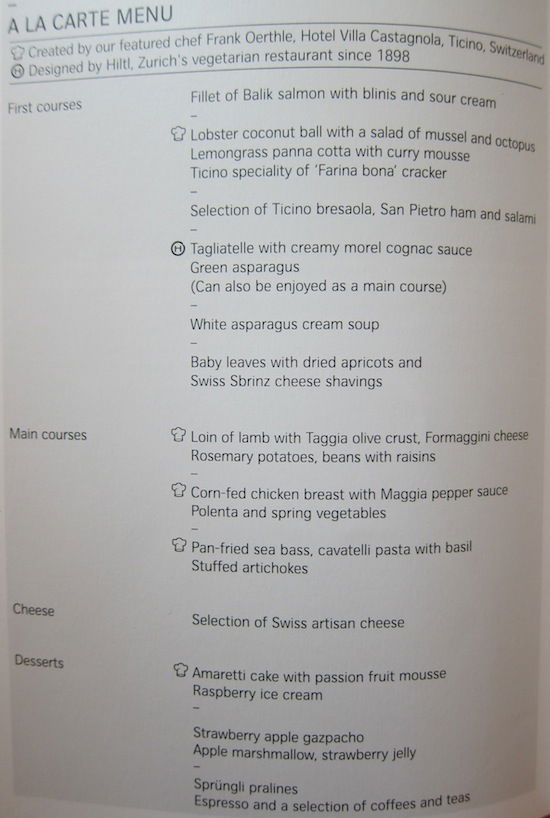 And the wine list read as follows: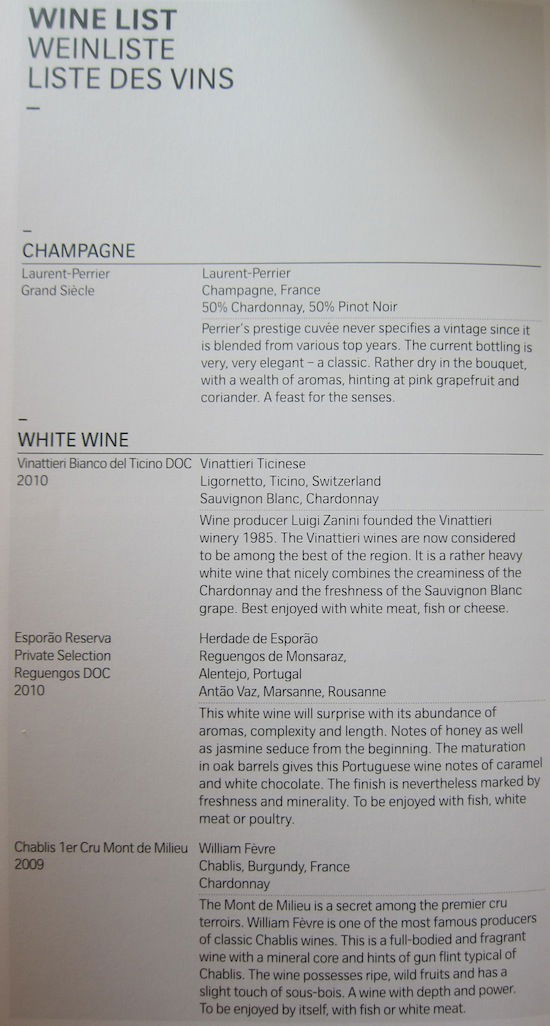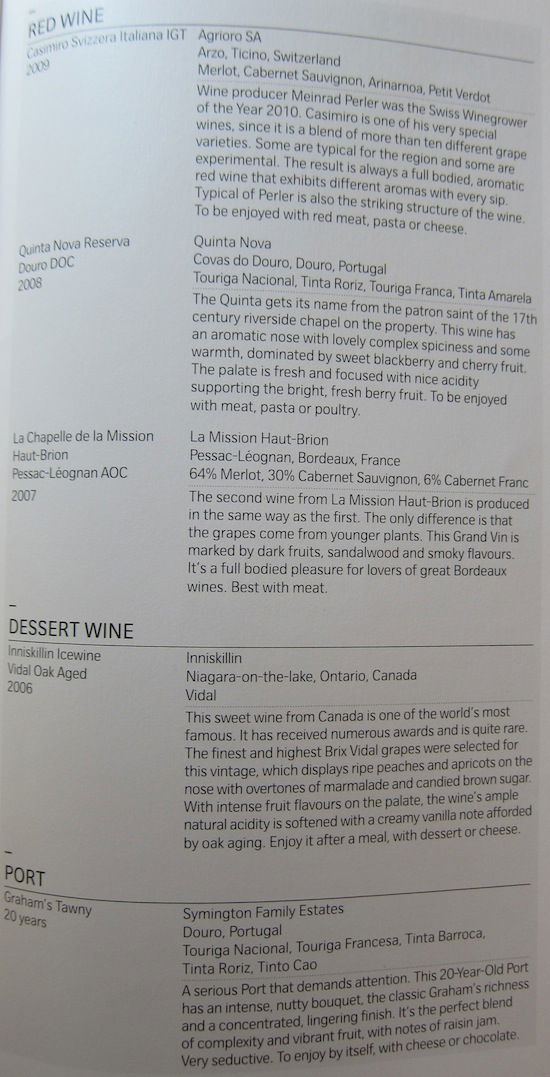 Service began with drinks, and I ordered a Diet Coke with lemon.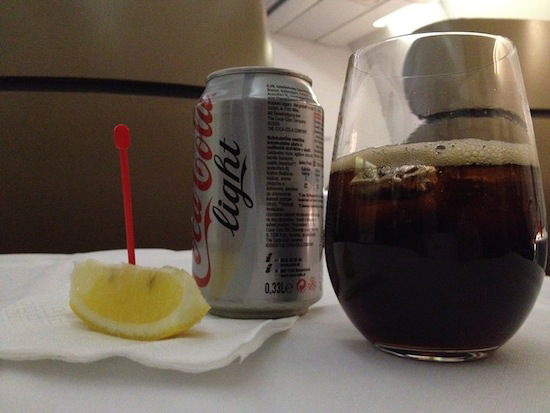 Diet Coke
This was quickly followed by the tables being set. Swiss has some of the classiest table settings of any airline, in my opinion, including full sized salt and pepper mills, as well as a breadbasket.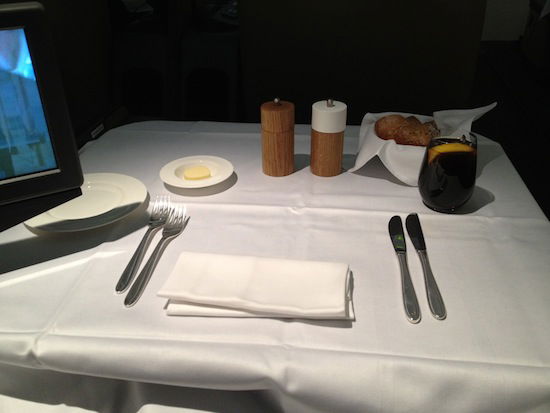 Table setup
Service began with Balik salmon. It might not be as "high class" as caviar, but hey, it actually tastes good.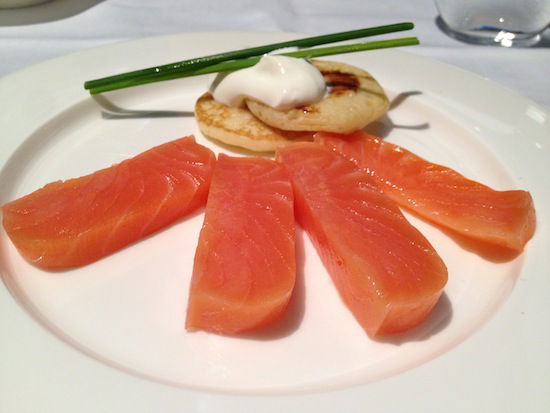 Balik salmon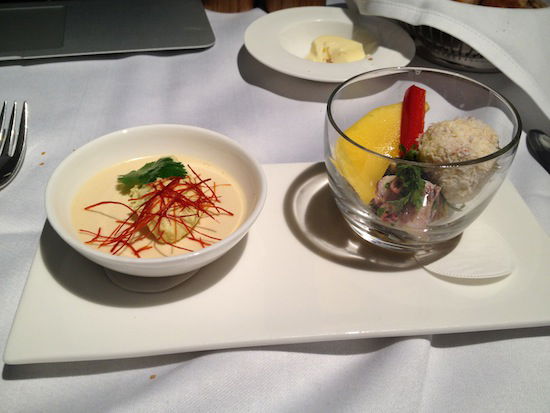 Friend's appetizer
The next course was a delicious salad including apricots and cheese shavings.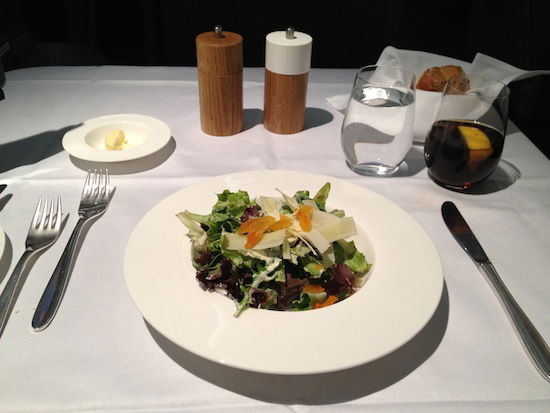 Salad
That was followed by a white asparagus cream soup, which was much tastier than the one I had in the lounge.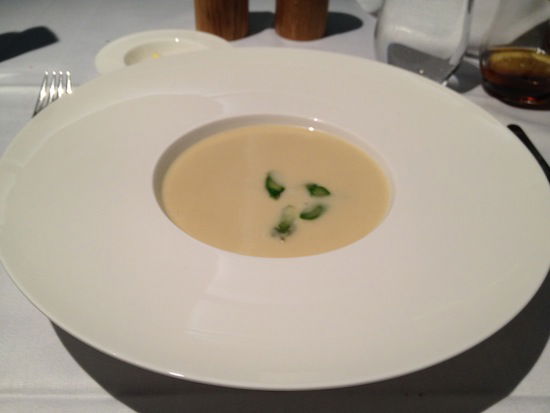 Soup
Then for the main course I decided to go with the tagliatelle, which was supposed to be served as an appetizer. It was delicious, so I had no regrets choosing that over the other options. The flight attendant came around with a separate tray of vegetables, and I took a little bit of everything.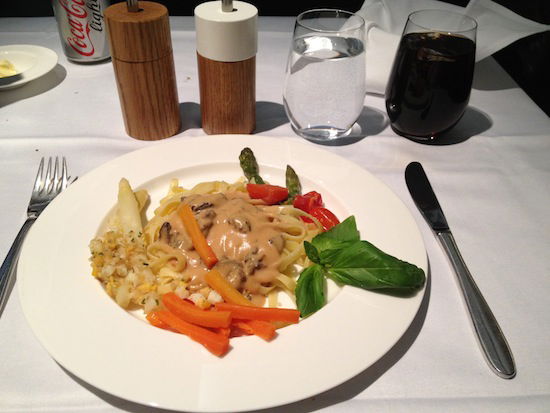 Pasta
My friend had the sea bass, which he enjoyed very much.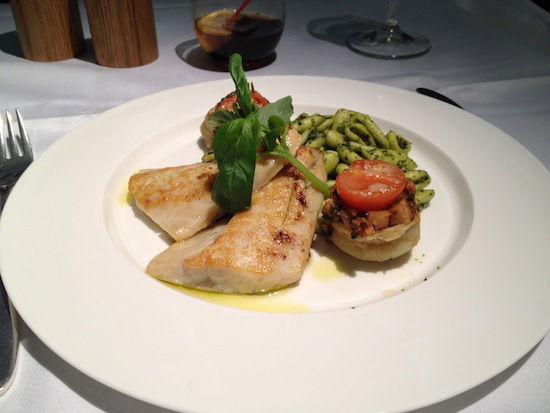 Friend's dinner
Then for dessert I had cheese and then a rather gross strawberry apple gazpacho (I had actually ordered the cake, but the flight attendant wasn't a very good listener).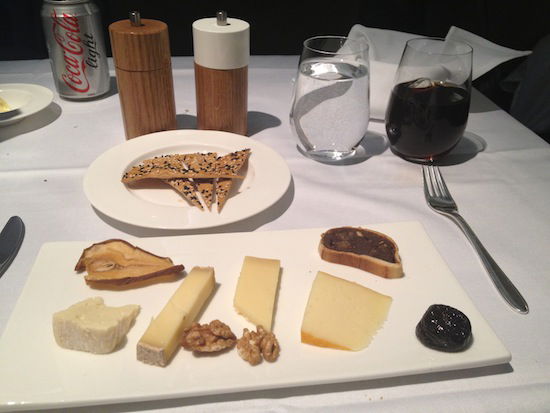 Cheese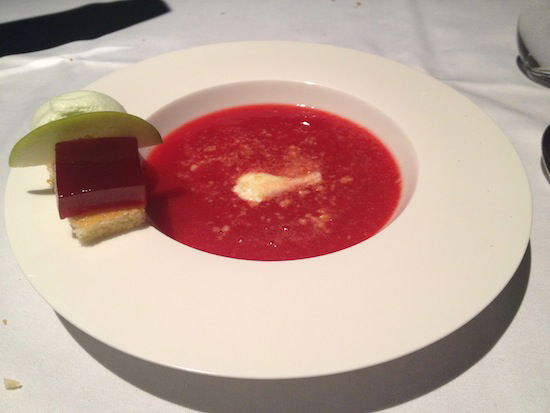 Dessert
Meanwhile my friend had the other dessert, which actually looked pretty good.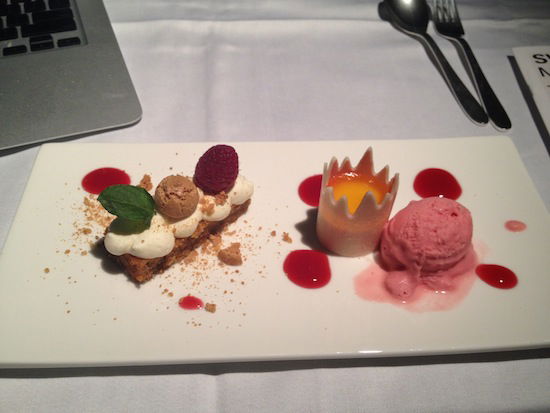 Amaretti cake
To finish off the meal I had a cup of tea and also some pralines.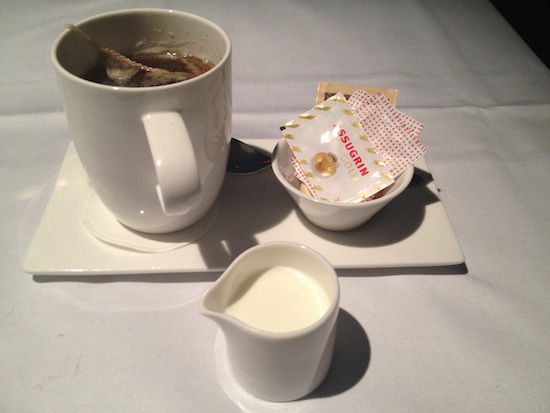 Tea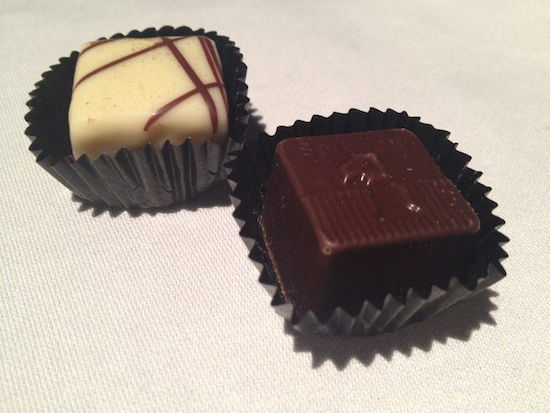 Pralines
On the whole the service wasn't good. The flight attendant serving my aisle didn't smile once, didn't once use a polite phrase (you're welcome, my pleasure, thank you, etc.), and made sure I had to ask for every possible drink refill.
After dinner she informed me she was doing turndown service now, and asked me if I wanted it (as opposed to asking me when I'd like turndown service). When I said yes she already threw the packaged duvet and comforter on my seat before I could even get up.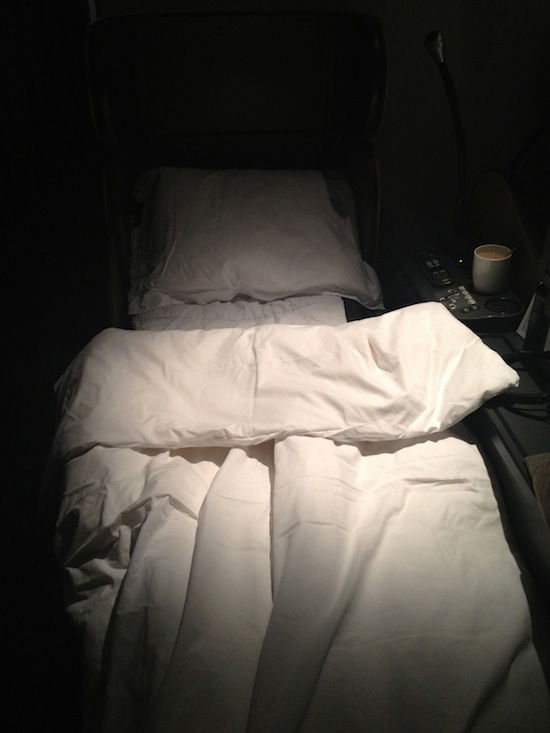 Turndown service
Fortunately the bed was really comfortable and I managed to sleep for about four hours, waking up with about four hours to go to Bangkok.
I'm an iced coffee addict, and the menu clearly stated that they had iced coffee. When I asked the flight attendant for an iced coffee she simply said "we don't have it" and walked away before I could say anything. I ended up asking the other flight attendant for an iced coffee, and she had no problem making one for me.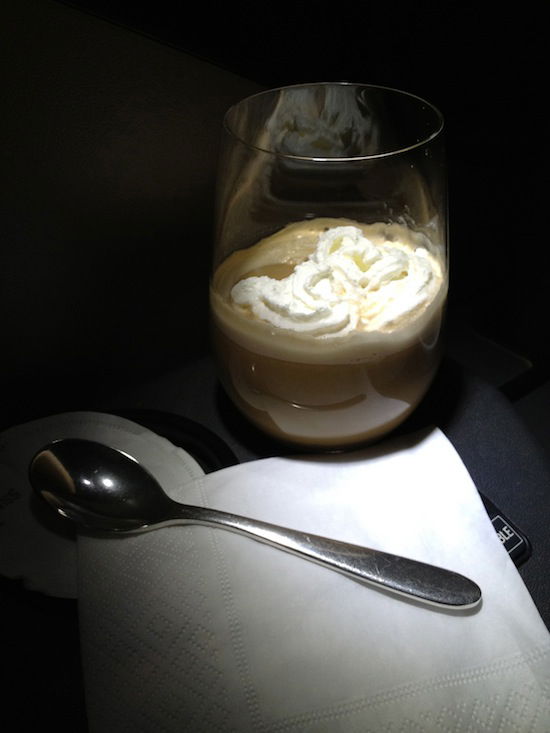 Iced coffee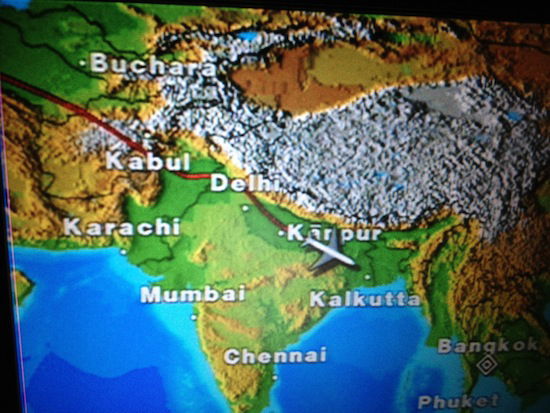 Chugging along
I wasn't especially tired so decided to watch a few sitcoms. Before long we were 90 minutes from Bangkok and the breakfast service began, starting with hot towels (notably the first time during the flight that towels were offered).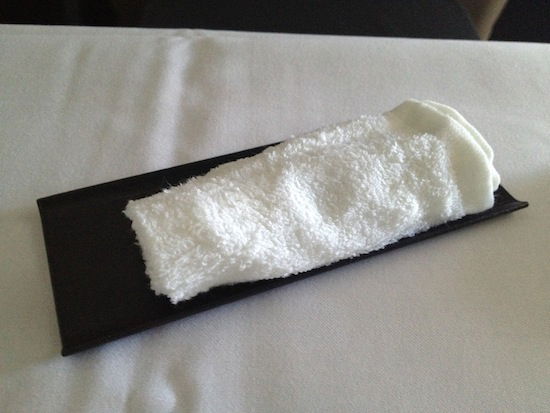 Hot towel
The breakfast menu read as follows:

A cart was rolled around with the breakfast offerings, and I went with some fruit, yogurt, cereal, and a croissant and roll. For the main course I went with scrambled eggs.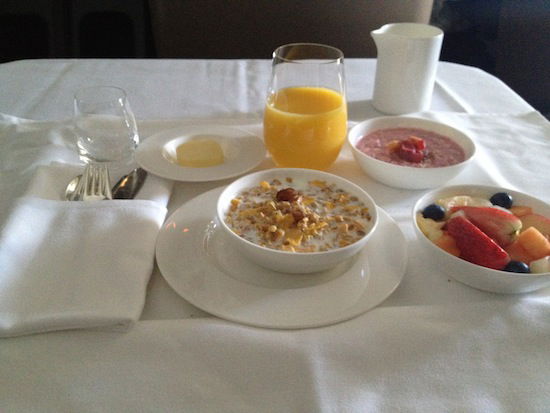 Breakfast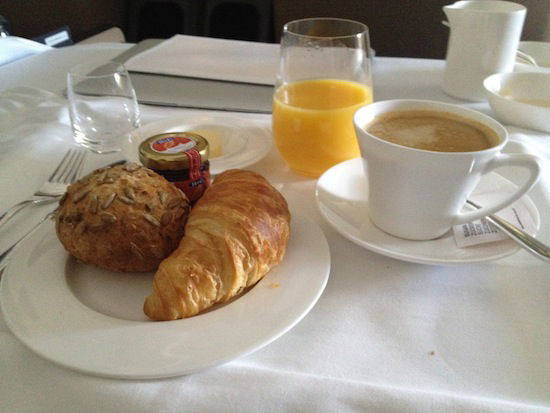 Breads and coffee
You've gotta love how generous their hashbrown portions are. 😉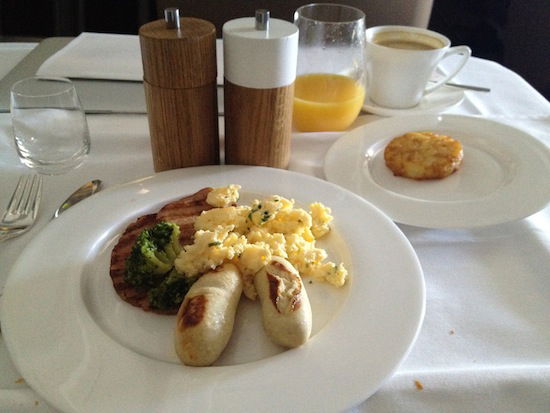 Scrambled eggs
Shortly before landing I changed back into my jeans and shirt and restowed my carry-ons. They still hadn't passed out landing forms, and the rude flight attendant informed me there weren't any for Thailand. I asked the other flight attendant, and sure enough she brought us the forms and priority immigration cards.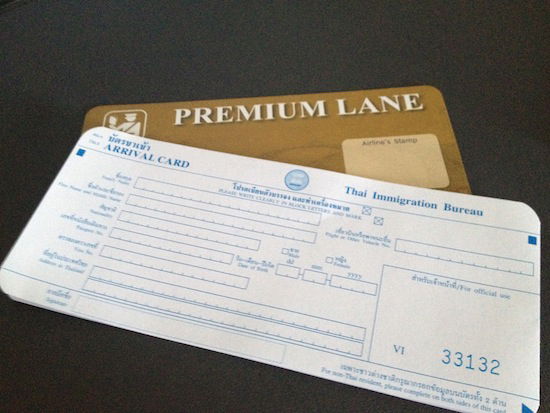 Immigration form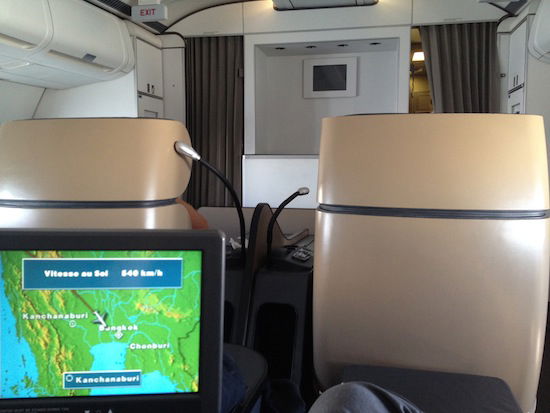 Cabin before landing
The seatbelt sign was turned on about 20 minutes before landing, and after a smooth descent and landing we had finally made it to our destination.
The funny thing is that it took them about five minutes to open the aircraft door, and during that time the flight attendant that was rude the entire flight became friendly and engaging. She went from not saying a single unnecessary word to asking us about our travel plans, and even smiling. Very interesting…
I was pleasantly surprised to find that Swiss has an arrivals service in Bangkok, which I thought they only had for HON members (their top tier elites). Each first class passenger was met by an agent and escorted through customs and baggage claim, and brought all the way to the curb. That really makes the arrivals experience pretty painless, especially in a city like Bangkok. From there it was off to the city.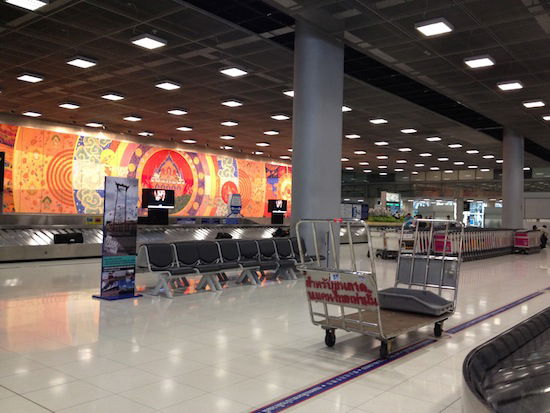 Baggage claim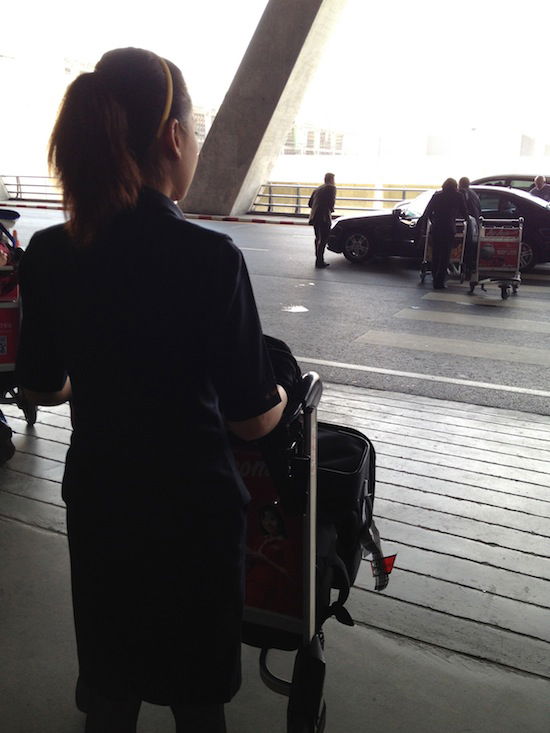 Our escort